Discover the 4 best campgrounds we stayed at in Big Bend, TX. Dive into scenic hiking, biking, and historical sites on a month-long adventure.
In recent years, we've been on a mission to visit all National Parks in the United States. This past month, we visited Big Bend National Park in Texas. There's so much to do and see there! We enjoyed hiking, mountain biking, visiting historical sites and beautiful desert landscapes.
Here are our 4 favorite campgrounds in Big Bend and it's solely dependent on the activities we we planned for the day.
1. Chisos Basin Campground
The Chisos Basin Campground is the most popular campsite in Big Bend National Park. The Chisos Basin Campground is located near the Chisos Mountains and is known for its large, scenic open spaces.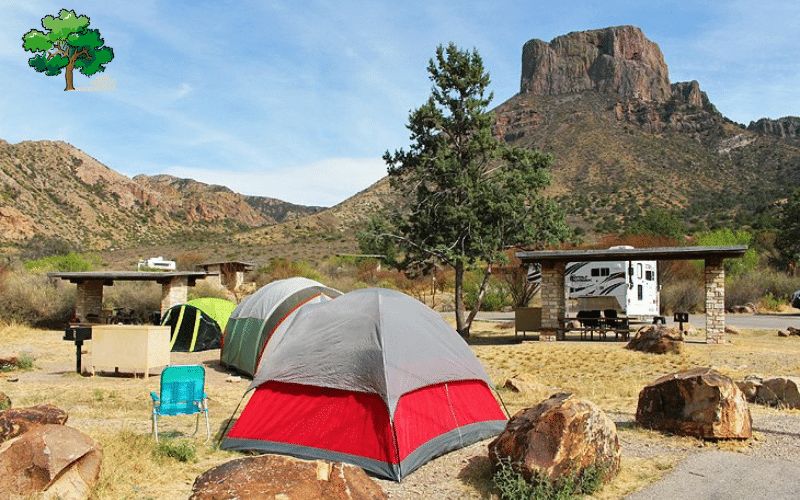 The Chisos Basin Campground has 56 sites available with restrooms and showers.
The sunset through the nearby "Window" is a Big Bend highlight. Some of the park's most popular trails begin nearby. Elevation is 5,400 feet.
Trailers over 20 feet and RV's over 24 feet are not recommended due to the narrow, winding road to the Basin and small campsites at this campground.
This campground requires reservations and can be easily done here.
Chisos Basin has many popular hikes nearby including Lost Mine, Emory Peak, and Window Trail.
2. Cottonwood Campground
The Cottonwood Campground is a great place to stay if you want to see wildlife! We saw deer and javelina (a type of wild pig) almost every day.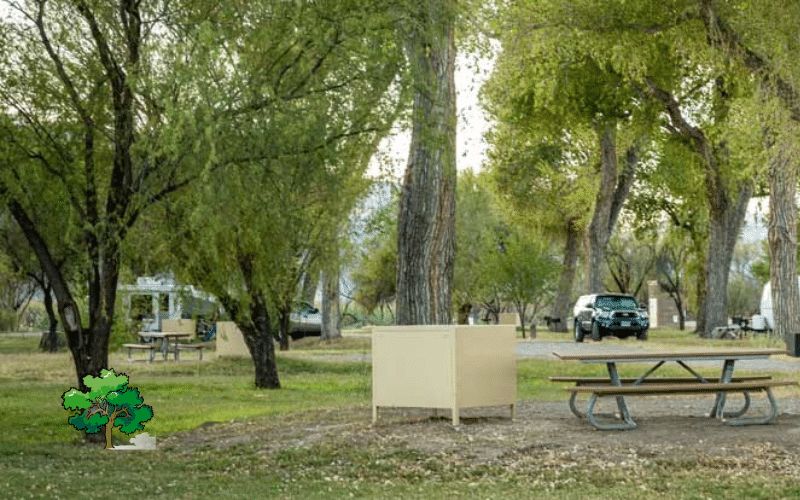 This campground is big and has a lot of sites available, which makes it great for families or groups. The sites are pretty close together but there are lots of trees between them so you don't feel like you're on top of your neighbors.
Campground is open year round.
Follow this link to make reservations – there is no first come first serve options here.
Conveniently located between the Castolon Historic District, the scenic Santa Elena Canyon and the tail end of the Ross Maxwell Scenic Drive, this small, 22-site campground is one of the least-known and quiet campgrounds in the park.
3. Rio Grande Village Campground
The Nature Trail, one of the best short walks in the park, leaves from this campground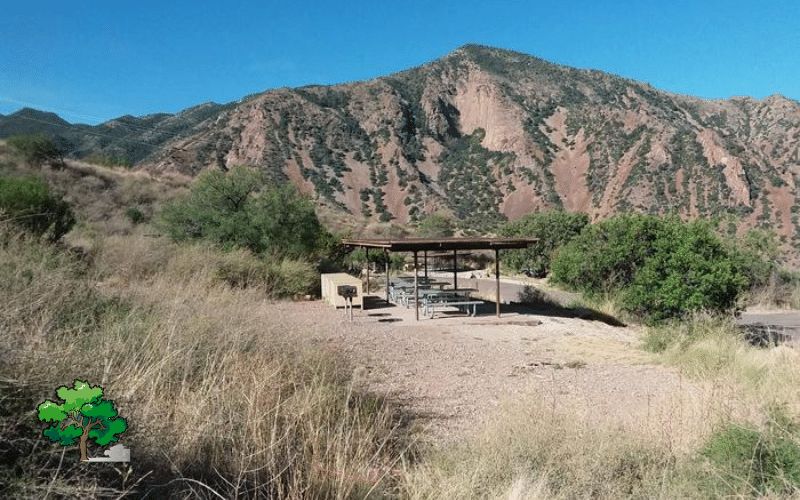 This is the biggest campground in Big Bend, with more than 90 sites. It's located near the Rio Grande river and offers easy access to some of the park's most popular trails including The Window Trail and Lost Mine Trail.
There are also several hikes that leave from this campground, including Chisos Basin Trail, Juniper Canyon Trail and Grapevine Hills Trail. The Nature Trail is another great hike that leaves from Rio Grande Village Campground, offering views of desert vegetation as well as stunning vistas of Sierra del Carmen Mountains.
No First-Come First-Served Camping, Rio Grande Village Campground requires reservation. Use this link to get going!
4. Rio Grande Village RV Campground
The Rio Grande Village is one of the most popular campgrounds in Big Bend National Park. It is located right on the Rio Grande River, so it has a nice view of the river and the mountains in the distance.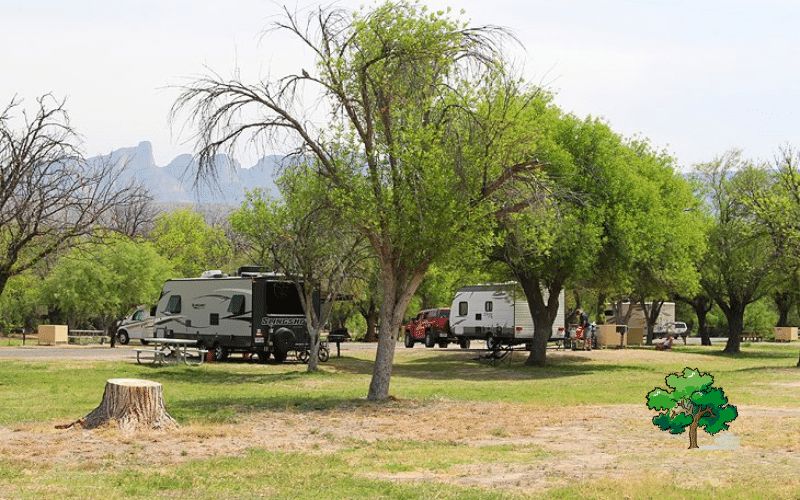 Large cottonwood trees surround the area, although they are not close enough to provide shade, and you can see the mountains in the distance. This campground has a nice beach area where you can swim or just sit on the rocks and take in all of nature's beauty.
This is also one of the more expensive campgrounds in Big Bend National Park.
This campground, operated by Forever Resorts, has the only full hook-ups in the park. 25-site RV park (full hook-ups—water, electrical, and 3-inch sewer connection). All sites are back-in only. Tents are NOT permitted.
Reservations are required. You MUST call 432-477-2293 to prearrange camping at this facility.
10 Pro Camping Tips in Big Bend National Park
Here are 10 personalized camping tips for those staying at campgrounds in Big Bend National Park:
Booking Early at Popular Sites: Campgrounds like Chisos Basin fill up quickly, especially during peak seasons. Reserve your spot in advance to secure your preferred campground.
Plan Activities by Campground: Each campground has its unique attractions. For instance, if you're staying at Cottonwood, you might want to explore nearby historical sites on that day.
Hydration is Key: Big Bend's desert landscape means high temperatures. Always keep ample water with you, especially when hiking or biking.
Wildlife Awareness: While camping at Rio Grande Village Campground, you might encounter local wildlife. Always keep a safe distance and store food securely.
RV Considerations: If you're staying at Rio Grande Village RV Campground, ensure you have all necessary hook-ups and are familiar with the park's RV regulations.
Stargazing Spots: Big Bend is renowned for its dark skies. Chisos Basin Campground offers spectacular stargazing opportunities. Don't forget your telescope!
Mountain Biking Trails: Research trails suitable for mountain biking, especially if you're staying at campgrounds close to popular biking routes.
Local Ranger Programs: Join ranger-led programs to learn more about the park's history and ecology. These are often available and are a great way to enhance your Big Bend experience.
Prepare for Temperature Swings: The desert can get quite cold at night, even after a hot day. Pack layers to stay comfortable at all times.
Leave No Trace: To preserve the beauty of Big Bend National Park for future visitors, always clean up after yourself and follow the park's guidelines on waste disposal.
Conclusion
Big Bend is a beautiful desert park that you can visit year round. Whether you want to hike, bike, bird watch or just enjoy the scenery, Big Bend offers something for everyone. We hope you'll add it to your National Park bucket list!
IMPORTANT: Wood fires and ground fires are NOT allowed anywhere in Big Bend National Park. A charcoal fire in an above-ground grill is allowed; ashes must be packed out. Liquid-fuel stoves are allowed.