Explore top campgrounds in Lincoln National Forest: from Apache to Oak Grove. Our guide covers tent and RV spots, tips, and nearby activities!
When it comes to iconic outdoor destinations, few places can rival the Lincoln National Forest in New Mexico. 
This vast and varied landscape, with its lush meadows, towering mountains, and pristine trails, beckons campers from all corners of the globe. 
But with so much ground to cover, where do you even start in selecting the ideal spot to pitch your tent or park your RV?
That's where this guide comes in. We've meticulously researched and compiled the most comprehensive list of campgrounds within the Lincoln National Forest, catering to various preferences, whether you're a solo backpacker seeking solitude or a group looking for fun-filled activities. 
Each campground has its unique charm and offerings, ensuring every traveler finds their perfect fit.
So, whether you're a seasoned camper familiar with the whispers of the wilderness or a first-timer eager to embrace the serenity of nature, our guide is tailored to ensure you make the most of your stay. 
Dive deep into our recommendations, and gear up for an unforgettable experience amidst the natural splendors of the Lincoln National Forest.
Overview of Camping in Lincoln National Forest
Lincoln National Forest in New Mexico covers a vast 1.1 million acres. This region is not only a major recreational hotspot but also holds historical importance. 
As it offers diverse terrains, it's a prime spot for various outdoor activities.
Emphasizing conservation, visitors are urged to adopt sustainable tourism practices. This means using established trails, reducing waste, and respecting wildlife habitats. 
The aim is to enjoy the forest's offerings without compromising its ecological balance.
A major attraction of the forest is camping. Campgrounds in the area cater to a range of needs—from RV facilities to tent sites and larger group areas. 
These sites often offer essential amenities and are strategically placed near trailheads for easy access to hiking.
One of the perks of camping here is the proximity to nature. The varied landscape provides opportunities for hiking, and the diverse wildlife adds to the experience. 
Spotting creatures like deer or elk in their natural environment is a highlight for many visitors.
Lincoln National Forest stands out as a premier camping destination in New Mexico, combining natural beauty with well-equipped campgrounds. 
However, as the forest becomes more popular, the onus is on every visitor to ensure its preservation for future generations.
Apache Campground
Apache Campground, strategically positioned in the southeastern quadrant of Lincoln National Forest, captures the quintessential forest experience.
Surrounded by a canopy of towering pines, the campground is a mix of about 25 sites designed for tents and smaller RVs, giving campers the flexibility of choice. The distance between sites ensures both privacy and the feel of the wilderness.
Not skimping on basic amenities, Apache offers restrooms, potable water, and essentials like picnic tables and fire rings. While the campground is accessible year-round, spring and fall often draw the most visitors due to their mild temperatures and vibrant foliage.
The vicinity of the campground is its real charm. For hiking enthusiasts, trails like the "Piney Loop" and the more challenging "Ridgeview Trail" beckon.
The former, a 3-mile loop, offers a moderate hike with occasional views of the forest canopy, while the latter, stretching 5 miles, takes hikers on a ridge, presenting sweeping views of the forest below.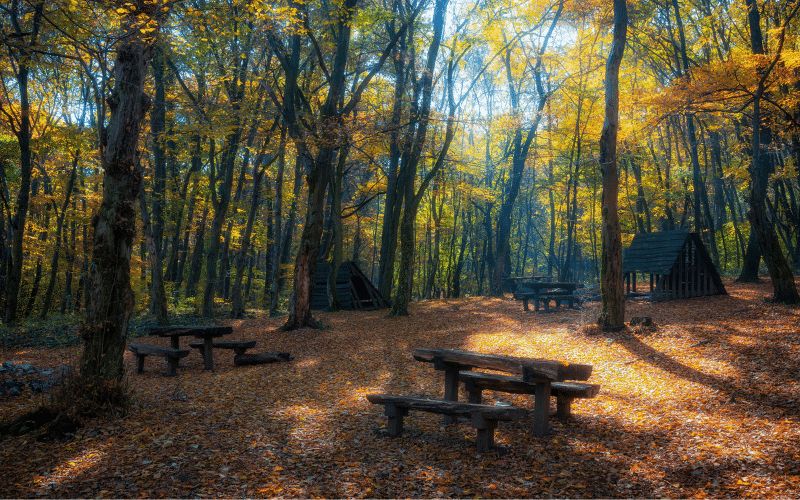 Beyond hiking, Apache serves as a starting point for several recreational activities. The nearby stream is a popular spot for fishing, while open meadows are ideal for picnicking or even a game of frisbee. For birdwatchers, the region is rich with species such as the Mountain Chickadee and Western Tanager, especially evident during migration seasons.
Wildlife around Apache is abundant. Along with the regular sightings of deer and wild turkeys, campers often report glimpses of the more elusive bobcat. As always, the protocol is to appreciate from a distance and not interfere with their natural behaviors.
All in all, Apache Campground melds well-maintained facilities with the rugged allure of Lincoln National Forest, making it an essential stop for those venturing into this part of New Mexico.
James Canyon Campground
Situated within the sprawling confines of Lincoln National Forest, just a stone's throw from Mayhill, NM, is the James Canyon Campground. It features a set of 6 basic campsites, available strictly on a first-come, first-serve arrangement.
Although the sites are categorized as primitive, they can comfortably house tents, compact trailers, and RVs up to a length of 16 feet. 
For the convenience of campers, each of these sites is equipped with a picnic table and a fire setup, inclusive of a ring and grate. 
In terms of facilities, the campground provides potable water access and a single vault toilet.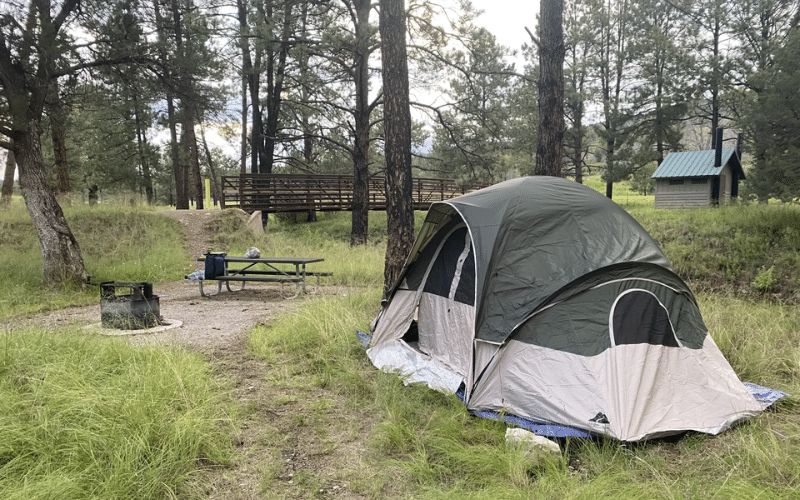 James Canyon is not just about a serene camping spot; it's a hub for outdoor enthusiasts. 
The surrounding region is a playground for an array of activities. From hiking and mountain biking to horseback riding and ATV adventures, there's something for everyone. 
Those interested in nature and wildlife have ample opportunities for bird watching and wildlife spotting. The clear, pollution-free skies also make stargazing a favorite pastime here.
If you're looking to expand your adventure, the vicinity offers more. Oliver Lee Memorial State Park and White Sands National Park are nearby attractions. 
Moreover, a short 16-mile drive will take you to Cloudcroft, a charming mountain town, where you can indulge in local dining and shopping experiences.
While James Canyon operates without a reservation system, adhering to a first-come, first-served basis, it's equipped with various amenities for a comfortable stay. 
These include BBQ grills, designated trash collection points, and provisions for group camping. It's a pet-friendly campground, ensuring your furry friends can also be part of your adventure.
In a nutshell, James Canyon Campground is an ideal spot for those seeking a blend of rustic camping and outdoor activities, all set against the magnificent backdrop of Lincoln National Forest.
Three Rivers Campground
Three Rivers Campground offers an authentic rustic camping experience, boasting 12 sites nestled at the base of southern New Mexico's tallest mountain. 
The campground caters to both individual and group campers, providing an atmosphere of seclusion and tranquility. Situated at an elevation of around 5,000 feet, it's a great escape from crowded spots, especially during peak seasons.
One of the key attractions for campers is the immediate access to the Three Rivers trailhead (T44), a starting point for several trails venturing into the White Mountain Wilderness.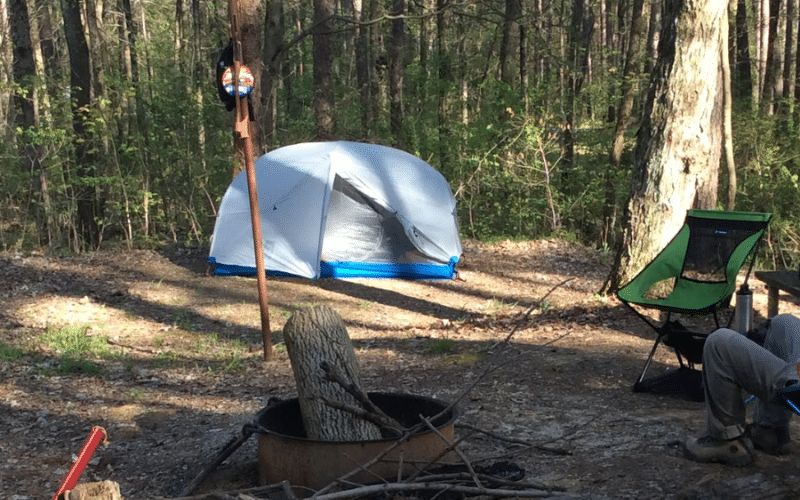 These trails vary in length, catering to both novices and experienced hikers. Alongside, on your way to the campground, the Three Rivers Petroglyph Site stands as a testament to ancient art and traditions, making it worth a stop.
The entire facility, from the entry to individual camp sites, is interconnected through well-maintained dirt roads, ensuring easy navigation for visitors. 
In terms of amenities, campers can expect essentials like potable water, picnic tables, and vault toilets. It's also cost-effective, with a nightly rate of $6, and an additional vehicle being charged the same, up to a maximum of two vehicles per site.
If you're considering the duration of your stay, there's a 14-day limit, and for those bringing along RVs, they should be no longer than 25 feet. 
For any immediate needs or a brief change of scenery, the town of Ruidoso, NM is nearby. 
With its proximity to such an iconic mountain, the rich history of the Petroglyph Site, and a range of trails, Three Rivers Campground stands out as a prime destination for outdoor enthusiasts.
Saddle Campground
The Saddle Campground provides an ideal setting for campers looking for a blend of nature and amenities. 
Sheltered under a canopy of mixed conifer and aspen trees, this camping ground stands as an oasis, especially for those keen on escaping New Mexico's typical desert temperatures.
The campground offers 16 units that can accommodate both tents and RVs, though RV owners should note the length restriction of 30 feet. 
Each of these units comes equipped with a picnic table, perfect for outdoor meals, and a fire ring to add to the camping ambiance. 
The site has made provisions for graywater sumps, ensuring environmental considerations are met.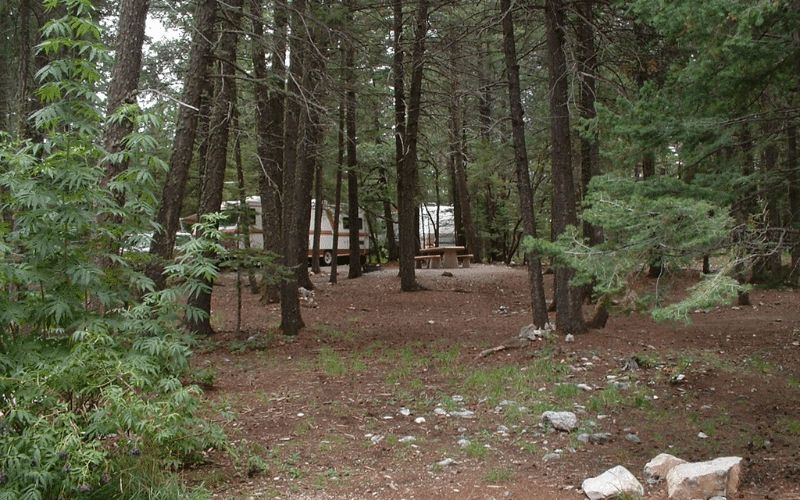 For sanitary needs, the campground is equipped with toilets, and for those wanting a refreshing shower, the nearby Silver Campground has facilities available for a fee.
A unique feature of the Saddle Campground is its proximity to trails, most notably the Three Rivers trailhead. 
This trail ventures deep into the White Mountain Wilderness, providing hikers with varying terrains and challenges. Those trekking these paths will get a taste of the diverse ecosystem of the Lincoln National Forest.
Wildlife enthusiasts will find Saddle Campground to be a delight. Its location within the forest means that sightings of native species, such as deer, birds, and occasional larger fauna, are frequent. 
Campers are encouraged to keep a lookout, especially during dawn and dusk, for these splendid moments of nature.
For ease of access, the campground has well-maintained dirt roads. Those traveling from Cloudcroft can take the US82 eastward, turn onto NM244, and after a roughly 4-mile journey, the signs for the Silver-Saddle-Apache Campground Complex will guide them to their destination.
Monjeau Campground
Monjeau Campground offers an intimate camping experience surrounded by a blend of aspen, oak, and pine trees. This petite campground, with just four tent sites, provides an exclusive feel to your outdoor adventure. 
Each of these sites can accommodate a party of guests and up to six vehicles, ensuring you have ample space for your camping needs.
A significant attraction of Monjeau is its proximity to the Monjeau Lookout. A relic from the Civilian Conservation Corps era, this lookout offers breathtaking mountain vistas. 
The trails leading to and from the lookout present the perfect opportunity for hikers to capture panoramic shots, making the most of their smartphone cameras.
While the campground delivers in terms of natural beauty and accessibility to trails, campers should note that water isn't provided. It's crucial to come prepared, bringing enough water to cover your entire stay.
Similarly, even though the site permits campfires and allows pets, the onus is on the campers to maintain cleanliness. 
With no trash facilities provided, visitors must pack out whatever they bring in, ensuring the beauty of Monjeau remains unspoiled for future adventurers.
For those who cherish meals amidst nature, each site is equipped with a picnic table. And while the camp might feel secluded, essential amenities like toilets ensure your basic needs are met.
Monjeau Campground offers a unique blend of seclusion and beauty. Whether you're drawn by the dense forest canopy, the historical Monjeau Lookout, or the serenity of a small camp, Monjeau ensures a memorable stay amidst the wonders of the Lincoln National Forest.
South Fork Campground 
Located deep within the Smokey Bear Ranger District of the Lincoln National Forest, South Fork Campground stands as a testament to the region's allure. 
This campsite, with its 53 well-spaced spots, is one of the most sought-after destinations in the area, making it a hub for both novice and experienced campers.
South Fork Campground offers the perfect gateway to the White Mountain Wilderness. Directly from the campsite, visitors can access the South Fork Trail (T19), a trail known for its diverse challenges. 
Initially, hikers will find the path moderately easy, allowing for a relaxed stroll amidst nature. However, as one progresses, the trail's difficulty amps up, providing the thrill and challenge seasoned hikers often seek.
The campground operates around the clock and follows a first-come, first-serve policy. Given its popularity, especially during the summer months, it's advisable to arrive early to secure a spot. 
Each site can be rented for a fee of $10 per night, with an added charge for extra vehicles. As for the duration of stay, campers have a generous limit of 14 days, allowing for an immersive experience. 
However, there's a size restriction for RVs, which should not exceed 35 feet.
Essential amenities such as potable water, toilets, and picnic tables ensure a comfortable stay. 
For those planning to bring along trailers or tents, the campground provides designated areas for both, ensuring a structured camping experience. 
The campsite also boasts two distinct parking areas: one exclusively for tent camping and the other catering to those keen on exploring the South Fork Trail.
Finding your way to South Fork Campground is relatively straightforward. From Ruidoso, travel 9 miles north on NM 48, then turn west on NM 37. 
After a short 1.5-mile journey, turn onto Forest Road 107 and continue for another 5 miles. After passing Bonito Lake, a left turn and a mile's drive will bring you straight to the campgrounds.
Skyline Campground
Skyline Campground, poised at an elevation of just over 9,000 feet, offers a serene retreat within the Lincoln National Forest. 
Perched near the iconic Monjeau Lookout tower, this campground provides breathtaking mountain vistas, making it a sought-after destination for nature enthusiasts and campers alike.
One of the charms of Skyline Campground is its direct accessibility to the White Mountain Wilderness. 
For those keen on hiking, the Crest (T25) Trailhead, accessible right from the campsite, serves as a gate to the wilderness, offering a rich exploration experience.
The campground features 17 exclusive tent sites, ensuring a more intimate and secluded experience for visitors. However, prospective campers should be aware of the route leading to the campground. 
The Forest Road 117, though well-maintained, is a steep gravel road. Its conditions can deteriorate during inclement weather, making the last couple of miles particularly challenging.
Though Skyline Campground ensures essential amenities like picnic tables, unpaved parking, and vault toilets for a comfortable stay, there's no provision for drinking water. 
Moreover, with no trash service available, visitors are urged to follow the "Leave No Trace" principle and pack out everything they bring in, maintaining the pristine nature of the surroundings.
The campground operates around the clock and is open throughout the year. With a stay limit of 14 days and a restriction against trailers, it's tailor-made for tent camping enthusiasts. 
For those venturing from Ruidoso, the path to Skyline is straightforward. Travel north on NM 48 for about 4 miles, then turn onto NM 532 heading west for a mile. 
A right onto Forest Road 117 will get you on the gravel road leading to the campsite after about 4 miles.
Sleepy Grass Campground 
Sleepy Grass Campground, a tranquil retreat within the Lincoln National Forest, boasts an enviable location just south of the charming Village of Cloudcroft. 
With a total of 15 camping units – 2 double, 3 triple, and 10 single units – it offers a diverse range of camping options, making it a favorite among both solo travelers and families.
One of its standout features is the versatility it offers for accommodations. While tents find a welcome spot here, so do campers and RVs, though there is a length restriction of 30 feet for RVs. 
As the popularity of the site is undeniable, with its heavy usage especially between May 12th and September 5th, it's recommended to arrive early since it operates on a first-come, first-serve basis.
A notable attraction within Sleepy Grass is the La Pasada Encantada Trail, an interpretive site that invites hikers to engage with the local ecology and history. 
Apart from the trail, the campground ensures a comfortable stay with essential amenities. Each site features a picnic table, perfect for enjoying meals in the great outdoors. 
There's potable water available, and for sanitary needs, the campground is equipped with eight vault toilets. Campers also have the convenience of nearby showers and an RV dump station at the Silver Campground for a nominal fee.
Budgeting for your stay here is straightforward. A single-family site costs $26 per night, with 2-family and 3-family sites priced at $33 and $41 respectively. 
Additional vehicles come at a fee of $9 per night. For those chilly nights, firewood might be available for purchase at $8 per bag or bundle.
Navigating to Sleepy Grass Campground is quite simple. From NM 130, it's a short 1.4-mile journey south of the village. 
A left turn onto FR24B, directly across from Deerhead Campground, will lead visitors straight to their camping destination.
Upper Karr Canyon Campground
Tucked away off the picturesque Sunspot Scenic By-Way, Upper Karr Canyon Campground presents an idyllic setting for campers seeking nature's embrace within the Lincoln National Forest. 
With a capacity to host 200 guests, it's both expansive and welcoming.
Its position is particularly strategic for nature and history enthusiasts. Just to the east lies the White Sands National Monument, a breathtaking expanse of glistening white dunes that paints a stark contrast against New Mexico's blue skies. 
If you haven't yet experienced the surreal beauty of this natural wonder, incorporating it into your itinerary is highly recommended.
Further exploration might take you to the San Andres National Wildlife Refuge, a testament to nature's resilience. 
Here, you'll find a variety of robust wildlife that has adapted to the desert's extreme temperatures, from searing summers to chilly winters. 
It's a celebration of survival, offering insights into the adaptability of the region's flora and fauna.
Back at the campground, guests are met with fundamental amenities that promise a comfortable stay. Two fire rings beckon for evening gatherings, while a vault toilet ensures basic necessities are met. 
Though RVs are welcome, they're limited to a maximum length of 16 feet. The vast expanse also caters to tent campers, providing ample space to set up a cozy abode beneath the starlit sky. 
An added advantage is the absence of a usage fee, making Upper Karr an affordable choice.
Getting to the campground from Cloudcroft is a scenic journey. Heading south on NM130 and turning right onto NM6563, the Sunspot Scenic Byway unfolds with its natural wonders. 
After approximately six miles, a signpost for the Upper Karr Recreation Area appears, guiding visitors to their destination.
Oak Grove Campground
Oak Grove Campground offers an authentic camping experience. Currently listed as closed, this sanctuary provides a lush environment for campers surrounded by an oak forest, which stands in close proximity to the mesmerizing mountain vistas of Sierra Blanca.
Oak Grove Campground houses 30 well-organized campsites. Each campsite is equipped with essentials such as fireplaces, tables, and trash cans to ensure a comfortable stay. 
In terms of sanitation, there are three vault toilets situated within the campground. While there are facilities for both tent and trailer camping, it's essential to note the restrictions for RVs, which are limited to an 18-foot length. Additionally, each site permits a maximum of two vehicles.
A modest fee of $6 per night is charged for camping, and there's an additional fee of $6 for every extra vehicle, capped at two vehicles per site. 
Though the campground is accessible 24/7 during its operational season, it's vital to check the operational status beforehand, especially given the campground's popularity during the peak seasons.
For those considering a trip to Oak Grove, the campground is easily reachable. Starting from Ruidoso, one can head north on NM 48 for about 4 miles and then take a left turn westward on NM 532, continuing for another 5 miles.
Oak Grove doesn't just offer a place to rest. It's also a hub for various recreational activities, with provisions for picnicking being a major attraction. 
Though the campground lacks a direct water source, it makes up for it with its array of amenities and the sheer beauty of its surroundings.
Managed by the Forest Service, Oak Grove stands as a testament to nature's untouched splendor. 
Whether you're planning a short getaway or an extended stay amidst nature, Oak Grove Campground promises a mix of tranquility and adventure.
12 Tips for Camping in Lincoln National Forest
Research Ahead of Time: Before embarking on your camping trip, it's essential to do some research. Lincoln National Forest encompasses various campgrounds, each with its own set of rules, amenities, and unique features. Familiarize yourself with the specific campground you plan to visit to ensure a smooth experience.
Respect Restrictions: Some campgrounds might have length restrictions for RVs or limits on the number of vehicles per site. Always adhere to these guidelines to avoid any inconvenience.
Pack Properly: Given the varied terrains and climates within the forest, pack clothing that can adapt to sudden temperature changes. Always bring rain gear, a hat, and sturdy hiking boots. Include essential camping gear such as tents, sleeping bags, and cooking equipment.
Leave No Trace: Preserve the pristine beauty of the forest. Always pack out what you pack in. Use established campsites, fire rings, and trash disposal facilities. If you're at a site without trash facilities, take your garbage with you.
Fire Safety: Only light fires in designated fire rings or pits. Ensure your fire is completely extinguished before leaving. Remember, wildfires can start easily, especially during dry conditions.
Be Wildlife-Aware: Lincoln National Forest is home to a variety of wildlife. Never feed wild animals, store food securely, and maintain a safe distance from them. Knowing how to act if you encounter wildlife, especially larger animals like bears, is crucial.
Water Sources: Always carry enough water for your trip or have a means to purify natural water sources. Even if a campsite mentions a water source, it's a good idea to check in advance, especially during dryer months.
Stay on Marked Trails: When hiking, always stick to designated trails. This not only ensures your safety but also helps in conserving the environment.
Weather Preparedness: Weather in forested areas can be unpredictable. Check the weather forecast before heading out and be prepared for sudden changes, especially if you're planning to hike or engage in other outdoor activities.
Know Your Limits: Whether you're hiking, biking, or engaging in any other activity, always be aware of your physical limits. It's better to be safe and enjoy your trip than to overexert yourself.
Emergency Preparedness: Always let someone know your plans before heading into the forest. Carry a basic first aid kit, a map, a compass, and if possible, a GPS or a charged cellphone. Knowing basic emergency signals and having a whistle can also be beneficial.
Campground Etiquette: Remember, you're sharing the space with others. Keep noise levels down, especially during quiet hours, and respect your neighbors' privacy.
By adhering to these tips and being a responsible camper, you'll ensure not only a memorable camping experience in Lincoln National Forest but also help in preserving its natural beauty for generations to come.
Highlighted Activities Near Campgrounds
Hiking: Lincoln National Forest boasts an extensive network of hiking trails catering to all skill levels. Some of the popular trails include:
Crest Trail (T25): This is a challenging route that offers panoramic views of the surrounding landscape. Hikers should be prepared for steeper inclines.
South Fork Trail (T19): Ideal for intermediate hikers, this trail leads into the heart of the White Mountain Wilderness, showcasing the diverse flora and fauna of the region.
Three Rivers Trailhead (T44): Suitable for beginners to intermediates, this trail provides picturesque views and a serene hiking experience.
Wildlife Watching: The diverse ecosystems within the Lincoln National Forest make it a haven for various wildlife species.
Best Spots: Areas around water sources, such as streams or ponds, and open meadows are usually great places to spot wildlife. 
The vicinity around South Fork and James Canyon campgrounds are particularly renowned for wildlife sightings.
Time: Early mornings and late afternoons are optimal times for wildlife watching as animals are most active during these hours.
Fishing or Water Activities: While Lincoln National Forest isn't primarily known for its water activities, there are still some spots where fishing enthusiasts can indulge.
Locations: Streams and ponds scattered throughout the forest, especially around the higher altitude campgrounds, are potential fishing zones.
Regulations: Do ensure you have the necessary permits and are aware of the fishing regulations, including fish species, size, and bag limits, to maintain the natural balance.
Other Recreational Activities
Rock Climbing: Certain parts of the forest, especially around rugged terrains and steeper cliffs, are popular among rock climbing enthusiasts. 
Always ensure you're equipped with the right gear and have adequate experience or are accompanied by a guide.
Horseback Riding: Riding trails weave through various parts of the forest, offering a unique perspective of the landscape. 
Some campgrounds, like James Canyon, have trails that are suitable for horseback riding, but do check regulations regarding equine access in specific areas.
Mountain Biking: For those looking to pedal through the forest, several trails, especially around the outskirts of campgrounds, are accessible to mountain bikes.
Lincoln National Forest campgrounds serve as ideal bases to indulge in a plethora of recreational activities. 
From hiking to horseback riding, there's an adventure waiting for every nature lover in this expansive wilderness.
Seasonal Considerations
Best Times of the Year to Visit
Spring (April to June): This is a favorable time as the temperatures are moderate, the snow begins to melt, and the forest springs to life. 
Wildflowers begin to bloom, creating a colorful carpet across the forest floor.
Fall (September to November): Another excellent time to visit, fall brings a spectacle of changing leaves, with aspen, oak, and other trees turning brilliant shades of orange, red, and yellow. 
The temperatures are cool and comfortable for outdoor activities.
Weather Patterns and What to Expect
Summer (July to August): This season can be warm during the day but still offers pleasant evenings. 
However, it's essential to note that summer is also the monsoon season. 
Afternoon thunderstorms are common, so it's advisable to plan outdoor activities for the morning and always carry rain gear.
Winter (December to March): The forest transforms into a winter wonderland with snow-capped trees and frozen water bodies. 
While it's picturesque, many trails and roads might be inaccessible due to snow. 
If visiting during this time, come prepared with appropriate winter gear and be aware of potential avalanche zones if venturing into the backcountry.
Special Seasonal Events or Natural Phenomena
Autumn Leaf Change: As mentioned, fall brings a vibrant display of changing foliage, especially in the higher altitudes of the forest. 
This natural event usually peaks around late September to early October.
Migratory Bird Watching: Spring and fall see a variety of migratory birds passing through the region. 
Bird enthusiasts can witness species not usually seen during other times of the year.
Wildflower Blooms: Spring, especially late spring, is the best time to witness the wildflower bloom, with meadows and hillsides adorned with a variety of colorful flowers.
While each season in Lincoln National Forest offers its unique charm and experiences, visitors should always be prepared for sudden weather changes due to the area's varied elevations and terrain. 
Checking the local forecast and being aware of seasonal phenomena can significantly enhance the overall experience.
Conclusion
Lincoln National Forest stands as a testament to nature's grandeur, offering an expansive and diverse landscape that captures the hearts of all who visit.
However, as we immerse ourselves in its beauty, it's imperative to remember our responsibility to protect and preserve this natural wonder for future generations.
Every step we tread and every campsite we pitch carries with it the promise of minimal impact, ensuring that the forest's flora and fauna continue to thrive.
A camping trip in Lincoln National Forest can be a transformative experience, with its vast terrains and breathtaking vistas serving as the backdrop for memories that will last a lifetime.
As you plan your journey into this wilderness, equip yourself with knowledge, respect for nature, and a spirit of adventure.
With thoughtful preparation and a deep appreciation for the forest's delicate balance, you're not just setting up for a camping trip but a harmonious communion with nature. Here's to unforgettable moments and stories that echo through the towering trees of Lincoln National Forest!