Join us on 9 trails in the Pisgah National Forest we've trekked on, from peaks to streams! Tips Included, So Read on! 
Hey, trailblazers! Buckle up because we're about to dive into the untamed heart of the Blue Ridge Mountains—Pisgah National Forest, North Carolina.
Imagine over half-a-million acres of wild, green wonderland just waiting for your hiking boots to hit the ground. We're talking sky-high peaks, whispering streams, and hidden waterfalls.
Our crew took on 9 of the coolest trails, from muscle-pumping climbs to easy breezy walks, and we're here to give you the dirt on each one.
So grab your water bottle, and let's get a sneak peek at these adventures, scouted out with tips from the top trail gurus around!
Mount Mitchell Trail (Hard)
The Mount Mitchell Trail is an epic adventure for experienced hikers, taking you to the summit of the highest peak east of the Mississippi River. 
At an elevation of 6,684 feet, the summit provides awe-inspiring panoramic views of the surrounding landscape.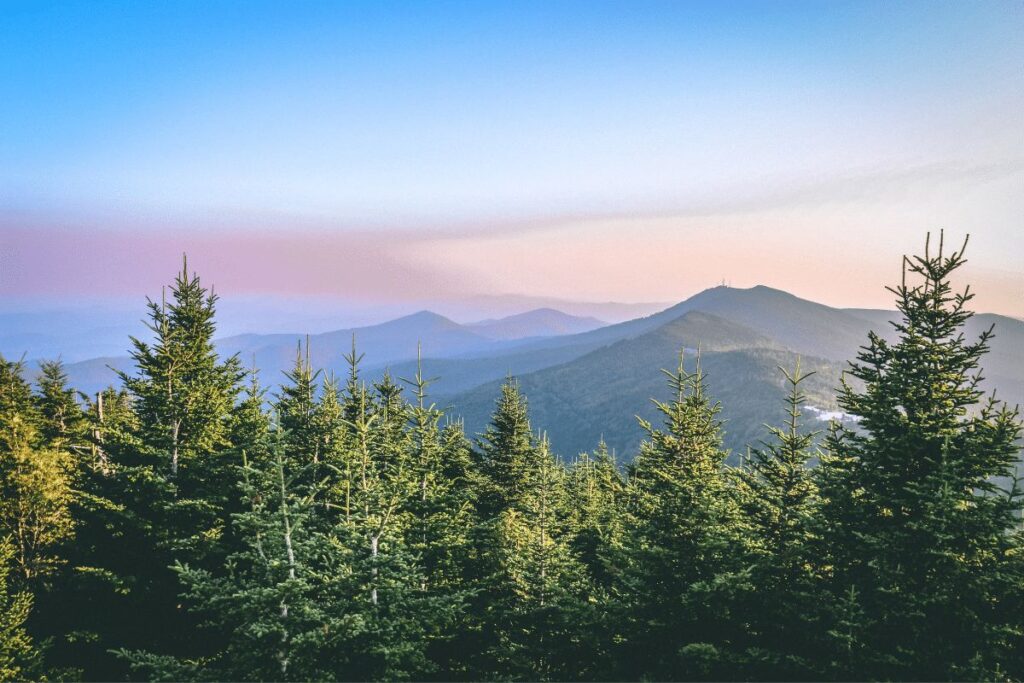 This 11.4-mile round trip trek is challenging but rewarding, with lush forests, rocky terrain, and occasional wildlife sightings. 
The trail begins at the Black Mountain Campground and follows the ridgeline, climbing steadily through a variety of ecosystems. 
Make sure to pack layers and be prepared for the temperature drop as you climb higher. A visit to the Mount Mitchell State Park observation deck is a must for capturing the majestic vistas.
Looking Glass Rock Trail (Moderate)
This 6.5-mile round trip hike is perfect for those seeking a moderate challenge with stunning rewards. Named after its unique reflective appearance when wet, Looking Glass Rock is an iconic granite monolith.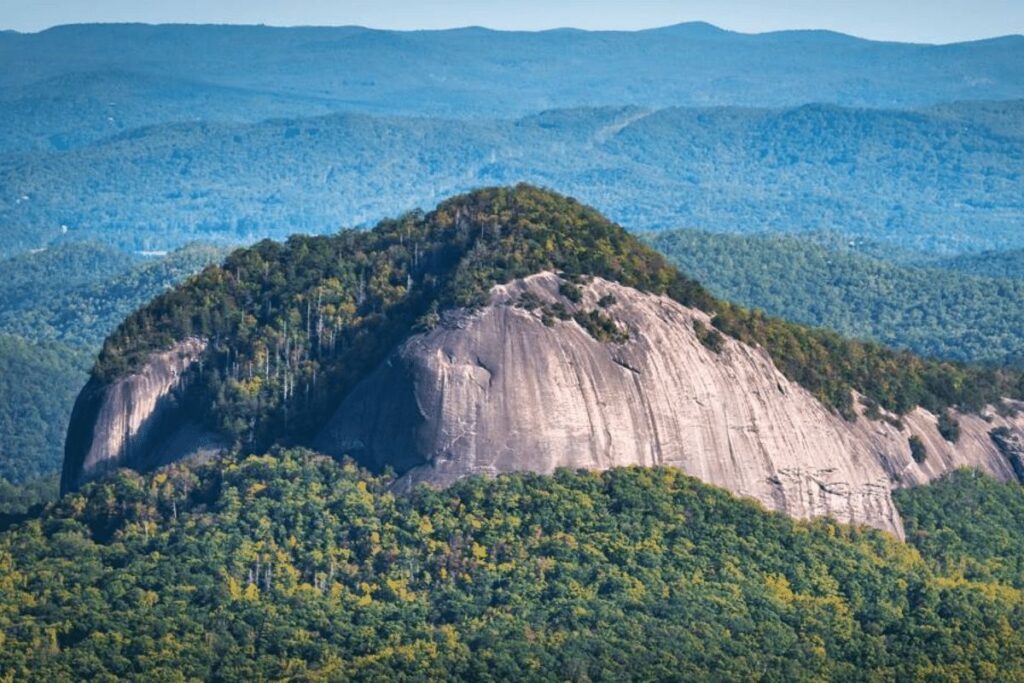 The trail takes you through dense forests and rhododendron tunnels before culminating at the top of the rock with breathtaking 360-degree views. 
The hike begins at the Looking Glass Rock Trailhead off of US-276, steadily gaining elevation as you progress. Be cautious on the steep sections and watch for falcons that nest in the area!
Grassy Ridge Bald Via the Appalachian Trail (Moderate)
This 5-mile round trip hike along the Appalachian Trail leads to Grassy Ridge Bald, one of the most scenic spots in the Roan Highlands.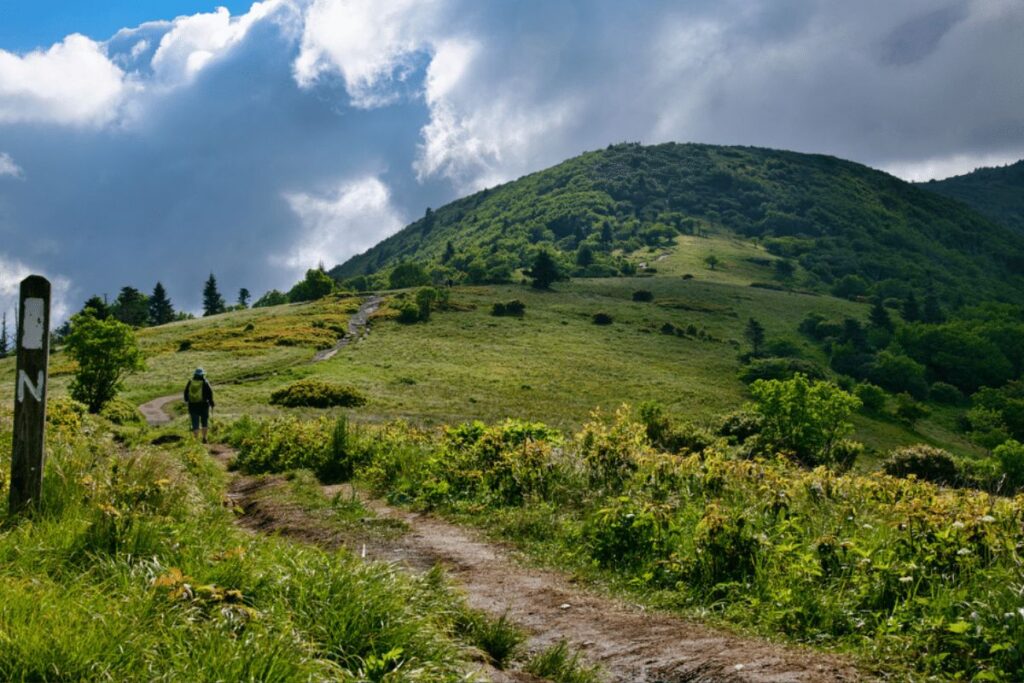 The trail takes you through lush forests and open grassy meadows before reaching the bald, where you're treated to panoramic views of the surrounding mountains.
 During June and July, the meadows are adorned with colorful wildflowers, making it a photographer's dream. 
Begin your hike at the Carvers Gap parking area, following the Appalachian Trail northbound to reach Grassy Ridge Bald. This trail offers a unique opportunity to hike along the famous Appalachian Trail, even if just for a day.
Graveyard Fields Trail (Moderate)
A popular 3.3-mile loop trail, Graveyard Fields offers diverse landscapes and unique features. The trail meanders through a high valley, complete with waterfalls, wildflower-filled meadows, and a spruce-fir forest.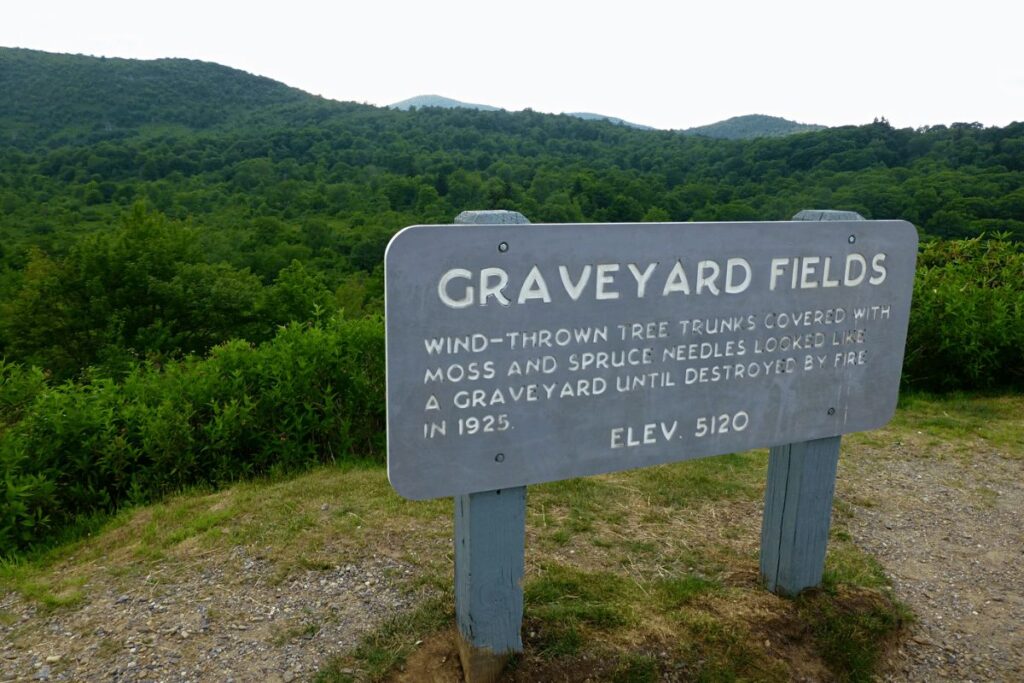 This hike is particularly beautiful in the fall when the foliage displays vibrant hues of red, orange, and yellow. Don't miss the two waterfalls: Upper Falls and Second Falls, perfect for photo opportunities and cooling off on a hot day. 
The Graveyard Fields trailhead is located off the Blue Ridge Parkway at Milepost 418.8, with ample parking and restroom facilities.
John Rock Trail (Moderate)
This 5-mile loop trail is a local favorite, offering a taste of Pisgah's diverse beauty. Hikers are treated to a mix of dense forests, mountain streams, and the stunning Cedar Rock Falls.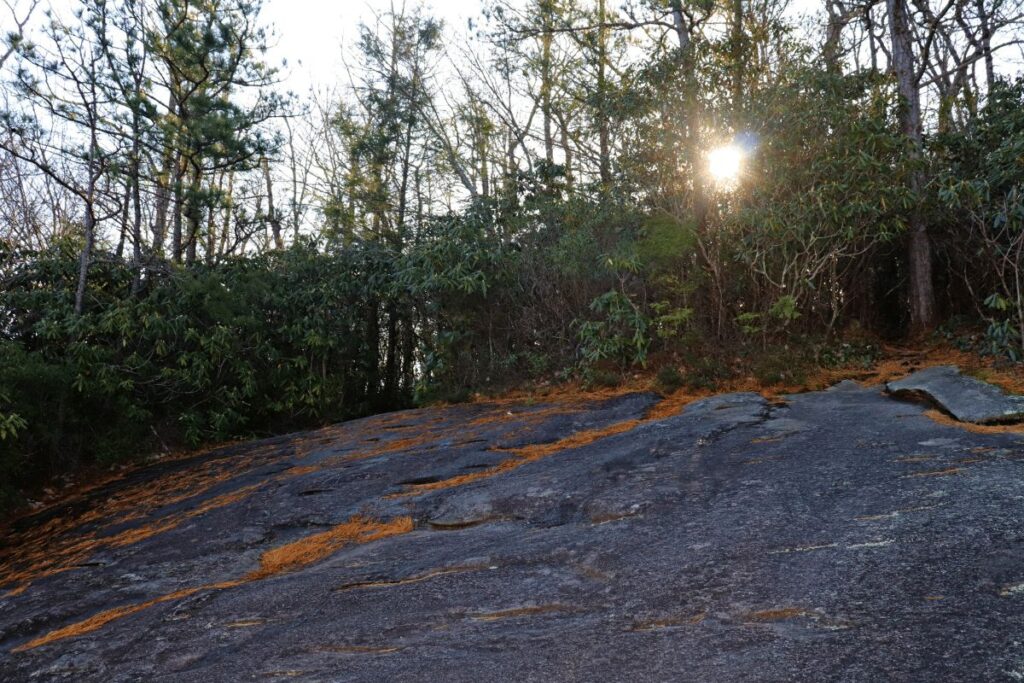 The trail culminates at John Rock, an impressive granite dome that provides sweeping views of the surrounding mountains and the nearby Looking Glass Rock. 
The hike begins at the Pisgah Center for Wildlife Education and Fish Hatchery, following the Cat Gap Loop Trail before branching off to the John Rock Trail.
Be prepared for a few creek crossings and some steep sections as you make your way to the summit.
Fryingpan Mountain Lookout Tower (Moderate)
This 1.5-mile round trip hike leads to the historic Fryingpan Mountain Lookout Tower, offering panoramic views of the Blue Ridge Mountains.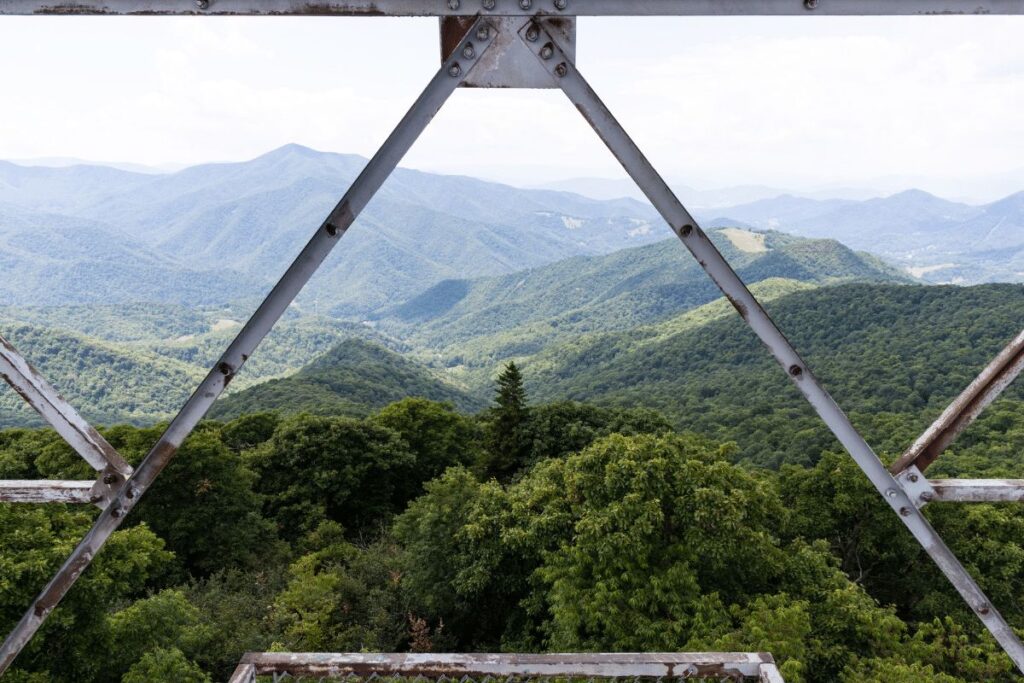 The tower, built in 1941, is still used today for spotting wildfires. The hike itself is relatively short but has a steady incline that may be challenging for some. 
The trail begins at the Fryingpan Mountain Lookout Tower parking area off the Blue Ridge Parkway at Milepost 409.6. The views from the tower are well worth the effort and provide a unique perspective of the surrounding mountains.
Daniel Ridge Loop (Moderate)
The Daniel Ridge Loop is a 5-mile trail that offers a bit of everything: dense forests, cascading waterfalls, and the picturesque Davidson River.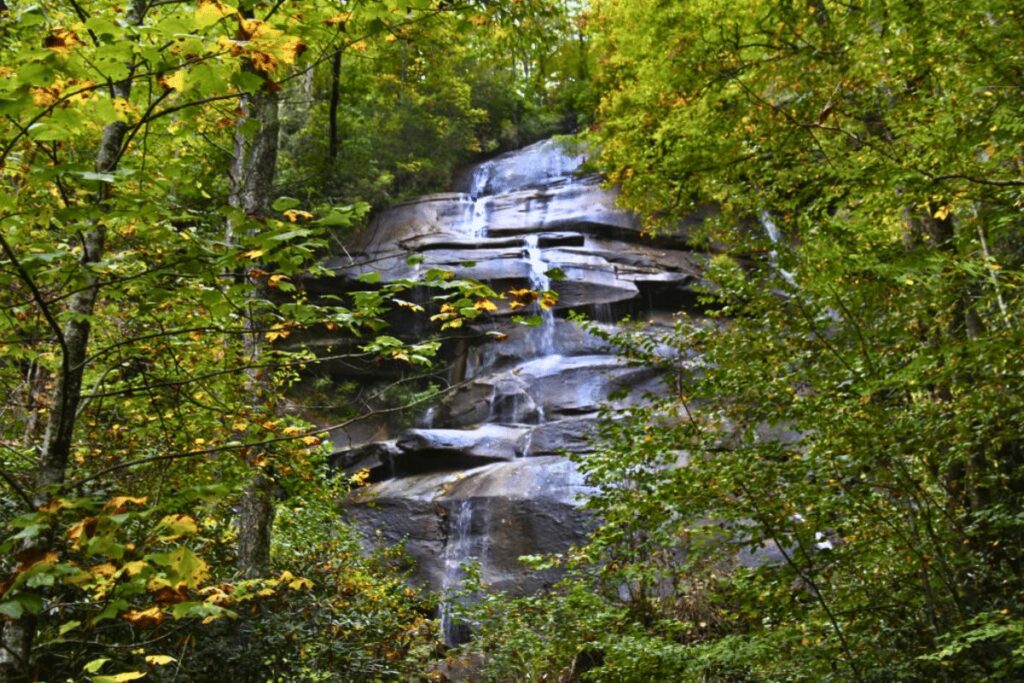 This hike is great for those looking for a moderate challenge and a chance to enjoy the solitude of the forest. Highlights include the 150-foot Daniel Ridge Falls and the remnants of an old logging railroad. 
The trailhead is located at the end of Forest Road 475C, with ample parking available. The trail can be hiked in either direction, but we recommend hiking counterclockwise to save the best views for last.
Beacon Heights Trail (Easy)
The Beacon Heights Trail is a short, 1-mile round trip hike with minimal elevation gain, making it perfect for families or those looking for a leisurely stroll.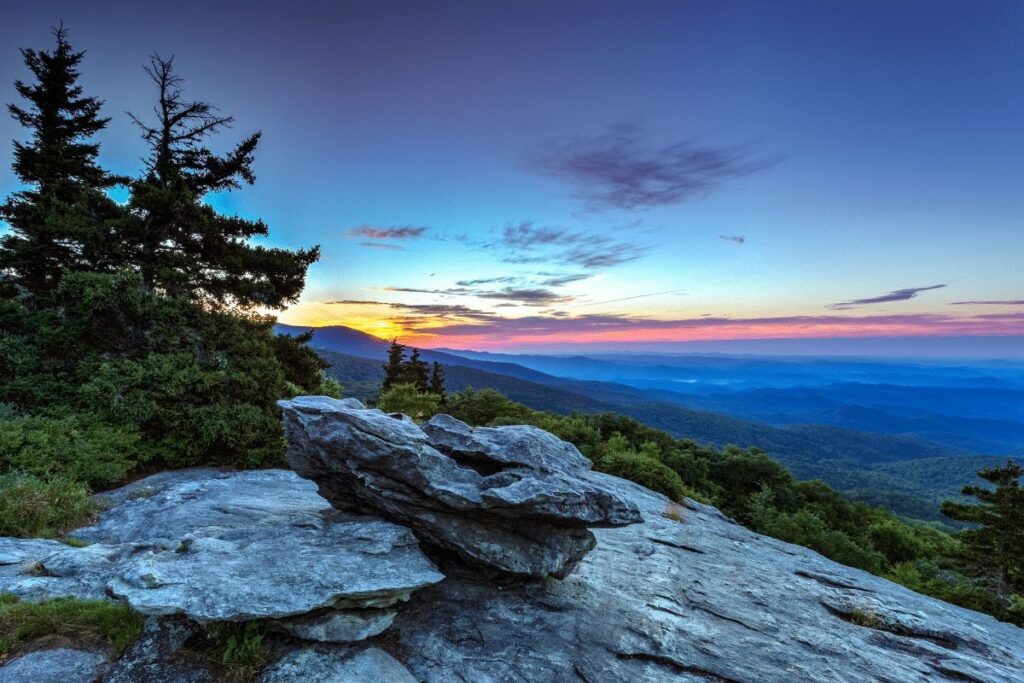 The trail takes you through rhododendron-filled forests and rocky outcrops, culminating at the Beacon Heights summit. 
The summit offers expansive views of Grandfather Mountain, Linville Gorge, and the surrounding Blue Ridge Mountains. 
This hike is particularly stunning at sunrise or sunset, with the sky's colors painting the landscape. The Beacon Heights trailhead is located off the Blue Ridge Parkway at Milepost 305.2.
Laurel River Trail (Easy)
The Laurel River Trail is a relatively flat, 7.2-mile round trip hike along the banks of the Laurel River.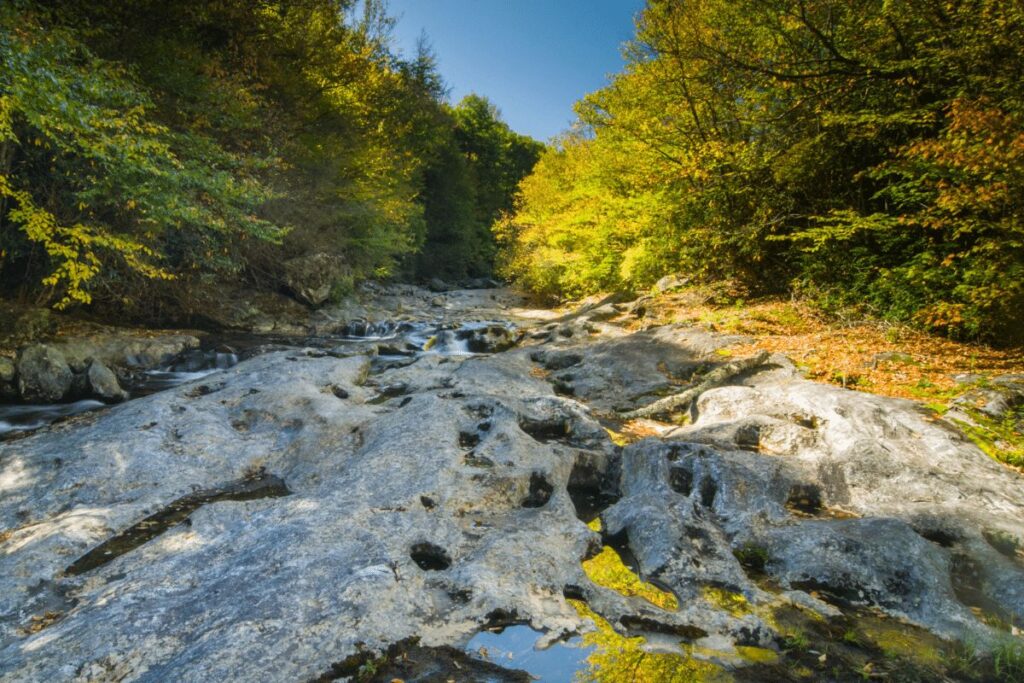 This trail is perfect for those looking for a leisurely walk with plenty of opportunities to admire the scenic river and surrounding wilderness. Wildlife enthusiasts may catch a glimpse of otters, beavers, and various bird species along the way. 
The trailhead is located near the community of Hot Springs, NC, with parking available at the intersection of NC-208 and NC-212. The trail ends at the confluence of the Laurel River and the French Broad River, a popular spot for picnics, swimming, and even fishing.
Going Camping? Read This: CAMPING AT DAVIDSON RIVER CAMPGROUND, BREVARD, NC
Our 10 Tips for Tackling the Trails in Pisgah National Forest
Start at Mount Mitchell: If you're up for the challenge, begin with Mount Mitchell Trail. It's the toughest one we've done, so start early and pack plenty of water and high-energy snacks.
Pace Yourself on Looking Glass Rock: This moderate hike offers stunning views, but don't rush. Take breaks and enjoy the scenery.
Embrace the Appalachian Trail: When you hit Grassy Ridge Bald, soak in the panoramic views. Remember, this is a moderate hike, so pace is key.
Stay Cool at Graveyard Fields: This trail is moderate, but it can get hot. Dip your toes in the stream or waterfalls to stay refreshed.
Capture John Rock: Bring your camera or phone fully charged. The views from John Rock are Instagram-worthy, so you'll want to snap plenty of photos.
Check the Weather for Fryingpan Mountain: Before you tackle this lookout tower hike, check the forecast. Weather can change rapidly, and you want a clear day for the best vistas.
Loop Smart on Daniel Ridge: This loop is a moderate hike, but with river crossings, be sure to wear waterproof boots or shoes that you don't mind getting wet.
Quick Hikes Are Key: If you're short on time, hit Beacon Heights or Laurel River Trail. These easy trails offer a quick dose of nature's beauty.
Safety in Numbers: Always hike with a buddy, especially on the moderate to hard trails. It's safer and more fun!
Leave No Trace: Pack out everything you bring in. Keep these trails in Pisgah National Forest as pristine as you found them for future adventurers.
Conclusion
Pisgah National Forest offers a diverse range of hiking experiences for adventurers of all skill levels. From challenging summit climbs to leisurely riverside strolls, there's something for everyone in this breathtaking wilderness. 
Our journey through these 9 trails, left us with memories of stunning vistas, unique geological features, and a renewed appreciation for the beauty of nature.
We hope our adventure inspires you to lace up your hiking boots and explore the wonders of Pisgah National Forest for yourself! We also include handpicked guided tours to make for an exception hiking adventure!