Explore 11 key stops on an Amarillo to Santa Fe road trip, filled with culture, nature, and Route 66 nostalgia.
Get ready, road trip enthusiasts and adventure seekers! We're about to embark on an epic journey from the heart of Texas to the vibrant art scene of New Mexico.
Our Amarillo to Santa Fe road trip is packed with stunning landscapes, quirky attractions, and delectable food stops that'll leave you craving more.
In this article, we'll navigate the twists and turns of this incredible route, making you feel like you're already cruising down the open road with the wind in your hair.
As your trusty GPS, best friend, and personal tour guide all rolled into one, we'll explore the hidden gems and must-visit spots that make this trip a bucket list essential.
From the iconic Cadillac Ranch to the mesmerizing Kasha-Katuwe Tent Rocks, you won't want to miss a thing.
So, why keep reading? Because we're about to unlock the secrets that will transform your Amarillo to Santa Fe adventure into the most memorable, picture-perfect road trip ever! Start your engines and let's hit the road!
Preparing for the Road Trip
A successful road trip begins with proper preparation. Taking the time to plan and organize your journey will ensure a smooth and enjoyable experience.
Choosing the Right Vehicle
Selecting the right vehicle for your road trip is crucial for a comfortable and stress-free journey. Consider factors such as fuel efficiency, cargo space, and passenger capacity when choosing a car.
If you don't own a suitable vehicle, consider renting one. Opt for a reliable car with ample space for passengers, luggage, and any additional gear you might need.
We highly recommend using Discover Cars for your Amarillo to Santa Fe road trip. Their vast selection of reliable vehicles, competitive pricing, and excellent customer service will ensure a smooth and comfortable journey.
Discover Cars makes it easy to find the perfect rental to suit your needs and preferences.
Packing Essentials
Packing smartly can make all the difference during your road trip. Here are some essentials to include in your packing list:
Clothing: Pack enough clothes for the duration of your trip, considering the weather and activities you'll be engaging in. Don't forget a jacket, comfortable shoes, and extra layers for cooler evenings.
Toiletries: Bring travel-sized toiletries, such as shampoo, soap, toothpaste, and a toothbrush.
Food and drinks: Pack a cooler with snacks and drinks to keep you energized and hydrated during your journey. Include non-perishable items like granola bars, nuts, and dried fruit.
Emergency kit: Prepare a kit with essential items like a first aid kit, flashlight, extra batteries, blanket, jumper cables, and a toolset.
Entertainment: Bring books, magazines, or audiobooks for downtime, and don't forget chargers and cables for your electronic devices.
Maps and navigation: Even if you rely on a GPS device or smartphone, having a physical map as a backup is always a good idea.
Traveling with Kids and Pets
If you're traveling with children or pets, make sure to plan accordingly. Pack toys, games, and activities to keep kids entertained during long drives.
Bring essentials for your pets, like food, water, a leash, and a portable bed. Research pet-friendly accommodations and attractions along your route to ensure a smooth and enjoyable experience for everyone.
Planning Your Route and Stops
Outline your desired route and identify the must-see attractions and points of interest along the way. Allocate sufficient time for each stop, factoring in travel time, rest breaks, and unplanned detours.
Research accommodation options, restaurants, and gas stations to ensure a seamless journey. Don't forget to consider the weather and road conditions, as these can affect your travel plans.
Starting in Amarillo, Texas
As you start in Amarillo, make sure to explore its many attractions before hitting the road to Santa Fe.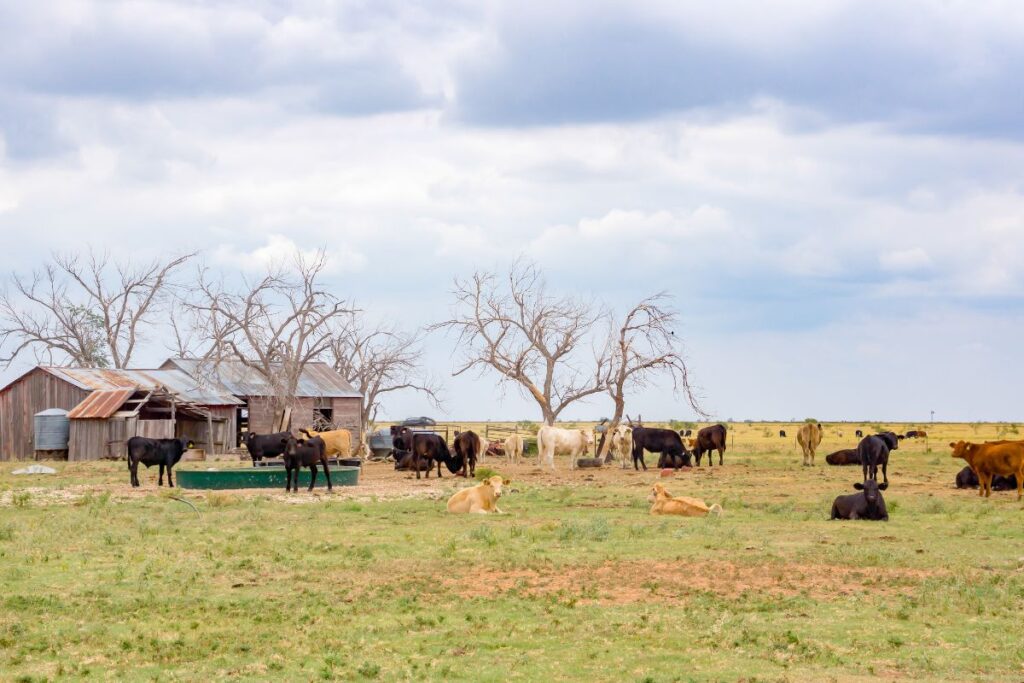 We'll take you through four must-visit spots in Amarillo that will undoubtedly make for an exciting beginning to your road trip.
Cadillac Ranch: A Pop-Culture Icon
Cadillac Ranch is an eccentric roadside attraction located just west of Amarillo. 
Established in 1974, this public art installation features ten brightly painted, half-buried Cadillacs in a row, their noses deep in the ground. 
Created by artists Chip Lord, Hudson Marquez, and Doug Michels, this quirky installation has become an iconic symbol of the Route 66 experience.
Visitors are encouraged to bring spray paint and leave their mark on the cars, contributing to the ever-evolving artwork. 
It's a fantastic spot for photography enthusiasts and those seeking a unique, interactive experience. 
Make sure to bring some old clothes, as you might get a bit messy with the spray paint!
Palo Duro Canyon State Park: Texas' Grand Canyon
Next up, make your way to the breathtaking Palo Duro Canyon State Park, about 25 miles southeast of Amarillo. 
Known as the "Grand Canyon of Texas," this 120-mile long, 800-foot deep canyon offers stunning vistas and an array of outdoor activities.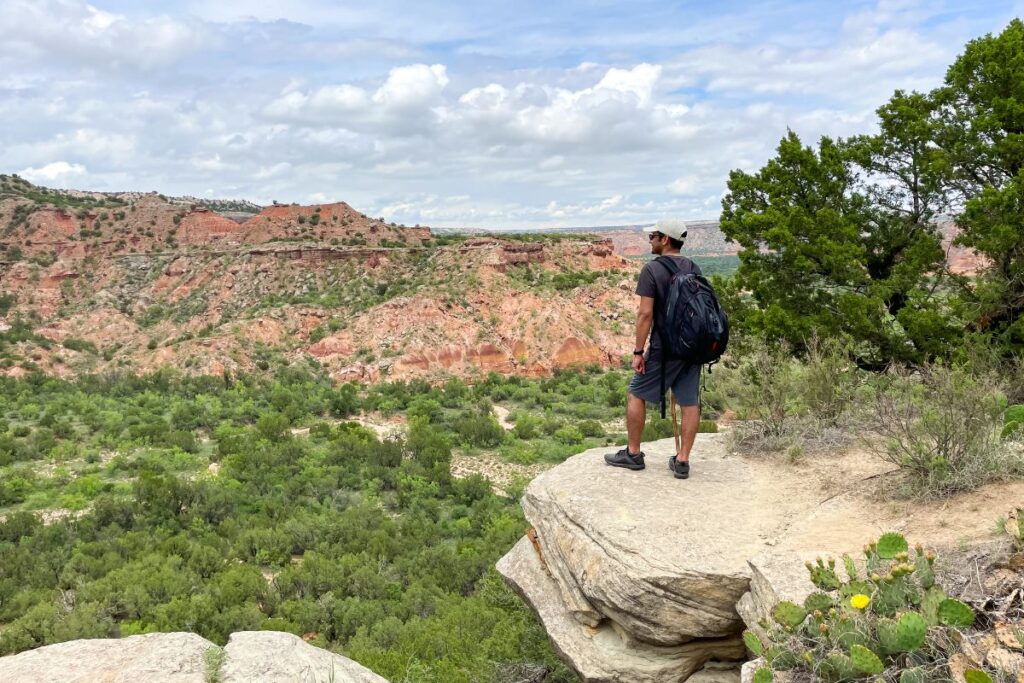 Begin your adventure by stopping at the Visitor Center for a park map, information about hiking trails, and a glimpse into the area's history. 
Then, hit one of the numerous hiking or biking trails that cater to all skill levels. 
For a more leisurely experience, take a scenic drive through the canyon or enjoy a picturesque picnic.
Don't miss the iconic Lighthouse Rock formation, reachable via a 6-mile round-trip hike. 
For an unforgettable overnight stay, consider camping under the stars at one of the park's well-maintained campgrounds.
Route 66 Historic District: A Nostalgic Journey
Back in Amarillo, travel back in time as you explore the Route 66 Historic District. This vibrant area boasts a mile-long stretch of vintage shops, antique stores, and unique eateries. It's an ideal place to soak up the retro ambiance and experience the spirit of the "Mother Road."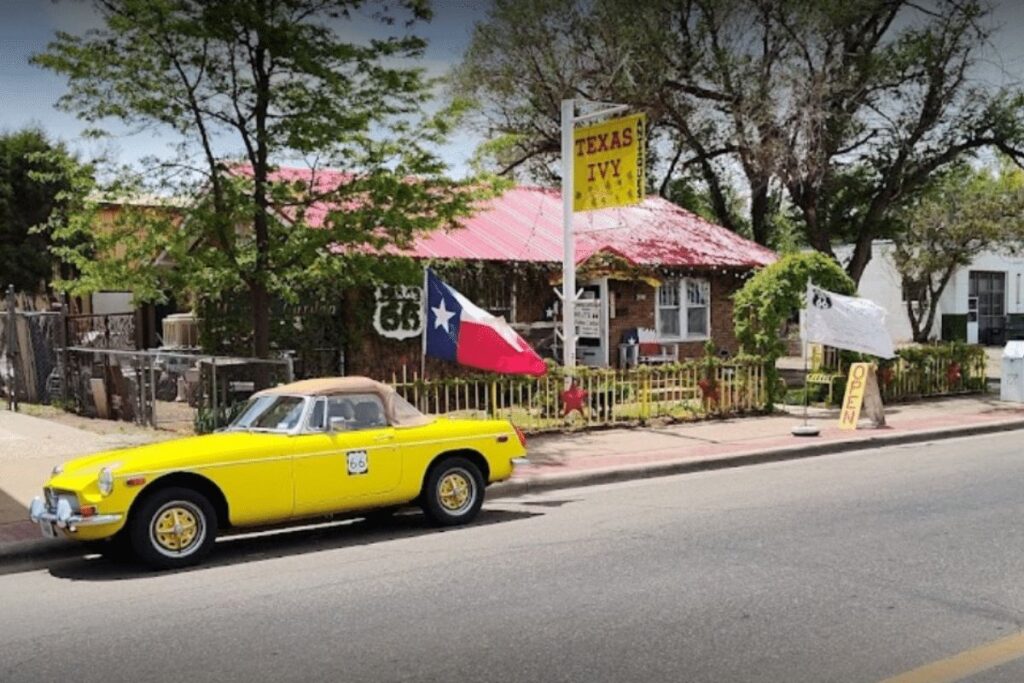 Stroll down the historic streets and stop at landmarks like the Natatorium, a former swimming pool turned antique mall, and the iconic Big Texan Steak Ranch, known for its famous 72-ounce steak challenge. 
Don't forget to check out the many classic neon signs, murals, and restored gas stations that make this area an Instagrammer's paradise.
Amarillo Botanical Gardens: A Serene Oasis
Before leaving Amarillo, unwind at the Amarillo Botanical Gardens, a tranquil escape from the bustling city. 
The gardens span 4 acres and showcase a variety of plants, flowers, and trees native to the Texas Panhandle. 
Walk the paths and enjoy the natural beauty, while exploring the themed gardens such as the Japanese Garden, Fragrance Garden, and Butterfly Garden.
For an educational experience, visit the Mary E. Bivins Tropical Conservatory, which houses exotic plants from around the world. 
Throughout the year, the Amarillo Botanical Gardens host events and workshops, so check their schedule to make the most of your visit.
Onward to Santa Fe
As you leave Amarillo and its fascinating attractions behind, your road trip adventure to Santa Fe awaits. 
The journey will be filled with diverse landscapes and a plethora of exciting stops, each offering.
Tucumcari, New Mexico: A Blast from the Past
After exploring the fascinating attractions in Amarillo, it's time to continue your road trip adventure toward Santa Fe.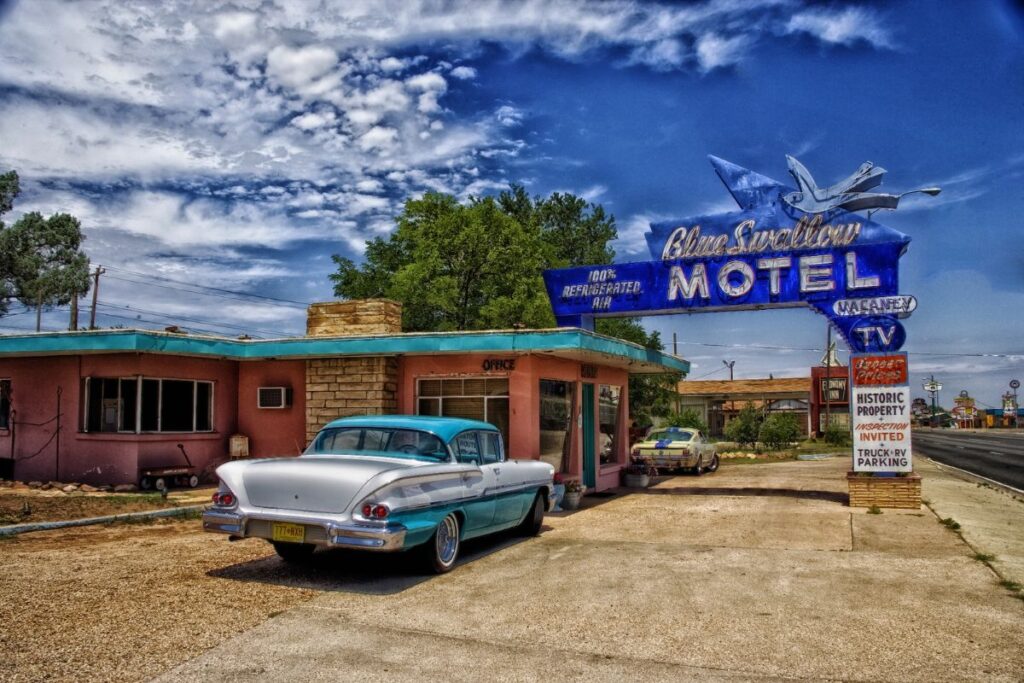 The next stop on your journey is Tucumcari, New Mexico, a historic town brimming with quirky attractions and vintage charm. 
We'll guide you through the must-visit spots in Tucumcari and offer some suggestions on where to eat and stay, ensuring that your road trip remains an unforgettable experience.
Traveling to Tucumcari: The Journey Begins
Tucumcari is located approximately 100 miles west of Amarillo, and the travel time between the two cities is around 1.5 hours via I-40 W. 
This stretch of road offers scenic views of the wide-open plains, providing a relaxing drive as you leave Amarillo behind and approach the vintage vibes of Tucumcari.
Steeped in Route 66 history, Tucumcari is a nostalgic stop that'll transport you back to the heyday of the "Mother Road." 
With its classic motels, neon signs, and retro diners, this town is a must-visit for those seeking an authentic Route 66 experience.
Quirky Attractions: Icons of Route 66
Tucumcari is home to an array of quirky attractions that pay homage to its Route 66 heritage. Be sure to check out the following spots as you explore this historic town:
Tee Pee Curios: A Route 66 Landmark
Tee Pee Curios is a unique gift shop housed in a building shaped like a giant teepee. 
Established in the 1940s, this shop offers a variety of souvenirs, including Route 66 memorabilia, Native American crafts, and locally made products.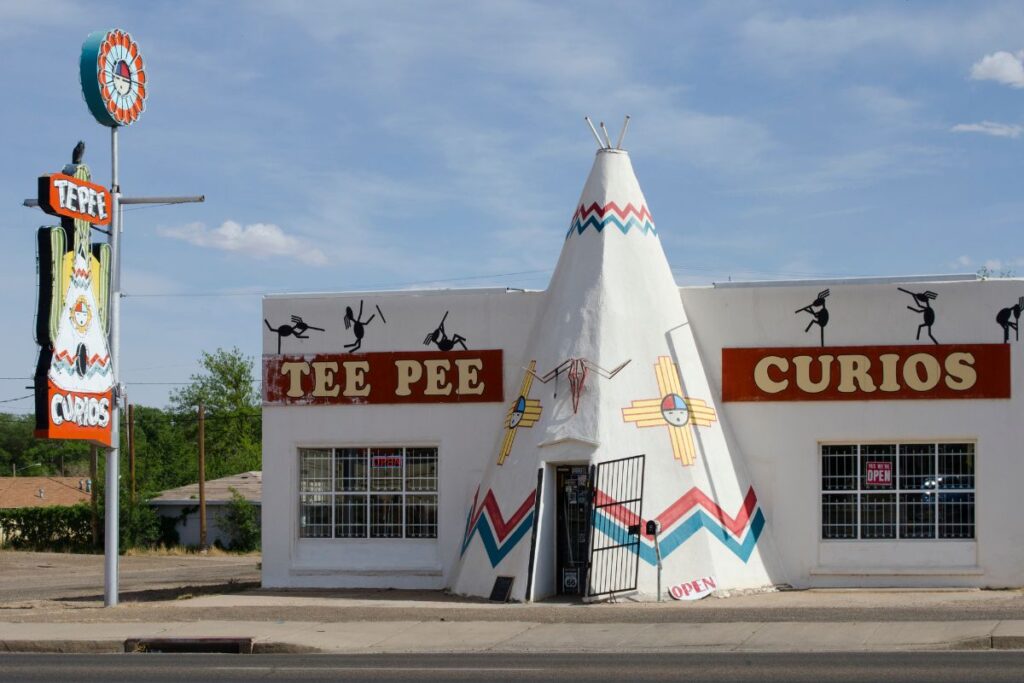 Don't forget to snap a photo with the iconic neon sign outside.
Murals of Tucumcari: A Colorful Stroll
As you wander the streets of Tucumcari, keep an eye out for the numerous murals that adorn the buildings. 
These colorful artworks depict scenes of the town's history, landscapes, and wildlife, adding a vibrant touch to the vintage atmosphere. 
Take a self-guided tour to discover these artistic gems and learn more about Tucumcari's storied past.
New Mexico Route 66 Museum: A Journey Through Time
The New Mexico Route 66 Museum is a must-visit for history buffs and road trip enthusiasts alike. 
This museum showcases the history of Route 66 in New Mexico through a collection of vintage vehicles, photographs, and memorabilia. 
Interactive exhibits and informative displays provide a fascinating insight into the bygone era of the "Main Street of America."
Where to Eat and Stay: Savoring the Tucumcari Experience
During your time in Tucumcari, make sure to indulge in some delicious local cuisine and enjoy a comfortable stay at one of the town's iconic motels.
Dining in Tucumcari: Classic Eateries
For a taste of authentic New Mexican cuisine, head to Del's Restaurant, a local favorite known for its delicious dishes and friendly atmosphere. 
If you're craving a hearty breakfast or a classic burger, Kix on 66 offers a retro diner experience complete with vintage decor and a neon sign.
Lodging in Tucumcari: A Night in Nostalgia
After a day of exploring, rest your head at one of Tucumcari's historic motels. The Blue Swallow Motel, built in 1939, is an iconic Route 66 lodging option that features charmingly restored rooms and a neon-lit courtyard. 
Alternatively, consider the Safari Motel, another vintage gem that offers themed rooms, a swimming pool, and a memorable stay.
As you bid farewell to Tucumcari and its nostalgic charm, your road trip adventure continues towards Santa Fe. 
With each stop along the way, you'll discover new sights, experiences, and memories that will make this journey truly unforgettable. 
So, keep your camera ready, your curiosity piqued, and your sense of adventure alive as you forge ahead on this remarkable road trip from Amarillo to Santa Fe.
Albuquerque, New Mexico: Breaking Bad and Ballooning
As you continue your road trip from Tucumcari to Santa Fe, make sure to include a stop in Albuquerque, New Mexico's largest city.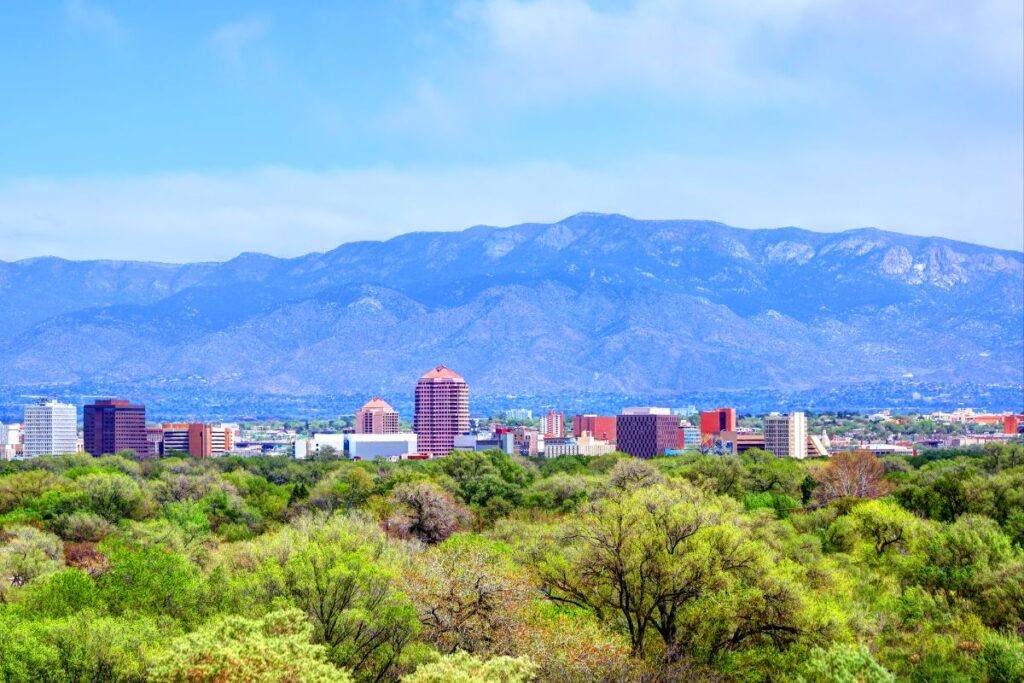 Known for its vibrant arts scene, rich cultural heritage, and breathtaking natural beauty, Albuquerque offers a variety of must-see attractions and unforgettable experiences. 
Traveling to Albuquerque: The Scenic Route
Albuquerque is located approximately 170 miles west of Tucumcari, and the travel time between the two cities is around 2.5 hours via I-40 W. 
The route offers picturesque views of the New Mexico landscape, with its mesas, desert plains, and distant mountain ranges, setting the stage for an exciting visit to Albuquerque.
Immerse yourself in the city's rich history, explore its unique attractions, and indulge in Albuquerque's thriving food scene. 
From hot air balloons to ancient petroglyphs, there's something for everyone in this vibrant Southwestern city.
Must-See Attractions: Albuquerque's Highlights
Albuquerque offers a diverse range of attractions that cater to all interests. Be sure to include the following spots on your itinerary:
Albuquerque International Balloon Fiesta: A Sky Full of Color
If your road trip coincides with the Albuquerque International Balloon Fiesta, held annually in October, you're in for a treat. 
This nine-day event is the largest hot air balloon festival in the world, attracting hundreds of balloons and thousands of visitors.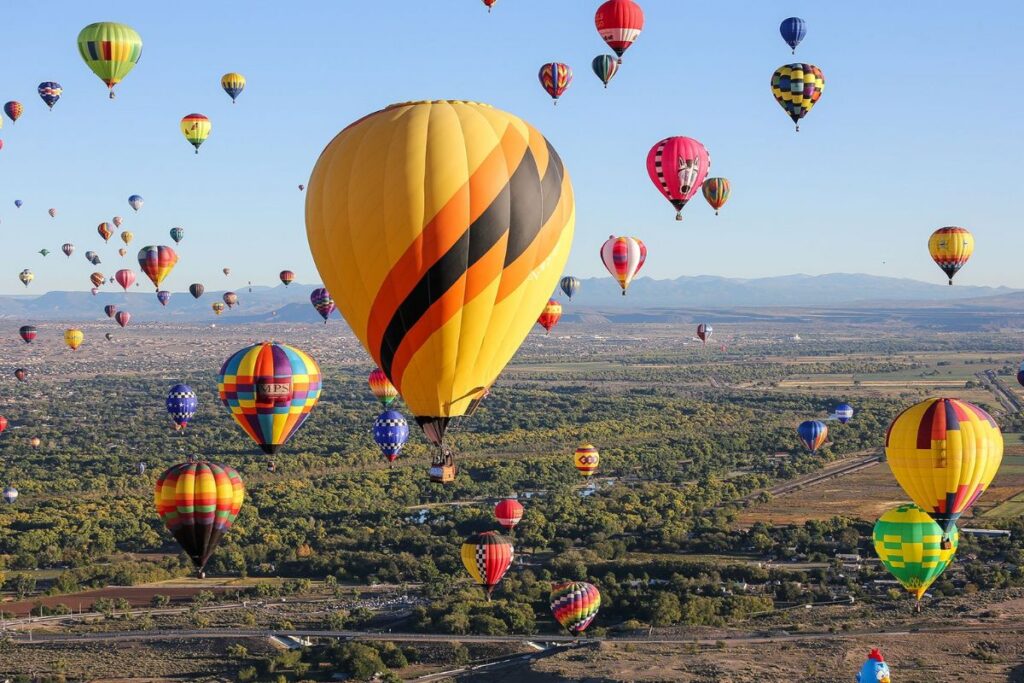 Witness the breathtaking sight of colorful balloons filling the sky during mass ascensions, enjoy evening balloon glows, and participate in various events and activities at the festival grounds.
Petroglyph National Monument: Ancient Art and History
Step back in time at the Petroglyph National Monument, a fascinating site featuring over 20,000 ancient rock carvings created by Native Americans and early Spanish settlers.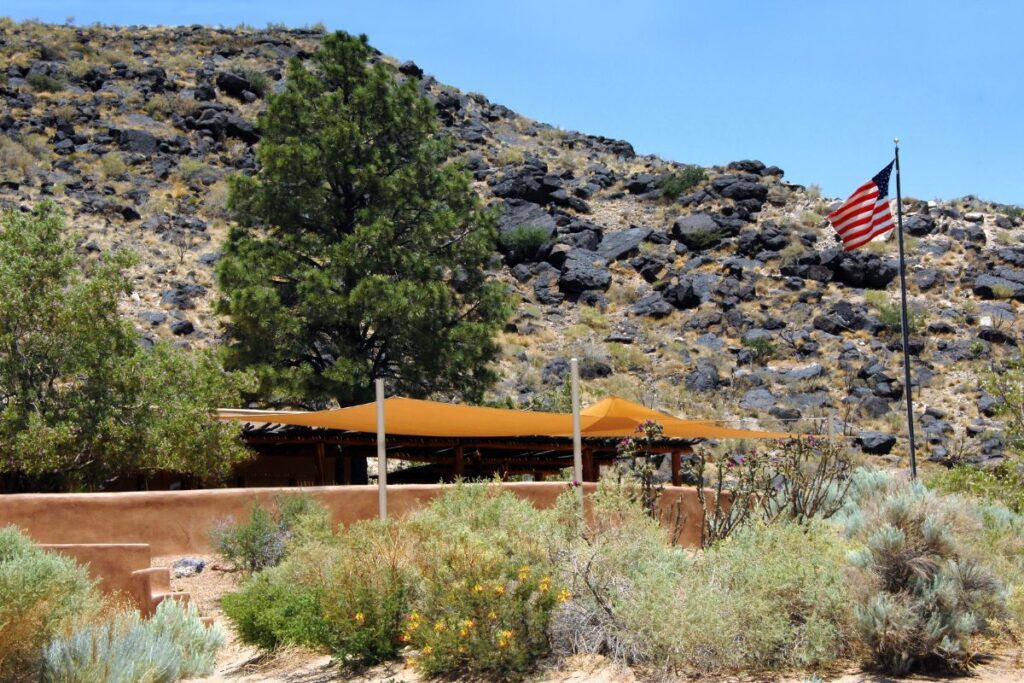 Spread across 17 miles of Albuquerque's West Mesa, the monument offers a glimpse into the region's cultural history. 
Hike one of the several trails, such as the Boca Negra Canyon or Rinconada Canyon, to explore the petroglyphs up close.
Historic Old Town Albuquerque: A Walk Through the Past
Wander the cobblestone streets of Historic Old Town Albuquerque, the city's original settlement dating back to 1706. 
This charming area features adobe buildings, hidden courtyards, and a central plaza, all exuding an old-world atmosphere. 
Visit the San Felipe de Neri Church, the oldest building in Albuquerque, and explore the numerous museums, art galleries, and shops that line the streets.
Breaking Bad Filming Locations: A TV Fan's Dream
If you're a fan of the critically acclaimed television series Breaking Bad, a tour of the show's filming locations is a must.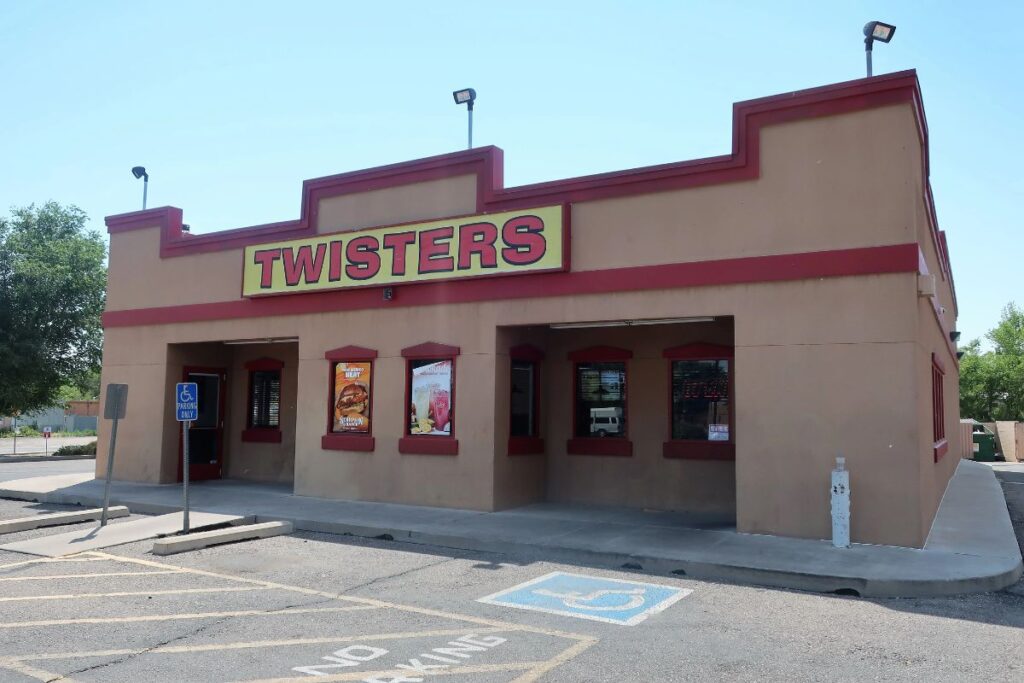 Visit Walter White's car wash, Saul Goodman's law office, and the infamous car junkyard, among other sites. 
Take a self-guided tour or join a guided Breaking Bad tour to get the full experience.
Culinary Experiences: Albuquerque's Flavorful Offerings
During your time in Albuquerque, make sure to sample some of the city's delicious cuisine. For an authentic taste of New Mexican fare, head to El Pinto, a local favorite known for its mouthwatering dishes and picturesque setting. 
For a more casual meal, try the legendary Frontier Restaurant, an Albuquerque institution that serves up tasty comfort food, including their famous sweet rolls.
The Journey Continues to Santa Fe
After exploring the diverse attractions and flavors of Albuquerque, your road trip adventure continues towards Santa Fe. 
With each destination offering unique experiences and unforgettable memories, this journey from Amarillo to Santa Fe is sure to be a road trip for the ages. 
As you venture onward, embrace the beauty of the landscapes, the richness of the culture, and the excitement of discovery that awaits you in every stop along the way.
Santa Fe, New Mexico: A Cultural and Artistic Haven
As your road trip adventure continues, you'll finally arrive at your last destination – the enchanting city of Santa Fe. Known as "The City Different," Santa Fe is steeped in rich history, vibrant art, and breathtaking natural beauty.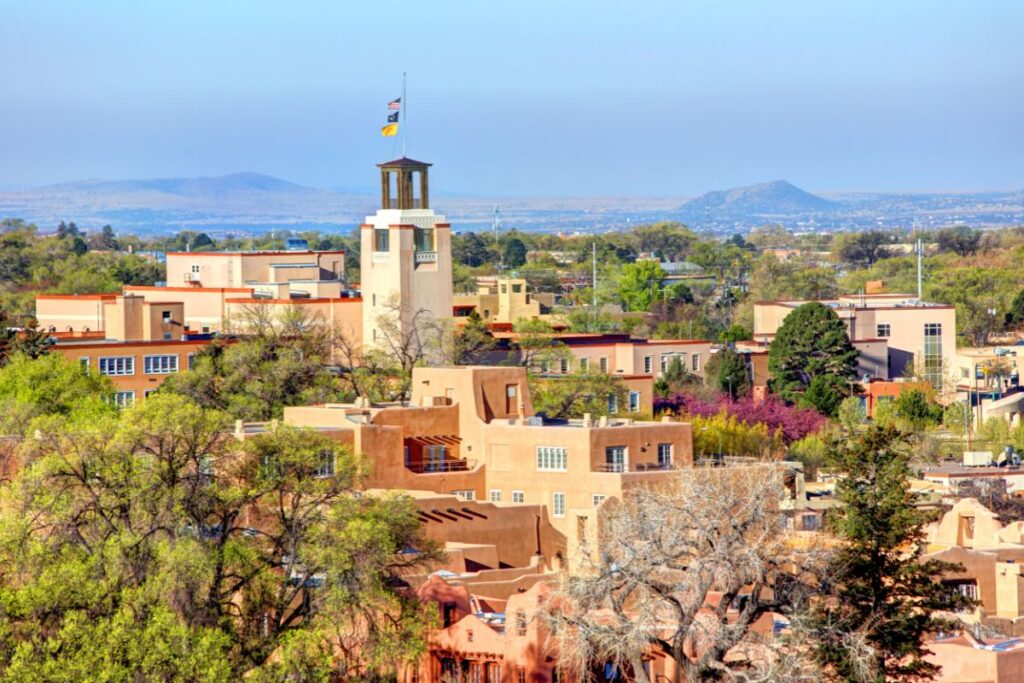 While you are there, delve deeper into Santa Fe's historical and cultural gems and explore the outdoor adventures that await you in this remarkable city.
Traveling to Santa Fe: The Last Leg
Santa Fe is located approximately 65 miles northeast of Albuquerque, and the travel time between the two cities is around 1 hour via I-25 N. 
As you journey through the picturesque landscape, you'll begin to feel the distinct charm and allure of Santa Fe, setting the stage for an unforgettable visit.
Exploring Santa Fe's Rich History
Santa Fe Plaza: The Heart of the City
The Santa Fe Plaza is the central gathering place and cultural hub of the city. Established in 1610, this historic square is surrounded by beautiful adobe buildings, unique shops, and vibrant art galleries. 
Take a leisurely stroll around the Plaza, soak in the lively atmosphere, and indulge in some shopping or dining at one of the many nearby restaurants and cafes.
Palace of the Governors: A Portal to the Past
Located on the Santa Fe Plaza, the Palace of the Governors is the oldest continuously occupied public building in the United States. 
Built in 1610, this adobe structure has served as the residence of Spanish, Mexican, and American governors throughout its long history. 
Today, the palace houses a museum that showcases the rich history of Santa Fe, featuring exhibits on Native American, Spanish, Mexican, and American cultural artifacts.
Loretto Chapel: A Miraculous Architectural Wonder
The Loretto Chapel is famous for its awe-inspiring "Miraculous Staircase," a spiral wooden staircase with no visible means of support. 
Built in 1878, this Gothic Revival-style chapel houses the staircase, which rises 20 feet to the choir loft, making two complete 360-degree turns without the aid of a central column. 
The chapel is open to visitors, and the mystery surrounding the construction of the staircase continues to captivate both locals and tourists alike.
San Miguel Mission: The Oldest Church in the United States
San Miguel Mission, built between 1610 and 1626, is the oldest church in the United States.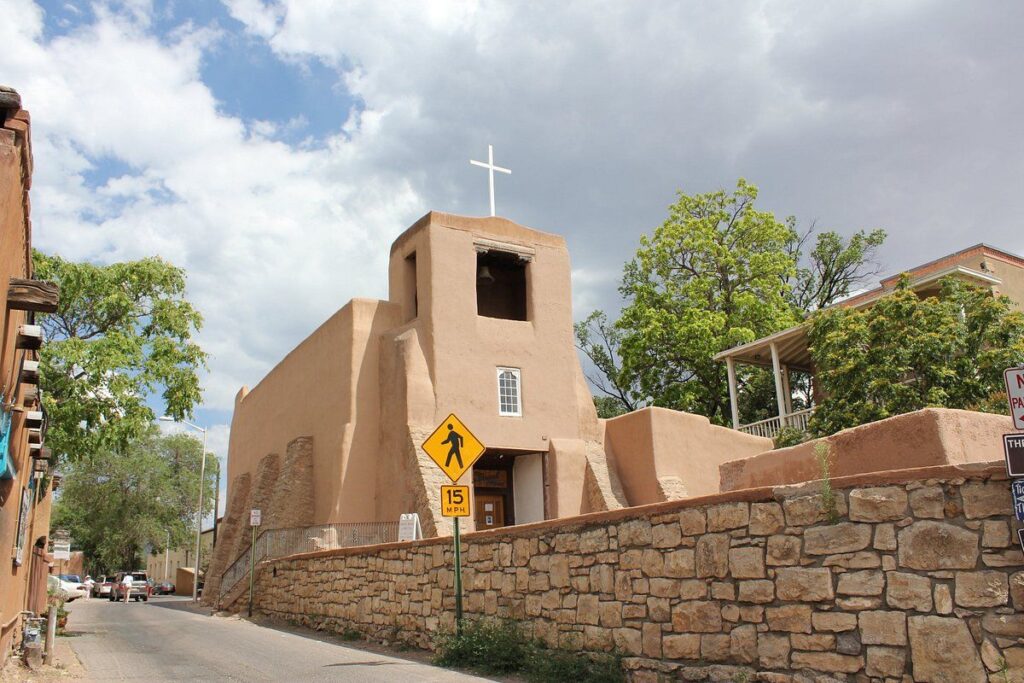 This historic adobe structure features a traditional altar screen adorned with religious art and a unique wooden reredos, both dating back to the early 18th century. 
While visiting, be sure to explore the small museum that houses artifacts and documents relating to the church's history.
Art and Museums: Discover Santa Fe's Creative Soul
Georgia O'Keeffe Museum: A Tribute to a Legendary Artist
The Georgia O'Keeffe Museum is dedicated to the life and work of one of America's most celebrated artists. 
The museum features a vast collection of O'Keeffe's artwork, including her iconic flower paintings, desert landscapes, and abstract compositions. 
Visitors can also learn about the artist's life and her profound impact on American art through interactive exhibits and guided tours.
Museum of International Folk Art: A World of Creativity
With over 130,000 objects from more than 100 countries, the Museum of International Folk Art showcases diverse artistic traditions and cultures from around the world. 
The museum's exhibits span various media, including textiles, ceramics, woodcarvings, and more. 
Don't miss the Girard Collection, a vibrant and immersive installation of folk art arranged by color and theme.
Meow Wolf: An Immersive Art Experience
Meow Wolf is an innovative art collective that has created a unique, interactive, and immersive art experience known as the House of Eternal Return. 
This 20,000-square-foot exhibition invites visitors to explore a Victorian mansion filled with secret passages, hidden rooms, and surreal art installations. 
Unravel a mysterious narrative as you wander through this fantastical, multi-sensory world that defies the boundaries of traditional art.
Outdoor Adventures: Embracing Santa Fe's Natural Beauty
Ski Santa Fe: A Winter Wonderland
If your road trip takes place during the winter months, Ski Santa Fe offers an exciting opportunity for skiing and snowboarding. 
Located just 16 miles from downtown Santa Fe, this ski resort boasts a diverse range of trails catering to all skill levels. 
With stunning views of the surrounding mountains, Ski Santa Fe provides a memorable and exhilarating experience in the great outdoors.
Kasha-Katuwe Tent Rocks National Monument: A Geological Marvel
A visit to Kasha-Katuwe Tent Rocks National Monument is a must for nature lovers and hiking enthusiasts. 
Situated about 40 miles southwest of Santa Fe, this unique geological site features remarkable cone-shaped rock formations formed by volcanic eruptions millions of years ago. 
Explore the park's two main hiking trails – the Cave Loop Trail and the more challenging Slot Canyon Trail – to marvel at the captivating landscape and enjoy panoramic views of the surrounding area.
Dale Ball Trails: A Hiker's Paradise
The Dale Ball Trails is a 22-mile network of interconnected hiking and mountain biking trails that wind through the picturesque foothills of the Sangre de Cristo Mountains.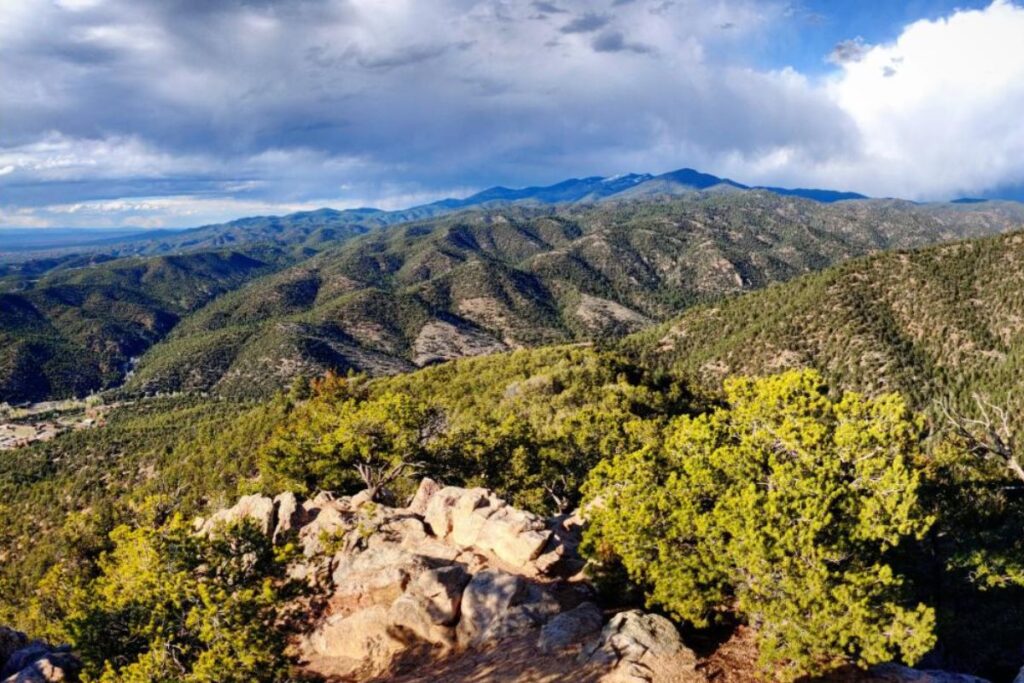 With trails suitable for all skill levels, the Dale Ball Trails offer a fantastic opportunity to experience the natural beauty of Santa Fe's surrounding landscape. 
As you hike or bike through the pristine wilderness, keep an eye out for local wildlife and enjoy the stunning vistas that unfold before you.
Tips for Enjoying Your Road Trip
Making the most of your Amarillo to Santa Fe road trip requires a combination of preparation, mindfulness, and openness to new experiences. The following tips will help you embrace the adventure and create unforgettable memories along the way.
Respect the Environment
As you embark on this picturesque journey, it's essential to be conscious of your impact on the environment. Follow these guidelines to minimize your ecological footprint:
Dispose of waste responsibly: Always carry a trash bag in your vehicle and dispose of waste in designated areas. Avoid littering, especially in natural areas where it can harm wildlife and disrupt ecosystems.
Reduce your fuel consumption: Drive at a consistent speed, avoid abrupt stops and starts, and use cruise control when possible. These practices will improve your gas mileage and reduce your carbon emissions.
Stick to designated trails: When hiking or exploring natural areas, stay on marked trails to avoid damaging fragile ecosystems and disturbing wildlife.
Support local businesses: Choose locally owned restaurants, shops, and accommodations to support the local economy and minimize the environmental impact of large-scale chains.
Be Mindful of Your Safety
Prioritizing safety during your road trip is crucial for a stress-free and enjoyable experience. Follow these recommendations to ensure your well-being:
Stay alert: Take regular breaks and avoid driving when tired or drowsy. Share driving duties with a travel companion, if possible.
Check your vehicle: Regularly inspect your car's tires, brakes, and fluid levels to prevent potential issues on the road.
Stay informed: Monitor weather and road conditions, and adjust your plans accordingly. Keep an eye on local news and traffic updates to avoid potential hazards.
Carry emergency supplies: Equip your vehicle with a first aid kit, flashlight, spare tire, jumper cables, and other essential items in case of an emergency.
Follow local laws: Observe speed limits, wear seat belts, and adhere to local traffic laws to ensure your safety and the safety of others.
Embrace Local Culture and Traditions
Immersing yourself in the local culture and traditions of the destinations you visit will enrich your road trip experience. Take the time to engage with the communities you encounter along the way:
Learn about the history: Visit museums, historical sites, and cultural centers to gain insight into the region's past and present.
Sample regional cuisine: Taste local dishes, visit farmers' markets, and attend food festivals to savor the flavors of each destination.
Attend local events: Participate in community gatherings, such as art walks, live performances, and cultural celebrations, to connect with local residents and experience the unique spirit of each town.
Shop local: Support local artisans and small businesses by purchasing souvenirs, crafts, and other items unique to the region.
Be Flexible and Open to New Experiences
Lastly, a memorable road trip requires adaptability and an openness to embrace the unexpected. Here are some ways to cultivate a flexible mindset during your journey:
Be open to detours: Unplanned stops and spontaneous detours can lead to incredible discoveries and unforgettable experiences. Remain open to changing your itinerary to accommodate new discoveries.
Expect the unexpected: Delays, setbacks, and unforeseen circumstances are inevitable during any road trip. Embrace these challenges as opportunities to learn and grow.
Connect with fellow travelers: Engage with other road trippers you encounter along the way. Sharing stories, advice, and recommendations can enhance your journey and create lasting friendships.
Embrace serendipity: Allow yourself to be surprised by the unexpected gems you discover along your route. These serendipitous finds often become the most memorable moments of your road trip.
Slow down and savor the journey: Remember that the journey is just as important as the destination. Take the time to soak in the scenery, explore hidden gems, and appreciate the beauty of the open road.
Where to Stay on Your Road Trip from Amarillo to Santa Fe
Finding the perfect accommodations is essential for a comfortable and enjoyable road trip experience. Along your journey from Amarillo to Santa Fe, you'll come across various lodging options, ranging from budget motels to luxury hotels and charming bed and breakfasts. To make your search for top hotel deals easier, simply use the search bar below.
Discover the best accommodations that suit your preferences, budget, and itinerary, ensuring a memorable and restful stay during your unforgettable road trip adventure.
Cherishing Your Amarillo to Santa Fe Road Trip
As your road trip from Amarillo to Santa Fe comes to a close, you'll leave with a treasure trove of memories and experiences that will last a lifetime. 
From the quirky attractions in Tucumcari and Albuquerque's vibrant arts scene to the rich history and natural beauty of Santa Fe, this journey has taken you through some of the most captivating and enchanting destinations in the Southwest. 
As you reflect on the adventures you've had and the sights you've seen, remember that the true magic of a road trip lies in the spirit of exploration, discovery, and wonder that accompanies each new destination.