Nestled in the heart of the Great Smoky Mountains, Cades Cove Campground is the ultimate outdoor playground for nature enthusiasts and weekend warriors alike. 
Whether you're an avid hiker in search of adrenaline or a family looking to create some unforgettable camping memories, this is the place to be! Remember that one time you thought sleeping in your car at a rest stop was a good idea?
Well, buckle up because Cades Cove Campground is here to show you the true meaning of an unforgettable camping experience.
This comprehensive guide will cover everything from the best campsites to activities and wildlife around Cades Cove Campground. 
So, why keep reading? We're about to reveal the secrets of this mountain paradise and help you plan the perfect getaway. Trust us, you won't want to miss this!
Location
Cades Cove Campground is located in the Great Smoky Mountains National Park in Eastern Tennessee, United States.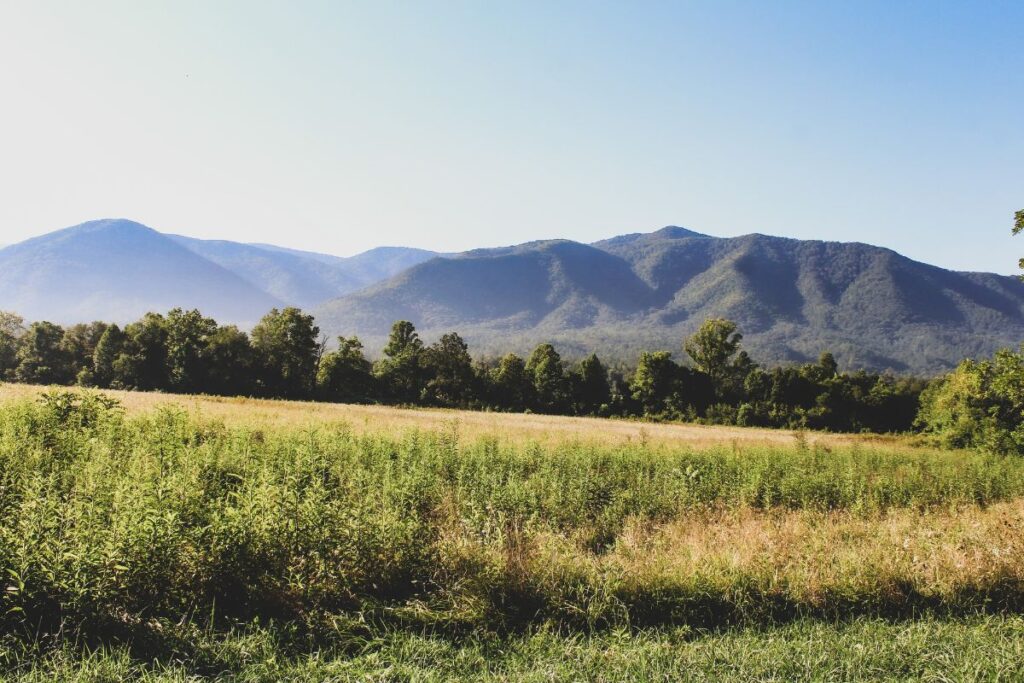 The campground is nestled in a picturesque valley surrounded by lush, forested mountains, which provide stunning views and a serene atmosphere. 
This popular camping destination is part of the Cades Cove area, a rich historical and natural attraction in the park, known for its well-preserved log cabins, churches, and mill. 
The campground serves as a gateway to numerous recreational activities, including hiking, wildlife viewing, and scenic drives, making it a perfect base for exploring the Great Smoky Mountains.
How to Reach
Cades Cove Campground is accessible via Laurel Creek Road, approximately 9 miles from the Townsend entrance to the Great Smoky Mountains National Park.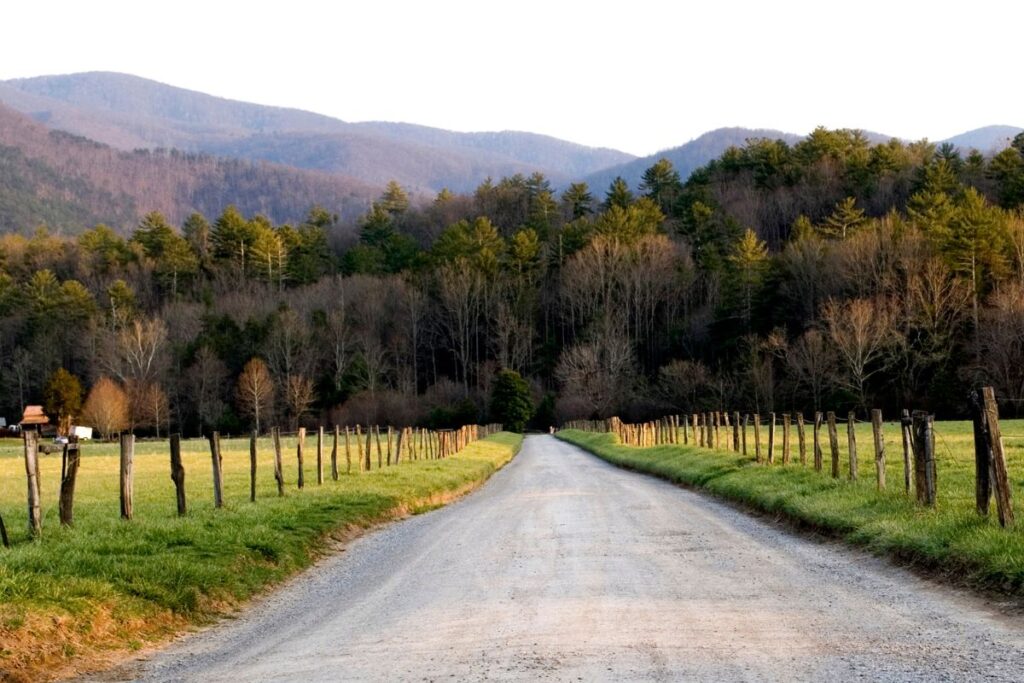 From Townsend, head south on TN-73 E/US-321 S and turn right onto Laurel Creek Road. Follow the winding road until you reach the Cades Cove Campground entrance.
Best Campsites in Cades Cove Campground 
It is essential to consider the specific needs and preferences of your camping group when selecting a campsite. 
Factors to consider include the size of your camping equipment, desired level of privacy, proximity to amenities, and access to nearby trails or activities.
Here are some of the best campsites within each loop at Cades Cove Campground:
Loop A:
Site A1
This spacious and secluded campsite offers ample shade, making it ideal for tent campers seeking privacy. Its serene setting allows you to fully immerse yourself in the natural surroundings.
Site A12
Located on a corner, this site provides great views of the surrounding mountains and is conveniently close to restroom facilities. The picturesque location is perfect for those who want to enjoy the beauty of the area while remaining close to amenities.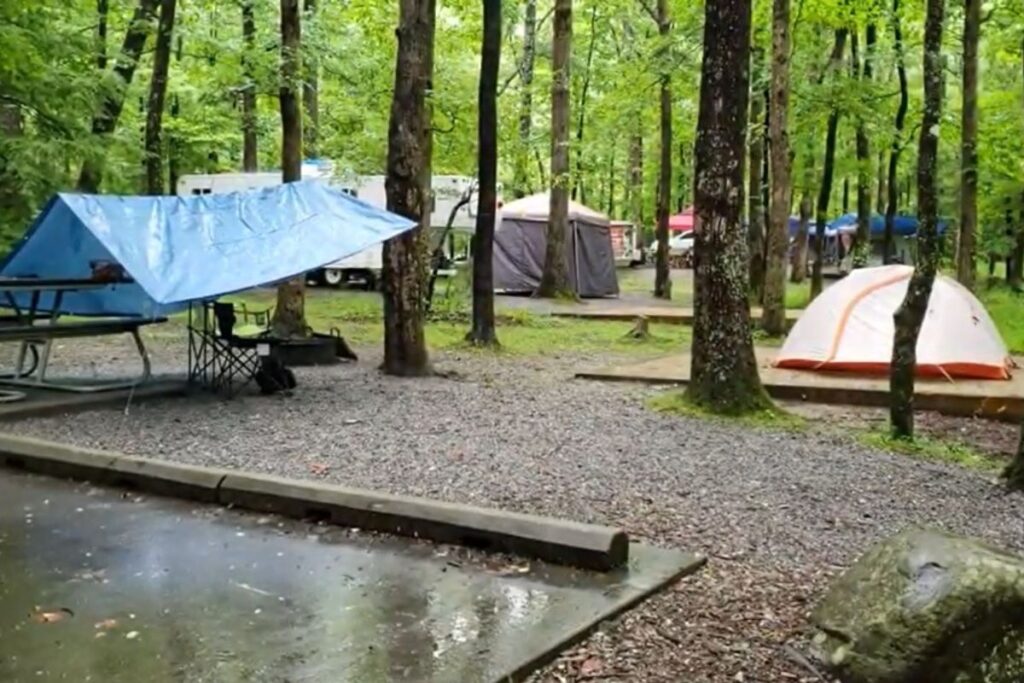 Site A15
Situated adjacent to a creek, this campsite offers a peaceful ambiance and easy water access for campers. The soothing sounds of the flowing water will add to the overall relaxation of your camping experience.
Loop B:
Site B10
This campsite strikes a balance between privacy and proximity to restroom facilities. It is well-shaded, making it perfect for tent camping and providing relief from the sun during warmer months.
Site B22
Spacious and shaded, this site features a large, flat area suitable for setting up tents or parking an RV. The generous space allows for a comfortable camping experience for both tent and RV campers.
Site B35
Located near a trailhead, this campsite offers easy access to hiking opportunities while maintaining a balance between privacy and accessibility to campground amenities.
Loop C:
Site C6
Set apart from other campsites, this location provides privacy and a serene atmosphere for campers who prefer a more secluded experience.
Site C12: 
Offering a large, flat area for tents, this campsite is conveniently close to restrooms and water spigots, ensuring easy access to essential facilities.
Site C20
This campsite is situated near the campfire circle, making it an excellent choice for campers interested in attending ranger-led programs and engaging with the Cades Cove Campground community.
All campsites at Cades Cove Campground include a picnic table, fire ring with a cooking grate, and a paved parking area for vehicles. However, none of the campsites offer electrical, water, or sewer hookups. 
It is advisable to book your preferred campsite well in advance, especially during peak season, to secure the best possible spot for your camping adventure.
Hiking Trails from Cades Cove Campground
Cades Cove Campground serves as a starting point for several hiking trails, ranging from easy strolls to challenging treks. Some of the most popular trails include:
Abrams Falls Trail
This 5-mile round-trip hike leads to the picturesque Abrams Falls, a 20-foot waterfall with a large plunge pool. 
The trail is moderate in difficulty and offers a beautiful walk through the forest along Abrams Creek.
Cades Cove Nature Trail
This easy, 0.6-mile loop trail is perfect for families with young children or those looking for a short, leisurely walk. 
The trail meanders through a lush, forested area and offers opportunities for wildlife viewing and plant identification.
Gregory Bald Trail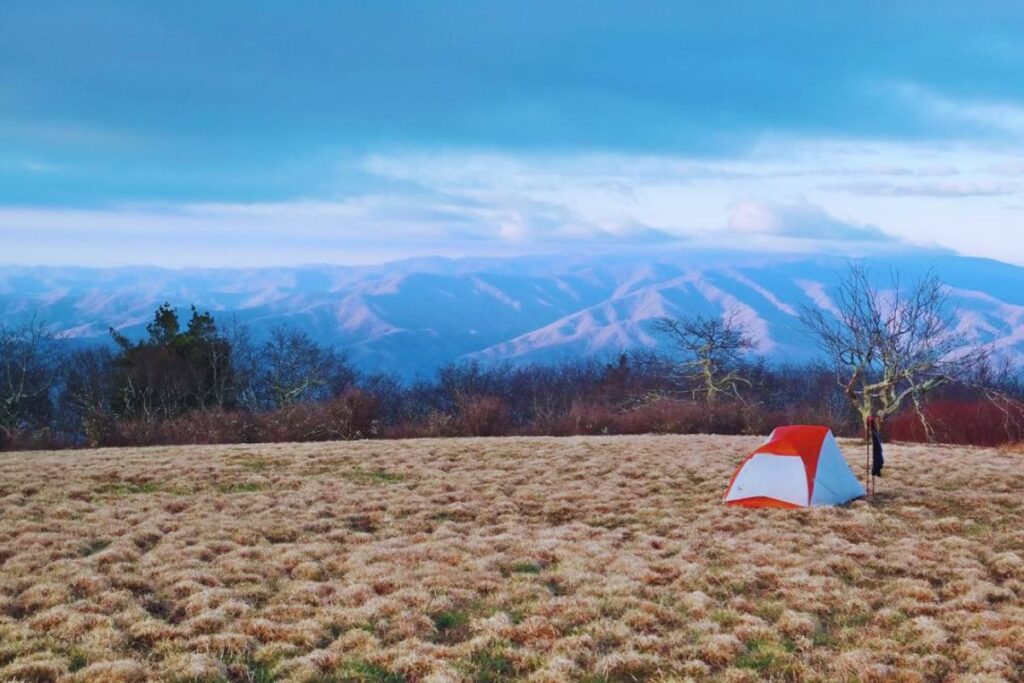 This challenging 11-mile round-trip hike offers stunning panoramic views of the Smoky Mountains from the summit of Gregory Bald. 
The trail is steep and requires a full day to complete, but the rewarding views are worth the effort.
Rich Mountain Loop
This 8.5-mile loop trail combines the Rich Mountain Trail, Indian Grave Gap Trail, and Crooked Arm Ridge Trail. 
The hike offers diverse scenery, including mountain views, meadows, and historic buildings. The trail is moderately difficult and typically takes 4-6 hours to complete.
Middle Prong Trail
This 8.3-mile round-trip hike follows an old logging railroad grade along the Middle Prong of the Little River. 
The trail passes by several cascading waterfalls and remnants of the area's logging history, making it an excellent choice for history and nature enthusiasts.
Anthony Creek Trail
Starting at the picnic area near Cades Cove Campground, this 3.5-mile one-way trail climbs to Spence Field, a high-elevation meadow with beautiful views. 
The trail is moderately difficult and can be combined with the Bote Mountain and Appalachian Trails for a more challenging hike.
Anthony Creek Horse Camp
Anthony Creek Horse Camp is a small, primitive campground located near the Cades Cove Campground, specifically designed for visitors with horses.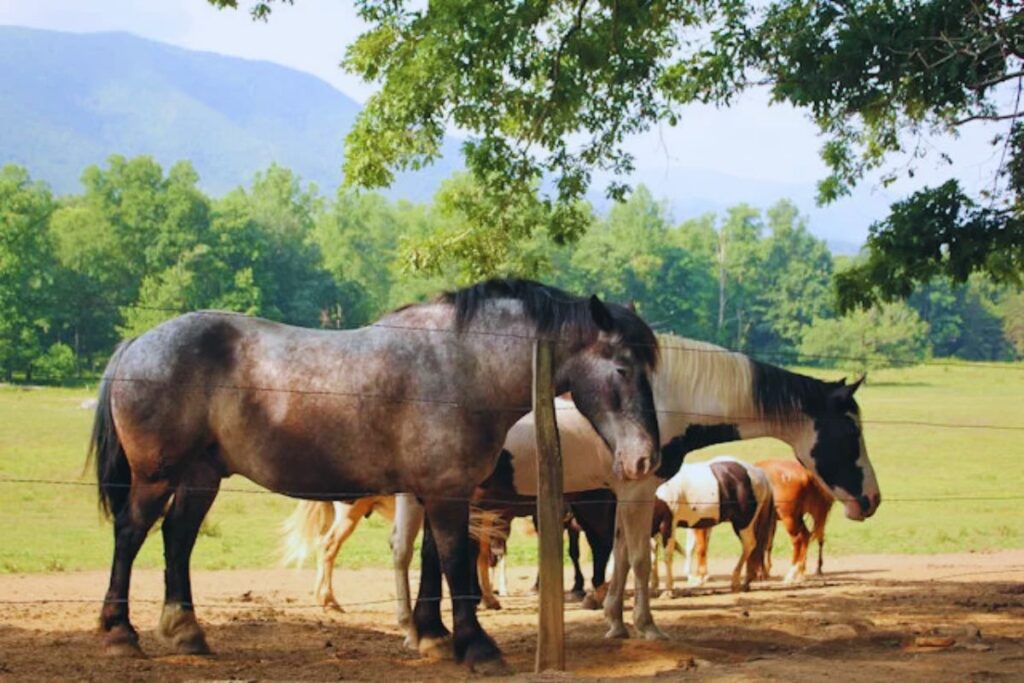 The camp provides easy access to the park's extensive network of horse trails, offering a unique way to explore the Smoky Mountains. 
The horse camp features hitching posts, a manure disposal area, and a few amenities such as picnic tables, fire rings, and vault toilets. 
Advance reservations are required, and campers must adhere to the park's rules and regulations regarding horse use.
Cades Cove Riding Stables
Cades Cove Riding Stables offers guided horseback trail rides for visitors of all experience levels, including beginners.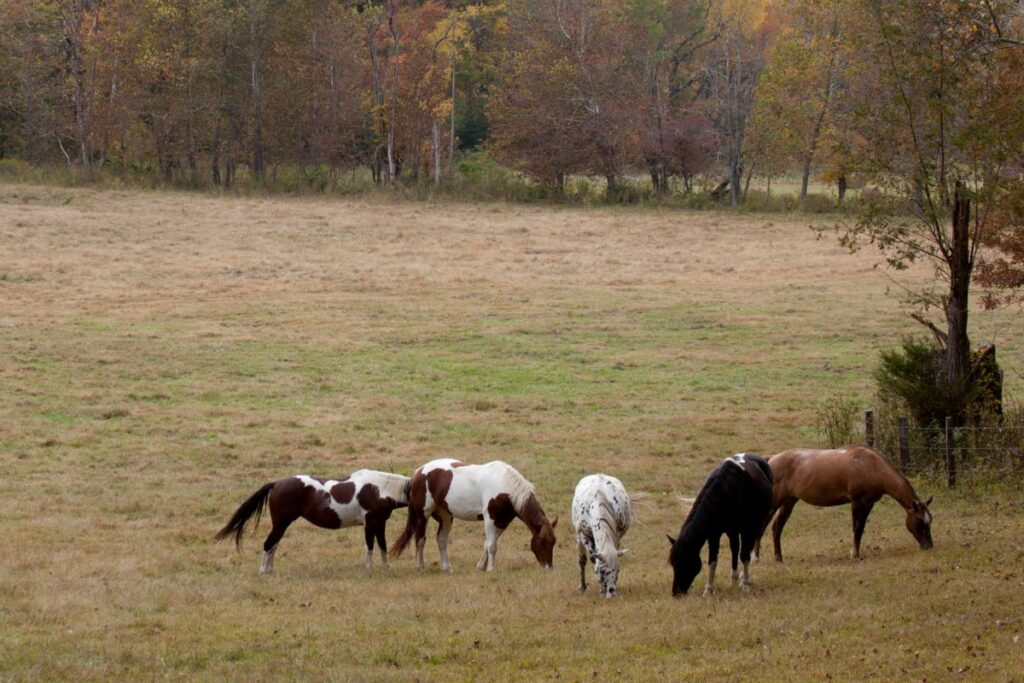 The stables provide a safe and enjoyable way to explore the beautiful Cades Cove area on horseback, with experienced guides leading small groups through the picturesque landscape. 
In addition to trail rides, the stables also offer hayrides and carriage rides, providing a variety of equestrian experiences for visitors. Reservations are recommended, particularly during peak season.
Cades Cove Interpretation & Visitor Services Offices
The Cades Cove Interpretation & Visitor Services Offices are located near the entrance of the Cades Cove Loop Road. 
These facilities provide valuable information, maps, and resources for visitors to the Cades Cove area. 
Park rangers are available to answer questions and offer advice on activities, hiking trails, and wildlife viewing opportunities. 
The offices also host educational displays, exhibits, and ranger-led programs to help visitors gain a deeper understanding of the park's natural and cultural history.
Cades Cove Scenic Loop
The Cades Cove Scenic Loop is an 11-mile, one-way loop road that offers visitors a leisurely drive through the picturesque Cades Cove valley.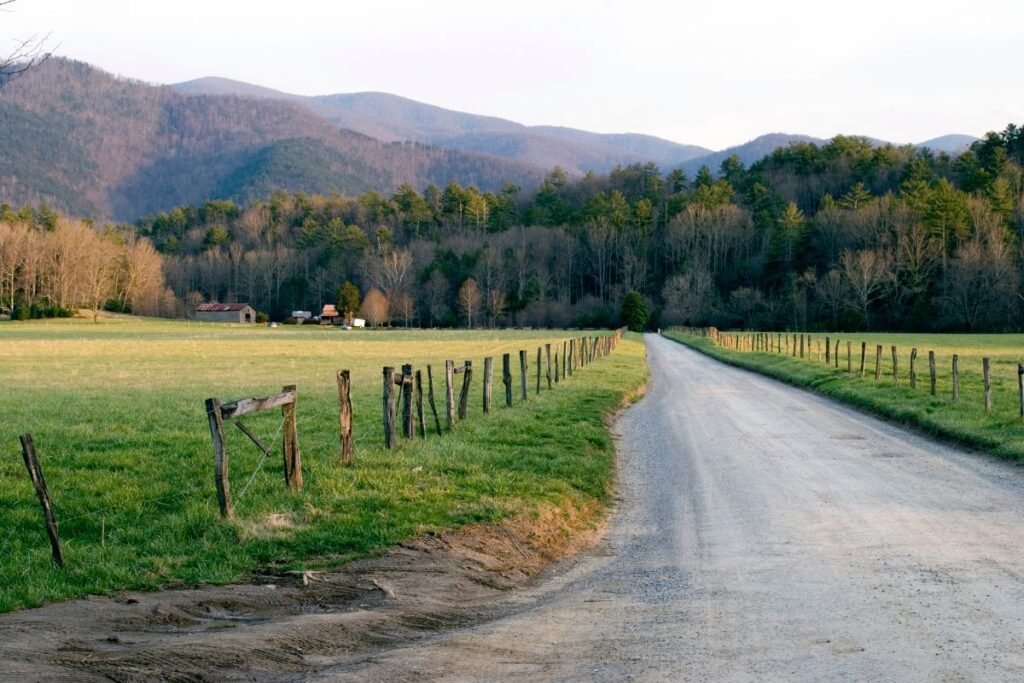 The loop features numerous pull-offs, historical sites, and trailheads, providing ample opportunities for exploration and photography. 
The road is paved and suitable for all types of vehicles, including bicycles.
Some notable stops along the Cades Cove Scenic Loop include
John Oliver Cabin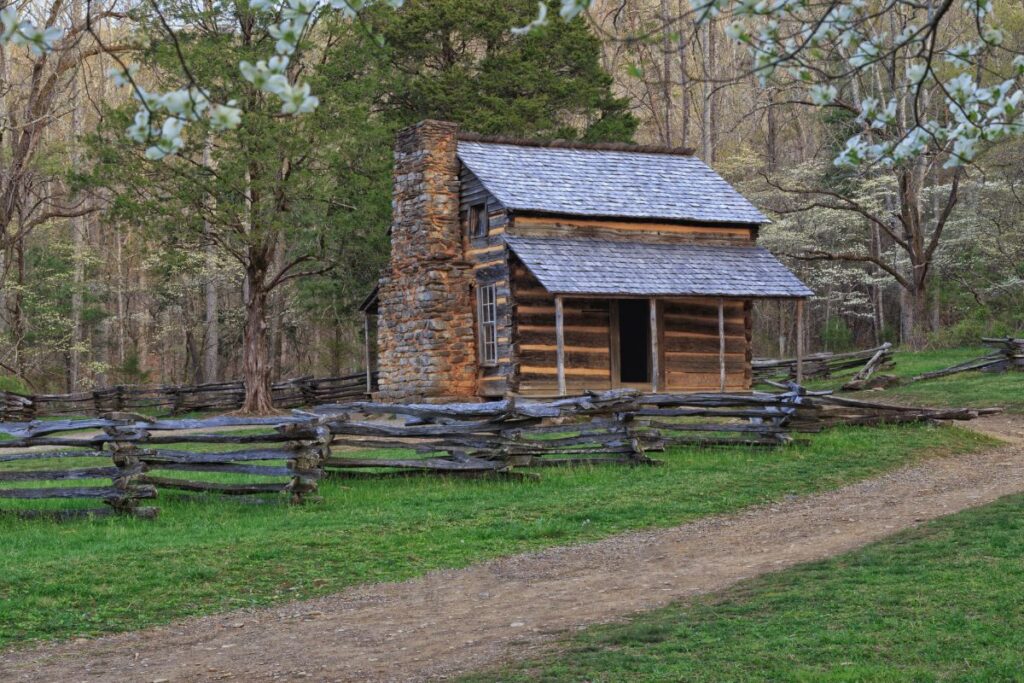 One of the oldest structures in Cades Cove, the John Oliver Cabin dates back to the early 1820s. The cabin is a fine example of pioneer craftsmanship and offers a glimpse into the lives of the valley's early settlers.
Primitive Baptist Church
Established in 1827, this historic church is nestled amidst a peaceful setting, surrounded by trees and the church's cemetery. The building's simple architecture reflects the congregation's modest and humble beliefs.
Cades Cove Methodist Church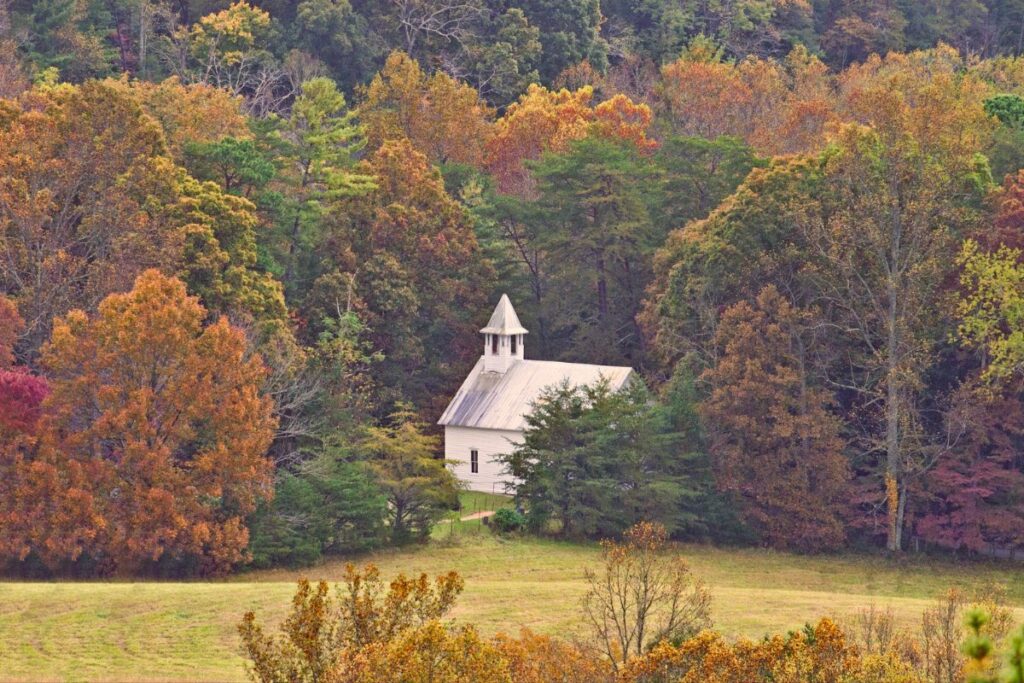 Built in 1902, this charming white church features a unique design with two front doors, which was common in churches during that time.
Cades Cove Missionary Baptist Church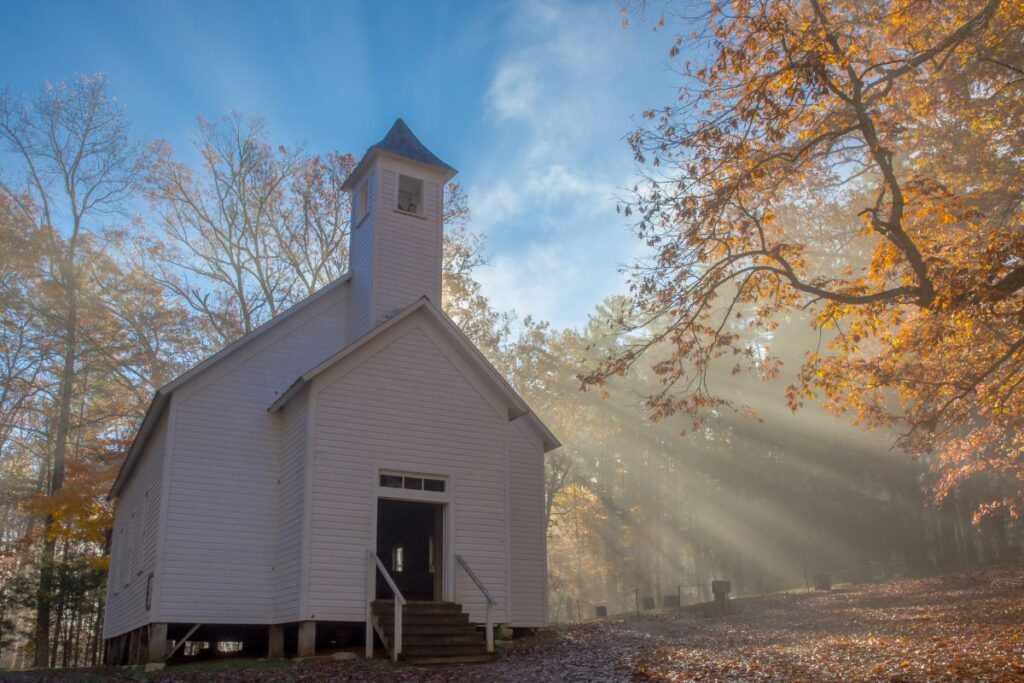 Established in 1839, this church was originally known as the Cades Cove Baptist Church. The congregation split in 1841, and the Missionary Baptist Church was formed.
Cable Mill Area
This historic area features several preserved structures, including the working Cable Mill, a gristmill constructed in the 1870s, as well as the Becky Cable House and several outbuildings.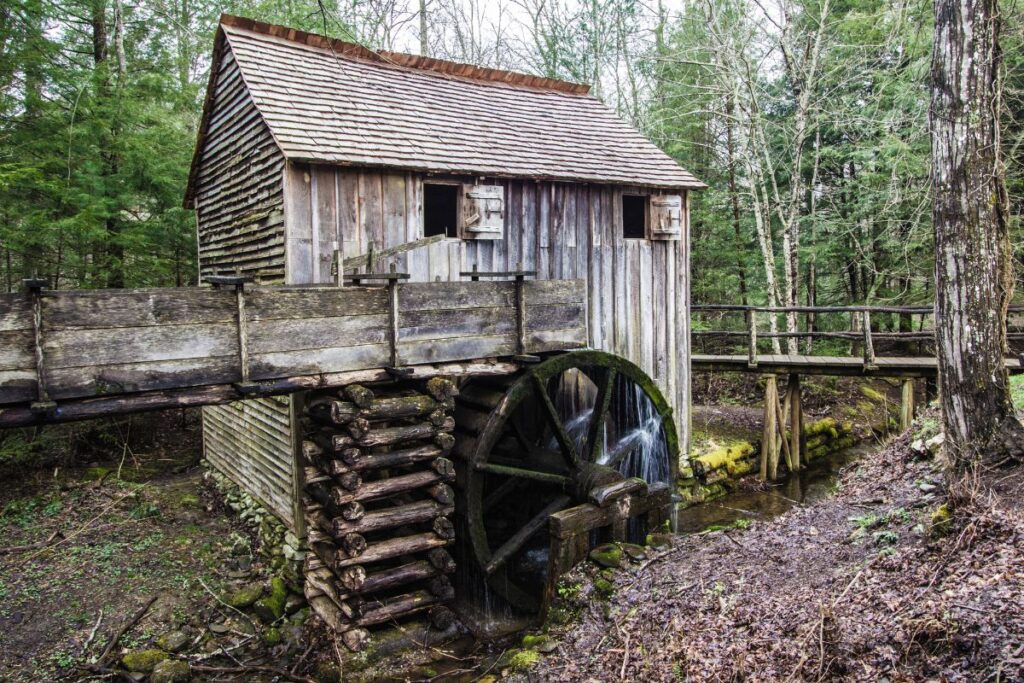 Henry Whitehead Cabin
Built in the late 1800s, this cabin features a unique "dog-trot" design, with an open breezeway between two separate living areas.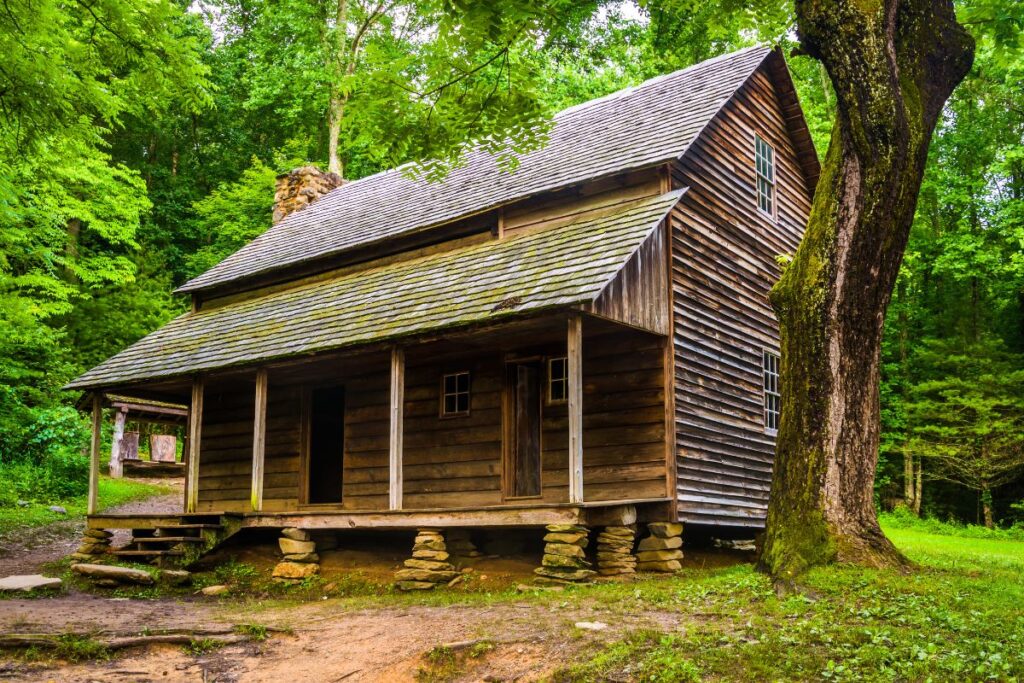 While driving the Cades Cove Scenic Loop, visitors should be prepared for slow-moving traffic, especially during peak season. 
Wildlife sightings, such as white-tailed deer, black bears, and wild turkeys, are common along the road, adding to the overall experience.
Wildlife around Cades Cove Campgrounds
Cades Cove is renowned for its diverse wildlife, which can often be observed in close proximity to the riding stables. Some of the most commonly sighted animals include:
White-tailed Deer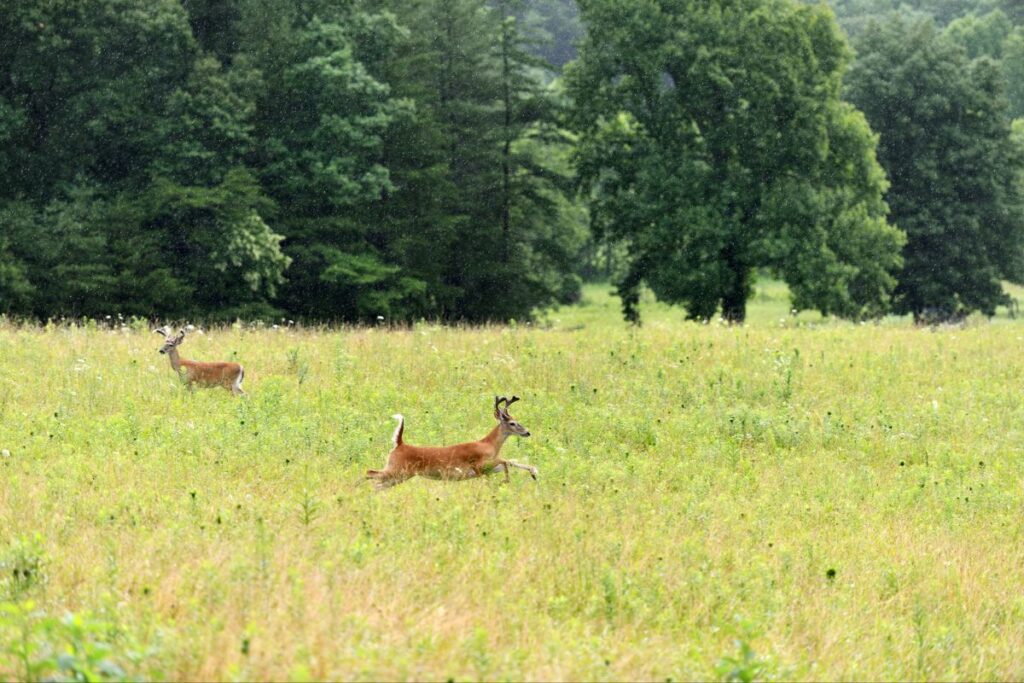 These graceful animals are frequently seen grazing in the open meadows and along the edges of the woods.
Black Bears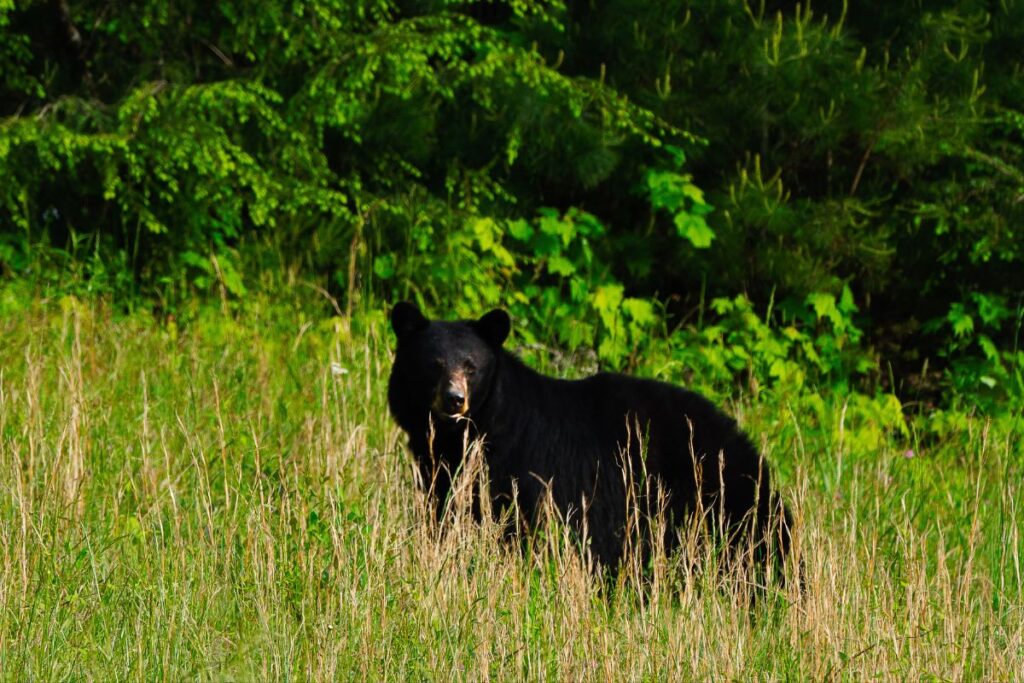 Cades Cove is home to a healthy population of black bears, and sightings are relatively common, especially during the early morning and late afternoon hours. Remember to maintain a safe distance and never approach or feed bears.
Wild Turkeys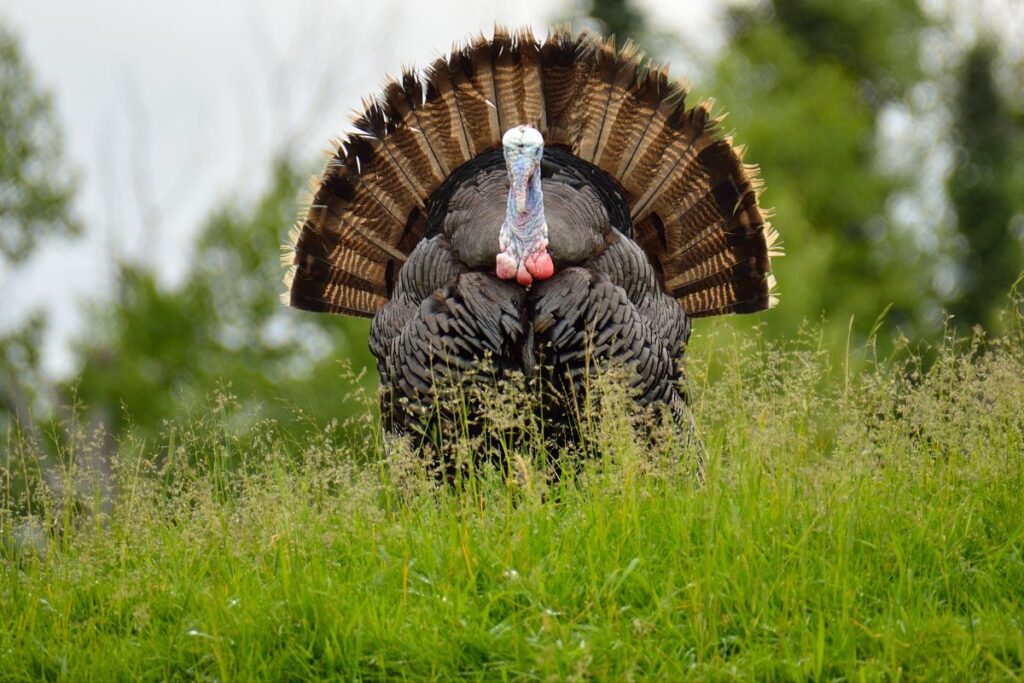 These large birds can be found throughout the Cades Cove area, often foraging on the ground for insects, seeds, and berries.
Coyotes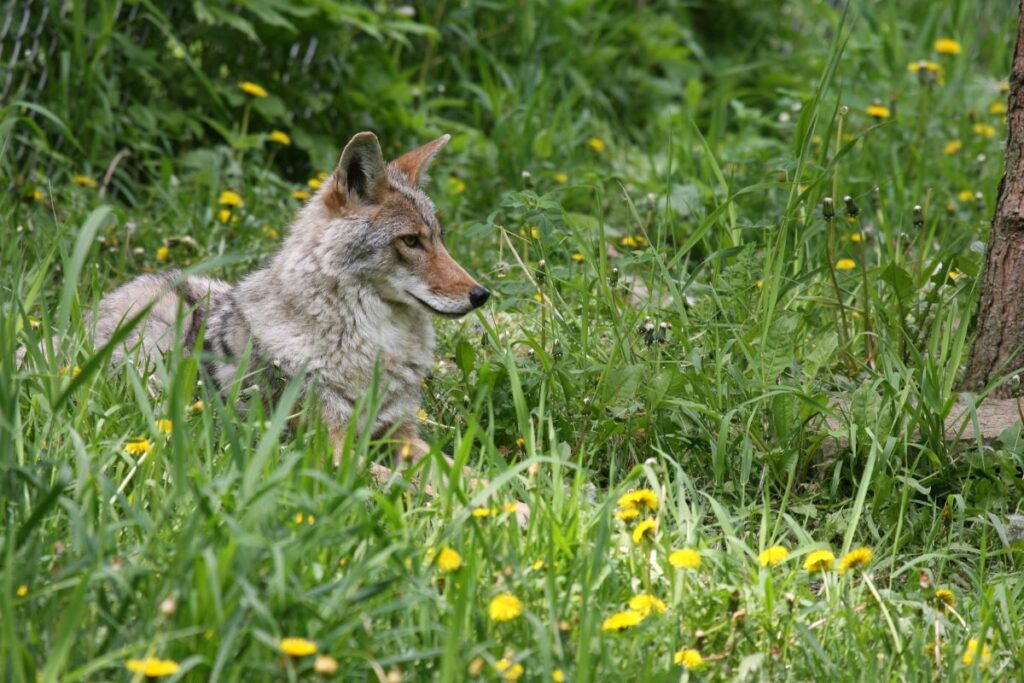 Although not as commonly sighted as other wildlife, coyotes are present in Cades Cove and can sometimes be heard howling in the evenings.
Birds
Cades Cove is home to a variety of bird species, including woodpeckers, warblers, hawks, and owls. Birdwatchers will enjoy the diversity of species found in the area.
Reptiles and amphibians
The streams, wetlands, and forests in Cades Cove provide suitable habitats for various reptiles and amphibians, such as turtles, snakes, frogs, and salamanders. 
While exploring the area around the riding stables, visitors may encounter these creatures, especially near water sources.
When observing wildlife in Cades Cove, it is essential to respect the animals' space and follow park regulations to ensure their safety and well-being. Maintain a safe distance from all wildlife and never feed or approach them.
Fun Things to Do in Cades Cove Campground 
Ranger-led Programs
The National Park Service offers ranger-led programs at the campground during peak season, covering various topics such as wildlife, history, and ecology. 
These programs are both educational and entertaining, providing campers with a deeper understanding of the park's unique features
There also guided tours, which give you an immersive expereince!
Photography
Cades Cove offers breathtaking scenery and abundant wildlife, making it a haven for photographers. Capture stunning images of the historic buildings, wildlife, and landscape during your stay at the campground.
Picnics
Cades Cove Campground features a picnic area with tables and charcoal grills, providing an ideal setting for a relaxing meal surrounded by nature.
Wildlife Viewing
Cades Cove is home to an abundance of wildlife, including white-tailed deer, black bears, and wild turkeys. Early mornings and evenings are the best times to spot these creatures in their natural habitat.
Visit Historic Structures
Explore the numerous historic buildings scattered throughout Cades Cove, including log cabins, churches, and mills, to gain insight into the lives of early settlers.
Hiking
Embark on one of the many hiking trails accessible from the campground, such as the Abrams Falls Trail, Cades Cove Nature Trail, or Gregory Bald Trail, to experience the natural beauty of the Great Smoky Mountains.
Biking
Rent a bike from the Cades Cove Campground Store and enjoy a leisurely ride along the 11-mile Cades Cove Loop Road, taking in the picturesque scenery and historic sites.
Fishing
Cast a line in the nearby Abrams Creek or other streams in the area for a chance to catch trout. Remember to obtain a valid fishing license before fishing.
Horseback Riding
Join a guided trail ride with Cades Cove Riding Stables to explore the stunning landscape of Cades Cove on horseback.
Stargazing
On clear nights, Cades Cove offers exceptional stargazing opportunities, thanks to its remote location and minimal light pollution.
Pro Tips While Camping at Cades Cove Campground
Reserve Early: Cades Cove Campground is a popular destination, so it is recommended to book your campsite well in advance, especially during peak season.
Arrive Early: To avoid heavy traffic on the Cades Cove Loop Road and increase your chances of spotting wildlife, plan to visit the area early in the morning.
Be Bear Aware: Store all food, trash, and scented items securely in bear-proof containers or your locked vehicle to avoid attracting bears to your campsite.
Practice Leave No Trace: Always clean up after yourself, pack out all trash, and respect the park's natural and historical resources.
Bring insect repellent: Insect repellent can help keep mosquitoes, ticks, and other insects at bay during your stay.
Dress in layers: Temperatures in the Smoky Mountains can vary significantly throughout the day, so dressing in layers will help you stay comfortable in various conditions.
Bring a rain jacket: Be prepared for unpredictable mountain weather by packing a rain jacket or poncho.
How much does it cost to camp in Cades Cove?
Camping fees at Cades Cove Campground range from $21 to $25 per night, depending on the campsite type and season. Prices may have changed since September 2021, so it is advisable to check the National Park Service website or contact the campground for the most up-to-date information on camping fees.
Does Cades Cove Campground have bathrooms?
Yes, Cades Cove Campground has restrooms with flush toilets and cold running water. However, there are no showers available at the campground. Shower facilities can be found at nearby campgrounds outside the national park or in the neighboring towns.
Does Cades Cove have full hookups?
Cades Cove Campground does not offer full hookups for RVs. The campground provides tent and RV sites with no hookups, but there is a dump station available for RV campers to use. Generator use is permitted during specific hours.
Is alcohol allowed in Cades Cove Campground?
Alcohol consumption is allowed in Cades Cove Campground within individual campsites. However, public intoxication and open alcohol containers in common areas, such as picnic areas or along trails, are prohibited. It is essential to drink responsibly and respect fellow campers and the natural environment.
Can you ride in the bed of a truck in Cades Cove?
Riding in the bed of a truck is not allowed in Cades Cove or within the Great Smoky Mountains National Park for safety reasons. All passengers must be inside the vehicle with seatbelts properly fastened.
Is Cades Cove worth it?
Cades Cove is considered one of the most popular and scenic destinations in the Great Smoky Mountains National Park, offering a variety of recreational activities, wildlife viewing opportunities, and historic sites. Many visitors find it to be a worthwhile and memorable experience.
What can you not do in Cades Cove?
In Cades Cove, you should not approach or feed wildlife, remove any natural or historical objects, litter, ride bicycles outside designated areas and times, or engage in any activities that may disturb the natural environment or other visitors.
What's the best time of day to go to Cades Cove?
The best time of day to visit Cades Cove is early morning or late afternoon, as these times offer the best opportunities for wildlife sightings, cooler temperatures for hiking, and typically fewer crowds.
How early should you get to Cades Cove?
Arriving at Cades Cove early in the morning (around sunrise) is recommended, as it helps avoid heavy traffic on the loop road and increases your chances of spotting wildlife.
Are there bears in Cades Cove Campground?
Black bears are known to inhabit the Cades Cove area, and it is possible to encounter them in and around the campground. Always follow bear safety guidelines and store food and scented items securely to avoid attracting bears to your campsite.
Are there a lot of bears at Cades Cove?
Cades Cove is home to a significant population of black bears. While sightings are relatively common, always maintain a safe distance, and follow park regulations to ensure the safety of both bears and visitors.
Does Cades Cove Campground have cell service?
Cell service at Cades Cove Campground can be limited or non-existent, depending on your carrier and location within the park. It is best to plan for little to no cell service during your stay and inform friends and family of your plans in advance.
Conclusion
Cades Cove Campground is truly a gem tucked away in the enchanting Great Smoky Mountains, offering a magical escape from the hustle and bustle of everyday life. 
With its diverse range of campsites, breathtaking hiking trails, abundant wildlife, and rich history, there's no wonder why it remains a beloved destination for adventurers and families alike. 
So, gather your camping gear, summon your inner explorer, and prepare to create memories that will last a lifetime in this captivating mountain haven. 
After all, every great story deserves an unforgettable ending, and your Cades Cove camping adventure is no exception. Happy trails!