Explore Congaree National Park, SC: a hidden gem with towering Loblolly pines. Dive into hiking, kayaking, and scenic trails. Unveil its wonders now!
One of South Carolina's great things to do is explore Congaree National Park. The closest park to Columbia, many don't realize the natural wonder of this place.
Although close to home, Congaree National Park and its unspoiled wilderness can easily go relatively unnoticed by the public.
Congaree National Park's massiveness can be overwhelming at first but even the smallest explorer will find their place within this "Giant Garden" and the reason for that is that it is one of the rare and few remaining places where you will find some of the tallest Giant Loblolly pine trees in the world.
It is a great place for hiking or kayaking, or enjoying nature's beauty from a boardwalk.
I recently went on a trip to the park and learned much more about the area that I hadn't heard before. I thought it would be fun to share some of this information with others.
Location and Extent
The largest intact expanse of old growth bottomland hardwood forest in the southeast United States is Congaree National Park. Over 26000 acres of primeval forest, Congaree is a world-class wilderness with geological diversity ranging from large granite boulders to small quartz sand particles.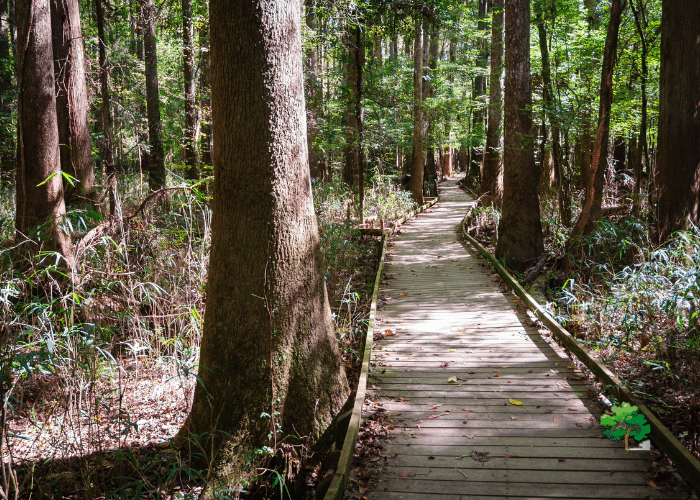 Twenty miles south of Columbia, South Carolina and easily accessible by car or bicycle, Congaree serves as a chunk of undisturbed natural history for urban populations having lost much of their environment to the industrialized world. History has it that this area was only inhabited by Native Americans long before contact with Europeans.
Start at The Harry Hampton visitor center
The Harry Hampton Visitor Center is a well-developed attraction for everyone. The visitor center works with the neighboring sites to create an enjoyable park experience for both people and animals.
The staff of the Harry Hampton Visitor Center aids visitors in finding their way around the park by providing brochures, maps and a variety of books on the wildlife, history and scenic opportunities available in the area.
The Harry Hampton Visitor Center is also a great place to go if you have children. It has a wide variety of activities that are geared towards different ages. It is very organized, so you can always find what you need. There are a lot of fun things for kids of all ages!
Walk the Broadwalk Loop Trail
Known as a gentle trail, the Broadwalk Loop Trail will let you explore the Congree National Park in South Carolina. Although it delivers no worries to hikers because it's relatively easy to navigate and is flat, this loop can be strenuous when hiking on a hot day.
There are several boardwalks along the way, allowing you to walk on raised wooden planks instead of dirt or grass. Also, note that pets are allowed on leashes and that bicycles are prohibited on this trail.
Total Distance: 2.6 miles
Level : easy
Total Time: 1-2 hours
While hiking along this stretch, you will be able to see the Congaree River and hear the birds chirp as if you are miles away from civilization.
Kayaking or Canoeing at Cedar Creek
The Congaree river, which winds through Congaree National Park in the Southeast, ranks as the second least-visited park in the lower 48, and Cedar Creek provides guests with some of the best canoeing and kayaking opportunities.
Cedar Creek is a tributary stream of South Congaree River in the Congaree National Park. It drains a 25-square mile area of wetlands, swamps and pine flatwoods. Scenic Cedar Creek runs through the landscape preserving valuable swamp habitat that would have been destroyed by construction. In 1989 Cedar Creek was preserved as part of NPS's Congaree Swamp National Monument, which grew into Congaree National Park in 2003.
Weston Lake Trail Hike
When I first heard about the Weston Lake trail hike, I was thrilled. I've been to South Carolina a few times before and have never heard about this lake or even knew that there were hiking trails in the Congaree National Park.
But after the hike, I found out that the trail is not one of those recreational trails. In fact, it's more of a conservational trail with informational markers along the way.
Total Distance: 4.5 miles
Level : easy
Total Time: 2-3 hours
Weston Lake is a great place to hike. The Weston Lake hiking trail is beautiful, and you can't beat the views of Congaree Swamp. Overall the trail was an easy hike, with no steep climbs or difficult spots to pass.
the Weston Lake Trail loop crosses two streams, passes under large white pines and hardwood trees and through areas thick with southern magnolias, azaleas and rhododendron. With views of the lake and surrounding forest, hikers are encouraged to bring their camera for this peaceful excursion.
Wise lake
Wise Lake is well known as a favorite spot for those hiking at Congaree to stop and rest, or to watch wildlife such as wading birds, alligators or otters in their natural habitat.
But what many people who stop to take in the scenic beauty of this oxbow lake tucked into the Congaree Wilderness don't know is how the lake came to get its name.
Wise Lake got its name from Samuel Wise, who owned the land which contained the oxbow lake that carries his name today, though it is not known exactly when it acquired that name.
Wise immigrated to South Carolina from England and became a merchant in Charleston, while also acquiring land in the colony, including 1,250 acres in the Congaree floodplain, relocating to the area sometime in the mid-1770s.
Bates Ferry Trail and the General Greene tree 
The Bates Ferry trail is one of eleven trails that make up the Congaree River National Park. It's an easy to moderate trail, perfect for beginners and families. The 2.9 mile hike visits the General Greene Tree and provides you with some great views of the Congaree River.
Winding through the Congaree National Park, the scenic Bates Ferry trails weaves past giant live oaks and towering pines, alongside sloughs and cypress swamps.
Sitting upon a ridge in the Congaree National Park is an enormous live oak tree. This huge tree towers over the surrounding canopy, making it difficult to miss as you meander through the park. Known colloquially as the General Greene Tree, this massive tree is estimated to be between 620 and 700 years old at its base.
The Fork Swamp Trail
The Fork Swamp Trail is one of the top trails in Congaree National Park. Wear good shoes and be prepared to get wet, muddy and maybe even a little scratched up. This trail has a lot of small bridges along the way and it is very exciting and fun. The scenery is excellent, with a variety of plants, animals and trees.
Total Distance: 0.6 miles
Level : moderate
Total Time: 30 mins
Conclusion
I hope you've enjoyed my answers to these questions. Congaree National Park is an incredible place with beauty to spare. Still, the best way to experience its wild splendor is to take a trip out and see it for yourself.
Hopefully these answers have helped you decide whether or not an excursion to Congaree is right for your family. If you have any comments or questions, be sure to leave them in the comment area below. I would love to hear what you have to say!