Explore the top 20 Grand Teton National Park hikes, from easy trails to challenging adventures, with expert tips for safety and fun
Hiking in Grand Teton National Park is about more than just putting one foot in front of the other. It's about the trails, the surroundings, and the unique experiences each path offers.
Our guide has curated a list of trails ranging from easy strolls suitable for families to the more strenuous hikes for the ambitious adventurer. Want to know which one offers the best sunrise view or where you might spot wildlife? We've got the details.
Beyond the trails, Grand Teton offers an ambiance like no other. The sheer granite peaks, the tranquil lakes, and the pristine meadows make every hike an experience to remember.
As serene as it might sound, the park has its challenges. High elevations, sudden weather changes, and the resident wildlife mean you have to be prepared. We've included a section dedicated to ensuring your hikes are not only memorable but also safe.
Dive in, discover, and let this guide be the first step in your Grand Teton hiking adventure. Ready to explore?
Easy Hikes in Grand Teton National Park 
Every hiking journey has to start somewhere, and for many, the easy trails of Grand Teton National Park serve as the perfect introduction to the wilderness. These hikes, while less demanding, are no less beautiful or rewarding.
Taggart Lake Loop
Length: 3 miles
Trailhead: Accessible from the Taggart Lake Trailhead, located just 2.3 miles north of the Moose Entrance Station.
Best Time of Year: May through October
Starting at the Taggart Lake Trailhead, the hike offers an immediate glimpse of the imposing Grand Teton peak.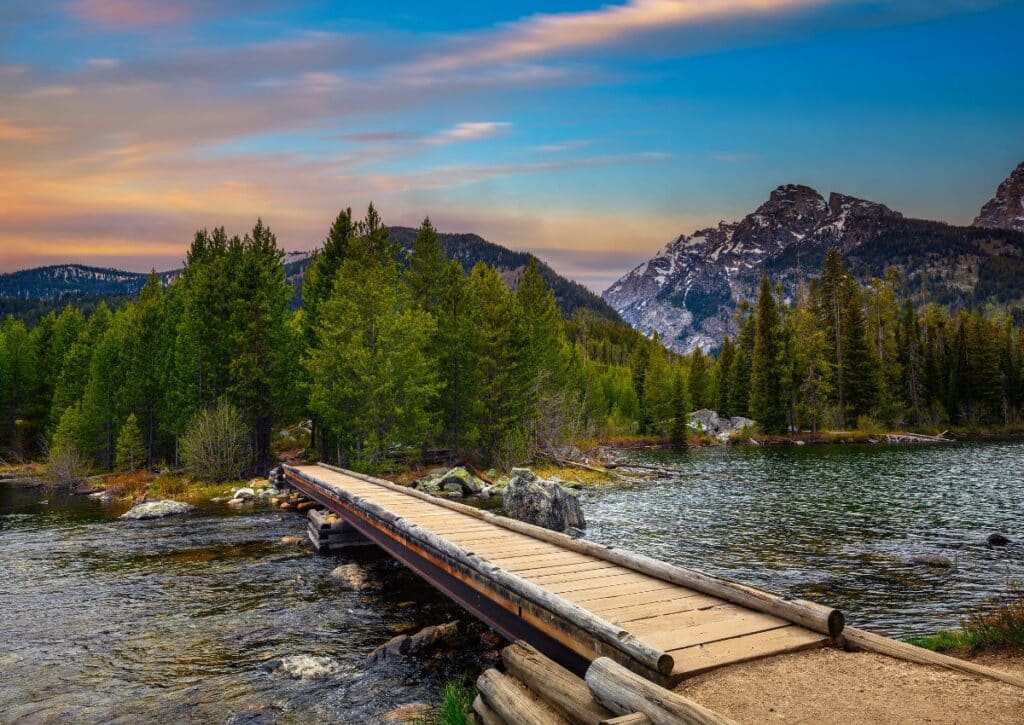 As you move along, the trail presents a varied tapestry of terrains. You'll walk through stretches that bear the marks of the 1985 Beaver Creek Fire, where the landscape's recovery process can be witnessed firsthand — new growth sprouting among the charred remnants.
Soon, the path dives into dense aspen groves. If you're trekking in the fall, expect a mesmerizing display of golden hues as these trees showcase their seasonal beauty. 
As the trail meanders, the sound of gushing water becomes more pronounced, and soon you're walking alongside Taggart Creek. 
A footbridge offers a momentary pause, with views of cascading waterfalls that serve as nature's very own spectacle.
The climax of this journey is the serene Taggart Lake itself. The waters of the lake, surrounded by dense foliage, offer mirror-like reflections of the encompassing peaks. 
It's a place of tranquility, where the play of light on water and the backdrop of towering mountains combine to create a scene of natural harmony.
Wildlife to Look Out For: This area is a hotspot for birdwatchers with species like mountain bluebirds and woodpeckers often spotted. 
Larger animals such as marmots, elk, and mule deer roam the vicinity, and if you're particularly vigilant, you might catch a glimpse of a bear. 
As always, it's essential to maintain a safe distance and not to disturb the wildlife.
Lake Creek – Woodland Trail Loop
Length: 3.4 miles
Trailhead: Located in the Laurance S. Rockefeller Preserve off Moose-Wilson Road. After turning onto Moose-Wilson Road from Moose Junction, drive about 3.6 miles south until you spot the sign for the Preserve.
Best Time of Year: Spring through Fall
Embarking on the Lake Creek-Woodland Trail Loop, you begin at the historically significant Laurance S. Rockefeller Preserve.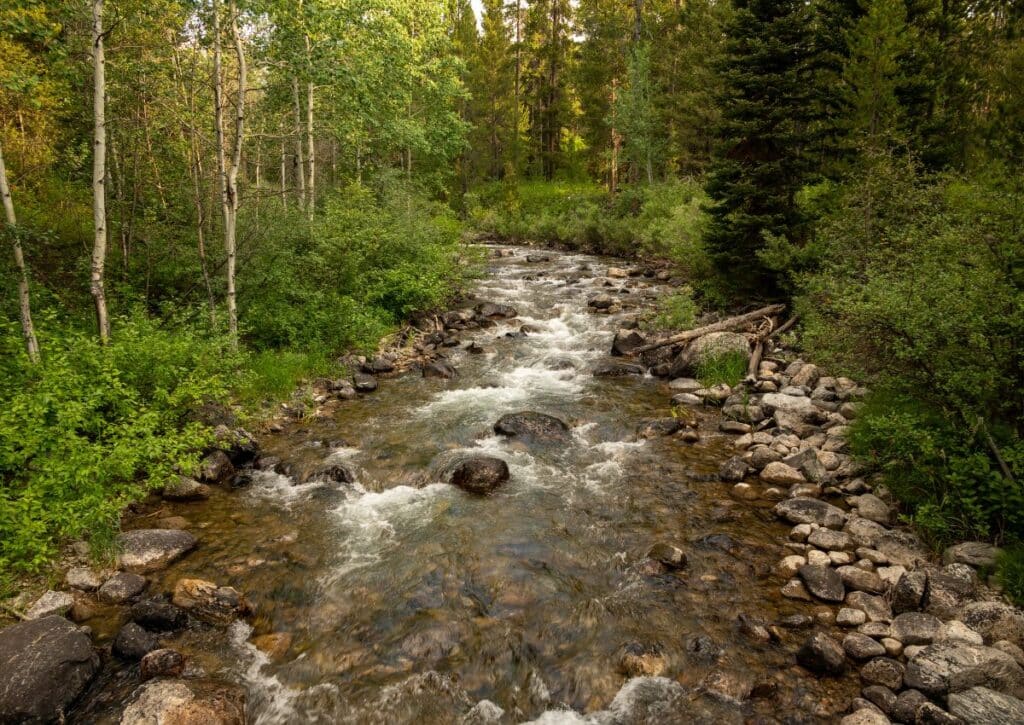 Once a family retreat and part of a larger ranch, this 1106-acre refuge has transformed into a haven for nature enthusiasts, embodying the idea of "physical and spiritual renewal."
Your initial steps take you across a sagebrush flat, leading to the LSR Visitor Center. Once past the center, the trail immerses you into a verdant forest rich in spruce, fir, and lodgepole pine. 
The whispers of Lake Creek accompany you, guiding your path. A notable highlight is when the trail reveals Phelps Lake, a glacial masterpiece. 
Here, the majestic Death Canyon and towering peaks like Albright Peak and Prospectors Mountain encapsulate the horizon. The lake's azure waters reflect these giants, creating a surreal landscape.
Several junctions along the way offer alternate routes and glimpses into other parts of the Preserve, but this loop keeps you engaged with its alternating forested paths and open lake views. 
Whether you're an early bird or a sunset chaser, the dance of light on the lake's surface, especially with the potential sight of ospreys soaring above, makes this trail a memorable journey.
Wildlife to Look Out For: The Lake Creek-Woodland Trail Loop offers a rich tapestry of biodiversity. 
The spruce, fir, and lodgepole pine forests are home to various bird species. Ospreys, known for their fishing prowess, can often be seen gracefully soaring above Phelps Lake, plunging now and then to catch their aquatic prey. 
The recovering regions, post the Beaver Creek Fire, attract woodpeckers, who find the charred remains of trees perfect for nesting and foraging. The more silent stretches might allow you to hear the calls of elusive owls from the dense tree canopy.
On the forest floor, keep an eye out for mule deer delicately navigating their way. The dense underbrush might even reveal the rustling of smaller mammals, such as marmots or squirrels. The forest's edge, where it meets the water, is an ideal spot to sight elk, especially during dawn or dusk as they come to drink or graze.
Phelps Lake Overlook
Length: 2.0 miles (Roundtrip)
Trailhead: Death Canyon Trailhead; after heading south on Moose-Wilson Road from Moose Junction for about 3 miles, a turn-off leads you toward the trailhead. The last stretch of this route involves a rugged gravel road, suitable for 4-wheel drive vehicles.
Best Time of Year: Spring through Fall
The Phelps Lake Overlook hike is a journey packed with scenic marvels. Beginning at the Death Canyon Trailhead, hikers are led through a woodland dominated by lodgepole pines.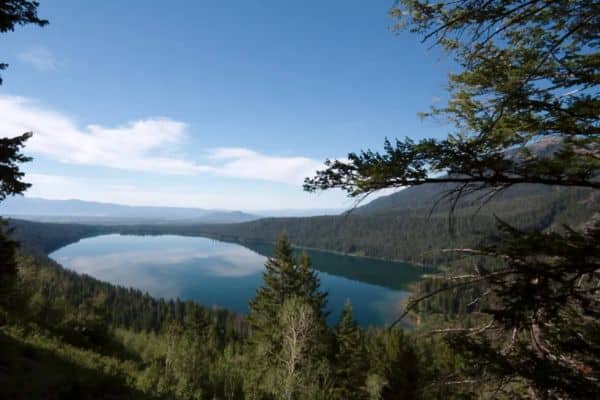 A sprinkle of aspen groves punctuates this green expanse, their leaves rustling gently in the mountain breezes. 
The initial phase of the hike introduces a moderate climb, but the promise of what lies ahead fuels the journey.
A mile into the hike, and the true reward unveils itself — the Phelps Lake Overlook. Perched at an elevation of 7200 feet, this vantage point offers a sweeping panorama. 
The serene Phelps Lake, carved by ancient glaciers, sprawls beneath, its waters reflecting the majestic skyline. 
Directly across, the Laurance S. Rockefeller Preserve stretches out, and further in the horizon, the rugged outline of the Gros Ventre Mountains captivates the gaze.
Old-growth Douglas firs, some centuries old, stand guard near the overlook. Their thick barks and sprawling branches have borne witness to countless sunrises and sunsets over the lake. 
As for the fauna, alert hikers might spot marmots sunning on rocks, or even catch a glimpse of moose and black bears foraging in the distance. 
And if your legs are still itching for more exploration, a 1.4-mile trek can lead you to a tranquil sandy beach along the lake.
Wildlife to Look Out For: The Phelps Lake region is bustling with wildlife. Marmots, with their characteristic whistles, are often seen on rocky outcrops. 
The dense forests and clearings are favorite spots for black bears, especially during berry season. 
Moose, with their towering antlers and graceful gait, occasionally frequent the lake's edges, especially during early mornings or dusks. 
Birds like eagles and ospreys might be seen soaring high, scouting for their next meal. Always remember, while observing wildlife, to maintain a respectful distance and ensure that your presence doesn't disturb their natural behavior.
Lunch Tree Hill
Length: 0.4 miles (Roundtrip)
Trailhead: Jackson Lake Lodge; Located north of Jackson Lake Junction, the trail commences from the northern side of the lodge's back patio.
Best Time of Year: Spring through Fall
Embark on a journey to Lunch Tree Hill, a vantage point where history and nature converge. Beginning at the esteemed Jackson Lake Lodge, a recognized National Historic Landmark, this brief hike offers both a glimpse into the past and panoramic beauty.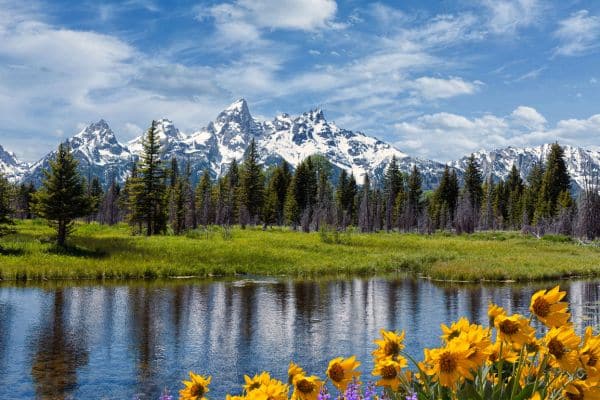 The trail, though short, takes you through a steep ascent along a paved path. Interpretive signs along the way share insights about the area's wildlife, geology, and rich history.
As you ascend, vast views of the Grand Teton Range come into sight. The glacially-carved Jackson Lake stretches below, its waters reflective and still. This lake, the largest within the park, holds stories of dam constructions, alterations, and the fur trapper David E. Jackson, from whom it got its name.
Upon reaching Lunch Tree Hill, Willow Flats unveils itself. This marshy plain, rich with willows, is a wildlife haven. From moose to sandhill cranes, it's a living mosaic of the park's biodiversity.
The climax of this hike is undoubtedly the overlook. From this hill, John D. Rockefeller, Jr., once looked upon these lands, leading to a decision that would forever change the course of Grand Teton National Park. 
Today, a plaque stands in tribute to his contribution. It's a spot of reflection – not just on nature's grandeur but on the visionaries who ensured its preservation.
For those wishing to linger, the hilltop beckons for a serene picnic. Dawn and dusk visits particularly highlight the mountains' ethereal glow and maximize wildlife spotting opportunities. 
If curiosity still tugs at your heartstrings, the trail does extend along the ridge, allowing further exploration.
Wildlife to Look Out For: Willow Flats, visible from the trail, is a bustling hub of activity. Moose, often seen wading in the marshy waters or amidst the willows, are a common sight. 
The flatlands echo with the calls of sandhill cranes, while Calliope hummingbirds flit around, their iridescent hues catching the sunlight. Northern harriers might be seen gliding overhead, their keen eyes scouting for prey. 
The dense vegetation also offers habitat for beavers, while the expansive view might even give you a glimpse of elk grazing in the distance. 
Remember to always maintain a safe distance and respect the wildlife's habitat.
Heron Pond – Swan Lake Loop Trail
Length: 3.2 miles (Loop)
Trailhead: Colter Bay (Hermitage Point Trailhead)
Best Time of Year: Spring through Fall
Located at the heart of Grand Teton National Park, this trail offers a harmonious blend of scenic lakes, diverse wildlife, and the majesty of the Teton Range. 
Starting at the Hermitage Point Trailhead in the Colter Bay area, the loop winds through lush forests and wetlands, presenting visitors with tranquil scenes of Heron Pond and Swan Lake.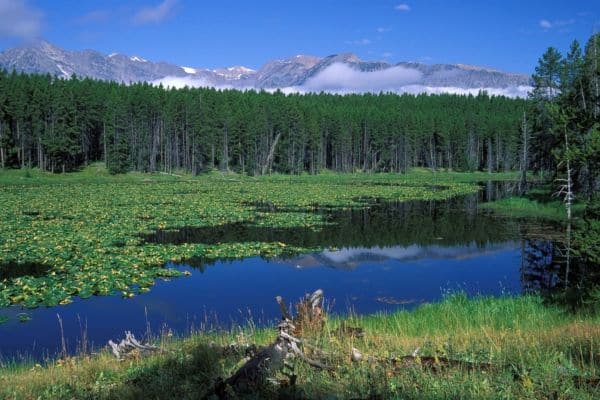 The trail kicks off by circling the southern tip of the Colter Bay Marina, where hikers are immediately greeted with panoramic views of the towering Mt. Moran and Rockchuck Peak. 
Venturing further in, the pathway branches out – veering right leads towards Heron Pond, the first main attraction. 
This serene pond, adorned with lilies and surrounded by dense greenery, is a popular hangout for great blue herons, waterfowl, and even moose.
As you edge towards the southern shore of Heron Pond, a breathtaking view of the Grand Tetons unfolds. Continue on the loop, and you'll approach Swan Lake, named fittingly for the trumpeter swans that inhabit its waters. 
Beyond its avian life, the lake's flora gives it a unique, wetland-like appearance, and the occasional moose sighting is not uncommon.
The trail meanders through the forest before finding its way back to the lake's edge, offering an ever-changing view of the natural landscapes. 
Towards the loop's end, you'll face another trail split – the right branch climbs a small hill, while the left returns you alongside the Colter Bay Marina.
Wildlife to Look Out For:Given its location and natural features, the trail is a haven for wildlife enthusiasts. Heron Pond, as its name implies, is often visited by great blue herons, but it's also common to spot beavers and their lodges nestled against the pond's banks. 
Trumpeter swans, North America's largest native waterfowl, grace the waters of Swan Lake.
Beyond birds, the Colter Bay area is teeming with larger wildlife. Moose are frequent visitors, often seen grazing near the lakes or wandering through the thickets. 
Other animals like elk, mule deer, and beavers might also make an appearance.
Schwabacher Landing Trail
Length: 1.3 miles (2.09 km) roundtrip
Trailhead: Schwabacher Landing
Best Time of Year to Hike: May through October
Just a few miles north of Moose Junction, the Schwabacher Landing Trail offers an intimate encounter with the unspoiled beauty of Grand Teton National Park. 
Initiating from a gravel road easily accessible from Highway 191, this trail promises a leisurely hike, perfect for both seasoned trekkers and casual strollers.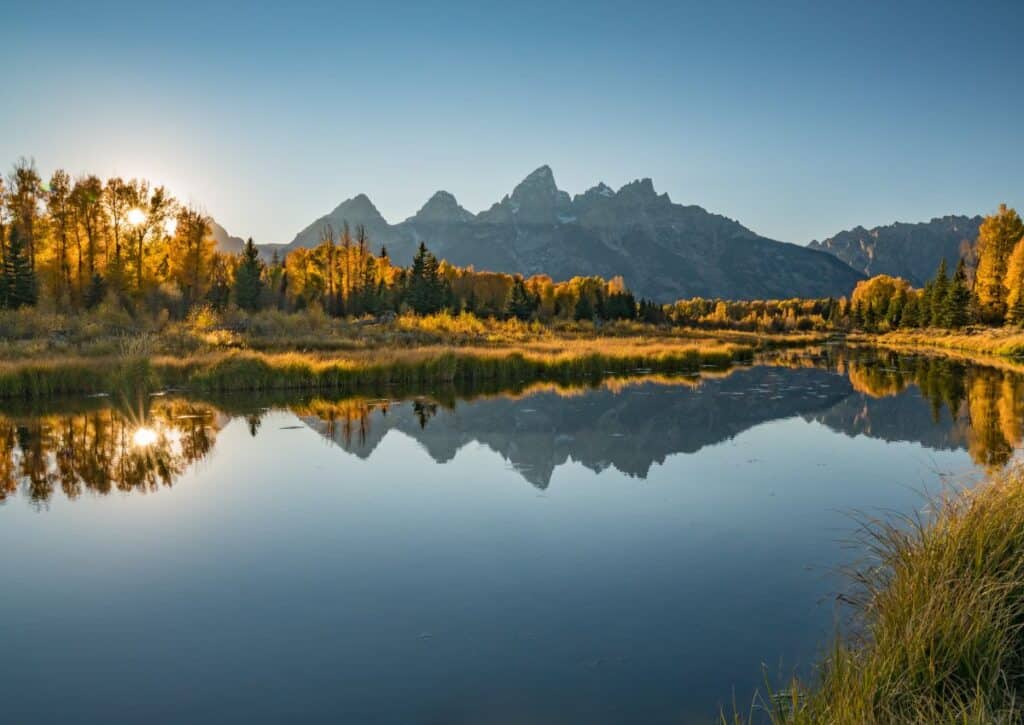 As you embark on this journey, you are instantly greeted by the serene expanse of beaver ponds, a result of the intricate dams created along a braid of the Snake River. 
The stillness of these ponds often captures a pristine reflection of the towering Teton peaks, creating mesmerizing vistas, especially during the early hours of dawn.
The trail carefully treads the balance between dense wooded wetlands to the west and the vast expanse of sagebrush flats to the east. As you delve deeper, you'll encounter a majestic beaver dam, a testament to nature's architectural marvels. 
Beyond this point, the trail narrows, winding its way through the sagebrush until it gracefully fades into the wilderness, marking the journey's end.
Yet, it's not just the scenic allure that captivates; the trail is alive, brimming with wildlife. Depending on the time of day, one can spot a plethora of animals from moose, elk, mule deer to the graceful flight of bald eagles overhead.
Wildlife on the Trail: The Schwabacher Landing Trail is a wildlife enthusiast's paradise. Morning and evening walks are particularly rewarding, presenting opportunities to witness the park's rich biodiversity. 
Majestic moose often grace the wetlands, while elk and pronghorn antelope frolic in the sagebrush flats. The shrill cries of waterfowl can frequently be heard echoing in the distance. 
If you're fortunate, you might even spot a coyote on the prowl or a bald eagle soaring high, scanning the terrains below. Every step on this trail promises an intimate rendezvous with nature, making it a must-visit for every wildlife lover.
Lakeshore Trail
Length: 2.2 mi (approximately 3.5 km)
Trailhead: Starts from Colter Bay Visitor Center.
Best Time of Year to Hike: Spring to early Fall, particularly from dawn to dusk.
The Lakeshore Trail provides an idyllic escape for those wishing to embrace the majestic beauty of nature without venturing into challenging terrains.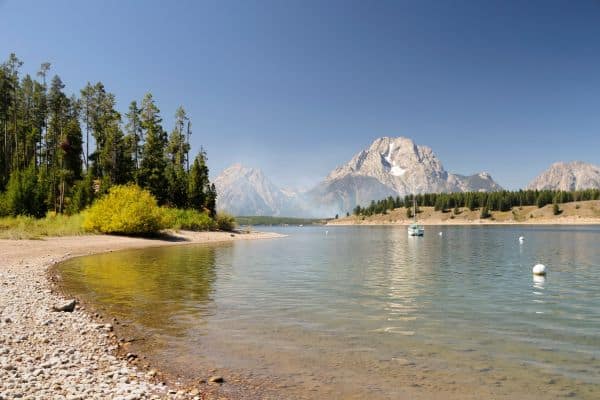 Starting from the Colter Bay Visitor Center, this looped trail promises a leisurely hike that takes you through a rich forest and then right to the scenic Jackson Lake's shore.
Meandering through the wooded peninsula forming Colter Bay, the trail has a unique two-loop structure. The inner loop is a more direct route, while the outer loop extends to the end of the peninsula, presenting awe-inspiring views. 
Throughout the trail, vistas of the Teton Range are your constant companions, offering breathtaking glimpses of nature's grandeur.
Lakeshore Trail doesn't just captivate with its panoramic views, but also weaves a tale of history. Named after John Colter, a pivotal member of the Lewis and Clark expedition, the bay might have been among his explorations during the winter of 1807-08. 
The trail not only resonates with nature's melodies but also whispers tales from the past.
Wildlife on the Trail: Grand Teton's Lakeshore Trail is a vibrant tapestry of biodiversity. As you stroll through its paths, you might spot a variety of creatures, from the majestic moose and elk to the industrious beaver and muskrat. 
The pristine waters might be home to graceful river otters, while the skies above could bear witness to the flights of sandhill cranes or the hovering of ospreys.
The area's rich flora and fauna make it a haven for wildlife enthusiasts. However, it's essential to remember that these are wild creatures in their natural habitat. 
Observing them from a safe distance, maintaining silence, and respecting their space is paramount. It's not just a walk, but a journey where every step brings you closer to nature's marvels.
Moderate Hikes in Grand Teton National Park 
These hikes are tailored for those seeking a bit of a challenge, balancing between leisurely walks and demanding trails. 
Perfect for individuals with a fair amount of hiking experience, moderate hikes offer a blend of picturesque views, varied terrains, and opportunities to experience the wilderness more intimately. 
Dive in and explore the heart of nature's marvel. 
Jenny Lake Loop 
Length: 7.5 miles (approx. 11.6 km)
Trailhead: Jenny Lake Trailhead
Best Time of the Year to Hike: June through October
The Jenny Lake Loop, located in the heart of the Grand Teton National Park, offers hikers an unparalleled opportunity to embrace the park's natural beauty. 
Setting off from the Jenny Lake Trailhead, the trail takes a gentle journey along the edge of Jenny Lake, showcasing the mesmerizing grandeur of Cascade Canyon and the Cathedral Group.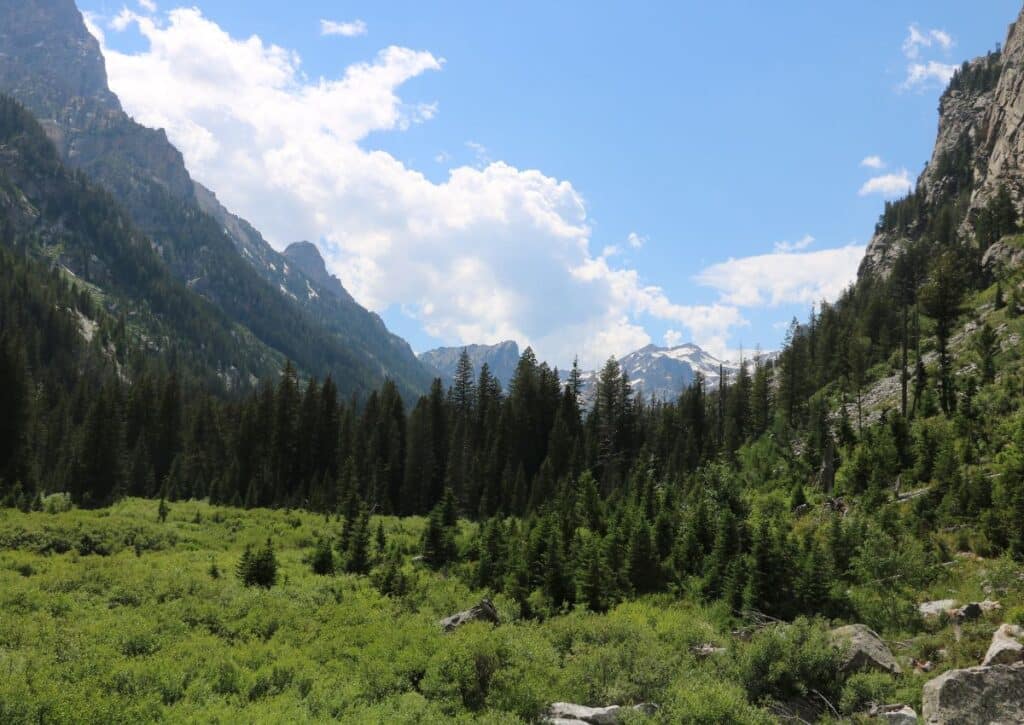 As you maneuver through the loop, the path unfolds a rich tapestry of vistas, allowing glimpses of Mount Owen, the Grand Teton, and Teewinot. 
Along the way, side trails beckon with the allure of Hidden Falls, Inspiration Point, and Cascade Canyon – optional detours that promise to amplify the hiking experience. 
By the southern end, you'll come across the Moose Ponds, a serene spot with a likelihood of wildlife sightings. 
This loop is a genuine gem for those seeking a moderately challenging hike with a bounty of mountain and lake views.
Wildlife on the Trail: Jenny Lake Loop is rich in diverse flora and fauna. Venturing through the trail, hikers might encounter the captivating views of moose around the Moose Ponds. 
The lake's shoreline and its surrounding thickets are frequented by black bears, especially in areas abundant with thimbleberries. 
As you approach the western portions of the lake, stay vigilant for these majestic creatures. The lake itself, with its serene waters, attracts waterfowl, making it a hotspot for birdwatchers. 
The dense forests that the trail winds through are also home to a myriad of smaller critters and birds, making every step on this trail a potential wildlife encounter. 
Always remember to maintain a safe distance from wildlife and avoid feeding or disturbing them.
Taggart Lake – Bradley Lake Loop
Length: 9.7 km (6 miles)
Trailhead: Taggart Lake Trailhead
Best Time of Year to Hike: May through September
The Taggart Lake – Bradley Lake Loop is a mesmerizing journey set within Grand Teton National Park. 
Beginning from the Taggart Lake Trailhead, the trail offers a moderately challenging hike, making it suitable for those with some hiking experience. 
As you wind up the moraine covered with aspens, the trail reveals expansive vistas of the Teton Range. Bradley Lake is a serene stop, presenting panoramic views of mountains like Nez Perce and Middle Teton.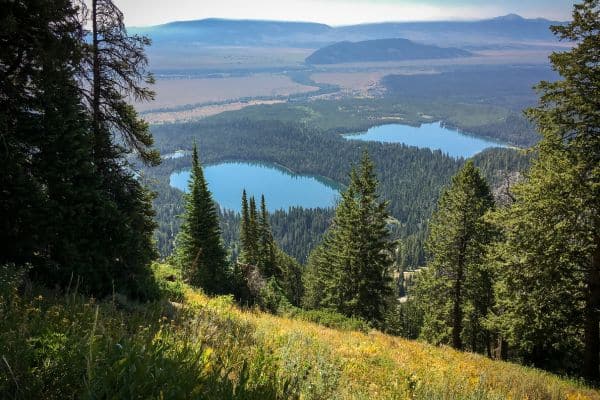 The trail then gracefully guides hikers to Taggart Lake, where they can soak in captivating views of peaks such as Middle Teton, Grand Teton, and Teewinot Mountain. With each step, the trail tells tales of geological history and nature's artistry.
Wildlife on the Trail: Hikers have the chance to encounter a diverse range of wildlife. As you navigate through areas that were rejuvenated after the 1985 Beaver Creek Fire, keep an eye out for mountain bluebirds, flycatchers, woodpeckers, and owls. 
Larger inhabitants of the park, like elk, mule deer, and bears, might also make an appearance, especially in the open terrains and aspen groves. 
The area around Bradley Lake offers the possibility of spotting black bears. Remember to be cautious and maintain a safe distance from any wildlife you encounter. 
Make noise in areas with dense undergrowth to alert any nearby animals, ensuring both your safety and theirs.
Aspen Ridge – Boulder Ridge
Length: 9.8 km (6.1 miles)
Trailhead: Laurance S. Rockefeller Preserve
Best Time of Year to Hike: May through September
The Aspen Ridge – Boulder Ridge Loop offers a blend of nature's artistry and historical intrigue in the heart of Grand Teton National Park. 
Departing from the Laurance S. Rockefeller Preserve, a gift from the Rockefeller legacy, this moderately challenging hike winds through a myriad of aspen groves, bestowing golden hues in the fall, and across boulder-strewn paths that narrate tales of glacial pasts.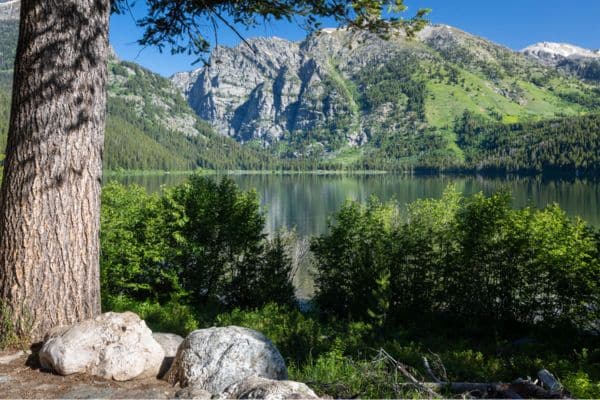 Phelps Lake emerges as a centerpiece, reflecting the lofty Tetons and the entrance to Death Canyon. The journey also pays homage to the area's pioneers, like David W. Spalding, whose history intertwines with the land's rugged beauty. 
This loop captures the essence of the Tetons: the juxtaposition of serenity and raw wilderness, enveloped in history.
Wildlife on the Trail: Venturing through diverse habitats, hikers might witness a plethora of birds, especially during nesting seasons. 
The dense forests and the proximity to Phelps Lake increase the likelihood of spotting larger animals such as moose, bears, and deer. 
The area's history with bear sightings calls for carrying bear spray as a precaution. Additionally, periodic trail closures for habitat protection indicate the abundance of sensitive wildlife in the area. 
Observing from a respectful distance ensures both safety and the sustainability of this rich ecosystem.
Hidden Falls via Jenny Lake Trail
Length: 4 Miles
Trailhead: Starts near Moose, Wyoming.
Best Time of Year to Hike: Late Spring to early Fall, particularly from May to October.
Starting near the serene surroundings of Moose, Wyoming, this moderately challenging trail extends for approximately 4 miles, offering an inviting escapade into the heart of nature.
Although the trail is dotted with natural beauty all along, the star attraction is undoubtedly the Hidden Falls – a picturesque waterfall that seems like nature's well-guarded secret. 
Hikers are often left mesmerized by the cascading water, which is beautifully set against the backdrop of lush woods.
An added benefit of embarking on this trail is the proximity to Inspiration Point. While not a direct part of the route, this landmark is easily accessible and adds a dash of motivation for those looking to extend their journey.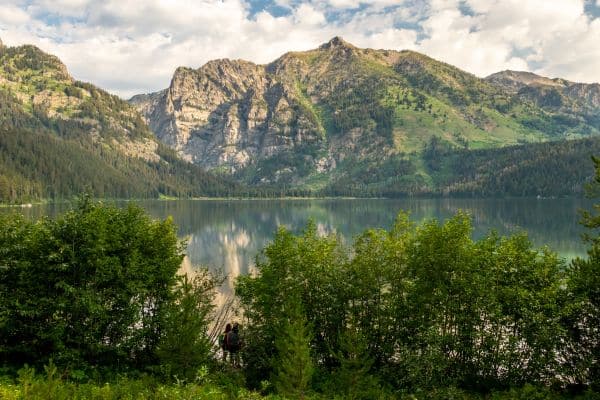 The hike, though mostly gentle, does present a few steep segments, especially as one approaches the falls, adding a dash of thrill to the adventure.
The path is well-marked, ensuring that even newcomers to hiking can navigate through the landscape with ease. 
One word of caution for potential explorers – due to its overwhelming beauty and accessibility, the Hidden Falls Trail can get quite crowded, especially during peak seasons.
Wildlife on the Trail: Hidden Falls Trail is a sanctuary for various wildlife species. From chirping birds that dot the skies to small mammals scurrying in the underbrush, there's no shortage of wildlife to observe. 
Given its forested surroundings and proximity to water, bird watchers might spot an array of avian species, making it a haven for those with a keen interest in birding.
Additionally, the dense foliage provides refuge to animals like squirrels, marmots, and occasionally, larger mammals such as deer. 
It's imperative to maintain a safe distance and avoid disturbing the natural habitat of these creatures. The trail not only offers a visual treat but also an opportunity to immerse oneself in the sounds and sights of the wild.
String Lake Loop Trail 
Length: 3.8 miles
Trailhead: String Lake Trailhead
Best time of year to hike: June through September
Measuring 3.8 miles, this moderately challenging loop affords hikers the chance to immerse themselves in the majestic backdrop of Moran's landscapes, harmoniously paired with the tranquil beauty of String Lake. 
Commencing at the String Lake Trailhead, trekkers are immediately greeted by the arresting sights of the "Cathedral Group" – a majestic trio of towering mountains casting their reflection over the pristine lake below.
Journeying along the eastern shoreline, the silhouette of the prominent Mt. Moran dances on the water's surface, its history rich with tales of artist Thomas Moran and age-old tragedies.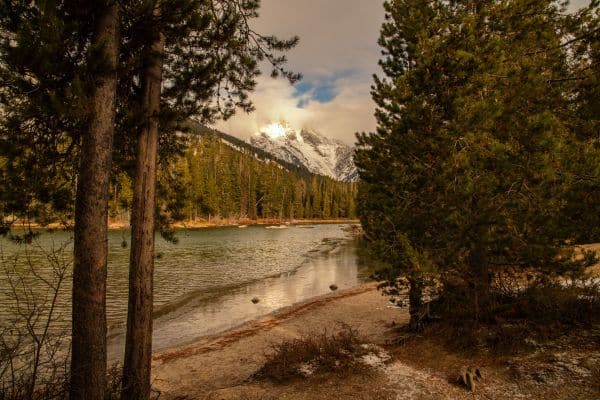 Portions of the trail, occasionally paved, weave a narrative of glacier-induced lakes dotting the Teton Range. Crossing the Leigh Lake Outlet, hikers delve into thickets of woodland, only to emerge into expansive views marked by nature's avalanches. 
Concluding the hike, the breathtaking fusion of Grand Teton's geology, flora, and fauna leaves an unforgettable impression.
Wildlife on the Trail: The String Lake Loop Trail is a haven for wildlife enthusiasts. As hikers traverse its path, they may be treated to sightings of moose grazing by the lakeside or mule deer prancing through the meadows. 
The nearby woods often rustle with the movements of squirrels and chipmunks. Birdwatchers can delight in the melodic calls of various bird species, including ospreys, great blue herons, and sandhill cranes. 
Closer to the water, one might even catch glimpses of beavers and river otters. And, if one is particularly fortunate and observant, the elusive black bear might be spotted in the distance, foraging for food. 
Strenuous Hikes in Grand Teton National Park 
Grand Teton National Park is renowned for its rugged landscapes, offering adventurous souls a plethora of challenging trails that intertwine with nature's most pristine environments. 
These strenuous hikes are not for the faint-hearted but promise unparalleled panoramic views that are the epitome of nature's grandeur.
Forks of Cascade Canyon
Length: 9.4 mi (15.1 km)
Trailhead: Jenny Lake
Best Time of Year to Hike: Summer and Fall
The Forks of Cascade Canyon trail beckons hikers with the promise of a journey through some of the Grand Teton National Park's most iconic landscapes. 
Beginning at the scenic Jenny Lake, the initial trail is marked by the rush of the Cascade Creek, leading adventurers past the enchanting Hidden Falls.
As the path winds upwards, it takes a challenging ascent through rocky cliffs, presenting a panoramic sweep of Jenny Lake contrasted against the sprawling Jackson Hole valley from the famed Inspiration Point.
Delving deeper into the canyon, the trail's topography morphs from the shores of the lake to a meandering path amid lush forests and vast boulder fields. 
The steady, gentle incline offers intermittent glimpses of towering peaks like Teewinot Mountain, Mt. Owen, and the ever-present silhouette of the Grand Teton.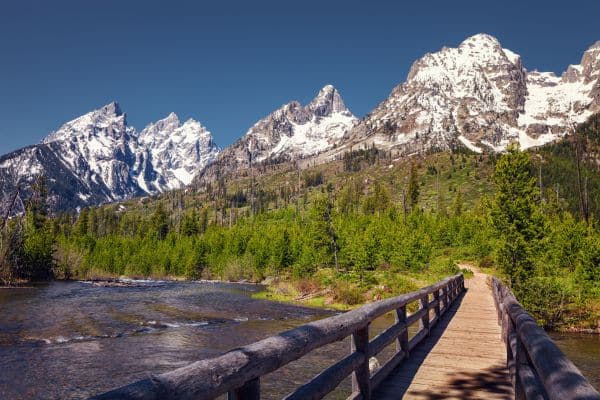 The serene sound of a distant waterfall emanating from Valhalla Canyon serenades the hiker's journey. 
As the path forks between the north and south canyons, dense woodland envelopes the trail, with optional detours available for those eager to explore the cascades and terrains of both drainages.
Wildlife on the Trail:The Forks of Cascade Canyon is a microcosm of the rich biodiversity of the Grand Teton National Park. 
Pika calls echo amid the vast boulder fields, while willow thickets by the trail may occasionally rustle with the movement of a grazing moose. 
Birds of various species flutter in the overhead canopy, their melodies harmonizing with the babble of distant streams. 
The dense foliage also serves as a habitat for bears, underscoring the importance of treading with caution and being equipped with bear sprays. 
The trail is not just a visual delight but an immersive experience into the wilderness of the Tetons.
Hermitage Point Trail
Length: 9.5 miles (15.3 km)
Trailhead: Colter Bay
Best Time of Year to Hike: Spring, Summer, Fall
Starting from the Colter Bay area, the Hermitage Point Trail is a mesmerizing journey through the diverse landscapes of Grand Teton National Park. 
As you begin the hike, the trail immediately presents an enticing panorama: dense forests that open up to reveal vast meadows sprinkled with vibrant wildflowers in early summer, and wetlands that mirror the azure skies.
As the path unfolds, the rhythmic lapping of the waters around Jackson Lake accompanies hikers. The grandeur of the Teton Range serves as a constant, magnificent backdrop.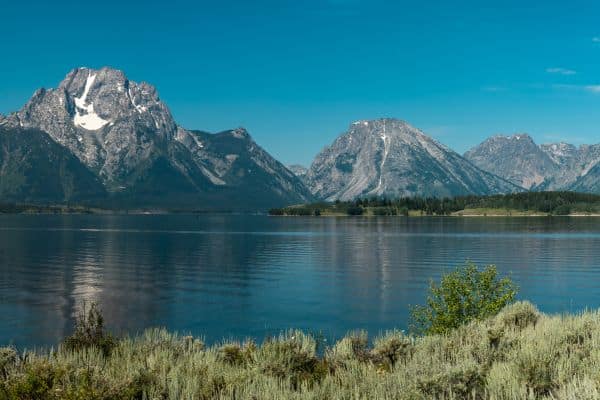 Every step towards Hermitage Point unveils new vistas, transforming the hike into an ever-evolving tableau of nature's best offerings.
But it's not just about the scenery. The trail is a testament to the geological and human history of the area. From the glacially-carved landscapes to landmarks named after trappers and explorers, the route tells a story that's millions of years in the making. 
The culmination at Hermitage Point offers a reward that's worth every step: a panoramic view of Jackson Lake, cradled by mountains and bathed in the hues of the sky.
Wildlife on the Trail: Nature enthusiasts will be thrilled by the array of wildlife that calls this trail home. The thickets and wetlands are often graced by the presence of majestic moose, silently grazing or ambling through. 
Birdwatchers can revel in the sights and sounds of trumpeter swans, great blue herons, and other waterfowl that frequent the ponds. The quieter segments of the trail, with their dense vegetation, hide creatures like beavers and snowshoe hares. 
As the path meanders through open areas, the sharp-eyed might spot pikas and martens darting between the rocks. 
With every step, the trail offers a delicate balance of serene landscapes and vibrant wildlife encounters, making it a must-visit for every nature lover.
Marion Lake
Length: Depending on the trailhead: 14.7 miles (23.7 km) RT loop from Rendezvous Mountain Trailhead, 18.8 miles (30.3 km) RT out and back from Granite Canyon Trailhead.
Trailhead: Rendezvous Mountain Trailhead or Granite Canyon Trailhead
Best Time of Year to Hike: Late July through early fall, when snow has melted.
Marion Lake is an alpine treasure that promises not only physical exertion but a visual feast. Set against a backdrop of rugged cliffs, the pristine waters of the lake mirror the majesty of the Tetons, making it a sought-after destination for ardent hikers and nature lovers.
Beginning from the Teton Village base area, those who embark from the Rendezvous Mountain Trailhead are presented with a challenging yet rewarding route.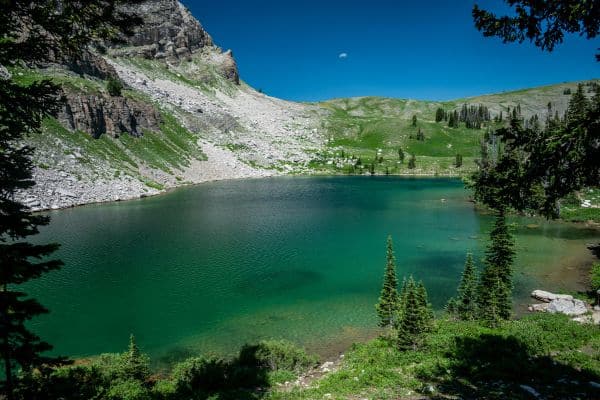 Along the way, a kaleidoscope of vibrant wildflowers paints the meadows, especially during the growing season. 
After surmounting a series of ridges, the sight of the serene Marion Lake provides a perfect resting spot, before looping back via the forks of Granite Canyon.
If starting from the currently closed Granite Canyon Trailhead, hikers meander along Granite Creek, traversing through dense forests intermittently opening up to sunlit fields. 
The wildflowers, in full bloom during early summer, present a vibrant contrast to the verdant surroundings. 
As the trail progresses further into the Upper Granite Canyon, the landscape unveils breathtaking views of the enveloping peaks and the deep canyon below.
Wildlife: Marion Lake, with its unique ecosystem, is a habitat for a variety of wildlife. As you traverse its paths, keep an eye out for the playful pikas and sun-bathing marmots. The lake's serene environment attracts a myriad of birds, making it a birder's paradise.
Furthermore, the trail leading to Marion Lake is renowned for its wildflower displays. Depending on the season, hikers can expect a burst of colors ranging from the soft hues of spring to the fiery tones of late summer. 
Flowers such as lupine, Indian paintbrush, and wild sunflower can be spotted adorning the trail.
Finally, safety first! It's essential to remember that while Marion Lake offers an incredible experience, the hike is challenging and requires preparation. 
Ensure you're equipped for rapidly changing weather, potential thunderstorms, and always consult a ranger for current trail conditions before embarking.
Death Canyon – Static Peak Divide Junction
Length: 16 miles out-and-back
Trailhead: To reach the trailhead from Moose Junction, turn left onto Moose-Wilson Road and drive roughly 3 miles south to the turn-off for the Death Canyon Trailhead.
Best Time of Year to Hike: Mid-summer to early fall, given the high elevation which can hold onto snow until late in the season.
The journey from the Death Canyon Trailhead to the Static Peak Divide Junction offers hikers a front-row seat to nature's grand spectacle within the stunning terrains of Grand Teton National Park. 
As you navigate through this formidable path, every twist and turn offers new vistas and experiences, from verdant forests to towering peaks.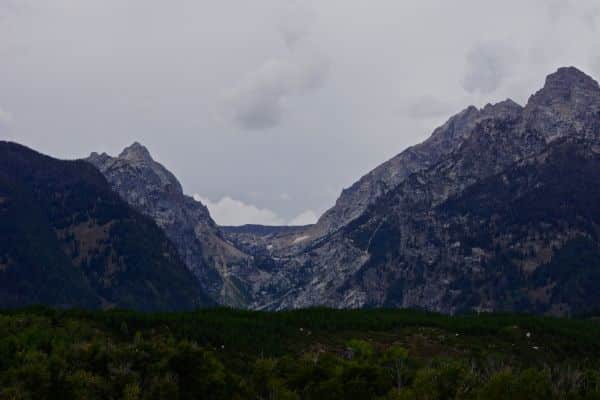 Beginning at the easily accessible Death Canyon Trailhead, the route immediately unveils the beauty of Phelps Lake. 
The ascent, adorned by the park's vibrant flora, leads adventurers to the Phelps Lake Overlook—a vantage point offering a serene ambiance and a view of the gleaming waters below.
Venturing deeper into Death Canyon, the terrain morphs into a dramatic landscape. The trail, interspersed with rugged sections and rocky terrains, promises the thrill of potential wildlife encounters and the raw beauty of the Tetons. 
As hikers climb higher, Albright Peak stands guard, its imposing silhouette guiding them through a series of switchbacks and challenging stretches.
The climax of the hike, the Static Peak Divide, is an ode to nature's grandeur. From this elevation, one can soak in panoramic vistas, with Jackson Hole sprawling to the east and the intricate terrains of Death Canyon to the west.
Wildlife on the Trail: One of the highlights of this trail is its rich biodiversity. Moose are frequently spotted, gracefully navigating the landscapes. While they're a sight to behold, it's vital to maintain a safe distance and avoid startling these magnificent creatures.
The canyon is also a habitat for both black and grizzly bears, making it essential for hikers to carry bear spray and hike in groups. The chirping of birds acts as nature's soundtrack, with various avian species flitting through the trees. 
Smaller critters like pikas and marmots often dart across the trail, and the occasional sight of an elk or deer adds to the trail's charm. 
The trail serves as a testament to Grand Teton's rich ecosystem, offering hikers a chance to immerse themselves in a world where nature remains untamed.
Surprise and Amphitheater Lakes
Length: 16.3 km (approximately 10.1 miles) out-and-back
Trailhead: To reach the trailhead from Moose Junction, turn left onto Moose-Wilson Road and drive roughly 3 miles south to the turn-off for the Death Canyon Trailhead. 
The actual hike begins from the Lupine Meadows Trailhead, situated at the end of a gravel road, approximately 1.6 miles from the junction.
Best Time of Year to Hike: Summer and early fall, considering the altitude and potential for snow at other times of the year.
Surprise and Amphitheater Lakes provide trekkers with an exhilarating hiking experience. The trail, beginning at the Lupine Meadows Trailhead, unfurls through varying terrains, captivating with every step. 
As you ascend the series of switchbacks, glimpses of the magnificent Grand Teton and surrounding vistas occasionally peek through, teasing what awaits.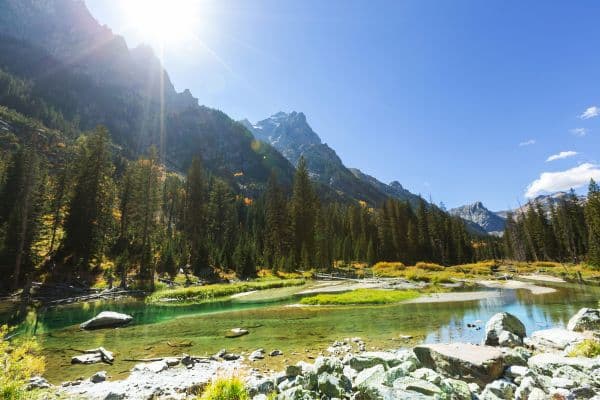 Initially, the trail journeys through a dense coniferous forest, a mix of lodgepole pine, Engelmann spruce, and Douglas fir, offering periodic glimpses of the Teton Range. 
As you ascend, the imposing Jackson Hole and the shimmering surfaces of Bradley and Taggart Lakes become visible, painting a mesmerizing backdrop against the forested trail.
The heart of the hike is reached upon the discovery of Surprise Lake, a serene waterbody that mirrors the dramatic peaks surrounding it. 
But the climax of this adventure is undeniably the Amphitheater Lake, cradled within a cirque below the mighty Disappointment Peak. 
This spot is a testament to nature's grandeur, offering panoramic views of iconic peaks such as Middle Teton, Grand Teton, Mt. Owen, and Teewinot Mountain.
Wildlife on the Trail: The vibrant ecosystems along this trail promise encounters with an array of wildlife. Black bear sightings are not uncommon, making it imperative for hikers to be vigilant, make adequate noise, and carry bear spray. 
Traveling in groups is strongly advised due to the frequent bear activity in the area.
Mule deer can often be seen gracefully navigating through the meadows, while ruffed grouse might surprise with their sudden take-offs. 
The dense foliage also houses smaller creatures, from the cheeky chipmunks to the elusive pikas. Near the water bodies, bird enthusiasts might spot a variety of avian species, making the trail a haven for bird-watching.
The magic of Surprise and Amphitheater Lakes lies in the magnificent landscapes and the diverse fauna that calls this region home. 
This hike is more than just a physical challenge; it's a journey into a thriving ecosystem that showcases nature's splendor at every turn.
Lake Solitude
Length: 26.7 km (approximately 16.6 miles) out-and-back
Trailhead: The journey to Lake Solitude begins at the Jenny Lake Trailhead. To find it, drive west off Teton Park Road at the South Jenny Lake Junction, approximately 7.7 miles north of Moose Junction. 
An additional half-mile will lead you to the boat dock parking area. A shortcut option involves taking a fee-charging shuttle boat across Jenny Lake to the Cascade Canyon Trailhead, reducing the footpath by nearly 2.4 miles each way.
Best Time of Year to Hike: Mid-summer through early fall, preferably July through September.
The Lake Solitude Trail promises both challenge and reward. While its length may test your stamina, the constantly evolving vistas will uplift your spirit. 
The trail embarks near the mesmerizing String Lake, circles Jenny Lake, and then ventures up the scenic Cascade Canyon. 
Along the way, the rush of Hidden Falls invites a momentary pause, while the vistas from Inspiration Point challenge you to catch your breath.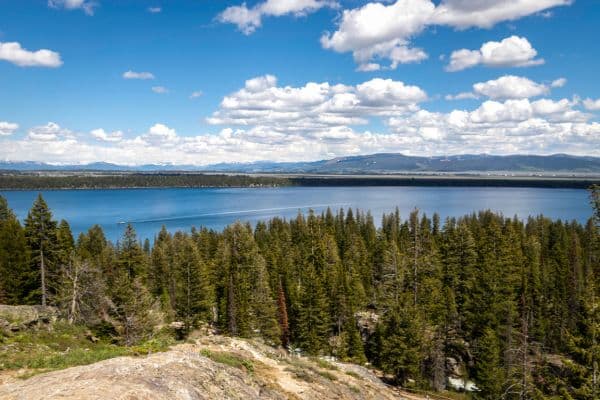 Navigating through Cascade Canyon, you're embraced by the Teton's grandeur, with the Cathedral Group's might, including Teewinot Mountain, Grand Teton, and Mt. Owen, looming in the distance. 
As the canyon unveils its secrets, the trail unveils Lake Solitude, cradled and protected by towering headwalls and offering unparalleled views of the surrounding peaks.
Wildlife on the Trail: Nature thrives along the Lake Solitude Trail, making every step an opportunity to encounter the wild. Bear activity, both black and increasingly grizzly, warrants vigilance. 
Hikers are advised to make noise, especially in areas dense with huckleberries or near Cascade Canyon Creek, where the sound of footsteps might be drowned out by the gushing waters.
Picnic spots often play host to smaller creatures, with picas and marmots calling the boulder fields home. 
Near the wet, willow-covered areas by the creek, the majestic moose might be spotted, while the skies and trees could be dotted with varied bird species.
Fields bursting with wildflowers, particularly after the snow melts, provide a colorful tapestry along the trail. 
From Indian paintbrush and columbines to bluebells and yellow goldenrod, the meadows become a botanist's dream during late July and early August.
The Lake Solitude Trail is a symphony of nature, a harmonious blend of serene landscapes and vibrant wildlife, making it a must-hike for anyone visiting the Grand Teton National Park.
Paintbrush Canyon – Cascade Canyon Loop
Length: 30.6 km (approximately 19 miles) loop
Trailhead: The adventure begins at String Lake.
Best Time of Year to Hike: Mid-summer through early fall, ideally from May to September.
Designed for seasoned hikers, this loop presents a compelling blend of challenging terrains, mesmerizing panoramas, and intimate encounters with nature. 
Beginning at the serene String Lake, the trail ventures into the heart of Paintbrush Canyon, steadily escalating towards the Paintbrush Divide. 
At a staggering 10,700 ft., the divide is more than a vantage point; it's a celebration of the mountains' grandeur, boasting unparalleled views of Mount Moran, Mount Woodring, and Rockchuck Peak.
Descending from the highs of the divide, the path winds its way to Lake Solitude, a pristine water body nestled in nature's embrace, offering a direct gaze at the formidable Grand Teton and Mount Owen.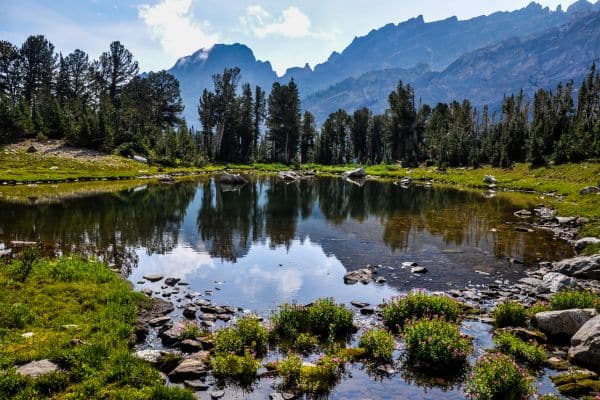 As the trail continues, it snakes through Cascade Canyon, further enriching the visual journey.
Though a single day suffices for the loop, the ever-changing landscapes tempt many to extend their stay. However, prior to embarking on this journey, it's essential to check for trail conditions, especially around Paintbrush Divide, as lingering snow can pose challenges until mid-July.
Wildlife on the Trail: A hike through this loop is not just a physical challenge, but also a rendezvous with nature. The varied landscapes, from dense forests to open meadows, are home to an array of flora and fauna. 
Expect to encounter vibrant wildflowers such as Indian paintbrush, alpine aster, and lupines. Mammals like the mule deer, pikas, and marmots might grace your path. 
The shrill cries of hawks overhead and the rustle of small critters in the underbrush keep the auditory senses engaged. 
Always remember to maintain a safe distance, especially in bear territories, and travel in groups, making sufficient noise to alert wildlife of your presence.
Teton Crest Trail
Length: 63.6 km (approximately 39.5 miles)
Trailhead: Starts from Rendezvous Mountain, near Teton Village.
Best Time of Year to Hike: Mid-summer to early fall, specifically from June to November.
Teton Crest Trail is among the crown jewels of hiking trails within the Grand Teton National Park. Starting atop Rendezvous Mountain, this point-to-point trail offers intrepid hikers the opportunity to witness a mesmerizing array of landscapes. 
It initially descends into a valley, before making its way up an opposing ridge line. A mid-summer journey showcases a breathtaking carpet of wildflowers.
But what makes this trail particularly captivating is the fluctuating terrain, interspersed with magnificent views, sparkling streams, and an elevation that seldom drops below 8,000 feet. This hike serves as a testament to the beauty of the Tetons. 
From the vibrant Marion Lake, which serves as a perfect pit stop, to the expansive Death Canyon Shelf that treats one to unparalleled views, the trail promises visual wonders at every turn.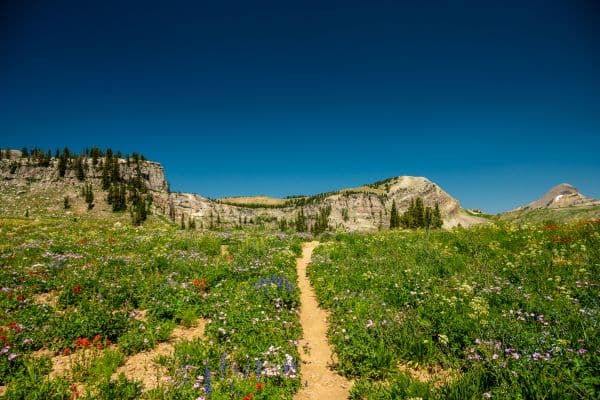 While the trail itself is well-defined, carrying a map is recommended due to some trail junctions potentially lacking clear signage. 
The Teton Crest Trail is not just a walk, but an experience that imprints the majesty of nature on every hiker's heart.
Wildlife on the Trail: Teton Crest Trail is a wildlife enthusiast's dream. The Grand Teton Mountains, through which the trail carves its path, is a sanctuary for diverse fauna. 
Hikers might chance upon majestic moose, elegant deer, nimble bighorn sheep, and, if fortunate, even the elusive black and grizzly bears. The trail also houses predators such as mountain lions and wolves.
The landscapes around the trail, from glacier-carved canyons to meadows dotted with wildflowers, including penstemon, lupine, and paintbrush, further accentuate the trail's appeal. 
However, it's essential to approach wildlife with caution, maintaining safe distances, and adhering to guidelines set by the park, ensuring both personal safety and that of these splendid creatures.
Planning Your Hike in Grand Teton National Park
Embarking on a hiking trip in Grand Teton National Park is a once-in-a-lifetime experience. 
The rugged beauty, breathtaking mountain vistas, and diverse wildlife are enough to captivate any outdoor enthusiast. 
However, to fully enjoy your trip and avoid any pitfalls, proper planning is crucial. Here's everything you need to know:
Things to Know Before Hiking in Grand Teton National Park:
Prepare for Varying Weather: The weather in the park can be unpredictable, with sunny skies quickly turning to rain or even snow. It's essential to pack layered clothing, rain gear, and be prepared for temperature fluctuations.
High Altitude: Remember that you'll be hiking at a high altitude, which can be strenuous for those not acclimated. It's essential to stay hydrated, pace yourself, and be aware of the symptoms of altitude sickness.
Trail Conditions: Some trails might be inaccessible due to snow or other weather conditions, especially during the early or late parts of the season. Always check trail conditions before heading out.
Entrance Fees
There's an entrance fee to access Grand Teton National Park. As of the last update, fees for private vehicles stand at $35, which grants you a 7-day pass. If you're entering by foot or bicycle, the fee is $20. 
An annual pass specifically for Grand Teton National Park costs $70. There's also an "America the Beautiful" annual pass available for $80, which allows access to all national parks.
Best Time to Visit Grand Teton National Park
The ideal time to visit is from late May to late September. During these months, most of the snow has melted, and the majority of the trails are accessible. 
However, July and August are the busiest. For a more tranquil experience, consider visiting in late spring or early fall, though be prepared for cooler temperatures.
Our favorite time is the magical season of autumn! With low crowds, active wildlife and a colorful landscape, this is the best time to hike in the Tetons! 
Leave No Trace Principles
When hiking in Grand Teton, it's crucial to follow the Leave No Trace principles. These include:
Plan Ahead and Prepare: Ensure you know the regulations of the area and have adequately prepared for your trip.
Travel and Camp on Durable Surfaces: Stick to established trails and campsites.
Dispose of Waste Properly: Pack out all trash and litter.
Leave What You Find: Preserve the environment by not picking plants or disturbing wildlife.
Minimize Campfire Impact: Use a camp stove for cooking instead of making a fire.
Respect Wildlife: Observe animals from a distance and never feed them.
Be Considerate of Other Visitors: Yield the trail to others and maintain quiet hours.
Bear Safety and Spray Recommendations
Grand Teton National Park is home to both black and grizzly bears. It's essential to:
Make noise while hiking to avoid startling a bear.
Carry bear spray and know how to use it.
Store food and scented items properly.
If you encounter a bear, avoid direct eye contact, speak in a calm voice, and slowly back away.
Pet and Dog Policies
While pets are allowed in Grand Teton National Park, there are restrictions. Pets must be kept on a leash no longer than six feet at all times. 
They're not allowed on hiking trails, inside visitor centers, or in the backcountry. Ensure you clean up after your pet and never leave them unattended.
Where to Stay in Grand Teton National Park
There are various accommodation options in and around Grand Teton National Park:
Campgrounds: The park offers several campgrounds, ranging from tent sites to RV spots. Reservations are highly recommended during peak season.
Lodges: There are also several lodges within the park that offer more comfortable accommodations. These include Jenny Lake Lodge, Jackson Lake Lodge, and Signal Mountain Lodge.
Outside the Park: The nearby town of Jackson offers numerous hotels, motels, and other accommodations, catering to a range of budgets.
A trip to Grand Teton National Park is an adventure waiting to happen. With the right planning and respect for the park's regulations and natural environment, it's a journey you'll cherish for a lifetime. Safe travels and happy hiking!
Pro Tips When Hiking in Grand Teton National Park
Tackling the majestic trails of Grand Teton National Park is both a dream and a challenge for many hikers. Here are some pro tips to help ensure you have a safe and memorable adventure.
Preparation and Safety Measures:
Start Early: Sunrise starts can help avoid afternoon thunderstorms and provide more serene trail conditions.
Inform Someone: Always let someone know your hiking plans, including which trail you're taking and expected return time.
Gear Up: Wear appropriate hiking shoes, carry a first-aid kit, sunblock, insect repellent, and a whistle.
Navigating the High Elevations
Acclimatization: Spend a day or two at a lower elevation to get used to the thinner air. This helps prevent altitude sickness.
Monitor for Symptoms: Dizziness, nausea, and headaches are signs of altitude sickness. If you experience these, consider descending.
Being Bear Aware: Black and Grizzly Bears
Noise is Essential: Regularly make noise to prevent surprising a bear.
Keep Your Distance: Always stay at least 100 yards away from bears and never approach them.
Bear Spray: Carry it and more importantly, know how to use it!
Staying Hydrated: The Importance of Carrying Drinking Water
Drink Frequently: In high elevations, you may not feel as thirsty, but your body is using more water.
Pack Enough: It's recommended to carry at least 2 liters for a day hike.
Filter Stream Water: If you run out, ensure you have a way to purify natural water sources.
Weather Considerations: Preparing for Rapid Changes
Pack Layers: Even in summer, temperatures can swing dramatically.
Watch the Skies: Mountain weather is unpredictable. If you see dark clouds gathering, consider turning back.
Check Forecasts: Always check the weather forecast before heading out, but remember that conditions can change.
Hiking in Groups: The Benefits
Safety in Numbers: If there's an accident, having a group means someone can go for help.
Shared Load: Group hiking means you can distribute common items like tents or cooking gear.
Group Decisions: Making decisions as a group can often result in better, safer choices.
The Importance of Topographic Maps for Backcountry Hiking:
Understand Your Route: Topographic maps show elevations, helping you gauge the difficulty of the terrain.
Stay Oriented: Paired with a compass, a map can help you find your location and direction.
Avoid Hazards: Maps can show potential hazards like cliffs or swamps.
Overnight Camping in the Backcountry: Permit Requirements
Secure a Permit: All overnight backcountry stays require a permit. Apply early, especially for popular zones.
Know the Rules: Each camping zone may have specific rules about where you can set up camp or make a fire.
Leave No Trace: Pack out all you bring in.
Right-of-Way on the Trail: Interactions with Stock Animals:
Yield to Stock: When you encounter horses or pack animals, step off the trail on the downhill side and stand quietly.
Avoid Surprises: Speak calmly so animals can identify you as human. Sudden movements or noises can spook them.
Follow Instructions: The rider or wrangler knows the animals best. Follow any instructions they give.
Parking Tips and Recommendations:
Arrive Early: Especially in peak season, parking lots fill up quickly.
Use Shuttle Services: Some areas offer shuttle services to trailheads. This can save you the hassle of parking.
Mind the Signs: Always park in designated areas. Avoid parking on vegetation or blocking roads.
A hike in Grand Teton National Park promises unmatched natural beauty and adventure. By taking these tips to heart, you can ensure that your experience is both enjoyable and safe.
Wildlife While Hiking in The Grand Teton National Park
The majestic peaks and serene lakes of Grand Teton National Park are undoubtedly breathtaking, but the rich tapestry of wildlife inhabiting its landscapes is equally captivating. A hike in this park isn't just a physical adventure; it's an invitation to witness nature in its purest form.
1. Mammals Galore:
The park shelters diverse mammals, ranging from the stealthy mountain lions to playful river otters. The often-spotted mule deer graze the meadows, while bighorn sheep master the rugged cliffs.
2. The Bear Affair:
Both black bears and grizzlies call Grand Teton home. While they are magnificent to observe, remember to give them ample space and avoid leaving food unattended.
3. Moose on the Loose:
With their long legs and iconic antlers, moose are frequent residents of the park's marshy areas, particularly around the Snake River and Leigh Lake.
4. Small Critters, Big Impressions:
The pika's distinctive chirp can be heard in rocky areas, while the Uinta ground squirrel might be seen dashing around open meadows.
5. Winged Wonders:
Birdwatchers can revel in spotting everything from tiny hummingbirds to majestic bald eagles. The call of the sandhill crane is particularly evocative, echoing across the park's open spaces.
6. Aquatic Life:
The pristine lakes and streams house cutthroat trout, which in turn attract river otters and ospreys, creating a vibrant aquatic ecosystem.
7. Stealthy Predators:
Wolves and coyotes roam the park's vast expanses, playing their part in the natural balance by controlling the populations of smaller animals.
8. Night-time Revelers:
As dusk settles, nocturnal animals such as bats and owls emerge, offering a completely different wildlife watching experience for those camping overnight.
9. Skies Above:
Apart from birds, the park's clear skies offer a chance to spot several species of bats that swoop down, gracefully capturing their insect prey.
10. Unseen Underground:
Below the surface, a different world exists. Badgers and foxes often burrow, creating intricate tunnel systems.
Intrigued by the wide array of animals in Grand Teton National Park? Dive deeper into our experiences with these creatures in the article, "21 Animals We Saw While Hiking in Grand Teton National Park." Each encounter reminds us of the delicate balance of nature and our responsibility to respect and preserve these wild spaces. Whether you're a dedicated wildlife enthusiast or a casual hiker, the park promises a living tableau of nature's finest spectacles, waiting to be discovered.
Conclusion
Grand Teton National Park offers an unparalleled hiking experience, blending challenging terrains with captivating vistas and diverse wildlife encounters. 
As with any outdoor adventure, proper preparation, respect for nature, and understanding the park's guidelines ensure a safe and memorable journey. 
Whether you're an avid hiker or a casual nature lover, the park promises rewarding experiences. 
Remember to plan ahead, stay informed, and always tread lightly, ensuring that Grand Teton's wonders remain preserved for future generations to appreciate and enjoy.