Explore Diamond Head Crater's trail with our guide; get tips, sights, and safety for Oahu's top hike!
Ready to tackle Oahu's crown jewel? Lace up for Diamond Head Crater, where every step up the trail promises a postcard-worthy view of Hawaii's beauty.
Our ultimate guide is your ticket to mastering this majestic hike. We'll walk you through the nitty-gritty of the trail, from its historic nooks to the critters you'll meet.
Expect pro tips to amp up your hike, safety must-knows, and the lowdown on the crater's past. Get set to conquer the summit and earn bragging rights to some of the most epic sights in the Pacific!
Location and Diamond head crater trailhead 
Diamond Head Crater, commonly referred to as Leahi, proudly stands on Oahu's southeastern coast, a stone's throw from the vibrant Waikiki area.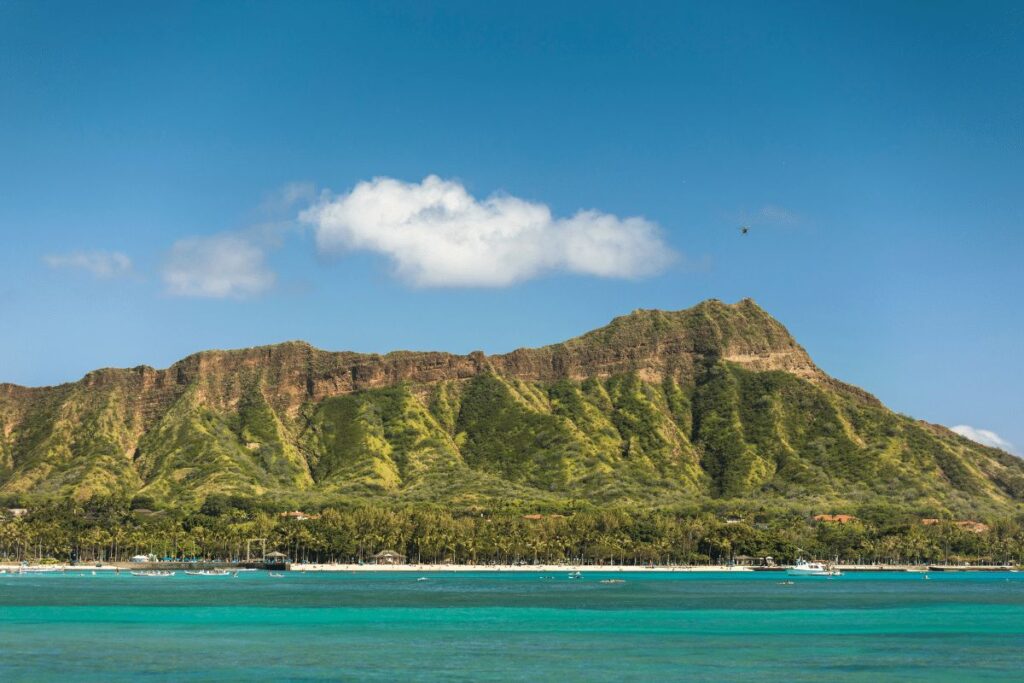 When planning to hike, you'll need to head to the Diamond Head State Monument. This trailhead is your starting point for the adventure. 
Its exact location is 4182 Diamond Head Rd, Honolulu, HI 96816. While parking is available within the crater vicinity, it's worth noting that spots can be a premium, especially during peak times. 
So, if you're keen on visiting Diamond Head, it's best to arrive early or consider alternative transportation.
Length and Difficulty of the Diamond Head Crater Trail
The Diamond Head Crater Summit Trail is approximately 1.6 miles (2.6 kilometers) round trip, with an elevation gain of about 560 feet (170 meters).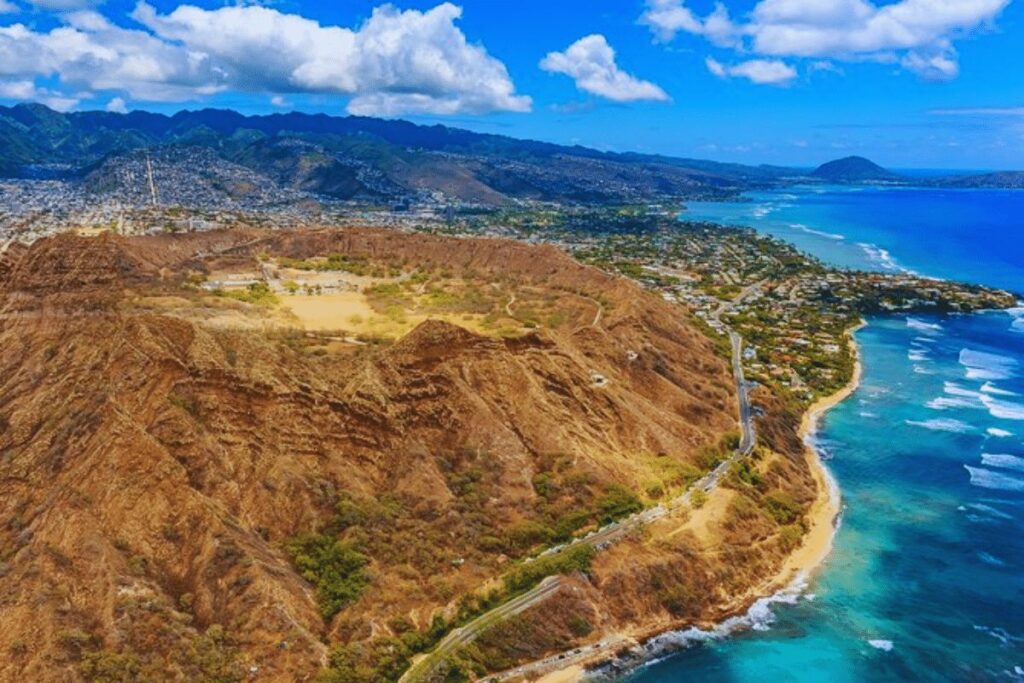 The hike is considered moderate in difficulty, with a combination of paved paths, stairs, and uneven rocky terrain. 
It typically takes about 1.5 to 2 hours to complete, depending on your fitness level and how long you spend at the summit enjoying the views.
Main Sights: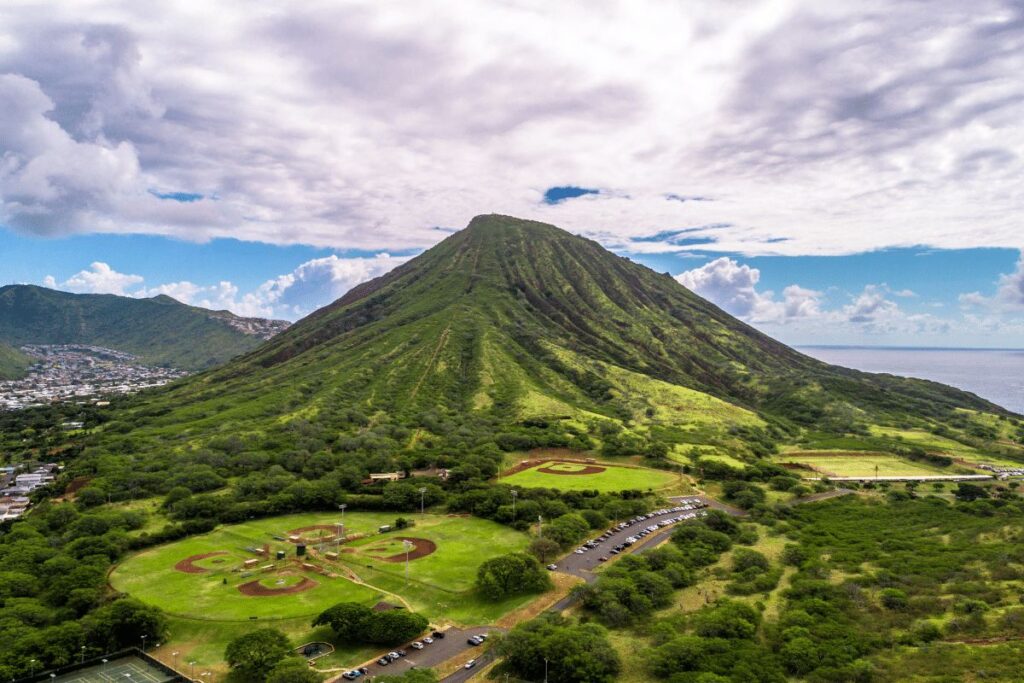 As you make your way up the trail, you'll encounter several key sights:
The first 0.2 miles (0.3 kilometers) of the trail is paved and relatively flat, offering a gentle warm-up before the incline begins.
At the 0.4-mile (0.6-kilometer) mark, you'll reach the first set of switchbacks, which provide excellent views of the surrounding landscape, including Koko Head Crater and the nearby coastline.
As you continue to ascend, you'll pass through a 225-foot (68-meter) tunnel, carved through the volcanic rock. This tunnel is dimly lit, so be prepared with a flashlight or headlamp.
After exiting the tunnel, you'll face a steep set of stairs with 99 steps. Once you conquer this challenge, you'll be rewarded with sweeping views of the crater's interior.
A spiral staircase and a final steep climb lead to the Fire Control Station, a historic military structure built in 1911. This is the summit of the trail and offers 360-degree panoramic views of the entire island.
Summit of Diamond Head Crater: Unparalleled Views
One of the major highlights of hiking Diamond Head Crater is the breathtaking vista that awaits you at the summit. As you reach the peak, you'll be rewarded with a 360-degree panoramic view that stretches far and wide.
Gazing out, the cityscape of Honolulu seamlessly melds with the azure of the Pacific Ocean. To the south, the silhouette of the neighboring islands can often be seen, a testament to the clarity and elevation of your vantage point.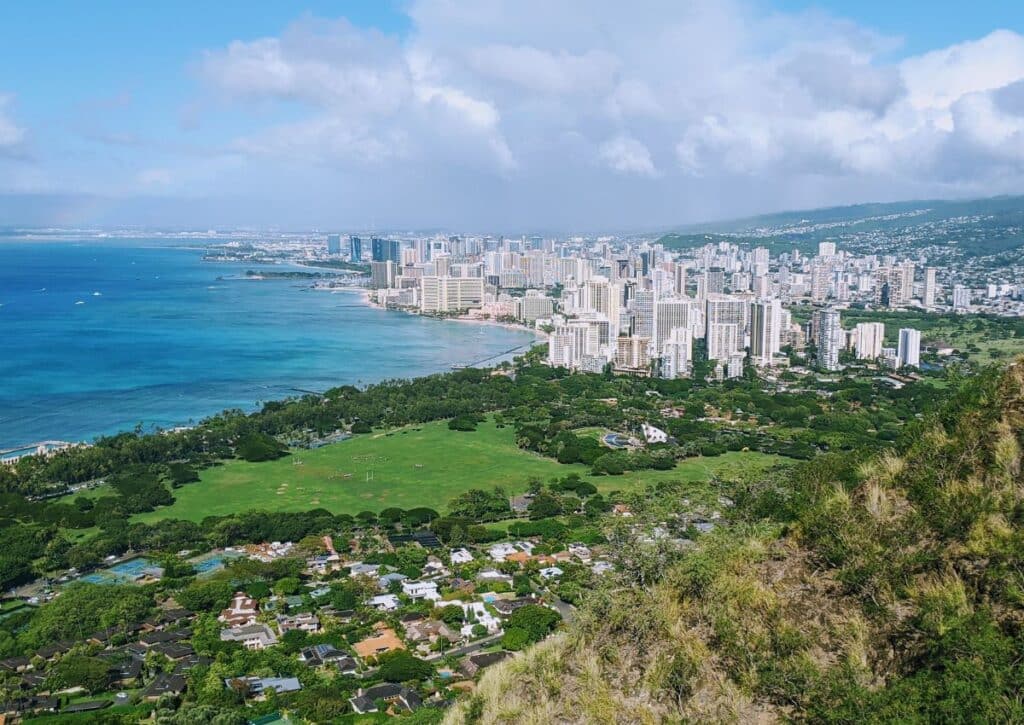 Closer to the base, the lush green parks and white sand beaches of Waikiki glitter like a jewel, while the deep blues of the ocean beckon beyond.
It's not just the sights that are unparalleled, but the sense of accomplishment that comes from conquering this ancient volcanic tuff cone. The wind carries stories of ancient legends, and as you stand there, it feels as though time stands still.
Every angle offers a new perspective, from the undulating waves to the dense urban layout, making the summit of Diamond Head Crater an essential stop for every traveler, photographer, and nature lover.
Remember to bring along your camera or smartphone. The views from the top are Instagram-worthy and are sure to garner admiration from friends and followers alike!
Historic Sites
Walking the Diamond Head trail is like flipping through the pages of a history book, but way more exciting. Carved out in the early 1900s, this path holds tales from when Diamond Head wasn't just a tourist spot, but also a lookout during tense times.
From the get-go, the trail's lush surroundings pull you in. But keep an eye out, because hidden among the greenery are whispers of its storied past. Like the old fire control station, which now seems like an ancient relic. Back in its day, though, it was a critical spot for spotting ships.
Then there's the spiral staircase. 99 steps that can wind you, but here's a fun fact: they're leftovers from the U.S. military's stint at the crater. Can you picture the hustle of soldiers as they scurried up and down, eyes glued to the distant horizon?
But wait, the coolest bit? The tunnel. This 225-foot stretch, built in 1908, offers a chilly break from the tropical heat. Back in the day, it was a game-changer, making trips in and out of the crater a breeze.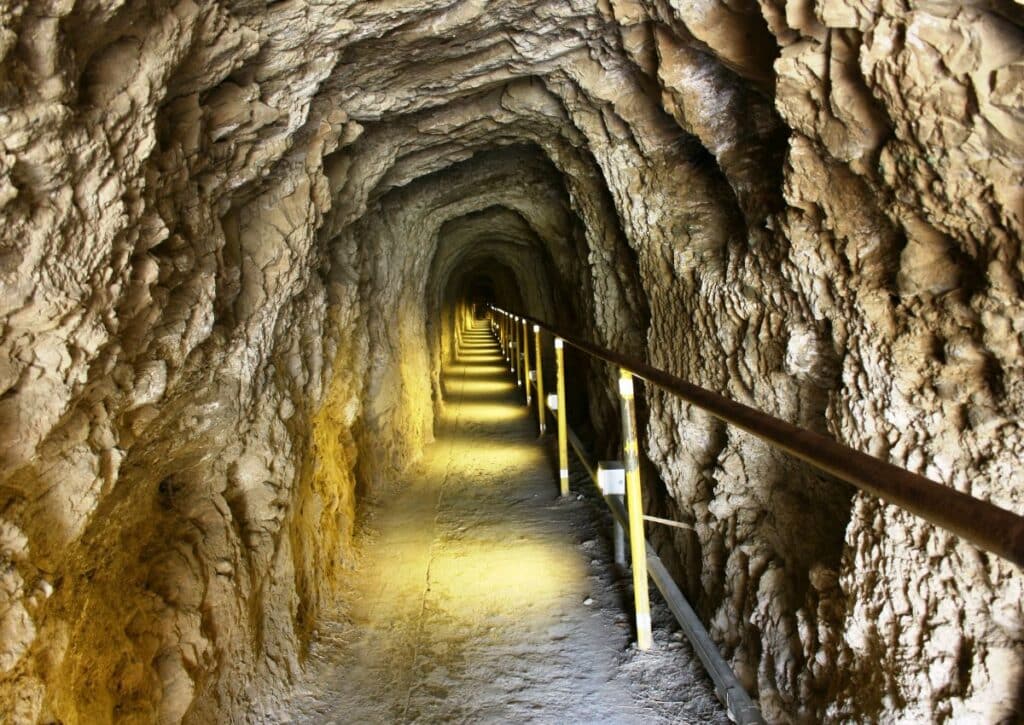 Every twist and turn on this trail offers a blend of nature's beauty and fascinating snippets of history. It's more than just a hike; it's a walk down memory lane, reminding us of Diamond Head's dual identity as both a natural wonder and a silent sentinel of times gone by.
Wildlife:
While hiking Diamond Head, you may encounter various native and introduced species of birds, such as the White-tailed Tropicbird, Red-crested Cardinal, and the Common Myna. 
Small mammals like the mongoose may also be spotted, along with a variety of insects and lizards. Please remember to observe these creatures from a distance and not disturb them or their habitats.
Important Details on Your Diamond Head Crater Hike
Diamond Head Crater Hike Length: Time and Stamina The journey up Diamond Head, while rewarding, requires a bit of preparation. Allocate sufficient time for your hike, ensuring you pace yourself and make the most of the experience.
Visiting Hours: The Diamond Head State Monument welcomes adventurers from 6:00 AM to 6:00 PM daily. Do note, however, that the last permitted entry to the hiking trail is at 4:30 PM. Plan accordingly to make the most of your visit.
Entry Fees: If you're arriving by vehicle, the entrance fee is $5. For those opting to walk in, it's $1 per person. Please ensure you have cash on hand, as it's the only accepted form of payment.
Facilities: Conveniently, there's a water fountain and restroom facilities located at the trailhead. However, once you're on the trail, these amenities won't be available. Plan ahead by staying hydrated and perhaps carrying a small water bottle.
Diamond Head Crater Hike Trails: Picking the Best Path It's vital to stay on the marked trails during your hike. This not only safeguards the fragile ecosystem of Diamond Head but also ensures your safety. The path might be tempting, but it's designed with both conservation and visitor well-being in mind.
Dress Appropriately: The tropical sun can be intense. Protect yourself with sunscreen, a reliable hat, and sunglasses. Also, sturdy footwear can make a significant difference in your hiking experience, so leave those sandals behind.
Pro Tips: To avoid the peak crowd and midday sun, consider starting your hike early in the morning. And always practice the principles of 'Leave No Trace': pack out whatever you bring in, ensuring the beauty of Diamond Head remains untouched for future visitors.
The Diamond Head State Monument 
Diamond Head State Monument is a must-visit destination for anyone traveling to Oahu. This iconic volcanic tuff cone, also known as Leahi, is steeped in geological, historical, and cultural significance.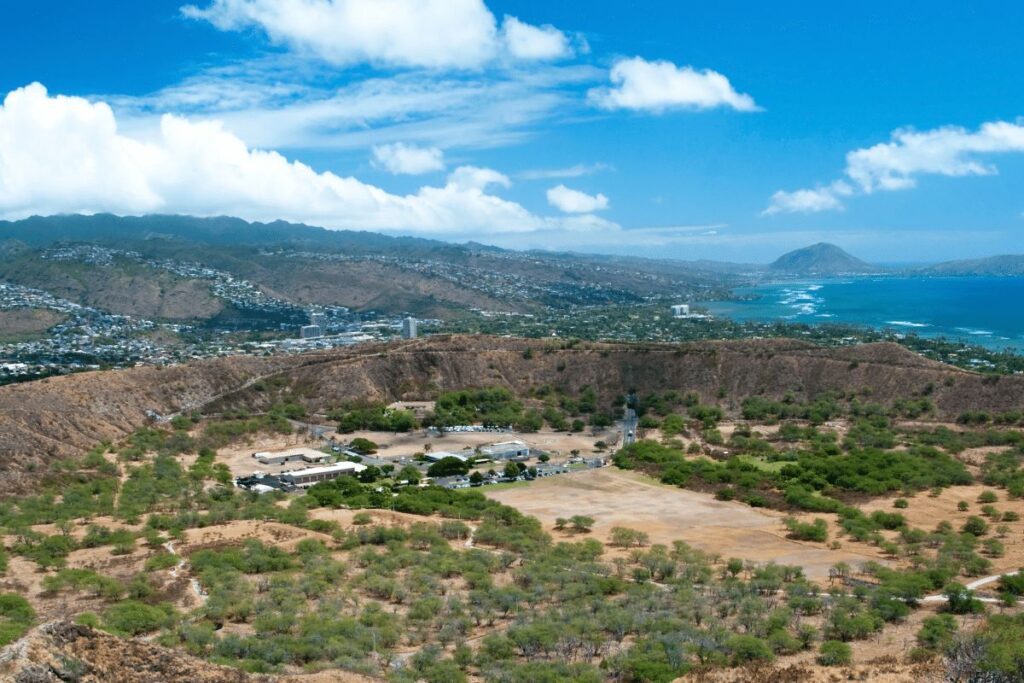 The State of Hawaii's Department of Land and Natural Resources provides detailed information about the monument on their website. In this section, we'll highlight key aspects of Diamond Head State Monument to help you make the most of your visit.
Geological Significance:
Diamond Head Crater was formed around 300,000 years ago during a single, brief volcanic eruption. 
The eruption sent ash and fine particles into the air, which eventually settled and cemented together, forming the tuff cone we see today. 
This unique geological formation offers a window into Oahu's volcanic past and the natural forces that have shaped the island.
Historical and Cultural Significance:
The name "Diamond Head" can be traced back to the 19th century when British sailors mistakenly thought they had discovered diamonds on the slopes of the crater. In reality, the sparkling stones were calcite crystals. 
The Hawaiian name for the crater, Leahi, translates to "brow of the tuna," as the crater's ridgeline resembles the shape of a tuna's dorsal fin.
Diamond Head also played a critical role in the island's military history. In the early 1900s, the U.S. Army constructed a series of bunkers, tunnels, and observation posts within the crater to defend Oahu from potential enemy attacks. 
The Fire Control Station at the summit is a remnant of this military past.
Recreational Opportunities: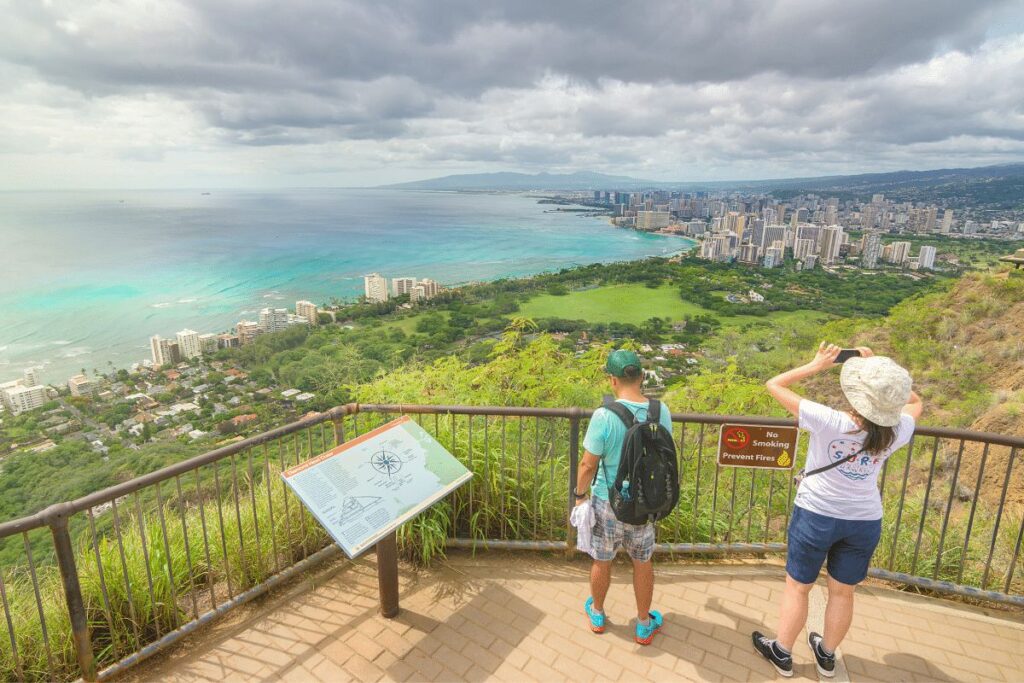 Diamond Head State Monument is an outdoor enthusiast's dream, offering a variety of recreational activities. 
The most popular attraction is the Diamond Head Summit Trail, a 1.6-mile round trip hike that takes visitors to the summit for breathtaking panoramic views.
In addition to the summit trail, visitors can also explore the Kahala Lookout, which offers stunning views of the Kahala neighborhood and the Pacific Ocean. 
The area is equipped with picnic tables, making it an ideal spot for a relaxing outdoor meal.
Park Regulations and Safety:
To ensure the preservation of Diamond Head State Monument and the safety of all visitors, please adhere to the following guidelines:
The monument is open daily from 6:00 AM to 6:00 PM, with the last entrance to the hiking trail allowed at 4:30 PM.
Entry fees are $5 per vehicle or $1 per walk-in visitor (cash only).
Smoking, alcoholic beverages, and pets are not allowed within the monument.
Do not climb or venture off the designated trails to protect the fragile environment and ensure your own safety.
Wear appropriate footwear and clothing, use sunscreen, and bring water and snacks for your hike.
Diamond Head State Monument is a treasure trove of geological, historical, and cultural wonders that offers visitors a unique opportunity to explore Oahu's past and present. 
By following park regulations and making the most of the recreational opportunities available, you'll create unforgettable memories and gain a deeper appreciation for the beauty and significance of this iconic Hawaiian landmark.
Things to remember while planning your Diamond Head Crater Hike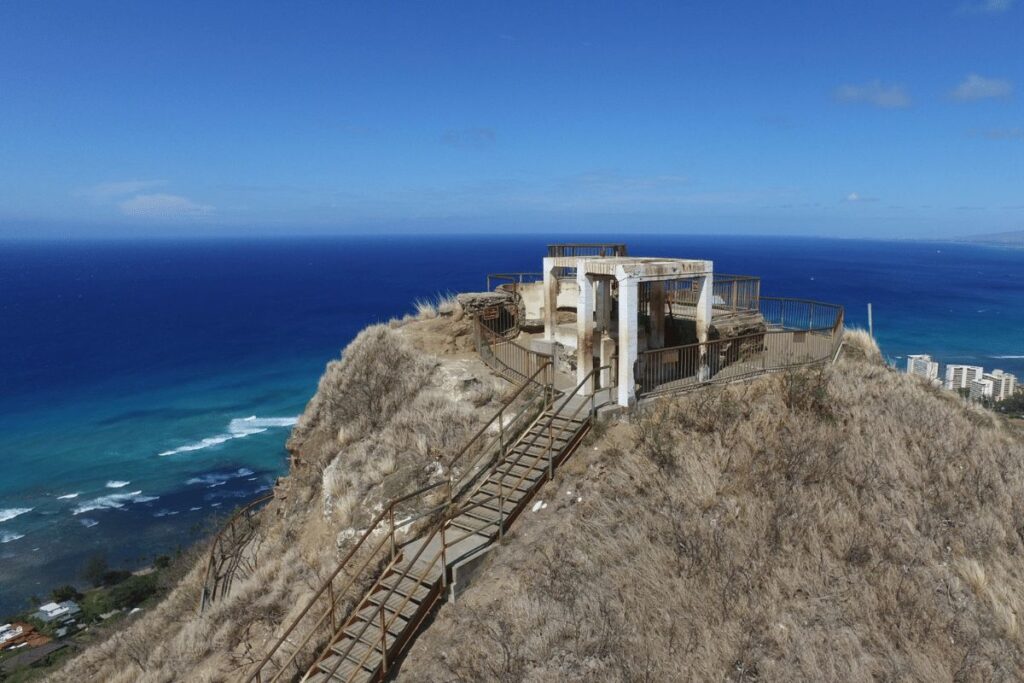 Arrive Early: To avoid crowds and enjoy cooler temperatures, plan to arrive at Diamond Head State Monument early in the morning. This will also increase your chances of finding a parking spot, as spaces can fill up quickly during peak hours.
Wear Appropriate Footwear: The trail consists of uneven terrain, so it's essential to wear comfortable, sturdy shoes with good traction. Avoid flip-flops or sandals to prevent potential injuries.
Bring Water and Snacks: Stay hydrated and maintain your energy levels by carrying sufficient water and snacks with you. There are no facilities along the trail, so it's crucial to come prepared.
Use Sun Protection: Oahu's sun can be intense, especially during the hike. Apply sunscreen, wear a hat, and consider using sunglasses to protect yourself from the sun's harmful rays.
Carry Cash for Entry Fees: Entry fees are $5 per vehicle or $1 per walk-in visitor, and the park accepts cash only. Be prepared with the exact amount to avoid any inconvenience.
Take Your Time: Enjoy the journey and take breaks when needed, especially if you're not used to hiking or if you're visiting from a different altitude. The hike is moderately challenging, so it's essential to listen to your body.
Respect the Environment: Stay on designated trails to protect the fragile ecosystem and preserve the beauty of the area for future generations. Do not litter and avoid picking plants or disturbing wildlife.
Bring a Camera: The panoramic views from the summit are truly breathtaking, so don't forget to bring a camera or smartphone to capture the moment. Be mindful of other hikers and take turns at popular photo spots.
Prepare for the Tunnel: The trail includes a 225-foot (68-meter) dimly lit tunnel, so bring a flashlight or headlamp to help you navigate this section safely.
Visit the Diamond Head Visitor Center: Before or after your hike, stop by the Diamond Head Visitor Center to learn more about the area's history, geology, and cultural significance. The center also offers restrooms, a gift shop, and refreshments for purchase.
Where to Stay
To explore Diamond Head Crater and it's surroundings we recommend you stay at Waikiki. You can use the below search bar to begin your journey.
Guided Tours to hike diamond head crater
Conclusion:
Hiking Diamond Head Crater is an unforgettable experience that offers stunning views of Oahu's spectacular scenery.
As you reach the summit, you'll be rewarded with a sense of accomplishment and panoramic vistas that encompass Waikiki, the Pacific Ocean, and the island's lush, green mountains. 
This iconic hike is a must-do for both visitors and locals alike, as it provides a unique perspective on the island's natural beauty and rich history.
In addition to the remarkable views, hiking Diamond Head also offers an opportunity to connect with nature, enjoy some physical activity, and learn about the geological and cultural significance of the area. 
The journey to the summit will leave you with lasting memories and a deeper appreciation for the breathtaking beauty of Oahu.
So, whether you're a seasoned hiker or just looking for a memorable adventure during your visit to the island, don't miss the chance to explore the Diamond Head Crater. 
With this ultimate guide in hand, you'll be well-prepared for your journey to the summit and ready to experience one of Hawaii's most cherished natural treasures. Aloha, and happy hiking!