Discover the ultimate guide from Las Vegas to Valley of Fire. Dive into scenic routes, iconic stops, and a 2-day itinerary for a memorable desert adventure.
Swap the hypnotic neon glow of Las Vegas for the fiery allure of nature's canvas. Imagine a journey where the hum of slot machines fades into the whispered secrets of ancient petroglyphs, and where towering casino facades give way to majestic sandstone formations.
This isn't just any weekend escape – it's a two-day odyssey from the heart of Vegas to the soul of Nevada's desert.
In this guide, we'll transport you from the bustling Strip to the serene landscapes of the Valley of Fire, taking you through hidden gems, iconic landmarks, and trails that whisper tales from millennia past. Buckle up; adventure awaits.
Route Overview
Starting Point: Las Vegas, NV
Destination: Valley of Fire State Park, NV
Distance: Approximately 58 miles.
Estimated Drive Time: Just over an hour, depending on traffic.
Directions:
Departure from Las Vegas: Begin on I-15 N from downtown Las Vegas.
Venture North: Continue on I-15 N for around 55 miles.
The Gateway to Adventure: Take Exit 75 towards Valley of Fire E/Lake Mead.
The Final Stretch: Follow Valley of Fire Hwy (NV-169) eastwards for about 13 miles until you reach the entrance of Valley of Fire State Park.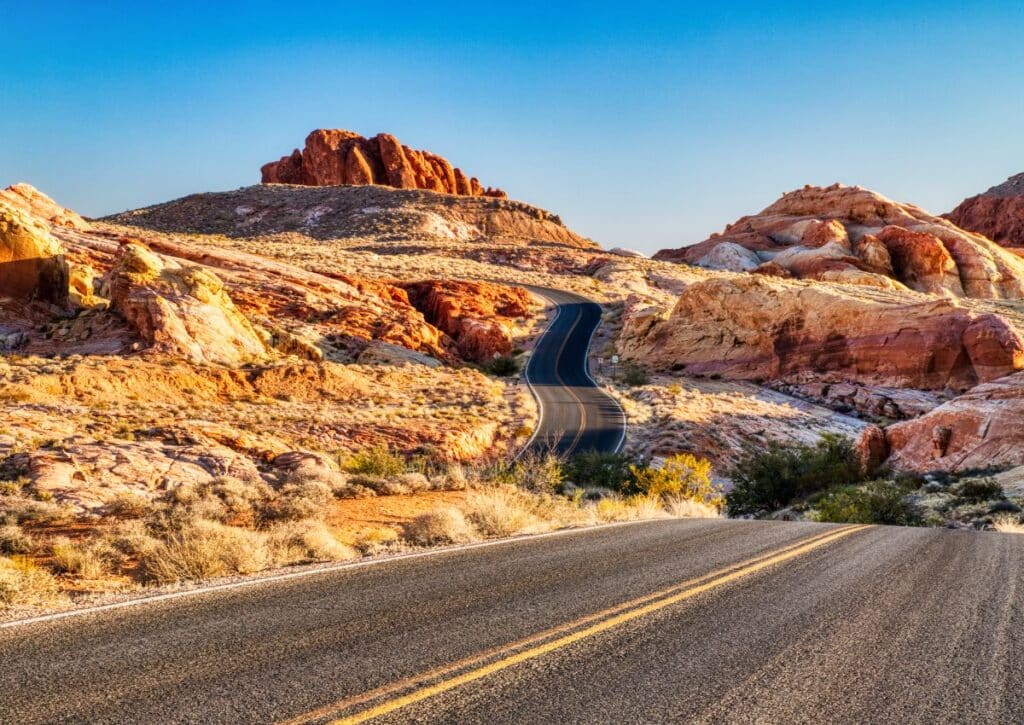 Scenic Highlights:
As you exit Las Vegas, watch the urban sprawl seamlessly blend into the expansive Mojave Desert.
The drive on I-15 N offers distant views of mountains, setting the backdrop for your upcoming adventure.
Upon diverting to Valley of Fire Hwy, the landscape begins to transform, revealing hints of the fiery red rock formations that the park is celebrated for.
Tip: Plan for potential stops along the way, especially if you're traveling during sunrise or sunset. The desert hues against the skyline can make for some unforgettable photo opportunities.
The Journey and things to do from Las Vegas to Valley of Fire
Journeying from Las Vegas to the Valley of Fire is not just about the destination, but the captivating interludes along the way.
As you traverse this route, a series of remarkable landmarks and hidden gems beckon, each with its own tale to tell. From breathtaking vistas to historical markers, here are the standout stops that promise to enrich your desert voyage.
Mojave Desert Viewing Points
The stretch between Las Vegas and Valley of Fire is a treasure trove of scenic vistas, offering travelers a glimpse into the raw beauty of the Mojave Desert.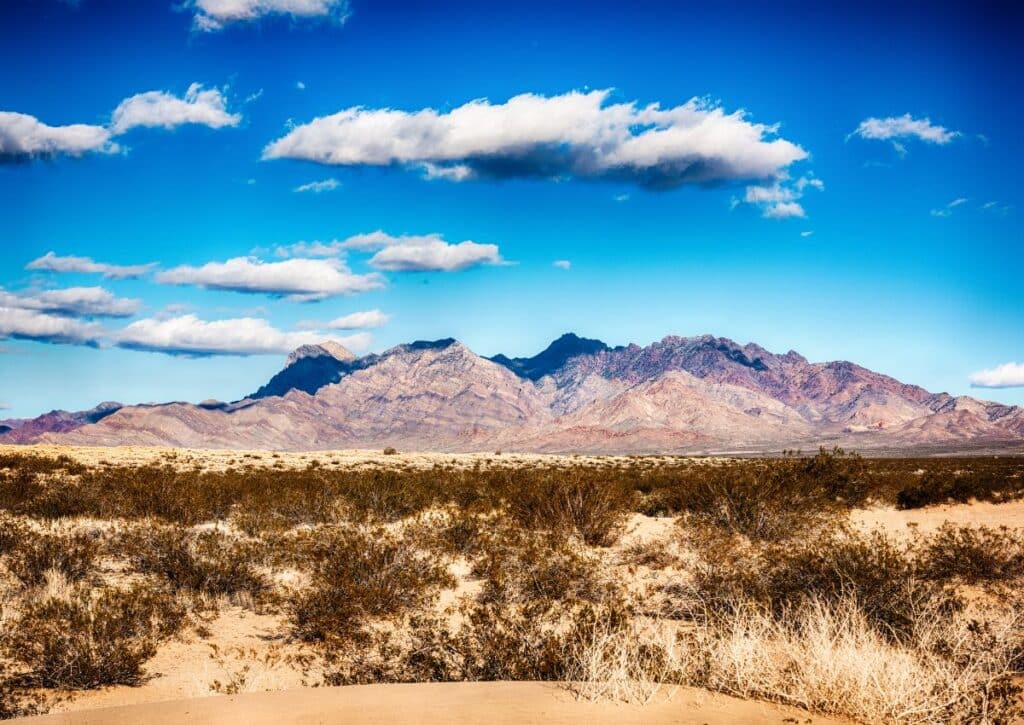 As you embark on this journey, here are several viewpoints where you can pause, breathe in the desert air, and immerse yourself in nature's grandeur:
Northshore Summit Trail:

Location: Roughly 40 miles from Las Vegas on Northshore Road within Lake Mead National Recreation Area.
What to Expect: This short trail leads you to a panoramic overlook, giving a 360-degree view of the surrounding desert landscape. On a clear day, you can even spot the distant shimmer of Lake Mead.

Redstone Picnic Area & Dune Trail:

Location: Located 46 miles from Las Vegas, it's a bit further along Northshore Road.
What to Expect: Wander amidst vivid red rock formations that resemble giant sculptures. The easy loop trail here lets you get up close to these sandstone wonders.

Rogers Spring:

Location: Approximately 50 miles from Las Vegas on Northshore Road.
What to Expect: A small oasis in the desert, Rogers Spring offers a contrast to the dry surroundings with its pool fed by a natural warm spring. The area around is lush with vegetation and is a great spot to relax and enjoy the sound of trickling water.
Each of these spots not only offers a break from driving but also a unique perspective on the diverse landscapes of the Mojave Desert. Whether you're a nature enthusiast, a photographer, or simply someone looking to marvel at the beauty around, these stops are sure to enhance your journey to the Valley of Fire.
Where to Eat On Route
While the journey from Las Vegas to Valley of Fire is a relatively short one, you might find yourself craving a bite to eat as you traverse the Mojave Desert. Thankfully, there are a handful of dining options en route that offer both convenience and delicious fare. Here's where you can refuel your body while on the road:
Moapa Paiute Travel Plaza:

Location: Right off I-15, about 30 miles from Las Vegas, before you turn onto Valley of Fire Highway.
What to Expect: Beyond its role as a gas station, the plaza offers a variety of dining choices. From quick bites like sandwiches and hot dogs to a sit-down meal at its in-house restaurant, there's something for every appetite. Don't forget to check out their selection of native arts and crafts too!

Inside Valley of Fire State Park:

Location: The park itself doesn't have restaurants, but picnic areas are scattered throughout.
What to Expect: Bring along a packed lunch or snacks from Las Vegas. The Atlatl Rock and Seven Sisters picnic areas are particularly scenic spots to enjoy a meal amidst the red rocks. Grills, tables, and restrooms are available for visitors.

Glendale's Farmer's Market:

Location: Located in the small town of Glendale, just off I-15, roughly 10 miles before reaching the Valley of Fire turnoff.
What to Expect: A haven for fresh produce and local goodies, this market also has stalls serving homemade sandwiches, pastries, and other snacks. It's a great place to grab some fresh fruit or a refreshing drink for your trip.
These options, strategically located on your path, ensure that you can sate your hunger without a significant detour, making your journey to the Valley of Fire as smooth and enjoyable as possible.
Desert Flora and Fauna Spotting Areas
The journey from Las Vegas to Valley of Fire, while short, traverses the Mojave Desert, offering travelers opportunities to witness its unique flora and fauna.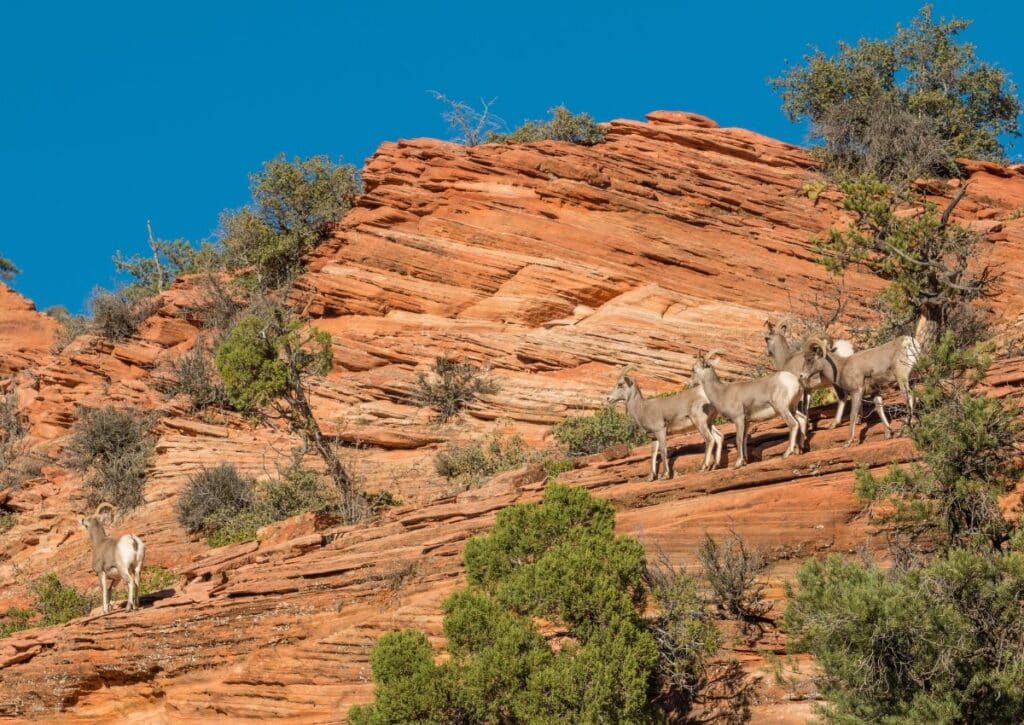 Here are some specific spots where you can encounter the vibrant life of the desert:
Moapa Valley National Wildlife Refuge:

Location: Right off I-15, about 6 miles north of the Valley of Fire turnoff.
What to Expect: Originally established to protect the Moapa dace, this refuge is home to several desert fish species. While birdwatching, you might spot verdins, black-throated sparrows, and even roadrunners. The springs also foster a lush environment, where you can find desert willows and screwbean mesquites.

Redstone Dune Trail:

Location: Northshore Road, approximately 47 miles from Las Vegas.
What to Expect: This area not only boasts the vibrant red rock formations but is also home to a variety of desert plants, including the iconic Joshua tree, yucca, and cholla cacti. If you're lucky, you might even catch a glimpse of desert wildlife such as lizards, bighorn sheep, or desert tortoises.

Bitter Springs Trail:

Location: A backcountry byway starting off Northshore Road, just a bit further from Redstone Dune Trail.
What to Expect: This trail takes you through diverse landscapes, from dry washes to colorful rock formations. Look out for desert marigold, creosote bushes, and the vibrant indigo bush. Desert hare, kit foxes, and even Gila monsters have been spotted in this area.
Each of these designated spots provides an enriching experience, allowing travelers to appreciate the diverse ecosystems of the Mojave Desert before even setting foot in the Valley of Fire.
Your 2-Day Weekend Itinerary: From Vegas to Valley of Fire
Here's a streamlined 2-day weekend plan to guide you seamlessly through both contrasting landscapes. Follow along to ensure you capture the highlights and hidden gems of this unforgettable route.
Day 1: From City Hustle to Desert Tranquility
Upon your arrival at the Valley of Fire State Park, a modest entry fee of $10 per vehicle grants you access, along with an invaluable informational park map from the ranger station.
The spirit of adventure kicks in as you drive a short 3 miles to your first destination: the White Domes Loop trailhead. This 2.5-mile trail, of moderate difficulty, promises a feast for the eyes with its vibrant red, pink, and white rock formations.
As you tread its path, the panoramic views from the White Domes ridge act as a rewarding climax. Remember to pack sufficient water and snacks to recharge, as the desert can be both mesmerizing and demanding.
Mid-Day: Echoes from the Past
Post-hike, it's time to refuel. The Atlatl Rock picnic area, located conveniently near the park's northern end, is your oasis. Under the shade shelters, you can enjoy a meal as you marvel at the imposing Atlatl Rock adorned with petroglyphs, bearing silent testimonies of a bygone era. The day's exploration into history doesn't stop there.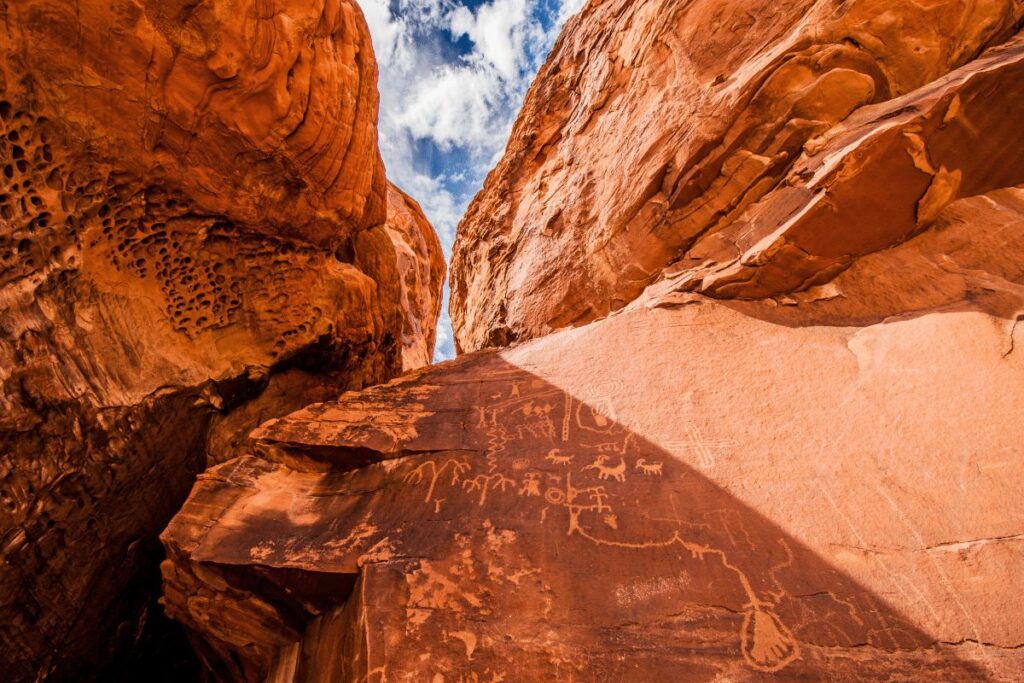 A stone's throw away is the trailhead for the Mouse's Tank trail. Spanning 1.5 miles, this trail is an open book of Native American rock art, meticulously engraved over smooth boulders, waiting for you to read and interpret.
Afternoon to Evening: Nature's Sculptures and Dazzling Vistas
As afternoon shadows begin to elongate, a 7-mile drive southwards brings you face to face with the Arch Rock. A short quarter-mile walk reveals this sandstone marvel that stands tall at 50 feet. It's an Instagram-worthy moment, with the natural arch providing the perfect backdrop.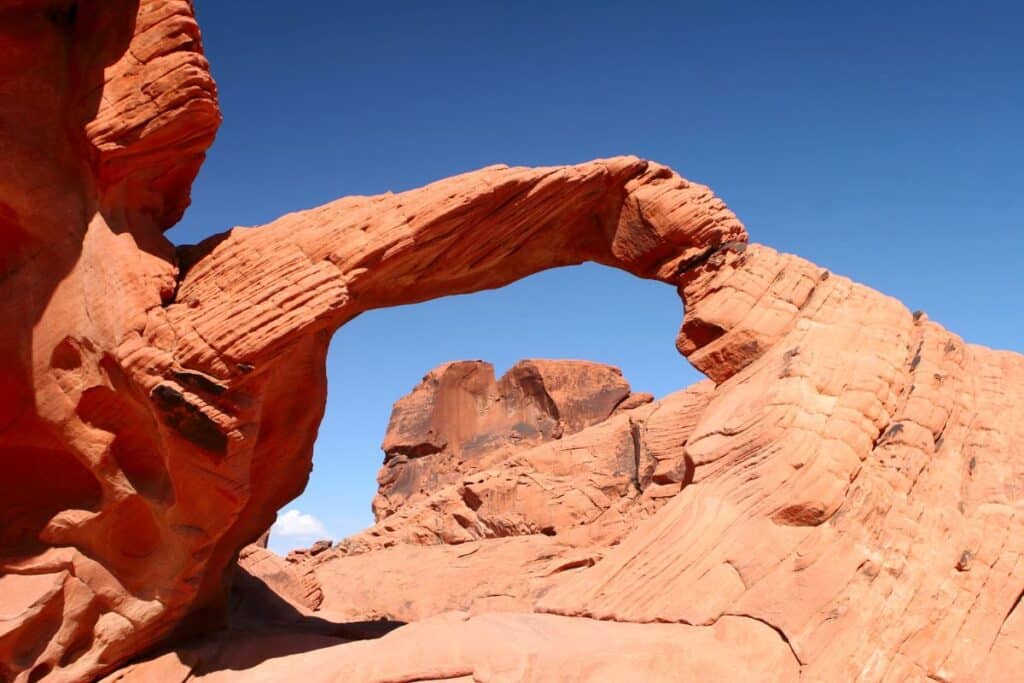 The day's visual treat culminates at Elephant Rock Vista Point, another 7 miles south. As the sun starts its descent, this spot offers 360-degree views, turning the park's rock formations into a canvas painted in the golden hues of sunset.
Night: Camping Under the Stars
For those looking to immerse themselves in the desert's nocturnal charm, the Arch Rock Campground is an ideal choice. Nestled amongst the park's iconic formations, this campground provides a serene backdrop.
Specifically, Campsite #15 offers a balance of privacy and proximity to restroom facilities. Set up your tent, light a campfire, and let the desert's nighttime symphony lull you into a peaceful slumber.
Day 2: From Desert Vistas to Cultural Insights
Early Morning: New Light, Familiar Beauty Start your day back at the White Domes. The sunrise colors provide a contrasting beauty to what you might have witnessed earlier, making it worth the revisit.
Remember to capture these moments, as the lighting conditions are prime for photography. Once done, lace up for the Rainbow Vista and Fire Wave trails. Both treks showcase the sheer variety of rock formations and color spectacles the park offers.
Mid-Day: Break and Optional Exploration The Silica Dome Picnic area offers a much-needed break. Here, enjoy your lunch with sprawling desert views.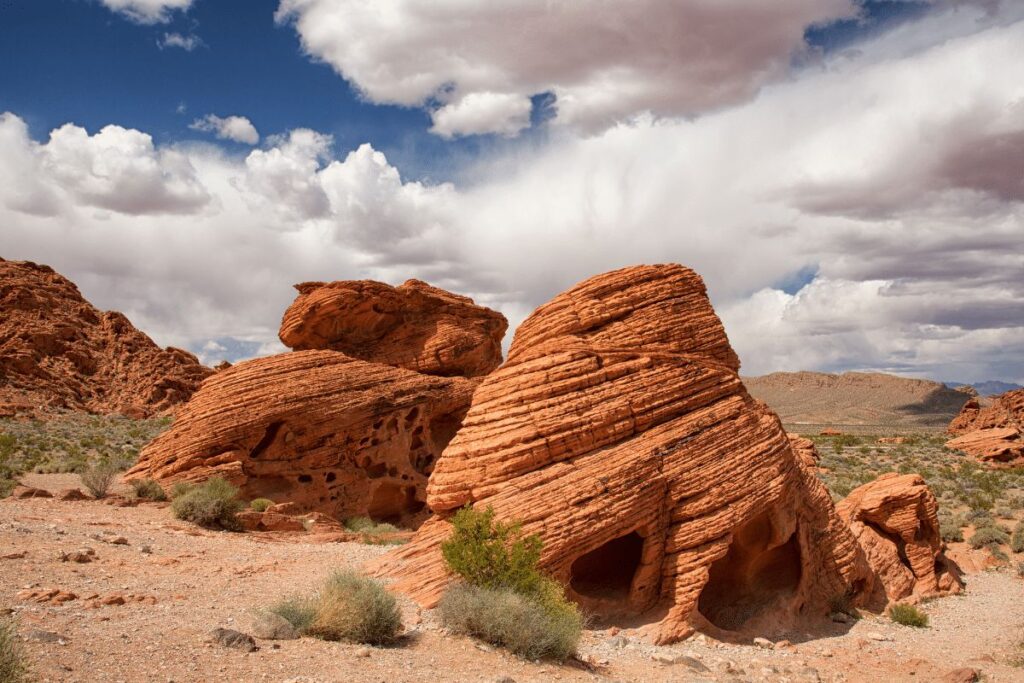 For enthusiasts looking for more, the Beehives hike is nearby. Witness the park's unique geology up close with these beehive-shaped rocks.
Afternoon: Delve into History The afternoon calls for a shift from nature to culture. Head to the Lost City Museum. It's not just about artifacts but also stories of the indigenous communities that called this region home.
Dive deep into the past and get to know the original inhabitants of the Valley.
Evening: Homeward Bound
The return drive to Las Vegas is a transition from the calm of the desert to the bustling city. While the bright lights of Vegas draw closer, the experiences from the Valley of Fire will remain, ensuring this trip holds a special place in your travel tales.
How much time do you need at Valley of Fire?
At Valley of Fire State Park, the amount of time you need can vary based on your interests. For a thorough exploration that covers most of the major trails, viewpoints, and attractions, two full days would be ideal. However, if you're short on time, a day trip can cover the main highlights, but it would be a more condensed experience.
What is the best month to visit Valley of Fire State Park?
The best months to visit Valley of Fire State Park are October through April. During these months, the weather is cooler and more comfortable for outdoor activities. The summer months, from May to September, can get extremely hot, making it less ideal for hiking and exploration.
How long does it take to drive to the Valley of Fire from Las Vegas?
It takes approximately an hour to drive from Las Vegas to Valley of Fire State Park. The distance is about 50 miles (80 kilometers) via Interstate 15 North and the Valley of Fire Highway.
Is it worth driving through Valley of Fire?
Absolutely. Driving through Valley of Fire offers spectacular views of unique red rock formations, ancient petroglyphs, and diverse desert landscapes. The scenic drive allows visitors to see a variety of attractions and provides numerous spots to pull over and capture the beauty.
Can you do Valley of Fire in one day?
Yes, you can explore Valley of Fire in one day. While a single day might not allow you to cover every trail and viewpoint, you can still experience the major highlights such as the White Domes, Atlatl Rock, and Mouse's Tank trail. Starting early would be key to maximizing your day trip.
What is the best time of day to go to the Valley of Fire?
The best times of day to visit Valley of Fire are early morning and late afternoon. These periods offer milder temperatures, especially in warmer months, and the angle of the sun accentuates the colors of the rocks, making it ideal for photography. Additionally, early mornings often provide a quieter and more serene experience.