Dreaming of a nature-filled getaway at lodges in Zion National Park with awe-inspiring views? Your search ends here! We've ventured deep into this majestic park to bring you a handpicked selection of top lodges boasting the best vistas.
Awaken to serene panoramas of red rocks, soaring cliffs, and endless blue skies.
Our exclusive list uncovers hidden gems catering to various budgets and preferences, ensuring an unforgettable stay with luxurious amenities and easy access to your favorite trails.
From rustic cabins to opulent lodges, discover the perfect accommodation for solo adventurers, couples, or families alike.
So why wait? Dive into our article and let your imagination roam free as you uncover the enchanting lodges in Zion National Park that guarantee a front-row seat to nature's most mesmerizing performances. Zion, here we come!
Top 7 Lodges in Zion National Park for the Views!
Zion Ponderosa Ranch Resort 
Nestled atop Zion National Park, Zion Ponderosa Ranch Resort offers a variety of lodge options to fit any taste and budget. With stunning views of the park's majestic mountains and valleys, you'll be sure to enjoy your stay. Marvel at the vibrant colors of Bryce Canyon, the red rock formations of Cedar Breaks National Monument, and the breathtaking peaks of Zion National Park.
Luxury Meets Nature: Unique Glamping Experience
The resort offers a unique glamping experience where you can enjoy the beauty of nature without sacrificing luxury. From luxurious canvas tents with king-sized beds to charming cowboy cabins with modern amenities, there's a glamping option for everyone, whether you're a couple, a family, or a large group.
Savor Local Flavors: On-Site Dining Options
Indulge in a culinary adventure at Ray's Restaurant and Blue Belly Grill, offering a diverse selection of mouth-watering dishes made with fresh, locally-sourced ingredients.
Exciting Activities for All Ages
Experience a wide variety of activities at Zion Ponderosa Ranch Resort, such as zipline courses, rock climbing walls, guided hikes, Jeep tours, and horseback rides. Alternatively, relax by the pool or soak in the hot tub after a day of adventure.
Sustainability: A Commitment to the Environment
Zion Ponderosa Ranch Resort sets itself apart with its commitment to sustainability, using solar panels, recycling, composting, and water conservation programs to reduce its environmental impact.
Book Your Unforgettable Adventure
With its dedication to providing an unforgettable experience for its guests, Zion Ponderosa Ranch Resort is quickly becoming one of the most popular vacation destinations in Southern Utah. Book your stay today and get ready for an adventure you'll never forget!
Flanigan's Resort and Spa 
Step into the enchanting realm of Flanigan's Inn and Spa, cradled in the vibrant heart of Springdale, Utah. Prepare to be captivated by the awe-inspiring canvas of Zion Canyon, where Mother Nature's brushstrokes have painted a serene and picturesque backdrop for your stay.
A Cornucopia of Comforts
Flanigan's Inn and Spa boasts an eclectic array of lodging options, from quaint guest rooms and opulent suites to expansive villas. Each dwelling is adorned with a unique touch and furnished with modern amenities to cater to your whims and fancies. For the ultimate pampering experience, lose yourself in the indulgent spa suites, featuring a private hot tub, crackling fireplace, and soothing sauna.
Thrilling Escapades and Soulful Serenity
Delve into the exhilarating world of outdoor and indoor activities that Flanigan's Inn and Spa has to offer. Unleash your inner explorer as you venture into Zion National Park for hiking, canyoneering, horseback riding, and mountain biking. After a day of adrenaline-pumping excitement, find sanctuary in the resort's on-site spa, where rejuvenating treatments await to revive your body and spirit.
An Epicurean Extravaganza at The Spotted Dog Cafe
Embark on a culinary odyssey at the on-site restaurant, The Spotted Dog Cafe, where mouthwatering American cuisine is imbued with a Southwestern flair. Revel in the warm, rustic ambiance as you share a romantic dinner or a lively family meal. For the ultimate indulgence, savor your feast within the sanctuary of your own room, courtesy of the resort's room service.
Unravel the Enchantment of Springdale and Zion National Park
Surrender yourself to the spellbinding charm of Springdale and Zion National Park, as you revel in the luxurious accommodations, thrilling activities, and sumptuous dining at Flanigan's Resort and Spa. Don't let this magical experience elude you – secure your stay today, and embark on a journey you'll cherish forever.
Zion Mountain Ranch 
Discover Zion Mountain Ranch, an enthralling retreat nestled in the picturesque town of Mount Carmel, just beyond the gates of Zion National Park in Utah. Immerse yourself in the harmony of breathtaking views, sumptuous lodgings, and exhilarating activities that create the perfect escape from everyday life.
Immerse in Nature's Masterpiece
At Zion Mountain Ranch, you'll be enraptured by the awe-inspiring vistas of majestic mountains and rolling hills. Savor your morning coffee on your private porch or embark on a hike through the nearby national park, always accompanied by nature's captivating beauty.
Rustic Elegance Amidst Serene Surroundings
The ranch offers an assortment of unique accommodations, from cozy cabins and lodges to opulent suites and villas, each furnished with modern amenities for your utmost comfort. For an unforgettable indulgence, luxuriate in the ranch's spa suites, complete with a private hot tub, fireplace, and panoramic views.
Embrace the Thrill and Serenity of the Outdoors
Zion Mountain Ranch presents a medley of outdoor activities to enthrall you. Venture into the nearby national park on foot or horseback, or partake in mountain biking, fishing, and guided tours. For those who prefer the charms of the ranch, delight in wagon rides, stargazing, and cozy campfires.
Savor Farm-to-Table Delights at Cordwood
Indulge in exquisite farm-to-table cuisine at the on-site restaurant, Cordwood, where locally sourced ingredients take center stage. Relish a romantic dinner or a heartwarming family meal, or opt for room service for an intimate dining experience.
Unravel the Magic of Utah's Wilderness
Zion Mountain Ranch is a spellbinding haven, offering an unforgettable blend of stunning panoramas, luxurious lodging, invigorating activities, and delectable dining. Whether your heart seeks adventure, repose, or a touch of both, this enchanting ranch has everything you need for a truly memorable stay. Embark on your journey to Zion Mountain Ranch today, and uncover the allure of Utah's mesmerizing wilderness.
Cliffrose Springdale 
Discover Cliffrose Springdale, a Hilton gem nestled in the enchanting town of Springdale, Utah. Revel in unparalleled views of towering red rock formations and Zion National Park, offering a serene retreat for unforgettable escapades.
Indulgent Accommodations for Every Traveler
Embrace the elegance of stylish decor, plush bedding, and contemporary amenities in your room or suite. Choose from river view rooms, mountain view rooms, and suites, each thoughtfully designed with cozy fireplaces and private balconies or patios for picturesque vistas.
Savor Southwest Flavors at The Anasazi Restaurant
Delight in farm-to-table culinary creations at The Anasazi Restaurant, where local ingredients take center stage. Relish Southwest-inspired dishes while marveling at the breathtaking mountain views.
Step into your room or suite at Cliffrose Springdale and be greeted by stylish decor, plush bedding, and modern amenities. The hotel offers a variety of room types to fit your needs, including river view rooms, mountain view rooms, and suites.
Rejuvenate and Explore
After a day of adventure in Zion National Park, unwind in the heated outdoor pool and hot tub or energize at the fitness center. For a serene escape, enjoy the hotel's lending library and cozy fire pit.
Your Perfect Base Camp for Zion National Park
Cliffrose Springdale offers everything needed for a memorable getaway. With awe-inspiring views and luxurious amenities, this Hilton property is the ideal launchpad for exploring Zion National Park. Embark on your dream vacation in Utah's mesmerizing red rock country by booking your stay at Cliffrose Springdale today.
Also Read: We Saw These 12 Amazing Creatures While Exploring Zion! 
Driftwood Lodge 
Immerse yourself in the heart of Springdale, Utah, at Driftwood Lodge, a luxurious haven boasting unparalleled views, top-tier accommodations, and exceptional amenities. From the moment you arrive, be enveloped by the beauty and serenity of Zion National Park.
Stylish Comfort in Every Room
Find the perfect blend of modern luxury and rustic charm in the rooms and suites at Driftwood Lodge. Enjoy premium bedding, plush linens, and elegant decor, providing everything needed for a comfortable and unforgettable stay.
Unwind with Exceptional Amenities
Take advantage of the hotel's heated outdoor pool and hot tub, fitness center, and cozy fire pit for stargazing. For outdoor enthusiasts, bike rentals are available, and the lodge is just steps away from Zion National Park's entrance.
Savor Southwest Flavors at The Spotted Dog Cafe
Indulge in the locally sourced menu at the on-site restaurant, The Spotted Dog Cafe. Relish Southwest-inspired dishes like bison sliders and jalapeno mac and cheese. Unwind with craft cocktails and a curated selection of local beers at the hotel's bar.
The Ultimate Zion National Park Escape
Driftwood Lodge offers a luxurious and unforgettable experience in Zion National Park's heart. With stunning views, premium accommodations, and outstanding amenities, it's the ideal destination to recharge after a day of exploration. Don't hesitate – book your stay at Driftwood Lodge and uncover the magic of this unique retreat.
Bumbleberry Inn
Discover Bumbleberry Inn, a charming retreat in Springdale, Utah, surrounded by the picturesque beauty of Zion National Park. Feel right at home in this peaceful oasis, offering stunning views and exceptional amenities.
Comfortable Rooms for Every Traveler
Choose from a variety of room types, including cozy standard rooms and spacious suites with private balconies. Each beautifully appointed space features rustic decor, plush bedding, complimentary Wi-Fi, and cable TV, ensuring a perfect fit for solo or group travelers.
Relax and Recharge with Outstanding Amenities
Enjoy the heated outdoor pool, hot tub, and spacious sun deck while taking in the breathtaking mountain views. Stay active with the on-site fitness center and available bike rentals.
Savor Delicious Dining Options
Treat yourself to a variety of culinary delights at the on-site Wildcat Willies restaurant, serving American cuisine with a southwestern twist. For something sweet, visit the Bumbleberry Bakery for freshly baked pies, pastries, and other treats.
Experience the Magic of Zion National Park
Bumbleberry Inn offers a unique and unforgettable experience in Zion National Park's heart. With stunning views, comfortable accommodations, and top-notch amenities, it's the ideal destination for relaxation and rejuvenation after a day of exploration.
Under Canvas Zion
Discover Under Canvas Zion, a one-of-a-kind glamping retreat in Utah's red rock country. Enjoy unparalleled access to Zion National Park's stunning beauty, coupled with comfortable accommodations and exceptional amenities.
Comfortable Lodging for Every Traveler
Stay in luxurious safari-style tents featuring king-size beds, plush linens, private en-suite bathrooms with hot showers, and private patios showcasing breathtaking views. Under Canvas Zion offers the perfect tent for solo travelers, couples, or groups.
Exceptional Amenities and Dining Experience
Experience a communal lounge area for sharing adventure stories and an on-site restaurant, Embers, serving delicious locally sourced meals. Savor hearty breakfasts and gourmet dinners to satisfy any appetite.
Adventure and Relaxation at Your Doorstep
Explore Zion National Park with activities like hiking, rock climbing, guided tours, and horseback riding. Afterward, relax and soak in the stunning landscape views.
A Truly Unique Glamping Experience
Under Canvas Zion provides a memorable glamping experience with luxurious accommodations, exceptional amenities, and unparalleled access to Zion National Park. Unwind, recharge, and connect with nature in this extraordinary destination. Book your stay today and plan your next great outdoor adventure.
Places to consider Choosing Lodges in Zion National Park! 
Springdale: Gateway to Zion's Majestic Beauty
Located just outside the park's main entrance, Springdale serves as the gateway to Zion National Park's awe-inspiring landscapes. 
his charming town offers a variety of lodges with breathtaking views of Zion's towering cliffs and canyons, ensuring a picture-perfect stay.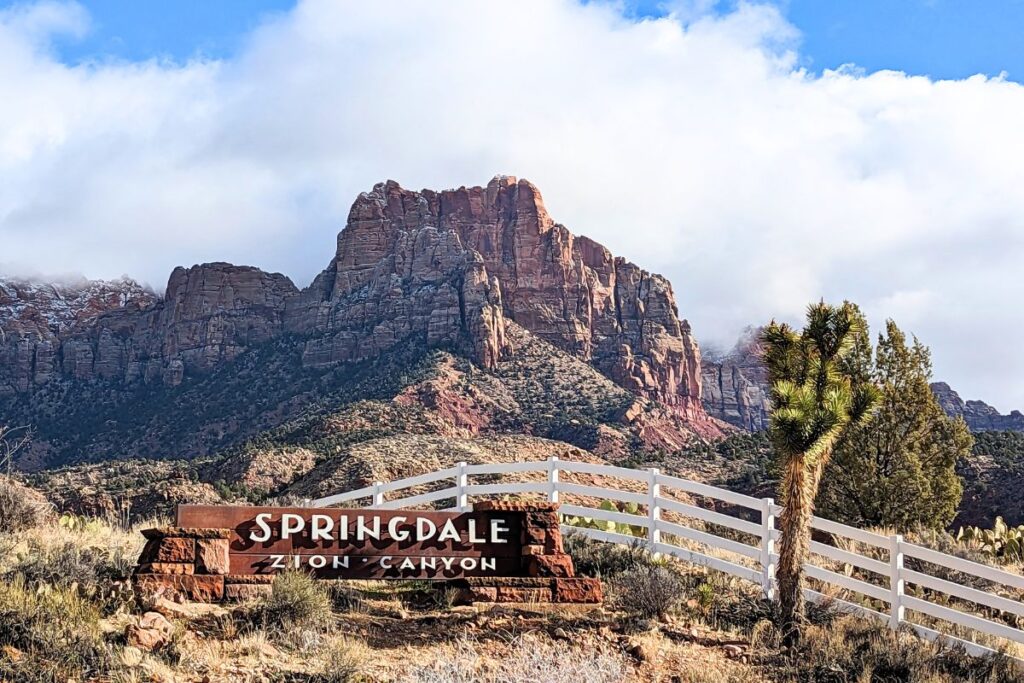 n addition, Springdale provides easy access to park shuttle stops and popular trails like Angel's Landing and the Narrows.
The town itself boasts a vibrant atmosphere, with numerous art galleries, gift shops, and dining options for visitors to explore. 
Many lodges in Springdale also offer additional amenities like swimming pools, spas, and on-site restaurants, perfect for unwinding after a day of adventure.
By staying in Springdale, you'll enjoy both the convenience of being close to the park entrance and the comforts of a lively town. 
This harmonious blend of nature and modernity makes Springdale an ideal base for exploring Zion National Park.
Zion Canyon: Immersed in Nature's Grandeur
For those seeking an immersive experience within the park, Zion Canyon is home to several lodges that offer stunning panoramas of iconic landmarks, such as the Watchman and the Great White Throne. 
By staying within the park boundaries, you'll be surrounded by Zion's natural beauty and have easy access to its extensive network of trails.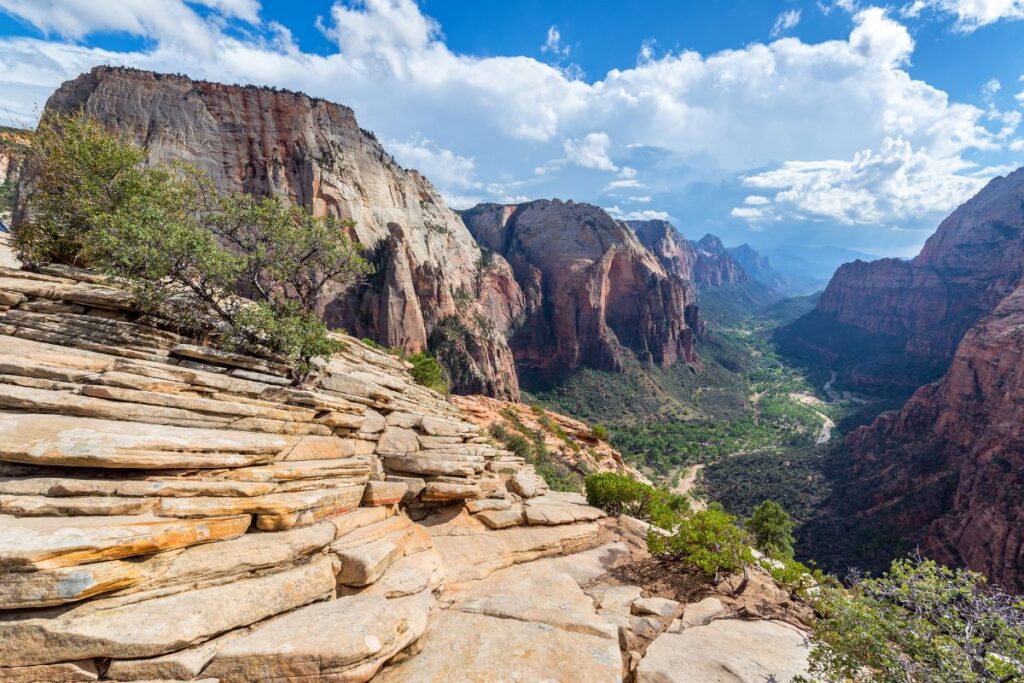 Many lodges in Zion Canyon offer rustic charm and a serene atmosphere, allowing guests to fully connect with nature. 
Some even provide guided tours, workshops, and evening programs that delve into the park's rich history, geology, and ecology.
In addition to its awe-inspiring landscapes, Zion Canyon is also known for its diverse wildlife. Staying in this area increases your chances of spotting bighorn sheep, mule deer, and numerous bird species, adding an extra layer of excitement to your visit.
While lodges within Zion Canyon may not have all the amenities of those in Springdale, they offer an unparalleled connection with nature that is hard to find elsewhere. 
This makes Zion Canyon the perfect choice for those who want to truly escape into the wilderness and experience the park's enchanting beauty up close.
East Zion: A Scenic Retreat
East Zion, located on the east side of the park, offers a more secluded and tranquil experience compared to the bustling atmosphere of Springdale and the main canyon. 
Lodges in this area provide easy access to popular hikes like Observation Point, Cable Mountain, and the East Rim Trail.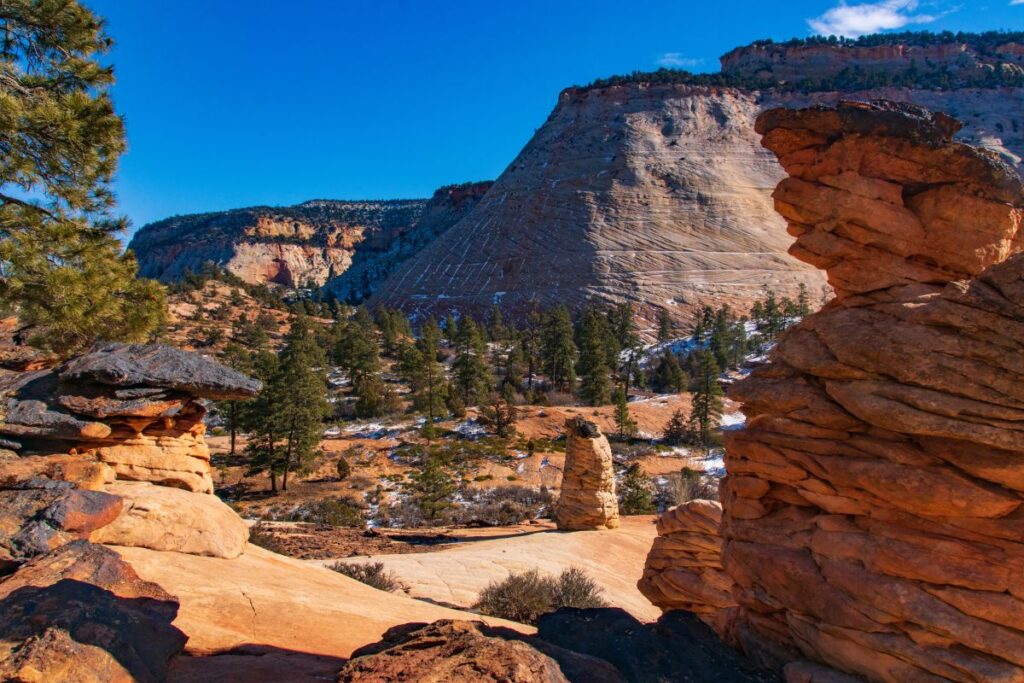 Additionally, visitors can explore the unique Checkerboard Mesa and the scenic Zion-Mount Carmel Highway, known for its winding turns and remarkable tunnel.
Lodges in East Zion often feature spacious accommodations, private decks or patios, and unobstructed views of the park's stunning landscapes. 
With its serene environment, East Zion is an excellent choice for those seeking a peaceful retreat, away from the crowds, while still enjoying proximity to the park's attractions.
Kolob Terrace, situated in the northwest corner of Zion National Park, is a lesser-known but equally captivating area. 
Lodges here are nestled among lush meadows, forested plateaus, and striking red rock formations, providing guests with a truly unique experience. 
This area is perfect for travelers looking to escape the hustle and bustle and explore the park's more remote, pristine wilderness.
Kolob Terrace offers access to less frequented trails such as the Northgate Peaks Trail, Wildcat Canyon Trail, and the awe-inspiring Kolob Arch.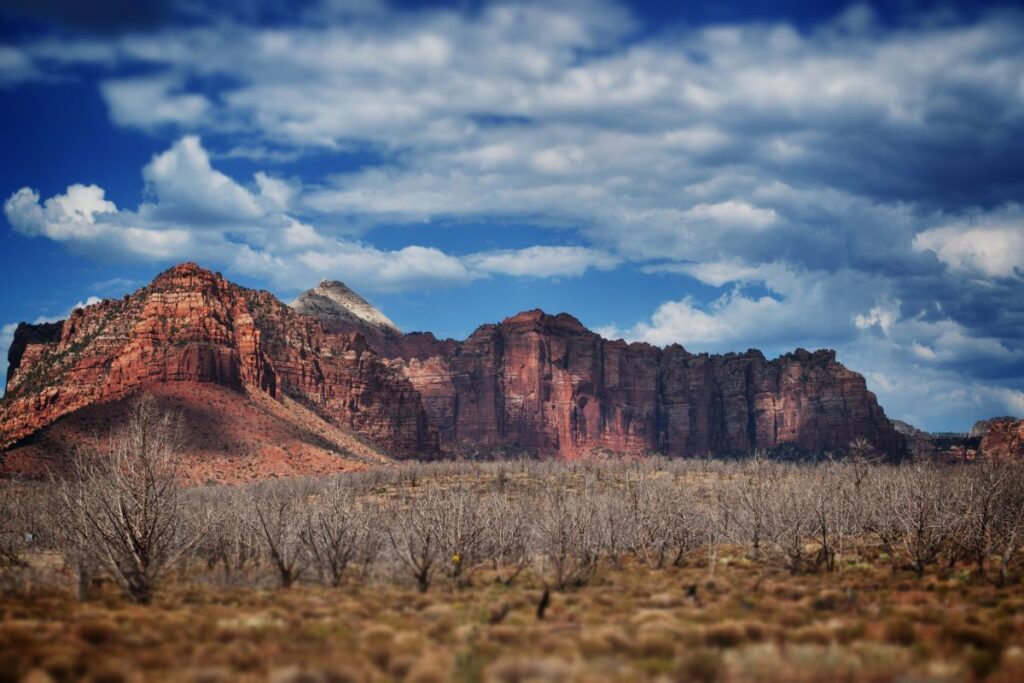 Additionally, its higher elevation provides cooler temperatures during the summer months, making it an ideal location for those visiting in the warmer season.
Lodges in Kolob Terrace often emphasize a rustic and cozy atmosphere, with an emphasis on connecting with nature. 
By choosing to stay in this hidden gem, you'll have the opportunity to explore Zion National Park's lesser-known wonders and enjoy a peaceful, off-the-beaten-path experience.
Virgin: A Charming Riverside Haven
Situated along the picturesque Virgin River, the small town of Virgin offers a delightful alternative to the more popular areas within and around Zion National Park. 
Lodges in Virgin boast riverside locations, providing guests with tranquil water views and the soothing sounds of the flowing river. 
Its proximity to the park's west entrance allows easy access to the main attractions, while still providing a peaceful retreat at the end of a long day.
The town itself is known for its friendly community, charming local shops, and quaint eateries, offering a taste of authentic Utah culture. 
Virgin is also an ideal base for exploring nearby attractions, such as Grafton Ghost Town, Gooseberry Mesa, and the Coral Pink Sand Dunes State Park.
Lodges in Virgin often feature comfortable accommodations, outdoor recreation spaces, and personalized service, ensuring a memorable and relaxing stay. 
By choosing Virgin as your home base, you'll enjoy a charming riverside haven with easy access to the wonders of Zion National Park and the surrounding areas.
Conclusion
if you're looking for an unforgettable adventure in Utah's stunning red rock country, you have plenty of options to choose from. Whether you prefer luxurious accommodations, rustic cabins, or the ultimate glamping experience, there's a property that's perfect for your needs. 
From the spectacular views to the wide range of activities and amenities, these properties offer something for every type of traveler. So why wait? Start planning your trip to Utah today and discover the magic of the red rock country for yourself.