Explore Patagonia Lake State Park: boating, camping, trails, and birding in our guide!
magine a place where the water beckons the inner angler in you, and trails whisper tales of adventure. Welcome to Patagonia Lake State Park! Nestled in the warm embrace of Southern Arizona, this 2,658-acre playground is home to a sprawling 265-acre lake that's like catnip for fans of boating, swimming, and fishing.
If you're all about the birds, you're in luck—this place is a concert hall featuring over 150 species serenading the skies. For the night owls and sunrise seekers, we've got campsites that you can boat to! And for the curious cats, our visitor center is a treasure trove of cool facts and insights.
This guide is your golden ticket to unlocking all the fun secrets of this desert gem. So gear up, and let's dive into what makes Patagonia Lake State Park your next great adventure!
A Journey to Patagonia Lake State Park
Embark on a journey to the captivating Patagonia Lake State Park, where you'll find an oasis of tranquility surrounded by the stunning natural landscapes of Southern Arizona's rolling hills.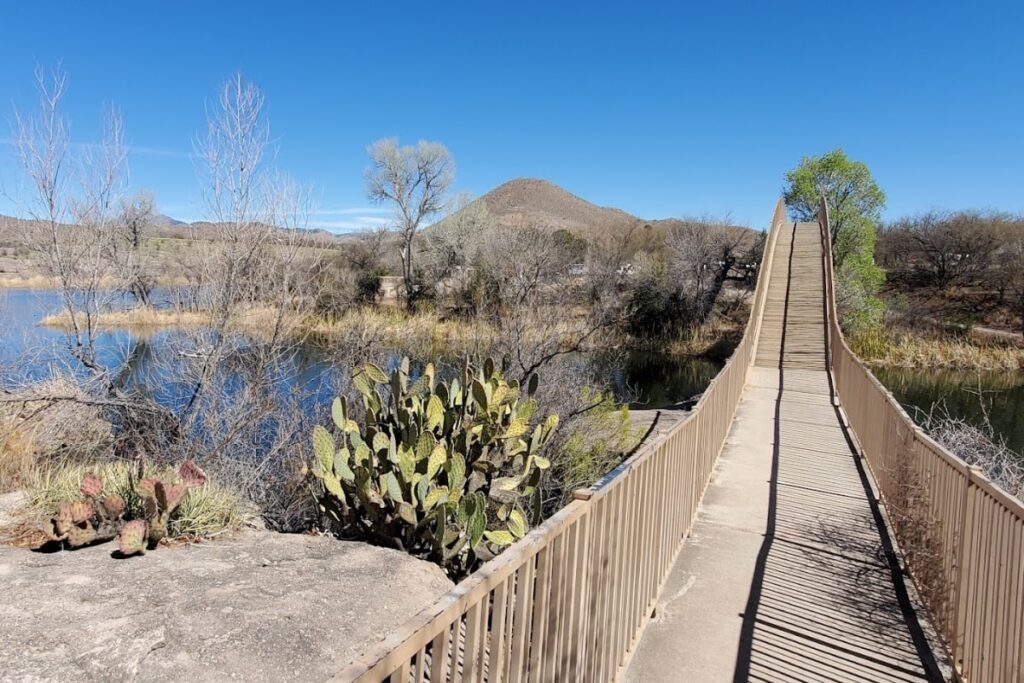 Getting There
Located just an hour's drive southeast of Tucson, the park's entrance off State Route 82 transports visitors into a world of beauty and serenity. 
As you wind through the rolling grasslands, with the Santa Rita Mountains in the distance, you can already feel the tranquility of the park enveloping you. 
Public transportation options are limited, so a personal vehicle is recommended for getting to the park.
Park Entrance Fees
There is a modest entrance fee for day use and camping at Patagonia Lake State Park. The fee structure is as follows:
Per vehicle (1-4 adults): $15 – $20 (depending on the day of the week)
Individual/bicycle: $3
Camping fees vary depending on the campsite location and amenities. Check the park's website for detailed pricing.
The Crystal-Clear Waters
Dive into the crystal-clear waters of Patagonia Lake, a welcoming sanctuary for water enthusiasts, anglers, and those seeking a refreshing escape amidst the park's enchanting environment.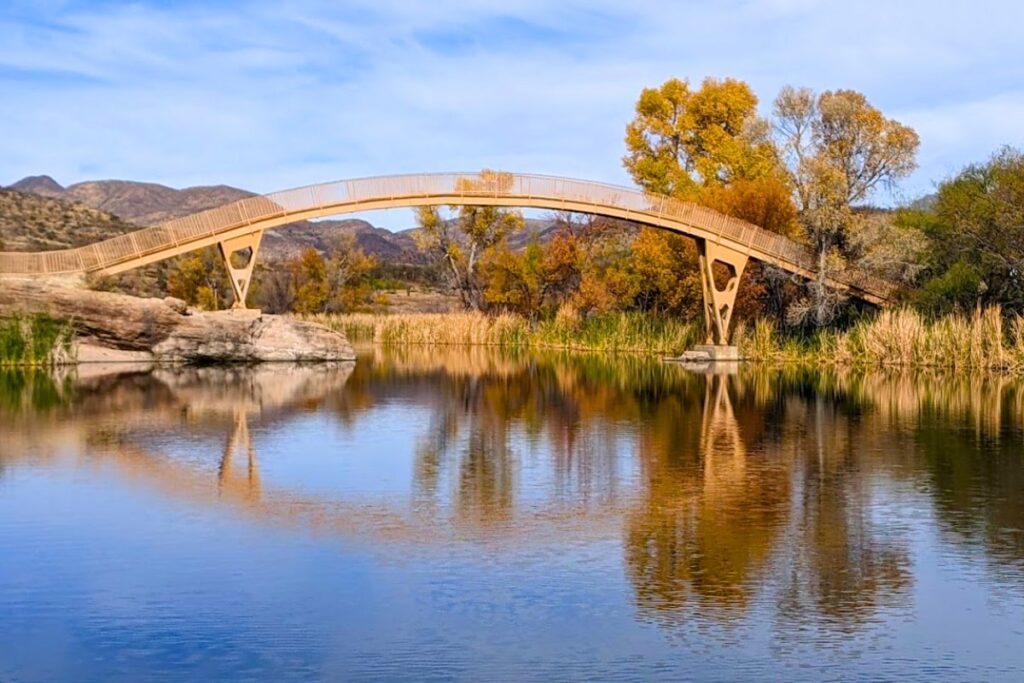 Boating and Watercraft Rentals
The centerpiece of the park, the 265-acre Patagonia Lake, offers crystal-clear waters perfect for a variety of recreational activities. 
Boating, fishing, and kayaking are popular pastimes for visitors who want to make the most of their time on the water.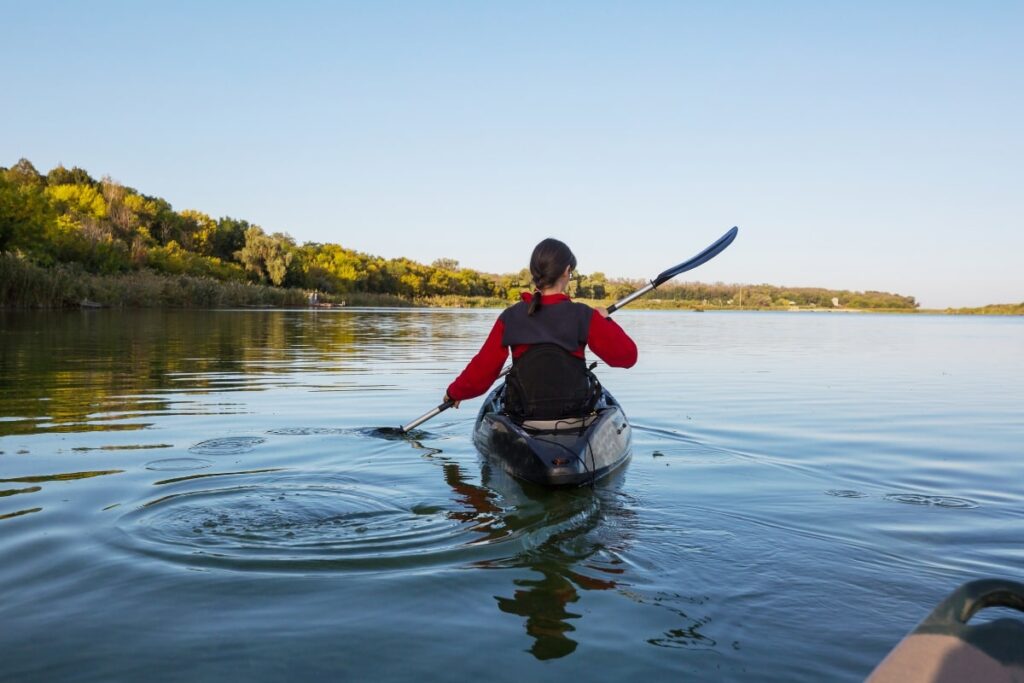 The park's marina provides boat rentals, including canoes, kayaks, paddle boats, and rowboats. A boat ramp is available for those who bring their own watercraft.
Fishing Opportunities
The well-stocked lake is home to a variety of fish species, such as bass, catfish, bluegill, and crappie. 
Anglers can enjoy a day of fishing from the shoreline or a boat. 
A valid Arizona fishing license is required, which can be purchased online or at select stores in the area.
Birdwatcher's Paradise
Venture into the mesmerizing world of avian wonders as you explore the park's diverse birdlife, home to over 300 species, including rare and elusive birds that attract birdwatchers from all over the globe.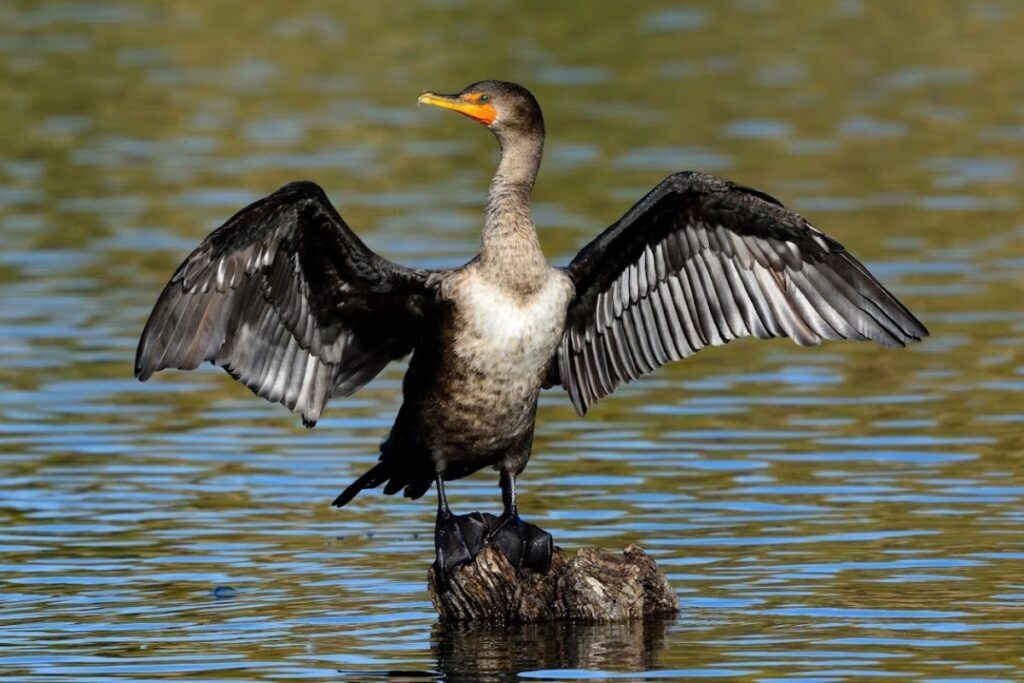 Guided Birding Tours
Patagonia Lake State Park is renowned for its remarkable birdwatching opportunities. With over 300 recorded bird species, the park has been designated an Important Bird Area by the National Audubon Society. 
The Sonoita Creek State Natural Area adjoins the park and provides a crucial habitat for many of these species. Guided birding tours are available, led by experienced birders who can help you spot and identify various species.
Birding Checklist and Tips
Keep your eyes peeled for rare sightings, such as the elegant trogon, the gray hawk, or the violet-crowned hummingbird. Bring a pair of binoculars and a field guide, or download a birding app to help you identify different species. A checklist of bird species found in the park can be obtained from the visitor center or online.
Camping Under the Stars
Experience the magic of spending a night under the stars in the park's serene camping grounds, where you can unwind and reconnect with nature in a peaceful, unspoiled setting.
Developed Campsites
Patagonia Lake State Park boasts 105 developed campsites, offering a comfortable and convenient camping experience. Each site is equipped with water and electric hookups (20, 30, and 50 amp), a picnic table, and a fire ring with a grill. 
These sites can accommodate tents, RVs, and trailers, providing flexibility for all types of campers.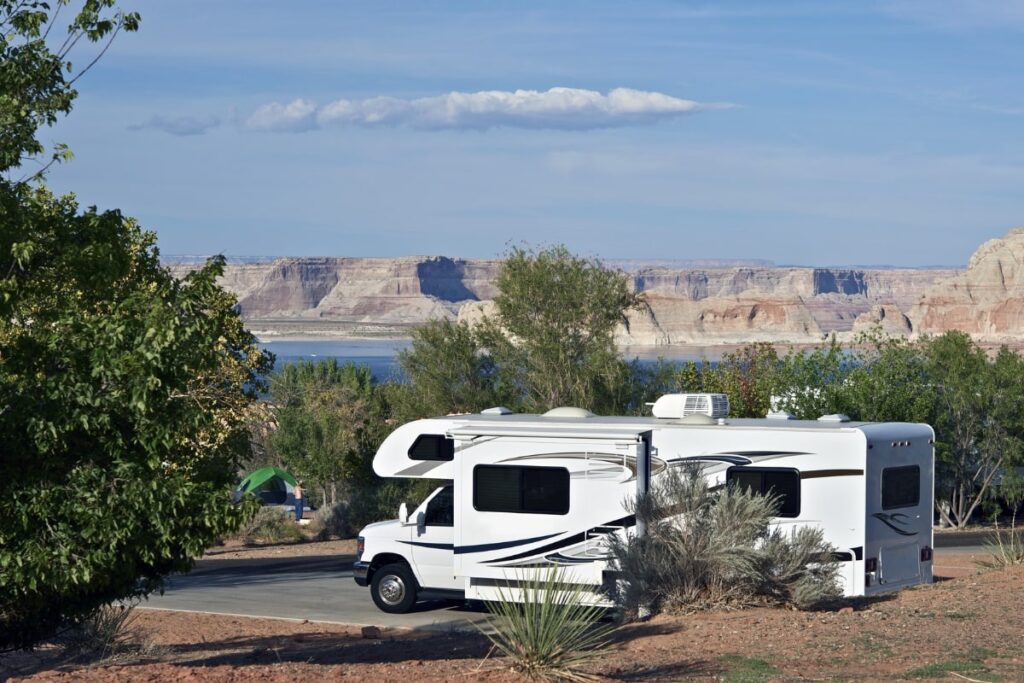 The park's campground is divided into multiple loops, with some sites offering spectacular views of the lake, while others are nestled amidst mesquite trees, providing a more secluded and shaded experience. 
Campsites are available on a first-come, first-served basis or can be reserved online up to six months in advance.
Modern restrooms with flush toilets and hot showers are available throughout the campground, ensuring a comfortable stay for all campers. A dump station is also provided for RV users, and firewood can be purchased at the park store.
Boat-In Campsites
For a more secluded and adventurous experience, reserve one of the park's boat-in campsites, accessible only by water. These sites offer a unique opportunity to camp on the shores of Patagonia Lake, surrounded by nature. 
The boat-in sites come with a picnic table, a fire ring with a grill, and a portable restroom nearby.
To reach the boat-in sites, you can rent a watercraft from the marina or bring your own. These campsites are perfect for those who seek privacy and solitude, away from the bustling developed campground.
Camping Tips and Activities
Whether you choose a developed campsite or a secluded boat-in site, you'll find plenty of activities to enjoy during your stay. 
In addition to hiking and water-based recreation, you can also participate in ranger-led programs, stargaze on clear nights, or simply relax by the campfire and share stories with fellow campers.
Remember to practice Leave No Trace principles, keeping your campsite clean and respecting the park's wildlife and natural resources. Bring insect repellent, sunscreen, and appropriate clothing to ensure a comfortable and enjoyable camping experience.
With its diverse camping options, picturesque scenery, and myriad recreational opportunities, Patagonia Lake State Park is the perfect destination for an unforgettable outdoor adventure under the stars.
Exploring the Trails
Lace up your hiking boots and set out to explore the park's winding trails, meandering through diverse landscapes and offering opportunities for adventure, exercise, and breathtaking views.
Overlook Trail
The Overlook Trail is a hidden gem within Patagonia Lake State Park. This 1.5-mile loop trail, with an elevation gain of about 100 feet, offers a short but rewarding hike that provides stunning panoramic views of the lake and its surrounding beauty.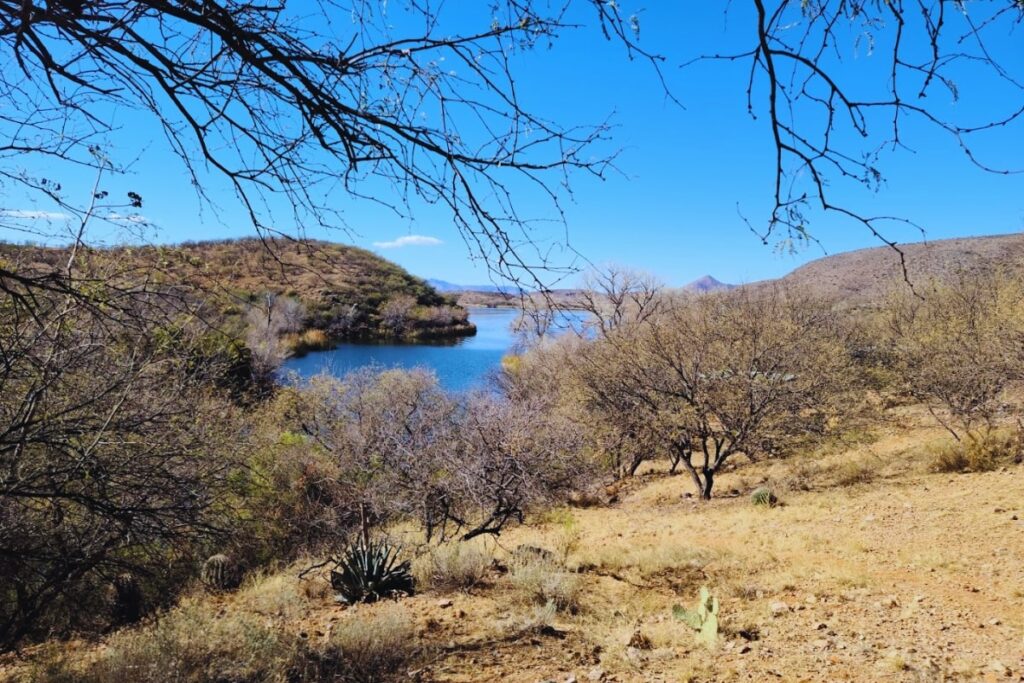 The trailhead is easily accessible from the eastern end of the park, near the boat ramp and parking area. 
As you embark on your hike, you'll follow a well-maintained path that initially takes you uphill through a mix of vegetation, including mesquite trees, prickly pear cacti, and ocotillo plants. 
This diverse flora is home to various bird species and small wildlife, providing excellent opportunities for nature observation and photography.
Upon reaching the top of the hill, you'll find a shaded ramada with benches where you can rest and take in the breathtaking vistas of Patagonia Lake and the Santa Rita Mountains in the distance. 
This vantage point also offers glimpses of the park's marina and the dam that created the lake.
As you continue along the Overlook Trail, the path gradually descends back to the parking area, completing the loop. The trail is suitable for hikers of all ages and fitness levels, with some sections of moderate incline that may be slightly challenging for those unaccustomed to hiking. 
The Overlook Trail offers an enjoyable and safe hiking experience, with clearly marked signs and a well-maintained path.
Whether you're an avid hiker seeking a short excursion or a casual visitor looking for an opportunity to take in the park's picturesque scenery, the Overlook Trail is a must-visit destination during your time at Patagonia Lake State Park.
Sonoita Creek Trail
The Sonoita Creek Trail takes you on a journey through lush vegetation and a variety of bird habitats. This longer, more moderate trail is perfect for those who wish to immerse themselves in the park's diverse ecosystems.
Trail Safety and Etiquette
When exploring the park's trails, remember to practice proper trail safety and etiquette. Carry plenty of water, wear sunscreen and a hat, and ensure you have appropriate footwear. Stay on designated trails to protect the park's sensitive habitats, and leave no trace by packing out all trash and belongings.
A Gateway to Adventure
Use Patagonia Lake State Park as your base for discovering the wider region, rich in natural beauty, charming towns, and unparalleled outdoor experiences just waiting to be explored.
Exploring the Town of Patagonia
Patagonia Lake State Park serves as an ideal base for exploring the surrounding area. Visit the nearby town of Patagonia, known for its vibrant arts scene, charming shops, and local eateries. 
The town's main street is lined with colorful buildings and art installations, creating a unique atmosphere that is both welcoming and inspiring.
Coronado National Forest
For a more extensive adventure, take a trip to the Coronado National Forest, which spans over 1.7 million acres and offers endless opportunities for hiking, camping, and wildlife viewing. Explore the forest's Sky Islands, unique ecosystems with a remarkable range of biodiversity.
Las Cienegas National Conservation Area
The Las Cienegas National Conservation Area is another nearby destination for outdoor exploration. This vast, protected grassland is home to a variety of plant and animal species, as well as a network of trails for hiking, mountain biking, and horseback riding.
Conclusion
Patagonia Lake State Park is a treasure trove of natural beauty, peaceful relaxation, and adventure. Whether you're an avid birder, a boating enthusiast, or simply looking for a serene getaway, this park has something to offer everyone. Experience the magic of this unspoiled gem and create memories that will last a lifetime.
As you uncover the many wonders of Patagonia Lake State Park, you'll find yourself drawn into its magical allure, captivated by the tranquility and splendor that abound in this enchanting haven. 
With each visit, you'll uncover new treasures and create memories that will last a lifetime. So why wait? Begin your journey into the heart of this hidden gem, and let the spirit of adventure guide you through the park's breathtaking landscapes. 
And as you depart, remember that the wonders of Patagonia Lake State Park are ever-changing, beckoning you to return and explore its beauty anew.
Patagonia Lake State Park FAQs
How much does it cost to get into Patagonia Lake State Park?
Entrance to Patagonia Lake State Park ranges from $15-$20 per vehicle. This fee varies due to factors like weekends or peak seasons, ensuring maintenance and conservation efforts. It's advisable to check current rates before visiting, as the park offers numerous amenities justified by the entrance fee.
Are you allowed to swim at Patagonia Lake?
Yes, swimming is allowed at Patagonia Lake in designated areas. The lake, with its clear waters and serene environment, is a favorite among locals and tourists alike for refreshing dips, especially during the warmer months.
How much are cabins at Patagonia Lake AZ?
Cabins at Patagonia Lake start around $65 per night. These cabins provide visitors with a rustic yet comfortable experience, nestled in the park's scenic beauty. Amenities and views differ, so it's best to review options and book in advance.
What time does Patagonia Lake close?
Patagonia Lake State Park closes at 10:00 PM. It's important for visitors to adhere to these timings to ensure safety and park conservation, as night hours are critical for maintenance and the well-being of the local wildlife.
What is Patagonia AZ known for?
Patagonia, AZ is renowned for birdwatching and its historic town center. The area boasts a plethora of species, drawing ornithologists and nature enthusiasts from all over. The town's historical significance also offers a rich cultural experience.
Are dogs allowed at Patagonia Lake?
Dogs are permitted in Patagonia Lake State Park but must be on a leash. The park welcomes furry companions but emphasizes their safety and the well-being of other visitors. Restrictions like beach access ensure a balanced experience for all.
Can you eat fish from Patagonia Lake AZ?
Yes, fish caught in Patagonia Lake can be consumed. However, anglers should always be aware of and consult any local advisories or guidelines regarding fish consumption to ensure they're consuming safe and sustainable catches.
How deep is Patagonia Lake?
Patagonia Lake has depths reaching up to 70 feet. The lake, formed by damming Sonoita Creek, is not only a recreational hub but also an ecological reservoir. The varying depths contribute to its diverse marine life and make it a favored spot for anglers.