Explore Voyageurs National Park: your guide to the best times, trails, and wildlife adventures.
Set your compass to adventure in Voyageurs National Park, where the journey is as exhilarating as the destination. Here, waterways replace roadways, and your voyage unfolds under the expansive Minnesota skies.
In this guide, we're diving into the best times to visit, uncovering hidden wildlife gems, and giving you a snapshot of the cultural landmarks that dot the landscape.
Whether you're paddling through serene lakes, hiking forested trails, or cozying up in a winter wonderland, this park is a treasure trove of experiences. So let's get started—your ultimate guide to Voyageurs National Park awaits!
Know Before You Go: Voyageurs National Park Snapshot
Planning a Voyageurs National Park adventure? Perfect! Here's a quick peek into its seasonal beauty, nature's tales, wildlife encounters, historic imprints, and exciting activities. Get ready for an unforgettable experience!
Best Time of Year to Visit Voyageurs National Park
There is no bad time to visit Voyageurs National Park. Each season has its own unique activities and scenery to enjoy. 
Spring is a great time for canoeing and kayaking as the water level on the lakes is high from all the melting snow. You can also see a lot of wildlife during this time as they are coming out of hibernation. 
Summer is the busiest season at Voyageurs National Park as it is the perfect time to swim, fish, and go boating. The weather is usually warm and sunny, making it ideal for camping and hiking. 
Fall is a beautiful time to see the changing leaves on the trees. It's also a good time for fishing as many fish are spawning. Hunting is also allowed in certain areas of the park during this time.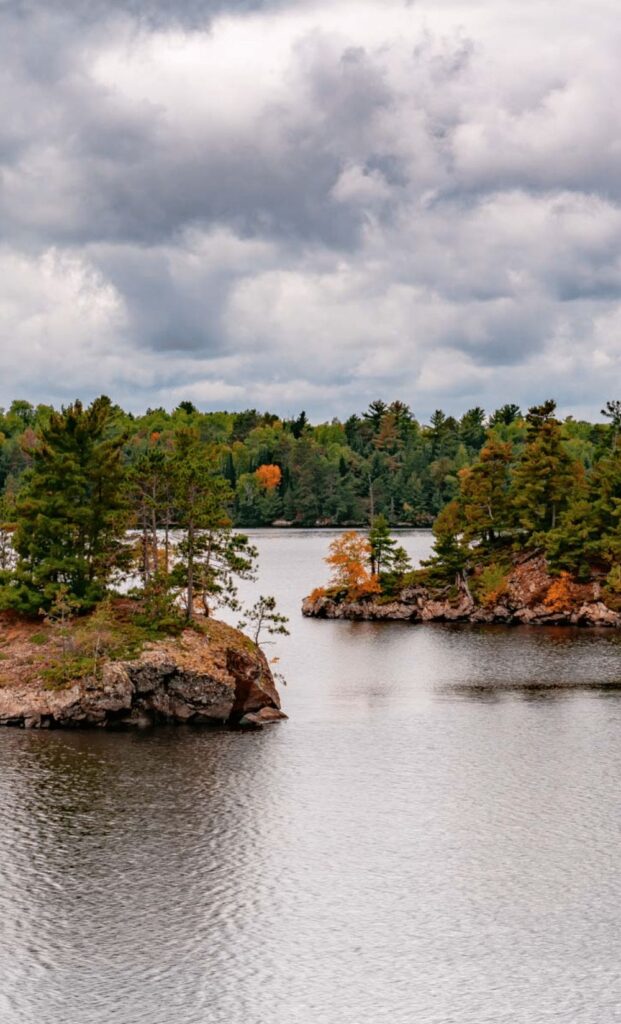 Winter brings its own set of activities such as cross-country skiing, ice fishing, and snowmobiling. You can also experience the Northern Lights if you're lucky enough to be visiting during this time!
Our favorite time? Hands down we go EVERY fall! – Low crowds, crisp chill in the air and the camping draw us. Also, the northern lights are clear at this time. 
Nature's Craftsmanship
Voyageurs National Park, sprawling over 218,000 acres, showcases ancient forces at work. 
Long ago, mighty glaciers, like the ones seen around Kabetogama Peninsula, traversed this region, creating vast hollows. 
When these glaciers retreated, they left behind a network of beautiful lakes, such as Rainy Lake and Lake Kabetogama.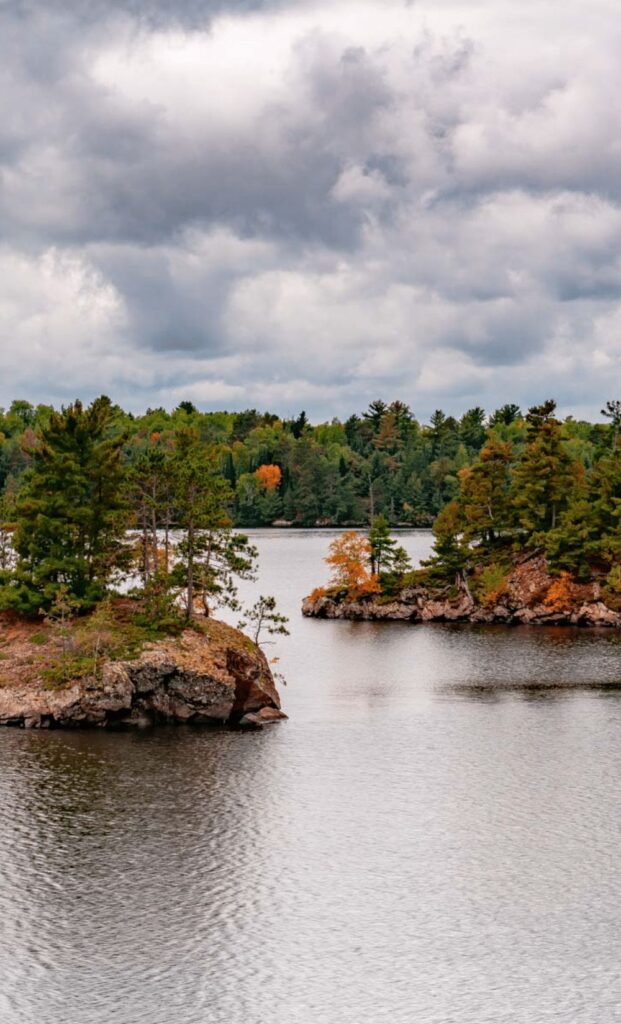 The tale of Voyageurs doesn't end with ice. Around a billion years ago, this area experienced volcanic eruptions. 
Evidence of this can be found in the solidified lava rock formations, especially prominent around the Black Bay area and Namakan Lake.
Dive beneath the waters of Sand Point Lake, and you'll find ancient rocks that narrate tales of those volcanic days. 
Their unique shapes and compositions are remnants of fiery eruptions and the relentless weight of overhead ice.
The park's landscapes, especially around Ash River and Crane Lake, also hint at past climatic fluctuations and the adaptations of the local ecosystem. 
The flora and fauna in these areas have evolved in response to these changes.
Every corner of Voyageurs National Park offers a lesson. From Ellsworth Rock Gardens to the Grassy Bay Cliffs, each spot narrates a chapter of Earth's incredible, transformative history.
Wildlife Wonders
Voyageurs National Park is a sanctuary for countless species, making it a prime location for wildlife enthusiasts. 
The pristine waters of Rainy, Kabetogama, Namakan, and Sand Point Lakes are teeming with fish such as walleye, northern pike, and smallmouth bass. 
Anglers often find themselves amidst a flurry of activity, especially during the spawning seasons.
But it's not just about what's beneath the surface. As you meander along the trails, particularly near the Beaver Pond Overlook or the Cruiser Lake Trails, you might spot moose, white-tailed deer, or even black bears foraging in their natural habitat.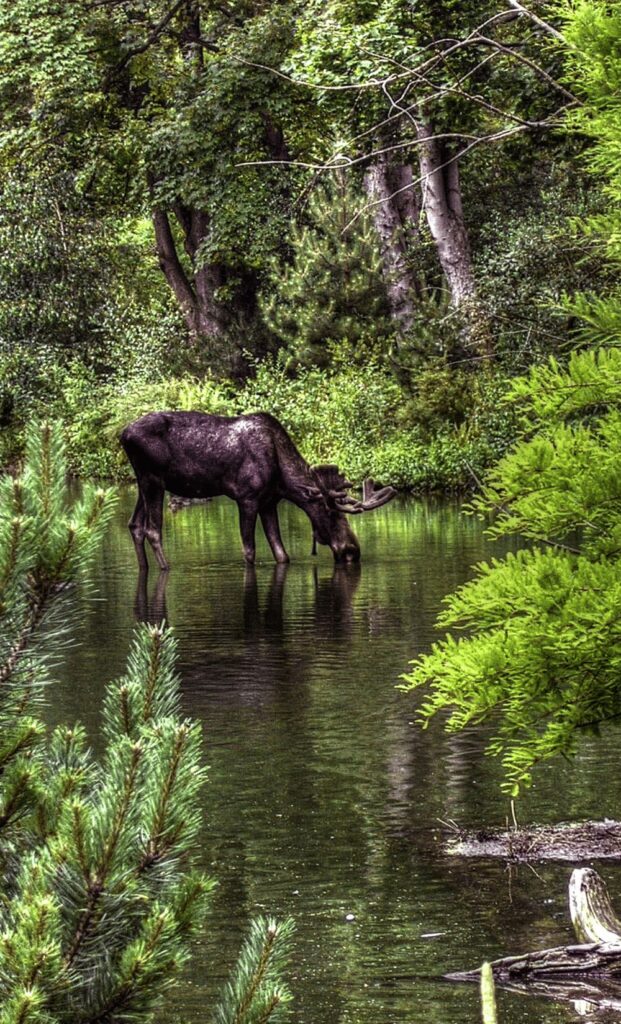 Their elusive nature only adds to the thrill of their rare sightings.
Birdwatchers, too, are in for a treat. The park's skies and trees are often filled with the melodic calls of warblers, loons, and ospreys. 
A keen eye might even spot the majestic bald eagle soaring above the Kabetogama Peninsula or nesting near Anderson Bay.
If you're venturing out during the twilight hours, especially around the Grassy Bay, keep an ear out for the haunting calls of wolves or the hooting of the great horned owls.
In every corner, from the dense woods to the vast lakes, Voyageurs National Park celebrates a diverse array of wildlife, a testament to the rich ecosystems that thrive in this remarkable haven.
Cultural Footprints:
Voyageurs National Park is rich in cultural histories that have intersected and evolved over millennia. 
The park's name itself harkens back to the French-Canadian "voyageurs" – intrepid fur traders who paddled the waterways in their birch bark canoes, weaving the first threads of commerce and European exploration in the region. 
The Kabetogama Peninsula stands as silent witness to their journeys, with remnants of their old routes still discernible to the observant eye.
Before the voyageurs, the area was home to indigenous peoples whose presence can be traced back thousands of years. 
Along the shores of Black Bay Narrows and other parts of the park, ancient petroglyphs etched into rock surfaces narrate tales of life, spirituality, and connection with the land. 
These artworks serve as poignant reminders of the deep roots and intricate relationship the native tribes had with this territory.
The park also bears the marks of a more modern era. The Rainy Lake gold rush of the late 19th century beckoned prospectors and dreamers alike, leaving behind relics of their fleeting settlements and aspirations. 
As industries evolved, logging camps sprung up, most notably around Sullivan Bay, extracting timber resources and shaping the economic landscape.
Today, while the echoes of fur traders, indigenous tribes, and gold seekers may have dimmed, their legacy is immortalized in the very fabric of Voyageurs National Park. 
Every trail, lake, and clearing has a story, waiting to be discovered, understood, and appreciated by those who tread its paths.
Planning Your Visit
Ensuring your visit to Voyageurs National Park is seamless requires a blend of preparation and spontaneity. 
With pristine waters, abundant wildlife, and deep-rooted history, it's a destination unlike any other. Here's your essential guide:
Essential Information
Park Operating Hours & Seasons: Voyageurs National Park is accessible all year, but keep in mind that specific facilities, such as the Rainy Lake Visitor Center, have distinct hours. 
While the center is open daily from 9:00 AM to 5:00 PM in peak season, off-peak seasons might see reduced hours. Always verify timings ahead of your visit.
Fees, Passes, and Reservations: Entrance to the park is free, but services like camping require reservations. 
During the period from May 15 to September 15, both reservation service and amenity fees apply. 
It's best to make your booking via www.recreation.gov well in advance.
Weather Conditions and Climate: While summers offer a warm embrace, averaging 75°F, winters can be stark with temperatures plummeting to below 0°F. Pack accordingly to embrace Voyageurs in all its seasonal splendor.
Pet Policies: Your furry companions are welcome, provided they're on a leash not exceeding six feet. However, for their safety and the environment's well-being, certain areas remain off-limits.
Directions & Transportation
Navigating to the Park: The park's proximity to Falls International Airport (INL), which is about 40 miles away, makes it relatively accessible for those traveling by air. Once you land traverse via US-53 S, which offers a scenic drive directly to the park's main entrances.
Activities & Adventure
Voyageurs National Park is a playground for the adventurous at heart. From tranquil starry nights to adrenaline-pumping trails, there's something for everyone. 
Dive in and discover your next adventure.
Camping
Voyageurs National Park provides an unparalleled camping experience for nature lovers. With vast lakes, verdant forests, and a mosaic of islands, it's a sanctuary waiting to be explored. 
If you're gearing up for a camping escapade, here's a detailed guide to ensure you make the most of your time.
Frontcountry Camping:
Sites: There are 137 frontcountry campsites scattered across the park's major lakes: Rainy, Kabetogama, Namakan, Sand Point, and Crane.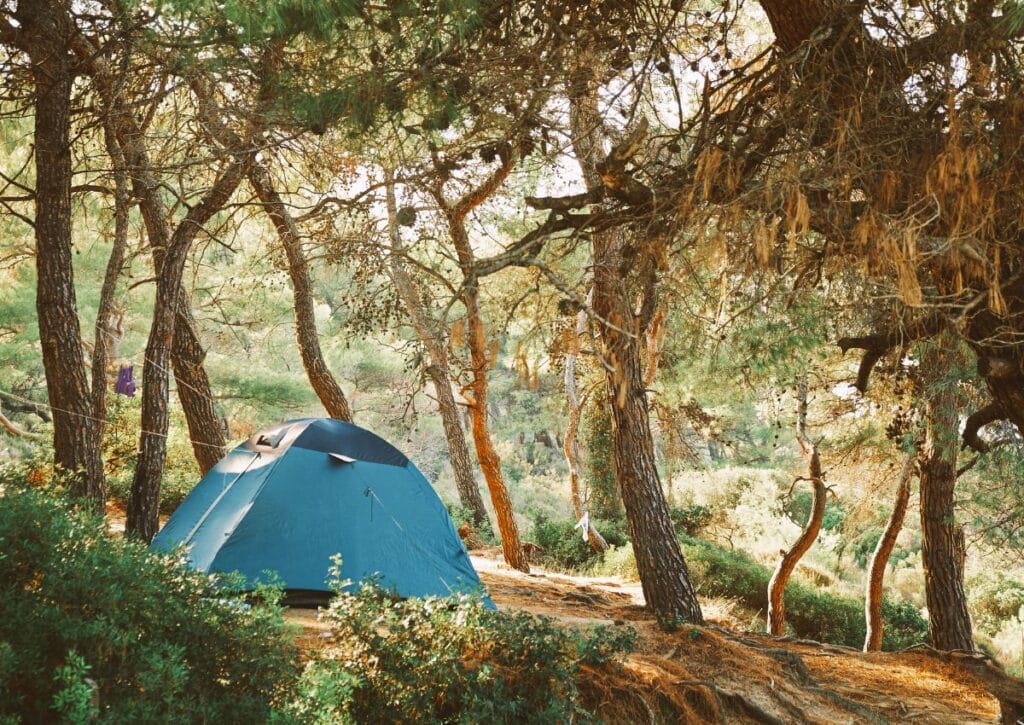 Access: These sites are uniquely positioned and can only be accessed by watercraft. The park has four primary water access points – Rainy Lake, Kabetogama Lake, Ash River Visitor Centers, and Crane Lake Ranger Station.
Reservations: Essential for every camper. Secure your spot via the Voyageurs National Park Camping Permits page on recreation.gov or call 1-877-444-6777. Print and carry your permit; it's your golden ticket!
Parking: With a valid camping permit, enjoy up to 14 days of free parking at park visitor center boat launch lots.
Watercraft: Voyageurs doesn't rent out boats. However, local businesses offer various boat rentals, ensuring you have the means to reach your camping spot.
Backcountry Camping:
Voyageurs National Park is a haven for those looking to truly disconnect and immerse themselves in the wilderness. 
For those intrepid souls, backcountry camping provides a deeper connection with the natural world.
Sites and Access:
Most backcountry sites are tucked away on smaller lakes or deeper in the park's vast forests. 
This means that accessing them generally requires a combination of boating and hiking. 
The experience is all about isolation, so don't expect to find many of the conveniences of the frontcountry sites.
One prime location is Locator Lake; known for its tranquil setting, it's perfect for those wanting a more secluded experience. After a boat ride, campers hike a trail to reach this remote site.
Preparation:
Planning is crucial for backcountry camping. Ensure you have topographic maps and are aware of the area's terrain. 
Weather can be unpredictable, so pack waterproof gear, and always have a method for water purification.
As these sites are more remote, wildlife encounters are more frequent. Knowing how to safely store food away from animals, especially bears, is essential.
Permits and Regulations:
Similar to frontcountry camping, permits are necessary for backcountry spots. Reservations can be made through the Voyageurs National Park Camping Permits page on recreation.gov. 
Given the limited number of sites and the unique experience they offer, they can fill up quickly, especially in peak seasons.
Respect the land by adhering to Leave No Trace principles, which ensure that the wilderness stays wild and beautiful for future generations.
Gear and Safety:
Light and durable gear is key. Remember, you might be portaging between lakes or hiking considerable distances, so pack efficiently.
Safety is paramount. Always let someone know your planned route and expected return, and consider carrying a satellite phone or emergency beacon in case of emergencies.
For many, backcountry camping in Voyageurs is the ultimate way to experience the park. 
The solitude, connection with nature, and sheer beauty of the untouched wilderness provide memories that last a lifetime. 
However, always ensure you're prepared and knowledgeable about the challenges that come with this deeper dive into nature.
Primitive Camping:
Nature in Raw: For those who wish to stick to the mainland but still want a rustic experience, the park offers two hike-in sites along the Kab-Ash Trail. 
No boats are necessary here, but be prepared for a hike.
Trail Essentials: Sturdy hiking boots, a map, ample water, and basic first aid are a must.
Nearby Drive-In Camping Options
When visiting Voyageurs National Park, not everyone may wish to boat or hike to their campsite. 
For those who prefer a more accessible camping option or are traveling with large equipment, drive-in camping sites in proximity to the park provide the perfect solution.
Woodenfrog State Forest Campground: Located near Kabetogama Lake, this campground offers direct car access, making it perfect for those traveling with heavy equipment or RVs. 
Facilities here include electric hook-ups, restrooms, and potable water. Tent areas are also designated. 
This campground is a popular choice due to its proximity to both the lake and the park.
Bear Head Lake State Park: A bit farther afield but worth the drive, this park offers a mixture of drive-in sites suitable for both tents and RVs. 
The lake is a highlight, and fishing opportunities abound.
Reservations: Some of these campgrounds, like Woodenfrog, operate on a first-come, first-served basis, while others might require or offer advance reservations. 
Especially during peak seasons, it's wise to check ahead.
Facilities: Many of these campgrounds are equipped with modern amenities such as electric hook-ups, restrooms, and potable water sources, making them suitable for RVs and campers. They often also have designated areas for tents.
Accessibility: The major advantage of these campgrounds is the direct car access, meaning you can easily store equipment, food, and other essentials in your vehicle.
Activities: Most of these campgrounds are located near lakes or trails, offering activities such as fishing, hiking, or even picnicking.
Winter Camping
For those seeking a winter wonderland, Voyageurs National Park doesn't disappoint, offering a unique blend of accessible and remote winter camping opportunities.
Rainy Lake Campground: During the winter months, sites here, typically accessible only by boat in warmer months, can be reached by foot or snowmobile. 
With the lakes frozen, it's a winter enthusiast's dream, but always check ice conditions before venturing out.
Black Bay Campground: Another option for winter campers in Voyageurs, Black Bay offers a serene snowy backdrop. 
Like Rainy Lake, many sites become accessible by foot or snowmobile during the winter.
Preparation and Safety: Winter camping in these areas demands extra caution. 
Ensure you're equipped with winter-rated gear, and always keep the park's conservation rules in mind. 
Inform park authorities or someone you trust about your camping plans and always have a backup plan in case of severe weather.
Water Adventures at Voyageurs National Park:
Voyageurs National Park is a mosaic of sparkling lakes and winding waterways, making it a sanctuary for those who love the rhythm of paddles cutting through calm waters or the thrill of casting a line.
Boating, Kayaking, and Paddleboarding
For many, the allure of Voyageurs lies in its expansive lakes: Rainy, Kabetogama, Namakan, and Crane. Each offers a unique tapestry of islands, bays, and peninsulas. 
If you arrive without a boat, don't fret. Local businesses around the park perimeter rent out a range of watercrafts from nimble kayaks to sturdy pontoons.
Kayaking and paddleboarding, in particular, allow for a closer, more tranquil communion with nature. 
The park's secluded inlets and hidden bays, like the serene Black Bay on Rainy Lake, await those ready to explore them. 
As you glide silently, you might spot a moose taking a drink or hear the distant call of a loon.
The Angler's Dream: Fishing and Ice Fishing
Voyageurs is an angler's dreamland. The waters are rich with northern pike, smallmouth bass, and the ever-elusive walleye. 
If you're planning to fish, remember to get a license, which is available at local shops or online through the Minnesota Department of Natural Resources.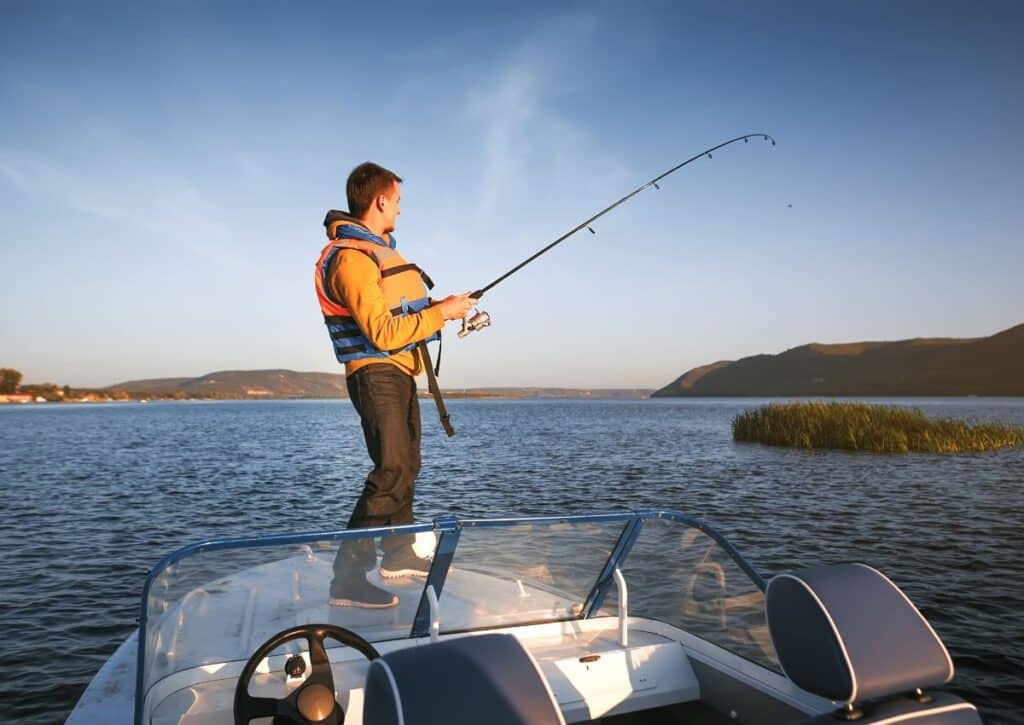 As winter drapes a snowy blanket over Voyageurs, the lakes transform into crystalline ice platforms, beckoning ice fishing enthusiasts. 
Fishing in this frozen wonderland is a unique experience. But always remember, nature is unpredictable. 
Before setting up, it's wise to consult with local experts about the ice's thickness and stability.
Hiking Trails in Voyageurs National Park
Voyageurs National Park beckons hikers with a promise of untouched wilderness. 
With trails ranging from short, family-friendly paths to more challenging terrains, there's an adventure waiting for everyone.
Kabetogama Lake Overlook Trail
Just a short 0.6-kilometer hike near Kabetogama, this easy trail can be completed in about 10 minutes. It's the perfect choice if you're seeking a quick commune with nature. 
Offering a breathtaking overlook of the lake and bay at its culmination, it's a picturesque spot to take in nature's wonders. 
However, it's important to note that dogs are not permitted here.
Blind Ash Bay Trail
This moderately challenging trail, spanning 4.8 kilometers, is a favorite for birding enthusiasts and anglers. 
Located near Kabetogama, it offers an hour and ten minutes of immersion in the wild. 
The serenity it offers ensures that even during peak seasons, one can find tranquil spots along the path.
Echo Bay Trail
This 2.4-mile loop meanders through diverse terrains, from lowlands to rocky outcrops. 
The trail offers hikers the chance to wander amidst both deciduous and boreal forests. 
Particularly popular among bird watchers, the trail's wetlands, created by the industrious North American Beaver, and dense forests make it a haven for species ranging from warblers and woodpeckers to majestic raptors.
Cruiser Lake Trail
A trail for the seasoned hiker, the Cruiser Lake Trail challenges with its ruggedness, but rewards with unparalleled beauty. 
Stretching 8 miles one way, this trail can be accessed either from Anderson Bay on Rainy Lake's shores or Lost Bay by Kabetogama. 
Those looking for a more immersive experience can book a backcountry campground. 
Staying overnight not only allows for deeper exploration but also increases the chances of spotting a moose or hearing the distant howl of a wolf. 
For added convenience, both trailheads are equipped with vault toilets.
Kab-Ash Trail
The park's longest trail, Kab-Ash covers a whopping 27 miles, passing through a myriad of landscapes from dense woods to sparkling lakeshores. 
It's a trek that promises a deep dive into Voyageurs' wilderness.
In Voyageurs National Park, each trail tells its own tale of the land's history, flora, and fauna. 
Whether you're a casual hiker looking for a day's outing or an avid trekker seeking a more intense journey, Voyageurs welcomes you with open arms.
Winter in Voyageurs National Park
Venture into Minnesota's wilderness gem and witness its winter splendor. 
Voyageurs National Park offers an exceptional winter landscape that beckons explorers to its snow-covered trails, frozen waterways, and starlit skies. 
Let this be your transformative winter escape.
Stargazing at Its Finest
Dive deep into one of America's most stunning nocturnal canvases. 
Voyageurs, with its International Dark Sky Park accreditation, offers a cosmic panorama of twinkling stars, made all the more intriguing with tales from the Ojibwe star map. 
Winter nights here amplify the experience, with the shimmering Northern Lights adding an ethereal touch. 
Enhance your odds of witnessing this celestial dance by tracking the aurora borealis predictions.
Cross-Country Skiing
Discover Voyageurs' serenity with cross-country skiing adventures. 
Echo Bay Trail, with its mix of terrains, caters to both beginners and adept skiers. 
Equip yourself with rental gear from the Rainy Lake Visitor Center and traverse interconnected ski trails like Tilson Creek and Black Bay, each presenting a unique winter tableau. 
Other skiing gateways include the Kab-Ash Trail, Crane Lake, and Ash River trails.
Snowshoeing 
Meander through Voyageurs' snow-laden trails, such as the Blind Ash Bay and Oberholtzer, as you embrace the whispering pines and frosted landscapes. 
Secure your snowshoe gear from the Rainy Lake Visitor Center and embark on your snowy sojourn. 
Remember to respect the trails and avoid trampling over ski tracks.
Slide Down in Glee 
Seek out fun at the Sphunge Island Sledding Hill, tailored for both young thrill-seekers and adults. 
With a bonus skating rink on-site, it's a winter playground accessible from the Kabetogama Lake Ice Road.
Frozen Lakes on a Snowmobile 
Marvel at Voyageurs' expansiveness as you snowmobile over frozen lake beds and designated routes. 
Tread carefully, heeding all regulations and closures. 
Stay updated on trail conditions via local resources like International Falls and Ash River/Kabetogama.
Drive Across Wintry Ice Roads 
Experience the park's secluded winter allure from the coziness of your vehicle, cruising on ice routes like the Rainy Lake Ice Road and Kabetogama Lake Ice Road. 
Always prioritize safety, adjusting your plans based on ice conditions.
Ice Angling in the Park 
Bask in the hush of winter while angling in Voyageurs. With luck, you might reel in Walleye, Northern Pike, or Eel Pout. 
Follow all fishing regulations and be safety-conscious when venturing onto the ice.
Dwell Amidst Snowy Campsites 
Brave the cold and camp amidst Voyageurs' frosty panorama. 
Winter camping can be rewarding with possibility of spotting wildlife or the Northern Lights. 
Ensure you secure campsite reservations in advance.
Warmth and Learning at Rainy Lake Visitor Center 
The Rainy Lake Visitor Center stands as a warm retreat for winter outings. 
It's a hub for acquiring knowledge about the park's heritage, seeking ranger guidance, and equipping yourself for wintry adventures.
Witness Winter's Wildlife Wonders 
The park comes alive with wintry wildlife. Owls, particularly the snowy and great horned species, dominate the treetops. 
Venturing deeper might even reward you with a timber wolf sighting. 
When encountering wildlife, remember to maintain a safe distance and practice ethical behavior.
Navigating through Voyageurs National Park in winter demands meticulous planning. 
Arm yourself with the essentials, stay informed on conditions, and ensure you have a companion for a safe and memorable journey.
Places to Explore in Voyageurs National Park
Lakes and Rivers
Discover the allure of Voyageurs through its impressive water bodies, each presenting unique opportunities for exploration.
Rainy Lake: Spanning 227,600 acres, Rainy Lake is a hotspot for boating and fishing. Begin at the Rainy Lake Visitor Center to access well-marked boat routes and prime fishing spots, known for walleye and northern pike.
Kabetogama Lake: Covering 25,760 acres, Kabetogama Lake is a haven for kayakers. Use the Kabetogama Lake Visitor Center as your starting point, venturing out to explore secluded coves and densely wooded shores.
Namakan Lake: At 24,066 acres, this lake offers houseboat sites and camping locations. Launch from the Ash River Visitor Center and explore its interconnected waterways, ideal for multi-day trips.
Sand Point and Crane Lakes: Smaller but equally captivating, these lakes offer clear waters and scenic vistas. They're excellent for day-trip canoeing or fishing, particularly for bass and panfish.
Points of Interest
Delve deeper into the park's treasures, both natural and man-made.
Ellsworth Rock Gardens: A 30-minute boat ride from Kabetogama Lake Visitor Center, discover this artistic masterpiece – a garden featuring over 200 rock sculptures, reflecting the vision of its creator, Jack Ellsworth.
Kettle Falls: Reachable via boat from either Kabetogama or Rainy Lake, the falls area boasts the historic Kettle Falls Hotel – offering both accommodation and a dive into the region's past.
Anderson Bay: Accessible from Rainy Lake, it's a must-visit for avid birdwatchers. Arrive at dawn or dusk for the best views and a chance to spot bald eagles.
Visitor Centers
Each center provides detailed maps, expert advice, rental facilities, and more.
Rainy Lake Visitor Center: Located near International Falls, it's open year-round, offering seasonal interpretative programs and snowshoe rentals during winter.
Kabetogama Lake Visitor Center: Open from late May to mid-September, this center is your starting point for boat tours and hiking trailheads around Kabetogama Lake.
Rainy Lake Sites
Dryweed Island: Ideal for campers seeking solitude. Book one of the limited camping sites through the park's reservation system in advance.
Black Bay: A short boat trip from the Rainy Lake Visitor Center, it's a fishing paradise, especially for crappie.
Kabetogama Lake Sites
Echo Island: A tranquil spot for picnics or relaxing by the water. Accessible via a short kayak or boat trip.
Blind Indian Narrows: Noted for its dramatic cliff faces. Kayakers and canoeists often navigate these waters, marveling at the rock formations.
Namakan Lake Sites
Moose River: This serene river is an excellent canoe route, known for gentle waters and abundant wildlife.
Kettle Falls Hotel: Besides being an accommodation option, it's a step back in time. Learn about the region's logging history and early settlers.
Sand Point/Crane Lake Sites
Harrison's Narrows: A preferred route for experienced kayakers, offering challenges and unmatched scenic beauty.
Grassy Bay: A favorite among anglers, this bay provides ample opportunities for both shore fishing and boat-based angling.
Equip yourself with this guide, and you're ready to embark on a fulfilling journey through the diverse offerings of Voyageurs National Park.
Wildlife of Voyageurs National Park
Voyageurs National Park, a mosaic of waterways, forests, and rocky terrain, provides a unique sanctuary for a diverse range of big and small wildlife. 
Visitors to the park are often treated to breathtaking encounters with its inhabitants, and understanding and respecting this wildlife enriches the entire park experience.
Mammals
The park is home to a plethora of mammals. Among the most majestic are the moose, black bears, wolves and white-tailed deer, which can often be spotted grazing in meadows or wading in shallow waters. 
The elusive gray wolf roams the park's forests, while black bears are occasionally sighted foraging for food. 
Smaller mammals like beavers, otters, and snowshoe hares play an equally vital role in the park's ecosystem.
Birds
Voyageurs is a birdwatcher's paradise. 
The park boasts over 240 species of birds, with the haunting call of the common loon echoing across the lakes being a hallmark of the Voyageurs experience. 
Bald eagles soar overhead, their keen eyes scanning for fish, while ospreys dive dramatically into the water. 
Woodpeckers, warblers, and waterfowl add to the park's rich avian tapestry.
Amphibians and Reptiles
The park's wetlands and water bodies are a haven for a variety of amphibians. 
The echoing chorus of spring peepers, tree frogs, and leopard frogs fills the air, especially during wet seasons. 
Observant visitors may also spot turtles basking on sunlit logs or glimpse the swift movement of the northern water snake.
Fish
The interconnected waterways of Voyageurs are teeming with fish. The park offers anglers a chance to catch northern pike, smallmouth bass, and walleye, among others. 
The clean, clear waters also support sensitive species like the lake sturgeon, a true relic from the days of the dinosaurs.
Respect and Protection
Every visitor has a role to play in protecting Voyageurs' wildlife. It's essential to maintain a safe distance from all animals, refrain from feeding them, and store food securely. 
This ensures not only your safety but also the well-being and natural behavior of the park's creatures.
Boat Launches in Voyageurs National Park
The pristine waters of Voyageurs National Park beckon boating enthusiasts, anglers, and adventurers alike. 
With over 40% of the park covered by shimmering lakes and meandering waterways, there's no better way to truly experience its magic than by launching a boat and venturing out. 
Here's a comprehensive guide to the key boat launches in the park.
Ash River Visitor Center Boat 
Launch Located conveniently near the Ash River Visitor Center, this boat launch offers direct access to the expansive Rainy Lake. 
With numerous islands and serene bays to explore, it's the ideal starting point for those keen on navigating the intricate waters of Rainy Lake. 
Adjacent amenities at the visitor center make this a favored spot.
Kabetogama Lake Public Boat Launch 
Situated on the southern shoreline of Kabetogama Lake, this public boat launch provides boaters access not just to Kabetogama Lake, but also to Namakan Lake. 
Renowned among anglers and recreational boaters, it's a gateway to two of Voyageurs' most celebrated lakes, promising bountiful catches and tranquil waters.
Crane Lake Public Boat Launch 
Perched on Crane Lake's northern shore, this launch is the go-to for canoeists and kayakers. 
Granting access to both Crane Lake and the picturesque Lac la Croix, it unveils some of the park's most scenic vistas, making it a prime spot for those seeking serenity and natural beauty.
Boating & Fishing in Voyageurs 
Boasting over 800 miles of shoreline, Voyageurs is a haven for those passionate about aquatic adventures. 
Its waters teem with a variety of fish, from the elusive walleye and muskie to the spirited smallmouth bass. 
Whether you're casting a line, paddling through calm waters, or just drifting along, the park promises unparalleled experiences.
However, while the waters are inviting, they also demand respect. Before setting sail, acquaint yourself with the park's Boating and Fishing regulations. 
These guidelines ensure the safety and conservation of both the park's ecosystem and its visitors. And, of course, remember the golden rule of boating: always wear a life jacket.
Safety & Precautions in Voyageurs National Park
Boating Safety Tips
Navigating the expansive waterways of Voyageurs National Park is a thrilling experience, but safety should always be paramount.
Equipment Check: Before setting out, ensure that your boat is in good condition, and you have essential equipment onboard like life jackets for all passengers, a first aid kit, a whistle, and navigation lights.
Weather Watch: The weather can change rapidly. Always check the forecast and be prepared for sudden storms or winds.
Stay Alert: The park's waters are home to submerged rocks, logs, and changing water levels. Always be vigilant, especially when navigating unfamiliar areas.
Alcohol Awareness: Operating a boat under the influence is not only illegal but extremely dangerous. Stay sober when you're at the helm.
Communication: Have a means of communication, such as a waterproofed cell phone or marine radio, in case of emergencies.
Winter Safety Measures
The icy allure of Voyageurs in winter is mesmerizing, but the cold demands respect.
Dress Right: Layering is crucial. Wear moisture-wicking inner layers, insulating middle layers, and waterproof outer layers.
Ice Knowledge: Before walking, skiing, or snowmobiling on frozen lakes, ensure the ice is thick enough. At least 4 inches of clear ice is recommended for walking, and 5-7 inches for snowmobiles.
Stay Updated: Winter conditions can change rapidly. Regularly check weather updates and be prepared for blizzards or sudden temperature drops.
Hypothermia Awareness: Know the symptoms of hypothermia, like shivering, confusion, and fatigue. If any signs appear, seek shelter and warmth immediately.
Mines and Related Warnings
Historical mining operations have left remnants in the park.
Stay Out & Stay Alive: Abandoned mines might seem intriguing, but they can be unstable and perilous. Never enter an abandoned mine.
Heed Signs: Always respect and adhere to warning signs. They're there to keep you safe.
Inform Yourself: Before exploring, inquire at visitor centers about areas known for old mines to ensure you steer clear of potential hazards.
Navigating the International Border
With Canada just a stone's throw away, it's essential to know the rules.
Carry Proper Documentation: Always have valid identification, like a passport, to verify your citizenship.
Respect Border Regulations: If you inadvertently cross into Canadian waters or land, you might be subjected to Canadian laws. Stay aware of your location.
No Unauthorized Crossings: Only cross the international border at designated entry points, and always report to border agencies as required.
Ensuring safety in Voyageurs National Park means more than just having a great time—it ensures you return home with only good memories. Stay informed, stay equipped, and respect the park's guidelines for an unforgettable and secure adventure.
Conclusion
For anyone looking for a breathtaking outdoor experience, Voyageurs National Park is the perfect destination. Whether you are seeking a fun-filled family vacation or an adventurous solo excursion, this park offers something for everyone. 
From kayaking and canoeing to fishing and wildlife viewing, there's no shortage of activities to enjoy in this beautiful wilderness area. So if you're ready for your next nature escape, take some time to explore Voyageurs National Park—you're sure to have an unforgettable experience!
Below is a visual story why we love fall inn Voyageurs National Park!