Our personal favorite tours in Anchorage: trolley to glaciers, wildlife to culture, our guide unveils Alaska's marvels.
Ready to conquer the last frontier? Anchorage calls! This isn't just a city; it's a launchpad for the wildest Alaskan adventures.
We've tracked down the top 10 tours that take you from city sights on a trolley to glacier treks where ice and wildlife rule.
Over five to seven days, you can soar over mountains, mush with huskies, and sail beside whales. Ever dreamed of spotting bears or exploring ice caves?
We've got your itinerary sorted. Each day brings a new thrill, right from Anchorage's doorstep. Let's get you out there – Alaska's wild, scenic beauty is waiting!
Discover the charm of Anchorage with a unique and engaging guided experience aboard a vintage cable car. 
This 1-hour Anchorage trolley tour offers a delightful way to explore the city's top attractions, wildlife sightings, and rich history, all narrated by knowledgeable guides with generational ties to the region.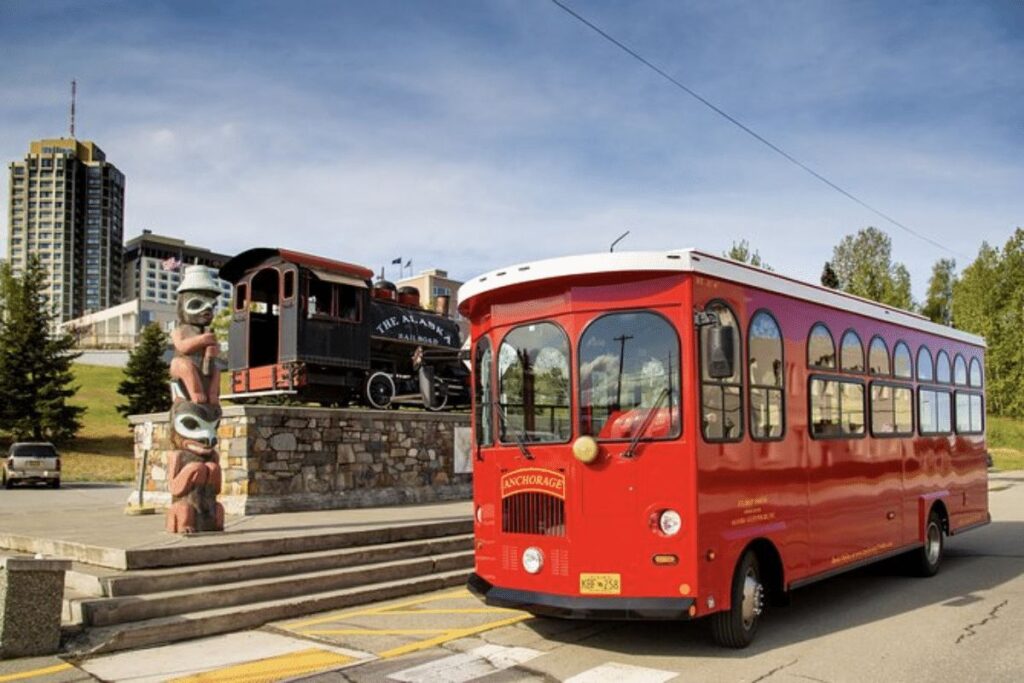 With wallet-friendly pricing and a complimentary coupon booklet offering over $200 in travel savings, this tour is perfect for travelers seeking an authentic Alaskan adventure.
Settle into a comfortable seat on the charming cable car as it weaves through the city streets. As you journey through Anchorage, marvel at the sight of moose safely crossing the road and seaplanes descending onto Lake Hood and Lake Spenard. 
Your knowledgeable guides, who are Alaskan natives, will regale you with captivating stories about the city's unique history and legacy.
During the tour, you'll pass by the city's most iconic attractions, including Earthquake Park, which showcases the devastation left by the 1964 earthquake. 
You'll also see the historic Alaska Railroad Depot and the original townsite of Anchorage, providing a glimpse into the city's past.
The trolley tour isn't just about historic sites – it also offers a chance to encounter Anchorage's diverse wildlife. 
Keep an eye out for various bird species at Westchester Lagoon and the occasional moose sighting, all from the safety and comfort of the trolley.
One of the highlights of the tour is the chance to see the world's largest floatplane base at Lake Spenard and Lake Hood Harbor. 
Witness floatplanes taking off and landing as your guide shares fascinating insights about these unique aircraft and their importance in Alaskan transportation.
Embark on an unforgettable journey through Alaska's breathtaking landscapes with this small-group tour, combining a Portage Glacier Cruise with a visit to the Alaska Wildlife Conservation Center. 
This all-encompassing, stress-free day tour offers the perfect opportunity to witness the majestic glaciers and diverse wildlife of Alaska, all while enjoying hassle-free transfers and the company of a knowledgeable guide.
Your adventure begins with a pickup from your Anchorage hotel and a scenic drive down the famous Turnagain Arm. 
You'll make stops at Beluga Point and Bird Point, where you can capture stunning photographs of the Cook Inlet, Turnagain Arm, and the Chugach Mountain Range. Keep an eye out for wildlife, both in and out of the water!
Arriving at the Portage Valley, you'll marvel at the awe-inspiring beauty of Explorer Glacier, Middle Glacier, and Byron Glacier. Board the M/V Ptarmigan for an hour-long cruise on Portage Lake, surrounded by majestic landscapes and multiple surrounding glaciers. 
The highlight of the cruise is the up-close encounter with the face of the magnificent Portage Glacier, just a few hundred yards away.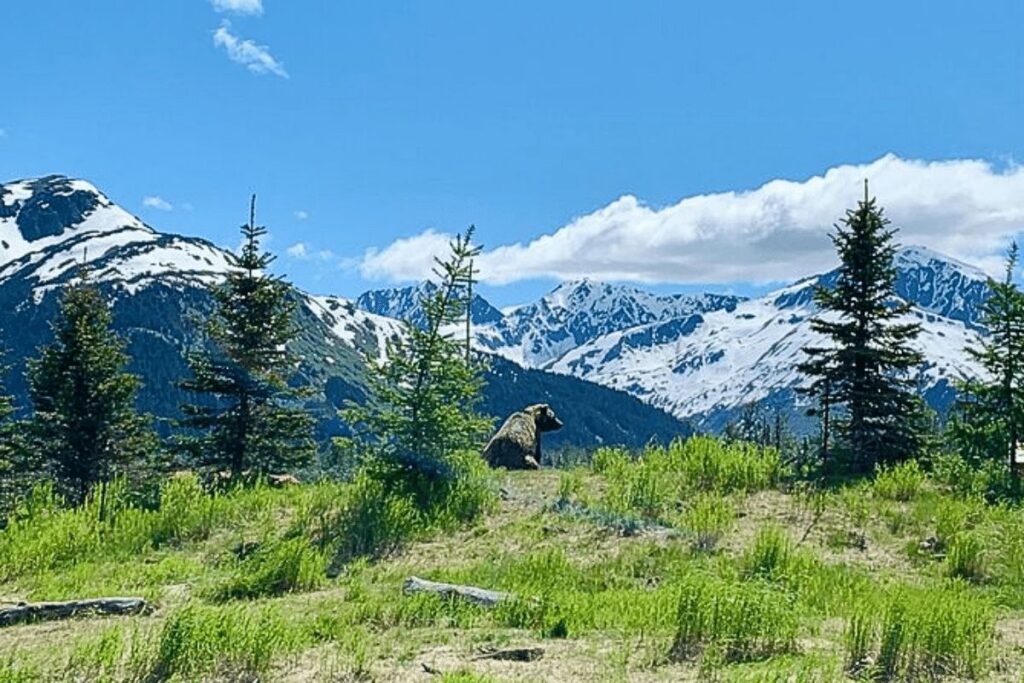 Complete your Alaskan adventure with a visit to the 200-acre Alaska Wildlife Conservation Center. 
Your guide will lead you through the facility, where you'll have the opportunity to see Alaska's land mammals in their natural habitats. Bears, moose, wolves, elk, deer, eagles, and much more await your discovery.
This Valley of Glaciers Experience is perfect for travelers seeking an all-inclusive, stress-free adventure in the Alaskan wilderness. 
The combination of a Portage Glacier Cruise and a visit to the Alaska Wildlife Conservation Center ensures an unforgettable day of exploration, learning, and stunning photo opportunities.
Don't miss out on this exciting tour that showcases the best of Alaska's glaciers and wildlife. Book your Valley of Glaciers Experience today!
Immerse yourself in the awe-inspiring beauty of Alaska with the Turnagain Arm Tour, an exciting adventure designed to showcase the region's natural splendor. 
This small-group tour ensures a personalized and immersive experience, as you travel along the scenic Seward Highway without the hassle of renting a car or navigating unfamiliar roads. 
Witness the breathtaking landscapes of mountain passes, dense forests, pristine lakes, and the majestic Pacific Ocean as you explore the captivating Alaskan wilderness.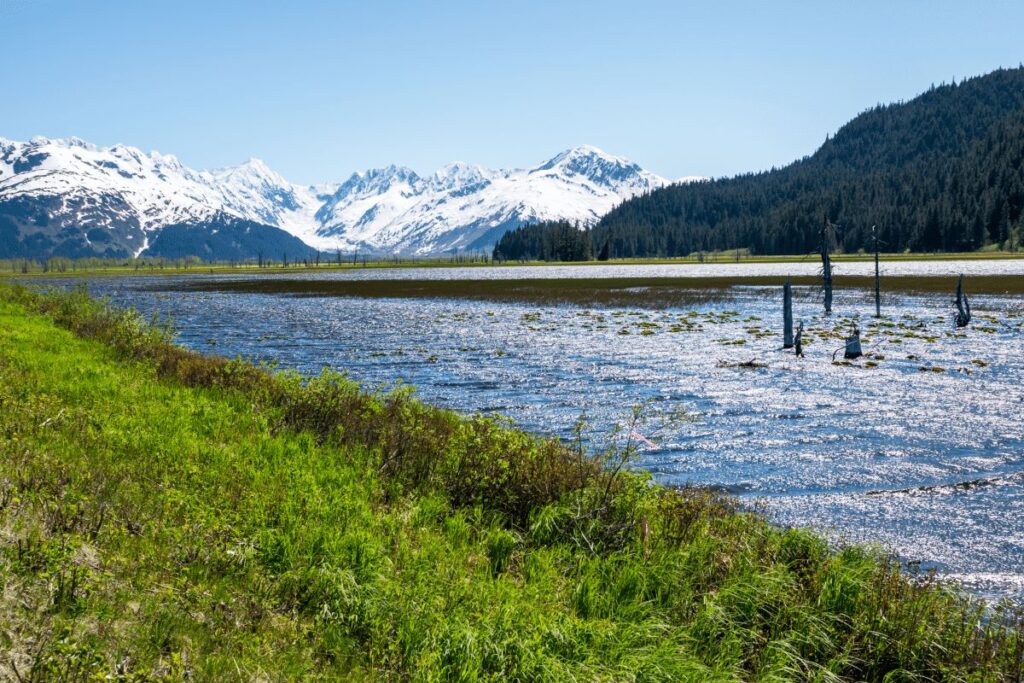 With a maximum of 12 participants, this small-group tour promises an intimate and engaging experience, allowing you to fully appreciate the unparalleled beauty of Alaska's Turnagain Arm. 
Enjoy a stress-free adventure without the burden of driving, as your knowledgeable guide shares fascinating insights into the area's natural history and local lore.
The Turnagain Arm Tour offers a plethora of photo opportunities, allowing you to capture memories of the striking Alaskan landscapes that will last a lifetime.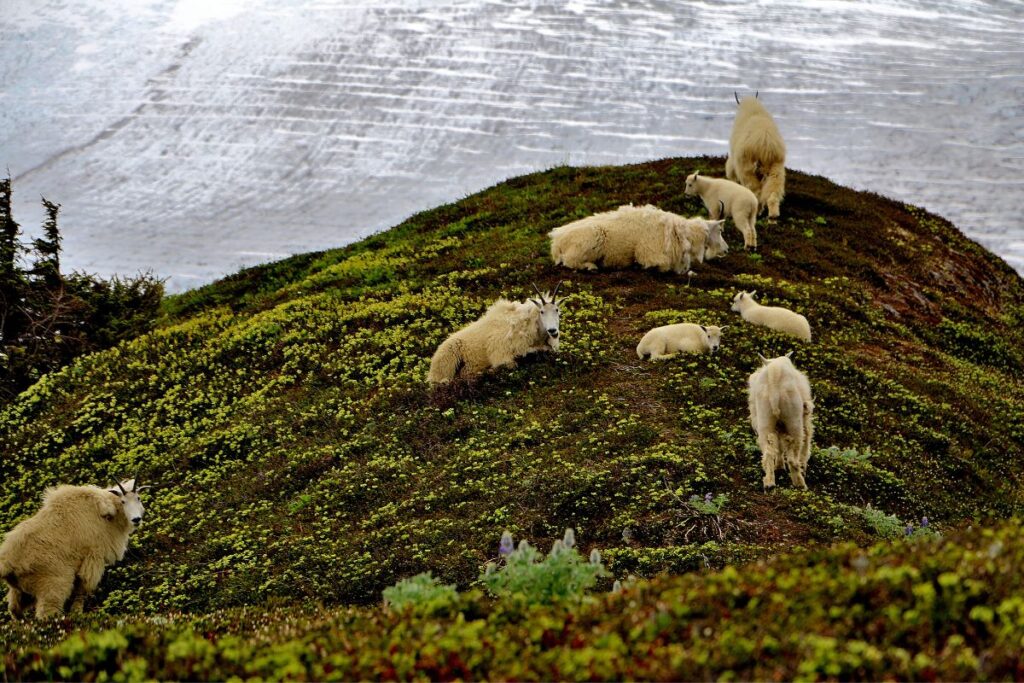 From the panoramic views of Beluga Point to the enchanting sights of Portage Glacier and its surrounding valleys, every moment is an opportunity to create a lasting keepsake of your Alaskan journey.
Visit the Turnagain Art Gallery, owned by master log cabin builder Greg and his wife Wendy, a talented jewelry artist. 
Witness their son Jordon Anderson, a professional and competitive wood carver, as he skillfully creates life-size wood carvings of local animals. 
The gallery is filled with stunning sculptures, unique jewelry, deeply moving paintings, and mesmerizing photographic prints.
Additionally, make your way to Potter Marsh, a scenic wildlife viewing area where you may spot moose year-round and salmon spawning from May to August.
Don't miss this unique and exhilarating opportunity to explore the wonders of Alaska's Turnagain Arm. 
With stunning landscapes, fascinating local art, and the chance to encounter native wildlife, this tour is truly a must-see destination for any adventure seeker.
Embark on an extraordinary journey into the heart of Alaska's wilderness with the Afternoon Wilderness, Wildlife, and Glacier Experience from Anchorage. 
Led by an expert local guide, this adventure takes you into the unspoiled beauty of Chugach National Forest, where you'll encounter native wildlife such as moose and bears, and marvel at the awe-inspiring sight of hanging glaciers in Glacier Valley.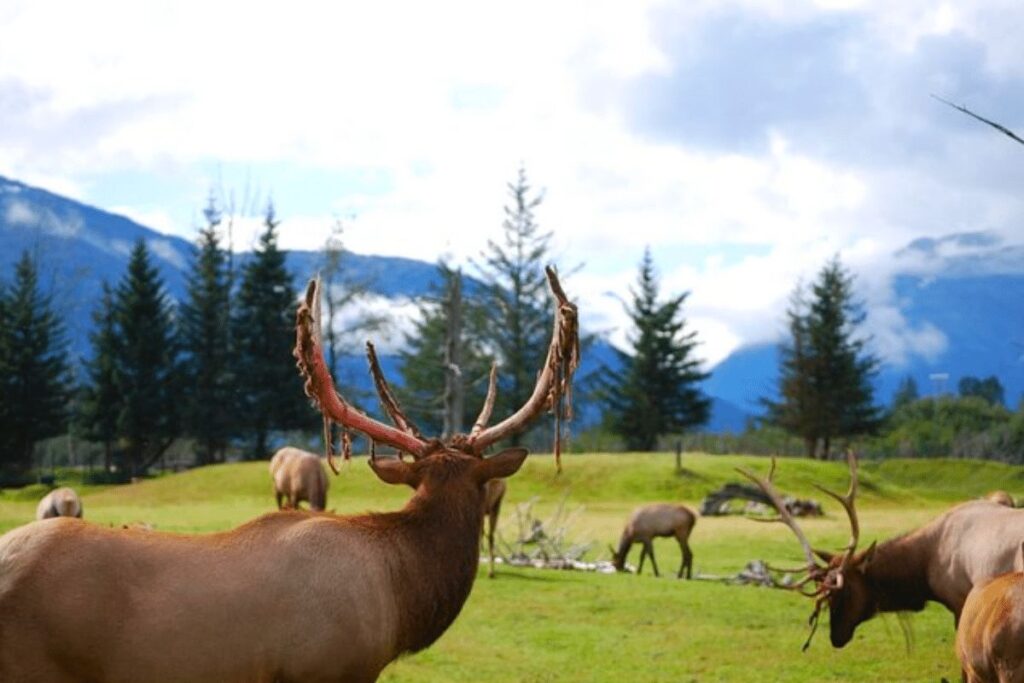 This intimate, small-group tour, limited to 12 people, ensures an immersive and personalized experience that you'll never forget.
This unique tour doesn't follow a set route or timetable, offering you the flexibility to explore the wilderness at its most captivating. 
Your adventure guide will lead you to the most scenic and enchanting locations based on the day's weather and conditions, making your experience truly one-of-a-kind.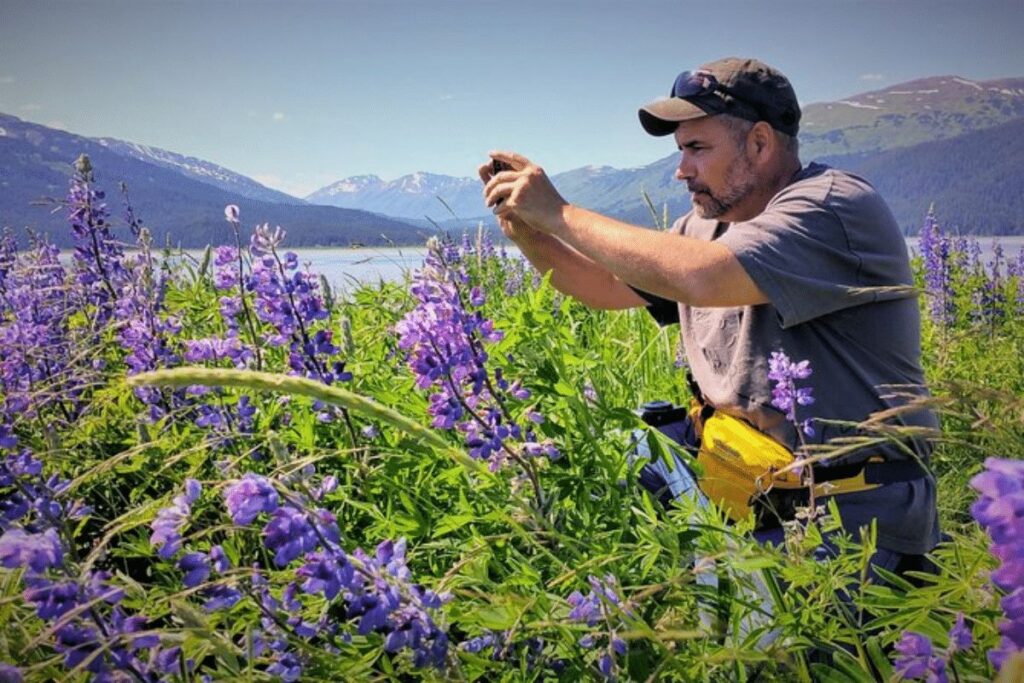 Immerse yourself in the wonders of Alaska's natural landscapes as you visit the Alaska Wildlife Conservation Center and venture into the Chugach National Forest, a region that requires special permits for access. 
Learn about the area's rich history and witness the stunning Ring of Glaciers, an unforgettable sight that can't be replicated by any other tour or shuttle service.
Capture the Moment with Free Photography Lessons – Make your memories of this extraordinary journey last a lifetime with complimentary photography lessons provided by your PicTours Alaska guide. 
Learn how to capture the beauty of Alaska's wilderness, wildlife, and glaciers, ensuring that your photographs become cherished keepsakes for years to come.
Don't miss this exceptional opportunity to discover the wonders of Alaska's wilderness, wildlife, and glaciers on a one-of-a-kind, guided adventure that will leave you spellbound. 
This unforgettable tour is perfect for families, seniors, and nature enthusiasts, providing an experience that will stay with you for a lifetime.
Embark on an unforgettable 90-minute helicopter and dogsled tour in North Anchorage, Alaska, where you'll be captivated by the stunning landscape and unique Alaskan experiences. 
Your adventure begins with a breathtaking helicopter ride over the Church Range and Knik Glacier, where you may spot native animals like moose and mountain goats. As you soar through the sky, marvel at the majestic views that unfold beneath you.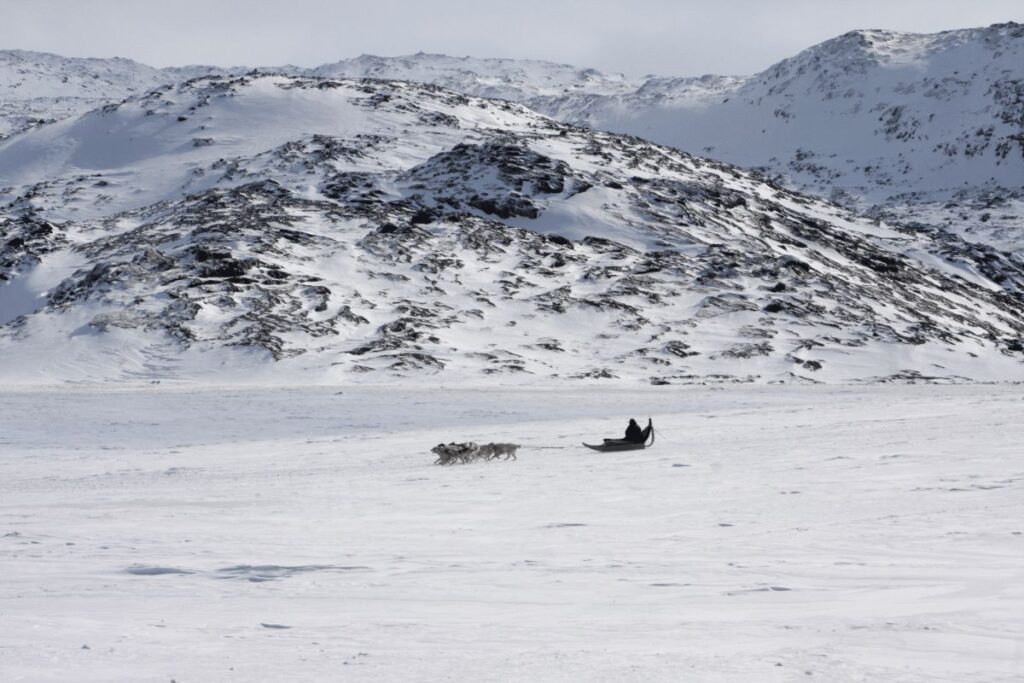 Upon reaching the Troublesome Glacier, a team of 40 sled dogs eagerly awaits to whisk you across the icy expanse for an authentic Alaskan dogsledding experience. 
With the help of these canine athletes and their expert mushers, you'll traverse the glacier, taking in the spectacular surroundings.
Throughout your tour, you'll have the chance to meet the dogs and hear thrilling stories of sled dog races that span over a thousand miles.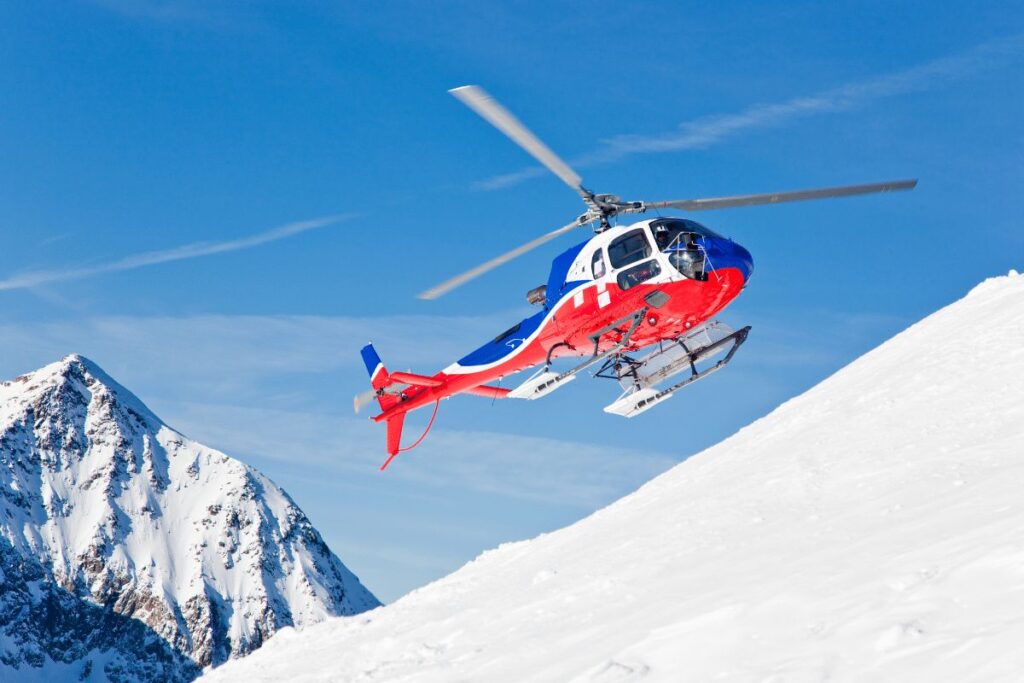 Don't forget to snap photos with your favorite dogs to remember this incredible adventure.
As your tour comes to an end, your helicopter will take you back to the meeting point at Alaska Glacier Lodge. 
On the way, you'll fly over lower glaciers, giving you the opportunity to marvel at the blue melt pools and crevasses.
The tour includes a guided sled dog tour on snow, landing and facility fees.. Be prepared for the possibility of cancellations due to poor weather conditions, in which case you'll be offered a different date or a full refund.
Embark on this once-in-a-lifetime adventure and experience the true essence of Alaska with this incredible helicopter and dogsled tour.
Embark on an unforgettable journey as you soar high above the breathtaking Alaskan landscape on a helicopter tour that will leave you in awe. This remarkable experience offers a bird's-eye view of the majestic mountains, expansive glaciers, and the pristine waters of Prince William Sound – one of the most glaciated areas in North America.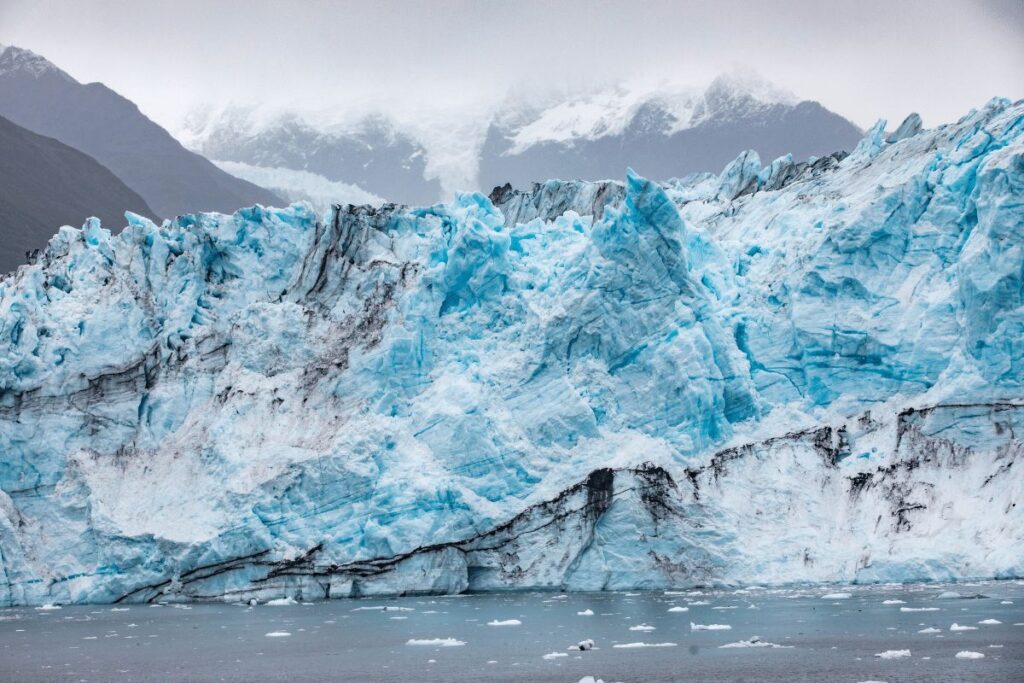 Perfect for photographers and nature enthusiasts alike, this once-in-a-lifetime adventure is a must-see!
The tour begins with a convenient hotel pickup and drop-off service, ensuring a hassle-free start to your journey. 
From there, you'll head to the meeting point at 599 Mt Hood Dr in Girdwood, where you'll receive a brief safety introduction before boarding the helicopter at Alpine Air Alaska.
As you take to the skies, you'll be mesmerized by the stunning aerial views of Alaska's Chugach range. 
Your knowledgeable pilot will point out interesting features of the glaciers and peaks, as you marvel at the immense beauty surrounding you.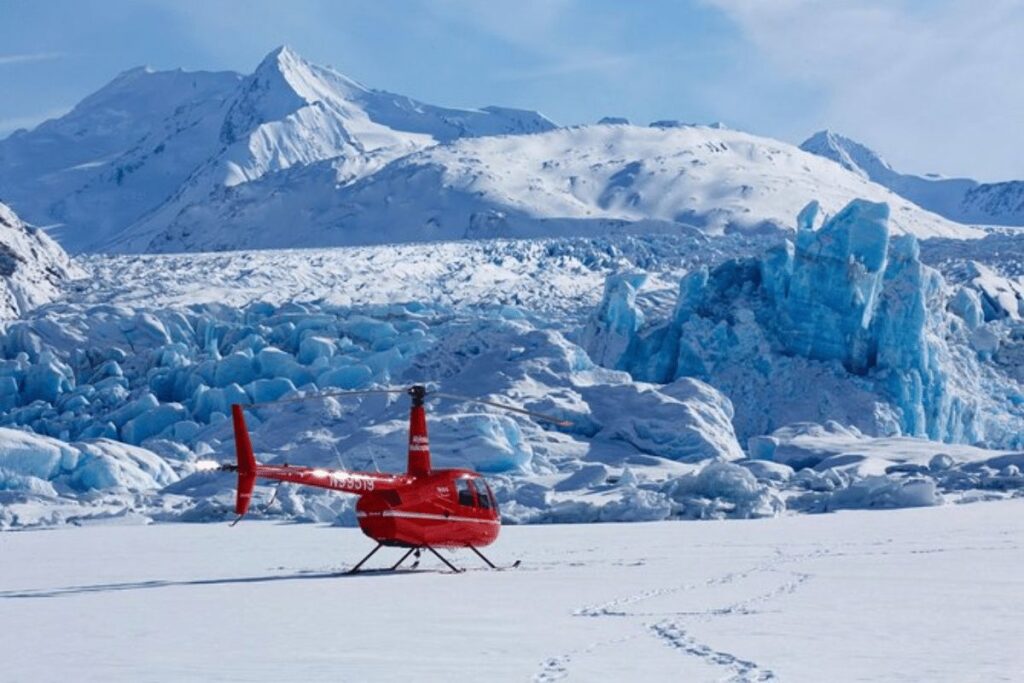 With this unique perspective, your chances of spotting wildlife, such as seals and otters, are significantly increased.
The excitement continues as you touch down on a glacier, stepping out onto the ice for a truly unforgettable experience. Feel the crisp air and take in the surreal landscape as you explore the icy expanse on foot. 
This is a rare opportunity to witness the magnitude of the glaciers up close, and one you'll be sure to treasure for years to come.
After approximately 1 hour and 30 minutes of exploration, you'll return to the helicopter for your flight back to Girdwood. As you pass over Prince William Sound, you'll be treated to one last awe-inspiring sight – the towering face of a mighty glacier.
Don't miss your chance to explore this incredible corner of Alaska. Book your Prince William Sound Tour with Glacier Landing from Girdwood today and prepare for an adventure you'll never forget!
Unleash your adventurous spirit and immerse yourself in the extraordinary beauty of the Matanuska Glacier on a guided hike day tour. 
This unique excursion offers you an up-close and personal encounter with the glacier's stunning terrain, while your expert guide shares fascinating insights into its ever-changing features.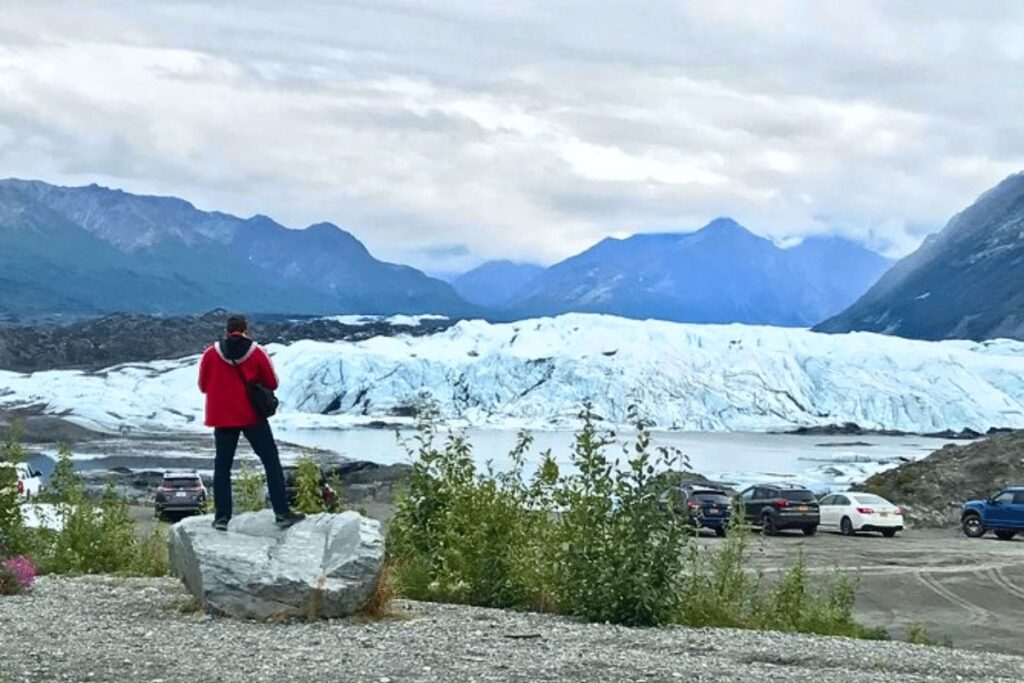 Your unforgettable journey starts with a convenient pickup from select locations in Anchorage. You'll travel along the scenic Glenn Highway, taking in the breathtaking views of the Matanuska Valley as you head towards the glacier. 
Upon arrival, prepare to embark on a 2.5 to 3-hour hike across the glacier's captivating face, led by your knowledgeable guide.
As you traverse the icy landscape, you'll be amazed by the otherworldly beauty of the Matanuska Glacier. 
Your guide will not only ensure your safety during the hike but also share their technical expertise and natural history knowledge, making the tour an informative and enriching experience. 
Don't forget to bring your camera, as this adventure provides endless photo opportunities that you'll want to cherish forever.
Included in this exceptional day tour are bottled water, snacks, live commentary on board, glacier gear (such as ice spikes, hiking poles, and helmets for summer), and admission fees. 
Gratuities and lunch are not included, but you'll have the chance to enjoy a delicious meal at a lodge overlooking the mesmerizing glacier.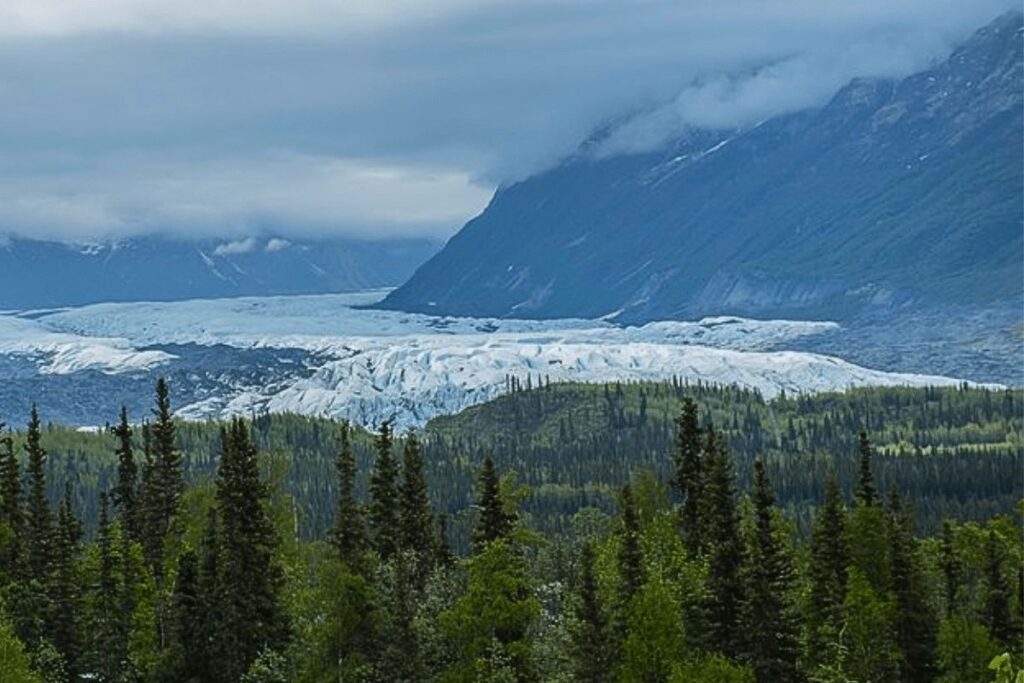 This Matanuska Glacier Hike Day Tour offers you an unparalleled experience of one of Alaska's most fascinating natural wonders. Take a step beyond the ordinary and witness the awe-inspiring beauty of the glacier firsthand.
Don't wait to embark on this once-in-a-lifetime adventure. Book your Matanuska Glacier Hike Day Tour now and create memories that will last a lifetime.
Experience the breathtaking beauty of Alaska on a round-trip journey from Anchorage to Seward aboard the Coastal Classic Train. 
This remarkable adventure takes you along the scenic Turnagain Arm, offering awe-inspiring views of the rugged coastline, majestic Chugach Mountains, dramatic river canyons, ancient glaciers, cascading waterfalls, and the enchanting backcountry wilderness.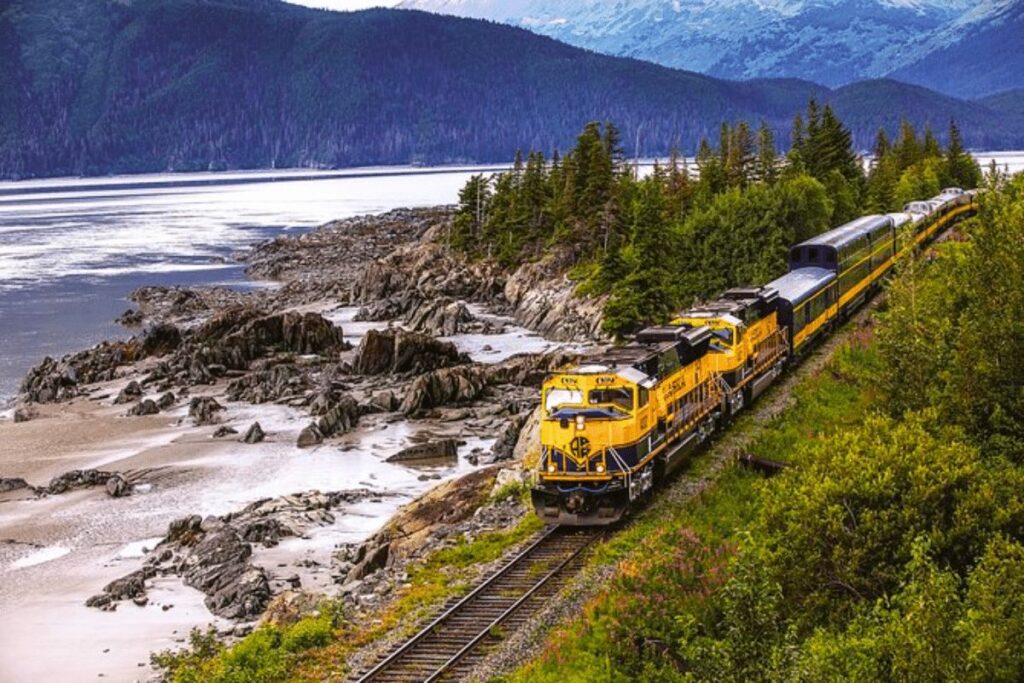 As you embark on this unforgettable 4-hour journey, you'll enjoy the comfort of reserved seating and the captivating on-board narration from an Alaskan tour guide who will share fascinating stories and insights into the region's natural and cultural history. 
The train's large picture windows and open vestibules offer unobstructed views, providing you with ample opportunities to capture stunning photographs of the incredible landscapes.
Upon arriving in the charming port town of Seward, you'll have free time to explore at your leisure or opt for an exciting wildlife and glacier day cruise to the Kenai Fjords (at your own expense). Remember to book in advance to ensure a spot on these popular excursions.
Your round-trip rail journey includes comfortable reserved seating and knowledgeable Alaskan tour guides providing engaging narration throughout the trip. Please note that accommodations, tours, and activities in Seward are not included in the package.
The train departs from the Anchorage Depot at 6:45 am, arriving in Seward at 11:15 am. After your day of exploration, board the train again at 6:00 pm for your return journey, reaching Anchorage at 10:15 pm.
Don't miss the opportunity to embark on this extraordinary rail adventure through Alaska's breathtaking landscapes. Book your Alaska Railroad Anchorage to Seward Round-Trip now and create memories that will last a lifetime.
Discover the unparalleled beauty of Lake Clark National Park, a pristine wilderness teeming with breathtaking rainforests, expansive tundra, and majestic volcanoes. 
This incredible destination, accessible only by boat or air taxi, offers a unique opportunity to embark on an extraordinary bear viewing excursion and airplane adventure tour.
Your journey begins with an introduction to your knowledgeable guide and pilot, who will provide a safety briefing, discuss best bear viewing practices, and review your gear.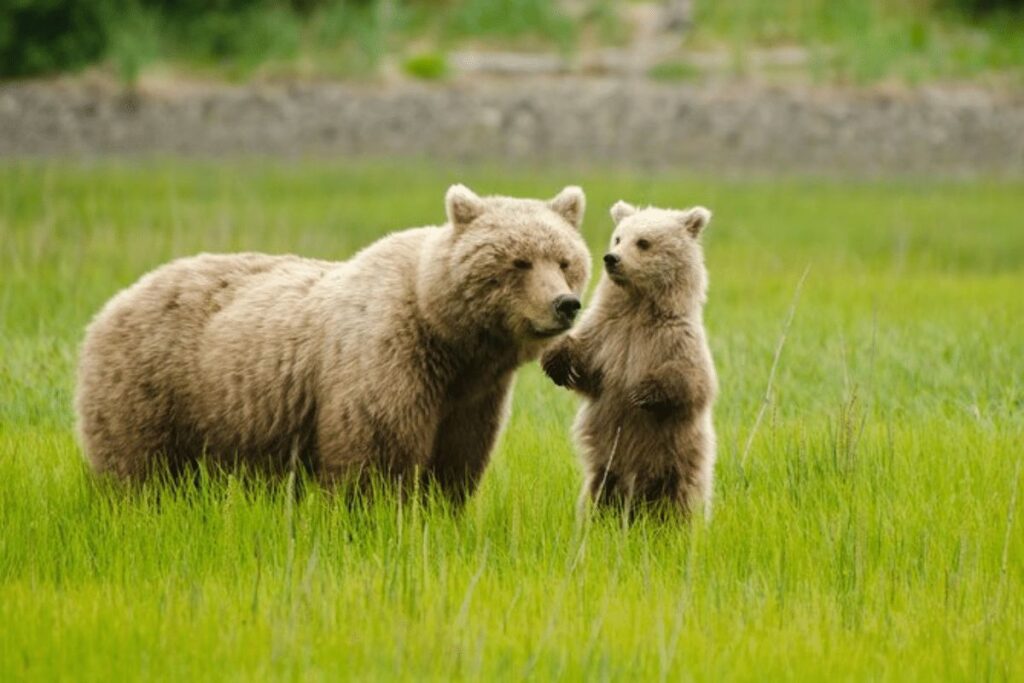 As you soar over downtown Anchorage and towards the park, marvel at the stunning panoramas of mountains, glaciers, and wildlife during the approximate 1-hour flight. 
Enjoy two-way communication with your pilot and fellow passengers, as you capture stunning photos and videos from your window seat while learning about Alaska's wonders.
Following a thrilling remote landing near the bears, immerse yourself in the heart of the National Park as you spend hours observing these magnificent animals in their natural habitat. 
Your expert guide will ensure the best up-close bear-watching opportunities while prioritizing your safety. Witness bears at play, teaching their cubs, clamming, resting, and even mating. 
As you explore, traverse the tundra, grassy meadows, and riverside trails for a truly once-in-a-lifetime experience.
Continue your adventure with a shoreside picnic lunch on a secluded beach inside the National Park. As you relax, enjoy beachcombing, swapping stories, and sharing photos with your new friends against the backdrop of stunning views and the serenity of this remarkable place.
As you embark on your return flight to Anchorage, marvel at the captivating vistas of Alaska's tidal coastline. This all-encompassing excursion promises to leave you exhausted yet rewarded, with memories to treasure for a lifetime.
Embark on a full-day adventure through the awe-inspiring Alaskan wilderness, where you'll witness the majesty of supersized glaciers, encounter the hardy wildlife of the tundra, and experience the rugged beauty of Alaska's landscapes. 
Departing from Anchorage, journey along a picturesque byway towards the Turnagain Arm of the Cook Inlet, nestled between the stunning Chugach and Kenai mountain ranges.
As you glide alongside the ancient blue ice of Portage Glacier on a serene lake cruise, appreciate the power and beauty of these natural wonders. Stop for a delicious lunch at a cozy lodge and take in the breathtaking views of Portage Lake, or explore the nature trail behind the lodge for a more immersive experience.
At the Alaska Wildlife Conservation Center, encounter an array of native Alaskan wildlife, such as caribou, musk ox, and lynx, all in a natural and carefully preserved setting.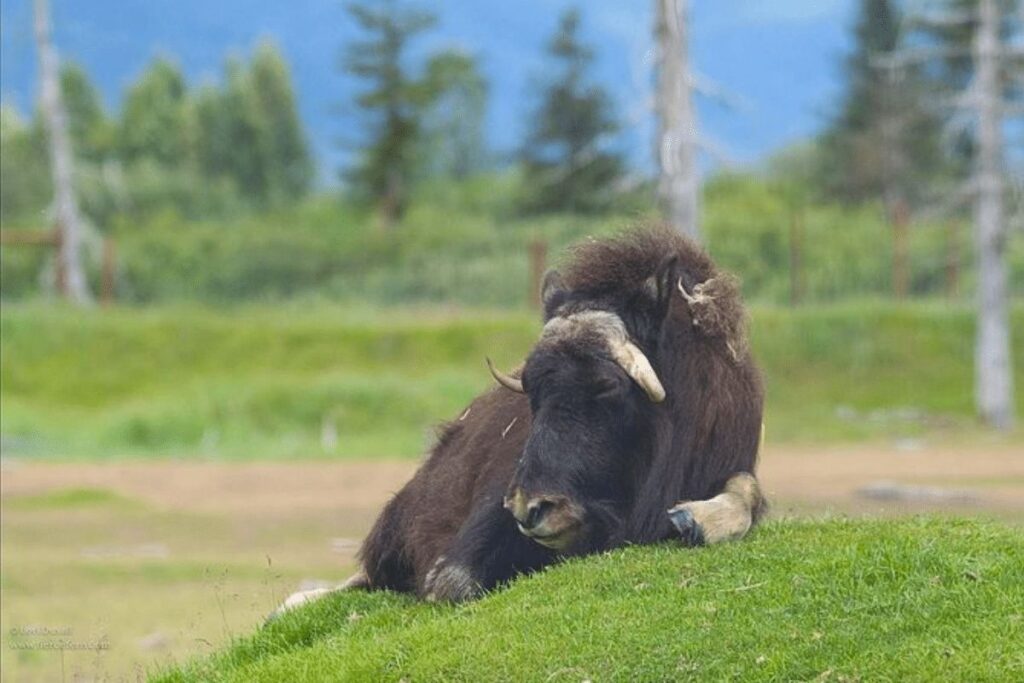 Your experienced, year-round Alaskan guides will provide a fully-guided tour, offering the option to either observe the animals from the comfort of a Sprinter van or venture out on foot for a closer look.
As you head towards the Chugach State Park, prepare to be captivated by the panoramic views of Anchorage and the surrounding area from the Glen Alps overlook, high up in the Chugach Mountains.
This small-group tour offers a more personalized experience, ensuring you'll create unforgettable memories while exploring Alaska's glaciers, mountains, lakes, and remarkable wildlife.
Our Overview 
Alaska offers an unparalleled range of experiences that showcase the state's diverse landscapes, majestic glaciers, and fascinating wildlife. 
These carefully curated tours allow you to discover the best of Alaska's natural wonders in a comfortable, safe, and informative setting. 
From cruising alongside ancient glaciers to observing bears in their natural habitat and exploring the rugged tundra, each tour offers a unique and unforgettable adventure.
With knowledgeable, experienced guides and small group sizes, these tours ensure personalized and engaging experiences that will leave you with a deeper appreciation for Alaska's breathtaking beauty and rich ecosystems. 
So whether you choose to embark on a bear-viewing airplane adventure, explore the striking Matanuska Glacier, journey on the Alaska Railroad, or immerse yourself in a super scenic day tour encompassing glaciers and wildlife, you are sure to create memories that will last a lifetime.
Don't miss the opportunity to experience the pristine wilderness, incredible wildlife, and awe-inspiring vistas that Alaska has to offer. Book your once-in-a-lifetime adventure today and prepare to be amazed by the unforgettable wonders of the Alaskan frontier.