Explore 12 top water tours from Phoenix: Kayak, raft & paddleboard on Arizona's lakes!
Phoenix isn't just about dry deserts; it's a launchpad for some wet and wild escapades! Get ready to dive into our top 12 aqua adventures that Arizona has up its sleeve.
Think kayaking past towering cliffs, rafting down the lively Salt River, or paddleboarding into the sunset. Each tour is a splashy ticket to Arizona's coolest waterscapes, led by pros who know these rippling routes like the back of their paddle.
So, slap on the sunscreen, don your favorite hat, and let's make some waves with the best water tours Phoenix has to offer. Your Arizona aqua adventure starts now!
Kayaking is a thrilling way to explore the natural beauty of a location, and Saguaro Lake in Phoenix, Arizona is no exception. The lake is nestled amidst the Sonoran Desert and boasts breathtaking views of the surrounding canyon and cliffside.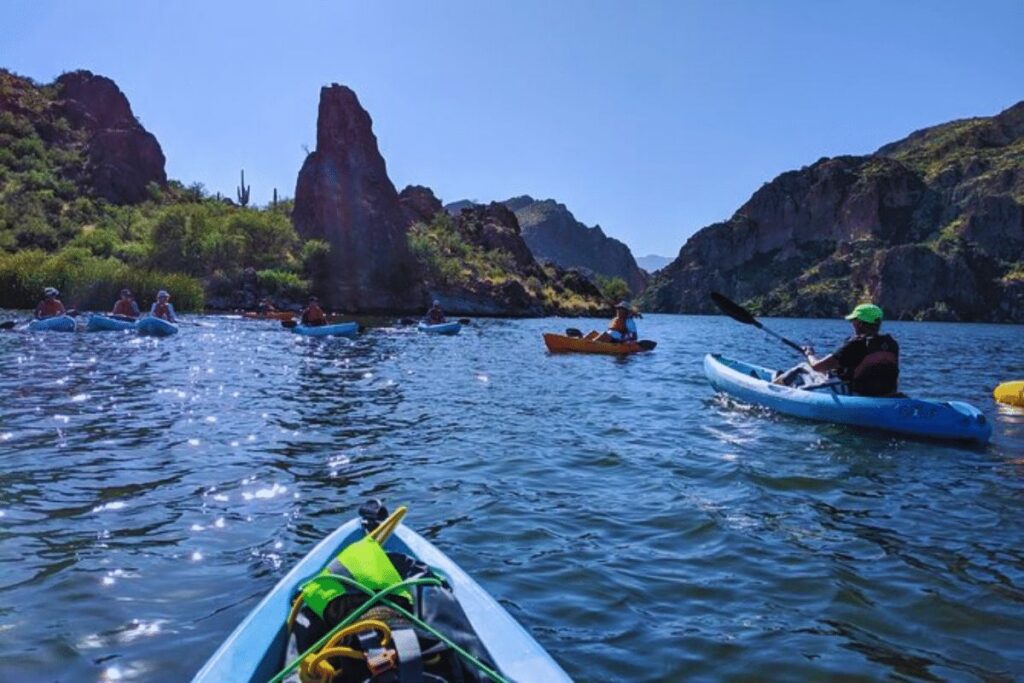 Kayaking on the lake provides an opportunity to experience the unique landscape of the area from a completely different perspective. 
This kayaking experience on Saguaro Lake is a three-hour adventure that starts from the Butcher Jones Recreation Site. 
The adventure begins with a safety briefing and an introduction to the equipment, after which the kayakers head out onto the water. 
The kayaks used for this adventure are stable and easy to maneuver, making them suitable for both novice and experienced kayakers.
The first part of the adventure takes kayakers through a picturesque canyon with towering cliffs on either side. The water is crystal clear, and kayakers can see fish swimming beneath the surface. 
The canyon walls are home to a variety of desert flora and fauna, including cacti, birds, and small mammals. The peacefulness of the canyon is breathtaking, and the only sounds heard are the paddles hitting the water and the occasional bird call.
After paddling through the canyon, the kayakers come across a hidden cove, surrounded by towering cliffs. 
This is the perfect spot for a break, and kayakers can take a moment to admire the stunning views. The water in the cove is shallow and calm, making it an ideal spot for a swim or a quick dip.
The final leg of the adventure takes kayakers along the cliffside of the lake, providing an incredible view of the surrounding desert landscape. 
The cliffs are home to a variety of wildlife, including eagles and bighorn sheep. The kayakers can paddle close to the cliffs and take in the breathtaking views.
The Canyon & Cliffside kayaking experience on Saguaro Lake is an unforgettable adventure that offers an opportunity to explore the natural beauty of the area from a unique perspective. 
The stunning views of the canyon, cove, and cliffside make this adventure an excellent choice for anyone looking to immerse themselves in the beauty of the Sonoran Desert. 
Whether you are a novice or experienced kayaker, this adventure is a must-do when visiting Phoenix, Arizona.
This tour takes you on a thrilling ride down the beautiful Lower Salt River, located just a short drive from Phoenix, Arizona.
The tour begins with a scenic drive through the Tonto National Forest, where you can take in the breathtaking views of the desert landscape and the surrounding mountains.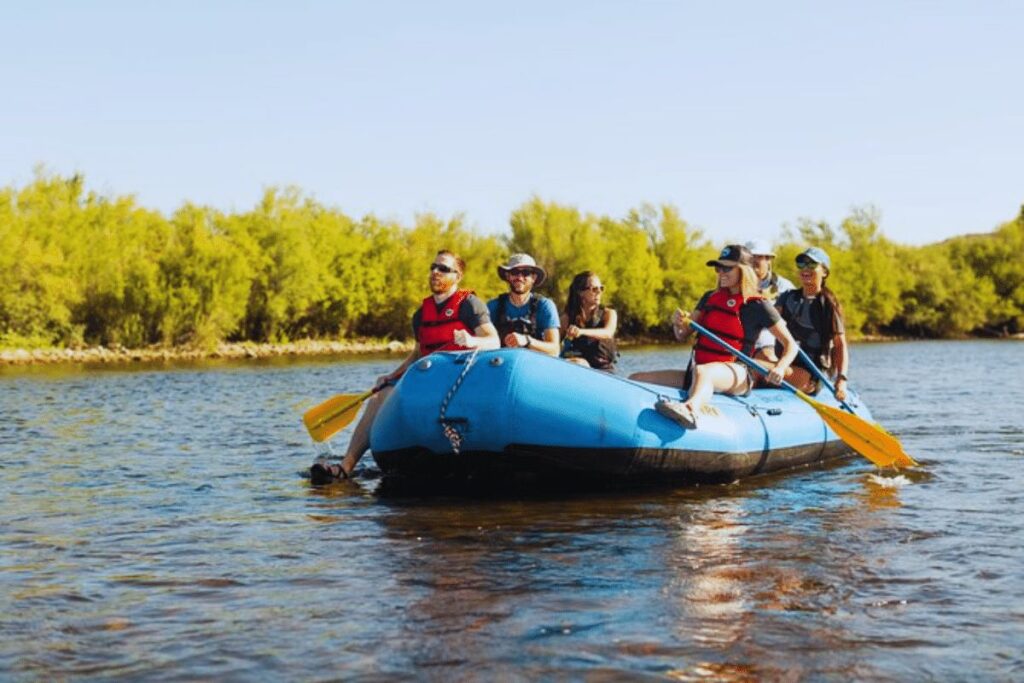 Once you arrive at the river, your expert guide will provide you with all the necessary equipment and safety instructions before you embark on your rafting journey.
As you set out on the river, you'll feel the rush of the water as it propels you through exciting rapids and calm stretches. 
The Lower Salt River is home to a variety of wildlife, including majestic bald eagles and playful river otters, so keep your eyes peeled for these incredible creatures as you make your way downstream.
One of the highlights of the tour is a stop at a beautiful swimming hole, where you can take a refreshing dip in the cool, clear water and soak up the sun on the sandy beach. 
Your guide will also provide you with a delicious snack and plenty of water to keep you energized and hydrated throughout the trip.
Whether you're an experienced rafter or a first-timer, the Half-Day Lower Salt River Rafting Tour is the perfect way to experience the beauty and excitement of the Arizona wilderness. 
So grab your friends and family and book your tour today for an unforgettable adventure that you'll remember for years to come!
Get ready for a thrilling adventure through the Sonora Desert on the Apache Trail and Dolly Steamboat Van Tour! This tour takes you on a journey through some of the most beautiful and rare desert landscapes found in the American Southwest and Mexico.
You'll start your day by hopping aboard the Dolly Steamboat, an old-fashioned steamboat that takes you on a 90-minute cruise through a stunning slot canyon on Canyon Lake.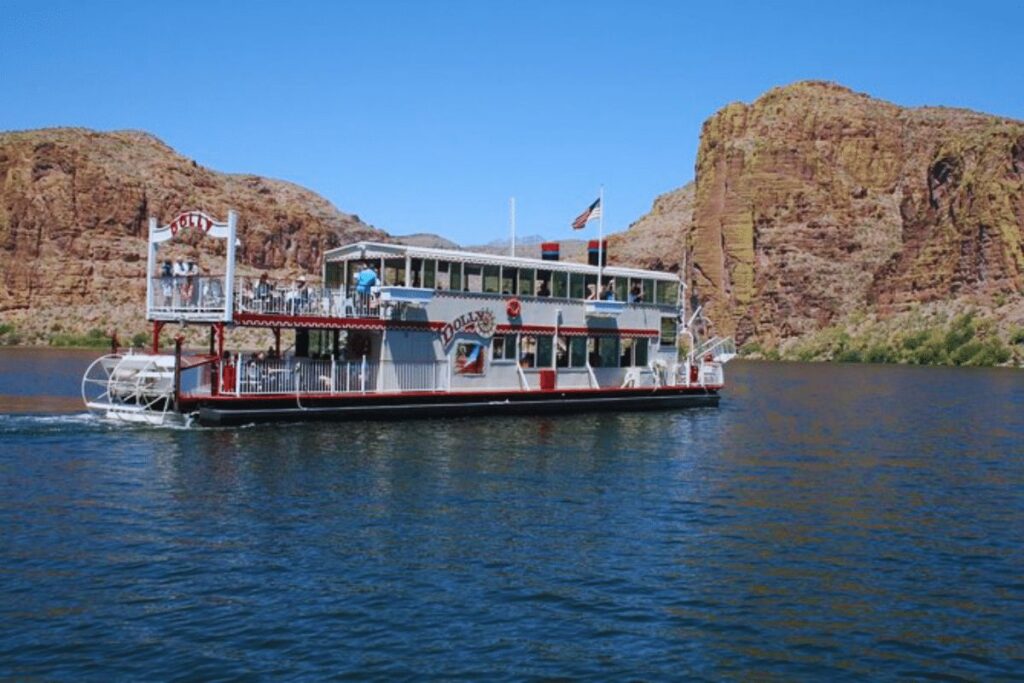 Keep your eyes peeled for wildlife like longhorn sheep and eagles along the way! Your narrated cruise offers incredible views of the surrounding Sonora Desert, and you'll be mesmerized by the beauty of the area.
After your cruise, you'll continue your adventure on the Apache Trail scenic drive, which takes you deep into the heart of the Sonora Desert.
 Along the way, you'll stop at Tortilla Flat, a former stagecoach stop with a population of only six people! Here, you can grab lunch and do some shopping, all while taking in the stunning views of the desert.
But the adventure doesn't stop there! Your tour also includes a stop at Lost Dutchman State Park, where you'll take a short walk into the Sonora Desert with your guide. 
They'll point out the unique desert plants and share interesting facts about the area's history and culture.
Throughout your tour, you'll be accompanied by a knowledgeable driver/guide who will share fascinating stories and facts about the area. And don't worry about the details, because your tour includes hotel pickup and drop-off, bottled water, and gratuities.
Looking for an exhilarating adventure that showcases Arizona's natural beauty? Look no further than the Salt River Kayaking Trip, an incredible excursion that takes you through the heart of Tonto National Forest.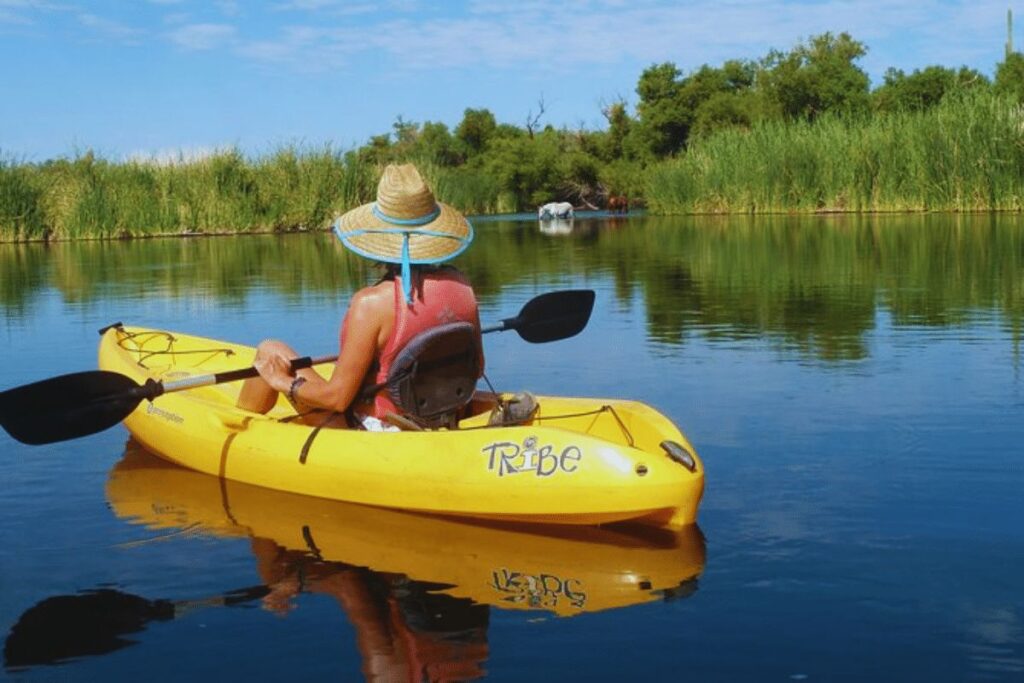 As the largest national forest in Arizona, Tonto is known for its breathtaking vistas and incredible wildlife. And on this kayaking tour, you'll have the opportunity to experience it all from a unique perspective: the water.
Starting at Saguaro Lake, you'll embark on a thrilling journey down the Salt River. As you paddle along, keep your eyes peeled for the park's famous wild horses, who roam freely through the area. 
And with stunning views of Tonto National Forest all around you, you'll feel like you've stepped into a postcard-worthy landscape.
Don't worry if you're a kayaking novice – full instruction is provided, so you can feel confident and comfortable on the water. 
And with multiple departure times throughout the day, you can choose a schedule that works for you.
So what are you waiting for? Book your Salt River Kayaking Trip today and experience the beauty and excitement of Tonto National Forest like never before.
Are you ready for an adventure of a lifetime? Look no further than our Best Kayaking Tours in the Phoenix area. Our tours offer an unforgettable experience paddling through remote coves filled with Arizona's incredible wildlife. 
From Wild Burro to Bald Eagles, you'll get to witness nature up close and personal like never before.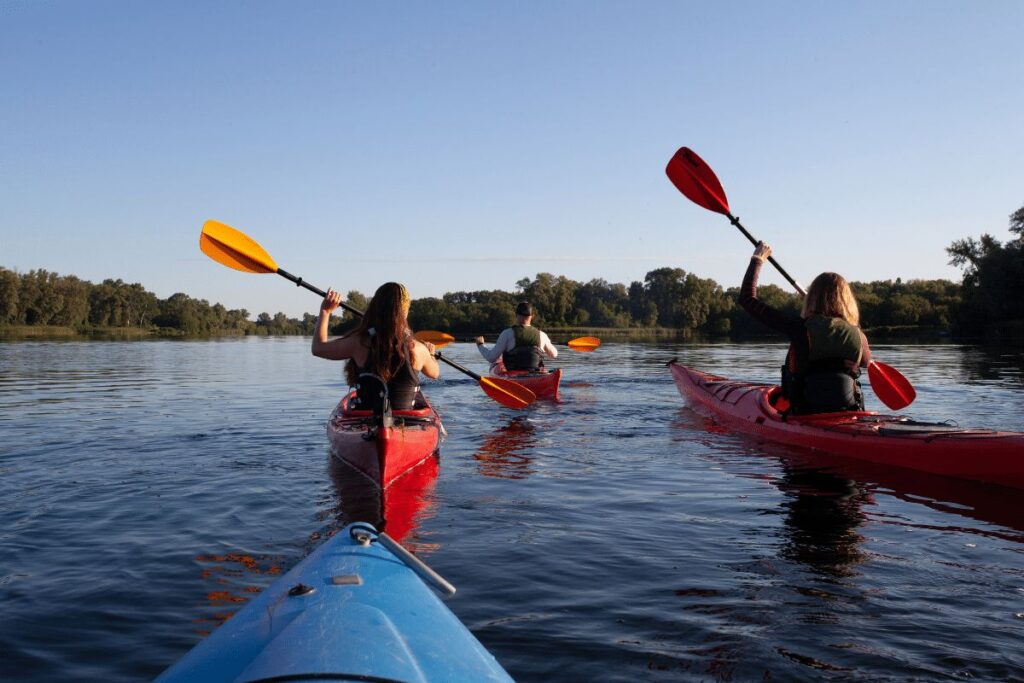 Our 3-4 hour guided kayak tour takes place on the serene and picturesque Lake Pleasant. It's the perfect getaway from the hustle and bustle of everyday life, and the ideal opportunity to relax and unwind in nature.
Whether you're a seasoned pro or a beginner, our tours are suitable for all skill levels.
We provide all the necessary equipment, including kayaks, paddles, and life vests. Plus, we offer plenty of bottled water and healthy snacks to keep you energized throughout your journey.
Our meeting point is at Castle Creek Drive in Peoria, Arizona. It's a beautiful spot with stunning views and picnic tables to relax before or after your tour. We recommend arriving 15-20 minutes early for check-in so that you have plenty of time to prepare.
One of the things that makes our tours so special is the wildlife you'll encounter along the way. Keep your eyes peeled for Deer, Javelina, Coyotes, and even Bald Eagles! It's an opportunity to witness nature in its purest form and make memories that will last a lifetime.
Don't forget to dress appropriately for the weather. Winters can be a bit chilly, while summers can be hot, so make sure to wear clothes that are comfortable and appropriate for the conditions. 
You'll also want to wear footwear that can get wet, like water shoes, sandals, or old sneakers.
Our kayaking tours run from January to September, with varying hours depending on the season. You can confirm the start time with the local provider when you book your experience.
Are you ready for an unforgettable adventure in Phoenix? Look no further than this exciting half-day, small-group stand-up paddleboarding tour at Saguaro Lake!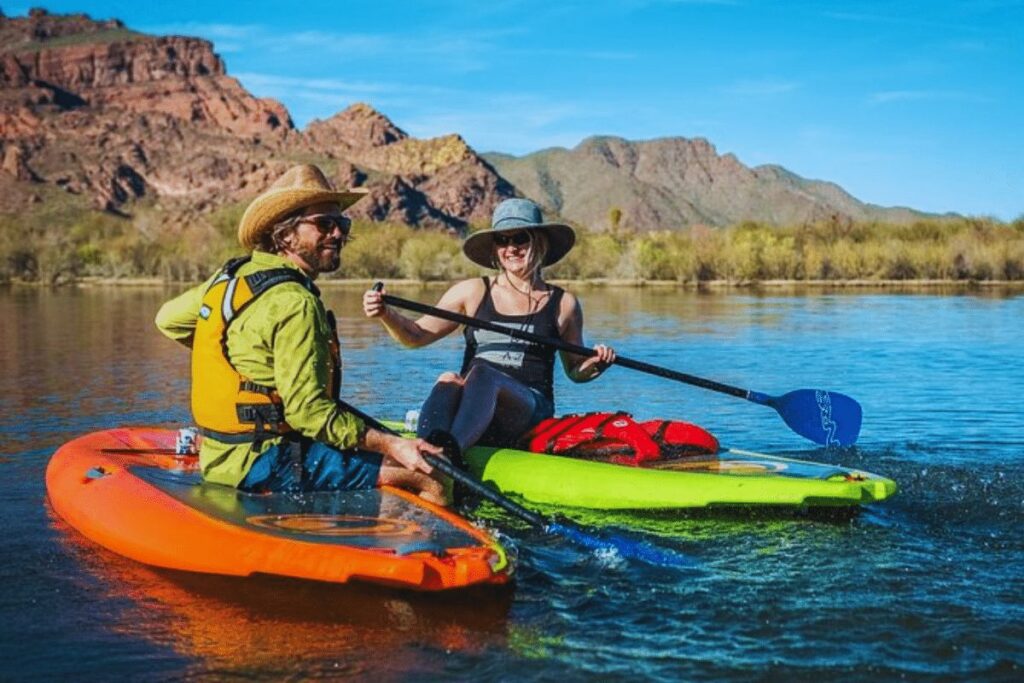 With morning and afternoon tour times available, you can choose the option that works best for you.
This tour is perfect for beginners, as you'll receive an introduction to the equipment and learn basic techniques from a professional safety-certified SUP guide. 
You'll also receive one-on-one guidance and support throughout the tour to ensure that you feel comfortable and confident on the water.
Once you're ready to hit the water, you'll be amazed by the stunning Southwestern scenery that surrounds you. Saguaro Lake is part of the Butcher Jones Recreation Site, which offers some of the best wildlife and bird watching opportunities in the Southwest. 
Keep your eyes peeled for local wildlife as you paddle through the crystal-clear waters of the lake.
This small-group tour is capped at 13 people, which ensures hands-on support from your guide. You'll be provided with all the necessary equipment, including SUP and paddles, and water and snacks will be provided for the duration of the tour.
Tours typically last about 4 hours and are available on Monday, Wednesday, and Friday mornings. The tour commences at a variety of locations depending on the day's water traffic, and all equipment is transported to and from the lake.
Whether you're a local or a visitor to Phoenix, this stand-up paddleboarding tour is the perfect way to enjoy an active and adventurous half-day excursion. 
So what are you waiting for? Book your tour today and experience the thrill of stand-up paddleboarding in Phoenix!
Embarking on an exciting adventure through the stunning Sonoran Desert oasis, visitors can discover the beauty of giant saguaro cacti and other plants and animals on the rocky, mountainous shoreline of a clear, cool lake.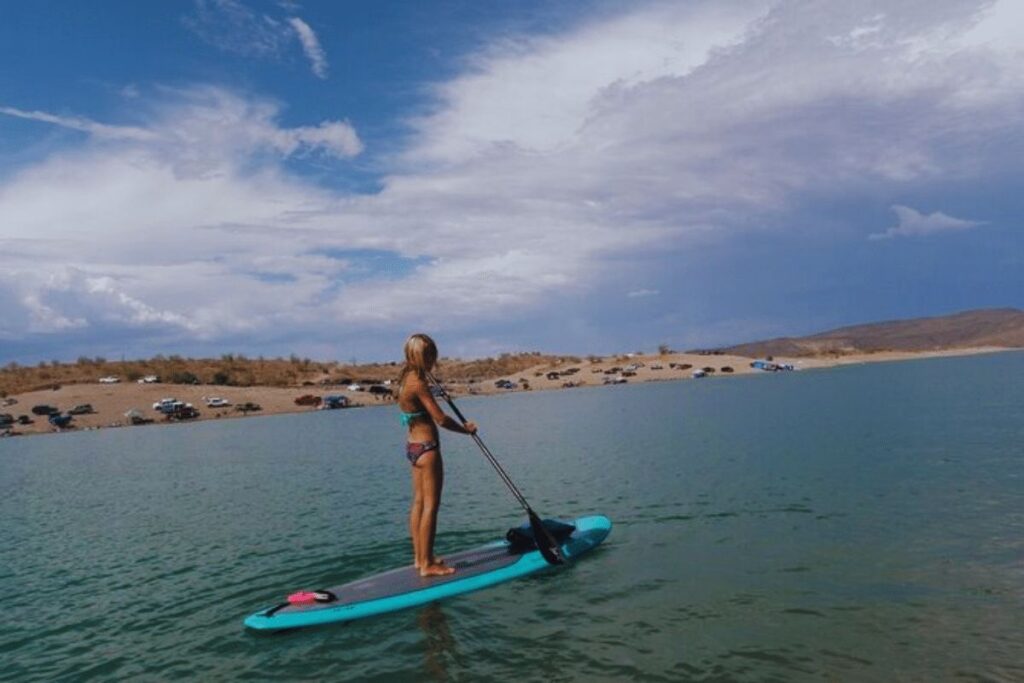 With numerous coves, inlets, and islands to explore in the 7,500-acre reservoir, this regional park spanning over 23,000 acres provides the perfect backdrop for a stand-up paddleboarding adventure.
At their own pace, visitors can paddle through the beautiful waters and take in the awe-inspiring views of the surroundings. 
With the guidance of a SUP expert, they can learn the nuances of stand-up paddleboarding and explore the geology, plants, and wildlife of the Sonoran Desert.
The adventure lasts three hours on the water, providing plenty of time to relax, swim, and enjoy the crystal-clear water. The pro guides lead visitors to the best features and attractions of Lake Pleasant regional park, ensuring an unforgettable experience. 
Bottled water, soda/pop, and snacks are included to keep visitors refreshed and energized throughout the adventure.
Meeting at Wild Burro Day Use Area, located within Lake Pleasant Regional Park, visitors can expect to leave with unforgettable memories of their awesome stand-up paddleboarding adventure in the Sonoran Desert oasis. 
With a chance to catch a glimpse of the wild burros that roam the shores, this adventure offers an incredible opportunity to experience the beauty of the Sonoran Desert in a unique way.
The canals in Phoenix have a rich history dating back to the Hohokam civilization, who constructed them to bring water to the barren desert. 
Today, the canals are stocked with White Amur, also known as grass carp, to control vegetation. These fish are a popular target for fly fishermen, as they provide a unique visual fishing experience.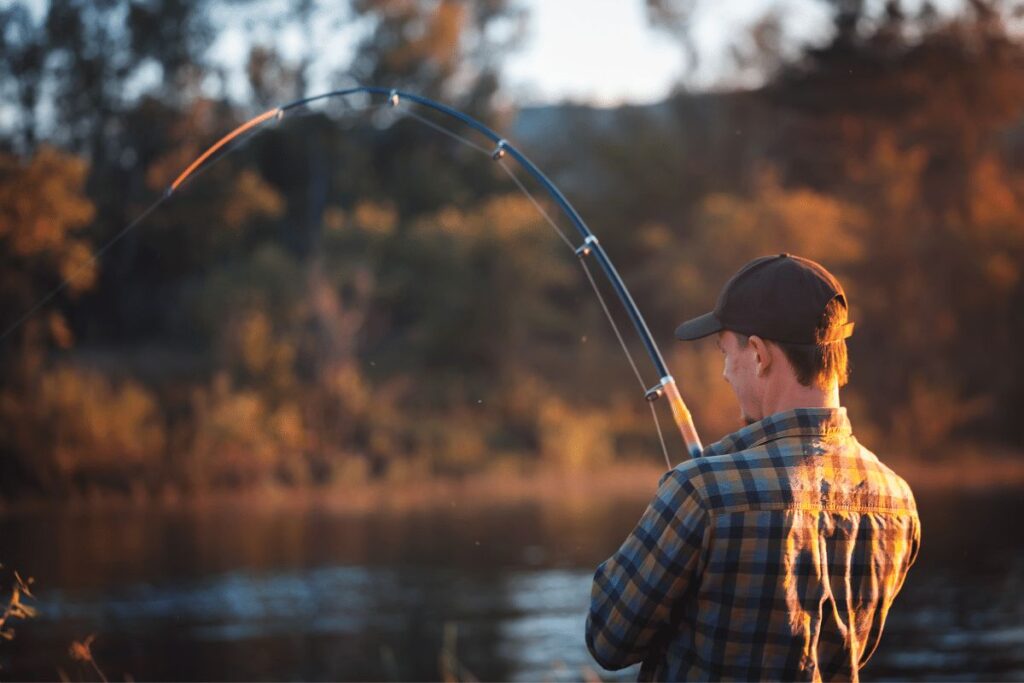 Low Water Fly Fishing is the only guiding service in Phoenix that offers fly fishing trips on the city's canals. All of their guides are local Phoenicians who know the best spots to fish and can provide a unique experience for every skill level.
During the trip, you can expect to catch carp on streamers and dries, right in the heart of Phoenix's busy city. You can also experience flats-style carp fishing from a skiff, specially designed for Arizona. 
In addition, the guiding service also offers opportunities to chase largemouth bass using poppers during the summer, and streamers for the rest of the year.
The trips are action-packed and allow you to experience the beauty of the desert landscape. 
The guiding service provides all necessary equipment, including rods, reels, tackle, and flies. Bottled water is also included in the package.
The guiding service offers half-day private trips, which are perfect for those who are short on time but still want to experience fly fishing in Phoenix.
If you're looking for a unique outdoor experience in Phoenix, consider booking a fly fishing trip with Low Water Fly Fishing. 
With their knowledgeable guides and beautiful desert scenery, it's sure to be a memorable adventure.
This self-guided kayaking tour offers an exhilarating experience for nature enthusiasts seeking an escape from the hustle and bustle of city life.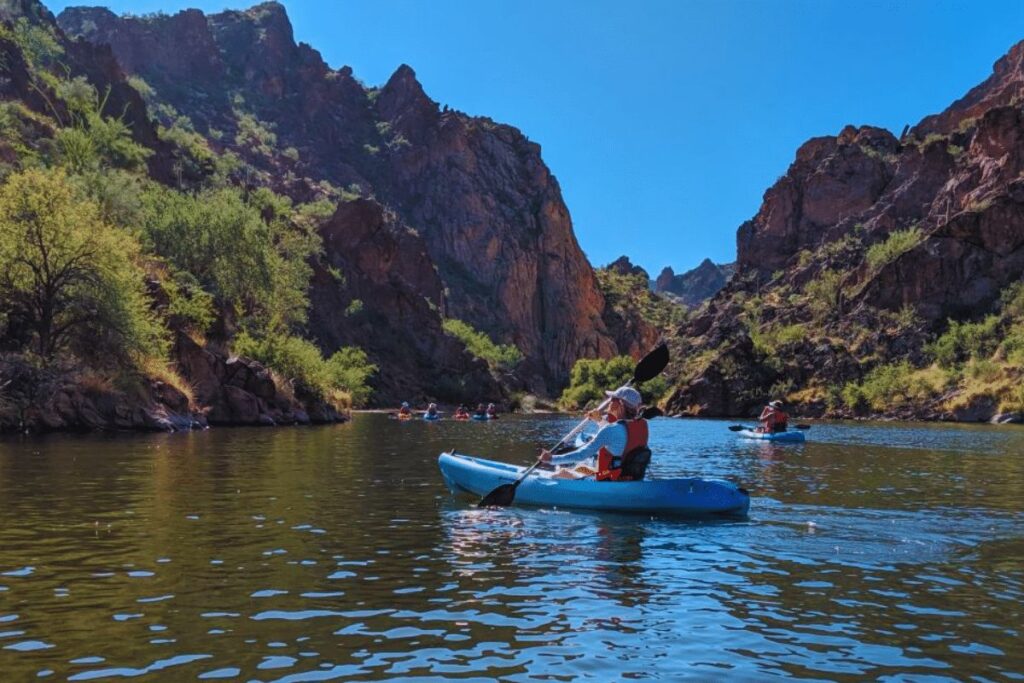 Immerse yourself in the serene waters of Saguaro Lake, surrounded by the magnificent cliffs of the Sonoran Desert, and witness the captivating flora and fauna of the Tonto National Forest. 
The "sit-on-top"-style kayaks provided in this tour are incredibly stable and easy to maneuver, making it a perfect activity for all levels of paddlers.
During this 2-hour kayaking tour, you will have the freedom to travel at your own pace and enjoy the picturesque views of the Tonto National Forest. 
Keep an eye out for bighorn sheep, deer, blue herons, osprey, and bald eagles that call this place their home.
Prior to embarking on the kayaking tour, you will receive an orientation on basic safety and paddling instructions. 
A single-person kayak, paddle, life vest, and a parking pass will be provided to you as part of the tour package.
To make your kayaking experience more comfortable, we recommend you bring sunscreen, water, water shoes, waterproof bags, and quick-dry clothing. 
It's essential to note that the tour has a weight limit of 275 pounds per kayak, and no alcohol or glass is allowed on board.
In light of the COVID-19 pandemic, we have implemented special health and safety measures to ensure your well-being. Book now, pay later, and enjoy the flexibility to cancel up to 24 hours before the tour for a full refund.
Children under nine years old, people with mobility impairments, and wheelchair users are not permitted to participate in the tour. 
Meet the kayaking staff inside the Saguaro Lake Ranch and get ready for an unforgettable outdoor adventure. Check availability to see starting times and book your spot today!
Looking for an adventure away from the hustle and bustle of Phoenix? Join a guided kayak tour and experience the breathtaking sunset over Lake Pleasant.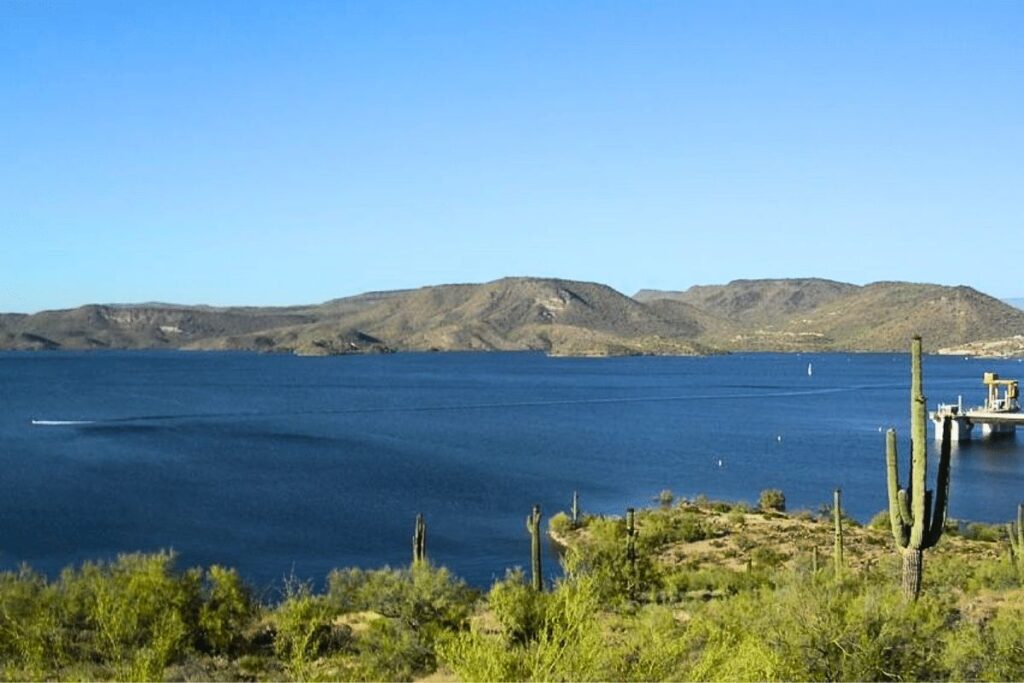 You will paddle through 10,000 acres of stunning nature and pass by bays and islands while admiring the local wildlife.
The tour is 2.5 hours long and is limited to a small group of six participants. The sit-on-top kayaks come with backrests, making your experience relaxing and effortless. 
The tour includes a tour guide, kayak and paddle, life vest, and transportation to and from the lake.
Meet your guide at the waterfront with all the necessary gear, and paddle away from the shore to explore the most beautiful corners of Lake Pleasant, located in the Northwest Valley, about 45 minutes from Downtown Phoenix.
Children under 5 years are not permitted, and children must ride in tandem with an adult. Don't forget to bring a change of clothes and a towel.
The meeting point is around Desert Tortoise Campground, and the exact location will be sent to you the night before. 
Look for OAC Tours vans and bright-colored kayaks. Book your spot now, pay nothing today, and enjoy a memorable evening of relaxation and outdoor fun with your friends or family.
Get ready for a heart-pumping adventure as you kayak through the awe-inspiring Sonoran Desert on the Saguaro Lake Kayaking Tour!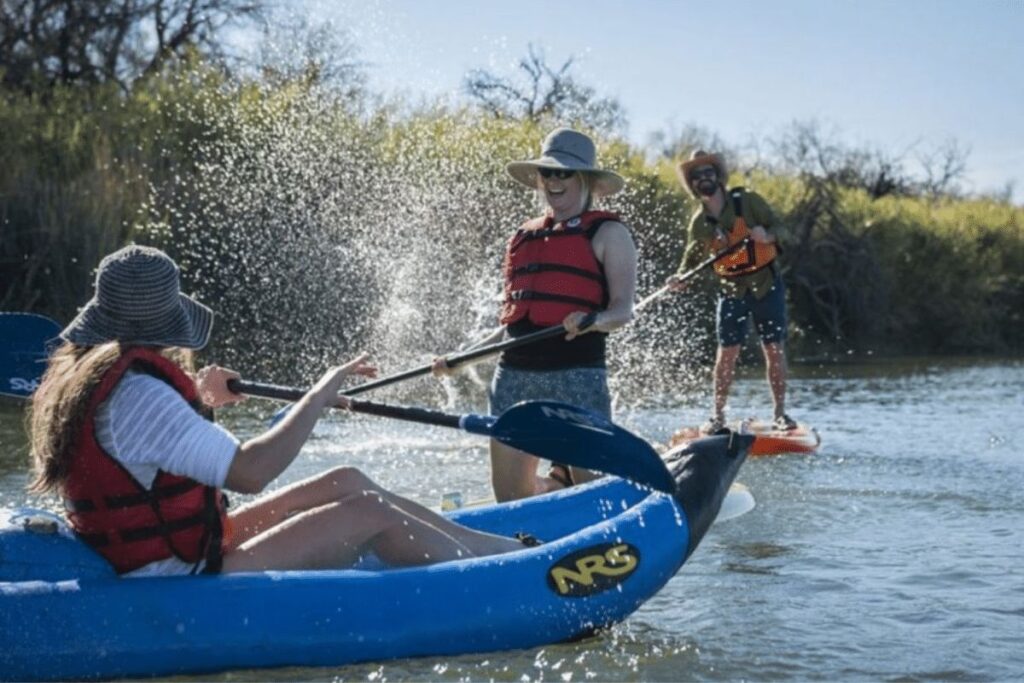 Nestled between the Superstition Mountains and towering Four Peaks, this glittering oasis offers the perfect escape from the hustle and bustle of Phoenix.
As you paddle through the tranquil waters, keep your eyes peeled for bald eagles, bighorn sheep, and other unique wildlife that call this desert paradise home. 
Your experienced and safety-certified guide will be with you every step of the way, ensuring you have an unforgettable journey.
And what better way to beat the Arizona heat than by taking a dip in the cool waters of Saguaro Lake? With an inflatable double kayak, paddles, PFD (life jacket), and dry bags all provided, all you need to bring is your sense of adventure!
This tour is perfect for paddlers of all experience levels, and is available for both individuals and groups. So why wait? Book your spot now and get ready to experience the ultimate desert adventure on the Saguaro Lake Kayaking Tour!
Looking for a thrilling way to cool off on a hot summer day? Join our guided paddle board or kayak adventure through the stunning Saguaro Lake, nestled in the heart of the Sonoran Desert. 
Get ready to marvel at the unique beauty of this desert oasis, surrounded by rugged Superstition Mountains and towering Four Peaks.
With a certified guide by your side, you'll feel at ease as you explore the diverse ecosystem of the desert, spotting amazing wildlife such as bald eagles, desert bighorn sheep, and even Salt River horses grazing along the shore. 
Take a dip in the cool waters of the lake and witness the magic of the desert as you paddle your way through giant saguaro cacti and unique flora.
Whether you're a seasoned paddler or a first-timer, our inflatable kayaks or stand-up paddle boards offer a perfect platform for you to enjoy the scenery, splash around, or relax. 
Your safety is our top priority, so you'll receive a life jacket, bottled water, snacks, and expert paddling instruction throughout the tour.
Join us for an unforgettable adventure suitable for all ages and ability levels. Don't miss out on the chance to experience the Sonoran Desert in a whole new way!
Phoenix, Arizona has a plethora of exciting activities and attractions to offer visitors. Outdoor enthusiasts can explore the beautiful natural landscapes and go hiking, biking, or rock climbing in nearby Camelback Mountain or South Mountain Park.
For those seeking a more cultural experience, the Phoenix Art Museum and the Heard Museum offer a glimpse into the history and art of the region. Families with children can enjoy a day at the Phoenix Zoo or the Children's Museum of Phoenix. 
And of course, sports fans can catch a game at Chase Field or the State Farm Stadium, home of the Arizona Diamondbacks and the Arizona Cardinals respectively. With so much to see and do, Phoenix is the perfect destination for an exciting and memorable vacation.
When it comes to choosing accommodation in Phoenix, there are a plethora of options available. From luxurious resorts and spa hotels to budget-friendly motels and cozy bed and breakfasts, Phoenix has something to offer for every type of traveler.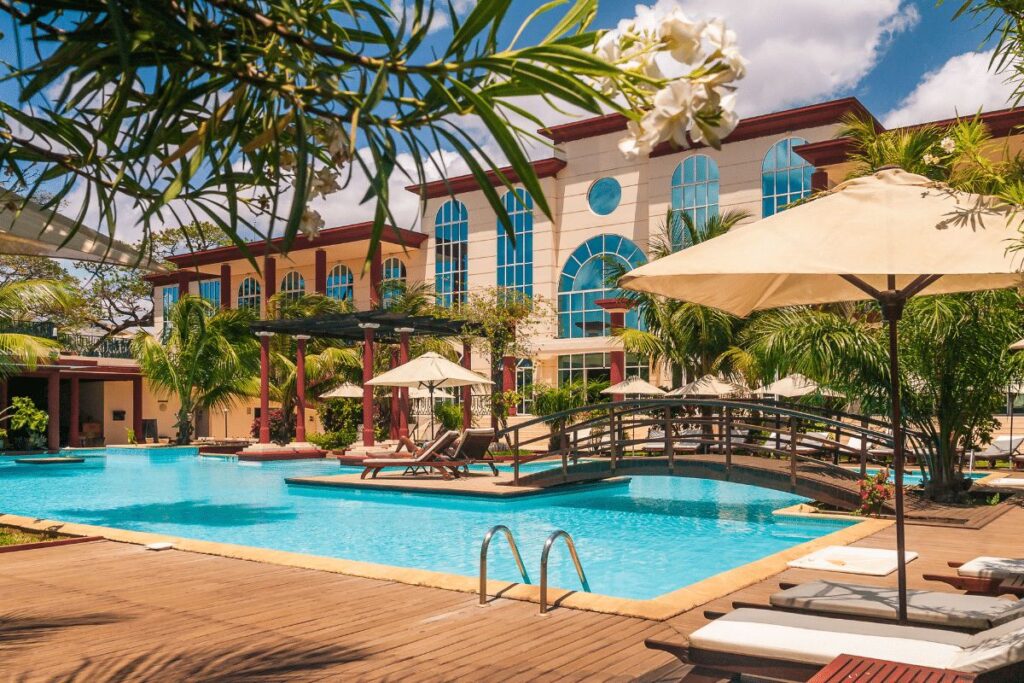 To find the perfect place to stay, use the search bar below to browse through the various options based on your preferred dates, budget, location, and amenities. 
Whether you're looking for a family-friendly resort with a pool, a boutique hotel in the heart of downtown, or a cozy Airbnb with a local host, you're sure to find the perfect fit for your stay in Phoenix.