Discover 8 beautiful national parks to go hiking in fall. Experience colorful foliage, cooler trails, and breathtaking landscapes for a memorable trek.
Once crowds of tourists are gone and the summer heat dies down, autumn is a spectacular season for hiking in America's national parks. Hiking in fall is the best time for serious photographers, active hikers and gathering experience of a lifetime.
Shimmering golden leaves ignite the forest with stunning beauty, while the changing of colors on different peaks makes each hike an unforgettable adventure.
The leaves are changing colors and falling to the ground, but you're not quite ready for winter. Whether you want to get a last taste of summer or just want to keep your mind off the colder months ahead, there is no better destination than America's National Parks.
With cooler weather, colorful leaves and a variety of trails to explore, fall is the perfect season to go hiking in a national park. Here's my list of eight stunningly beautiful national parks to go hiking in fall:
Great Smoky Mountains National Park 
The Great Smoky Mountains is the most visited national park in the United States. With over 800 miles of trails, it's no wonder that hikers flock here to enjoy the beautiful scenery and escape into nature.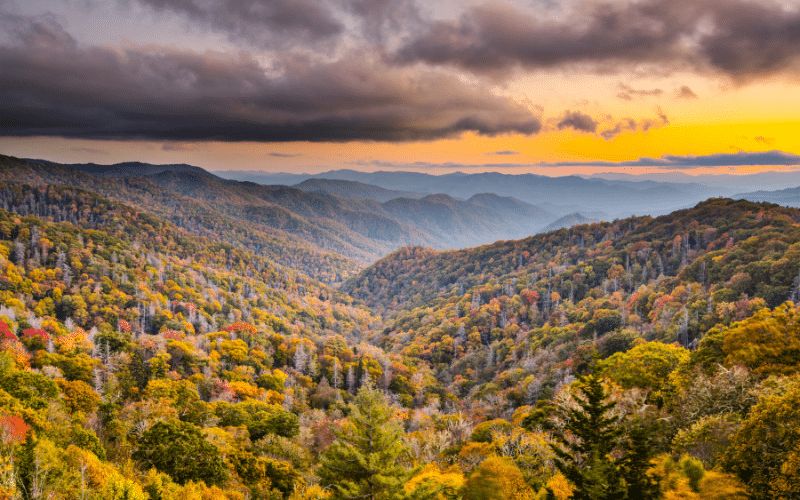 The fall season is one of the best times to hike in this region. The leaves are turning from green to shades of yellow, orange and red — creating a beautiful backdrop for your hike.
Here are some popular trails that are great for hiking in autumn:
·    Oconaluftee River Trail (2.4 miles). This easy trail follows along the river, so it's perfect for people who love waterfalls. There are several great views of Fontana Lake along the way, too!
·    Forney Creek Trail (3.7 miles). This moderate trail takes you through diverse forest habitats filled with wildlife like deer, birds and more. It's also an excellent place to see fall foliage at its peak!
·    Gregory Bald Trail (6 miles). If you want a longer hike with spectacular views then this one is for you! The Gregory Bald Trail climbs up onto a bald mountain top where you'll be rewarded with breathtaking views before descending back down again.
Rocky Mountain National Park 
Rocky Mountain National Park is a popular destination for hikers and backpackers, but it can also be a great place to just enjoy the fall colors.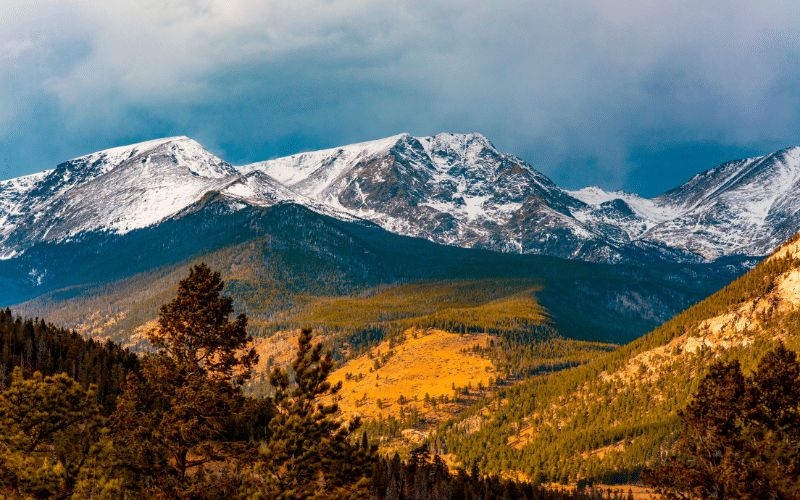 The best time to go hiking in Rocky Mountain National Park is generally from mid-September to mid-October, as this time of year brings the most colorful foliage. In fact, many people come here specifically for the fall foliage and will have their trip planned around this period.
If you're looking for a shorter hike that delivers on stunning views and beautiful fall colors, you should check out Bear Lake Trailhead. This trail is just over 4 miles long and offers panoramic views of the Continental Divide, as well as access to some of the park's most popular hiking trails.
If you don't mind getting wet feet or aren't afraid of crossing streams then you should check out Lillian Lake Trailhead where you'll find 2 trails: The Lillian Lakes Trail (2 miles) and The Ouzel Lake Trail (3 miles). Both trails offer fantastic views of the Continental Divide and are close enough together that they can be combined into one longer hike.
Acadia National Park 
Autumn is a great time to hike Acadia National Park. The crowds have thinned and the scenery is often at its best. The leaves are changing color, providing a spectacular backdrop for hiking.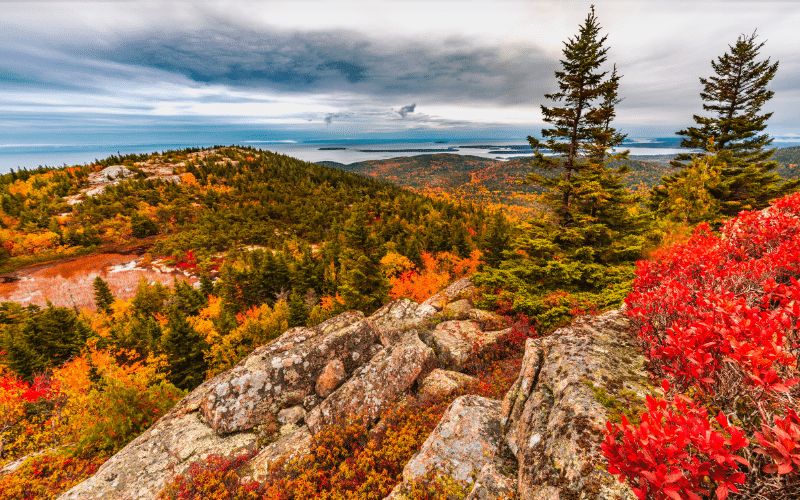 The park's trails offer something for everyone. Hikers can choose from easy walks to strenuous climbs up rocky cliffs and mountain sides.
All along the coast, there are trails that lead to breathtaking views of rocky headlands and sparkling ocean waves lapping against shoreline rocks. If you've ever wanted to see how close you can get to the edge without falling off, this is your chance!
For hikers who love to climb, Mount Cadillac offers a challenging route up its steep slopes with incredible views of the surrounding countryside once you reach the top.
For hikers who prefer shorter walks, there are plenty of options right in Bar Harbor. A favorite among locals is the walk along Shore Road in town where you'll find plenty of shops and restaurants along the way if you need a break from walking or just want to stop for lunch or an afternoon snack before heading back home again.
Zion National Park 
The autumn season is an excellent time to hike in Zion National Park. The summer crowds have left, the weather is warm and pleasant, and the colors of the leaves are spectacular.
Zion's trails offer a wide range of hiking experiences from easy nature walks to strenuous climbs up steep sandstone cliffs. The park's many trails range from short hikes on well-maintained paths to long treks into remote areas with limited facilities.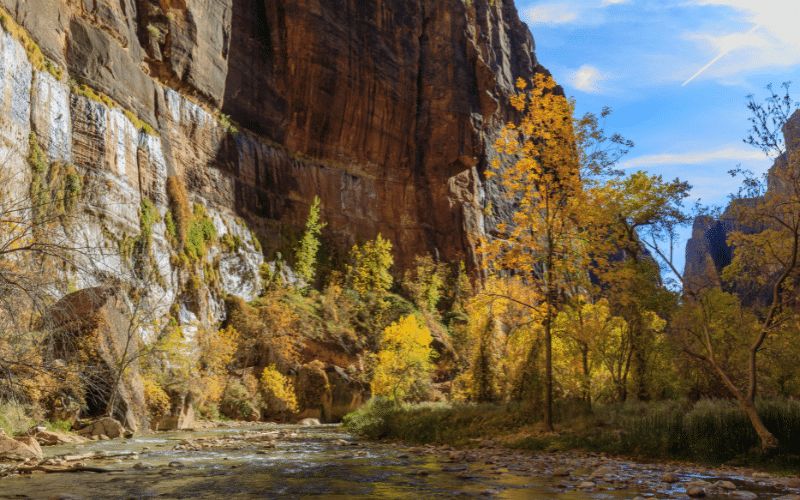 Zion National Park is one of the most popular national parks in the United States. The main attraction for hikers is the Zion Narrows, a slot canyon that can only be accessed by hiking. Other popular hikes include Angels Landing and The Narrows.
Zion National Park is located in southwestern Utah, near Springdale. It's best known for its towering sandstone cliffs, which often reach heights of 1,000 feet (300 m). The park's features were formed by erosion from the Virgin River and its tributaries on the Navajo Sandstone formation. In fact, the park's name comes from a Hebrew word meaning "paradise."
The park's high elevation — 3,933 feet (1,192 m) above sea level — means that temperatures are cooler than those found at lower elevations in southern Utah. Autumn temperatures can be particularly mild; highs typically range from 65°F (18°C) to 80°F (27°C), while lows generally range between 45°F (7°C) and 60°F (16°C).
The best time to hike in Zion National Park is during spring or autumn when temperatures are milder and crowds are thinner.
Arches National park 
Hiking in Arches National Park in autumn is the perfect way to experience the desert landscape. After a long summer of heat and humidity, fall temperatures are just right. It's still warm enough to enjoy a hike, but not so hot that you'll be sweating buckets.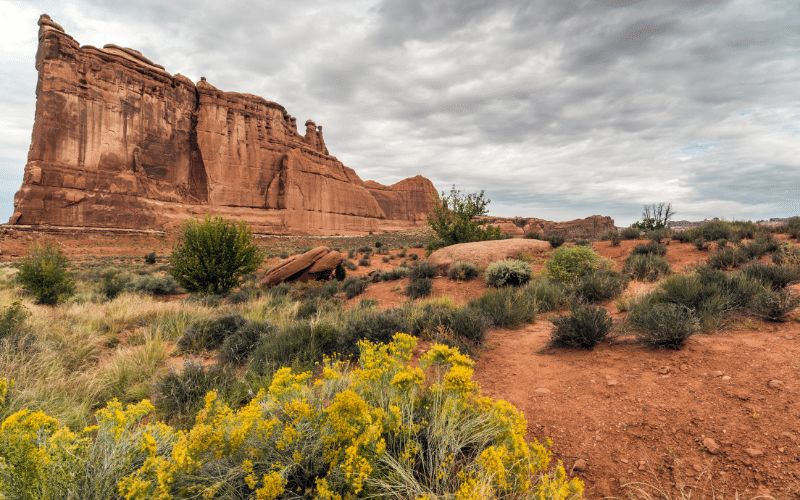 The best time to visit Arches National Park is September through October, when temperatures are mild and nights are cool. This is also prime animal-watching season as animals begin to migrate for winter.
The Delicate Arch Trail is one of the most popular trails in Arches National Park. It's a short but steep trail that leads up to an impressive arch — one of the park's most famous landmarks — and offers stunning views from above.
If you're looking for something less strenuous, consider hiking the Sand Dune Arch Trail or Dark Angel Trail instead. Both hikes take you through scenic landscapes without requiring quite so much energy!
Shenandoah National Park 
Shenandoah National Park is a beautiful place to hike, but the best season to visit is autumn. The leaves change colors, making the views even more amazing. Autumn is also the best time to see wildlife and avoid crowds.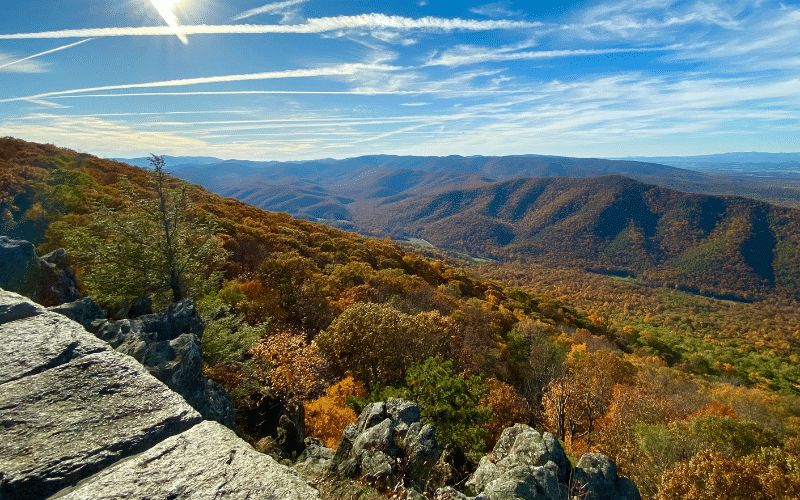 Shenandoah National Park has over 500 miles of trails for hiking, biking, horseback riding and cross-country skiing. Many of these trails are suitable for families with young children or people with limited mobility.
There are two main roads through the park: Skyline Drive and Blue Ridge Parkway. Skyline Drive is open year-round, while Blue Ridge Parkway closes in winter due to snowfall.
Hiking in Shenandoah National Park is great for all ages and fitness levels. It's also a wonderful way to get away from the hustle and bustle of everyday life. There are many different types of hikes you can take, including:
Day Hikes – A day hike is any hike that can be completed within one day. These are usually short hikes that last anywhere from 1-4 hours depending on how long you want to spend exploring the trail. Some popular day hikes include Big Meadows Loop Trail, Skyline Drive Trail, and Old Rag Mountain Trail.
Overnight Backpacking – Overnight backpacking trips allow you to explore more than just one section of the park while also having an opportunity to camp out overnight with friends or family members. Some popular overnight backpacking trips include Old Rag Mountain Loop, White Oak Canyon Trail, and Bearfence Mountain Loop Trail.
Guadalupe Mountains National Park
Guadalupe Mountains National Park is a United States National Park in the Guadalupe Mountains of West Texas. The park contains Guadalupe Peak, the highest point in Texas at 8,749 feet (2,667 m) above sea level.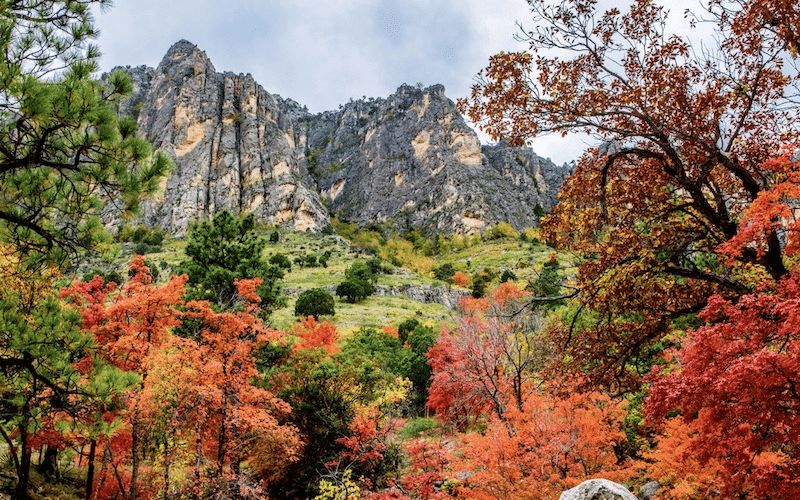 The park's major attractions include its scenic driveable loop roads and overall scenery, extensive trails and campsites, picnic areas, and a variety of wildlife. The southern portion of the park is pine-covered highlands while the northern area has shortgrass prairies and desert scrubland.
Congaree National Park
Congaree National Park is a wilderness preserve in South Carolina. It is the largest tract of old-growth bottomland hardwood forest remaining in North America.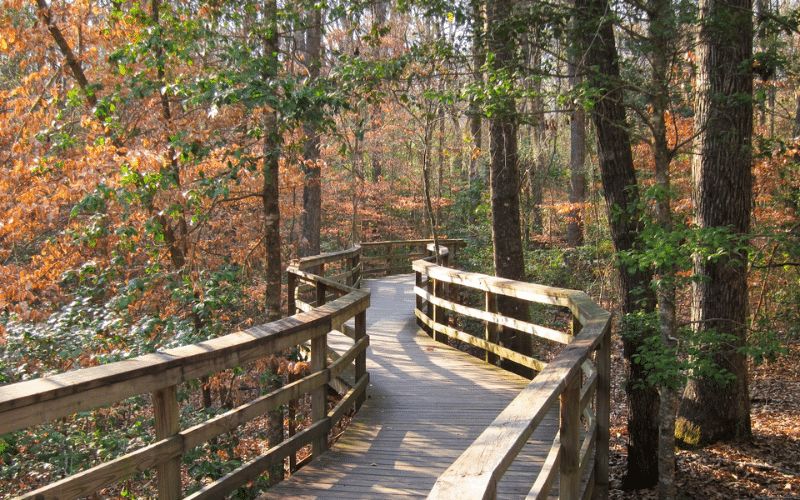 Congaree National Park is an important refuge for wildlife, including alligators, bald eagles and black bears. The park also has many rare plant species and offers excellent opportunities for nature study and photography.
The park's boardwalk trail system provides a close-up view of this unique wilderness and allows visitors to see some of its rare inhabitants.
Conclusion
Summing up, fall is the best season to enjoy hiking and photography in America's national parks. The most important thing is to prepare for the season carefully before going hiking.
Dress in layers, wear synthetic fabrics that are lightweight and can stay dry quickly, put on a hat or wear a headband to keep your hair from whipping across your face with every step and have good quality hiking boots with plenty of treads on their soles.