Explore 12 top places we go to experience the elk rut and hear their distinct bugling. From national parks to refuges, witness nature's majestic display.
The elk rut is a natural phenomenon that happens once a year and occurs in the Northern Hemisphere. In the Autumn, the males start their fight for dominance and to find a mate. The best places to watch them are called "bugling stations" as they are known for their "bugle"-like sounds.
Elk are very majestic animals — they're big, powerful, hairy and can run fast if they need to. But despite their ferocity, even these animals have to sit back and watch while the females do all the work.
During the elk rut , the males' job is really quite simple: find an attractive female with whom he can breed and hang around as long as she'll tolerate.
Here are 12 national parks you should head out to witness this amazing wildlife phenomenon!
Estes Park in the Rocky Mountain National Park
Autumn in Estes Park, Colorado is a spectacular time to visit Rocky Mountain National Park. The aspens will be setting the hills ablaze with their vibrant colors, the air will be getting crisper, and you'll be surrounded by the warmest hospitality that the region has to offer. It's an autumn trip sure to bring you back again and again.
Elk rut in Autumn in Estes Park, Rocky Mountain National Park is a truly exciting time for wildlife photographers to come and document one of nature's greatest spectacles.
Cataloochee Valley in the Smoky Mountain National Park
The Smoky Mountains are like an open invitation to deep-seated memories and ancient wisdom. Deep within these hills, the forest serves as a living testament to all of nature's intricately beautiful ways, which include fall.
It's true, autumn is arguably one of the best seasons to visit the Smoky Mountains National Park, and especially Cataloochee Valley in North Carolina. A drive down this 14-mile scenic parkway reveals panoramic, outstandingly pleasant views that'll quell your mind for miles on end.
The rut is the mating season for the Elk of Cataloochee Valley in the Smoky Mountain National Park. Each year, around mid-September , the elk move into this valley due to its easy accessibility, abundant food supply and escape from predators. During this breeding season, all bull elk participating in the ritual transform from mammals into a starkly beautiful symbol of one of nature's most spectacular events.
Yellowstone National Park: Alongside the Gardner River
Autumn in Yellowstone National Park is a season of beauty and change. The changing weather brings with it new sights, sounds, and smells that can only be experienced here. The crowds are gone, leaving behind a landscape awash with color and splendor.
The Gardner River is one of our favorite places to visit during this time of year because it is full of life and color. The forest is filled with brilliant reds and yellows from the maples and aspens, while the river itself sparkles with sunlight glinting off its surface.
The elk rut in Yellowstone National Park is one of the most spectacular sights to see.
The elk rut occurs each year from mid-September through late October. During this time, male elk compete for mates and young males establish their dominance within the herd. The result is an explosion of activity that can last as long as two weeks.
The peak of the rut occurs in mid-October, when many bulls gather at a single location known for mating activity. These concentrations include places like Mammoth Hot Springs and Gardiner, which have good views from above but are also where most visitors drive through and see the bulls below them on the Gardner River bridge or in front of Roosevelt Lodge.
Uinta National Forest Utah
Autumn is a great time of year to visit the Uinta National Forest. The weather is perfect for hiking, biking and camping. The leaves are changing colors and the air is crisp. It is a great time to enjoy the outdoors.
Visitors can enjoy many activities throughout the forest including fishing, kayaking, rafting and camping. There are also hundreds of miles of hiking trails that offer breathtaking views of the mountains as well as wildlife viewing opportunities including deer, elk and moose.
The elk rut is in full swing in the Uinta National Forest. This is the time of year when elk are most active, as they prepare for the rut and mating season. The rut is a period of intense competition among males for access to females.
Male elk compete for dominance by fighting with each other and displaying their physical strength. This behavior is called "bullying." It's not unusual to see males pawing at each other and charging head-on into conflict. During this time, male elk also produce a large amount of testosterone, which makes them more aggressive than usual.
Gila National Forest New Mexico
Autumn is a great time to visit the Gila National Forest. The weather is perfect, the crowds are gone and the leaves are changing color. There are plenty of activities to enjoy while you're here: hiking, camping, fishing, bird watching and more.
The town of Cliff is a great place to stay if you're looking for peace and quiet but still want to be close enough to civilization for food and supplies.
The elk rut in Gila National Forest New Mexico is a unique and exciting experience. Elk rutting season begins in late September and can last until mid-October. The rutting season is when male elk compete for females to mate with them.
The elk gather in large herds and spar with each other as they try to establish dominance. You can see these herds from miles away as they move through the forest, breaking trees, bushes and shrubs as they go.
They make lots of noise during this time of year, so if you are lucky enough to spot one, be sure not to disturb them by making any loud noises or taking pictures with a flash.
Grand Teton National Park
Autumn in Grand Teton National Park is an unforgettable experience. The summer crowds are gone, the weather is cool and crisp, the days are shorter and the nights are longer.
The park is at its most beautiful in autumn. The aspen leaves blaze with gold, red and yellow hues against a backdrop of dark green conifers. The air is clear, crisp and clean — perfect for hiking, camping or just relaxing by the campfire.
Fall is also a great time to view wildlife as they move into lower elevations to find food before winter sets in. As temperatures drop, elk move down from their high country rangelands onto the valley floor where they will remain until spring.
Moose can be found along the edges of lakes where water freezes over on cold nights but hasn't yet frozen solid enough to support their weight during the day so they must spend time on shore feeding on aquatic vegetation which sometimes requires them to wade through deep water.
The elk rut in Grand Teton National Park is the most spectacular wildlife event of the year in the park. In late September and early October, male elk compete for dominance during the rut.
The bulls fight for access to females who are ready to mate. The elk rut is easily observed from pullouts along Highway 89 and from Antelope Flats Road, which runs through the southern portion of the park.
Lower Valleys in the Olympic National Park 
Autumn is a wonderful time to explore the backcountry of the Olympic National Park. The crowds have left, and the weather is still warm enough to hike comfortably in shorts and a t-shirt. The air smells sweet and crisp, and there are no bugs to worry about.
Lower valleys such as Hurricane Ridge and Hoh Rain Forest are great places to visit during fall. They offer many of the same activities you can enjoy year-round, but with fewer crowds and cooler temperatures.
The elk rut in Lower Valleys in the Olympic National Park is one of the best places to observe this amazing time in nature. In the fall months, you can see hundreds of elk gathered together, as they search for mates during their mating season.
The elk rut can be seen from several locations around the Lower Valleys area of Olympic National Park. The most popular spot is probably along the road that runs through the park, which offers some nice views of these majestic animals.
Another great place to see them is from along Hoh River Road, just before it turns into a gravel road leading to Lake Quinault. From here you'll be able to see some great views of them grazing in their natural habitat.
Benezett, PA (Elk Country Visitor Center)
Benezett's Elk Country Visitor Center is a hub for elk viewing. Just behind the center, there's an observation area, which is an ideal spot to catch the elk, especially in the mornings and evenings when they're most active.
The Winslow Hill viewing area is another hotspot, just a short drive from the center. This expansive region has several well-marked trails that offer a chance to observe these majestic creatures in their natural habitat.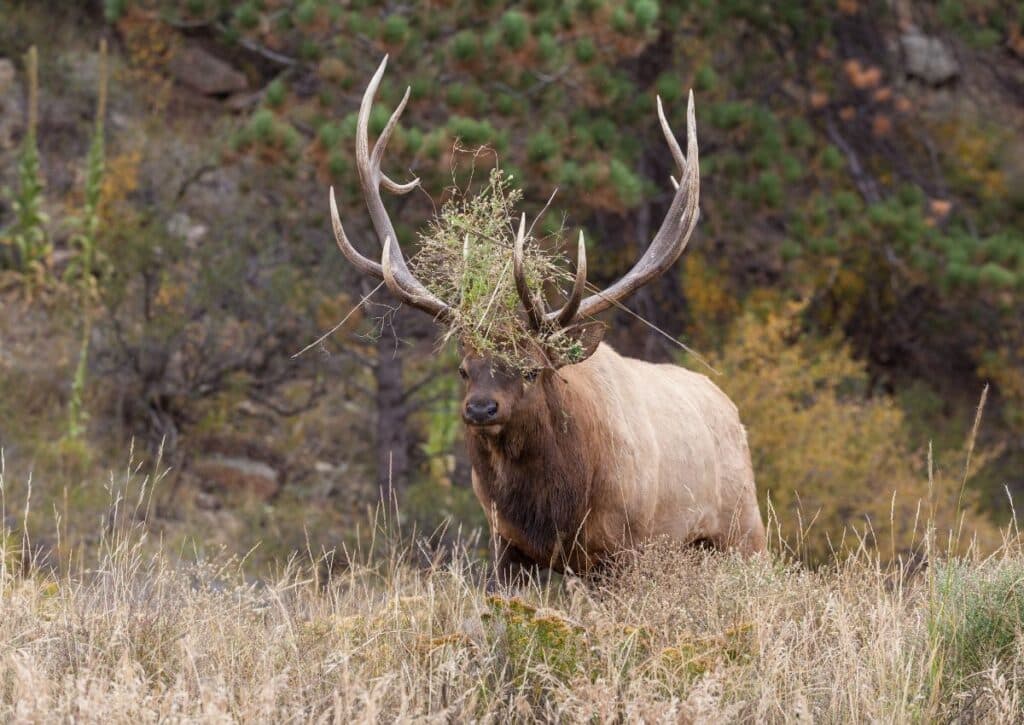 For those wanting to stay overnight, the Benezette Campground is a practical choice. It offers basic amenities and puts you right in the heart of elk country. If camping isn't your style, the Elk Country Inn is nearby and provides more traditional lodging. Both places can fill up quickly during rutting season, so early reservations are a good idea.
Beyond the elk, Benezett is alive with wildlife. You'll likely spot white-tailed deer and wild turkeys. And though rarer, black bears do roam these parts. Always keep a safe distance.
To elevate your experience, consider joining a guided tour. Local experts offer insights, ensuring you don't miss out on any of the action.
Remember, patience is key. Nature operates on its own time, but with a little wait, Benezett promises an unforgettable elk-viewing experience.
Jasper National Park, Alberta, Canada
Jasper National Park in Alberta, Canada, is an elk enthusiast's dream, particularly during the rutting season. When visiting, the Athabasca Valley, near the town of Jasper itself, is a prime location. Here, the large clearings and grasslands make it an attractive spot for elk, especially around the Maligne Road area.
If you're planning to extend your stay, Whistlers Campground is a popular choice. It's close to the action and provides the amenities needed for a comfortable camping experience. Alternatively, the town of Jasper offers a range of accommodations from cozy inns to luxurious lodges.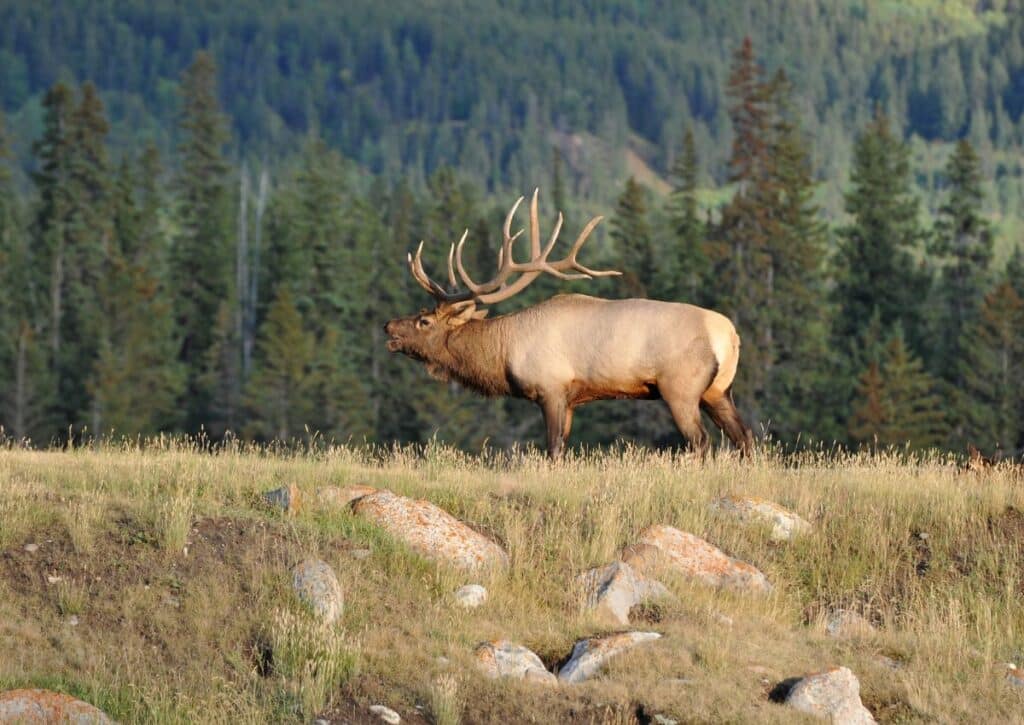 In addition to elk, the park is home to an array of wildlife. Keep a lookout for mountain goats, bighorn sheep, and even moose. And while wolves and bears are also residents, it's crucial to be cautious and maintain a safe distance.
To make the most of your trip, consider joining a wildlife tour. Local guides are well-versed in elk behavior and know the best spots for observation.
But most of all, as you stand amidst the grandeur of the Canadian Rockies, with the bugling of elk echoing in the distance, take a moment to soak in the raw beauty and serenity of Jasper National Park. It's a spectacle that resonates deeply, long after you leave.
Banff National Park, Alberta, Canada
Banff National Park in Alberta is a destination not just for its stunning Rocky Mountain vistas but also for its vibrant elk population, especially noticeable during the rutting season.
One of the prime locations to observe this natural spectacle is the Vermilion Lakes Road, just a short drive from the town of Banff. The wide-open spaces along the road make it easier to spot the elks as they engage in their seasonal rituals.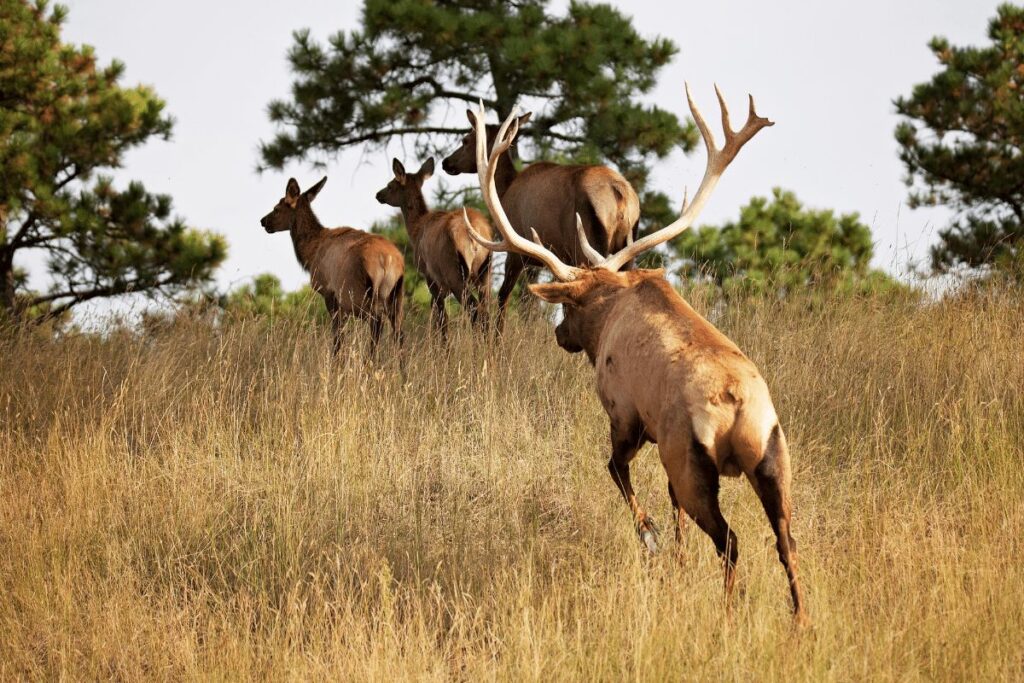 For those wanting to stay within the park, the Tunnel Mountain Campground is a solid option. Not too far from town, it provides a genuine wilderness feel while still being accessible. If camping isn't in your plans, the town of Banff has a variety of hotels and lodges catering to different budgets.
Beyond elks, Banff is a haven for wildlife enthusiasts. You might come across mountain goats on higher terrains, spot a grizzly bear in the distance, or hear the call of a loon over one of its pristine lakes.
A guided wildlife tour can enhance your experience, offering both safety and local knowledge. The guides can take you to the best spots while sharing intriguing facts about the park's fauna.
And if you're lucky enough to be in the town of Banff and witness an elk strolling by, it's a surreal reminder of how nature and urban life seamlessly blend in this unique setting. Remember to give them space and enjoy the moment from a distance.
Boxley Valley, Arkansas (Buffalo National River)
Boxley Valley in Arkansas, within the bounds of the Buffalo National River territory, is an unexpected but fantastic venue for observing the elk rut.
A key location for this experience is the fields and meadows lining Highway 43, especially around the Ponca access area. Here, as the fog often sits low in the early mornings, you can see the silhouette of elks and hear their distinctive calls.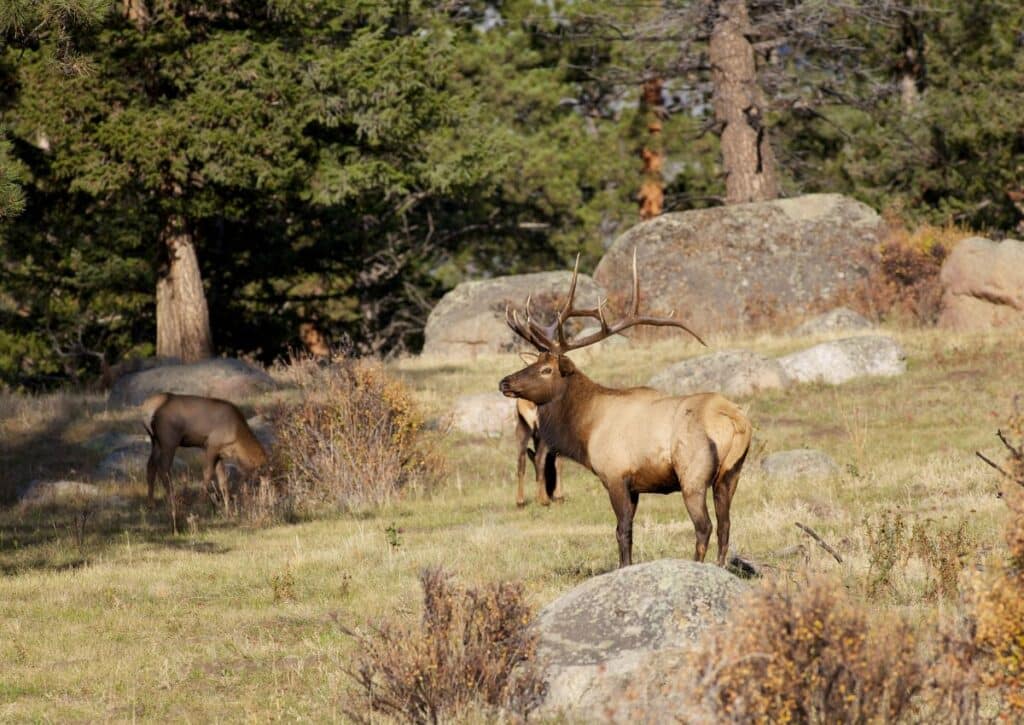 If you're keen on staying nearby, Steel Creek Campground offers the proximity and the charm of being right in the middle of nature.
The sounds of the Buffalo River and the potential to see elks right from your tent is unmatched. If camping isn't your thing, there are various cabins and lodges available in the Ponca area for a more comfortable stay.
While the elk are the star attraction, the valley also hosts other wildlife. It's not uncommon to spot white-tailed deer, wild turkeys, and a myriad of bird species.
If you're new to the area or wish to deepen your experience, guided wildlife tours are available. Local experts can provide a wealth of information and often know the hidden spots where elk are more likely to be seen.
Boxley Valley offers a blend of natural beauty and the enchanting spectacle of the elk rut. Whether you're gazing from a distance or listening closely, it's a unique and rewarding experience.
Wichita Mountains Wildlife Refuge, Oklahoma
Wichita Mountains Wildlife Refuge in Oklahoma is a vibrant testament to nature's resilience and splendor. While bison usually take center stage, the Rocky Mountain elk are an integral part of the refuge's wildlife tapestry.
To catch a glimpse of the elk rut, a good place to start is the Indiahoma Road, which winds through the heart of the refuge. The vast open spaces around Sunset Picnic Area and the parallel Dog Run Hollow also serve as arenas for the elk's annual displays.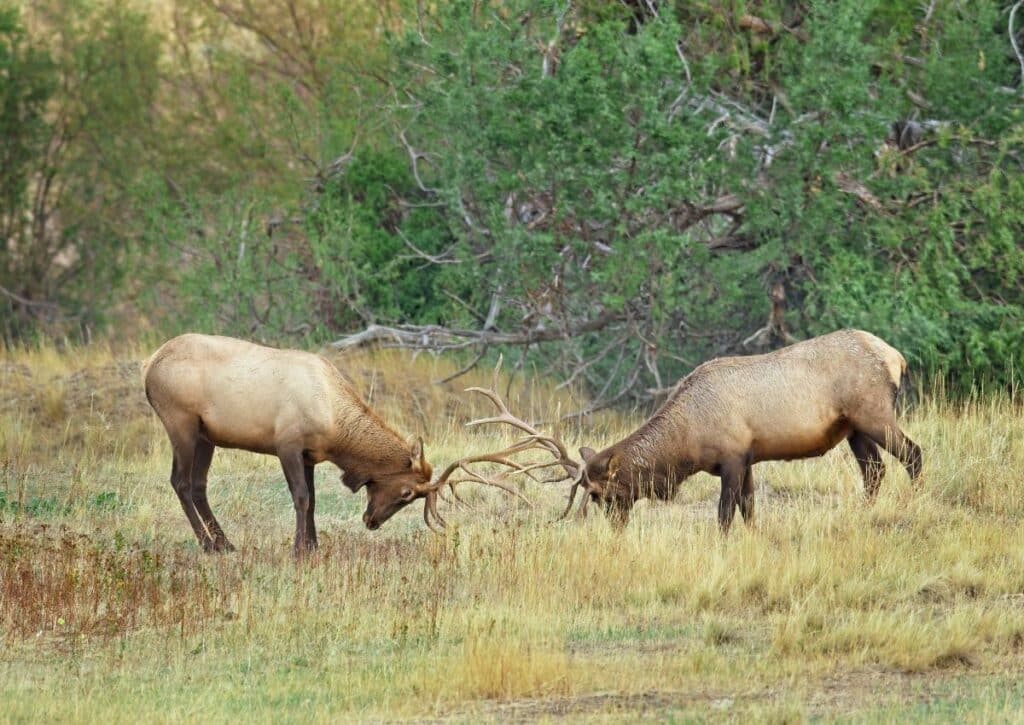 For accommodation, Doris Campground within the refuge is a convenient place to set up base. It's close to the main wildlife viewing areas, and waking up to the potential sight or sound of elk is a genuine thrill. There are also various lodges and inns in nearby towns like Medicine Park if camping isn't your preference.
The Wichita Mountains are teeming with wildlife, so while you're on the lookout for elk, don't be surprised if you encounter roaming bison, nimble pronghorns, or curious white-tailed deer.
Joining a guided tour can further enrich your visit. Local guides, well-acquainted with the terrain and its inhabitants, can offer a deeper dive into the habits of the elk and the history of the refuge.
With its striking granite peaks and sprawling grasslands, Wichita Mountains Wildlife Refuge provides not just a habitat for its residents but a mesmerizing theater for those lucky enough to witness the elk rut unfold.
10 tips while going to see the elk rut
Observing the elk rut is an incredible experience, but there are some essential tips to ensure both your safety and that of the animals. Here are 10 tips for those venturing out to see the elk rut:
Stay Safe: Elk are wild animals, and during the rut, bulls can be especially aggressive. Always keep a safe distance, ideally at least 100 feet or more.
Quiet Observation: Use a soft voice and avoid sudden movements. This allows you to observe their natural behavior without causing them stress.
Best Times: Early morning and late evening are typically the most active periods for elk. Plan your visits accordingly.
Be Patient: Nature operates on its own timetable. You might need to wait for the best sightings, but the experience is worth the patience.
Use Optics: Bring binoculars or a spotting scope. This allows you to view the elk up close without physically getting too close.
Dress Appropriately: Wear layers and muted colors. The weather can be unpredictable, and you don't want to stand out and distract the animals.
Stay on Designated Paths: Avoid trampling on vegetation or disturbing habitats. Staying on trails ensures minimal impact on the environment.
Don't Feed the Wildlife: It's harmful to the animals and can alter their natural behavior.
Capture Respectfully: If you're taking photos, avoid using flash. Respect the animals' space and ensure your actions don't alter their behavior.
Educate Yourself: Before going, learn about elk behavior and communication. Understanding what you're observing enriches the experience.
Remember, the elk rut is a natural spectacle that provides a glimpse into the wild world of these majestic animals. Approach the experience with respect, curiosity, and preparation.
Conclusion
As the rut progresses, female elk will choose a partner, and the two will often remain together for the rest of their lives. The fights between males attract an interested crowd, including tourists, photographers and naturalists, who will travel from far distances to catch a glimpse of these spectacular scenes. If you'd like to go see the elk rut in person, here are seven places that you should consider visiting.