Have you ever walked into a place and felt the world melt away? Welcome to Airfield Falls Trailhead & Conservation Park, Fort Worth's best-kept secret.
Tucked just a stone's throw from the urban landscape, this park offers more than just scenic trails. It's a medley of nature's wonders: from the gentle murmur of cascading falls to the vibrant hues of wildflowers that dance with the wind.
But it's not just the beauty that captivates. There's a whisper of history here, tales etched in the very soil and trees, waiting for the curious traveler to discover.
Curious about what makes this place a local treasure and a traveler's must-visit? Dive in as we journey through its trails and tales.
An Overview Airfield Falls Trailhead & Conservation Park
Located just a 15-minute drive from downtown Fort Worth, Airfield Falls Trailhead & Conservation Park is a magnificent juxtaposition of nature's splendor and historical significance.
The Captivating Allure of Airfield Falls
Standing at a notable 15 feet, the Airfield Falls is the tallest natural waterfall in Tarrant County. 
This scenic wonder, fed by the West Fork of the Trinity River, offers a picturesque backdrop, especially after significant rainfall. However, its beauty extends beyond the cascades. 
The park sprawls over 104 acres and offers more than 2 miles of trails that snake through dense woodlands and open spaces, offering a haven for over 80 bird species.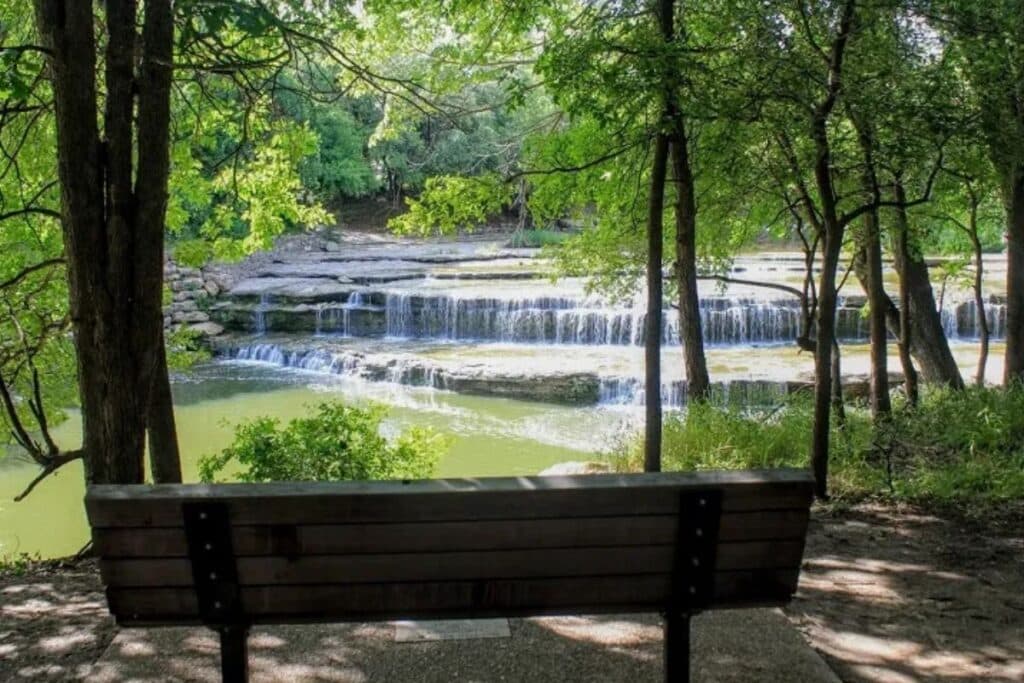 Traces of the Bygone Era
The park's location on former Naval Air Station Joint Reserve Base land adds depth to its narrative. 
Established in 1942, the base played a crucial role during World War II, serving as a training facility for thousands of pilots. 
Post-war, it transformed into a reserve base, housing various units from the Navy, Marine Corps, Air Force, and Texas Air National Guard. 
Visitors can still see remnants of its aviation history, notably the impressive World War II-era propeller, which stands as a tribute to the park's storied past.
Essential Information for a Seamless Experience
Operating Hours: You can immerse yourself in the park's beauty from as early as 6 AM to as late as 8 PM, although times may vary slightly with the seasons.
No Entry Fee: That's right; you're free to explore this gem without any charges.
Facilities: Equipped with amenities, the park boasts ADA-accessible restrooms, several picnic tables, and shaded benches strategically placed for relaxation. For history enthusiasts, markers and installations are scattered throughout, offering snippets of its rich legacy.
Parking & Accessibility: The park's primary entrance off Pumphrey Drive provides a spacious parking lot. Whether you're walking, biking, or pushing a stroller, the well-paved paths ensure a comfortable journey.
To sum it up, Airfield Falls Trailhead & Conservation Park offers an enriching experience, merging natural beauty with a slice of American history. 
As you walk its trails and admire the cascades, you're treading on land that has witnessed both the tranquility of nature and the bustling activity of a wartime base. 
It's more than just a park; it's a journey through time.
Detailed Directions to Airfield Falls Trailhead & Conservation Park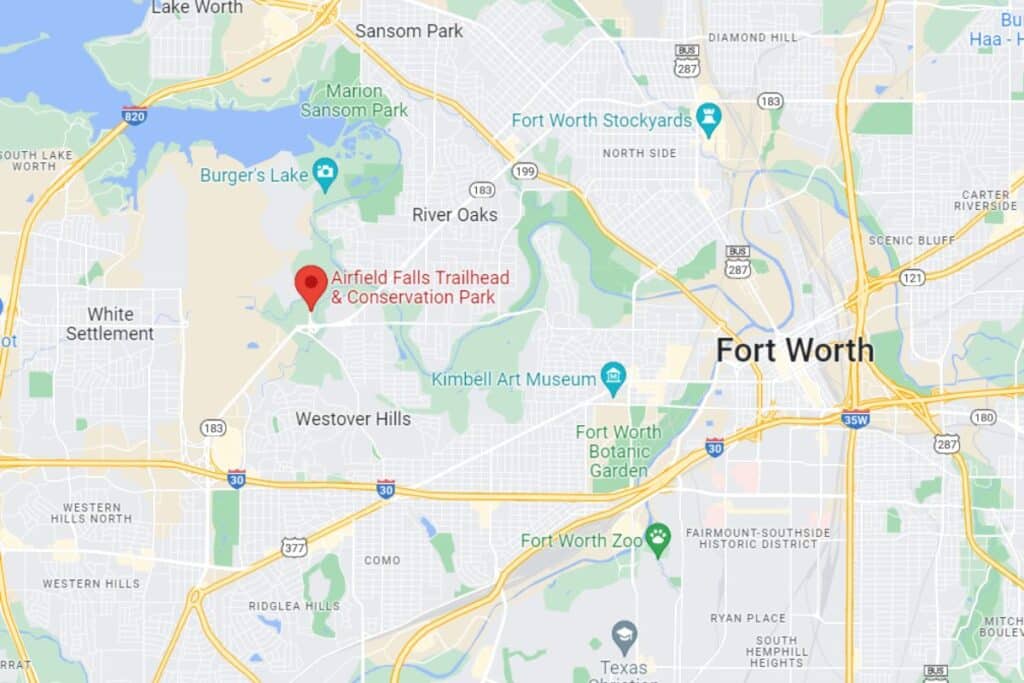 By Car (From Downtown Fort Worth):
Begin on Throckmorton St heading north toward W 2nd St.
Make a right onto W Belknap St.
Merge onto TX-183 W via the ramp to I-820.
Continue onto I-820 N.
Take exit 5A for Chapin Rd/Azle Ave.
Follow signs for Pumphrey Dr and the park will be on your left.
By Public Transportation
Fort Worth's public transportation system, while robust, doesn't have a direct route to the park. 
However, you can take a bus closest to the vicinity and then use a ride-sharing service or walk the rest of the way.
Take Bus 30 from Fort Worth Central Station toward NW Loop 820.
Alight at Jacksboro Hwy.
From there, it's a 1.5-mile journey to the park. You can either walk, cycle, or take a quick ride-share.
Walking or Cycling
If you're up for an adventure and reside nearby, why not walk or cycle? 
The park is connected by well-maintained roads, and there's a dedicated bike lane on many of the main roads leading up to it. 
Always ensure you're equipped with a map or a GPS-enabled device for ease of navigation.
Top Tips for a Smooth Journey
Best Times to Visit: To beat the crowds and truly enjoy the serenity, consider visiting during weekdays, especially in the mornings. 
Weekends tend to get busy, especially during the summer months when families frequent the park.
Parking Details: Airfield Falls offers a spacious parking lot at its primary entrance off Pumphrey Drive. 
However, due to the park's popularity, parking can fill up quickly during peak times. It's recommended to arrive early or later in the afternoon to secure a spot. 
The parking is free, and there are designated spots for differently-abled visitors.
Travel Insights:
Check the Weather: Texas weather can be unpredictable. Always check the forecast before heading out, especially if you're planning outdoor activities or walking/cycling.
Pack Essentials: If you're driving, it's always a good idea to keep water, snacks, a first-aid kit, and perhaps a picnic blanket in your car.
Stay Updated: Before heading out, check the park's official website or local news sources for any alerts, updates, or events that might affect your visit.
Reaching Airfield Falls Trailhead & Conservation Park is a breeze, irrespective of your mode of transportation. 
A little planning, awareness of peak times, and a few insider tips will ensure your journey to this natural and historical marvel is as memorable as the destination itself.
A Deep Dive into the Airfield Falls Trail
The Airfield Falls Trailhead is a gem in Tarrant County, boasting the title of being the county's largest natural waterfall. 
Yet, for many, it remains an undiscovered treasure.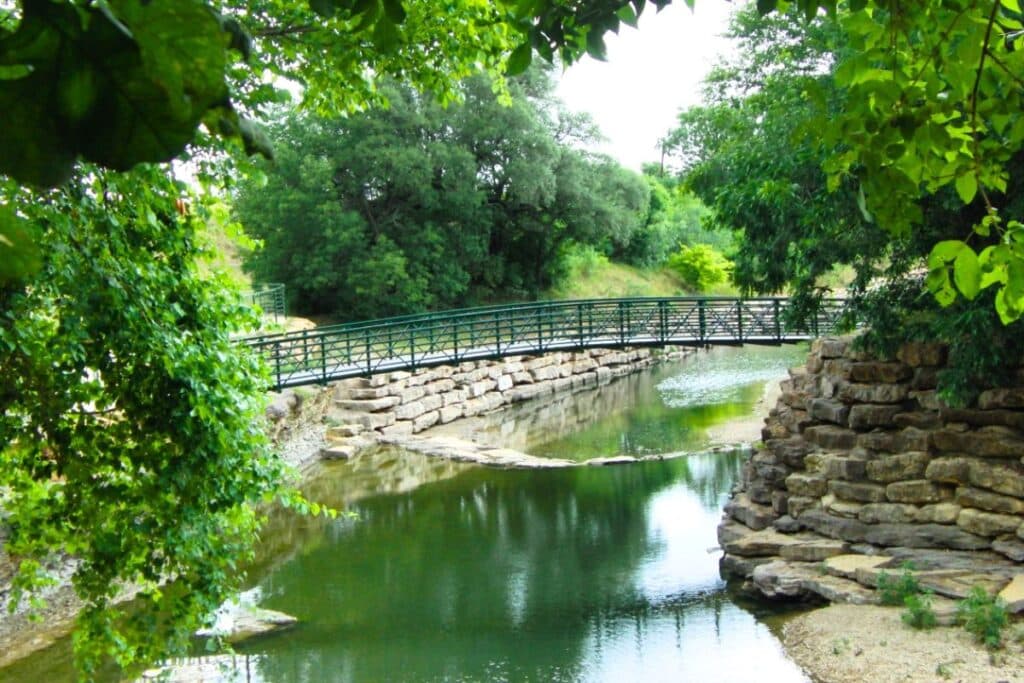 Much more than just a scenic spot, this trailhead carries the whispers of history, the flutter of monarch wings, and the powerful roar of cascading water.
Not Just a Waterfall:
While the cascade is undoubtedly the highlight, there's an entire ecosystem thriving around it. 
During the northward migration, the park becomes a haven for monarch butterflies, painting the skies with their delicate orange and black wings. 
The presence of other native wildlife adds to the tapestry, making it a vital ecological hotspot in the region.
Adding to the allure, the park finds itself nestled on the east side of the Naval Air Station JRB. And for history enthusiasts, remnants of a McDonnell Douglas C-9 aircraft serve as a silent testament to bygone days. 
This incorporation of aviation heritage reached a proud moment in October 2017, when the trailhead was graced with not one but two Texas Historic Markers.
Visitor Experience:
The Airfield Falls Conservation Park provides a serene backdrop to the waterfall. 
Amidst the urban hustle of Fort Worth, this oasis is a welcome respite for those looking to reconnect with nature. 
Whether you're laying out a picnic, capturing the scenery through a lens, or simply observing the avian life, there's something for everyone.
Highlights:
Best Time to Visit: While the trailhead is welcoming year-round, spring and fall promise the best experiences. 
These seasons guarantee optimal water flow over the falls, creating a mesmerizing spectacle. 
Moreover, the mild weather ensures your hike remains pleasant.
Visitor Tips and Recommendations:
Stick to the designated trails to ensure both your safety and the conservation of the area.
As tempting as it might be, swimming is prohibited.
The rocks around the waterfall, especially those that remain wet, can be quite slippery. Caution is advised.
Hiking Experience: Even if you're not a seasoned hiker, the trail is incredibly accommodating. 
It offers an easy, 1-mile paved pathway that leads straight to the waterfall. 
Given its accessibility, it's a perfect outing for families, including those with younger children.
Beyond the Trailhead:
If you're looking to extend your nature experience, the Fort Worth Nature Center & Refuge is a stone's throw away. 
As one of the many parks in Fort Worth, it provides another layer of exploration for outdoor enthusiasts.
The Trails and Beyond
Airfield Falls Trailhead & Conservation Park is a heart of natural beauty and serenity, but it's just the beginning. 
The broader region offers several more trails that can enhance your outdoor adventure. 
Let's dive into the nearby trails and how to make the most of your visit to Airfield Falls Conservation Park.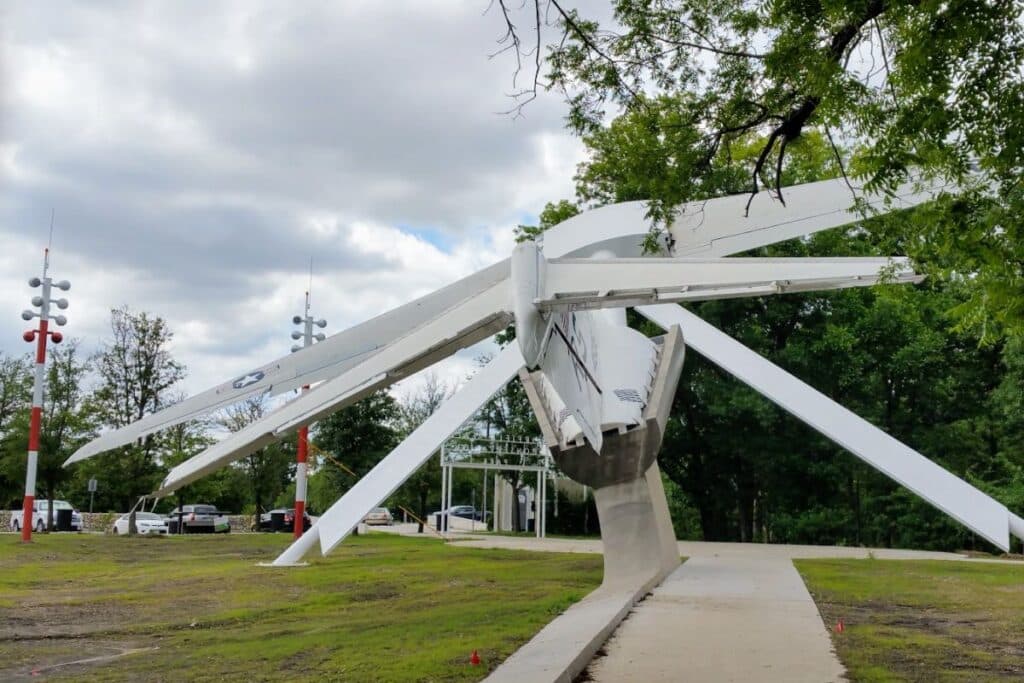 Connecting with Nearby Trails:
Trinity Trails: 
This extensive network of over 70 miles of trails winds along the Trinity River, offering scenic views and multiple recreational opportunities. 
Perfect for biking, running, or a leisurely walk, its diverse terrains accommodate all levels of hikers. 
The trails are also peppered with artworks, making it a fusion of nature and culture.
Marion Sansom Park Trail
A haven for mountain bikers and hikers, this trail presents a slightly challenging terrain but rewards with panoramic lake views and lush woodlands. 
Its rugged landscape dotted with occasional waterfalls makes it a favorite among adventure seekers.
Oakmont Park Trail
A quieter alternative, this trail is known for its tranquility and diverse birdlife. The trail meanders through dense green forests and offers serene creek views, making it ideal for those looking for peaceful introspection amidst nature.
Clear Fork Trail
Located near the heart of Fort Worth, this trail offers urban convenience with natural beauty. Best suited for morning jogs or evening strolls, it's a lovely way to escape the city's hustle without venturing too far.
Maximizing Your Experience at Airfield Falls Conservation Park:
Airfield Falls Conservation Park is brimming with activities beyond the main trail. To ensure you capture its full essence, here are some insights to enrich your visit:
Picnic Spots
The area surrounding the waterfall is perfect for a picnic. As you lay out your spread, the gentle sound of cascading water adds to the ambiance. 
There are also several shaded spots beneath the trees, ensuring you can comfortably relax even on a sunny day.
Viewpoints
As you hike the 1-mile paved trail, lookout for the wooden platforms. These offer panoramic views of the landscape and are great spots for photography. 
The vantage point near the McDonnell Douglas C-9 aircraft remnants gives a unique blend of nature and history.
Bird-Watching
Given the park's thriving ecosystem, it's a hub for bird enthusiasts. 
Early mornings are particularly rewarding, with sightings of species like the red-winged blackbird, egrets, and during migration season, the fluttering monarch butterflies. 
Carry binoculars and perhaps a bird guidebook to enhance this experience.
History and Aviation
The park's ties to the Naval Air Station JRB provide an intriguing blend of nature and history. 
The remnants of the McDonnell Douglas C-9 aircraft and the Texas Historic Markers provide a tangible touch to the area's storied past. 
Take your time to read the information boards; they offer a deeper understanding of the region's significance.
Nature Immersion
While the waterfall is the primary attraction, take moments to observe the smaller wonders. 
The park boasts a range of native flora, and depending on the season, wildflowers like bluebonnets and sunflowers add vibrant splashes of color to the landscape.
Our Take – While Airfield Falls Trailhead & Conservation Park stands as a focal point of natural allure in Tarrant County, its surroundings add layers of experiences waiting to be explored. 
Whether you're branching out to nearby trails or immersing yourself deeper within the park, every moment promises a blend of relaxation, adventure, and discovery.
Top Ways to Experience Nearby Attractions
The region surrounding Airfield Falls Trailhead & Conservation Park is as enticing as the park itself, brimming with local treasures that promise authentic Texan experiences. 
Here's a guide to delve deeper into Fort Worth's vibrant offerings:
Local Eateries:
Joe T. Garcia's Mexican Restaurant: A staple in Fort Worth, this establishment is known for its authentic Mexican cuisine. 
Set in a picturesque garden setting, it's perfect for a delightful meal after a day of hiking.
Rodeo Goat: If you're in the mood for arguably the best burgers in town, Rodeo Goat is the place to be. 
Their eclectic range of burgers paired with craft beers makes it a local favorite.
Woodshed Smokehouse: Situated along the Trinity River, this smokehouse offers a unique blend of ambiance and flavor. 
Specializing in smoked meats and an array of barbecues, it's a carnivore's dream come true.
Natural Spots:
Fort Worth Botanic Garden: A short drive away, this garden offers a tranquil escape with its thematic gardens, including the beautiful Japanese Garden. 
It's a haven for plant lovers and those seeking peace amidst nature.
Fort Worth Nature Center & Refuge: As mentioned earlier, this vast area provides trails, canoeing opportunities, and a chance to see native wildlife in their natural habitats. 
It's an immersive experience into Texas's diverse landscapes.
Trinity Park: Lying along the Trinity River, this park offers lovely picnic spots, playgrounds, and even paddle boating options. 
It's perfect for a family outing or a romantic evening stroll.
Other Attractions:
Kimbell Art Museum: If you're in the mood for some culture, this museum, renowned for its architecture and impressive art collection, is a must-visit. 
The exhibits range from ancient to modern, ensuring there's something for every art aficionado.
Fort Worth Stockyards National Historic District: Dive deep into the cowboy culture here. 
With rodeos, cattle drives, and western-themed shops, it's a unique trip back into the Wild West.
Sundance Square: A vibrant urban space, it's dotted with restaurants, shops, and galleries. 
It's the beating heart of Fort Worth's nightlife and a great place to experience the city's contemporary side.
Why Airfield Falls Trailhead & Conservation Park is Popular with Travelers
Nestled in Tarrant County, Airfield Falls Trailhead & Conservation Park stands as a testament to nature's allure amidst urban surroundings. 
But what makes it such a traveler's magnet?
Natural Beauty: The park boasts the largest natural waterfall in the county, making it a sought-after spot for those looking to capture nature's beauty, be it through a lens or with their own eyes.
Accessibility: Its proximity to Fort Worth and a 1-mile easy paved trail makes it appealing to both locals and tourists. 
You get the joy of a nature escape without the strenuous effort.
History meets Nature: The presence of McDonnell Douglas C-9 aircraft remnants and the Texas Historic Markers weave a tapestry of history into the natural landscape. 
It's not often that one finds aviation history in a nature conservation park.
Diverse Activities: From bird-watching to picnicking, there's an array of activities to indulge in, catering to a broad spectrum of visitors.
Seasonal Magic: The northward migration of monarch butterflies adds a special touch, turning the park into a living canvas of fluttering colors.
Airfield Falls Trailhead & Conservation Park strikes a perfect balance between relaxation and exploration, history, and nature, making it a must-visit spot on any traveler's Fort Worth itinerary.
Leaving Notes
At the heart of Tarrant County lies a gem that seamlessly intertwines nature's serenity with rich history and urban accessibility – the Airfield Falls Trailhead & Conservation Park. 
A haven for both intrepid explorers and those seeking a peaceful retreat, this park offers the thrill of the largest natural waterfall in the county, a tapestry of trails connecting to other natural wonders, and glimpses into aviation history that few places can boast. 
Beyond its borders, Fort Worth blossoms with cultural marvels, mouth-watering eateries, and a nightlife that dances between the echoes of the Wild West and the contemporary beats of modern Texas. 
Whether you're gazing at the cascading waters, tracing the path of monarch butterflies, or venturing out to experience the broader offerings of the region, every moment promises discovery and enchantment. 
So, the next time wanderlust beckons, remember that sometimes, the most profound adventures lie not in distant lands, but in our own backyards, waiting to be explored and cherished. 
Airfield Falls Trailhead & Conservation Park isn't just a destination; it's an experience, a story, a memory in the making.