From our trip last week, I recall – A canopy of countless stars above, a serene campfire crackling by your side, and the majestic landscapes of Capitol Reef National Park forming your backdrop. That's the allure of camping in Capitol Reef National Park.
Every year, thousands of adventurers are drawn to this gem. Why? Not just for its camping spots that seem straight out of a dream, but for its bountiful wildlife too. 
From the graceful Desert Bighorn Sheep to the playful Marmots, Capitol Reef promises more than just a scenic escape; it's a journey into the heart of nature.
You've probably camped before, but not like this. Not in a place where the horizon stretches endlessly and every sunset paints a new masterpiece.
Ready to dive deeper? Strap in. We're about to embark on a journey through Capitol Reef's best camping spots and a sneak peek into its wild residents.
Let the adventure begin!
Why Choose to Go Camping in Capitol Reef National Park
Deep in Utah's red rock country lies a camper's paradise, a testament to the passage of time and the enduring force of nature: Capitol Reef National Park. 
A haven for explorers, this park offers an experience that feels both raw and profoundly beautiful.
As you pitch your tent beneath towering cliffs or beside vast expanses of slickrock, you can't help but be transported back to a time before modern civilization.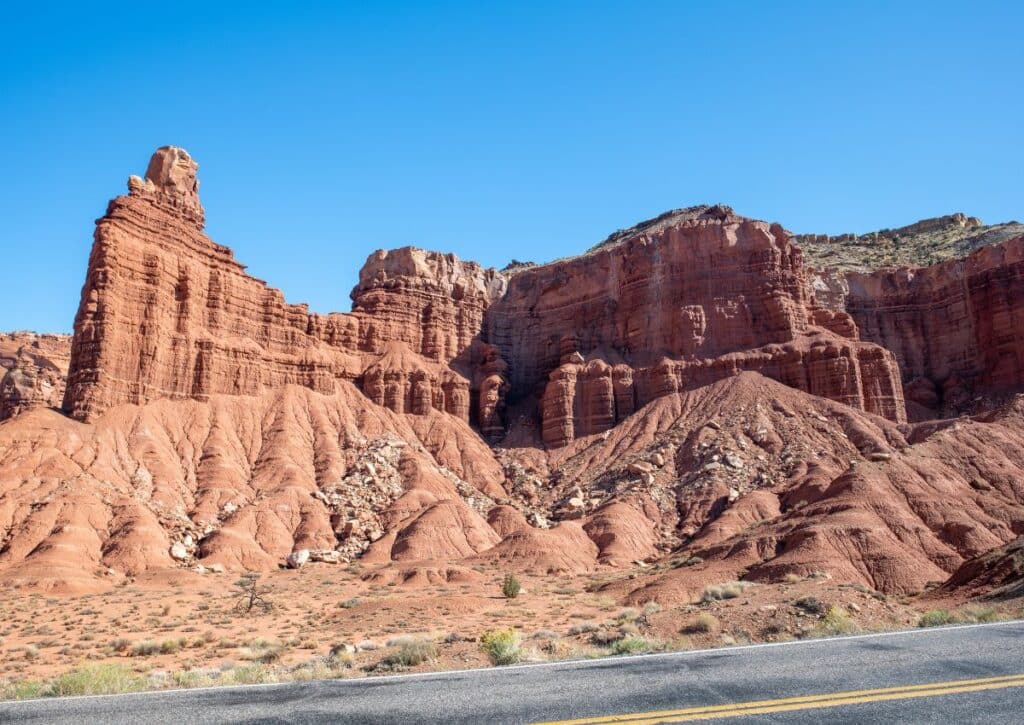 The park itself spans nearly 250,000 acres, a tapestry of multicolored cliffs, massive domes, soaring spires, and labyrinthine canyons. 
Every rock formation, every shadow cast by the shifting sun, tells a story of geological processes and the power of erosion over eons.
The history of Capitol Reef is written not just in its rocks but also in the remnants of ancient cultures. Petroglyphs etched by the indigenous Fremont people bear witness to life in these lands a thousand years ago. 
As the sun sets and the campfire starts, one can almost hear the whispers of these old souls, sharing tales of survival and celebration in this rugged landscape.
Marvel at natural wonders while camping at Capitol Reef National Park.
Beyond its geological wonders, Capitol Reef dazzles with its celestial displays. Far from city lights, the park is designated as a Gold Tier "International Dark Sky Park." 
This means that on any given night, campers are treated to an ethereal display of the Milky Way, shooting stars, and constellations so clear they seem just an arm's reach away.
During the day, natural bridges, arches, and unique rock formations like the Chimney Rock and the Waterpocket Fold beckon hikers and photographers alike. 
The park also boasts vibrant orchards, a unique feature for a desert setting. Come harvest time, campers can pick and savor fresh fruits like apples, pears, and cherries right from the trees—a sweet reminder of the human history intertwined with this land.
Camping at Capitol Reef National Park isn't just about setting up a tent; it's about becoming a part of a timeless narrative, where nature's wonders and ancient histories converge, promising an adventure that lingers in the soul long after the journey is over.
The Top 3 Campgrounds in Capitol Reef
When it comes to immersing yourself in the rugged beauty of Capitol Reef National Park, the choice of campground can make all the difference. 
Whether you're seeking solitude under the stars, a family-friendly environment, or the most breathtaking vistas, Capitol Reef has a spot for every kind of camper. 
Dive into our guide on the top three campgrounds, and embark on an adventure that'll stay with you long after you've packed up your tent.
Cathedral Valley Campground
Situated about 36 miles from the Capitol Reef Visitor Center, Cathedral Valley Campground is a part of the park's renowned Cathedral District. 
With its location on the Cathedral Valley Loop Road, this campground offers a more remote and tranquil camping experience.

This primitive campground has six designated sites. Each site comes with its own picnic table and fire grate, letting you dine with a view. 
While there's a pit toilet for convenience, campers should note that there's no water supply, so bringing your own is crucial.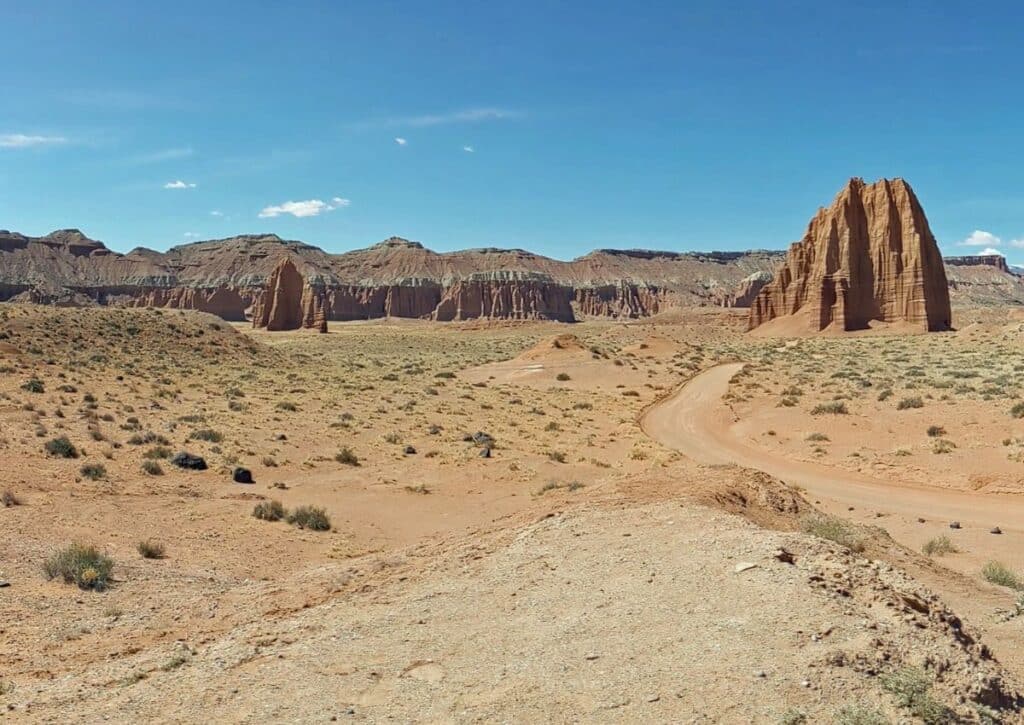 Open throughout the year, Cathedral Valley Campground's accessibility can sometimes be at the mercy of the weather. 
Given its elevation of approximately 7,000 feet in the Pinyon/Juniper-clad foothills of Thousand Lake Mountain, weather conditions can make the campground hard to reach at times.
One of its attractions is that there's no camping fee. However, due to its limited six sites, it's strictly a first-come, first-served basis. 
Without any reservation system in place, early arrival during peak times is your best bet to secure a spot.

For up-to-date road conditions or additional information, you can reach out to Capitol Reef Visitor Center directly at 435-425-3791 (Press #1 for information, and then #4 for road conditions). 
It's worth noting that a high-clearance four-wheel drive is often required to reach the campground, emphasizing the importance of checking current conditions before embarking on your adventure.
Cedar Mesa Campground
Approximately 23 miles south off the Utah State Highway 24 on the Notom-Bullfrog Road, Cedar Mesa Campground serves as an inviting haven at an elevation of 5,500 feet. 
Generally accessible by two-wheel-drive vehicles, sometimes the road's temperament might demand a high-clearance vehicle, particularly after seasonal changes.
With five well-spaced sites, Cedar Mesa ensures you have a personal encounter with nature.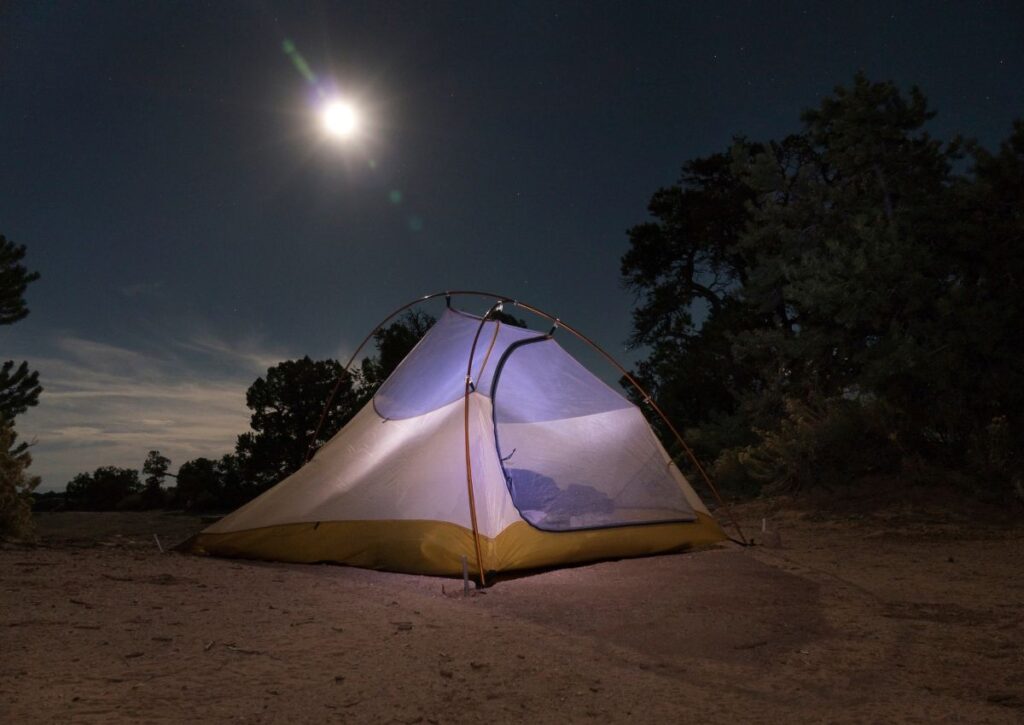 Each site is appointed with a picnic table and fire grate, perfect for late-night stories or alfresco dinners under the vast starry sky. 
As with many of the park's primitive campgrounds, there's a pit toilet, but remember to pack your water.

Operational throughout the year, the real charm of Cedar Mesa comes alive when you tread the 4.5-mile round-trip Red Canyon trail that begins right at the campground. 
This trail meanders through aromatic Pinyon and Juniper trees, leading you into a grand box canyon – an experience that's both serene and exhilarating.
Keeping your adventure wallet-friendly, Cedar Mesa doesn't charge a dime for camping. 
However, with just five sites available, it's always a good idea to arrive early, especially during the popular months, as the campground works on a first-come, first-served basis.
Cedar Mesa Campground is more than just a place to pitch your tent; it's an invitation to delve deeper into the heart of Capitol Reef. 
With the Red Canyon trail right at your doorstep, every morning can start with a fresh adventure. 
Experience the raw beauty, listen to the whispering winds, and find yourself truly reconnecting with the great outdoors.
For those always keen on being prepared, you can get the latest on road conditions by dialing 435-425-3791. After pressing #1 for general information, hit #4 to get updates directly about the road conditions leading up to Cedar Mesa.
Our Favorite Oasis while Camping in Capitol Reef National Park: The Fruita Campground
Imagine a place where you're wrapped in the warm embrace of orchards, lulled by the gentle murmurs of the adjacent Fremont River. Fruita Campground, often labeled as a desert oasis, provides just that.
With 71 intricately designed sites, this slice of paradise is the only developed campground within Capitol Reef National Park.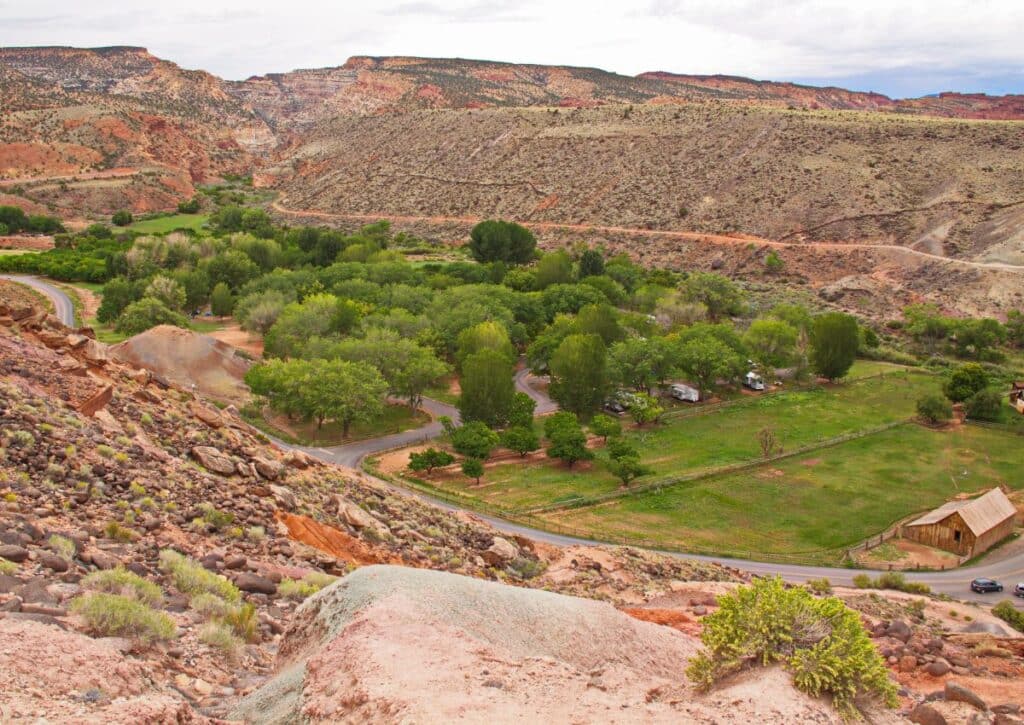 Each of the 71 sites boasts of a picnic table, either a fire pit or an above-ground grill, setting the stage for countless memories. 
While you might be in nature's lap, modern conveniences aren't far. 
Restrooms come equipped with running water and flush toilets, though showers are absent. Accessible sites are thoughtfully placed near the restrooms for ease of access.
Setting up your tent here comes at a modest fee of $25.00 per night, with the privilege of a 50% discount for Golden Age/Senior Pass or Golden Access/Access Pass holders.
Now, if you're planning a trip between March and October, remember to reserve your spot; the campground is on a 100% reservation system. 
This is a response to its increasing popularity, making on-spot availability a rare sight. However, don't fret if you missed out; Capitol Reef is enveloped by public lands offering dispersed camping. 
When Fruita's gates are closed, these become the campers' sanctuaries. Reserve your spots up to six months in advance on www.recreation.gov. 
From November to February, it's the early bird that gets the worm, as sites work on a first-come, first-served basis.
Services and Amenities:
Communication: Say goodbye to cell reception and internet – this is your digital detox.
Essentials: While you won't find an on-site camp store or ice for sale, seasonal firewood is available. The staff presence is also seasonal, with the exception of year-round trash/recycling services.
Entertainment: The amphitheater promises seasonal events to enhance your stay.
Facilities: There's a dump station operating year-round, free for campsite occupants. For others, a mere $5 suffices. Make sure to check the map for site sizes as larger RVs might have restricted access.
Amidst the 71 sites, sites 7, 48, and 50 stand out, equipped with grills but devoid of campfire rings. 
Fires are welcomed, but strictly within the provided grills and rings. Flush toilets serve all year, ensuring comfort even in the wilderness.
For those requiring wheelchair access, the campground's pathways, loops, and restrooms are designed with you in mind. Large RVs and trailers? They're welcome too, though size limitations for certain sites exist.
Fruita Campground isn't just another camping spot; it's a memory in the making, an experience waiting to be savored. 
Whether you're chasing solitude or seeking adventure, its charm will captivate and leave you yearning for more.
And yes.. We took Fluffy along – Dogs on leashes are allowed! 
Backpacking and Primitive Camping in Capitol Reef
Capitol Reef National Park, known for its intricate red rock formations, canyons, and cliffs, offers more than just scenic drives and day hikes.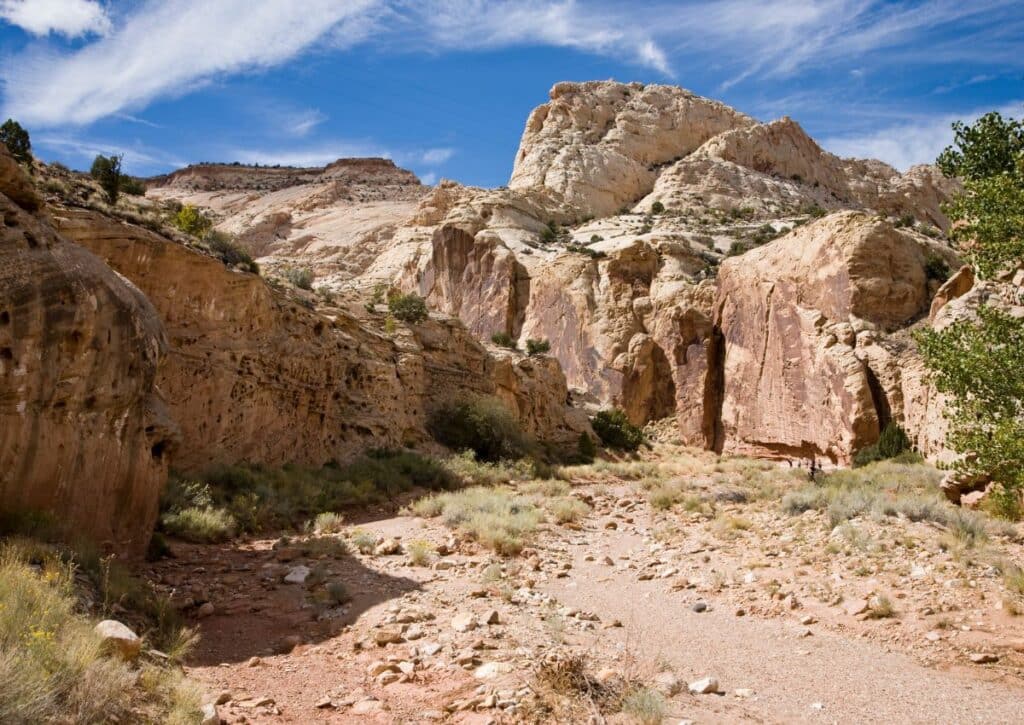 For the genuine adventurers, backpacking and primitive camping here is the ultimate way to immerse in its raw beauty.
Dive Deep into Nature:
Backpacking trails such as the Waterpocket Fold and the Chimney Rock Loop challenge hikers with varying terrains but reward with unrivaled views and solitude. 
These trails aren't for the faint-hearted, but for those who venture, they provide an intimate experience with the park's geology and natural wonders.
Primitive Camping Essentials:
Unlike established campgrounds, primitive camping in Capitol Reef means no amenities. Here's what to expect:
Location: Remote sites tucked away from regular tourist paths.
Amenities: None. That means no water, restrooms, or designated fire areas. You'll rely wholly on what you bring.
Stargazing: Without light pollution, the night skies here are a treat for astronomy enthusiasts.
Preparation is Key:
Backpacking in such a pristine environment requires:
Water: Essential, as sources in the park are scarce and not always reliable.
Waste Management: Carry out everything you bring in.
Permits: Essential for all backcountry camping. Consult the Visitor Center for availability and conditions.
Safety: Weather can change rapidly. Carry a map, compass, and perhaps a GPS device.
While backpacking and primitive camping in Capitol Reef require extra effort and preparation, the payoff is a unique, unfiltered experience of the park. 
By getting off the main trails and camping under the stars, you can truly connect with the wild spirit of this extraordinary landscape.
Glamping and RVs at Capitol Reef National Park

The rugged allure of Capitol Reef's vast landscapes needn't be experienced solely from a tent or under the stars. For those seeking a touch of comfort or even luxury amidst the wilderness, the park's vicinity offers several enticing options.
RV Camping: Your Mobile Basecamp
RV camping marries the joys of the open road with the comforts of home. A number of campgrounds near Capitol Reef cater to RVs, with Fruita Campground being a favorite.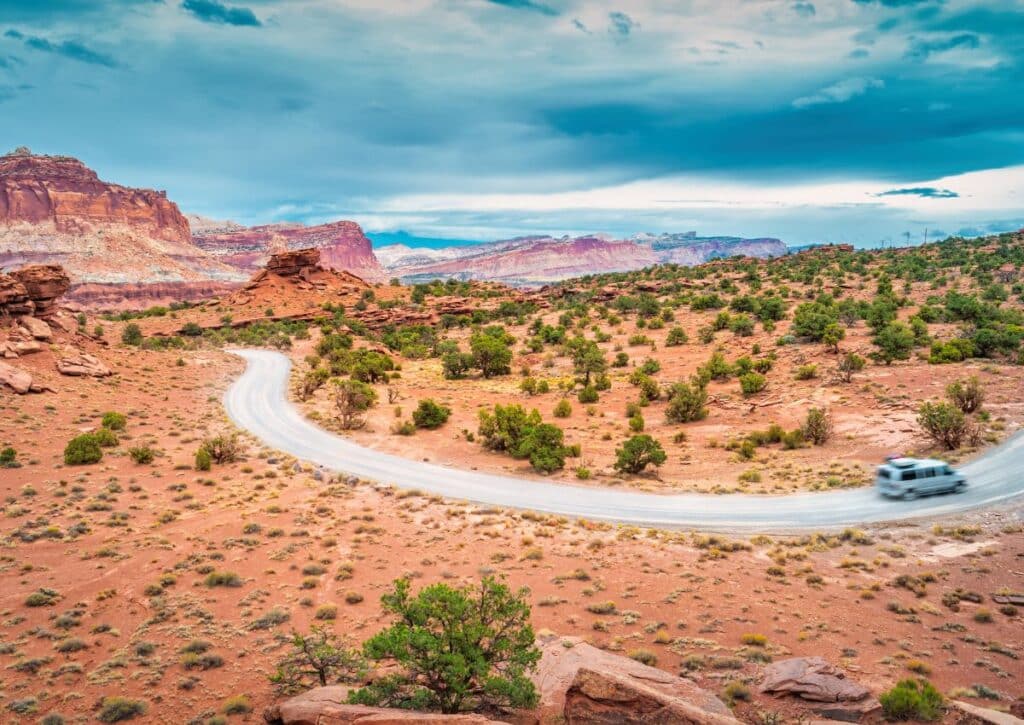 While it doesn't offer hookups, amenities like dump stations, potable water, and well-maintained restrooms provide a comfortable experience. 
For those with larger vehicles, it's essential to check site sizes beforehand to ensure a smooth stay.
Glamping: Wilderness with a Twist of Luxury
For those who adore the idea of being in nature but prefer a more lavish experience, glamping is the answer. 
Think: sturdy canvas tents equipped with plush beds, artisan furnishings, and sometimes even air-conditioning. Some glamping sites even serve gourmet meals under the stars.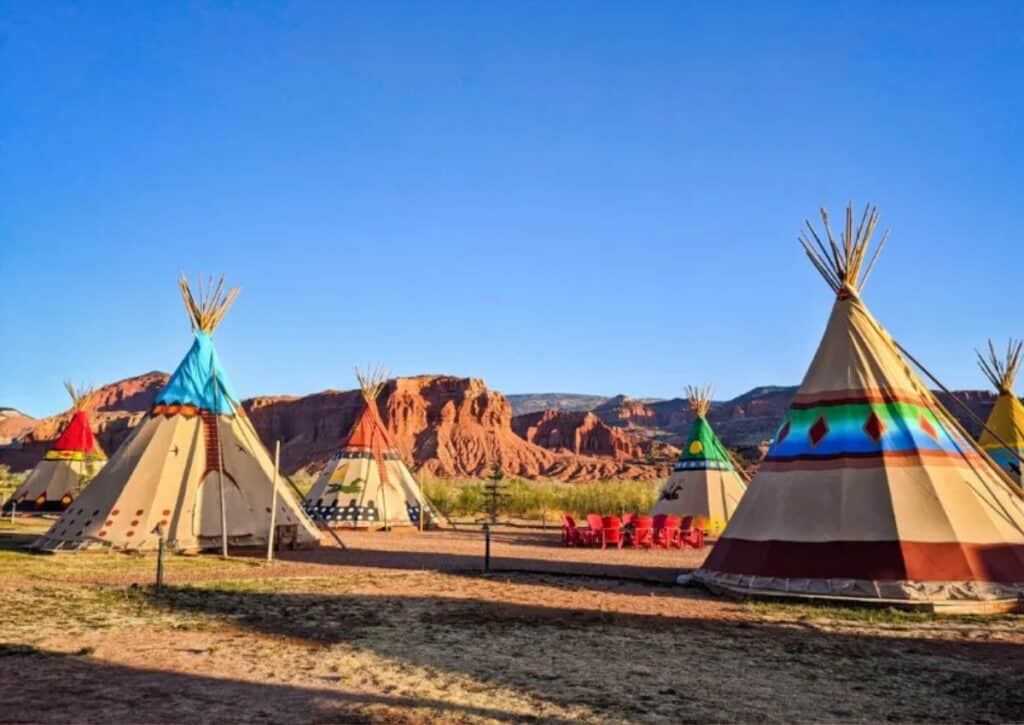 Capitol Reef's surrounding areas have seen a rise in these luxurious accommodations, ensuring visitors can enjoy the park's beauty without compromising on comfort.
The glamping option we tried: 
Capitol Reef Resort offers a transformative experience right at the gateway to Capitol Reef National Park. Guests swap traditional tents for historically-inspired Conestoga Wagons and teepees, elevated with plush mattresses and modern comforts. 
Beyond the luxurious accommodations, the resort is a stone's throw from ancient Fremont petroglyphs and the artsy town of Torrey. 
With a luxurious pool to beat the desert heat and a hot tub for cooler nights, it truly stands out as the ultimate glamping destination in Capitol Reef.
Truth be told – we enjoyed The Fruita Campground more than this – for authenticity and down right adventure! 
Expert Tips for an Unforgettable Camping Experience
Camping in Capitol Reef National Park offers an unparalleled opportunity to immerse oneself in the wild, untouched beauty of the region.
Here are the highlights to guide your adventurous spirit:
Ten Essentials for Capitol Reef Campers
Equipping oneself with the right gear is paramount. Essentials like a reliable map, compass, sunscreen, extra food, moisture-wicking clothing, first-aid supplies, a knife, flashlight, matches, and a whistle can greatly enhance safety and comfort.
Experience True Wilderness
There's nothing quite like the Capitol Reef night sky. As darkness blankets the rugged landscape, the heavens burst into a mesmerizing display. 
Without the intrusion of city lights, you're treated to a celestial masterpiece, making stargazing an absolute must.
Camping Safely
Before heading out, familiarize yourself with the park's regulations and weather conditions. 
Setting up camp before sunset, storing food securely away from wildlife, and always letting someone know your itinerary are crucial safety precautions.
Campfires
While campfires are a camping staple, remember to use designated fire rings or grates. Use small sticks from the ground but avoid breaking branches. 
When leaving, ensure your fire is cold to the touch to prevent wildfires.
Purify Water in the Wild
When relying on natural water sources, either boil the water for at least a minute or use a trusted water filter. Both methods will help keep waterborne illnesses at bay.
Making it a Family Affair
Capitol Reef is a playground for all ages. Rangers often recommend interactive nature trails for families and suggest engaging children with junior ranger programs. 
It not only educates but makes the experience fun and memorable.
Pet-Friendly Camping
While bringing along our four-legged friends can be tempting, it's vital to be aware of park regulations. 
Leashed pets are allowed on specific trails and in campgrounds, but for their safety and the safety of wildlife, always supervise them closely.
Committing to the Cause
The majesty of Capitol Reef demands our respect and care. To preserve its wonders for generations to come, it's crucial to commit to eco-conscious behaviors. 
The "Leave No Trace" philosophy is straightforward: take only photographs, leave only footprints. 
By being mindful of our impact, we can ensure the continued splendor of this natural sanctuary.
The Wildlife we saw While camping in Capitol Reef National Park 
Desert Bighorn Sheep
Desert Bighorn Sheep are quintessential residents of Capitol Reef's rocky landscapes. 
Travelers are most likely to spot these sure-footed animals amidst the high, rugged terrain of the Waterpocket Fold or navigating the cliffs near the scenic drive. 
The Chimney Rock trail and the higher grounds near the Fruita campground offer a favorable vantage point for observers hoping to catch a glimpse. 
Distinguished by their magnificent curled horns, which males use in head-to-head combat, and their robust body, they have evolved to expertly navigate the steep cliffsides. 
Their brown-gray coats provide them with perfect camouflage, while their keen vision alerts them to any lurking predators or nearby humans.
Utah Prairie Dogs
Utah Prairie Dogs are one of the more elusive mammals to be found in Capitol Reef National Park, primarily due to their limited numbers. 
These small, burrowing rodents make their homes in the park's grasslands and can often be spotted near the Cathedral Valley area and its associated campgrounds. 
While trekking around the northern sections of the park, particularly near Hartnet Road, keep an eye out for their intricate burrow systems and listen for their characteristic barking calls. 
These creatures are distinguishable by their round bodies, short tails, and a blend of tan, brown, and white fur. 
They play a crucial role in the ecosystem by aerating the soil with their burrows and providing a food source for numerous predators.
Mule Deer
Mule Deer are among the most commonly spotted mammals in Capitol Reef National Park, gracefully roaming its vast landscapes. 
These elegant animals, named for their large mule-like ears, are frequently observed in the Fruita area and around the campgrounds near the Fremont River, particularly during the early morning and evening when they're most active.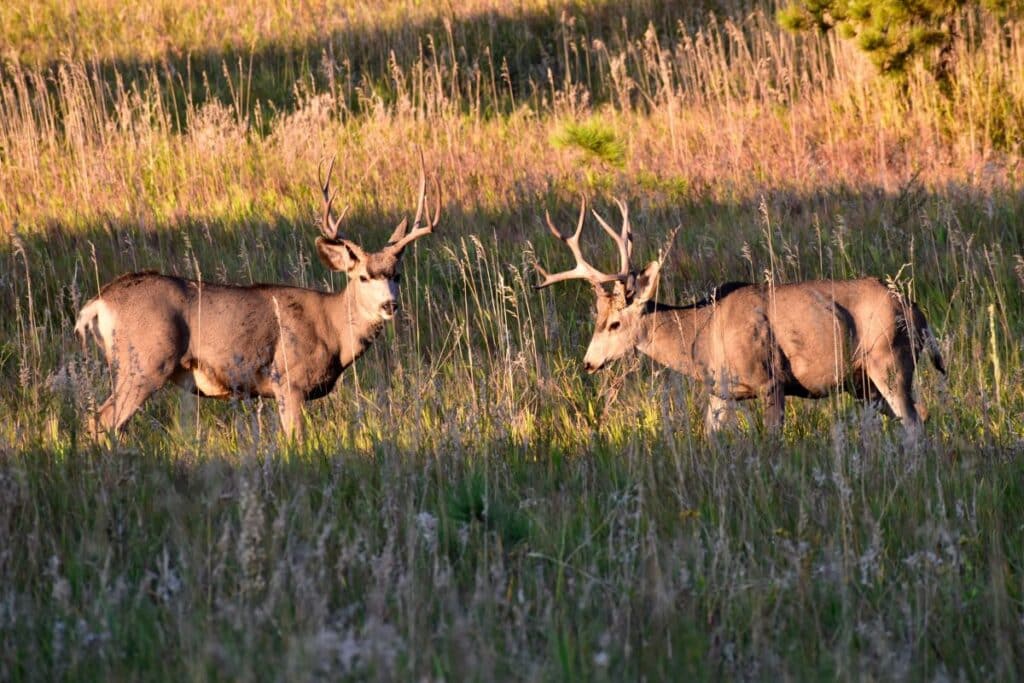 Hikers walking the trails of Grand Wash or Hickman Bridge might be rewarded with the serene sight of a mule deer grazing or resting under the park's iconic rock formations. 
Their tawny brown coat aids in blending seamlessly with the desert backdrop. 
In addition to their distinctive ears, mule deer exhibit a unique bounding leap, with all four feet leaving the ground, when they move quickly. 
This characteristic gait is an adaptation for quickly traversing rocky terrains and escaping predators.
BLACK BEARS
Black bears, while not as commonly spotted as some of the smaller creatures in Capitol Reef National Park, have been known to make appearances on occasion. 
These magnificent mammals primarily inhabit the more forested, high-elevation sections of the park, particularly in the denser woodlands where they have more coverage and food resources. 
Hikers exploring the higher altitude trails in the Waterpocket Fold area or the remote regions of Cathedral Valley stand the best chance of spotting these elusive creatures, though sightings remain rare.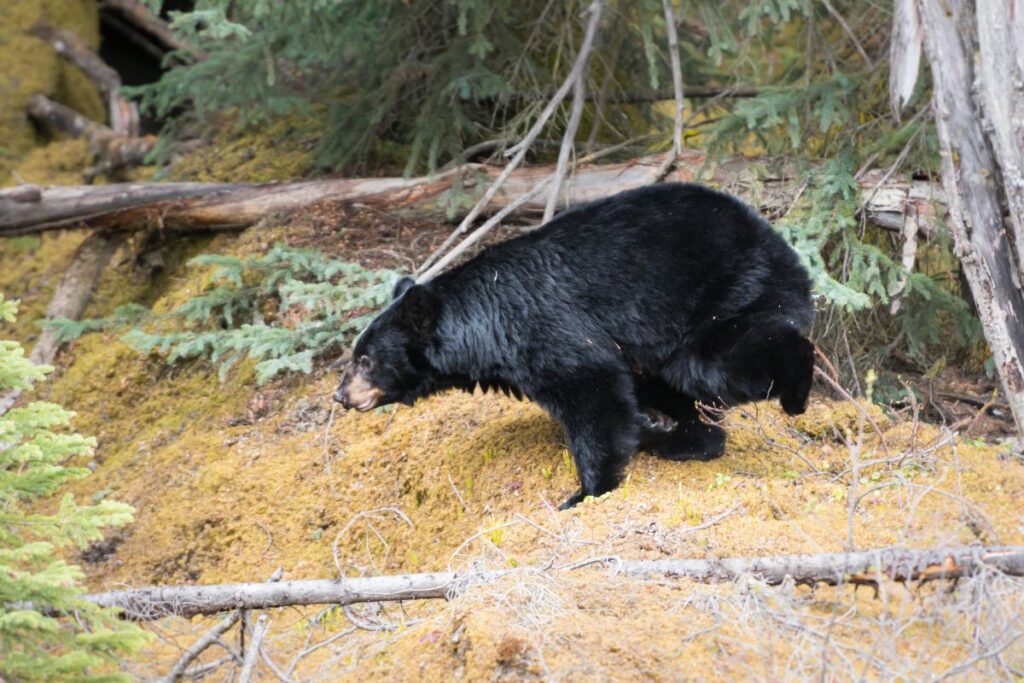 Black bears are omnivorous, with a diet ranging from berries and plants to fish and small mammals. 
They're known for their keen sense of smell and impressive agility. 
If camping or hiking in potential bear territories within the park, it's crucial for visitors to be bear-aware: store food securely, make noise while hiking to avoid surprising a bear, and always keep a safe distance if one is spotted.
Mountain Lion
The elusive mountain lion, also known as the cougar or puma, roams the more rugged and remote areas of Capitol Reef National Park. 
These apex predators favor the rocky terrains and steep cliff sides that the park offers, using them as vantage points to stalk their prey and as hiding spots to rest during the day. 
If you're hiking in the backcountry areas or the deeper canyons of the Waterpocket Fold, you're in prime mountain lion territory, though actually spotting one is a rare event given their stealthy nature.
Mountain lions are solitary animals with a tawny coat that provides perfect camouflage against the rocky backdrop. 
They primarily prey on mule deer but won't shy away from smaller mammals if the opportunity arises. 
If you're camping or hiking in mountain lion habitat, it's essential to be aware of your surroundings, especially during dawn and dusk when these cats are most active. 
Always keep children close, and if you do encounter a mountain lion, stand tall, make noise, and never run. 
Instead, back away slowly while maintaining eye contact, making yourself appear larger by raising your arms or opening your jacket.
Ringtails
Ringtails are one of Capitol Reef National Park's nocturnal treasures. These curious and agile creatures, often referred to as "miner's cats," are more closely related to raccoons than to felines. 
In the park, they typically inhabit rocky cliffs, deep canyons, and the nooks and crannies of boulder-strewn landscapes. 
Trails like Cohab Canyon or the cliffs around Fruita campground offer potential glimpses of these elusive mammals, especially during the early dawn or late dusk.
Sporting bushy tails with alternating black and white rings, ringtails have large, dark eyes adapted to their nighttime habits and a slender body that enables them to maneuver through tight spaces with ease. 
They are versatile predators, feeding on a variety of prey including insects, small mammals, and birds. 
When at camp, it's important for visitors to secure food and trash, as ringtails are known to be opportunistic, taking advantage of any food sources left unguarded. 
While it's a rare treat to spot a ringtail, the soft, eerie calls they emit during their nocturnal escapades might just hint at their presence nearby.
White-tailed Antelope Squirrel
The sprightly White-tailed Antelope Squirrel is a common sight in Capitol Reef, scampering across the desert floor in search of seeds and insects. 
Favored by the arid conditions, these squirrels are often seen during the day, especially around the Hickman Bridge trail and Fruita campground. 
With a white underbelly and a distinctive white stripe running along their side, they've adapted to the heat by burrowing and staying active during the cooler parts of the day. 
Their quick movements and sharp burrowing habits help them evade predators and the midday sun.
Rock Squirrel
Rock Squirrels, as their name suggests, prefer rocky terrains and outcrops, making Capitol Reef's rocky cliffs and canyons an ideal habitat. 
These chunky, large squirrels are often spotted around the Grand Wash trail and campgrounds, foraging for food or sunning on the rocks. 
With a variegated coat of gray, brown, and white, they primarily feed on plant material but won't shy away from insects or small vertebrates. 
Caution is advised, however, as they can be aggressive and are known to carry diseases.
Yellow-bellied Marmots
Visitors hiking the higher elevations of Capitol Reef, especially around the Waterpocket Fold, might be treated to the sight of Yellow-bellied Marmots. 
These robust rodents, with their distinctive yellowish-brown fur, are known for their loud whistle-like calls. 
They thrive in grassy meadows and rocky outcrops, hibernating during winter months and emerging in warmer seasons to bask in the sun and feed on greens and flowers.
American Beaver
The waterways of Capitol Reef, particularly the Fremont River, provide a fitting habitat for the American Beaver. 
Renowned for their dam-building skills, beavers have a significant impact on their environment, creating wetlands that benefit various wildlife. 
If you're camping or walking near the water in the early morning or evening, look out for telltale signs like chewed tree trunks or listen for the splash of a tail warning of danger.
Gray Fox
Capitol Reef's mesas and canyons, like the Chimney Rock trail area, are prime roaming grounds for the elusive Gray Fox. 
These canids, with their salt-and-pepper gray fur and rust-colored neck, are unique among foxes due to their ability to climb trees. Primarily nocturnal, they feed on small mammals, fruits, and insects. 
While they are not often seen during the day, their tracks can often be spotted in the soft desert sand.
Canyon Bat
The night skies of Capitol Reef are not only adorned with stars but also the swift, shadowy forms of Canyon Bats. 
As the smallest bat in North America, they're identifiable by their rapid flight as they feed on insects. 
The riparian zones around the Fremont River and the cliffs of the Scenic Drive offer optimal places to spot these winged wonders at dusk. 
Their echolocation chirps, while usually beyond human hearing, are a testament to their nightly feasts in the air.
BLACK BILLED MAGPIE
Distinguishable by its long tail and contrasting black and white plumage, the Black Billed Magpie is a resident of Capitol Reef's open habitats. 
Visitors traversing trails near grasslands or campgrounds like Fruita might spot these vocal birds searching for insects, seeds, and carrion. 
Their iridescent wings shimmer with a blue or green sheen in the sunlight, and they're known for their intelligence and curiosity, often observed using tools and recognizing themselves in mirrors.
KANGAROO RAT
The desert terrains of Capitol Reef are the stomping grounds of the nocturnal Kangaroo Rat. 
Named for its large hind legs adapted for jumping, this rodent is often spotted around sandy areas near the Sunset Point Trail. 
Its diet consists mainly of seeds, and uniquely, it can metabolize fat to produce water, allowing it to live in arid environments without drinking. 
Their burrows are usually evident with the entrance surrounded by a mound of sand.
PINYON JAY
Pinyon Jays, with their blue bodies and sharp calls, are frequent sights around the park's pinyon pine forests, especially near Cohab Canyon. 
They have a special relationship with the pines, feeding on their seeds and inadvertently aiding in their dispersal. 
Social birds, they often move in large, noisy flocks, foraging on the ground or flitting between trees.
PORCUPINES
Ambling along the park's woodland edges, especially near the higher elevations of the Waterpocket Fold, you might come across the slow-moving Porcupine. 
This rodent, armed with quills as a defense against predators, feeds on leaves, twigs, and green plants. 
Their presence in an area can be identified by the unique "nipped-off" appearance of branches and twigs they've fed on.
PRONGHORN ANTELOPE
The swift and graceful Pronghorn Antelope, often mistaken for deer, frequents Capitol Reef's open plains and grasslands. 
Particularly active around the Panorama Point and Cathedral Valley, their tan and white markings, along with their unique, forked horns, set them apart. 
The fastest land animal in the Western Hemisphere, pronghorns can be seen grazing on shrubs and grasses, always alert for predators.
Bicknell Bottoms Wildlife Refuge: A Nearby Natural Haven
Just a stone's throw away from Capitol Reef National Park lies the tranquil and captivating Bicknell Bottoms Wildlife Refuge. 
This sanctuary, often overshadowed by its colossal neighbor, offers its own brand of untouched beauty and biodiverse richness.
Sprawling wetlands and marshy terrains define Bicknell Bottoms, making it an oasis for a myriad of bird species, especially during migration seasons. 
Birdwatchers and nature enthusiasts flock here to catch glimpses of rare waterfowl, shorebirds, and the occasional raptor circling the skies. 
The gentle hum of insects, the melodic chirping of birds, and the subtle rustle of reeds swaying in the wind create a serene soundscape that invites visitors to pause and reflect.
Beyond its avian attractions, Bicknell Bottoms serves as a habitat for numerous mammals, amphibians, and fish. 
The waterways teem with life, while the surrounding meadows are often graced by deer and other small mammals. 
Whether you're an avid wildlife photographer, a casual hiker, or someone seeking solace in nature's embrace, Bicknell Bottoms Wildlife Refuge offers a unique experience, reminding one of the diverse wonders that lie just beyond the boundaries of the more frequented tourist destinations.
Activities in Capitol Reef National Park
Capitol Reef National Park, nestled in the heart of Utah's red rock country, is a treasure trove of unique geological formations and rich cultural history. 
But beyond its mesmerizing landscapes, the park offers a myriad of activities for visitors of all inclinations. 
Whether you're a seasoned adventurer, a history buff, or simply someone seeking tranquility amidst nature, Capitol Reef has something special for you.
Easy Hikes in Capitol Reef National Park

For those just dipping their toes into the world of hiking, or perhaps looking for a relaxed day amidst nature, these trails are the ideal choice.
Grand Wash Trail
This relatively flat 2.2-mile trail (one-way) is a favorite among families and casual hikers. It runs through a canyon that gradually narrows, offering a scenic experience without the strenuous effort. 
As you walk, you'll be surrounded by massive sandstone walls, which are especially captivating during early morning or late afternoon when the sun casts dramatic shadows.
Cohab Canyon Trail:
A moderately strenuous 1.7-mile trail that offers hikers a bit of everything – from scenic overlooks to narrow canyons. 
The initial climb might get your heart pumping, but the views of Fruita and the Waterpocket Fold are truly rewarding.
Scenic Drive and Capitol Gorge Trail:
Begin your journey with a scenic drive that showcases the park's myriad of colors and formations. 
Once you arrive at the Capitol Gorge, it's a 1-mile hike amidst towering walls and unique rock formations. Bonus? You can spot ancient petroglyphs along the way!
Petroglyphs Boardwalks:
Transport yourself back in time by walking alongside Capitol Reef's ancient rock art. 
This easy boardwalk offers interpretive panels, allowing visitors to understand the history and stories behind these ancestral artworks.
Additional Hikes for the Adventurous:

For those who wish to delve deeper and explore the less-trodden paths, these additional hikes offer an immersive experience.
Chimney Rock Loop:
A moderate 3.6-mile round-trip hike that offers expansive views of the Waterpocket Fold and the park's unique geology. 
The initial ascent is challenging but worth every step.
Hickman Bridge:
A 2-mile round-trip hike leading to one of the park's most famous landmarks – a natural bridge! 
It's a relatively easy hike with a few steep sections, making it accessible for most visitors.
Navajo Knobs:
This 9.4-mile round-trip is for those looking to challenge themselves. It's strenuous but rewards hikers with panoramic views of the park from the top. 
Ensure you carry plenty of water for this one.
Golden Throne:
A 4-mile round-trip hike that takes you close to the park's iconic golden sandstone dome. 
The trail is steep but offers spectacular views of the Cassidy Arch and the Waterpocket Fold.
Awe-inspiring Overlooks in Capitol Reef National Park
Capturing the perfect Instagram-worthy shot requires more than just a good camera – it demands a backdrop that leaves viewers in awe. And if dramatic landscapes are your calling, Capitol Reef National Park has just the spots for you.
Gooseneck Point:
This vista point is located on the western side of Capitol Reef, near the main Visitor Center.
Gooseneck Point provides an unobstructed view of the sinuous meanders of Sulphur Creek. With steep canyon walls surrounding the winding river, it's a perfect representation of the raw beauty of nature. 
This bend is often compared to the famed Horseshoe Bend, yet it has the advantage of fewer crowds, granting a more intimate experience.
How to Reach: From the Visitor Center, take the Scenic Drive south for a few miles. There will be clear signages directing you to the viewpoint. A short walk from the parking area will bring you to the edge where you can soak in the view.
Sunset Point Overlook:

Situated towards the northern end of the park, near Panorama Point, true to its name, Sunset Point is a celestial theater. As the sun begins its descent, the skies come alive in a riot of colors. 
The golden hour casts a warm glow over the park's iconic rock formations, creating a magical ambience. The overlook provides panoramic views, making it a favored spot for both sunrise and sunset.

How to Reach: From Highway 24, follow the signs to Panorama Point. A well-maintained road will lead you to a parking area. From here, a brief trail winds up to the Sunset Point Overlook.
Scenic Drives in Capitol Reef National Park
Capitol Reef National Park, nestled in the heart of Utah's red rock country, is a haven for those who find solace in nature's grand designs. 
While the park boasts numerous trails for intrepid hikers, it also offers some of the most breathtaking scenic drives in the American Southwest. 
Capitol Reef Scenic Drive:
Distance: Approximately 8 miles one-way.
Location: Starts at the Capitol Reef Visitor Center.
This paved drive takes you deep into the Waterpocket Fold, the park's iconic geologic feature. 
As you meander through the heart of the park, you'll be flanked by towering cliffs, vast monoliths, and intriguing rock formations. 
The drive offers several pullouts where you can stop, take photographs, and immerse yourself in the grandeur. Notable points include the Grand Wash, the Castle, and the Golden Throne.
Tip: The road can get busy during peak seasons. Start your drive early in the morning or later in the afternoon for a serene experience.
Notom-Bullfrog Road and Burr Trail:

Distance: Approximately 68 miles combined.
Location: Begins just south of the park's Visitor Center, extending southward.

This is an unpaved road that showcases the park's diverse landscape. From mesas to canyons and from deserts to mountain vistas, this drive offers it all. 
The Burr Trail section, in particular, is famous for its switchbacks that offer panoramic views of the Waterpocket Fold and beyond. 
Note that while a regular vehicle can manage most of this road, some portions, especially the Burr Trail switchbacks, might be more suitable for high-clearance vehicles.

Tip: Check the weather forecast before embarking. Rain can make sections of the road muddy and impassable.
Cathedral Valley Loop:

Distance: Approximately 60 miles round trip.
Location: The loop starts and ends on Highway 24 but requires a ford of the Fremont River shortly after the start.

This is an adventure for those looking to experience the park's more remote features. 
The Cathedral Valley is home to monolithic sandstone sculptures that rise dramatically from the valley floor, resembling majestic cathedrals. 
You'll encounter the Temple of the Sun, Temple of the Moon, and the Glass Mountain, an intriguing mound of selenite crystals. 
The road is unpaved and can be rough, so a high-clearance vehicle is recommended.
Tip: Since this is a remote area with no cell service, ensure your vehicle is in good condition and carry plenty of water, food, and a spare tire.
Pleasant Creek Road:
Distance: 9 miles one-way.
Location: Starts near the park's east boundary on Highway 24.

A less frequented drive, this unpaved road meanders alongside Pleasant Creek through a lush riparian zone. 
It's a stark contrast to the red rock landscapes elsewhere in the park and offers a peaceful journey. 
The road eventually meets South Draw Road, presenting an option to venture into the Dixie National Forest.

Tip: The road is suitable for most vehicles, but it's always wise to check current conditions at the Visitor Center.
Capitol Reef National Park is a scenic marvel, and its drives offer a chance to see vast expanses of this wonder in a relatively short time. 
Each drive has its unique character, landmarks, and allure. 
But regardless of which you choose, the park's mesmerizing landscapes are sure to leave an indelible mark on your heart. So, buckle up and set forth on a journey through time and beauty.
Rock Climbing in Capitol Reef National Park
Amidst the red rock expanses of Capitol Reef National Park, a lesser-known yet thrilling experience awaits adventure enthusiasts: rock climbing. 
This park, with its sheer cliffs, vast monoliths, and intricate rock formations, offers some of the most exhilarating climbing opportunities in Utah's canyon country.
Climbing Spots:
Chimney Rock Area: A popular spot, Chimney Rock offers both sport and traditional climbs. Its routes vary from short single pitches to longer multi-pitch routes, making it suitable for climbers of various experience levels.
Wingate Wall: This vast expanse of rock face located near the Fruita area is not for the faint-hearted. The wall, with its towering heights and challenging routes, calls out to the seasoned climber.
Safety and Regulations:
While the park invites climbers to challenge its walls, it's crucial to be aware of the rules and guidelines set forth to ensure both safety and environmental preservation.
Before embarking on any climb, ensure you have a permit. These are free and can be obtained at the visitor center.
The park prohibits the placement of new fixed anchors or hardware. Only natural features or existing anchors can be used for protection.
Climbing is not allowed on any arch with an opening larger than three feet or on named rock formations unless there's a designated route.
Respect the fragile desert ecosystem. Stick to established paths and avoid trampling on delicate desert flora.
Preparation:
The arid climate and often harsh sun can take a toll on climbers. Ensure you're well-prepared with:
Ample water to keep hydrated.
Sunscreen and protective clothing to guard against the sun.
Proper climbing gear, including helmets to ensure safety.
Fruit Picking
A unique feature of Capitol Reef is its historic orchards, planted by early Mormon settlers and now maintained by the National Park Service. 
Come summer and fall, visitors can pick and enjoy fresh fruits like apples, pears, peaches, and cherries. 
It's a delightful way to connect with the park's cultural heritage.
Stargazing
Designated as a Gold Tier "International Dark Sky Park," Capitol Reef offers some of the best stargazing opportunities in the United States. 
With minimal light pollution, the night sky here is ablaze with stars, planets, and meteor showers. 
The park often holds ranger-led astronomy programs, where visitors can learn about the constellations and celestial events.
.
Horseback Riding
Experience the wild west in the most authentic way possible – on horseback.
Several local outfitters offer guided horseback tours, allowing visitors to traverse the park's trails and canyons while soaking in the grandeur of its landscapes.
Key Takeaways
Capitol Reef National Park is a camper's paradise nestled in the heart of Utah. It promises not just a place to pitch your tent, but a complete outdoor experience.
From hiking its expansive trails by day to gazing at the starlit skies by night, every moment spent camping here is a memory in the making.
Beyond just setting up camp, the park beckons with its scenic drives through the Waterpocket Fold and historic tales etched in petroglyphs and old orchards. Wildlife sightings add a touch of thrill to the serene landscapes, making it a haven for nature lovers and photographers.
In essence, camping in Capitol Reef is more than just an outdoor stay; it's an immersion into nature's wonder, leaving campers enriched and longing for more.