Discover the best Campgrounds in Acadia National Park for every season  and our insider tips!
Set off on a camping journey through Acadia National Park, where the wonders of Maine's rugged coastlines and whispering forests await.
Our guide delves into the best spots for pitching a tent or parking an RV, from the bustling Blackwoods to the serene Seawall, the hidden Schoodic Woods, the adventurous Duck Harbor, and the horse-friendly Wildwood Stables.
Discover the ideal times to visit, tips for making the most of your stay, and the unique charms each campground offers. Ready for a blend of adventure and tranquility?
Let's explore what makes camping in Acadia a must-do for every outdoor enthusiast!
Blackwoods Campground – Eastside Haven
Diverse Campsites: With 281 sites, Blackwoods caters to every camper, from tent enthusiasts to RV lovers, ensuring a spot that suits your style.
RV Ready: 60 RV-exclusive sites blend the adventure of camping with the comforts of home, perfect for those who travel with their RV.
Essential Amenities: Enjoy the convenience of picnic tables, fire pits, potable water, and variable phone service, bringing a touch of home to the wilderness.
Pet-Friendly and Socially Conscious: Dogs are welcome on leashes, and responsible alcohol use is allowed at your campsite, ensuring a fun yet respectful environment.
Convenience and Exploration: Though no showers on-site, facilities are nearby, and the free Island Explorer Shuttle (June-October) connects you to the best of Mount Desert Island.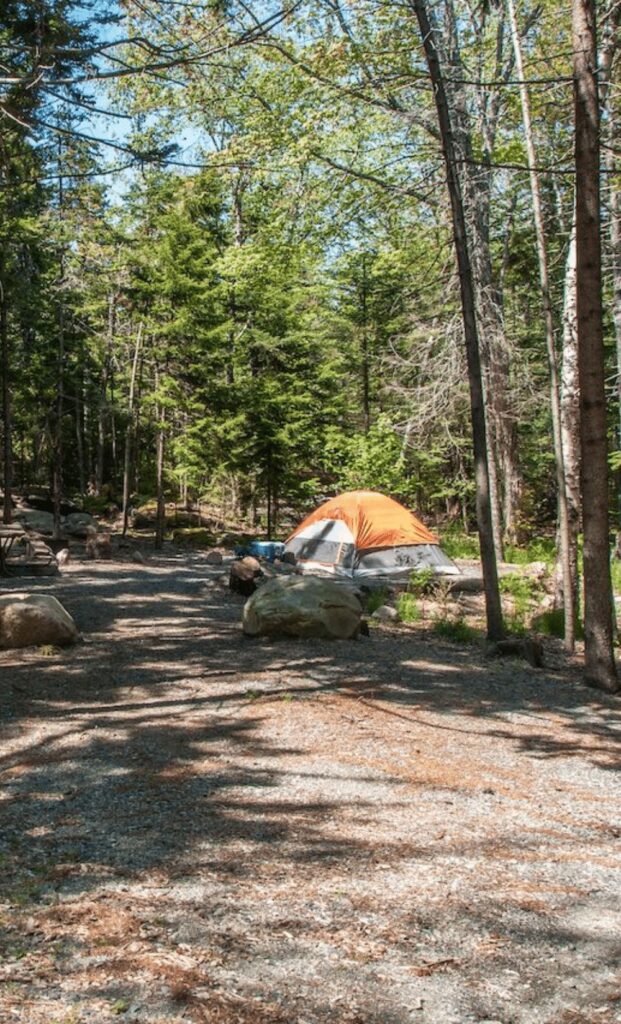 Get ready for an adventure at Blackwoods Campground in Acadia National Park! Tucked away on Mount Desert Island's east side, this camper's delight is a hop, skip, and a jump from Bar Harbor.
Imagine waking up surrounded by whispering spruce and fir trees, with Cadillac Mountain just a stone's throw away. You're in the heart of hiking heaven, with trails that lead to stunning vistas and serene ponds.
After a day of exploring, chill out around a crackling campfire, toasting s'mores and swapping tales. Blackwoods is your fun-filled escape into nature, where each day is a new adventure waiting to happen.
Seawall Campground – Westside Wilderness
Diverse Camping Choices: Seawall offers 202 sites, including 59 RV-only and 43 tent-only spots, ensuring a perfect fit for every camper's style. Group and walk-to/boat-to sites add to the variety.
Scenic Location: Nestled just 4 miles south of Southwest Harbor, every campsite is a short walk from the stunning coastline. It's an ideal base for ocean-side adventures and starlit evenings.
Seasonal Operation with Affordable Rates: Open from May 24 to October 9, the campground's fees are budget-friendly: $22 for walk-in tents, $30 for drive-up sites, and $60 for groups.
Essentials Covered, Nature Unplugged: Enjoy seasonal amenities like flush toilets and potable water, but prepare for a true nature experience with no cell service, internet, or showers. It's camping at its most authentic!
Eco-Friendly Camping: Committed to environmental protection, Seawall encourages using local firewood within 50 miles and provides fire rings and grills for that perfect campfire experience.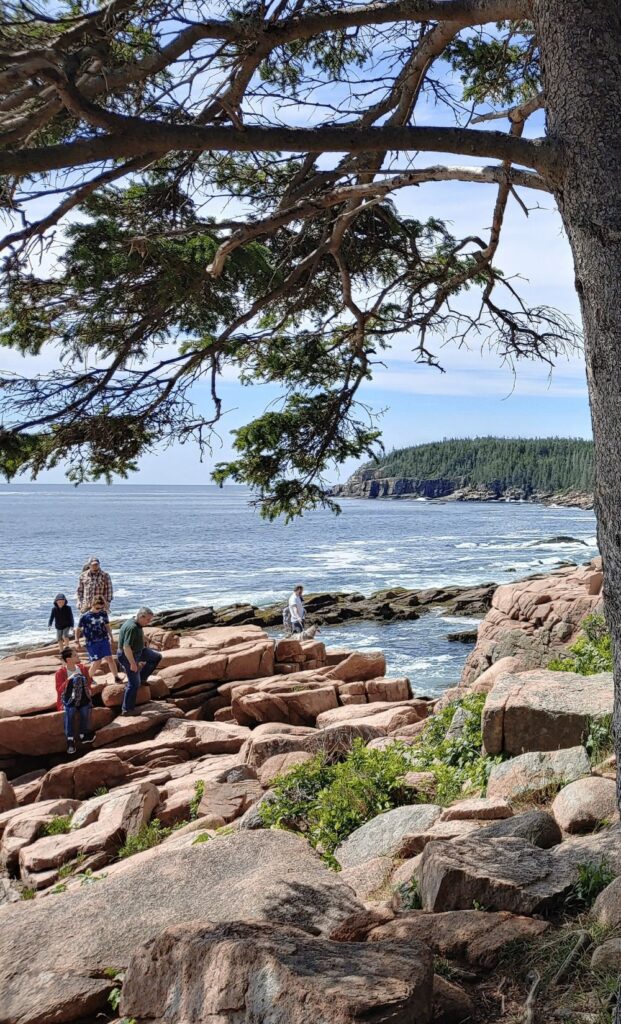 Next up, Seawall Campground: a serene slice of camping paradise on Acadia's quieter west side. Picture this: you're just a short stroll from the rugged, wave-kissed coastline, with Southwest Harbor's charming vibe nearby.
Seawall's campsites are a mix of tent and RV spots, each offering a front-row seat to nature's grandeur. Spend your days exploring tide pools or hiking the Wonderland Trail.
As evening falls, the ocean whispers lullabies, perfect for peaceful stargazing. Seawall Campground is more than a stay; it's an experience where the ocean's rhythm sets the pace for your adventures!
Schoodic Woods Campground – The Serene Escape
Tranquil Setting: Nestled on the Schoodic Peninsula, 3 miles from Winter Harbor, Schoodic Woods offers a peaceful escape, just an hour's drive from Bar Harbor.
Diverse Camping Options: With 89 sites, including 41 RV-only and 13 tent-only spots, plus electric hookups and walk-to sites, there's a perfect space for every camping style.
Flexible Pricing: Enjoy various camping experiences, from $22 hike-in sites to $40 RV sites with electric and water, plus group sites at $60.
Eco-Conscious Camping: No showers and strict fire policies support a sustainable camping experience, emphasizing the beauty of nature.
Smooth Check-Ins: For late arrivals, your site details await at the ranger station, ensuring a hassle-free start to your adventure.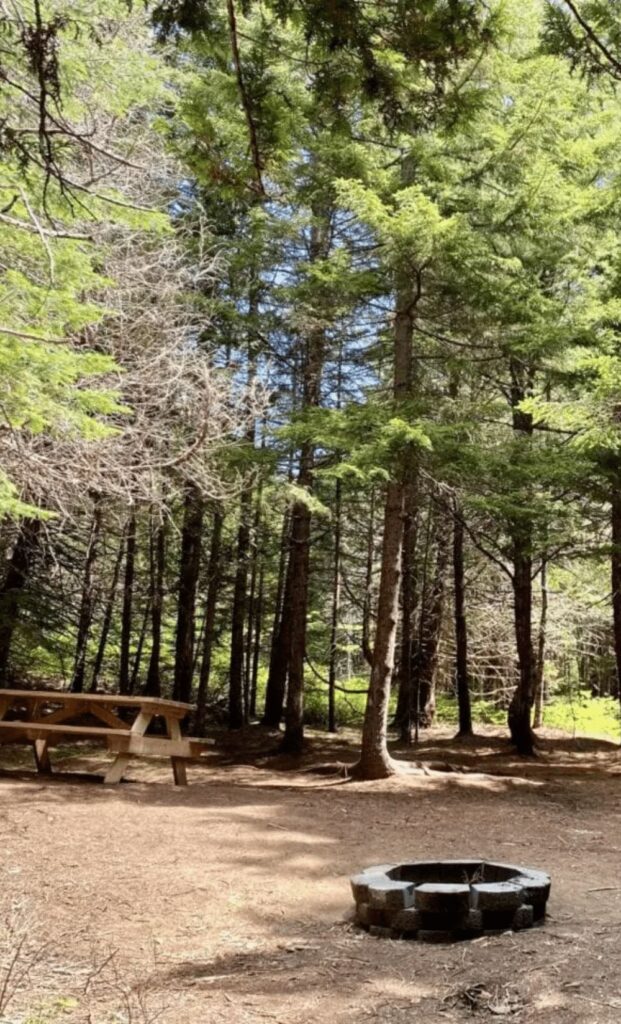 Schoodic Woods Campground, nestled on the scenic Schoodic Peninsula, offers a unique, quieter side of Acadia National Park.
Surrounded by lush forests and coastal views, it's an ideal spot for nature lovers and peace seekers. With diverse camping options, from hike-in tent sites to RV spots with hookups, there's something for every camper.
Imagine cycling on picturesque trails or hiking through serene landscapes, all just a stone's throw from your campsite. Schoodic Woods is your gateway to a less-trodden, tranquil part of Acadia, where every day brings a new, peaceful adventure.
Duck Harbor Campground – The Remote Adventure
Remote Wilderness Camping: Duck Harbor Campground, located on Isle au Haut, offers a unique, remote camping experience. Accessible only by mailboat, it's a perfect getaway for those seeking solitude and nature.
Limited, Rustic Sites: The campground has just five lean-to shelters, offering a primitive camping style. These three-sided shelters with roofs and floors provide basic protection while still allowing you to connect with the environment.
Natural Amenities: Enjoy basic amenities like picnic tables, a fire ring, composting toilet, and a hand pump for water. Campfires are allowed using dead and downed wood collected near the campground.
Tranquil Environment: Emphasizing peace and quiet, the campground enforces a no-pet policy and prohibits generator use. Quiet hours are observed from 10 p.m. to 8 a.m.
Reservations and Stays: Advance reservations are required for the limited spots available, and campers are limited to a maximum stay of 3 nights/4 days per calendar year.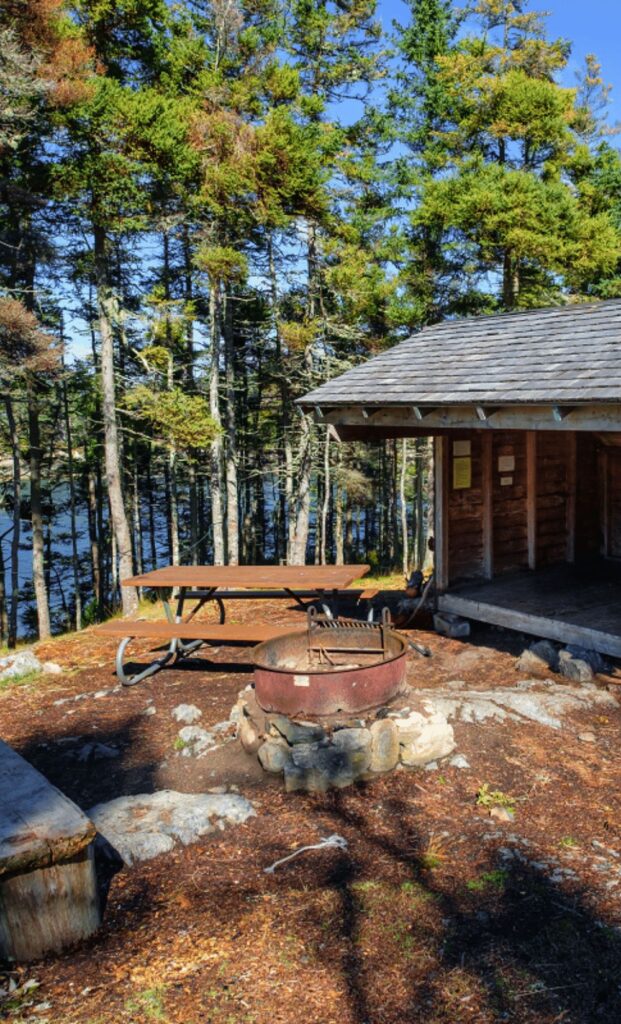 Duck Harbor Campground on Isle au Haut is Acadia's off-the-beaten-path adventure. Accessible only by mailboat, this rugged island escape is a dream for those seeking a true wilderness experience.
Imagine waking up in a cozy lean-to shelter, surrounded by untouched nature. Your days are filled with exploring rocky shorelines and dense forests, far from the hustle of everyday life.
It's a place where simplicity meets beauty, offering a rare chance to disconnect and immerse in the wild. Duck Harbor is more than a campsite; it's an unforgettable journey into the heart of nature.
Wildwood Stables Campground
Horse-Drawn Carriage Tours: Carriages of Acadia, Inc. provides historically narrated tours on the famous carriage roads built by John D. Rockefeller, Jr. These tours offer stunning ocean views and showcase spectacular bridge constructions.
Private Horse Boarding: The facility offers boarding for up to 34 horses per night, allowing private individuals to vacation with their horses and explore the 52 miles of carriage trails without motorized traffic.
Location and Contact: The company is based in Seal Harbor, Maine, and reservations for tours or boarding can be made by phone.
Wildwood Stables Campground in Acadia National Park is a haven for horse enthusiasts. Tucked amidst the park's lush landscape, it offers a unique experience where you can camp alongside your equine companions.
Picture exploring over 52 miles of historic carriage roads on horseback, with breathtaking scenery at every turn. This campground is not just a place to stay; it's an equestrian adventure, blending camping with the joy of riding.
Whether you're trotting along serene trails or simply enjoying the peaceful environment, Wildwood Stables turns your camping trip into an unforgettable horseback riding escapade.
Pro Tips When Camping in Acadia National Park
Designated Camping Only: You cannot camp anywhere you choose in Acadia. Camping is allowed only in designated campgrounds.
Costs Vary: Camping fees vary by campground. For example, Blackwoods and Seawall campgrounds range from $22 to $60 per night, depending on the type of site.
Reservation System: Book your campsite in advance through Recreation.gov or the park's official website.
No Car Sleeping: Sleeping in cars overnight is not permitted within the park.
Check Campground Season: Each campground has specific operating dates, typically from May to October.
Be Prepared for Weather: Weather in Acadia can be unpredictable. Pack for both warm and cool conditions.
Observe Quiet Hours: Respect quiet hours, generally from 10 PM to 8 AM.
Leave No Trace: Follow Leave No Trace principles to minimize your impact on the environment.
Store Food Properly: Use food storage lockers where provided to protect wildlife and your supplies.
Fire Regulations: Only light fires in designated fire rings and purchase local firewood.
Pet Policies: Pets are allowed in most campgrounds but must be leashed.
Generator Use: Generators are allowed in some campgrounds but only during specific hours.
No Showers at Some Campgrounds: Plan accordingly, as not all campgrounds (like Seawall) have shower facilities.
Wildlife Awareness: Be aware of and respectful to wildlife; maintain a safe distance.
Plan Activities: Take advantage of the park's numerous trails, scenic drives, and the free Island Explorer shuttle service.
Best Season to Camp In Acadia National Park
Fall is arguably the best season to camp in Acadia National Park for several reasons specific to this majestic area:
Stunning Fall Foliage: Acadia's landscape transforms into a breathtaking palette of oranges, reds, and yellows, making it a spectacular backdrop for camping and photography.
Pleasant Weather: Fall brings cooler, comfortable temperatures ideal for hiking and outdoor activities without the summer heat.
Less Crowded: After the busy summer season, the fall offers a quieter, more peaceful park experience.
Other Seasons:
Spring: Brings blooming wildflowers and crisp air, but also unpredictable weather and lingering cold.
Summer: Popular for its warm weather and full park accessibility, but it's also the busiest and most crowded season.
Winter: Offers a serene, snowy landscape for the intrepid camper, but be prepared for cold temperatures and limited accessibility.
Each season in Acadia has its unique charm, but fall stands out for its beauty, comfortable conditions, and tranquility.
Conclusion
As our journey through Acadia National Park's campgrounds comes to a close, we hope you're inspired to pack your bags and head out to these spectacular natural retreats.
Whether you choose the forested coziness of Blackwoods, the oceanside serenity of Seawall, the quiet charm of Schoodic Woods, the remote wilderness of Duck Harbor, or the unique equestrian experience at Wildwood Stables, each site promises its own brand of magic.
Remember the tips and insights from our guide as you embark on your camping adventure in Acadia, where unforgettable memories and breathtaking scenery are always just a tent flap away. Happy camping!