Explore the top things to do in Acadia National Park: thrilling hikes, scenic tours, and unique adventures await in Maine's natural gem.
Known for its breathtaking landscapes, Acadia National Park offers a diverse range of activities that cater to everyone – from thrill-seekers to nature lovers.
In this guide, we'll reveal 20 must-try experiences in Acadia, each offering a unique glimpse into the park's natural wonders.
We'll also share our personal tour recommendations, giving you insider tips on how to make the most of your visit. Get ready to uncover the best of Acadia, from scenic hikes to hidden tidepools. Let's dive in!
Hike the Beehive Trail
Scramble up iron rung ladders on the exposed, cliff-hugging Beehive Trail.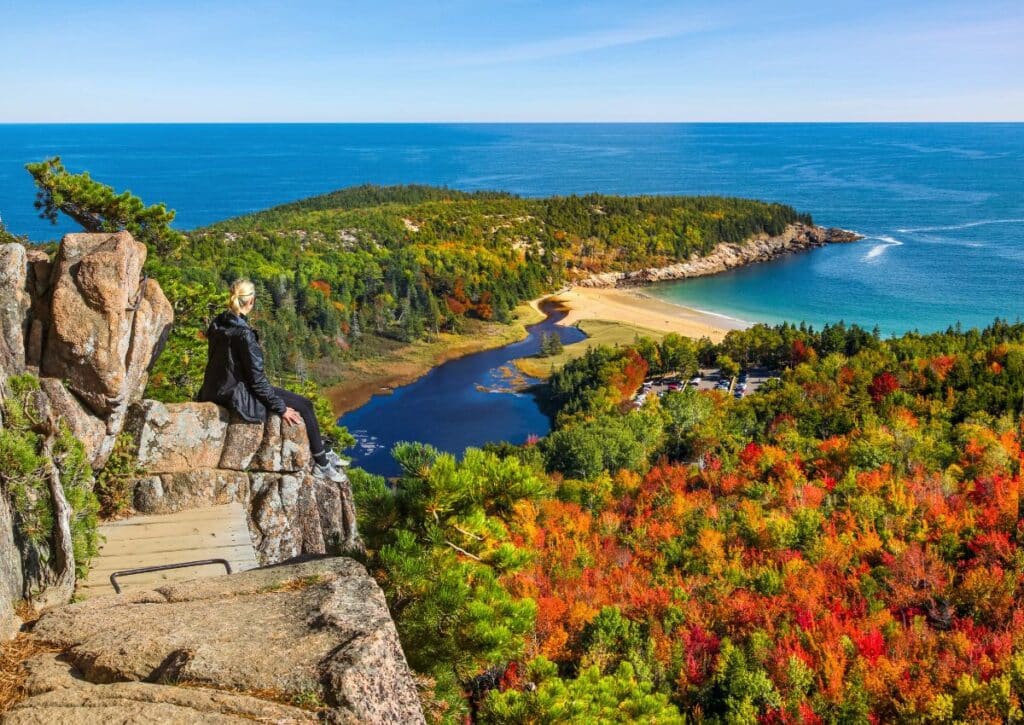 This thrilling 1.5-mile hike climbs 520 feet, rewarding daring hikers with panoramic views of Frenchman Bay from the wooded summit.
Bike the Carriage Roads
Pedal along the historic carriage roads, a 45-mile network of broken stone paths winding through Acadia's forests and granite peaks. Spot wildlife and immerse yourself in the peace of the park from the seat of a rented bike.
Go Cliff Jumping at Echo Lake
Plunge into the deep blue waters of Echo Lake from surrounding cliffs like Beachcroft Path and Man O' War Mountain.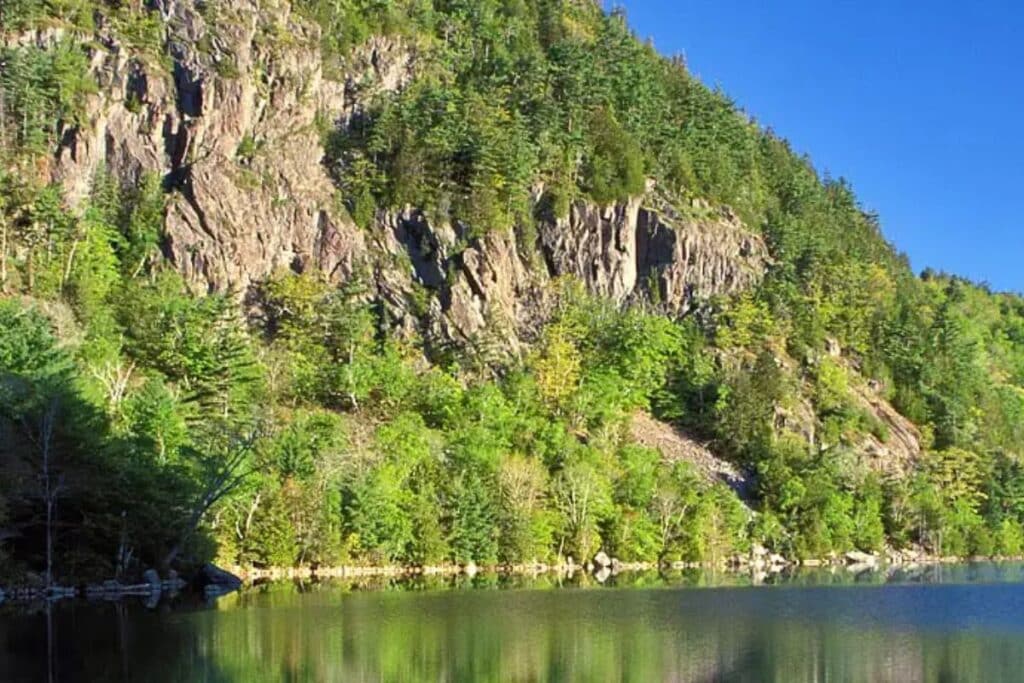 Time your jump between crowds and cruise boats at this permitted swimming spot.
Tour the Bass Harbor Head Lighthouse
Snap that quintessential lighthouse photo at Bass Harbor Head Lighthouse, a 26-foot tall granite tower perched on bold coastal cliffs since 1858. Peek inside the museum or walk the short trail to vista points.
Forage for Wild Edibles
Keep an eye out for tasty wild edibles like blueberries, blackberries, and cranberries as you explore Acadia's hiking trails. In spring, harvest nutty fiddlehead ferns and mineral-rich rockweed seaweed.
Try Rock Climbing
Scale sheer cliff faces at South Bubble, Otter Cliffs, and other epic spots. Pack gear for multi-pitch traditional climbing or get a guide to set up top ropes for beginners wanting a taste of heart-pumping ascents.
Go Tidepooling
Explore the fascinating world of tidepools at low tide, spying on sea stars, sea urchins, green crabs, and other marine life stuck in rocky pools until the sea returns. Exercise caution on slippery rocks.
Camp at One of the Campgrounds
Pitch a tent at a park campground like Blackwoods, Seawall, or Schoodic Woods. Enjoy campfires under the stars, cookout meals, and comfy beds after days spent exploring Acadia's trails and sights.
Take a Duck Boat Tour
Tour Acadia's rugged coastline on a WWII amphibious landing vehicle with Acadia National Park Tours. These boat-shaped trucks drive right into the water for a unique seaside perspective.
Photograph Fall Foliage
Frame vivid autumn vistas along Park Loop Road, Cadillac Mountain, and Jordan Pond, where colorful maple, oak, and birch leaves contrast dramatically with evergreens and granite. Visit in October for peak colors.
Go Stargazing
Far from city lights, Acadia offers stellar night skies. Look for constellations, meteors, and even the Milky Way from seaside locations like Sand Beach, along the shore path, or from mountaintops.
Swim at Sand Beach
Take a refreshing dip in the icy waters of Sand Beach, one of Acadia's most beautiful spots. Changing cabins make this crescent-shaped beach ideal for swimming, but brace for numb toes in the frigid Atlantic!
Tour Park Loop Road
Cruise Acadia's famous 27-mile loop road to soak in dramatic views of forested mountainsides plunging into the sea. Pull over at scenic vistas and trailheads all along this figure-eight drive.
Hike the Ocean Path
Stroll along rugged seaside cliffs on this scenic 2.2-mile trail. Listen to crashing waves, inhale salty sea air, and marvel at unbeatable views of Otter Cliffs, Great Head, and Egg Rock Lighthouse.
Picnic at Jordan Pond
Spread out a blanket on the sprawling lawn at the north end of crystalline Jordan Pond. Enjoy a lakeside picnic surrounded by the rugged peaks of Penobscot Mountain and the Bubbles. Keep an eye out for resident loons.
Tidepooling at Wonderland
Explore the exposed, rocky shoreline at Wonderland when tides retreat, revealing a vibrant array of sea creatures in shallow tidepools. Delight in discovering snails, crabs, starfish, and more in this living ocean laboratory. Remember to wear shoes with grip to navigate the slippery rocks safely.
Hike Precipice Loop
Embark on the challenging 7.7-mile Precipice Loop, a trek that takes you up sheer cliffs using iron rung ladders and across exposed ledges with dizzying drop-offs. The rewarding payoff? Breathtaking views of Frenchman Bay and coastal islands from a stunning vantage point. This adventure is not recommended for those with a fear of heights!
Drive Cadillac Mountain
Ascend the winding 3.5-mile road to the summit of Cadillac Mountain, standing at 1,530 feet as the highest point on the U.S. Atlantic coast. At the top, immerse yourself in panoramic vistas of forested islands and quaint villages scattered along the rugged Maine shoreline.
Hike Compass Harbor Trail
Wander through dense woods on the Compass Harbor Trail, leading to a secluded rocky beach on Acadia's quieter side. Along the way, uncover remnants of old farm equipment and foundations, adding a touch of historical intrigue to your hike. The trail is perfect for a peaceful swim, picnic, or relaxation by the sea.
Go Earthcaching at Acadia
Engage in a high-tech treasure hunt by using a GPS to find hidden geocaches throughout the park, each highlighting Acadia's unique natural features. From erratic boulders to telltale signs of glacial activity like striations, this activity combines adventure with education.
Our Top 5 Tours in Acadia National Park
Having explored Acadia National Park through various guided tours, we've curated a list of our top recommendations to help you experience the best of this magnificent park.
Each tour offers a unique perspective of Acadia, combining natural beauty with insightful commentary. From private excursions to leisurely drives, these are the tours that stood out to us for their exceptional quality and memorable experiences:
These tours are our personal picks, based on our experiences, and are sure to enrich your visit to Acadia National Park with their diverse offerings and unique insights.
Things to Remeber When Deciding What to in Acadia National Park
Can you do Acadia National Park in a day?
Yes, it's possible to experience a highlight tour of Acadia National Park in a day. Start early to drive up Cadillac Mountain for sunrise views, followed by a visit to Sand Beach.
Mid-morning, take a leisurely drive along Park Loop Road, stopping at key spots like Thunder Hole and Jordan Pond. Dedicate the afternoon to a hike, like the Ocean Path or the Jordan Pond Path.
End your day with a sunset at Bass Harbor Head Lighthouse. While a day allows for a glimpse into Acadia's beauty, a longer stay is recommended to fully immerse in its diverse landscapes.
What are some cool things to do in Acadia National Park?
Acadia National Park offers numerous cool activities: hiking the challenging Precipice or Beehive Trails, biking the historic carriage roads, tidepooling at Wonderland, exploring the dramatic coastline on a boat tour, and stargazing under clear night skies.
For a unique experience, try rock climbing at Otter Cliffs or go on a guided wildlife tour to spot local fauna. The park's varied terrain and ecosystems provide endless opportunities for outdoor adventures.
What are some things to do in Acadia National Park in the winter?
Winter in Acadia transforms the park into a snowy wonderland, ideal for cross-country skiing and snowshoeing on carriage roads.
Ice fishing is popular on Echo Lake, and some trails, like the Ocean Path, offer stunning winter landscapes for hiking. Wildlife watching is also rewarding, with opportunities to see deer, foxes, and winter birds. The winter serenity of Acadia is perfect for those seeking a peaceful escape in nature.
What are some things to do in Acadia National Park in the fall?
Fall in Acadia is famous for its vibrant foliage, making it a prime time for photography, especially along Park Loop Road and from Cadillac Mountain. Hiking trails like Jordan Pond Path and Gorham Mountain offer spectacular autumn views. Bird watching is excellent as migratory birds pass through. Additionally, fall is ideal for biking the carriage roads without the summer crowds, providing a tranquil experience amidst the colorful landscapes.
What should I do first in Acadia?
A great start in Acadia is driving up Cadillac Mountain, especially for sunrise, as it offers a panoramic view of the park and sets the tone for your visit. Afterward, head to Park Loop Road, stopping at major attractions like Sand Beach, Thunder Hole, and Jordan Pond.
This initial exploration provides a comprehensive overview of Acadia's diverse beauty and helps you plan further activities like hiking or wildlife watching.
How long is the drive up Cadillac Mountain?
The drive to the summit of Cadillac Mountain covers a winding 3.5-mile road. It typically takes about 15 to 20 minutes to drive up, depending on traffic and weather conditions.
However, it's advisable to allow extra time for stops at scenic viewpoints along the way and for finding parking, which can be challenging during peak times.
How long does it take to drive the loop in Acadia National Park?
Driving the full 27-mile Park Loop Road in Acadia National Park takes approximately 2 to 4 hours, depending on how often you stop.
The loop offers numerous scenic pull-offs, trailheads, and points of interest like Jordan Pond and Sand Beach. Time spent at these stops for photos, short walks, or picnics will add to the overall duration of the drive.
Is it safe to hike Acadia alone?
Hiking alone in Acadia is generally safe, especially on well-traveled trails. However, it's important to take standard safety precautions: inform someone of your plans, carry a map and enough water, check weather forecasts, and be aware of your limits. For more remote or challenging trails, consider joining a guided hike or finding a hiking buddy for added safety.
Conclusion
As our journey through Acadia National Park comes to a close, we hope this guide has inspired you to explore the myriad of wonders this park has to offer. From thrilling hikes to serene bike rides, from unique tours to unforgettable vistas, Acadia is a place where memories are made and adventures are abundant.
Remember, whether you're visiting for a day or a week, every moment spent in this natural paradise is an opportunity to connect with the great outdoors and create stories that last a lifetime. So pack your bags, lace up your boots, and set off to discover the magic of Acadia National Park!