When nature whispers tales of adventure and serenity, it's the Catskills Mountains calling. This vast expanse of beauty is a treasure trove of experiences, awaiting your discovery.
From towering peaks to tranquil forests, the Catskills invite travelers with diverse promises. Whether you're scaling heights or seeking quiet moments, these mountains never disappoint.
Their appeal isn't just their natural grandeur; it's the blend of wilderness with accessibility. Being a close retreat from New York, they're the perfect respite for those yearning to swap city skylines for starry nights.
Historic landmarks dot the landscapes, narrating tales from the past. As diverse wildlife roams freely, the region's significance in popular culture further enriches its allure.
Dive deeper with us into the heart of the Catskills, where every trail and turn holds a new story.
Ready? Let's explore the magic together.
What Are the Catskills Mountains?
The Catskills Mountains are a majestic expanse in southeastern New York, stretching across vast forests, dramatic waterfalls, and prominent peaks. 
Far from just rocky terrains, the Catskills are a complex interplay of plateaus, valleys, and rivers, forming an intricate and alluring landscape.
Encompassing the area are numerous towns and villages, each offering a blend of adventure and relaxation.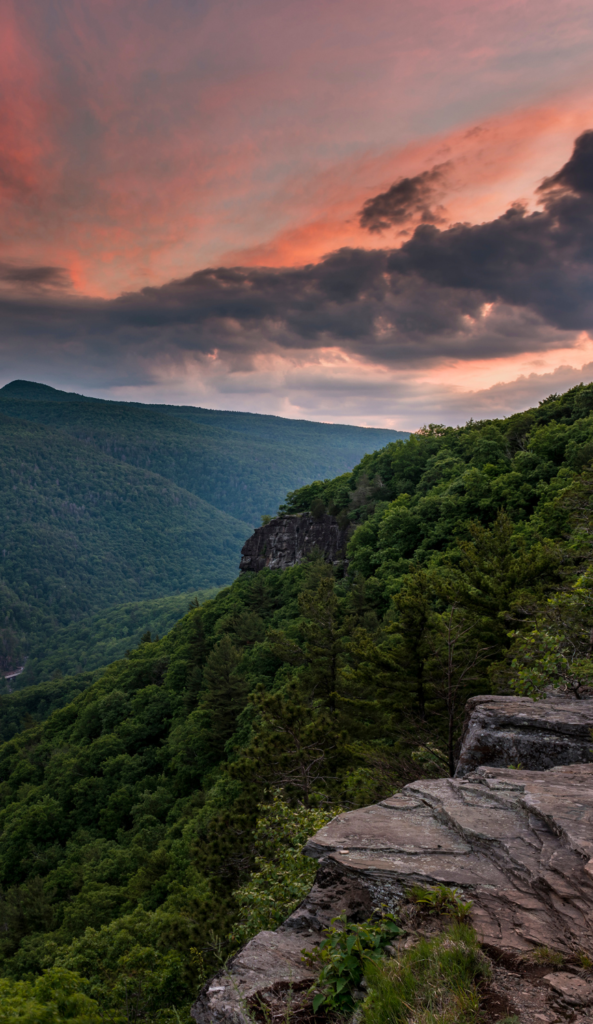 Dive deeper into the Catskills and you'll find each corner—North, South, East, or West—has its own distinct charm, waiting to be explored.
History and Etymology
But the Catskills aren't just about scenic beauty. Their essence lies in the stories they hold. Long before modern settlers, Native American tribes cherished these lands, leaving behind tales that the mountains still tell.
The term "Catskills" has intrigued many. Some say it originates from the Dutch "Kaaterskill," translating to "Wildcat Creek". 
Others think it has roots in a Native American phrase meaning "place of a clear, swift stream." 
Whatever its origin, the name encapsulates a region bursting with culture, historical events, and unmatched natural beauty.
These mountains have also inspired artists, particularly those from the Hudson River School, and played pivotal roles in events like the Revolutionary War. 
As you explore the Catskills, remember that every path you tread, every view you admire, is steeped in history, waiting for you to become a part of its ever-evolving story.
The Four Regions of Catskills Mountains
The Catskills Mountains, with their expansive landscapes, deep-rooted history, and mesmerizing beauty, are not just a single destination. 
Rather, they're a collection of experiences, each defined by its unique geographical region. 
To truly appreciate the Catskills, one must dive into its four distinct regions, each of which tells its own tale of wonder.
Northern Catskills (Greene County)
A stone's throw away from the buzzing city of Albany, Greene County in the Northern Catskills emerges as an oasis of natural wonders and historical narratives. 
As you journey into this remarkable region, the vibrant city life fades, and a canvas of expansive landscapes opens up, inviting exploration and adventure.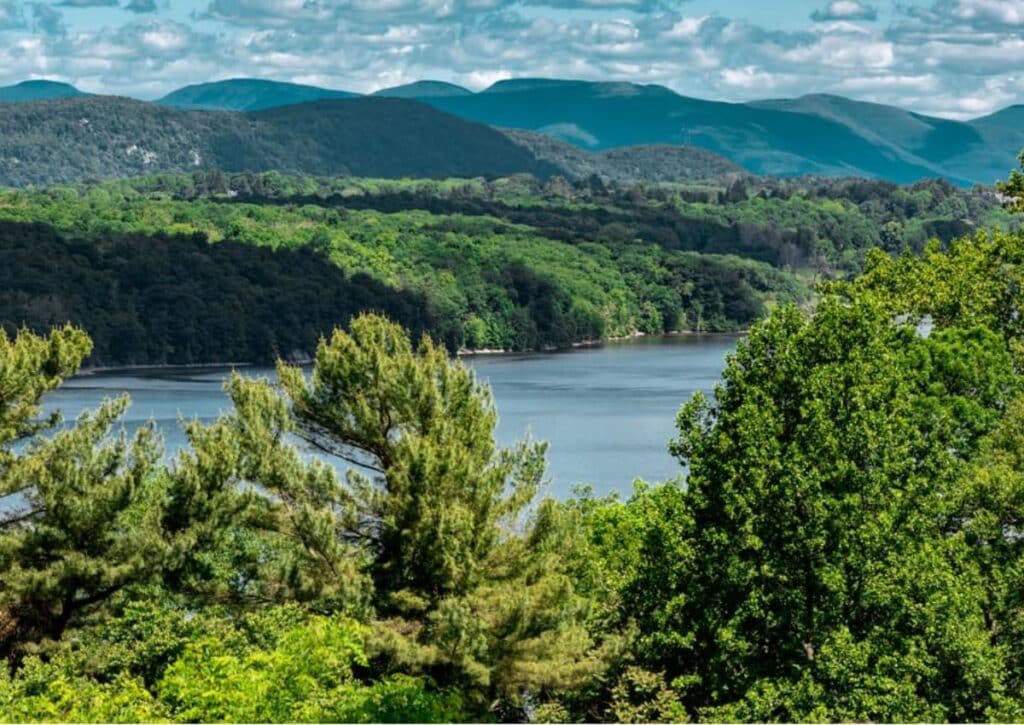 Dominating this visual spectacle is the towering Hunter Mountain. More than just a peak, it's a rite of passage for hikers. 
Meandering trails take you through dense forests, past shimmering streams, eventually leading to panoramic vistas from the summit that'll steal your breath away. 
For the snow enthusiasts, the winter turns it into a skiing paradise.
But Greene County isn't confined to one mountain's grandeur. Towns like Tannersville and Windham, nestled among the mountains, become perfect bases for your Catskills exploration. 
These charming hamlets, with their rustic appeal and friendly locals, offer insights into the region's rich tapestry of history and culture.
Speaking of history, the county boasts sites like the Thomas Cole National Historic Site, dedicated to the founder of the Hudson River School of painting. 
Such sites provide a cultural counterpoint to the overwhelming natural beauty, offering a balanced experience.
If water is your element, then the Hudson River won't disappoint. Not just a water body, it's an adventure hub, with whitewater rafting opportunities that are sure to spike your adrenaline.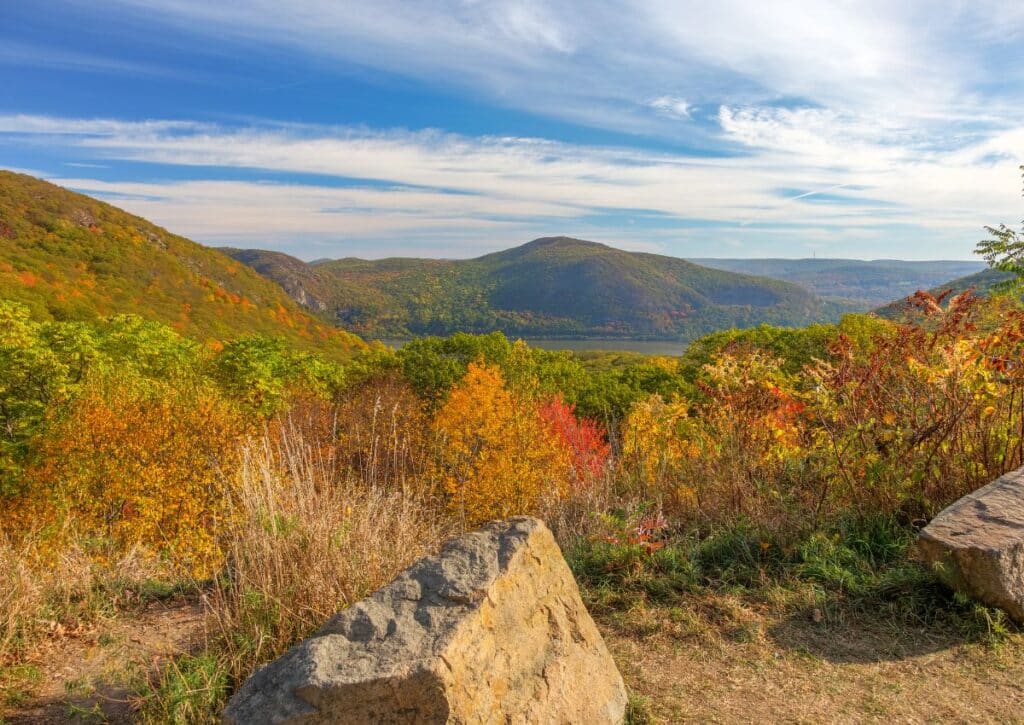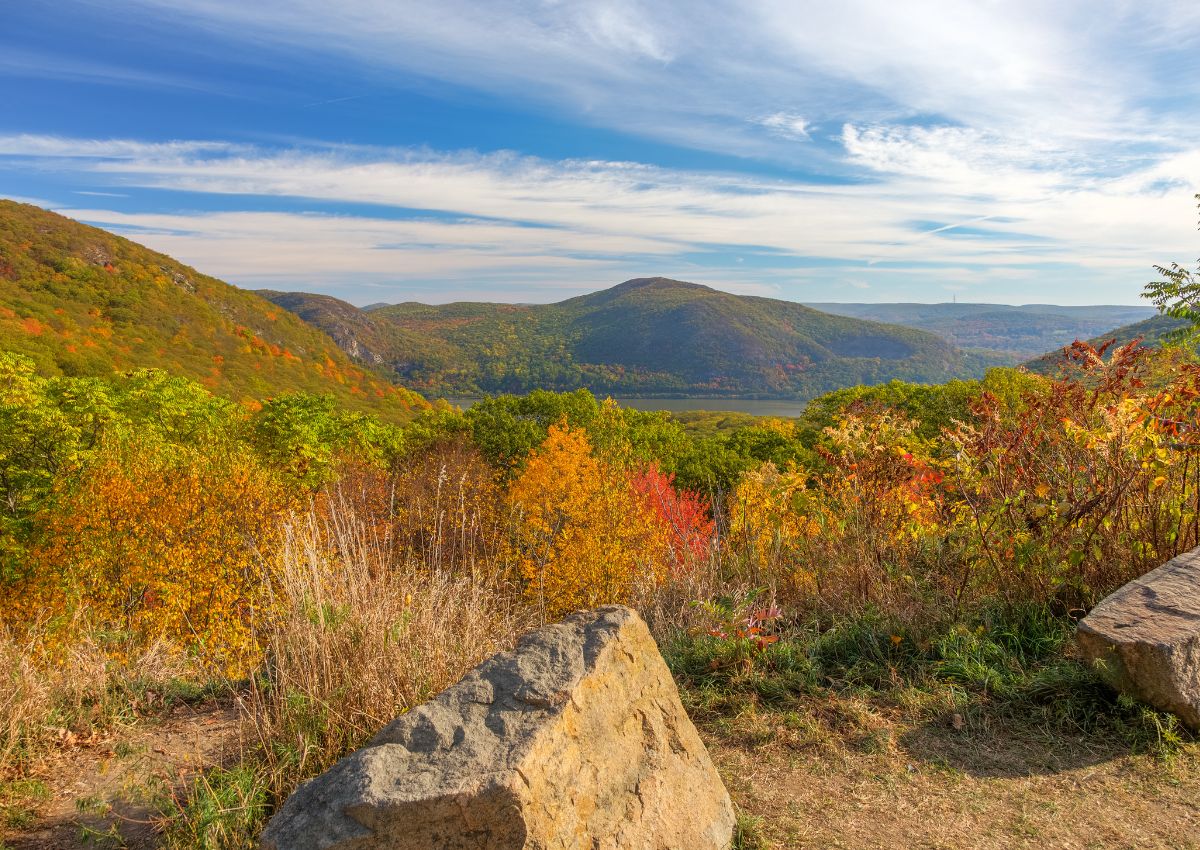 For those moments when you want to pause and reflect, serene lakes like North-South Lake, the largest in the Catskills, provide the perfect backdrop. Campgrounds nearby, such as the North-South Lake Campground, let you sleep under a blanket of stars, bringing you closer to nature's heart.
Eastern Catskills (Ulster County): Where Nature Meets History
Journey just a short distance from the historic city of Poughkeepsie, and you'll find yourself in the embrace of Ulster County, a gem in the Eastern Catskills. 
A land where every bend in the road reveals a new tale, and where nature's masterpiece blends seamlessly with echoes of the past.
Ulster's natural crown jewel is undoubtedly the Shawangunk Ridge. Nicknamed the "Gunks," this rock formation isn't merely geological; it's an invitation.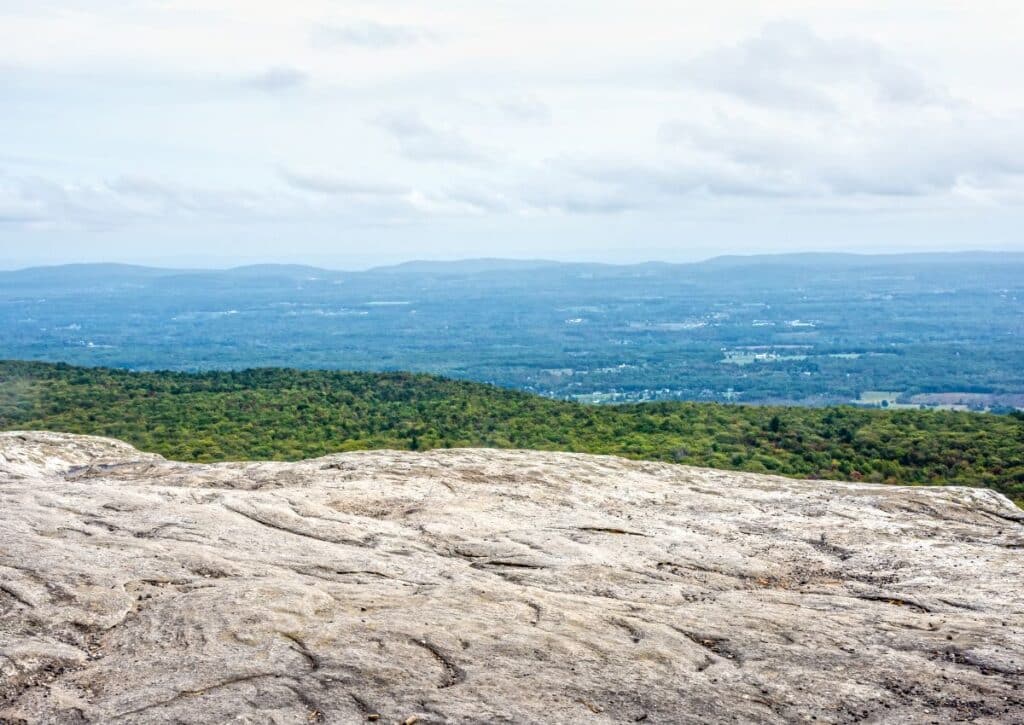 Climbers from far and wide come to test their mettle against its rugged façade, while others simply admire the otherworldly vistas it grants to its summits.
But as captivating as the landscape is, the soul of Ulster County lies in its towns and their storied histories. 
Towns such as Woodstock and Kingston aren't just names on a map; they are living chronicles. 
Woodstock, though famed for the iconic 1969 music festival (which, fun fact, took place nearby in Bethel), continues to thrive as a haven for artists and musicians. 
A stroll here might lead you to impromptu street performances or galleries showcasing local talents.
Kingston, with the distinction of being New York's first capital, wears its history proudly. 
The Stockade District brims with colonial-era buildings, each narrating tales of yesteryears. 
As you walk its streets, the waterfront beckons, offering both scenic views and a host of activities.
Nature enthusiasts have their pick of trails, with the Wallkill Valley Rail Trail providing an especially picturesque journey through diverse terrains.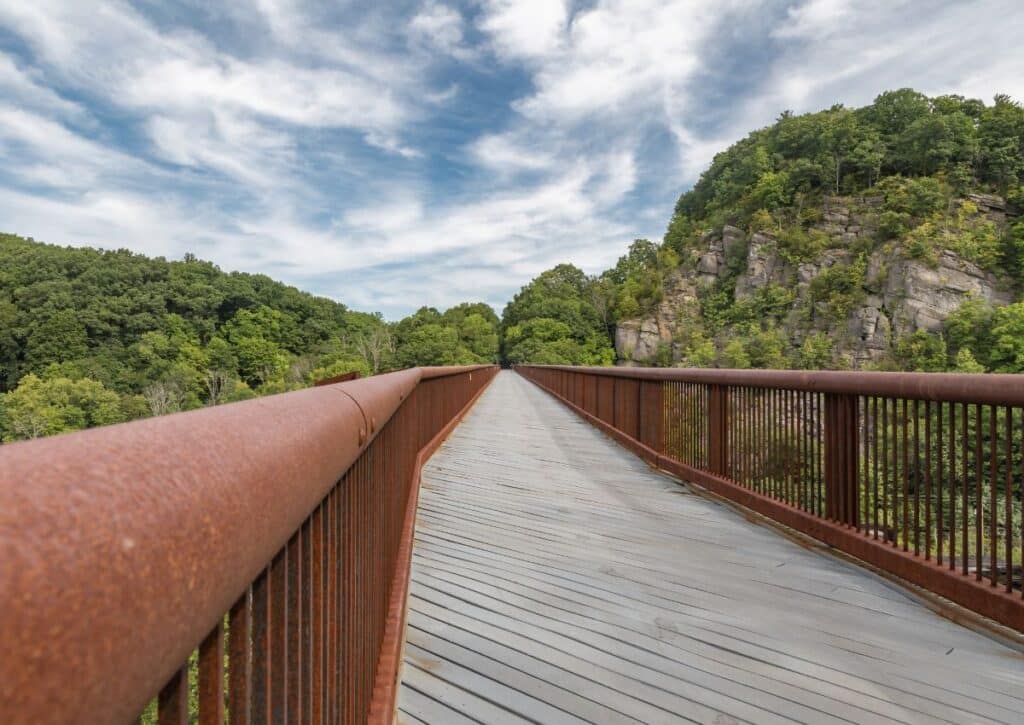 And for those who like their adventures a bit more aquatic, the Rondout Creek offers both serene boating and exciting kayaking opportunities.
Whether you're setting up camp beneath the open sky, choosing a quaint B&B in one of the historic towns, or venturing to the Ashokan Reservoir for its tranquil waterscape, 
Ulster County promises diversity in every experience. It's a place where every visit feels like a rich tapestry of discovery, echoing with the harmonies of nature, history, and culture.
Southern Catskills (Sullivan County)
Sullivan County, nestled in the Southern Catskills, strikes a harmonious balance between nostalgic charm and vibrant modernity. 
Easily accessed from cities like Scranton, its beauty and culture have been a magnet for visitors for decades.
This region once thrived as the heart of the "Borscht Belt," an era marked by grand hotels and sizzling entertainment venues. 
Echoes of that golden age still resonate in Monticello, a lively town that once hosted countless celebrities and artists. Today, it offers a diverse range of dining and shopping options for visitors.
Bethel, another jewel of Sullivan County, is forever etched in history as the site of the iconic Woodstock festival of 1969.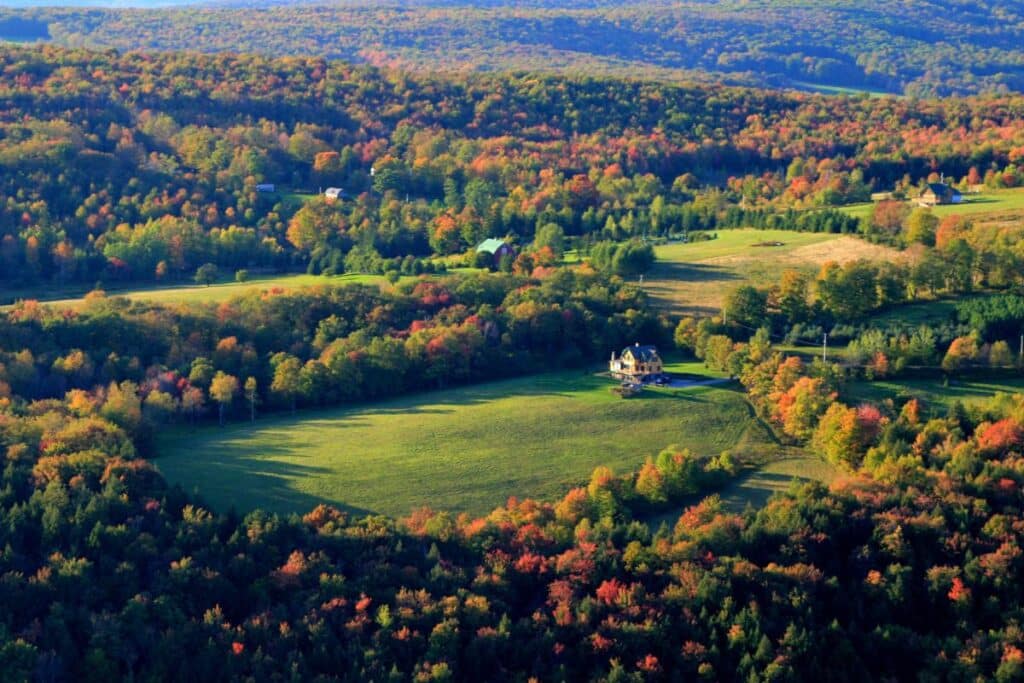 Now, the Bethel Woods Center for the Arts stands as a testament to that musical legacy, drawing performances from international stars and burgeoning talents alike.
Nature too plays its part in Sullivan's allure. The shimmering waters of the Delaware River present opportunities for both introspective moments by the banks and adrenaline-packed rafting adventures. 
Numerous trails dot the landscape, appealing to both casual strollers and avid hikers. The Neversink River, with its sparkling cascades, offers idyllic spots for fishing enthusiasts.
Liberty, with its verdant parks and unique boutiques, is an ideal base for those looking to explore the region at a leisurely pace. Its historical sites, including vintage railroad structures, beckon those interested in a trip down memory lane.
Western Catskills (Delaware County)
Venture into Delaware County, the heart of the Western Catskills, and you'll find yourself enveloped in a landscape where nature still holds sway. 
Accessible from cities like Binghamton, this part of the Catskills is a testament to untouched beauty and serenity.
The towns of Andes and Delhi stand out, each boasting their own unique appeal. Andes, with its quaint streets, offers an array of antique shops that lure in those with an eye for treasures from the past.
Delhi, on the other hand, showcases local history in its museums and exudes a welcoming community spirit during its events and festivals.
For the nature enthusiast, the opportunities seem boundless. Dense forests stretch as far as the eye can see, their silence broken only by the chirping of birds or the distant call of wildlife. 
The Beaverkill River, renowned for its trout fishing, meanders through the county, presenting both a challenge for anglers and a peaceful retreat for those who simply want to enjoy its banks.
Trails crisscross the region, leading the intrepid explorer to hidden waterfalls and secluded clearings. 
Whether you're an experienced hiker or someone looking for a gentle walk, Delaware County has a trail that fits your pace. 
Camping here becomes an experience of its own, with clear starry nights and the gentle hum of nature as your backdrop.
Historical landmarks, too, pepper the landscape. Old barns, churches, and bridges tell tales of a time gone by, while local artisans in hamlets like Roxbury bring forward a blend of tradition and innovation in their crafts.
The Western Catskills, particularly Delaware County, beckons those seeking a genuine escape. 
Here, amidst the rolling hills and tranquil rivers, you can reconnect with nature, relive history, and rejuvenate your spirit.
Experience the Catskills Mountains Through the Seasons
The Catskills Mountains are not just a destination, but an ever-evolving spectacle, metamorphosing with each passing season. 
Let's delve deeper into the heart of the Catskills, understanding its seasonal transitions and uncovering the treasures they offer.
Sizzling Summer in the Catskills
The Hub of Adventure and Leisure Summer caresses the Catskills with a warm embrace, infusing the air with vitality. 
The lush greens are accentuated under the shimmering sun, while the rivers, sparkling under its glow, invite you for a refreshing dip.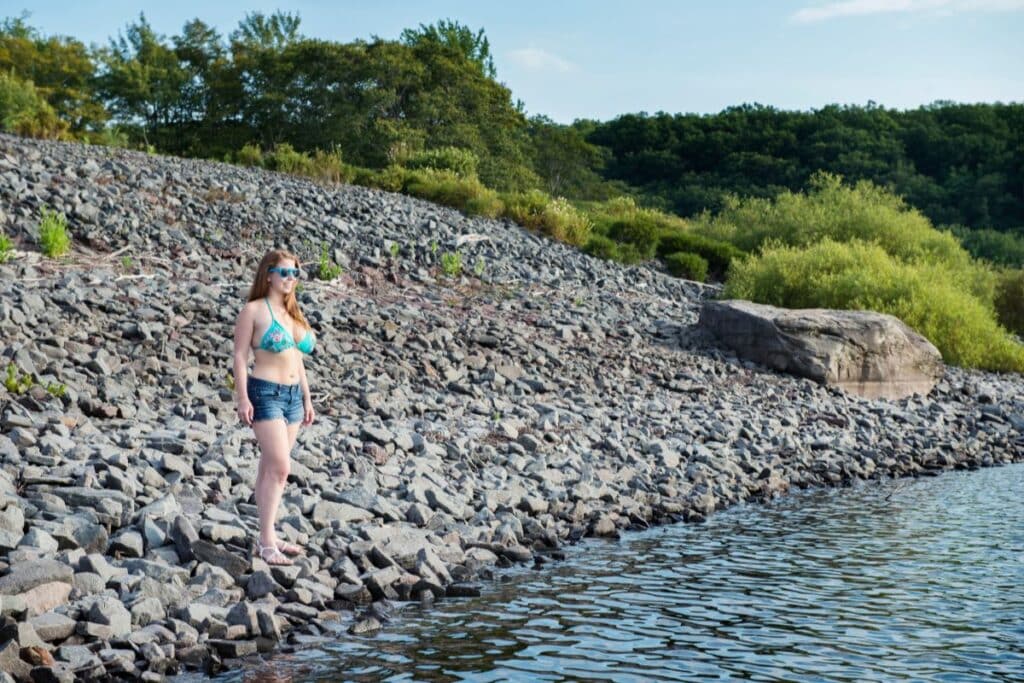 The towns of Woodstock and Phoenicia become bustling hubs during this time, with outdoor cafes and local markets in full swing.
Water enthusiasts can paddle through the serene lakes of Sullivan County or dive into river rafting experiences in the Delaware River. 
If land-based adventures are more your style, then the region's expansive hiking and biking trails, like the Escarpment Trail, offer varying degrees of challenges with rewarding panoramic views.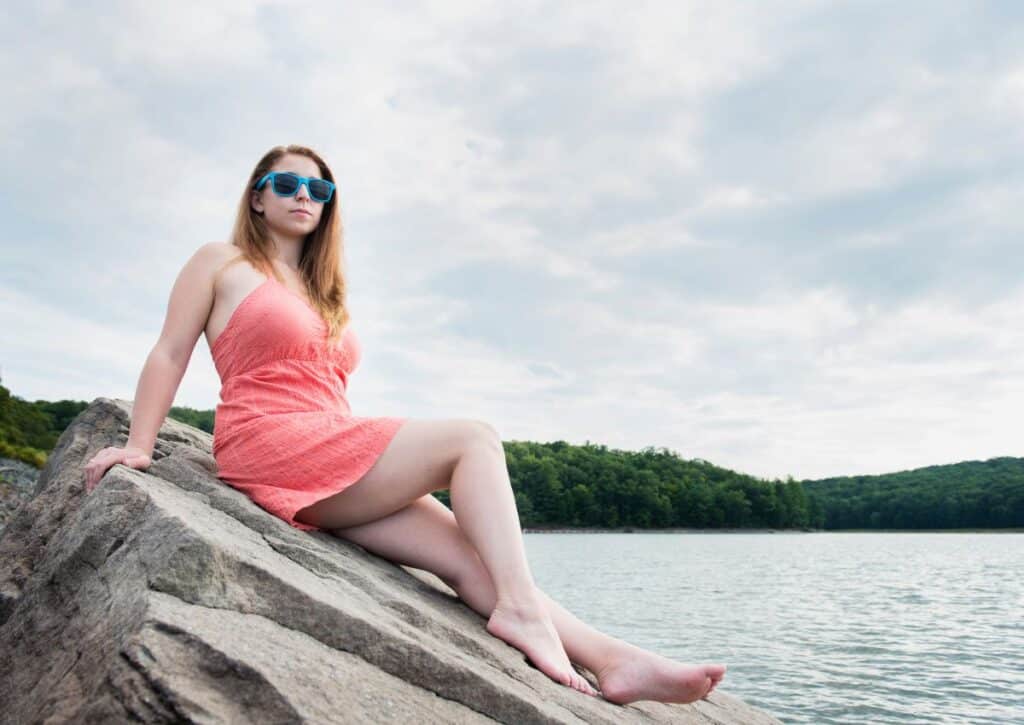 For a surreal night experience, camping in areas like North-South Lake offers a celestial display, as the Milky Way stretches across the night sky.
Autumn in the Catskills
A Tapestry of Colors and Celebrations Autumn arrives in the Catskills like an artist with a palette, splashing hues of amber, ochre, and ruby across the landscape.
The picturesque Route 28 offers a drive like no other, with trees creating a kaleidoscopic canopy overhead.
Popular spots like the Kaaterskill Falls become even more mesmerizing, framed by the colors of fall. 
The region becomes a haven for photographers and artists, drawing inspiration from nature's grandeur.
Local farms, like the Apple Pond Farm in Sullivan County, offer apple-picking and hayrides, while towns host autumn festivals, combining local art, music, and harvest-themed foods, mirroring the Catskills' rich heritage and bountiful produce.
Winter in the Catskills
A Wonderland of Snow and Sports The wintry embrace of the Catskills is nothing short of magical. 
Snow blankets the mountains and valleys, transforming them into pristine expanses of white. 
Towns like Tannersville and Windham become essential stops for winter sports enthusiasts.
Belleayre and Hunter Mountain ski resorts buzz with activity, providing slopes for skiing and snowboarding. 
But if you're keen on a more serene experience, areas around Delaware County offer tranquil snowshoeing trails. 
For a heartwarming memory, partake in a local tradition by ice fishing in the numerous frozen lakes and ponds.
End your chilly day by retreating to cozy cabins, where stories unfold around fireplaces, as mugs of hot cocoa provide warmth.
Springtime in the Catskills
Nature's Reawakening With spring, the Catskills come alive, as if the mountains and forests are stretching after a long slumber. 
The frosty veil lifts, revealing blooming wildflowers, and streams, like the Beaverkill River, gush with renewed energy.
Hiking during this season, especially around areas like the Ashokan Reservoir, allows you to witness nature's resurgence firsthand.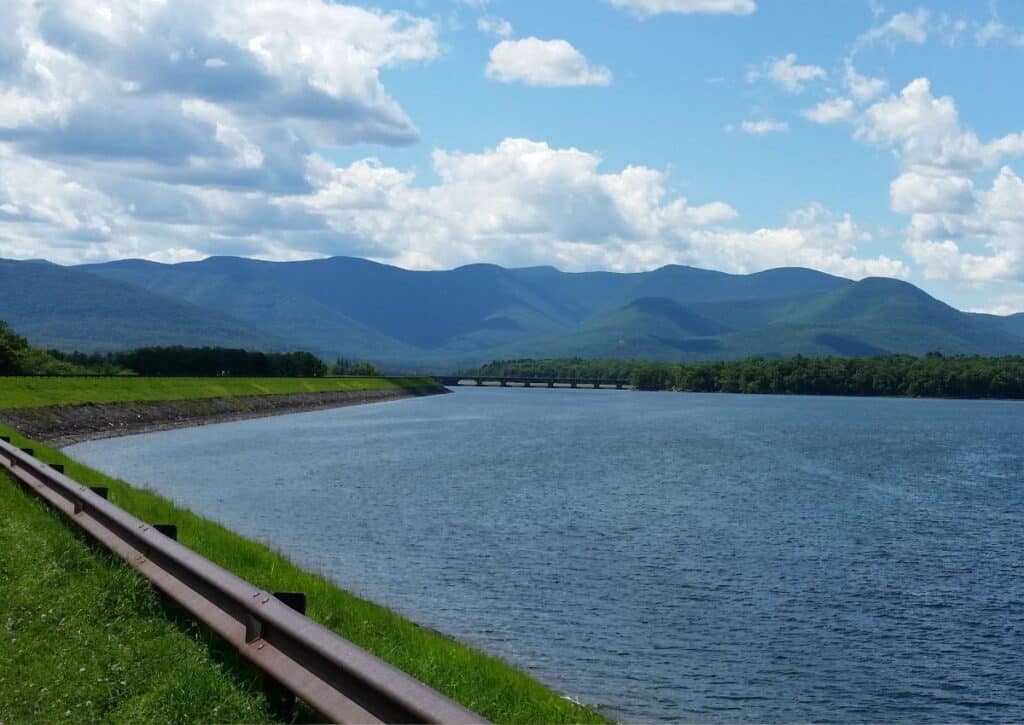 The air is filled with the melodies of birds returning home, making it a prime time for bird enthusiasts.
For travelers seeking solitude, spring in the Catskills offers a reprieve from the usual crowds. 
Benefit from off-season rates at accommodations, and immerse yourself in the tranquility and rejuvenation that only the Catskills in spring can provide.
10 Top Things to Do in the Catskills Mountains: An Ultimate Guide
The Catskills Mountains, an emblematic gem in New York State's crown, beckon adventurers and peace-seekers alike. 
This vast expanse of natural beauty blends thrilling recreational activities with soul-soothing retreats, promising an unforgettable experience for everyone. 
Drawing from the vast treasure trove of the Catskills, here are ten unmissable activities:
Water Adventures in the Catskills Mountains
The Catskills Mountains, located in New York State, are a prime destination for a variety of water activities, thanks to its rich assortment of lakes, rivers, and creeks.
Kayaking and Canoeing 
Among the top spots for these pursuits are North-South Lake and the Pepacton Reservoir. These water bodies offer calm surfaces, ideal for beginners and seasoned paddlers alike. 
As a popular destination, several outfitters provide rentals, and for newcomers, guided tours are available. 
Birds like the Great Blue Heron and wildlife such as beavers can often be spotted during these excursions.
White-Water Rafting
Esopus Creek and the Delaware River are known for their challenging rapids. They cater to a range of rafting experiences, from Class I to Class IV rapids. 
For those unfamiliar, Class I is suitable for beginners, while Class IV demands advanced rafting skills. Local companies offer guided rafting trips, ensuring a safe and thrilling adventure.
Stand-Up Paddleboarding (SUP)
This activity is gaining traction, especially in calmer areas of the region's lakes. SUP provides both a tranquil water experience and a solid core workout. 
Many local shops provide both rentals and introductory lessons for those new to the sport.
Safety and Preparation
Engaging in water activities requires diligence. Here are some tips:
Always wear a US Coast Guard-approved life jacket.
Check water conditions and weather forecasts before heading out.
Utilize local guides and instructors, especially if you're unfamiliar with the area or activity.
For rafting, protective gear like helmets and water shoes is essential, especially in higher-class rapids.
Stay Hydrated: Though you're surrounded by water, it's essential to bring drinkable water to keep hydrated, especially during warmer days. Dehydration can impair judgment and reflexes.
Group Adventures: Always venture out with at least one other person, especially in remote areas. Not only does this ensure help is at hand in case of emergencies, but shared experiences can be more enriching.
Respect Local Wildlife: The Catskills is home to a diverse range of aquatic and shoreline fauna. Maintain a safe distance and never feed the animals. Remember, we're visitors in their habitat.
The Catskills Mountains not only offers breathtaking landscapes but also a comprehensive set of aquatic adventures suitable for all levels of experience. 
Utilize local resources, prioritize safety, and you're set for an unmatched water escapade.
Cycling in the Catskills: Trails for Every Adventurer
The Catskills, with its versatile terrains, has carved a niche for itself in the heart of cycling enthusiasts. 
Each trail promises not just a workout, but a journey through nature's dynamic canvas.
Wallkill Valley Rail Trail: Stretching over 22 miles, this trail starts from Wallkill to Kingston in Ulster County. Once a railroad, it's now a path flanked by wetlands, orchards, and historic remnants.
Catskill Scenic Trail: Beginning in Roxbury and extending 26 miles to Bloomville, this trail primarily runs through the Western Catskills. It's renowned for its gentle grades, making it ideal for families and casual cyclists.
Ashokan Reservoir Promenade: Located near Olivebridge, this 3-mile trail offers panoramic views of the Catskills Mountains reflecting in the vast reservoir. A flat path, it's accessible for all ages.
Kaaterskill Rail Trail: A shorter trail spanning 1.5 miles, it links the Mountain Top Historical Society in Haines Falls to Laurel House Road. The path guides cyclists through hardwood forests and culminates in the awe-inspiring sight of Kaaterskill Falls.
Vernooy Kill State Forest: Situated in Kerhonkson, this 6-mile round trip journey takes you through dense forests and historic ruins, finally leading to the picturesque Vernooy Falls.
For an immersive experience, ensure your bike is equipped for varied terrains. 
Don't forget to pack essentials and respect trail etiquette to keep these pathways pristine for fellow cyclists and future generations.
Hiking in the Catskills Mountains 
Hiking in the Catskills Mountains offers not just a physical challenge but also a feast for the senses, a journey through history, and a touch of the sublime. 
As you lace up your hiking boots and prepare to embark on an adventure. Here are our 12 favorite hikes in the Catskills, let the narratives of these trails inspire you.
The Escarpment Trail:
Winding through 23 miles, this trail whispers tales of the bygone era. One can almost hear the echoes of the once-thriving Hotel Kaaterskill. 
Reaching the pinnacle, Windham High Peak, time seems to stand still as autumn foliage engulfs the horizon in fiery hues. 
It's a challenging trek, one that's best spread across two days, allowing nature's symphony to seep in.
Overlook Mountain Trail:
A trail steeped in mystery and history, the ruins of the Overlook Mountain House stand as silent witnesses to stories past. 
As the path meanders 5 miles round trip, it culminates in a fire tower, offering a mesmerizing 360° view—a visual sonnet composed of rugged peaks and dense greenery.
The Balsam Lake Mountain:
Every step on this 4.3-mile trail is an intimate dance with nature. 
It's like wandering through an outdoor museum, with the oldest fire observation tower in New York as its centerpiece. 
And as the path elevates, the expansive embrace of the central Catskills unfolds—a sight that lingers long after the hike.
The Blackhead Range Trail:
At 4.9 miles, this trail is a testament to endurance and beauty. 
As it challenges with its trifecta of peaks, it rewards with breathtaking vistas—especially from Black Dome. 
Each ascent is a dialogue with the mountains, a test of will, and a brush with the sublime.
The Hunter Mountain Trail:
This 7.1-mile journey is a communion with the skies. Climbing to one of the highest fire towers in New York State, the world feels both expansive and intimately close. 
The panoramic views from the summit, 4,040 feet high, paint a canvas of unparalleled beauty.
The Wittenberg-Cornell-Slide Trail:
Spanning 13.8 miles, this circuit trail is an ode to the Catskill's iconic peaks. 
The view from Wittenberg Mountain isn't just scenic—it's poetic, almost like nature's verses coming alive, beckoning hikers to pause, reflect, and cherish.
The Mount Tremper Trail:
History and nature entwine in this 6-mile trail. 
The climb, while demanding, is a continuous serenade of views—culminating in the Hudson Valley's embrace and the distant gaze of the Eastern High Peaks.
The Finger Lakes Trail:
Part of a grand 580-mile network, this Catskills segment is nature's secret corridor. 
From tranquil ponds to dense canopies, it's an ever-evolving canvas for the nature enthusiast, with each mile narrating a distinct tale.
The Twin Mountain Trails:
A 6.4-mile symphony of landscapes, this trail is a duet of two summits. Both peaks serenade hikers with ethereal views of the Catskills, especially as the sun kisses the horizon, casting golden hues.
The Bellvale Mountain Trail:
A path less trodden, this 7.5-mile trail invites into the embrace of rocky ridges and serene forests. It's a meditative journey, where each step syncs with nature's heartbeat.
Kaaterskill Falls Trail:
A short 2.6-mile trail, yet every step resonates with the roar of New York's highest two-tiered waterfall. 
Beyond the falls, scenic vantage points offer painterly views, as if the Catskill Mountains paused to pose.
The Ashokan Rail Trail:
History chugs alongside on this 11.5-mile trail that traces the old Ulster & Delaware Railroad. 
With the Ashokan Reservoir as its companion, the journey feels like a leisurely walk through a watercolor painting.
In the Catskills, every trail is a narrative, a dialogue between the hiker and the mountains. Which story will you choose to live?
Camping in the Catskills Mountains:
The allure of the Catskills lies not just in its daytime adventures but also in its nightly retreats. Camping here isn't just an activity; it's an immersion. Here's a glimpse of some key campgrounds that promise a blend of serenity and adventure.
North-South Lake Campground:
The largest public campground in the Catskills, North-South Lake is synonymous with tranquil waters and forested paths. 
With over 200 campsites, it offers a mix of fishing, boating, and hiking opportunities. 
The nearby historical sites and panoramic vistas of the Hudson Valley only amplify its charm.
Woodland Valley Campground:
Nestled at the heart of the Catskills Forest Preserve, this campground offers a picturesque setting beside Woodland Creek. 
It's not just a camping spot but also a gateway to numerous trailheads. 
Campers cherish the symphonic sounds of the flowing water, creating a lullaby at dusk.
Devil's Tombstone Campground:
One of the oldest in the Catskills, this secluded campground provides a rustic experience. 
Surrounded by mountains and dense forests, it's a haven for hikers. The nearby Notch Lake is a bonus, offering peaceful vistas and a calming ambiance.
Beaverkill Valley Campground:
Located beside the historic Beaverkill Covered Bridge, this campground is a gem for anglers, given its proximity to the renowned Beaverkill River. 
Rich in both scenic beauty and history, it offers a serene setting for campfires, storytelling, and star-gazing.
Little Pond Campground:
A retreat for nature lovers, Little Pond offers both campsites and cabins overlooking its namesake pond. 
Whether you're canoeing in the tranquil waters or hiking the surrounding trails, the blend of water, woods, and wildlife makes it a cherished camping destination.
Kenneth L. Wilson Campground:
Away from the hustle and bustle, this serene campground beckons with wide open spaces, forested trails, and a peaceful pond. 
Whether you're bird-watching, fishing, or just unwinding, it offers a tapestry of natural delights.
Mongaup Pond Campground:
The allure of Mongaup lies in its vastness – it's the largest body of water in the Catskills Park. 
With sites nestled amidst hardwood forests and the pond offering boating and fishing opportunities, it's a paradise for water enthusiasts.
Camping in the Catskills under its starlit canopy is a transformative experience. Here, amidst nature's embrace, you'll find both adventure and tranquility, as the mountains share their timeless stories.
Scalable Peaks in the Catskills:
Venture beyond the beaten path and challenge yourself by scaling the magnificent peaks of the Catskills. 
Each mountain is unique, offering varying degrees of difficulty and breathtaking views, revealing the Catskills' grandeur from dizzying heights. 
Here are 9 peaks we have scaled to their summits:
Slide Mountain:

The undisputed monarch of the Catskills, Slide Mountain reigns as the tallest peak. 
Climbing its slopes rewards hikers with unparalleled vistas of surrounding mountains. 
Its trails weave through dense woods, culminating in a summit where the Catskills unfurl in all their glory.
At 4,180 ft we recommend the Curtis-Ormsbee Trail provides a scenic approach, with multiple viewpoints before reaching the summit.
Panther Mountain:

A testament to the power of nature, Panther Mountain's origin is tied to an ancient meteor impact. 
Today, its well-trodden paths lead adventurers through verdant forests to vantage points overlooking the valleys and waters below.
At 3,720 ft, the Giant Ledge-Panther Mountain Trail is a favorite, providing both a challenge and scenic rewards.
Hunter Mountain
Elevating the Catskills experience, literally and figuratively, Hunter Mountain boasts of an observation tower at its summit. 
While the climb might test your resolve, the panoramic view from the tower rewards in sheer visual delight.
At 4,040 ft, the Becker Hollow Trail, though steep, is the shortest and most direct route to the summit.
Black Dome:
A trifecta of challenge, beauty, and height, Black Dome is a must-conquer for peak-baggers. 
Its ascent intersperses rugged terrain with serene nature moments, culminating in a summit experience that encapsulates the essence of the Catskills.
At 3,980 ft, the Black Dome Trail is the most popular, offering thrilling ascents and descents.
Cornell Mountain
A neighbor to Wittenberg, Cornell Mountain offers a rugged terrain that promises a sense of accomplishment to those who scale its heights.
The hike features rocky ledges, pristine woods, and glimpses of neighboring peaks.
At 3,860 ft, the Wittenberg-Cornell-Slide Trail is a challenging but rewarding route, traversing three major peaks.
Wittenberg Mountain

With arguably one of the most rewarding summit views, Wittenberg Mountain is a favorite among hikers. 
Its trail challenges with steep inclines but placates with sweeping views of the Ashokan Reservoir and beyond.
At 3,780 ft, approach via the Woodland Valley Campground for a comprehensive Catskills experience.
Peekamoose Mountain:

Part of the southern Catskills, Peekamoose offers an exhilarating hike that showcases nature's bounty. 
Streams, woods, and vistas accompany hikers as they journey to the summit, where clear days reveal distant peaks.
At 3,843 ft, the Peekamoose-Table Mountain Trail showcases nature's best, from streams to viewpoints.
Halcott Mountain:
A lesser-known gem, Halcott Mountain beckons the off-beat adventurer. 
With no marked trails, the climb is a wild and untamed experience, but the serenity and raw beauty at the summit are unparalleled.
At 3,537 ft, the bushwhack from the parking area on County Road 3 offers an untamed adventure for seasoned hikers.
Thomas Cole Mountain
Named after the founder of the Hudson River School of art, this peak pays homage to its namesake with scenic beauty. 
Its trails offer a mix of terrains, leading to a summit where the horizon is painted with rolling mountains and valleys.
At 3,940 ft the Black Dome Range Trail covers Thomas Cole, Black Dome, and Blackhead, making it a peak bagger's delight.
Scaling these peaks is more than just a physical endeavor. It's a journey of discovery, where each step brings you closer to the heart of the Catskills, revealing stories etched in rocks, forests, and horizons.
Also Read: 9 PEAKS IN THE CATSKILL MOUNTAINS TO HIKE TODAY!
Spotting Animals in the Catskills:
The Catskills Mountains, with their lush forests and pristine waters, are teeming with diverse wildlife. 
Nature enthusiasts and casual visitors alike can spot an array of species, each adding to the rich tapestry of the region's ecosystem. 
Here are some notable animals to look out for:
White-Tailed Deer
These graceful creatures are abundant throughout the Catskills Mountains.
Often seen at dawn or dusk, their large ears and white-flagged tails make them instantly recognizable.
Black Bear
The Catskills Mountains serve as a refuge for black bears.
While sightings are a thrill, it's vital to practice bear-safe habits, ensuring both human and bear safety.
Bobcat
Elusive and solitary, the bobcat's tufted ears and short tail distinguish them.
Their spotted coat helps them blend seamlessly into the wooded landscape.
Eastern Coyote
A mix of western coyote and wolf, these adaptable predators are often heard yipping at night.
Their presence is a testament to the Catskills' healthy ecosystem.
Beaver
The architects of the animal kingdom, beavers shape the landscape by constructing dams. Look for their lodges in the Catskills' water bodies.
River Otter
Playful and agile, river otters can be seen sliding down muddy banks or catching fish. Their presence often indicates clean, healthy waters.
Red Fox
With its bushy tail and sharp gaze, the red fox is a sight to behold. They're active mostly during twilight, displaying their keen hunting skills.
Bald Eagle
A symbol of national pride, bald eagles are making a comeback in the Catskills. Scan the skies or tall trees near water bodies for a glimpse of these majestic raptors.
Ruffed Grouse
Often mistaken for pheasants, these birds are known for their fan-like tails and drumming sounds during mating displays.
Eastern Box Turtle
These slow-moving reptiles, with their high-domed shells, are a joy to spot. They're often found in moist woodlands or near water sources.
As you explore the Catskills, tread lightly and respect the habitats of these incredible creatures. With binoculars in hand and a quiet approach, you can experience the wonder of the region's rich wildlife firsthand.
Also Read: WE SAW 12 ANIMALS IN THE CATSKILLS DURING OUR CAMPING TRIP! (BEST SPOTS AND TIPS INCLUDED)
Scenic Drives in the Catskills Mountains:
The Catskills are not just for hikers and campers; they're also a dream destination for those who love to explore by car. 
The region offers numerous scenic drives, each promising breathtaking views, charming towns, and a slice of Catskills history. 
Here are some must-drive routes:
Route 28: Kingston to Andes:
This picturesque drive meanders through the heart of the Catskills.
Flanked by forests, streams, and small towns, Route 28 provides a panoramic view of the region's natural beauty. Stop at Phoenicia, a quaint town known for its eateries and artsy vibes.
Mountain Clove Scenic Byway:
A feast for the eyes, this route, stretching between Palenville and Pine Hill, boasts dramatic mountain vistas and deep valleys.
Highlights include the Kaaterskill Falls and the former artist colony of Platte Clove.
Route 23A:
This winding route offers stunning views of gorges, waterfalls, and high peaks.
Don't miss the famous Kaaterskill Falls trailhead, and take time to explore Tannersville, known for its vibrant art scene.
Route 97: The Upper Delaware Scenic Byway:
Following the Delaware River, this route offers picturesque river views and glimpses of bald eagles.
Historic towns like Callicoon and Narrowsburg dot the route, offering delightful detours.
Catskill Mountains Scenic Byway:
Beginning in Olive and ending in Andes, this drive covers the heart of the Catskills Park.
Experience the serene Ashokan Reservoir, explore mountaintop towns, and be charmed by the rich heritage and culture along the way.
Route 30: Schoharie Creek and Pepacton Reservoir:
Drive along pristine waters and dense woodlands.
The Pepacton Reservoir's vastness contrasts with the winding Schoharie Creek, making this route diverse and visually appealing.
Route 214: Phoenicia to Hunter:
A relatively short drive, but incredibly scenic. This route is flanked by towering mountains and lush forests.
It's an excellent gateway to the hiking trails of the Central Catskills.
As you drive through these routes, be sure to indulge in local eateries, artisan shops, and historical sites. 
The Catskills aren't just about the destination; the journey, with its myriad vistas and surprises, is equally enchanting. Safe travels!
Fishing in the Catskills Mountains
The Catskills Mountains, often hailed as the birthplace of American fly fishing, offer an angler's paradise with its numerous streams, rivers, and reservoirs teeming with trout. 
The pristine waters and the mountain backdrop create an idyllic setting for a day of casting the line. Here's a glimpse into the best spots and species you can expect:
Beaverkill River:
Heritage Spot: One of the most legendary trout streams in the US, the Beaverkill is famous for its rich fly-fishing history and brown trout. Ideal for both novices and pros, the river has numerous public access points.
Willowemoc Creek:
Trout Territory: Flowing alongside Beaverkill, Willowemoc is slightly less known, providing a tranquil experience. It's a prime location for brown and brook trout, especially during the early season.
Esopus Creek:
Rapid Retreat: A tributary of the Hudson, Esopus offers fast-paced waters, making it a challenging yet rewarding spot. It's abundant with brown trout, with the occasional rainbow trout making an appearance.
Neversink River:
Wild Waters: Recognized as the birthplace of dry-fly fishing in America, Neversink is perfect for those seeking wild trout, particularly in its upper sections.
Delaware River (East and West Branches):
Dual Delight: Both branches are well-regarded in the angling community, especially for their wild brown and rainbow trout. The West Branch is particularly favored for its prolific hatches.
Schoharie Creek:
Mountain Stream: This creek, flowing through the heart of the Catskills, offers a delightful blend of brown and brook trout. The colder months are particularly good for brook trout here.
Ashokan Reservoir:
Vast Venture: While the reservoir primarily supplies water to NYC, its vastness is also a haven for smallmouth bass, walleye, and the occasional trout. Remember, special permits are required to fish here.
Fishing in the Catskills isn't just about the catch; it's about immersing oneself in nature, understanding the rhythms of the water, and becoming a part of the region's storied angling history. 
Whether you're a fly fishing aficionado or a bait-casting enthusiast, the Catskills promises an unparalleled experience. 
Always ensure you have the necessary fishing permits and follow the local regulations to protect these cherished waters for future generations.
Harvest Season Festivities in the Catskills:
The Catskills come alive with hues of gold, orange, and crimson during the fall, marking the beginning of a time-honored celebration of the harvest season. 
The crisp mountain air fills with the scent of ripened apples, pumpkin spice, and the promise of festivities.
Apple Picking Delights:
Orchards laden with juicy apples beckon visitors to partake in the tradition of apple picking. 
Families, couples, and solo travelers alike can walk between rows of apple trees, choosing the perfect fruit to take home. 
The experience becomes even more delightful with the backdrop of colorful fall foliage.
Pumpkin Harvest:
Fields dotted with orange gourds signal the approach of Halloween and the joy of pumpkin carving. 
Selecting the ideal pumpkin, whether for a pie or a jack-o'-lantern, is a cherished ritual in the region.
Taste of the Season:
Local farms go beyond just harvests. They invite guests to indulge in fresh apple cider, warm pumpkin soup, and baked goods. 
Hayrides through golden fields and corn mazes add to the rustic charm of the season.
Explore the Historical Footprints in the Catskills:
The Catskills' majestic landscapes hold tales from epochs gone by. From the footsteps of artists to the echoes of bygone resorts, the region is a tapestry of history waiting to be unraveled.
Thomas Cole National Historic Site:
The home of the founder of the Hudson River School of painting, this site provides a deep dive into the life and works of Thomas Cole.
Nestled in the town of Catskill, the house, studios, and picturesque grounds offer a firsthand experience of the artist's inspiration.
Bygone Era of Resorts:
In the 20th century, the Catskills was known as the Borscht Belt, home to many resorts catering primarily to Jewish vacationers from New York City. 
While many of these establishments have now faded into history, their remnants — old buildings, swimming pools, and entertainment venues — stand as silent witnesses to a once-vibrant era. 
Exploring these sites evokes a nostalgia, a peek into a time when the region was the epitome of holiday luxury.
Historical Museums and Sites:
Beyond Cole and resorts, the Catskills boasts various museums and historical markers. 
They narrate tales of native inhabitants, settlers, wars, and the evolution of the region.
A journey through these sites offers a holistic understanding of the Catskills' multifaceted past.
Landmarks in the Catskills Mountains
The Catskills Mountains, renowned for their scenic vistas and recreational havens, also possess a rich tapestry of architectural marvels that weave history and beauty into one seamless narrative. 
From structures that served pivotal roles in the past to landmarks that have become synonymous with the region's identity, the Catskills are a treasure trove waiting to be explored. 
Let us embark on a journey to discover some of the most iconic structures and landmarks of the Catskills Mountains.
Fire Towers and Their Significance
Catskills' fire towers, standing tall and regal, are not just vantage points offering panoramic views but also crucial sentinels that played a significant role in forest conservation. 
Historically, these towers were the first line of defense against wildfires, with vigilant observers scanning the horizons for the slightest hint of smoke, ensuring rapid responses to any threat.
Constructed primarily during the early 20th century, these towers served as a nexus between human settlements and the vast wilderness of the Catskills. 
Their establishment marked a conscious effort to preserve and protect the delicate balance of the region's ecosystem.
Over the years, as technology advanced and the need for manned lookouts decreased, many of these towers faced neglect and potential demolition. 
However, recognizing their historical and cultural significance, conservationists and local communities rallied to restore and preserve them. 
Today, they stand as a testament to the region's dedication to conservation, blending history with nature.
Many of the towers have been refurbished and are open to the public, offering breathtaking 360-degree views of the mountain ranges. 
Climbing one is not just a physical journey but also a voyage through time, offering insights into a bygone era.
Notable Landmarks Worth a Visit
The Catskills Mountains are home to a myriad of landmarks, each with its unique story and significance.
Opus 40: Carved out of blue stone over a span of nearly 40 years by sculptor Harvey Fite, Opus 40 is an architectural wonder and a testament to human perseverance and vision. 
This intricate earthwork sculpture park spans over six acres and features meticulously laid out pathways, terraces, and pools. 
Visiting Opus 40 is like stepping into an artistic dream, where nature and human ingenuity coalesce.
Thomas Cole National Historic Site: This is the former home and studio of Thomas Cole, the founder of the Hudson River School of art. 
The site offers insights into the life of this iconic artist and the birth of American landscape painting. 
The estate is beautifully preserved, with Cole's artwork, personal effects, and the scenic surroundings that inspired him.
The Kaaterskill Falls: While not a man-made structure, no visit to the Catskills is complete without witnessing the splendor of the Kaaterskill Falls. 
This two-tiered waterfall is one of the highest in New York and has inspired countless artists, writers, and poets with its ethereal beauty.
Allaben Burial Ground: This historical cemetery offers a glimpse into the lives of early settlers in the region. 
With tombstones dating back to the 1800s, it's a serene spot that connects visitors with the region's rich past.
Delaware and Ulster Railroad: This historic railroad offers scenic train rides through the heart of the Catskills, taking visitors on a journey through time. 
The meticulously restored trains and stations, coupled with the picturesque landscape, make for an unforgettable experience.
Overview – In the Catskills Mountains, the architectural and historical landmarks are threads that add depth, color, and richness. 
They remind us that while nature provides a stunning backdrop, it's the human stories, aspirations, and endeavors that breathe life into it. 
Exploring the Catskills' architectural gems provides a holistic understanding of the region, blending the allure of nature with the indomitable human spirit. 
So, the next time you find yourself in the Catskills, remember to delve beyond the trails and lakes, and discover the stories etched in stone and history.
Catskills Mountains in Popular Culture
Nestled within New York, the Catskills Mountains are not only a beacon of natural beauty but have also woven themselves into the fabric of popular culture. 
This region has inspired countless stories, artists, and movements, leaving an indelible mark on American history. 
Among these cultural contributions, one stands out prominently — The Borscht Belt. Let's delve into this captivating era and explore how the Catskills played a pivotal role in shaping entertainment and cultural nuances.
The Borscht Belt: A Cultural Phenomenon
In the early 20th century, the Catskills Mountains became the epicenter of a unique cultural movement. 
The Borscht Belt, named after the beet soup popular in Eastern European Jewish cuisine, was a colloquial term for the string of resorts and entertainment venues that sprang up in the region. 
Primarily patronized by Jewish families from New York City, these establishments offered a haven from the sweltering summer heat and the crowded urban environment.
But the Borscht Belt was more than just a collection of hotels and summer camps. 
It was an incubator for talent, a stage where comedians, musicians, and performers of all kinds could hone their skills and entertain captive audiences. 
Icons like Mel Brooks, Joan Rivers, and Rodney Dangerfield, among others, cut their teeth in the Catskills, setting the stage for their illustrious careers.
Beyond entertainment, the Borscht Belt also played a pivotal role in cultural exchange and the evolution of American Jewish identity. 
For many Jewish families, these resorts were more than just vacation spots; they were communal spaces. 
Here, traditions blended with modern American sensibilities, Yiddish theater found a new audience, and the echoes of klezmer music intertwined with jazz rhythms.
As the decades rolled on, the allure of the Borscht Belt began to wane. 
The advent of air travel, changing vacation preferences, and socio-economic shifts led to the decline of these once-vibrant resorts. 
By the late 20th century, many of the iconic establishments had shuttered, and the Borscht Belt era had ostensibly come to an end.
However, the legacy of this cultural phenomenon endures. Today, the abandoned resorts and venues stand as silent witnesses to a bygone era, but their impact reverberates through contemporary pop culture. 
Films like "Dirty Dancing" capture the essence of the Borscht Belt experience, while artists and performers influenced by this era continue to shape entertainment.
Furthermore, a renewed interest in the Borscht Belt has been observed in recent years. Historians, artists, and curious travelers are retracing this chapter of the Catskills' history. 
Documentaries have been made, books penned, and art installations created, all in an attempt to capture and preserve the magic of this era. 
New resorts and boutique hotels, while different in character, are springing up, hinting at a potential renaissance of the Catskills as a cultural hub.
In many ways, the Borscht Belt phenomenon encapsulates the spirit of the Catskills — a blend of natural splendor, cultural dynamism, and historical depth. 
While the footlights may have dimmed and the stages might have fallen silent, the stories, laughter, and music of the Borscht Belt era still echo through the mountains, rivers, and valleys of the Catskills.
Getting Around: Transportation in the Catskills Mountains
The Catskills Mountains, with their vast landscapes and picturesque views, are a traveler's dream. 
But to truly immerse oneself in their splendor, understanding the nuances of transportation within this region is crucial. 
Whether you're a nature enthusiast, a casual visitor, or someone looking for a serene escape, the Catskills offer various transportation options to cater to your travel desires.
Roadways and Highways: The Scenic Drives
The Catskills are interwoven with a network of well-maintained roads and highways that meander through its verdant valleys and over its majestic peaks. 
Driving here is not just a means to reach a destination but an experience in itself. 
Routes like the Catskill Scenic Byway and the Shawangunk Mountains Scenic Byway are more than just roads; they're panoramic canvases that unfold the region's beauty with every turn.
For those who prefer a more environmentally-friendly option, many towns in the Catskills offer electric vehicle charging stations, making it easy for visitors to travel sustainably.
Public Transportation: Convenient and Eco-Friendly
For those without personal vehicles or those who prefer to reduce their carbon footprint, the Catskills provides reliable public transportation options. 
Local bus services, such as the Catskill Mountain Transport and the Ulster County Area Transit, connect major towns and tourist attractions. 
These services are not only budget-friendly but also offer a unique perspective of the local life as you journey through the mountains.
Cycling: For the Adventurous Soul
The Catskills encourage sustainable and healthy modes of transportation, and what better way than cycling? 
With a plethora of well-marked bike trails ranging from beginner to advanced, cycling in the Catskills is both a recreational activity and a means to get around. 
Trails like the Catskill Scenic Rail Trail offer a combination of history and nature, taking cyclists past remnants of old railroads and through dense forests.
Waterways: A Different Perspective
Yes, you read that right! The Catskills isn't just about mountains and roads. 
With its numerous lakes and rivers, water transportation, especially kayaking and canoeing, is a popular choice among visitors. 
Exploring the region's waterways provides a unique vantage point and allows for a tranquil experience amidst nature.
Walking and Hiking: At Nature's Pace
Sometimes, the best way to explore a place is on foot. 
The Catskills, known for its hiking trails, offers this intimate mode of transportation to those eager to connect deeply with the environment. 
Trails range from easy walks, like the Kaaterskill Rail Trail, to challenging hikes up Slide Mountain. 
Each trail presents its own set of wonders, from cascading waterfalls to panoramic mountain views.
Also Read
Key Takeaways
Throughout our deep dive into the Catskills Mountains, we've journeyed from its four distinct regions to its seasonal splendor. 
We've marveled at its recreational delights and cherished its architectural and cultural landmarks. 
The Borscht Belt revived memories of bygone eras while transportation modes offered a practical guide to modern exploration. 
The Catskills is more than a destination; it's a living tapestry of experiences. As you reflect on all we've uncovered, remember: the Catskills beckon, timeless and waiting. Your next adventure is just a visit away.