Your guide from Denver to Rocky Mountain National Park: itinerary, stops, tips for an epic road trip.
Planning a trip from Denver to Rocky Mountain National Park? You're in for a treat! This guide is designed specifically for those looking to embark on this scenic journey.
As you set off from the bustling streets of Denver and gradually approach the majestic peaks of the Rockies, the transformation is nothing short of breathtaking.
Along the way, there are charming towns to explore, scenic stops that beg for a photograph, and tantalizing glimpses of the wonders that await you in the national park.
Whether you're a seasoned traveler or this is your first venture into the Rockies, we've got you covered.
Dive into our detailed route, get a glimpse of the top stops en route, and prep yourself for an unforgettable three-day itinerary within Rocky Mountain National Park. Buckle up, let's hit the road!
Planning Your Trip From Denver to Rocky Mountain National Park
A pleasant 70 miles from Denver, the journey to Rocky Mountain National Park is a great way to escape and explore nature's untouched beauty. As you roll out of Denver's metropolitan rhythm, the awe-inspiring majesty of the Rockies beckons, promising a rich, immersive adventure.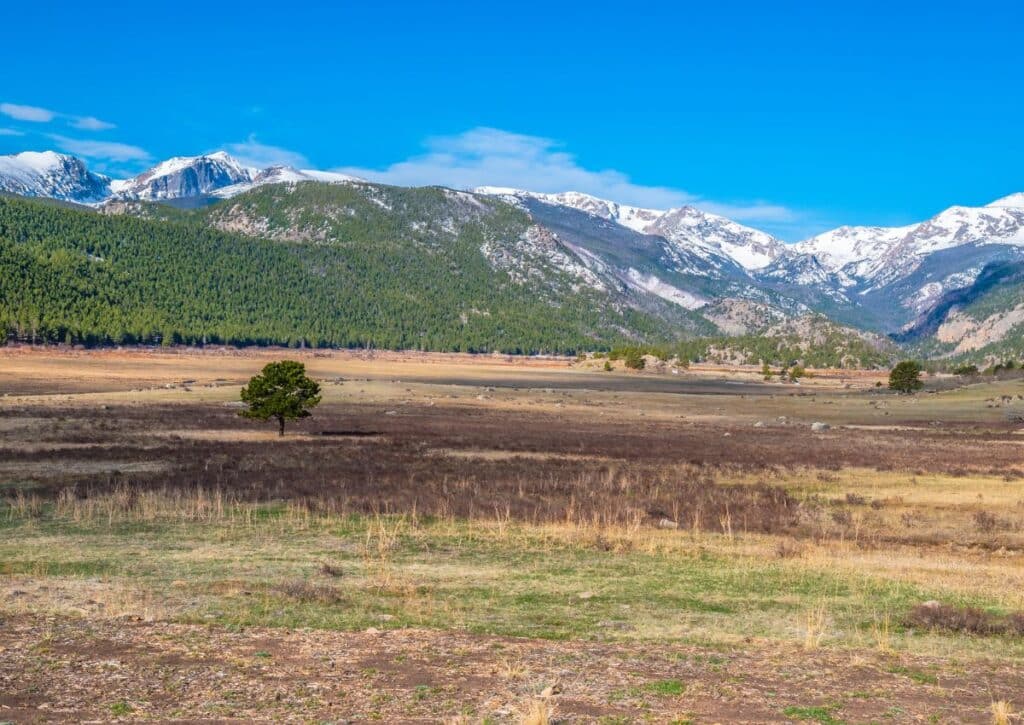 Every journey has its spirit, and this one is no different. The road from Denver to Rocky Mountain National Park is dotted with wonders, both hidden and obvious.
To truly soak in its essence, you need more than a map – you need a plan. From sunrise vantage points to twilight camping spots, piecing together your journey can elevate your experience from memorable to legendary.
Best Time of the Year to Visit & Embracing the Fall
The ideal time to visit Rocky Mountain National Park largely depends on your preferences. Summer (June to September) offers warm weather, wildflower blooms, and accessible hiking trails but also comes with larger crowds.
Fall (September to October) showcases a spectacular array of autumn colors, especially around mid-September.
Winter (November to April) is perfect for those who enjoy snow sports, but be prepared for some road and trail closures. Spring (April to June) is a quieter time to visit, with melting snow revealing pristine trails.
Our favorite time to do this trip is in the magic of fall!
The aspens put on a shimmering display of golds and oranges, making it our favorite time to visit. With the mild chill in the air, hikes feel refreshing. If you're there in fall: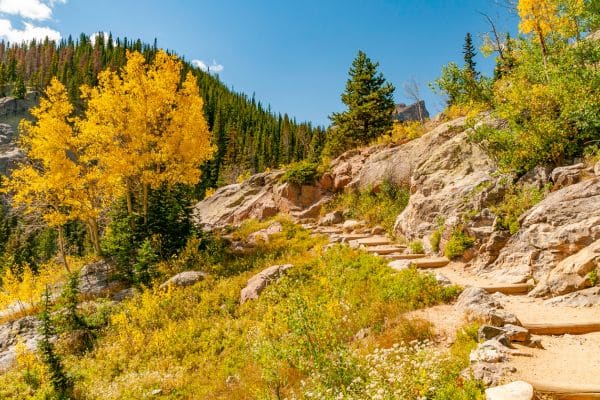 Leaf Peeping: Aim for mid-September when the foliage is in full glory. Whether you're driving or hiking, the vistas are mesmerizing.
Wildlife Encounters: Elk rutting season is a spectacle. Aim for dawn or dusk but remember – admire from a distance.
Dress Smart: Fall's whimsical weather demands layers. Be prepared for sunny mornings and chilly evenings.
Packing Like a Pro:
Clothing: With varying altitudes and fickle fall weather, layers are your best friend. Don't forget waterproof jackets, reliable hiking shoes, and those cozy beanies for the evening chill.
Camping Essentials: If camping under the stars is your thing, pack a sturdy tent, a snug sleeping bag, and essential cookware.
Find Your Way: Even in this digital age, having physical maps, a compass, or a reliable GPS is essential.
Stay Fueled: Hydrate with ample water and keep some protein-rich snacks handy.
For the Unexpected: A basic first aid kit, a multi-tool, a flashlight, and spare batteries are must-haves.
Car Rental in Denver
We've found Discover Cars to be a reliable companion on our trips, particularly for their straightforward rental procedures in Denver. A few quick tips:
Choose fuel-efficient models to save on gas.
Ensure the vehicle is suitable for mountain drives.
Be transparent about all costs upfront to avoid any last-minute surprises.
Health and Safety – The Mountain Code:
The high altitude of the Rockies can affect visitors, especially those coming from sea level. It's common to experience mild symptoms of altitude sickness.
To mitigate this, acclimatize by spending a day in Denver before heading to higher elevations. Always stay hydrated, and avoid over-exertion. Remember, wildlife in the park is wild.
Maintain a safe distance and avoid feeding animals.
Year-Round Weather in Rocky Mountain National Park
Understanding the climate in Rocky Mountain National Park is pivotal for planning a trip. The park's altitude means it experiences a varied climate, with distinct changes through the seasons. Here's a monthly breakdown to give you a clearer picture:
Winter (December – February): The park turns into a winter wonderland. Snow blankets the ground, and temperatures often drop below freezing, ranging between -10°F to 30°F. Many high-altitude roads, like Trail Ridge Road, close due to snow. This season is ideal for snowshoeing and cross-country skiing. However, it's essential to pack heavy winter gear.
Spring (March – May): As the snow starts melting, the park gradually comes to life. Temperatures range from 20°F to 50°F. Lower elevations might be snow-free by April or May, but higher areas remain snow-covered. The melting snow can lead to muddy trails, so waterproof boots are recommended.
Summer (June – August): The most popular time to visit, summer offers warm days and cool nights. Daytime temperatures can hover between 50°F to 80°F, dropping at night.
It's also the park's wettest season, with afternoon thunderstorms being fairly common. This is the best time for hiking, as most trails are snow-free.
Fall (September – November): A delightful season to visit, especially for its fall foliage. Temperatures start dropping, ranging between 30°F to 60°F.
As fall progresses, higher elevations start seeing the first snowfalls of the season. This period is less crowded and offers stunning autumnal views, especially with the aspen trees turning golden.
It's crucial to remember that due to the park's varied elevations, weather can be quite different between lower areas like Estes Park and higher altitudes like Bear Lake. It's not uncommon to experience multiple seasons in a single day!
Always check short-term weather forecasts, especially if you're planning to hike, and pack layers to adapt to the ever-changing mountain weather.
Entrances to Rocky Mountain National Park
Rocky Mountain National Park, with its expansive 265,770 acres, offers visitors a chance to immerse themselves in nature's raw beauty, marked by alpine lakes, the origin of the Colorado River, and towering peaks. Accessing the park is made feasible via four entrances, three to the east and one to the west.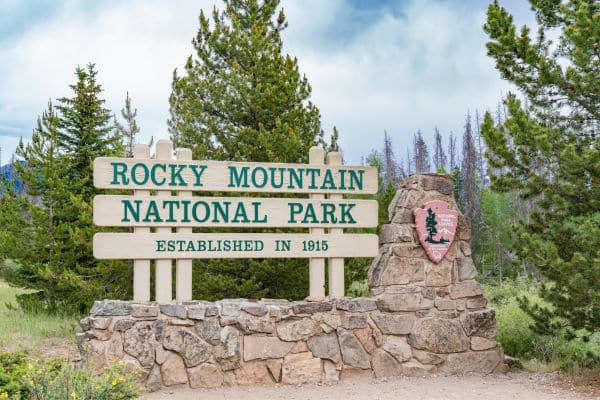 The entrance you select can significantly shape your park experience. If you're traveling from Denver, optimizing your choice can ensure a smoother and more scenic drive.
1. Beaver Meadows Entrance: The Popular Gateway Located on the eastern side, Beaver Meadows is the most accessible entrance if you're coming from Estes Park, an hour away from Boulder and roughly two hours from Denver. It's the favored choice for many due to its proximity to Estes Park and year-round accessibility.
This entrance sets the tone with frequent elk sightings, especially in the Moraine Park area.
Insider Tip: For comprehensive park information, trail maps, and backcountry permits, the Beaver Meadows Visitor Center is your go-to spot. Plus, if you're looking to use the park's shuttle system, this is a primary boarding point.
2. Fall River Entrance: The Scenic Path Less Traveled Another eastern entry point, the Fall River Entrance, provides quick access to the iconic Trail Ridge Road and Old Fall River Road.
Although minutes away from downtown Estes Park, it's typically less crowded, allowing for a faster route to the heart of the park's majestic landscapes.
3. Wild Basin Entrance: The Hidden Jewel A short 30-minute drive south from Estes Park will bring you to the lesser-traveled Wild Basin Entrance, making it perfect for those who want a more secluded experience. It's also a preferred choice for those journeying on the Peak-to-Peak route from Nederland.
Travel Alert: The road leading to Wild Basin is narrow and gravelly, making it unsuitable for RVs. But for car travelers, it's a gateway to picturesque trails leading to a collection of lakes and waterfalls.
4. Grand Lake Entrance: The Western Charm If you're keen on experiencing the park's heart and soul, the Grand Lake Entrance awaits on the park's west side. Adjacent to the delightful town of Grand Lake, this entrance remains relatively undiscovered, providing a serene experience.
Local Flavor: Grand Lake offers a blend of mountain charm with a host of recreational activities. While the town lacks large grocery outlets (though a considerable one is just a 25-minute drive away in Granby), it more than compensates with quaint local shops, eateries, and waterside activities on the stunning Grand Lake.
Within the park, the west side offers a unique landscape, with opportunities to explore the headwaters of the Colorado River, spot elusive moose, and hike to historical sites like the remnants of Lulu City. The nearby Kawuneeche Visitor Center is an excellent resource for park information and planning.
Important 2023 Update: All visitors will need both a park pass and a separate day-use reservation. This reservation system is active from May 26 to October 22, and it's crucial to secure your spot ahead of time. Reservations can be made for a nominal fee at recreation.gov.
Entrance Fees to Rocky Mountain National Park:
Standard Entrance Passes:

Private Vehicle: $35.00 (Valid for 7 consecutive days)
Motorcycle: $30.00 (Valid for 7 consecutive days)
Per Person: $20.00 (This rate applies to pedestrians, cyclists, etc., and is valid for 7 consecutive days.)

Annual Entrance – Rocky Mountain National Park Specific:

RMNP Park-specific Annual Pass: $70.00

America the Beautiful – The National Parks and Federal Recreational Lands Pass Series:

Interagency Passes: Ranging from Free to $80.00

This pass offers access to more than 2,000 federal recreation sites, including lands managed by the National Park Service, US Fish & Wildlife Service, US Forest Service, Bureau of Land Management, Bureau of Reclamation, and US Army Corps of Engineers.
It includes the Interagency Annual Pass, Senior Pass (both annual and lifetime), Access Pass, Military Pass, and the 4th Grade Pass.
Timed Entry Permit System for 2023 (From May 26 to October 22):
Park Access Timed Entry Permit Reservation (Excluding Bear Lake Road):
Park Access+ Timed Entry Permit Reservations (Including Bear Lake Road):
Note: Remember that starting June 1, 2023, the park will only accept cashless payments at entrances and campgrounds. However, if you only have cash, entrance passes can be purchased from the Rocky Mountain Conservancy Nature Stores located at specific visitor centers.
Additionally, on certain "fee-free days," no entrance pass is required. For 2023, these days include January 16, April 22, August 4, September 23, and November 11.
For commercial tours, fees are assessed based on the passenger capacity of the vehicle, ranging from $25.00 (for 1-6 people) up to $200.00 (for vehicles with a capacity of 26 people and over).
If you're looking to camp or go backpacking wilderness camping, additional fees apply. Always check the park's official website or contact park authorities for the most current rates and additional details.
Main Route from Denver to Rocky Mountain National Park
Starting your journey from the lively city of Denver, the route to Rocky Mountain National Park is not only straightforward but filled with picturesque sights. Here's a step-by-step guide to ensure a smooth drive: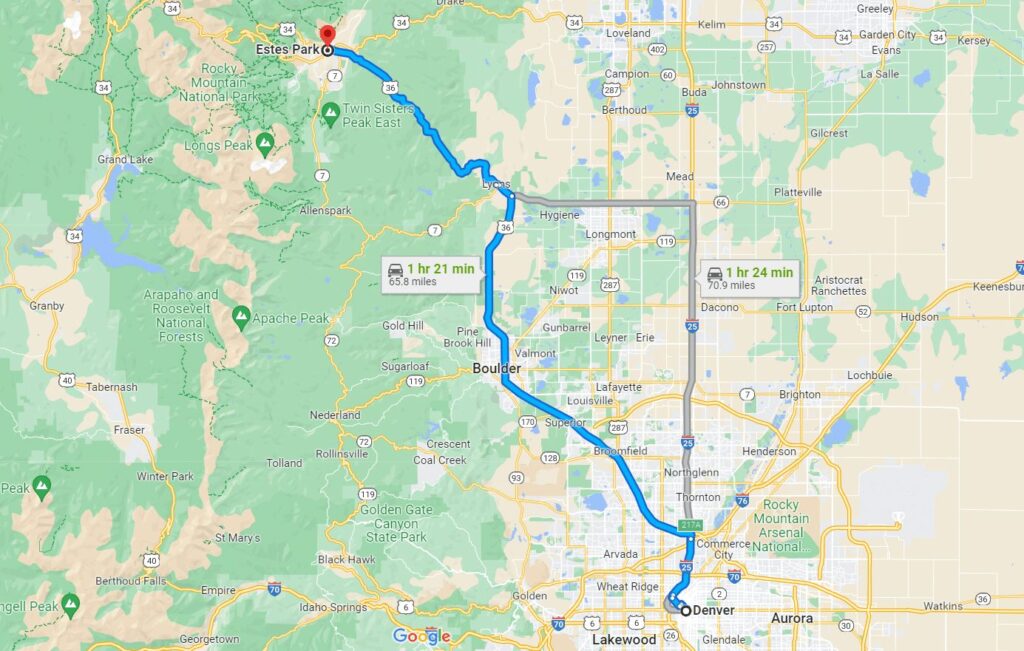 1. Starting Point: Denver, Colorado
Begin in the heart of Denver.
Initiate your journey by taking 15th St and then moving onto Tremont Pl.
Merge onto W Colfax Ave. This initial stretch only takes a few minutes, but offers a chance to see the pulse of Denver's city streets.
2. Transition to Highways:
From W Colfax Ave, get on I-25 N. This major interstate will guide you out of the dense Denver area.
Transition from I-25 N to US-36 W. As you embark on US-36 W, you'll start to leave the urban backdrop and venture towards the more open landscapes, hinting at the natural beauty ahead.
Continue on this stretch for about 55 minutes, covering approximately 44.9 miles.
3. Lyons – The Gateway to the Rockies:
As you approach the town of Lyons, known as the "Gateway to the Rockies", take the exit for CO-7 W/5th Ave.
This road will introduce you to the mountainous terrain you're eagerly anticipating.
4. The Final Stretch:
Move onto S St Vrain Dr, which later becomes CO-7 W. This road runs parallel to the picturesque North St. Vrain Creek and offers lovely views.
After enjoying this scenic drive for about 29 minutes and covering roughly 21.1 miles, take a slight detour onto Co Hwy 115.
Destination: Rocky Mountain National Park, Colorado
Congratulations, you've reached the majestic Rocky Mountain National Park! This route, taking a little under 2 hours, offers a blend of urban scenes, open roads, and mountain vistas, setting the tone for the wonders awaiting you in the park.
In our upcoming sections, we'll delve into specific routes and detours on or just off this main pathway to make the most of every moment.
10 Unmissible Stops from Denver to Rocky Mountain National Park
As you navigate the route from Denver to Rocky Mountain National Park, a tapestry of cultural landmarks and natural wonders unfolds. This guide spotlights ten essential stops that enrich your journey, setting the stage from the heart of Denver's urban vibrancy to the park's pristine wilderness.
Downtown Denver
Downtown Denver is the vibrant core of Colorado's capital, merging history with modernity. At the heart lies the 16th Street Mall, a pedestrian-friendly stretch filled with shops, restaurants, and cafes. Street performers often dot its length, adding a lively atmosphere to the already bustling corridor.
A stone's throw away, the Denver Art Museum stands prominent, showcasing diverse art collections. Its striking architecture complements the vast range of artworks, from Indigenous American pieces to contemporary exhibits.
The iconic gold-domed Colorado State Capitol is another must-visit. This historic building offers a glimpse into Denver's past, and its steps famously mark the city's elevation at exactly one mile above sea level.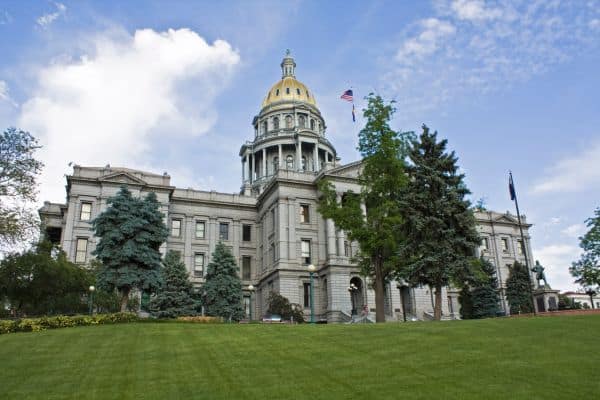 Beyond these landmarks, Denver boasts a rich culinary landscape. The city is dotted with rooftop bars offering mountain views, traditional restaurants serving up local flavors, and food trucks providing quick gourmet bites.
Starting your trip in Downtown Denver sets the tone, offering a blend of city life before the natural beauty of Colorado beckons.
Lakeside Amusement Park
Lakeside Amusement Park, located just a few miles from downtown Denver, serves as a delightful escape into the charm of yesteryears. Established in 1908, this historic park beautifully marries old-world allure with present-day fun.
Upon entering, the iconic wooden roller coaster immediately catches the eye. This classic ride, with its thrilling drops and turns, offers both adrenaline and nostalgia. For those who prefer gentler attractions, the park houses a historic carousel and the tranquil Lake Rhoda, where paddle boat rides allow visitors to drift amidst serene views.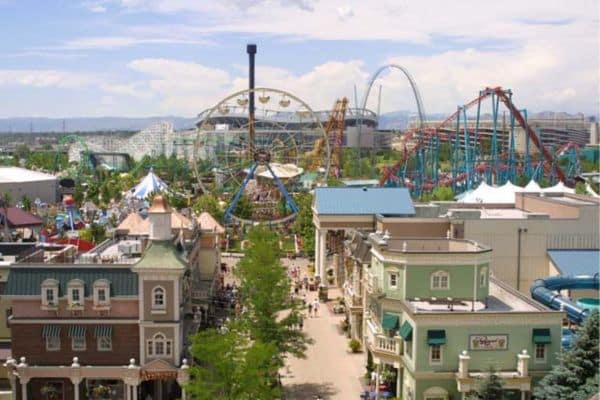 Price-wise, Lakeside stands out as an affordable entertainment option. General admission is often below $5, with most rides priced individually, usually around $1 to $3. Alternatively, visitors can opt for a wristband, which typically costs between $15 and $30, granting unlimited access to the rides. It's recommended to check the park's official website or call ahead for the most current pricing and any available promotions.
Children are not left out of the fun. A dedicated Kiddies' Playland offers rides tailored specifically for the younger crowd, ensuring they have a memorable experience.
Food and drink options are scattered throughout the park. From classic carnival snacks like cotton candy and funnel cakes to more substantial fare, there's something to satiate every craving.
As evening approaches, the park transforms. Vintage neon signs, coupled with strings of lights, bathe Lakeside in a warm, magical glow. It's an ambiance that harks back to simpler times, making it a perfect destination for families, couples, or anyone looking to reminisce.
For visitors to Denver, a trip to Lakeside Amusement Park offers more than just rides; it's a journey through time, a pocket of history amidst a modern city. Plan a visit, and enjoy a day filled with timeless fun and memories.
Flatirons Vista
Just outside of Denver, on the way to Rocky Mountain National Park, lies one of Colorado's most iconic landmarks: the Flatirons. These slanted, massive rock formations rise dramatically from the Earth, creating a stunning backdrop for the city of Boulder below.
As you approach the Flatirons Vista, you're greeted with panoramic views that encapsulate the beauty of the Colorado landscape. The vast open skies, golden grasslands, and the jagged edges of the Flatirons themselves offer a visual treat for nature lovers and photographers alike.
The area boasts a range of trails suitable for all levels. For those seeking a relaxed stroll, the Flatirons Vista Trail is a prime choice.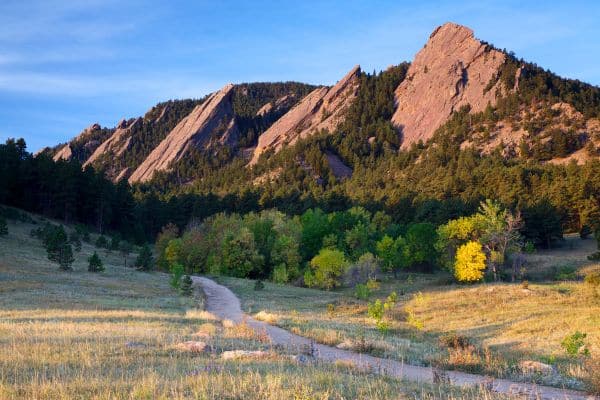 This loop, covering a little over 3 miles, is relatively flat and offers sweeping views of the rock formations throughout. For the more adventurous, there are several trails leading up to and around the Flatirons, where hikers can get up close to these geological wonders.
While the views are undeniably the main attraction, the area is also rich in flora and fauna. Depending on the season, wildflowers add bursts of color to the landscape, and it's not uncommon to spot wildlife such as mule deer, raptors, and small mammals.
If you're visiting during the warmer months, it's advisable to start your hike early, as the area can get quite busy, and Colorado's sun can be intense during midday. Ensure you have water, sunscreen, and a hat to protect yourself from the elements.
Flatirons Vista isn't just a stopover; it's a destination in itself. Whether you're looking to stretch your legs, have a picnic with a view, or delve into a hiking adventure, this natural landmark is a must-visit on your journey from Denver to Rocky Mountain National Park.
Boulder, Colorado
Boulder is a captivating blend of natural beauty, vibrant culture, and progressive thinking. As you drive from Denver and approach the city, the prominent Flatirons serve as a stunning welcome, hinting at the outdoor adventures that await.
Boulder's heart is the Pearl Street Mall, a bustling four-block pedestrian zone. This historic downtown area is lined with charming boutiques, gourmet restaurants, coffeehouses, and street performers, offering a lively atmosphere. Whether you're in the mood to shop, dine, or simply people-watch, Pearl Street provides a snapshot of Boulder's eclectic and vibrant community.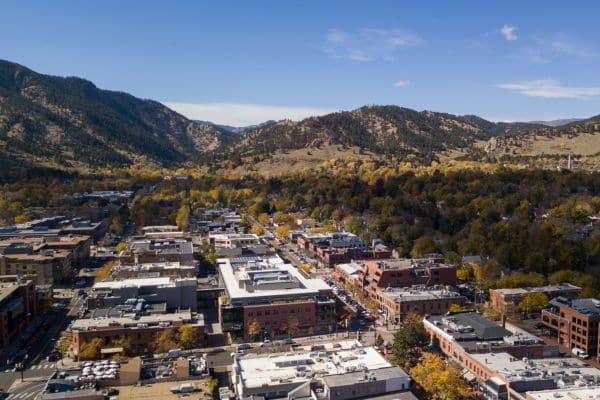 For those with an inclination towards the arts, the Boulder Theater often hosts live performances ranging from music concerts to stand-up comedy. The city is also home to several galleries and the Boulder Museum of Contemporary Art, which showcases rotating exhibits from both local and international artists.
Outdoor enthusiasts are in for a treat. Beyond the Flatirons, Boulder boasts numerous parks and trails. The Chautauqua Park is a local favorite, providing hiking trails that cater to all levels and offer panoramic views of the city and mountains beyond. Additionally, Boulder Creek Path is a scenic trail that meanders alongside its namesake creek, ideal for walking, jogging, or cycling.
If you're visiting during the warmer months, the Boulder Farmers' Market is a must. Local farmers and artisans gather to sell fresh produce, handmade goods, and delicious food. It's a testament to Boulder's commitment to sustainability and local enterprise.
Foodies will appreciate Boulder's diverse culinary scene. From farm-to-table restaurants to craft breweries, there's a gastronomic delight for every palate. The city is known for its focus on organic and locally-sourced ingredients, ensuring every meal is both delicious and ethically produced.
Boulder, with its mix of outdoor beauty and cultural richness, offers a delightful pitstop on your journey from Denver to Rocky Mountain National Park. Whether you're there for a few hours or a couple of days, Boulder promises an experience that's both enriching and memorable.
Lyons – Gateway to the Rockies
As you continue your journey from Denver to Rocky Mountain National Park, the charming town of Lyons beckons. Often dubbed the "Gateway to the Rockies," Lyons serves as an ideal pitstop, offering a delightful mix of natural beauty and small-town charm.
Situated where the North and South St. Vrain Creeks meet, Lyons is surrounded by red sandstone cliffs, adding a unique scenic touch to its landscape. This sandstone has made Lyons famous in the past, being used in construction projects across the nation.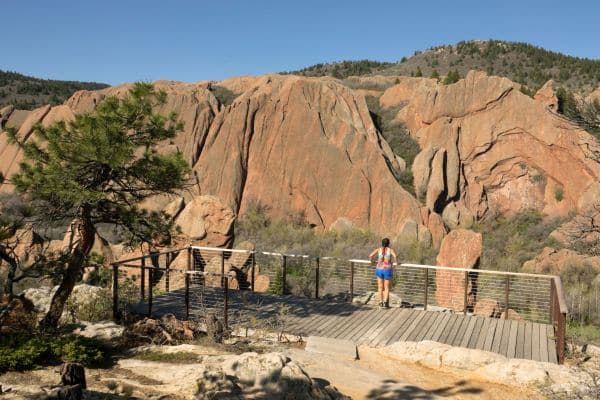 The town's Main Street encapsulates its spirit. Historic storefronts house a variety of local businesses, including boutiques, antique stores, and eateries.
The welcoming atmosphere is palpable as locals and visitors mingle, often to the backdrop of live music. Lyons has a reputation as a music hub, with festivals and events drawing artists and fans from all over.
For those keen on outdoor activities, Lyons won't disappoint. The St. Vrain River provides opportunities for fishing, tubing, and kayaking. Nearby Hall Ranch and Heil Valley Ranch offer trails for hiking, mountain biking, and wildlife watching. The picturesque landscape, dotted with meadows and rock formations, ensures every outing is visually rewarding.
Lyons also serves as a gateway to Rocky Mountain National Park's wilder adventures. Its location at the intersection of U.S. Highway 36 and Colorado State Highway 7 makes it a strategic point for travelers venturing into the park. Before you press on, consider grabbing a bite or a brew in town.
Lyons boasts several eateries, from cozy cafes to craft breweries, ensuring you're well-fueled for the next leg of your journey.
Lyons captures the essence of Colorado — a harmonious blend of nature, culture, and community. A visit, even if brief, promises to add a touch of warmth and charm to your trip to the Rockies.
Hall Ranch Trailhead
Just a stone's throw from the town of Lyons lies one of the region's most renowned outdoor havens: the Hall Ranch Trailhead. Renowned for its diversity of trails and stunning vistas, this area provides both novice and seasoned adventurers an opportunity to immerse themselves in Colorado's natural splendor.
The trail system at Hall Ranch offers a variety of routes tailored to different experience levels and preferences. Bikers, hikers, and trail runners alike will find paths that challenge and inspire. The Bitterbrush Trail, with its undulating terrains and technical rocky sections, is a favorite among mountain bikers seeking an adrenaline rush.
For those looking for a more relaxed pace, the Nighthawk Trail offers a smoother path, meandering through open meadows, dense woodlands, and offering panoramic views of Longs Peak and the Front Range.
Wildlife enthusiasts are in for a treat at Hall Ranch. The area is teeming with native fauna, from mule deer grazing in the meadows to raptors soaring in the expansive Colorado sky. The changing seasons bring with them a cascade of colors, with wildflowers dotting the landscape in spring and summer, and the foliage turning a brilliant hue in the fall.
Given the area's popularity, it's advisable to arrive early, especially on weekends, to secure a parking spot and enjoy the trails with fewer crowds. Remember to carry plenty of water, wear appropriate footwear, and adhere to trail etiquettes, especially since some trails are multi-use.
In sum, the Hall Ranch Trailhead stands as a testament to Colorado's unparalleled natural beauty and the state's commitment to preserving these spaces.
Whether you're stopping for a quick hike or spending the day exploring, this trailhead offers a slice of wilderness that enriches any journey from Denver to the Rocky Mountain National Park.
St. Vrain State Park
Before you venture deep into the Rocky Mountains, a serene stopover awaits at St. Vrain State Park. Situated conveniently off the highway, this park is a tranquil oasis, combining water, wildlife, and scenic beauty, making it a must-visit for both relaxation and recreation.
Spanning over 600 acres, St. Vrain State Park is characterized by its series of ponds, making it a haven for water enthusiasts and birdwatchers.
The park's water bodies teem with life, offering anglers a chance to cast a line for a variety of fish including bass, bluegill, and catfish. The tranquil waters are also ideal for kayaking, canoeing, or simply enjoying a peaceful picnic by the shoreline.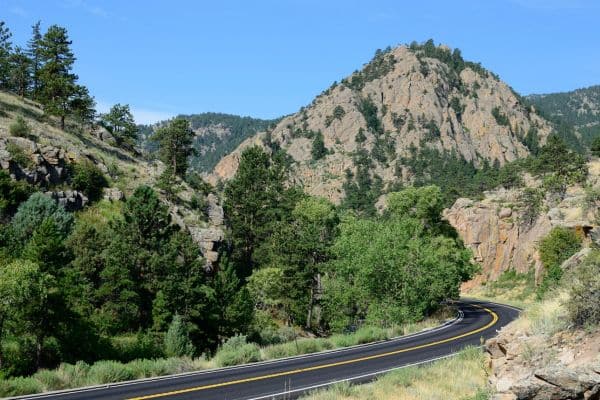 For bird enthusiasts, St. Vrain is a paradise. The park is a recognized birding hotspot, home to a plethora of species. With its mix of water habitats and grasslands, visitors can spot everything from majestic bald eagles and ospreys to a myriad of waterfowl and songbirds. A pair of binoculars and a quiet spot by one of the ponds can yield hours of birdwatching delight.
Camping is another highlight of St. Vrain State Park. With well-maintained campgrounds that provide both basic and full-hookup sites, it's a favored spot for both tent campers and RV travelers. Waking up to a mist-covered pond with the backdrop of the Front Range is a memory many cherish.
As with all natural areas, it's essential to respect the park's rules and guidelines. Whether it's practicing catch and release or adhering to trail and camping etiquettes, ensuring the park remains pristine for future visitors is paramount.
St. Vrain State Park is a refreshing interlude in your journey from Denver to the Rocky Mountain National Park. Offering a blend of natural beauty and recreation, it invites visitors to pause, relax, and appreciate the diverse wonders of Colorado's landscapes.
Peak to Peak Scenic Byway
Embarking on the Peak to Peak Scenic Byway is akin to stepping into a living postcard of Colorado's most iconic landscapes.
Established in 1918, this historic route is Colorado's oldest scenic byway, stretching for about 55 miles and offering a picturesque journey through the heart of the state's mountain country.
Route and Accessibility: The byway runs north to south, connecting the towns of Estes Park and Black Hawk. Travelers will traverse a mix of State Highways: SH 7, SH 72, and SH 119.
It's a well-maintained road, accessible by most vehicles year-round. However, winter travelers should check for weather advisories as mountain conditions can change rapidly.
Natural Highlights: The drive offers continuous panoramas of craggy peaks, expansive meadows, dense forests, and alpine lakes. The Continental Divide is consistently visible, showcasing Colorado's rugged backbone. Key natural landmarks include:
Longs Peak: One of Colorado's famous "fourteeners," this peak towers at 14,259 feet and serves as a majestic backdrop to the byway.
Golden Gate Canyon State Park: A detour worth taking, this park offers hiking, wildlife viewing, and a glimpse of the colorful aspen trees, especially vibrant in the fall.
Historic Points: The byway is dotted with remnants of Colorado's rich mining history. Towns like Nederland have deep roots in the mining industry and now offer a mix of historical sites and modern amenities.
The old mining equipment and preserved cabins give a glimpse into the bygone era.
Recreational Opportunities: The byway is not just for driving. Numerous trailheads beckon hikers, bikers, and nature enthusiasts.
Popular spots include Brainard Lake Recreation Area and the Indian Peaks Wilderness. In winter, cross-country skiing and snowshoeing are favorite activities.
Dining and Lodging: The route is sprinkled with quaint mountain towns providing unique dining experiences, from cozy cafes to upscale restaurants.
For those wishing to extend their stay, there are numerous lodging options, including cabins, bed and breakfasts, and campgrounds.
The Peak to Peak Scenic Byway is more than just a road; it's a journey through Colorado's heart. Whether you're a nature enthusiast, history buff, or just someone seeking scenic beauty, this byway promises an experience that's both enriching and unforgettable.
Wild Basin Trailhead
In the southeastern corner of Rocky Mountain National Park the Wild Basin Trailhead is a gateway to pristine alpine landscapes and cascading waterfalls, this trailhead offers a more secluded experience for those eager to explore the untouched beauty of the Rockies.
Trail Description & Highlights: Starting from the Wild Basin Ranger Station, the trail meanders through dense forests of pine and aspen, opening up to showcase spectacular vistas of high mountain peaks and verdant meadows. The sounds of rushing water are a constant companion as the trail crisscrosses the North St. Vrain Creek several times.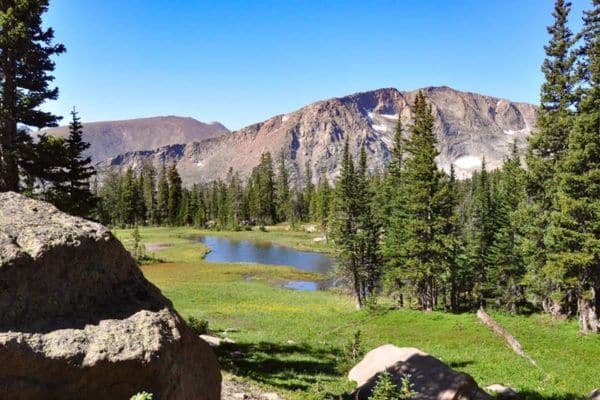 Some of the trail's most notable attractions include:
Copeland Falls: Just a short hike from the trailhead, this two-tiered waterfall is both easily accessible and breathtaking.
Calypso Cascades: Further along the path, hikers are rewarded with views of this cascading waterfall surrounded by lush greenery.
Ouzel Falls: A highlight of the Wild Basin area, this powerful waterfall is both visually and audibly arresting. A nearby overlook provides a vantage point to appreciate its majesty.
Accessibility and Difficulty: The initial part of the trail is relatively flat and family-friendly, making it suitable for hikers of all ages. However, as you venture deeper into Wild Basin, the trails become more challenging, gaining elevation and presenting rougher terrains.
Amenities: The trailhead area is equipped with a ranger station, restrooms, and limited parking. Given its popularity during peak months, arriving early is recommended to secure a parking spot.
Tips:
Always check trail conditions before heading out, especially in early summer when snowmelt can make certain paths tricky or inaccessible.
Consider bringing a picnic; the picturesque surroundings provide an idyllic backdrop for a mid-hike meal.
The Wild Basin Trailhead is a hidden gem within Rocky Mountain National Park. Whether you're an experienced hiker eager to explore its depths or a casual visitor content with enjoying its easily accessible waterfalls, this trailhead offers a tranquil and awe-inspiring escape into Colorado's wilderness.
Lily Lake
Situated just off the Peak to Peak Scenic Byway, Lily Lake is a tranquil oasis that showcases the serene beauty of the Rockies without requiring a strenuous hike. A favorite among families, photographers, and nature enthusiasts, Lily Lake offers a blend of accessibility and alpine charm.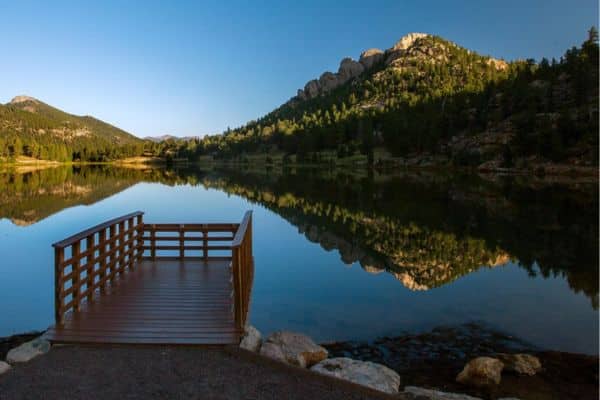 Features & Activities:
Loop Trail: Lily Lake features an easy, level loop trail that circles the lake, making it perfect for visitors of all ages and abilities. The trail stretches for just over a mile and offers unobstructed views of the lake, framed by towering peaks like Longs Peak and Mount Meeker.
Picnicking: With several benches and picnic spots dotted around the lake, it's a popular spot for a peaceful lunch or a sunset meal. The tranquil waters and gentle sounds of nature provide a relaxing backdrop.
Wildlife & Birdwatching: The lake and its surroundings are teeming with wildlife. Visitors might spot ducks gliding across the water, muskrats along the shores, and a myriad of birds, including hummingbirds, in the surrounding trees.
Fishing: Lily Lake is stocked with greenback cutthroat trout, making it a popular spot for catch-and-release fishing. Ensure you have the appropriate licenses and are familiar with park regulations.
Accessibility: Lily Lake's proximity to the highway and its flat, well-maintained trail make it one of the most wheelchair and stroller-friendly spots in Rocky Mountain National Park. Additionally, there's ample parking available, though it can fill up quickly during peak times.
Nearby Attractions: Close to Lily Lake is the Lily Ridge Trail, a slightly more challenging route that offers panoramic views of the Estes Valley and the Continental Divide. It's an excellent option for those looking to extend their hike.
Tips:
Visit during sunrise or sunset for a magical experience. The play of light on the water and the alpenglow on the mountains create a mesmerizing scene.
Always remember to practice Leave No Trace principles, ensuring the area remains pristine for future visitors.
Lily Lake is a testament to nature's ability to inspire awe without grandiosity. Its calm waters and easy trail offer everyone, from the avid adventurer to the leisurely traveler, a chance to experience the magic of the Rockies up close.
Estes Park
Positioned at the foothills of the Rocky Mountains, Estes Park stands prominently as the eastern entrance to Rocky Mountain National Park. Known as the "Gem of Colorado," this vibrant town combines mountain allure, historical significance, and a welcoming ambiance, making it an indispensable stop on any journey to the Rockies.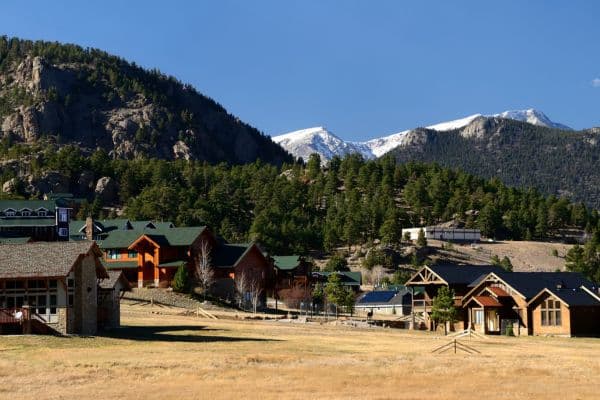 Overview & Activities:
Downtown Estes Park: Wander the bustling main street filled with local shops, restaurants, and galleries. From handcrafted souvenirs to delectable treats, there's something for every visitor to enjoy.
Estes Park Aerial Tramway: For panoramic views of the town and surrounding landscapes, take a ride on the tramway. It transports visitors to the summit of Prospect Mountain, offering unmatched vistas and photo opportunities.
Historic Stanley Hotel: Recognized for its iconic colonial structure and rumored ghostly residents, this hotel inspired Stephen King's "The Shining." Whether you're staying overnight or just popping in for a tour, it's a must-visit.
Festivals & Events: Estes Park frequently hosts a myriad of events, ranging from art festivals to elk-watching tours, especially in the fall when the elk rut becomes a popular attraction.
Outdoor Recreation: Beyond its cultural offerings, Estes Park is a hub for outdoor activities. Whether you're keen on hiking, fishing, horseback riding, or even rock climbing, this town provides access to a world of adventure.
Dining & Accommodation:
The town boasts a diverse range of eateries, from cozy cafes offering hearty mountain breakfasts to upscale restaurants serving gourmet meals. Accommodation options are equally varied, catering to all preferences and budgets — choose from rustic cabins, bed and breakfasts, motels, or luxurious resorts.
Tips:
Estes Park can become quite crowded, especially during the summer months and weekends. It's advisable to plan your visit during weekdays or shoulder seasons for a more peaceful experience.
Always be on the lookout for wildlife, especially in the evenings. Elk often wander into town, offering a unique opportunity for viewing, but always remember to maintain a safe distance.
Estes Park isn't just a gateway to Rocky Mountain National Park; it's a destination in its own right. With its mix of natural beauty, cultural attractions, and mountain-town vibe, it promises a memorable experience for every traveler.
Things to do in Rocky Mountain Park
In Rocky Mountain National Park, the possibilities for adventure are endless. To help you navigate its vast expanse and make the most of your visit, we've compiled a list of top activities and attractions. Here's our handpicked guide to the best things to do in the park.
Scenic Drives in Rocky Mountain National Park
Driving through Rocky Mountain National Park offers an opportunity to witness the grandeur of nature from the comfort of your vehicle.
The park boasts some of the most iconic and picturesque roads in the U.S., making it a must-visit for those who enjoy combining a love for the outdoors with the pleasure of a scenic drive.
Here's a deeper look at two of the park's most famed roads:
Trail Ridge Road
Overview: Stretching over 48 miles from Estes Park to Grand Lake, Trail Ridge Road is the highest continuous paved road in the U.S., reaching an elevation of 12,183 feet. This engineering marvel offers panoramic vistas of the Rockies, alpine meadows, and a close-up view of the tundra ecosystem.
Highlights: Key viewpoints include Many Parks Curve, Rainbow Curve, and the Alpine Visitor Center. From these vantage points, one can often spot herds of elk, marmots, and if lucky, bighorn sheep.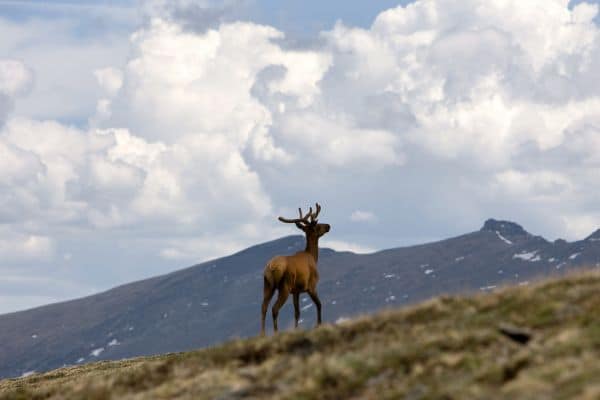 Best Time to Visit: Due to its high elevation, the road typically opens around Memorial Day and closes in mid-October, depending on snow conditions. Late spring and early fall offer clearer skies and fewer crowds.
Tips: Given its altitude, weather can change rapidly. It's advisable to check the road status and weather forecast before embarking on the journey.
Old Fall River Road
Overview: Constructed in the 1920s, this 9-mile gravel road was the park's original car route. It winds from Endovalley to the Alpine Visitor Center and offers a slower, more rustic experience compared to Trail Ridge Road.
Highlights: Chasm Falls is a major attraction on this route, providing a stunning backdrop for photos. The road's one-way nature allows for a relaxed pace to enjoy the scenic beauty.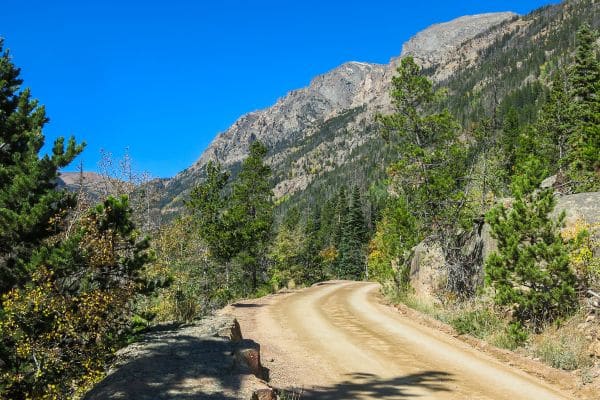 Best Time to Visit: The road is open from early July to late September. Being narrower and gravel-laden, it's best navigated during dry conditions.
Tips: Take it slow and savor the journey. The road is less frequented than Trail Ridge, making it ideal for those looking for a more intimate experience with nature.
Whether you're seeking awe-inspiring views, wildlife encounters, or simply the thrill of driving at high altitudes, these scenic drives in Rocky Mountain National Park are sure to deliver unforgettable memories.
Hiking Trails in Rocky Mountain National Park
Hiking is arguably the best way to immerse oneself in the majesty of Rocky Mountain National Park. Each trail offers unique experiences, be it in terms of landscape, difficulty, or wildlife encounters. For those looking to explore on foot, here are just 3 hikes you absolutely cannot miss.
Bear Lake Trail
Trail Length: Approximately 0.8 miles round trip.
Trailhead: Bear Lake Trailhead.
Overview: This relatively flat loop circles Bear Lake, offering breathtaking views of the surrounding peaks. The trail is well-maintained and suitable for hikers of all ages and abilities.
Wildlife: It's common to spot mule deer and elk in the early mornings and late evenings. Birds, including Clark's nutcrackers and mountain bluebirds, can often be seen and heard along the way.
Tips: The trail is popular and can get crowded. It's best to arrive early or later in the day to find parking and enjoy a more serene experience.
Emerald Lake Trail
Trail Length: Approximately 3.6 miles round trip.
Trailhead: Bear Lake Trailhead.
Overview: This moderate hike takes you past Nymph and Dream Lakes before reaching Emerald Lake, which sits at the base of Hallett Peak. Each lake offers distinct views, with Hallett Peak reflecting beautifully in Emerald Lake's clear waters.
Wildlife: The trail is frequented by chipmunks, squirrels, and a variety of birds. Look out for pikas and marmots in the rockier sections.
Tips: The path can be snowy or icy in places, even during summer. It's recommended to wear sturdy boots and use trekking poles for better stability.
The Sky Pond via Glacier Gorge
Trail Length: Roughly 9 miles round trip.
Trailhead: Glacier Gorge Junction.
Overview: This challenging hike takes you past Alberta Falls, The Loch, and Timberline Falls before culminating at Sky Pond, which is cradled by Sharkstooth and Petit Grepon peaks. The trail requires navigating some steep terrains and, at times, scrambling over rocks.
Wildlife: Being a longer trail, it offers diverse wildlife spotting opportunities. From waterfowl in the ponds to bighorn sheep on higher terrains, there's always something to look out for.
Tips: This is a long and strenuous hike, so start early and ensure you're adequately prepared with food, water, and layers. The final climb near Timberline Falls can be tricky; gloves might help grip the wet rocks.
Rocky Mountain National Park boasts a vast network of trails catering to both casual walkers and seasoned hikers. Each trail mentioned offers a glimpse of the park's diverse ecology, terrain, and beauty.
However, always remember to respect nature, pack out what you bring in, and stay on designated trails to ensure the park's preservation for future generations.
Campgrounds in Rocky Mountain National Park:
Camping in Rocky Mountain National Park is a quintessential experience for many visitors. It's an opportunity to sleep under a canopy of stars, be serenaded by nature's nocturnal symphony, and wake up to breathtaking mountain vistas.
For those seeking this authentic camping experience, here's a detailed guide to three of the park's premier campgrounds.
Moraine Park Campground
Situated just off Bear Lake Road, roughly two miles south of the Beaver Meadows Entrance, the Moraine Park Campground offers an immersive experience in Rocky Mountain National Park.
With meadows that frequently host herds of grazing elk and a backdrop of rugged peaks, the surroundings are as picturesque as they come.
This expansive campground boasts 244 individual sites and 9 group sites. Each campsite is well-equipped with picnic tables and fire rings. Modern conveniences like flush toilets and potable water are readily available, ensuring a comfortable camping experience.
However, if you're hoping for utility hook-ups, you won't find them here, preserving the rustic and natural feel of the campground.
Due to its popularity, reservations are a must from mid-May to mid-October. If you're feeling spontaneous, winter camping operates on a first-come, first-serve basis.
Glacier Basin Campground
Nestled off Bear Lake Road, about six miles south of the Beaver Meadows Entrance and close to Estes Park, Glacier Basin Campground offers an experience characterized by pine forests and open spaces with sweeping views of the mountains.
The campground is segmented into three loops, with a combined total of 150 sites. In addition to standard camping facilities like picnic tables and fire grates, you'll find potable water and flush toilets, but similar to Moraine Park, there are no hook-ups.
A shuttle bus service from the campground can ferry visitors to various trailheads and points of interest during the summer months.
Glacier Basin is a seasonal campground, typically open from late May through early September. Given its strategic location near many trailheads, it's recommended to make reservations well in advance.
Aspenglen Campground
Located near the Fall River Entrance, just off US-34, Aspenglen beckons with a slightly more intimate setting. It's surrounded by a fragrant forest of ponderosa pines and, true to its name, stands of aspen trees that shimmer gold in the fall. With 52 sites available, Aspenglen is smaller compared to Moraine Park and Glacier Basin.
Each site is thoughtfully equipped with picnic tables and fire grates, ensuring a memorable camping experience. Essential facilities, including flush toilets and drinking water, are on hand.
The campground operates typically from late May to late September, with reservations being essential during this period. Its proximity to the Fall River and various trailheads makes it an ideal choice for those keen on exploring the eastern side of the park.
In all three campgrounds, the emphasis is on preserving the park's natural beauty and minimizing human impact. Remember to store food properly to avoid attracting wildlife, and always adhere to Leave No Trace principles.
Given the popularity of these campgrounds, it's a good idea to plan and book your site well in advance, ensuring you have a base to explore the myriad wonders of Rocky Mountain National Park.
Lakes and Waterfalls in Rocky Mountain National Park
Immersing oneself in the tranquillity of mountain lakes or being captivated by the raw power of cascading waterfalls is a profound experience in Rocky Mountain National Park.
The park's high-altitude lakes and dramatic falls offer not just scenic beauty, but also an opportunity to understand the complex ecosystem of this alpine environment. Here's a guide to some of the must-visit lakes and waterfalls in the park:
Dream Lake: Located at an elevation of 9,910 feet, Dream Lake is aptly named. A popular destination year-round, it offers an ever-changing canvas – from frozen winter wonderlands to lush summer landscapes.
The trail to Dream Lake, which starts at the Bear Lake Trailhead, is a moderate 2.2-mile round-trip hike. En route, you're treated to views of Nymph Lake and, upon arrival, a pristine alpine lake surrounded by the imposing Hallett Peak and Flattop Mountain.
Reflections on its clear waters during dawn are particularly breathtaking, making it a favorite for photographers.
Sprague Lake: With an easy accessibility that makes it suitable for visitors of all ages, Sprague Lake sits at an elevation of 8,200 feet.
The relatively flat loop around the lake is a mere 0.8 miles, offering scenic views with minimal effort. Once a resort in the early 1900s, today, the lake is a haven for anglers, birdwatchers, and those seeking tranquillity.
The backdrop of the Continental Divide creates a picturesque setting, especially during sunrise and sunset.
Alberta Falls: One of the most visited waterfalls in the park, Alberta Falls plunges from a height of about 30 feet, offering a dramatic spectacle.
The trail to the falls starts from the Glacier Gorge Trailhead and is a relatively easy 1.6-mile round-trip hike. As you approach, the roar of the falls becomes more pronounced, building anticipation.
Surrounded by large boulders and pine trees, it's a popular spot for picnics. The falls are especially impressive in spring and early summer when the snowmelt increases its volume.
Ouzel Falls: Hidden deeper within the Wild Basin area of the park, Ouzel Falls is a 40-foot waterfall that rewards those willing to undertake the 5.4-mile round-trip hike.
Starting from the Wild Basin Trailhead, the trail meanders past Copeland Falls and Calypso Cascades before reaching Ouzel. Named after the water ouzels (or American dippers) that are often seen diving into mountain streams, the falls provide a serene spot to appreciate the wonders of nature.
The surrounding area, especially during summer, is vibrant with wildflowers, adding to its allure.
Bear Lake: A gem of Rocky Mountain National Park, Bear Lake is easily accessible and offers panoramic views of the surrounding peaks.
While the lake itself is a mere 0.5-mile loop, it serves as a trailhead for several other hikes, making it a focal point for many visitors.
Ribbon Falls: Situated near Black Lake, Ribbon Falls is less frequented than other falls, offering a peaceful environment. The journey to Ribbon Falls is roughly a 10-mile round trip from the Glacier Gorge Trailhead, taking hikers through diverse landscapes, including other lakes like Mills Lake and Jewel Lake.
In Rocky Mountain National Park, the interplay of water against the rugged landscape has sculpted many such natural wonders.
Each lake and waterfall has its unique charm, and together, they offer a myriad of experiences for visitors. Whether you're in search of solitude, adventure, or simply the chance to marvel at nature's artistry, these bodies of water will leave you enthralled.
Our Favorite 3-Day Itinerary in Rocky Mountain National Park From Denver
When we carve out a short break from Denver to immerse ourselves in the unparalleled beauty of Rocky Mountain National Park, we often find ourselves following a familiar path.
This itinerary captures the essence of the park, blending its iconic sites with a few lesser-known gems.
For those camping enthusiasts like us, we've also recommended convenient campgrounds each night to make the most of the alpine experience. So, here's how we like to spend our three days:
Day 1: Set up Camp and Wildlife Sightings!
Arrival and Swift Camp Setup at Moraine Park Campground: Arriving from Denver after lunch, we immediately set up camp at Moraine Park Campground.
Using tried-and-true methods, our tents go up quickly, and our campsite is organized in record time. We're on a mission to make the most of our first day.
Exploratory Hike to Alberta Falls: Once we're settled, we gear up for a moderate 1.6-mile round-trip hike to Alberta Falls.
One of the park's most popular destinations, the roaring cascade surrounded by lush greenery and jagged peaks, is a sight to behold. Along the way, we keep our eyes peeled for mule deer, often spotted around this trail.
Sunset Drive on Trail Ridge Road: Jumping back in our vehicle, we head for a sunset drive on Trail Ridge Road.
This stretch offers breathtaking views of the park, and as the sun sets, we're often treated to the sight of elk herds grazing in the alpine meadows. These majestic creatures, especially with the backdrop of the setting sun, make for a surreal experience.
Campfire Tales at Moraine Park Campground: As darkness envelopes the campsite, we gather around a roaring campfire. It's a time for shared stories of past adventures, maybe even tales of local legends and wildlife encounters. The distant hoot of an owl or the rustling in the bushes adds an element of mystery to our fireside evening.
Nighttime Wildlife Spotting: Armed with flashlights and a sense of adventure, we embark on a short nighttime expedition around the camp's periphery.
The Rockies come alive at night, and with a bit of luck, we might spot nocturnal creatures: foxes on the prowl or maybe even the gleaming eyes of a curious raccoon.
Day 2: Peaks, Ponds, and Panoramas
Early Morning Wildlife Watch: The best wildlife spotting often happens during the dawn hours when the world is just waking up.
We rise with the sun, grab our binoculars, and quietly meander around Moraine Park. The sight of elk grazing in the meadows or marmots scampering across the rocks is worth the early start.
Breakfast and Prep: Back at camp, we cook up a hearty breakfast – perhaps some pancakes and eggs. While eating, we finalize our plans for the day, ensuring we've packed essentials like snacks, water, and first aid supplies.
Hike to Sky Pond via Glacier Gorge: Eager to hit the trail, we set out for one of RMNP's gems: Sky Pond via the Glacier Gorge trail. This challenging 9.8-mile round-trip hike rewards us with cascading waterfalls, alpine lakes, and staggering mountain views.
The trail first leads us to Alberta Falls, then past the pristine waters of The Loch, and up to the Timberline Falls.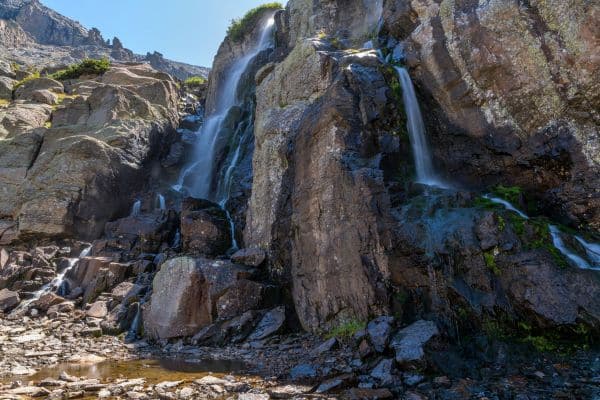 A bit of a scramble later, we find ourselves by the serene Sky Pond, surrounded by sheer rock walls and peaks. Here, we take a moment to soak in the beauty, perhaps spotting a few mountain goats or pikas.
Lunch by the Lake: Having worked up an appetite, we picnic by Sky Pond, enjoying the tranquillity and the views.
Evening Drive to Old Fall River Road: Post-hike, we head to the historic Old Fall River Road. This gravel road, RMNP's first auto route, is a slower but scenic drive, winding through aspen groves and past waterfalls.
It's a less-traveled path, giving us a sense of solitude and a closer look at the park's raw beauty.
Starry Night at the Camp: As night descends and a canopy of stars unveils, we return to Moraine Park Campground. After a fulfilling dinner, we might indulge in some stargazing.
The high altitude and clear skies make for a mesmerizing celestial display. Wrapped in blankets, identifying constellations and shooting stars becomes our nighttime adventure.
Exhausted but content, we turn in, the echoes of the Rockies' wonders accompanying our dreams as we rest up for Day 3.
Day 3: Lakeside Serenity, Waterfall Wonders, and Farewell Moments
Sunrise at Dream Lake: We start our final day with a morning hike to Dream Lake, aiming to catch the first light of dawn reflecting off its calm waters.
The trail, a relatively short 2.2-mile round trip from the Bear Lake Trailhead, takes us through dense forests and past Nymph Lake before revealing the dreamy vista of Dream Lake itself, all under the watchful gaze of Hallett Peak.
Breakfast Back at Camp: After our sunrise excursion, we return to our campsite for a fulfilling breakfast, brewing fresh coffee and cooking up some energizing morning favorites. It's a moment to relax and fuel up for the day's adventures.
Visit to Sprague Lake: Next, we head to Sprague Lake, a wheelchair-accessible destination known for its tranquil beauty and panoramic mountain vistas.
It's a leisurely 0.9-mile loop, making it perfect for a relaxed morning stroll. With benches scattered around, we take our time, occasionally sitting to watch the ducks and, if lucky, spotting an osprey in action.
Lunch and Pack Up: By midday, we head back to the camp to pack our belongings and have lunch. We reminisce about the past two days, sharing our favorite moments and the photos we've captured.
Alberta Falls and Ouzel Falls Adventure: Before saying our goodbyes to RMNP, we embark on one last adventure: a visit to two iconic waterfalls. First, we revisit Alberta Falls, appreciating its majesty in broad daylight.
Then, we drive to the Wild Basin area and hike to Ouzel Falls, a 5.4-mile round-trip journey. The path offers views of Copeland Falls and Calypso Cascades before leading us to the impressive Ouzel Falls, named after the water-loving Ouzel birds often seen around.
Late Afternoon Departure: As the afternoon sun starts its descent, signaling the end of our 3-day adventure, we make our way out of the park. The journey back to Denver is filled with chatter about the memories we've made, the sights we've seen, and plans for our next visit.
Final Thoughts
As our journey from Denver to Rocky Mountain National Park comes to a close, we're left with a heart full of gratitude and a camera full of memories. This expedition has been a gentle reminder of nature's unparalleled beauty and the serenity it brings to our busy lives.
From bustling city streets to tranquil mountain paths, the transition has been nothing short of magical. We hope this guide serves not just as a roadmap but as an inspiration for all adventure-seekers.
The Rockies await with open arms and endless trails. Until our next adventure, keep exploring, stay curious, and cherish every moment under the vast mountain sky. Safe travels!