Journey from El Paso to Guadalupe Mountains National Park: a guide to pitstops, trails, and a 3-day itinerary amidst nature's splendor.
Embarking on a road trip from the vibrant city of El Paso to the serene Guadalupe Mountains National Park unveils a journey filled with contrasts and natural splendor.
As you traverse the route, the urban hustle gradually melds into untouched wilderness, offering a delightful escape into nature's lap.
This guide is crafted to aid every curious traveler and avid road tripper in meticulously planning this adventure. From historical pit stops to a three-day immersive itinerary within the park, we've got you covered.
Ready your backpacks, for a Texan adventure from cityscapes to mountain peaks awaits!
Planning Your Trip From El Paso To Guadalupe Mountains National Park
Arriving in El Paso: Whether you're a Texan local or traveling from afar, El Paso is an accessible kickoff point for this road trip. For those flying in, the El Paso International Airport (ELP) welcomes flights from major cities across the USA, making your journey to the starting point relatively hassle-free.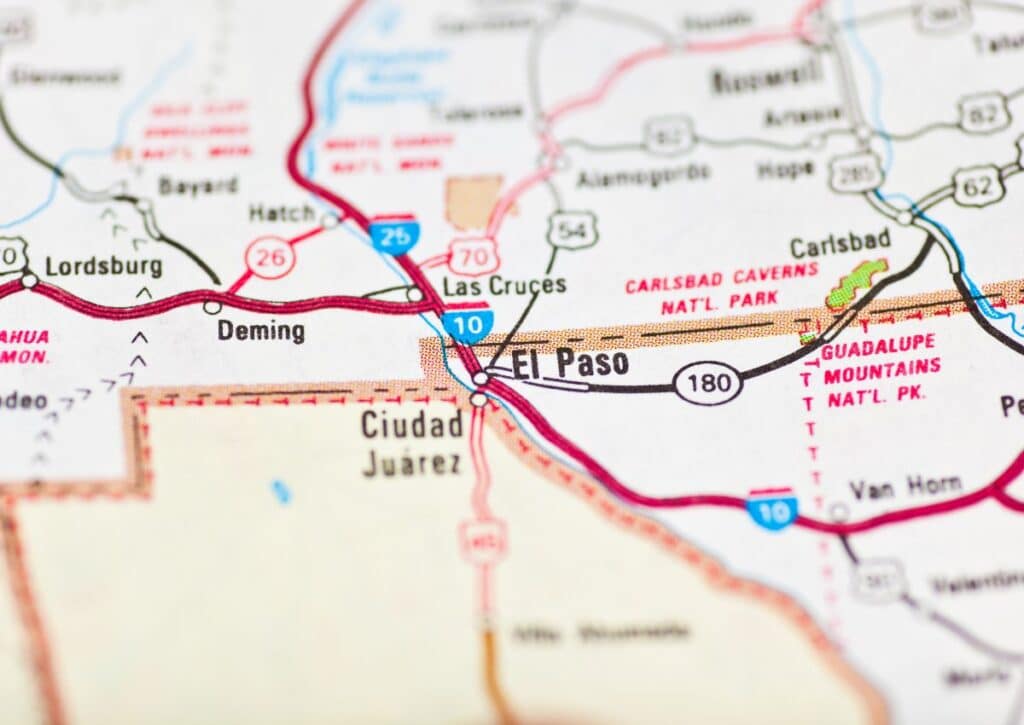 Car Rental: Upon landing in El Paso, you'll find a variety of car rental services available right at the airport. It's advisable to book your car rental in advance to ensure availability, especially during peak travel seasons. Choose a comfortable and reliable vehicle to make your journey to Guadalupe Mountains National Park enjoyable.
Vehicle Check-up: Before embarking on the road, a comprehensive vehicle check-up is crucial to prevent unforeseen issues. Ensure the car's tires, brakes, oil, and all fluid levels are well-maintained. Having a spare tire, jack, and basic tool kit on board is a wise precaution.
Accommodations: Booking your accommodation in advance is a smart move to avoid any last-minute hassles. Secure a place to stay in El Paso for the night before your trip begins to ensure a fresh start in the morning. Additionally, make reservations near Guadalupe Mountains National Park for the nights you plan to spend there, as lodging options can be limited.
Route Planning: The route from El Paso to Guadalupe Mountains National Park is straightforward, taking approximately two hours via US-180 E and US-62 E. However, with the captivating stops along the way, starting early is recommended to make the most out of your day.
Packing Essentials: A well-thought-out packing list is the final step in your preparation. Include comfortable clothing, hiking gear, maps, a first-aid kit, and enough food and water to keep you fueled throughout your adventure. This way, you're all set to explore the contrasting landscapes that await from El Paso to the peaks of Guadalupe Mountains.
The Route From El Paso to Guadalupe Mountains National Park
Embarking on the road from the urban vibrancy of El Paso to the tranquil wilderness of Guadalupe Mountains National Park is a journey of approximately 110 miles, a drive estimated to take around 2 hours without additional stops. The primary artery connecting these two points is the US-180/US-62, making navigation straightforward.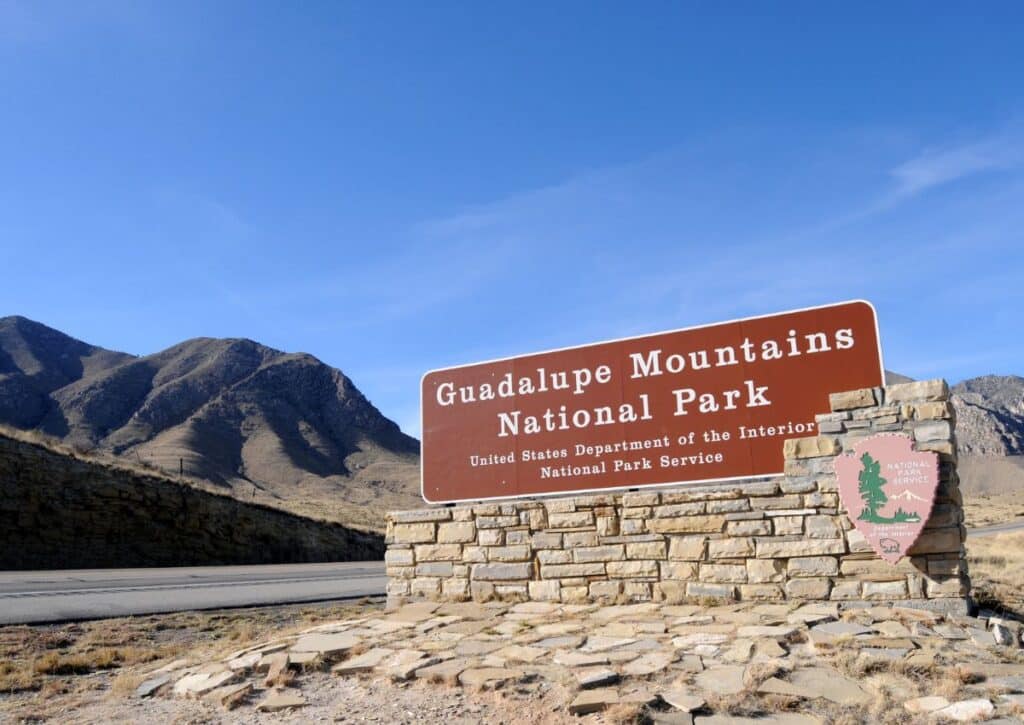 Here's a step-by-step guide to help you traverse this route seamlessly, with brief mentions of some captivating stops along the way:
Kickstart from El Paso: Your adventure begins in El Paso, where you head southwest on E Mills Ave toward N Campbell St. A quick right onto N Campbell St leads you to the junction where you merge onto I-10 E.
Transition to US-180/US-62: Follow I-10 E for a short stretch, and take exit 26 toward Hawkins Blvd. Merge onto Gateway Blvd E, and soon you'll find yourself turning left onto Hawkins Blvd. A right turn onto Montana Ave keeps you on course, and as you continue straight, the urban scenery starts to give way to more rural landscapes. Montana Ave morphs into US-180/US-62, the main highway leading you to your mountain retreat.
Brief Detour to Hueco Tanks State Park & Historic Site: As you cruise along US-180/US-62, a short detour to Hueco Tanks State Park & Historic Site presents a chance to stretch your legs and delve into ancient rock formations.
Salt Flat, Texas: Further along US-180/US-62, a brief stop at Salt Flat, Texas offers a snapshot of unique landscapes.
Cornudas Ranch Restaurant: Before reaching the halfway mark, consider refueling at Cornudas Ranch Restaurant, a rustic stop to grab a hearty meal.
Dell City: As you continue on US-180/US-62, Dell City offers a glimpse into local agriculture.
Frijole Ranch: Further ahead, a stop at Frijole Ranch unveils some regional history before you approach the park's vicinity.
Pine Springs: Just before reaching the park, Pine Springs offers a final quaint stop for a stretch and some photos.
Arrival at Guadalupe Mountains National Park: Your journey culminates as you drive into the heart of Guadalupe Mountains National Park, where natural wonders and hiking trails await.
This meticulous guide aims to ensure a smooth drive from El Paso to Guadalupe Mountains National Park, with brief diversions to enrich your road trip experience.
Our Favorite Stops From El Paso To Guadalupe Mountains National Park
Setting out from El Paso to Guadalupe Mountains National Park, the route is peppered with worthwhile stops. Each presents a unique opportunity to stretch your legs and explore different facets of the local area, from historical sites to natural wonders and rustic dining spots.
This segment introduces six of our favorite stops that add a rich dimension to the road trip, offering a blend of experiences that showcase the diverse charm of this Texan route.
Hueco Tanks State Park & Historic Site
Stepping away from the hustle of El Paso into the serene landscapes of Hueco Tanks State Park & Historic Site, travelers find themselves amidst a fascinating blend of natural and historical wonders. The park is named for its huecos, or natural rock basins, which have served as water reservoirs in this arid region for millennia.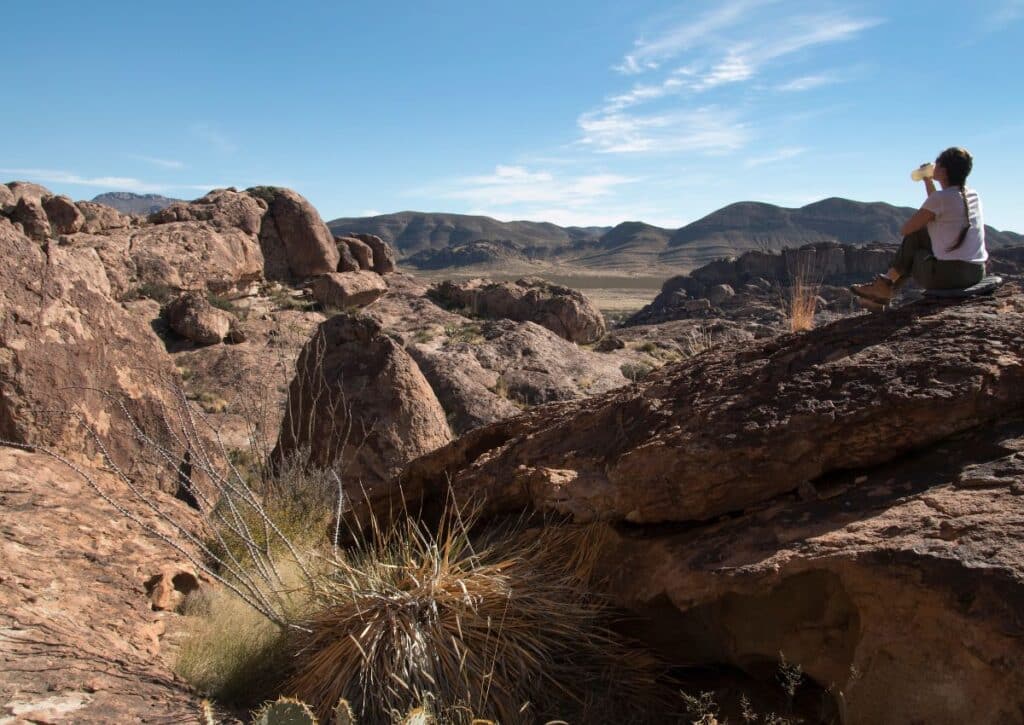 As you wander around, the ancient pictographs on the rocky surfaces narrate tales of bygone eras, providing a visual journey through time. You may opt for a guided tour to gain deeper insights into these ancient drawings and the history they encapsulate​​.
For the adventure seekers, Hueco Tanks presents a rugged terrain that's a haven for rock climbing enthusiasts. The park's unique rock formations cater to climbers of various skill levels, offering a thrilling challenge. Not just a spot for climbers, Hueco Tanks is known for its hiking trails too.
With four notable trails to explore, each journey on foot provides a different perspective of the park's natural beauty​​. One of the trails, the Laguna Prieta Trail to Kiva Cave, is a 0.6-mile out-and-back trail. This moderately challenging route takes an average of 18 minutes to complete, offering a quick yet rewarding hike with an elevation gain of 121 feet​​.
If bouldering is on your agenda, it's essential to note that it usually requires either reservations or the accompaniment of volunteer or commercial guides. Planning ahead and possibly booking a guided tour could ensure a seamless experience as you attempt to conquer the boulders of Hueco Tanks​​.
This detour to Hueco Tanks State Park & Historic Site not only offers a break from the long drive but enriches your road trip with a dose of history, adventure, and the rugged beauty of nature, making it a worthy addition to your itinerary.
Salt Flat, Texas
As you continue your journey towards Guadalupe Mountains National Park, a modest yet intriguing stop awaits at Salt Flat, Texas. This small unincorporated community is nestled in Hudspeth County and provides a stark contrast to the urban scenery you left behind in El Paso.
Salt Flat offers a brief respite from the road, where travelers can stretch their legs amidst a unique landscape. The name 'Salt Flat' is derived from the nearby salt pan that stretches over a vast area, showcasing a different facet of Texas' diverse geology.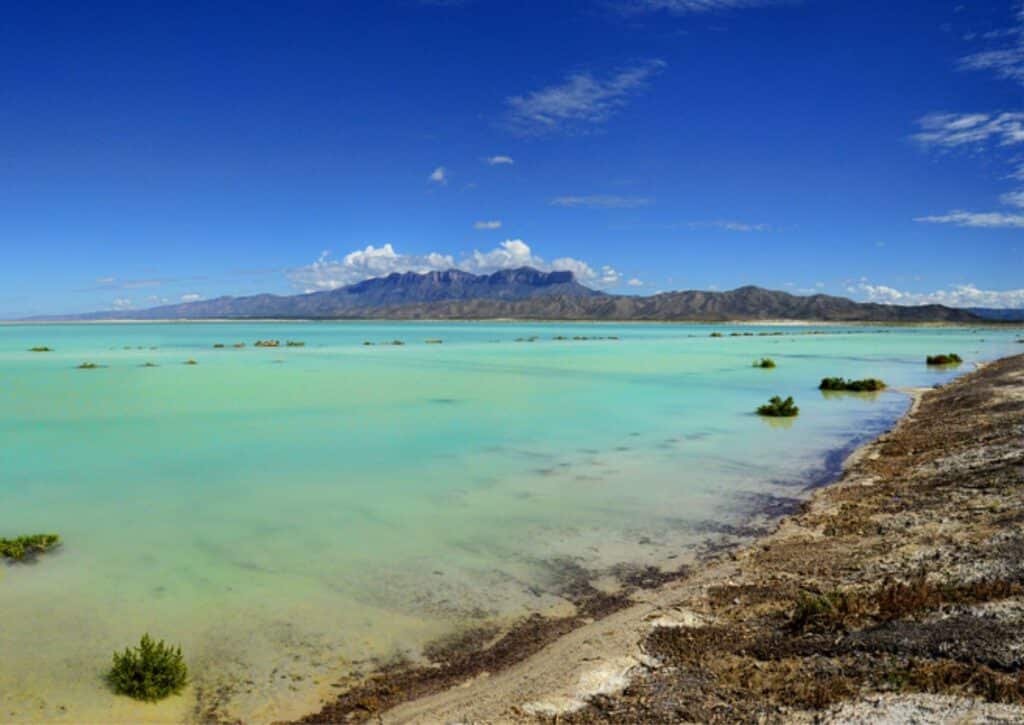 The seemingly endless flat salt plains extend towards the horizon, offering a peculiar yet beautiful sight. It's an excellent spot for photography enthusiasts who can capture the raw beauty of this arid yet captivating landscape.
The area doesn't have much in terms of amenities, but the serene ambiance and the gentle stretch of salt plains provide a peaceful spot for a quick break. A stop at Salt Flat will not only offer a chance to stretch and rejuvenate but also provide a memorable snapshot of the natural simplicity and geological diversity Texas holds.
As you take a moment to soak in the tranquility and perhaps capture a few photographs, Salt Flat serves as a gentle reminder of the vast, open, and often untouched landscapes that lie beyond the bustling cityscapes.
With a refreshed spirit, you can then continue on your journey towards the Guadalupe Mountains, carrying along a small yet poignant memory of Texas' natural canvas.
Cornudas Ranch Restaurant
On your way to Guadalupe Mountains National Park, Cornudas Ranch Restaurant, known as Cornudas Cafe, offers a rustic stop to enjoy a hearty meal amidst the vast Texas landscape. Located on U.S. Highway 62/180 at mile 82.5, near Dell City, TX 79837, this quaint establishment provides a respite from the long drive​​.
The restaurant is known for its famous Cornudas Burger, which is said to be the best in Cornudas, a claim that reflects on a sign right outside the cafe​​.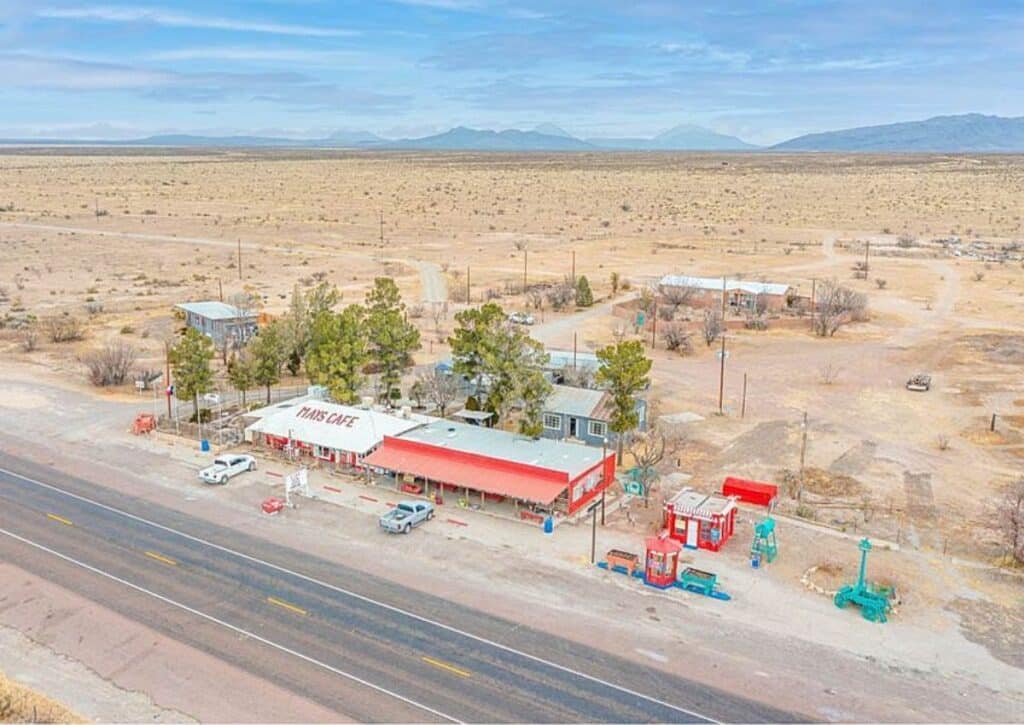 Cornudas Cafe has a long history, being established in 1929, and despite its remote location, it has continued to operate through the years, offering a rustic, historical ambiance along with a pleasant atmosphere​.
The menu at Cornudas Cafe caters to a variety of tastes, offering American, Cafe, and Diner cuisines, and provides meals for breakfast and lunch. They also offer takeout services, have seating arrangements, parking availability, and table service, ensuring a comfortable dining experience for travelers​​.
Although the exact location of Cornudas Cafe seems to have differing address descriptions, it's generally located on U.S. Highway 62/180, either near Dell City or Salt Flat, Texas, making it a convenient stop as you traverse towards Guadalupe Mountains National Park.
Dell City
As you make your way towards Guadalupe Mountains National Park, a detour to the peaceful farming community of Dell City could add a refreshing rural charm to your journey.
Located about 13 miles off US Highway 62-180, this quaint town sits amidst a fertile landscape, courtesy of the abundant water from the Bone Spring-Victorio Peak Aquifer which nourishes the local alfalfa farms and cattle ranches.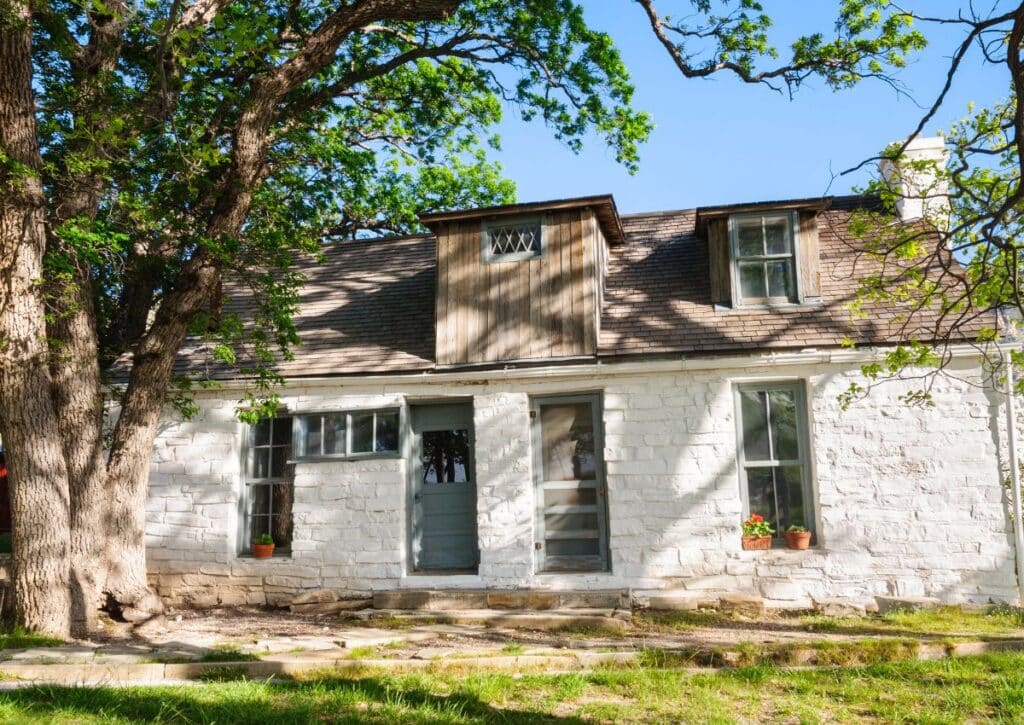 Dell City offers a unique opportunity to savor some fresh local produce. The town's agricultural offerings come straight from the family farms and ranches that form the backbone of this community. Whether you're in the mood for some crisp vegetables, fresh fruits, or other farm-fresh products, a quick stop in Dell City could provide a delightful experience of Texas's agricultural bounty.
As you drive through, you might come across local farmers selling their produce right from their farms or at small local markets. It's a chance to stretch your legs, breathe in some fresh country air, and perhaps stock up on fresh local produce for your adventurous days ahead in the Guadalupe Mountains.
This brief detour not only provides a glimpse into the agricultural life of Texas but also a chance to enjoy some farm-fresh goodness before hitting the road again towards the rugged landscapes awaiting in Guadalupe Mountains National Park.
This rustic cafe is a good spot for a stretch break, to satisfy your hunger with a hearty meal, and to immerse in a bit of local history before hitting the road again towards your adventurous destination.
Frijole Ranch
As you venture closer to Guadalupe Mountains National Park, a worthwhile detour awaits at Frijole Ranch, a historical site nestled amidst the rugged landscapes of West Texas. Just 1½ miles northeast of the Pine Springs Visitor Center, the ranch is easily accessible for travelers heading towards the national park.
The Frijole Ranch, once a bustling establishment, now houses a history museum within its old ranch headquarters. The museum chronicles the rich tapestry of the region's past, from its Native American roots through the early ranching community to the eventual establishment of Guadalupe Mountains National Park.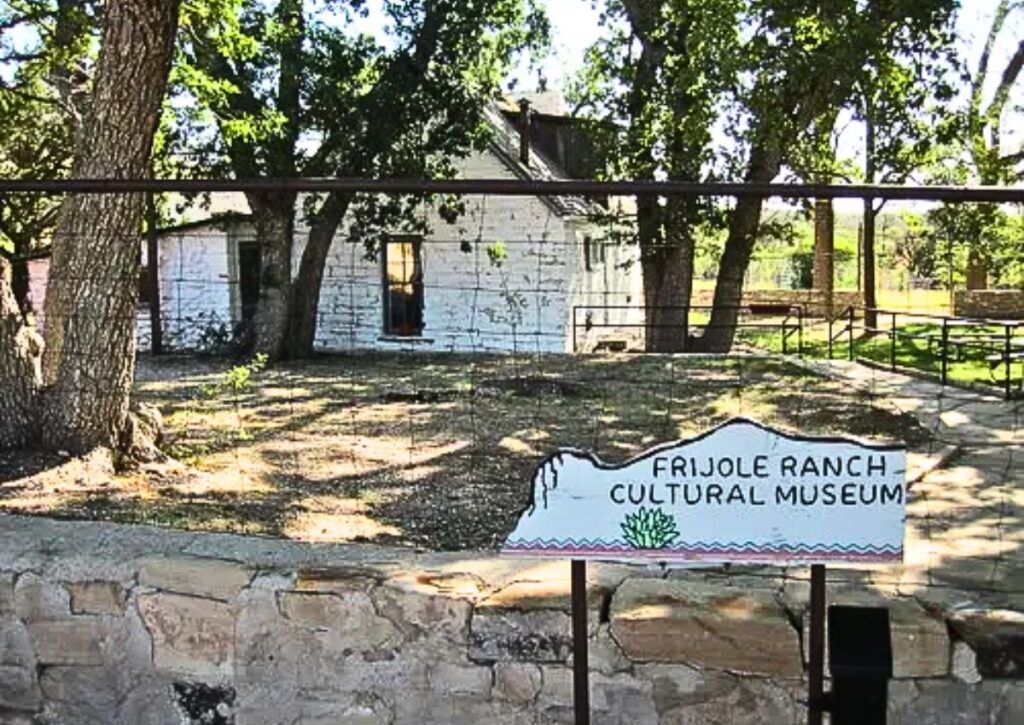 As you wander through the exhibits, the sequential human history of the Guadalupes unfolds before you, providing a deeper connection to the lands you're about to explore.
Outside the museum, the ranch grounds offer a peaceful retreat. A quaint one-room schoolhouse and spring house stand as testaments to the bygone era. The spring water that courses through the courtyard, once essential for subsistence and farming, now nourishes the large shade trees providing a cool respite in the desert terrain.
The ranch also serves as a starting point for the Smith Springs loop trail, offering a casual hike for those looking to stretch their legs. The picnic tables under the sprawling shade trees provide a perfect spot for a quiet meal amidst nature, while the nearby restrooms and picnic shelters add to the convenience.
Frijole Ranch not only offers a historical lens to view the region but also provides a serene spot for relaxation before delving into the adventures awaiting in Guadalupe Mountains National Park. The blend of history, nature, and the promise of a leisurely stroll around the ranch makes this detour a rewarding addition to your road trip itinerary.
Pine Springs
As you inch closer to the heart of Guadalupe Mountains National Park, Pine Springs emerges as a pivotal stop on your journey. This hub, nestled off Highway 62/180 at 400 Pine Canyon Drive, Salt Flat, Texas, acts as a gateway to the adventures awaiting in the rugged landscapes of the park.
The Pine Springs Visitor Center is your go-to spot for essential information, maps, and advice from US Park Rangers, preparing you for the exploration ahead. Although Pine Springs revels in its remote charm, it's crucial to note that amenities like gas stations are at least 35 miles away, and cell phone service can be spotty.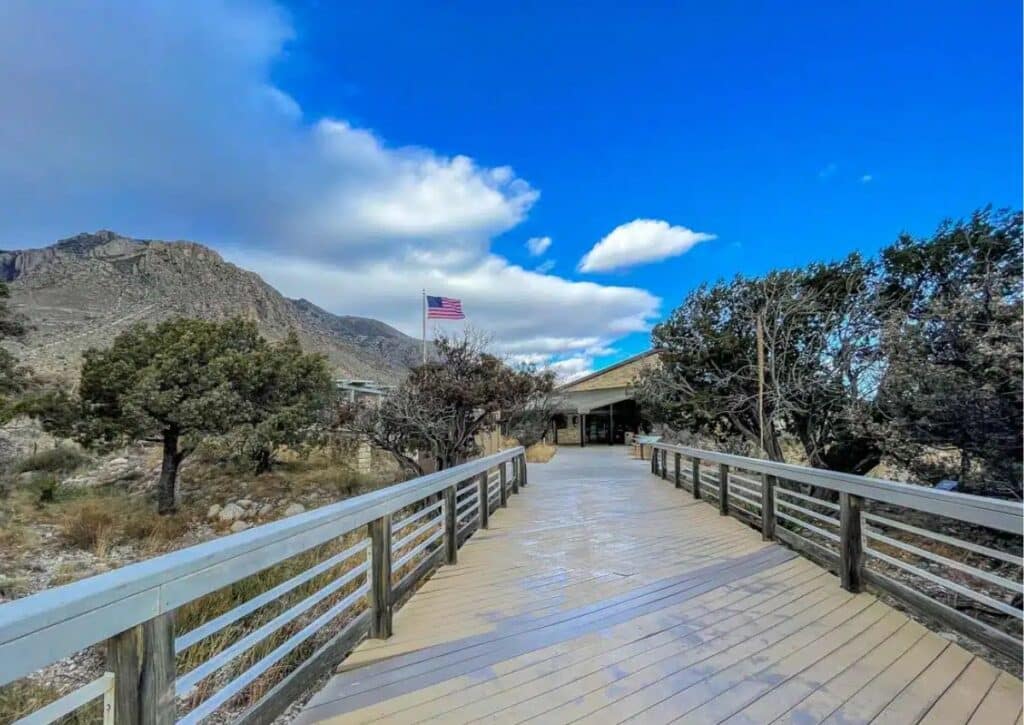 For those eager to stretch their legs, Pine Springs beckons with the promise of hiking adventures. It serves as the launching point for the trail to the summit of Guadalupe Peak, an 8.5-mile round trip challenge that rewards with the title of conquering the "Top of Texas." As you ascend, every step takes you higher above the Chihuahuan Desert, revealing panoramic vistas that stretch far and wide.
Adjacent to the visitor center, the Pine Springs Campground offers a simple yet serene desert camping experience. Positioned at the base of the mountain, this campground provides easy access to the park's extensive trail system, inviting you to delve deeper into the wild terrains of Guadalupe Mountains.
Pine Springs encapsulates a blend of essential amenities, hiking escapades, and a connection to nature, marking a significant checkpoint as you transition from the open road to the rugged trails of Guadalupe Mountains National Park. This stop not only equips you for the adventures ahead but also immerses you in the natural splendor that defines this captivating region.
A 3-Day Itinerary from El Paso to Guadalupe Mountains National Park
Day1: Arrival and Camp Setup
Your adventure begins with an early arrival at Guadalupe Mountains National Park. The first stop is the Pine Springs Visitor Center, where you can grab maps and get the lay of the land from the friendly park rangers.
With your bearings set, head over to Pine Springs Campground to set up your camp. The campground, nestled at the base of the mountains, will be your home for the next few days.
Once your tent is up and your camp is set, it's a good idea to stretch those legs with a hike to nearby Frijole Ranch. The short trail leads to the ranch where a quaint museum narrates the story of the early settlers in the region. It's a gentle, enjoyable hike that gives a first taste of the natural beauty of the park.
Back at the camp, settle down for a quiet dinner as the sky gradually blankets itself with stars. The quiet of the desert, broken only by the occasional rustle of wildlife, is a precursor to the adventurous days awaiting.
As you zip up your tent for the night, the anticipation of the next day's hike to "The Top of Texas" sets in, promising an exciting start to your explorations.
Day 2: Trail to the Top and Desert Springs
Day 2 starts with the early morning freshness at Pine Springs Campground. After a hearty breakfast, lace up your hiking boots for the day's main event – the trail to Guadalupe Peak. The trailhead, located close to your campsite, is where your ascent to "The Top of Texas" begins.
With every upward step, the panoramic views become increasingly spectacular. This 8.5-mile round trip is challenging but incredibly rewarding with stunning vistas awaiting at the summit. Make sure to carry plenty of water, snacks, and your camera to capture the breathtaking scenery.
Returning to camp in the early afternoon, refuel with a well-deserved lunch and maybe catch a short nap to recharge. As the day cools down, head towards Smith Spring for a more relaxed hike.
The spring, nestled amidst the desert landscape, is a hub of flora and fauna. Here, you'll get a chance for birdwatching and might spot some of the park's wildlife coming to quench their thirst.
As evening descends, return to your campsite and unwind. Prepare a simple dinner and as the skies darken, the lack of light pollution in the area promises a spectacular stargazing experience.
The quiet, starlit night at Pine Springs Campground is the perfect end to a day filled with vigorous hiking and nature exploration, encapsulating the wild, untouched beauty of Guadalupe Mountains National Park.
Day 3: Canyons, Wildlife, and Homeward Bound
The final day of your adventure kicks off with a wholesome breakfast at your campsite, energizing you for the day ahead. Today's agenda is a trek through Devil's Hall Trail or, if you're up for an early start, a morning exploration of McKittrick Canyon. Both trails offer a different perspective of the park's diverse ecosystem.
While Devil's Hall Trail features a natural rock staircase and a hallway-like formation, McKittrick Canyon is renowned for its vibrant fall colors and diverse flora and fauna. These trails also provide ample opportunities for birdwatching and wildlife photography.
Post the morning expedition, head back to camp for an early lunch and begin packing up your gear. If time permits, a brief detour to Dell City provides a peek into the local farming community. You might even pick up some fresh produce to enjoy on your ride back.
By late afternoon, it's time to bid farewell to the Guadalupe Mountains. The drive back to El Paso is a time to reminisce about the adventures of the past three days. A stop at Cornudas Ranch Restaurant could be a comforting dinner halt before you reach El Paso.
The return drive, complemented by the setting sun casting long shadows on the vast desert landscape, brings a satisfying closure to your 3-day escape into nature. As you approach El Paso, the memories of the trails traversed, wildlife encountered, and the peaceful nights under the starlit skies promise to linger long after.
Conclusion
The journey from El Paso to Guadalupe Mountains National Park unfolds a captivating narrative of nature's allure and historical whispers. Each stop en route is a chapter in a tale, leading to the heart of a natural sanctuary where trails beckon and wildlife roams free.
The adventure doesn't merely lie in reaching the "Top of Texas," but in every discovery made along the way—be it the ancient echoes at Hueco Tanks, the tranquil waters of Smith Spring, or the rustic charm of Dell City.
The 3-day itinerary is a canvas of experiences, each day painting scenes of awe-inspiring vistas, rustic camping, and trails that tell stories of the earth's ancient past.
The nights under the star-studded skies, the camaraderie around the campfire, and the gentle whispers of the wilderness create a melody that resonates with every traveler's heart, making this expedition more than just a trip, but a journey of discovery.
As you drive back to the hustle of El Paso, the rearview mirror reflects the serene landscapes that now hold pieces of your adventurous heart. The memories crafted, the trails explored, and the calmness experienced amidst nature's grandeur, leave a lasting imprint, urging a promise of return to the untouched wilderness of Guadalupe Mountains National Park. Through this journey, the symbiotic bond between nature and the wanderer is celebrated, making every mile traveled a cherished page in your book of adventures.