Locate Guadalupe Mountains National Park: Get directions, distances from Texas cities, and travel tips for your journey.
Planning a trip to Guadalupe Mountains National Park? You're in for a treat! Located in West Texas, this national park boasts a unique blend of natural beauty, from its rugged peaks to its diverse ecosystems.
But before you pack your bags, it's essential to know where you're headed and how to get there. This article is your go-to guide, providing you with detailed information about the park's location, its distance from major Texan cities, and the best routes to take.
We'll also delve into the rich wildlife that inhabits the park and highlight some popular hiking trails to consider during your visit.
By the end of this guide, you'll be well-prepared to embark on a memorable adventure to one of Texas's most cherished natural landmarks.
Location and Geography of GUadalupe Mountains National Park
Guadalupe Mountains National Park is a prominent landmark in the southwestern region of the United States. Nestled within the vast terrains of Texas, it stands as a testament to the state's diverse ecological wonders, offering visitors a blend of desert landscapes, dense forests, and striking mountainous terrains.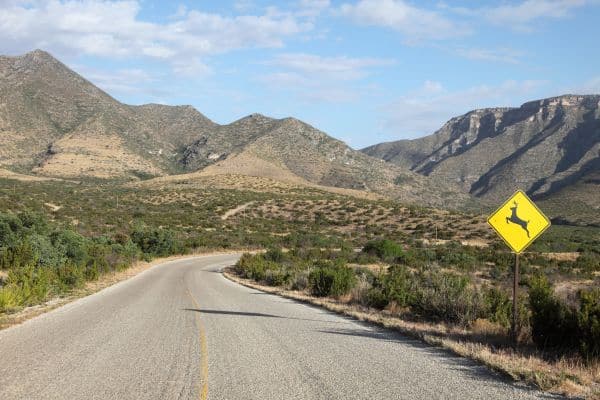 State, City, and County: A Closer Look at the Park's Geography
State: Located in Texas, Guadalupe Mountains National Park showcases the state's rich ecological diversity. Texas, known for its vast landscapes, offers everything from coastal shores to arid deserts.
This park, in particular, captures the essence of Texas's mountainous regions, providing a haven for nature enthusiasts.
City and County: The park isn't confined within a city's limits, but the nearest notable town is Salt Flat. This remote town offers a gateway to the park's wonders.
Geographically, the park spans across two counties: Culberson and Hudspeth. Their remote nature ensures that visitors to the park experience a serene escape from urban distractions.
Why the Time Zone Matters: Navigating the Mountain Time Zone
Guadalupe Mountains National Park operates within the Mountain Time Zone. This might seem like a trivial detail, but it's essential for several reasons:
Travel Adjustments: If you're journeying from a different time zone, adjusting to Mountain Time is crucial. For instance, travelers from Dallas, situated in the Central Time Zone, will experience a one-hour difference upon arrival.
Planning Activities: All park operations, from ranger-led tours to other scheduled events, follow Mountain Time. Being in sync with the local time ensures you make the most of these offerings.
Nature's Clock: For those keen on experiencing the park's natural beauty during sunrise or sunset, being aware of the local time is pivotal. The shifting hues of the sky against the park's backdrop can offer a mesmerizing visual treat.
Understanding the park's geographical location and time zone intricacies ensures a seamless and enriching experience for all visitors.
How far is Guadalupe Mountains National Park?
Guadalupe Mountains National Park, a pristine jewel of West Texas, is located approximately 110 miles east of El Paso and about 56 miles southwest of Carlsbad, New Mexico.
Its remote location offers visitors a genuine escape into nature, away from the urban hustle.
Getting to Guadalupe Mountains National Park:
The primary entry point to the park is via U.S. Highway 62/180. If you're coming from El Paso, you'll head east on U.S. Highway 62/180, and after about 110 miles, you'll find the park's headquarters and visitor center on the south side of the highway.
For those approaching from Carlsbad, New Mexico, you'll travel southwest on U.S. Highway 62/180. After approximately 56 miles, the park's main entrance will be on your right.
It's essential to note that while the park is accessible by major highways, the internal roads can be rugged. It's advisable to check road conditions, especially if you're visiting during or after inclement weather.
Distance from Major Texan Cities:
From Dallas: Dallas, one of Texas's major urban hubs, is approximately 520 miles from Guadalupe Mountains National Park. The most straightforward route from Dallas is to take I-20 West towards El Paso.
Once you reach Pecos, Texas, you'll head south on U.S. Highway 285. From there, you'll take a left onto Texas State Highway 652 West, followed by a right onto U.S. Highway 180 West, which will lead you directly to the park.
From Houston: Houston is roughly 750 miles from the park. If you're embarking on this journey, take I-10 West towards San Antonio. Continue on I-10, passing San Antonio, and head towards Fort Stockton. From Fort Stockton, take U.S. Highway 285 North to Pecos.
Then, follow the same route as mentioned from Dallas: from Pecos, head onto Texas State Highway 652 West and then to U.S. Highway 180 West, leading you to the park's entrance.
A Few Tips for Travelers:
Gas Stations: Given the park's remote location, gas stations can be few and far between, especially as you approach the park. It's a good practice to fill up your tank in larger towns like Pecos or Carlsbad before making the final leg of your journey.
Cellular Service: Cellular service can be spotty or non-existent in and around the park. It's advisable to download offline maps or carry a physical map with you. Inform someone of your travel plans, especially if you're traveling alone.
Park Hours: While the park itself is open 24/7, the visitor centers and certain facilities have specific operating hours. Ensure you check the timings, especially if you're planning to obtain permits or gather information upon arrival.
Weather Considerations: The weather in this region can be unpredictable. It's not uncommon to experience sudden weather changes, especially at higher elevations. Always check the weather forecast and be prepared for varying conditions.
A trip to Guadalupe Mountains National Park, while a bit of a journey, promises unparalleled natural beauty and serenity. Whether you're coming from Dallas, Houston, or any other location, the journey to this national park is as much a part of the experience as the destination itself.
Districts of Guadalupe Mountains National Park
Guadalupe Mountains National Park, a vast expanse of natural beauty, is organized into five distinct districts, each offering its unique attractions and experiences.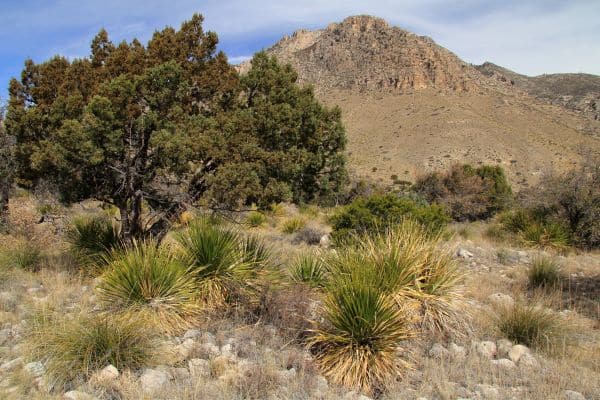 1. Pine Springs: This district serves as the primary gateway to the park for many visitors. It houses the main visitor center and provides access to several trailheads, including the path to Guadalupe Peak, the highest point in Texas.
This district welcomes visitors at all hours. It's open 24/7, throughout the year, making it a flexible option for those who prefer early morning hikes or late-night stargazing.
2. McKittrick Canyon: Renowned for its vibrant fall colors, McKittrick Canyon is a favorite among nature enthusiasts. The canyon's lush vegetation and flowing streams offer a stark contrast to the surrounding desert, making it a must-visit.
The operating hours for this district change with the seasons.
April – October: The canyon is open from 8:00 am to 6:00 pm, operating on Mountain Daylight Time.
November – March: Winter hours are slightly reduced, with the canyon open from 8:00 am to 4:30 pm, following Mountain Standard Time.
3. Frijole Ranch: Steeped in history, Frijole Ranch offers a glimpse into the area's past. The ranch features a museum that chronicles the lives of the region's early settlers and indigenous communities.
This historical district operates based on natural light. It's open daily from sunrise to sunset, ensuring visitors get the most of the daylight hours.
4. Dog Canyon: Located on the park's north side, Dog Canyon offers a cooler and more secluded experience. Its higher elevation and dense vegetation make it a serene spot for camping and hiking.
Much like Pine Springs, Dog Canyon offers round-the-clock access. It's open 24 hours a day, throughout the year, catering to both early birds and night owls.
5. Salt Basin Dunes: This district showcases vast gypsum dunes that glisten under the sun. A testament to the park's diverse landscapes, the dunes offer a unique desert experience.
Mirroring the Frijole Ranch's timings, the mesmerizing dunes of this district are accessible from sunrise to sunset daily.
Each district of Guadalupe Mountains National Park presents a facet of the park's rich tapestry, ensuring a comprehensive and diverse experience for visitors.
When planning your visit, it's crucial to factor in these operating hours and the Mountain Time Zone. This ensures a seamless experience, allowing you to make the most of what each district has to offer.
15 Pro Tips When Visiting Guadalupe Mountains National Park
Sunrise at El Capitan: For a breathtaking view, wake up early and catch the sunrise over El Capitan. The way the first light hits the peak is a photographer's dream.
Moonlit Hikes: The park occasionally offers ranger-led full moon hikes. It's a surreal experience to hike under the moonlight with the vast Texas sky above.
Hidden Cave Exploration: Ask rangers about the lesser-known gypsum caves. Some are not on the main maps but are accessible with guidance.
Spring Water Refills: At Frijole Ranch, there's a natural spring where you can refill your water bottles. It's cool, refreshing, and a favorite among locals.
Birdwatch at Manzanita Spring: This spring attracts a variety of bird species, especially during migration seasons. It's a hidden gem for birdwatchers.
Avoid McKittrick Canyon on Weekends: If you're looking for solitude, visit McKittrick Canyon on weekdays. It's a popular spot, especially in the fall, and can get crowded on weekends.
Stargazing Spot: The Salt Basin Dunes area, being away from any significant light sources, offers a fantastic stargazing opportunity on clear nights.
Williams Ranch Visit: For a more isolated experience, get a key from the park's visitor center to visit Williams Ranch, an old homestead that's off the beaten path.
Rattlesnake Precautions: While hiking, especially in warmer months, be cautious of rattlesnakes. They often sun themselves on trails. Always give them plenty of space.
Desert Wildflower Blooms: After a rainy season, the desert can burst into a colorful array of wildflowers. Ask rangers about recent blooms and the best spots to view them.
Backcountry Camping: For a real adventure, get a permit for backcountry camping. It allows you to explore areas of the park that day visitors rarely see.
Historical Insights: Attend one of the ranger-led talks at Frijole Ranch to delve deep into the history of the region, from Native American inhabitants to early settlers.
Tejas Trail Ascent: For a challenging but rewarding hike, ascend the park via the Tejas Trail. It's less trafficked than the Guadalupe Peak Trail but offers stunning vistas.
Butterfly Bonanza: In certain seasons, especially after rains, the park becomes a haven for butterflies. The Pinery Trail is a great spot to witness these beauties.
Local Recommendations: When you arrive, chat with park rangers about their personal favorite spots or recent wildlife sightings. They often have up-to-date tips that aren't in brochures.
Remember, while these tips aim to enhance your experience, always prioritize safety and respect the park's guidelines and regulations. Enjoy your visit to Guadalupe Mountains National Park!
Conclusion
As you finalize your plans for Guadalupe Mountains National Park, remember that the journey is as enriching as the destination. With its unparalleled landscapes, diverse wildlife, and intricate trails, the park offers a slice of West Texas that's both raw and refined.
This guide aimed to simplify your preparations, ensuring you have all the essential information at your fingertips.
Whether it's your first visit or a return trip, Guadalupe Mountains never ceases to amaze. So, lace up your hiking boots, grab your binoculars, and set out for an adventure that promises to be both enlightening and exhilarating.
Safe travels, and may your time in the park be filled with awe-inspiring moments and cherished memories.
7 Key Takeaways:
Prime Location: Guadalupe Mountains National Park is nestled in West Texas, offering a diverse range of landscapes from rugged peaks to intricate ecosystems.
Preparation is Key: Before embarking on your journey, it's crucial to familiarize yourself with the park's location, the best routes to take, and its distance from major Texan cities.
Rich Biodiversity: The park is home to a plethora of wildlife, making it a haven for nature enthusiasts and wildlife photographers.
Hiker's Paradise: With numerous trails ranging from beginner to advanced, Guadalupe Mountains caters to hikers of all skill levels.
Diverse Districts: The park is divided into several distinct districts, each offering its unique attractions and experiences.
Expert Advice: Leveraging pro tips can significantly enhance your visit, from discovering hidden gems to ensuring safety during your hikes.
A Cherished Landmark: Guadalupe Mountains National Park stands as one of Texas's most beloved natural landmarks, promising visitors an unforgettable experience.
Also Read
A UNIQUE 3-DAY GUADALUPE MOUNTAINS NATIONAL PARK ITINERARY