Explore the Guadalupe Peak Trail with our guide: tips, wildlife, best times to hike, and summit views in Texas' ultimate hiking adventure
Strap on your hiking boots and get ready for an exhilarating trek up the Guadalupe Peak Trail, where the spirit of adventure meets the grandeur of nature.
This guide is your all-access pass to mastering Texas' tallest peak, a journey packed with awe-inspiring landscapes, encounters with curious wildlife, and the sheer joy of reaching new heights.
We'll guide you through the ins and outs of the trail, from navigating the rugged paths to spotting mule deer and elusive mountain lions. Learn about the best camping spots, how to dress for success, and what makes the summit's stainless steel pyramid more than just a photo op.
Whether you're a trailblazing pro or a first-time hiker, this guide promises to turn your hike into an unforgettable story. Ready to discover what makes the Guadalupe Peak Trail a bucket-list adventure? Let's get started!
Trail Overview
Guadalupe Peak Trail in the Guadalupe Mountains National Park is an exhilarating adventure. Spanning 8.4 miles round trip, it challenges hikers with a 3,000-foot elevation gain. The trail is a rewarding journey for those who love to explore and conquer heights.
The path takes you through a variety of landscapes. You'll pass through peaceful pine forests, navigate rocky paths, and walk along ridges with stunning views of the Chihuahuan Desert. The constantly changing scenery keeps the hike interesting and engaging.
Reaching the summit at 8,751 feet is a highlight. The panoramic views of Texas from this vantage point are spectacular, offering a great reward for your efforts.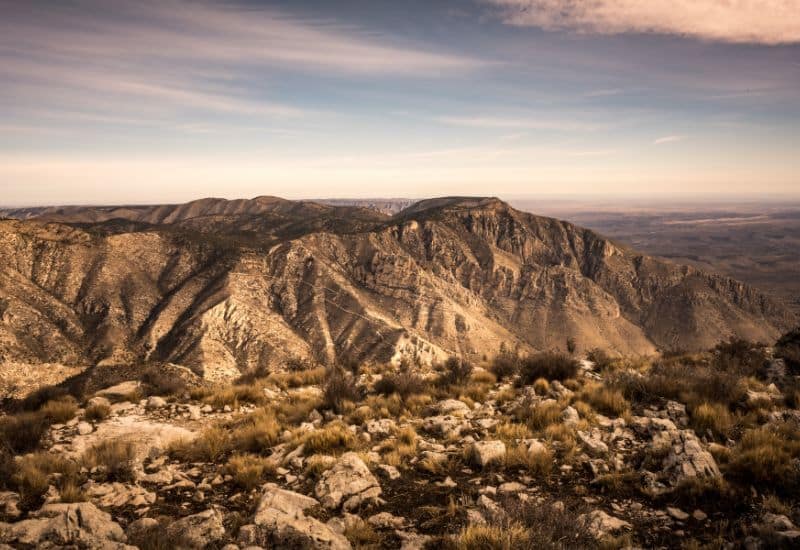 The Guadalupe Mountains have a rich history, and hiking this trail makes you part of that story. It's a reminder of the timeless beauty of nature and the many adventurers who have explored these paths.
Preparation is crucial for this trial. The hike usually takes 6-8 hours, so being in good shape is important. Bring plenty of water and snacks, as there are no places to refill on the trail. Starting early is recommended to enjoy the cooler morning temperatures and the beautiful sunrise.
The Guadalupe Peak Trail is more than a hike; it's an experience that combines physical challenge with stunning natural beauty. It's perfect for those seeking an immersive outdoor adventure in Texas.
Preparing for the Guadalupe Peak Trail Hike
What to Expect:
Terrain: The Guadalupe Peak Trail offers a mix of terrains. You'll start with a moderately steep climb through a pine forest, which then opens up to rocky and rugged paths. As you ascend, the terrain becomes more challenging with steep inclines and uneven surfaces.
Difficulty Level: This hike is considered strenuous. It's not just the distance (8.4 miles round trip) but the elevation gain of 3,000 feet that adds to the challenge. The trail is well-maintained but does require a good level of fitness.
Estimated Time to Complete: On average, it takes about 6-8 hours to complete the hike. This can vary based on your pace and how often you stop to rest or enjoy the views.
Essential Gear and Supplies:
Footwear: Wear sturdy, comfortable hiking boots with good grip. The rocky and uneven terrain demands footwear that can handle the challenge and provide support.
Water: There are no water sources along the trail, so bring enough water to last the entire hike. A general rule is to carry at least 2 liters per person.
Snacks and Food: Pack energy-boosting snacks like nuts, granola bars, and fruit. If you plan to be on the trail for the full day, include a light lunch.
Weather-Appropriate Clothing: Dress in layers. The weather can change rapidly, and it can be cooler and windier at the summit.
Sun Protection: Bring sunscreen, sunglasses, and a hat. The higher elevation means more exposure to UV rays.
Backpack: A comfortable, lightweight backpack is essential to carry your water, food, and other supplies.
Navigation Tools: While the trail is well-marked, carrying a map, compass, or GPS device is always a good idea.
First Aid Kit: Pack a basic first aid kit for minor injuries or emergencies.
Camera or Smartphone: You'll want to capture the stunning views, so don't forget your camera or smartphone.
Remember, preparation is key to enjoying and successfully completing the Guadalupe Peak Trail. With the right gear and a good understanding of what to expect, you're all set for an amazing hiking experience!
Getting to the Pine Springs Trailhead for Guadalupe Peak
The Pine Springs Trailhead is your gateway to the Guadalupe Peak hike. Here's what you need to know about getting there and parking:
Parking at the Trailhead:
Primary Parking: The best spot to park is right next to the Pine Springs Trailhead. However, this parking lot tends to fill up quickly, especially on busy days. For example, by 7:30 am, it's often already full.
Visitor Center Parking: If the trailhead parking is full, your next option is the parking area near the Pine Springs Visitor Center. From here, it's an easy 0.4-mile walk to the trailhead.
Overflow Parking: In case the visitor center parking also fills up, there's a third option along Highway 62. This parking spot is a bit further, about a 0.8-mile walk to the trailhead. Parking here means adding almost 2 miles to your hike, so it's worth it to arrive early.
Facilities at the Trailhead:
Restrooms: Conveniently, there are restrooms right next to the Pine Springs Trailhead. It's a good idea to use these facilities before you start your hike.
Arriving early at the Pine Springs Trailhead not only ensures a good parking spot but also gives you a head start on the trail, letting you enjoy the hike in the cooler morning hours. Remember, a little planning goes a long way in making your hike enjoyable and stress-free!
You Hike to Guadalupe Peak
Embarking on the Guadalupe Peak Trail is an exhilarating journey, starting from the Pine Springs Trailhead at an elevation of 5,700 feet. The trail immediately challenges you with steep switchbacks and rocky terrain, climbing about 1,000 feet in the first mile. This section offers stunning views of the desert and Hunter Peak, making the tough climb worthwhile.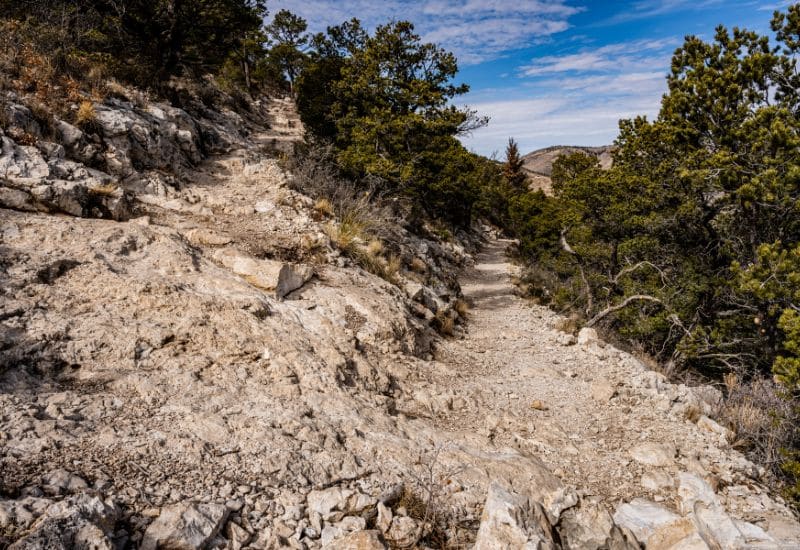 As you progress from mile one to two, the trail remains steep and rocky, but you're rewarded with expansive vistas. The elevation gain here is significant, adding another 1,000 feet. The terrain between miles two and three offers a slight reprieve, with the elevation gain reducing to around 500 feet. This section is a mix of rocky paths and level stretches, giving you a chance to catch your breath.
The final ascent, from mile three to the summit, is where the trail becomes steeper again. You'll face narrow paths and sharp inclines, gaining the last 1,500 feet in elevation. Reaching the summit at 8,751 feet, the highest point in Texas is a moment of triumph. The panoramic views from here are breathtaking, with clear skies allowing you to see miles in every direction.
The descent back to the trailhead can be just as challenging, requiring careful navigation of the steep and rocky terrain. It often takes as long as the ascent, so plan your time accordingly.
For those seeking an extra challenge, consider the Devil's Hall Trail detour, adding an additional 3.1 miles to your hike. This path features rugged terrain with rock scrambling and unique geological formations.
Essential Tips:
Water: Carry at least 3-4 liters per person, as there are no water sources along the trail.
Start Time: Begin early, preferably by sunrise, to avoid heat and afternoon thunderstorms.
Weather Check: Be prepared for changing weather conditions, especially at higher elevations.
Footwear: Sturdy hiking boots are a must for rocky and uneven terrain.
Safety: Always let someone know your hiking plan and expected return time.
At the Summit: The Pinnacle of Guadalupe Peak
Reaching the summit of Guadalupe Peak is a moment filled with awe and accomplishment. Standing at 8,751 feet, you're at the highest point in Texas, a fact that adds a special thrill to the experience.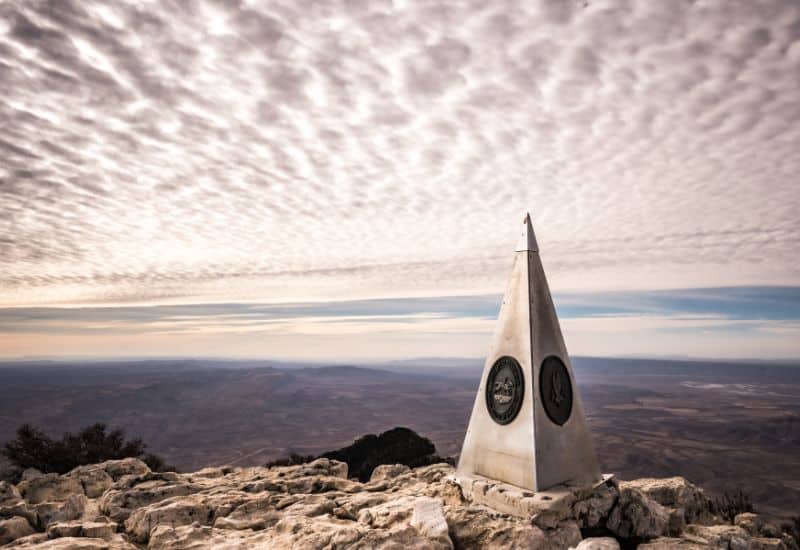 The Experience at the Peak:
Panoramic Views: The summit offers a 360-degree panoramic view that is simply breathtaking. On a clear day, you can see the vast expanse of the Chihuahuan Desert, the rugged outline of the Guadalupe Mountains, and even distant landmarks in Mexico and New Mexico.
Photo Opportunities: This is the perfect spot for those iconic summit photos. There's a stainless steel pyramid marker, a great focal point for your summit pictures. The backdrop of endless skies and rugged terrain makes every shot a masterpiece.
Historical Significance:
Ancient Seas and Fossil Reefs: Guadalupe Peak is part of an ancient marine fossil reef dating back to the Permian Age, over 250 million years ago. This area was once a flourishing marine habitat, and today, it stands as one of the most well-preserved fossil reefs in the world.
A Hiker's Monument: The stainless steel pyramid at the summit was installed by American Airlines in 1958 to commemorate the 100th anniversary of the Butterfield Overland Mail route, which passed through this area.
Geological Significance:
Capitan Reef: The peak is part of the larger Capitan Reef, one of the most distinctive and studied fossil reefs globally. It's a geologist's paradise, offering insights into ancient marine life and the Earth's geological history.
Unique Ecosystem: The elevation and isolation of the peak have created a unique ecosystem. The area is home to diverse flora and fauna, some of which are found nowhere else in the world.
Enjoying the Summit:
Take your time at the summit to soak in the views and reflect on your journey. It's not just about the physical climb but also about connecting with nature and appreciating the earth's ancient history.
Remember to leave no trace. This means packing out everything you brought in, including trash, to preserve the natural beauty and ecological integrity of the peak.
Weather Considerations for Hiking Guadalupe Peak Trail
When planning your hike to Guadalupe Peak, it's crucial to consider the weather, as it can significantly impact your experience. Here's a summary of key weather-related insights from the Texas Hiking website:
Variable Weather Conditions: The weather on Guadalupe Peak can change rapidly. While you might start your hike under blue skies, conditions can shift quickly, bringing wind, rain, hail, or even snow. It's essential to be prepared for a range of weather scenarios.
Wind Factors: Winds at the summit and along the trail can be intense. Hikers have reported gusts around 30 mph, and sometimes they can reach 60-70 mph or more. This can be especially challenging if you're carrying a heavy backpack, as it can throw off your balance on the narrow trail with steep drop-offs.
Temperature Fluctuations: Temperatures can vary significantly, especially between the base and the summit. Even during hotter months, it can be considerably cooler at the top. Dressing in layers is advisable so you can adjust to changing temperatures.
Hydration is Key: Due to the strenuous nature of the hike and potential for high temperatures, especially in summer, adequate hydration is vital. The park recommends carrying 1 gallon of water per person per day. If you're hiking longer distances or in hotter conditions, you may need even more.
Safety Precautions: If you're camping or hiking during high winds, ensure your tent is securely staked down. Be cautious on the trail during windy conditions, as the path is narrow in places with steep drop-offs.
Health and Fitness Considerations: The trail's difficulty should not be underestimated. It's advised not to attempt this hike if you have health issues or are not in good physical shape. The descent can be just as challenging as the ascent, and being unprepared or unfit can put both you and potential rescuers at risk.
The Ideal Base for Guadalupe Peak Hikers
Pine Springs Campground is the ideal base for hikers tackling the Guadalupe Peak Trail. Located within Guadalupe Mountains National Park, this campground offers a blend of convenience and natural beauty, making it a favorite among outdoor enthusiasts.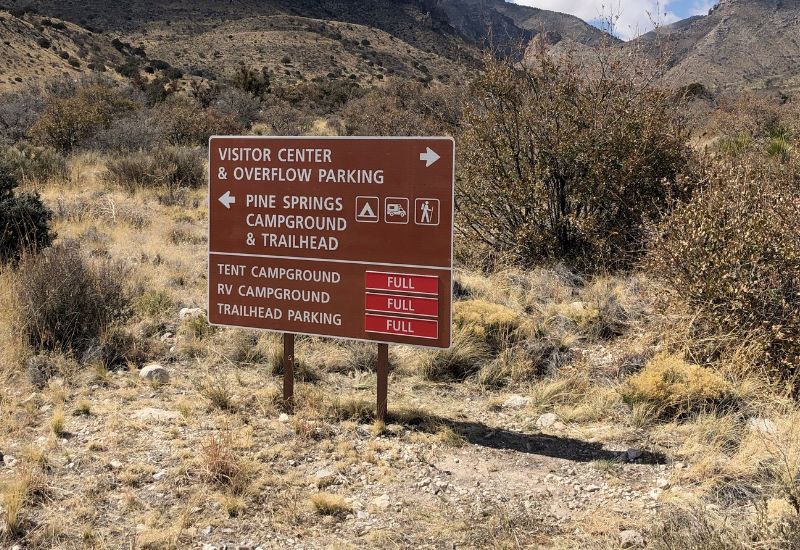 Campground Features:
Capacity: The campground has 20 tent sites and 13 RV sites, accommodating a variety of camping preferences.
Reservations: All campsites are reserved through recreation.gov, ensuring you can secure your spot in advance.
Cost: The cost is $20 per night, per site, with a reduced rate of $10 for Senior and Access pass holders.
Group Sites: There are 2 group sites available for groups of 10-20 people, perfect for larger gatherings or family camping trips.
Amenities: The campground provides essential amenities, including drinking water and toilets. However, there are no hookups, dump stations, or showers, emphasizing a more rustic camping experience.
Fire Restrictions: To preserve the natural environment and ensure safety, only cooking stoves are permitted. Charcoal, wood fires, and propane firepits are prohibited.
Accessibility:
ADA Information: The campground includes one tent and one RV accessible site, ensuring it's welcoming to all visitors.
Wheelchair Access: Wheelchairs can easily maneuver around the campground, with ramps throughout the tenting, RV, restroom, and amphitheater areas.
RV & Trailer Information: The accessible RV site and all RV and trailer areas are paved, facilitating easy movement for wheelchair, walker, and scooter users.
Location and Natural Setting:
Pine Springs Campground is nestled in a picturesque setting, surrounded by the rugged beauty of the Guadalupe Mountains. The natural scenery provides a serene backdrop for your camping experience.
Staying at Pine Springs Campground:
Stargazing: With minimal light pollution, the nights here are perfect for stargazing, offering a spectacular view of the stars.
Wildlife and Flora: The area is home to diverse wildlife and plant species, enhancing your connection with nature.
Proximity to Trails: Its location near the Guadalupe Peak Trailhead makes it an excellent choice for hikers looking to explore the highest peak in Texas.
Tips for Campers:
Arrival: As the campground operates on a first-come, first-served basis, arriving early is recommended, especially during peak seasons.
Water Conservation: While potable water is available, conserving water is encouraged.
Leave No Trace: Campers are urged to follow leave-no-trace principles to maintain the area's pristine condition.
Pine Springs Campground is more than just a place to stay; it's a part of your adventure in Guadalupe Mountains National Park. Whether you're here to hike, stargaze, or simply enjoy the great outdoors, this campground provides a perfect blend of natural beauty, essential amenities, and accessibility for all.
Wildlife Encounters on the Guadalupe Peak Trail
The Guadalupe Peak Trail offers more than just scenic views; it's a gateway to observing diverse wildlife in their natural habitat. Here's a glimpse of what you might encounter: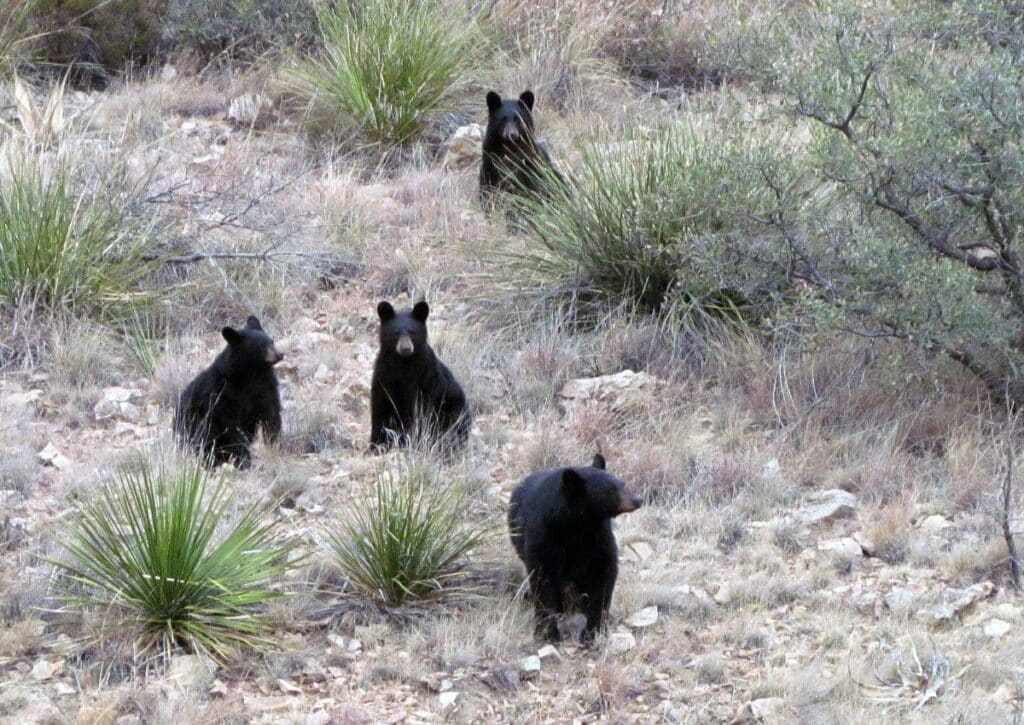 Mammals: The most commonly sighted mammal is the mule deer, often seen grazing or meandering near the trail, especially during dawn and dusk. Keep an eye out for smaller mammals like the rock squirrel and various species of bats.
While rare, black bears do inhabit the higher regions of the park, so it's wise to be bear-aware, especially in remote areas.
Birds: The trail is a birdwatcher's delight. You're likely to spot Mexican Jays with their striking blue plumage and hear the distinctive calls of the Acorn Woodpecker. Raptors like the Red-tailed Hawk and the occasional Peregrine Falcon can be seen soaring above, searching for prey.
Reptiles and Amphibians: Reptiles, though less commonly seen, are part of the trail's ecosystem. Watch for the harmless Texas banded gecko or the occasional snake sunning on a rock. Remember, it's important to keep a safe distance from any wildlife, especially snakes.
When encountering wildlife, always maintain a respectful distance and avoid disturbing their natural behaviors. These encounters enhance the hiking experience, offering a unique opportunity to connect with the natural world of the Guadalupe Mountains.
Also Read:
10 Animals in Guadalupe Mountains National Park We Saw on the Trail! (Photos, Trails, and Tips Included)
15 Fun Facts About the Wildlife in Guadalupe Mountains National Park!
A Road Trip from El Paso to Guadalupe Mountains National Park (Pitstops and Itinerary Included)
A Journey from Guadalupe Mountains National Park to Carlsbad Caverns
Guadalupe Mountains National Park Weather by Month & Season!
21 Pro Tips for Hiking in Guadalupe Mountains National Park! (By the Experts)
FAQ Conclusion
Let's address a few questions as we wrap up.
How long does Guadalupe Peak Trail take?
The Guadalupe Peak Trail typically takes about 6 to 8 hours to complete round trip. This 8.5-mile journey is a strenuous hike with an elevation gain of over 3,000 feet. The time can vary based on your pace, weather conditions, and how long you spend enjoying the views at the summit.
Are there bears at Guadalupe Peak?
Yes, there are bears in the high country of Guadalupe Mountains National Park, including around Guadalupe Peak. While sightings are rare, black bears do inhabit these areas. It's important to be bear-aware, especially if you're camping or hiking in remote sections.
What is the stainless steel pyramid on Guadalupe Peak?
The stainless steel pyramid on Guadalupe Peak is a monument installed by American Airlines in 1958. It commemorates the 100th anniversary of the Butterfield Overland Mail route, which passed through this region. The pyramid also marks the summit and is a popular photo spot for hikers.
What is the hardest hike in Texas?
Many consider the Guadalupe Peak Trail to be the hardest hike in Texas. It's not just the highest peak in the state but also a challenging trek with steep inclines, rocky terrain, and significant elevation gain. It tests both physical endurance and mental fortitude.
What is the best month to hike Guadalupe Peak?
The best months to hike Guadalupe Peak are typically from April to May and from September to October. During these months, the weather is more temperate, with less risk of extreme heat or cold, making the hike more enjoyable and safer.
Do you need reservations for Guadalupe Peak?
You don't need reservations to hike the Guadalupe Peak Trail. However, if you plan to camp at Pine Springs Campground or any other campground in the park, it's advisable to make reservations, especially during peak seasons, as the campsites can fill up quickly.
Are there mountain lions in the Guadalupe Mountains?
Yes, mountain lions are present in the Guadalupe Mountains. While encounters with hikers are rare, these elusive predators do inhabit the park. It's important to be aware of safety guidelines regarding wildlife encounters when hiking in these areas.
What do you wear to the Guadalupe Peak hike?
For the Guadalupe Peak hike, wear layered clothing to adjust to changing temperatures. Sturdy hiking boots are essential for the rocky and uneven terrain. Also, consider a hat, sunglasses, and sunscreen for protection against the sun, and bring a windbreaker or rain jacket, as weather can change quickly.
Are dogs allowed on Guadalupe Peak?
Dogs are not allowed on the Guadalupe Peak Trail. The park restricts pets on this trail to protect the natural wildlife and due to the challenging nature of the hike, which can be tough on dogs. Pets are allowed in some other areas of the park but must be kept on a leash.