Explore the ultimate Los Angeles to Grand Canyon National Park road trip guide. Discover scenic routes, key stops, and two 7-day itineraries!
Pack your bags and rev up your engines for an epic road trip from the bustling streets of Los Angeles to the mesmerizing depths of the Grand Canyon.
Our guide takes you through every essential, from the best times to travel and must-have packing essentials to the ultimate road trip vehicle prep. Curious about the journey's duration or contemplating if it's doable in a day?
We've got all the answers! Discover the most scenic stopovers, from the deserts of Barstow and the historic charm of Kingman to the vibrant vibes of Las Vegas and the serene beauty of Sedona. But that's just the beginning.
We dive deep into the heart of the journey with 17 key stops, including the tranquil heights of Mt San Jacinto and the otherworldly landscapes of Joshua Tree.
Whether you choose the timeless Route 66 or the scenic wonders of our recommended Route 2, our meticulously crafted 7-day itineraries ensure your journey is as enchanting as the destination.
Get ready for a trip filled with nature's wonders, cultural gems, and endless adventure!
Planning Your Road Trip From Los Angeles to Grand Canyon National Park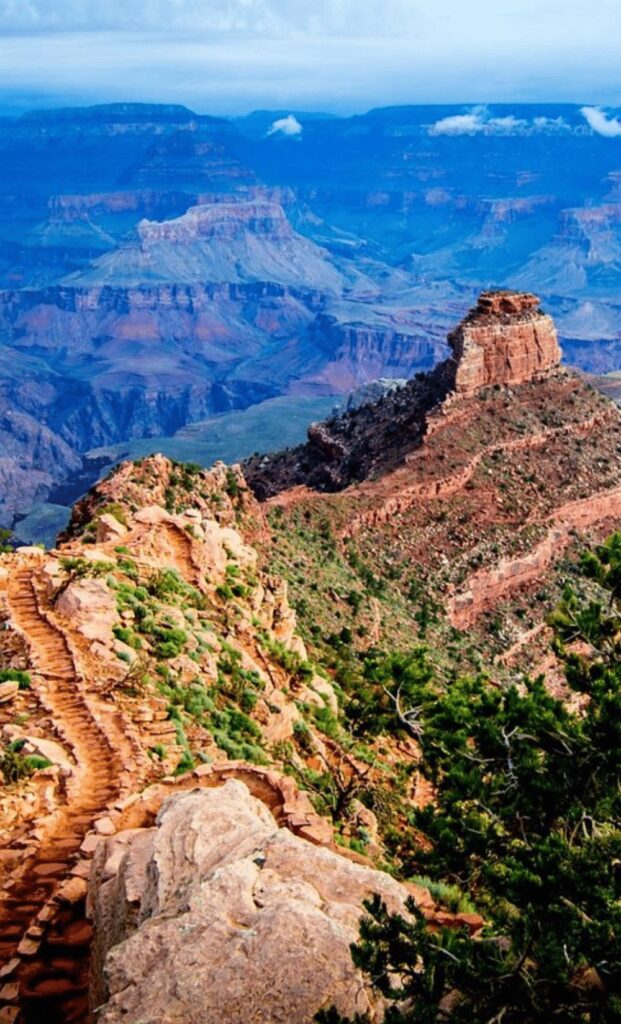 Best Time to Travel
Deciding when to embark on your road trip from Los Angeles to the Grand Canyon is crucial for an optimal experience. 
The ideal time is during the spring (April to June) or fall (September to November). These months offer pleasant weather, avoiding the intense heat of the summer and the potential snow in the winter. 
Additionally, the shoulder seasons see fewer tourists, ensuring a more peaceful journey. However, if witnessing the Grand Canyon's summer thunderstorms or experiencing the winter wonderland is on your bucket list, adjust your plans accordingly. 
Remember, each season in the Grand Canyon presents a unique experience, from blooming wildflowers in the spring to the golden hues of fall foliage.
Packing Essentials and Vehicle Preparation
Packing appropriately for your road trip is essential. Since you'll encounter various climates and terrains, your luggage should include comfortable clothing suitable for hiking, layers for cooler evenings, and sun protection for daytime. 
Don't forget your camera to capture the stunning landscapes. Essential safety gear includes a first aid kit, a reliable flashlight, and a map or GPS device for navigation. Preparing your vehicle is equally important. 
Ensure it's in good condition with a thorough check-up, focusing on the engine, tires, and brakes. Carry extra water, some snacks, and ensure your fuel tank is full, as there are long stretches with limited services. 
How Long is the Drive to the Grand Canyon from Los Angeles?
The driving distance from Los Angeles to the Grand Canyon varies depending on the route chosen, but it generally spans about 450 to 500 miles. 
The most direct route, taking the I-40 E, usually takes around 7 to 8 hours without significant stops. However, this duration can vary based on traffic conditions, especially while navigating out of Los Angeles. 
If you're planning to take scenic detours or make stops along the way, this can add to your travel time. Therefore, it's advisable to plan for a full day's drive, allowing for rest breaks, meals, and perhaps some brief sightseeing. 
The journey itself is part of the adventure, offering diverse landscapes from the bustling cityscapes of Los Angeles to the arid deserts and finally, the awe-inspiring Grand Canyon.
Can You Do the Los Angeles to Grand Canyon Drive in a Day?
Yes, it is possible to drive from Los Angeles to the Grand Canyon in a single day. The direct drive, primarily via I-40 E, takes about 7 to 8 hours covering roughly 450 to 500 miles. 
This assumes continuous driving with minimal stops. However, it's a long and potentially exhausting drive, so it's important to start early and take regular breaks to stay alert and enjoy the journey. 
If you prefer a more relaxed pace or wish to explore attractions along the route, you might consider breaking the trip into two days. 
This approach allows you to enjoy the diverse landscapes and perhaps discover hidden gems along the way, turning the drive into an integral part of your road trip experience.
Where to Fly Into and Out of for Your LA to Grand Canyon Road Trip
For a road trip from Los Angeles to the Grand Canyon, the most convenient starting point is Los Angeles itself. 
You can fly into Los Angeles International Airport (LAX), which is well-connected and offers numerous flight options. 
For your return, if you prefer not to drive back to Los Angeles, you can consider flying out from Flagstaff Pulliam Airport (FLG) in Arizona, located about 1.5 hours from the South Rim of the Grand Canyon. 
Another option is McCarran International Airport in Las Vegas, Nevada, which is about a 4-hour drive from the Grand Canyon. 
Both these airports offer a range of domestic flights, making them convenient options for your return journey. This arrangement allows you to experience different sceneries on your way to and from the Grand Canyon.
Ideal Haults When driving from Los Angeles to Granf Canyon National Park
When planning a road trip from Los Angeles to the Grand Canyon, considering where to pause and refresh is as important as the destination itself. 
This route is dotted with cities that not only provide comfortable places to stay but also add to the overall experience of your journey. From the historical streets of small towns to the vibrant energy of larger cities, each stop has its own unique flavor. 
These stops are not just about finding a place to rest but about discovering new places and creating memories along the way. Here's a rundown of the best spots to consider for an overnight stay or a brief respite, ensuring a well-rounded and enjoyable road trip.
Barstow, California
Situated approximately halfway on the I-40 route, Barstow serves as an ideal stopover for travelers heading from Los Angeles to the Grand Canyon. 
This city, steeped in the rich history of Route 66, offers a diverse selection of accommodations, ranging from comfortable motels to hotels that cater to various preferences and budgets. 
Besides being a practical choice for rest, Barstow invites visitors to delve into its local history, explore unique Route 66 attractions, and enjoy a variety of dining options, making it more than just a place to sleep.
Kingman, Arizona

As you progress further along I-40, Kingman, Arizona, emerges as another excellent choice for an overnight stay. Known affectionately as the "Heart of Historic Route 66," Kingman is not just a place to rest but a window into classic Americana culture. 
The city offers a mix of lodging options, including hotels that exude a vintage charm and modern accommodations. 
Visitors can take advantage of their stay by exploring the local museums, enjoying the nostalgic feel of the town, and experiencing the unique blend of history and hospitality that Kingman has to offer.
Flagstaff, Arizona
Further along your route and closer to the Grand Canyon is Flagstaff, a city that offers a broader range of accommodation options. From budget-friendly motels to upscale hotels, Flagstaff caters to all types of travelers. 
This vibrant city is not only a convenient stopover but also a destination in itself, surrounded by natural beauty and offering various cultural and outdoor activities. 
Its proximity to the Grand Canyon makes it a preferred choice for many road trippers, and its array of restaurants and entertainment options ensures a pleasant and rejuvenating stay.
Palm Springs, California
For those seeking a blend of luxury and relaxation, Palm Springs is a perfect detour. This desert oasis, known for its hot springs, stylish hotels, and spas, offers an upscale retreat. 
Palm Springs is a great spot to unwind and indulge in some leisure activities. With its mid-century modern architecture, chic boutiques, and vibrant arts scene, it provides a distinct and luxurious experience on your road trip.
Las Vegas, Nevada
Las Vegas, a major city along the route, is an ideal stop for those looking to add excitement and entertainment to their journey. 
Known for its bustling casinos, extravagant shows, and luxurious hotels, Las Vegas offers an experience like no other. 
Whether you're interested in trying your luck at the casinos, enjoying world-class dining, or simply soaking in the vibrant nightlife, Las Vegas is a city that never sleeps and promises a memorable stay.
Sedona, Arizona
Sedona, renowned for its stunning red rock formations and vibrant arts community, is a worthwhile detour for nature and culture enthusiasts. 
The city offers a range of accommodations, from cozy bed and breakfasts to luxury resorts. Sedona is a destination for outdoor adventures, spiritual rejuvenation, and exploring the unique art galleries and shops that make this city special.
Grand Canyon, Arizona
Finally, at the Grand Canyon itself, you have the option to stay within the National Park at one of the several lodges offering breathtaking views and direct access to trails and viewpoints. 
Alternatively, nearby towns like Tusayan and Williams provide convenient accommodations, ranging from budget motels to comfortable hotels, ensuring your visit to this natural wonder is both comfortable and memorable.
Routes from Los Angeles to Grand Canyon National Park
Route 1: Via I-15 N and I-40 E
Route 2: Via I-10 E and I-40 E
Starting Point
Los Angeles, California, USA
Los Angeles, California, USA
Initial Direction
Get on US-101 S
Get on US-101 S
Major Route
Follow I-15 N and I-40 E
Follow I-10 E to CA-177 N/Rice Rd
Travel Time
Approx. 7 hours 19 minutes
Approx. 7 hours 44 minutes
Distance
485.4 miles
539.4 miles
Scenery
– Route 1 offers a blend of urban landscapes, transitioning into the expansive Mojave Desert, followed by the high plateaus of Arizona.
– This route initially traverses through the urban outskirts of Los Angeles, leading into the serene desert landscapes and the unique Joshua Tree National Park area.
Attractions
– This route is more direct, with fewer tourist attractions along the way, but it offers quicker access to the Grand Canyon.
– Along Route 2, you'll have the opportunity to visit unique desert towns and possibly detour to Joshua Tree National Park for a distinct desert experience.
Pros
– Shorter overall travel time.
– More straightforward route with less complexity.
– Ideal for those who prefer a more direct journey.
– Scenic drive with more varied landscapes.
– Opportunity to explore unique attractions and spots along I-10.
– Ideal for those who enjoy scenic detours and exploring offbeat paths.
Cons
– Less scenic compared to Route 2.
– Fewer opportunities to stop at unique attractions.
– Can become monotonous for those seeking diverse landscapes.
– Longer drive time.
– Slightly more complex route with additional road changes.
– May not be ideal for those on a tight schedule.
Recommended Route
For travelers with a week to spare and an interest in exploring more than just the Grand Canyon, we highly recommend Route 2 (Via I-10 E and I-40 E). This route is especially appealing if you're looking to incorporate a visit to Joshua Tree National Park into your itinerary.
We suggest allocating 2 days to explore Joshua Tree, a stunning and unique desert landscape known for its fascinating rock formations and starry night skies.
Taking Route 2 allows for a more leisurely and scenic journey, rich in both natural beauty and cultural experiences. The detour to Joshua Tree adds a remarkable dimension to your road trip, immersing you in the serene and mystical atmosphere of the desert.
After your stay in Joshua Tree, continue along I-40 E towards the Grand Canyon. This route is perfect for those who value the journey as much as the destination, offering diverse landscapes and a chance to create lasting memories.
17 Key Stops From Los Angeles to Grand Canyon
Mt San Jacinto State Park, CA
Mt San Jacinto State Park, located near Palm Springs, is a paradise for hikers and outdoor enthusiasts. The park's centerpiece, the towering San Jacinto Peak, stands at over 10,000 feet, offering some of Southern California's most stunning views.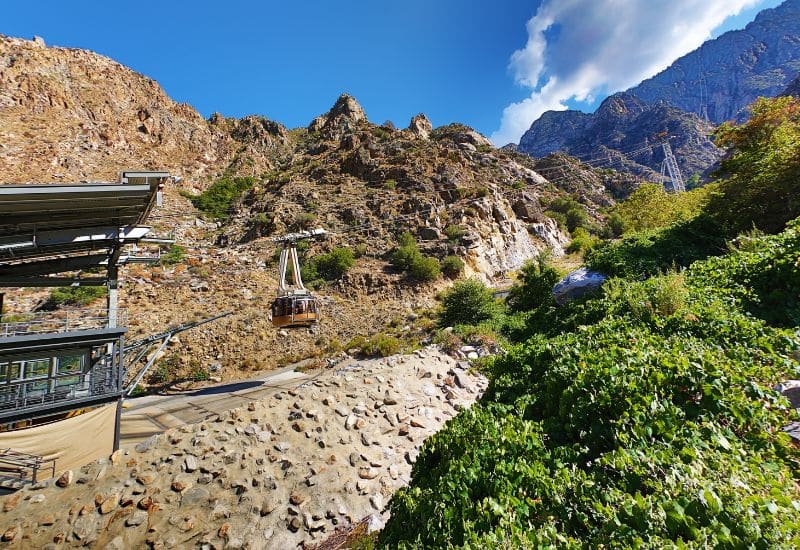 Key Trails and Lengths:
Marion Mountain Trail: This challenging trail is one of the most popular routes to the summit of San Jacinto Peak. It's approximately 11.4 miles round trip with a significant elevation gain, ideal for experienced hikers.
Devil's Slide Trail to San Jacinto Peak: A 16-mile round-trip hike, this trail offers a more gradual ascent to the peak, passing through picturesque forests and meadows.
Tahquitz Valley Trail: For a less strenuous hike, this 5-mile round trip trail winds through beautiful alpine scenery and is great for moderate hikers.
Must-Visit Sites:
Palm Springs Aerial Tramway: This tramway takes you from the desert floor to near the summit of San Jacinto Peak, offering breathtaking panoramic views. It's a great way for non-hikers to experience the mountain's beauty.
Round Valley: Accessible from the top of the tramway, Round Valley is a serene spot ideal for picnics and short walks.
Hidden Divide Nature Trail: This easy 1-mile loop is perfect for families and those looking for a gentle walk. It offers excellent opportunities for bird watching and enjoying the mountain's flora.
Other Activities:
Camping: The park offers several campgrounds, like the Idyllwild Campground, providing a perfect base for exploring the park.
Winter Activities: During winter, the park becomes a playground for snowshoeing and cross-country skiing.
Remember to check trail conditions and park regulations before your visit. Also, due to the elevation, it's essential to stay hydrated and be prepared for rapid weather changes.
Joshua Tree National Park, CA
Joshua Tree National Park, located in southeastern California, is a unique desert landscape famed for its fascinating geology and iconic Joshua trees. The park encompasses two distinct desert ecosystems: the Mojave and the Colorado, each offering its own unique attractions and experiences.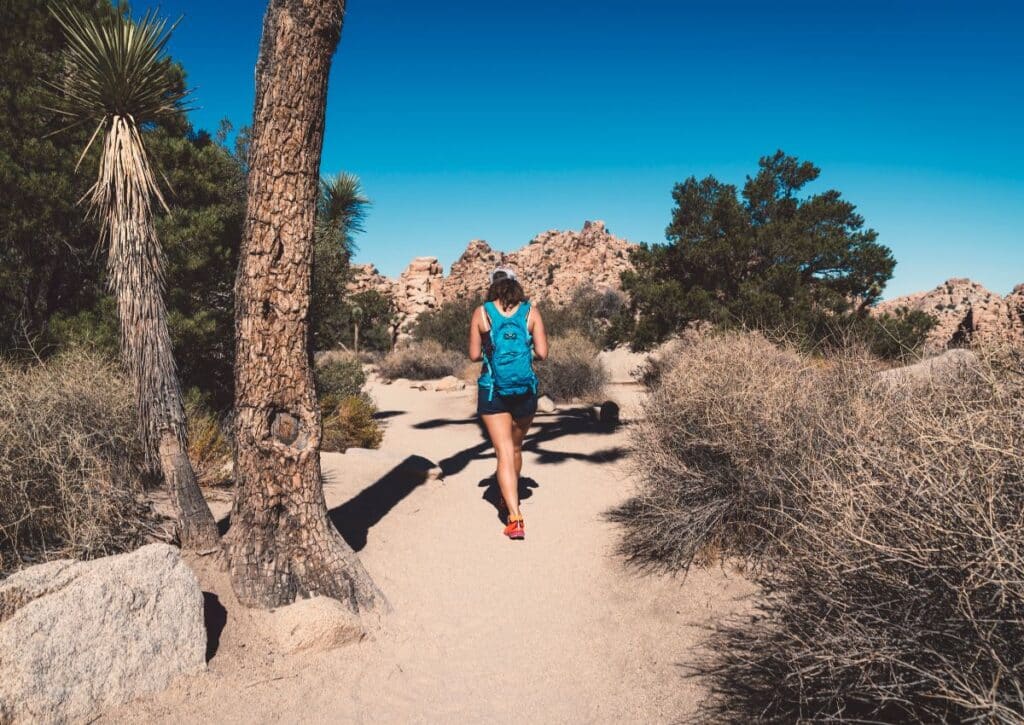 Key Trails and Highlights:
Hidden Valley Nature Trail: A one-mile loop trail, perfect for a quick and easy hike. It's great for all skill levels and offers a glimpse into the park's unique rock formations and Joshua tree landscapes.
Ryan Mountain Trail: A 3-mile round trip trail that provides stunning panoramic views from the summit. It's moderately challenging, with a 1,050-foot elevation gain.
Skull Rock Nature Trail: A 1.7-mile loop trail, easily accessible and known for its skull-shaped rock formation. It's an excellent spot for photography and a leisurely hike.
Cholla Cactus Garden: A quarter-mile loop trail through a dense concentration of Cholla cacti. The garden is particularly striking at sunrise and sunset.
Barker Dam Trail: A 1.3-mile loop that takes you to a historic dam and often has water, which is a rare sight in the desert. It's an easy hike and good for bird watching.
Camping and Stargazing:
The park is renowned for its dark night skies, making it an ideal place for stargazing. There are several campgrounds in the park, like Jumbo Rocks and Hidden Valley, perfect for overnight stays.
Remember to book campgrounds well in advance, especially during peak season.
Visitor Centers and Driving Tours:
Stop by the visitor centers, like the Joshua Tree Visitor Center or the Oasis Visitor Center, for maps and information about current conditions.
Consider a driving tour through the park to cover more ground and see various landscapes. The Park Boulevard and Pinto Basin Road offer scenic drives with multiple points of interest.
Wildlife and Flora:
Keep an eye out for the diverse wildlife, including desert tortoises, bighorn sheep, and various bird species.
Spring brings a spectacular display of wildflowers, adding color to the desert landscape.
Preparation Tips:
Carry plenty of water, as the desert climate can be extremely dry.
Check the weather forecast and be prepared for rapid changes in conditions.
Ensure your vehicle is in good condition, as some park roads are unpaved and remote.
Joshua Tree National Park offers a surreal and captivating desert experience, with its unique flora, fascinating geologic features, and serene landscapes. Whether you're a hiker, photographer, or nature lover, the park has something to offer everyone.
Salton Sea, CA
Salton Sea, located in California's Imperial and Coachella valleys, is one of the largest inland seas in the United States and one of the world's largest saltwater lakes. This unique destination, with its rich history and distinctive landscape, offers a mix of natural beauty and stark environmental contrasts.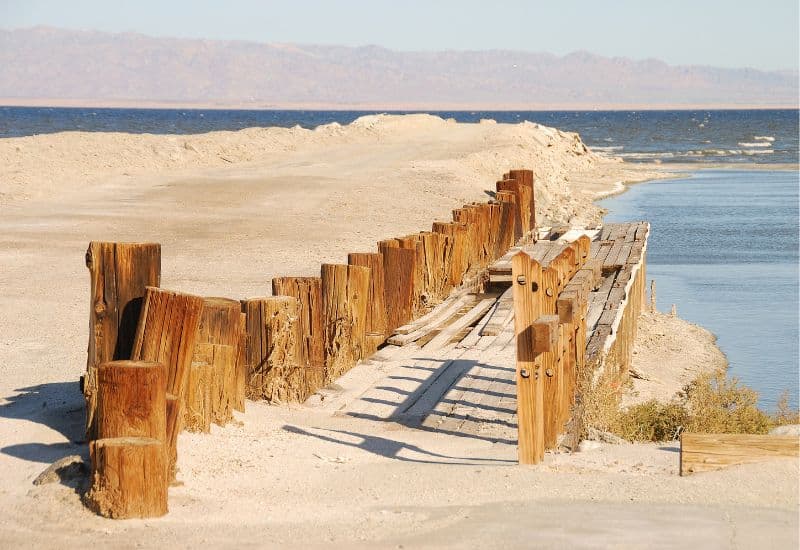 Exploring the Salton Sea:
Visitor Centers and Museums: Start your visit at the Salton Sea State Recreation Area Visitor Center to learn about the sea's history, ecology, and the challenges it faces. The nearby Salton Sea History Museum also offers insights into the area's intriguing past.
Birdwatching: The Salton Sea is a haven for birdwatchers, especially at the Sonny Bono Salton Sea National Wildlife Refuge. The sea is a critical stop on the Pacific Flyway for over 400 bird species, including several rare and endangered birds.
Photography Opportunities: The landscape around the Salton Sea, with its abandoned structures and unique geological features, provides striking and often surreal photography opportunities.
Drive Around the Sea: A drive around the Salton Sea offers a chance to see the varied landscapes and communities that surround it. Key stops include Bombay Beach with its artistic installations, the ghost town of North Shore, and the vibrant Salvation Mountain.
Recreational Activities: The Salton Sea State Recreation Area offers opportunities for boating, kayaking, and fishing. However, due to varying water conditions, it's essential to check the current status for recreational activities.
Environmental Anomaly:
The Salton Sea's high salinity and pollution levels have led to ecological challenges, making it a unique case study in environmental science.
The sea's changing conditions often result in unusual and striking landscapes, such as vast salt flats and receding shorelines.
Preparation Tips:
Due to the high temperatures and limited facilities around the Salton Sea, carry plenty of water and prepare for a rugged environment.
Check for any area closures or advisories, especially related to air quality and water conditions.
Wear appropriate footwear and be cautious while exploring, as the terrain can be unpredictable.
Visiting the Salton Sea offers a glimpse into a unique and somewhat surreal part of California's landscape. It's a place of stark beauty, environmental significance, and a poignant reminder of nature's resilience and vulnerability.
Mojave National Preserve, CA
Mojave National Preserve, located in southeastern California, is a vast and diverse desert landscape covering more than 1.6 million acres. It's a land of towering sand dunes, Joshua tree forests, volcanic formations, and canyons, offering visitors a chance to experience the serene beauty of the Mojave Desert.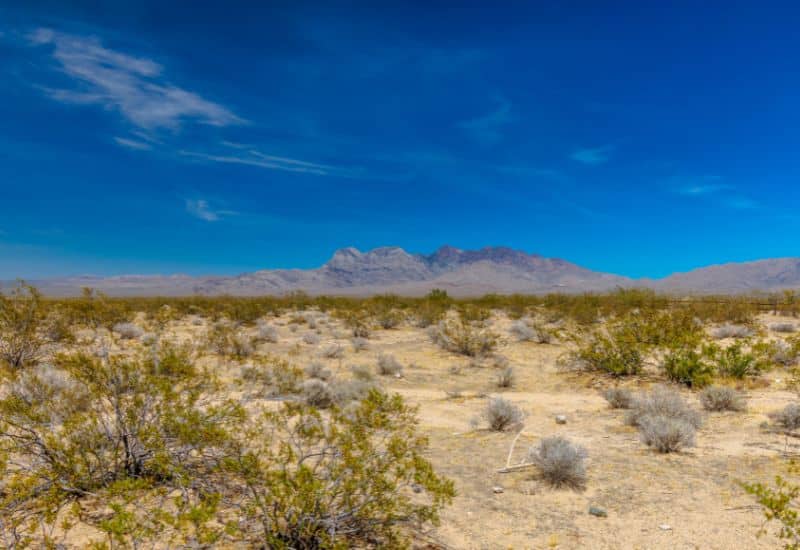 Key Highlights of Mojave National Preserve:
Kelso Dunes: These massive sand dunes are a must-visit. The hike to the top is challenging but rewards with panoramic desert views. The dunes are also known for the 'singing sands' phenomenon.
Cima Dome & Joshua Tree Forest: Home to one of the world's densest Joshua Tree forests, the Cima Dome area offers stunning vistas and unique photo opportunities.
Teutonia Peak Trail: A moderate 3-mile round trip hike, this trail offers spectacular views of Cima Dome and the surrounding Mojave landscape.
Hole-in-the-Wall and Rings Loop Trail: This 1.5-mile trail takes you through a canyon with volcanic rock walls. The trail features metal rings to assist in navigating through the more challenging sections.
Lava Tube: A hidden gem offering a unique underground experience. A short hike leads to a cave where sunlight filters through holes in the ceiling, creating striking light beams.
Camping and Stargazing:
The park offers several campgrounds, like Mid Hills and Hole-in-the-Wall, perfect for enjoying the dark night skies.
The preserve's remote location makes it an excellent spot for stargazing and experiencing the quiet of the desert.
Historic Sites:
Visit the Kelso Depot Visitor Center, a restored 1920s train station, to learn about the preserve's history and natural features.
The Mojave Cross, a World War I memorial, is another site of historical significance.
Wildlife Watching:
The preserve is home to diverse wildlife, including desert tortoises, bighorn sheep, and numerous bird species.
Preparation Tips:
Carry plenty of water and be prepared for extreme temperatures and remote conditions.
Check road conditions before your visit, as some areas are only accessible by high-clearance or 4WD vehicles.
Be mindful of the delicate desert environment and stay on designated trails.
Mojave National Preserve offers a serene and immersive desert experience, perfect for those seeking solitude, adventure, and a connection with the natural world. Whether you're hiking, camping, or simply enjoying the vast landscapes, the preserve is a testament to the rugged beauty and quiet majesty of the Mojave Desert.
Lake Mead (Southern Leg), NV
Lake Mead, stretching along the Colorado River, is a remarkable contrast to the arid landscapes of Nevada and Arizona. The southern leg of Lake Mead offers a plethora of water-based activities set against a backdrop of stunning desert scenery.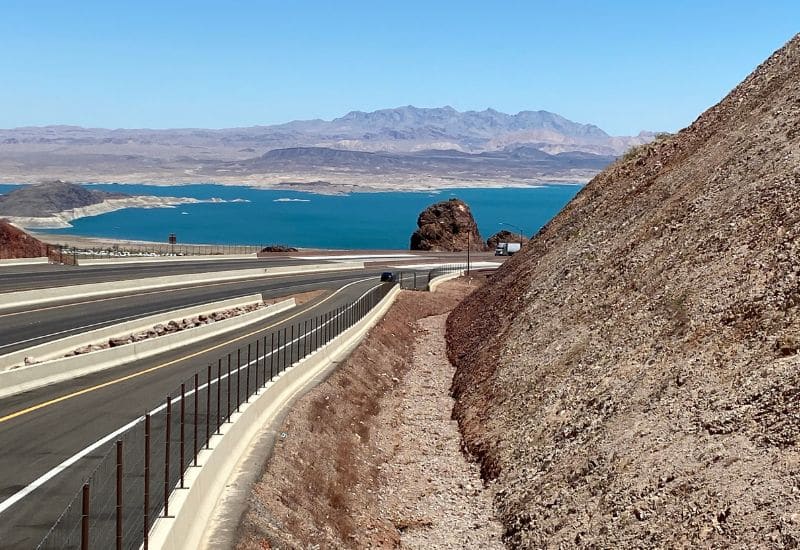 Activities and Attractions:
Boating and Water Sports: Lake Mead is ideal for boating, water skiing, and wakeboarding. Various marinas, like the Hemenway Harbor, offer boat rentals and essential supplies.
Fishing: The lake is home to species like largemouth bass, striped bass, and catfish, making it a popular spot for anglers.
Hiking Trails: Explore trails like the Historic Railroad Trail, which offers easy walking with picturesque views of the lake.
Swimming and Beaches: Enjoy the beaches along the lake's shore, like Boulder Beach, perfect for swimming and picnicking.
Hoover Dam: Close to the southern leg of Lake Mead, the Hoover Dam is an engineering marvel worth visiting, with tours available to learn about its history and significance.
Planning Tips:
Summer temperatures can be extremely high, so plan water activities for the cooler parts of the day.
Ensure to have a valid fishing license if you plan to fish.
Stay hydrated and protect yourself from the sun.
Barstow, CA
Barstow, a small city in the Mojave Desert, serves as a historical crossroads and a gateway to natural and man-made attractions in the region.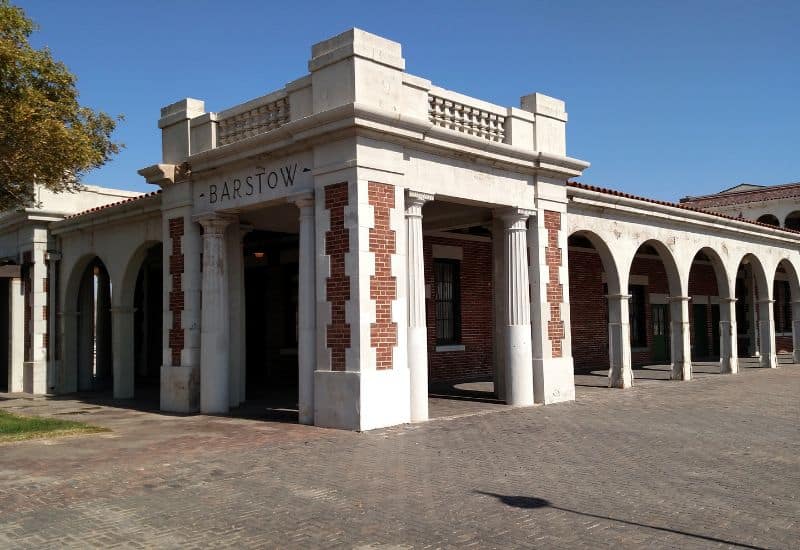 Key Attractions:
Route 66 Mother Road Museum: Delve into the history of the iconic Route 66 highway and its impact on American culture.
Calico Ghost Town: Explore this nearby 1880s silver mining town, now a restored historical landmark offering a glimpse into the Old West.
Rainbow Basin Natural Area: Known for its multi-colored rock formations and fossil beds, it's a great spot for hiking and photography.
Tanger Outlets: For those looking for a shopping break, the Tanger Outlets offer a variety of stores and dining options.
Barstow Harvey House: Visit this historic railroad depot, now a cultural center, showcasing the rich railroading history of the area.
Local Tips:
Barstow is an ideal stop for refueling, stocking up on supplies, and taking a break from long drives.
The city's location makes it a convenient base for exploring nearby natural attractions like the Mojave National Preserve.
Check out local diners and restaurants for a taste of classic American fare and local specialties.
Havasu National Wildlife Refuge, AZ
Havasu National Wildlife Refuge, straddling the border of Arizona and California, is a sanctuary for wildlife and a haven for nature enthusiasts. This refuge protects a stretch of the lower Colorado River, creating a lush wetland oasis in the heart of the desert.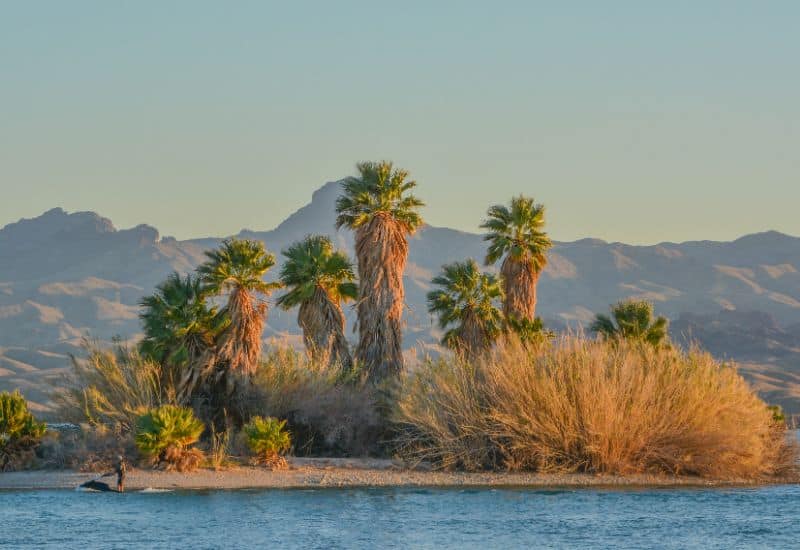 Exploring the Refuge:
Bird Watching: The refuge is a critical habitat for migratory birds and offers exceptional bird watching opportunities, especially for waterfowl and shorebirds.
Hiking Trails: Trails like the Pintail Slough Trail provide a chance to explore the refuge's diverse habitats and observe its wildlife.
Fishing and Boating: The Colorado River is ideal for fishing, with species like bass and catfish. Boating is also a popular way to experience the scenic beauty of the river.
Photography: The contrast between the desert landscapes and the river's riparian areas offers unique and stunning photography opportunities.
Visiting Tips:
The best times to visit are during the cooler months and during the migratory bird seasons in spring and fall.
Bring plenty of water, sunscreen, and insect repellent.
Respect the wildlife and natural habitats by staying on designated trails and observing any area restrictions.
Kingman, AZ
Kingman, located in northwestern Arizona, is often referred to as the heart of historic Route 66. This city offers a unique blend of historic charm, natural beauty, and cultural heritage.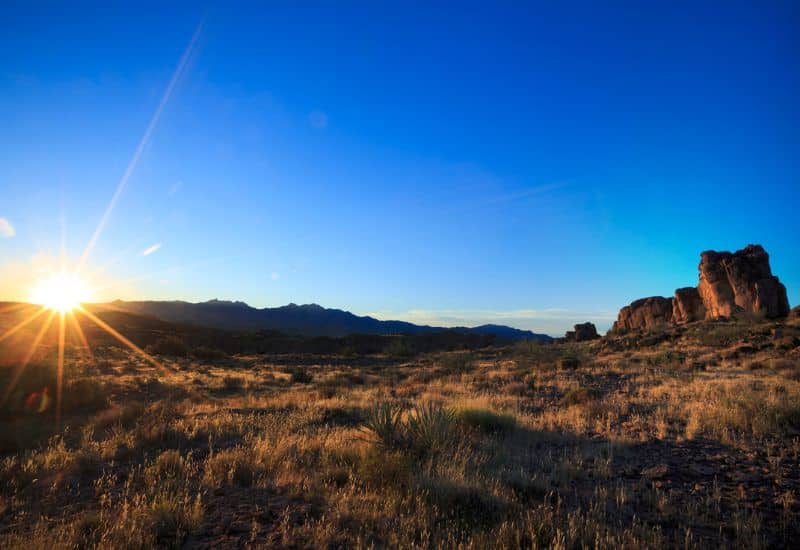 Key Attractions:
Historic Route 66 Museum: Learn about the history of the "Mother Road" and its significance in American culture.
Kingman Railroad Museum: Explore the city's railroad heritage with exhibits of historic trains and memorabilia.
Downtown Kingman: Stroll through the historic downtown area, with its antique shops, murals, and local eateries, capturing the spirit of Route 66.
Hualapai Mountain Park: Just outside Kingman, this park offers hiking, camping, and cooler temperatures, with pine forests and diverse wildlife.
Wine Tasting: Kingman is home to several wineries where you can taste local Arizona wines.
Local Insights:
Kingman serves as an excellent base for exploring nearby attractions like the Grand Canyon Skywalk and the ghost towns of Chloride and Oatman.
The city's elevation provides a more temperate climate compared to the lower desert areas, making it pleasant for outdoor activities.
Don't miss the classic car shows and festivals that often take place, celebrating the Route 66 legacy.
Oatman, AZ
Oatman, Arizona, is a historic gold mining town located in the Black Mountains of Mohave County. Known for its Wild West ambiance and roaming wild burros, Oatman offers a unique glimpse into the past.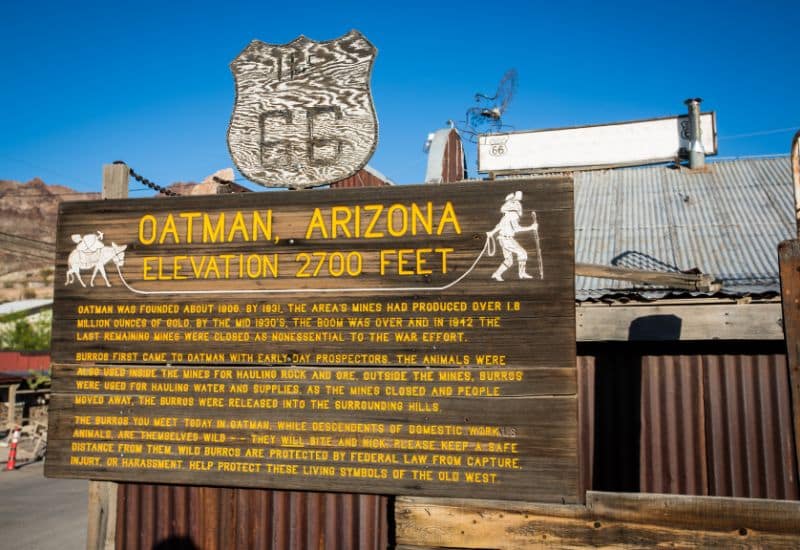 Experiencing Oatman:
Wild Burros: These friendly and approachable animals, descendants of miners' burros, freely roam the town, adding to Oatman's unique charm.
Historic Main Street: Lined with wooden sidewalks, gift shops, and old-time saloons, the Main Street in Oatman feels like a set from a Western movie.
Gunfight Shows: Enjoy live reenactments of Wild West gunfights, typically held on weekends and holidays, adding to the town's historic feel.
Gold Mine Tours: Explore the town's mining history with guided tours into some of the old mines.
Local Crafts and Souvenirs: The town's shops offer a range of unique crafts, souvenirs, and homemade goods, perfect for memorable keepsakes.
Visiting Tips:
The best times to visit are during the cooler months, as summer can be extremely hot.
While the burros are friendly, it's important to interact with them respectfully and cautiously.
Oatman's roads can be narrow and winding, so drive carefully.
Delgadillo's Snow Cap, Seligman, AZ
Delgadillo's Snow Cap Drive-In, located in Seligman, Arizona, on the historic Route 66, is a landmark known for its quirky décor and classic American eats.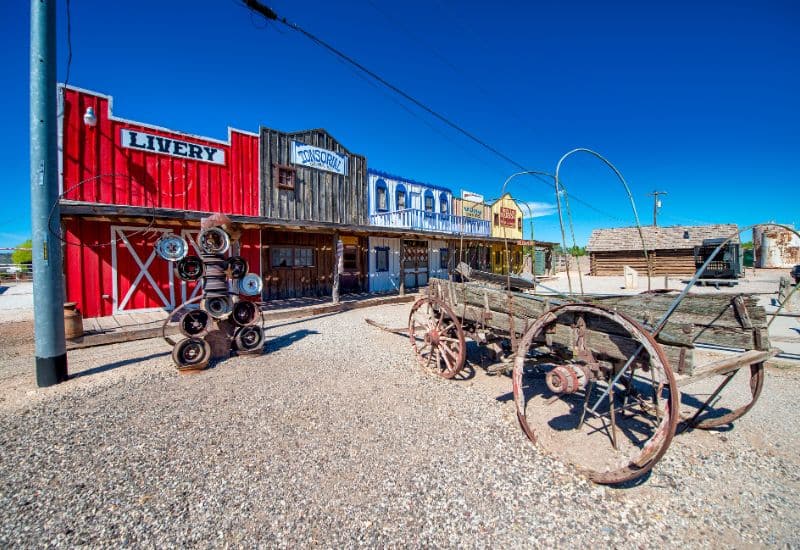 Exploring Delgadillo's Snow Cap:
Unique Architecture: Built in 1953 by Juan Delgadillo, the Snow Cap is famous for its eccentric and colorful décor, including a car cut in half and adorned with various trinkets.
Classic American Fare: Enjoy traditional American roadside fare, including burgers, hot dogs, and the drive-in's famous soft-serve ice cream.
Whimsical Atmosphere: The staff often engage in playful antics, adding to the fun and nostalgic experience of the place.
Photo Opportunities: The Snow Cap offers countless unique and whimsical photo opportunities, both inside and out.
Souvenirs: The gift shop sells a variety of Route 66 memorabilia and Snow Cap merchandise.
Visiting Tips:
The Snow Cap is a popular stop, so be prepared for potential crowds, especially during peak travel seasons.
It's more than just a place to eat; it's an experience, so allow time to enjoy the playful atmosphere and explore.
Located in the small town of Seligman, the Snow Cap is part of a larger community that embraces its Route 66 heritage.
Red Rock Canyon National Conservation Area, NV
Red Rock Canyon National Conservation Area, situated just a short drive from Las Vegas, Nevada, is a stunning natural area known for its towering red sandstone peaks and unique geological features.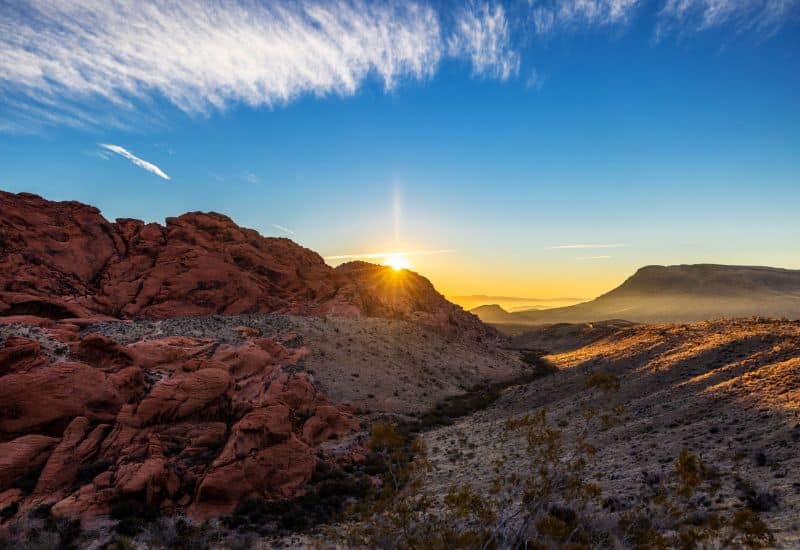 Exploring Red Rock Canyon:
Scenic Drive: The 13-mile scenic drive offers breathtaking views of the canyon and access to various trails and viewpoints.
Hiking Trails: From easy nature walks to challenging hikes, trails like Calico Tanks and Ice Box Canyon cater to all levels of hikers.
Rock Climbing: Renowned for its rock climbing, the area offers routes ranging from beginner to expert levels.
Wildlife Viewing: Keep an eye out for desert wildlife, including burros, bighorn sheep, and various bird species.
Visitor Center: Start your visit here to learn about the area's geology, ecology, and history through exhibits and interactive displays.
Visiting Tips:
Early morning or late afternoon visits offer softer light for photography and more comfortable temperatures.
Carry plenty of water, and wear sunscreen and hats, as the desert climate can be harsh.
Check the weather beforehand, as conditions can change rapidly.
Las Vegas, NV
Las Vegas, known globally as a major resort city, is famous for its vibrant nightlife, casinos, fine dining, entertainment, and shopping.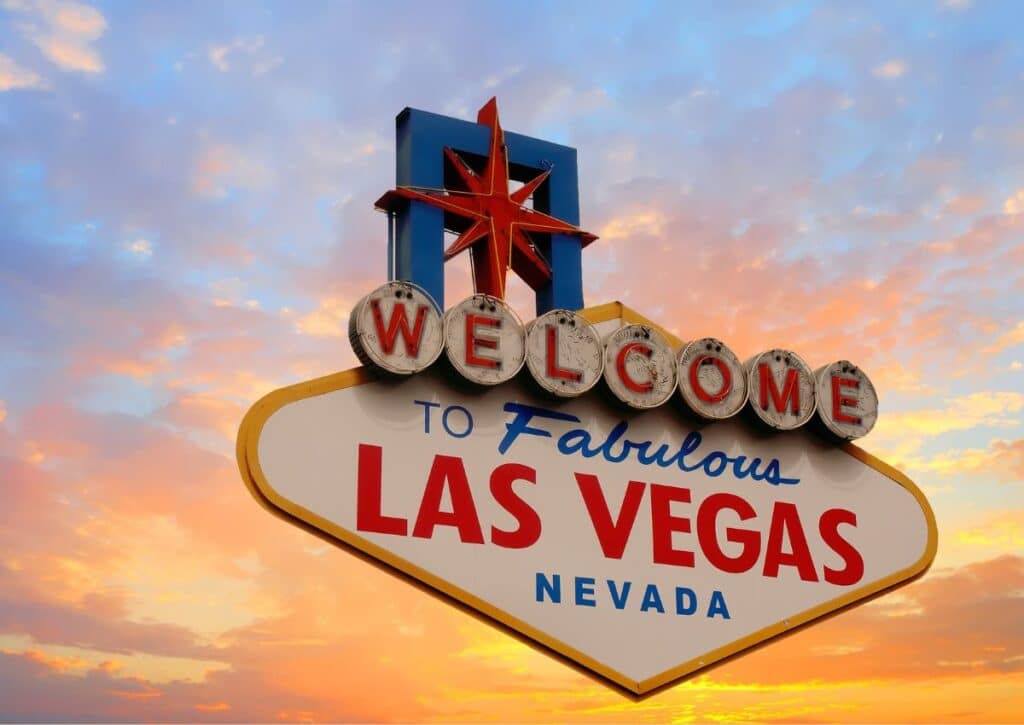 Experiencing Las Vegas:
The Strip: Explore the heart of Las Vegas, with its world-famous casinos, luxury hotels, and live shows.
Shows and Entertainment: From Cirque du Soleil to world-renowned musicians and comedians, Las Vegas offers top-tier entertainment.
Dining: Experience a culinary adventure with a diverse range of dining options from celebrity chefs and gourmet restaurants to casual eateries.
Shopping: Las Vegas offers everything from high-end boutiques to outlet malls.
Day Trips: Use Las Vegas as a base to explore nearby attractions like the Hoover Dam and Grand Canyon.
Local Tips:
While the city is known for its nightlife, there are plenty of daytime activities, including poolside lounging and spa visits.
Consider purchasing a pass for multiple attractions or shows to save money.
Stay hydrated and pace yourself, as the city's excitement can be overwhelming.
Also Read: 6-DAY ULTIMATE HIKING TRIP FROM LAS VEGAS! (GRAND CANYON AND ZION INCLUDED)
Hoover Dam, AZ
Hoover Dam, located on the border between Arizona and Nevada, is a testament to modern engineering and a significant historical landmark in the United States. This massive concrete dam on the Colorado River is a popular tourist attraction, offering a unique blend of educational and scenic experiences.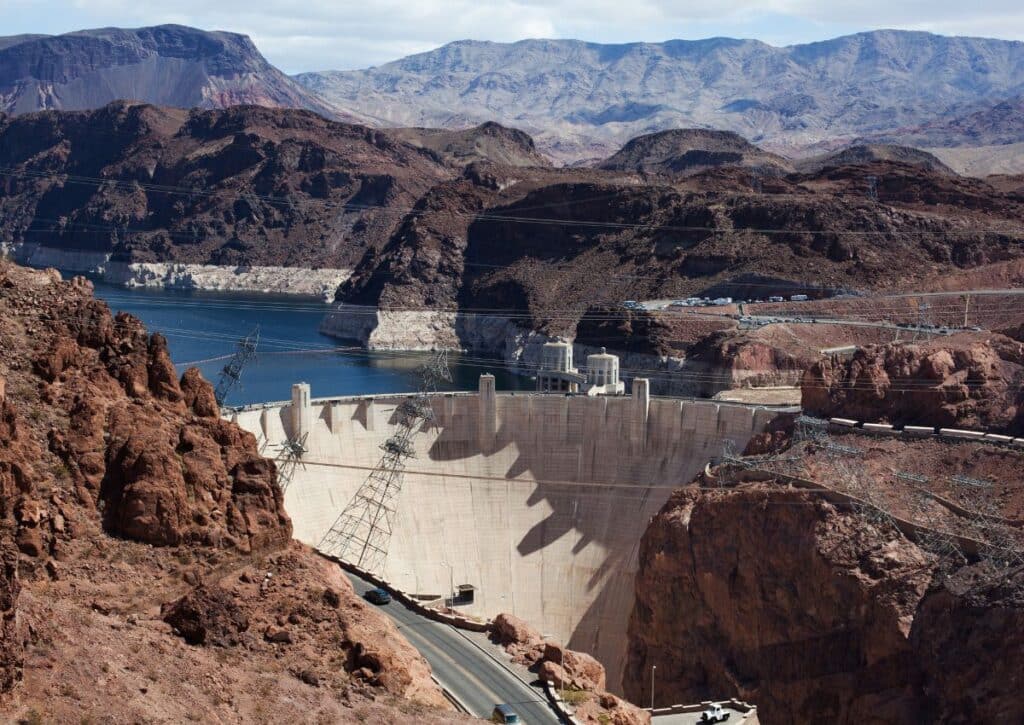 Exploring Hoover Dam:
Guided Tours: Join a guided tour to learn about the dam's history, construction, and its role in providing power and water to the Southwest. Tours often include visits to the power plant and passageways within the dam.
Visitor Center: The Hoover Dam Visitor Center offers exhibits, a museum, and a theater where you can learn about the dam's construction and its environmental impact.
Mike O'Callaghan–Pat Tillman Memorial Bridge: Walk across this impressive bridge for a spectacular view of Hoover Dam and the Colorado River.
Observation Deck: The observation deck provides panoramic views of the dam, Lake Mead, and the surrounding desert landscape.
Photography: The dam's Art Deco design, along with the dramatic backdrop of the Black Canyon and Lake Mead, offers stunning photography opportunities.
Visiting Tips:
Early morning or late afternoon visits can help avoid the peak crowds and offer softer lighting for photography.
Wear comfortable walking shoes, as exploring the dam involves a fair amount of walking.
Summer temperatures can be extremely high, so carry water, sunscreen, and hats for sun protection.
Security is tight at Hoover Dam, so expect to go through a security checkpoint and adhere to restrictions on what you can bring.
Visiting Hoover Dam offers an insightful glimpse into a pivotal piece of American history and engineering. It's a must-visit for those interested in architecture, engineering, or just looking to enjoy some incredible views.
Sedona, Arizona
Sedona, nestled among striking red sandstone formations, is a unique blend of natural beauty, artistic charm, and spiritual intrigue. Known for its vibrant arts community and Vortex sites, Sedona offers a tranquil yet invigorating experience.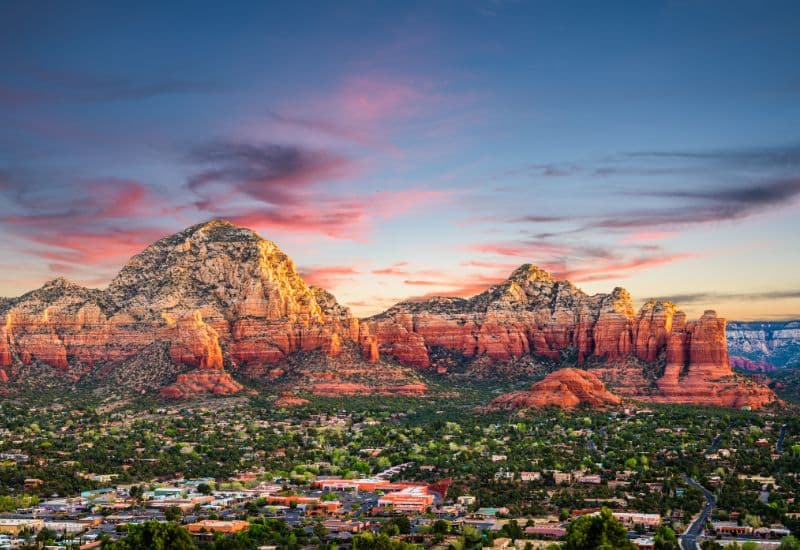 Exploring Sedona:
Red Rock Scenic Byway: Begin your Sedona adventure on this byway, offering breathtaking views of the red rocks and access to hiking trails and Vortex sites.
Hiking Trails: Trails like Cathedral Rock, Bell Rock, and Devil's Bridge offer varying levels of difficulty and provide stunning views of the landscape.
Vortex Sites: Experience the energy and spiritual renewal at one of Sedona's Vortex sites, believed to be centers of energy conducive to healing and meditation.
Art Galleries and Shops: Sedona's thriving arts scene is evident in its many galleries, showcasing local and international artists. The Tlaquepaque Arts & Shopping Village is a must-visit for unique crafts and art.
Jeep Tours: Explore the backcountry and hard-to-reach areas of Sedona's wilderness with a guided jeep tour.
Relaxation and Wellness:
Sedona is known for its wellness retreats, spas, and yoga studios, offering a perfect setting for relaxation and self-discovery.
Enjoy the serene environment with a hot air balloon ride at sunrise or a peaceful evening stargazing.
Local Cuisine:
Sedona has a diverse food scene, from upscale dining to casual cafes, many offering dishes with locally sourced ingredients.
Visiting Tips:
The weather can vary greatly depending on the season, so pack accordingly.
Advance reservations are recommended for lodging, especially during peak tourist seasons.
Respect the natural environment and stay on designated trails to preserve Sedona's beauty.
Flagstaff, AZ
Flagstaff, located in the mountains of northern Arizona, is a city that blends outdoor adventure, cultural richness, and academic vibrancy, set against the backdrop of the largest contiguous ponderosa pine forest in North America.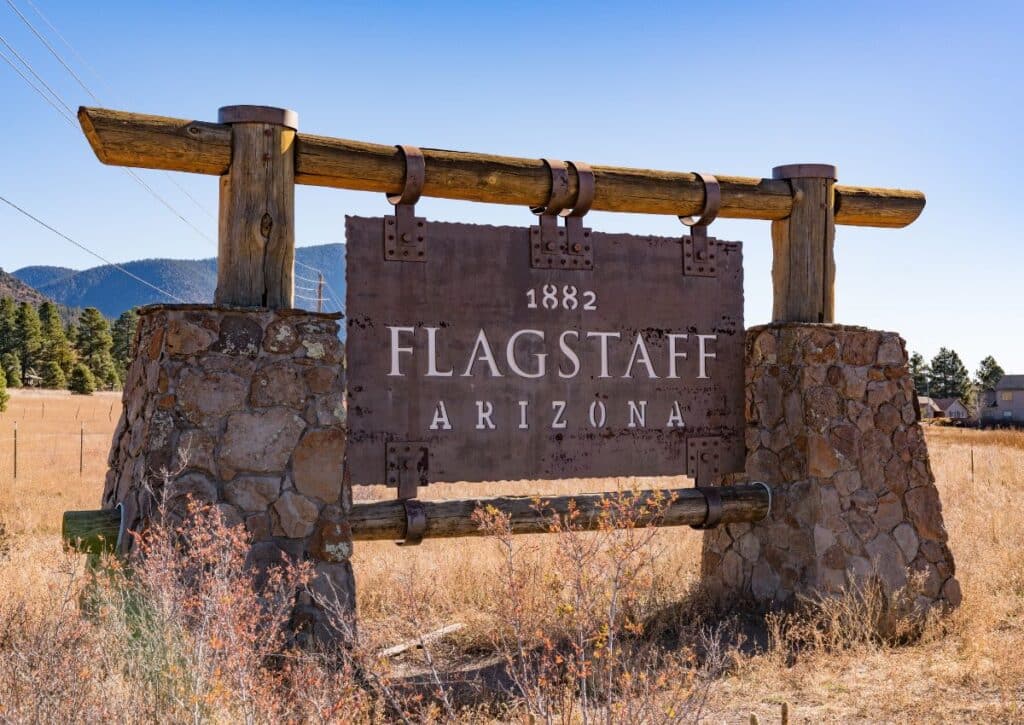 Discovering Flagstaff:
Historic Downtown and Route 66: Immerse yourself in the city's historic downtown, which exudes a blend of old-world charm and modern vitality. Stroll along the iconic Route 66, lined with unique shops, restaurants, and galleries.
Observatories and Stargazing: Home to Lowell Observatory, where Pluto was discovered, Flagstaff is a designated International Dark Sky City. The observatory and others offer public viewing nights, allowing visitors to gaze at star-filled skies.
Cultural Centers and Museums: Explore Flagstaff's rich history and diverse cultures at the Museum of Northern Arizona, and enjoy the city's vibrant arts scene, including numerous galleries and live music venues.
Proximity to Natural Wonders: Flagstaff is a gateway to natural attractions like the Grand Canyon, Walnut Canyon, Wupatki National Monuments, and the San Francisco Peaks.
Outdoor Recreation: The city is a haven for outdoor enthusiasts, offering activities such as hiking, mountain biking, skiing at Arizona Snowbowl, and more, amidst its stunning natural landscapes.
University Town Vibe:
As home to Northern Arizona University, Flagstaff has a lively, youthful atmosphere with various educational and cultural events.
Diverse Culinary Scene:
Flagstaff boasts a diverse food scene ranging from cozy cafes and brewpubs to upscale dining experiences, often featuring local and sustainable ingredients.
Seasonal Activities:
Enjoy the vibrant colors of fall foliage, winter sports opportunities, springtime wildflower displays, and cool retreats from summer heat, making it a year-round destination.
Visiting Tips:
Due to its elevation, Flagstaff experiences all four seasons, so pack accordingly for your visit.
Be mindful of the elevation change if coming from lower altitudes and stay hydrated.
Flagstaff is more than just a stopover; it's a destination rich in history, culture, and natural beauty, offering something for every type of traveler, whether seeking adventure, relaxation, or cultural enrichment.
Kaibab National Forest, AZ
Kaibab National Forest, surrounding the North and South Rims of the Grand Canyon in Arizona, presents a vast expanse of diverse landscapes, ranging from major canyons to plateaus, meadows, and towering forests. It offers an immersive natural experience distinct from the Grand Canyon itself.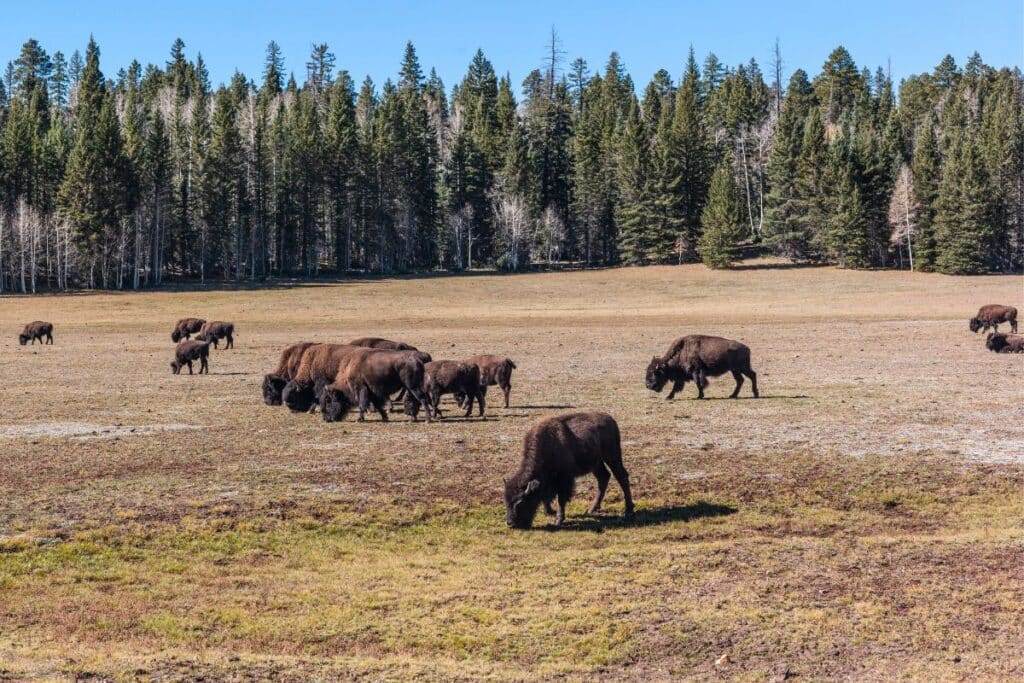 Exploring Kaibab National Forest:
Diverse Landscapes: The forest is split into the North and South Kaibab, each offering unique scenery. The North Kaibab, higher in elevation, features dense forests and meadows, while the South Kaibab showcases more of the Arizona high desert environment.
Hiking and Trails: There are numerous trails suited for all levels, such as the Rainbow Rim Trail on the North Rim and the Ten-X Nature Trail on the South Rim. These trails provide stunning views and peaceful nature walks.
Wildlife Viewing: The forest is home to a variety of wildlife, including deer, turkey, and the endangered California condor. Birdwatching and wildlife photography are popular activities.
Camping Opportunities: There are several developed campgrounds, like Jacob Lake and DeMotte on the North Rim, and dispersed camping areas throughout the forest for those seeking a more rugged experience.
Winter Activities: The North Rim area of the forest offers winter activities like snowshoeing and cross-country skiing, making it a year-round destination.
Points of Interest:
Jacob Lake: Known as the gateway to the North Rim of the Grand Canyon, it offers amenities, lodging, and a visitor center.
Dogtown Lake: A serene lake setting ideal for fishing, picnicking, and wildlife watching.
Responsible Recreation:
Due to its biodiversity and vastness, visitors are encouraged to follow Leave No Trace principles to protect the forest's natural resources.
Check for any seasonal closures or restrictions, especially if planning to visit the North Rim, which is closed during winter months.
Planning Tips:
The forest's high elevation can lead to cooler temperatures, even in summer, so dress in layers.
Bring adequate supplies, including water, as amenities are limited, especially in the more remote areas of the forest.
Kaibab National Forest offers an escape into diverse natural landscapes, providing a tranquil contrast to the nearby grandeur of the Grand Canyon. It's a destination that appeals to those seeking solitude, outdoor adventure, and a deeper connection with nature.
Grand Canyon National Park, AZ
Grand Canyon National Park, recognized as one of the world's most spectacular natural wonders, is a vast chasm that showcases millions of years of geological history through its layered bands of colorful rock. The park attracts millions of visitors each year, drawn to its immense size, intricate landscapes, and breathtaking views.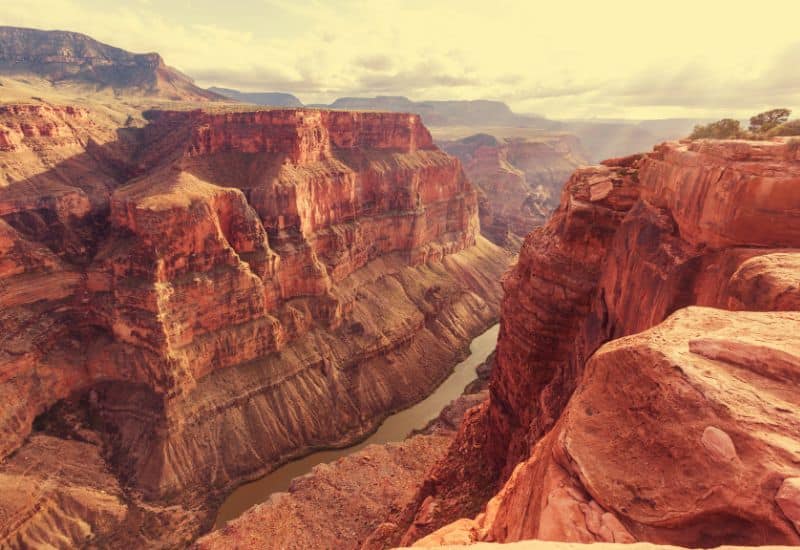 Experiencing the Grand Canyon:
South Rim: The most accessible and popular part of the park, offering iconic views from lookouts like Mather Point, Yavapai Observation Station, and Bright Angel Trailhead. It's open year-round and features visitor centers, historic lodges, and hiking trails.
North Rim: Less crowded and more remote, the North Rim provides a different perspective of the canyon. It's known for its rugged beauty, higher elevation, and cooler temperatures. Key viewpoints include Point Imperial and Cape Royal. The North Rim is typically open from mid-May to mid-October.
Hiking Trails: From short rim walks to strenuous hikes into the canyon, there's a trail for every level of hiker. The Bright Angel and South Kaibab trails are popular for day hikes, while the Rim Trail offers an easier, paved path along the edge.
Colorado River Rafting: Experience the canyon from a different vantage point by rafting the Colorado River, which ranges from calm floats to thrilling whitewater rapids.
Ranger Programs: Participate in educational ranger-led programs to learn about the canyon's geology, ecology, and history.
Other Activities:
Scenic Drives: Desert View Drive on the South Rim and Point Imperial Drive on the North Rim offer stunning views and access to various lookouts.
Helicopter and Airplane Tours: For a bird's-eye view of the canyon, consider an aerial tour.
Skywalk at Eagle Point: Located outside the park on the West Rim, the glass Skywalk offers a unique, though touristy, experience.
Planning Tips:
Weather can vary greatly between the rim and the canyon floor, so be prepared with appropriate clothing and gear.
Stay hydrated and be cautious of the altitude and temperature extremes, especially if hiking into the canyon.
Accommodations within the park, especially on the South Rim, should be booked well in advance.
Practice Leave No Trace principles to help preserve this natural wonder for future generations.
Visiting Grand Canyon National Park is an unforgettable experience that offers a profound sense of awe and a unique connection with the natural world. Whether you're peering into the depths from a rim lookout, hiking down its trails, or rafting the mighty Colorado, the Grand Canyon's grandeur and beauty are unparalleled.
Also Read: 6 TOURS IN THE GRAND CANYON NATIONAL PARK THAT INVOLVE HELICOPTERS!
A 7 Day Itinerary on Route 66 to Grand Canyon: A Journey Through Time and Nature (Route 1)
Day 1: Los Angeles to Barstow, CA
Your adventure begins in Los Angeles, heading towards Barstow, a town steeped in the history of Route 66. Spend your first day exploring the local attractions like the Route 66 Mother Road Museum and the nearby Calico Ghost Town.
Barstow serves as an ideal introduction to the spirit of the historic highway. Overnight in Barstow, experiencing the unique blend of desert landscape and historical charm.
Day 2: Barstow to Grand Canyon National Park
On the second day, continue your journey along Route 66 towards the Grand Canyon. The drive takes you through a scenic stretch of the Mojave Desert, entering Arizona and passing through towns like Kingman.
Arrive at the Grand Canyon by late afternoon, allowing you to catch your first glimpse of the canyon's vastness at sunset. Check into your accommodation at the Grand Canyon Village or nearby Tusayan.
Day 3: Intensive Hiking and Scenic Views
Begin your first full day at the Grand Canyon with a challenging yet rewarding hike. The Bright Angel Trail is a popular choice, offering stunning canyon views and a well-maintained path.
The full trail is about 12 miles round trip to the river and back, but you can choose to hike to the 1.5 Mile Resthouse (3 miles round trip) or to Plateau Point (12 miles round trip) depending on your comfort and fitness level. Remember to start early to avoid the midday heat and carry plenty of water.
After the hike, relax and have lunch at one of the picnic spots near the visitor center. In the afternoon, explore the Rim Trail, which offers a less strenuous walking experience with spectacular views.
This paved trail stretches for 13 miles along the rim, but you can walk a shorter section of it, perhaps starting from Mather Point to Yavapai Observation Station.
As the evening approaches, find a spot at Yaki Point or Hopi Point to witness a breathtaking sunset. These locations offer some of the most picturesque sunset views in the park.
End your day stargazing under the clear night skies, taking advantage of the park's Dark Sky Park status. Several ranger-led stargazing programs might be available, providing an insightful look at the night sky.
Day 4: Ranger-Led Programs and Further Exploration
Start your second day by joining a ranger-led program. These often include guided walks, talks about the canyon's geology, ecology, and history, and sometimes special activities for children. Check the visitor center for the day's schedule.
Spend the mid-morning exploring more remote viewpoints along the South Rim. Desert View Drive is a scenic route with several overlooks, including Navajo Point and Grandview Point, offering unique perspectives of the canyon.
In the afternoon, consider a leisurely hike along the South Kaibab Trail. While the full trail is quite strenuous and goes all the way down to the river (about 6 miles one-way), a hike to Ooh Aah Point is only 1.8 miles round trip and offers stunning panoramic views.
Conclude your exploration with a visit to the Grand Canyon Village. Here, you can explore historic buildings, browse the gift shops, and learn more about the park's history at the Kolb Studio.
As the sun sets on your second day, reflect on your Grand Canyon adventure at a viewpoint like Lipan Point, known for its wide-ranging views, or simply relax at one of the lodges or campgrounds, soaking in the natural beauty and tranquility of the park.
Day 5: Grand Canyon to Flagstaff, AZ
Depart from the Grand Canyon, heading towards Flagstaff. This vibrant city offers a rich mix of cultural and outdoor activities. Spend your day visiting the Lowell Observatory or exploring the historic downtown area, rich in art, culture, and cuisine.
Flagstaff, surrounded by mountains and ponderosa pine forests, provides a refreshing contrast to the desert landscapes you've experienced so far.
Day 6: Flagstaff to Oatman, AZ
Leave Flagstaff and head back towards California, making a stop at Oatman. This historic gold mining town is famous for its wild burros and authentic Wild West atmosphere.
Spend the day walking down its historic main street, browsing the shops, and maybe even catching a mock gunfight reenactment. Oatman's unique character provides a step back in time and is a great way to slowly transition back from the natural wonders of your trip.
Day 7: Oatman to Los Angeles
On the final day of your road trip, journey from Oatman back to Los Angeles. The drive takes you back through the heart of the Mojave Desert, retracing some of the iconic stretches of Route 66. Arrive in Los Angeles by evening, bringing your memorable road trip to a close.
This 7-day itinerary offers a balanced experience of both the journey and the destination. From the bustling streets of Los Angeles to the awe-inspiring grandeur of the Grand Canyon, and back through the historic towns of Route 66, each day unfolds a new chapter in this quintessential American road trip.
A 7 Day Itinerary on Route 2 – Includes Joshua Tree and the Grand Canyon!
Day 1: Los Angeles to Kingman, AZ
Your adventure starts in Los Angeles, heading east towards the Arizona border. Your destination for the day is Kingman, a city that offers a unique blend of desert landscape and small-town charm.
Spend your first day exploring Kingman's local attractions. You might visit the Kingman Railroad Museum to delve into the city's rich railroading history, or explore the nature trails around the Hualapai Mountain Park, offering cooler temperatures and pine forest scenery.
In the evening, enjoy the local dining scene in Kingman, which offers a range of culinary experiences from cozy diners to more upscale options.
Day 2: Kingman to Grand Canyon National Park
Leave Kingman in the morning and set out towards the Grand Canyon National Park. The drive to the canyon offers scenic views and the excitement of approaching one of the world's most renowned natural landmarks.
Arrive at the Grand Canyon in the early afternoon, giving you ample time to visit some of the South Rim's most famous viewpoints, such as Mather Point and Yavapai Observation Station.
Check into your accommodation, either in the park or in nearby Tusayan, and spend the late afternoon and evening experiencing the first of many breathtaking views of the canyon. Watch the sunset paint the canyon walls in shades of orange and red, an unforgettable start to your Grand Canyon adventure.
Day 3: Hiking and Discovering the South Rim
Begin your immersive exploration of the Grand Canyon by tackling one of its most renowned trails. The Bright Angel Trail is a great choice, offering several turnaround points to suit different hiking levels.
The first notable point is the 1.5 Mile Resthouse, a 3-mile round trip. For a more extended hike, consider reaching Indian Garden, which is about a 9-mile round trip. Remember, hiking in the canyon is challenging, and it's essential to start early, carry plenty of water, and wear suitable hiking gear.
After your hike, spend the afternoon relaxing and taking in the views along the Rim Trail. This mostly flat path stretches for 13 miles along the rim and can be accessed from various points, making it easy to explore at your own pace.
As evening falls, head to Hopi Point, one of the best places for sunset views. The expansive vistas here are perfect for photography and capturing the canyon's vastness.
End your day stargazing. The Grand Canyon, as a certified Dark Sky Park, offers exceptional night sky views. Check if there are any ranger-led stargazing programs at the visitor center.
Day 4: More Trails, Ranger Programs, and East Rim Drive
On your second day, venture down the South Kaibab Trail. A popular destination on this trail is Ooh Aah Point, just under a 2-mile round trip, offering stunning panoramic views. For a more challenging hike, continue to Cedar Ridge (3 miles round trip) or Skeleton Point (6 miles round trip).
Post-hike, participate in one of the park's ranger-led programs. These can include talks on geology, wildlife, and history, or guided walks. They are great for gaining deeper insights into the canyon's wonders.
In the afternoon, explore the East Rim Drive. This less crowded section of the park offers spectacular views and several pullouts, like Grandview Point and Moran Point. The drive culminates at Desert View Watchtower, a 70-foot high stone building offering one of the most comprehensive views of the canyon and the Colorado River.
The evening is perfect for a quiet reflection or a casual stroll along the rim, absorbing the tranquil beauty of the Grand Canyon. Another opportunity for stargazing presents itself, capping off another memorable day at this natural wonder.
Day 5: Grand Canyon to Joshua Tree National Park
Depart the Grand Canyon and head towards Joshua Tree National Park. This drive takes you back into the heart of the Mojave Desert. Arrive by the afternoon, allowing time to explore the unique landscape filled with Joshua trees and rugged rock formations.
Set up camp or check into a nearby hotel, preparing for a full day of exploration tomorrow.
Day 6: Full Day in Joshua Tree National Park
Spend a day immersed in the beauty of Joshua Tree National Park. Explore trails like the Hidden Valley Nature Trail or Barker Dam Trail, each offering unique perspectives of the park's natural wonders.
Don't miss the chance to visit the Cholla Cactus Garden and Keys View for spectacular desert vistas. The evening in Joshua Tree is perfect for stargazing, thanks to the clear, dark skies.
Day 7: Joshua Tree to Los Angeles
On your final day, take the morning to enjoy any last sights in Joshua Tree National Park. Then, begin your journey back to Los Angeles. Reflect on the memories and scenic beauty experienced during your road trip as you transition from the tranquil desert landscapes back to the vibrant energy of the city.
Final Thoughts
As we bring our guide to a close, it's clear that a road trip from Los Angeles to the Grand Canyon is more than just a travel plan; it's an adventure of a lifetime.
Each segment of this journey offers its own unique blend of culture, history, and natural beauty. Whether you're marveling at the majestic Grand Canyon, exploring the mystical landscapes of Joshua Tree, or soaking in the vibrant atmospheres of cities like Las Vegas and Sedona, this trip promises a rich tapestry of experiences.
We hope this guide inspires you to embark on this journey, creating your own stories and memories along the way. Happy travels, and may your journey be as enriching as the destinations themselves!