Olympic National Park, a realm of unparalleled beauty in Washington, is every hiker's dream come true. 
From tranquil beaches to dense rainforests and towering peaks, there's a trail for every soul. But with 176 options, where should you set foot first?
Our comprehensive guide to Olympic National Park hikes shines a spotlight on the top 20 trails, ensuring you experience the best of what the park offers. 
Whether you're planning a relaxed family day out on the Madison Falls Trail or seeking the thrill atop Mount Ellinor, we've got you covered.
Beyond the trails, gather expert tips for a seamless hike and insights into the park's diverse wildlife. Eager to lace up and hit the paths? Let's get you started on an unforgettable journey through Olympic National Park.
Olympic National Park Hikes Overview
Situated on Washington State's Olympic Peninsula, Olympic National Park stands out as a premier destination for both hikers and nature aficionados. 
Its vast expanse embodies the rich ecological diversity and intrinsic beauty characteristic of the Pacific Northwest region.
Landscapes Galore: At the park, visitors are greeted with a myriad of landscapes – from the shimmering Pacific coastline to dense, verdant rainforests, and imposing mountain ranges.  Here is a sneak peak in the landscapes you can encounter: :
Klahhane Ridge Trail: Leading to the towering Mount Angeles, this trail promises awe-inspiring panoramas of the Olympic Mountain Range.
Madison Falls Trail & July Creek Loop Trail: Ideal for those seeking a tranquil connection with nature, these routes offer scenic strolls through Elwha Valley and along the serene Lake Quinault.
Coastline Wonders: Beyond the forests and mountains, the park's coastline beckons with its own allure. Landmarks like the Hole-in-the-Wall at Rialto Beach, the remote beauty of Shi Shi Beach, and the majestic Cape Flattery viewpoint are must-visits. 
For a quintessential beach experience, the sands of Ruby Beach and Third Beach are hard to surpass.
Into the Rainforest: The Hoh Rainforest encapsulates the essence of Pacific Northwest forests. 
Trails like the Hall of Mosses and Spruce Nature Trail meander through towering trees and lush moss, offering visitors a chance to experience one of the world's most unique ecosystems up close.
Olympic National Park is a microcosm of Washington State's unparalleled natural beauty. 
With a vast array of trails, varied landscapes, and an abundance of flora and fauna, it stands as an essential destination for those eager to experience the best of the Pacific Northwest's outdoors.
Seasons and Weather Conditions to Plan Your Hikes 
Olympic National Park offers a variety of beautiful landscapes and hiking opportunities throughout the year.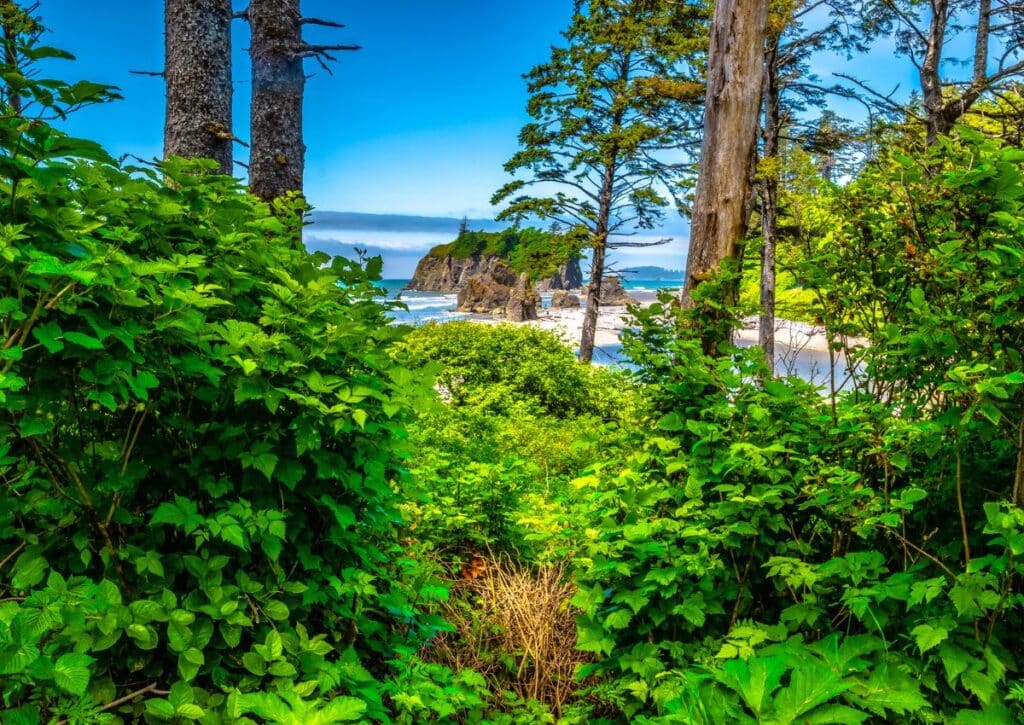 With mild winters and pleasant summers, visitors can enjoy the park's diverse environments in nearly any season. 
However, it's essential to understand how the weather can impact your hiking experience.
Summer is an ideal time to visit the park, as temperatures range between 65 to 75°F, and the weather is often sunny from July through September. 
This season is perfect for exploring lower elevation trails and enjoying the park's lush greenery. 
Water sources, such as rivers and lakes, are typically abundant, providing refreshing breaks along your hike and opportunities for wildlife viewing.
During fall, temperatures start to drop, and the park begins to experience more rain and fog. It's still a great time for hiking, but don't forget to check day-to-day weather conditions before heading out.
Waterproof gear and warmer clothing might be necessary, especially if you plan to hike in higher elevations or stay out for extended periods. The wildlife is also most active, making the fall our favorite time to go! 
Wintertime in Olympic National Park brings cooler temperatures and sometimes snow. In the lower elevations, daytime highs typically stay in the 30s and 40s, while heavy snow accumulates in the high elevations. 
Some trails might be closed during this season, but for those that remain accessible, winter hikes can offer a unique and serene experience. 
Just make sure to dress warmly, carry appropriate gear, and check the trail conditions before venturing out.
In spring, the park starts to thaw out, and a new season of plant growth emerges. The weather can still be unpredictable, with wet conditions and some lingering snow in higher elevations. 
Be prepared for mud and melting snow on the trails, especially near water sources. As the season progresses, flowers begin to bloom, and the park's natural beauty is on full display.
Whether it's the sunny, water-filled days of summer or the snow-capped mountains in winter, Olympic National Park offers a picturesque setting for hiking adventures. 
Just remember to plan for the season's weather conditions, stay informed about trail updates, and enjoy the unique experiences each season brings.
20 Iconic Trails of the Olympic National Park
Olympic National Park offers some of the most diverse and picturesque hiking trails in the United States. This section covers the iconic trails of the park, providing a brief overview of what each trail has to offer.
Hoh Rain Forest Trails
Located on the western side of Olympic National Park, the Hoh Rain Forest stands out with its vibrant green landscape and status as one of the few temperate rainforests in the United States. 
Among its many trails, the Hoh River Trail is a standout, spanning approximately 17.3 miles round trip to Glacier Meadows. 
However, many hikers opt for shorter segments depending on their comfort and time. While the initial part of the trail is relatively flat and suitable for all skill levels, it becomes more challenging as you venture deeper, especially nearing Glacier Meadows. 
As you navigate this trail, the dense vegetation with moss-covered trees and ferns offers a refreshing view, all accompanied by the serene riverside of the Hoh River. 
Whether you're new to hiking or seasoned in your treks, the Hoh River Trail in this unique rainforest environment promises a memorable experience.
Sol Duc Trails
Situated in Olympic National Park, the Sol Duc Trails are a treasure for those who relish forested pathways. If there's one trail you shouldn't miss, it's the one leading to Sol Duc Falls. 
The trail stretches for about 1.8 miles round trip, making it a relatively short and manageable trek for most. 
As you walk, the captivating sounds of the multi-tiered Sol Duc Falls get louder, acting as nature's own soundtrack. 
Your path will take you through dense old-growth forests and patches of lush underbrush. 
Along the journey, don't forget to pause and admire the views of the Sol Duc River, especially where it cuts through the landscape, forming gentle curves and rapids. 
It's a moderately easy hike, so it's great for families or those looking for a less strenuous journey into the heart of the national park.
Staircase Rapids Loop
The Staircase Rapids Loop, located in the eastern section of Olympic National Park, is a favorite among those seeking a serene yet captivating experience. 
Spanning roughly 2.1 miles, this loop is an ideal choice for beginners or those looking for a relatively quick immersion into nature.
As you embark on this hike, you'll follow the North Fork Skokomish River, with its crystal-clear waters and playful rapids acting as a constant companion. 
The trail is characterized by a gentle terrain dotted with large, moss-covered boulders and towering old-growth trees that often shade the path, providing a cool respite even on warmer days.
Alongside the river views, the loop offers intermittent glimpses of surrounding mountain peaks, making the journey both peaceful and visually rewarding. 
The trail is well-maintained and has minimal elevation gain, making it accessible and enjoyable for hikers of all skill levels. 
Whether you're on a family day out or a solo adventure, Staircase Rapids Loop is a delightful escape into Olympic's verdant wilderness.
Marymere Falls Trail
Situated near the shores of Lake Crescent in Olympic National Park, the Marymere Falls Trail beckons those keen to witness one of the park's signature waterfalls. 
Beginning at the Storm King Ranger Station, this trail extends for about 1.8 miles round trip.
Walking this route, hikers find themselves enveloped by the dense canopy of towering firs and cedars, providing a cool and serene ambiance. 
The gentle murmur of cascading water grows steadily louder, guiding you toward the trail's climax. 
When you arrive, Marymere Falls takes center stage, with its waters descending nearly 90 feet into a basin adorned with lush ferns.
Most of the trail features a mix of firm earth and occasional wooden footbridges and is moderate in its difficulty level. 
However, the final stretch towards the falls presents a short ascent, slightly more challenging but entirely worth the effort given the breathtaking views of the falls.
For those eager to sample the diverse terrains and scenic highlights of Olympic National Park, especially around Lake Crescent, the Marymere Falls Trail is a definitive must-visit.
Hall of Mosses Trail
Located in the heart of the Hoh Rain Forest section of Olympic National Park, the Hall of Mosses Trail offers visitors a surreal journey into a world dominated by ancient trees and hanging mosses. 
This short loop trail, covering just 0.8 miles, is one of the most iconic and accessible trails in the park.
As you navigate the path, you'll be awestruck by the towering old-growth trees, some of which have been standing for centuries. 
These giants, draped in layers of moss, create an almost otherworldly atmosphere, evoking images of enchanted forests from fairy tales. 
The thick green carpet of ferns underfoot further enhances the ethereal beauty of the surroundings.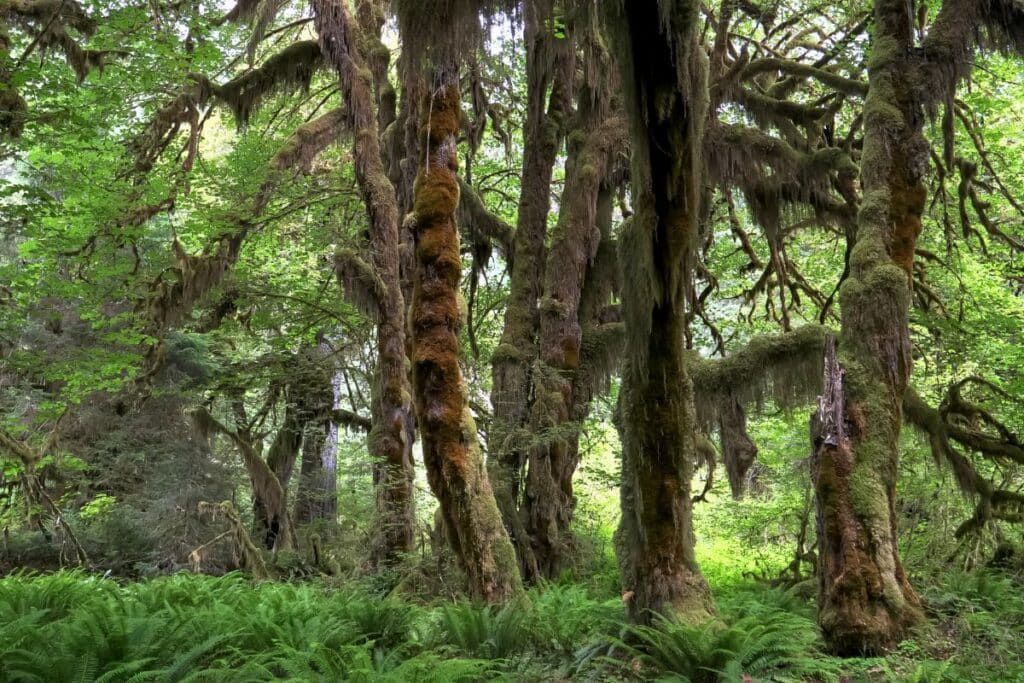 The trail itself is relatively flat with only minor elevation changes, making it suitable for hikers of all ages and abilities. 
Given its short length and the dense canopy overhead, it's a perfect option for a refreshing walk, even on drizzly days common in the rainforest.
For anyone visiting Olympic National Park, the Hall of Mosses Trail provides a quintessential rainforest experience, transporting hikers to a world where nature reigns supreme.
Hurricane Ridge Trail
Located in the northern portion of Olympic National Park, Hurricane Ridge Trail stands as a testament to the park's vast diversity, offering sweeping views of the Olympic Mountains and the surrounding valleys. 
This trail stretches for approximately 3.2 miles round trip and climbs to one of the most spectacular vantage points in the park.
As you ascend the trail, the landscape transitions from dense forests to subalpine meadows adorned with wildflowers, especially vibrant during the summer months.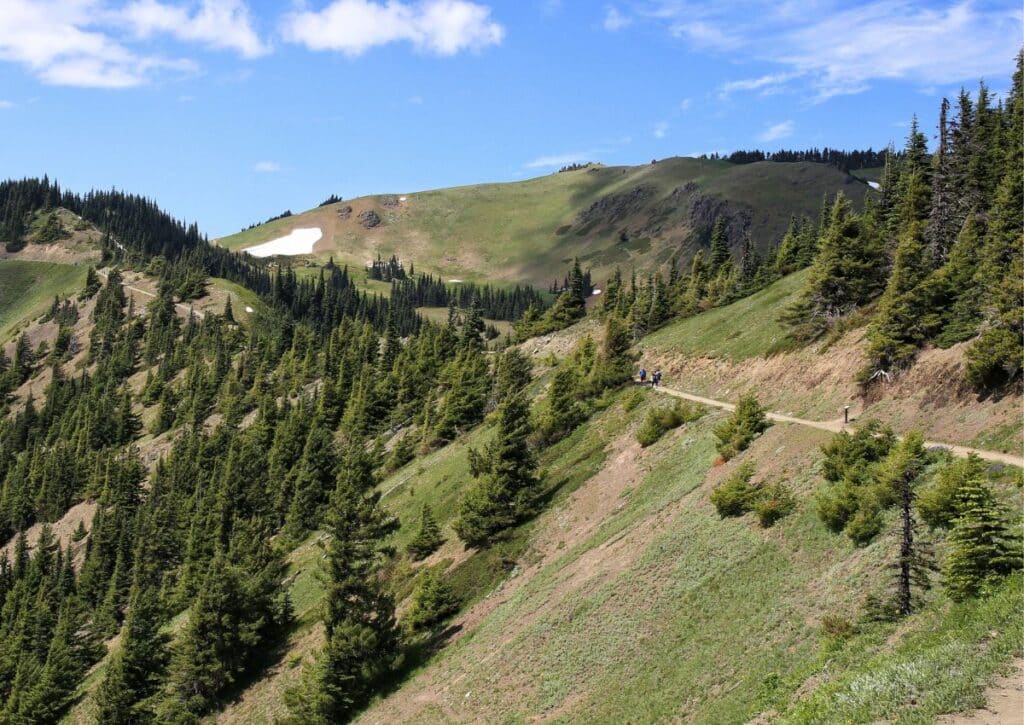 These meadows play host to a plethora of wildlife, including marmots, black-tailed deer, and even the occasional mountain goat. 
But the real prize awaits at the summit, where panoramic views showcase the rugged beauty of the Olympic Mountain Range and, on clear days, glimpses of the Strait of Juan de Fuca and Vancouver Island beyond.
The trail, with its steady incline and some steeper sections, is considered moderate in difficulty. However, the reward for your efforts is unparalleled, making it a favorite among both seasoned hikers and those new to the trails.
For those wishing to experience the best of Olympic National Park's mountainous terrain and get a bird's eye view of its beauty, the Hurricane Ridge Trail is an absolute must-do.
Hoh River Trail
Initiating in the famed Hoh Rain Forest of Olympic National Park, the Hoh River Trailhead is a gateway to one of the most pristine and untouched wilderness areas in the Pacific Northwest. 
This trail, renowned for its length and varied terrain, extends for over 17 miles one way, leading intrepid hikers all the way to Glacier Meadows near the base of Mount Olympus.
Starting amidst the dense foliage of the temperate rainforest, hikers will be treated to a vibrant tapestry of moss-covered trees, fern-filled understories, and the melodious sounds of the Hoh River coursing alongside for much of the trail.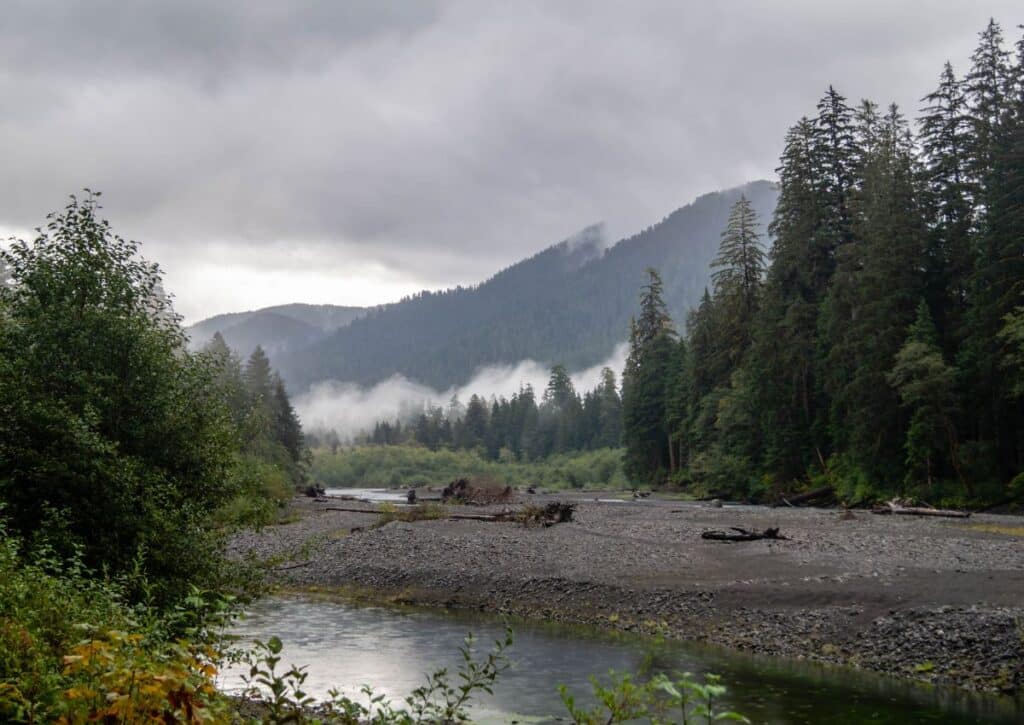 As you progress deeper into the wilderness, the landscape begins to shift — the dense rainforest gives way to alpine meadows, glacial streams, and expansive vistas of the majestic Olympic Mountains.
While the entirety of the trail might be a challenge for some, requiring multi-day backpacking to complete, many hikers opt for shorter day hikes, taking in segments of the trail to soak in its beauty. 
The trail offers varying levels of difficulty, with some stretches being fairly flat and others more challenging, especially as you approach the higher elevations.
For those with a thirst for adventure and a desire to witness the diverse ecosystems present within Olympic National Park, the Hoh River Trailhead serves as a perfect launching point.
Whether you're aiming for a day hike or a more extended expedition, this trail promises an unforgettable journey through nature's finest displays.
Hurricane Hill Nature Trial
Situated in the popular Hurricane Ridge section of Olympic National Park, the Hurricane Hill Nature Trail is a 3.4-mile round trip journey offering hikers an immersive experience in the park's alpine environment. 
This trail stands out not just for its natural beauty, but also for its accessibility, making it an excellent choice for families and individuals of varying hiking proficiency.
Starting at the Hurricane Ridge Visitor Center, this well-maintained trail gradually winds its way upwards through subalpine meadows.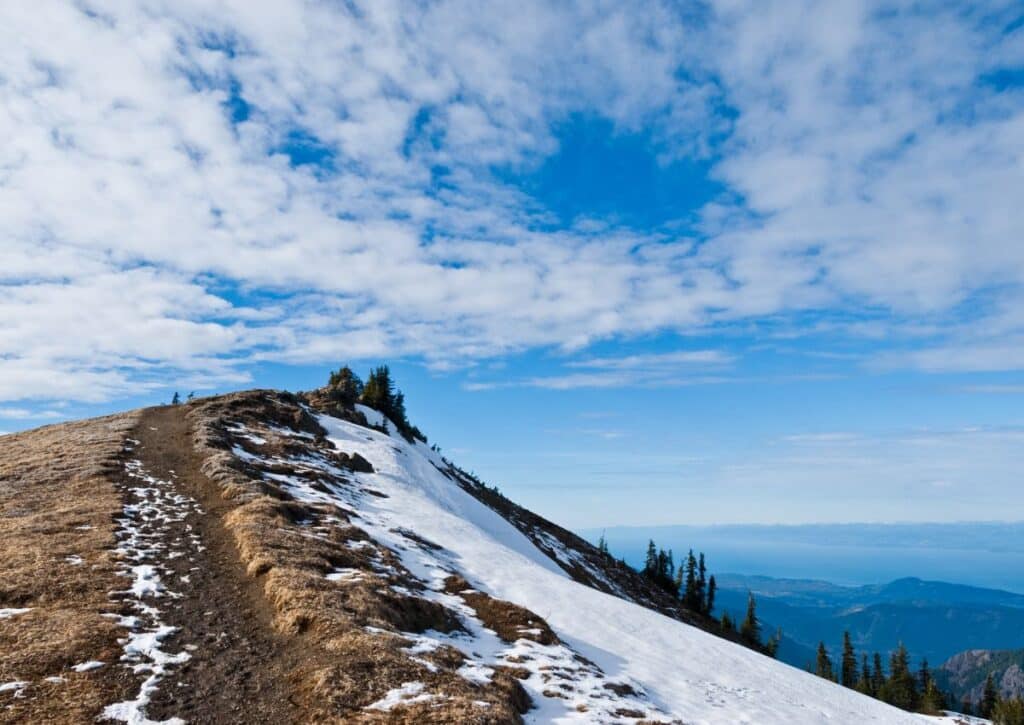 During the summer months, these meadows burst into color with a vibrant display of wildflowers, attracting both photographers and nature enthusiasts. 
The trail also offers an opportunity to spot local wildlife, from marmots sunning on rocks to black-tailed deer grazing in the meadows.
Upon reaching the trail's peak, hikers are rewarded with a 360-degree panoramic view. 
On a clear day, you can see the Olympic Mountain Range in all its glory, with Mount Olympus taking center stage. 
Off to the north, the Strait of Juan de Fuca gleams, with Canada's Vancouver Island forming a distant backdrop.
Though there are some steeper sections, the Hurricane Hill Nature Trail is considered a moderate hike. Proper footwear and water are recommended, especially during warmer days.
Those visiting Olympic National Park looking for a blend of natural beauty, wildlife encounters, and some of the best mountain vistas the park has to offer should not miss out on the Hurricane Hill Nature Trail. 
It encapsulates much of what makes the park a cherished destination.
Quinault Rain Forest
Positioned in the southwestern area of Olympic National Park, the Quinault Rain Forest stands as one of the lesser-known yet equally captivating temperate rainforests of the Pacific Northwest. 
This lush, verdant forest encircles Lake Quinault, providing a rich backdrop for a myriad of recreational activities and hikes.
The Quinault Rain Forest is characterized by its giant trees, many of which rank among the largest of their species.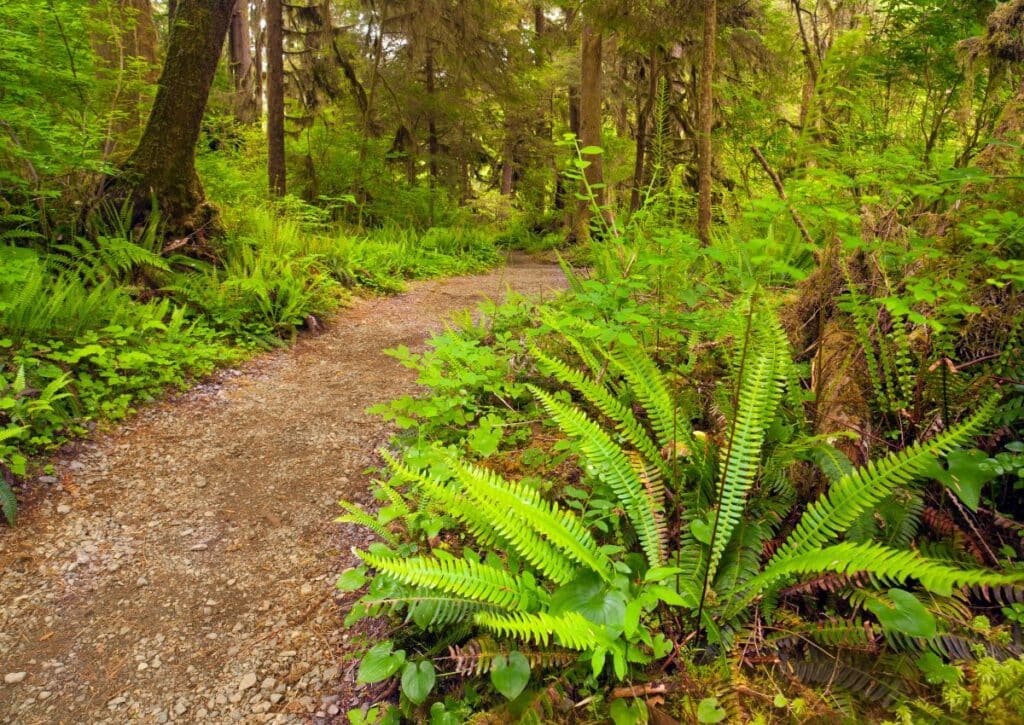 Towering Sitka spruces, massive western red cedars, and ancient Douglas firs dominate the landscape, often draped in thick layers of moss, creating a scene straight from a storybook. 
With an average annual rainfall exceeding 12 feet, the ecosystem here is teeming with life — from the ferns and mosses blanketing the forest floor to the diverse range of birds and mammals calling this forest home.
Hikers will find a variety of trails to explore within this rainforest, each offering a unique perspective of its beauty. 
The Quinault Loop Trail, a 4-mile journey, is particularly popular, allowing hikers to traverse both dense forest and lakefront areas. 
This trail offers glimpses of cascading waterfalls, serene creeks, and opportunities to spot local wildlife like Roosevelt elk and black bears.
The region's proximity to Lake Quinault further broadens the range of activities available. Beyond hiking, visitors can engage in fishing, kayaking, or simply enjoying a lakeside picnic.
For those venturing to Olympic National Park hoping to discover a rainforest experience off the beaten path, the Quinault Rain Forest is an undoubted gem, offering both tranquility and a rich immersion in one of nature's most unique ecosystems.
Shi Shi Beach 
Located on the wild, rugged coast of the Olympic Peninsula's northwestern tip, Shi Shi Beach stands as a testament to the untouched beauty of Olympic National Park's shoreline. 
Stretching over two miles, this coastal haven is celebrated for its sea stacks, tide pools, and unspoiled sandy expanse, making it an ideal destination for both day hikers and overnight backpackers.
Reaching Shi Shi Beach does require some effort. The hike, starting from the trailhead near Neah Bay, is roughly 8.8 miles one way, taking you through dense coastal forests before revealing the pristine beach. 
The trail is considered moderate, with the forested sections being relatively flat, but the descent to the beach can be a bit challenging, especially during wet conditions.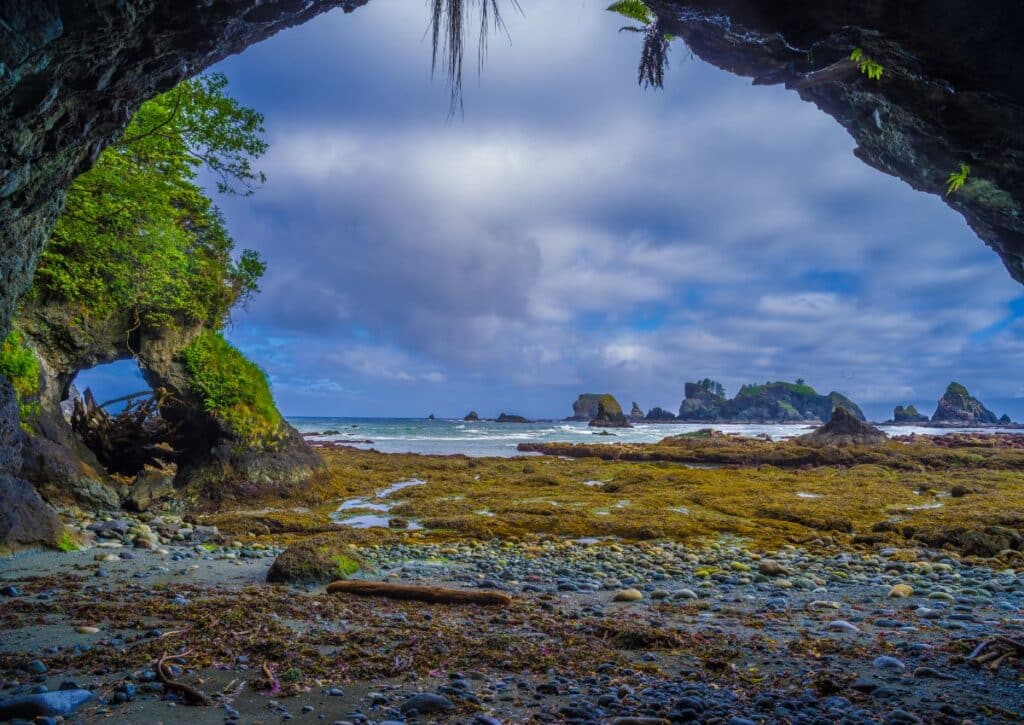 Once on the beach, the sight is nothing short of breathtaking. Towering sea stacks rise from the ocean, acting as guardians of this remote coastline. 
During low tide, a myriad of tide pools becomes accessible, each teeming with marine life such as starfish, anemones, and crabs. The beach itself is a perfect spot to set up camp, with the sound of crashing waves acting as nature's lullaby.
Though Shi Shi Beach is relatively remote, its unmatched beauty draws enthusiasts who seek solitude and a more intimate connection with nature. 
Whether you're planning a day excursion to explore its tide pools or considering an overnight stay beneath the starry skies, Shi Shi Beach promises a profound coastal experience that's hard to replicate elsewhere in Olympic National Park.
Spruce Nature Trail
In the heart of the renowned Hoh Rain Forest within Olympic National Park, the Spruce Nature Trail offers hikers an intimate glimpse into one of the most pristine temperate rainforests in North America. 
This trail, just under 1.2 miles round trip, provides an excellent introduction to the park's lush landscapes, especially for those with limited time or seeking a less strenuous hike.
Beginning near the Hoh Rain Forest Visitor Center, this relatively flat loop trail weaves through a varied ecosystem. 
While the towering spruce trees — the trail's namesake — are certainly a highlight, hikers will also encounter ancient hemlocks, maples draped with epiphytic mosses, and the melodious babble of the Hoh River, which the trail skirts for a section.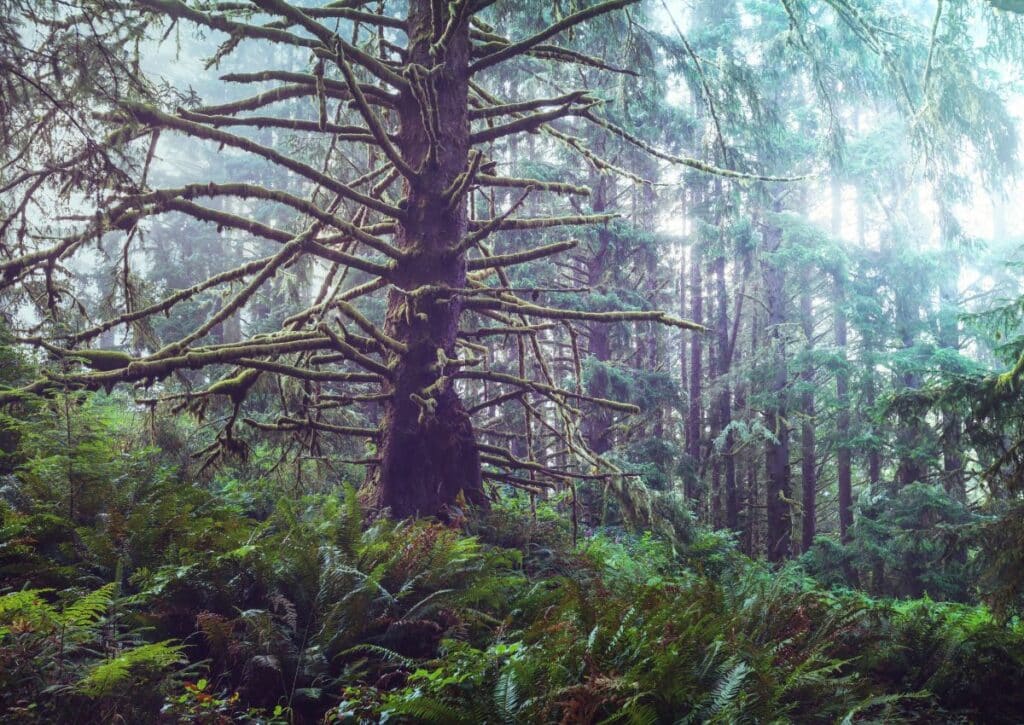 As you navigate the trail, be sure to keep an eye out for the area's rich biodiversity. The dense underbrush and canopy overhead provide shelter for numerous bird species, while Roosevelt elk and black-tailed deer are occasionally spotted grazing nearby.
One of the standout features of the Spruce Nature Trail is its accessibility, making it suitable for families with children and those who may not be seasoned hikers. 
The trail is well-maintained with interpretative signs along the way, offering insights into the ecology and significance of the rainforest environment.
For visitors to Olympic National Park aiming to immerse themselves in the beauty and serenity of the Hoh Rain Forest without embarking on a lengthy trek, the Spruce Nature Trail serves as a perfect choice, encapsulating the essence of this incredible region in a short but rewarding journey.
Hole-in-the-Wall Trail
Situated along the majestic coast of Olympic National Park, the Hole-in-the-Wall Trail is a coastal favorite for those keen on discovering the wild, untouched beauty of Washington's shoreline. 
This trail's primary draw is its namesake rock formation, a distinct sea arch that nature has carved out over millennia, offering a unique window to the roaring Pacific beyond.
Starting from the Rialto Beach parking area, this trail is approximately 3.8 miles round trip. The path is largely flat, making it suitable for hikers of varying abilities.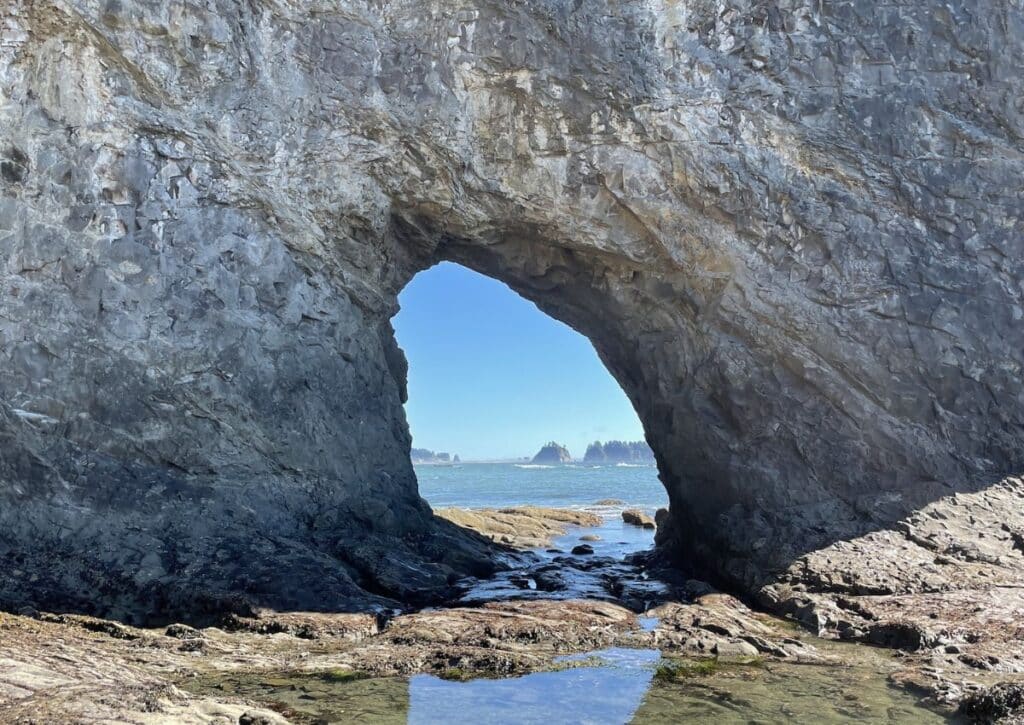 However, trekking along the pebbled beach with occasional driftwood barriers can require careful footwork. 
Hikers should also be mindful of tidal patterns, as certain sections of the beach can become inaccessible during high tide.
As you progress toward Hole-in-the-Wall, the coastal sights and sounds captivate the senses. 
The rhythmic crashing of waves, the call of seabirds overhead, and the distant silhouette of sea stacks create an atmospheric hiking experience. 
Tide pools, rich with marine life like mussels, starfish, and sea anemones, offer interactive breaks during the journey.
Reaching the Hole-in-the-Wall, hikers are met with the impressive rock arch standing as a sentinel against the vast ocean backdrop. 
It's a favored spot for photographs, especially during sunset when the skies paint a vivid palette of colors through the arch.
For those visiting Olympic National Park with a desire to experience its wild coastline firsthand, the Hole-in-the-Wall Trail is a must. 
It provides not just a physical journey along the shore, but also a profound connection to the raw, elemental beauty of the Pacific Northwest coast.
Lover's Lane Loop
Tucked away in the Sol Duc Valley, the Lover's Lane Loop is a 6-mile trail that showcases some of the best features Olympic National Park has to offer. 
This moderately challenging loop offers a well-rounded hiking experience, combining dense forests, serene riverside segments, and striking waterfalls.
Originating at the famed Sol Duc Hot Springs Resort, the loop stretches about 6 miles, making it a moderately lengthy but manageable journey for most hikers. 
The trail's terrain is a mix of well-trodden paths, wooden bridges, and some slightly rocky sections.
One of the highlights of the Lover's Lane Loop is the Sol Duc Falls, a breathtaking three-pronged waterfall that plunges into a deep gorge. 
The thundering roar of the falls and the misty ambiance offer a surreal experience and a great spot for some memorable photography.
Beyond the falls, the trail immerses hikers in a dense canopy of Douglas firs, hemlocks, and cedar trees. 
The forest floor is a tapestry of ferns, mosses, and wildflowers, especially during the spring and early summer. 
The sounds of the Sol Duc River, accompanying you for a significant portion of the hike, add to the serenity.
Though the trail is accessible to most, some elevation changes can provide a mild challenge. 
However, the reward of picturesque landscapes, the comforting embrace of old-growth forests, and the mesmerizing sight of the falls make every step worth it.
For couples, nature enthusiasts, or anyone looking to lose themselves in the untouched beauty of Olympic National Park, the Lover's Lane Loop stands out as a trail that promises not just a hike, but an emotional journey through some of the park's most enchanting terrains.
Ozette Triangle Trail
Situated in the majestic confines of Olympic National Park, the Ozette Triangle Trail provides hikers with a distinctive blend of coastal allure and dense woodland exploration. 
Stretching over a distance of approximately 9.4 miles in a loop format, this trail promises a vivid palette of nature's best offerings.
Your journey commences at the Ozette Ranger Station, an ideal spot to park, gather essential trail information, and prepare for the trek ahead.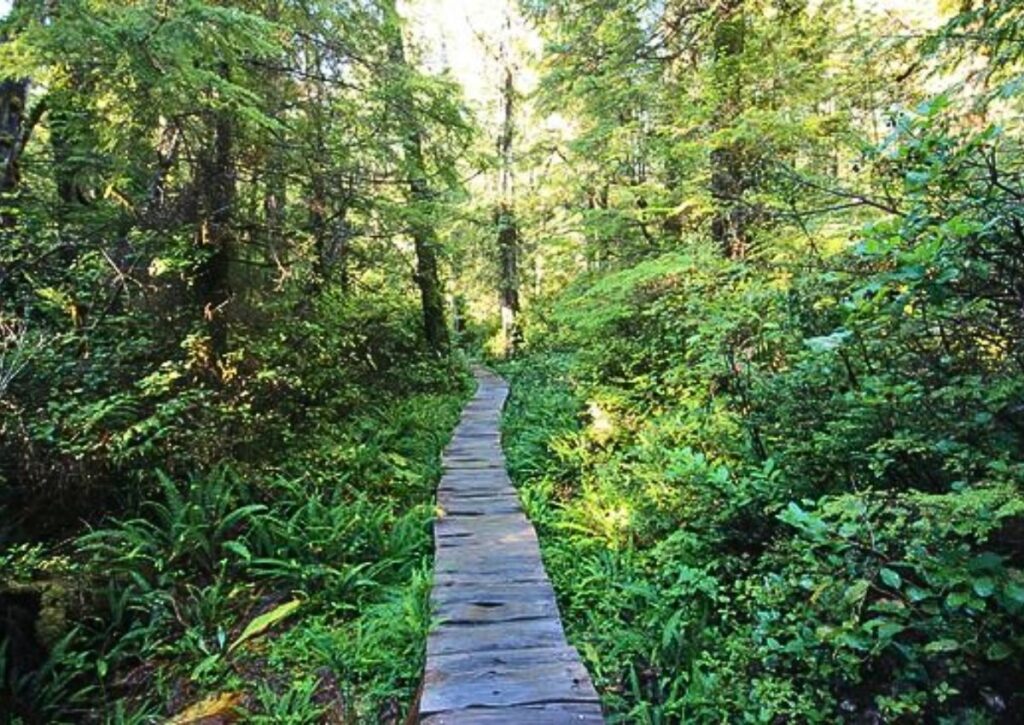 If the coastal section is on your agenda, it's wise to consult the tide tables, as high tides can render parts of the path inaccessible.
The trail's essence can be distilled into two primary segments: the Cape Alava Trail, which winds its way through ancient forests, and the Sand Point Trail, which transitions into a mesmerizing coastal stretch. 
These two segments are seamlessly intertwined by a 3-mile beach trek, laden with marine wonders.
The coastal section undoubtedly stands out as a pinnacle experience. Hikers are treated to expansive sandy beaches, intricately designed tide pools bustling with marine life, and the grandeur of towering sea stacks emerging from the Pacific's depths. 
Each step on this part of the trail resonates with the rhythmic symphony of waves, and it's not uncommon to spot seals, sea lions, or even migrating gray whales in the right seasons.
The forested parts of the trail, predominantly covered in well-maintained boardwalks, envelop you in a serene, green cocoon. Here, ancient sitka spruce and western hemlocks reach skywards, casting dappled sunlight onto the fern-covered forest floor. 
The boardwalks, while offering ease of navigation, can get slippery, especially after rainfall, so caution is advised.
Given the trail's length and diverse terrain, it's recommended to set aside 5-6 hours for a thorough and relaxed exploration. 
Mount Ellinor Trail
Mount Ellinor Trail stands as a testament to the rugged beauty of Olympic National Park, offering hikers a challenging ascent with rewards that are truly unparalleled. 
This trail, known for its steep climbs, also boasts some of the most panoramic views available in the park, making every step worth the effort.
Starting at the lower trailhead, located on Forest Road 014, the journey to Mount Ellinor's peak spans about 6.2 miles round trip. 
Those looking for a shorter but steeper challenge can opt for the upper trailhead, reducing the distance to approximately 3.2 miles round trip. Both trailheads converge partway up, leading to the summit.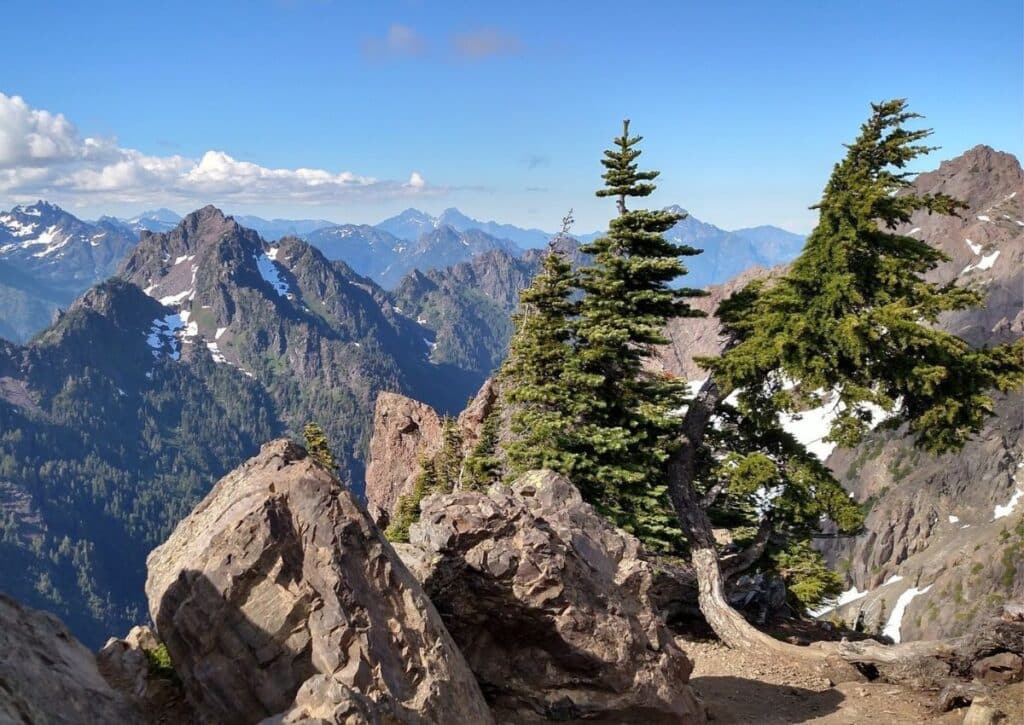 As you navigate the trail, dense forest sections with their verdant canopy initially greet you. The ascent, while steep, allows you to transition from these woodlands to subalpine meadows adorned with seasonal wildflowers. 
As you push further upwards, you'll be welcomed by a rocky terrain that eventually opens up to the summit's spectacular vistas.
The climax of the hike is undoubtedly reaching the peak. Here, an expansive 360-degree view awaits, showcasing the Olympic Mountains, Puget Sound, and on clear days, Mount Rainier standing in all its glory to the east. 
Such sweeping views are complemented by the possible sight of mountain goats, known to frequent the area.
Due to the trail's elevation gain and challenging sections, it's essential to be well-prepared. Sturdy hiking boots, plenty of water, and layers to combat the often windy conditions at the summit are advisable. 
The hike's intensity can vary based on which trailhead you begin at, but regardless of the chosen path, the ascent to Mount Ellinor promises a rich experience filled with breathtaking sights and the fulfilling sense of accomplishment..
Sunrise Ridge Trail
When seeking a moderately challenging hike that unveils the dramatic contrasts of Olympic National Park's landscapes, Sunrise Ridge Trail emerges as an impeccable choice. Winding through a blend of lush forests, meadows sprinkled with wildflowers, and ridgelines offering panoramic views, this trail captivates with every step.
Initiating from the Hurricane Ridge Visitor Center, the Sunrise Ridge Trail is a 5.2 miles round trip hike. The gentle inclines and declines cater to hikers of varying expertise, ensuring the path remains engaging but not overly daunting.
The initial section leads through dense forests, where trees such as Douglas-firs and Western hemlocks create a cool, shaded canopy overhead.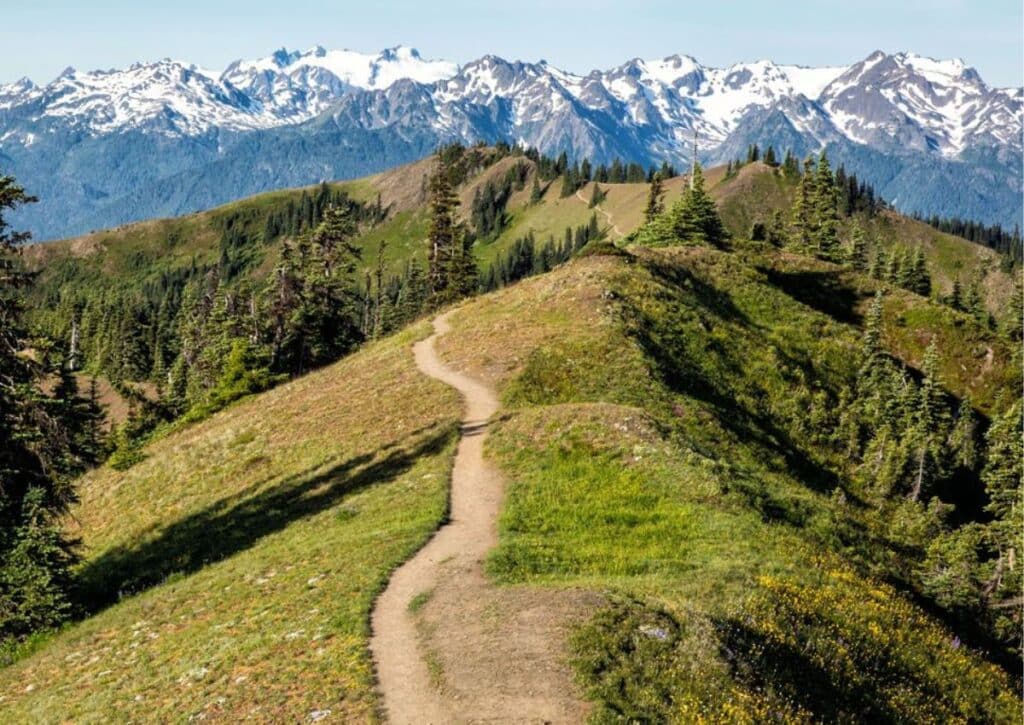 Soon, the trail transitions into the open expanses of subalpine meadows. Depending on the season, these meadows burst into a riot of colors, with wildflowers like lupines, paintbrushes, and asters dotting the landscape.
As you ascend higher onto the ridge, the views become progressively more breathtaking. 
The vantage points here offer a sweeping gaze over the northern Olympics, Strait of Juan de Fuca, and even glimpses of Vancouver Island on clear days. These stunning perspectives serve as a reminder of the grandeur and scale of the landscapes encompassed within Olympic National Park.
While the trail is generally well-maintained, it's worth noting that snow patches might linger in certain areas, especially during the early summer. Good hiking shoes and trekking poles can assist in navigating these sections.
A round trip on the Sunrise Ridge Trail usually takes around 3 to 4 hours, depending on pace and stops for appreciation. 
The trail's blend of forested beauty, open meadows, and unmatched viewpoints makes it a memorable hike, ideal for those looking to savor the myriad facets of Olympic National Park's natural allure.
Klahhane Ridge to Lake Angeles Trail
For hikers desiring a truly transformative experience in Olympic National Park, the trail from Klahhane Ridge to Lake Angeles offers an enthralling journey.
Combining challenging terrains, breathtaking ridge views, and the tranquil beauty of an alpine lake, this hike perfectly epitomizes the diverse wonders of the region.
Originating from the Hurricane Ridge area, the trek to Lake Angeles via Klahhane Ridge extends to about 6.5 miles one way. As you venture forth, be prepared for a robust hike, as the path encompasses both elevation gains and losses.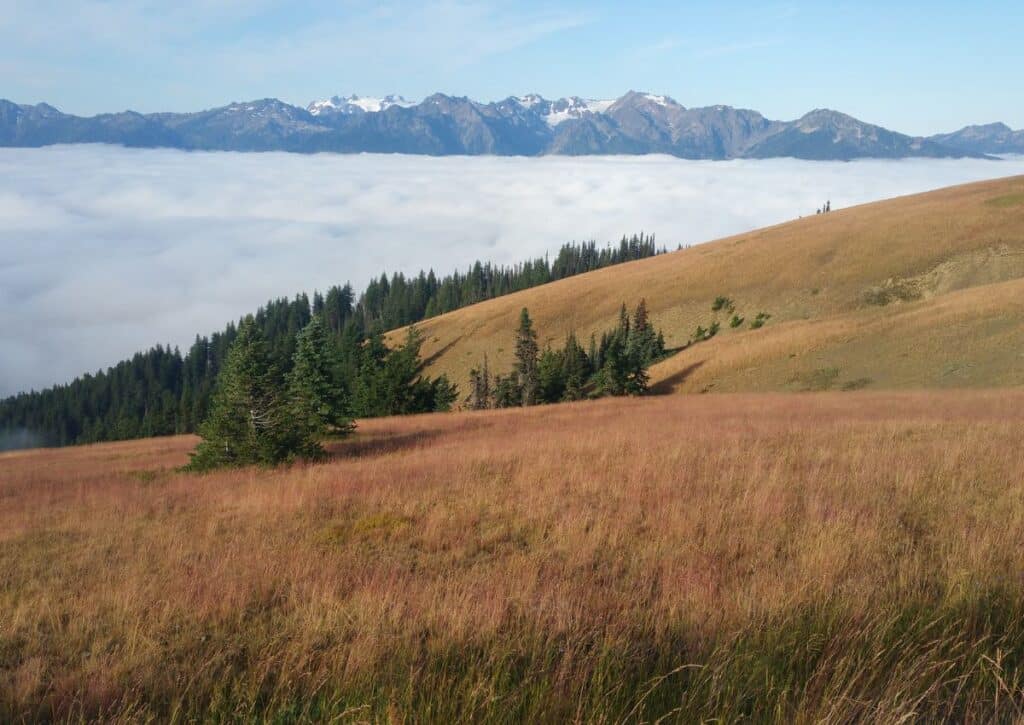 The journey begins by ascending Klahhane Ridge, where every step upward rewards with widening vistas. 
From the ridge, hikers are treated to panoramic views of the Strait of Juan de Fuca, the interior of the Olympic Mountains, and, on fortunate clear days, the distant glimmer of Mount Baker. 
The ridge, adorned with wildflowers during the warmer months, offers not just visual splendors but also potential wildlife encounters, including marmots and black-tailed deer.
Beyond the ridge, the trail descends towards Lake Angeles, an alpine gem nestled amidst the mountains. 
Encircled by steep cliffs and forests, the lake's clear waters provide a serene setting for relaxation, making it an ideal spot to pause, have a snack, and soak in nature's tranquility.
Given the trail's undulating nature, ensure you are equipped with supportive footwear and plenty of water. The entire journey, considering a return trip, can take up to 6-8 hours, so starting early is advisable. 
It's also a good practice to be prepared for variable weather conditions due to the trail's elevation changes.
Klahhane Ridge to Lake Angeles Trail, with its dynamic terrains and awe-inspiring landscapes, stands as a testament to the grandeur of Olympic National Park. 
For both seasoned hikers and enthusiastic beginners, this trail offers an unforgettable experience, painting a comprehensive picture of the park's multifaceted beauty.
Royal Basin Falls 
Situated in the northeastern part of Olympic National Park, the Royal Basin Falls Trail is a true gem for those who love a blend of forested paths and cascading waterfalls.
The trail spans roughly 7 miles one way, leading hikers through dense woods and vibrant meadows before culminating at the stunning Royal Basin Falls.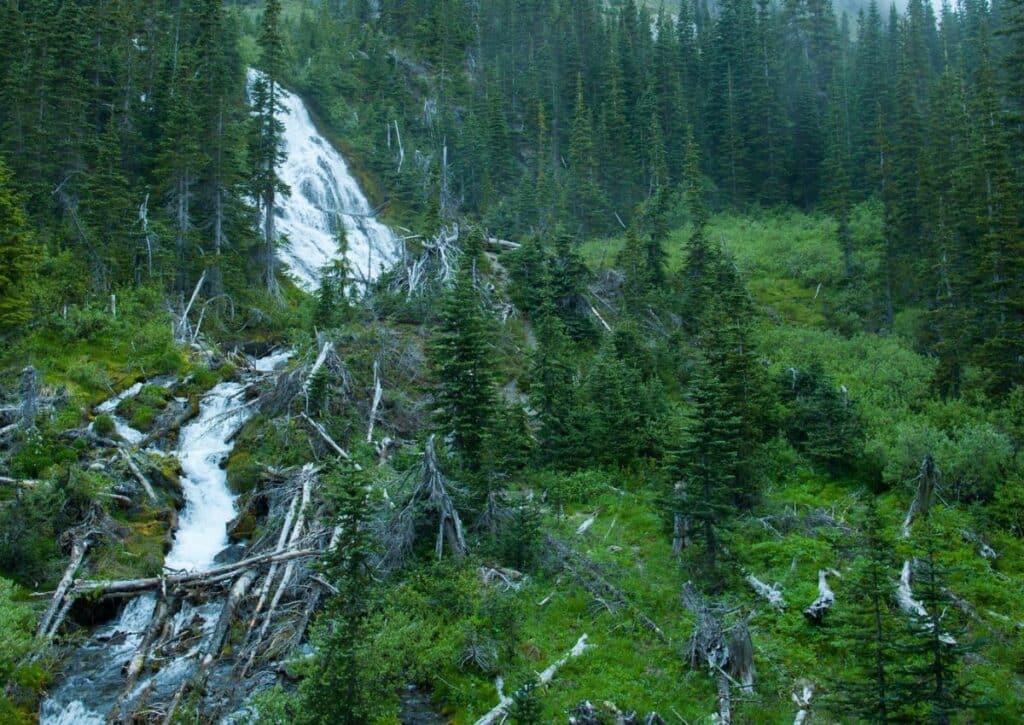 As you progress, the gentle hum of the falls grows louder, guiding you towards its location. Here, the water tumbles over rock terraces, creating a misty spectacle perfect for a mid-hike break.
Those eager for a longer journey can press on to Royal Basin, surrounded by peaks and sparkling tarns.
With a 2,600-foot elevation gain, ensure you wear sturdy boots and carry enough water. This trail, offering both serenity and scenic views, is a delightful way to experience Olympic National Park in a nutshell.
Mount Storm King Trail
If breathtaking vistas and heart-pumping ascents are what you seek, the Mount Storm King Trail in Olympic National Park delivers in spades.
Located near Lake Crescent, this trail offers hikers an intense, yet rewarding climb, culminating in panoramic views that are truly unparalleled.
Covering about 4.2 miles round trip, the Mount Storm King Trail is not for the faint-hearted. The path begins gently enough, weaving through dense forests, but soon takes a steeper turn, challenging hikers with its inclines.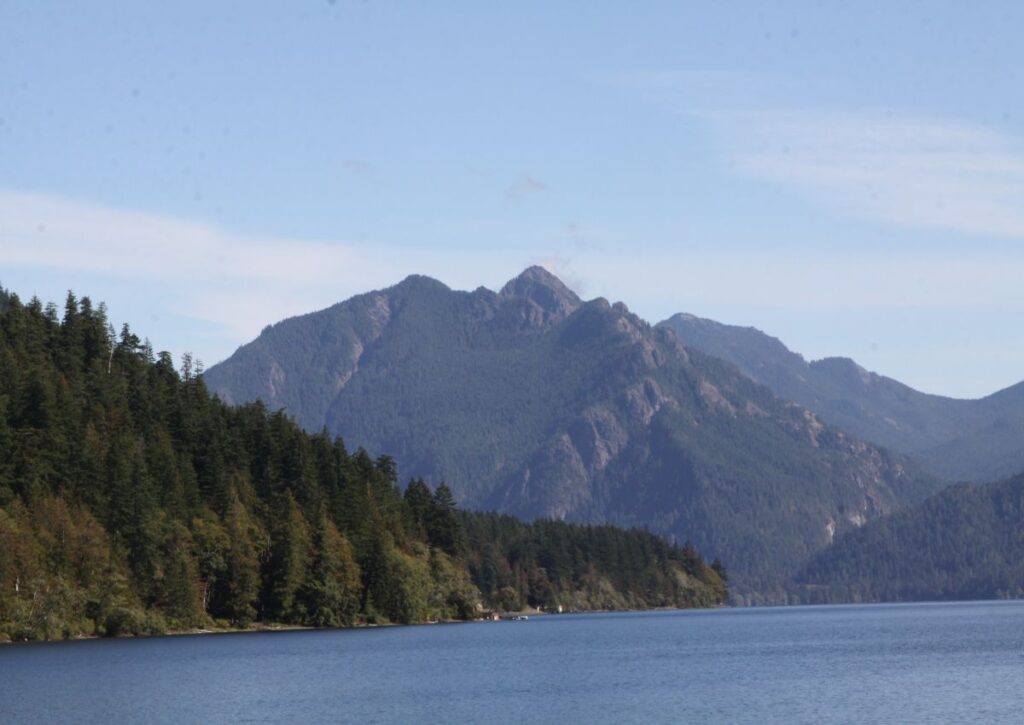 Ropes in the latter section aid in the climb, making certain stretches more accessible.
At the summit, the effort becomes entirely worth it. Sweeping views of Lake Crescent below, set against a backdrop of towering Olympic peaks, offer a visual treat.
The shimmering waters of the lake juxtaposed with the dense greenery of the surrounding forests create a picturesque scene.
Given the trail's challenging nature, it's essential to come prepared. Wear grip-soled hiking shoes, carry ample water, and ensure you're physically prepared for the steep sections.
The Mount Storm King Trail, with its blend of challenge and charm, encapsulates the wild spirit of Olympic National Park, making it a must-try for adventurous souls.
Cape Flattery
For those seeking a mix of coastal beauty and an easily navigable trail, the Cape Flattery Trail in Olympic National Park is the perfect destination.
Situated at the northwestern-most point of the contiguous U.S., this trail is a gateway to where the Pacific Ocean meets the Strait of Juan de Fuca.
The trail spans a mere 1.5 miles round trip, making it accessible for most hikers. It's a well-maintained path, with boardwalks and steps aiding in wetter sections.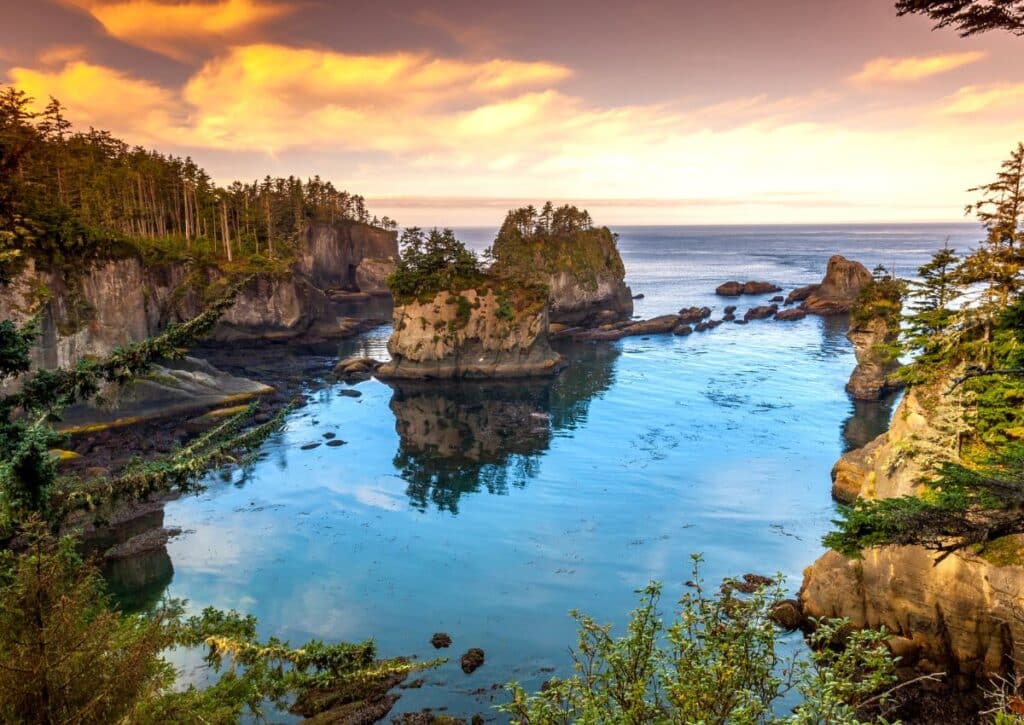 As you walk, the salty sea breeze accompanies you, with the distant roar of waves creating a harmonious nature soundtrack.
Once you reach the end of the trail, you're greeted by a series of viewing platforms. From here, the expansive views of sea stacks, tidal pools, and perhaps even a playful sea otter or breaching whale in the waters below are your reward.
On a clear day, you might even spot Tatoosh Island and its iconic lighthouse.
Cape Flattery Trail, though short, offers a unique coastal hiking experience. With its mix of dense forests and oceanic horizons, it serves as a delightful snapshot of the diverse landscapes Olympic National Park boasts. Remember to bring a jacket, as the coastal winds can be quite brisk, and always tread lightly to preserve the area's delicate ecosystems.
Campgrounds in Olympic National Park
Olympic National Park, with its expansive landscapes, offers campers a variety of settings to pitch their tents or park their RVs. 
From coastal areas to dense rainforests and alpine terrains, there's a perfect spot for every type of camper.
Here's a brief overview of some of the park's campgrounds:
Kalaloch Campground
Kalaloch Campground is a coastal gem, stretching along the southern fringes of Olympic National Park and promising campers the symphonic sounds of the Pacific Ocean. 
With 170 sites available, it's one of the larger campgrounds in the park, so you're sure to find a cozy spot, although it's always bustling during the peak seasons.
Traveling with an RV? No worries. Kalaloch is well-prepared to accommodate your mobile abode. While there aren't any hookups, it adds to the rustic charm that many nature enthusiasts yearn for. 
Got pets?, they're welcome too. Just remember to keep them on a leash and always maintain campground etiquette by cleaning up after them.
One of the campground's winning features is its proximity to numerous trails. For a quick, enlightening hike, you can't miss the Kalaloch Nature Trail that weaves through the coastal environment. 
For those seeking a longer wander, the Beach Trails beckon, leading you directly to where the waves meet the land.
Kalaloch is also an accessible campground. Located just off Highway 101, it's a mere 34 miles south from the town of Forks. So, you won't have any trouble finding it, even if it's your first visit.
While you're there, a visit to the nearby Kalaloch Beach is essential. Known for its picturesque driftwood and intriguing tidal pools, it's a haven for nature lovers. A little further, and you'll reach the iconic Ruby Beach, famed for its towering sea stacks.
If you ever run out of supplies or crave a warm indoor meal, Kalaloch Lodge is just around the corner. But with a host of activities right at the campground—from tide pooling and bird watching to the simple pleasure of beachcombing—you might never feel the urge to leave.
Hoh Campground
Positioned in the heart of Olympic National Park, Hoh Campground is where the mystical aura of the rainforest collides with the primal essence of camping. 
Acting as a base for many who wish to explore the iconic Hoh Rain Forest, this campground offers 88 sites, ensuring an experience that feels both personal and intimate with nature.
For those bringing their RVs along for the journey, Hoh Campground won't disappoint. While it doesn't provide hookups, its spacious sites can comfortably accommodate varying RV sizes. 
If your adventure is accompanied by the pitter-patter of four-legged paws, pets are welcome here, granted they're kept on leashes and treated with the same respect as other campers.
The real charm of Hoh Campground is its unbeatable location. With trailheads like the Hall of Mosses and the Hoh River Trail just a stone's throw away, you're perfectly situated to explore the temperate rainforest and all its mesmerizing beauty. 
Imagine walking amid trees swathed in moss, with a backdrop of birdsong and the distant murmur of the Hoh River – it's nature's orchestra at play.
Reaching the campground is fairly straightforward. Nestled about 18 miles inland from Highway 101, the access road provides scenic glimpses of the forest's depth and diversity. 
Once you set camp, the Hoh River, with its silvery tendrils, is within easy reach, offering opportunities for fishing or simply basking in the serene ambiance.
Beyond the immediate vicinity of the campground, a short drive takes you to Rialto Beach, where rugged coastlines and dramatic sea stacks offer a contrasting landscape to the lushness of the rainforest.
Sol Duc Campground
Tucked within the verdant embrace of Olympic National Park, Sol Duc Campground is an oasis for those yearning for a genuine Pacific Northwest camping experience. The campground hosts a total of 82 sites, with 17 of these specifically designed for RVs. 
These RV spots come with the convenience of water and hookups, ensuring that campers can enjoy the wilderness without forgoing some of the comforts of home.
The vicinity boasts the renowned Sol Duc Hot Springs, a natural retreat that draws visitors from all over. 
After a day spent navigating the park's trails, soaking in these warm waters is the perfect way to rejuvenate.
For campers accompanied by their canine friends, the campground is pet-friendly, provided dogs are leashed. 
An essential trail to explore while staying here is the one leading to Sol Duc Falls. Witnessing the water cascading amidst the backdrop of thick greenery is an experience that remains etched in memory.
The drive to Sol Duc Campground is itself a scenic treat, with roads winding through dense forests and occasionally offering glimpses of the region's vast landscapes. 
For those eager to explore further, the shimmering waters of Lake Crescent are a short drive away, promising more adventures and scenic beauty.
Mora Campground
Mora Campground is one of Olympic National Park's treasures, with 94 sites tucked away in a dense old-growth forest beside the Quillayute River. Only 2 miles from the striking Rialto Beach, it offers a blend of forested retreat and coastal adventure.
If you're looking to pitch a tent or park a campervan, you'll find suitable spots here. While there aren't designated RV hookups, many sites can comfortably accommodate smaller RVs.
For those keen on exploring, the nearby Rialto Beach presents a fantastic opportunity for beachcombing, tide pool exploration, and sunset watching. You can follow the beach north to "Hole-in-the-Wall", a natural arch that offers a spectacular photo opportunity.
Within the campground, a network of trails winds through the old-growth forest, ideal for both short morning strolls or longer hikes. Anglers might find the Quillayute River's calm waters perfect for fishing, while wildlife enthusiasts can keep an eye out for river otters, bald eagles, and other local inhabitants.
Don't forget that pets are welcome here, making it a great spot for families and solo travelers with furry companions. Given its popularity, especially in summer, early reservations are a good idea. And remember, the weather in the area can be unpredictable, so pack accordingly.
In all, Mora Campground is a versatile spot, catering to both relaxation and adventure in the heart of the Pacific Northwest's natural beauty.
Heart O' the Hills Campground
Located just south of Port Angeles at the park's northern entrance, Heart O' the Hills Campground is a favored spot for those venturing into Olympic National Park. 
The campground boasts 105 campsites, surrounded by ancient evergreens, providing a genuine Pacific Northwest atmosphere.
RV campers will find a selection of sites suitable for their vehicles, although there aren't specific RV hookups. 
From the campground, hiking enthusiasts can directly access the Heart O' the Forest Trail, a family-friendly 2-mile round trip. For the more adventurous, the Mount Angeles Trail offers breathtaking views of the Olympic Mountains.
A short drive will take you to Hurricane Ridge, a renowned location in the park for its panoramic mountain vistas. Wildlife watchers might spot deer, marmots, or even the occasional mountain goat.
Pets are welcome at the campground, but they must be on a leash. Given its strategic location and popularity, it's wise to book your spot in advance during peak seasons.
Heart O' the Hills provides an optimal base, whether you're setting out on hiking adventures or seeking a peaceful forest retreat.
Backcountry Adventures in Olympic National Park
Looking for an immersive wilderness experience in Olympic National Park? The park offers an array of backpacking trails that allow adventurers to delve deep into its diverse regions. 
From the elevated expanse of Hurricane Ridge in the north to the rugged Pacific Coastline, from the verdant embrace of temperate rainforests to the pristine aura of the Staircase area, opportunities abound for every backpacking enthusiast.
Before you tie up your hiking boots and strap on your pack, remember to secure a Wilderness Camping Permit. 
This is a must-have for all who wish to spend a night under the stars in Olympic's backcountry, no matter the time of year.
As you venture into the heart of the park, keep a few key principles in mind:
Tread Lightly: Always pack out what you pack in. This means every little bit, from food wrappers to apple cores. Bringing along a dedicated waste bag is a good practice.
Camp Smart: Always aim for established campsites. If they're full or you're charting your path, seek out durable surfaces that can withstand your stay without harming the environment.
Leave No Trace: Olympic National Park's beauty lies in its untouched charm. Be sure not to disturb local flora and fauna. Steer clear of budding vegetation and give wildlife their space. Always aim to leave your camp spot looking like no one ever stayed there.
Your adventures in Olympic's backcountry not only offer personal fulfillment but also a responsibility. By adhering to these guidelines and being a conscientious visitor, you'll be playing a part in ensuring this magnificent national park remains a treasure for the coming ages.
Wildlife Encounters in Olympic National Park
Olympic National Park is a treasure trove of biodiversity. During our visit, it became evident that the park isn't just about mesmerizing landscapes; it's also a haven for some of North America's most intriguing wildlife.
In the heart of the meadows, we spotted the grand Roosevelt Elk, a testament to the park's wild essence. As we meandered through the dense forests, occasional rustles gave away the presence of Black Bears. 
The playful chirps and whistles introduced us to the Olympic Marmot and Yellow-Pine Chipmunk, while the stealthy movements of the Olympic Short-tailed Weasel kept us on our toes.
The water-laden regions of the park were alive with creatures like the Olympic Torrent Salamander.
As we trekked along, it was hard to miss the bright-yellow Banana Slugs inching their way through the underbrush.
The coastal edges of the park were just as rich in encounters. From the frolics of Sea Otters to the distant breaches of Gray Whales and Orcas, the marine life was vibrant and full of surprises. 
Above, the skies were often graced by the regal Bald Eagles, while the deeper forest shadows sometimes hid the elusive Northern Spotted Owl.
Streams teemed with Salmon, and in the more secluded spots, whispers of Mountain Lions added an edge of excitement to our journey. 
In all, every step through Olympic National Park was a step into a world brimming with wildlife wonders.
Leaving thoughts: Know Before You Go
Before embarking on a hiking adventure in Olympic National Park, it's essential to be prepared and have some vital information. 
The park offers various hikes that cater to different skill levels and interests, such as the moss-covered trails of the Hoh Rainforest, the scenic Staircase Rapids Loop, and the enchanting East Fork Quinault River Trail leading to the Enchanted Valley.
When to Visit: The optimal time to visit Olympic National Park for hiking is from late spring to early fall, generally between June to September. 
During these months, the weather is more favorable, and the roads are open. 
However, keep in mind that some higher elevation areas, like Hurricane Ridge, may only be accessible between mid-June to October.
Lodging Options: A few conveniently located lodges in Olympic National Park are Lake Crescent Lodge, which lies near the charming Marymere Falls trail, and Kalaloch Lodge, close to spectacular coastal hikes, like Ruby Beach trail. 
Additionally, Sol Duc Hot Springs Resort provides a relaxing retreat after a long day on the trails.
Hiking Difficulty: Depending on your experience and fitness level, you can choose hikes ranging from easy, like the Hall of Mosses trail, to more challenging ones, such as Mount Ellinor. 
Always assess the difficulty of your chosen hike relative to your group's abilities.
Preparing for the Trails: Even on short hikes, be ready for changing weather. It's important to bring appropriate gear, such as rainwear, extra layers of clothing, food, and water. 
For a more comfortable trek, pack lightly, bringing only essential items.
Leave No Trace: To help preserve the park's pristine environment, use Leave No Trace techniques during your visit. 
Make use of pit toilets when available and avoid disturbing any plants, such as delicate mosses. Lastly, ensure you pack out all trash and leave the park as you found it.
Remember, with a bit of planning and preparation, you can make your hiking experience in Olympic National Park enjoyable, safe, and memorable.
Frequently Asked Questions
What are the top easy hikes in Hurricane Ridge?
Hurricane Ridge offers a variety of easy hiking options for visitors. One popular choice is the Hurricane Hill Trail, a 3.4-mile round trip hike with stunning views. The trailhead starts 1.5 miles beyond the Hurricane Ridge Visitor's Center in Olympic National Park. This hike takes about 1 hour and 50 minutes to complete and is wheelchair-friendly, making it accessible for a range of abilities.
Which are the best lake hikes in the park?
Olympic National Park boasts several picturesque lake hikes suitable for different skill levels. For a shorter hike, consider visiting Lake Crescent, known for its clear, deep blue waters. For a more challenging adventure, the trail to Lena Lake offers a moderate 7.2-mile round trip hike through lush forests and ends at the serene lake, perfect for a picnic or rest.
Can you recommend an ocean hike in the area?
For an ocean hike, try the beautiful coastal trails at Rialto Beach. These trails offer stunning views of the Pacific Ocean, rocky beaches, and possibly some sea life sightings along the way. Make sure to check the tide charts before you go, as certain stretches of the trail may be inaccessible during high tides. Additionally, always carry extra layers in case of changeable weather.
What are some popular camping spots?
Olympic National Park offers various camping options, from backcountry sites to more developed campgrounds. Some popular campgrounds include the Hoh Rainforest Campground, the Sol Duc Campground, and the Kalaloch Campground. Reservations for these campgrounds are highly recommended, especially during the peak summer season.
Are there any must-do hikes in the park?
Olympic National Park has numerous must-do hikes that cater to different interests and fitness levels. For those seeking rainforest adventures, the Hoh River Trail is a popular choice. The trail traverses through the dense Hoh Rainforest and features various trail lengths, with some options reaching up to 17.4 miles. For waterfall enthusiasts, the scenic Marymere Falls Trail takes hikers on a 1.8-mile round trip journey to a stunning 90-foot waterfall.
Where can I find hot springs in Olympic National Park?
The Sol Duc Hot Springs are a popular destination within Olympic National Park. The hot springs resort offers three mineral pools and one freshwater pool, all surrounded by lush forests. The resort also has lodging and dining facilities, making it an ideal stop for visitors seeking relaxation and rejuvenation. The nearby Sol Duc Falls Trail leads to a beautiful waterfall, adding to the overall experience of the area.