The journey from Spokane to Glacier National Park is a road trip dream for many, like us. Now it's an annual ritual which we enjoy more and more every year! 
Perched within the mysterious and beautiful Pacific Northwest, this route promises a harmonious blend of urban allure and captivating natural splendor.
Starting in Spokane, the city buzzes with a unique mix of urban charm and cultural attractions. From its lively downtown to historical landmarks, there's a lot to see. But as you venture out, the city's skyline slowly gives way to nature's splendor. 
The journey soon introduces you to the serene shores of Coeur d'Alene, the historical essence of Wallace, and the verdant expanses of Lolo National Forest. 
Each location offers a unique opportunity, whether it's for a lakeside picnic, a history-filled stroll, or a hike through dense forests.
The crescendo of this journey is, of course, the majestic Glacier National Park. 
A haven for nature enthusiasts, the park offers vistas and experiences that stay etched in memory long after the journey ends.
Yet, with so many attractions sprinkled along the way, how does one prioritize? 
This guide aims to simplify that conundrum, offering a clear roadmap for the enthusiastic traveler. 
Dive in, and set the stage for an adventure that promises a wealth of cherished memories.
The Route from Spokane to Glacier National Park we Take 
If you're eager to journey from Spokane to Glacier National Park, the scenic drive through diverse landscapes will be a treat for the senses. 
It's essential to be equipped with a comprehensive understanding of the route in terms of distance and duration to ensure a seamless experience.
Distance and Duration
From the urban heart of Spokane, the route to Glacier National Park takes you on a journey spanning approximately 275 miles, primarily through Interstate 90 and then connecting through various Montana highways.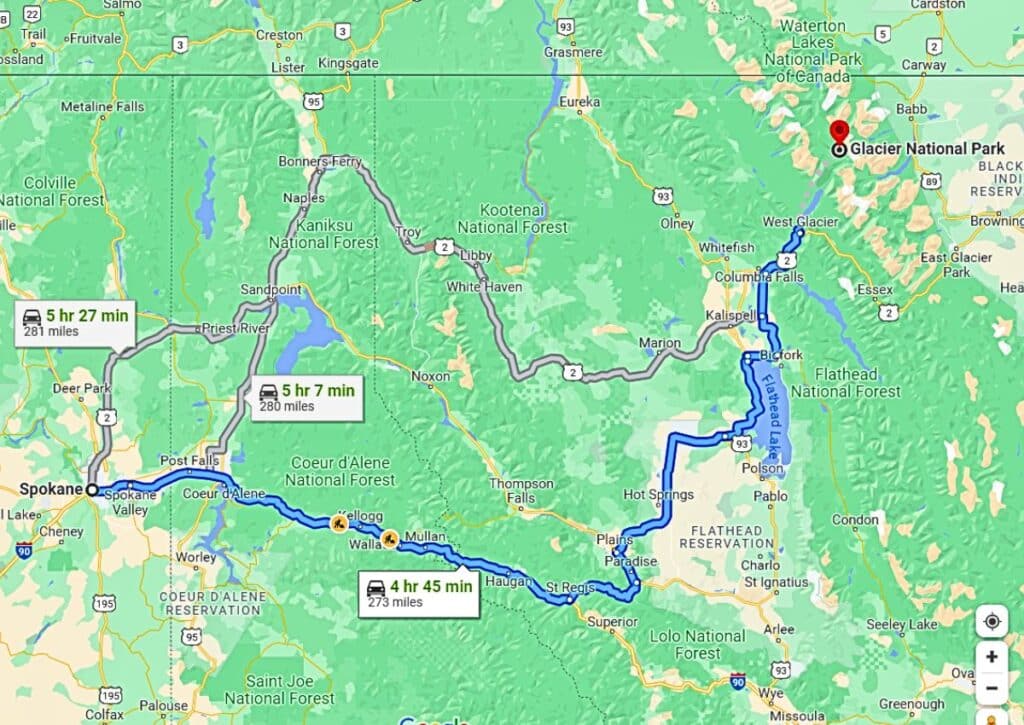 Beginning in Spokane, hop onto I-90 E. This stretch is the longest uninterrupted portion, and after traveling around 126 miles, you'll exit onto MT-135 W in Mineral County. 
Meandering for approximately 21.5 miles, a left turn will then usher you onto MT-200 W, which you'll traverse for a brief 8.3 miles.
From here, turning right onto Mount Hwy 28 E takes you on a 46.6-mile scenic drive. As you soak in the beauty, you'll then connect to US-93 N, leading you towards Flathead County, a journey of about 26.7 miles. 
Navigating through Montana's landscapes, the route then beckons you to take Montana Hwy 35 W and subsequently Montana Hwy 206, cumulatively covering about 27.7 miles.
Finally, with anticipation building, turn right onto the renowned U.S. Route 2. A mere 16 minutes later, after 14.6 miles, you'll find the entry to your final destination: Glacier National Park, by turning left onto Glacier Rte 1 Rd/Going-to-the-Sun Rd.
In terms of duration, without extended stops, this journey takes around 6 to 7 hours, considering an average speed and usual road conditions. 
However, the allure of the various landmarks, natural vistas, and potential pitstops means that many travelers spread the journey over a day or even two, to fully appreciate the richness of the region.
While the direct distance and route are straightforward, the treasures along the way transform this drive from Spokane to Glacier National Park into a captivating adventure, worth savoring at every turn.
Suggested detour to Thompson Falls
Travelers en route to Glacier National Park who are keen on discovering lesser-known gems might consider a detour from Plains, Montana, to the scenic town of Thompson Falls. 
A mere stone's throw from Plains along the MT-200, this diversion adds a dash of charm to the journey.
Thompson Falls, named for the cascading waterfalls on the Clark Fork River, offers a delightful backdrop for travelers seeking tranquility. 
These falls, both scenic and serene, provide a great spot for photo enthusiasts or those wishing to enjoy a picnic amidst nature's soundtrack.
The surrounding Thompson Falls State Park further enriches the experience with its forested embrace, beckoning visitors for leisurely walks or a quiet moment of reflection. 
While you're in the area, the town's downtown offers a glimpse into local life, replete with quaint shops, eateries, and the warmth of small-town Montana.
All in all, for those navigating the route from Spokane to Glacier National Park, branching off to Thompson Falls when passing through Plains offers an enriching detour that seamlessly blends nature's beauty with local charm.
12 Stops Between Spokane and Glacier National Park 
From bustling cities to untouched nature, this route offers a captivating tapestry of the Pacific Northwest's highlights. 
Traverse diverse landscapes, soak in the richness of local cultures, and prepare for a journey unlike any other.
Spokane, Washington
Kicking off your adventure in Spokane, you'll find a city where urban vitality meets natural beauty. It's not just a starting point; it's an introduction to the rich tapestry of the Inland Northwest. 
Dive deep into the heart of the city at Riverfront Park, an expansive urban oasis offering sweeping views, walking paths, and the mesmerizing Spokane Falls cascading through downtown.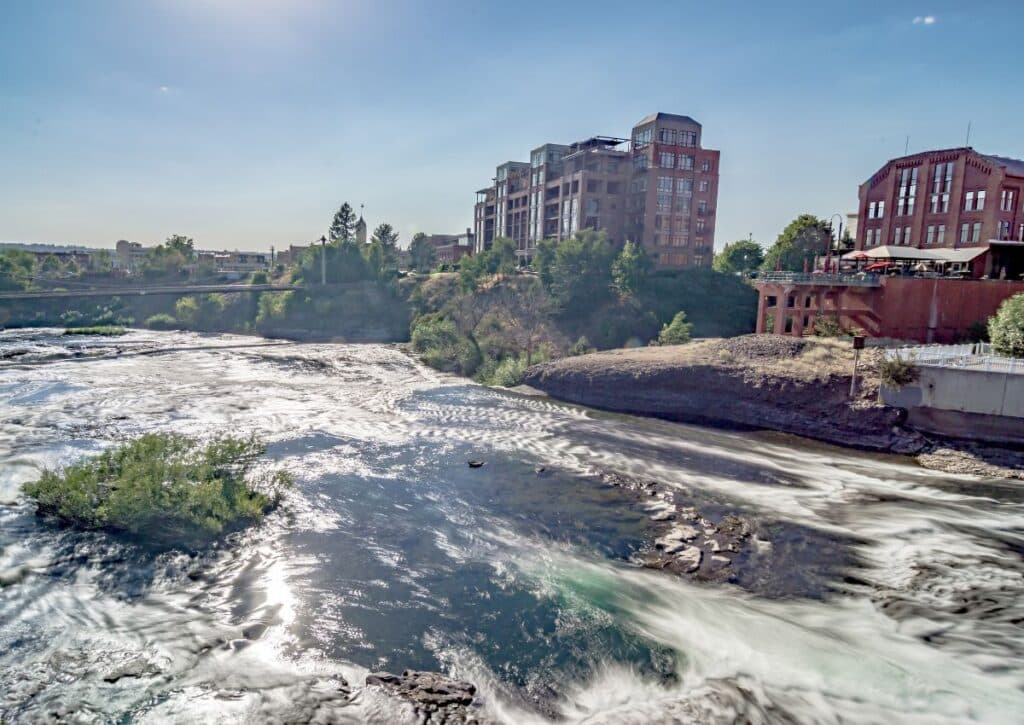 To embrace the area's heritage, a stop at the Northwest Museum of Arts and Culture is essential. It provides a vivid walkthrough of the region's history, art, and indigenous cultures, ensuring a well-rounded beginning to your road trip.
Coeur d'Alene, Idaho
As you journey east from Spokane, the sparkling waters of Lake Coeur d'Alene will greet you—a gem in Idaho's scenic landscape. 
The lake is a haven for boating, fishing, and simply basking in nature's grandeur. 
Adjacent to the lake, Tubbs Hill offers hiking trails with panoramic views, letting you immerse in both forested paths and lakeside ambiances. 
But Coeur d'Alene isn't just about nature. Step back in time at the Old Mission State Park, where the oldest building in Idaho stands. 
The park narrates the tales of Jesuit missionaries and Native American communities, adding a historical dimension to your road trip.
Wallace, Idaho
Wallace, often termed the "Silver Capital of the World," is a quaint town with a deep-rooted mining legacy. 
The Wallace District Mining Museum offers fascinating insights into the town's silver mining past, showcasing artifacts and tales from the era of miners and mules.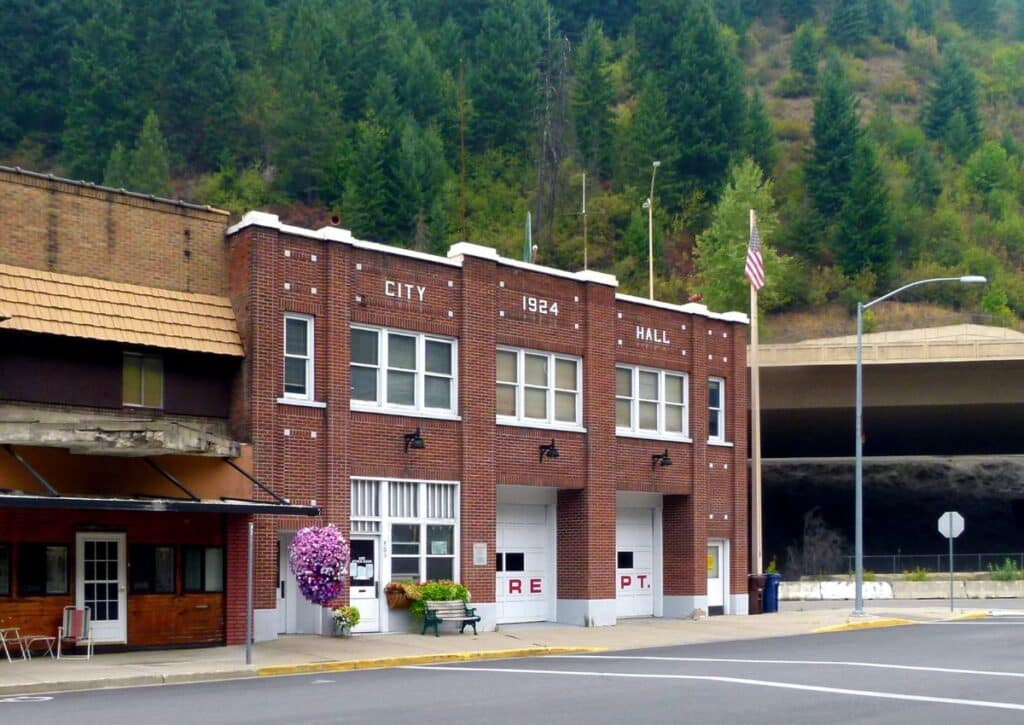 Beyond its mining history, Wallace's downtown area is a preserved relic of a bygone era, with its period architecture and cobblestone streets, making every stroll feel like a journey back in time. 
For those craving a touch of nature, the Pulaski Tunnel Trail offers a serene hike, culminating in a site that pays homage to the brave firefighting efforts of Ed Pulaski during the 1910 Great Fire.
Lolo National Forest, Montana
Lolo National Forest, spanning across Montana's western frontier, is a rich tapestry of ecosystems and landscapes. Within its expanse, numerous hiking trails offer adventures tailored to both casual strollers and seasoned trekkers. 
Among the most renowned is the Maclay Flat Nature Trail, a relatively flat 1.5-mile loop, ideal for families and those keen on birdwatching. 
For the more adventurous, the Blue Mountain National Recreation Trail beckons, stretching over 5.4 miles and offering panoramic views of the Missoula Valley.
Viewpoints dot the forest, with spots like Morrell Lookout granting a sweeping gaze across vast swathes of woodland and rugged terrain. 
This lookout, in particular, gives visitors a unique perspective on how vast and diverse the Lolo ecosystem really is.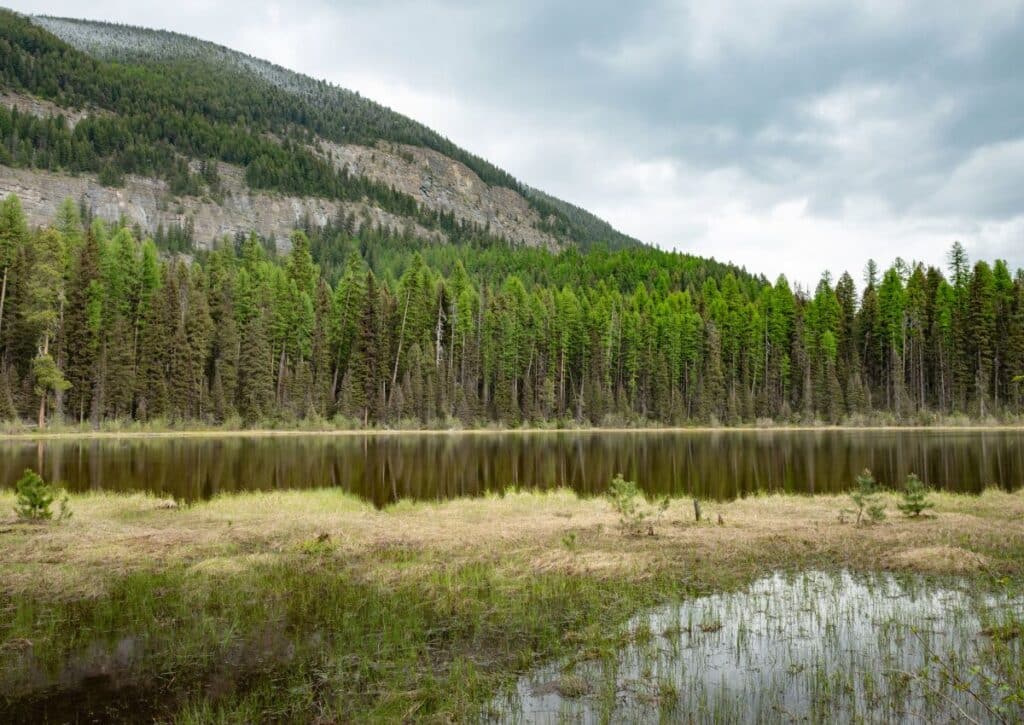 For the angler, the forest's rivers are a paradise, brimming with trout and other freshwater catches. Wildlife aficionados, too, will find the area teeming with opportunities to spot creatures like elk, black bears, and majestic bald eagles.
The promise of relaxation after an active day is fulfilled at the Lolo Hot Springs. Here, the naturally warm waters provide a therapeutic soak, surrounded by the tranquil ambiance of the forest. 
For those desiring a more immersive experience, camping within Lolo's embrace is an unparalleled treat. The night sky, untouched by city lights, brings the Milky Way into sharp relief, turning every evening into a stargazing delight.
Thompson Falls, Montana
Thompson Falls, named for the cascading waterfalls of the Clark Fork River, is a hidden gem in Montana's scenic repertoire. The falls themselves are a mesmerizing spectacle, where nature's power and elegance merge, creating a serene backdrop for visitors.
Adjacent to the falls, the Clark Fork River offers kayakers and canoers gentle serene waters. Other spots are known havens for anglers, teeming with species like rainbow and brown trout.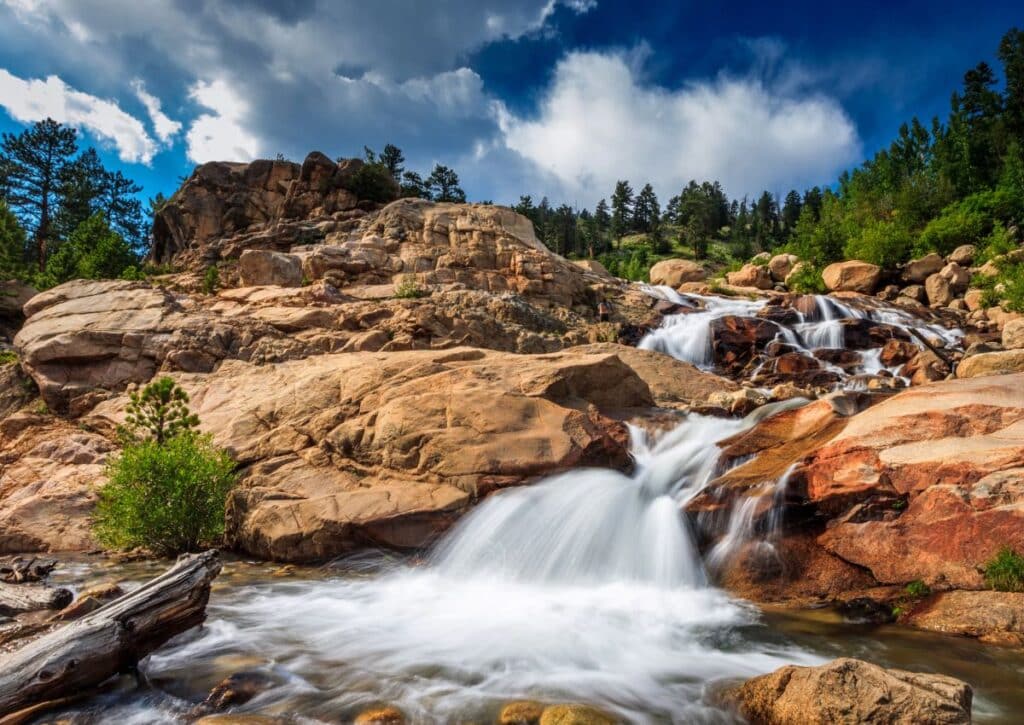 Yet, it's the Thompson Falls State Park that truly captures the essence of this locale. A verdant expanse interspersed with trails, it offers visitors a chance to immerse in Montana's natural beauty. 
Whether you're taking a leisurely stroll, setting up a picnic, or simply soaking in the views, the park is a testament to the untouched splendor of the region. 
Thompson Falls promises a delightful mix of relaxation and activity, making it a must-visit on any Montana itinerary.
Missoula, Montana
Missoula, often termed as the "Garden City" because of its dense trees and lush green landscapes, seamlessly blends urban life with the natural beauty of Montana.
For families and children, the heart of the city holds a special treat: A Carousel for Missoula. 
This hand-carved jewel offers not just rides but a glimpse into the community's dedication to art and craft.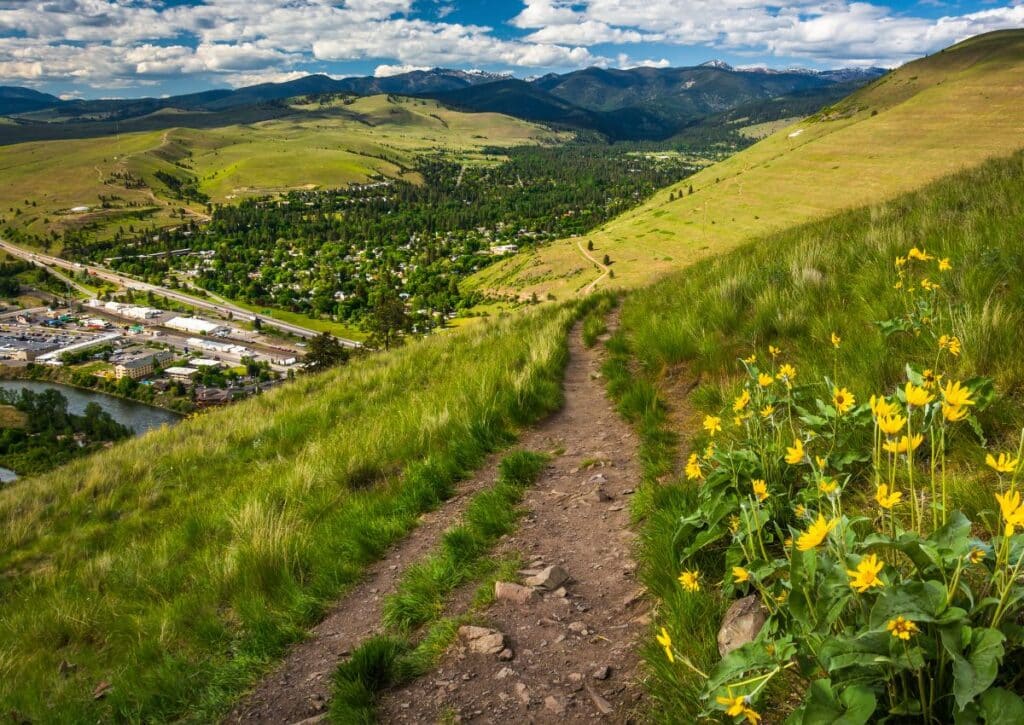 Right next to it, the Dragon Hollow Play Area invites kids with its wooden castle-like structures, making it a haven for imaginative play.
History aficionados would find a treasure trove in the Historic Old Fort Benton. As one of the oldest settlements in the west, it paints a vivid picture of the bygone era, showcasing the region's rich past and its crucial role during the fur trading days.
But it's not just history that Missoula takes pride in. The Missoula Art Museum stands as a testament to the city's thriving contemporary arts scene. 
With a rotating selection of exhibitions, it presents a dynamic array of artworks, emphasizing the talent and creativity that the region continuously fosters. 
Libby, Montana
A small community in the beautiful Kootenai Valley, Libby is a treasure trove for nature lovers and history enthusiasts alike. 
The town offers a tranquil reprieve from the bustling cities, surrounded by majestic mountain ranges and dense forests.
A visit to Libby wouldn't be complete without experiencing the splendor of the Kootenai Falls. These cascading waters, one of Montana's largest undammed falls, are a sight to behold.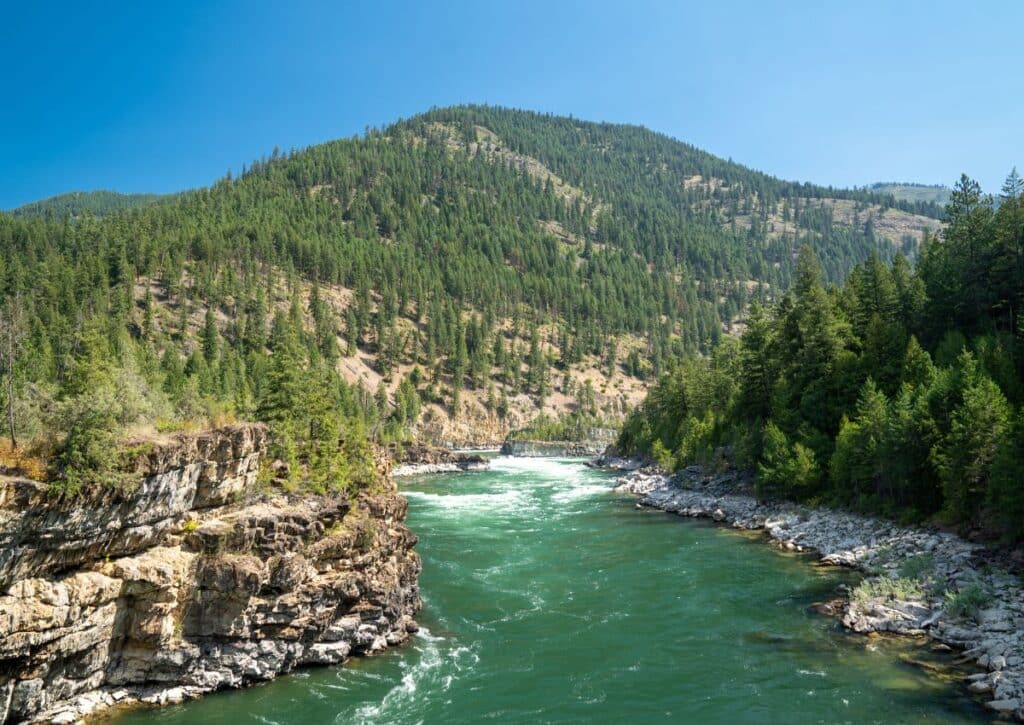 Nearby, the Swinging Bridge offers a thrilling walk across the Kootenai River, providing unparalleled views of the falls and the surrounding rugged terrain. It's both a photographer's dream and an adventurer's delight.
For those keen to delve into Libby's past, the Heritage Museum opens its doors. The exhibits here offer insights into the region's rich history, from the indigenous Kootenai tribes to the logging and mining eras that shaped the town's growth. Authentic artifacts and detailed displays make the past come alive.
Adventure seekers shouldn't miss the Cabinet Mountains Wilderness. This pristine expanse offers a myriad of trails that range from leisurely walks to challenging hikes. 
As you tread along, keep an eye out for the diverse wildlife, from mountain goats to lynxes. With its towering peaks, alpine lakes, and dense forests, the wilderness is a testament to Montana's untamed beauty.
Libby, in all its facets, is a true reflection of Montana's rich heritage and stunning landscapes.
Flathead Lake, Montana
Flathead Lake stands as the largest natural freshwater lake in the western United States. Its crystal-clear waters mirror the vast Montana sky, and its shores are lined with an array of recreational opportunities.
Whether you're keen on sailing, kayaking, or paddleboarding, the expansive waters of Flathead Lake beckon. 
For those looking for a more leisurely experience, boat rides across the shimmering lake offer panoramic views of the surrounding mountains and valleys.
But Flathead Lake isn't just about the water. Its shores are dotted with charming towns, each with its unique flavor.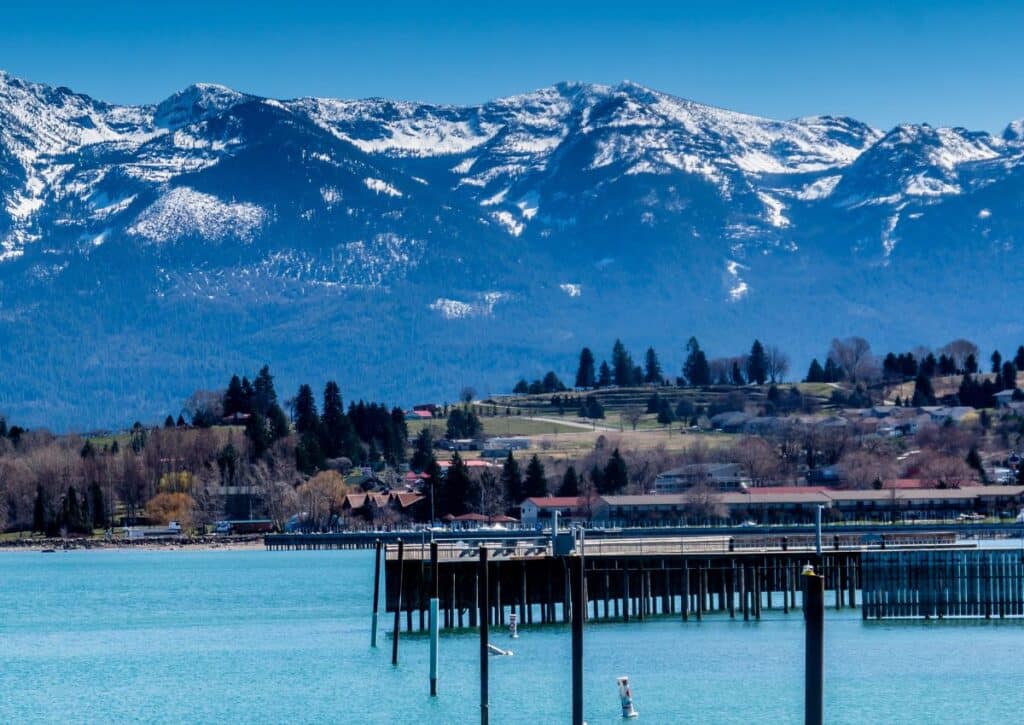 Polson, located at the lake's southern tip, offers incredible vistas from its quaint waterfront park. The town's streets are lined with artisan shops, eateries, and galleries, making it a cultural hub of the region.
Further north, Bigfork lies where the Swan River meets the lake. This picturesque town is known for its vibrant arts scene, with theaters, galleries, and festivals celebrating the local talent. 
As you stroll through its historic downtown, the essence of Montana's heartland becomes palpable. 
Whether it's the allure of water sports, the charm of lakeside towns, or simply the serene beauty, Flathead Lake promises an experience that lingers long after the journey ends.
Kalispell, Montana
As you journey through Montana, a visit to Kalispell stands as a necessary pit stop. 
Strategically positioned, it serves as a gateway to Glacier National Park and is a pivotal point for travelers needing to restock and rejuvenate.
At the heart of Kalispell lies the Conrad Mansion Museum, a testament to the town's rich history. 
This elegant turn-of-the-century home offers a glimpse into the life of the Conrad family, early settlers and town founders.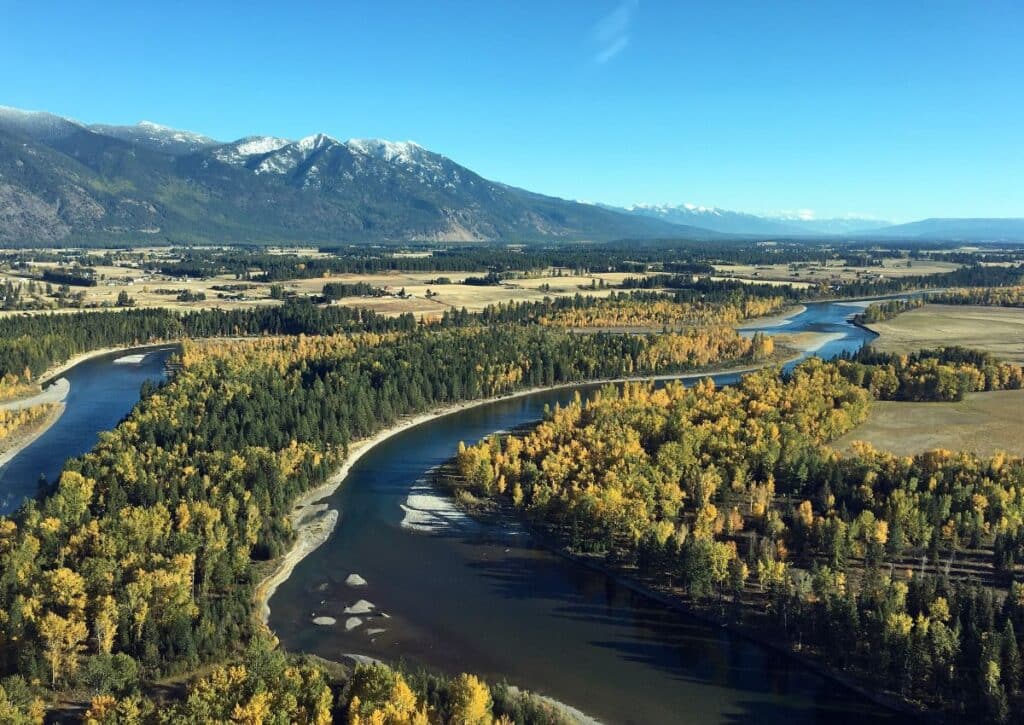 Wander through the beautifully preserved rooms, which still house original furnishings and artworks, and you'll feel transported to another era.
After your historical immersion, downtown Kalispell beckons with its charm. Brick-lined streets host a mix of boutiques, specialty stores, and cozy cafes. 
It's the ideal place to gather supplies for the next leg of your journey or to indulge in some retail therapy. 
As evening approaches, the local eateries come alive, offering everything from traditional Montana fare to international cuisines. 
With its blend of history, shopping, and gastronomy, Kalispell proves to be more than just a convenient stopover—it's a destination in its own right.
Columbia Falls, Montana
Columbia Falls serves as an inviting prelude to Glacier National Park. Beyond its strategic location, the town is a fusion of fun and mystique. 
Delve into the mind-bending realm of the House of Mystery at the Montana Vortex, where reality seems to tilt.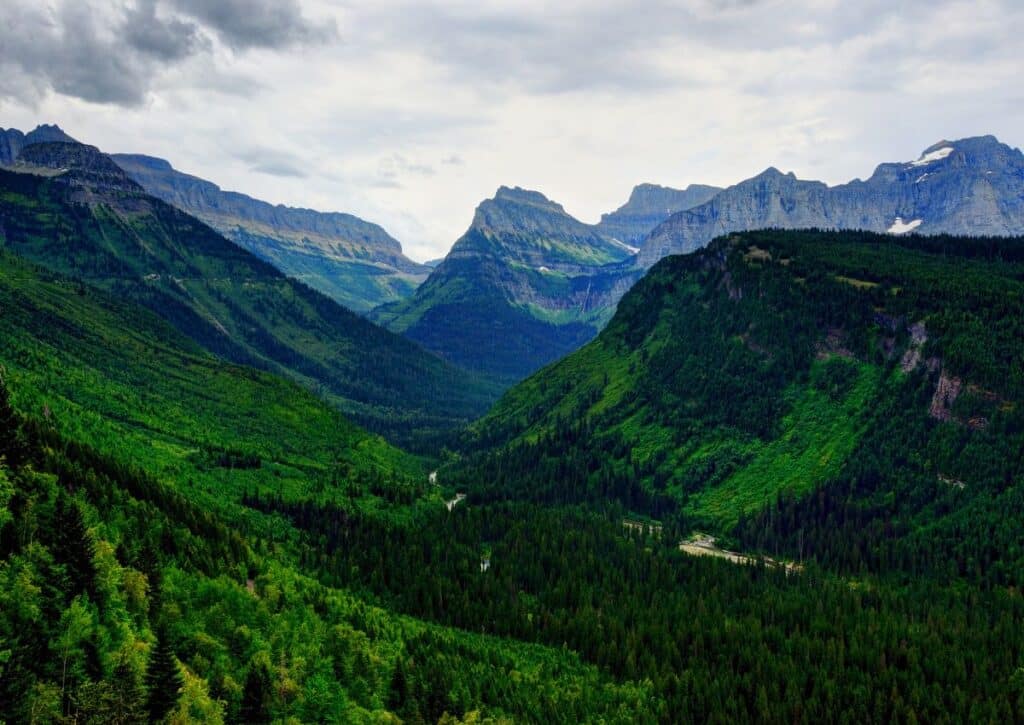 For a change of pace, dive into the water-filled delights of Big Sky Waterpark, offering cool respite and excitement. 
In Columbia Falls, entertainment takes center stage, ensuring visitors are both intrigued and refreshed before they continue on their journey.
Glacier National Park, Montana
Glacier National Park stands as a testament to nature's grandeur and raw beauty. It's the crowning jewel of the Montana landscape, drawing visitors from across the globe. 
One of its unmissable experiences is the iconic Going-to-the-Sun Road, a drive that weaves through the heart of the park, revealing panoramic vistas and picturesque landscapes.
For those yearning for a closer connection to nature, the park offers pristine trails like the Highline Trail, the tranquil surroundings of Hidden Lake, and the challenging but rewarding trek to Grinnell Glacier.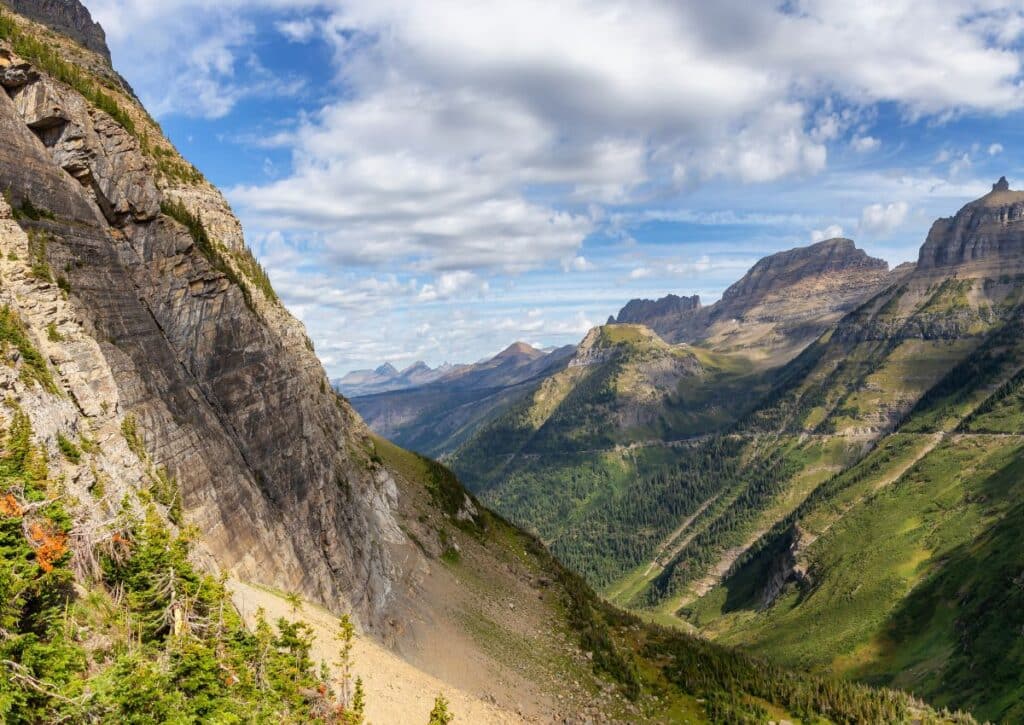 Each hike offers a unique perspective of the park's majestic terrain.
But it's not just the landscapes that captivate. Glacier National Park is a haven for wildlife enthusiasts. 
While hiking, one might be fortunate enough to spot some of the park's residents. Grizzly bears, mountain goats, and elusive lynxes roam its vast expanse. 
The shores of Lake McDonald and the regions around Many Glacier offer serene settings to patiently watch for these creatures.
Our 7-Day Itinerary from Spokane to Glacier National Park
Venturing from the urban charm of Spokane to the rugged beauty of Glacier National Park, this 7-day itinerary ensures you savor every moment. 
Each day is meticulously crafted to balance travel, exploration, and relaxation. 
Dive in and discover what awaits on this unforgettable journey.
Day 1: Spokane to Thompson Falls
Distance: Approximately 135 miles
Morning: Kick off your adventure from Spokane bright and early. Make sure your vehicle is fueled up, and you've got snacks and a playlist ready to set the mood. 
As you leave the city, the landscape will start shifting from urban to natural.
Around 30 miles into your drive, consider your first pit stop at Coeur d'Alene. This charming lakeside town is perfect for a mid-morning stroll. 
Here, you can stretch your legs by the shimmering waters of Lake Coeur d'Alene or perhaps indulge in a quick breakfast at one of the town's quaint cafes.
Afternoon: Post Coeur d'Alene, the drive becomes increasingly scenic. Roll down your windows, breathe in the fresh air, and let the beauty of the route sink in. As you approach the Montana border, the panoramic vistas will hint at the wonders lying ahead in your journey.
By early afternoon, you should be reaching Thompson Falls. After checking into your accommodation, head out to explore.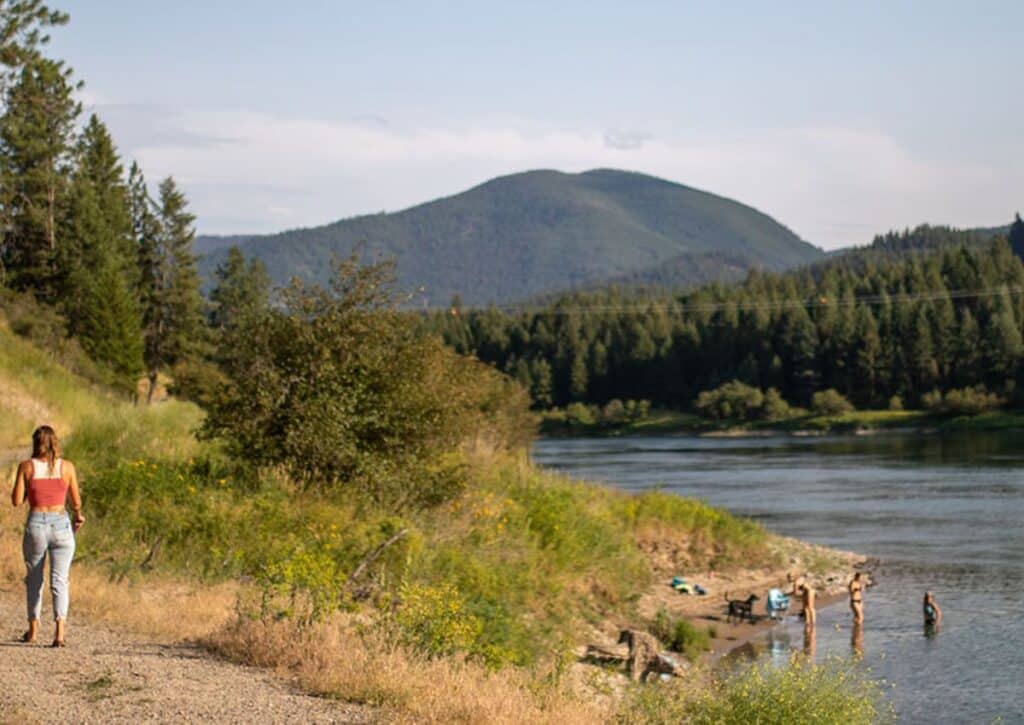 The town is named after the falls on the Clark Fork river, a must-visit. The serene sounds of the cascading waters make for a peaceful retreat. 
If you're up for it, the Thompson Falls State Park is ideal for a late-afternoon hike.
Evening: Dine at one of the local restaurants, sampling regional dishes. As the day winds down, perhaps take a leisurely walk around the town, or if your accommodation offers it, a campfire would be a perfect way to end the day, setting the tone for the days to come.
Tips:
Ensure you have a reliable offline map or GPS, as some stretches might have weak cell reception.
Carry water and some light snacks for the road.
Keep an eye out for wildlife, especially during dawn and dusk when they are most active.
Day 2: Thompson Falls to Glacier National Park
Distance: Approximately 210 miles
Morning in Thompson Falls:
Awaken to the natural splendor of Thompson Falls. If you missed the falls on Day 1, the morning sun illuminates the cascades, making it a serene spot for reflection. 
Breakfast beckons; try a local café or bakery to begin your day with some hearty Montana fare.
Mid-Morning Drive:
With the day ahead, set out mid-morning. The route offers generous views, so keep your camera on standby for those unexpected picturesque moments.
Libby Lunch Stop:
Come noon, the town of Libby greets you. Nestled in the Kootenai Valley, it's a quaint spot to enjoy lunch. Local eateries provide a taste of Montana's heartiness; consider trying their famed pies or sandwiches.
Kootenai Falls Adventure:
Refueled, head to Kootenai Falls. The falls cascade powerfully, and for the brave, the Swinging Bridge offers unparalleled views of the river below.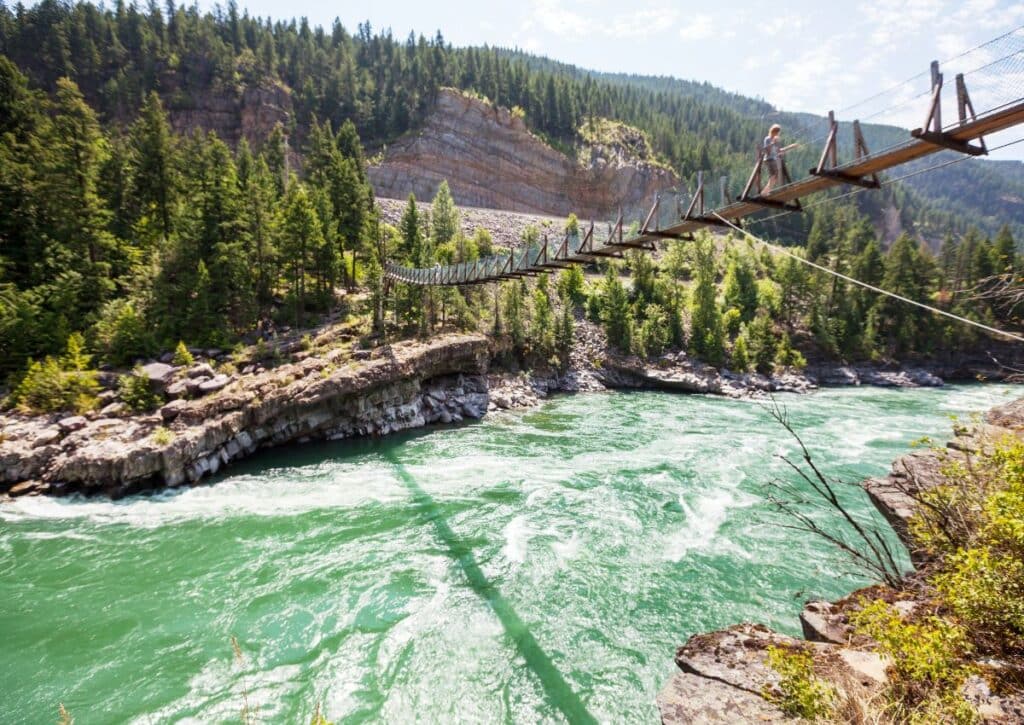 The bridge sways slightly, so it's an adventure in itself!
Towards Glacier National Park:
As you drive closer to Glacier National Park, the landscapes begin to change, with towering mountains framing your view. 
On arriving, set up camp at one of the park's unique campgrounds. If you're looking for a memorable stay, the Apgar Campground is a popular choice, known for its proximity to Lake McDonald and the dense surrounding forest, offering chances for evening wildlife spotting.
Dinner Under the Stars:
Prepare a simple dinner at your campsite, maybe using a portable grill. 
The fresh Montana air combined with local produce creates a memorable outdoor dining experience. 
As the night sets in, enjoy the unparalleled stargazing opportunities the park offers.
Tips:
Research breakfast options in Thompson Falls to find a spot that matches your taste.
The Swinging Bridge might not be for everyone due to its height and movement. Gauge your comfort level before crossing.
Once you've set up at your campground in Glacier, familiarize yourself with nearby trails, amenities, and bear-safe practices. This preparation ensures a smooth and safe adventure the next day.
Day 3: Exploring Glacier National Park
Morning Mystique:
Wake up to the chirping of birds and the gentle rustle of the forest. The unique experience of camping within Glacier National Park ensures you're right in the heart of nature's splendor. 
Start with a hearty camp breakfast: think pancakes, bacon, and some fresh Montana berries if you've got them. The crisp morning air and the scent of pine make for a memorable mealtime.
The Iconic Drive:
Post-breakfast, it's time for the renowned Going-to-the-Sun Road journey. This engineering marvel stretches for about 50 miles and offers some of the most stunning vistas in the park.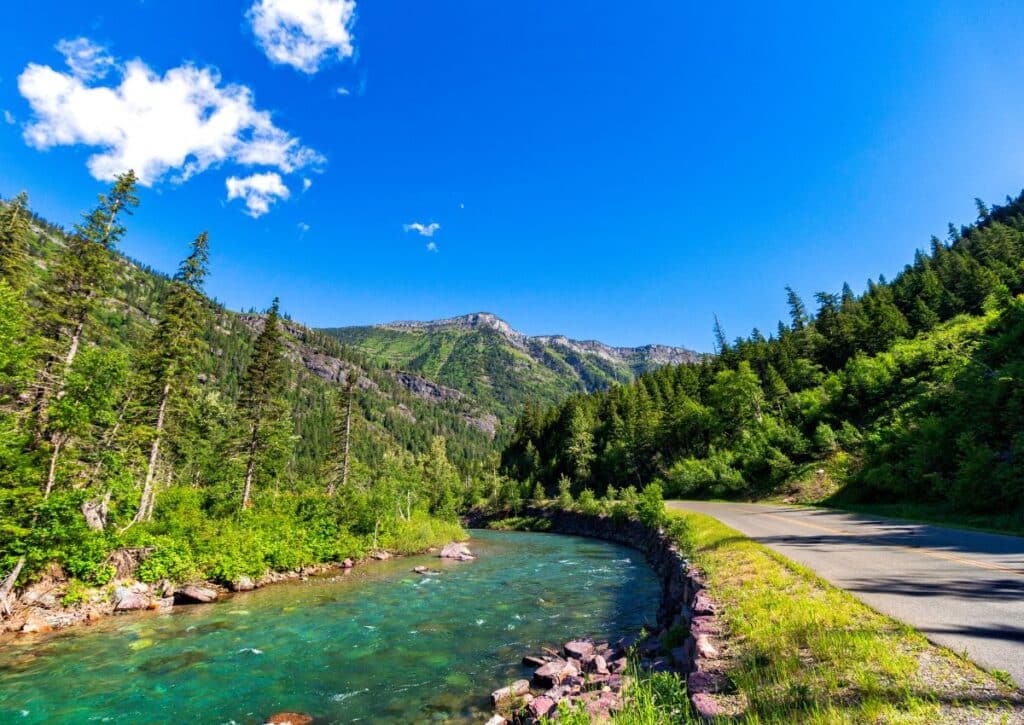 Depending on the time of year, you might spot mountain goats, bighorn sheep, or even the elusive grizzly bear from a safe distance. Remember, the road can get busy, so starting early can give you an advantage.
Midday Hiking:
Choose one of Glacier's standout trails. For a moderately challenging yet incredibly rewarding hike, the Hidden Lake Overlook Trail is a gem. 
Spanning just over 2.7 miles round trip, it provides dazzling views of the lake itself and an array of wildlife—keep an eye out for marmots and moose!
Lunch with a View:
Pack a picnic and enjoy a meal with the backdrop of snow-capped peaks and lush green valleys. 
Remember to adhere to all park regulations regarding food storage to ensure wildlife safety.
Afternoon Relaxation:
Post-lunch, visit the tranquil shores of Lake McDonald. Here, you can relax, skip stones, or even dip your toes in the chilly glacial waters. 
If you're lucky, the calm waters might reflect the surrounding mountains, creating a mirror-like illusion.
Evening Wildlife Watch:
As dusk approaches, the park's fauna becomes more active. Safe spots for wildlife viewing include the Many Glacier area. 
With binoculars in hand, you might spot elk, deer, and if you're fortunate, the swift movements of a lynx or wolverine.
Nightfall Campfire:
Return to your campground as the sky darkens. Set up a campfire (where permitted) and recount the day's adventures with fellow travelers. 
The dance of the flames, combined with Glacier's pristine night sky, wraps up your day in a shroud of magic.
Tips:
Wear layers. Glacier's weather can be unpredictable, with chilly mornings that warm up as the day progresses.
Always maintain a safe distance from wildlife. Their behavior can be unpredictable.
Ensure you have a reliable map and familiarize yourself with trail specifics before embarking on any hike.
Stay eco-conscious: carry a reusable water bottle and ensure you leave no trace behind on your adventures.
Day 4: Immersing in the Beauty of Glacier National Park
Morning – Breaking Camp at Apgar:
Wake up to the tranquil sounds of nature at Apgar Campground, one of Glacier National Park's most popular spots. 
As you pack up your camp, soak in the early morning views of Lake McDonald shimmering under the first light. 
Don't forget to follow Leave No Trace principles; keep this gem pristine for future visitors.
Mid-Morning – Water Adventures at Many Glacier:
Drive towards Many Glacier, a hotspot for glacial lakes and towering peaks. 
Here, opt for a boat tour to experience the park's wonders from the water or rent a kayak for a more intimate encounter with nature. 
Glide on pristine waters, surrounded by the majestic Rockies.
Lunchtime – Refuel:
After your water escapades, set up a picnic spot with views of the glacial waters. Fuel up, rest your muscles, and prepare for the afternoon's hiking adventures.
Afternoon – Iconic Trails of Glacier:
Tighten those hiking boots and embark on some of the park's iconic trails:
Highline Trail: Starting at Logan Pass, this 11.8-mile round-trip trail takes hikers alongside the breathtaking Garden Wall ridge.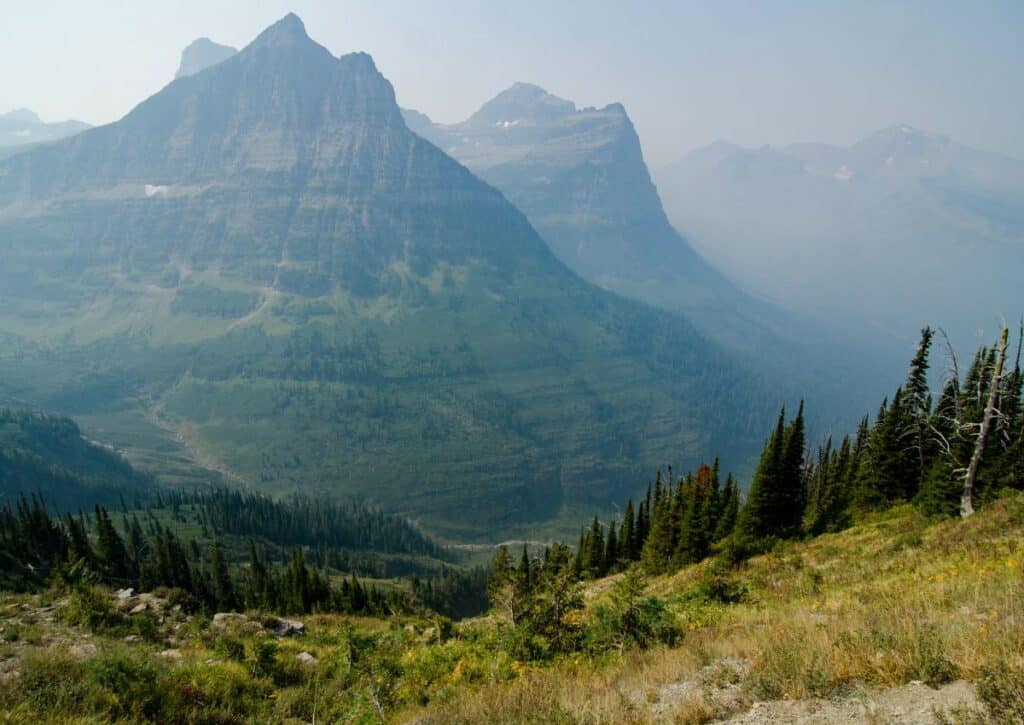 Moderate in difficulty, the trail promises panoramic vistas.
Grinnell Glacier Trail: Covering about 10.6 miles, this trail offers a close encounter with the glacier, passing by cascading waterfalls and colorful wildflower meadows. 
It's a steeper trail, so ensure you're hydrated and well-prepared.
Late Afternoon – Wildlife Encounters:
The park is teeming with life, and as the day mellows, it's your best shot to witness its wildlife. 
From majestic mountain goats to the occasional black bear, these encounters are both humbling and thrilling. 
Always maintain a safe distance and have your bear spray at the ready.
Evening – Return to Many Glacier:
After a day rich in experiences, head back to the Many Glacier area. 
The ambiance, especially during the golden hour, offers tranquility and is an ideal setting to reminisce about the day's escapades.
Night Under the Stars:
Set up camp again, this time at Many Glacier Campground, renowned for its accessibility to trails and lakes. 
As night descends, the starlit sky becomes your canopy, the sounds of Glacier's wildlife your night's melody.
Remember:
Trail conditions can vary; always check updates at ranger stations or online.
Respect and maintain distance from wildlife.
Carry essentials: bear spray, adequate water, snacks, map, first-aid kit, and layered clothing.
Day 5: Glacier's Last Hurrah and the Tranquility of Flathead Lake
Morning – Last Dip into Glacier National Park:
There's always more to see in Glacier National Park. Use the morning to explore any trails or viewpoints you missed. 
Consider the shorter but awe-inspiring Trail of the Cedars, a 1-mile loop through ancient trees, or perhaps take a gentle stroll around Swiftcurrent Lake, soaking in the reflection of surrounding mountains.
Lunch – Farewell to Glacier:
Pack a hearty lunch and find a scenic spot in the park, allowing you to bid adieu to Glacier's beauty. 
Revel in the memories made, and recharge for the next part of your adventure.
Early Afternoon – Drive to Flathead Lake:
Commence your journey south to Flathead Lake. The drive, approximately 50 miles, is a blend of serene landscapes and forested areas. 
You'll also pass through towns like Kalispell where you can restock any essentials.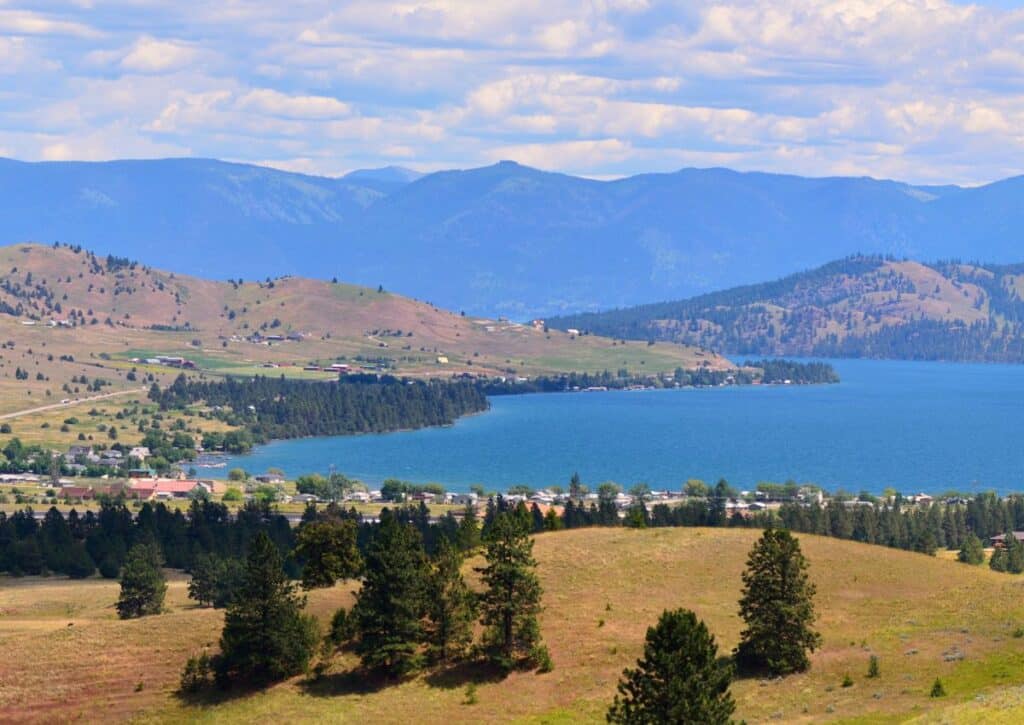 Late Afternoon – Flathead Lake's Beauty:
As the vast expanse of Flathead Lake comes into view, you'll understand its allure. 
Renowned as the largest natural freshwater lake west of the Mississippi, its shimmering waters beckon. 
Engage in water activities like kayaking or paddleboarding. If you prefer, simply unwind at a lakeside spot, book in hand.
Sunset – A Flathead Finale:
The sun setting over Flathead Lake offers a spectacle of colors – golds, purples, and pinks dancing on the water's surface. Capture these moments with your camera or just in your heart. It's the perfect backdrop to reflect on your journey thus far.
Night – Camping by the Lake:
Set up camp at one of the designated campgrounds around Flathead Lake, like Wayfarers State Park. 
Let the gentle lapping of the waters lull you to sleep as you dream about the day's explorations and the adventures yet to come.
Tip: Always check the availability and conditions of campgrounds beforehand, especially during peak seasons.
Day 6: Wonders of Flathead National Forest
Morning – Dawn's Early Light:
Wake up to the serene beauty of Flathead Lake and energize with a hearty breakfast. 
As the morning mist lifts, prepare to venture into the heart of Flathead National Forest. 
With over 2.4 million acres, it's a treasure trove of natural wonders.
Hiking the Trails:
Flathead National Forest offers trails ranging from easy strolls to challenging hikes. 
Consider the Danny On Trail, which is about 3.8 miles round-trip, taking you up Big Mountain for panoramic views. 
If you're looking for a more leisurely trek, Swan River Nature Trail offers a gentle 2-mile path along the river's edge.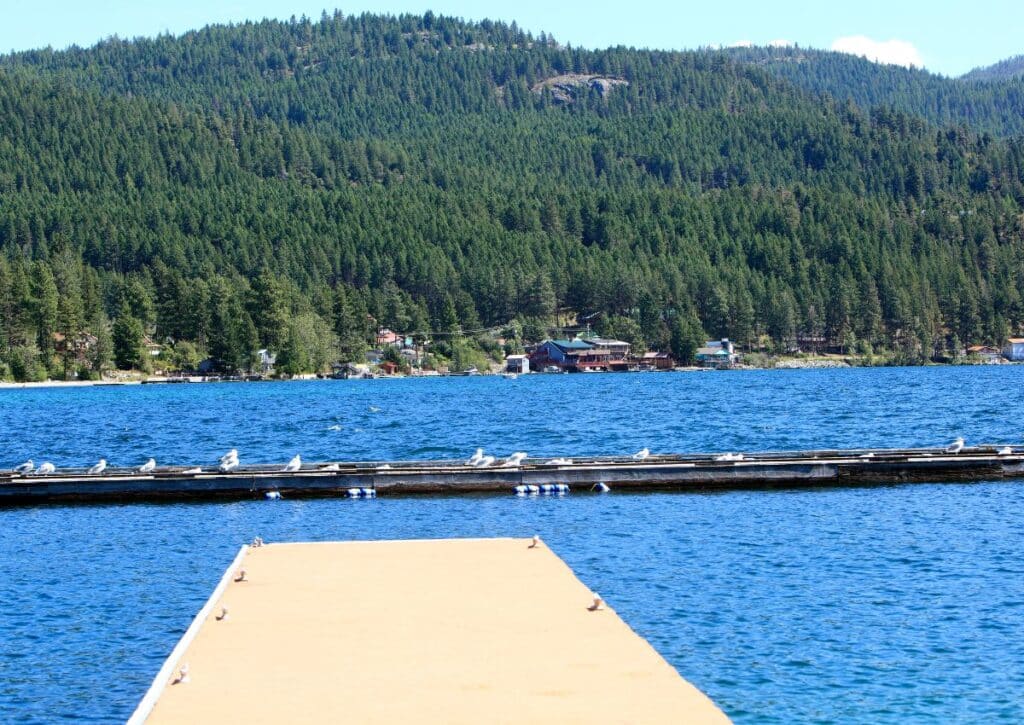 Midday – Fishing and Relaxing:
With numerous lakes and rivers in the forest, it's a fisherman's dream. Cast your line into pristine waters and hope for a tug from trout or whitefish. 
Even if fishing isn't your thing, the water bodies offer peaceful spots for lunch and relaxation.
Afternoon – Flora and Fauna:
As you explore further, keep an eye out for the diverse wildlife – from black bears and mountain lions to bald eagles and ospreys. 
The forest is also home to a variety of plants, including western larch, ponderosa pine, and vibrant wildflowers in spring and summer.
Evening – Camping Amidst Wilderness:
Settle at one of the many campgrounds within the forest. Hungry Horse Reservoir provides scenic campsites. 
As the night falls, gather around a campfire, share tales of the day's adventures, and plan for your final day on this memorable journey.
Note: Always maintain a safe distance from wildlife, ensuring their habitat is respected. And remember, a Forest Service map or GPS is invaluable when navigating the vast expanse of the national forest.
Day 7: Homeward Bound to Spokane
Morning – Farewell to Flathead:
Begin your day with a rejuvenating walk around the Flathead Lake area, soaking in the tranquil vistas for one last time. 
After a nourishing breakfast, pack up and prepare for your journey back to Spokane.
Mid-Morning – On the Road:
As you set off, let the serene landscapes be a backdrop to your thoughts. 
The return drive offers another chance to witness the scenic beauty of the region, with an added tint of nostalgia as you near the end of this memorable journey. You will be driving around 230 miles today. 
Afternoon – A Final Detour:
As Spokane draws closer, consider making a brief stop at Coeur d'Alene.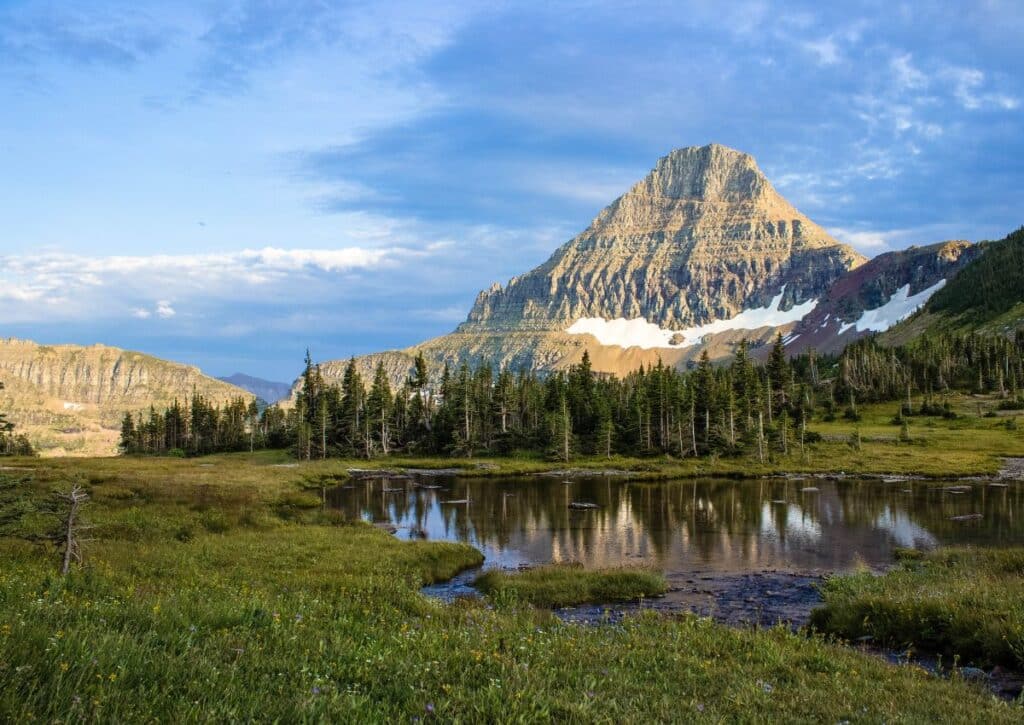 Whether it's revisiting a favorite spot or exploring a corner you might have missed on your outward journey, it's a lovely place to stretch your legs and grab a bite.
Evening – Homecoming in Spokane:
Rolling into Spokane, the memories of the past week come alive. The vistas of Glacier National Park, the serenity of Flathead Lake, and the adventures in between will have carved a lasting imprint on your heart.
How Long Does it Take to Drive from Spokane to Glacier National Park?
The drive from Spokane, Washington to Glacier National Park in Montana is approximately 275 miles, depending on the specific route you choose. 
On average, without extended stops or heavy traffic, it takes about 5 to 6 hours to drive this distance. However, travel time can vary depending on road conditions, the chosen route, driving speed, and how often one stops for breaks or sightseeing. 
If you're planning a leisurely road trip with multiple stops along the way, as discussed in the previous sections, the journey could take considerably longer. 
Always ensure you check current road conditions and possible seasonal closures, especially if you're traveling during winter months or peak tourist seasons.
Best Time for the Road Trip from Spokane to Glacier National Park
The Pacific Northwest boasts a vibrant palette of experiences all year round, magnified by the varying behaviors of its resident wildlife.
Spring ushers in blooming landscapes and milder temperatures, making it an ideal time for those who wish to experience nature's reawakening. However, higher elevations in Glacier National Park might still have snow, limiting access to certain trails.
This season is also when many animals emerge after a long winter, and newborn wildlife can be spotted. 
Summer offers warm weather and clear skies, perfect for outdoor activities and sightseeing.
Summer's warmth beckons a plethora of wildlife. Birds in migration, larger mammals venturing out, and an active aquatic life make it a prime time for animal enthusiasts. 
This is also the peak tourist season, so while wildlife spotting opportunities abound, be prepared for bustling trails and viewpoints.
Winter, with its snow-capped mountains, is enchanting but requires extra precautions for driving. 
Activities shift towards winter sports and the landscapes transform into a winter wonderland. But, many high-altitude roads, including the Going-to-the-Sun Road, are closed.
While this season sees fewer animals, some like snowshoe hares, moose, and winter birds adapt and thrive. 
Note that many roads, including the iconic Going-to-the-Sun Road, will be closed due to snow.
Considering all factors, we do this road trip every fall. The autumn foliage, with its array of reds, oranges, and golds, elevates the scenic beauty, especially in forests and national parks. 
Additionally, cooler temperatures make hikes more comfortable, and there's a reduced influx of tourists, allowing for a more tranquil experience. 
Most importantly, fall ensures that most routes, including the iconic roads in Glacier National Park, remain accessible before the winter snows set in.
Bears can be observed more frequently as they bulk up for hibernation, and elk are active during their rutting season. The drop in tourist traffic and cooler temperatures for hiking make it even more appealing.
Given the synthesis of scenic beauty and dynamic wildlife activity, fall is our top recommendation for this road trip.
Can the Road Trip Be Done in One Day?
Yes, the road trip from Spokane to Glacier National Park can certainly be done in one day. The direct drive, without extended breaks, typically takes about 5 to 6 hours. However, a few factors to consider:
Stops and Sightseeing: While it's feasible to drive directly, the route offers numerous picturesque and interesting stops. If you choose to detour or spend time at any locations, it will lengthen your travel time.
Driving Conditions: Factors like roadwork, traffic, or adverse weather conditions, especially in winter or during peak tourist season, can add to travel time.
Fatigue: Long hours on the road can be tiring. It's essential to ensure you're well-rested before the journey and take regular breaks to stretch and refresh.
Park Exploration: If you're aiming to reach Glacier National Park and spend some time exploring on the same day, starting early is advisable.
While the drive can be completed in a day, maximizing the experience might mean extending the trip to enjoy the many attractions along the way and within the park itself.
Where to Fly Into and Out of for Your Trip from Spokane to Glacier Park National Park?
For travelers considering a road trip from Spokane to Glacier National Park, here's a guide on airports for entry and exit:
Entry: Spokane International Airport (GEG)
Location: Situated about 5 miles west of downtown Spokane, this is the ideal airport to fly into if you're starting your road trip from Spokane.
Facilities: As the second-largest airport in Washington, GEG offers numerous amenities, including car rental services which can be handy for travelers embarking on a road trip.
Connectivity: The airport has direct flights from many major U.S. cities, providing easy accessibility.
Exit (Optional for Return Flights): Glacier Park International Airport (FCA)
Location: Located near Kalispell, Montana, this airport is just a short drive from the west entrance of Glacier National Park.
Facilities: FCA is equipped with car rental services, making it easy for travelers to drop off their vehicles if they choose to fly out from here.
Connectivity: While smaller than Spokane's airport, FCA still offers direct flights to several major U.S. cities, especially during the tourist season.
For a round trip, travelers typically fly into Spokane, drive to Glacier National Park, and then circle back to Spokane to fly out. 
However, if you prefer not to backtrack, you can fly into Spokane and out of Kalispell. 
Do note that one-way car rentals might have different rates or terms, so it's essential to check with the rental agency in advance.
Is the drive from Spokane to Glacier National Park pretty?
Absolutely! The drive from Spokane to Glacier National Park is a visual treat that offers an array of picturesque landscapes.
Beginning in Spokane, you initially traverse urban settings and then gradually witness them transition into expansive fields, lush forests, and eventually, dramatic mountain terrains. 
Along the route, you'll come across several sparkling lakes and rivers, notably the Coeur d'Alene Lake in Idaho which provides a serene backdrop for travelers.
The stretch through Montana is especially scenic as you approach the Rocky Mountains. 
You'll pass through charming towns, dense forests like the Lolo National Forest, and near stunning natural landmarks such as the Kootenai Falls.
As you get closer to Glacier National Park, the views become even more awe-inspiring, with towering mountain peaks, glacial valleys, and pristine lakes greeting you. 
The park itself, often referred to as the "Crown of the Continent," is the pinnacle of natural beauty with its glaciers, waterfalls, and abundant wildlife.
In short, not only is the drive filled with scenic splendors, but it also offers varied landscapes that showcase the diverse beauty of the Pacific Northwest and Montana. It's a journey that captivates travelers and creates memories to last a lifetime.
Is 2 days enough in Glacier National Park?
While 2 days in Glacier National Park will only scratch the surface of what the park offers, it can still be enough for a memorable experience if planned wisely. Here's what to consider:
Size and Diversity: Glacier National Park spans over a million acres with diverse landscapes, from vast lakes to towering mountain peaks. 
The park is home to over 700 miles of trails, numerous campgrounds, and diverse wildlife.
Main Attractions: In 2 days, you can drive the iconic Going-to-the-Sun Road, which cuts through the heart of the park and offers stunning panoramic views. 
Along this route, there are several key viewpoints and short trails like the Hidden Lake Overlook and the Trail of the Cedars.
Hiking: Depending on your physical condition and interests, you could take one or two moderate hikes. 
Popular choices include the Highline Trail, the hike to Avalanche Lake, or the St. Mary and Virginia Falls Trail. 
Remember that some of the more iconic trails, like Grinnell Glacier, can take the better part of a day.
Wildlife Viewing: The park is home to an array of animals including grizzly bears, mountain goats, and moose. 
While wildlife sightings are never guaranteed, early mornings or evenings are typically the best times to spot them.
Limitations: Two days means you'll likely miss out on some remote areas of the park, extensive backcountry hikes, and possibly some activities like boat tours or ranger-led programs.
Seasonal Considerations: The time of year you visit can also impact your experience. 
The Going-to-the-Sun Road, for example, is only open in its entirety from late June or early July to the first heavy snows in the fall. 
Outside of this period, portions of the park, including some trails, may be inaccessible.
Conclusion: While 2 days is a brief time, with careful planning, it's possible to see some of the park's highlights and have a fulfilling experience. However, if your schedule and interest allow, spending more time in Glacier National Park would provide a deeper appreciation of its vastness and beauty.
How many days do you need for Glacier National Park?
The number of days needed to fully appreciate Glacier National Park depends on your interests and the depth of your exploration. Here's a general breakdown:
Brief Visit (1-2 Days):

Drive the Going-to-the-Sun Road, stopping at key viewpoints.
Take a couple of short to moderate hikes such as the Trail of the Cedars, Hidden Lake Overlook, or Avalanche Lake.
Enjoy a boat tour on one of the park's iconic lakes.
Spot wildlife at popular areas like Logan Pass.

Moderate Stay (3-5 Days):

Explore more of the Going-to-the-Sun Road and adjacent areas.
Hike some of the park's iconic trails like Highline, Grinnell Glacier, or Iceberg Lake.
Visit the Many Glacier area and Lake McDonald Valley.
Engage in activities like ranger-led programs, evening campground talks, or horseback riding.
Spend time looking for wildlife in lesser-visited regions.

Extended Stay (6+ Days):

Dive deep into the park's backcountry with multi-day hikes and camping.
Explore lesser-known regions such as the North Fork or Two Medicine.
Engage in more extensive wildlife viewing, photography, or even fishing.
Visit during different times (morning, afternoon, evening) to experience the park's changing moods and light.
Give yourself leisurely days to just enjoy the peace and grandeur without a set agenda.
Recommendation: For a comprehensive experience that balances iconic sites, hikes, and leisure, a 4 to 5-day visit is ideal. This gives you enough time to appreciate the park's major attractions while also delving into some of its hidden gems. However, if you're an avid hiker or nature enthusiast, even a week might feel too short given the park's vast offerings.
Enjoy The Road Trip
Embarking on a journey from Spokane to Glacier National Park is more than just a drive; it's an experience waiting to be savored.
From the bustling vibrancy of cities to the whispered tales of historic towns, the route unravels a tapestry of diverse landscapes, each with its own charm.
Glacier National Park, with its majestic mountains, shimmering lakes, and a plethora of wildlife, is the crowning jewel that makes the trip unforgettable.
Remember, every road trip is unique to the traveler. The beauty lies in those unexpected moments – a surprise wildlife sighting, a local diner serving delectable pie, or a sunset that paints the sky in hues you've never seen before.
Equip yourself with this guide, but let spontaneity be your co-driver. Stop frequently, breathe deeply, and soak in the panoramas and local flavors.
As you pack your bags and rev up your engine, know that adventure awaits at every turn. Safe travels, and may your journey be filled with memories that last a lifetime.