Considering a transformative camping experience in the Midwest? Shawnee National Forest camping offers a captivating blend of nature's splendor and diverse outdoor activities. 
Nestled in Illinois, this expansive forest boasts a myriad of campgrounds, from dispersed to RV camping. Beyond the thrill of sleeping under the stars, Shawnee beckons with recreational activities like hiking, e-biking, and ziplining. 
With its rich history, diverse wildlife, and breathtaking landscapes, Shawnee National Forest promises an unforgettable journey for every adventurer. 
Dive into our guide to unearth the best of what this national treasure offers.
Shawnee National Forest Overview
Dreaming of an immersive escape into nature's embrace? Shawnee National Forest, spanning the southern tip of Illinois, is a tapestry of geological wonders, deep-rooted history, and vibrant ecosystems. 
A testament to Mother Nature's artistry, Shawnee's landscapes have been sculpted over millennia, resulting in a captivating mix of rolling hills, rugged bluffs, and serene water bodies.
Shawnee's legacy goes beyond its natural beauty. Delving into the history of the park reveals tales of ancient Native American tribes, pioneers seeking new horizons, and the tireless efforts of conservationists. 
Established in 1939, this forest reserve stands as a symbol of America's commitment to preserving its natural and cultural heritage.
But it's not just the terrain that mesmerizes; Shawnee's wildlife is a realm waiting to be explored. The forest's dense canopy and rich undergrowth are home to diverse species.
From the elusive bobcats and majestic white-tailed deer to a symphony of birds that grace its skies, every corner of Shawnee whispers the tales of its inhabitants. 
Whether you're an avid birdwatcher, a wildlife photographer, or a curious traveler, the ecosystem of Shawnee National Forest promises a spectacle of nature's marvels.
Also Read: 7 GREAT PLACES TO VIEW WILDLIFE IN SHAWNEE NATIONAL FOREST
Let's get into camping in Shawnee, the best way to experience this wonderland. 
Camping in the Shawnee National Forest
Camping in the Shawnee National Forest is your gateway to a world where serenity meets adventure. With a diverse range of camping options, the forest caters to both the rustic backpacker and those seeking a touch of comfort. 
Choose from pristine tent sites nestled under the sprawling canopy or the charm of cabins that echo with the warmth of homely comforts amidst the wilderness.
 Each camping spot is a launchpad to a universe of starlit skies, melodious bird songs, and the soothing hum of the forest. 
The cabins, with their wooden allure, offer a perfect blend of rusticity and modern amenities, ensuring you're never too far from nature's embrace. 
Dive into the heart of Shawnee, where every sunrise is an invitation and every sunset, a story.
Primitive and Dispersed Camping in Shawnee National Forest
For campers seeking a genuine connection with nature, Shawnee National Forest offers a unique opportunity to delve into the realm of primitive and dispersed camping. Here's a guide to make the most of this experience:
Where to Camp: The forest allows primitive camping with exceptions. Avoid developed recreation areas, natural regions, lake shores, streams, and trails. Equestrian campers, take note: designated wilderness areas are off-limits.
Duration: Campers can stay up to 14 consecutive days. However, setting up permanent structures is not permitted.
Leave No Trace: Preserve the forest's beauty. Do not cut or damage live plants, and ensure you leave your campsite cleaner than you found it.
Parking: While the forest has vast expanses, parking is specific. The Garden of the Gods Wilderness area provides a backpacker's parking lot, as do certain trailheads. Day-use areas, however, do not allow overnight vehicle stays.
Dispersed Camping Sites:
Dive deeper into the forest with these dispersed camping sites: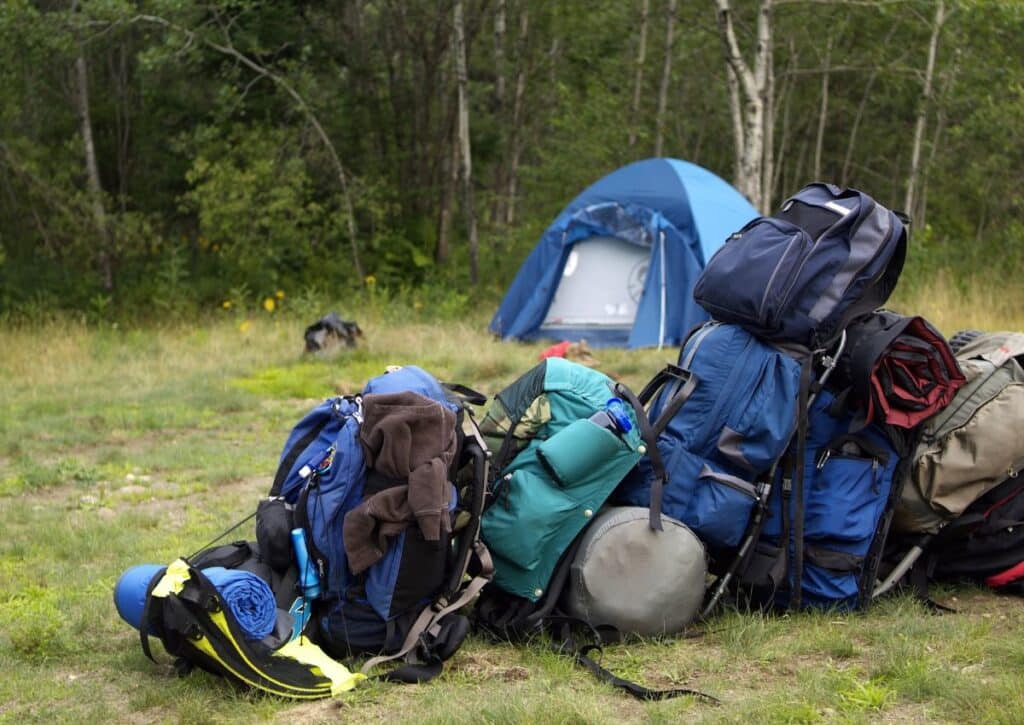 Waterfront Campsites
Shawnee boasts several lakeside camping opportunities. Sites like Dutchman Lake, Lake Tecumseh, and Cedar Lake offer serene waterside views. 
If you're looking to fish or simply enjoy the lapping of the waters at dawn, these spots are idyllic.
Landmarks of Natural Beauty
The Garden of the Gods Recreation Area isn't just a backpacker's parking spot. With breathtaking rock formations carved over millennia, it's a magnet for campers and hikers alike. 
Jackson Falls, with its cascading waters set against dense greenery, is another haven. Additional spots include the tranquil Camp Cadiz Campground, Pennant Bar Openlands' expansive vistas, and the serene settings of Oakwood Bottoms.
For Those Seeking Serenity
For campers who prioritize seclusion, Panther Den Wilderness offers unparalleled peace. 
The mysterious allure of Whoopie Cat Lake and the dense, enveloping greenery of Tower Rock Campground promise a retreat from the world.
As you prepare to embark on this adventure, always remember to prioritize safety, respect local guidelines, and cherish every moment amidst nature's embrace.
Our 7 Favorite Campgrounds in Shawnee National Forest 
Pharaoh's Campground: Shawnee's Wilderness Portal
Tucked away in the legendary Garden of the Gods Recreation Area, Pharaoh's Campground is the ideal basecamp for nature enthusiasts and explorers. This year-round retreat offers 12 prime sites, each designed with campers in mind and available on a first-come, first-served basis.
Catering to the purist camper, the campground is equipped with essential amenities: clean drinking water, restrooms, and scenic picnic areas. While tents are most commonly pitched here, smaller trailers can snugly fit, albeit without traditional RV amenities.
For the trail seekers, the campground serves as a doorway to a myriad of nearby trails that wind through the Shawnee forest, leading adventurers to panoramic views, hidden waterfalls, and untouched wilderness. Moreover, it stands as a threshold to some of the region's pristine wilderness areas, granting a deeper communion with nature.
A stay here won't break the bank at just $10 a night. Though there's serenity during weekdays, summer weekends see a delightful bustle, so plan ahead. And for those occasional urban needs, Herod, Illinois, is conveniently situated a mere 5 miles away.
Navigating to Pharaoh's is half the adventure. Cruising down Highways 145 and 34, you'll turn onto Karbers Ridge Road. A brief journey on Forest Road, and the welcoming embrace of Pharaoh's Campground emerges, beckoning you to experience Shawnee's wonders.
Pine Ridge Campground: Your Waterside Wilderness Retreat
Nestled adjacent to the renowned Garden of the Gods, Pine Ridge Campground is situated serenely at Pounds Hollow. For those who enjoy the calm ripples and stillness of waterside camping, the 25-acre Pounds Hollow Lake awaits, cascading the soothing sounds of nature right down from the campground.
With a total of 35 sites — 13 with electric and 22 non-electric — campers are welcomed on a first-come, first-served foundation for a mere $10 per night. Specifically sculpted for tent dwellers and compact trailers, the amenities cater to both comfort and accessibility, offering fresh drinking water, restrooms, and picturesque picnic spots.
Open from March 15th through December 15th, Pine Ridge grants its patrons the added treat of a beach, available from May to September. This feature is especially inviting for those sun-soaked summer days and warm evenings.
As for explorers, the surrounding trails weave a path through verdant woods, leading one to secret groves, sun-dappled clearings, and untamed wilderness regions. They beckon both the casual stroller and the seasoned hiker.
Reaching Pine Ridge is a scenic journey in itself. For those coming from Harrisburg, the route through Highway 34 and Karbers Ridge Road reveals a picturesque landscape. Alternatively, those traveling from Evansville, Indiana, have a captivating drive via Highway 62, Illinois State Route 141, and Karbers Ridge Road, leading them directly to the heart of this recreation haven.
Redbud Campground: The Wilderness Whisperer of Shawnee
Hidden within the captivating Bell Smith Springs Recreation Area, Redbud Campground beckons the true nature aficionado. Renowned as one of the forest's most enchanting niches, its 21 campsites lie ensconced amidst a ballet of rocky streams, towering cliffs, and the vibrant tapestry of Illinois' native plants.
At just $10 a night, Redbud offers not just a campsite but an experience. With no reservations, it's a spontaneous adventurer's dream. Here, electric distractions fade, making it a sanctuary for tents and intimate trailers, all under a canopy of stars.
For trailblazers, Redbud is paradise. With a direct gateway to an expansive 8-mile network of trails, every step unveils nature's artwork — from the rugged beauty of Devil's Backbone to the cascading serenity of Boulder Falls. Vistas at scenic overlooks are bound to take your breath away, while the mysterious allure of hidden springs promises discovery around every bend.
The amenities, though simple, cater to every camper's essential needs: clean drinking water, restrooms, and ample parking, ensuring comfort amidst the wild.
Journeying to Redbud is an adventure of its own. Whether you're traveling from Harrisburg via the picturesque route of Highways 145, Burden Falls Road, Ozark Rd, and Bell Smith Springs Road or from Vienna via Highways 45 and Ozark Road, each path converges to one destination — the heart of Shawnee's wild beauty.
Pine Hills Campground: The Silent Serenade of Shawnee
Cradled amidst the whispering pines, Pine Hills Campground offers an idyllic refuge from the bustle of everyday life. With a cozy collection of 13 campsites, it's an ideal sanctuary for those who cherish an authentic camping experience. Here, tents and compact camping trailers merge seamlessly with the rustic charm of the surroundings. Without water or electric distractions, the symphony of nature prevails, and at a mere $10 a night, it's an experience worth every penny.
The true allure of Pine Hills isn't just in the campground itself, but in its majestic vistas. Journey along Pine Hills Road, ascending the rugged terrain, and find yourself atop magnificent bluffs. Here, an expansive panorama awaits, capturing the ethereal beauty of the LaRue Swamp gracefully meeting the vast expanse of the Mississippi River Floodplain.
Venture further, and the wilderness of Shawnee unfurls its treasures. Trails weaving through the verdant landscape beckon hikers and explorers, while pockets of wilderness areas hold stories of nature's untamed heart.
Accessing Pine Hills is a ride through the scenic tableau of Illinois. From Jonesboro, trace the path of Illinois 146 west, embracing the embrace of Route 127 North. Meandering through State Forest's serpentine roads, you'll find the inviting signage of FR236 or Pine Hills Road. Just a short .07 miles north, and you've arrived — Pine Hills Campground, where nature's lullaby never ends.
Tower Rock Campground: An Oasis by the Ohio
Ensconced along the verdant banks of the mighty Ohio River, the Tower Rock Campground is a haven for those seeking both tranquility and adventure. The glistening waters, besides being a picturesque backdrop, beckon enthusiasts for fishing escapades and the rhythmic dance of boating. And for those who wish to trace nature's footsteps, a 1/4 mile trail lies in wait, starting right at the boat launch. But do tread with caution, for the river's embrace can extend further inland, especially during fluctuations in its depth.
From May 1 to December 15, the campground lays out the carpet for both tent campers and trailer travelers. Amenities like a boat ramp and sanitary toilets ensure that your sojourn has that touch of convenience amidst the wilderness.
Nestled nearby, trails meander, promising the explorer in you sights of the pristine Shawnee wilderness areas. However, as with any natural treasure, there are certain responsibilities; kindly utilize the trash receptacles available in the developed areas, ensuring that the beauty of Tower Rock remains unsullied.
Reaching this serene sanctuary is a journey through Illinois' lush landscapes. Commence at the juncture of Illinois State Highway 34 and 146, then glide east on Highway 146 for roughly 8 miles. A right onto Tower Rock Road and a 3-mile sojourn eastward will lead you to Forest Rd. #575. A mere half-mile from here, guided by well-placed signs, and the inviting expanse of Tower Rock Campground unfolds before you.
Trail of Tears Campground: A Whisper from History Amidst Nature's Embrace
Delicately perched near the enigmatic Little Grand Canyon, the mesmeric Pomona Natural Bridge, and the sprawling expanse of Larue-Pine, the Trail of Tears Campground unfurls as a sanctum of solitude and serenity. A nod to both vehicular campers and avid backpackers, this hideaway, ensconced amidst nature's opulence, promises an undiluted camping experience.
Unique to the campground, certain sites embrace rustic log shelters — a nod to times past — coupled with adjoining privies that ensure the blend of nature and comfort. And while the winter frosts may close the roadways from December 24th till the end of spring's wild turkey calls, intrepid campers are ever-welcome to tread lightly and find their niche amidst the available niches.
With standard sites tenderly priced at $8 a night and the warmth of log shelters available at $25, Trail of Tears beckons with open arms. Furthermore, for those yearning to share tales and campfires in larger gatherings, provisions for group camping stand ready.
Trails nearby weave through the breathtaking wilderness areas, inviting adventurers to explore and relish the diverse flora and fauna, all the while treading on grounds imbued with historical resonance. Trail of Tears Campground is not just a camping retreat; it's an odyssey through time and nature's marvels.
Camp Cadiz Campground: Echoes from Yesteryears amidst Sylvan Splendor
Camp Cadiz Campground stands as a silent testament to the endeavors of the Civilian Conservation Corps (CCC). Delicately secluded, this timeless haven flourishes away from the bustling mainstream, offering a serene retreat — save for the heightened buzz during the turkey and deer hunting seasons.
Ensconced in verdant surroundings, each campsite offers a tableau of the pristine. Flat terrains adorned with fire rings, grills, and picnic tables set the stage for a tranquil escape. And for those with a penchant for horseback adventure, the grounds open their arms to equestrian camping.
While Camp Cadiz charms with its old-world allure, its proximity to contemporary conveniences cannot be understated. Campers can enjoy centrally located water spigots and well-maintained vault toilets. With an open invitation year-round, the grounds adhere to a 'first come – first served' ethos, priced at a modest $10/night.
Eager feet and hooves alike find solace here. Just a stone's throw northward, the trailhead leading to both the River-to-River Trail and Beaver Trail (#006) beckons. And for those embarking on extended escapades, overnight parking finds its niche along the serene stretch of Forest Road #598.
Beyond the designated comforts of the campground, the sprawling expanse of the Shawnee National Forest offers primitive camping options. A respectful distance from developed areas unveils the primal beauty of the forest. However, adhering to conservation guidelines is paramount; this means leaving no trace, respecting natural water sources, and acknowledging the sanctity of designated natural areas.
In proximity to the tranquil town of Karbers Ridge, Camp Cadiz is easily accessible, whether you're journeying from Harrisburg, Illinois, or Evansville, Indiana. A journey to Camp Cadiz is not just about camping; it's a passage through time, evoking the spirit of the CCC, all while immersing oneself in nature's embrace.
RV Camping in Shawnee National Forest
Shawnee National Forest, encompassing the southern tip of Illinois, is renowned for its undulating landscapes, enchanting waterfalls, and breathtaking overlooks. For those eager to traverse its wonders via RV, the forest offers an array of campgrounds that cater to a spectrum of preferences, from those desiring lakeside views to others seeking proximity to hiking trails.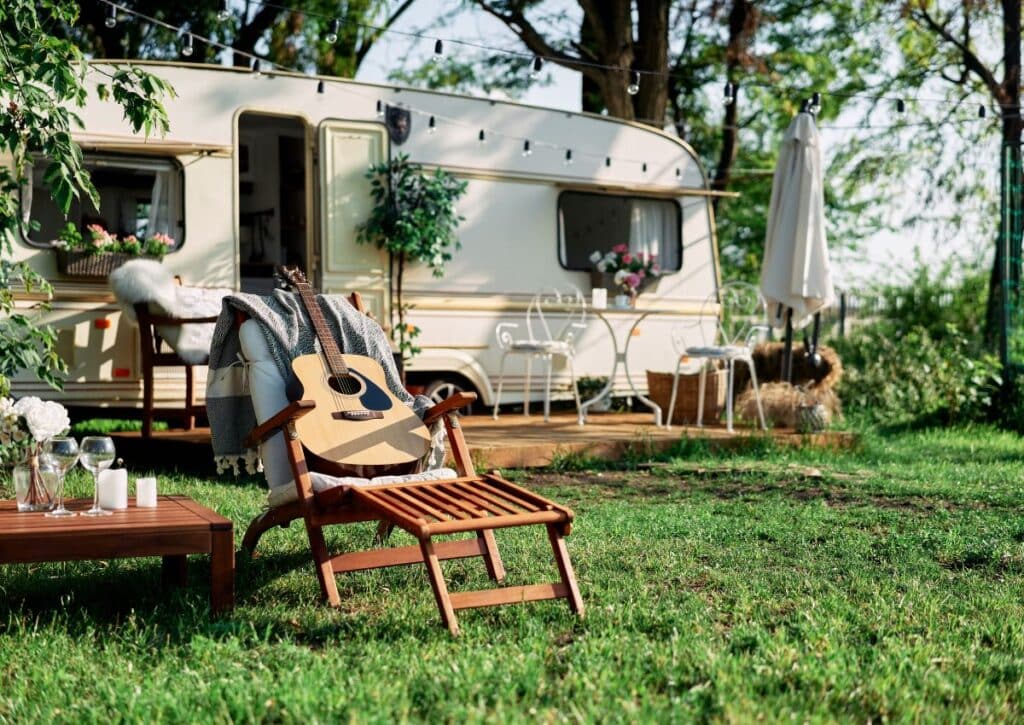 Rosiclare City Park: This unique campsite isn't just about nature; it marries the rustic feel of outdoor camping with the conveniences of an urban setting. Located in the town of Rosiclare, this park provides RV enthusiasts with easy access to local amenities, making it perfect for those who want a mix of nature and city comforts. Its proximity to the Ohio River provides a serene backdrop for campers.
Oak Point Campground: Tucked away amidst towering oaks, this campground is a nature lover's haven. Oak Point is not only known for its secluded spots and lush green surroundings but also for its accessibility to trails and vistas that Shawnee National Forest boasts of. An RV trip here means waking up to the symphony of chirping birds and retreating to sleep under a canopy of stars.
Dixon Springs State Park: A nexus of natural beauty and history, Dixon Springs State Park offers more than just a space to park your RV. Its terraced landscape, rock formations, and vibrant flora make it a visual treat. Being a state park, it's well-equipped to handle RVs and provides a range of amenities that make the stay comfortable and memorable.
Shawnee Forest Campground: As the name suggests, this is the quintessential spot for those wanting to be in the heart of the forest. It offers a plethora of sites for RVs, complete with electric hook-ups and other facilities. Its location makes it an ideal base camp for exploring the myriad trails and natural attractions that Shawnee National Forest offers.
Main Brother Campground: This campground is an epitome of tranquility. Ideal for those seeking a peaceful retreat, Main Brother provides spacious lots for RVs amidst a serene setting. Whether it's a morning coffee gazing at the sunrise or an evening barbecue with fellow travelers, this campsite ensures a rejuvenating experience.
Little Grassy Lake Campground: For those who fancy a lakeside RV camping experience, this campground is a dream come true. Positioned beside the picturesque Little Grassy Lake, it offers unparalleled views and water-based activities. Fishing, boating, or simply basking in the sun by the lake – the options are aplenty.
Recreation Areas and Activities in Shawnee National Forest
Shawnee National Forest boasts a vast canvas of natural wonders, offering visitors a plethora of activities to indulge in. From rugged trails to serene waters, Shawnee's diverse landscape ensures that every outdoor enthusiast finds their haven.
Horseback Riding
Equestrians will find Shawnee a veritable paradise. The forest's expansive network of bridle trails, such as the one at High Knob, offers a unique way to experience its beauty. Camp Cadiz is a notable spot, allowing equestrian camping, ensuring riders and their steeds have ample time to explore the surroundings.
Hiking
The forest's crisscrossed by trails ranging from easy strolls to challenging treks. The Garden of the Gods provides panoramic views, while the Little Grand Canyon Trail offers hikers a more strenuous journey through deep canyons and captivating overlooks. Each trail unveils a different facet of Shawnee's rich biodiversity and geology.
Fishing and Boating
Shawnee's water bodies, like the Little Grassy Lake, teem with various fish species, making them a favorite spot for anglers. Cedar Lake, with its deep blue waters, is perfect for a serene boating experience, allowing visitors to drift amidst nature's chorus.
Watersports
For adrenaline junkies, the forest doesn't disappoint. The waters of Kinkaid Lake beckon those eager for jet-skiing or wakeboarding. Kayaking and canoeing are also popular, with the gentle currents of the region's rivers offering a perfect blend of thrill and tranquility.
Sightseeing
The forest's natural wonders, from rock formations like the Camel Rock to waterfalls hidden amidst dense foliage, offer endless sightseeing opportunities. The changing seasons bring a new palette of colors, making every visit unique.
Ziplines in Shawnee Forest
For a bird's-eye view of Shawnee's splendor, the forest's ziplining tours are unparalleled. Soar over valleys, glide above treetops, and experience the thrill of witnessing nature's grandeur from the skies.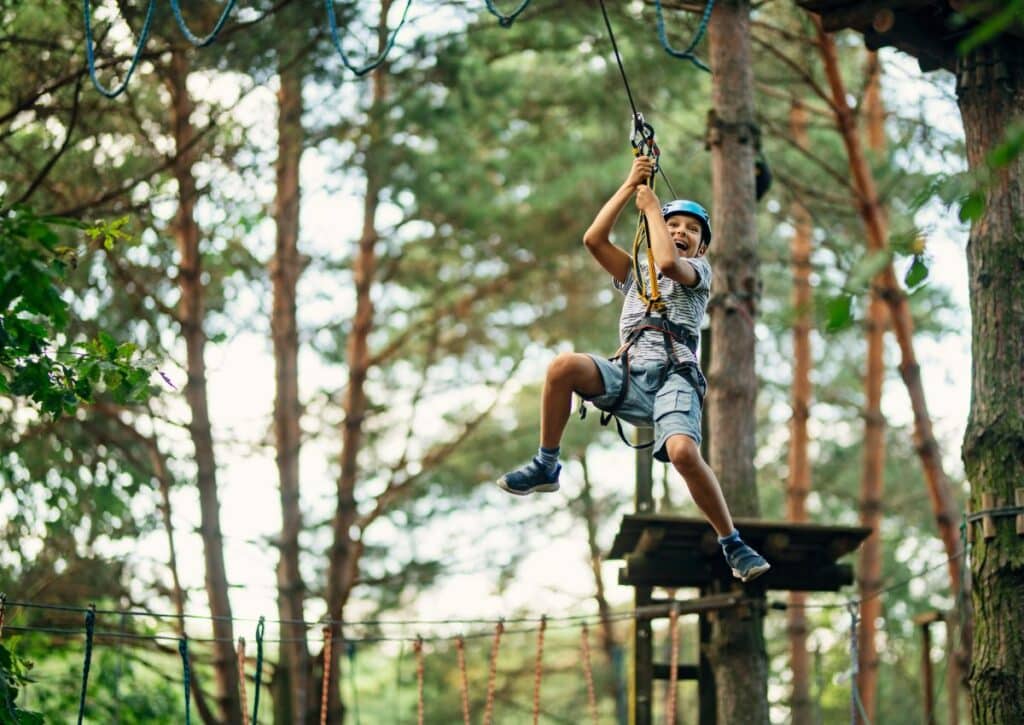 With multiple ziplining operators within the forest boundaries, adventurers can choose from various levels of excitement.
Shawnee Forest eBiking
Modern adventurers can traverse Shawnee's trails with eBikes, offering an eco-friendly and efficient way to explore. Whether it's a leisurely ride along the forest's periphery or a deep dive into its heart, eBiking ensures you cover more ground with less effort. Numerous rentals and guided tours are available, making it accessible even for novices.
In essence, Shawnee National Forest isn't just a preserve of natural wonders; it's a hub of recreational activities. Whether you're an adrenaline junkie, a nature lover, or someone seeking peace amidst verdant landscapes, Shawnee welcomes you with open arms, ensuring every visit is etched in memory.
Also Read: SHAWNEE NATIONAL FOREST: 22 WILDLIFE SIGHTINGS WHILE CAMPING!
Conclusion 
Shawnee National Forest stands as a beacon of natural diversity and recreational versatility in Illinois. The article provided a sweeping overview of the forest, delving into its various camping facets, from primitive sites to RV-friendly locales. 
Beyond mere lodging, Shawnee promises a plethora of activities, from serene hikes and equestrian trails to exhilarating watersports and eBiking ventures. 
These offerings are nestled amidst breathtaking landscapes and ecological wonders, making Shawnee not just a destination, but a journey into the heart of nature, bridging the joys of outdoor adventure with the solace of untouched wilderness.