Ever dreamt of stepping into a world rich with tales etched by nature? The trails of Shawnee National Forest in Illinois are just that – a mosaic of adventures waiting to be explored.
The Shawnee National Forest in Illinois isn't just a woodland; it's an epic tale of nature's wonders. 
From cascading waterfalls to towering rock formations, prepare to be captivated. Join us as we delve deep into the best hiking trails this forest has to offer. 
Ready to uncover nature's magic in the heartland? Dive right in!
Jackson Falls Trail 
Located in the southwestern quadrant of the Shawnee National Forest, the Jackson Falls trail offers hikers a delightful mix of natural beauty and captivating terrains. 
The trail starts at a well-marked trailhead, characterized by its abundant green canopy and the welcoming sound of distant waterfalls. 
After a trek of about 4.5 miles, you'll find yourself at the trail's end, greeted by the majestic sight of Jackson Falls itself.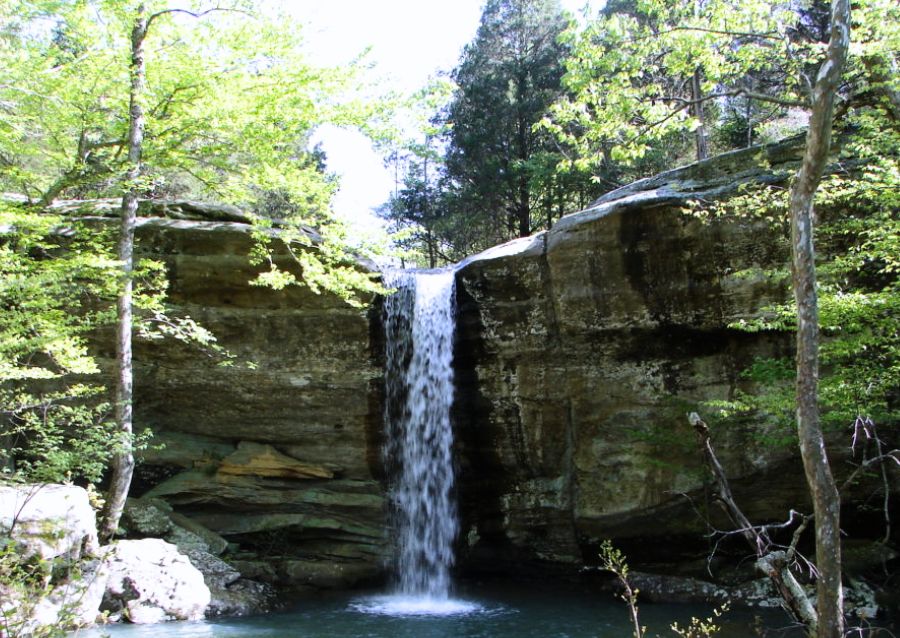 A moderate fitness level is suggested for this trail, with a few sections requiring a bit of careful navigation. As you make your way, you'll pass through the dense wilderness zones, a testament to the untouched beauty of Shawnee.
Wildlife enthusiasts will appreciate the frequent sightings of birds, deer, and the occasional fox. For those wanting to extend their stay, the nearby Hayes Canyon Campground offers a comfortable and scenic spot to set up camp.
Jackson Falls is more than just a hike; it's a journey through one of Shawnee National Forest's most cherished landscapes. Whether you're there for a day or planning an extended stay, it promises an experience to remember.
Garden of the Gods
Right at the heart of Shawnee National Forest lies the mesmerizing Garden of the Gods. With a relatively short loop of about 0.5 miles, this trail might seem brief, but what it lacks in length, it compensates with grandeur. 
Towering sandstone formations with whimsical names like Camel Rock and Devil's Smokestack punctuate the landscape, offering awe-inspiring views that stretch for miles.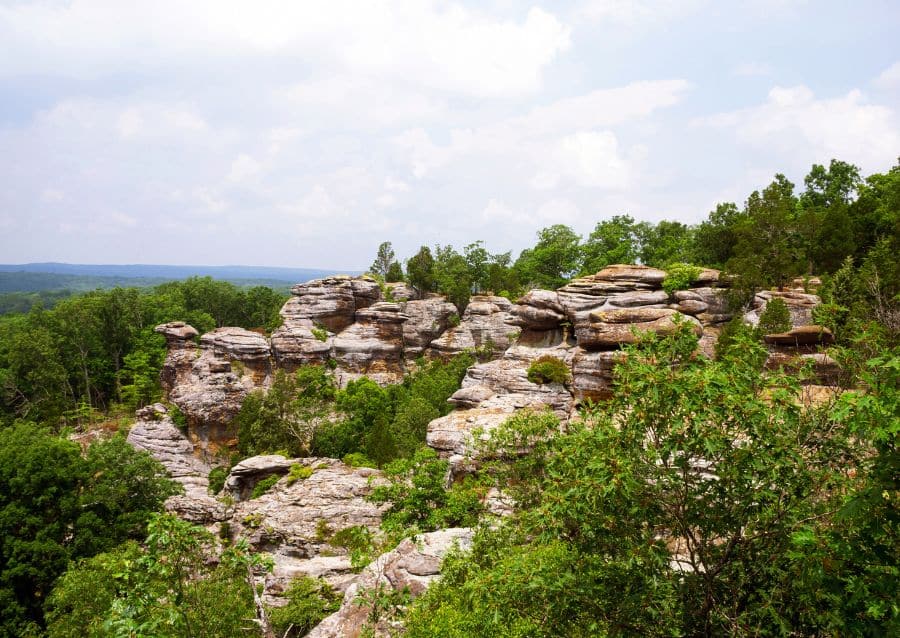 Located in the northeastern part of Shawnee, the trail starts and ends at the primary observation deck, ensuring you don't miss any scenic vista. 
Birds of prey often circle above, and the observant might even spot a woodland creature or two. 
The Pharaoh Campground nearby provides an excellent spot for an overnight stay, offering front-row seats to some of nature's most remarkable rock formations. 
While the trail is relatively easy, good footwear is advised due to some uneven terrains.
Pomona Natural Bridge
A hidden gem, the Pomona Natural Bridge trail showcases nature's architectural prowess. Located in the western edge of Shawnee, this 0.3-mile trail might be short, but it leads to a stunning 90-foot natural sandstone bridge, a testament to centuries of erosion and nature's artistry. 
The trail embarks from a shaded grove and concludes right under the magnificent arch, allowing for a moment of reflection and wonder. Local flora and fauna accentuate the path, making it a haven for nature lovers.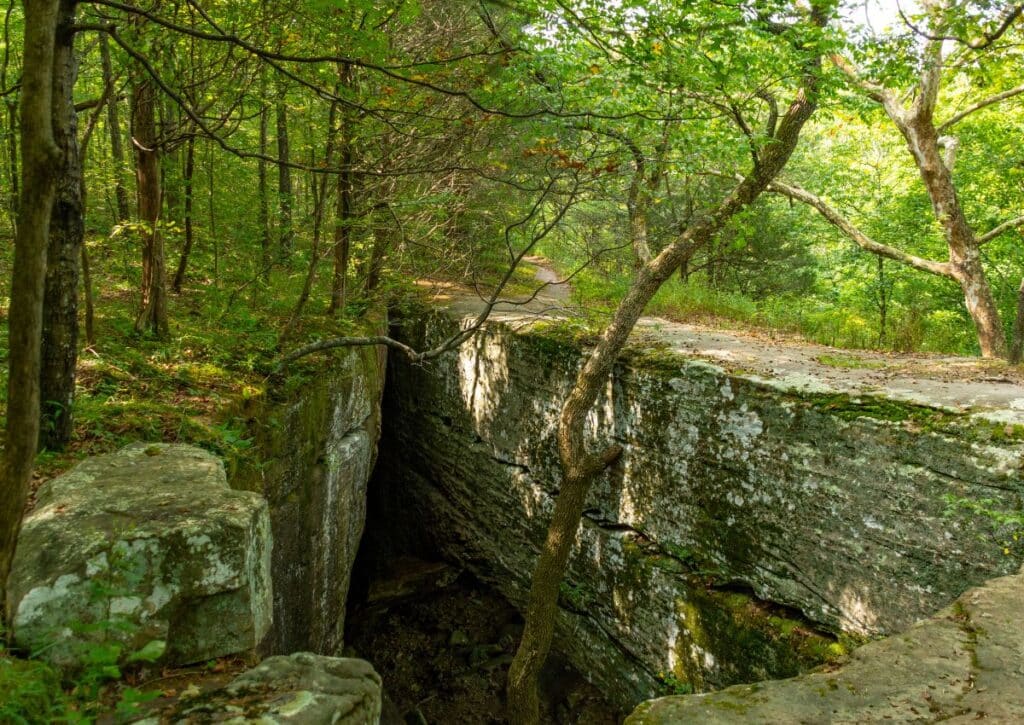 While the hike is considered easy, the bridge and surrounding areas are a quiet sanctuary for many species, so tread lightly. 
Nearby, campers can find solace at the Cedar Lake Campground, a serene spot perfect for rest and relaxation.
Rim Rock National Recreation Trail
For those seeking a journey through time, the Rim Rock National Recreation Trail is a must-visit. 
This 1.7-mile loop, located in the north-central region of Shawnee, leads hikers through ancient rock formations and historical Native American passageways. 
The trail starts at the primary parking area, winding its way through the forest, past stone steps, and onto elevated wooden walkways that offer panoramic views of the surrounding valley. 
The Ox-Lot Cave, a key highlight, carries whispers of histories old. The trail caters to both casual hikers and those seeking a bit more adventure, with certain sections demanding careful navigation. 
Wildlife is abundant, with deer, squirrels, and numerous bird species making frequent appearances. 
If an overnight stay is on the agenda, the nearby Pounds Hollow Campground awaits with its tranquil settings and starlit skies.
Bell Smith Springs
Bell Smith Springs, located in the eastern section of Shawnee National Forest, offers more than just a walk through the woods—it's an immersion into nature's purest charms.
The trail at Bell Smith Springs showcases the forest's best, from its unique rock formations to the rejuvenating springs that give it its name.
Starting at the designated trailhead located off Forest Road, hikers will embark on an approximately 8-mile loop that winds through the lush greenery and towering rock canyons.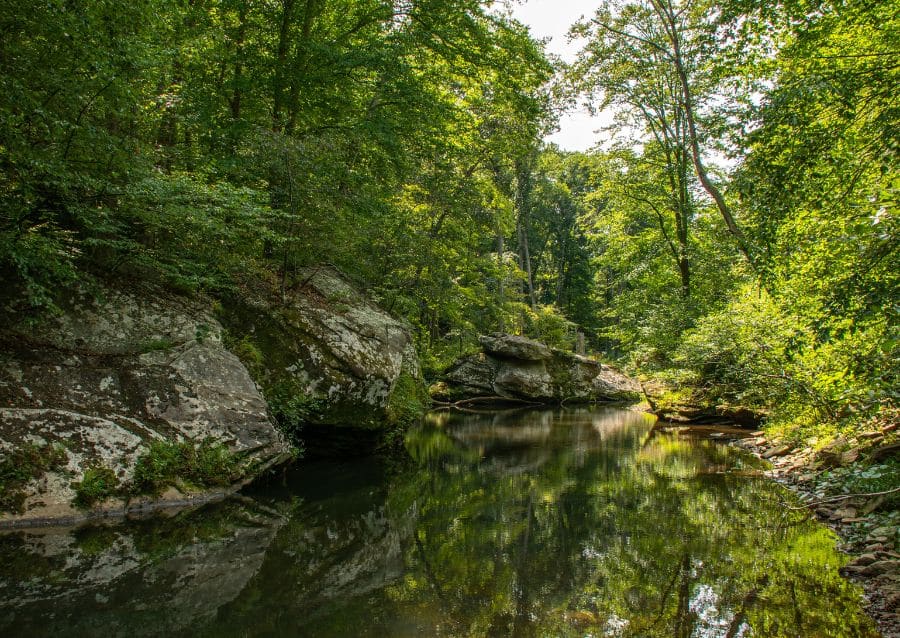 As you move deeper into the trail, you'll come upon the springs themselves, where the water sparkles with an inviting clarity.
Throughout your journey, you'll traverse various wilderness areas that showcase the biodiversity of Shawnee. Birds chirp overhead, deer can often be spotted grazing in clearings, and if you're particularly quiet and observant, you might even spot the rare salamander by the springs.
For those wishing to extend their stay and truly absorb the tranquility of the surroundings, Pennant Bar, a nearby campground, provides a haven for outdoor enthusiasts.
The trail itself requires a moderate fitness level, given some challenging terrains. Yet, those who tread its path will find that the sights and experiences it offers are well worth the effort.
River to River Trail
One of the most ambitious trails within the Shawnee National Forest, the River to River Trail stretches a remarkable 160 miles from the eastern edge of the forest near the Ohio River all the way to its western boundary by the Mississippi River.
It serves as a testament to the diverse landscapes of Illinois.
Your journey can commence at Elizabethtown on the Ohio River, and as you follow the trail westward, you'll end at Grand Tower on the Mississippi River. The trailhead, prominently marked, begins at the eastern boundary and offers parking facilities.
As you hike, expect terrains ranging from dense forests to serene meadows and panoramic bluff views.
The trail's expanse also ensures a thorough exploration of various wilderness areas within Shawnee, providing habitats for creatures such as bobcats, white-tailed deer, and a myriad of bird species.
Given the trail's impressive length, there are numerous campgrounds interspersed along its route. Among them, the Camp Cadiz stands out as a popular resting point. Though the trail is generally graded as moderate, its length and the occasional rugged stretch require hikers to be in good physical condition.
Little Grand Canyon Trail
Hidden within the western confines of Shawnee National Forest, the Little Grand Canyon Trail is a 3.6-mile loop that promises captivating vistas and an exhilarating trek. The starting point, a well-marked trailhead, is situated off IL-127, offering ample parking space.
The trail dives deep into the woods before leading to sweeping bluffs that offer a bird's-eye view of the surrounding landscapes. As you navigate the path, you're treated to the sights of deep chasms carved over millennia by nature's relentless forces.
Wildlife abounds, with common sightings of squirrels, songbirds, and, if luck favors, a soaring hawk or eagle. 
For those keen on camping, the nearby Trail of Tears State Forest campground provides a fitting retreat. Although the trail is of moderate difficulty, certain sections, especially the descent into the canyon, demand cautious navigation.
Tunnel Hill State Trail
Spanning a remarkable 45 miles, the Tunnel Hill State Trail lies in the northern periphery of the Shawnee National Forest. 
The trailhead is conveniently located at Harrisburg, signaling the start of a path that ultimately culminates at Karnak.
What sets this trail apart is its 543-foot tunnel, a testament to human engineering amidst nature's splendor. Its flat, crushed limestone surface ensures an easy-going hike or cycle ride, making it accessible to adventurers of all ages.
The trail also passes through a multitude of ecosystems, ensuring sightings of varied wildlife, from buzzing cicadas to darting deer. 
Camping enthusiasts will find the nearby Cache River State Natural Area perfect for a night under the stars. Given its relatively flat profile, the trail is easy, suitable for families and casual hikers alike.
Lusk Creek Wilderness
Lusk Creek Wilderness, covering a sprawling 6,293 acres, sits like an untouched jewel in Shawnee's crown. The central trail, Lusk Creek Trail, is an enticing 4.5-mile loop that starts and concludes at the prominent Lusk Creek Trailhead.
Your footsteps on this trail will echo amidst towering limestone cliffs, serene creeks, and dense foliage. 
The undisturbed wilderness areas here are home to creatures that thrive in solitude: think owls, foxes, and even the occasional river otter.
For a more immersive experience, camping is allowed within specific areas of the wilderness, but remember to adhere to the leave-no-trace principles. 
The trail's natural and at times rugged terrain categorizes it as a moderate to challenging hike, necessitating appropriate gear and caution.
Millstone Bluff Archaeological Area
Nestled in the northern part of Shawnee National Forest, the Millstone Bluff Archaeological Area offers a distinct blend of nature and ancient history. 
Starting at the dedicated trailhead off Millstone Bluff Road, this 3/4-mile loop trail invites visitors to explore the rich legacy of Native American civilizations.
As you embark on this short but enriching journey, you're met with remnants of ancient stone fortifications and petroglyphs that whisper tales from centuries past. 
Amidst this history, the landscape itself stands out: dense woodlands interspersed with rock formations.
While the area is not typically bustling with wildlife due to its archaeological focus, occasional deer and squirrels do make an appearance. 
Due to its historical significance, camping within the archaeological area itself is restricted, but nearby campgrounds in the forest offer accommodations. 
With its flat and well-marked terrain, this trail is easy, suitable for families and those passionate about history.
Panther Den Wilderness
The Panther Den Wilderness, despite its modest size, stands as a testament to nature's ability to craft wonder in every nook and corner. 
Spread across a compact 1,195 acres, this wilderness boasts the iconic Panther Den Loop, a 2.5-mile trail that's a confluence of pristine environments and striking geology.
Situated in the northern part of Shawnee, the trailhead welcomes you with a promise of adventure. 
The path itself is famed for its maze-like rock formations that lend it its evocative name. 
Navigating through, you might be fortunate enough to spot a diverse range of bird species, which thrive in this serene backdrop.
For those wanting an immersive wilderness experience, there are specific zones designated for camping. 
The raw and unaltered terrain means this trail demands a moderate fitness level and a sense of adventure, as certain sections can challenge even seasoned hikers.
Little Grand Canyon
A jewel in Shawnee's crown, the Little Grand Canyon is a testament to time's ceaseless artistry. 
This 3.6-mile loop trail, located in the western stretches of the forest, takes you on a journey from verdant woodland depths to panoramic bluff tops.
Your adventure begins at the trailhead off IL-127. As the path unfurls, it invites you to experience a dramatic elevation shift, from deep valleys to soaring overlooks. 
The diverse habitats mean you're never truly hiking alone — songbirds, squirrels, and the occasional deer might accompany you.
For those desiring a longer communion with nature, nearby camping facilities like the Trail of Tears State Forest provide the perfect backdrop. The trail's varying elevations and rugged sections categorize it as moderately challenging.
Clear Springs Wilderness
A sanctuary of fresh waters and untamed woodlands, the Clear Springs Wilderness sprawls over 4,730 acres. 
The central trail, around 4 miles in length, is a showcase of nature's undisturbed beauty.
Starting from the trailhead, the journey encompasses a series of springs and streams, living up to the area's namesake. 
The pristine waters are not just for show; they house an array of aquatic life, with amphibians and freshwater fishes being common sights.
For those inclined towards an extended wilderness stay, designated camping areas dot the region. 
The trail, with its occasional water crossings and rugged stretches, is best suited for those with a moderate level of hiking expertise.
Stone Face
Hidden in Shawnee's southern realm, Stone Face isn't merely a trail; it's a pilgrimage for those who revere nature's marvels. 
Encompassing about 2 miles, this trail guides you to its climax: a mammoth sandstone formation, eerily resembling a human face.
From the moment you step off the trailhead, the path, flanked by dense woodlands, prepares you for the grand finale. 
The serene environment is periodically broken by the calls of wild turkeys or the fleeting glimpse of a hawk soaring overhead.
For hikers wishing to linger amidst this wonder, nearby campgrounds beckon with the promise of a night under the stars. 
Given its straightforward trajectory, this trail is considered easy, making it an ideal choice for families and novices.
Inspiration Point Trail
Inspiration Point Trail is a hiker's delight and a nature lover's dream. Located in the western corridors of Shawnee National Forest, this 1.8-mile loop trail promises both physical exhilaration and spiritual rejuvenation. 
As you embark from the trailhead, the path winds through dense woodlands before leading to the main attraction: panoramic views of the Mississippi River that can genuinely inspire awe.
Wildlife enthusiasts might spot soaring eagles or hear the distant calls of songbirds. 
The trail's moderate difficulty level means some stretches could challenge, but the view at the end is the ultimate reward. 
Nearby campgrounds make it feasible for an overnight stay, under the starlit embrace of Shawnee's skies.
Honey Hole Loop Trail
Tucked away in the southern part of Shawnee, the Honey Hole Loop Trail offers an idyllic 3-mile journey through nature. 
The trailhead sets the scene, with a path meandering through a blend of hardwood forests and open glades. 
But it's the series of small ponds, often abuzz with dragonflies and bordered by wildflowers, that lend the trail its sweet name.
You might encounter deer sipping at these ponds or birds flitting through the trees. 
For those who wish to extend their time in this pastoral setting, there are nearby campgrounds that beckon. 
A blend of flat stretches and gentle inclines classifies this trail as moderately easy.
High Knob
High Knob stands as a sentinel in Shawnee's landscape. Located in the forest's heart, this 1.5-mile trail is less about the journey and more about the destination. 
Starting from the dedicated trailhead, the path gradually ascends, flanked by dense foliage, until it culminates in a breathtaking vantage point atop the Knob.
From this elevated perch, the vistas of Shawnee stretch endlessly, making it a favorite for sunrise and sunset viewings. 
While the ascent might occasionally challenge with its steep stretches, the panoramic rewards deem it worthy. And if the call of the wilderness proves too alluring to resist, campgrounds in the vicinity offer a cozy retreat.
Jackson Hole Loop Trail
The Jackson Hole Loop Trail, spanning 2.5 miles, is a trek into Shawnee's wild heart. Situated in the central region, this loop trail offers a balanced blend of terrains. 
From its trailhead, the path traverses through thickets of pine and hardwood before opening up to meadows that often shimmer under a golden hue during sunsets.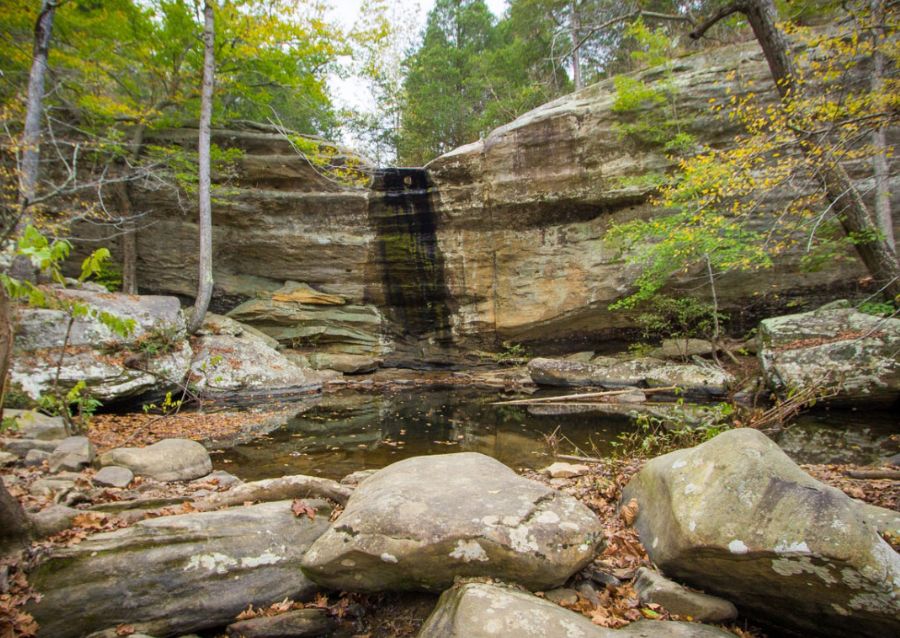 It's not uncommon to see herds of deer grazing or to spot a variety of bird species on this trail. 
The periodic clearings also make for excellent camping sites for those inclined for a longer adventure. 
Given its variety in terrains and moderate length, this trail demands a balanced fitness level.
Cave-In-Rock
A tale of time and erosion, Cave-In-Rock in the eastern fringe of Shawnee is more than just a trail—it's a historical monument. 
The primary path, which is roughly a mile in length, takes visitors directly to its namesake: a massive cave carved by the Ohio River's ceaseless flow.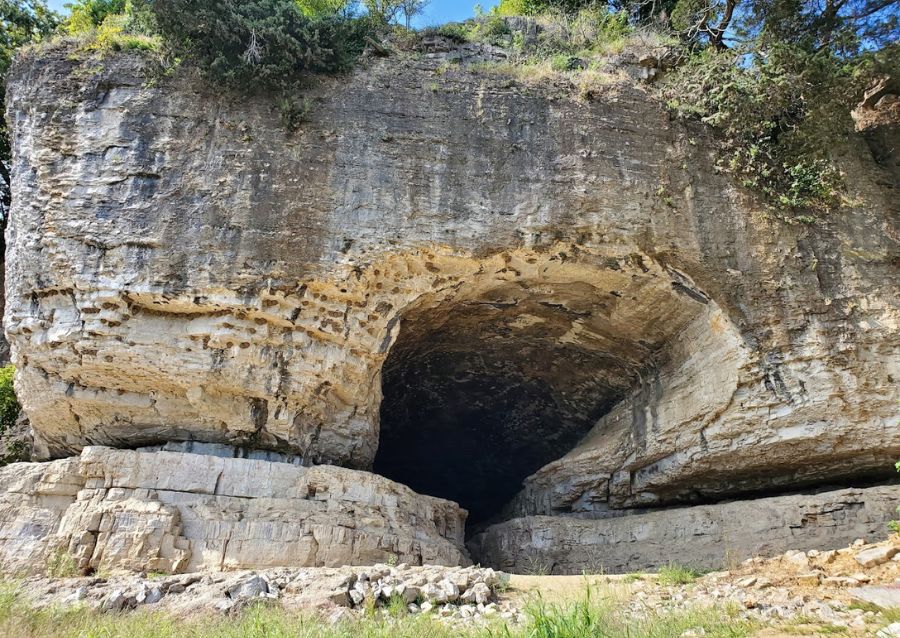 The journey from the trailhead to the cave is lined with interpretative signs narrating the site's rich history, from its days as a hideout for river pirates to its geological formation tale. 
Inside, the cool confines of the cave offer a serene retreat. And while the path is relatively short, the experience is rich, making it suitable for all fitness levels. For those looking to stay the night, campgrounds nearby ensure comfort amidst nature's embrace.
Wildlife on the Shawnee National Forest Trails

The Shawnee National Forest in Southern Illinois offers hikers not just scenic beauty, but also a chance to encounter a diverse range of wildlife.
As you tread its trails, you might cross paths with the graceful white-tailed deer, or even spot the secretive bobcat lurking in the underbrush. 
The waters of Shawnee are home to playful river otters, while the skies above often feature the majestic flight of bald eagles. 
Black bears make their presence known in more secluded areas, and the rustling leaves might reveal the Eastern Cottontail Rabbit or a scurrying Eastern Box Turtle. 
Birds like the Red-cockaded Woodpecker and Red-tailed Hawks add melody and motion to the forest canopy. 
Every hike in Shawnee promises not just exercise for the body, but a delightful treat for the nature enthusiast's soul.
Camping in Shawnee National Forest
The allure of Shawnee National Forest goes beyond its scenic trails and diverse wildlife; it's also a camper's paradise. 
Spread across its vast expanse are campgrounds that cater to a variety of outdoor enthusiasts, from primitive sites for those who truly want to disconnect, to more developed areas equipped with amenities for a comfortable stay.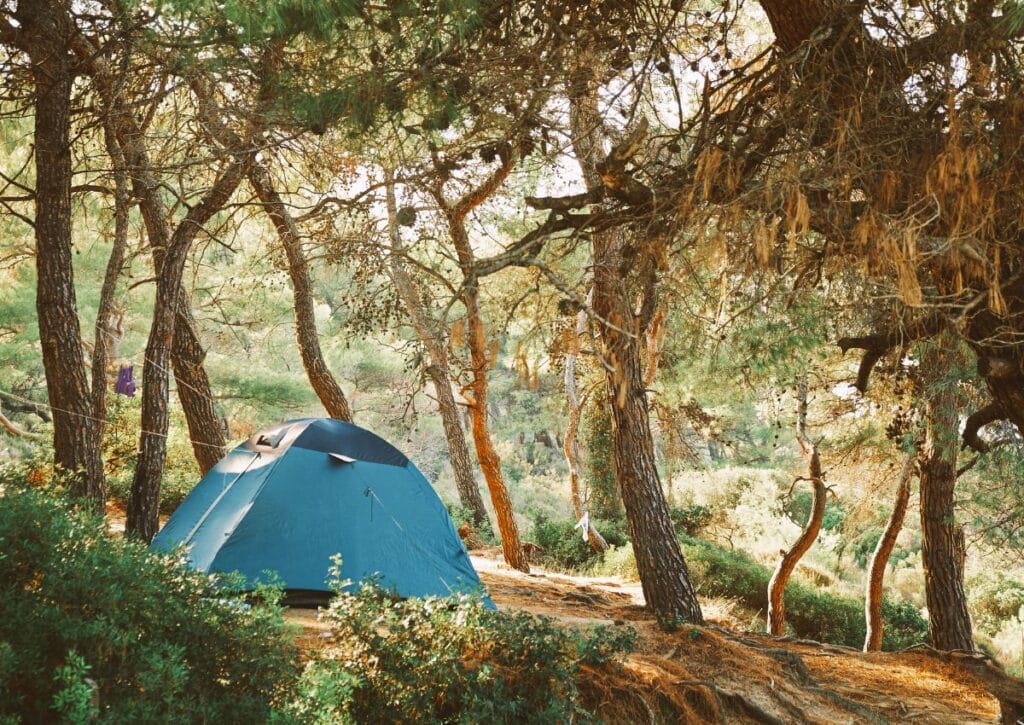 The rhythmic sounds of nature will serenade you at night, whether it's the distant call of an owl or the gentle rustle of leaves in the breeze. 
Campfires under the vast, starlit sky offer a timeless experience, a moment to reflect and bond with fellow campers.
Whether you choose a spot deep within the forest or near one of its serene water bodies, you're assured an immersive experience in nature. Camping in Shawnee isn't just about setting up a tent; it's about creating memories amidst the natural beauty of Southern Illinois.
Wilderness Areas in Shawnee National Forest
Within the vast bounds of Shawnee National Forest lie designated wilderness areas, preserved stretches of land that offer a more undisturbed, raw glimpse of nature. 
These regions are protected to maintain their natural conditions, ensuring minimal human intervention and offering a sanctuary for wildlife.
Lusk Creek Wilderness: 
A gem of the forest, Lusk Creek is renowned for its rugged topography, steep bluffs, and rock formations. The pristine waters of Lusk Creek meander through, offering scenic vistas and habitats for aquatic life.
Garden of the Gods Wilderness: 
A popular destination, this area showcases some of Shawnee's most iconic rock formations. Majestic cliffs and unique stone structures captivate visitors and provide a haven for various bird species.
Bay Creek Wilderness: 
Characterized by its rolling landscapes and lush hardwood forests, Bay Creek offers tranquility and solitude. Meandering streams add to its charm, supporting a diverse aquatic ecosystem.
Bald Knob Wilderness: 
Elevated terrains and picturesque overlooks define this region. From its heights, one can catch panoramic views of the forest, making it a favorite among hikers and nature photographers.
Clear Springs Wilderness: 
True to its name, this area is dotted with clear, spring-fed water bodies. The dense foliage surrounding these waters offers a lush backdrop, and the trails here often lead to secluded spots, perfect for reflection.
Panther Den Wilderness: 
A mosaic of habitats, from hardwood forests to rocky outcrops, makes Panther Den a biodiversity hotspot. Its trails often lead to hidden corners, revealing nature's lesser-seen wonders.
Visiting these wilderness areas in Shawnee provides an unparalleled experience, taking you back to nature's essence. It's a journey into the untouched, witnessing the forest in its most pristine form.
Conclusion
The trails of Shawnee National Forest beckon adventurers with their unique allure. Each path offers a distinctive journey through nature's tapestry, unveiling landscapes, wildlife, and memories waiting to be made. 
From the awe-inspiring panoramas of Garden of the Gods to the serene beauty of Lusk Creek Wilderness, these trails are more than just routes through the forest; they're passages into the heart of Southern Illinois' wilderness. 
As we tread each mile, we're reminded of nature's timeless wonders and the thrill of discovery. In Shawnee, every trail is an invitation, every step a story, and every hike a lasting imprint on the soul.