Virginia is a camper's paradise. With a mix of both national and state parks, it offers diverse landscapes ranging from the rugged Blue Ridge Mountains to the tranquil beaches of the Chesapeake Bay. 
Each park boasts unique camping amenities, ensuring varied experiences for both novice and seasoned campers. 
Whether you're seeking a site with breathtaking views, rich wildlife, or well-marked trails, Virginia has it all. 
In this guide, we'll navigate through 12 standout state parks ideal for camping, provide practical tips, and simplify the reservation process. 
If you're researching the best places to camp in Virginia, you're in the right place. Let's get started.
Overview of State Parks in Virginia
Virginia is home to 38 state parks, each uniquely representing different facets of the state's topography and ecology. 
From the densely forested areas in the west to the coastal terrains in the east, these parks span over 120,000 acres, offering visitors a diverse range of outdoor experiences.
The Blue Ridge Mountains, stretching across the western part of the state, house parks like Grayson Highlands, known for its wild ponies and elevation, providing camping opportunities amidst mountainous terrains. 
On the other hand, the eastern coastline boasts parks such as First Landing State Park, which is easily accessible from Virginia Beach and provides an entirely different, beachfront camping experience.
Many of these state parks are strategically located within a few hours' drive from major cities and towns. For instance, Pocahontas State Park is just a stone's throw away from Richmond, making it a popular weekend getaway spot.
The importance of these parks goes beyond recreation. They play a crucial role in preserving the natural ecosystems of Virginia, housing several indigenous species of flora and fauna. 
Moreover, with the uptick in nature tourism and camping, these parks have increasingly become vital assets in promoting sustainable tourism and outdoor education in the state.
14 Virginia State Parks with Camping
Venturing into Virginia's state parks is like opening a diverse book of natural wonders. 
Each chapter, or in this case, each park, narrates a unique story of landscapes, wildlife, and outdoor experiences. 
If camping under a canopy of stars, beside shimmering waters, or amidst thick forests appeals to you, then you're about to embark on a captivating journey. 
Let's unfold the tales of 15 stellar state parks where camping becomes an experience to cherish.
Shenandoah National Park
Covering over 200,000 acres, Shenandoah National Park lies majestically along the Blue Ridge Mountains. 
The park's signature feature, Skyline Drive, runs for 105 miles, presenting visitors with panoramic views of the Shenandoah Valley and Piedmont. 
With a landscape dominated by rolling hills, waterfalls, and wooded hollows, the park peaks at Hawksbill Mountain, reaching an elevation of 4,051 feet.
For campers, Shenandoah offers a variety of campgrounds, totaling nearly 500 campsites. 
Mathews Arm Campground is the nearest campground to the northern entrance of the park, located close to the Elkwallow Wayside and providing 179 sites.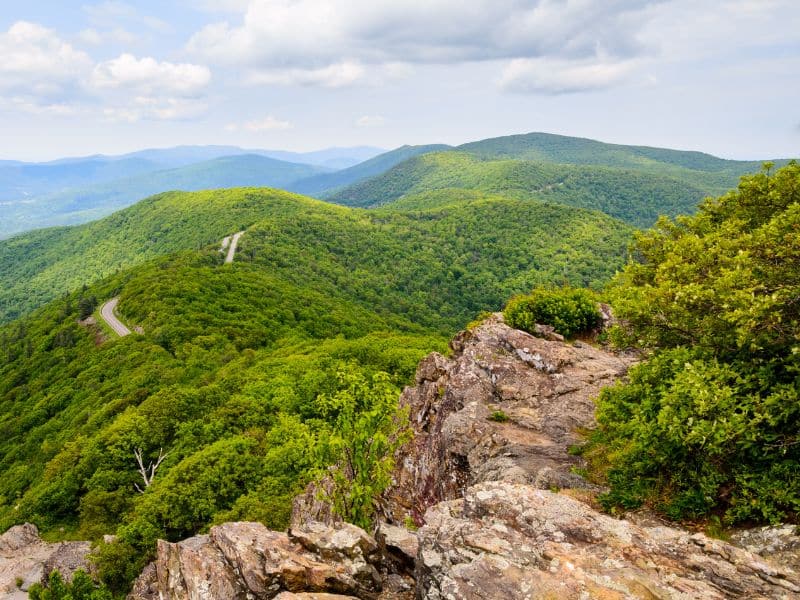 Big Meadows Campground, with its 221 sites, is ideally situated near many of the park's popular hikes and attractions, including the Big Meadows area itself. 
Lewis Mountain Campground offers a more secluded camping experience with its 31 sites, while Loft Mountain Campground impresses with 200 sites and awe-inspiring sunset views from its vantage point in the southern section of Skyline Drive.
Trail enthusiasts can explore over 500 miles of hiking trails, with notable ones including the Old Rag Mountain, Whiteoak Canyon, and the Dark Hollow Falls trails. 
The iconic Appalachian Trail spans 101 miles through the park, offering long-haul hikes and memorable encounters.
Wildlife thrives here; it's not uncommon for visitors to spot white-tailed deer, black bears, wild turkeys, or any of the 190 species of birds during their migration seasons.
The best window for a visit? Fall, when Shenandoah comes alive with fiery foliage. Spring, with its wildflower bloom, is a close second. While accessible year-round, some areas might be restricted in winter due to snow conditions.
Grayson Highlands State Park
Surrounding Mount Rogers, the highest peak in Virginia, Grayson Highlands State Park covers 4,500 acres. 
This park is distinct, not just for its breathtaking highland landscapes, but also for the wild ponies that graze freely, delighting visitors with their presence.
For campers, Grayson Highlands provides a diverse range of options. The Hickory Ridge Campground is equipped with 36 sites, suitable for tents and RVs. 
Those bringing horses can opt for the Chestnut Hollow Horse Campground, dedicated to equestrians with its 23 well-maintained sites. 
Adventurous souls seeking a more back-to-basics experience will appreciate the Rugby Loop, offering 30 primitive camping spots amidst the rugged beauty.
The park's trail system is extensive, with over 13 miles catering to hikers of all levels. The Rhododendron Trail is a favorite, meandering through rich flora and leading to the historic Rhododendron Gap. 
For those seeking panoramic vistas, both the Listening Rock Trail and Twin Pinnacles Trail are unmatched, revealing expansive views of the surrounding highlands.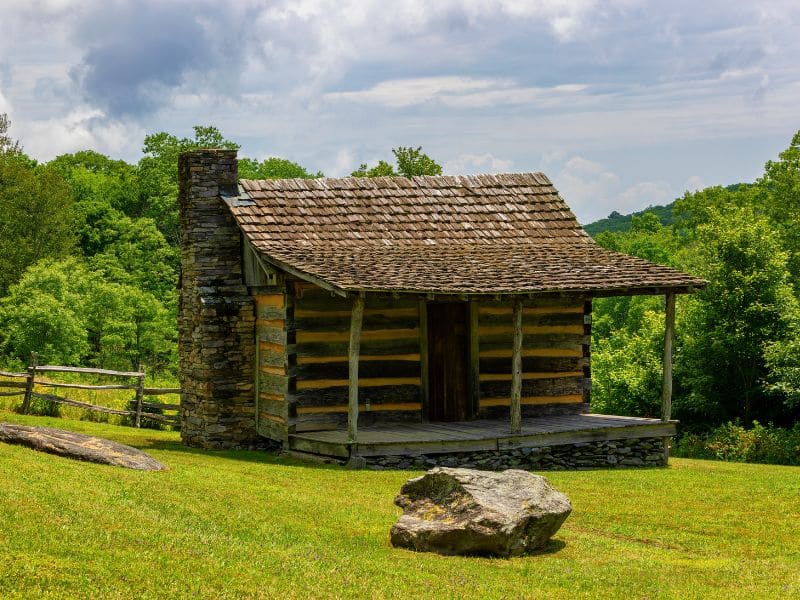 While the wild ponies are the star attraction, the park is also home to a rich tapestry of wildlife. Sightings of deer, bobcats, and a diverse bird population, from warblers to hawks, are common.
The park's altitude ensures cooler temperatures in the summer months. However, the allure of early fall, with its explosion of autumnal hues against the backdrop of clear mountain vistas, is undeniable and worth a visit.
Bear Creek Lake State Park, Virginia
Situated in the heart of Cumberland State Forest, Bear Creek Lake State Park spans 326 acres and centers around the serene Bear Creek Lake. 
It's a haven for campers who yearn for that quintessential lakeside camping experience.
The park offers a mix of camping accommodations. Acorn Loop Campground has sites tailored for both tents and RVs, while the Cumberland Multi-Use Trail Campground caters to equestrians.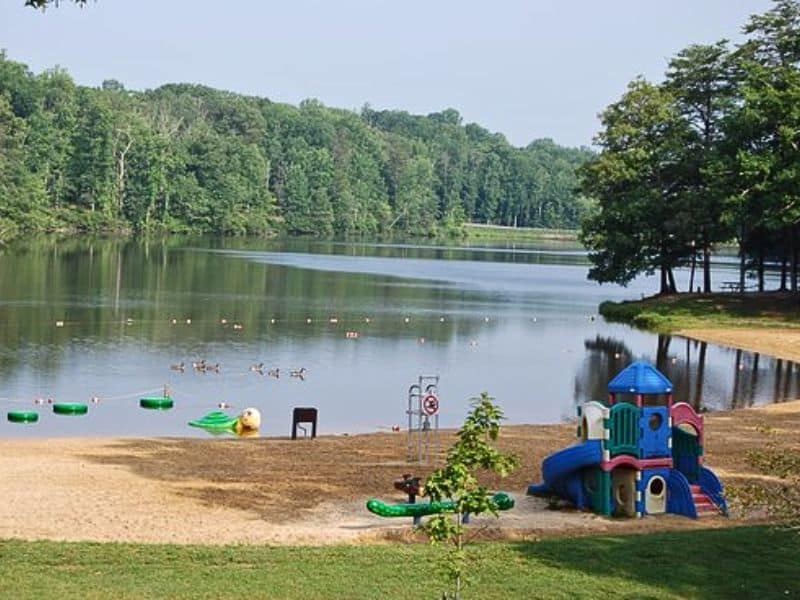 There's also the Bear Creek Hall Meeting Cabin for those looking for a blend of nature and comfort. In total, the park boasts over 50 campsites, many of which offer direct views of the lake.
Water activities reign supreme here. Kayaking, canoeing, and fishing are popular pastimes, with the lake stocked with various fish species, including largemouth bass and crappie.
For the hiking enthusiasts, Bear Creek offers several miles of trails. The Lakeshore Trail stands out, providing hikers with a scenic loop around the lake, peppered with viewpoints and picnicking spots.
Wildlife in the area is abundant. Campers can expect to see various bird species, squirrels, and even the occasional white-tailed deer.
Given the park's lakeside location, the best times to visit are spring and summer when water activities are at their peak. 
But autumn brings a different charm with the foliage reflecting off the tranquil waters, making it a picturesque camping spot.
Hungry Mother State Park, Virginia
Located in Southwest Virginia, Hungry Mother State Park encompasses over 2,000 acres and is anchored by the 108-acre Hungry Mother Lake. It stands as a testament to the rich tapestry of nature and history combined.
Campers have several options within the park. Camp Burson is a prime choice for both tent and RV campers, offering electric and water hookups.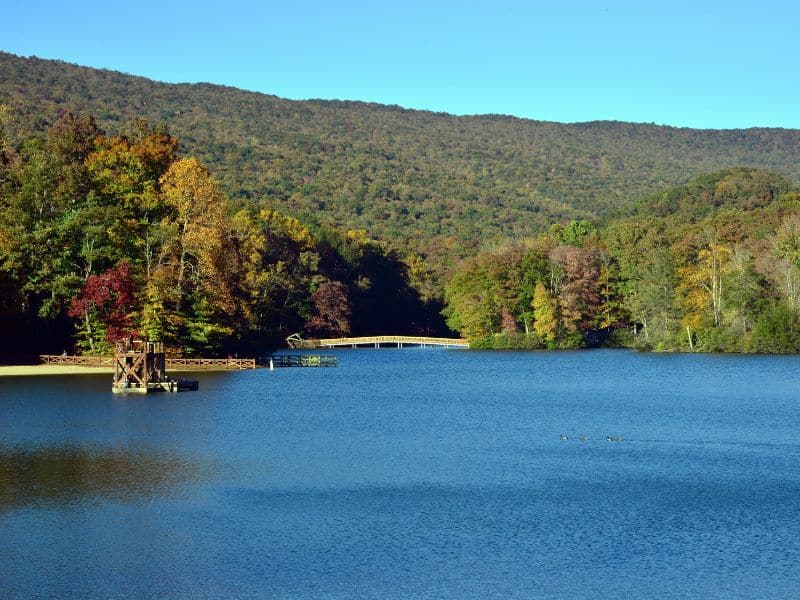 Royal Oak Campground provides a more wooded environment, whereas the Creekside Campground caters specifically to tent users. 
Collectively, the park houses over 120 campsites, each providing unique access to the park's features.
The centerpiece, Hungry Mother Lake, offers an array of water activities. Boating, swimming, and fishing are popular, with anglers having a chance to reel in bass, catfish, and bluegill.
Hiking is a major draw. With more than 17 miles of trails, the park has something for everyone. The Lake Loop Trail is particularly notable, skirting the lake's perimeter and offering serene views. 
The Clyburn Hollow Loop delves deeper into the forest, introducing hikers to the diverse ecology of the region.
The park's wildlife is varied and vibrant. From songbirds to salamanders, and the frequent sightings of deer, nature enthusiasts are in for a treat.
While the spring and summer months invite visitors to fully indulge in lake activities, fall presents an explosion of color, and the reflections on the lake's surface make it a camper's paradise.
Claytor Lake State Park, Virginia
Located in the New River Valley, Claytor Lake State Park encompasses 472 acres and is set against the backdrop of the 4,500-acre Claytor Lake. It is a magnet for those drawn to the allure of waterfront camping and the myriad of water activities it supports.
The park's campgrounds are designed to take advantage of the beautiful shoreline. With over 110 campsites available, many offer direct lake access.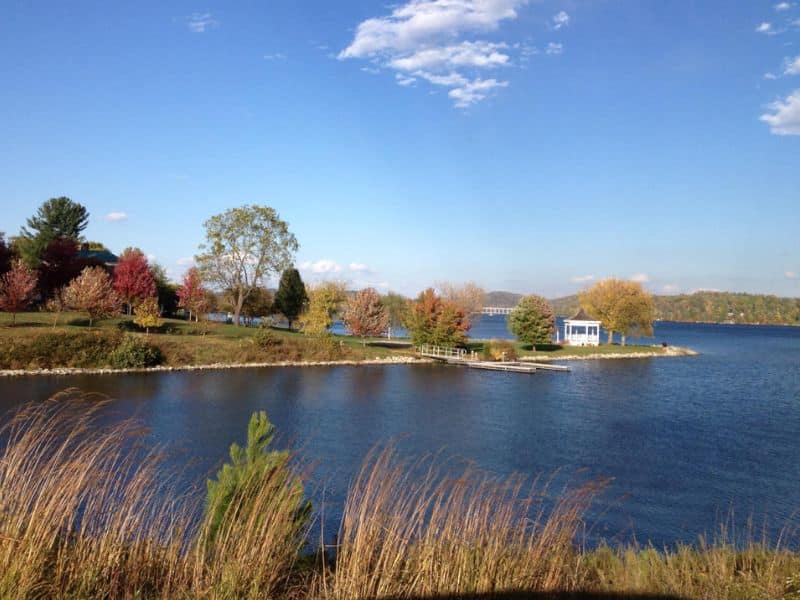 The Poplar Ridge Campground is a favorite among both tent and RV campers due to its lakeside spots and essential amenities. 
Meanwhile, the Lakeview Campground gives campers an elevated view of the expansive water body, with sites suitable for tents and smaller RVs.
Claytor Lake is synonymous with water-based recreation. From boating and kayaking to fishing and jet skiing, the possibilities are vast. Anglers might find themselves reeling in everything from bass and catfish to perch and crappie.
Hikers aren't left behind. The park boasts several miles of trails, each offering a unique perspective of the area's diverse ecosystem. The Claytor Lake Trail stands out, meandering alongside the lake and providing occasional resting spots with captivating views.
Wildlife enthusiasts will appreciate the park's abundant birdlife, including ospreys, eagles, and various waterfowl. The dense woodlands around are also home to deer, raccoons, and even foxes.
The prime time for a visit is undoubtedly the warm months when the lake glistens under the sun and water activities are in full swing. 
However, the calm and serene ambiance during early fall, with the added spectacle of changing leaves, provides a different yet equally enchanting camping experience.
Fairy Stone State Park, Virginia
Situated in the rolling foothills of the Blue Ridge Mountains, Fairy Stone State Park spreads across 4,537 acres, making it one of Virginia's largest state parks. But beyond its size, the park is steeped in intriguing folklore tied to the mystical fairy stones.
For those keen on camping, the park provides a variety of options. Whispering Pines Campground is a popular choice, with its 45 campsites tailored for tents, trailers, and RVs. 
White Oak Ridge Campground has an additional 41 sites, while the Fairy Stone Lake Campground offers a serene environment with 28 campsites, many of which overlook the scenic lake. In total, campers can choose from over 100 campsites throughout the park.
The park's defining feature is, without doubt, the fairy stones. These unique cross-shaped crystals have an ancient legend associated with them. 
As the tale goes, they are tears of fairies, shed upon hearing the news of Christ's crucifixion. Many visitors enjoy combing the park's vast terrains, searching for these cherished stones.
The 168-acre Fairy Stone Lake is a hub for water activities. From fishing to boating, the lake offers a chance to unwind amidst nature. Trails, too, are abundant, with the Little Mountain Falls Trail and Fairy Stone Lake Trail being visitor favorites.
Wildlife sightings are frequent, including deer, turkeys, and various songbirds, adding to the park's rich natural tapestry.
The best time to delve into the park's mysteries and natural beauty is during the spring and early summer when the foliage is lush and the legends feel most alive. 
Yet, every season brings its own charm, making Fairy Stone State Park a year-round camping destination.
First Landing State Park, Virginia
Located at the nexus where the Chesapeake Bay meets the Atlantic Ocean, First Landing State Park covers a vast 2,888 acres, offering a unique blend of coastal ecosystems and deep-rooted history. 
The park gets its name from the 1607 landing of English colonists, marking the first point of contact before they journeyed onward to establish Jamestown.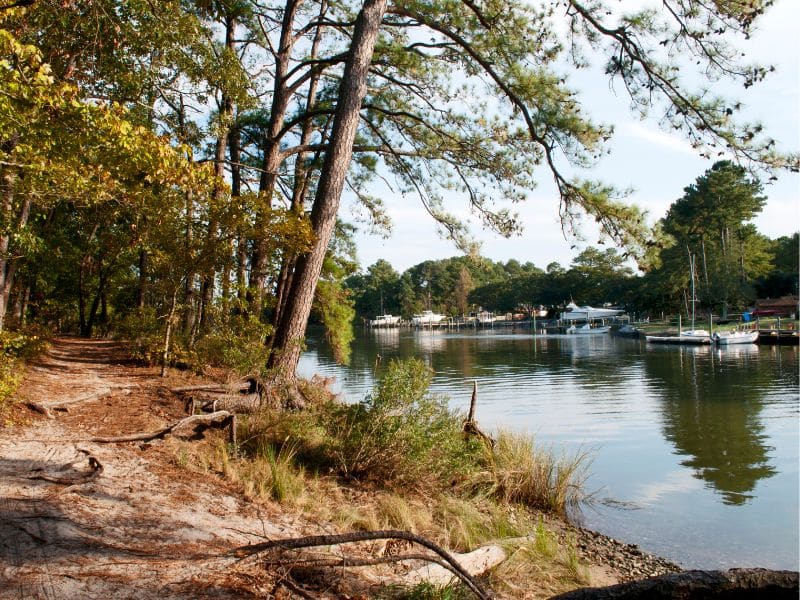 For campers seeking proximity to both beach and history, this park doesn't disappoint. Seashore Campground offers 205 campsites, nestled right by the bay, letting campers wake up to the rhythmic sound of waves. 
The campsites accommodate tents, trailers, and RVs, with some sites providing water and electric hook-ups. On the other hand, the more secluded Dune's Edge Campground provides an immersive experience amidst the coastal environment.
The allure of the bay is undeniable. Swimming, kayaking, and fishing become a daily routine here. Anglers can expect to catch species like flounder, red drum, and even blue crab.
The park's trail system is expansive. Over 19 miles of trails snake through a diverse range of habitats. The Cape Henry Trail is the longest, stretching for 6 miles and introducing hikers to dunes, salt marshes, and maritime forests. The shorter Bald Cypress Trail is a treat for nature lovers, taking visitors through a wetland swamp.
Apart from the rich natural beauty, the park is also a hub for birdwatchers, with regular sightings of ospreys, egrets, and herons.
Given its coastal location, First Landing State Park is especially inviting during the spring and summer months. Yet, its historical significance, combined with the ebb and flow of the tides, makes it a captivating spot throughout the year.
Douthat State Park, Virginia
Douthat State Park, nestled amidst the Allegheny Mountains, stretches over 4,500 acres and serves as a pristine haven for those keen on tent camping in a dense forest setting. 
As one of the original six Virginia State Parks, Douthat carries with it a legacy of conservation and outdoor recreation that dates back to 1936.
Tent campers will find a plethora of options to pitch their shelters. The Lakeside Campground, with its 35 tent-only sites, ensures direct access to the shimmering 50-acre Douthat Lake, making morning views and evening strolls a pure delight.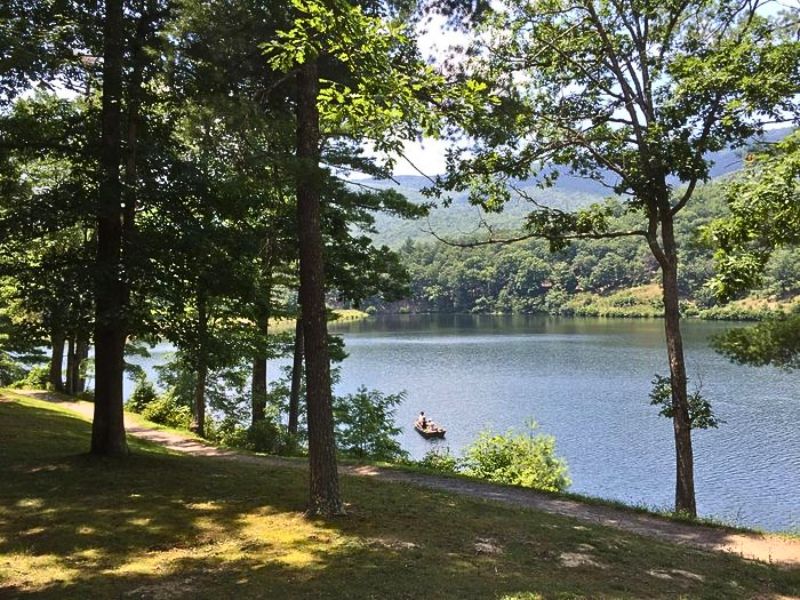 Meanwhile, Whispering Pines Campground offers a denser forest canopy with 27 sites, providing a deep-woods experience. In total, Douthat boasts 87 tent sites, each with its own distinct charm.
Douthat Lake is a central attraction, supporting activities like fishing, swimming, and canoeing. It's renowned for its stocked trout, offering anglers a rewarding experience.
For those itching to explore, the park has more than 43 miles of trails. The Blue Suck Falls Trail is particularly popular, leading hikers to cascading waterfalls, while the Stony Run Trail offers picturesque views of the park's varying topography.
The dense forests of Douthat play host to an array of wildlife. Campers regularly spot white-tailed deer, black bears, and an impressive variety of birds, including woodpeckers and warblers.
While Douthat State Park's beauty is evident year-round, fall turns the park into a mosaic of colors, making it an exceptionally picturesque time for camping. 
However, spring's blossoms and summer's lushness offer their own distinct appeal, ensuring that Douthat remains a cherished destination throughout the seasons.
Twin Lakes State Park, Virginia
Set in the heart of Virginia's Central Piedmont, Twin Lakes State Park showcases 495 acres of scenic beauty centered around its namesake: two connecting lakes, Goodwin and Prince Edward. 
These tranquil bodies of water, with their mirrored reflections of the surrounding verdant forests, offer visitors a respite from the daily hustle.
The park's campgrounds have been thoughtfully curated to provide campers with picturesque views and easy access to the lakes. 
Cedar Crest Campground offers 33 campsites, suitable for both tents and RVs, many with electric and water hook-ups. Adjacently, Prince Edward Campground boasts an additional 23 sites, bringing the total available spots to 56, each allowing campers a serene lakeside experience.
Both Goodwin and Prince Edward Lakes are havens for water enthusiasts. Whether you're inclined to cast a fishing line hoping to catch largemouth bass and crappie or paddle in a kayak under a setting sun, these lakes have you covered.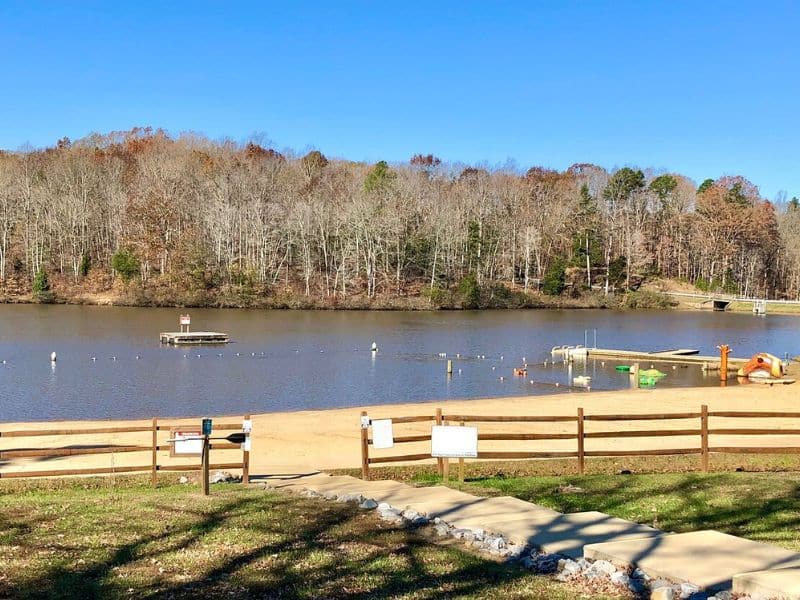 Beyond the lakes, the park features over 8 miles of trails. The Otter's Path Trail meanders along the lakes' shores, providing panoramic water views, while the Twin Lakes Trail offers a slightly more challenging trek through the woods, introducing hikers to the area's diverse flora and fauna.
Wildlife sightings at Twin Lakes are a norm rather than an exception. The dense woodlands around the lakes house a range of animals, from playful squirrels and chirping songbirds to the occasional wandering deer.
The allure of Twin Lakes State Park is most pronounced in the summertime when the waters shimmer and recreational activities are at their peak. 
Yet, the serenity of spring and the rustic charm of autumn also make compelling cases for a visit, ensuring the park's year-round appeal.
Westmoreland State Park
Westmoreland State Park, stretching over 1,311 acres, provides a majestic view of the Potomac River. 
Located in Virginia's Northern Neck, the park's highlight is its fossil beach, a treasure trove for amateur paleontologists. 
Visitors often find shark teeth and other ancient marine remnants, echoing a time long past.
The park's Turkey Neck Campground offers 133 campsites, suitable for tents, trailers, and RVs, ensuring that everyone has a prime spot to enjoy the river's vistas. 
Fishing in the Potomac presents opportunities to catch bass and catfish, while the park's trails, like the Big Meadow Trail, offer serene walks through diverse habitats.
Bird enthusiasts will appreciate the regular sightings of bald eagles, ospreys, and kingfishers, a testament to the park's rich biodiversity.
Colonial National Historical Park
Spanning the locations of Jamestown and Yorktown, the Colonial National Historical Park is a time capsule, preserving the touchstones of America's colonial history. 
With 8,677 acres to its name, the park provides not just historical immersion but also natural beauty.
The park does not offer traditional camping facilities, but those with a bent for history can camp at nearby private and public campgrounds, then delve into the historical park by day. 
Key attractions include the Jamestown Settlement, the battlefield of Yorktown, and the scenic Colonial Parkway, connecting Jamestown, Williamsburg, and Yorktown.
Wildlife, especially deer and wild turkeys, can be frequently spotted amidst the historic sites, adding a touch of nature to the historical experience.
Appomattox-Buckingham State Forest
Covering a whopping 19,808 acres, the Appomattox-Buckingham State Forest is an epitome of tranquility and natural abundance. 
Dominated by a variety of timber resources, including pine and hardwood, the forest plays a significant role in Virginia's timber industry.
For campers, Holliday Lake State Park, located within the forest boundaries, offers well-equipped campgrounds with over 30 sites. The park's namesake, Holliday Lake, is perfect for boating and fishing.
Trails like the Forest Exploration Trail allow hikers to traverse the diverse habitats of the forest. Rich in wildlife, campers can expect sightings of white-tailed deer, wild turkeys, and foxes amidst the towering trees.
Visitors are particularly drawn to the forest in the fall, when the timber canopy transforms into a riot of colors, creating a breathtaking contrast with the evergreens.
Conway Robinson State Forest
Located near Gainesville, Conway Robinson State Forest covers 444 acres and offers a blend of pine and hardwood forests. 
The forest boasts about 5 miles of multi-use trails, drawing both hikers and equestrian enthusiasts alike. 
The Bluebird and Piney Branch Trails are particularly favored, each offering its own level of difficulty set against the backdrop of the region's typical Piedmont undulating terrain. 
While Conway Robinson doesn't have its own designated campgrounds, its close proximity to Gainesville means there's a range of nearby accommodation options for those who wish to stay overnight. 
As for wildlife, it's not uncommon to spot white-tailed deer, turkeys, foxes, and a variety of bird species. 
The most captivating times to visit are during Spring and Fall, when the forest either blooms in fresh greens or showcases a spectrum of autumn colors.
Prince Edward-Gallion State Forest
Encompassing a vast 6,496 acres, Prince Edward-Gallion State Forest is a camper's delight. The forest presents an intricate trail system, suited to hikers of all abilities. 
Trails like the Beaver Pond Trail and the Twin Lakes Loop are among the favorites, summing up to several miles of hiking experiences, with each providing picturesque water views. 
The forest, with its mix of hardwoods, pine stands, and interspersed wetlands, is particularly vibrant with wildlife. 
Sightings of beavers in the wetlands, white-tailed deer in the woods, and even the occasional majestic bald eagle are not rare. 
For those keen on camping, the forest has 10 designated primitive sites, all equipped with fire rings. 
However, do remember to get a camping permit before setting up. The Fall season, with its gold and crimson canopy and pleasantly cool temperatures, is arguably the best time for camping and exploring.
10 Camping Tips in Virginia
Virginia, with its diverse landscapes ranging from the picturesque Blue Ridge Mountains to the serene Atlantic coastline, offers a plethora of camping experiences. 
Whether you're a seasoned camper or a newbie, these tips will help you make the most of your Virginian outdoor adventure:
Choose the Right Campsite: Virginia has a mix of national parks, state parks, and forests, each offering unique camping experiences. 
Research your destination in advance to ensure it aligns with what you're looking for, be it solitude, recreational activities, or proximity to historical sites.
Know the Weather: Virginia's weather can be quite varied. Check forecasts before your trip, especially if you're planning to camp in higher elevations or coastal areas, where conditions can change rapidly.
Wildlife Respect: Virginia is home to a rich array of wildlife, including bears and snakes. Always keep a safe distance, store food securely, and avoid leaving scraps behind.
Follow Leave No Trace Principles: Respect nature by cleaning up your campsite, disposing of waste properly, and minimizing campfire impact. 
This ensures that the pristine environment is preserved for future generations.
Camping Gear: Given the diverse terrains, pack gear that's appropriate for your camping location. 
Waterproof tents and gear are a must if you're camping in coastal or wet areas. In mountainous regions, ensure you have adequate insulation for cooler nights.
Stay Hydrated: Whether in the mountains or by the coast, always have sufficient water. While many sites have potable water sources, always carry a portable water filter or purification tablets as a backup.
Be Prepared for Bugs: Certain times of the year, especially in warmer months, Virginia can have its fair share of mosquitoes and ticks. Bring insect repellent and check for ticks daily.
Know the Regulations: Different parks and forests have specific rules about where you can camp, light fires, and more. Always check the regulations of your chosen camping site.
Fire Safety: Only start fires in designated areas and ensure they're fully extinguished before leaving or sleeping. During dry seasons, be extra cautious as forest fires can start easily.
Plan Activities: Beyond just setting up camp, Virginia offers a range of outdoor activities, from hiking and fishing to kayaking and bird watching. 
Check what's available in your chosen area and plan accordingly.
With these tips in hand, you're all set to dive into the Virginian wilderness and create unforgettable memories. 
Remember, it's not just about the destination but also the journey and experiences along the way. Happy camping!
Conclusion
Virginia's vast landscapes, from its majestic mountains to tranquil coastal regions, offer more than just a sightseeing experience; they invite adventure, exploration, and a reconnection with nature. 
The myriad state parks, national parks, and forests each tell a unique story, combining natural splendor with rich historical contexts. 
Whether you're pitching a tent under a canopy of stars in Shenandoah or tracing the footsteps of history in Colonial National Historical Park, Virginia promises an unparalleled camping journey. 
With the practical guidance and insider tips shared in this guide, you're now equipped to make the most of your Virginian camping expedition. 
So, pack your gear, tap into your sense of adventure, and let Virginia's great outdoors captivate your spirit. Safe travels and happy camping!