Your ultimate road trip itinerary: 8 essential stops from Albuquerque to Valley of Fire, packed with adventure and natural wonders.
Ready for an epic road trip? Buckle up for a six-day adventure that kicks off in Albuquerque and cruises all the way to Nevada's stunning Valley of Fire.
This guide is your trusty co-pilot, navigating you from the historic streets of Flagstaff to the awe-inspiring edge of the Grand Canyon, and through the wild heart of the Southwest.
With tips on where to hike, camp, and soak in the best views, plus insider info on not-to-miss tours, you're all set to hit the road and make some incredible memories. Let's get this adventure started!
Planning Your Road Trip
Planning your road trip meticulously can make the difference between a good adventure and an unforgettable one. This section lays out the essential steps for a smooth journey from Albuquerque to Valley of Fire: route details, packing essentials, and pre-trip vehicle preparation.
We'll guide you through selecting the best travel times and anticipating the challenges of desert driving. With a solid plan in place, you'll be free to enjoy the stunning landscapes and unique stops along the way. Let's get started.
Prepping for Departure 
Before you set off on your desert drive from Albuquerque to Valley of Fire, packing smart and ensuring your vehicle is road-ready are key. Start with the essentials: a first-aid kit, plenty of water, sun protection, and navigation tools. For clothing, layering is your best bet to adapt to the fluctuating desert temperatures.
Next, a thorough vehicle check is crucial. Ensure your tires, brakes, fluids, and air conditioning are in top condition. If renting, a reliable service like Discover Cars offers a selection of vehicles perfect for the varying terrain you'll encounter. Check out Discover Cars for options that match your needs, from rugged SUVs for off-road trails to comfortable sedans for longer highway stretches. With your packing complete and your vehicle sorted, you're all set to embark on this epic road trip with confidence.

The route 
The journey from Albuquerque to Valley of Fire is approximately 632 miles and typically takes around 9 hours and 30 minutes without stops. You should plan for a full day's drive if you want to enjoy the scenery and attractions along the way, or consider breaking it into two days to explore more leisurely.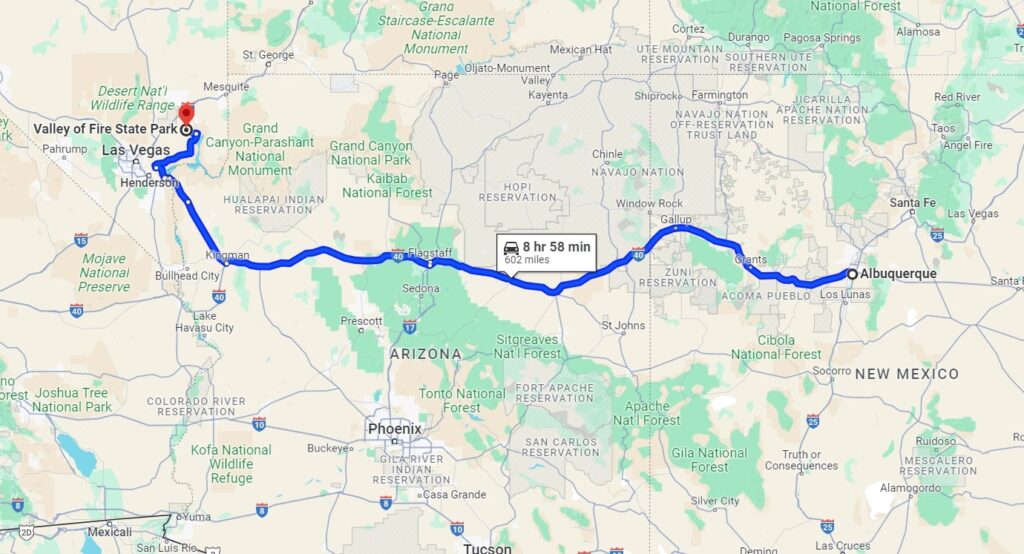 Starting from Albuquerque, take I-40 W for about 468 miles until you reach Kingman, AZ. This stretch will take you around 6 hours and 30 minutes. From Kingman, take the US-93 N and merge onto I-11, which will lead you towards Nevada, adding about 1 hour to your trip.
Once in Nevada, take exit 2 from I-11 and continue on Northshore Rd until you reach Valley of Fire Hwy, which is about a 1 hour and 10-minute drive. For the best experience, plan to leave early in the morning to avoid heavy traffic and give yourself ample time to enjoy the stops along the way.
Stops on the Way
As you embark on the road from Albuquerque to Valley of Fire, each stop is an opportunity to stretch your legs and enrich your journey with memories. 
From ancient forests frozen in time to the engineering marvel of Hoover Dam, and the contrasting glitz of Las Vegas, your path is dotted with attractions that are as diverse as they are captivating. 
These stops are not mere waypoints; they're chapters in your adventure, moments where the Southwest tells its stories. 
So, keep your camera at the ready and your curiosity piqued as we dive into the must-see stops that punctuate your route with wonder.
Petrified Forest National Park
Petrified Forest National Park, situated about 204 miles from Albuquerque, is a marvel of the ancient world that invites travelers into a landscape where wood has turned to stone.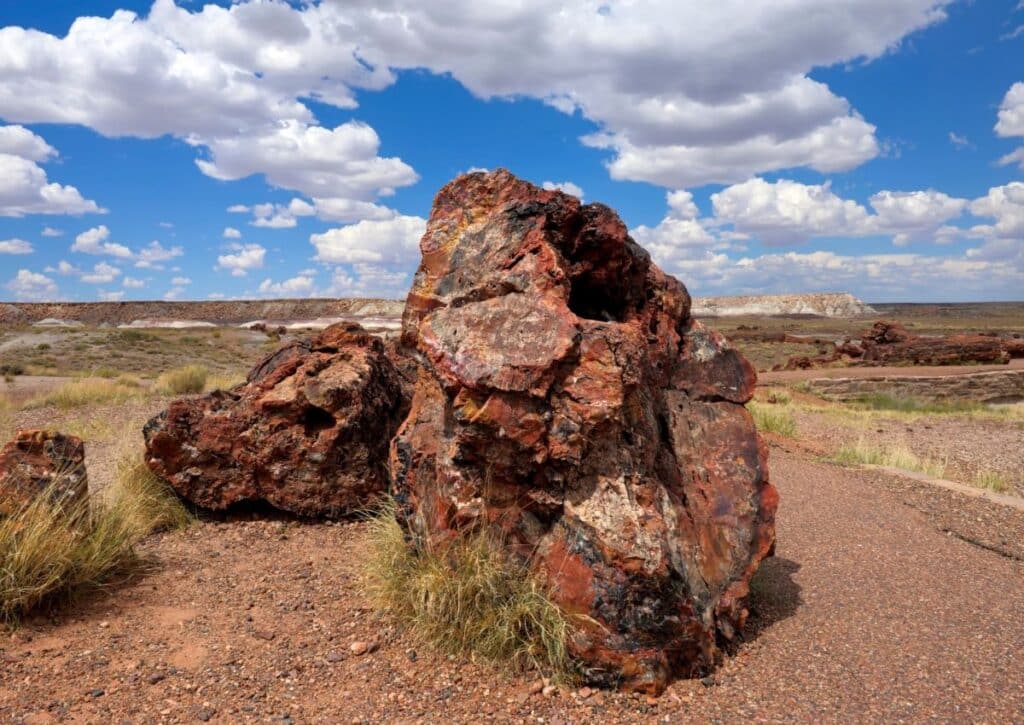 This 225-million-year-old vista sprawls across 346 square miles and can easily be a day's exploration on its own.
Upon entering the park, the Rainbow Forest Museum offers exhibits that are a prelude to the wonders you'll encounter. Trail options are plentiful, but the Giant Logs Trail near the museum showcases some of the largest and most colorful petrified logs. For a deeper dive into the park's heart, the Blue Mesa Trail offers a one-mile loop descending into a badland landscape of bluish bentonite clay and petrified wood.
Driving the 28-mile main road through the park presents panoramic views and access to other noteworthy trails and the Painted Desert overlooks. Remember to carry plenty of water, wear sunscreen, and start early to avoid the heat of the midday sun.
Note that collecting petrified wood is prohibited, but you can purchase legally sourced pieces from the gift shop. A visit here is a journey back in time, a chance to wander amongst the remnants of a prehistoric world where nature's alchemy has painted a landscape in stone.
Flagstaff, AZ
Flagstaff, AZ, nestled amidst the largest ponderosa pine forest in North America, is a haven for outdoor enthusiasts and history buffs alike, situated 325 miles from Albuquerque. This vibrant mountain town offers a refreshing break from the desert's expanse with its cool climate and scenic beauty.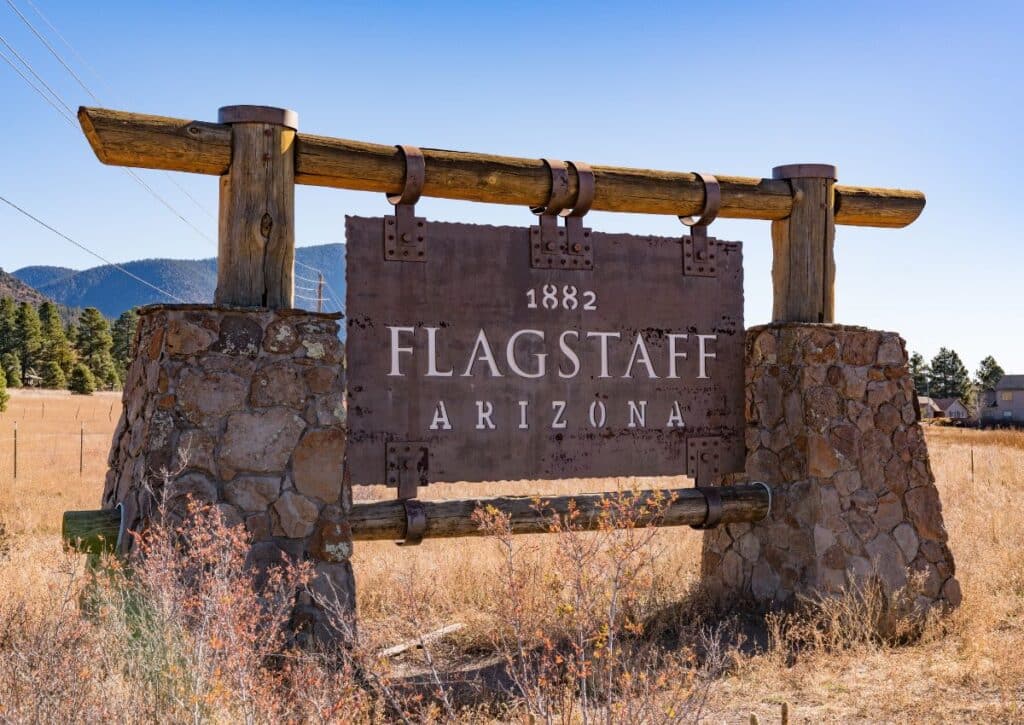 Start your visit at the historic downtown, peppered with local shops, cafes, and the famous Lowell Observatory, where Pluto was discovered. 
Just 10 miles from downtown, Walnut Canyon National Monument beckons with its ancient cliff dwellings. 
The Island Trail there offers an intimate glimpse of the dwellings up close, while the Rim Trail provides breathtaking canyon views with less exertion.
Flagstaff serves as an ideal pitstop for food and rest, but it's the town's blend of natural wonders and cultural richness that makes it a must-visit location on your road trip to Valley of Fire.
Detour: Grand Canyon National Park, AZ
A detour to the Grand Canyon, around 405 miles from Albuquerque, offers an enriching experience that goes beyond the typical lookout points. Begin at the Grand Canyon Visitor Center for exhibits that put the canyon's scale into perspective.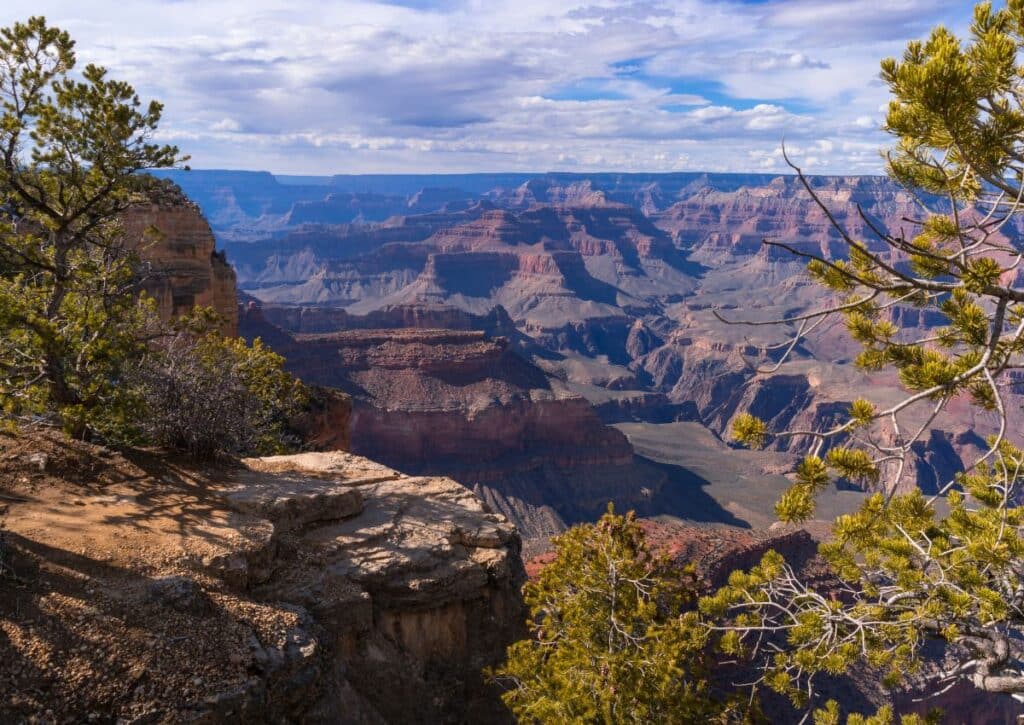 Plan for various viewpoints like Lipan Point, with its wide panorama, or the Desert View Watchtower, an architectural marvel offering a higher vantage point. For a tangible connection with the canyon, consider a guided tour to learn about the region's geology and cultural history.
If time allows, delve into the canyon on a hike down the Bright Angel Trail, but be mindful of the distance and your fitness level—what goes down must come up. For those unable to hike, a helicopter tour can provide awe-inspiring aerial views.
As a natural wonder, the Grand Canyon is both a photographer's dream and a contemplative retreat. Every visitor finds a unique way to connect with this vast landscape, whether it's watching the play of light at sunrise or sunset, stargazing, or simply sitting in silent awe of nature's grandeur. Remember, no matter how much you plan, the Grand Canyon always holds something unexpected, urging you to embrace the adventure.
Kingman, AZ
In Kingman, Arizona, the allure of the open road is palpable. As the midpoint between Albuquerque and the Valley of Fire, Kingman offers a rich slice of Americana at 468 miles into your journey.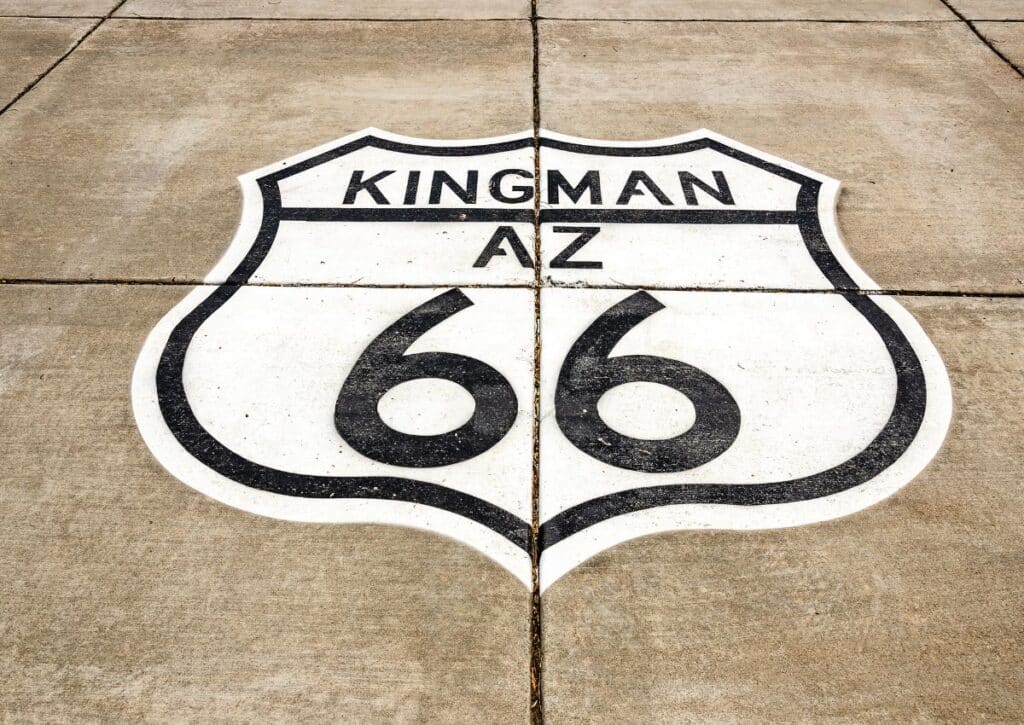 Steeped in Route 66 history, the city invites you to explore the Arizona Route 66 Museum, where stories and artifacts of the "Main Street of America" come to life.
The historical charm of downtown Kingman, with its well-preserved buildings and iconic signage, beckons for a leisurely stroll. For sustenance, iconic diners along Route 66 serve up hearty meals with a side of nostalgia. Venture towards the Hualapai Mountains for a nature escape, where trails like the Potato Patch Loop offer serene hikes and sweeping views.
Kingman isn't just a waypoint; it's a place to connect with the spirit of the Southwest. Take a moment here to appreciate the legacy of the historic highway that transformed American travel.
Whether it's through the vibrant storytelling of the museum, the flavors of the local eateries, or the natural escape just a short drive away, Kingman is a stop that enriches your travel narrative and deepens your appreciation for the journey.
Hoover Dam, NV/AZ Border
As you near the 537-mile mark from Albuquerque, the Hoover Dam emerges as a highlight of your road trip, offering a blend of history, architecture, and nature.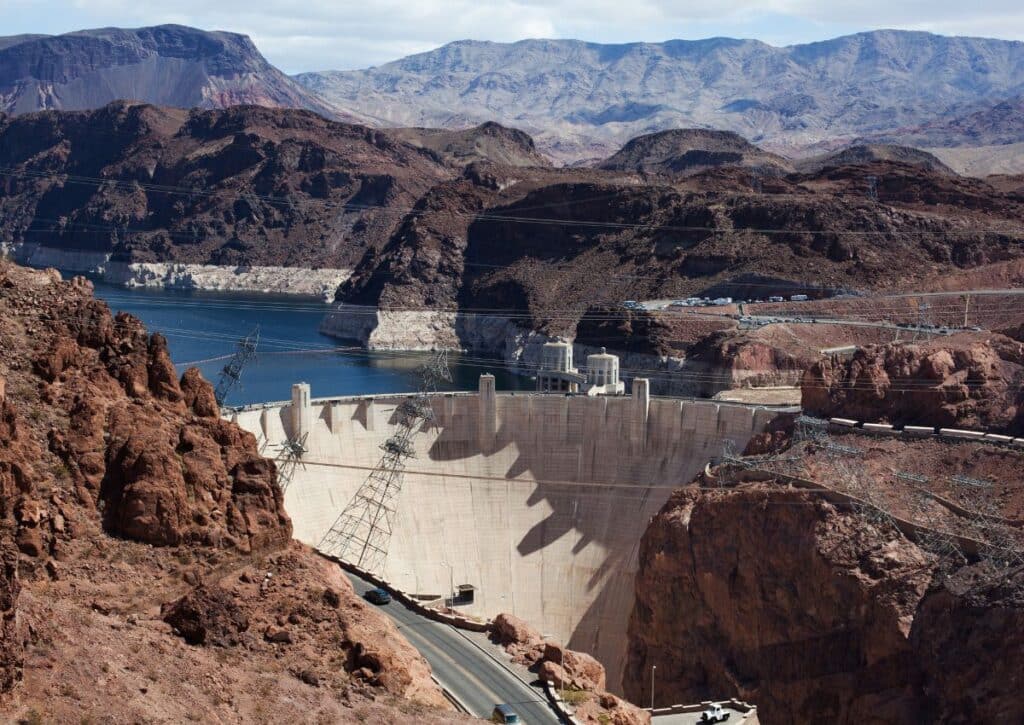 A guided tour of the dam reveals the inner workings of this 20th-century marvel, where you'll learn about the immense effort that went into its construction and its vital role in hydroelectric power production.
Make sure to walk across the dam itself, where you can straddle two states at once and gaze down into the Colorado River's dramatic gorge.
Don't miss the chance to step onto the Mike O'Callaghan–Pat Tillman Memorial Bridge walkway. Here, you'll be treated to an unparalleled view of the dam, set against the stark desert backdrop. It's an ideal spot for those panoramic shots that capture the essence of your southwestern adventure.
Take a moment to appreciate the art deco designs that adorn the dam, a reminder of the era in which it was built. With each step, the Hoover Dam offers a tangible connection to the ambitious spirit of the past, making it an inspiring pitstop that's as educational as it is breathtaking.
Lake Mead National Recreation Area
After driving 550 miles from Albuquerque, the vast expanse of Lake Mead National Recreation Area unfolds as an oasis in the desert landscape. This stop offers a refreshing contrast with opportunities for a variety of water activities.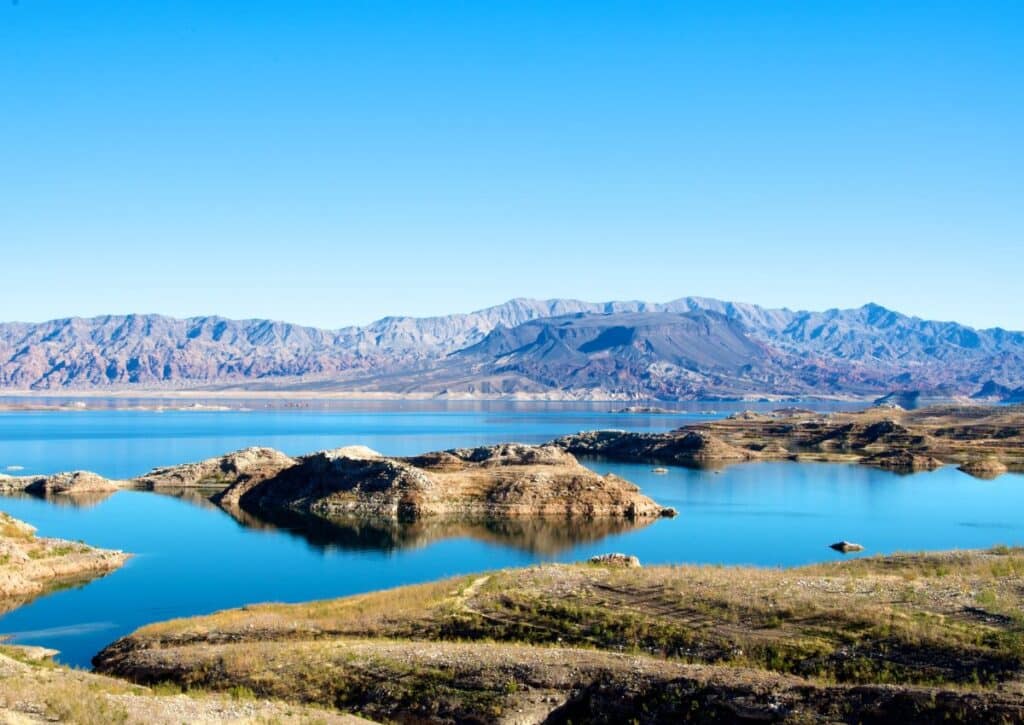 Here, you can rent a boat to explore the hidden coves or kayak along the tranquil waters for a closer look at the area's unique geology and wildlife. 
For those who prefer to stay on land, the scenic drive around the lake offers numerous lookout points, each presenting a unique view of the lake's blue waters against the desert backdrop. 
After the adrenaline rush of water sports or the serenity of a scenic drive, unwind at one of the lakeside beaches, where the water's edge is the perfect place for a picnic and a leisurely afternoon. Lake Mead is a rejuvenating retreat that invigorates the spirit.
Las Vegas, NV
In Las Vegas, 574 miles from Albuquerque, you're greeted by a symphony of lights, sounds, and excitement. It's a place where each hotel and casino offers a different world to explore.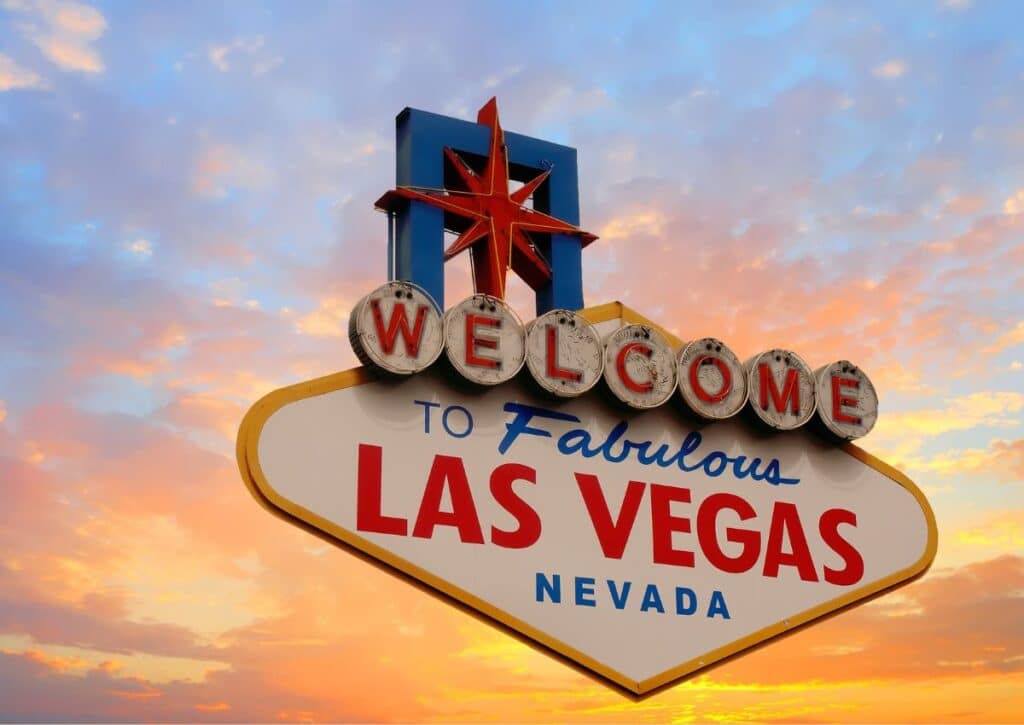 Start by wandering the Strip, gazing at the dancing fountains, or perhaps taking a gondola ride at the Venetian. As the evening sets in, catch one of the many headline shows or dine at an array of restaurants offering every cuisine imaginable.
Just beyond the city's shimmer, Red Rock Canyon awaits, offering a serene reprieve from the Vegas hustle. This conservation area invites you to hike amongst the red sandstone peaks, observe the diverse wildlife, or simply enjoy a scenic drive through its sprawling landscape. 
Both Vegas and its natural surroundings promise a memorable stop before you continue to the Valley of Fire.
Valley of Fire State Park, Your Destination 
Valley of Fire State Park, an hour northeast of the hustle of Las Vegas, is an otherworldly destination that captivates visitors with its vibrant landscapes.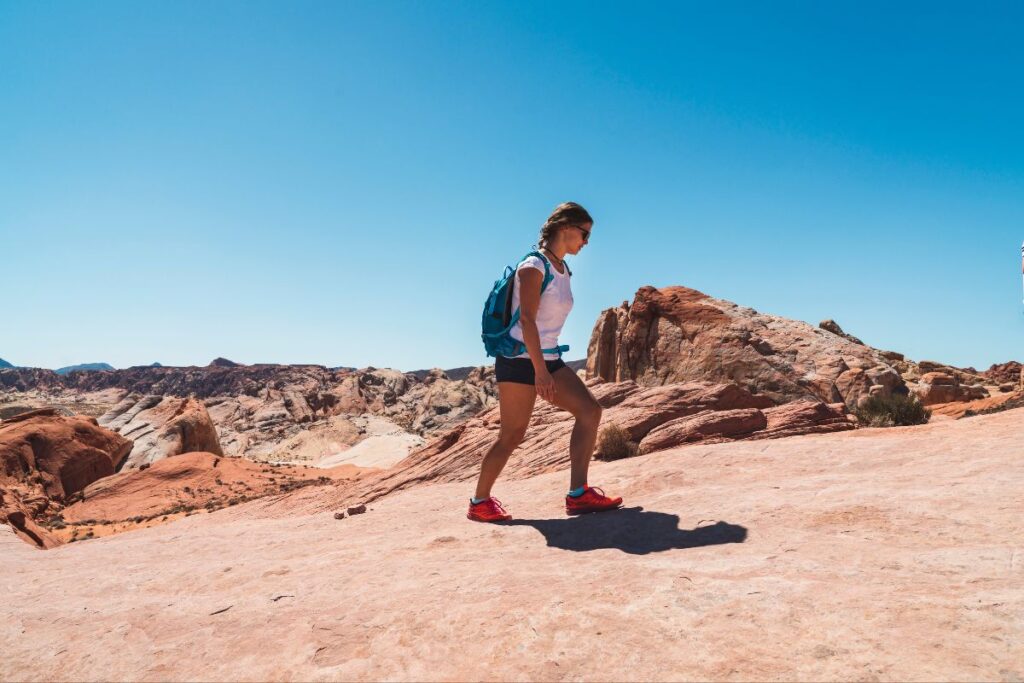 As Nevada's oldest and largest state park, it boasts 40,000 acres of bright red Aztec sandstone outcrops nestled in gray and tan limestone mountains. The park's name comes from the appearance of these formations seeming to be on fire when reflecting the sun's rays.
Driving into the park, the road itself is a journey through time, with rock formations rising around you like ancient citadels. Each curve reveals a new wonder, from the beehive-like structures that dot the landscape to the vast vistas that open up at every high point.
Begin your exploration at the Visitor Center, where you'll find exhibits on the geology, ecology, and history of the park. Knowledgeable staff can help tailor your visit, whether you're looking for a leisurely scenic drive or an adventurous hike through the rugged terrain.
The park's trails offer something for every level of hiker. The Fire Wave trail, less than a mile long, leads to a stunning, wave-like formation of red and white sandstone. For a more challenging trek, the Prospect Trail provides an 11-mile round trip through the heart of the park's backcountry.
History buffs will be drawn to the Atlatl Rock petroglyphs, where ancient Native American rock art can be viewed up close. Climbing the metal staircase to view these messages from the past is like stepping into another world.
For a truly unique experience, head to the Rainbow Vista trail, where you can see the full spectrum of the park's color palette, or explore the White Domes area, where a one-mile loop takes you through a diverse landscape of sandstone formations, a narrow slot canyon, and past the remains of an old movie set.
Photographers will find the park's shifting light a source of endless fascination. Sunrise and sunset bathe the rocks in golden hues, while the midday sun brings out the fiery reds and oranges. 
At night, the lack of light pollution opens up the heavens in a spectacular display of stars, with the Milky Way clearly visible to the naked eye.
Camping in the park is an experience not to be missed. With two campgrounds offering a combined total of 72 units, visitors can fall asleep under a canopy of stars and wake up to a sunrise that illuminates the rocks with an incandescent glow.
Valley of Fire isn't just a park; it's a natural museum, a sacred space that has witnessed the passage of time for millennia. It's a place where solitude can be found just a short walk from the road, and where the landscape ignites the imagination with its shapes, colors, and history. 
Every visit promises a new discovery, a different light, and a deeper connection with the natural world. This is the true destination of your road trip, a place that will stay with you long after you've returned home.
Our Personal 6-Day Albuquerque to Valley of Fire Road Trip Itinerary
Set off on our personal six-day trek from the vibrant streets of Albuquerque to the stunning vistas of Valley of Fire. 
This is a story of our adventure through the Southwest's most scenic routes, with each day painting a part of a larger, vibrant picture. While we'll give you a taste of the majestic Grand Canyon and the whispering pines of Flagstaff, it's the Valley of Fire that will ignite your wanderlust. 
Expect tales of starlit campfires, ancient petroglyphs, and landscapes that blaze in the Nevada sun. Join us as we recount the peaks and valleys of our unforgettable road trip—where every stop is more than a view; it's an experience etched into our journey.
Day 1: Albuquerque to Flagstaff 
Start your road trip adventure with an early departure from Albuquerque, setting your sights on the eclectic and vibrant Flagstaff, around 325 miles away. 
As you cruise along I-40 West, you'll transition from the urban landscape into vast open spaces that promise freedom and new experiences. 
Once in Flagstaff, take the afternoon to immerse yourself in its unique blend of outdoor beauty and cultural richness.
Wander through its historic downtown, soak up the local art scene, and indulge in some of the town's culinary delights. As evening descends, find comfort in one of Flagstaff's cozy accommodations, gearing up for the adventures that await.
Day 2: Grand Canyon 
On the second day, rise early in Flagstaff for the drive to the Grand Canyon's South Rim, a journey of roughly 80 miles. Once there, consider the Rim Trail for a scenic yet manageable hike; it stretches over 13 miles but offers shorter segments, like the 2.5-mile round trip between Mather Point and Yavapai Observation Station, each offering unique canyon vistas.
For a more in-depth experience, the Bright Angel Trail is a must. You don't have to commit to its full 12-mile round trip to the river; even a short hike can give you a feel for the canyon's grandeur. If you're up for a bit more challenge, the South Kaibab Trail offers a 6-mile round trip to Skeleton Point, where you can see the Colorado River.
End your day with the sunset at Hopi Point, acclaimed for its wide-ranging views. Overnight, choose a lodge inside the park to savor the early morning tranquility, or stay in Tusayan for a range of lodging options.
Day 3: Arrive and settle in the Valley of Fire 
On Day 3, set out from the Grand Canyon towards Valley of Fire State Park, which is about a 4-hour drive. Aim to leave by mid-morning to allow ample time for stops and sightseeing en route.
Upon arrival in the Valley of Fire, start at the Visitor Center. It's a treasure trove of information, with exhibits that delve into the geology, ecology, and history of the park. Here, you can get recommendations for hikes that fit your schedule and interest.
In the late afternoon, embark on an easy hike to get acquainted with the park. The Mouse's Tank Trail is a short 0.7-mile round trip that takes you past numerous petroglyphs, with chances to spot desert wildlife such as chuckwallas basking in the sun.
As the sun begins to lower, set up camp at one of the park's two campgrounds, Arch Rock or Atlatl Rock, both offering stunning landscapes and a chance to see the vibrant sunset hues painting the rocks. Evening is the perfect time for wildlife watching; keep an eye out for kit foxes or the elusive coyote.
Spend the night under the stars, listening to the sounds of the desert, and rest up for another day of exploration in this incredible landscape.
Day 4: Explore Valley of Fire State Park 
On Day 4, wake up with the desert sun and head to the Fire Wave trail early to beat the heat and the crowds. This 1.5-mile round trip hike leads you to one of the park's iconic formations, where layers of orange and pink rock ripple like water. Next, venture to the White Domes Trail, a 1.25-mile loop that winds through a stunning slot canyon and past the remains of an old movie set.
In the afternoon, take a leisurely drive to the petroglyphs at Atlatl Rock, where ancient artwork adorns the rocks. As evening approaches, find a spot to watch the sunset; the park's high points like Rainbow Vista offer panoramic views of the fiery landscape igniting in the twilight.
Wrap up the day back at your campsite, where the dark skies of Valley of Fire make for excellent stargazing. Settle in as the Milky Way stretches across the night sky, a brilliant conclusion to a day of exploration. Overnight, camp at the park's second campground for a different environment and new angles to watch the sunrise in the morning.
Day 5: Depart from Valley of Fire and Drive to Petrified Forest National Park 
On Day 5, start your morning with a visit to the Beehives in Valley of Fire, distinctive formations that resemble giant sandstone beehives. Spend the early hours marveling at their unique shapes and capturing photos as the sun climbs.
Then, embark on the journey to Petrified Forest National Park, which will take approximately 5 hours. Once you arrive, set up camp at one of the park's designated areas—remember, this park doesn't have a campground within its boundaries, but you can find camping options just outside the park at Crystal Forest Gift Shop and Campground or at one of the RV parks in Holbrook, about 25 minutes away.
After settling in, take a leisurely 0.75-mile walk on the Giant Logs Trail behind the Rainbow Forest Museum, home to some of the largest and most colorful petrified logs in the park. For a longer excursion, the Long Logs Trail offers a 1.6-mile loop that showcases an extensive collection of petrified wood.
As the sun sets, prepare for an evening under the stars. The park's International Dark Sky Park status promises an incredible night sky experience, perfect for stargazing. Sleep amidst the ancient stone trees, a fitting end to a day of natural wonders.
Day 6: Back to Albuquerque
On the final day, seize the morning light at Petrified Forest National Park to explore the Painted Desert, where layers of color cascade across the terrain. Take a stroll on the Painted Desert Rim Trail, a 1-mile round trip offering vast vistas of the badlands.
After soaking in the beauty, begin the 4-hour return drive to Albuquerque, filled with reflections of surreal landscapes and adventures past. Plan to leave after lunch to ensure a smooth drive back, allowing the shifting light of the late afternoon to guide you home, completing your circle of exploration through the American Southwest.
Tours to Truly Experience Valley of Fire State Park
For those seeking to immerse themselves in the vibrant landscapes of Valley of Fire State Park with guided tours from Las Vegas, there are several options available. 
You can explore the park's renowned attractions such as Rainbow Vista, Atlatl Rock, and Fire Canyon. Many tours provide a comprehensive package that includes round-trip transportation in a comfortable all-terrain vehicle, a certified tour guide, and even a boxed lunch. 
With hotel pickup and drop-off included, these tours are designed to create a hassle-free and educational experience, showcasing the park's stunning natural beauty and significant cultural history. 
Whether you're looking to hike, learn, or simply take in the sights, there's a guided tour tailored to your interests.
Here are 12 tours We have tried and recommended to you!