Embrace winter in The Catskills with these 9 exceptional activities! Enjoy snow-covered adventures, from thrilling outdoor sports to serene cabin retreats.
Hey, winter wanderers! The Catskills aren't just for summer getaways. When snow blankets those majestic mountains, a wonderland of frosty fun emerges.
Ever tried ice fishing or capturing the silvery beauty of a frozen waterfall? Whether you're sliding down snow-clad slopes or cozying up in a cabin, the Catskills in winter is an experience like no other.
Dive into our guide on the top 9 activities to make your winter in the Catskills unforgettable. Let's chill in the best way possible!
Hiking in the Catskill Mountains
Assuming you have the appropriate gear for winter camping, hiking is a great activity to enjoy during your trip. The Catskill Mountains are a beautiful place to explore and there are many different trails to choose from based on your level of experience and interest.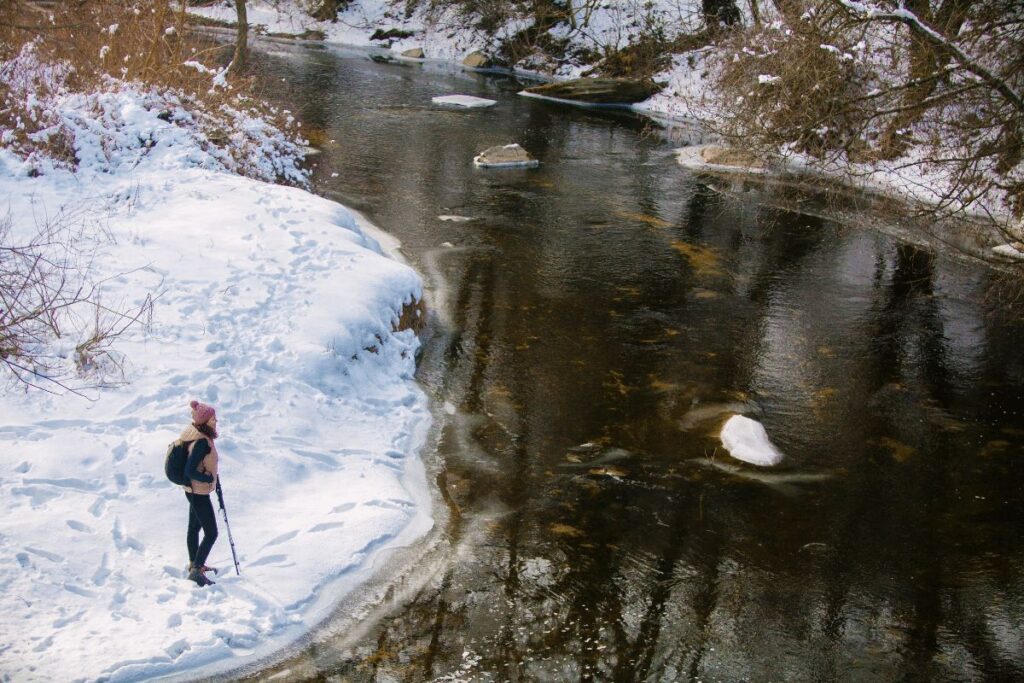 If you're new to hiking, start with one of the easier trails and work your way up as you become more comfortable. Be sure to pay attention to trail markings and follow the map so you don't get lost. And always let someone know where you're going before you head out.
Once you're out on the trail, take your time and enjoy the scenery. Take in the fresh air and listen to the silence of the woods. If you're lucky, you might even see some wildlife along the way.
Hiking is a great way to get some exercise while enjoying nature. So next time you're planning a camping trip, be sure to include some hikes in your itinerary.
Recommended trails in the Catskill Mountains
Hiking is one of the best ways to explore the Catskill Mountains. There are many different trails to choose from, depending on your level of experience and fitness. Here are a few recommendations:
For beginners, we recommend the Belleayre Mountain Trail. This trail is 3 miles long and takes you to the top of Belleayre Mountain, where you can enjoy panoramic views of the surrounding area. The hike is moderate in difficulty and will take around 2-3 hours to complete.
If you're looking for a more challenging hike, try the Panther Mountain Trail. This trail is 8 miles long and includes several steep sections. However, the rewards are definitely worth it – you'll be treated to stunning views of the Hudson Valley from the summit of Panther Mountain. The hike should take 4-5 hours to complete.
Finally, if you're an experienced hiker and are up for a real adventure, attempt the Slide Mountain Trail. This trail is 14 miles long and takes you to the highest point in New York State – Slide Mountain! The hike is very strenuous and will take 6-8 hours to complete, but you'll be rewarded with incredible views and a sense of accomplishment.
Cross-Country Skiing and Snowshoeing
There are many different winter activities that you can enjoy while camping in the Catskills, but cross-country skiing and snowshoeing are two of the most popular.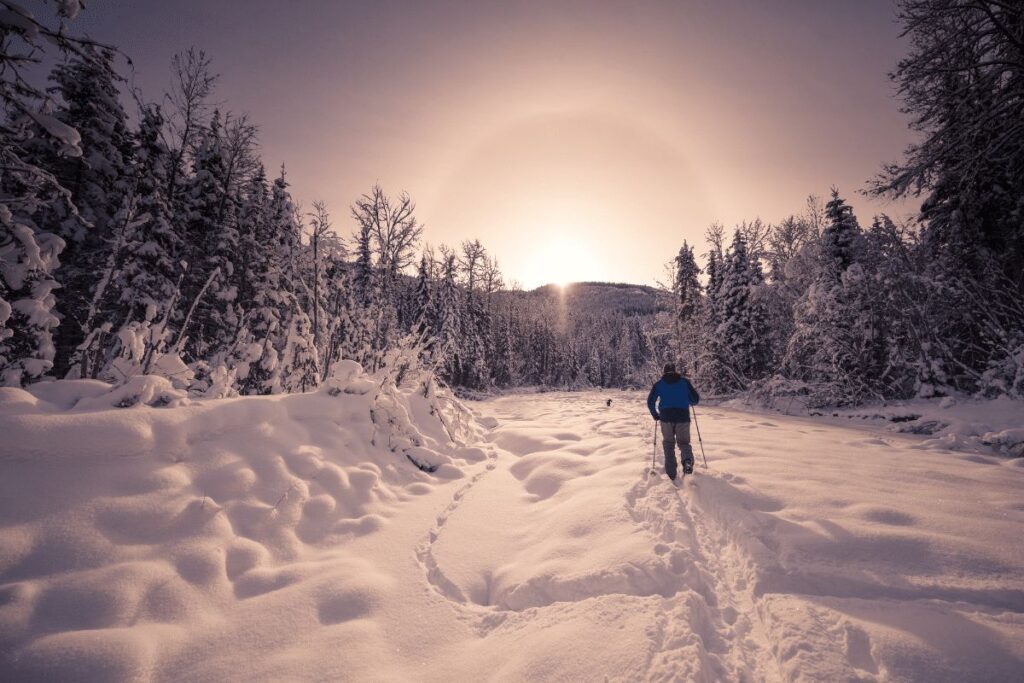 Cross-country skiing is a great way to explore the beautiful scenery of the Catskill Mountains. There are many different trails that you can take, and you can even go off-trail if you want to explore more. Just be sure to stay safe and always practice good judgment when skiing in unfamiliar territory.
Snowshoeing is another great way to experience the Catskills in winter. There are many different trails that you can follow, and you can even make your own path through the snow. Snowshoeing is a great workout, and it's also a lot of fun. Just be sure to dress warmly and be prepared for cold weather.
Cross Country Skiing trails in the Catskills include the Finger Lakes Trail, the Catskill Mountain Rail Trail, and the Long Path.
Snowshoeing trails in the Catskills include Kaaterskill Clove, Platte Clove, and Mount Utsayantha.
Ice Fishing in the Catskill Mountains
Winter camping in the Catskills is a truly unique experience. And one of the best ways to enjoy the frigid temperatures and beautiful scenery is by going ice fishing.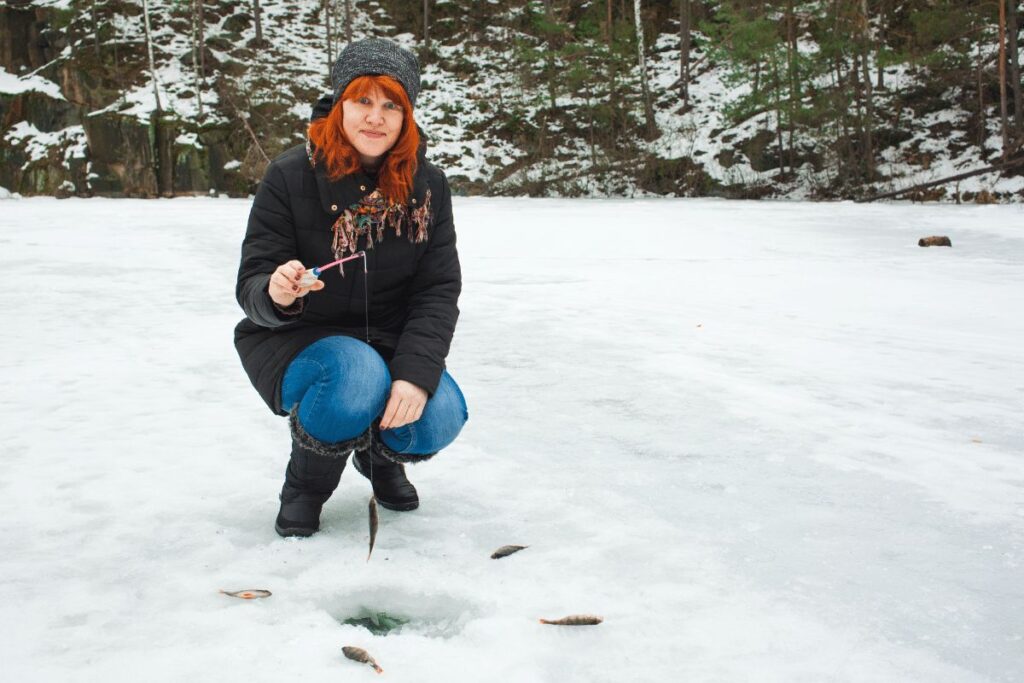 There are many different ways to go about ice fishing, but one of the most popular is using an ice auger. This tool helps you create a hole in the thick ice so you can lower your line and bait into the water.
One thing to keep in mind when ice fishing is that you need to dress warmly. This means layering your clothing and wearing items like gloves, hats, and scarves. You also want to make sure you have the proper footwear to avoid slipping on the ice.
When it comes to bait, there are a variety of options depending on what kind of fish you're hoping to catch. Some common bait choices include minnows, nightcrawlers, or Preparing your Tackle live shrimp.
Once you've got all your gear sorted out, it's time to head out onto the lake! If you're not sure where to start, there are always plenty of people fishing who would be happy to help get you set up. Just remember to enjoy yourself and take in the stunning winter scenery around you.
Ice fishing spots in the Catskill Mountains vary in size and depth, but popular spots can include Round Lake, Big Pond, and Schoharie Creek. So don't forget to bring your fishing license and head out there for a day of fun!
Snow Tubing and Sledding
If you are looking for some fun and excitement during your winter camping trip, snow tubing and sledding are two great options. Both activities are easy to learn and suitable for people of all ages.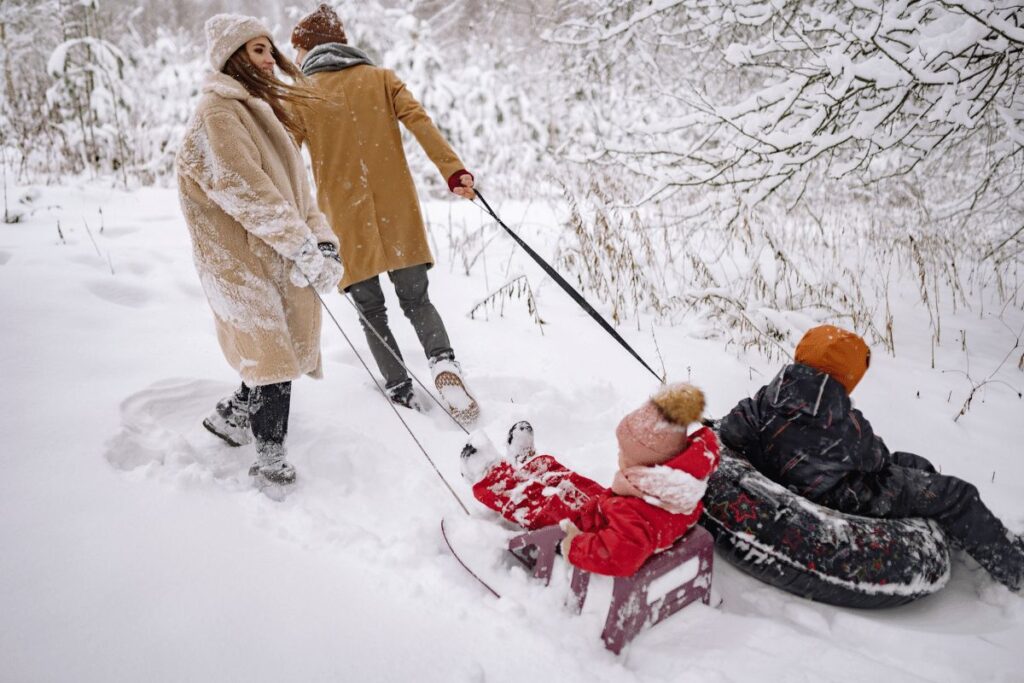 There are several places in the Catskill Mountains where you can go snow tubing or sledding. Some ski resorts offer tubing runs, while other places have designated areas for sledding. It is a good idea to call ahead or check online to see what is available and make sure to bring your own sled or tube if necessary.
When snow tubing and sledding, remember to wear warm clothing, including a helmet and gloves, to protect yourself from the cold. Be sure to keep an eye out for other people on the hill and make sure to stay in control of your sled or tube at all times.
Snow tubing and sledding are two great ways to add a little extra winter fun to your camping trip!
Winter Campfire Fun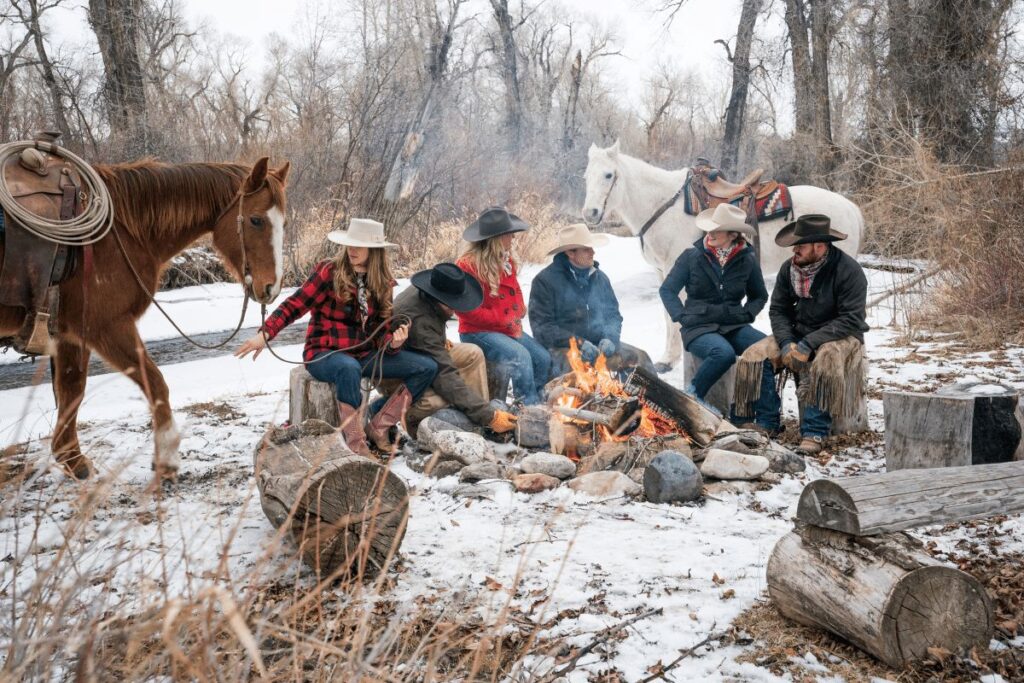 There's nothing quite like sitting around a campfire in the winter. The crackling of the fire and the smell of wood smoke are sure to get you in the mood for some winter fun. Here are some great ideas for winter campfire fun:
1. Make some s'mores! Roast marshmallows over the fire and then sandwich them between graham crackers and chocolate. Yum!
2. Tell some ghost stories. Everyone loves a good scare, especially around a campfire in the middle of the night.
3. Have a sing-along. There's nothing like belting out some tunes around the campfire with friends.
4. Toast some marshmallows and then make hot chocolate with them. Add a little bit of peppermint extract (or any other flavor you like) to your hot chocolate for an extra special treat.
5. Make smores pizzas! Start with a graham cracker crust and then top with marshmallow fluff, chocolate chips, and any other toppings you like (fruit, nuts, etc.). These are sure to be a hit with everyone!
To build a campfire in the winter, you will need to find a spot that is clear of snow and away from any overhanging branches. Make sure to use a fire starter or fire starter gel to help get the fire going, and keep some extra firewood nearby in case you need to add more fuel.
Building a campfire in the winter can be a bit trickier than in the summer, but it is definitely worth the effort.
Stargazing
One of the best things about winter camping is the opportunity to enjoy some amazing stargazing. The clear night sky provides the perfect backdrop for spotting constellations and enjoying the beauty of the stars. If you're lucky, you might even see a shooting star!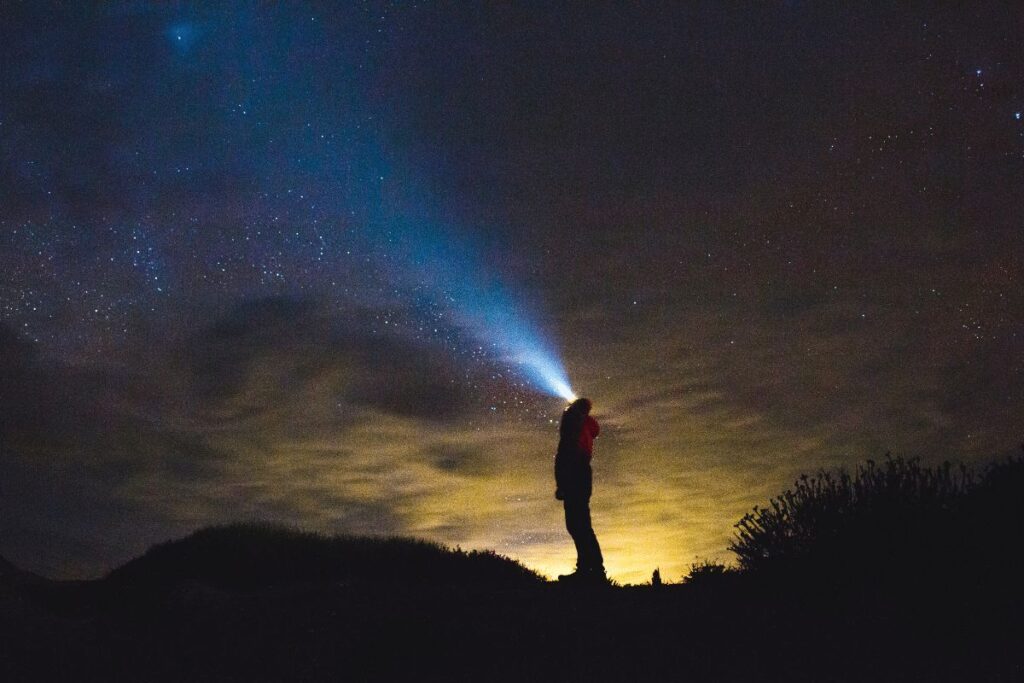 To get the best view of the stars, it is important to find a spot that is away from light pollution and has a clear view of the sky. Some popular stargazing spots in the Catskill Mountains include the Summit of Slide Mountain, the Overlook Mountain Trail, and the North Point Preserve.
Before you head out for some stargazing, make sure you have a good pair of binoculars or a telescope to get an up close and personal view of the night sky. It is also a good idea to bring along a constellation map and a red-light flashlight so that you can mark off the constellations as you spot them. Once you are set up, sit back and enjoy the show!
Also Read: 12 BEST HIKING TRAILS IN THE CATSKILLS
Winter Photography
The Catskill Mountains offer a range of opportunities for beautiful winter photography. From snowy landscapes and frozen waterfalls to picturesque cabin rentals and cozy campfires, there is no shortage of interesting subjects to photograph.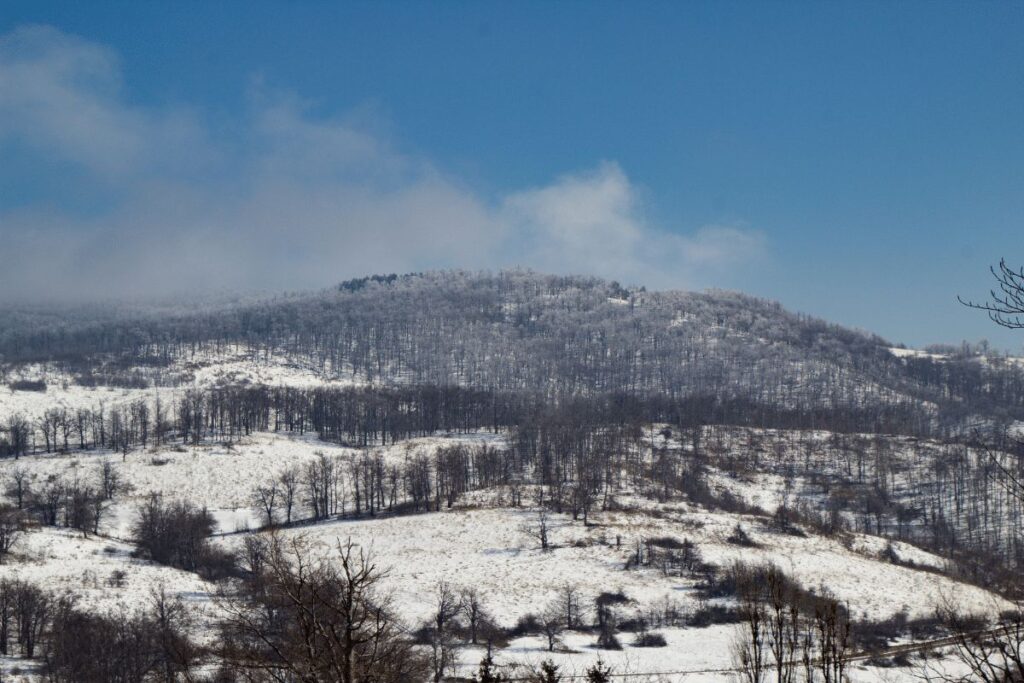 To take great winter photos, it is important to dress warmly and protect your camera from the cold. Use a tripod or other support to help keep your camera steady, and experiment with different exposure settings and compositions to capture the best shots.
Some popular spots for winter photography in the Catskill Mountains include the Kaaterskill Falls, the Ashokan Reservoir, and the Belleayre Mountain Ski Center. These locations offer a range of scenic views and photographic opportunities.
If you're looking to take some unique winter photos, consider shooting in the wee hours of the morning or late at night when the sky is free from other light sources. This will give your photos an ethereal quality that is sure to be appreciated by viewers.
Relaxing in a Cozy Cabin
If you're looking for a cozy winter getaway, consider spending some time in a cabin in the Catskills. There's something special about being surrounded by nature while enjoying all the comforts of home.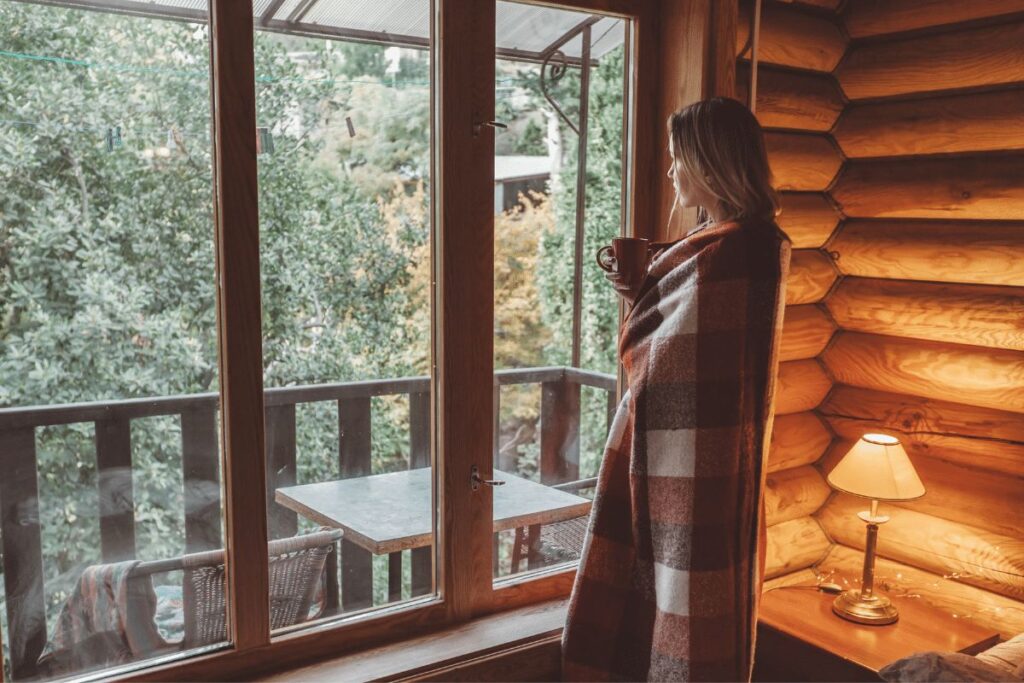 Plus, it's the perfect opportunity to disconnect from technology and spend some quality time with loved ones. Here are a few activities you can enjoy while relaxing in your cozy cabin:
-Read a good book by the fire
-Enjoy a cup of hot cocoa or tea
-Play card games or board games
-Take a walk through the snow-covered woods
-Make s'mores over the fireplace
Cabin rentals come in a range of sizes and styles, and can be a great option for solo travelers, couples, or families. Many cabin rentals come equipped with amenities like fireplaces, hot tubs, and fully equipped kitchens, making them a comfortable and convenient place to relax and unwind after a day of outdoor activities.
While staying in a cabin, there are plenty of ways to relax and pass the time. Some ideas include reading a book by the fireplace, playing board games, watching movies, and taking a hot bath or soaking in the hot tub.
Ice Skating in the Catskills
The Catskill Mountains are a great place to enjoy the outdoors during the winter months. One popular activity is ice skating. There are several ice skating rinks in the area, including one in downtown Mount Tremper.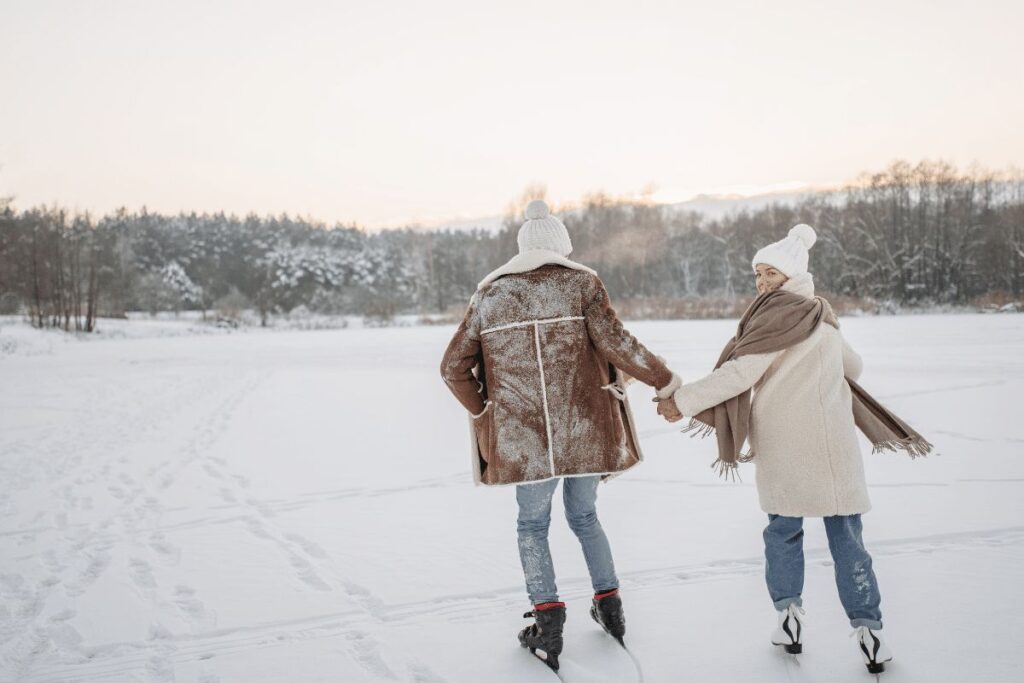 When skating in the Catskills, be sure to dress warmly. The temperatures can drop below freezing, so hats, gloves, and scarves are a must. You'll also want to wear comfortable shoes that won't slip on the ice.
Ice skating is a great way to get some exercise and enjoy the beauty of the Catskill Mountains. So put on your skates and hit the ice!
Conclusion
A winter camping trip to the Catskill Mountains can be a fun and exciting way to enjoy the cold weather and beautiful landscape. From hiking and skiing to ice fishing and stargazing, there are many activities to choose from and ways to make the most of your trip.
Whether you are an experienced winter camper or just looking for a new and unique vacation destination, the Catskill Mountains have something to offer. With its beautiful scenery, cozy cabin rentals, and range of outdoor activities, the Catskill Mountains are a great place to spend your winter vacation.
We hope you enjoyed learning about all the fun winter activities you can enjoy during your Catskill Mountain camping trip! From snowshoeing and cross-country skiing to Ice fishing and sledding, there is something for everyone to enjoy. So pack your gear and head on up to the mountains for a great time!