Discover top Winter Camping Destinations in America for a cozy adventure from coast to coast!
Are you looking for the perfect camping spots to escape the winter blues? Get ready for a fun-filled, cozy adventure with 11 of our favorite winter camping destinations!
From California to Florida, there are plenty of parks around the USA that offer excellent camping facilities from Novemebr to Februrary. So grab your tent, pack your bags, and head out to explore nature's wonders!
Although winter camping can be a bit of a challenge, it can also be a great way to get away from the hustle and bustle of everyday life and enjoy some time in nature. If you're thinking about heading out for a winter camping trip, here are a few things to keep in mind.
First, you'll need to make sure you have the right gear. In addition to your regular camping equipment, you'll need some extra items for cold-weather camping, such as a warm sleeping bag, extra blankets, and clothing that will keep you warm and dry.
Second, you'll need to choose a campsite that's appropriate for winter weather conditions. Make sure to check the forecast before you go so you know what to expect in terms of temperature and precipitation.
Third, be prepared for shorter days. Since the sun sets earlier in the winter months, you'll want to make sure you have plenty of activities planned for after dark. Games, books, and marshmallows by the campfire are always good bets!
Keep these things in mind and you're sure to have a fun and memorable winter going into spring camping experience!
Anastasia State Park, St. Augustine, Florida  
Anastasia State Park in St. Augustine offers an expansive stretch of sandy beaches and diverse ecosystems, making it a fantastic destination for winter camping.
Spanning over 1,600 acres, it combines tidal salt marshes with maritime hammocks and ancient sand dunes. We love how the park showcases Florida's unique coastal environment.
For winter camping, the Anastasia State Park Campground is our top pick. It's designed to provide both convenience and a natural experience.
With modern amenities like clean bathrooms, showers, and campfire rings, we feel right at home amidst nature. Its proximity to the beach allows us to enjoy the soothing sounds of the waves at night.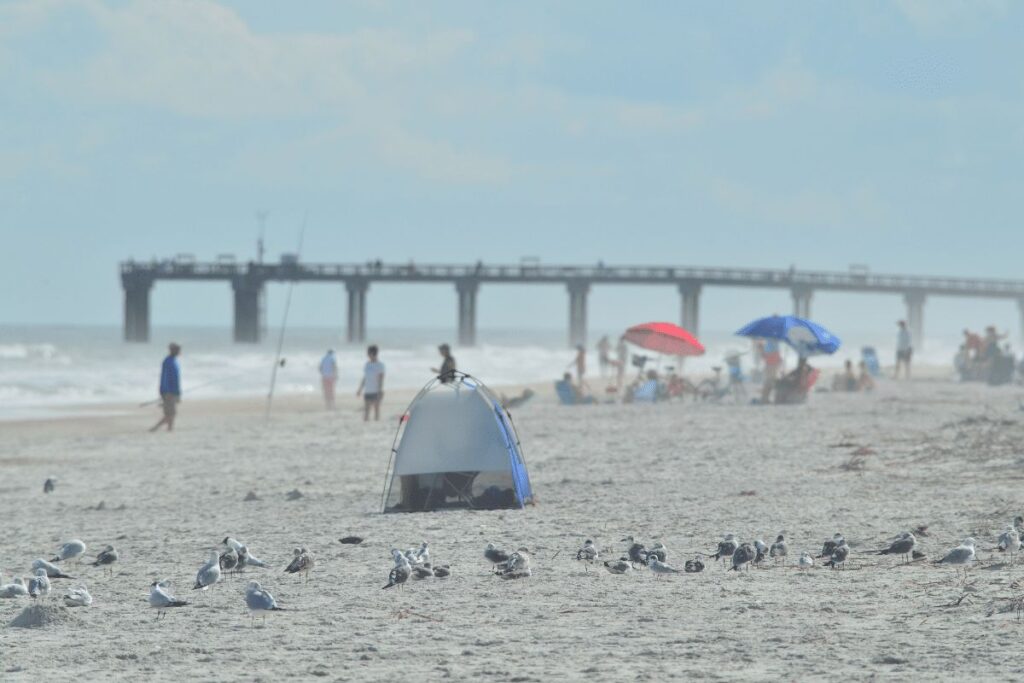 During the winter, we've observed a notable shift in wildlife. The park becomes a temporary home to various migratory birds, enhancing its already vibrant bird population.
Ospreys, roseate spoonbills, and pelicans are some of the frequent avian visitors. On ground level, raccoons, gopher tortoises, and marsh rabbits often make their appearances, making wildlife spotting an exciting activity.
As for winter activities, hiking is our personal favorite. The Ancient Dunes Nature Trail offers a chance to understand the park's ecology and offers spectacular views.
Kayaking is another popular choice, with the park's tidal marshes providing an excellent backdrop. On a leisurely day, birdwatching is a peaceful activity, given the park's avian diversity.
And of course, a visit to Anastasia wouldn't be complete without some beach time, even in winter. The cool sand beneath our feet and the crisp sea air make for a refreshing experience.
To wrap up, if you're considering a winter camping trip, Anastasia State Park provides a mix of nature, adventure, and relaxation that we believe is hard to beat.
Gulf State Park, Gulf Shores, Alabama
Gulf State Park in Gulf Shores is a diverse and expansive natural retreat, perfect for winter camping.
Covering thousands of acres, this park provides a mix of freshwater lakes, dense pine forests, and a long stretch of the Gulf of Mexico's coastline. We're always amazed by its varied landscapes and the sheer beauty it offers.
For our winter camping expeditions, we head straight to the Gulf State Park Campground. It's well-equipped to cater to winter campers, providing modern amenities that ensure a comfortable stay.
Whether we choose a spot overlooking the lake or one closer to the trailheads, we're guaranteed a mix of convenience and nature.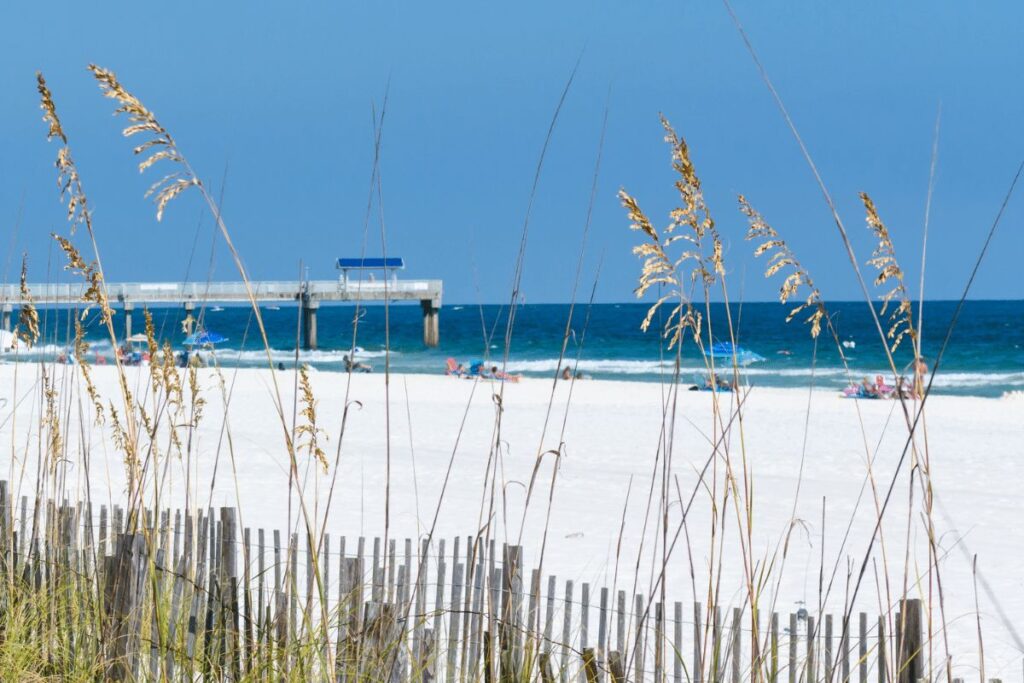 The park's wildlife during winter is a treat for nature enthusiasts like us. The colder months see an influx of migratory birds, joining the park's resident species.
It's not uncommon to spot ospreys, herons, and even eagles. The freshwater lakes are home to a variety of fish, and on several occasions, we've come across alligators basking in the winter sun.
When it comes to winter activities, Gulf State Park offers a plethora to keep us engaged. We often take to the park's numerous hiking and biking trails, which wind through its diverse terrains.
The freshwater lakes are perfect for fishing, and we've spent many an afternoon with our lines cast, waiting for a bite. Additionally, even in winter, the beaches are inviting.
While it might be too cold for a swim, they're perfect for a walk or a beachside picnic.
Gulf State Park offers a unique blend of nature and activities, making our winter camping trips memorable. We always leave looking forward to our next visit.
La Jolla Cove, La Jolla, California
La Jolla Cove, set in the picturesque town of La Jolla, California, is a gem on the Pacific coastline. With its dramatic cliffs, deep-blue waters, and abundant marine life, the cove is a delightful winter camping destination.
We've always been captivated by the area's natural beauty and the serene ambiance it exudes during the colder months.
When we decide to camp in the vicinity, we often choose the nearby San Elijo State Beach Campground.
Situated a bit north of La Jolla but worth the short drive, this campground offers stunning ocean views and is equipped to handle winter campers.
With well-maintained facilities and easy access to the beach, it makes our stay comfortable and memorable.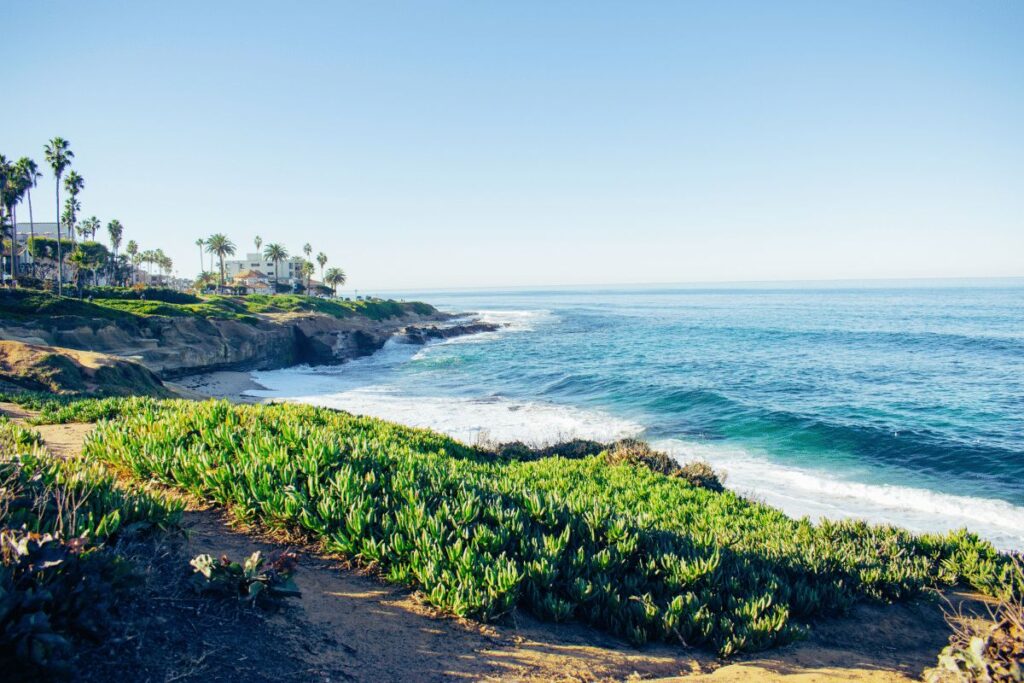 Winter at La Jolla Cove brings a unique wildlife experience. The region is renowned for its sea lions and harbor seals, and during the colder months, we've had the pleasure of observing these creatures up close as they rest and play along the shores.
Additionally, the cove's waters teem with marine life, from colorful fish to the occasional leopard shark, making snorkeling a popular activity.
Speaking of winter activities, La Jolla Cove never disappoints. The well-maintained paths atop the cliffs are perfect for hiking, providing panoramic views of the Pacific.
For those of us who love water sports, kayaking and paddleboarding are great ways to explore the cove's clear waters. No visit to La Jolla is complete without some time spent on its beautiful beaches. Even in winter, they provide a serene spot to relax, read, or simply enjoy the ocean vistas.
All in all, La Jolla Cove stands out as a winter camping spot that combines the allure of the ocean with a plethora of activities. Every trip here reinvigorates us, making it one of our top recommendations for a winter getaway.
Big Bend National Park, Texas
Big Bend National Park in Texas is a vast expanse of desert landscapes, rugged mountains, and the winding Rio Grande. Located in the Chihuahuan Desert, this national park offers a unique environment that we've found to be particularly enchanting during the winter months.
For our camping excursions, we often set up at the Chisos Basin Campground. Located at a higher elevation, it offers slightly cooler temperatures, which can be a pleasant respite in the desert environment.
The campsites are well-spaced and provide essential facilities, ensuring that our stay is both comfortable and close to nature.
One of the standout features of Big Bend in winter is its wildlife. The park serves as a sanctuary for many species that are adapted to desert life.
We've been lucky to spot roadrunners, jackrabbits, and even the elusive mountain lion on our visits. The cooler temperatures of winter also mean that reptiles, like the desert tortoise, are more active during daylight hours.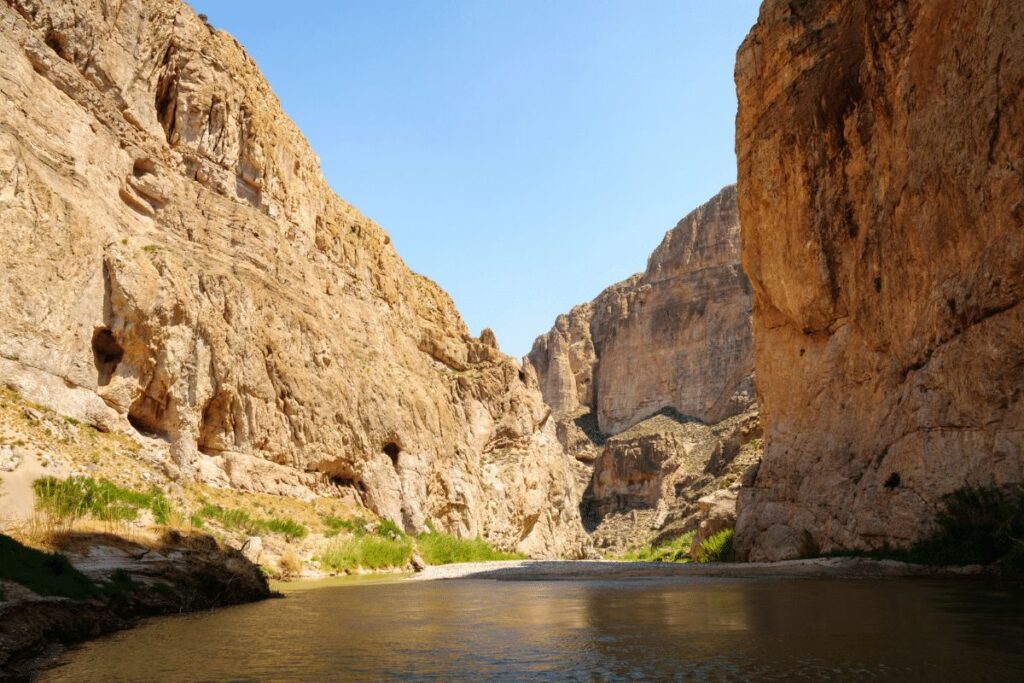 As for winter activities, Big Bend offers an array that keeps us coming back. Hiking is a favorite of ours, with trails like the Window Trail or the Lost Mine Trail offering stunning views of the park's diverse landscapes.
The Rio Grande presents opportunities for canoeing or kayaking, and on clear winter nights, stargazing in Big Bend, designated as a Dark Sky Park, is an experience unlike any other.
Big Bend National Park is a winter haven that combines stark desert beauty with a rich array of flora and fauna.
Whether we're hiking its trails, paddling on the Rio Grande, or just gazing up at the starlit sky, Big Bend ensures each visit is memorable and unique.
Joshua Tree National Park, California
Joshua Tree National Park, positioned in southeastern California, is renowned for its otherworldly landscapes shaped by the iconic Joshua Trees, massive boulders, and starry nights.
During winter, the park transforms, with cooler temperatures making it an ideal time for us to explore its vast beauty without the intense heat of the summer months.
When camping in Joshua Tree during the winter, we often opt for the Black Rock Campground. Conveniently located and equipped with essential amenities, this campground serves as our base from which we venture out into the park's captivating terrains. The nights are chilly, so we always come prepared with extra blankets and gear to stay warm.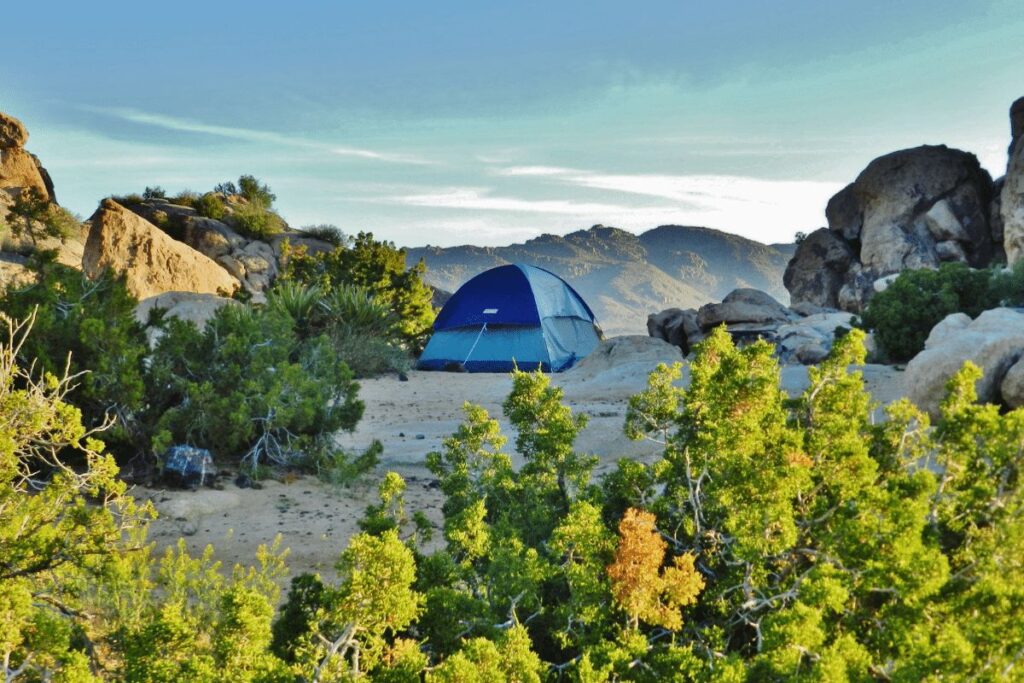 Joshua Tree's wildlife in winter is diverse and intriguing. On our excursions, we've encountered a variety of birds, such as the cactus wren and the greater roadrunner.
The park is also home to several mammal species, including the desert cottontail, black-tailed jackrabbit, and coyotes. Their increased activity in the cooler months makes winter wildlife watching particularly rewarding.
When it comes to winter activities in Joshua Tree, there's no shortage of things to do. Hiking remains our top pick, with trails like Hidden Valley and Barker Dam offering insights into the park's unique geology and ecology.
Rock climbing is another popular activity, with the park's gigantic boulders providing ample opportunities for both beginners and experienced climbers.
As night falls, we often find ourselves gazing upwards, as Joshua Tree's clear winter skies offer some of the best stargazing opportunities, making it a paradise for astronomy enthusiasts.
In a nutshell, Joshua Tree National Park in winter offers a blend of natural wonders and adventurous activities.
From its iconic landscapes to the clear night skies, every trip to this park feels like a journey into nature's magnificent realm.
Hot Springs National Park, Arkansas
Hot Springs National Park, located in the state of Arkansas, is a distinctive blend of natural beauty and historic significance.
Unlike many national parks that are primarily wilderness, this park is intertwined with the city of Hot Springs, giving it a unique urban touch.
What draws us, and many others, especially during winter, is the therapeutic warmth of its renowned thermal waters.
For our camping adventures in the park, we often choose the Gulpha Gorge Campground. Nestled along the Gulpha Creek, this campground provides a scenic spot with essential facilities to make our stay comfortable.
Its proximity to both the city and the park's trails offers a perfect balance of nature and urban conveniences.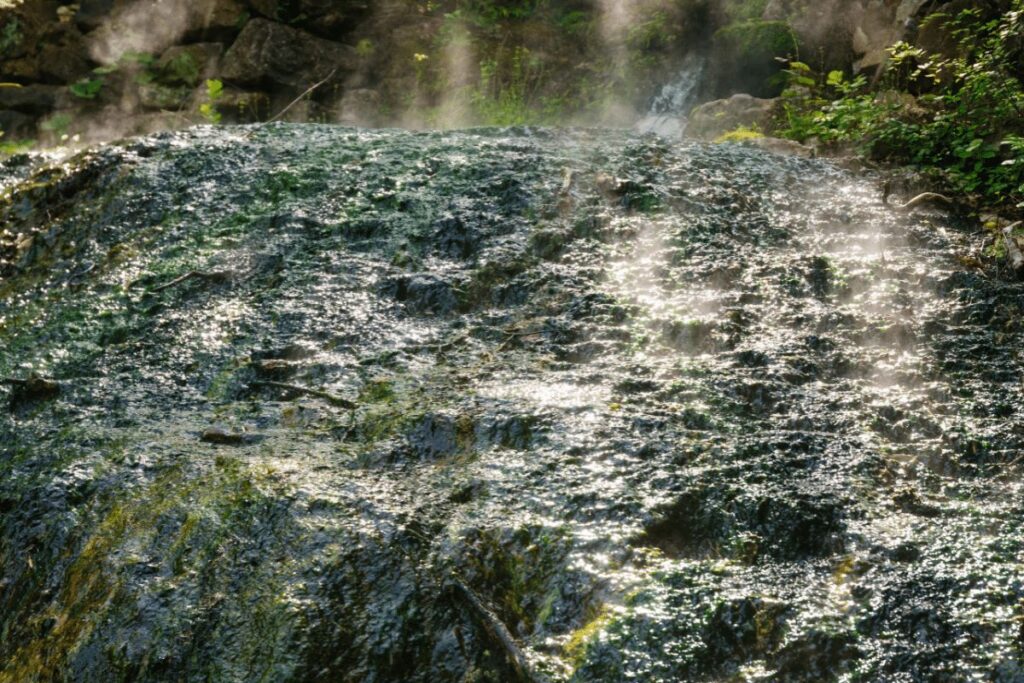 One of the delights of visiting Hot Springs National Park in winter is its wildlife. We've often been entertained by the playful antics of squirrels, observed white-tailed deer grazing, and have been serenaded by the songs of various birds, such as the Carolina chickadee and the tufted titmouse.
Winter activities in Hot Springs National Park are both relaxing and invigorating. Naturally, taking a dip in the thermal baths is a must-do for us.
The warm waters, with their therapeutic properties, are especially enticing during the cold months. Beyond the baths, the park offers numerous trails, like the Hot Springs Mountain Trail and the Dead Chief Trail, which allow us to explore its diverse landscapes.
Additionally, the park's proximity to the city means we can also indulge in some urban activities, from dining in local restaurants to visiting historic buildings.
Hot Springs National Park is a winter destination that offers a unique mix of natural relaxation and exploration. Whether we're soaking in the thermal waters or hiking its trails, each visit to this park provides a rejuvenating experience.
Arches National Park
Arches National Park, situated in eastern Utah, is a marvel of geological wonders. Characterized by its vast expanse of red rock formations, including more than 2,000 natural stone arches, it's a place that captures the imagination.
The stark beauty of the park, contrasted with the often snow-capped La Sal Mountains in the distance, makes winter visits particularly breathtaking for us.
When camping in Arches during the winter, we gravitate towards the Devils Garden Campground. Located deep within the park, this campground offers an immersive experience amidst the iconic rock formations.
Though the nights can be cold, the clear winter skies and the tranquility of the off-peak season make it worthwhile for us.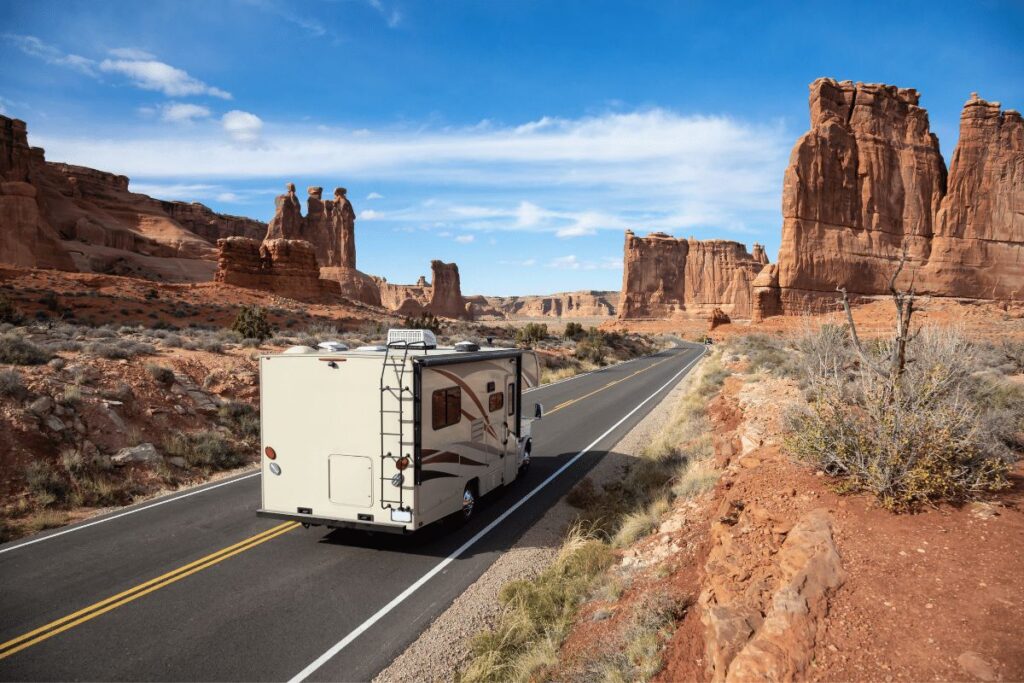 In terms of wildlife, Arches provides a unique desert ecosystem. Despite the seemingly inhospitable environment, a variety of creatures thrive here.
During our winter visits, we've spotted mule deer navigating the rocky terrain, desert cottontails hopping about, and various birds like the pinyon jay and raven soaring overhead.
For winter activities, Arches National Park offers a plethora of options. Hiking is always on our agenda. Trails like Delicate Arch, Landscape Arch, and Double O Arch are a bit quieter in the winter, allowing us to appreciate these natural wonders with fewer crowds.
While some trails might be slippery due to snow or ice, with the right gear, they can still be navigated safely. Moreover, winter's soft light creates a dramatic effect on the red rocks, making photography another favorite activity of ours.
And, on particularly clear nights, stargazing in the park is simply unparalleled, given its designation as a Dark Sky Park.
To sum it up, Arches National Park in the winter offers a serene yet awe-inspiring experience. The blend of its distinctive geological formations with the crisp winter atmosphere ensures every visit is memorable.
Everglades National Park, Florida
Everglades National Park in Florida is a vast, subtropical wilderness that boasts a unique ecosystem unlike any other in the United States. Encompassing mangroves, sawgrass marshes, and pine flatwoods, this park is a testament to nature's diversity.
For us, winter in the Everglades is special, with milder temperatures and fewer mosquitoes making it an optimal time for exploration.
For our camping trips to the Everglades, we typically set up at the Flamingo Campground. Positioned near the southern tip of the park, this campground offers stunning views of Florida Bay.
Its amenities ensure that while we are in the midst of a wilderness, we're never too far from modern comforts.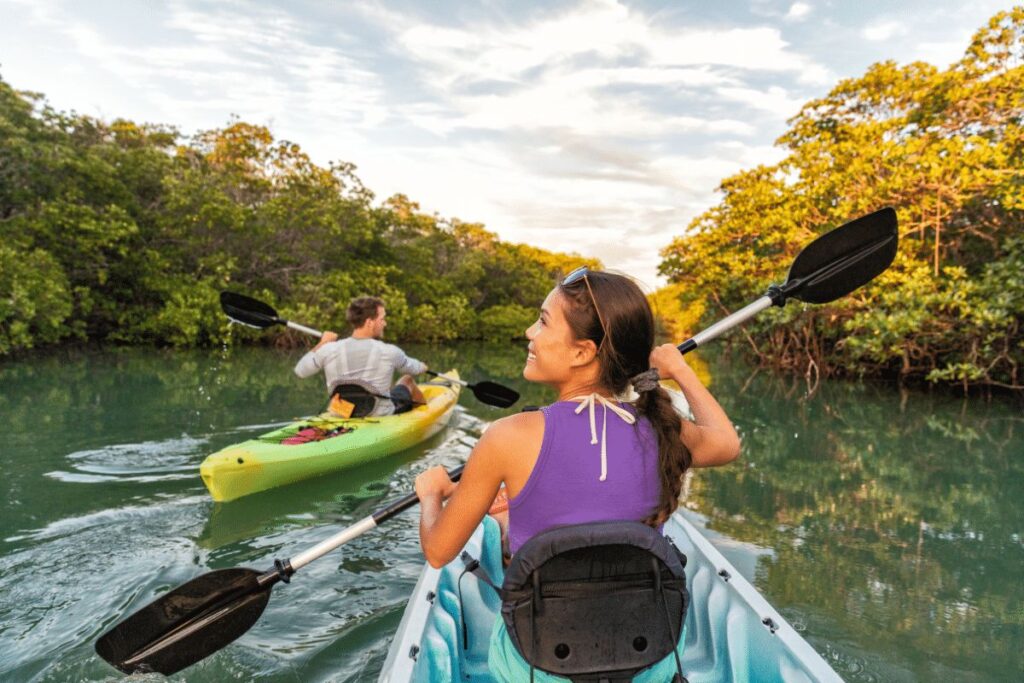 During winter, the wildlife in the Everglades is particularly active and varied. It's an ideal season for us to spot a plethora of bird species, from roseate spoonbills to white pelicans, as many migrate to this region.
The park's waterways teem with life as well. On our excursions, we've been fortunate to see manatees, alligators, and even the elusive Florida panther.
When it comes to winter activities, the Everglades offers a rich array. Canoeing or kayaking through the mangrove tunnels is a favorite of ours, giving us an up-close look at the park's aquatic life.
The Anhinga Trail is a must-hike for us, known for its abundant wildlife sightings. For a unique perspective of the vast landscape, we also enjoy taking a guided boat tour, which offers insights into the park's ecology and history.
A winter visit to Everglades National Park is a journey into a vibrant and diverse ecosystem. From its abundant wildlife to the myriad of activities available, it provides an unforgettable experience in one of America's most unique national parks.
Acadia National Park, Maine
Acadia National Park, perched on the rugged coast of Maine, is a blend of coastal and forested landscapes, offering a striking juxtaposition of ocean and mountain views.
For many, including us, winter at Acadia is a magical time — the crowds are fewer, and the park's beauty takes on a serene, icy charm with snow-draped trees and frozen waterscapes.
When we plan a winter camping trip to Acadia, the Blackwoods Campground is our go-to choice. Though some sections are seasonal, parts of the campground remain open for winter campers.
Ensuring we are well-prepared for the colder temperatures is essential, but the reward is a peaceful, snow-covered haven.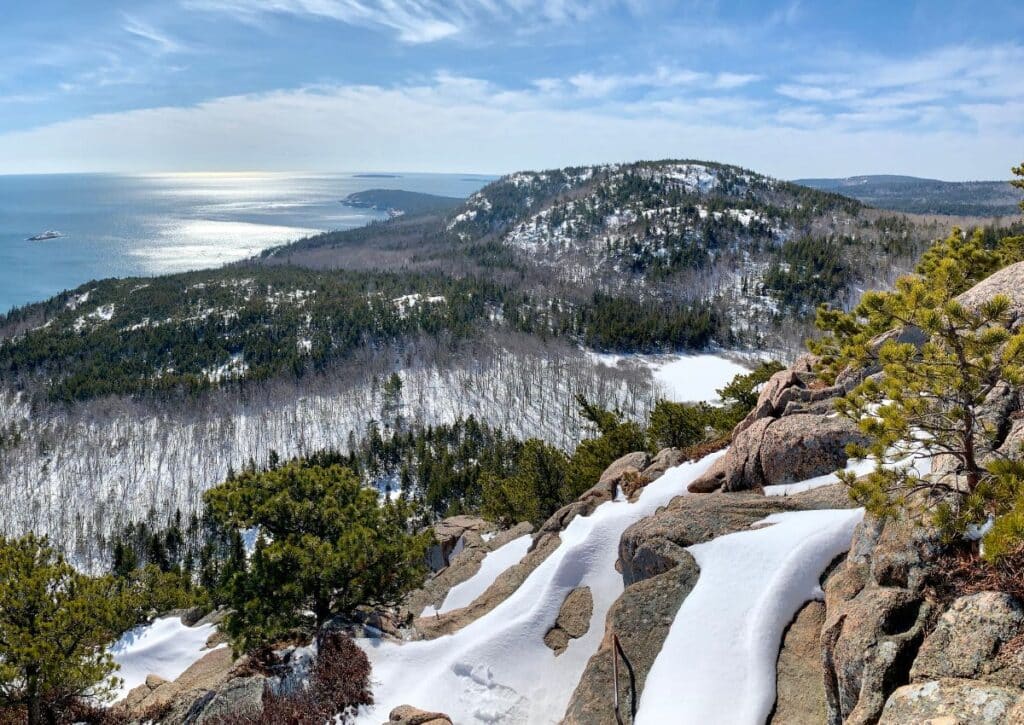 The wildlife in Acadia, even during the colder months, remains a sight to behold. While some animals hibernate or migrate, others like the white-tailed deer, snowshoe hares, and various bird species adapt to the winter environment.
The stillness of winter often allows us to observe these creatures in their natural habitats without the disturbances of peak tourist activity.
As for winter activities, Acadia National Park is brimming with options. We never miss a chance to hike or snowshoe along its trails, like the Jordan Pond Path or the Cadillac Mountain South Ridge Trail, both offering panoramic views of the snow-covered landscapes.
For the more adventurous, ice climbing on some of the park's frozen waterfalls is a thrilling experience.
When the conditions are right, many of the park's carriage roads become ideal for cross-country skiing, allowing us to traverse the park's beauty at a leisurely pace.
All in all, Acadia National Park in winter is a testament to nature's enduring beauty in the face of changing seasons. The combination of its coastal charm, forested trails, and the tranquility of winter make it a must-visit for those seeking a serene escape.
Olympic National Park, Washington
Olympic National Park, situated in the Pacific Northwest, is a vast expanse of diverse environments, from misty rainforests and rugged coastlines to snow-capped peaks.
Winter here transforms the park into a tranquil wonderland, offering an entirely different, serene experience compared to the busier summer months. It's one of the reasons we hold this park close to our hearts during the colder season.
When it comes to camping in winter, we frequently opt for the Kalaloch Campground. This year-round campground, located on a bluff overlooking the Pacific Ocean, offers a majestic view of the waves crashing against the coast.
With the essential amenities available, it's our perfect base for exploring the park's snowy terrains and coastal wonders.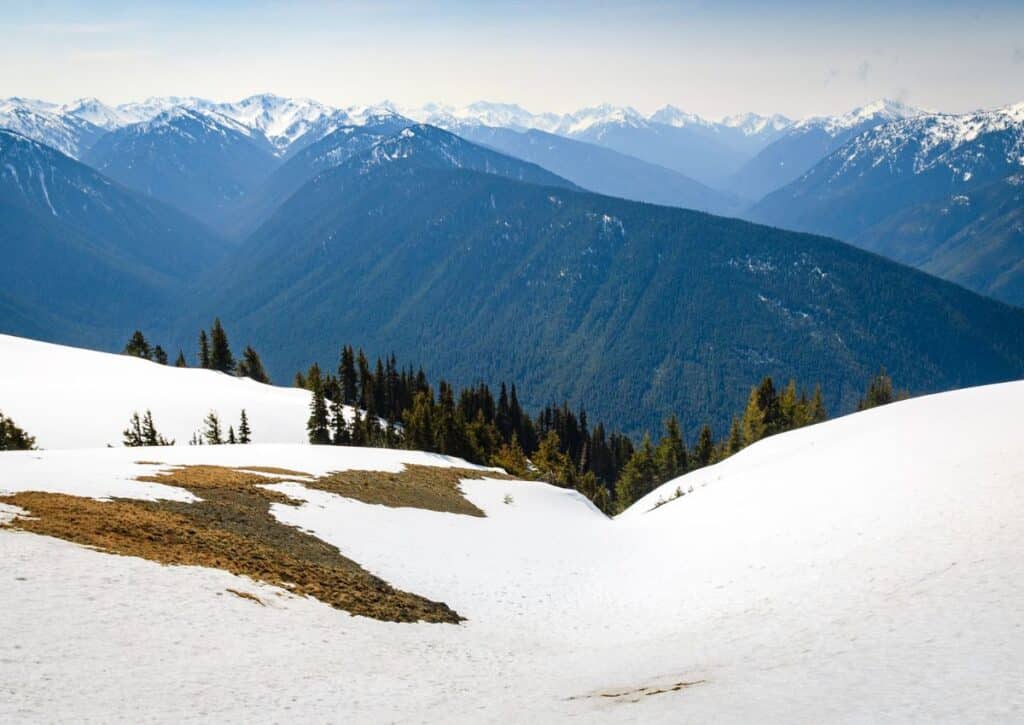 Winter in Olympic National Park is a great time for wildlife watching. The dense forests shelter various species, and we've often been lucky enough to spot Roosevelt elk, black-tailed deer, and even river otters during our visits.
The coastline provides opportunities to observe marine life, with seals, sea otters, and sea birds making regular appearances.
As for winter activities, the park offers an abundance that keeps us engaged. Hiking is an obvious favorite. Trails like the Hoh Rainforest's Hall of Mosses offer a unique perspective of the forest's ancient trees draped in snow and moss.
The park's varied elevations also provide opportunities for snowshoeing and, in some areas, skiing.
Exploring the coastal regions, with tide pools and driftwood-laden beaches, remains a captivating experience, even with the chilly sea breeze.
Olympic National Park in winter showcases the Pacific Northwest's raw beauty in its purest form.
Between the mist-laden forests, snowy peaks, and the rhythmic dance of the ocean waves, the park offers a retreat that feels both rejuvenating and adventurous.
Rocky Mountain National Park, Colorado
Nestled in the heart of Colorado, Rocky Mountain National Park is a high-altitude haven of majestic mountains, sprawling meadows, and dense forests.
Winter blankets this park in a thick layer of snow, transforming it into a sparkling alpine wonderland.
It's during these months that we find the park's landscapes particularly enchanting, as the snow accentuates the rugged beauty of the Rockies.
For our winter camping trips to this alpine paradise, we lean towards the Moraine Park Campground. Open year-round, this campground gives us easy access to some of the park's most iconic trails and vistas.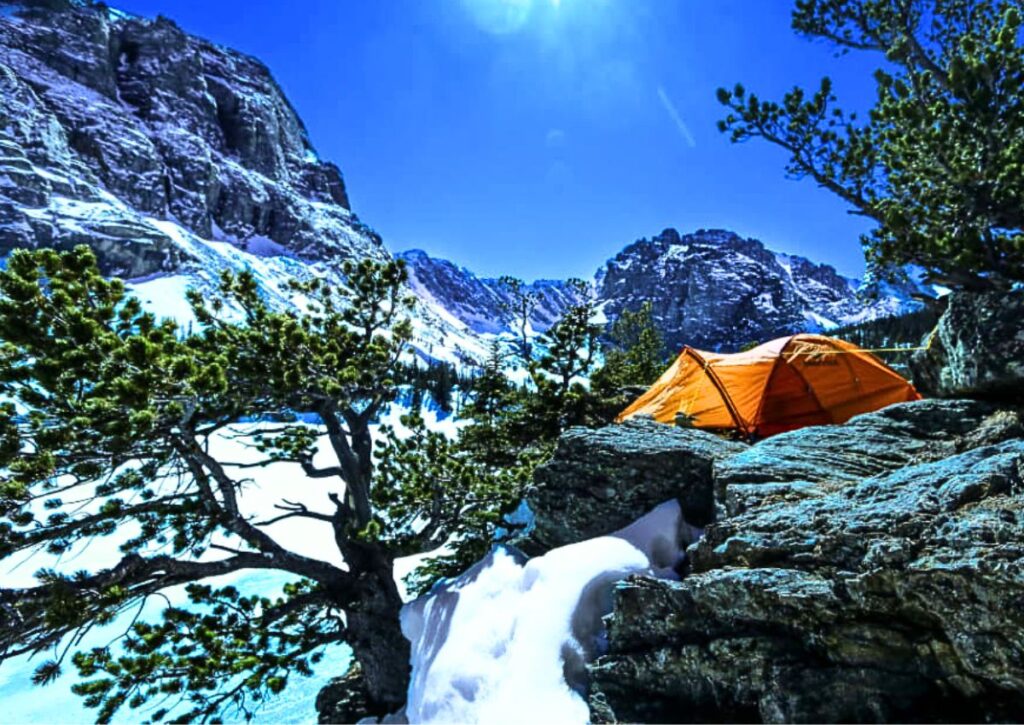 While winter camping here requires preparation due to the cold, the experience of waking up to snow-covered peaks all around is truly unparalleled.
The park's wildlife remains active, even in the colder months. It's not uncommon for us to encounter large herds of elk grazing in the meadows or to spot mule deer delicately navigating the snowy terrain.
High-altitude residents, such as the snowshoe hare and ptarmigan, are perfectly adapted to winter conditions, and spotting them is always a thrill.
When it comes to winter activities, Rocky Mountain National Park offers a wide array. Snowshoeing is one of our top picks, allowing us to explore trails like Bear Lake and Dream Lake with the added beauty of winter's touch.
For those seeking a bit more adrenaline, the park provides opportunities for backcountry skiing and winter mountaineering.
For a quieter experience, we often find ourselves simply enjoying the serene landscapes, where the hush of winter is only broken by the distant call of an eagle or the rustling of pines in the breeze.
A winter visit to Rocky Mountain National Park is a deep dive into the rugged beauty of the Colorado Rockies.
Whether it's the thrill of alpine adventures or the peace of snowy landscapes, this park has a way of leaving an indelible mark on our hearts.
12 Tips From our Decades of Winter Camping
Layer Up Smartly: Wear moisture-wicking fabrics closest to your skin, insulating layers in the middle, and waterproof, windproof layers on the outside. Remember, it's easier to regulate body temperature by adding or removing layers.
Choose a Four-Season Tent: These tents are designed specifically for colder climates, providing better insulation and protection against snow and winds.
Insulate from the Ground: Use a closed-cell foam sleeping pad beneath your regular pad to create a barrier between you and the cold ground.
Sleep in Fresh Clothes: Even if they feel dry, the clothes you wore during the day contain moisture from sweat. Change into a fresh set before crawling into your sleeping bag to stay warmer.
Warm Your Sleeping Bag: Before getting into your bag, fill a water bottle with hot water and place it inside. It acts as a bed warmer and ensures a cozy start to your night.
Eat High-Calorie Foods: Foods rich in fats and proteins generate heat during digestion, helping to warm your body.
Stay Hydrated: Cold air can be deceivingly dehydrating. Drink plenty of water throughout the day, and consider warm beverages in the evening to keep warm and hydrated.
Mind Your Batteries: Cold can drain battery life quickly. Keep electronics and spare batteries in a warm inner pocket or your sleeping bag to prolong their life.
Vent Your Tent: It might seem counterintuitive, but allowing a little cold air to circulate can reduce condensation inside your tent, keeping things drier.
Plan Activities: Physical activities generate body heat. Plan for hikes, snowshoeing, or other forms of exercise during the day to stay warm.
Know the Signs of Hypothermia: Familiarize yourself with the early signs of hypothermia like intense shivering, fatigue, and slurred speech. Stay vigilant and prioritize safety.
Share the Warmth: If camping with others, consider sharing a tent. The combined body heat can significantly raise the tent's internal temperature, making nights more comfortable.
Armed with these wholesome tips, winter camping can be a delightful experience, bringing you closer to nature's serene beauty during its quietest months.
Conclusion
Winter camping can be a wonderful way to get away from it all and enjoy some quality time with family and friends. With our list of wintern months camping getaways, you're sure to find the perfect destination for your next adventure. 
Whether you seek out a romantic escape or an active weekend of outdoor activities, plenty of options will help make your winter camping trip one to remember. So pack up those cold-weather essentials, bundle up in layers, and cozy up by the campfire.
For those looking for a more luxurious experience, there are plenty of cozy cabin rentals. These can provide all the comforts of home without having to rough it in the cold. Or if you're looking to take your camping adventure off-grid, why not try out one of these secluded campsites? 
Whichever option you decide upon, be sure to check the local winter weather conditions and pack accordingly. And don't forget to snap some photos along the way.