Escape the hustle and bustle of LA and embark on an unforgettable journey to Joshua Tree. Think it's just a straight drive through traffic-ridden highways? Think again! 
My jaunt from Los Angeles to Joshua Tree was peppered with hidden gems, captivating detours, and memories that still bring a smile to my face. 
And yes, while there's undeniable beauty in reaching the iconic landscapes of Joshua Tree National Park, the journey itself presents its own brand of magic.
Having navigated this route multiple times, I've discovered the art of transforming a simple drive into an enriching expedition. 
From historical spots to nature's wonders, there's a plethora of pit stops that'll make you reconsider the notion of "it's not about the destination, but the journey." 
Curious to know what lies between the cityscapes of LA and the rugged wilderness of Joshua Tree? 
Buckle up as I guide you through my top recommendations and insider tips for the ultimate Los Angeles to Joshua Tree adventure.
7 Factors to Consider While Planning Your Los Angeles to Joshua Tree Road Trip
Embarking on this iconic Californian journey? I've journeyed this route multiple times, learning valuable lessons along the way. Let me share some insider tips to elevate your road trip experience.
Alternate Routes: I've learned that zig-zagging through alternate routes can often be more rewarding. 
Highways, back roads, and lesser-known paths not only keep you away from the stress of peak traffic but also unravel charming sights that interstates miss. 
On busy days, I usually aim for a rest stop or dinner during high traffic periods, particularly those tricky Friday afternoons.
Navigating the Silence: Joshua Tree's vast expanse has places where your phone might just give up.
 Before entering such zones, I always ensure I have offline maps downloaded. If you're old-school or just want a backup, grab a paper map at the park entrance.
Desert's Mood Swings: Don't let the desert's calm fool you; it's a land of extremes. 
On my last trip in February, I was taken aback by how the mercury dipped even during daytime. It's always wise to check the weather forecast before you pack.
Fueling Up – For Your Car and You: Spots to refuel, both your car and your belly, can be scarce. Over the years, my glove box has seen its fair share of nutritious bars, trail mixes, and dried fruits. 
Always, always carry enough water. Trust me; the last thing you want is to be caught snack-less with a grumbling stomach or thirsty kids in the backseat.
Nature's Time Clock: Joshua Tree has its rhythms – certain times of the day are better for specific activities. 
Whether it's stargazing or catching the golden hue of the desert during sunrise, time your activities accordingly.
Stay Options: Joshua Tree has limited stay options, especially during peak seasons. I always ensure I've booked my stay well in advance. And if you're considering camping, check the availability of sites.
Local Know-how: Diners, pop-up art installations, or local music events – sometimes the spontaneous finds en route become the highlights. 
A quick chat with locals or a check on community boards often leads me to delightful, off-the-beaten-path experiences.
Mapping Out Your Los Angeles to Joshua Tree Adventure
From LA's vibrant streets to Joshua Tree's peaceful desert stretches, the journey itself becomes a story. 
But with multiple paths weaving between these two spots, how do you pick the one that truly captures the spirit of the adventure? Let's dive in.
Best Road Trip Routes for an Unforgettable Experience
When charting the route from Los Angeles to Joshua Tree, travelers generally have a couple of popular options, each offering its distinct charm.
The Direct Route via I-10 E
When I head out from LA's morning bustle on this route, I typically start around 6:30 am to beat the peak traffic. 
By the time you're hitting San Bernardino, you're mostly clear of the city congestion. Around an hour in, Redlands is your go-to – I stumbled upon this quaint coffee shop called "Caroline's" last time, a perfect spot for your caffeine fix. 
Plus, their little patio is a nice break from the drive. The total trip? Roughly 2-3 hours if you're breezing through, but with a pit stop or two, give it a comfortable 4.
The Scenic Route via CA-62 E
This one's a whole vibe. I usually kick off just after sunrise, around 6 am. As you divert onto the Twentynine Palms Highway, the world slows down a notch. 
There's a roadside diner in Morongo Valley called "Morongo Joe's" – their breakfast burritos? Game-changer. The desert scenes after are simply picturesque. 
The little town of Yucca Valley is around halfway and makes for a good stretch-your-legs stop. 
By the time you roll into Joshua Tree, you've been on the road for about 4 hours, more if you've indulged in the sights. But trust me, it's worth every extra minute.
Your choice depends on your time constraints, and whether you're looking for speed or sights. But regardless of the option, both roads promise to make the lead-up to Joshua Tree a memorable one.
Los Angeles to Joshua Tree: Road Trip Map
A well-planned map is essential for any road trip, especially when traversing through diverse terrains. Start by pinpointing your exact location in LA and marking Joshua Tree as the final destination. 
Now, depending on your chosen route, highlight the major towns or landmarks you'll cross. 
For instance, if you're taking the scenic route, marking places like Yucca Valley or Pioneertown can offer exciting detour possibilities.
12 Unmissable Stops from LA to Joshua Tree
The drive from Los Angeles to Joshua Tree is more than a simple route; it's a curated experience of California's diverse charm. 
Between the urban buzz and desert tranquility, discover gems that entertain, educate, and inspire. Let's dive into these pitstops that enrich the journey.
The Allure of San Bernardino
San Bernardino serves not just as a pitstop between Los Angeles and Joshua Tree but as a doorway to a world of natural wonders and diverse cultural experiences.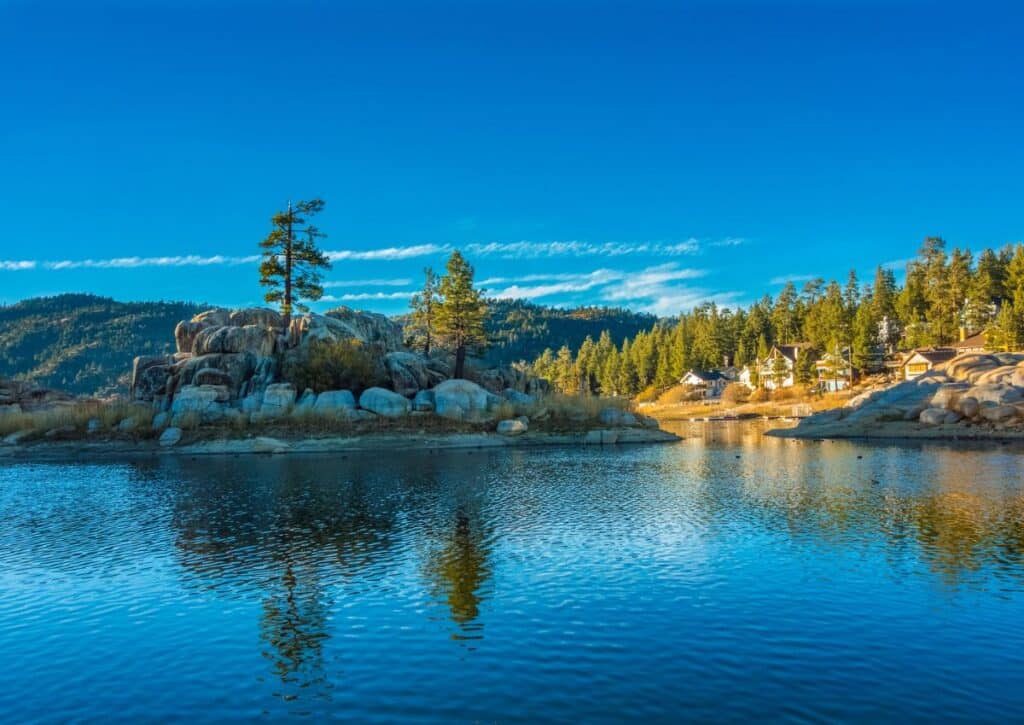 Arguably the city's crowning jewel, the San Bernardino National Forest spans a vast expanse. This forest is a haven for outdoor enthusiasts. 
From the undulating hiking trails, such as the Cougar Crest Trail that offers stunning vistas, to the mesmerizing waters of Big Bear Lake ideal for a lazy afternoon boat ride, it's a place that allows you to escape and reconnect with nature.
But San Bernardino's charm doesn't stop at nature. Mitla Cafe beckons with its authentic Mexican dishes, a place that's withstood the test of time since the 1930s. And if art is your passion, the Robert and Frances Fullerton Museum of Art showcases a collection that bridges contemporary works and ancient treasures.
For those chasing scenic views, drive through the Rim of the World Scenic Byway. It offers breathtaking panoramas contrasting the lush valley against the vast desert horizon.
In all, San Bernardino is not just a name to breeze past on your itinerary. It's a chapter of your road trip tale, ripe with stories and adventures.
Time-travel with Cabazon Dinosaurs
Just about 90 miles east of Los Angeles, a surprise from the Jurassic era awaits you. The Cabazon Dinosaurs, standing tall against the desert backdrop, offer a whimsical pit stop that's sure to add a dash of nostalgia and wonder to your journey.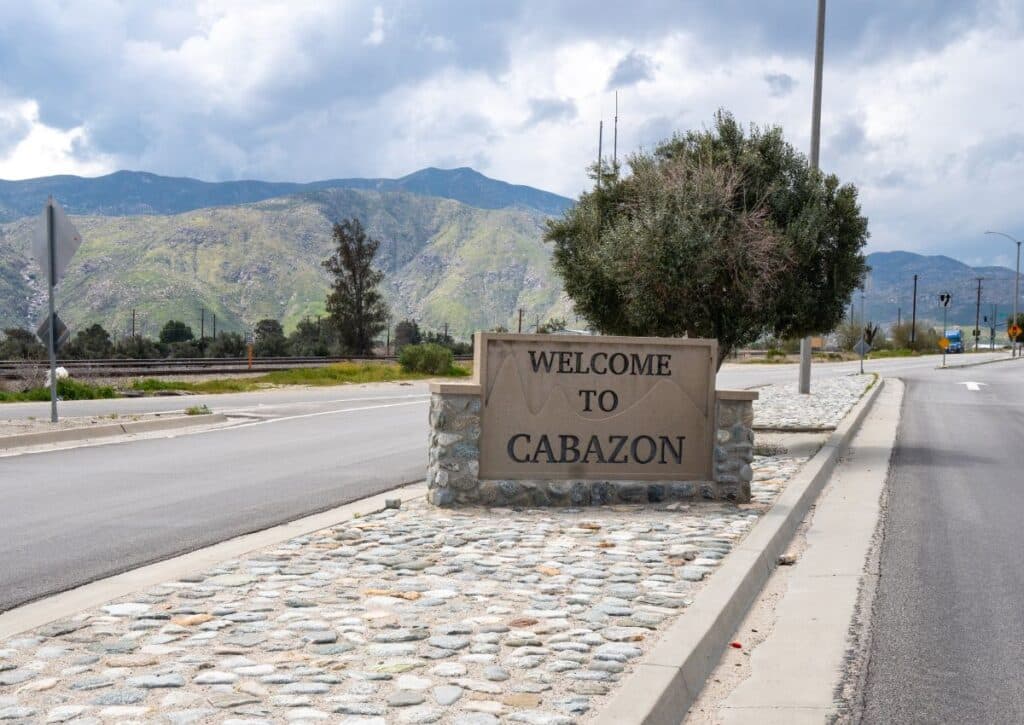 These aren't just any ordinary statues. The giant duo – Mr. Rex and Dinny the Dinosaur – are impossible to miss as they command the skyline, tempting travelers to pull over for a closer inspection. 
Tust me, the short detour is absolutely worth it. The charm of climbing inside Mr. Rex, reaching his gaping mouth, and peeking out at the landscape is a delight, especially if you've got kids in tow.
For families, the adjacent Dinosaur Adventureland is a treasure trove. It's not just about towering statues; it's an immersive experience. With dino digs, robotic dinosaurs that nod to the past, and themed playgrounds, it's educational as much as it is fun.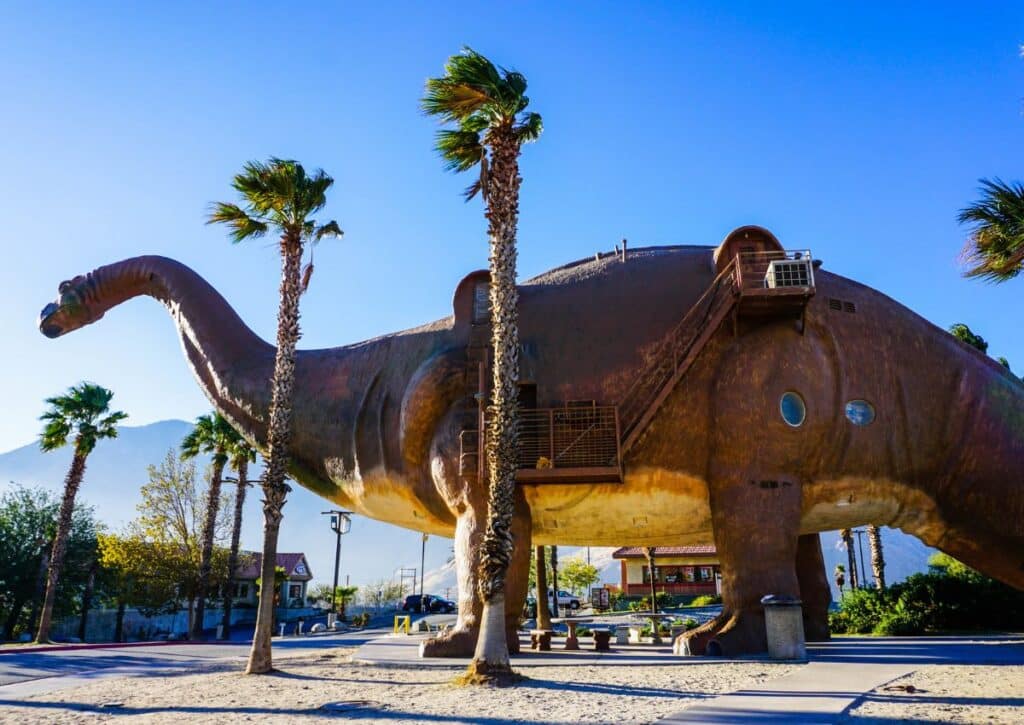 And for those who love memorabilia, the gift shop is a haven. From dino-stuffed toys to quirky T-shirts, there's something for everyone. 
Before you hop back onto the freeway, snap a picture with the majestic beasts. The contrast of these prehistoric giants against California's desert panorama is truly a sight to behold.
A Trip Down Memory Lane in Pioneertown
Roughly 125 miles from Los Angeles, Pioneertown waits like a doorway to another era. Originally built in the 1940s as a movie set, this town has preserved the spirit and ambiance of the Wild West. 
But what makes Pioneertown genuinely special is how it beautifully straddles the line between authentic historical experience and modern-day desert escape.
Strolling down Mane Street (yes, it's spelled that way intentionally), you'll find facades of old saloons, jails, and blacksmith shops, making it easy to imagine cowboys and outlaws clashing in the streets.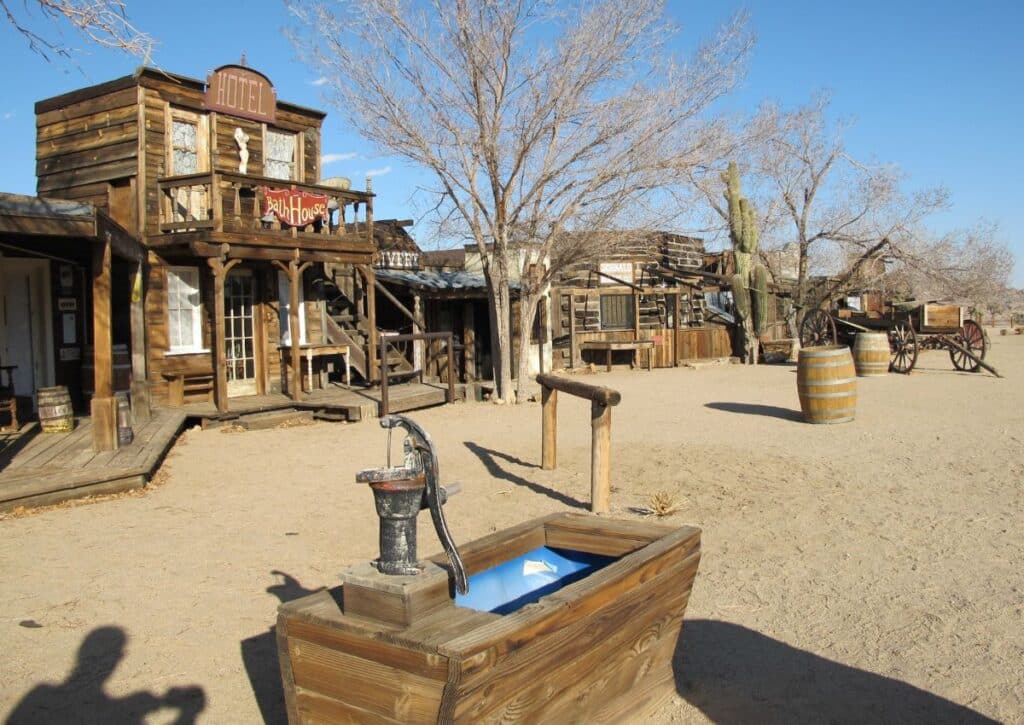 The rustic wooden buildings, hitching posts, and vintage signs are not just props; many of these structures are functional businesses. Pop into local shops, where artisans sell handmade crafts, jewelry, and other souvenirs reminiscent of the Old West.
No visit to Pioneertown is complete without grabbing a bite at Pappy & Harriet's Pioneertown Palace. 
This iconic roadhouse offers scrumptious grub, live music, and a lively atmosphere. Known for its ribs, burgers, and surprise musical performances (think Paul McCartney), it's a local favorite and an attraction in itself.
Nearby, you can also take a gentle hike at the Pioneertown Mountains Preserve, giving you a chance to appreciate the desert's serene beauty while stretching your legs.
Big Morongo Canyon Preserve: Nature's Desert Oasis
A mere 115 miles from Los Angeles, right before you reach the heart of Joshua Tree, the Big Morongo Canyon Preserve stands as an impressive testament to the rich biodiversity of the Mojave Desert. 
This verdant oasis, surprisingly lush amidst the surrounding desert, is a haven for wildlife enthusiasts, hikers, and those simply wishing to take in the tranquil beauty of nature.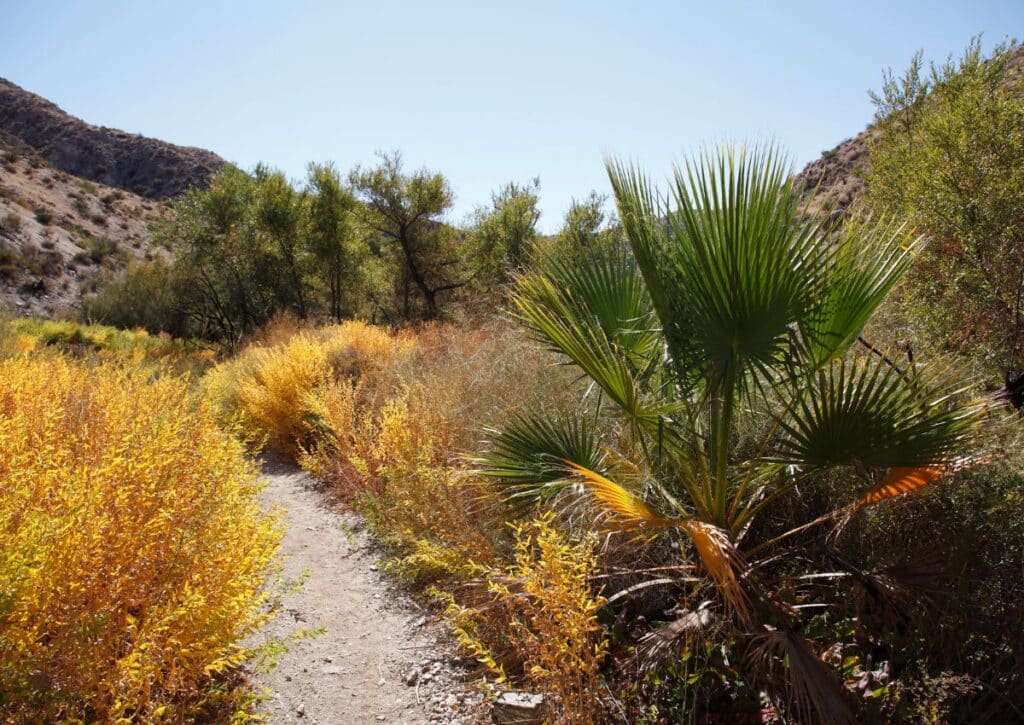 The preserve, spanning over 31,000 acres, acts as a critical wildlife corridor. Here, the Cottonwood, Willow, and Mesquite trees have created a cooler, wetter environment, drawing in a plethora of bird species. In fact, with more than 250 recorded bird species, the area is a paradise for birdwatchers.
For those looking to actively engage with the landscape, the preserve offers a network of trails suitable for all levels. 
The Marsh Trail is a boardwalk loop, wheelchair accessible, that provides an up-close view of the riparian habitat. 
More adventurous souls might opt for the Canyon Trail, which climbs up into the higher, drier parts of the preserve and offers panoramic views of the surrounding desert and San Bernardino Mountains.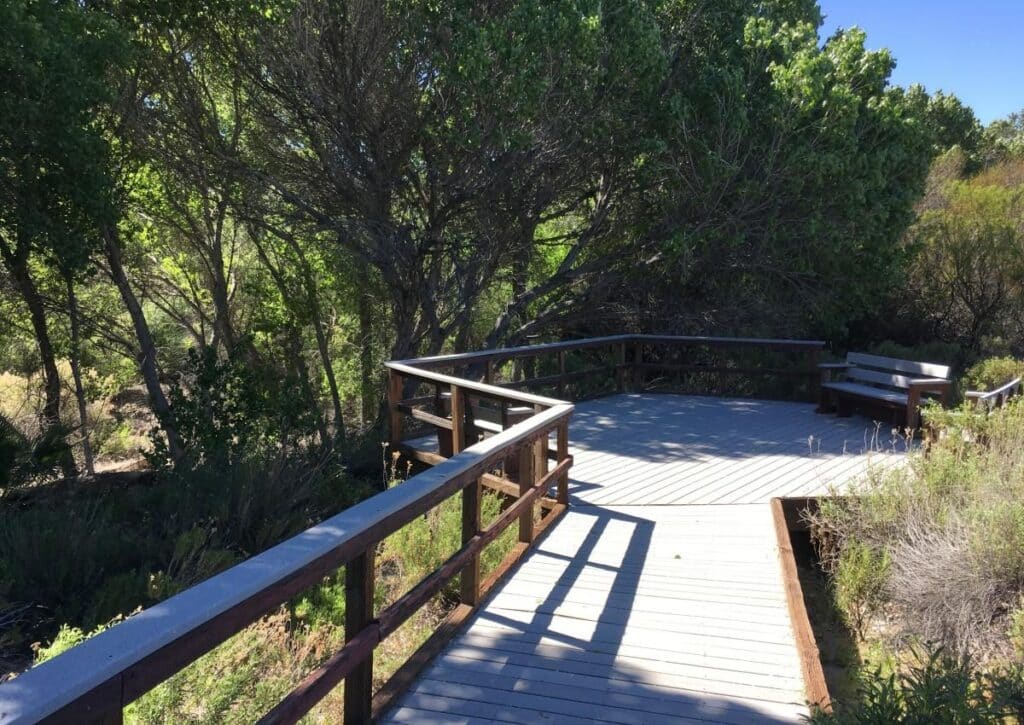 After your hike, stop by the Visitor Center. The knowledgeable staff can share intriguing tidbits about the preserve's history, geology, and the diverse species that call it home.
In the Big Morongo Canyon Preserve, the contrast between the wetland habitats and the arid desert landscapes makes for a compelling and refreshing pit stop on your journey from Los Angeles to Joshua Tree.
Twentynine Palms: The Desert's Vibrant Gateway
About 140 miles from Los Angeles, Twentynine Palms stands as a captivating oasis against the backdrop of the vast Mojave Desert.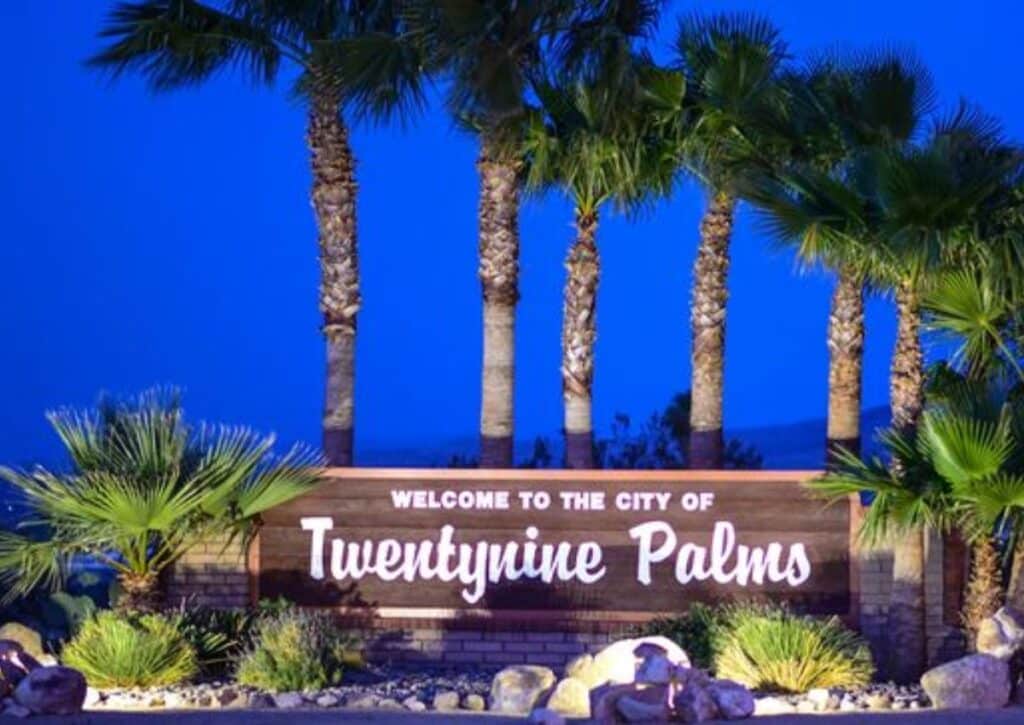 Its intriguing name originates from the palm trees early settlers found in its Oasis of Mara.
Beginners to the area would do well to visit the Joshua Tree National Park Visitors Center located here. Not only can you gather invaluable information, maps, and insights from the park rangers, but it's also an excellent introduction to what awaits in the expansive national park.
Art aficionados should make a beeline for the 29 Palms Art Gallery. Situated in a beautifully preserved historic adobe, this gallery shines the spotlight on local artists, many of whom draw inspiration from the enchanting desert landscapes.
Before you delve into the depths of Joshua Tree, consider a light hike on the Oasis of Mara Trail right behind the visitor center. This accessible trail provides insights into the history of the Serrano tribe, the region's early inhabitants who initially planted the namesake 29 palms.
As for dining, Twentynine Palms doesn't disappoint. With a medley of eateries ranging from classic diners to spicy Mexican joints, there's a plate for every taste. 
One notable mention is the Crossroads Café, a charming spot known for its fresh, locally-sourced dishes and relaxed atmosphere.
Salton Sea: A Surreal Desert Mirage
Roughly 150 miles from Los Angeles, the Salton Sea presents a hauntingly beautiful paradox in the midst of the Colorado Desert. 
Born from an accidental flood in the early 1900s, this saline lake stands as the largest in California, its expansive shimmering surface contrasting sharply against the arid landscape.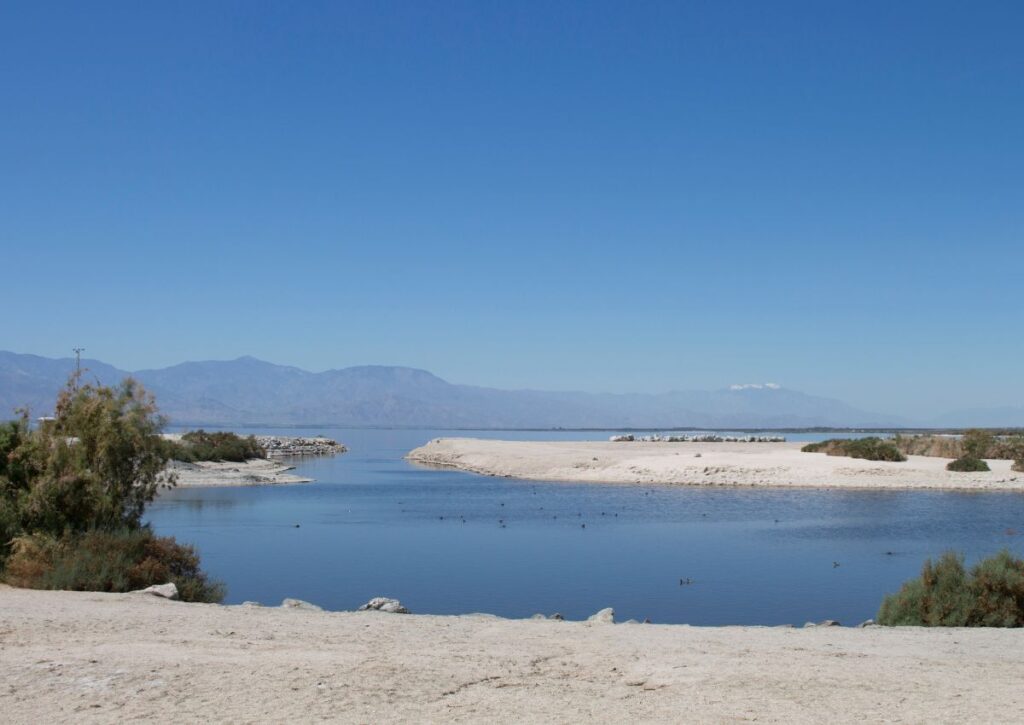 As you approach, one of the first things that might catch your eye is the vast avian population. The Salton Sea is an important stopover for migratory birds, especially during the winter months. 
Birdwatchers will be in for a treat at the Sonny Bono Salton Sea National Wildlife Refuge, where hundreds of species, including the burrowing owl and the American white pelican, can be spotted.
Yet, Salton Sea is also a testament to environmental challenges. Its salinity continues to rise, and the shores, dotted with the skeletal remains of fish, narrate a story of ecological shifts.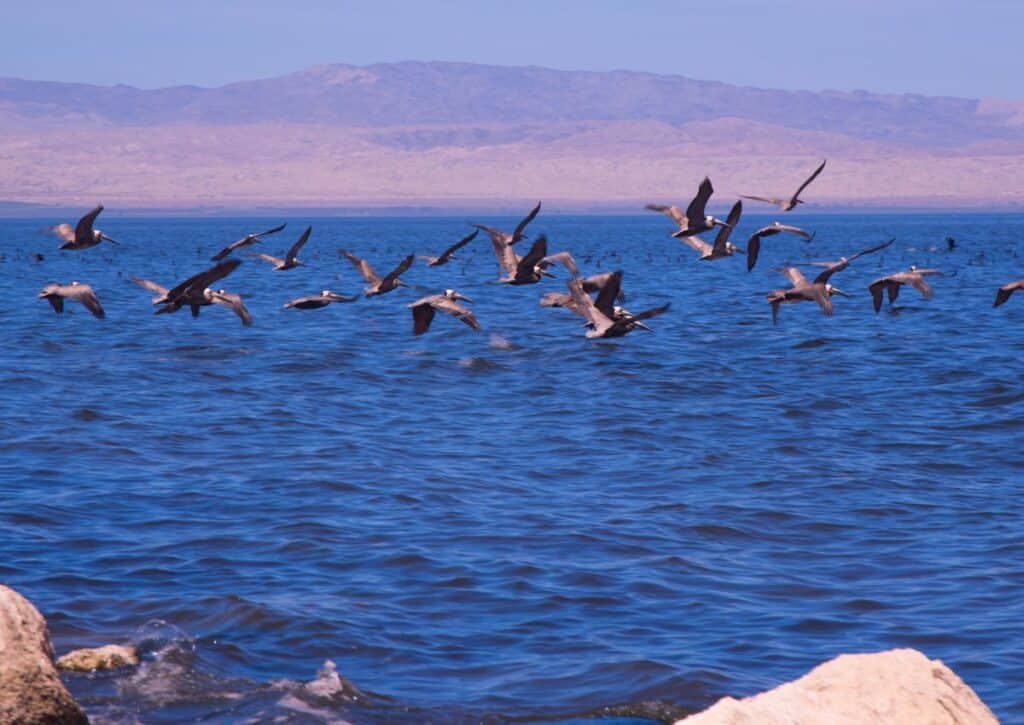 The abandoned structures and art installations around the town of Bombay Beach are reminiscent of a post-apocalyptic scene, drawing photographers and filmmakers for its eerie beauty.
If you're up for a bit of exploration, the nearby Salvation Mountain is a must-visit. 
A technicolor art installation in the desert, this hill made of adobe, straw, and paint stands as a declaration of love to the world, showcasing the dedication of its creator, Leonard Knight.
For a quick bite or a cold drink, swing by the local cafes in the nearby towns like Niland. 
The juxtaposition of vibrant local life against the backdrop of Salton's environmental tales makes for an intriguing pause on your journey.
Downtown Palm Springs: The Urban Oasis
Just under 110 miles from Los Angeles, Downtown Palm Springs bursts forth like a mirage from the desert landscape, promising rejuvenation for both the weary traveler and the eager vacationer. 
This sun-soaked sanctuary, with its mid-century modern architecture and swaying palm trees, is a blend of old Hollywood glamour and contemporary Californian lifestyle.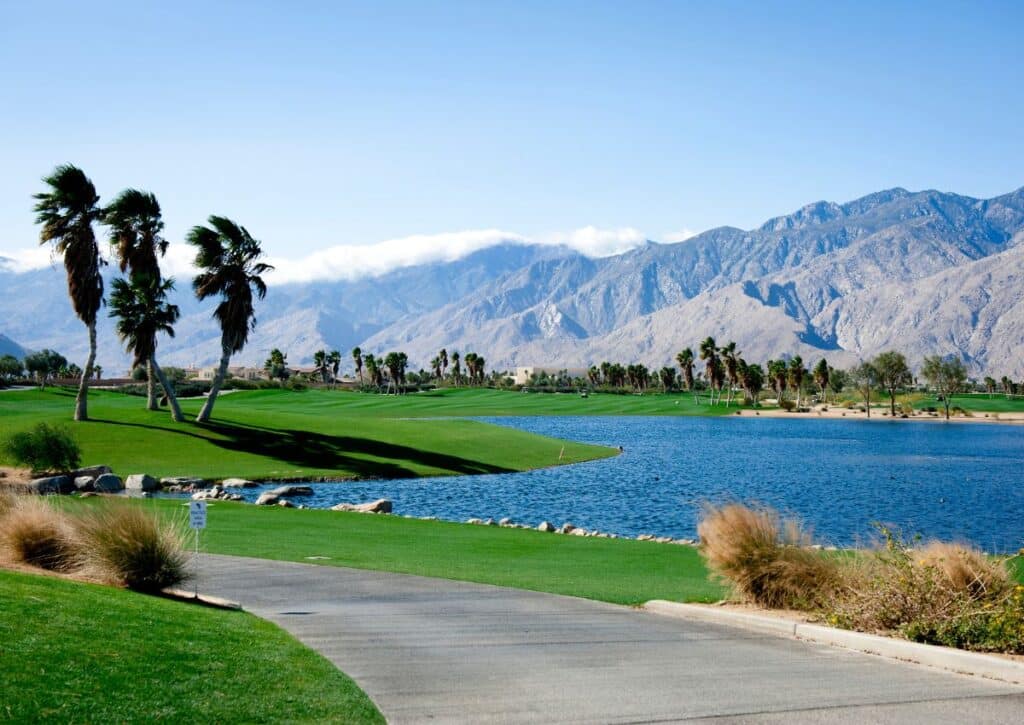 Walking down Palm Canyon Drive, the heart of downtown, you'll be surrounded by an eclectic mix of boutique shops, art galleries, and an array of eateries. 
From chic bistros serving avocado toast to classic diners reminiscent of the 1950s, there's something for every palate.
For a touch of culture, drop by the Palm Springs Art Museum, which hosts impressive collections of modern and contemporary art, glass, photography, architecture, and design.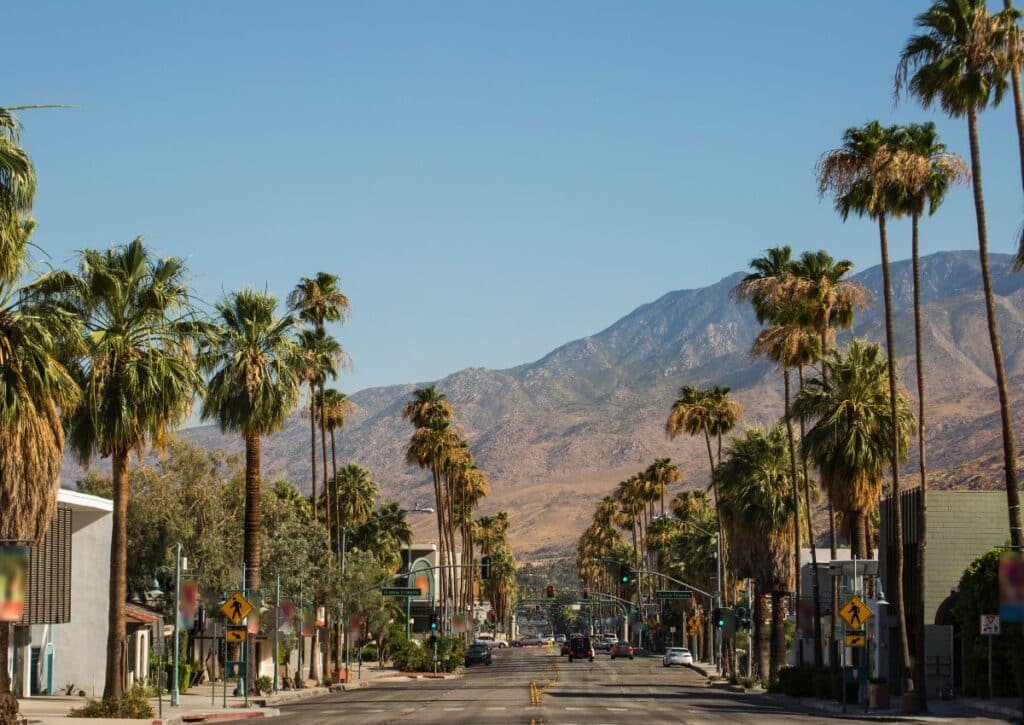 If architecture is your passion, embark on a self-guided tour of the city's iconic mid-century modern homes, some once graced by the likes of Sinatra and Monroe.
Thirsty? The city is dotted with rooftop bars and trendy lounges, perfect for sipping on a cocktail. One must-try is the Date Shake, a local favorite made from the region's rich harvest of dates.
For those looking to indulge in a bit of retail therapy, the numerous boutiques offer everything from high-end fashion to quirky souvenirs.
When your feet call for a rest, the many day spas beckon, offering a chance to recharge before you continue your desert adventure.
Downtown Palm Springs seamlessly marries the allure of its cinematic past with a vibrant present, giving travelers an oasis of experiences. 
Whether you're lounging by a pool, enjoying a jazz performance, or simply watching the sunset paint the San Jacinto Mountains, Palm Springs ensures your time is nothing short of magical.
The Wonders of Indian Canyons
Approximately 115 miles from Los Angeles, Indian Canyons beckons as one of Palm Springs' natural jewels. 
A haven of serenity, this place offers a fascinating glimpse into the rich heritage of the Agua Caliente Band of Cahuilla Indians, the indigenous inhabitants of the Coachella Valley.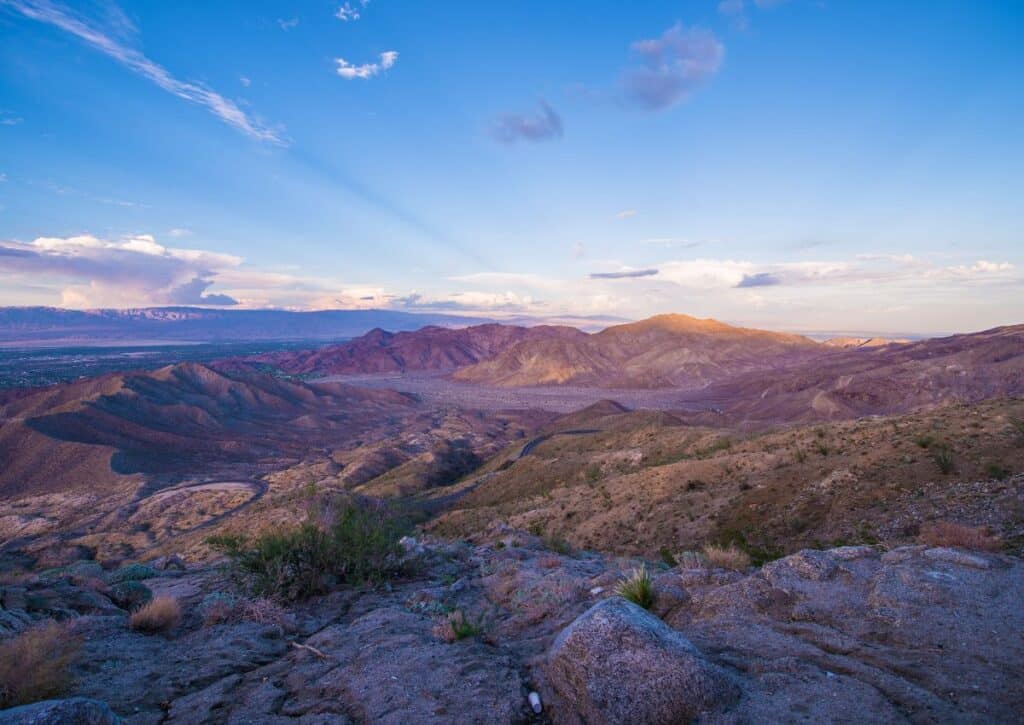 As you venture into the canyons, Andreas Canyon is a good starting point. With its verdant fan palm oasis set against rugged rock formations, it's easy to understand why it's one of the most beloved trails. The easy 1-mile loop allows you to meander beside a babbling creek and appreciate the lush, contrasting landscape amidst the desert backdrop.
For those with an appetite for a longer hike, Palm Canyon is a stunner. This 15-mile expanse showcases the world's largest natural palm oasis. The trail offers scenic overlooks and, if you're lucky, a chance to spot bighorn sheep or other native wildlife.
Murray Canyon is a less frequented but equally mesmerizing spot. Renowned for its serene waterfalls and abundant wildlife, this trail offers the tranquility many seek in the heart of nature.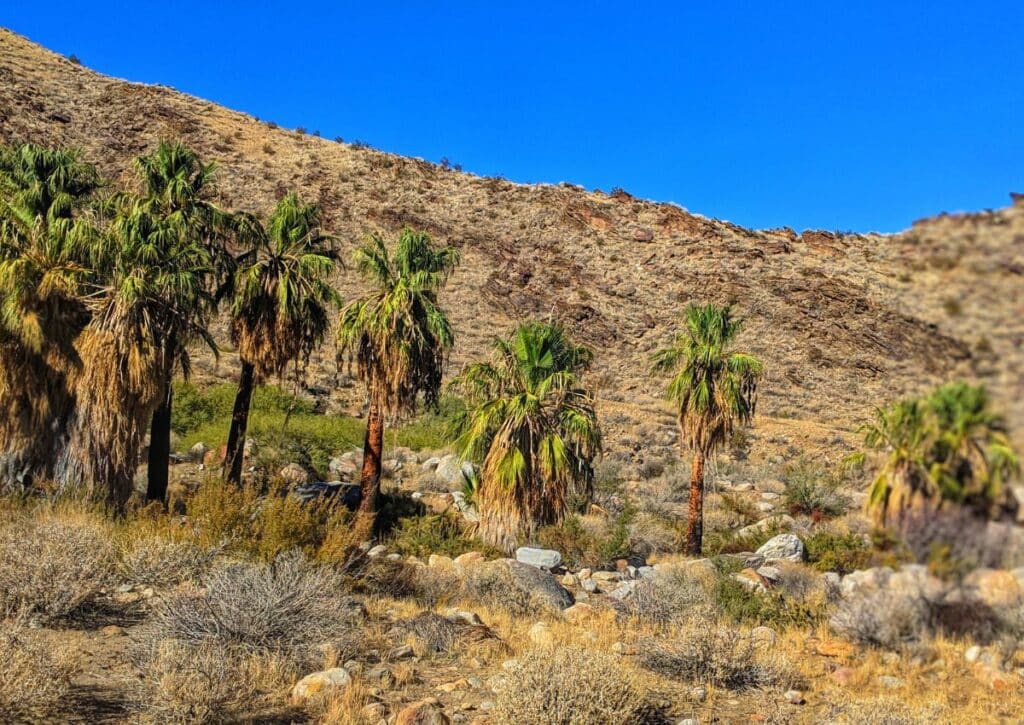 Beyond hiking, the Indian Canyons afford visitors opportunities to horseback ride or even enjoy a picnic amidst its picturesque setting. 
At the Trading Post, you can grab souvenirs, refreshments, or gain deeper insights into the Cahuilla people's history.
While the allure of Palm Springs might lie in its modern indulgences, Indian Canyons reminds visitors of the ancient heartbeat of the land. 
It's a sacred space, a testament to nature's resilience and the enduring spirit of its original inhabitants.
Palm Springs Aerial Tramway
A mere 107 miles from Los Angeles, the Palm Springs Aerial Tramway is not just a mode of transportation; it's an experience that transforms your perspective on the Coachella Valley. 
As you ascend from the hot desert floor to the cool alpine surroundings of Mount San Jacinto State Park, this engineering marvel offers panoramic views that are hard to put into words.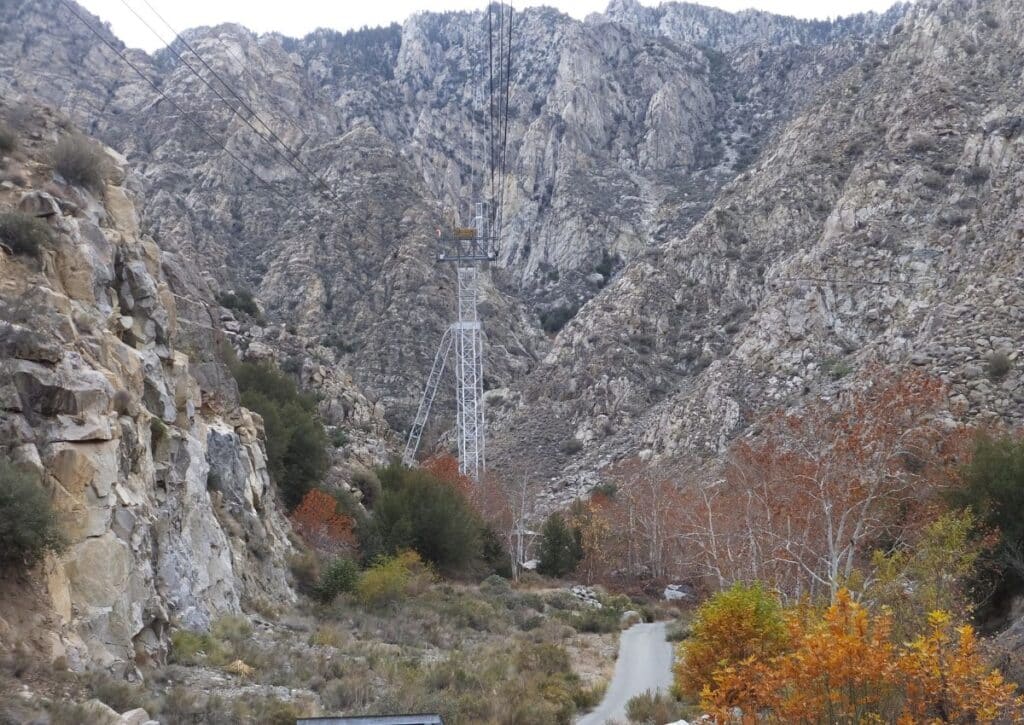 Starting at the Valley Station, situated at 2,643 feet, you're whisked up to the Mountain Station, a staggering 8,516 feet above sea level, in roughly ten minutes. 
The journey upwards is not for the faint of heart but absolutely rewarding. The tram cars rotate, ensuring everyone aboard gets a 360-degree view of the dramatic cliffs of Chino Canyon and the valley below.
Upon reaching the top, you're greeted with temperatures that can be 30 degrees cooler than the valley, making it a refreshing summer escape.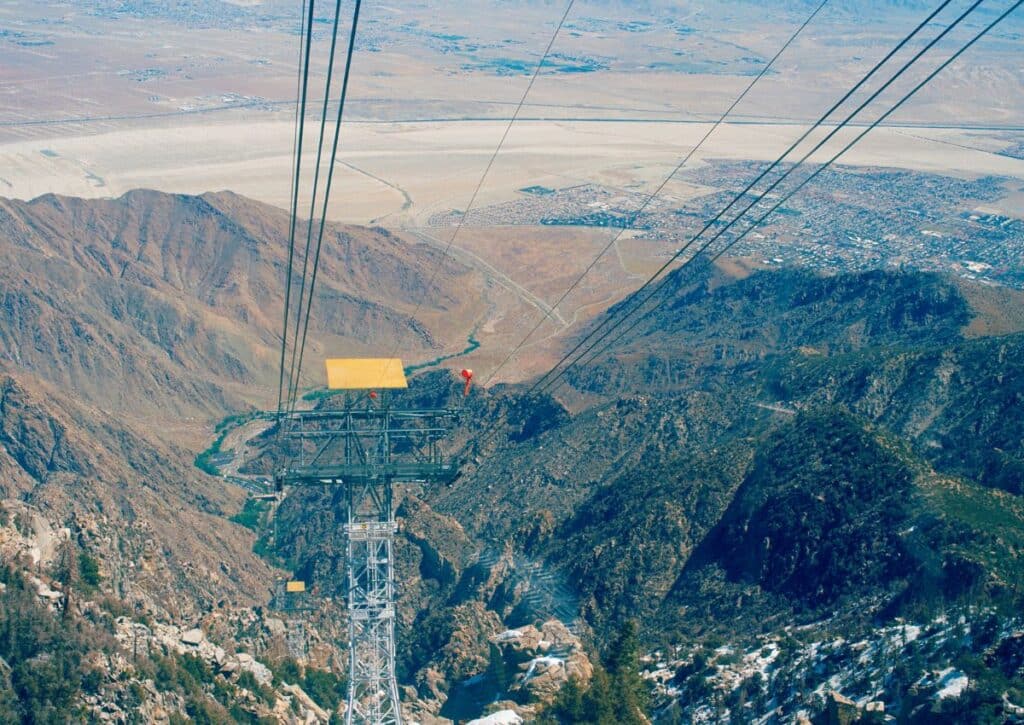 Here, over 50 miles of hiking trails beckon, ranging from easy nature walks to challenging treks. 
The Desert View Trail, for instance, offers a series of observation decks showcasing vistas of the Salton Sea, the distant horizon of Joshua Tree National Park, and the Colorado Desert.
For those less inclined to hike, the Mountain Station houses restaurants where you can dine with an incredible aerial view. 
There's also a natural history museum, documentary theaters, and gift shops to explore.
Roughly 103 miles from the heart of Los Angeles, the Whitewater Preserve beckons explorers with a mosaic of rugged canyons, undulating sand dunes, and pristine whitewater rivers, an oasis tucked within the vast expanse of the Colorado Desert.
Stepping into the Whitewater Preserve feels akin to unearthing a hidden gem. Spanning over 2,851 acres, this desert sanctuary provides a safe haven for local wildlife, such as the bighorn sheep, and offers visitors a front-row seat to the delicate balance of desert ecology.
One of the standout features of the preserve is the Whitewater River, a clear, rushing stream that carves its way through the rugged landscape, creating a verdant ribbon of green amid the desert hues.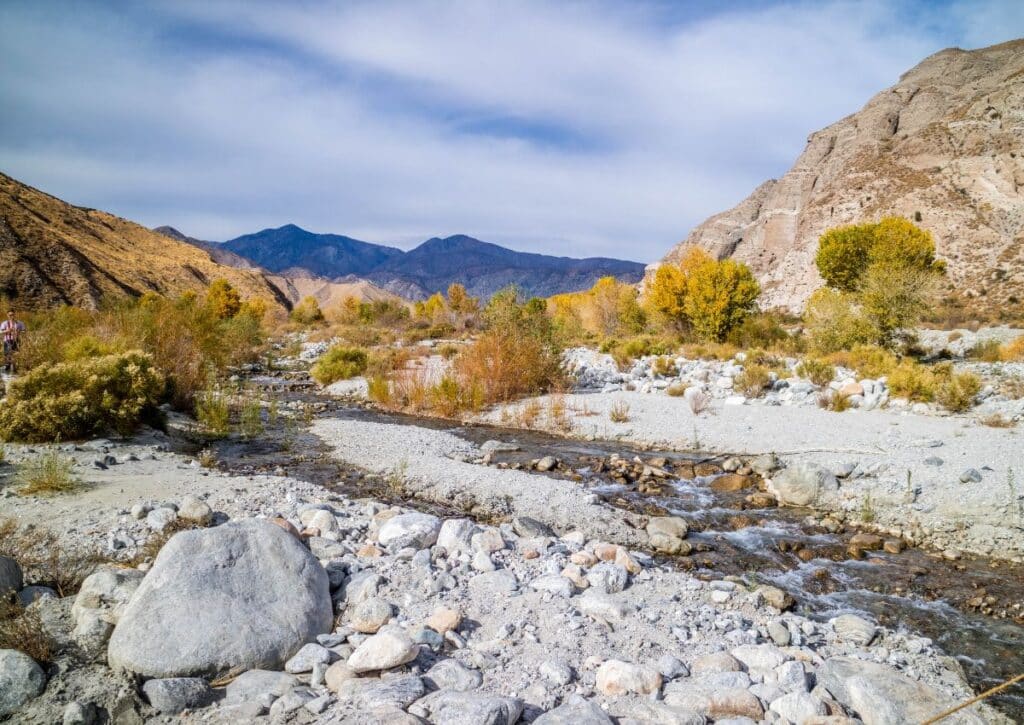 This river not only offers visitors a refreshing reprieve from the desert heat but is also a critical water source for the region's unique flora and fauna.
For those keen on soaking in the landscape, the Canyon View Loop Trail is a must. This moderate 4-mile hike provides an array of visual treats, from panoramic desert vistas to intimate encounters with bubbling brooks and serene ponds.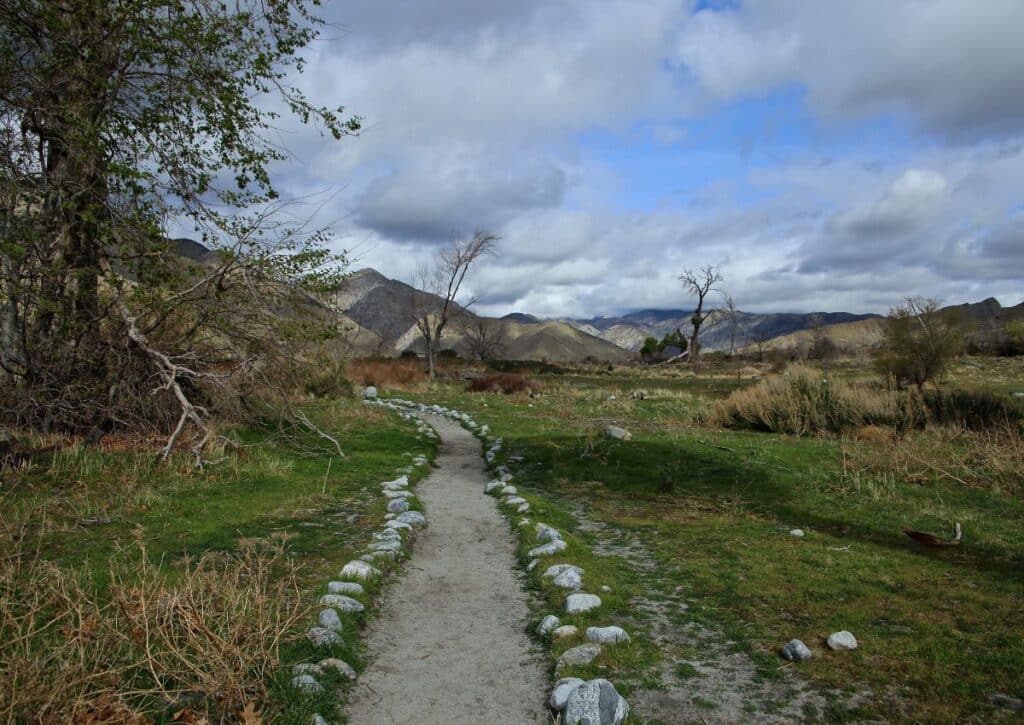 Nestled amid the trails, the Visitor Center offers an interactive education on the region's natural history and the importance of preserving these delicate ecosystems. 
Don't forget to step into the picnic area overlooking the river, where you can have a meal with a view that's second to none.
And as the sun sets, casting golden hues over the canyon walls, there's a palpable sense of serenity here. 
The Whitewater Preserve isn't just a detour on the road trip; it's a vivid reminder of the untamed beauty that often lies just off the beaten path, waiting to be discovered.
The Quirky World of East Jesus
Approximately 145 miles from Los Angeles, past the Salton Sea's shimmering expanse, lies a hidden enclave of artistic rebellion and creative expression: East Jesus. 
What began as a singular man's escape and artistic refuge has burgeoned into an open-air gallery, resonating with offbeat charm and a touch of the surreal.
East Jesus is not your conventional destination, nor does it aspire to be. As you arrive, you're greeted by a labyrinth of sculptures, installations, and mosaics crafted from discarded items — a testament to the transformative power of art.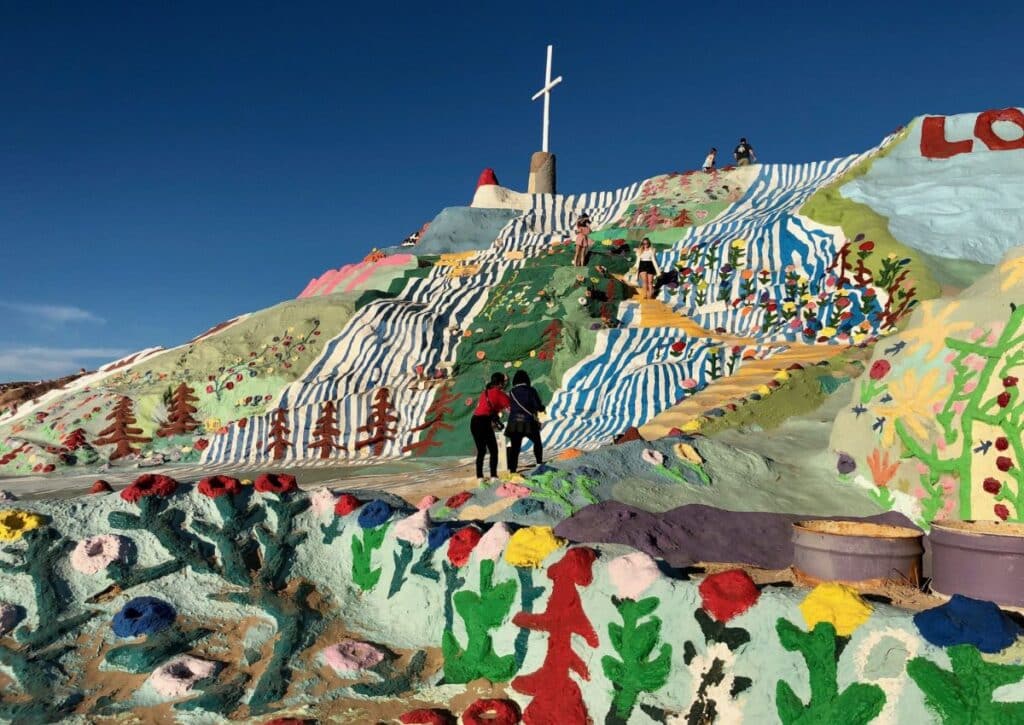 Every rusted car part, broken appliance, or discarded bottle finds new life here, woven into grand expressions of both satire and reflection.
While wandering its paths, visitors might stumble upon the "Television Wall," a mosaic of old TV sets ironically critiquing modern media consumption, or a towering robot sculpture silently watching over the desert.
 Amid the desert backdrop, each piece tells a unique story, challenging the line between waste and wonder.
East Jesus is not just about art; it's about sustainability too. The entire compound operates off the grid, using solar power and recycled materials, a beacon of sustainability amidst the wasteland.
For the hungry traveler, while there aren't restaurants on site, the nearby town of Niland offers a few local eateries that provide a taste of Southern California's desert cuisine. Grab a bite and return to East Jesus for the evening's campfire gatherings, where stories, songs, and the spirit of camaraderie light up the night.
East Jesus is an unplanned pause, a break from the mundane, and an invitation to embrace the eccentricities that lie in the heart of the California desert. A visit here isn't just a stop; it's an experience, one that lingers long after you've moved on.
Joshua Tree National Park
After a journey of about 130 miles from Los Angeles, the crowning jewel of your road trip awaits: Joshua Tree National Park. 
This expansive national treasure offers a harmonious blend of the Mojave and Colorado deserts, resulting in a diverse landscape teeming with peculiar plants, iconic rock formations, and starlit skies that have enthralled visitors for generations.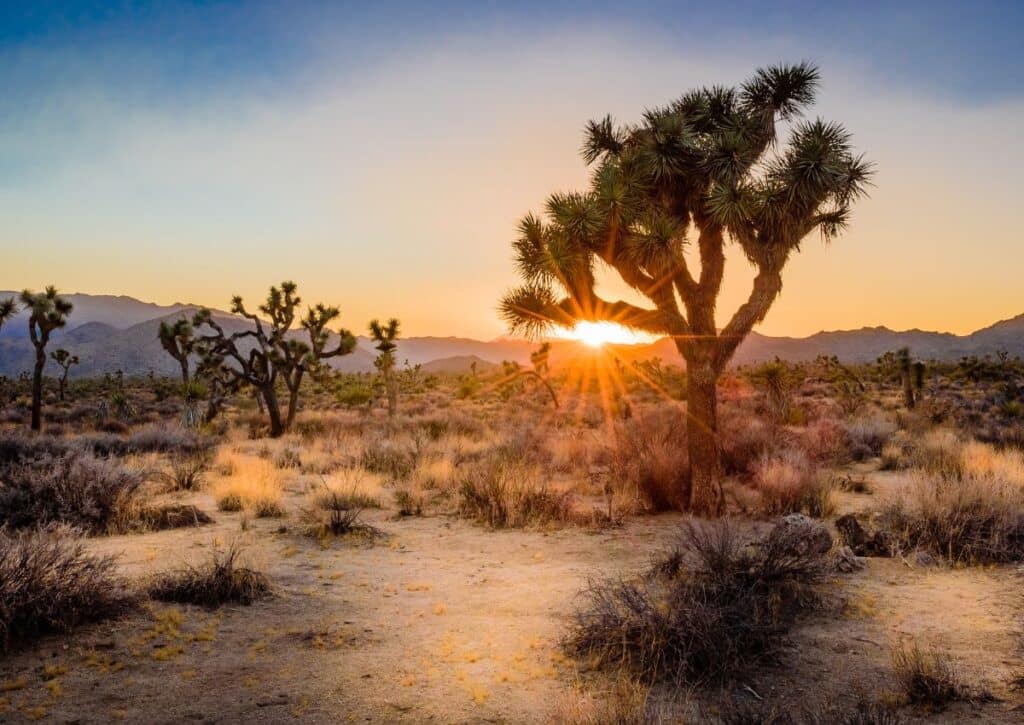 Upon entering the park, the first thing that will catch your attention is the peculiar Joshua Tree itself – a unique yucca that stands tall with spiky branches reaching out towards the heavens. 
Each tree seems to have its own character, having survived and adapted to the harsh desert conditions.
For the active traveler, the park is a paradise. Trails like the Hidden Valley or Barker Dam offer relatively short hikes with rewarding views. 
If you're up for a challenge, the Ryan Mountain Trail offers panoramic views of the park from its summit. For rock climbers, the iconic Skull Rock or Intersection Rock provide excellent opportunities.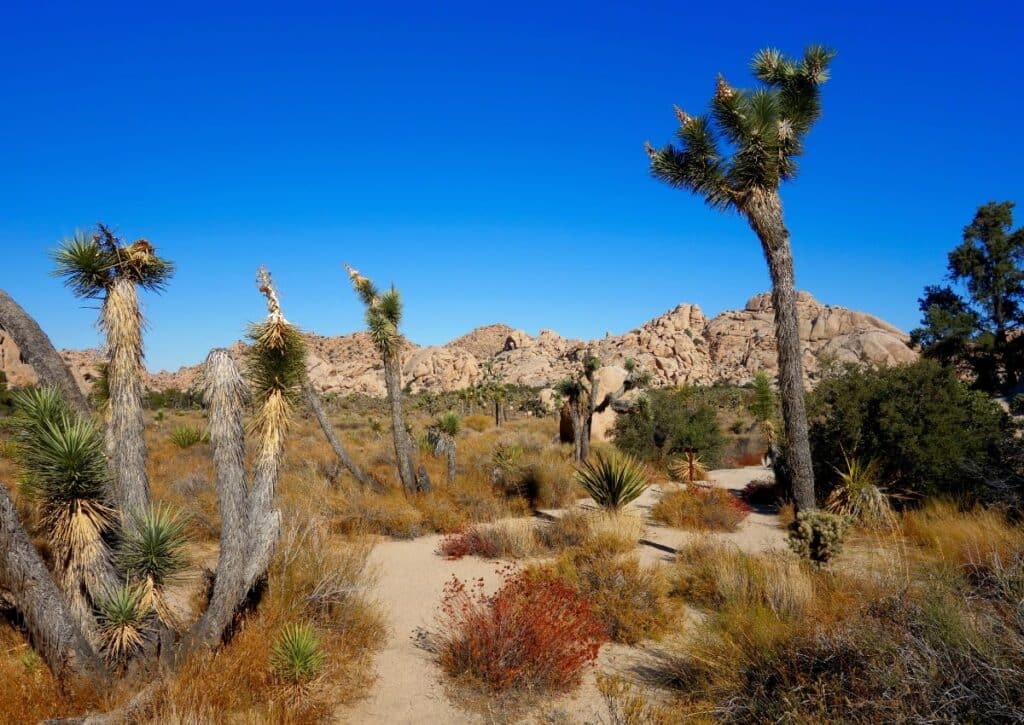 Visitors keen on experiencing the park's diverse flora and fauna should head to the Cholla Cactus Garden, especially during sunrise or sunset when the cacti glow magically. 
Likewise, Keys View offers a breathtaking vantage point overlooking the Coachella Valley, Salton Sea, and even the San Andreas Fault on a clear day.
After a day of exploration, many travelers set up camp to experience one of Joshua Tree's most mesmerizing offerings: its night sky. 
With minimal light pollution, the park is a designated Dark Sky Park, making it one of the best places in Southern California for stargazing.
Dining options inside the park are limited, so it's advisable to pack a picnic or grab a meal in the nearby town of Joshua Tree, which boasts quaint eateries like Pappy & Harriet's or La Copine.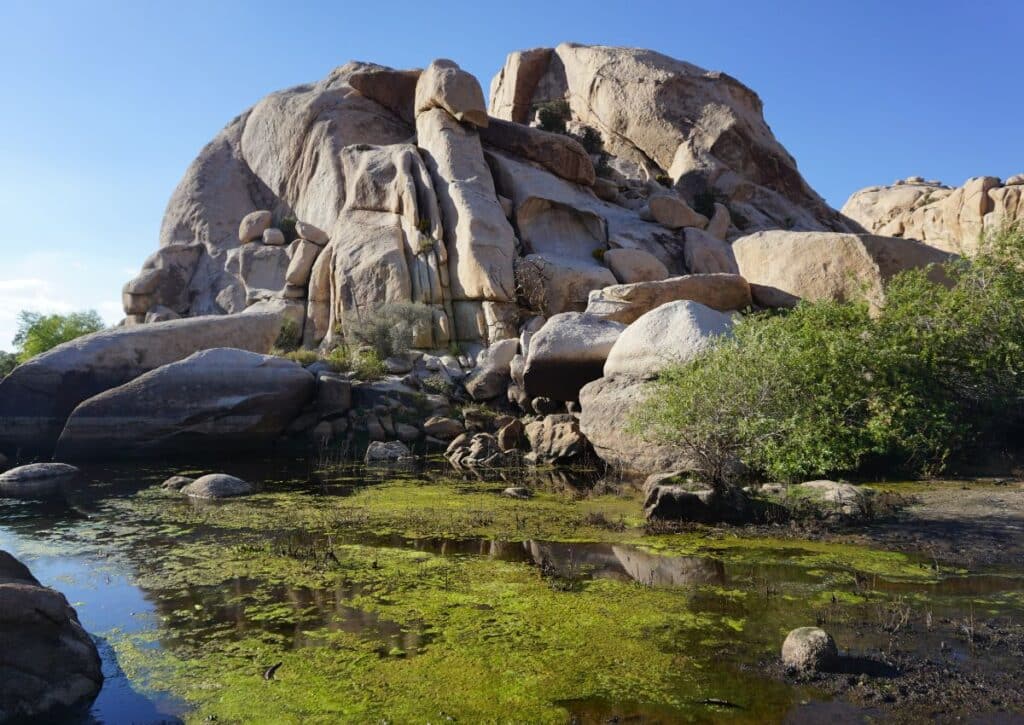 Also Read
HERE ARE 12 ANIMALS WE SAW WHEN HIKING IN JOSHUA TREE NATIONAL PARK
10 THINGS WE ALWAYS DO IN JOSHUA TREE NATIONAL PARK
Our 5-Day Itinerary for a LA to Joshua Tree Road Trip
This is the itinerary we got into the last time a few friends visited us from Bozeman. You can modify this to include anything you found intriguing in the above section on unmissable stops! 
Day 1: From City Skylines to San Bernardino's Green Spines
Distance: ~60 miles
Setting out from the buzzing heart of LA, point your wheels towards San Bernardino. 
A little-known gem is the San Bernardino History & Railroad Museum, capturing tales of old locomotives and city chronicles.
 Midday, why not take a refreshing walk through the San Bernardino National Forest? 
The Heart Rock Trail, about a mile long, has a heart-shaped pool at the end – a perfect photo op! 
As the sun dips, find comfort in a local diner, like DJ Coffee Shop, and let the city's evening vibes wash over you. 
Consider the DoubleTree by Hilton, offering cozy accommodations with views of the surrounding mountains.
Day 2: Desert Charms En Route to Palm Springs
Distance: ~50 miles
Your morning should start with the enigmatic Cabazon Dinosaurs, where the towering Dino duo awaits. 
Snap those obligatory photos and peek into the museum. Continue on to Pioneertown, a blast from Hollywood's past with its western sets now housing quirky boutiques and eateries.
 As the city lights of Palm Springs begin to twinkle in the distance, get settled into your lodging. 
Treat yourself to dinner at Trio, known for its modern vibes and classic dishes.
Stay: Palm Springs Rendezvous Bed and Breakfast has themed rooms reminiscent of the 1950s.
Day 3: From Palm Oasis to Desert Dreamscape
Distance: ~85 miles
Kick off the day exploring downtown Palm Springs, perhaps indulging in a sumptuous brunch at Cheeky's. 
Post that, a dose of nature awaits at Indian Canyons. Stroll amidst fan palms and babbling streams, a stark contrast to the desert just beyond. 
Next, drive down to the eerily beautiful Salton Sea. Snap photos of the ethereal landscapes and birdlife, then push on to Joshua Tree.
Arrive in time for a mesmerizing desert sunset. Set up camp at Jumbo Rocks Campground or opt for a stylish stay at The Castle House Estate.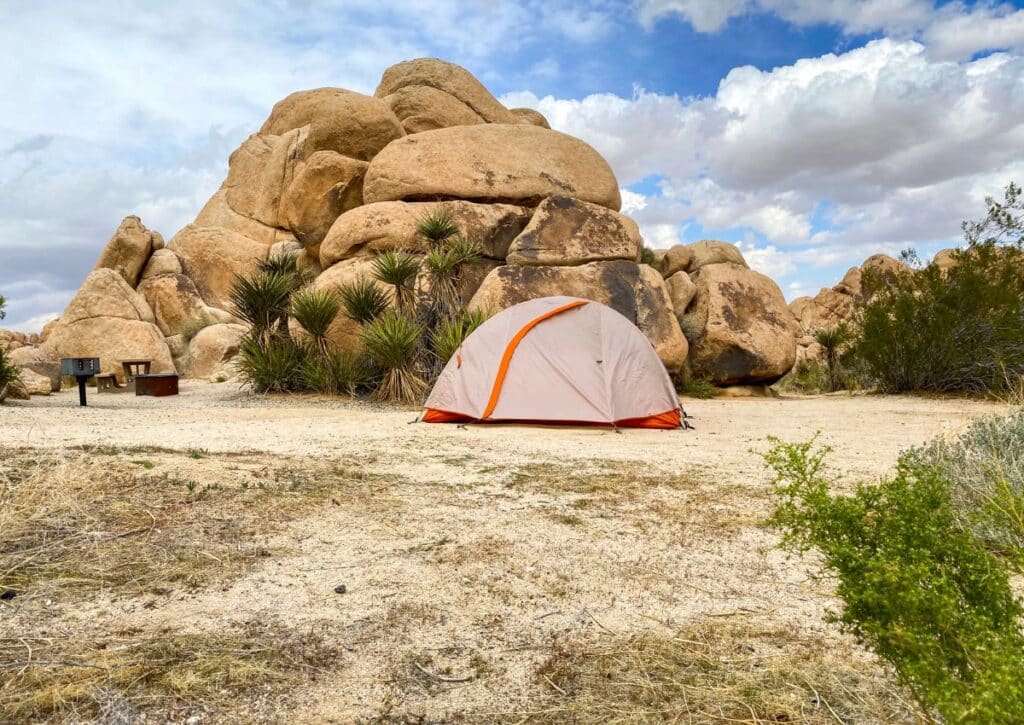 Day 4: Immersing in Joshua Tree's Magic
With a full day in Joshua Tree National Park, there's so much to soak in. Begin with the astonishing panorama from Keys View, overlooking Coachella Valley. 
After a light lunch take a serene walk around Barker Dam, witnessing the rare sight of water in the desert. 
Back to camp for a brief time out – remember it's hot! 
Explore Hidden Valley. This 1-mile loop reveals iconic rock formations and a rich history of ranchers and outlaws. Treat Yourself to a fine sunset! 
Enjoy your final desert night. Perhaps indulge in some stargazing – Joshua Tree's night skies are a glittering canvas.
Day 5: Desert Farewell & Homeward Bound
Distance: ~130 miles 
With morning light, embark on one last Joshua Tree adventure. Perhaps the Ryan Mountain Trail? 
It's a slightly challenging 3-mile round-trip, but the views from atop are unparalleled. As noon approaches, make your way back to LA. 
The journey back offers a transition from arid landscapes to bustling cityscapes, a reminder of California's diverse beauty.
5 Top Things to Do in Joshua Tree National Park
Joshua Tree National Park isn't just a vast expanse of desert terrain; it's a hub of natural wonders, captivating trails, and mesmerizing sights that are sure to leave an indelible mark on every traveler.
Iconic Joshua Trees: These unique, twisted, and bristled trees are the park's namesake. It's impossible to visit the park without being captivated by their surreal beauty. 
Their stark silhouette against a backdrop of clear blue skies is a photographer's dream.
Animal Spotting: While the desert might seem devoid of life at first glance, it's brimming with diverse fauna. 
For the wildlife enthusiast, this comprehensive guide offers a detailed look at the varied animals you might encounter on your hikes. From cunning coyotes to the elusive bighorn sheep, there's much to discover.
Rock Formations and Climbing: For the adrenaline seekers, Joshua Tree offers countless rock formations suitable for both amateur and pro climbers. 
Giant boulders and rugged landscapes are ideal for those looking to challenge themselves.
Stargazing: Far from the city lights, the park boasts some of the clearest night skies perfect for stargazing. 
On a clear night, the Milky Way's breathtaking views and shooting stars make for a surreal experience.
Hiking: With a network of trails, there's a path for everyone, from casual walkers to seasoned hikers. 
Exploring these trails is a must, unveiling secrets of the desert, its flora, and its inhabitants.
For those making a return visit or even first-timers looking to soak in some local recommendations, this list dives deep into ten must-do activities in the park, ensuring you don't miss out on any experiences.
Final Thoughts: The Essence of Your LA to Joshua Tree Adventure
Embarking on a road trip from the vibrant LA to the serene landscapes of Joshua Tree is about more than just the destinations; it's about the journey, the experiences, and the stories that intertwine with each mile.
Here are a few takeaways to hold close as you set off:
Diverse Landscapes: This trip offers an exceptional tapestry of settings, from urban skylines and lush forests to serene deserts and quirky art installations. Embrace the contrasts.
History & Culture: Delve deeper into the regions you pass. San Bernardino's rich past, Pioneertown's Hollywood connection, and the art culture in East Jesus each narrate unique tales.
Nature's Beauty: The desert might seem barren at first glance, but it brims with life. Respect its fragility, admire its resilience, and absorb its tranquil energy.
Preparation is Key: While spontaneity adds flavor, being well-prepared ensures you can comfortably handle any curveballs. From downloading offline maps to keeping hydration essentials, be road-ready.
Stay, Dine, Explore: Each stop, be it a major city or a small township, offers its unique flavor. Stay in diverse accommodations, savor local dishes, and immerse yourself in local attractions.
Memories Over Miles: While distances give a tangible measure, the moments spent laughing with loved ones, the unexpected detours, or the sunsets witnessed often become the trip's true highlights.
Your LA to Joshua Tree road trip is a canvas. While this guide gives you the strokes and colors, it's up to you to paint your masterpiece. Here's to open roads, captivating stories, and unforgettable memories! Safe travels!