Explore 10 Must-See Stops on Palm Springs to Joshua Tree Journey with a 3-Day Itinerary!
Close to Palm Springs, Joshua Tree offers a world of unique landscapes, wildlife, and outdoor activities. This guide is here to help you navigate the best routes, stopovers, and experiences within the park.
Whether you're planning a brief visit or an extended stay, we've got you covered. Dive in to make the most of your trip.
Oh and we also include a personal 3 day 2 night Joshua Tree Itinerary which can make for an advneturous long weekend!
Overview of the Trip From Palm Springs to Joshua Tree
Nestled amidst the San Jacinto Mountains, Palm Springs is a celebrated desert resort city renowned for its mid-century modern architecture, soothing spa retreats, and eclectic arts scene.
Just about 40 miles to its east, the Joshua Tree National Park beckons, boasting unique geologic formations and iconic Joshua Trees. We being wildlife enthusiasts alo dig Joshua Tree for the wildlife sightings!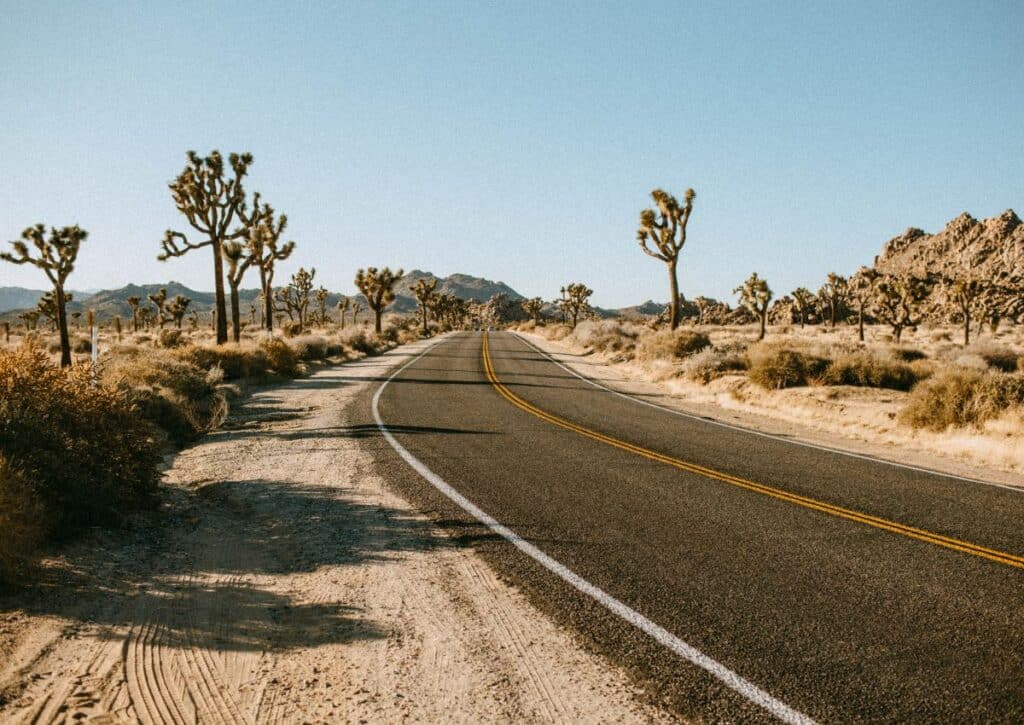 Embarking on a journey from Palm Springs to Joshua Tree, you have two primary entrances to consider: the West and the South. Each offers its distinct charm, with specific landmarks and natural wonders that make the drive as memorable as the destination itself.
Planning Tips:
Monitor Road Conditions: Especially during monsoon, flash floods can temporarily close roads. Checking local advisories ensures a smoother journey.
Fuel Up: Gas stations are sparse between Palm Springs and Joshua Tree. Fill your tank in Palm Springs, and consider having some snacks on hand for the route.
West vs. South Entrance: The West entrance, near Joshua Tree town, tends to be busier due to its proximity to popular park spots. The South entrance, closer to the Cottonwood Visitor Center, sees fewer crowds and offers a quieter entry into the park.
Weather Check: The desert can be surprisingly cool in the early morning and after sunset. Pack a light jacket if you plan on making stops during these times or for stargazing in the park.
Prioritize Landmarks: Pioneertown offers a rustic throwback to old Hollywood Westerns, while the Cabazon Dinosaurs are a kitschy delight. Decide what interests you most to make the best use of your travel time.
With this in mind, your transition from the lush resorts of Palm Springs to the rugged landscapes of Joshua Tree will be both smooth and enlightening.
Going from Palm Springs to Joshua Tree's South Entrance
The drive from Palm Springs to Joshua Tree National Park's South Entrance is a straightforward journey that offers a transition from the bustling resort vibes of Palm Springs to the serene landscapes of Joshua Tree.
Taking the Cottonwood Springs route offers a quieter, less-traveled entrance compared to the West, making it ideal for those looking to start their exploration in tranquility. Here's a step-by-step guide: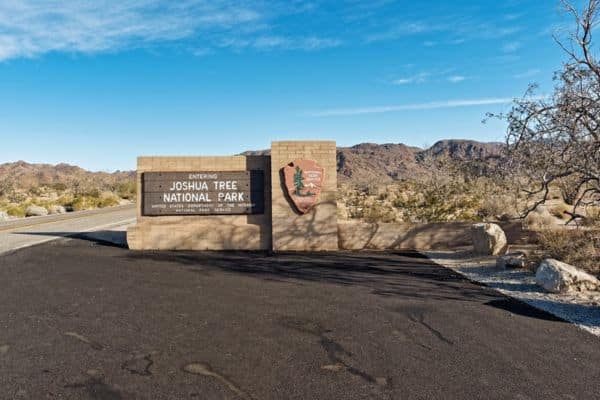 1. Starting Off in Palm Springs: Begin your journey in the heart of Palm Springs. As you prepare to leave the city's iconic palm-lined streets, ensure you have all essentials for the trip, from water to snacks. Gas up your vehicle, as fueling stations become scarce further along the way.
2. Hitting the Interstate: From Palm Springs, make your way to E Vista Chino. This will lead you to I-10 E in Cathedral City. It's about a 14-minute drive covering approximately 6.5 miles.
3. Along the I-10 East: Once on I-10 E, continue your journey eastward for about 41 miles. This stretch of the interstate offers views of the expansive desert landscape. Depending on the time of day, you might witness a mesmerizing sunrise or an endless horizon bathed in golden sunlight.
4. Exit at Cottonwood Springs: About 38 minutes into the I-10 E drive, look for exit 168, marked as Cottonwood Springs Road. Take this exit, which will be your gateway to the southern part of Joshua Tree National Park.
5. The Final Stretch – Cottonwood Springs Road: After exiting, follow Cottonwood Springs Road for a short 3-minute drive, approximately 1.5 miles, and you'll find yourself at the Bajada Nature Trailhead. This trail offers an inviting start to your Joshua Tree experience, with interpretative signs, flora, and potential wildlife sightings.
As you embark on this route, remember to drive safely, respecting the speed limits, and taking breaks if needed. The desert has its own rhythm, and it's always rewarding to sync up with its serene pace.
Going from Palm Springs to Joshua Tree's West Entrance
Initial Drive: Depart from Palm Springs heading north on N Indian Canyon Dr, a straight drive that offers glimpses of the surrounding desert landscape.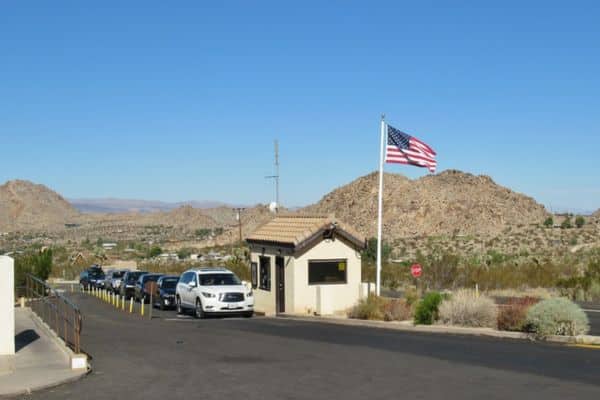 Connecting to Interstate: After a short distance, you'll merge with I-10 W. This segment of the journey traverses the Coachella Valley and offers views of wind turbines lining the horizon, hinting at the area's investment in renewable energy.
Transition to CA-62: Soon, you'll take the exit for CA-62 E/29 Palms Hwy, which serves as your main artery towards the national park. The highway, also known as the Twentynine Palms Highway, slices through the Mojave Desert, introducing travelers to the distinctive Joshua Trees dotting the landscape.
Entering Joshua Tree Township: As you approach the township of Joshua Tree, you'll sense a shift in ambiance. The small desert town is brimming with local arts, music, and unique desert dwellings.
Final Stretch: Upon reaching the intersection of CA-62 and Park Blvd, make a right turn. Park Blvd eventually becomes Quail Springs Rd. Continue on this road, and shortly after, it reverts back to Park Blvd, leading you directly to the West Entrance of Joshua Tree National Park.
End Point: West Entrance Station, Joshua Tree National Park
As you arrive, the vast expanse of the national park beckons. Iconic rock formations, mesmerizing star-studded nights, and the namesake Joshua Trees await your exploration.
10 Unmissable Stops from Palm Springs to Joshua Tree
As you embark on the journey from the vibrant Palm Springs to the stark beauty of Joshua Tree, the route is dotted with gems that enhance the desert adventure.
Each stop, whether natural or cultural, complements the spirit of the Mojave Desert. From serene nature preserves to iconic landmarks, these stops offer a balanced mix of relaxation and exploration.
Make sure to set aside some time for these en-route attractions—they're sure to amplify the memories of your trip.
Whitewater Preserve
Distance from Palm Springs: 17 miles
Seen on the: West Entrance route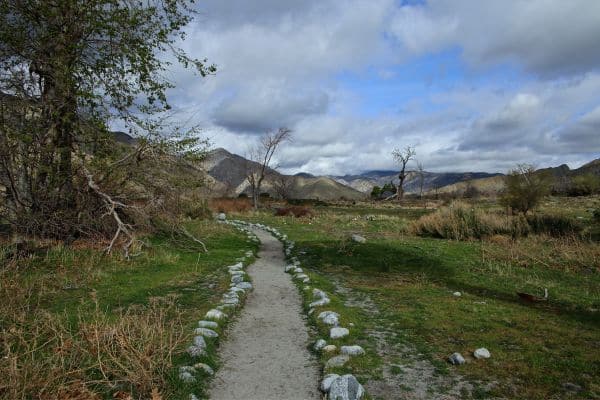 Whitewater Preserve lies within the boundaries of the Sand to Snow National Monument, a region known for its unique ecological significance and sweeping natural beauty. Here's a closer look at the preserve to help guide your visit:
Hiking Opportunities:
Whitewater Canyon Loop Trail: This is a relatively easy 3.5-mile trail, which offers hikers views of the Whitewater River, surrounding mountains, and the possibility of spotting bighorn sheep.
Red Dome: For a shorter trek, the 0.4-mile round trip to Red Dome is a visitor favorite. It's an ideal choice if you're pressed for time or are with young family members.
Pacific Crest Trail (PCT): Whitewater Preserve serves as a significant point on the PCT, which stretches from Mexico to Canada. While you might not be trekking the entire length, the sections through the preserve offer a snapshot of its diverse ecosystems and landscapes.
Wildlife and Nature: The preserve is a hotspot for bird watching, especially during the migration seasons. Keep an eye out for golden eagles, prairie falcons, and the aforementioned endangered Southwest willow flycatcher. Additionally, the riparian zone of the Whitewater River attracts bighorn sheep, mule deer, and even bears at times.
Visitor Facilities: The Whitewater Preserve has a visitor center that offers more information about the area and its ecology. There are also picnic areas with grills, making it perfect for a mid-journey rest and meal.
Important Tips:
It's essential to be aware of the weather conditions before visiting. Flash floods can occur, especially during the monsoon season.
As it's a natural habitat, always ensure you pack out whatever you pack in, maintaining the preserve's pristine conditions.
Mission Creek Preserve
Distance from Palm Springs: 15 miles
Seen on the: West Entrance route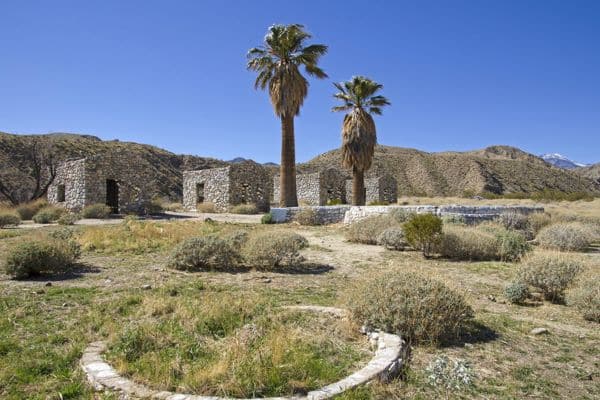 Mission Creek Preserve is a 4,760-acre area known for its diverse habitats and stunning landscapes. Nestled between the high desert and low desert biomes, it's where the Mojave and Colorado deserts converge. This unique location provides the preserve with an extensive array of plant and animal life, some of which can't be found elsewhere.
Hiking Opportunities:
Mission Creek Trail: Spanning approximately 6 miles round trip, this trail lets visitors explore the preserve's varied terrains, from desert floors to riparian zones by the creek.
Stone House: Located close to the entrance of the preserve, this historic structure serves as both a landmark and an information center. A short walk from the parking lot, it's a must-visit spot for those keen on understanding the region's history.
Wildlife and Flora: Due to the confluence of two desert ecosystems, Mission Creek is home to a diverse range of plant species. Yucca, juniper, and even pine trees can be found here.
The preserve is also a hub for bird watchers, offering glimpses of hawks, eagles, and various songbirds. Mammal sightings might include bobcats, coyotes, and the occasional mountain lion.
Visitor Facilities: The Stone House, which serves as an anchor point for the preserve, provides visitors with informational resources and a shade-covered area to rest. There are also picnic tables scattered throughout the preserve for those looking to take a break.
Important Tips:
Being a desert region, it's crucial to carry plenty of water, especially if you're venturing on longer hikes.
The temperatures can vary significantly between day and night, so dressing in layers is advisable.
As always, when visiting natural areas, practice "Leave No Trace" principles to ensure the preserve remains untouched for future visitors.
Coachella Valley Preserve
Distance from Palm Springs: 17 miles
Seen on the: South Entrance route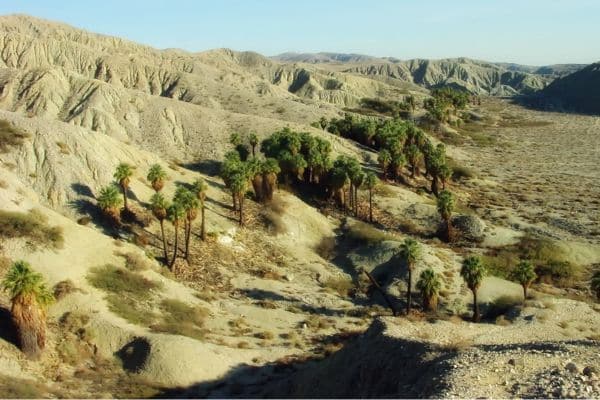 Coachella Valley Preserve is a 20,000-acre sanctuary that boasts a unique series of desert wetlands and palm oases, offering a refreshing contrast to the surrounding desert environment. These wetlands are created by multiple springs, which arise from the San Andreas Fault.
Hiking Opportunities:
McCallum Trail: This is a relatively easy 2-mile round-trip trail that leads you to one of the largest groves of desert fan palms in the world, McCallum Grove. Along the way, hikers can witness a serene pond fed by underground springs.
Moon Country: This trail offers a moderately challenging 4-mile loop, providing stunning views of the desert dunes and a variety of desert flora.
Pushawalla Palms and Plateau: A 4.8-mile loop trail that's a bit more challenging, it provides incredible panoramic views and an opportunity to explore a dense palm oasis.
Wildlife and Flora: The oasis provides habitats for the endangered Coachella Valley fringe-toed lizard. You might also spot the likes of horned owls, roadrunners, and other desert critters. The preserve's wetland environments also support various species of fish and amphibians. Desert fan palms dominate the oases, and around them, you'll find creosote bushes, mesquite trees, and desert willows.
Visitor Facilities: The Paul Wilhelm Grove offers a visitor center named the "Palm House," where guests can get more information about the preserve, its history, and its ecological significance. Restrooms and picnic areas are also available nearby.
Important Tips:
Summer temperatures can soar, making early morning or late afternoon the best times for hikes during hotter months.
Staying on designated trails is crucial to protect the habitat of the endangered species living in the preserve.
Don't forget to carry ample water and sun protection.
Big Morongo Canyon Preserve
Distance from Palm Springs: 20 miles
Seen on the: West Entrance route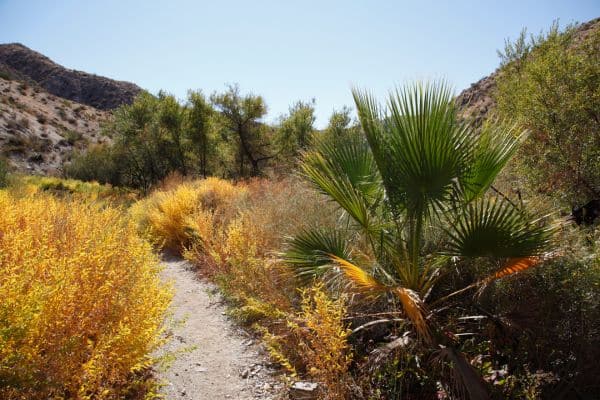 Overview: Encompassing over 31,000 acres, Big Morongo Canyon Preserve is one of the largest cottonwood and willow riparian habitats in California. Nestled between the Little San Bernardino Mountains and the San Bernardino Mountains, its varied elevation and terrain offer an array of diverse habitats, including marshes, desert washes, and dense riparian forests.
Hiking Opportunities:
Canyon Trail: This is a moderately difficult 2-mile trail that provides an in-depth tour of the canyon's diverse habitats. The views of the San Gorgonio Mountain and surrounding valleys are breathtaking.
Marsh Trail: Ideal for birdwatching, this short 0.5-mile boardwalk trail winds through the marsh and stream habitats.
Desert Willow Trail: This easy 0.4-mile loop offers a quick exploration of the desert uplands, showcasing a variety of desert plants.
Wildlife and Flora: Big Morongo Canyon Preserve is an internationally recognized birding site, home to over 250 species of birds. It's also a refuge for various desert wildlife, including bighorn sheep, mule deer, bobcats, and desert tortoises. The preserve's vast plant life includes desert willows, cottonwoods, mesquite, and cattails among the wetter areas.
Visitor Facilities: A nature center near the parking lot serves as an information hub for visitors, providing educational materials about the preserve's ecology and history. Restrooms and picnic areas are available for convenience.
Important Tips:
The preserve's diverse habitats mean you'll encounter varying microclimates. Dress in layers to remain comfortable.
Given its status as a birding hotspot, consider carrying binoculars and a birding guidebook.
Always tread lightly. Stick to the trails to protect both the flora and fauna.
Yucca Valley
Distance from Palm Springs: 27 miles
Seen on the: West Entrance route
Yucca Valley is known as the gateway to Joshua Tree National Park. This Mojave Desert community, elevated at 3,224 feet above sea level, is characterized by clear blue skies, star-filled nights, and stunning snow-capped mountain views during the winter.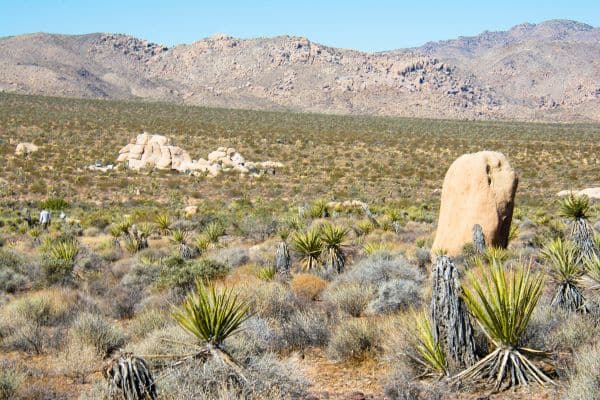 Main Attractions:
Old Town Yucca Valley: Wander through a range of unique shops, thrift stores, and local eateries. The town boasts an eclectic mix, offering antiques, arts, and various curiosities.
Hi-Desert Nature Museum: A small but informative museum, it offers insights into the desert environment, its flora, fauna, and the history of the region, from the native cultures to the mining era.
Sky Village Outdoor Marketplace: Open on weekends, this flea market is a treasure trove for antiques, crafts, and local artifacts. It also houses the famed "Crystal Cave," a local attraction crafted from recycled materials.
Recreational Activities:
Hiking: There are numerous trails around Yucca Valley like the Black Rock Canyon which offers views of Joshua trees, wildflowers, and occasionally, bighorn sheep.
Off-roading: Nearby areas like Johnson Valley offer expansive off-roading grounds for enthusiasts.
Events:
Grubstake Days: Held annually in May, it celebrates Yucca Valley's mining heritage with rodeos, parades, and various community events.
Dining: Yucca Valley offers a range of dining options from casual cafes to fine dining. Local favorites include Pappy & Harriet's in nearby Pioneertown, La Copine, and Frontier Café.
Shopping: With its proximity to Joshua Tree National Park, you can find numerous stores selling desert-themed arts, crafts, and souvenirs. It's an excellent spot to pick up locally made gifts.
Important Tips:
Weather can be quite varied; daytime can get hot while evenings cool down significantly. Dress accordingly.
The town has various art installations and murals; keep an eye out as you explore.
Desert Christ Park
Distance from Palm Springs: 30 miles
Seen on the: West Entrance route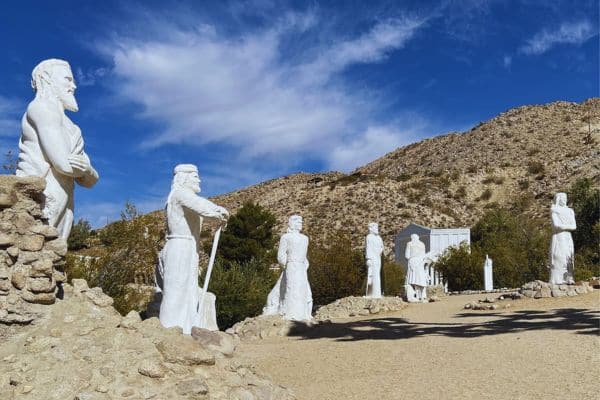 Overview: Situated in Yucca Valley, Desert Christ Park is a remarkable collection of biblical-themed statues crafted from steel-reinforced concrete. Covering 3.5 acres, it offers a serene setting, allowing visitors to reflect amidst the representations of scenes from the Bible.
Main Attractions:
Statues: There are over 40 statues, with the centerpiece being the "Last Supper." The park's massive depiction of Christ with outstretched arms overlooking the valley is both iconic and mesmerizing.
Historical Significance: The park was established in the 1950s by Reverend Eddie Garver and sculpted by Frank Antone Martin as a monument to peace. It's a testament to post-World War II religious expression.
Recreational Activities:
Walking & Reflection: The park is spread out, making it conducive for short walks amidst the statues. Benches are strategically placed for moments of contemplation.
Photography: The unique combination of desert landscapes and biblical sculptures makes for interesting photography opportunities, especially during sunrise or sunset.
Events:
Easter Sunrise Service: An annual event where community members gather to celebrate Easter with a sunrise service amidst the statues.
Tips:
The park is open from dawn to dusk, and while there's no entry fee, donations are appreciated for maintenance.
Wear comfortable shoes for walking, and given the open nature of the park, it's advisable to wear sunscreen and bring water, especially during hotter months.
Guided tours might be available upon request, offering deeper insights into the park's history and significance.
Joshua Tree Visitor Center
Distance from Palm Springs: 33 miles
Seen on the: West Entrance route
Overview: The Joshua Tree Visitor Center is the primary gateway to Joshua Tree National Park. Located in the town of Joshua Tree, it offers essential information, exhibits, and resources to enhance the visitor experience in the park.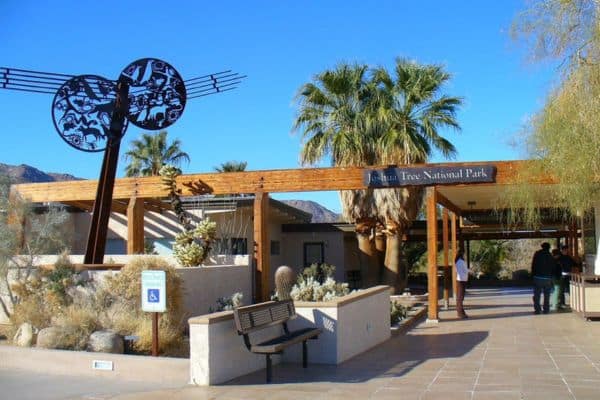 Main Features:
Exhibits: The center houses several displays and exhibits that provide information about the park's ecology, geology, flora, fauna, and history.
Park Rangers: Rangers are available to answer questions, provide recommendations, and inform visitors about safety precautions. They often host talks or presentations to educate visitors about the park's wonders.
Maps & Brochures: The visitor center is the best place to pick up official park maps, trail guides, and informational brochures. It's essential for those looking to hike or camp within the park.
Gift Shop: A well-stocked shop offers souvenirs, books, clothing, and other merchandise related to Joshua Tree National Park. It's an excellent place to pick up gifts or remembrances of your trip.
Recreational Activities:
Orientation Film: A short film provides an overview of the park, giving visitors a visual introduction to what they can expect to see and do.
Picnic Area: There are some picnic tables outside the visitor center, making it a convenient spot to rest and have a snack or meal.
Facilities:
Restrooms: Clean restrooms are available, which can be a welcome amenity after a long drive.
Tips:
It's advisable to stop at the visitor center at the beginning of your trip, as it provides essential insights that can significantly enhance your park experience.
Make note of the park's rules and regulations, especially regarding camping, fires, and wildlife.
The visitor center can get crowded, especially during peak seasons. Arriving early can help avoid long waits.
Cactus to Clouds Trail
Distance from Palm Springs: Starts in downtown Palm Springs
Seen on the: Route to both South and West Entrances, given its Palm Springs origin.
Overview: The Cactus to Clouds Trail, also known as the Skyline Trail, is a grueling 20-mile round-trip hike that ascends from the desert floor in Palm Springs to the top of San Jacinto Peak.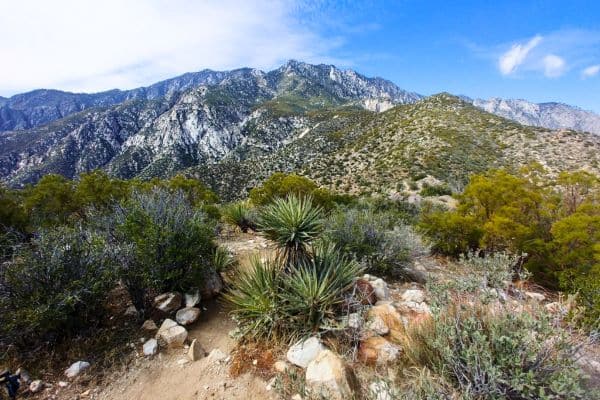 Main Features:
Length: The trail is approximately 20 miles round-trip if hiking to the peak and back to Palm Springs.
Elevation Gain: A staggering elevation gain of over 10,000 feet, making it one of the steepest trails in North America.
Scenic Views: As hikers make their way up, they'll witness ever-changing landscapes from desert terrains to alpine environments.
Diverse Ecology: Transitioning from cactus-dotted landscapes to pine tree forests showcases Southern California's biodiversity.
Recreational Activities:
Hiking: Undoubtedly, the primary activity here is hiking. A full hike to San Jacinto Peak and back can take between 10-14 hours, depending on the hiker's pace and stops.
Photography: The dramatic changes in elevation offer varied and picturesque views, making it a haven for photographers.
Challenges & Warnings:
Due to its extreme elevation gain and the desert's heat, this trail is considered very challenging. It's vital to start early in the morning to avoid the intense midday sun.
Every year, some hikers underestimate the trail's difficulty. Ensure you're prepared with ample water, food, and appropriate gear.
It's always safer to hike in groups and to let someone know of your plans, especially given this trail's challenges.
Tips:
It's not uncommon for hikers to ascend using the Cactus to Clouds and then descend using the Palm Springs Aerial Tramway to reduce the return journey's challenge.
Familiarize yourself with symptoms of altitude sickness and dehydration, and be prepared to turn back if needed.
Sky's The Limit Observatory and Nature Center
Distance from Palm Springs: Approximately 28 miles.
Seen on the: West Entrance route.
Overview: The Sky's The Limit Observatory and Nature Center, situated near Twentynine Palms and just outside Joshua Tree National Park, is an astronomical observatory that focuses on educational outreach, aiming to inspire all ages about the wonders of the universe.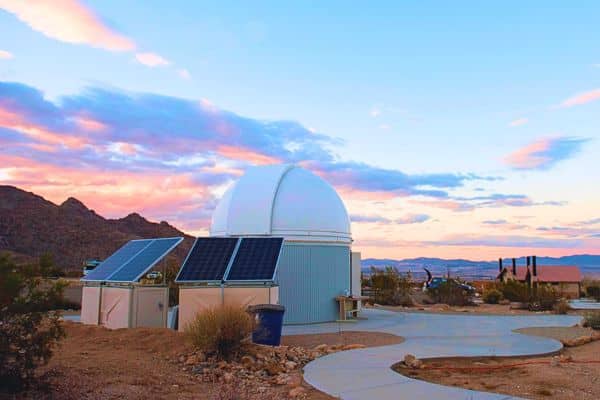 Main Features:
Telescopes: The observatory is equipped with powerful telescopes allowing visitors to view planets, stars, galaxies, and other celestial objects.
Outdoor Classroom: An open-air venue where visitors can attend talks and presentations on various space-related topics.
Orrery: A large-scale model of our solar system, allowing visitors to visualize the relative positions and motions of celestial bodies.
Recreational Activities:
Stargazing: Regular stargazing events provide a closer look at the night sky with guided sessions from experts.
Educational Programs: From workshops to presentations, there's always something new to learn about the universe.
Nature Trails: The Center isn't just about stars; it also has nature trails that introduce visitors to the desert's flora and fauna.
Tips & Recommendations:
Event Timing: The best times to visit are during their frequent celestial events. Check their calendar for scheduled events, as some nights may offer unique viewing opportunities like meteor showers or planetary alignments.
Come Prepared: The desert can get quite cold at night, even during warmer months. Dress in layers, bring a warm hat, and don't forget a blanket or chair to sit on.
Light Etiquette: If you're attending a stargazing event, avoid using white flashlights. Red lights are preferred as they don't interfere with night vision or the telescopes.
Indian Cove
Distance from Palm Springs: Approximately 50 miles.
Seen on the: West Entrance route.
Overview: Indian Cove is a popular area within Joshua Tree National Park, known for its unique rock formations, abundant Joshua Trees, and accessibility to various climbing routes. Located between the towns of Twentynine Palms and Joshua Tree, it provides an immersive desert experience.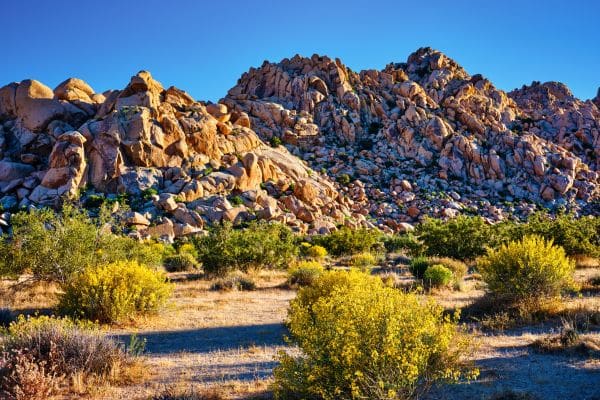 Main Features:
Rock Formations: Characterized by its massive granite boulders and rock piles, Indian Cove is a climber's paradise.
Indian Cove Campground: A sought-after camping spot because of its dramatic surroundings. Reservations are recommended, especially during peak seasons.
Nature Trail: A short, 0.6-mile loop that offers an informative glimpse into the Mojave Desert's flora and fauna. Along the trail, interpretative signs provide insights into the plants and animals you might encounter.
Recreational Activities:
Rock Climbing: With numerous climbing routes of varying difficulty, Indian Cove is perfect for both beginners and seasoned climbers.
Hiking: Beyond the short nature trail, Indian Cove is a gateway to longer hikes like the Boy Scout Trail and the Rattlesnake Canyon.
Photography: The dramatic landscapes, especially during sunrise and sunset, offer splendid photo opportunities.
Tips & Recommendations:
Climbing Precautions: If you're new to rock climbing, consider hiring a guide or joining a group. Always have the necessary safety gear.
Wildlife Alert: As with many parts of Joshua Tree, be cautious of wildlife, especially rattlesnakes, which may be hidden among rocks or in shaded areas.
Water and Supplies: The desert environment can be harsh. Ensure you have enough water, snacks, and sun protection, especially if venturing out for longer hikes.
3-Day Personal Itinerary: From Palm Oasis to Joshua Tree National Park
Day 1: Arrival & Embracing the Wilderness
Upon arriving in the early afternoon, it's recommended to make your way to a popular campground like Hidden Valley or Jumbo Rocks. Both these sites are centrally located, offering easy access to many of Joshua Tree's signature attractions. After setting up your camp, stretch your legs by embarking on the Hidden Valley Nature Trail.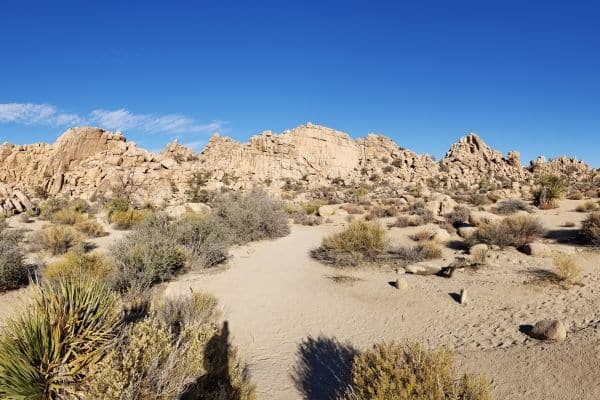 This gentle one-mile loop introduces you to the iconic rock formations and the unique vegetation that the park is famous for. As night approaches, the desert sky puts on a mesmerizing show.
Even without a ranger-led stargazing program, simply laying back near your campsite and watching the stars can be a breathtaking experience.
If you have them, apps like Star Walk or SkyView can guide you through constellations and planets, enhancing the entire experience.
Day 2: Dive Deep into Joshua Tree's Natural Charm
Morning in Joshua Tree is a beautiful affair. Start your day at the Barker Dam Nature Trail. This 1.3-mile loop not only showcases a historic dam but can also be a great spot for wildlife sightings.
As it gets busier and warmer, it's best to arrive early. With the morning's adventures behind you, consider finding a serene spot to enjoy a packed picnic amidst the raw beauty of the desert.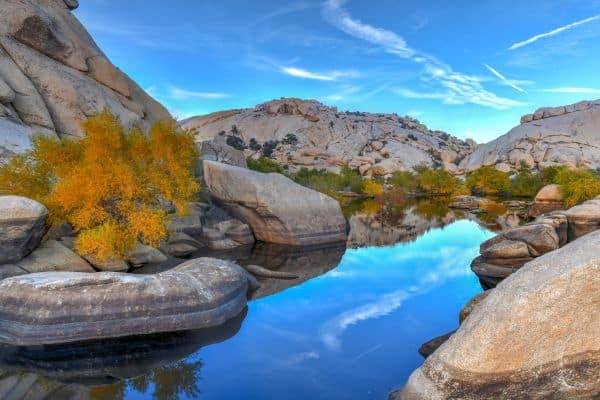 Post-lunch, when the sun's intensity lessens a bit, head to the Ryan Mountain Trail. A 3-mile round trip, this moderately challenging trail rewards hikers with panoramic views of Joshua Tree, especially enchanting in the afternoon light.
As the sun begins its descent, gather around a campfire, if restrictions allow, at your campsite. Share stories, cook a meal, and truly immerse yourself in the sounds and spirit of the desert night.
Day 3: A Farewell to Remember
Begin your day with the visual treat that is the Cholla Cactus Garden. Especially during sunrise, this short 0.25-mile loop trail offers views of cacti that light up with the day's first rays.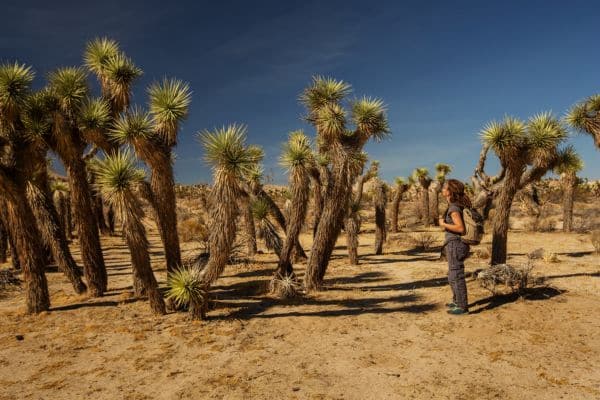 It's an ethereal sight and serves as a fitting start to your last day. Midday, before departing, pay a visit to the Joshua Tree Visitor Center. It's a good place to gather more information, buy souvenirs, or even share your experiences with the park rangers.
When it's finally time to leave, pack up your belongings, ensuring you've left your campsite clean, and carry the beauty of Joshua Tree in your heart as you drive back to Palm Springs.
Throughout this journey, always remember the desert's deceptiveness. It might seem forgiving, but always carry more water than you anticipate needing. Let others know of your hiking plans, or better yet, always have a buddy with you. The wildlife, as enchanting as it is, should be admired from a distance. Lastly, practice the 'Leave No Trace' principle, ensuring that the beauty of Joshua Tree remains undisturbed for all the visitors that come after you.
Hiking in Joshua Tree National Park
Joshua Tree National Park, with its vast desert expanses, intriguing rock formations, and iconic Joshua Trees, offers a diverse array of hiking trails that cater to both novices and seasoned trekkers.
The park encompasses two distinct desert ecosystems: the Colorado and the Mojave, each boasting its unique landscape and trail experiences.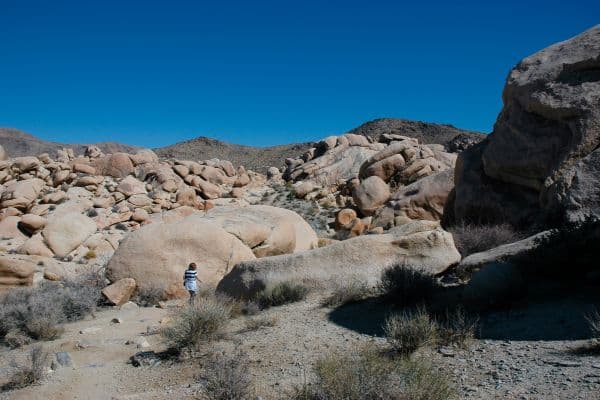 For beginners or those pressed for time, the Hidden Valley Nature Trail is a must-do. This one-mile loop offers a comprehensive introduction to the Mojave Desert's captivating rock formations and diverse plant life.
Another short yet rewarding trail is the Barker Dam Nature Trail, where hikers can see a historical dam and possibly catch sight of bighorn sheep or other wildlife.
Intermediate hikers might enjoy the Ryan Mountain Trail, a 3-mile round trip with a 1,000-foot elevation gain. The reward? Panoramic views of Lost Horse Valley, Queen Valley, and Pleasant Valley. Similarly, the Lost Horse Mine Trail not only offers scenic desert vistas but also delves into the park's gold mining history.
For those seeking a challenge, the Boy Scout Trail beckons. Spanning 7.8 miles one way, this trail transitions from the park's north to its south, presenting a tapestry of Joshua Tree's landscapes.
Regardless of the trail you choose, always be prepared for the desert's unpredictable conditions. Sturdy footwear, ample water, sun protection, and a map are essentials.
Given the park's expansive nature, it's also wise to inform someone of your hiking plans. And most importantly, as you traverse Joshua Tree's trails, tread lightly to protect its delicate desert ecosystem.
Also Read: 17 BEST HIKES IN JOSHUA TREE NATIONAL PARK (WE'VE HIKED THERE FOR 3 DECADES)
Wildlife in Joshua Tree National Park
Joshua Tree National Park, spread across two desert systems, is a sanctuary for an impressive range of wildlife that have adapted to thrive in its harsh yet fascinating environment.
Mammals: The most elusive and majestic of the park's residents is the Bighorn Sheep. These creatures are more often found in the park's higher, rockier terrains, adeptly navigating cliff faces.
Another nocturnal inhabitant is the Kit Fox, which uses its large ears not just for acute hearing but also to dissipate heat. The Black-tailed Jackrabbit, with its striking long ears, and the Desert Cottontail are also commonly seen at dawn and dusk.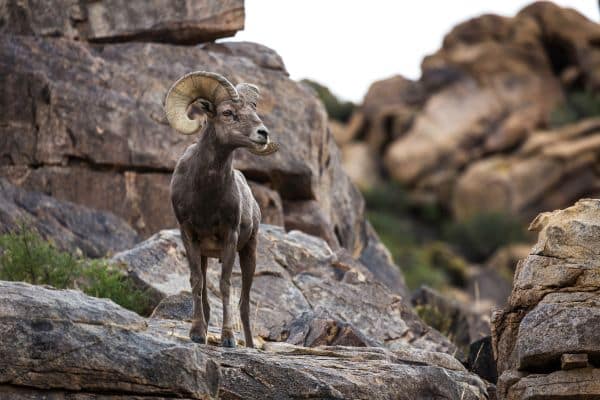 Birds: Joshua Tree is a haven for bird enthusiasts. Over 250 species have been observed in the park, making it a birdwatcher's paradise.
The Greater Roadrunner, with its quirky demeanor, can be spotted darting across the trails. The park's many washes and water sources attract a variety of birds, including the Verdin, Cactus Wren, and during migration seasons, the Scott's Oriole.
Reptiles: The park is home to several species of rattlesnakes, the most common being the Western Diamondback and the Mojave Green. While these snakes often avoid human activity, always be cautious and give them ample space.
The Desert Tortoise, California's state reptile and a threatened species, can occasionally be spotted during the cooler parts of the day. It's essential to avoid handling or disturbing these gentle creatures to ensure their continued survival.
Amphibians: Although a desert, the park does have its share of amphibians. After rains, you might hear the chorus of Red-spotted Toads or catch a glimpse of the California Tree Frog around the park's few water sources.
Also Read: 22 JOSHUA TREE ANIMALS SEEN WHILE HIKING!
For those passionate about wildlife, Joshua Tree is a living classroom. Every creature, from the tiniest insect to the large Bighorn Sheep, plays a crucial role in this intricate desert ecosystem. While observing, remember to maintain a safe distance and avoid feeding or touching the animals. This ensures both your safety and the well-being of the park's residents.
Also Read: 10 THINGS WE ALWAYS DO IN JOSHUA TREE NATIONAL PARK
12 UNMISSABLE STOPS FROM LOS ANGELES TO JOSHUA TREE (ITINERARY INCLUDED)
HOW TO GET TO JOSHUA TREE NATIONAL PARK? YOUR COMPLETE GUIDE!
Final Thoughts
As we come to the end of our journey through the vast expanse of Joshua Tree National Park, it's impossible not to reflect on the unique allure this desert gem possesses.
From the towering namesake Joshua Trees, undulating through the landscape, to the myriad of stars that embellish the night sky, this park is truly a testament to nature's wonders.
Choosing to embark from Palm Springs, you've traversed diverse terrains, encountered hidden oases, and immersed in the rich tapestry of history and culture that permeates every nook and cranny.
Whether you've followed the West or South entrance, each route has offered its own set of revelations, each more enchanting than the last.
Beyond the picturesque landscapes and recreational activities, it's essential to remember that Joshua Tree is a delicate ecosystem. Every plant, every creature, every grain of sand has its role to play.
As visitors, our responsibility is to tread lightly, leaving no trace, ensuring that the magic of this place is preserved for generations to come.
Whether you're a seasoned traveler or a first-time visitor, Joshua Tree has a way of etching itself into your soul. It's a place where memories are forged, bonds strengthened, and spirits rejuvenated.
As you head back to the hustle and bustle of daily life, carry a piece of the desert's tranquility with you, cherishing the moments, stories, and adventures that Joshua Tree has bestowed upon you.