Explore the top 5 sites for Camping in Joshua Tree based on 30 years of experience. Dive into amenities, trails, tips, and essential FAQs.
Nestled amidst the Mojave and Colorado deserts in California, Joshua Tree National Park beckons to the heart of every nature lover, adventurer, and stargazer. Offering vast landscapes adorned with twisted, spiky Joshua trees, this national treasure is more than just a haven for its unique flora and fauna; it's a paradise for campers.
To aid you in making an informed decision, we've curated a list of the top 5 campgrounds in Joshua Tree National Park. This guide will provide an overview of each site, their amenities, nearby trails, iconic sites, and essential reservation details.
So, fasten your seat belts as we journey through the rugged, enchanting terrains of Joshua Tree and explore the best places to pitch your tent under its star-studded skies. Welcome to your helpful guide to unforgettable desert camping.
An Overview of Our Top 5 Campgrounds in Joshua Tree
Having traversed the rugged terrains and marveled at the twisted beauty of Joshua Tree for over three decades, we've come to understand the park's intricate tapestry in ways few others do.
The echoing silence of the desert nights, the ethereal glow of the Milky Way above, and the hauntingly beautiful silhouettes of the Joshua trees against the sunset: these experiences have been woven into our souls.
With each visit, we've deepened our connection to this unique landscape, and our authority on its various campgrounds has grown.
When setting out for a camping adventure in Joshua Tree, the significance of selecting the right campground cannot be emphasized enough.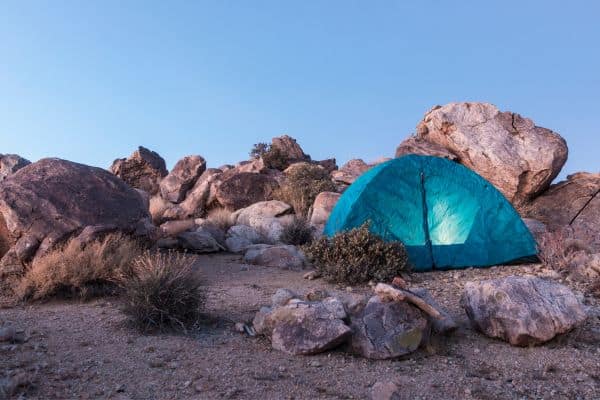 Your chosen campsite becomes your home, your vantage point, and, in many ways, it shapes your overall experience of the park.
1. Black Rock: Nestled at an elevation of 4,000 feet, Black Rock is a favorite for many. With 99 sites available, it offers the comforts of water, flush toilets, and a dump station. Ideal for families and those wanting a few more amenities, its location provides a mesmerizing view of the horizon, especially as the sun dips below.
2. Cottonwood: At 3,000 feet, Cottonwood presents a slightly different panorama. With 62 sites, it's a bit more intimate but doesn't skimp on amenities. Its location is known for its cooler breezes, making it a preferred choice during the warmer months.
3. Indian Cove: Offering 101 sites, Indian Cove is a blend of raw nature and essential amenities. At an elevation of 3,200 feet, what it lacks in water it makes up for with its proximity to some of the park's most iconic rock formations.
4. Jumbo Rocks: As the name suggests, this campground, at 4,400 feet and with 124 sites, is surrounded by the park's iconic boulders. While it might not have water, the natural playground it offers for young adventurers and climbers is unparalleled.
5. Ryan: Intimate with just 31 sites and situated at 4,300 feet, Ryan offers an authentic desert experience. With pit toilets and no water, it's for those who truly want to connect with nature in its most raw form.
Joshua Tree National Park is not just a destination; it's an experience. And while its vastness and beauty remain constant, your experience can vary based on where you choose to camp.
Our three decades of journeying through its landscapes have taught us this: the right campground can transform a trip from memorable to unforgettable.
Dive deeper into our guide to discover which of these top 5 campgrounds resonates with your adventure spirit.
Black Rock Campground
Situated in the northwestern part of Joshua Tree National Park, Black Rock is more secluded than many of the park's southern counterparts. The campground, perched at 4,000 feet, is characterized by dense clusters of Joshua trees, providing ample shade and setting the tone for a genuine desert experience.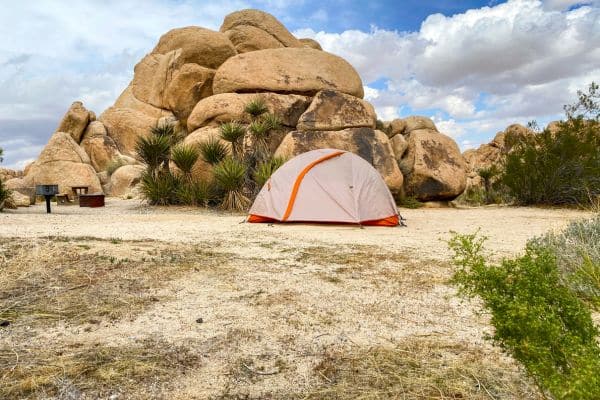 Trails Within Reach:
Black Rock Canyon Trail: A moderate hike that delves deep into the heart of the Mojave Desert, this trail brings you up close with the region's unique flora and occasional glimpses of the majestic San Bernardino Mountains.
High View Nature Trail: A 1.3-mile loop that offers panoramic views of the vast expanse of the park. The trail also has informative signs detailing the local ecology and history, making it both an educational and scenic trek.
West Side Loop: This trail is longer at around 7.7 miles and offers a more intensive hiking experience. Traversing through varied terrain, it rewards with views of flatlands, canyons, and several peaks.
Panorama Loop: A 6.6-mile hike, this trail is as picturesque as its name suggests. Starting from Black Rock Campground, it gives hikers an ever-changing vista of the park's landscapes.
Nearby Iconic Spots:
Yucca Valley: Just a short drive from the campground, Yucca Valley offers local eateries, arts, and crafts for those who wish to mix their wilderness experience with some local culture.
Warren Peak: A challenging hike but well worth the effort, the peak offers panoramic views of the San Gorgonio and San Jacinto mountains.
Being closer to the wilder parts of the park, Black Rock is a haven for many desert-dwelling creatures. Day visitors might spot lizards basking in the sun, birds like cactus wrens and mockingbirds, and if you're particularly lucky, the elusive desert tortoise.
Nightfall brings out the nocturnal species, such as coyotes, which often serenade campers with their distant calls. It's this proximity to nature that makes Black Rock particularly special for those looking to immerse themselves in the desert ecosystem.
Black Rock Campground is not just a place to pitch your tent; it's a gateway to the myriad experiences Joshua Tree National Park has to offer.
From its dense concentration of Joshua trees to the wildlife that call it home, and the trails that begin right from the camp's boundaries, Black Rock is a microcosm of everything this iconic national park stands for. Whether you're a seasoned hiker or just in for a serene desert getaway, this campground serves as the perfect base.
Cottonwood Campground
Cottonwood Campground provides a refreshing contrast to the park's higher elevation areas. This southern spot in Joshua Tree National Park is characterized by the lower Colorado desert's flora and fauna.
Palms, ocotillos, and the blooming beauty of spring wildflowers create a picturesque setting, complemented by vast desert vistas.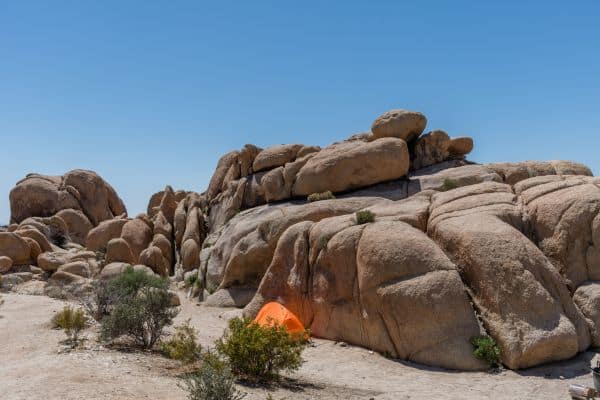 Conveniently Accessible Trails:
Cottonwood Spring Nature Trail: An easy and short loop, this trail showcases the oasis-like beauty of the Cottonwood area. It's perfect for families and those looking for a quick nature immersion without venturing too deep into the wilderness.
Lost Palms Oasis Trail: Starting at the Cottonwood Spring, this moderately challenging 7.2-mile round trip winds its way to a secluded palm oasis, offering a secluded spot in the midst of the desert expanse.
Mastodon Peak Trail: This moderate loop of around 3 miles takes hikers past the remains of an old gold mine and up to Mastodon Peak, which offers panoramic views of the Salton Sea, the Eagle Mountains, and, on clear days, even Signal Mountain in Mexico.
Iconic Attractions Nearby:
Cottonwood Visitor Center: Before delving into the park's wilderness, a visit here can provide valuable information, maps, and insights about current conditions and highlights. Rangers are available for questions, ensuring you make the most out of your Joshua Tree experience.
Cottonwood Spring: One of the few year-round water sources in the park, this spring boasts a rich history dating back to the Cahuilla Native Americans. It's a spot of greenery and life, a testament to the desert's resilience and adaptability.
Wildlife and Desert Life: Cottonwood's lower elevation and unique ecosystem make it a magnet for diverse wildlife. Birds like the verdin, black-throated sparrow, and the roadrunner are commonly seen flitting about.
The bighorn sheep, though elusive, can sometimes be spotted in the surrounding rocky terrains, especially during early mornings or late afternoons. As evening approaches, the hauntingly beautiful calls of coyotes echo in the distance.
The plant life here is equally fascinating. While Joshua trees are rarer in this part of the park, the cholla cacti, creosote bushes, and ocotillos paint a vibrant desert canvas, especially during the spring bloom.
Cottonwood Campground is a unique blend of serene desert landscapes and bustling wildlife, offering visitors a different side of Joshua Tree National Park.
Its strategic location near some of the park's most fascinating trails and sites ensures that campers can immerse themselves in a multitude of experiences, all while having a comfortable base to return to. Whether you're a hiking enthusiast, a bird-watcher, or someone seeking a tranquil desert retreat, Cottonwood stands as a compelling choice.
Indian Cove Campground
Located amidst towering boulders and rugged rock formations, Indian Cove Campground offers a dramatic and immersive desert experience. Set at an elevation of 3,200 feet, this unique campground feels like an isolated sanctuary, cocooned by the natural rock walls of the Wonderland of Rocks.
With Joshua Trees sprinkling the landscape, Indian Cove provides a raw, authentic, and deeply atmospheric Joshua Tree experience.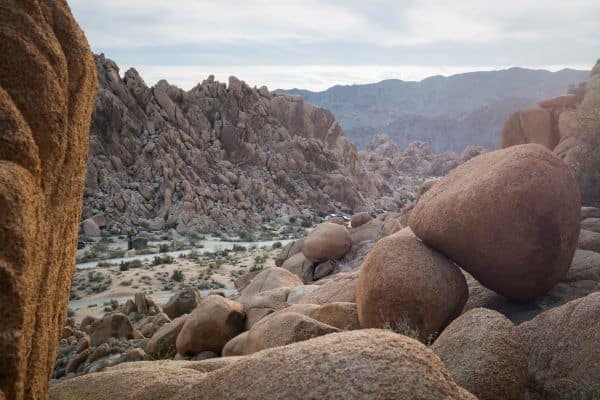 Conveniently Accessible Trails:
Indian Cove Nature Trail: A relatively easy, 0.6-mile loop that takes you through the heart of the campground's impressive rock formations. Interpretive signs dot the path, offering insights into the desert's ecology and geology.
Boy Scout Trail: This 8-mile trail (one way) can either take you toward Willow Hole or link up with the main park road, near the West Entrance. It's a moderate hike, showcasing a variety of Joshua Tree's terrains from rocky landscapes to dense Joshua Tree forests.
Wonderland of Rocks: While not a formal trail, this maze of monzogranite rock formations is a must-explore for those comfortable with route-finding. It's a climber's paradise, with numerous routes available for varying skill levels.
Iconic Attractions Nearby:
Indian Cove Amphitheater: Frequently used for ranger-led programs, this natural amphitheater surrounded by immense boulders is a testament to the region's fascinating geology.
Rattlesnake Canyon: A short drive or hike from the campground, this canyon offers a more challenging terrain to navigate, with opportunities to spot native wildlife, unique rock formations, and occasionally, seasonal waterfalls.
Indian Cove, with its plethora of rock crevices and unique desert flora, attracts a variety of wildlife. While daytime might let you spot lizards basking on sun-heated rocks, night brings about a different set of creatures. You might hear or even see the desert hedgehog cactus bloom under the moonlight, a spectacle to behold.
Desert cottontails, jackrabbits, and even bighorn sheep can be occasionally sighted. Bird enthusiasts can look forward to spotting species like the Gambel's quail, greater roadrunner, and the red-tailed hawk soaring overhead.
Indian Cove Campground stands out with its signature rock formations, offering both seasoned campers and first-time visitors a unique and intimate desert experience. The intertwining of nature's rugged beauty with the conveniences of modern camping makes it a favorite for many.
From families looking to introduce their children to the magic of the desert, to climbers seeking their next challenge, Indian Cove promises a memorable stay in the heart of Joshua Tree National Park.
Jumbo Rocks Campground
Jumbo Rocks is aptly named; it is an enchanting labyrinth of massive boulders and stone formations, a hallmark of Joshua Tree's unique geological wonders. Positioned at an elevation of 4,400 feet, the campground is dotted with Joshua Trees, providing campers a classic, picture-perfect setting of the park.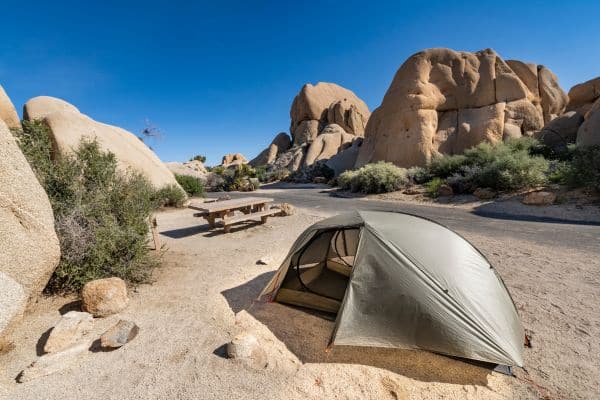 The myriad of rock formations here not only offer countless photo opportunities but also natural barriers, giving each campsite a sense of privacy and seclusion.
Conveniently Accessible Trails:
Skull Rock Nature Trail: Right off the main road near the campground, this 1.7-mile loop is an easy trail that offers a close look at the iconic Skull Rock and the surrounding desert flora.
Discovery Trail: A short, 0.7-mile loop starting from the campground, this trail is perfect for families and first-time hikers, providing interpretive panels that introduce visitors to the local ecosystem.
Jumbo Rocks to Joshua Tree Road: A relatively straightforward 1.8-mile trail that connects the campground to the park's main road, offering a mix of jumbled rocks and Joshua Tree landscapes.
Iconic Attractions Nearby:
Skull Rock: Probably one of the most photographed features in Joshua Tree, this naturally sculpted rock resembles a human skull and is easily accessible, located just off the park's main road.
Arch Rock: A short drive or a moderate walk from the campground, this natural granite arch is another one of Joshua Tree's geological marvels, perfect for sunset or sunrise viewing.
The variety of habitats around Jumbo Rocks makes it a hub for desert wildlife. By day, campers might spot antelope ground squirrels, zebra-tailed lizards, and even the rare chuckwalla. When the sun sets, the nocturnal residents come to life.
The campground's relatively higher elevation means cooler nights, drawing creatures like the kangaroo rat and the kit fox. Birds such as the raven, rock wren, and the black-throated sparrow are common sights, their calls echoing amidst the rocks.
Jumbo Rocks Campground is a testament to nature's artistic prowess, offering a blend of stunning rock formations, classic Joshua Tree vistas, and abundant opportunities for exploration. It's ideal for campers who wish to be in the thick of the park's geology, with easy access to some of its most iconic sites.
Whether you're keen on photography, hiking, stargazing, or simply soaking in the vastness of the Mojave, Jumbo Rocks provides a base that's as scenic as it is strategic.
Ryan Campground
Tucked away at 4,300 feet in elevation, Ryan Campground provides an intimate connection with the park's raw beauty. Unlike the sprawling expanse of some other campgrounds, Ryan, with its 31 sites, offers a quieter, more secluded experience.
Amidst the backdrop of sprawling Joshua Trees and intricate rock formations, it truly feels like you've stumbled upon a hidden desert gem.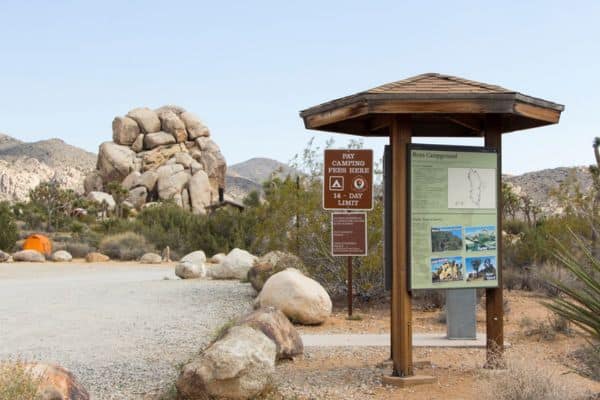 Conveniently Accessible Trails:
Ryan Mountain Trail: A moderately challenging trail of 3 miles round trip, it takes you to the summit of Ryan Mountain. With an elevation gain of 1,000 feet, the panoramic views at the peak are truly rewarding, making it a favorite among hikers.
Sheep Pass Loop: This lesser-known 4-mile trail starts near Ryan Campground and winds through a beautiful Joshua Tree forest, showcasing the diverse flora and fauna of the park.
Ryan Ranch Trail: An easy 1-mile round trip, this trail offers a glimpse into the history of Joshua Tree, leading to the ruins of the old Ryan Ranch, once vital in the park's early mining days.
Iconic Attractions Nearby:
Ryan Ranch: Beyond being a trail, the remnants of this historical site provide insight into the human history of Joshua Tree, showcasing how early settlers interacted with the harsh desert environment.
Keys View: A short drive away, this viewpoint offers a breathtaking panorama of the Coachella Valley, the Salton Sea, and on clear days, even Mexico's Signal Mountain.
The smaller size and relative seclusion of Ryan Campground make it a haven for wildlife encounters. Desert iguanas, bighorn sheep, and even the elusive bobcat have been spotted in the vicinity.
Birds such as the golden eagle, pinyon jay, and the iconic Joshua Tree's namesake, the yucca nightjar, can often be observed. The diverse plant life, from Joshua Trees to pinyon pines and junipers, paints a vivid picture of the Mojave's ecological richness.
For those seeking a more tranquil Joshua Tree experience, away from the busier hubs, Ryan Campground emerges as a top choice. With its blend of natural beauty, historical significance, and abundant wildlife, it offers a well-rounded desert immersion.
Whether you're a history buff, an avid birdwatcher, or a traveler looking to find peace under a starlit sky, Ryan Campground is a destination that promises to enrich your Joshua Tree journey.
Other Campgrounds in Joshua Tree National Park: A Guide to First-Come, First-Served Sites
Joshua Tree National Park offers a myriad of camping experiences, from pre-booked sites to the adventurous first-come, first-served options.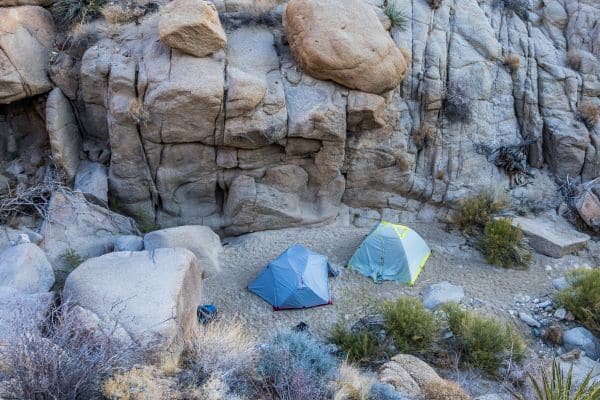 For those willing to try their luck, the latter provides a more spontaneous way of experiencing the park. Here's a detailed guide on these coveted campgrounds.
How First-Come, First-Served Camping Works: These campgrounds operate on a straightforward system:
Spotting an Available Site: As you enter the campground, search for an unoccupied site.
Claim Your Spot: To mark it as taken, either set up your tent or leave a personal belonging behind.
Registration & Payment: Head to the nearest entrance station promptly to complete your registration and make a payment of $15 for the night.
It's important to note that if you arrive after the entrance stations have shut, your payment can be postponed till the next morning.
While there might be fee collection rangers roaming the campgrounds in the mornings, depending on them is not recommended. Due to the popularity of these sites, especially during the peak season, it's best to reserve a site via recreation.gov to avoid disappointment.
Belle Campground
Perched at an elevation of 3,800 ft (1,158 m), Belle Campground offers a secluded retreat with a mere 18 campsites. This elevation provides a cooler respite in the desert environment, especially beneficial for those warm nights.
The camp's positioning also lends itself as an exceptional haven for stargazers, with dark night skies unveiling a celestial canvas overhead.
On your arrival, finding and setting up at an unoccupied site is your first step. Once settled, head to the nearest entrance station to register and handle the campsite fee, pegged at $15.00.
Each site can comfortably host up to six people, with a limit of three tents and two cars. However, space varies, and some sites might only have parking space for one vehicle.
For those considering RV camping, specific sites at Belle can accommodate a combined RV length of up to 35 feet, ensuring enough room for both your vehicle and any towed appendages. These particular sites are 2, 4, 6-8, and 14-18.
A crucial point to remember is the lack of potable water on-site. Given Belle's arid surroundings, ensure you bring a sufficient water supply for drinking, cooking, and any other needs.
Campfires, a quintessential camping activity, are allowed but should be contained within the designated fire rings or grills. Given the dry nature of Joshua Tree, it's paramount to exercise caution.
Always keep your fires small and ensure you've adequately extinguished them before retiring for the night. If you're keen on this experience, remember to bring along your firewood since the park prohibits gathering any vegetation for this purpose.
Hidden Valley Campground
Nestled along the Park Boulevard, the Hidden Valley Campground is an embodiment of what Joshua Tree National Park has to offer. Encircled by monumental boulders and the iconic Joshua Trees, this campground provides a rustic setting that plunges you right into the heart of the desert.
Arrival and Site Selection: Boasting 44 sites, the campground operates on a first-come, first-served basis. Upon arrival, scan for a vacant site, set up your camp, and then promptly head to an entrance station to register and complete the payment. The fee stands at $15, and in instances where you arrive post the closing of entrance stations, the payment can be deferred till the subsequent morning.
Amenities:
Connectivity: The remoteness means there's no cell phone reception or internet connectivity, ensuring a genuine disconnect from the digital world.
Essentials: There's a year-round provision for trash/recycling collection. However, potable water isn't available on-site. Given the desert's aridity, campers are strongly advised to bring an adequate supply.
Toilet Facilities: The campground is equipped with vault toilets available throughout the year, but there are no showering facilities.
Miscellaneous: Despite its modest size, the campground doesn't offer amenities like food storage lockers, camp stores, or staff on-site.
Fire/Stove Policy: The arid climate of Joshua Tree signifies a perpetual high fire risk. If you're thinking of setting up a campfire, utilize only the designated fire rings or grills found in the campground.
It's imperative to maintain small fires and bring your firewood since gathering park vegetation is prohibited. Moreover, having extra water on hand to extinguish the fire thoroughly is a must.
Weather Insight: The climate is predominantly clear with humidity often below 25%. The most favorable camping periods are spring and fall, with temperatures hovering between 50°F (10°C) and 85°F (29°C). While winters are milder, summers can be scorching, frequently crossing 100°F (38°C).
Nevertheless, the nights might bring some respite, dropping to around 75°F (24°C). It's wise to consult a weather forecast before your camping venture, as desert weather can be quite unpredictable.
RV and Trailer Information: Hidden Valley welcomes both RVs and trailers, but with a stipulation on size – they shouldn't surpass a combined length of 24 feet. Do note, the campground doesn't offer any water or hookups, further emphasizing the importance of self-sufficiency.
White Tank Campground
Situated off Pinto Basin Road, White Tank Campground offers an idyllic escape surrounded by enormous granite boulders. The unique locale not only provides a serene backdrop but also places you near the park's darkest section, making it an optimal spot for night sky enthusiasts. With just 15 sites, this campground captures an intimate feel, making every stay special.
Like other campgrounds in Joshua Tree, White Tank operates on a first-come, first-served system. Once you've found and occupied a vacant campsite, ensure you head to an entrance station for registration and payment. If your arrival is post the entrance station's operational hours, the payment can be deferred till the next morning.
Amenities:
Connectivity: Reflecting its remote setting, the campground doesn't offer cell phone reception or internet. It's a genuine digital detox opportunity.
Essentials: The key thing to note is the lack of potable water on-site. Given the desert setting, carrying a sufficient water supply is non-negotiable. That said, the campground provides year-round trash/recycling collection for your convenience.
Toilet Facilities: White Tank is equipped with vault toilets that are accessible throughout the year. However, shower facilities are absent.
Miscellaneous: This limited development campground is minimalist in its offerings. As such, amenities like food storage lockers, camp stores, or on-site staff are not available.
Fire/Stove Policy: The arid desert climate heightens the fire risk in the region. If you intend to have a campfire, use only the designated fire rings or grills. Ensure your fires remain small, and source your firewood externally as gathering from the park is prohibited. Given the lack of water on-site, it's prudent to bring extra for dousing your campfire adequately.
RV & Trailer Information: RV and trailer enthusiasts are welcome here, with a stipulation on size. Neither RVs nor trailers should exceed a combined length of 25 feet. Further emphasizing the need for self-sufficiency, no hookups are provided, a feature consistent across all Joshua Tree campgrounds.
White Tank Campground offers an unadulterated desert experience. Its limited sites and unique location make it ideal for those seeking tranquility and unparalleled stargazing opportunities amidst Joshua Tree's vast wilderness.
Essential Tips for Camping in Joshua Tree National Park
Plan Ahead: Given the popularity of Joshua Tree, especially during the cooler months, it's wise to make reservations where possible. For first-come, first-served campgrounds, arriving early in the week can increase your chances of securing a spot.
Water is Key: The desert environment means water sources are scarce. Always bring more water than you think you'll need — at least one gallon per person, per day, for drinking alone.
Pack for Temperature Extremes: Even if daytime temperatures are warm, nights can get chilly. Pack layered clothing, and don't underestimate the desert cold.
Leave No Trace: Given the fragile desert ecosystem, it's imperative to pack out all trash, avoid picking plants or disturbing wildlife, and camp only in designated areas.
Fire Safety: Only use designated fire rings or grills for campfires. Bring your firewood, as collecting within the park is prohibited. Given the high fire danger, always ensure your fire is completely out before leaving.
Stay on Designated Paths: To preserve the park's unique flora and fauna, always stick to marked trails and avoid trampling on undisturbed areas.
Stargazing: Joshua Tree is a renowned dark sky park. If you're camping for the night skies, check the moon phase before your trip. A new moon period will offer the darkest skies.
Beware of Critters: From rattlesnakes to scorpions, the desert is home to various critters. Always check shoes and sleeping bags before use and avoid wandering around barefoot, especially at night.
Connectivity: Cell service is spotty or nonexistent in many parts of the park. Inform someone of your plans before heading in and consider carrying a paper map.
Vehicle Prep: If you're exploring remote areas of the park, ensure your vehicle is in good working condition. Carry extra water, snacks, and a spare tire, and always keep your gas tank at least half full.
Respect Quiet Hours: To maintain a peaceful environment for all, observe quiet hours typically set between 10 p.m. and 6 a.m.
Avoid Crowds: If possible, visit during the off-peak season or on weekdays. Not only will you dodge the crowds, but you'll also enjoy a more serene camping experience.
By following these tips and being mindful of the delicate desert environment, your Joshua Tree camping experience will be both memorable and respectful to this natural wonder.
Conclusion
Joshua Tree National Park, with its otherworldly landscapes, iconic Joshua Trees, and sprawling vistas, offers some of the most unique camping experiences in the United States.
Whether you're an avid hiker seeking the thrill of rugged trails, an amateur astronomer chasing the clearest night skies, or simply someone looking to escape the bustle of everyday life, this park has something to cater to every nature enthusiast's desires.
Among the campgrounds we've explored, Jumbo Rocks stands out as our favorite, and for good reasons. Nestled amongst massive boulders and centrally located, Jumbo Rocks provides easy access to some of the park's most notable landmarks.
The campground encapsulates the essence of what makes Joshua Tree so special: a harmonious blend of raw natural beauty with just enough amenities to make your stay comfortable. Imagine waking up to the silhouette of Joshua Trees against a pastel sunrise, or winding down with a campfire under a blanket of stars; this is the Jumbo Rocks experience.
However, irrespective of where you pitch your tent or park your RV in Joshua Tree National Park, the real allure lies in the untouched beauty that surrounds you. Every campground, from Belle to Hidden Valley, presents its own charm, ensuring that each visit can be a new adventure.
So, pack your bags, prepare your gear, and embark on a camping journey like no other in the mesmerizing terrains of Joshua Tree. Safe travels!
FAQ on Camping in Joshua Tree National Park
Is camping allowed in Joshua Tree National Park?
Yes, camping is allowed in Joshua Tree National Park. There are several campgrounds within the park, with some offering reservations and others operating on a first-come, first-served basis.
How much does it cost to camp at Joshua Tree?
The cost varies depending on the campground. Many campsites are $15 per night, but prices can change, so it's always good to check the National Park Service website or recreation.gov for the most up-to-date information.
Which campground to stay in Joshua Tree?
The best campground for you depends on your preferences. For us Jumbo Rocks Campground is the best place to camp in Joshua Tree. Some campgrounds, like Hidden Valley, are popular for their proximity to famous landmarks. Others, like White Tank, are known for their night sky viewing.
What time of year is best to camp in Joshua Tree?
The most comfortable times to camp in Joshua Tree are during the spring and fall when daytime temperatures are moderate. Summers can be scorching hot, while winters can have freezing nighttime temperatures. Personally fall's pleasant weather and wildlife sightings seals the deal!
Can I sleep in my car in Joshua Tree National Park?
Overnight vehicle camping or sleeping in your car is only allowed in designated campgrounds. You cannot simply pull over and sleep by the side of the road or in parking lots.
Can you camp in Joshua Tree without a reservation?
Yes, several campgrounds in Joshua Tree, such as Hidden Valley, Belle, and White Tank, operate on a first-come, first-served basis. However, they can fill up quickly during peak times, so arriving early is recommended.
How many days should you stay in Joshua Tree National Park?
A two-day visit is often sufficient to see the major landmarks and do a couple of hikes. However, if you want a more relaxed pace or to explore more trails and areas, consider staying three to four days.
Do you need reservations to camp in Joshua Tree National Park?
Reservations are recommended for the campgrounds that offer them, especially during peak seasons. However, there are first-come, first-served campgrounds where reservations aren't possible, and you secure a spot by arriving early.
Also Read