Complete Guide on How to Get to Joshua Tree National Park! Entrances, City Routes, & Travel Tips. Dive In for Your Desert Journey Essentials!
Heading to the unique desert oasis of Joshua Tree National Park? Great choice! This guide is your ticket to a smooth journey, packed with all the practical tips and juicy details you need.
Get ready to explore the whimsical landscapes, striking rock formations, and the iconic Joshua Trees that give the park its name. Whether you're a rock climber, star gazer, or just in need of some desert tranquility, Joshua Tree has something for everyone.
In this comprehensive guide, we'll walk you through the three main entrances of the park, giving you the lowdown on which one suits your journey best. And for our urban adventurers, we've got step-by-step directions from five major cities to ensure you hit the road with confidence.
Wondering about airports, public transportation, or whether Joshua Tree is worth a day trip? We've got you covered! Dive into the contents, find your path, and let the adventure begin. Joshua Tree National Park, with all its desert glory, is calling your name!
Entrances to Joshua Tree National Park
Covering a sprawling area of more than 1,200 square miles, Joshua Tree National Park is vast and varied. To put it in perspective, it's larger than the state of Rhode Island! With such an expansive terrain, navigating and accessing the park efficiently is crucial for visitors.
In this section, we're breaking down the specifics of each of the park's three main entrances. By understanding their locations and what each entrance offers, you can streamline your visit and make the most of your time exploring the wonders of Joshua Tree. Let's dive into the details.
West Entrance
The West Entrance is conveniently situated just outside the city of Joshua Tree. Specifically, it's located five miles south of the junction of Highway 62 and Park Boulevard at Joshua Tree Village. Its prime location makes it one of the most frequented and accessible entry points for visitors.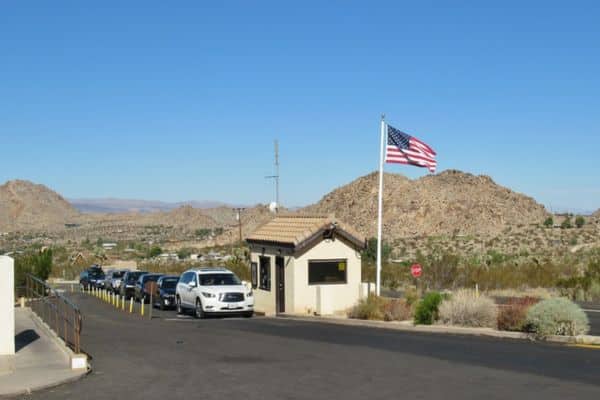 To reach the West Entrance, travel along Highway 62 until you're close to Joshua Tree Village. From there, take Park Boulevard south for approximately five miles, and you'll be greeted with the well-marked entrance to Joshua Tree National Park.
What's Nearby
Joshua Tree Visitor Center:
Just before you enter the park, the Joshua Tree Visitor Center awaits. This facility is an invaluable resource for first-time visitors. Here, you can secure maps, learn about current trail conditions, and immerse yourself in the park's rich ecology and storied past.
Hidden Valley:
A mere stone's throw from the West Entrance, Hidden Valley is a can't-miss location. Encircled by towering rocks, this valley is steeped in lore as a past refuge for cattle rustlers. Presently, it showcases a one-mile loop trail that winds through a captivating landscape replete with Joshua trees and emblematic rock formations.
Barker Dam:
Situated about 9 miles from the West Entrance, Barker Dam is both a historical site and a hiking hotspot. Its trail circles a quaint water reservoir, presenting opportunities to spot local fauna and ancient petroglyphs. The dam becomes particularly enchanting post-rainfall when it brims with water.
Keys View:
Nestled approximately 20 miles from the West Entrance, Keys View affords visitors panoramic vistas of the Coachella Valley, the infamous San Andreas Fault, the distant Salton Sea, and on especially clear days, even Signal Mountain in Mexico. The journey to Keys View is filled with picturesque scenes, and once there, the view can be savored with just a brief stroll from the parking zone.
Cap Rock:
A 15-mile drive from the entrance takes you to Cap Rock, renowned for its distinctive rock formations. The vicinity offers a concise walking path, ideal for a swift exploration. As a climbing mecca, it's also common to witness enthusiasts challenging themselves on these rock faces.
The West Entrance is not only about ease of access but also about its proximity to some of Joshua Tree's most iconic spots. Whether you're an avid hiker, a rock-climbing aficionado, or someone simply looking to revel in the park's ethereal beauty, this entrance is an exemplary kickoff point.
North Entrance
The North Entrance is strategically located in Twentynine Palms, a city with its own rich history and charm, making it a distinctive entry point to the park.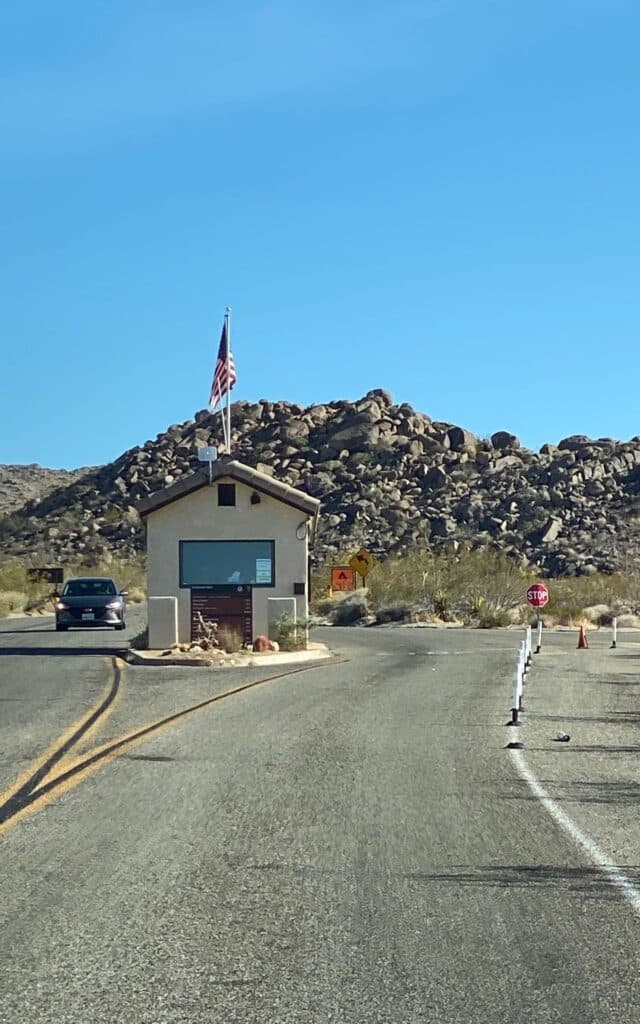 To access the North Entrance, one would take Highway 62 and then turn onto Utah Trail, leading directly into the heart of Joshua Tree National Park.
What's Nearby
Oasis Visitor Center:
Located close to the North Entrance, the Oasis Visitor Center is an essential stop for those keen on gathering up-to-date information about the park. It offers detailed maps, exhibits on the park's natural and cultural history, and knowledgeable rangers ready to provide guidance and answer queries.
Oasis of Mara:
Adjacent to the visitor center, the Oasis of Mara is a historical site and was once a critical water source for Native Americans, early settlers, and cattle ranchers. The short trail around the oasis offers insights into its significance and the wildlife it supports.
Sky's The Limit Observatory and Nature Center:
Just outside the park's boundaries, near the North Entrance, this observatory is a prime spot for stargazing. Joshua Tree National Park is renowned for its dark skies, and this center often holds events and programs to observe celestial wonders.
Fortynine Palms Oasis Trail:
About 3 miles from the North Entrance, this trail is a moderately challenging 3-mile round-trip hike that leads to a fan palm oasis. It offers incredible views of the surrounding hills and is a favorite spot to observe bighorn sheep.
Indian Cove:
Located roughly 13 miles from the North Entrance (with a detour off Utah Trail), Indian Cove is known for its dense concentration of Joshua Trees and unique rock formations. It's also home to a popular campground and numerous rock-climbing routes.
The North Entrance not only offers a different perspective of Joshua Tree National Park but also provides easy access to a mix of historical, cultural, and natural attractions. Whether you're an astronomy lover, history buff, or someone looking to dive deep into nature's wonders, the North Entrance promises a plethora of experiences.
South Entrance
The South Entrance is prominently located near Cottonwood Spring, a lesser-trafficked yet equally enthralling section of Joshua Tree National Park, presenting a different facet of the park's diverse ecosystem.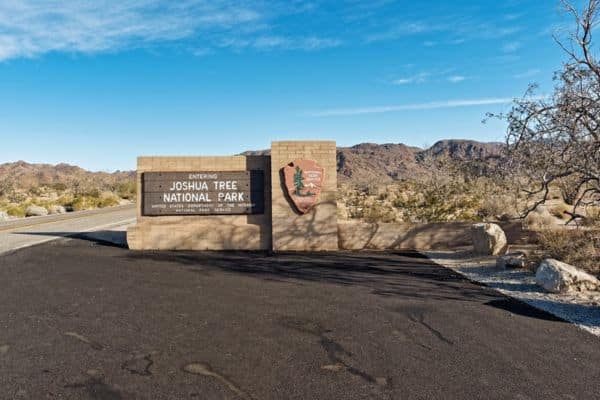 To approach the South Entrance, travelers should use Interstate 10, exiting onto Cottonwood Springs Road. This road directly leads into the park, ushering visitors into the unique landscapes of the southern region.
Whats Nearby
Cottonwood Visitor Center:
Situated near the entrance, the Cottonwood Visitor Center is an ideal first stop. Visitors can avail themselves of detailed maps, gain insights into the southern area's distinct ecosystem, and learn about current park conditions from knowledgeable rangers.
Cottonwood Spring:
Just beyond the visitor center lies Cottonwood Spring, a desert oasis formed by underground water pushed to the surface by the San Andreas Fault. The spring supports a diverse range of plant life and is an essential water source for desert wildlife. Several trails start here, exploring the oasis and the surrounding area.
Lost Palms Oasis Trail:
This 7.2-mile round-trip trail, originating from Cottonwood Spring, takes hikers through the Sonoran Desert landscape and culminates at the Lost Palms Oasis, a secluded cluster of fan palms surrounded by rugged canyon terrain.
Mastodon Peak:
A moderate 3-mile loop hike, starting from Cottonwood Spring, this trail offers panoramic views of the Eagle Mountains and Salton Sea from the peak. Along the way, you can explore the Mastodon Mine ruins, a nod to the park's mining history.
Ocotillo Patch:
A short drive from the South Entrance, the Ocotillo Patch showcases a dense concentration of the spindly, often flowering, ocotillo plants. Especially after rainfall, these plants bloom with vibrant red flowers, creating a striking contrast against the desert backdrop.
The South Entrance provides an immersive experience into the park's southern landscapes and ecosystems, dominated by the Colorado Desert. This entrance is especially appealing for those looking to escape the crowds and delve into a more secluded and unique side of Joshua Tree National Park.
Directions from 5 Major Cities to Joshua Tree National Park
Navigating your way to Joshua Tree National Park from a major city? Look no further. In this section, we provide clear and concise directions from five significant urban centers to the park's gates.
Whether you're driving from a nearby metropolis or planning a road trip from afar, these guidelines will ensure a straightforward and scenic journey to the breathtaking landscapes of Joshua Tree. Let's set you on the right path.
Los Angeles, CA to Joshua Tree National Park
The bustling metropolis of Los Angeles, with its towering skyscrapers, iconic landmarks, and miles of coastline, stands in sharp contrast to the serene beauty of Joshua Tree National Park.
But despite their differences, the journey from the heart of urban LA to the rugged landscapes of Joshua Tree is a relatively straightforward one that offers travelers a glimpse into Southern California's diverse terrains.
Recommended Entrance: West Entrance
The West Entrance is the most accessible entry point for those coming from Los Angeles, making it an excellent choice for day trippers and weekend adventurers alike. Its location just outside the city of Joshua Tree makes it a prime spot to start exploring the park's vast expanse.
Route Overview:
Begin your journey on the I-10 East, leaving behind the urban sprawl of Los Angeles. As you head eastward, the cityscape gradually gives way to suburban neighborhoods, then to more open spaces. The San Bernardino Mountains will rise to the north, offering a majestic backdrop as you venture deeper into inland California.
Continue on I-10 East until you approach the city of Banning. Here, you'll witness a transition in the landscape as the mountainous terrains make way for more arid and desert-like settings, a prelude to what awaits in Joshua Tree.
As you near the city of Palm Springs, a desert oasis known for its mid-century modern architecture and vibrant arts scene, consider taking a brief detour if time permits. Palm Springs offers numerous attractions, from its aerial tramway that gives panoramic views of the valley below to its bustling downtown filled with shops, restaurants, and galleries.
Resuming your journey, exit the I-10 onto CA-62 East, signed for Joshua Tree & Yucca Valley. This stretch of the highway, often referred to as the Twentynine Palms Highway, winds through the towns of Morongo Valley and Yucca Valley. These small desert towns, with their unique charm, provide glimpses into the local culture and lifestyle, far removed from the bustle of LA.
As CA-62 snakes its way toward the city of Joshua Tree, the peculiar and iconic Joshua Trees begin to dot the landscape, signaling your proximity to the park. The road itself offers panoramic vistas of undulating hills, vast valleys, and, on clear days, distant mountain peaks.
Approximate Distance: 140 miles
The entire drive from Los Angeles to Joshua Tree National Park covers approximately 140 miles, a journey that typically takes about 2.5 to 3 hours, depending on traffic conditions. It's a manageable distance, making Joshua Tree an attractive getaway for Angelenos looking for a quick escape from the city's clamor.
San Diego, CA to Joshua Tree National Park
From the picturesque coastlines of San Diego to the enchanting desertscapes of Joshua Tree National Park, the drive connecting these two Southern California gems unfolds as a vivid tapestry of diverse landscapes.
Whether you're departing from San Diego's sun-kissed beaches or its vibrant urban heart, the route to Joshua Tree offers a transformative experience, a gradual shift from coastal elegance to the raw beauty of the desert.
Recommended Entrance: South Entrance
For those journeying from San Diego, the South Entrance near Cottonwood Spring presents the most direct gateway into the park.
This entrance not only ushers visitors into some of the park's unique southern landscapes but also offers a quieter, more contemplative experience, away from the more frequented northern areas.
Route Overview:
Embark on your journey by joining the I-15 North from San Diego. As you drive, the dense urban sprawl will gradually give way to the rolling hills and valleys of inland California. The early stretches of this route showcase San Diego County's varied topography, with pockets of green amidst a predominantly golden hue.
As you progress, make a transition onto I-215 North. Here, you might catch glimpses of the March Air Reserve Base, a testament to the region's military significance. The I-215 corridor offers a mix of suburban scenes juxtaposed against open spaces, with the San Jacinto Mountains painting a distant backdrop.
Merging onto the I-10 East signifies the final leg of your journey. This interstate, a major east-west thoroughfare, meanders through cities like Moreno Valley and Beaumont. The vibe of the drive starts to shift palpably as you approach the desert realms of Riverside County.
Your cue to exit the interstate comes with Cottonwood Springs Road. This stretch, leading directly to the South Entrance of Joshua Tree, offers a dramatic introduction to the park's terrain. The road is lined with iconic desert vegetation, and the expansive vistas hint at the adventures awaiting within the park's boundaries.
Approximate Distance: 175 miles
Covering an estimated 175 miles, the drive from San Diego to Joshua Tree National Park typically spans around 3 to 3.5 hours, contingent upon traffic conditions. Given the distance, travelers are treated to an evolving showcase of Southern California's multifaceted landscapes.
Las Vegas, NV to Joshua Tree National Park
Setting out from the glitz and glamour of Las Vegas and venturing into the natural grandeur of Joshua Tree National Park offers a stark, yet fascinating contrast.
This drive showcases the Southwest's unique character, transitioning from the neon glow of a bustling city to the serene landscapes sculpted by millennia of natural forces.
Recommended Entrance: South Entrance
Those making the trip from Las Vegas will find the South Entrance near Cottonwood Spring to be a fitting entryway. It not only provides direct access to the park's distinct southern ecosystems but also offers a tranquil introduction, a stark counterpoint to the hustle and bustle of Vegas.
Route Overview:
Kick off your journey on the I-15 South, leaving behind the iconic Las Vegas Strip and its many attractions. The initial phase of this drive traverses the Nevada desert, an expansive landscape characterized by its arid vastness and isolated mountain ranges.
As you continue southward and cross into California, you'll skirt the edges of the Mojave National Preserve, a sprawling protected area replete with sand dunes, volcanic cinder cones, and Joshua tree forests. This leg of the trip offers a precursor to the natural wonders awaiting further south.
Upon reaching the junction with I-215, head south. This section of the drive introduces you to the Inland Empire, a populous region of Southern California. Cities like Victorville and San Bernardino mark this segment, showcasing a blend of urban life amidst the surrounding desert and mountainous landscapes.
The merging point onto I-10 East marks the home stretch. As you cruise along this interstate, you're presented with glimpses of the Coachella Valley and its cities like Palm Springs and Indio, known for their rich cultural history and annual events.
Your descent into Joshua Tree National Park begins as you exit onto Cottonwood Springs Road. This final segment envelops travelers in a world of unique flora, stark rock formations, and breathtaking vistas, signaling their arrival at one of California's most treasured natural destinations.
Approximate Distance: 225 miles
Spanning roughly 225 miles, the journey from Las Vegas to Joshua Tree National Park usually takes around 3.5 to 4 hours, depending on traffic and driving conditions. While it might seem like a stretch, the changing landscapes and scenic views make every mile worthwhile.
Phoenix, AZ to Joshua Tree National Park
Embarking from the heart of Arizona's sun-drenched capital, Phoenix, and journeying towards the captivating landscapes of Joshua Tree National Park encapsulates a voyage through the diverse and emblematic terrains of the American Southwest. Both destinations, while rooted in desert ecosystems, offer entirely distinct experiences — one of urban modernity and the other of unspoiled wilderness.
Recommended Entrance: South Entrance
For travelers setting out from Phoenix, the South Entrance near Cottonwood Spring is the most direct and convenient gateway into the park. This entry point not only ushers visitors directly into some of Joshua Tree's most unique southern terrains but also provides a seamless transition from the vast stretches of interstate to the intricate beauty of the park's landscapes.
Route Overview:
Begin your journey on I-10 West, departing from Phoenix, a city known for its contemporary skyscrapers, rich cultural heritage, and a blend of desert and urban living. As you make your way westward, the dense urban surroundings of Phoenix slowly recede, revealing the vast Sonoran Desert with its signature saguaro cacti standing tall against the azure sky.
The interstate carves its way through cities like Buckeye and Quartzsite, offering glimpses into Arizona's desert communities. Along this stretch, travelers are treated to a panorama of undulating desert landscapes, punctuated occasionally by rugged mountain ranges that stand as silent witnesses to the passage of time.
Crossing the Arizona-California state line is a subtle transition, yet the landscape begins to shift from the Sonoran to the Colorado Desert. The closer you get to Joshua Tree National Park, the more pronounced the presence of unique desert flora becomes, with ocotillos, cholla cacti, and, of course, Joshua trees dotting the horizon.
Your cue to begin the final phase of the journey comes as the exit for Cottonwood Springs Road appears. Exiting the I-10 here heralds the immediate immersion into the park's unique ecosystems. This road acts as a portal, leading visitors from the vast openness of the interstate into the intricate and awe-inspiring world of Joshua Tree National Park.
Approximate Distance: 230 miles
The expedition from Phoenix to Joshua Tree National Park covers a distance of approximately 230 miles. Typically, this drive would span around 3.5 to 4 hours, dependent on driving conditions and any potential stops made en route.
Palm Springs, CA to Joshua Tree National Park
Just a stone's throw away from the verdant golf courses and mid-century modern landmarks of Palm Springs lies Joshua Tree National Park, an ethereal expanse of desert beauty.
The journey from this iconic resort town to the rugged terrains of Joshua Tree is not just a drive—it's a transition from one of California's most celebrated urban oases to a sprawling natural masterpiece that has inspired generations of nature enthusiasts, artists, and adventurers.
Recommended Entrance: Depending on your specific starting point within Palm Springs, either the South Entrance near Cottonwood Spring or the West Entrance near the city of Joshua Tree would be ideal.
Route Overview:
South Entrance Route: If you're starting from the southeastern parts of Palm Springs or simply prefer a straightforward drive along the interstate, then the route via I-10 East is your best bet. Join the interstate and head eastward until you see signs for Cottonwood Springs Road. Exit here and you'll find yourself on the threshold of the park's southern precincts, an area rich in desert flora and historical landmarks.
West Entrance Route: For those situated on the northern side of Palm Springs or those wanting to experience a more scenic route, heading towards the West Entrance might be preferable. Start by driving on CA-111 North, an iconic roadway that offers glimpses of the Coachella Valley's unique blend of natural and man-made beauty. Upon reaching the junction with CA-62, head east. This stretch, leading to the West Entrance, showcases a mix of local desert communities, distinctive Joshua trees, and tantalizing glimpses of the park's dramatic rock formations.
Approximate Distance: 40 miles
Regardless of your chosen route, the journey from Palm Springs to Joshua Tree National Park covers a relatively short distance of about 40 miles. Typically, this drive can be completed in less than an hour, making it a convenient excursion for both day-trippers and those planning longer stays.
What airport do you fly into to go to Joshua Tree?
For travelers aiming to explore the wonders of Joshua Tree National Park, selecting the appropriate airport for your journey is paramount. The closest and most convenient choice is Palm Springs International Airport (PSP). Located just about 40 miles from the park, PSP serves as a major hub for various airlines and offers numerous domestic flights, making it easily accessible from different parts of the country.
The airport boasts modern facilities and a range of services catering to tourists. From Palm Springs, it's a straightforward drive to Joshua Tree, whether you opt for the scenic routes or the direct highways. Car rental services are readily available at the airport, allowing visitors to seamlessly transition from flight to road trip.
For those looking for broader international options or perhaps cheaper flights, Los Angeles International Airport (LAX) is another viable choice. Although it's situated approximately 140 miles from the park, the greater volume of flights and potential for more competitive fares can make the extra drive worthwhile.
How to get to Joshua Tree without car?
For those without personal vehicles but a keen desire to explore the wonders of Joshua Tree National Park, there are still viable routes to consider:
L.A.'s Union Station Start: Begin your journey in Los Angeles by taking a local bus or metro train to the iconic Union Station.
Union Station to Palm Springs: Board the Flex bus from Union Station that travels directly to Palm Springs.
Navigating Palm Springs: Once in Palm Springs, your next target is the Morongo Basin Transit Authority (MBTA) bus. However, there's a catch: while you disembark at the downtown bus terminal, the MBTA picks up from the airport, which is located on the opposite side of the town. If your timing is unfortunate and you've missed the MBTA or have hours to wait, consider walking across town to the airport. But a word of caution: during summer, temperatures in Palm Springs can soar to 115°F, making such a trek risky.
Final Leg to Joshua Tree: Once aboard the MBTA, ride to the Yucca Valley Transit Center. While buses from here venture to places like 29 Palms and Landers, none travel directly into the park. Plan accordingly, and consider local rideshares or taxis for the final stretch.
While the journey might have its challenges, the rewards of experiencing Joshua Tree's unique beauty make the effort worthwhile.
Is Joshua Tree worth a day trip?
The short answer is yes, but with a caveat: while a day trip will provide a tantalizing taste of the park's splendors, it barely scratches the surface of all there is to experience.
Joshua Tree's iconic landscapes, dotted with its namesake trees and dramatic rock formations, can indeed be explored on a brief sojourn. Key sites like Keys View, Barker Dam, and Hidden Valley offer relatively easy access and short trails, making them perfect for time-constrained visits. The captivating Cholla Cactus Garden is a must-see, especially during sunrise or sunset when golden hues bathe the landscape.
However, with just one day, certain trade-offs are inevitable. Longer hikes, backcountry experiences, and stargazing opportunities might be off the table. The park's vastness demands selective exploration on a day trip, making prioritization essential.
A day trip offers a beautiful snapshot, but for a comprehensive experience, an extended stay is recommended. Nevertheless, even a fleeting visit to this desert gem leaves an indelible mark on the soul.
In Conclusion
Joshua Tree National Park, with its distinct entrances and majestic landscapes, remains a beacon for nature enthusiasts. Whether you're driving from bustling cities like Los Angeles or San Diego, or navigating without the luxury of a car, the journey to Joshua Tree is as enriching as the destination itself. With multiple entrances, each offering its unique charm, and well-connected routes from nearby cities, the park is both accessible and inviting. Ensure you choose the entrance that best aligns with your starting point for a smoother journey. Here's to your upcoming adventure in one of nature's most splendid playgrounds! Safe travels.