Discover the top 17 hikes in Joshua Tree National Park. With 3 decades of experience, we guide you through its unique trails, wildlife, and landscapes
So, you've heard of the ethereal beauty of Joshua Tree National Park and its beckoning trails? Well, you're in for a treat! With three decades of hiking boots on its grounds, we're here to unveil the crème de la crème of hikes in this desert jewel.
Navigating through its myriad trails can be a tad overwhelming, but fear not, we've distilled it down to the top 17 hikes that encapsulate the very essence of Joshua Tree.
From the awe-inducing vistas of the Ryan Mountain Trail to the surreal landscapes of the Cholla Cactus Garden Nature Trail, our Table of Contents promises a journey through trails that are nothing short of epic.
And if you're curious about what sets Joshua Tree's trails apart, we've got sections dedicated to its unique biodiversity and mesmerizing landscapes.
But that's just the tip of the iceberg! Whether you're plotting your first hike or your fiftieth, this guide is your ultimate companion. So, grab your gear, and let's unveil the magic of hiking in Joshua Tree National Park together!
Overview of Hiking in Joshua Tree National Park
Joshua Tree National Park spans nearly 800,000 acres, a vast playground for hikers, nature enthusiasts, and those seeking solace in the desert wilderness. Its two distinct desert ecosystems – the Mojave and the Colorado – offer a diverse hiking experience unlike any other.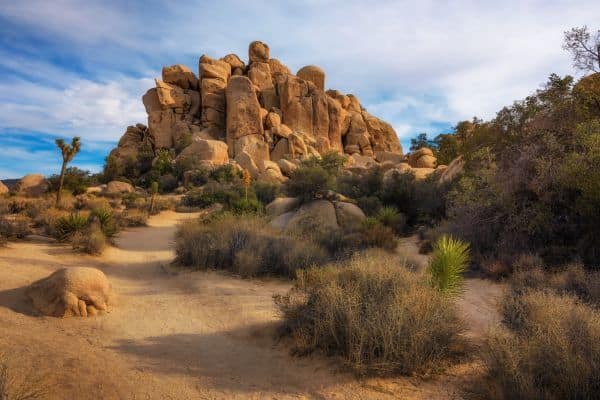 As you plan your hiking journey, consider the following:
Terrain: Joshua Tree is not just flat desert. Be prepared for varied terrains including rugged canyons, vast valleys, and elevated viewpoints.
Accessibility: Most trailheads are easily accessible from park roads, making it convenient even for those with limited time.
Trail Diversity: Whether you have a few hours or a full day, there's a trail for you. From short loops to extended treks, the park accommodates every level of hiking experience.
What Makes Hiking in Joshua Tree National Park Special
The park stands as a testament to nature's artistry, with its iconic Joshua Trees, grand rock formations, and starry night skies. The intertwining of two desert ecosystems gives rise to a landscape that's both challenging and rewarding for hikers.
Joshua Tree stands out for a few distinct reasons:
Joshua Trees: Not actually trees but a species of yucca, these iconic plants are native to the park and give it its name. Their twisted, spiky appearance makes for an otherworldly landscape.
Rock Formations: Whether you're admiring them from the ground or climbing them for a better view, the park's rocks—shaped by ages of erosion—are both majestic and mysterious. Key landmarks include Skull Rock, Arch Rock, and the Wonderland of Rocks.
Stargazing: Recognized as a Dark Sky Park, Joshua Tree offers some of the best stargazing opportunities. The absence of light pollution allows the Milky Way and countless stars to shine brilliantly.
The Uniqueness of Joshua Tree's Wildlife and Landscape
Beyond the scenic vistas, Joshua Tree is a wildlife haven. From bighorn sheep to the roadrunners, the park's trails offer countless opportunities for wildlife sightings, making every hike a potential adventure.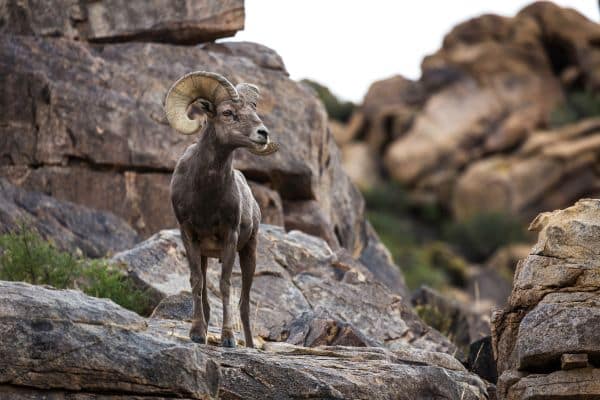 Fauna: As you hike, keep an eye out for creatures that have adapted to the harsh desert environment. From the cunning coyote to the nimble bighorn sheep, the park is teeming with wildlife. Smaller critters like the desert tortoise, black-tailed jackrabbit, and various lizard species also call the park home.
Flora: Beyond the Joshua Trees, the park boasts a plethora of plant species. Springtime sees the desert bloom with wildflowers like the desert marigold, indigo bush, and the Mojave aster.
Birdwatching: Over 250 bird species have been spotted in the park, making it a birdwatcher's paradise. Notable birds include the greater roadrunner, cactus wren, and the red-tailed hawk.
Trails We Cover:
From our experience, you must absolutely choose one of these trails in Joshua Tree to get an authentic experience of what this park is about.
Discovery Trail (0.68 miles): A short loop providing an introduction to the park's diverse ecosystem. Ideal for first-timers.
Boy Scout Trail (15.8 miles): A long trail offering solitude and expansive desert views.
Black Rock Canyon Panorama Loop (6.6 miles): Winding through canyons, this trail offers panoramic vistas and varied terrains.
Wall Street Mill (2.15 miles): An easy trail that takes hikers to historic gold milling sites.
Barker Dam Nature Trail (1.3 miles): A family-friendly loop around a historic dam, offering chances to spot wildlife.
Split Rock Trail with Face Rock Spur (2.4 miles): Known for its iconic rock formations and interconnected trails.
Cholla Cactus Garden Loop (0.3 miles): A short loop showcasing dense concentrations of cholla cacti.
Keys View (0.3 miles): Offers an unparalleled view of the Coachella Valley.
Cap Rock Nature Trail (0.7 miles): A brief trail highlighting the park's geology and native plants.
Hall of Horrors (0.6 to 0.8 miles): More of a climbing spot, but with short paths weaving through fascinating rock formations.
Hidden Valley (1 mile): Showcasing the park's varied flora and fauna, this trail feels like a hidden gem.
Skull Rock Trail (1.7 miles ): Noted for its skull-like rock formation, it offers a unique desert hiking experience.
Arch Rock Trail (0.8 miles): A short trail leading to a naturally formed arch, surrounded by other intriguing rock formations.
Mastodon Peak Loop Trail (2.6 miles): A moderately challenging trail with views of the Salton Sea at its peak.
Fortynine Palms Oasis (3 miles round trip): Leading to a fan palm oasis, it's a testament to the desert's surprises.
Ryan Mountain (3 miles round trip): Offering a challenging ascent, this trail rewards hikers with 360-degree park views.
Warren Peak (5.5 miles): A less-traveled trail providing solitude, leading to a summit with expansive vistas.
With this overview, hikers can get a clear sense of what to expect and can tailor their Joshua Tree experience according to their preferences and expertise. Lets dive into the details.
Ryan Mountain Trail
Distance: 3 miles (out and back)
Elevation change: 1050 feet
Hiking time: Approx. 1 hour 45 minutes
Location: Joshua Tree National Park, CA
Trail Description:
Set in the heart of Joshua Tree National Park, the Ryan Mountain Trail leads hikers to an impressive 5,457-foot summit. Spanning a 3-mile round trip with an elevation gain of 1,050 feet, this dirt trail is adorned with stone steps and unveils panoramic views of iconic rock formations and dense Joshua tree forests.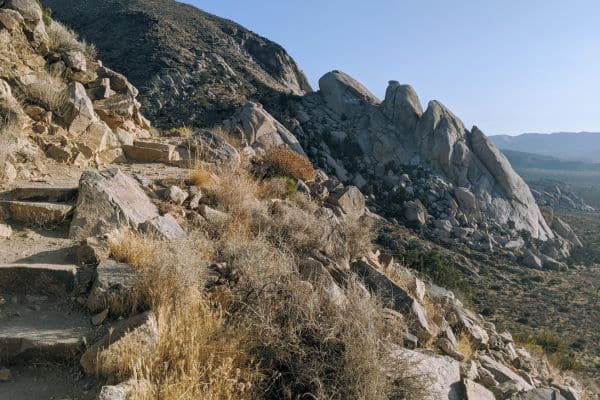 As you begin your journey southward, you'll pass through tall, irregular granite pillars. The ascent is quite rapid due to the short distance, but the well-constructed trail with stone steps aids the climb.
After about 0.2 miles, you'll encounter the trail's sole junction; turning left leads to the Sheep Pass Group Camp, but for the summit, take a right.
Continuing the climb, you'll loop around the mountain's west side, offering majestic northwest views of the Wonderland of Rocks and the Little San Bernardino Mountains.
Navigating another quarter-mile, the trail moves into a mountain draw, showcasing a remarkable rock formation on Ryan Mountain's slope. This formation intriguingly appears face-like from certain angles and like praying hands from others.
Further up, the trail introduces views of the Pinto Basin to the north and east. As you approach the trail's climax, you're treated to an expansive panorama, making Ryan Mountain Trail one of the park's most visually rich paths. The summit, marked by a sign and a rock pile, provides a bird's-eye view of almost the entire park.
On clear days, sights stretch to Mount San Jacinto and Mount San Gorgonio. Additionally, landmarks like the Ryan Campground, Ryan Ranch ruins, and the rising Lost Horse Mountain accentuate the view.
For your return, simply retrace your steps downhill. Once back at the trailhead, consider a brief detour to "Indian Cave," a short path leading to a cave-like structure with rock ceilings darkened by historical inhabitants.
Trail Highlights:
Stunning panoramic views from the summit.
Unique rock formations that can appear like faces or praying hands.
Proximity to "Indian Cave" showcasing the park's ancient heritage.
Getting to the Trailhead:
From Park Boulevard, travel 2.1 miles east of the Keys View Road intersection. Look for the Ryan Mountain turn off on the road's south side. A spacious parking area and restrooms await at the trail's commencement.
Wildlife Sightings: As you embark on this trail, keep an eye out for the diverse wildlife that calls Joshua Tree National Park home:
Birds: Numerous bird species can be spotted, especially at higher elevations where they seek cooler temperatures.
Reptiles: Lizards and the occasional snake might cross your path, especially in sun-exposed areas.
Mammals: Be on the lookout for desert cottontails, squirrels, and, if you're fortunate, bighorn sheep.
Stay vigilant, respect the wildlife by maintaining a safe distance, and relish the chance to observe these creatures in their stunning desert habitat.
Arch Rock Trail
Distance: 0.8 miles (loop with straightaway)
Elevation change: 100 feet
Hiking time: Approx. 45-90 minutes
Location: Joshua Tree National Park, CA
Trail Description: Starting from the Arch Rock Trailhead located in the Twin Tanks Parking Lot, hikers embark on a straightforward 0.6-mile journey heading east. This path leads into a brief 0.2-mile loop.
For the best viewing experience of the famed Arch Rock, it's recommended to tackle this loop counterclockwise. Just about 0.1-mile into this loop section, the iconic Arch Rock stands as a beacon for photographers and nature enthusiasts.
Alongside the natural beauty, the trail offers educational wayside signs, shedding light on the unique geology and features of this desert landscape. The trail commences with a sandy terrain but gradually shifts to a rockier constitution as one delves deeper into the loop.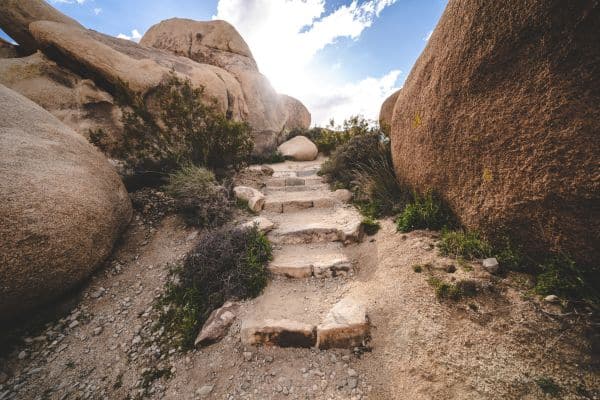 Preparation & Safety: The trail lacks shade and cell service, making it crucial for summer adventurers to begin their hike before 10 am, armed with ample water.
Always be aware of the day's forecast when planning a visit and, if weather conditions seem too harsh, consider other options. Informing a friend or family member about your itinerary and expected return time is always a good safety measure.
Accessibility: The trail challenges hikers with a mix of deep sand, hard-packed dirt, and uneven rocky sections. Although mostly flat, some narrow stretches might be less than 2 feet wide. The loop contains particularly rocky parts. Regrettably, the trail isn't wheelchair-accessible.
Although pets and emotional support animals aren't permitted, service animals are an exception. However, they should be kept on a 6-foot leash at all times.
Discovery Trail
Length: 0.68 miles
Type: Loop
Duration: 30-45 minutes
Elevation Gain: 120 feet
Despite its brief existence since 2013, the Discovery Trail has become a haven for both casual hikers and enthusiasts. Conceived and designed by local students, the trail showcases features tailored for younger audiences, giving them a profound appreciation for nature's splendors.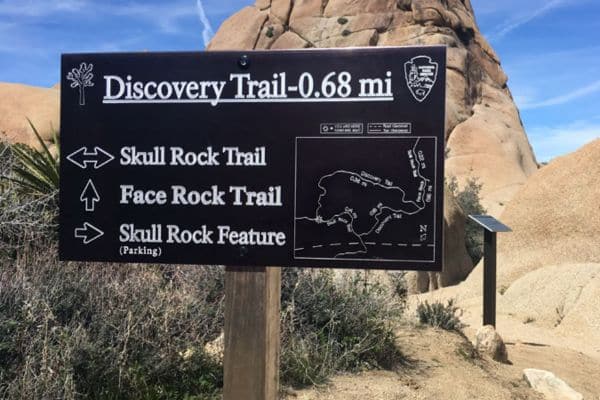 Starting opposite Skull Rock on Park Boulevard, the trail is well-signposted and beckons hikers into its embrace. While you can combine the Discovery Trail with the Skull Rock Nature Trail for an extended adventure, the Discovery Trail alone offers a condensed experience of Joshua Tree's diverse terrain.
Key Features:
Skull Rock Nature Trail Junction: Just a short 0.1 mile into your journey, the trail forks. For those keen on experiencing the Discovery Trail, keep to the right. Along the path, you'll encounter several interpretive signs that offer deep insights into the geology behind the remarkable canyons and rock formations.
Short Slot Canyon: Joshua Tree is famous for its canyons, and you'll get to traverse through a captivating short slot canyon roughly halfway through the trail. The winding path eventually leads to an overlook, offering panoramic vistas of the park's unique topography.
Fixed Binoculars Overlook: Bringing you closer to the park's wonders, a set of fixed binoculars allows you a magnified view of iconic rock formations, including Skull Rock and Jumbo Rock. Accompanied by an illustrative sign, it's a perfect spot to pause and soak in the landscape.
Face Rock: As a highlight of the trail, Face Rock stands as a testament to nature's artistry. A brief 0.1-mile spur trail leads you to this geologic marvel. Standing before it, one can't help but be awed by its intricate design, shaped by eons of natural processes.
As you meander through the Discovery Trail, the diverse habitats offer opportunities for wildlife sightings. Amidst the iconic rock formations and natural vistas, the park's rich biodiversity comes alive. You might catch a glimpse of a desert hare darting between the bushes, or a lizard sunning itself on a rock.
Birds, too, make their presence felt with melodious calls echoing in the desert silence. Each step on this trail enhances the connection between hikers and the vibrant life that calls Joshua Tree home.
Boy Scout Trail
Length: 15.8 miles (out-and-back)
Duration: 6 – 8 hours
Elevation Gain: 1870 feet
Rating: 4 Star Quality
Difficulty: Moderate
Widely known for being one of the more lengthy day hikes in Joshua Tree National Park, Boy Scout Trail presents an invigorating trek that promises varied terrains and landscapes. Whether you're challenging yourself with the full out-and-back 15.8-mile hike or opting for shorter versions, the trail never fails to captivate.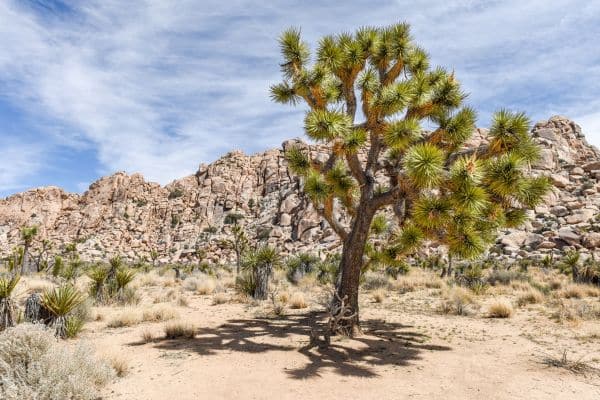 Trail Highlights:
Starting Point: The journey begins at the Boy Scout backcountry board, just past the Indian Cove entrance station. This initial segment, stretching 1.6 miles, points west towards a canyon. Hikers can marvel at the tiny flowers that seem to sprout especially during the spring months across the alluvial fan.
Alluvial Fan Observation: The alluvial fan is a testament to nature's forces at work. After significant rainfall, water carries sediment down canyons, with larger pieces settling first, causing the water to spread out and drop progressively smaller sediments. The result? A wide triangular slope that's a treat for the eyes.
Entering Boy Scout Canyon: Around 1.6 miles in, the path takes you into a wash, directing you up a tight canyon. As you venture further, you'll notice the trail starting to ascend, occasionally alternating between the wash and the main path.
Uphill Challenge: After about 3 miles, the trail briefly exits the canyon, presenting a series of washes and small switchbacks. This is where the elevation starts to play a role. But with the challenge comes a reward: vibrant flora and mesmerizing views as you climb higher.
Joshua Tree Landscape: The trail eventually leads hikers into the heart of Joshua Tree territory. Here, the surroundings transform, showcasing the tall, twisted Joshua trees that give the park its name. Around the 5.3-mile mark, an imposing rock pile offers a vantage point for panoramic views of the Wonderland of Rocks.
Final Stretches: As you approach the 7.9-mile point, you'll find yourself at a parking lot near Park Boulevard. This spot serves as a resting point, offering shade and comfort, especially if you're planning to head back for the full 15.8 miles.
Trail Tips: Given the trail's duration and desert conditions, carrying a significant amount of water is essential. Moreover, commencing your hike early will help you avoid the peak sun hours, ensuring a more enjoyable trek.
As you hike the Boy Scout Trail, be on the lookout for local wildlife. In the canyons, it's common to spot lizards and occasionally a desert tortoise. Birds frequent the area, with chances to see hawks or roadrunners. The regions dense with Joshua trees might also harbor some of the park's smaller mammals, so keep an eye out and tread softly.
Panorama Loop to Warren Peak in the Black Rock Area
Length: 6.6 miles
Duration: 3-5 hours
Elevation Gain: Over 1,000 feet
Pets: Not Allowed
Best Seasons: Winter, Spring, Fall
Time of Day: Day, Dawn, Dusk
Situated in the captivating backdrop of the Little San Bernardino Mountains, the Panorama Loop trail promises hikers a unique blend of sandy washes, striking ridgelines, dense Joshua tree forests, and the tranquil ambiance of pinyon-juniper woodlands.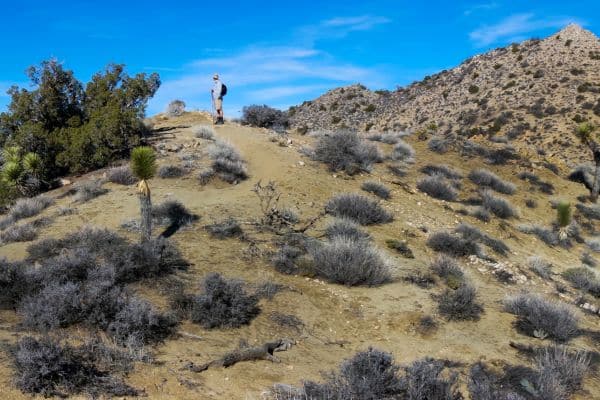 Trail Highlights:
Starting Point: Kick-off your trek south of the Black Rock Nature Center. With the uphill direction as your guide, navigate through the campground's end, where you'll find the trail sign signaling the entrance to the Panorama Loop.
Navigating the Terrain: Initially, the trail takes hikers up a sandy wash. As you ascend, the ridgeline of the Little San Bernardino Mountains gradually unfolds, offering panoramic views that complement the natural beauty of the dense Joshua tree forest and pinyon-juniper woodland.
Warren Peak Detour: For those seeking an elevated challenge, a spur-trail branching off the main loop beckons you towards Warren Peak. This detour is a rewarding addition for those who wish to experience the vantage point it offers.
Parking & Facilities: Multiple parking spots are available around the Black Rock Campground and Nature Center. However, on bustling days, spaces might be limited. Ensure you're not parking within the campground unless you've reserved a specific site.
Wildlife Sightings: As you traverse the trail, keep an eye out for native fauna. The dense Joshua tree forests and pinyon-juniper woodlands provide habitats for various wildlife species. Possible sightings include roadrunners, lizards, jackrabbits, and even the occasional bighorn sheep. Always remember to observe from a distance and avoid disturbing the natural inhabitants.
Safety Tips: Given the trail's remote nature, cell service can be patchy. Always inform someone of your plans and expected return. Check the weather forecast prior to your hike and, during summers, start early, preferably before 9 am, equipped with ample water. Avoid hiking if weather conditions seem too extreme.
Wall Street Mill
Length: 1.55 miles (from second trailhead) or 2.15 miles (from main trailhead)
Duration: 1 – 1.5 hours
Elevation Gain: 115 feet
Trailhead Address: Park Boulevard (Loop Road), Joshua Tree National Park, CA 92277
Trailhead Coordinates: 34.0251, -116.1419 (34° 01′ 30.4″N 116° 08′ 30.8″W)
Wall Street Mill offers a journey back in time, a glimpse into the gold mining operations of the early 20th century. Today, the mill stands as Joshua Tree National Park's most well-preserved gold mill, boasting a spot in the National Register of Historic Places.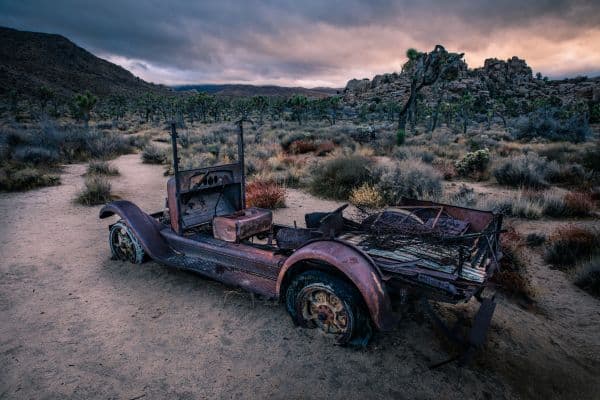 Trail Highlights:
Historical Significance: Delve into the history of the gold rush as you walk the trails. Miners once flocked to these desert lands in search of gold and silver. Ore from mines like the Desert Queen Mine was processed at the Wall Street Mill, extracting precious metals.
Starting Point: You can begin your hike from the main Wonderland of Rocks trailhead or opt for the second trailhead situated just off the unpaved Queen Valley Road. Depending on your choice, your round trip will either be 1.55 miles or 2.15 miles.
Bill Keys' Legacy: The mill was acquired by rancher-miner Bill Keys in 1930. Combining machinery from various mining sites, Keys established a fee-based gold processing service, operating the mill sporadically till 1966. The trail also bears witness to a fatal dispute between Keys and Worth Bagley. A memorial stone marks the spot where Bagley met his end in a gunfight in 1943.
Trail Sights: As you meander, you'll come across the remnants of the past. A windmill stands tall, rusting but still echoing tales of old. Further along, you'll find the duel-stone dedicated to Bagley, leading to a sandy trench and eventually the Wall Street Mill.
Blueprints of History: The mill site displays a meticulous blueprint from 1931, laying out the intricate details of this two-stamp gold mill. Despite the passage of time, several structures illustrated remain, beckoning visitors to take a closer look.
Wall Street Mill: This relic of the past, nestled amidst White Tank Granite boulders, holds the promise of gold extraction, albeit needing a touch of restoration. Explore its depths and imagine it, once again, humming with activity.
Wildlife Sightings: While this trail primarily offers a glimpse into human history, the surrounding environment is rich in flora and fauna. Joshua Tree's wildlife may make an appearance, with potential sightings of desert birds, lizards, and other native species.
After immersing yourself in the past, you can retrace your steps back to the starting point. For those wishing to extend their journey, detours to Wonderland Ranch ruins or further up the Wonderland Wash are available.
Whether you're a history buff or a nature lover, Wall Street Mill provides a blend of both, set against the stunning backdrop of Joshua Tree National Park.
Barker Dam Nature Trail
Difficulty: Easy
Distance: 1.3 miles (round-trip)
Trail: Loop
Elevation gain: 75 feet
Best time of year to hike: Fall through spring (due to cooler temperatures)
To beat the crowds: Arrive before 9:30 am or after 4:00 pm
Restrooms: Available at the trailhead but not on the trail
Time needed: 45-60 minutes
The Barker Dam Nature Trail is a popular hike in Joshua Tree National Park. The trail offers diverse landscapes, including a man-made dam that provides a watering hole for wildlife, a Joshua Tree forest, and ancient petroglyphs.
Trail Highlights:
Trailhead Start:

As you begin your journey, the trail offers an immersive experience into the desert ecosystem of Joshua Tree National Park. The sound of nature, the rustle of desert shrubs, and the iconic Joshua Trees greet you from the onset.

Fork Decision (0.2-mile point):

Early on, you'll encounter a fork. While both paths eventually meet, the straight path is recommended for those eager to reach the dam early. It takes hikers through a short wash, which can sometimes have water from recent rains. This provides a unique experience of witnessing water in the arid desert.

Barker Dam:

This early 1900s man-made dam is a testament to human intervention in nature. Used historically as a watering hole for cattle, today, it acts as a beacon for wildlife in the area. Visitors often see birds, small mammals, and even the tracks of larger creatures. Its serene waters juxtaposed against the arid desert create a picturesque view. The surrounding vegetation, which flourishes thanks to the dam, provides a stark contrast to the typical desert scene.

Rock Formations:

Throughout the hike, you'll traverse between towering rocks that tell tales of geological history. Some formations create shade, a welcome respite in the desert environment.

Ancient Petroglyphs:

About 0.4-miles after the dam, you'll encounter a path leading to ancient rock carvings. These petroglyphs provide a window into the lives and beliefs of the indigenous people who once called this land home. It's a humbling experience to stand before these ancient artworks, pondering the stories and hands that created them.

Joshua Tree Forest:

As the trail turns southwest, you'll be enveloped by a forest of Joshua Trees. These unique trees, with their spiky leaves and twisted trunks, create an almost otherworldly landscape.

Trail Conclusion:

After the petroglyphs, the trail loops back to the parking area. The entirety of the hike offers panoramic views of the park, especially during golden hours of sunrise or sunset, painting the landscape in warm hues.
The Barker Dam Nature Trail is more than just a walk; it's a journey through time, from the era of ancient civilizations to early 20th-century settlers, all set against the backdrop of the stark yet beautiful desert landscape.
As you meander through this trail, you might spot the agile desert cottontail hopping amongst the shrubs, or witness the Chuckwalla lizard sunning itself on warm boulders.
Bird enthusiasts can delight in identifying species like the Greater Roadrunner, Cactus Wren, and Scott's Oriole, all of which frequent the area.
Early mornings or dusk might reward the patient observer with glimpses of bighorn sheep, especially near the dam where they come to drink. Remember to keep a safe distance, and never feed or approach the animals; after all, the beauty of the trail lies in its wild, untouched charm.
Split Rock Trail
Distance: 2.4 miles (Loop)
Elevation Gain: 380 feet
Estimated Time: 1 – 1.5 hours
Difficulty: Easy
Quality Rating: 2 Star Quality
Nestled in the heart of Joshua Tree National Park, the Split Rock Trail offers a succinct journey into the Mojave Desert's charms. While it's not the most challenging hike, it presents an opportunity to witness some of the park's signature rock formations and a chance to encounter its native wildlife.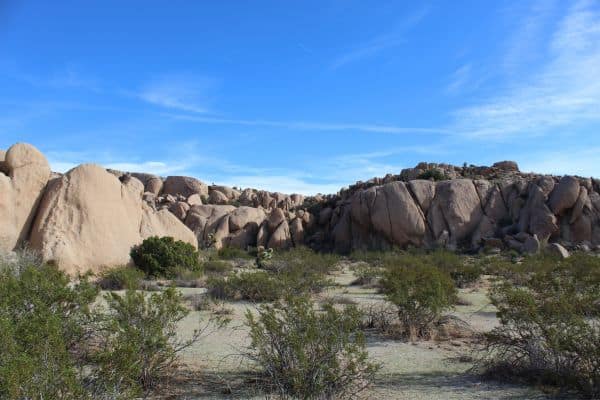 Trail Highlights:
Geological Features:

Split Rock: The trail's centerpiece and its namesake, this formation is a testament to the region's rich geological history.
Face Rock: An uncanny, humanoid profile sculpted by nature, encouraging hikers to spot other intriguing shapes along the trail.

Picnic Spot: For those looking to relax and perhaps enjoy a meal in the desert, the trail provides four distinct picnic spots, complete with firepits and grills.
Face Rock Spur Trail: An additional 0.4-mile detour that offers a closer look at Face Rock and its surrounding formations.
Pinyon Pines Canyon: This shaded spot, located 2.0 miles into the hike, is a perfect rest point, presenting a serene atmosphere amidst tall pinyon pines.
Navigational Tips:
Trail Direction: Consider taking the trail counterclockwise. This way, you'll encounter the most significant highlights towards the end, making for a climactic finish.
Stay Alert: Numerous climbers' trails branch off from the main path. Ensure you keep an eye out for rock markers, cairns, and stairs, which will guide you along the right path.
Wildlife Sightings:
The Mojave Desert, while appearing barren at first glance, is teeming with life. On the Split Rock Trail, there's potential to spot:
Birds: Look to the skies and the tops of Joshua Trees to spot birds like the Cactus Wren or the Greater Roadrunner.
Reptiles: Lizards, such as the Western Whiptail, are common sights. However, always be cautious and avoid getting too close, especially if you spot any snakes.
Mammals: Keep an eye out for the Black-tailed jackrabbit or even the elusive Desert Kit Fox.
The Split Rock Trail may be brief, but it encapsulates the essence of Joshua Tree National Park. Whether you're there for the geology, the wildlife, or just a tranquil walk in the desert, this trail is a must-visit. Always ensure you're prepared with adequate water and sun protection, and enjoy your journey through this Mojave Desert gem.
Cholla Cactus Garden Nature Trail
Distance: 0.3 miles (loop)
Duration: Approximately 30 minutes
Elevation Gain: 10 feet
Rating: 4-Star Quality
Difficulty: Easy
Highlight: Dense garden of Teddy Bear Cholla
As you set foot on the Cholla Cactus Garden Nature Trail, you're entering a special realm within the Joshua Tree National Park. Despite its short distance, this trail offers an unforgettable experience, primarily due to the dense concentration of Teddy Bear Cholla that dominates the landscape.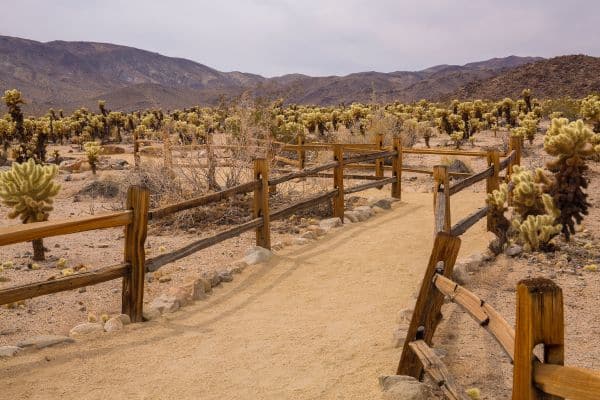 Why It's a Must-Visit:
At first glance, it might seem like just another desert trail, but there's magic in the air, especially during the golden hours of sunset.
The chollas, bathed in the soft hue of the setting sun, truly come alive, radiating a luminescent glow. If you're lucky enough to visit during the spring months of March or April, the garden showcases a unique bloom, adding another layer of beauty to the spectacle.
Navigating the Trail:
Starting your journey, you'd do well to pick up the free interpretive brochure available at the trailhead. This brochure is your key to unlocking the mysteries of the garden.
As you follow the trail counter-clockwise, you'll encounter 16 interpretive markers. Each marker offers insights into the unique ecosystem, flora, and fauna of the region.
But a word to the wise: while the Teddy Bear Cholla might look soft and inviting from a distance, they are anything but. A casual brush against these spiky plants can be a painful experience, so it's essential to be cautious and maintain a safe distance.
Integrating with Your Park Visit:
Given its short duration and ease of access, the Cholla Cactus Garden Nature Trail makes for a perfect addition to any Joshua Tree itinerary. Whether you're spending a day exploring the park's numerous attractions, like the Key's View Scenic Overlook or the Barker Dam Trail, or just passing through, this trail promises a quick yet memorable detour.
And if you're entering from the Cottonwood entrance on the south side of the park, this trail is conveniently on your way, beckoning for a brief exploration.
Keys View
Distance: 0.3 miles
Duration: 10 to 40 minutes (additional time may be required for photography)
Elevation Gain: 13 feet
Rating: Highly Popular
Difficulty: Easy
Highlight: Panoramic views of Palm Springs, Salton Sea, Coachella Valley, and on clear days, Signal Mountain in Mexico.
Trail Overview:
The Keys View trail, situated within Joshua Tree National Park, offers one of the most breathtaking panoramic vistas without requiring a strenuous hike. In fact, calling it a "hike" might be a bit of an overstatement. It's more of a leisurely walk from the parking lot to the observation point.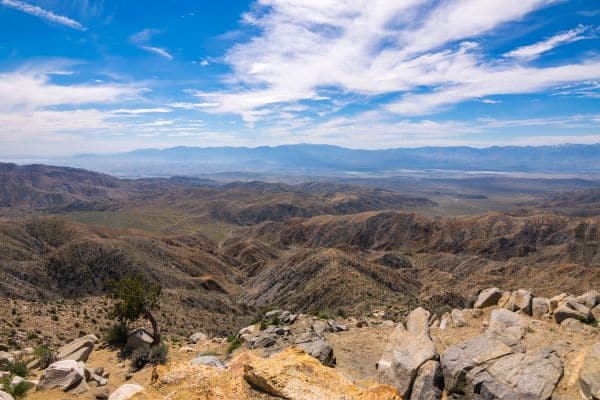 Once there, you are treated to sweeping views that encompass Palm Springs, the Salton Sea, and the vast expanse of Coachella Valley. On particularly clear days, the distant Signal Mountain in Mexico makes an appearance on the horizon.
Why It's a Must-Visit:
For those seeking a combination of ease and reward, Keys View is a prime choice.
The true charm of this spot, however, is the play of light during the golden hours of sunrise and sunset. The landscape comes alive, basking in the soft, ethereal glow, making it a dream location for photographers and nature enthusiasts alike.
Navigating the Trail:
Starting from the designated trailhead, Keys View, you'll find that navigation is straightforward. Ample parking is available right at the trailhead, ensuring convenience for visitors.
Given its popularity, it's recommended to visit early in the morning, both to secure a parking spot and to avoid larger crowds.
Plan Your Visit:
While the trail is accessible all year round, the desert climate can be particularly unforgiving during the summer months. There's little shade on this trail, so it's imperative to check the weather beforehand and come prepared.
Using the Desert Hiking Essentials list can be a great guide for what to pack. In terms of footwear, hiking sandals or comfortable sneakers should suffice.
Important Notes:
Pets, including dogs and cats, are not allowed on this trail.
Adhering to the Leave No Trace principles is of utmost importance. Ensure you pack out whatever you bring in, preserving the pristine nature of this viewpoint for future generations.
Keys View provides a unique vantage point, delivering a vast expanse of the desert's beauty with minimal effort, making it an essential stop for any Joshua Tree National Park itinerary.
Cap Rock Nature Trail
Distance: 0.7 miles (loop)
Duration: Varies depending on exploration (typically less than an hour)
Elevation Gain: 39 feet
Rating: Easy
Highlight: Diverse rock formations reminiscent of the Flintstones' Bedrock.
Situated amidst the iconic landscape of Joshua Tree National Park, the Cap Rock Nature Trail offers a short yet fulfilling experience for visitors of all ages.
This trail boasts a delightful array of Joshua Trees and showcases the park's distinctive stacked boulder formations, which come in a myriad of intriguing shapes and sizes.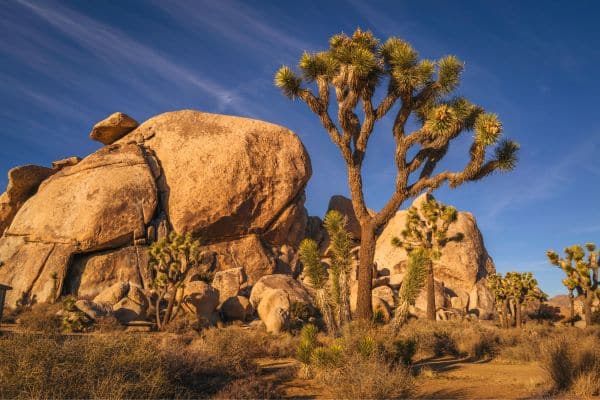 Navigating the Trail:
Kick-start your exploration from the Cap Rock Parking Lot, where the trailhead is located. As you embark on this 0.7-mile loop, the titular Cap Rock serves as an imposing landmark, providing a photogenic backdrop for your hike.
Journeying along the well-marked path, you'll be treated to a landscape that harkens back to a bygone era – one reminiscent of the prehistoric town of Bedrock from the Flintstones series. "Yabba-dabba-do!" as you immerse yourself in this captivating, rocky realm.
While the boulders are enticing and can provide an adventurous scramble, a word of caution is necessary. The traction on these formations is commendable, but if you decide to ascend, ensure you're donning footwear equipped with a good tread. The rocks, while providing ample grip, are akin to sandpaper and can easily abrade the skin. An adventurous ascent is rewarding, but safety should always be a priority.
Ideal Timing:
Joshua Tree's desert climate heavily influences the best times to visit. Ideally, consider planning your trip during the spring (March-May) or fall (October-November) months.
The oppressive heat during July and August is best avoided, while the winter period from December to February, although chilly, offers a serene, off-peak experience. Visits during June and September are manageable, but it's advisable to steer clear of midday excursions.
Additional Information:
Cap Rock Nature Trail is particularly suitable for families or those days when the heat might deter lengthier hikes. However, despite its brevity, the arid conditions necessitate carrying ample water to stay hydrated.
The trail also features restrooms at the trailhead for added convenience. Whether you're seeking a brief respite from a long day or a quick introduction to the park's geological wonders, Cap Rock Nature Trail is a delightful choice.
Hall of Horrors
Distance: 0.6 miles for the loop only. Total distance can vary between 0.6 to 0.8 miles depending on the explorations.
Duration: 1 to 1.5 hours
Elevation Gain: 100 feet
Rating: Easy for the loop trail; moderate when adding the slot canyons.
Highlight: Thrilling slot canyons amidst giant boulder stacks.
Overview:
The Hall of Horrors offers one of the most unique and captivating experiences in Joshua Tree National Park. Although termed a 'hall,' it's essentially a mesmerizing slot canyon nestled amidst the colossal boulders of the Hall of Horrors area. Its prime attraction lies in the challenging rock scrambles and the hunt to find the slot canyon itself.
The region boasts not just of its slot canyons but also a splendid loop trail. Along the path, hikers are treated to views of the iconic Joshua trees and vast sandstone boulders. Whether you're a rock-climbing enthusiast or just looking for a pleasant hike, the Hall of Horrors promises something for everyone.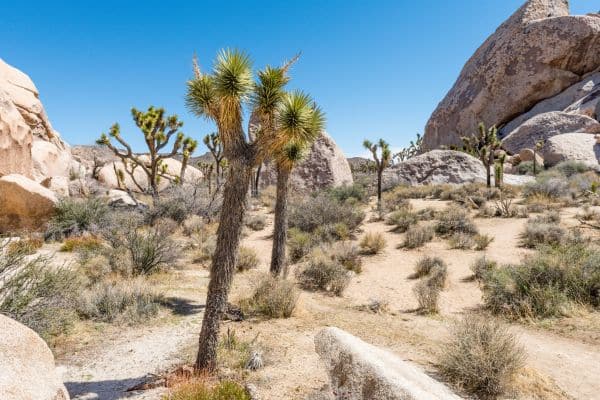 Getting There:
The starting point is the Hall of Horrors parking area located on Park Boulevard. Noteworthy is that there are vault toilets available at this parking lot. The proximity of the Hall of Horrors area to popular rock climbing routes means you'll occasionally spot signs guiding climbers.
Trail Insights:
Upon commencing the hike, three monumental boulder clusters will greet you. The trail weaves through these formations, presenting varying views and landscapes.
Even without venturing into the rock scrambles or slot canyons, this loop itself is a reward, taking roughly 30 minutes to complete.
For the more adventurous souls, there's the option to explore the slot canyons, which would add about 30 minutes to the hike. The real allure lies in finding the Hall of Horrors slot canyon, and this guide aims to aid in that quest.
From the parking area, direct your steps towards the prominent boulder cluster right in front of you. Venturing clockwise around this formation will lead to another boulder group where the Hall of Horrors slot canyon is hidden.
The southwestern corner of this second cluster is the entry point, requiring a bit of rock scrambling. On mastering this climb, two adjacent slot canyon entrances become evident.
Slot Canyons Details:
There are two parallel slot canyons here. The right one is broad and sandy but demands a scramble over a large boulder for access. The left one, while easy to enter, presents a narrow path, at points only about 6 inches wide, posing a challenge even for seasoned hikers.
Once you navigate the second slot canyon, it opens up to an expansive clearing hemmed in by towering boulders. Here, you have options to climb for a vantage point or explore further.
After your explorations, you can either retrace your steps or continue wandering in the Hall of Horrors area. Whichever path you choose, the memories of this thrilling hike will linger long after.
Hidden Valley Nature Trail
Distance: 1 mile (loop)
Elevation Change: 75 feet
Duration: Approx. 30 minutes
Location: Joshua Tree National Park, CA
Accessibility: Hikers only
Fees: National Park Entrance Fee
Overview:
Hidden Valley Nature Trail provides a picturesque introduction to the unique plant and wildlife of Joshua Tree National Park. Surrounded by imposing boulders, this one-mile loop encircles a quaint valley, showcasing the park's signature rocky terrains and serving as a fantastic playground for climbing enthusiasts.
Trail Description:
Begin your journey from the designated parking area, and venture into Hidden Valley through a pathway that meanders between rock walls. As you navigate the rocks encircling the valley, you'll find yourself on the sandy desert floor.
Here, you'll be greeted with a T-junction that marks the start of the loop. The beauty of Hidden Valley is that there's no right or wrong direction – simply pick one and embark on your exploration.
The trail, though mostly flat, spans across hard-packed sand, with occasional forays into the valley's intriguing rock formations.
As you traverse the path, informative signs peppered along the nature walk will help you identify the various plants and animals indigenous to the park.
Climbing and Bouldering:
Beyond the trail, Hidden Valley has more delights in store. For those with an adventurous spirit, the towering rocks beckon with the promise of climbing fun. While certain sections of the valley are steep and challenging, many of the walls are ideal for bouldering. So, whenever the urge strikes, indulge in some scrambling, soak in panoramic views from elevated vantage points, and then find your way back to the loop.
Amenities:
Post-hike, you can unwind in the picnic area adjacent to the parking lot. Shielded by tall rocks, this space offers a respite from the mid-day sun, making it perfect for a relaxing meal amidst nature.
For those keen on extending their stay, the nearby Hidden Valley Campground offers 39 sites, making it a favorite among climbers eager to tackle the surrounding rock formations.
Directions:
To reach the trailhead, head south from Park Boulevard and turn into the parking area earmarked for the Hidden Valley picnic spot, campground, and trailhead.
This spot is conveniently located just 1.7 miles northeast from the junction with Keys View Road.
Skull Rock Nature Trail
Distance: 1.7 miles (loop)
Location: Joshua Tree National Park, bisected by Park Boulevard
Duration: Approximately 40 minutes (though extended exploration is recommended)
Trail Features: Steep gullies, towering rockpiles, Skull Rock, interpretive signs, and panoramic views of the park.
Trail Overview:
The Skull Rock Nature Trail is a remarkable trail that meanders through one of the most iconic regions of Joshua Tree National Park. While many are drawn primarily by the eerie Skull Rock, the trail itself presents an array of attractions that warrant a closer look.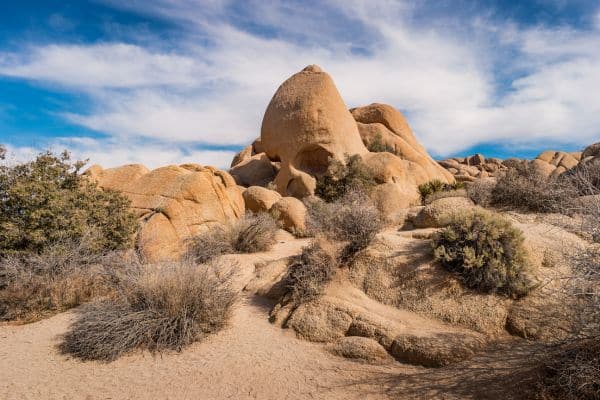 Starting Point:
Though the trail can be accessed both from Jumbo Rocks Campground and near Skull Rock on Park Boulevard, it is suggested to begin your journey from the trailhead just opposite site 93 in Jumbo Rocks Campground. This way, you avoid the typical traffic and crowd that throng the more famous Skull Rock.
What to Expect:
You can complete the loop within 40 minutes, but it would be wise to allocate more time for this hike. The trail offers a plethora of sights and experiences, from the informative interpretive signs that shed light on the local flora and fauna to the tantalizingly twisted gullies and magnificent rock piles that beckon you for a closer exploration.
Skull Rock, with its peculiar sockets formed from the collection of rain in depressions, remains a standout feature of this trail. However, focusing only on it would do injustice to the myriad other wonders of this path.
The trail is a testament to the splendid biodiversity and varied geological formations of the region. As you move ahead, you transition from tight corners and gullies to elevated vantage points, delivering breathtaking, expansive views of Joshua Tree National Park's heart.
While a major chunk of the trail remains wide and easy to navigate, certain portions to the north of Park Boulevard might require a tad bit of dexterity.
The trail experiences slight elevation changes but remains quite accessible to hikers of varying proficiency levels, making it suitable for families with children.
Wildlife Sightings:
One of the underrated aspects of the Skull Rock Nature Trail is the possibility of encountering the diverse wildlife that calls this part of Joshua Tree home.
Keep your eyes peeled for desert creatures such as the agile chuckwallas or the elusive bighorn sheep. Birds, particularly hawks, are known to soar overhead, giving birdwatchers ample opportunities.
As always, it's essential to keep a respectful distance from all wildlife and never feed or try to interact with them. These moments of connecting with nature add to the unique charm of the trail and enhance your overall experience.
Mastodon Peak Loop Trail
Distance: 2.6 miles (loop)
Elevation change: 440 feet
Hiking time: Approx. 1 hour 15 minutes
Location: Joshua Tree National Park, CA
Trail Description:
Mastodon Peak Loop Trail unveils panoramic vistas of southeastern Joshua Tree, lying in the Colorado Desert and devoid of the signature Joshua trees.
However, it compensates with a beautiful desert landscape, especially vibrant with wildflowers in the spring. The loop stretches 2.6 miles and requires an ascent of 440 feet to reach Mastodon Peak.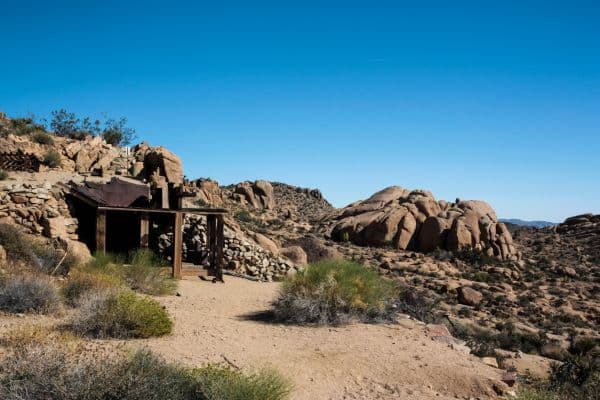 For the most straightforward experience, opt to navigate the loop counter-clockwise. Begin at the Lost Palms Oasis Trail from Cottonwood Spring, and at every junction you encounter, choose the left path.
Initially, the route leads you downhill into Cottonwood Springs Oasis. Traverse through the spring-fed palms, and head upward on the opposite bank, aiming for Lost Palms Oasis. As you proceed, you'll pass yucca and ocotillo while following a hard-packed trail.
Approximately 0.7 miles in, a left turn at the first junction, following signage, directs you towards Mastodon Peak. Over the next quarter mile, you'll ascend 165 feet. At the base of Mastodon Peak, briefly diverge from the loop to climb up to the summit, a mere tenth of a mile away.
This climb might test your navigation skills, as the route can be a bit elusive. Prepare for some light scrambling. Your efforts are rewarded with stunning, panoramic views, including the Salton Sea to the south and Eagle Mountain in the east.
Continuing on the loop, you'll come across remnants of the Mastodon Mine, which was operational until 1971. The trail then veers westward towards Cottonwood Spring, crossing a series of desert washes. This section is more easily navigated in the suggested direction.
The trail then reaches a junction about a mile from the peak. If you're camped at Cottonwood Spring Campground, a 0.2-mile path leads straight to your campsite. For others, a left turn will guide you back to the trailhead, a 0.4-mile sandy track running parallel to the paved road.
Notable Sights:
Mastodon Peak: A low summit that provides expansive views.
Mastodon Mine: Historic mining remains.
Desert Washes: Sandy areas that are easier to hike downhill.
Wildlife Sightings:
On this trail, one might be fortunate enough to spot the Desert Tortuous, among other local wildlife.
Getting to the Trailhead:
From the 10 Freeway, take exit 168 and drive north on Cottonwood Spring Road for 7 miles. Before reaching the Cottonwood Visitor Center, turn right and proceed for 1 more mile until you find the trailhead.
Alternatively, within the park, take Park Blvd to Pinto Basin Road. Follow this for thirty miles to Cottonwood Visitor Center, make an eastward turn, and continue for a mile until you reach the trailhead.
Fortynine Palms Oasis Trail
Distance: 3 miles (out and back)
Elevation change: 350 feet
Hiking time: Approx. 1 hour 30 minutes
Location: Twentynine Palms, CA
Trail Description:
The Fortynine Palms Oasis Trail offers a delightful journey to a secluded palm oasis situated at the northern end of Joshua Tree National Park. This 3-mile round trip trail, with an elevation change of 350 feet, traverses diverse desert landscapes and offers sweeping views, ultimately leading to a cluster of palm trees surrounding a rare spring.
Distinct from the main road (Park Boulevard) through Joshua Tree, this trail is a bit off the beaten path, ensuring fewer crowds. Accessible via a separate road and without a ranger station, it's a bonus for visitors seeking an entrance-free hike in the national park.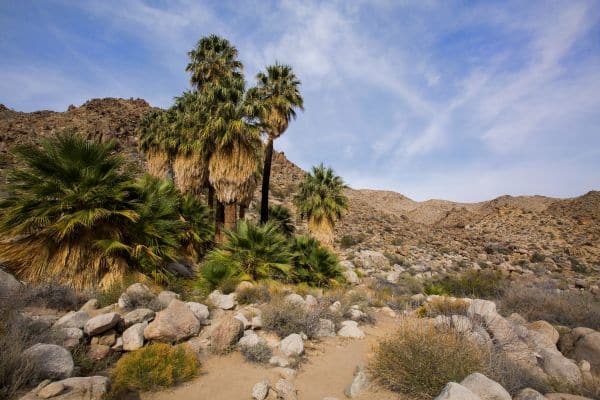 Starting uphill, the well-maintained single track enhances your vista of the encompassing desert with each step. The trail is adorned with Red Barrel cacti. Midway, it descends toward the oasis, presenting majestic views across the Fortynine Palms Canyon.
As you proceed, the sight of palm trees emerging in the midst of the desert landscape is surreal. Historically, these trees were planted by miners to denote the spring that now feeds them.
The journey concludes at the Fortynine Palms Oasis, where fan palms stand tall amidst boulders. Here, you can relax by small water pools, shaded by palms, and imagine a time when desert wanderers desperately sought such life-saving springs.
Suggestion:
Consider packing a picnic to enjoy at the oasis, indulging in the serenity and bird songs. Though devoid of the iconic Joshua trees, this 3-mile hike is a gem. No permits are required, so make the most of this free trail.
For those seeking a lengthier trek to another palm oasis in Joshua Tree National Park, the Lost Palms Oasis on the park's east side is a great alternative.
Getting to the Trailhead:
From within the park, take the north exit and turn left onto Route 62. Drive for 5 miles through Twentynine Palms and make a southward turn onto Canyon Road. After 1.7 miles, you'll reach the trailhead parking lot.
Trailhead address: Fortynine Palms Canyon Road, Joshua Tree National Park, Twentynine Palms, CA 92277
Trailhead coordinates: 34.1193, -116.1120 (34° 07′ 09.5″N 116° 06′ 43.2″W)
Wildlife Sightings: Venturing along the Fortynine Palms Oasis Trail, hikers might be fortunate to witness a variety of desert wildlife:
Birds: The oasis attracts numerous bird species with its unique water source amidst the arid surroundings. Listen closely for their melodic chirping.
Reptiles: Given the desert landscape, it's common to encounter lizards sunning themselves on rocks.
Mammals: While more elusive, creatures like desert cottontail rabbits might be spotted during the cooler parts of the day.
Stay aware and respectful, ensuring a safe distance from wildlife, and relish the opportunity to observe these desert inhabitants in their natural habitat.
Warren Peak Trail
Distance: 5.5 miles (out and back)
Elevation change: 1000 feet
Hiking time: Approx. 3 hours
Location: Yucca Valley, CA
Open to: Hikers
Fees & Permits: National Park Entrance Fee
Trail Description:
Embark on an incredible journey to Warren Peak, a distinguished elevation located on the western boundary of the Little San Bernardino Mountains within Joshua Tree National Park. This somewhat secluded trail promises hikers a peaceful escape with breathtaking panoramic vistas.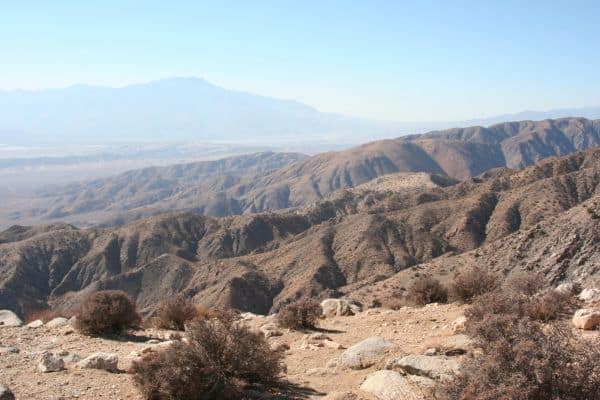 Starting from Black Rock Campground, the only spot in the park enveloped by Joshua trees, the trail showcases these iconic trees in abundance. As you ascend, the trail introduces you to Pinyon pines and vast, panoramic views.
Navigation:
Your journey begins at the inviting campground visitor center. From there, make your way to the nearby trailhead positioned next to campsite 30. A short 0.2-mile walk will lead you to a distinctive water tank. At this landmark, meander left and then quickly shift your path to the right, plunging into a single-track trail.
The trail lays out before you, unraveling through the undulating desert landscape. After about 0.4 miles, be prepared to drift right, directing yourself into the heart of Black Rock Canyon wash. Here, the terrain takes a sandy guise, and each step feels a bit more labored than the last.
As you persevere another 0.8 miles, the delicate Black Rock Spring emerges. Beyond this, a mere 0.2-mile trek ushers you to a fork in your path. While the Panorama Loop beckons to the left, keep a vigilant eye for the signs emblazoned with WP for Warren Peak and follow them to the right.
Your journey unfolds with another split in the trail about 0.4 miles later where the Panorama Loop finds its way back. Yet again, steer your adventure to the right. Not long after, a notable Y-junction presents itself, with markers indicating WV-WP.
Though the temptation might be there to head towards Warren View on the left, your prize, Warren Peak, awaits just 0.4 miles and an elevation of 400 feet to the right.
This segment of your journey demands both grit and anticipation. A challenging ascent awaits, navigating you through the rugged ridge, all the way to the zenith – the illustrious Warren Peak.
Standing atop, the world unfurls beneath, presenting captivating views spanning from the northern Mojave Desert to the southern Coachella Valley.
To your sides, majestic peaks like Mount San Jacinto and Mount San Gorgonio stand tall, while the east teases with sights of Eureka Peak and its neighboring summits in the Little San Bernardino Mountains.
After indulging in the tranquil beauty and vast panoramas from Warren Peak, it's time to make your descent. The path back holds a few surprises; notably, a signpost at the wash-junction will guide you towards the West Side Loop (Upper Campground).
Here, take a left. With this turn, the trail becomes more familiar, ushering you gently downhill and marking the end of your memorable trek.
Directions to Trailhead:
From Yucca Valley on Route 62, head south on Joshua Lane. After 4.6 miles, make a right onto San Marino Drive, which soon curves into Black Rock Road. Navigate this rugged road for about a mile to reach Black Rock Campground. Parking is available at the visitor center, with the trailhead conveniently located beside campsite 30.
Tip: Warren Peak is less frequented by tourists, making it an ideal choice for those looking for solitude and unmatched beauty. Always remember to carry ample water, wear sunscreen, and inform someone of your hiking plans for safety.
Planning Your Hikes in Joshua Tree National Park
Joshua Tree National Park is a hiker's paradise, but there are several considerations to keep in mind before embarking on your journey. To ensure a safe and enjoyable experience, we've addressed some commonly asked questions:
Do I need a permit to backpack in Joshua Tree?
Yes, if you plan to backpack and camp overnight in the backcountry of Joshua Tree National Park, you need a free backcountry permit. While there's no fee, permits are essential for the park's management to ensure safety and monitor visitor numbers.
How safe is hiking in Joshua Tree?
Hiking in Joshua Tree is generally safe, but precautions are necessary. The desert environment can be harsh, with extreme temperatures and rugged terrain. Always carry sufficient water, inform someone about your hiking plans, and avoid hiking during the hottest parts of the day in summer months.
Where should I stay for hiking in Joshua Tree?
For those looking to hike in Joshua Tree, consider staying in nearby towns like Twentynine Palms or Joshua Tree Village. Both have a range of accommodations from hotels to vacation rentals. Alternatively, the park has several campgrounds for a more immersive experience.
Where and when to camp in Joshua Tree?
The best times to camp in Joshua Tree are during spring and fall when temperatures are moderate. The park has nine campgrounds, and availability varies seasonally. Reservations are recommended during peak seasons, while some sites are first-come, first-served.
Can you go wild camping in Joshua Tree?
No, wild camping or dispersed camping outside of designated campgrounds is not allowed in Joshua Tree National Park. For backcountry camping, you must be one mile from any road and 500 feet from any trail or water source.
Can you have a campfire in Joshua Tree?
Yes, but with restrictions. Campfires are permitted only in designated fire rings and grills provided in park campgrounds and picnic areas. Collecting wood or plants for fires within the park is prohibited. Always check for current fire regulations.
Check conditions before you backpack.
Absolutely! Before setting out, check the park's official website or contact the visitor center for current trail conditions, weather forecasts, and potential alerts. This helps you prepare and ensures your safety.
Should I hire a hiking guide in Joshua Tree?
While many trails in Joshua Tree are well-marked, hiring a guide can enhance the experience. A knowledgeable guide can provide insights about the park's ecology, history, and hidden gems that you might otherwise miss.
Do I need hiking boots for Joshua Tree?
While some trails can be done in sturdy walking shoes, hiking boots are recommended for better grip, ankle support, and protection against sharp rocks and desert plants.
What other clothes and gear do I need?
Layered clothing is advisable due to temperature fluctuations. Sun protection – hats, sunglasses, sunscreen – is essential. Also, carry a map, compass, plenty of water, snacks, and a first-aid kit.
Can I hike with my dog in Joshua Tree?
Dogs are allowed in the park but are restricted to campgrounds and picnic areas. They must be on a leash no longer than six feet. For their safety and the protection of wildlife, dogs are not allowed on trails or in the backcountry.
Are there snakes in Joshua Tree?
Yes, Joshua Tree is home to several snake species, including rattlesnakes. Always be cautious and observant. If you encounter a snake, give it plenty of space and do not attempt to interact with it.
The Best Season to Hike in Joshua Tree National Park
Joshua Tree National Park, with its sprawling deserts and unique rock formations, offers a unique hiking experience that varies considerably with the seasons. Knowing the characteristics of each season can help hikers choose the best time for their adventure.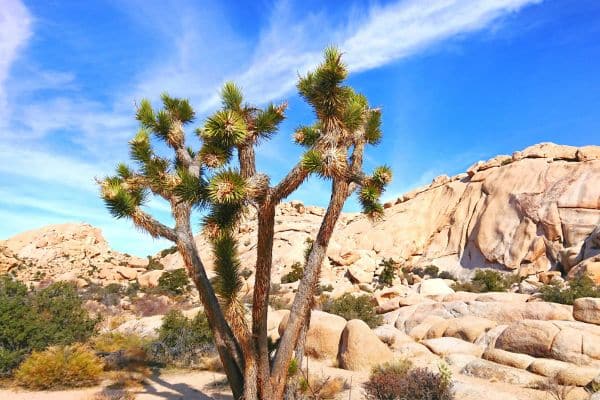 Spring
Springtime in Joshua Tree is quite popular among visitors, especially from late February to early April. This is when wildflowers bloom, painting the desert in vibrant colors.
Temperatures are mild, usually ranging from the mid-60s to low 80s Fahrenheit, making it comfortable for hiking. However, spring can also bring occasional gusty winds, so it's essential to be prepared.
Summer
The summer months, particularly from June to August, can be incredibly hot and challenging. Daytime temperatures frequently soar above 100°F, making hiking potentially dangerous due to the risk of heat exhaustion or heat stroke.
If you do choose to visit in the summer, it's crucial to start hikes early in the morning or later in the evening to avoid peak temperatures.
Fall
Fall, from September to November, brings a reprieve from the summer heat. Temperatures begin to moderate, especially in late October and November.
The cooler air combined with fewer visitors provides a serene hiking experience. The days are warm but comfortable, and the nights bring a crispness that's perfect for stargazing.
Winter
The winter months, December through February, can be unpredictable in Joshua Tree. Daytime temperatures are generally mild, ranging from the mid-50s to mid-60s, but nights can be cold, sometimes dropping below freezing.
Snowfall is rare but possible, particularly at higher elevations, giving the park a unique and beautiful appearance. However, some trails might be less accessible during snowy conditions.
Our Recommendation
While each season has its charm, we recommend Fall as the best time to hike in Joshua Tree National Park.
The pleasant temperatures, reduced crowds, and the beauty of the transitioning environment offer an unparalleled experience, making your hiking journey both memorable and comfortable.
Conclusion
Joshua Tree National Park, with its stark desert landscapes, unique Joshua trees, and imposing rock formations, offers an otherworldly hiking experience. As with any outdoor adventure, proper planning and preparation are crucial to fully enjoy what this park has to offer.
Whether you're intrigued by the blooming wildflowers of spring, the solitude of summer nights, or the crisp ambiance of fall, there's a season and a trail in Joshua Tree that's perfect for you.
Our comprehensive guide aims to equip you with essential knowledge, ensuring a safe, enjoyable, and unforgettable trek. As you lace up your boots and set out into the vastness of the park, remember to respect the land, its history, and its natural inhabitants. Happy hiking!