Feeling swamped with the sheer multitude of options for your Yellowstone camping adventure? Uncertain about which campground will provide the optimal Yellowstone experience?
This comprehensive guide is designed to clear up your uncertainties!
Yellowstone National Park is a treasure trove of experiences, from wandering the mesmerizing geyser basins to embarking on exhilarating waterfall hikes. Just like the plethora of activities, Yellowstone also offers a wealth of choices for accommodations.
Opting to camp in Yellowstone not only makes for a budget-friendly trip but also immerses you deeply in the stunning natural landscapes of the park.
In this blog post, we'll guide you through the 12 top-notch campgrounds in Yellowstone National Park.
We'll also provide handy tips on making campground reservations, choosing the best time to camp in Yellowstone, and essential details you need to know prior to your journey. Get ready for an unforgettable outdoor adventure!
Why is Yellowstone hailed as a dream camping destination? 
Let's delve right in and unveil the secrets of this mesmerizing park!
Yellowstone, the world's first national park, is a kaleidoscope of natural wonders. It bursts with rich biodiversity. Each nook and cranny of the park buzzes with life – from grizzlies lumbering in the woods, herds of bison grazing the vast valleys, to eagles soaring high against the azure skies. Akin to stepping into a nature documentary, camping here offers you a front-row seat to an unscripted wilderness drama!
But it doesn't stop there. Yellowstone's geysers, its prime jewel, are truly a spectacle to behold. Imagine waking up to the sight of Old Faithful spouting steaming hot water into the cool morning air. There's nothing quite like it!
This is a land of stunning landscapes that shift with every turn. From sweeping prairies, looming mountains, to azure lakes reflecting the endless skies, Yellowstone offers picture-postcard views at every corner. It's a scenic delight that tantalizes your senses and leaves you yearning for more.
Now, let's take a moment to appreciate the park's storied history. Established in 1872, Yellowstone is the proud patriarch of all national parks globally. It's the birthplace of the very concept of a 'national park,' a testament to our collective will to preserve nature's priceless gifts. Unraveling the park's history is like embarking on a thrilling time-travel adventure, offering a rich, layered perspective that deepens your connection to this extraordinary wilderness.
In a nutshell, Yellowstone is not just a place but an experience, an emotion that resonates within your soul. Camping here is about immersing yourself in the park's remarkable narrative, one that is written by nature itself. So, are you ready to be a part of Yellowstone's enchanting story?
Preparedness for Camping in Yellowstone
While Yellowstone welcomes you with open arms, it's crucial to arrive prepared. Adventuring in the wilderness is a thrilling experience, but it also demands respect and awareness of the landscape and its inhabitants.
In the heart of nature, preparation is your most valuable asset. By planning and packing wisely, you're not just setting the stage for a comfortable camping trip, but you're also making a pledge – a commitment to uphold the sanctity of this pristine wilderness. Remember, we're just guests in this magnificent natural home, and it's our duty to leave it as we found it, if not better.
When it comes to camping necessities, a trusty tent tops the list. Weather in Yellowstone can be unpredictable, and a good tent offers shelter against the elements. A sturdy pair of hiking boots, layered clothing, a reliable map and compass, adequate water and food supplies, a first-aid kit, and bear-resistant food containers are other essentials that should find a place in your camping gear.
Safety, of course, is paramount. Familiarize yourself with safety guidelines – know how to respond in case of wildlife encounters, always stick to the designated trails, and be aware of weather changes. And of course, the cardinal rule of camping: never leave a fire unattended.
In essence, preparation is key to not just surviving, but truly thriving in the Yellowstone wilderness. It fosters a harmonious relationship with nature, ensuring we can continue to enjoy these beautiful landscapes for generations to come. So, gear up, stay informed, and let the adventures begin!
Our 12 Best Camping Spots in Yellowstone
Roll up your sleeping bags, fasten your backpacks, and put on your adventure caps, as we embark on a thrilling journey through the 12 best camping spots in Yellowstone National Park. Whether you're an avid camper or a first-timer, these spots offer experiences that transcend the ordinary. Ready to unearth these hidden gems? Let's dive in!
Slough Creek Campground is the perfect hideaway for those seeking an escape from the crowds and a ticket to the heart of Lamar Valley. Managed by the National Park Service, this idyllic retreat is among the few reservable campgrounds, providing a guarantee for your adventure plans.
Slough Creek isn't your average campground; it's a haven where nature's raw beauty takes the front seat. Tucked away from the road, its remoteness promises an unrivaled tranquil mountain getaway. Here, the night comes alive under a spectacular blanket of stars, making stargazing an unforgettable experience.
The campground offers 16 well-spaced sites, each equipped with a picnic table and fire pit to make your camping experience comfortable. Although there are no hookups, you'll have access to drinking water and vault toilets. Showers and a dump station are not available.
Accessing this hidden gem requires a bit of an adventurous spirit. The journey, especially for larger RVs, can be a tad challenging, as the campground lies at the end of a two-mile dirt road. This makes it an ideal spot for tent campers and those with Class B RVs, offering a unique camping experience cloaked in solitude.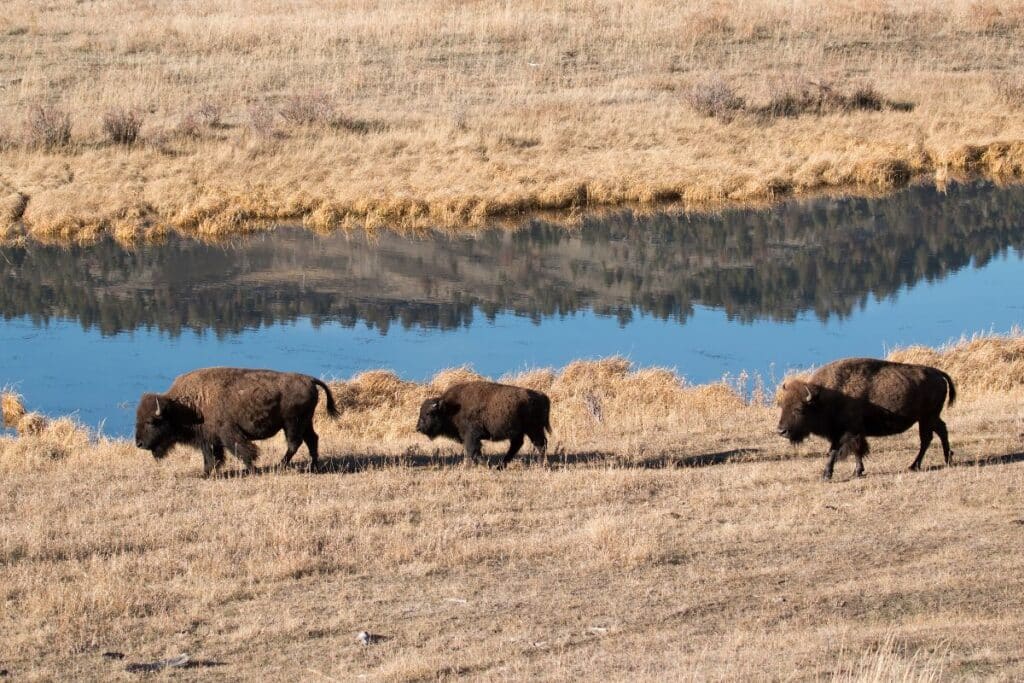 Despite its seclusion, the Slough Creek Campground isn't devoid of natural attractions. The Lamar Valley and Slough Creek Trail are in close proximity, offering a rich tapestry of scenic views and wildlife encounters. Here, you're more than likely to spot magnificent creatures such as bison and elk gracing the landscape.
Slough Creek is not just a campground but a front-row seat to nature's spectacular theater. Whether it's the bison majestically roaming the landscape or the elk making their stately appearances, every moment here is a brush with the wild.
Settle into the lap of nature at Slough Creek Campground, where the songs of wilderness play an uninterrupted melody, and every moment is an adventure waiting to unfold.
Pebble Creek Campground: A Serene Wilderness Retreat
Pebble Creek Campground, managed by the National Park Service, is your ticket to an enchanting journey into the heart of Yellowstone. This sanctuary, balancing both reserved and first-come, first-served sites, is the ideal choice for those seeking to witness the primal dance of Lamar Valley's wildlife from a peaceful, secluded basecamp.
Distanced from the hustle and bustle of Yellowstone's main attractions, Pebble Creek is a hidden treasure. Here, the tranquil soundtrack of nature is only interrupted by wolves' hauntingly beautiful serenades and the mesmerizing lullaby of the babbling creek. This slow-paced, quiet haven, nestled near the Northeast Entrance, is where wilderness whispers and adventure calls.
The campground comprises 27 rustic, unspoiled sites, perfect for tent campers and those traveling in smaller Class B vans. While hookups are missing, basic comforts like picnic tables, fire pits, potable water, and vault toilets are present to cater to your wilderness needs.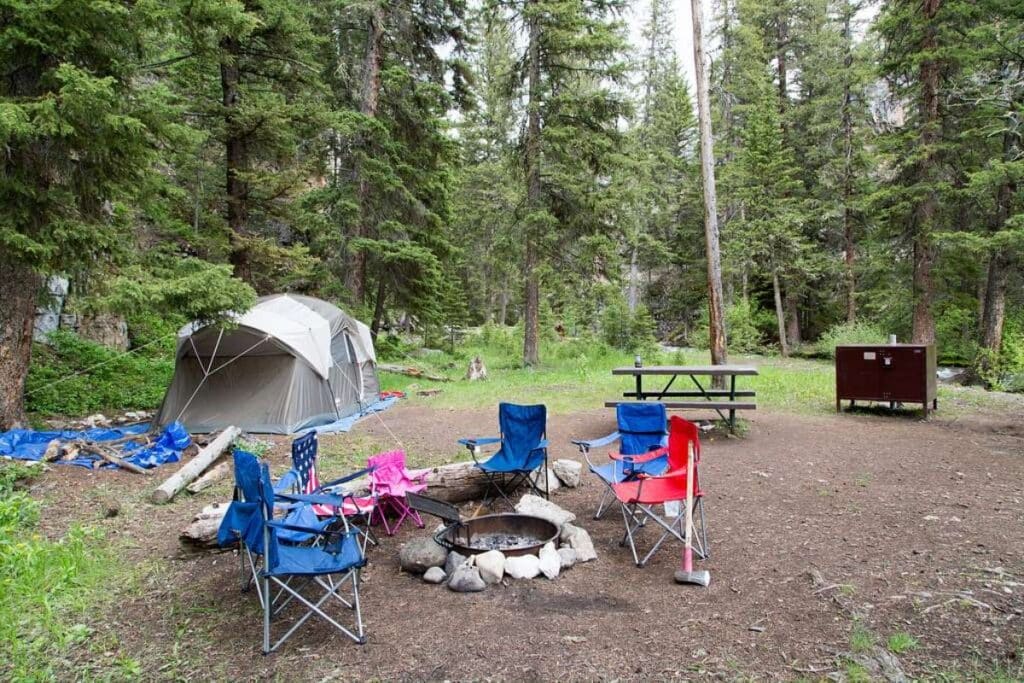 Pebble Creek's unique location is a boon for wildlife enthusiasts, but it's a bit removed from Yellowstone's main buzz. Thus, it promises a stay enriched by serenity and graced by nature's untouched beauty.
The spellbinding Lamar Valley and the angler's paradise, Soda Butte Creek, are just a stone's throw away. For hiking enthusiasts, the Pebble Creek Trail is a must, offering a captivating exploration through undulating landscapes, canopied forests, and tranquil meadows, accompanied by the chorus of local birdlife.
Let the primal call of the wild at Pebble Creek Campground beckon you. Here, in the hallowed silence, every rustle whispers a tale, every distant howl narrates an age-old saga, and every dawn brings forth an exciting new adventure. Pebble Creek doesn't just offer a campground; it provides a wild, enchanting symphony, a vivid canvas where nature paints its most inspiring masterpieces. Experience it, live it, love it!
Tower Fall Campground: The Thrill-Seeker's Basecamp
Conveniently located along the Grand Loop Road, near the Tower-Roosevelt junction, Tower Fall Campground offers an irresistible blend of accessibility and untamed wilderness. Managed by the National Park Service, it boasts a first-come, first-served policy, and with 31 sites on offer, it's a favorite among tent campers craving proximity to Yellowstone's main attractions.
Unlike the more remote campgrounds in the Lamar Valley, Tower Fall strikes a balance between primitive charm and accessibility. It is the ideal basecamp for those wishing to explore the nearby Lamar Valley or ascend the heights of Dunraven Pass.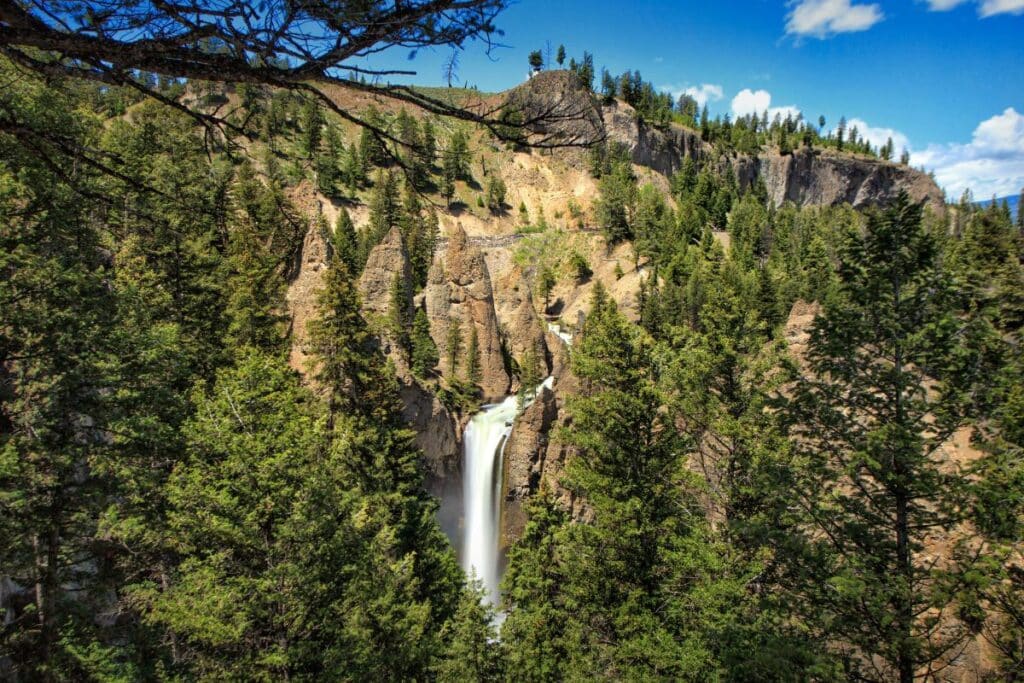 The campground is well-suited for tent campers and Class B RVs, with a size limitation of 30 feet. Each site is furnished with a fire pit and picnic table, ensuring your camping experience is cozy and convenient. In addition, drinking water and vault toilets are readily available, ensuring basic comforts in this rugged landscape.
Beyond the confines of the campground, adventure beckons. The thrilling horseback rides at Roosevelt Lodge, the stunning vistas from Mount Washburn, and the engaging wildlife along the Blacktail Plateau Drive are just a short journey away. And of course, the enchanting Tower Fall is a sight you won't want to miss!
Adventure is always around the corner at Tower Fall Campground. With the impressive Lamar Valley and the mesmerizing Grand Canyon of Yellowstone just a half-hour drive away, expect your days to be filled with thrilling wildlife encounters and breathtaking natural beauty. At Tower Fall, every dawn brings a new exploration, and every dusk narrates a new tale. Will you answer the call?
Mammoth Campground: The Year-Round Yellowstone Haven
Mammoth Campground is Yellowstone's only campground open throughout the year, offering an inviting blend of accessibility, abundant wildlife, and close proximity to the park's northern entrance. Managed by the National Park Service, Mammoth Campground's 85 sites become a bustling hub of activity during the summer season, while winter brings a tranquil charm only a handful of explorers get to experience.
Nestled amidst a landscape that thrives in every season, Mammoth Campground's lower elevation makes it a winter haven. The campground is an excellent spot for wildlife enthusiasts, offering unforgettable encounters with elk and bison, especially during the fall elk rut.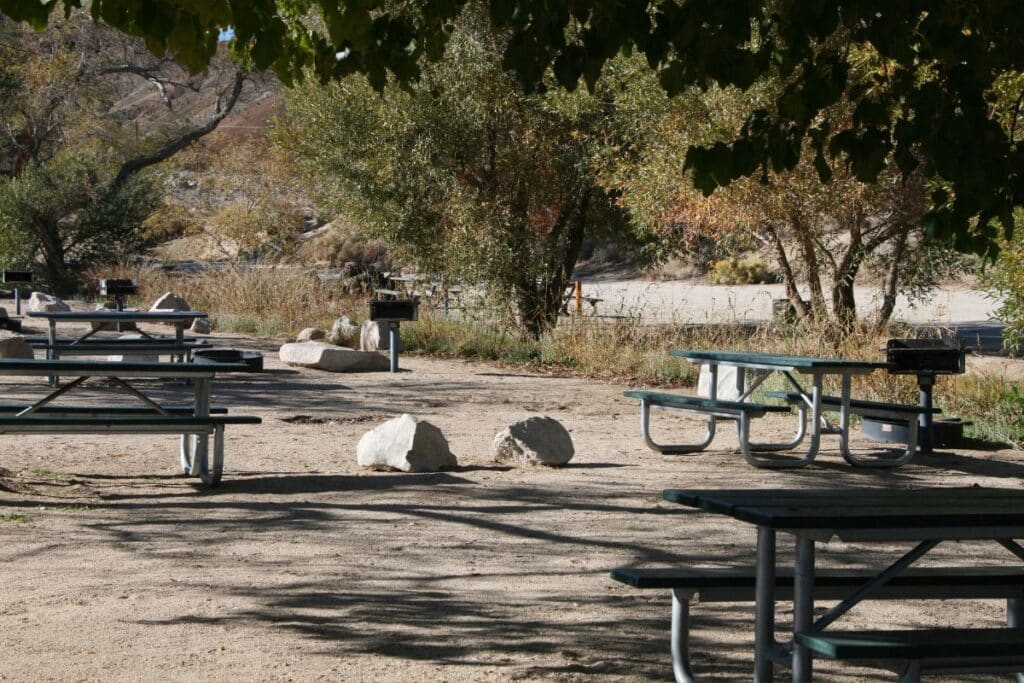 Campsites at Mammoth Campground can accommodate everything from a humble tent to a majestic 40-foot RV, with some limitations during winter. Each site features a fire pit and picnic table, and all campers have access to flush toilets and drinking water.
From exploring the captivating Mammoth Hot Springs and Albright Visitor Center to relaxing in the soothing waters of Boiling River, there's no shortage of adventure within a stone's throw of your campsite. And when the hunger strikes after a day of exploration, a selection of restaurants in Mammoth are just a short walk away.
Whether it's the thrill of witnessing an elk rut in the fall or the surreal beauty of Yellowstone blanketed in snow, Mammoth Campground offers unparalleled opportunities for adventure all year round. With flexible reservation options accommodating both summer adventurers and winter wanderers, Mammoth Campground promises an unforgettable Yellowstone experience regardless of the season.
Norris Campground: Your Gateway to Geysers and Wildlife
Tucked within a comfortable walk from the largest geyser basin in Yellowstone, Norris Campground is a central hub offering convenient access to many park attractions. Managed by the National Park Service, this campground boasts 112 sites and is particularly famous for its bountiful wildlife and geothermal wonders.
Strategically located along the Grand Loop Road, Norris Campground is only a leisurely stroll away from the magnificent Norris Geyser Basin. It's also nestled near a large meadow, offering plenty of opportunities for close encounters with Yellowstone's fascinating wildlife, including majestic bison.
While limited in accommodating larger RVs (only 7 out of the 112 sites can host vehicles over 30 feet), Norris Campground offers a fire pit and picnic table at each site, ensuring a delightful outdoor dining experience. Additionally, campers will have access to drinking water and flush toilets.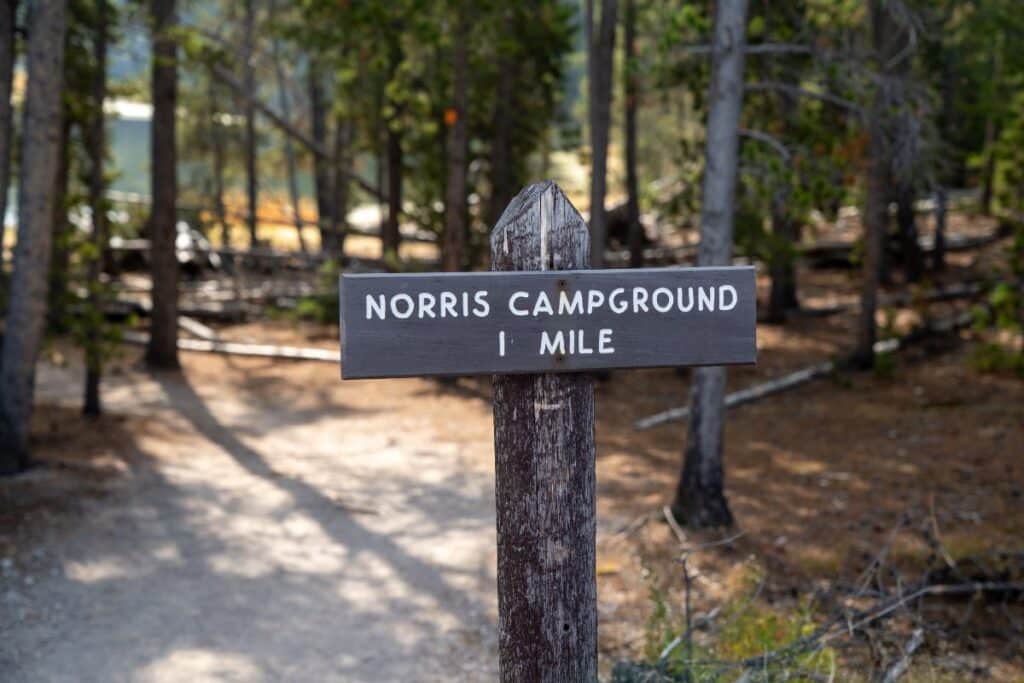 With proximity to attractions such as Artist's Paintpots, Gibbon Falls, and the Museum of the National Park Ranger, Norris Campground serves as an excellent base for exploring the heart of Yellowstone.
If witnessing geysers erupt or bison graze at their leisurely pace excites you, Norris Campground is the ideal spot for you. With the recent transition to a reservation-only system, planning your adventure has never been easier or more convenient. Get ready for unforgettable memories at Norris Campground – your gateway to geysers and wildlife.
Madison Campground: Central Hub for Fishing and Exploration
Situated halfway between West Yellowstone and Old Faithful, Madison Campground offers a strategic spot for explorers keen on immersing themselves in Yellowstone's abundant natural splendors. Managed by Yellowstone National Park Lodges, the campground is home to 278 sites, with 62 exclusively reserved for tents.
The proximity of Madison River renders the campground a coveted location for spotting bison and elk. Moreover, its riverside setting makes Madison a hot favorite among fishing enthusiasts.
Though the campsites at Madison Campground may feel a bit snug for large RVs, they can still comfortably accommodate vehicles up to 40 feet. Each site comes equipped with a fire pit and a picnic table. Access to flush toilets and drinking water adds to the conveniences offered. While shower facilities aren't available, campers can revel in the proximity of the campground to the refreshing Firehole River Swimming Area.
The campground is a stone's throw away from spectacular sights like the Grand Prismatic Spring and the Midway Geyser Basin. Additionally, its closeness to West Yellowstone presents plentiful dining options just a short drive away.
If you're an angler at heart or a wildlife enthusiast, Madison Campground's riverside location offers unparalleled opportunities for fly fishing and wildlife viewing. With an ideal location and outstanding natural charm, Madison Campground serves as your perfect gateway to Yellowstone's heart.
Grant Village Campground: An Idyllic Retreat with Outstanding Amenities
Ensconced within the lush lodgepole pine forest, Grant Village Campground emerges as the second-largest campground in Yellowstone, with a massive 430 sites to its name. Managed by Yellowstone National Park Lodges, it's the go-to destination for campers yearning for a well-rounded experience, blending access to top-notch amenities and proximity to both Yellowstone and Grand Teton.
Grant Village Campground's unique draw is its picturesque setting along Yellowstone Lake, inviting guests into a tranquil sanctuary. The campground's location in the park's southern region offers convenient access to several of Yellowstone's iconic attractions, including West Thumb Geyser Basin and Old Faithful.
The campground can comfortably accommodate everything from the humblest tent to a hefty 40-foot RV. Each site is equipped with a fire pit and picnic table, while campers also benefit from flush toilets, drinking water, and a dump station. As a delightful bonus, two free showers are included in the nightly rate!
The campground is nestled within Grant Village, affording campers easy access to a myriad of amenities, including restaurants, a gas station, stores, and a visitor center.
Immersed in nature, Grant Village Campground provides ample opportunities for wildlife spotting and outdoor exploration. Its lakeside location offers not only scenic beauty but also opens up exciting opportunities for fishing, hiking, and boating.
Bridge Bay Campground: A Lakeside Haven for Outdoor Enthusiasts
A jewel in Yellowstone's crown, Bridge Bay Campground is the largest campground in the park with a whopping 432 sites. Managed by Yellowstone National Park Lodges, it's situated along the magnificent Yellowstone Lake, neighboring the Fishing Bridge RV Park. Offering a cost-effective alternative to the latter, it's a perfect choice for those who don't require hookups but wish to stay close to the lake's aquatic adventures.
The campground's appeal lies in its superb lake views and the distant Absaroka Range, which are sure to leave you spellbound. Its proximity to Bridge Bay Marina makes it a favorite amongst avid anglers and boaters, offering unmatched accessibility to the lake's waters.
Each campsite at Bridge Bay is outfitted with a fire ring and a picnic table. Additionally, guests can avail themselves of flush toilets, a dump station, and drinking water.
A short few miles from the campground is Lake Village, a hub of amenities including restaurants, general stores, and shops. Moreover, guests can rent boats or opt for a guided tour from the neighboring marina, adding a touch of adventure to their stay.
Being near Yellowstone Lake, the campground offers excellent opportunities for water-based activities. The chance to spot a variety of wildlife, coupled with the awe-inspiring landscape, makes it a nature lover's dream come true.
Fishing Bridge RV Park: An RV Paradise with Full Amenities
Fishing Bridge RV Park stands out as the only campground in Yellowstone providing electrical, water, and sewer hookups, making it an RV camper's paradise. Managed by Yellowstone National Park Lodges, it houses 310 sites, offering reservations 13 months out. 
Due to frequent grizzly bear activity, this campground is exclusive to RV campers—sorry, no tents allowed. Fishing Bridge underwent a significant renovation in 2022, adding larger sites, additional parking, an updated dump station, and more shower and laundry facilities. This means enhanced comfort and convenience for campers!
Along with full hookups, campers have access to flush toilets and a dump station. Plus, guests can enjoy two complimentary showers included in the nightly campground rate, a nice perk after a day of exploring!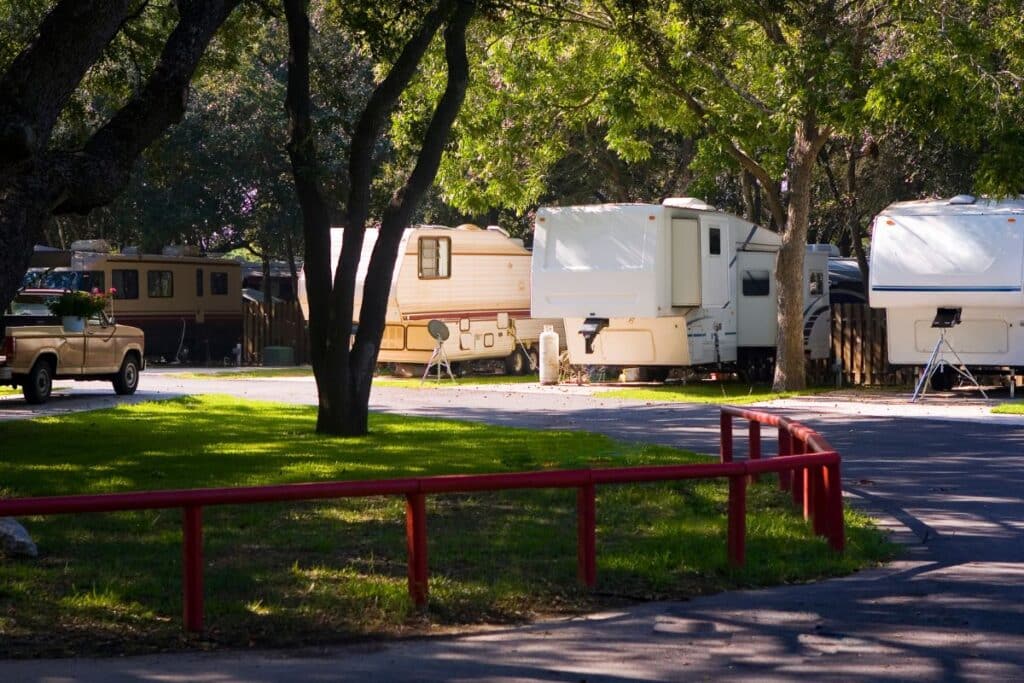 Just minutes away from the Lake Village and the iconic Lake Yellowstone Hotel, guests can find an array of restaurants and shops for a change of pace from the great outdoors. This proximity to amenities ensures you have everything you need at your fingertips.
Fishing Bridge RV Park is a nature lover's haven, set amidst the grandeur of Yellowstone Lake. The frequent grizzly bear sightings add a sense of thrill to the experience.
Canyon Campground: A Hiker's Haven in the Heart of Yellowstone
Nestled amidst a lodgepole pine forest, Canyon Campground offers a wonderfully secluded yet accessible camping experience. Managed by Yellowstone National Park Lodges, the campground houses 273 sites, welcoming tent campers as well as RVs up to 40 feet. 
The beauty of Canyon Campground is in its seclusion. Its placement within a lodgepole pine forest lends an intimate feel to the campsites, creating an atmosphere of solitude despite being one of Yellowstone's most popular campgrounds.
The campsites are outfitted with a fire pit and picnic table, and campers have easy access to drinking water and flush toilets. What's more, campers can enjoy two complimentary showers, included in their nightly campground rate. Despite its forested setting, the campground does not offer hookups.
Apart from its proximity to the Grand Canyon of the Yellowstone, campers can take a short walk to explore the amenities at Canyon Village, including stores, restaurants, and a visitor center. This unique combination of natural beauty and nearby conveniences makes Canyon Campground a coveted spot for many Yellowstone visitors.
Given its location near Hayden Valley, the campground is a fantastic spot for wildlife watching. It's also a dream come true for hikers, with several trails beginning nearby, leading campers to experience Yellowstone's wild and scenic landscapes firsthand.
Indian Creek Campground, Yellowstone National Park
Nestled on the Grand Loop Road between Mammoth and Norris, the Indian Creek Campground is the perfect retreat for tent campers seeking peace and tranquility away from the bustling crowd of Yellowstone's more popular spots. Its secluded location and the stunning vistas of the Gallatin Mountains and Electric Peak make it the ideal camping location.
Operating from June 9 to September 10, 2023, this National Park Service managed campground provides 70 cozy and picturesque sites, nestled amongst nature, with roughly half of the sites able to accommodate an RV of up to 30 feet.
Although more primitive compared to other Yellowstone campgrounds, it delivers an authentic and rustic camping experience. There are no hookups here and no showers or dump stations. The focus is on simplicity and being close to nature. Each site provides a fire pit and a picnic table for those quintessential camping moments, and more primitive vault toilets serve sanitation needs. Fresh drinking water is also readily available.
While Indian Creek Campground offers a remote retreat, it is only a short drive from the amenities offered in Mammoth Hot Springs Historic District. Not to mention, it's near attractions like the Norris Geyser Basin and Osprey Falls, ensuring that you have access to explore some of Yellowstone's marvels.
Lewis Lake Campground, Yellowstone National Park
Lewis Lake Campground is a serene, first-come, first-served campground stationed on the shores of the splendid Lewis Lake. Tucked away in the southernmost part of Yellowstone National Park, this campground offers an idyllic retreat for those desiring a base between Yellowstone and Grand Teton.
With an operating schedule from June 15 to October 14, 2023, this campground managed by the National Park Service boasts 85 sites. Nestled amidst the park's captivating natural beauty, these sites can comfortably host smaller RVs as well as provide a stunning spot for walk-in tent camping.
In tune with Yellowstone's rustic charm, Lewis Lake Campground is more primitive, presenting a genuinely authentic camping experience. There are no hookups or shower facilities here, but you'll find access to vault toilets. Fresh drinking water is readily available, ensuring campers are well-hydrated during their adventure. Each site also comes equipped with a fire pit and a picnic table to enjoy meals under the open sky.
The campground's unique feature is its boat ramp, inviting guests to paddle their canoes, launch their kayaks, or steer their motorboats on the glistening waters of Lewis Lake. Additionally, it's ideally located only 8 miles from the South Entrance, making it a superb option for explorers planning to divide their time between Yellowstone and Grand Teton National Park.
From Lewis Lake Campground, attractions like Yellowstone Lake, Grant Village, Lewis Falls, and West Thumb Geyser Basin are just a stone's throw away. In essence, Lewis Lake Campground is the quintessential campsite for those seeking a tranquil yet adventurous experience in Yellowstone. 
Enhancing the Yellowstone Camping Experience: A Practical Guide 
Seasonal Insights for Optimal Camping
Every season presents a unique way to experience the grandeur of Yellowstone. Summer, from June through August, is the peak camping season, boasting pleasant weather, accessibility to most areas, and abundant wildlife viewing. 
Fall (September to November) paints the park in stunning hues, with fewer crowds and a chance to witness the elk rutting season. 
Although winter camping requires more preparation due to snow and cold, it provides a serene, less crowded park experience. Plan your camping trip according to your preferred activities and comfort with varying weather conditions.
Wildlife Spotting, Fishing, Hiking, and More
Engage with Yellowstone's diverse ecosystem through wildlife spotting. Dawn and dusk are the best times to see animals like elk, bison, and possibly wolves or bears. Always maintain a safe distance. 
Fishing enthusiasts should explore Yellowstone's renowned streams and lakes, but remember to obtain a Yellowstone National Park fishing permit. 
Hiking trails abound, catering to all skill levels. Always stay on designated trails to preserve the park and your safety.
Understanding Park Rules and Sustainable Camping
Observing park rules enhances your experience and helps preserve Yellowstone for future generations. Keep your food secured to avoid attracting wildlife to your campsite.
 Follow the 'Leave No Trace' principles, including properly disposing of all waste and respecting wildlife. Campfires are permitted only in established fire rings. Remember, you are a guest in the park and your actions have an impact.
Yellowstone's splendor unfolds to those who approach it with preparedness, respect, and a sense of adventure. This guidance should help optimize your camping experience, offering unforgettable encounters with nature's raw beauty.
Conclusion 
A camping journey in Yellowstone National Park is truly a transformative experience. It immerses you in the heart of nature, offers opportunities to witness majestic wildlife, explore diverse landscapes, and connect with the untamed spirit of the great outdoors.
 Whether you're navigating the hiking trails, casting a line into pristine lakes, or simply soaking in the panoramic views, every moment in Yellowstone enriches your understanding and appreciation of the natural world. 
Remember, the key to enhancing your camping experience lies in respecting the park's rules, adapting to its seasons, and embracing the spirit of adventure that thrives within its borders.