Explore 12 iconic stops from Chicago to Yellowstone National Park with our detailed road trip itinerary. Dive into landscapes, towns, and unforgettable memories!
Setting out from Chicago and heading towards Yellowstone? The route ahead promises more than just the destination. 
Between the urban rhythms of Chicago and Yellowstone's wild expanses, a rich journey unfolds.
In Rockford, pause to find tranquility amidst green expanses. Journey through South Dakota and marvel at landscapes that shift from rolling hills to towering monuments. 
As you drive into Wyoming, anticipate the charm of towns where the spirit of the Wild West still lingers.
Our guide zeroes in on 12 standout stops, ensuring that every segment of your drive is dotted with moments to remember. 
Dive deep, drive safe, and let every mile be a memory. Your ultimate road trip is about to begin.
Planning Your Road Trip from Chicago to Yellowstone
The open road between Chicago and Yellowstone promises a journey rich in contrasting landscapes, vibrant cities, and iconic landmarks. 
To ensure this adventure runs smoothly, a little preparation goes a long way.
Selecting the Right Time:
Embarking on this expedition is all about timing. While summer offers longer days and warm weather, late spring and early fall are more accommodating. 
These periods usually sidestep Yellowstone's busiest moments, giving you a more intimate experience. And while Yellowstone is enchanting all year round, be aware that unexpected snowfall can occur even in June. 
It's always a good idea to check weather updates for both the park and the route you intend to take.
Packing For the Trip:
With a journey that stretches across different terrains and climates, packing can be a little tricky. Remember to include both warm and light clothing; while Chicago might be warm, Yellowstone's nights can be chilly.
Essential navigation tools, like updated maps or a GPS, will keep you on track. And since some stretches between stops are long and isolated, keeping an extra stash of snacks and water is advisable.
Preparing Your Vehicle:
Your vehicle is going to be your most constant companion on this trip. A comprehensive check is essential before you hit the road. 
This means looking over the basics like oil levels and tire conditions, but also ensuring things like brakes and lights are in optimal condition. 
It's not just about avoiding breakdowns, but ensuring every drive is a safe one.
Safety First:
While the open road calls for adventure, safety should never be compromised. Driving during daylight hours is recommended. 
Not only does this let you soak in the views, but it also avoids potential hazards, especially as you get closer to wildlife-rich areas like Yellowstone. 
In the vast stretches of road, ensure you're mindful of fuel levels, as gas stations can be few and far between.
Mapping Your Route:
Though there are multiple ways to approach Yellowstone, the I-90 W is among the most scenic. 
This route weaves through states, introducing you to landmarks like the haunting beauty of the Badlands and the grandeur of Mount Rushmore, before eventually leading you to the breathtaking landscapes of Yellowstone.
Considering a Rental:
If you're starting your journey without a car, Chicago offers plenty of rental options. One worthy of consideration is Discover Cars.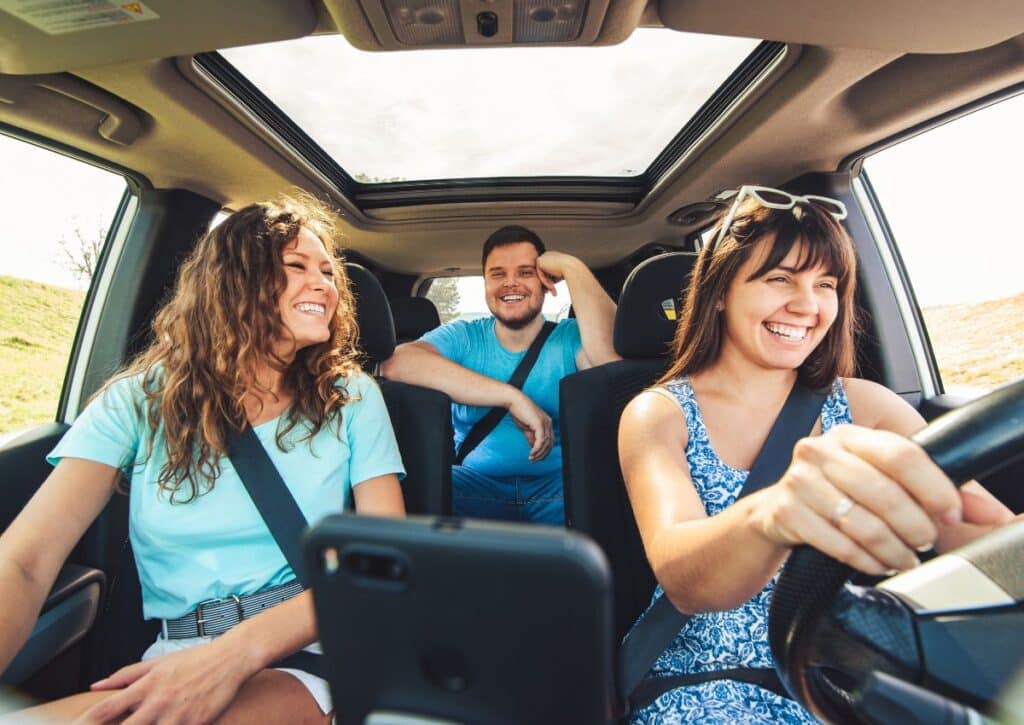 They have a diverse fleet, ensuring you can pick a vehicle that fits your road trip needs perfectly.
Recommended Road Trip Route: Chicago to Yellowstone
Embarking on a journey from Chicago to Yellowstone National Park, you're in for a treat as you pass through a myriad of landscapes, towns, and historical sites.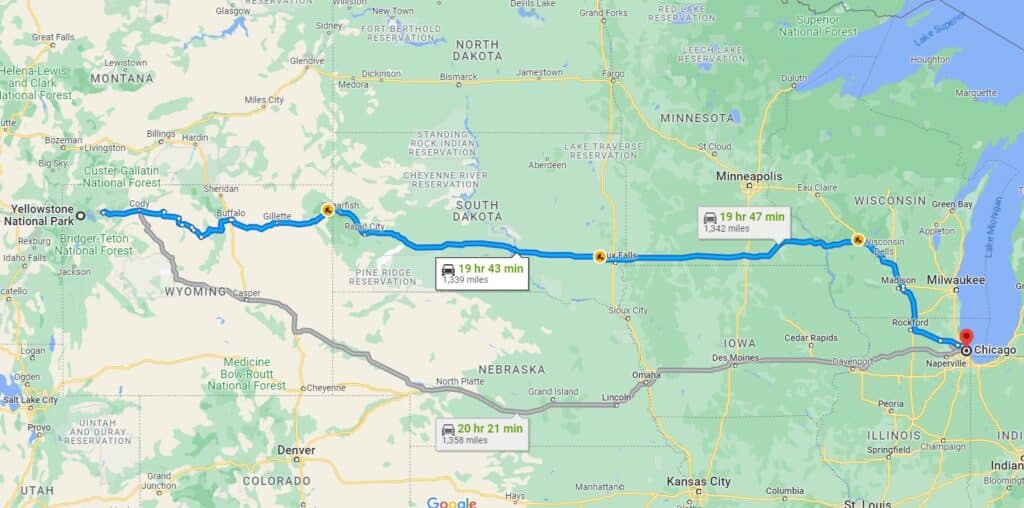 Setting out from the bustling heart of Chicago, take I-90 W which serves as your primary highway for a significant part of this adventure. This will soon lead you to the charming city of Rockford, IL, a short drive away and the perfect introduction to your road trip.
Continuing on I-90 W, you'll venture into Wisconsin and be welcomed by the scenic beauty of Madison.
The journey seamlessly flows from Madison to the riverside charm of La Crosse, WI, still on I-90 W. As you cross into South Dakota, the landscape subtly begins to shift, and soon you'll find yourself in the cityscape of Sioux Falls.
A little further west on I-90, and you'll discover the quirky town of Mitchell, SD, home to the iconic Corn Palace.
The highway then guides you to the rugged terrains of Badlands National Park.
Your connection with I-90 W continues as you roll into the cultural hub of Rapid City, SD, a city that thrums with history and modernity.
From Rapid City, a detour via US-16 W brings you closer to the majestic Mount Rushmore.
Once you've soaked in the grandeur of this iconic monument, head back to US-16 W, moving towards Deadwood, SD, a town deeply rooted in Wild West history.
Your next significant stop is Devil's Tower, WY, an imposing natural structure that stands tall against the Wyoming sky.
Heading out from Deadwood, take US-85 S which will merge into WY-24 W, guiding you directly to the base of Devil's Tower.
The journey from Devil's Tower to Cody, WY is especially scenic. Start on WY-24 W, merge onto I-90 W, and then shift gears onto US-14 W from Sheridan.
This route meanders through the Bighorn National Forest, leading you straight into the heart of Cody.
Finally, as you approach the climax of this memorable road trip, a drive on US-14 W/US-16 W/US-20 W from Cody delivers you to the grandeur of Yellowstone National Park, marking a fitting end to your journey from the urban streets of Chicago to the wild heart of America.
12 Unmissable Stops Between Chicago and Yellowstone National Park
Travel is as much about the journey as the destination. While Yellowstone's allure is undeniable, the path from Chicago to this national gem is studded with its own array of marvels. 
As highways stretch ahead, varied landscapes, historical sites, and unexpected wonders comes to life. 
The Midwest, with its rolling plains, gives way to the rugged beauty of the West. Every town and city en route has its own story, its own charm.
Whether you're a history buff, a nature enthusiast, or someone simply looking to take a break from the long drive, there's a stop tailored for you. 
These 12 destinations, handpicked for their uniqueness, ensure that your road trip is as enriching as the time spent in Yellowstone. 
They're more than just pit stops; they're chapters in your travel story.
So, as you rev up the engine and set the playlist, let's dive into these must-visit waypoints that make the road from Chicago to Yellowstone a journey to remember.
Rockford, IL
Approximately 90 miles from Chicago.
Situated along the banks of the Rock River, Rockford serves as an inviting first stop on your route to Yellowstone. Known for its blend of cultural offerings and recreational opportunities, it's a city that effortlessly combines relaxation with exploration.
Dotted with tree-lined streets and historic neighborhoods, Rockford's Anderson Japanese Gardens stands out as a centerpiece of tranquility. With every step, the meticulously designed paths lead you through a landscape reminiscent of traditional Japanese gardens, complete with koi-filled ponds and ornate bridges.
Art enthusiasts will appreciate the city's commitment to the arts, evident in places like the Rockford Art Museum. Housing a collection of over 2,000 artworks, it showcases regional and national artists, offering a peek into the vibrant local art scene.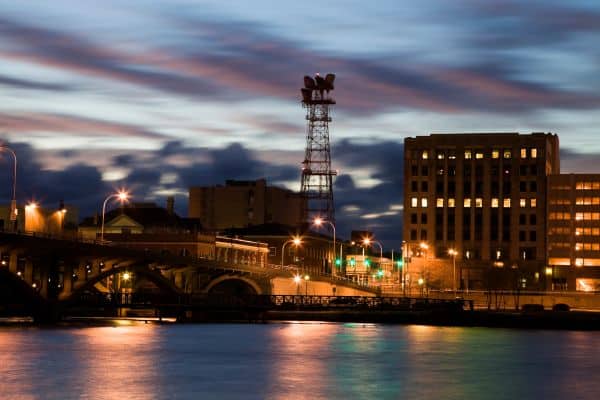 When it comes to dining, Rockford boasts an array of eateries that cater to diverse palates. Lino's, for instance, offers classic Italian dishes in a warm, family-friendly setting, while Octane InterLounge melds modern aesthetics with a menu that's a delightful mix of contemporary flavors.
No visit to Rockford is complete without acknowledging its historical significance. The Midway Village Museum paints a vivid picture of the region's past, complete with a village street that transports visitors back in time.
As you pull out of Rockford, refueled and rejuvenated, it's hard not to feel a growing sense of anticipation for the adventures that lie ahead on the open road.
Madison, WI
Approximately 148 miles from Chicago.
Further northwest from Rockford, the city of Madison beckons with its lakeside beauty and vibrant atmosphere. As the capital of Wisconsin, it offers a blend of rich history, progressive energy, and natural splendor, making it a must-visit on your journey to Yellowstone.
Nestled between Lakes Mendota and Monona, Madison's skyline is beautifully punctuated by the iconic dome of the Wisconsin State Capitol. Those keen on architecture and history can take a guided tour inside, and if you climb to the observation deck, you're rewarded with panoramic views of the city.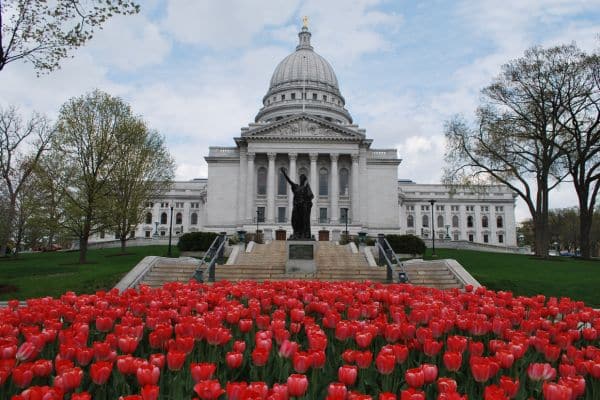 For outdoor enthusiasts, the UW-Madison Arboretum is a haven. Spanning over 1,200 acres, it's a delightful maze of trails, gardens, and natural areas, painting a picture of Wisconsin's diverse ecosystems.
When hunger calls, Madison offers a smorgasbord of options. The Old Fashioned is a beloved spot, serving up hearty Wisconsin fare, from cheese curds to locally-sourced meat dishes. Meanwhile, for a global twist, Graze is known for its farm-to-table approach, presenting dishes inspired from around the world.
Culture seekers should not miss the Chazen Museum of Art, home to an expansive collection ranging from ancient sculptures to modern paintings.
Leaving Madison, with its blend of city charm and serene landscapes, you'll be invigorated and ready for the next leg of your adventure towards Yellowstone.
La Crosse, WI
Approximately 270 miles from Chicago.
As you continue your journey, La Crosse emerges as a picturesque riverside city, cradled by the Mississippi River on one side and bluffs on the other. This gem in Western Wisconsin promises a mix of outdoor beauty, historic charm, and a laid-back vibe that's perfect for travelers seeking a momentary retreat from the road.
One of La Crosse's defining features is the Grandad Bluff, standing tall over the city. A drive to its summit rewards visitors with breathtaking views that stretch out to the neighboring states of Minnesota and Iowa. It's a tranquil spot, ideal for stretching your legs, capturing photos, and soaking in the panoramic sights.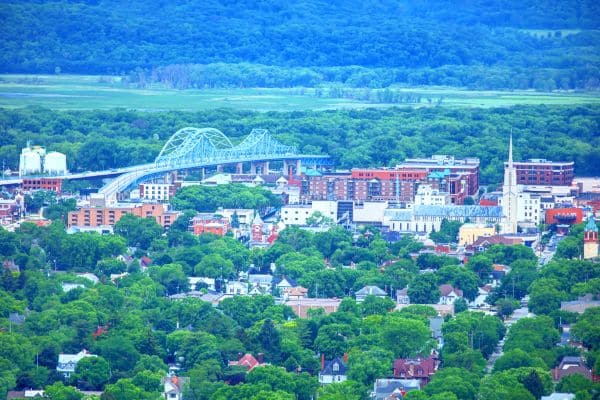 The city's relationship with the Mississippi River is undeniable and is best explored by taking a stroll along the Riverside Park. Here, you can watch boats glide by or even hop on one of the paddlewheel riverboats for a scenic cruise.
In the heart of downtown, you'll find a medley of shops, eateries, and historical buildings. Dining options like The Waterfront Restaurant and Tavern offer gourmet dishes with a side of river views. For those looking for a casual bite, Pearl Street Brewery not only serves up local craft beers but also hosts live music, encapsulating La Crosse's vibrant local scene.
As you depart from La Crosse, with memories of river vistas and scenic bluffs, the road forward is filled with promise, leading you deeper into the vast landscapes of the American Midwest.
Sioux Falls, SD
Approximately 570 miles from Chicago.
Emerging from the rolling plains of South Dakota, Sioux Falls stands as a testament to the natural and cultural richness of the Midwest.
With its cascading waterfalls, green parks, and budding arts scene, this city offers a refreshing pause on your westward journey to Yellowstone.
Dominating the city's attractions is the namesake Falls Park. The Big Sioux River tumbles over pink quartzite, creating a series of waterfalls that have been a marvel for centuries.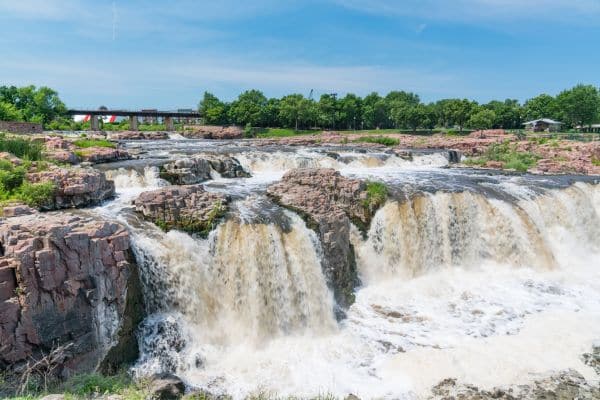 The park's observation tower provides an elevated view, but there's something particularly enchanting about walking the pathways close to the falls, hearing the roar of the water and feeling its mist.
Beyond its natural allure, Sioux Falls boasts a vibrant downtown. Historic buildings have been repurposed into modern boutiques, galleries, and restaurants. Crawford's Bar & Grill, for instance, merges the old-world charm of its historic building with a modern menu, making it a delightful dining experience.
Art enthusiasts will appreciate the SculptureWalk, an outdoor exhibit showcasing sculptures from artists around the world, sprinkled throughout the city's streets.
Meanwhile, history buffs might gravitate towards the Old Courthouse Museum, offering intriguing insights into the region's past.
As you set out from Sioux Falls, rejuvenated by its blend of nature and culture, the horizon beckons with the promise of further adventures, nudging you ever closer to the wild heart of Yellowstone.
Mitchell, SD
Approximately 650 miles from Chicago.
As the road unfurls towards Yellowstone, Mitchell introduces itself as a quirky, yet charming stop in South Dakota. This small town, with its unique blend of history and creativity, provides a delightful detour, hinting at the vast tapestry of American culture and innovation.
Arguably, Mitchell's most famed attraction is the Corn Palace. Adorned with colorful murals made entirely of corn and other grains, this architectural marvel changes its designs yearly, celebrating the agricultural heritage of the region.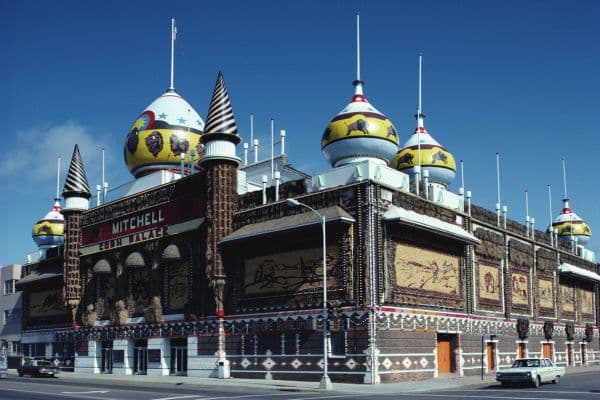 While it might seem like an unusual attraction, the artistry and dedication behind these murals are genuinely impressive.
Mitchell's downtown is a nostalgic journey through time. Vintage storefronts and local eateries, like Shay's Restaurant and Lounge, offer hearty meals reminiscent of classic Americana. It's the kind of place where every dish feels like comfort food, and the locals greet you with genuine warmth.
For those interested in diving deeper into the region's history, the Dakota Discovery Museum is worth a visit. It chronicles the stories of the early settlers, indigenous tribes, and the evolution of this part of the Midwest.
As Mitchell fades in the rearview mirror, its corn murals and friendly ambiance linger in memory, a testament to the diverse and often unexpected joys of the road from Chicago to Yellowstone.
Badlands National Park, SD
Approximately 770 miles from Chicago.
After cruising through South Dakota's plains, the stark and mesmerizing landscape of Badlands National Park rises dramatically.
The park's rugged beauty, marked by layered rock formations, deep canyons, and towering spires, offers a vivid contrast to the earlier legs of the journey, making it a pivotal stop en route to Yellowstone.
The striking geologic deposits of Badlands are not only visually captivating but also tell tales of ancient horses, rhinos, and other creatures that once roamed this land.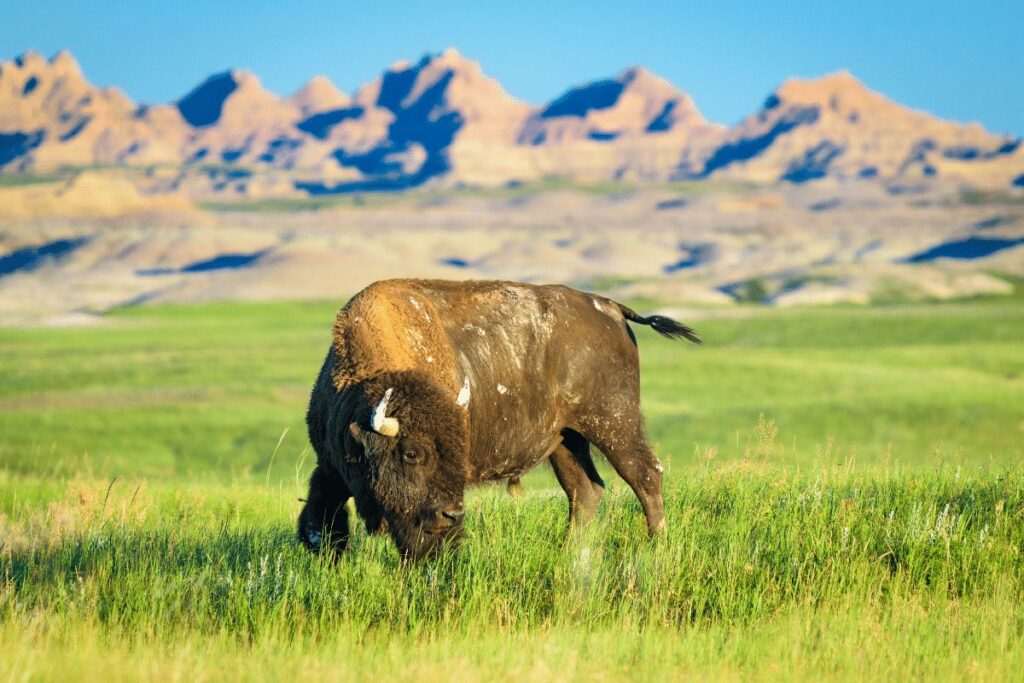 For those eager to delve deep into these tales, the Fossil Exhibit Trail is enlightening. It's a boardwalk trail, suitable for all ages, showcasing some of the park's most fascinating fossil finds.
Wildlife enthusiasts are in for a treat. The park is a sanctuary for many animals, from the swift-footed pronghorn to the iconic American bison.
As the sun begins its descent, the likelihood of spotting some of these magnificent creatures, like bighorn sheep or even a coyote, increases.
For the more adventurous, the park offers an array of trails, each varying in difficulty. One of the most popular is the Notch Trail, which rewards hikers with panoramic views of the White River Valley.
Another gem is the Window Trail, a short path leading to a natural window that perfectly frames the park's rugged beauty.
As night falls, the Badlands experience doesn't end. The park boasts some of the country's darkest night skies, making it a haven for stargazing.
Those wishing to immerse themselves fully in this wilderness can set up camp at one of the park's campgrounds. Cedar Pass Campground is a favorite, offering both facilities and proximity to some of the park's most iconic vistas.
Departing from Badlands National Park, the memories of its otherworldly landscapes, diverse wildlife, and the vastness of its starlit skies serve as a poignant reminder of nature's wonders on the road to Yellowstone.
Rapid City, SD
Approximately 800 miles from Chicago.
A stone's throw from the rugged wilderness of the Badlands, Rapid City stands as a vibrant urban oasis in the heart of South Dakota's Black Hills. Fondly known as the "Gateway to the Black Hills," Rapid City seamlessly melds the charm of a small town with the energy of a burgeoning city.
As you meander through its streets, a delightful introduction awaits in the form of the City of Presidents project. Life-sized bronze statues of American presidents dot the corners of the downtown area, inviting visitors to take a whimsical, historical walking tour.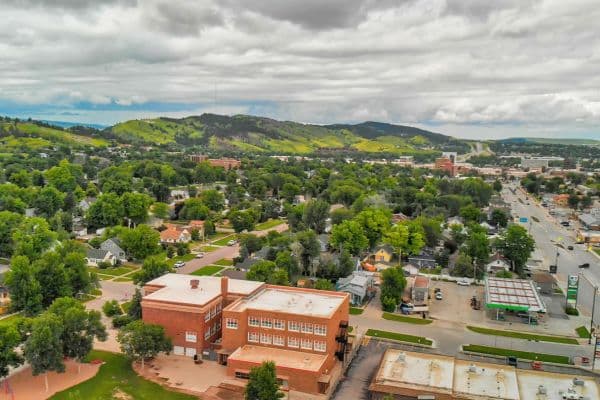 Beyond its urban heart, the natural wonders surrounding Rapid City beckon. The Reptile Gardens, for instance, is more than just a showcase of reptiles. This family-friendly attraction is home to stunning botanical gardens, exotic birds, and a mesmerizing collection of reptiles from around the world.
Hungry from exploration? Rapid City's dining scene is both diverse and delicious. Tally's Silver Spoon stands out, serving classic dishes with a gourmet twist, all in a cozy, retro setting. For those seeking flavors from further afield, Kōl offers a modern take on wood-fired dishes, drawing inspiration from global culinary traditions.
However, no visit to Rapid City would be complete without acknowledging its proximity to one of America's iconic landmarks: Mount Rushmore. Just a short drive away, this monument is a testament to the nation's history and a must-see.
As you depart from Rapid City, with its blend of culture, history, and natural beauty, it's clear that this South Dakotan gem is more than just a pit stop; it's a highlight in its own right on the epic drive to Yellowstone.
Mount Rushmore, SD
Approximately 830 miles from Chicago.
Emerging from the dense forests of the Black Hills, the colossal faces of four U.S. presidents carved into granite form an arresting sight.
Mount Rushmore isn't just a monument; it's an emblem of the American spirit, and a testament to human ingenuity and determination.
Crafted by sculptor Gutzon Borglum and later by his son Lincoln Borglum, this masterpiece took over 14 years to complete.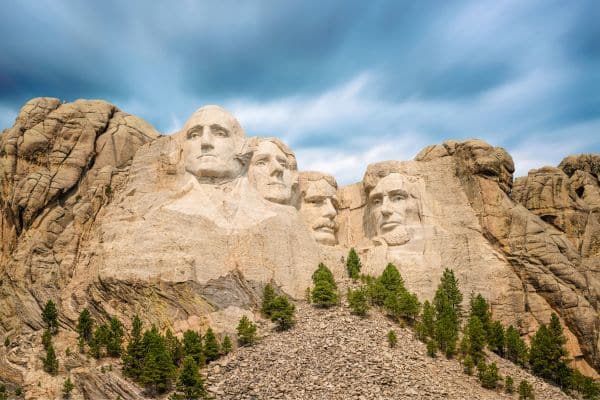 Representing the first 150 years of American history, the visages of George Washington, Thomas Jefferson, Theodore Roosevelt, and Abraham Lincoln gaze out over the landscape, each chosen for their significant contribution to the nation's foundation, growth, development, and preservation.
While the sheer scale of Mount Rushmore is impressive from any angle, the Presidential Trail offers a closer look, allowing visitors to wander through the pines and get different perspectives of the monument.
Along the way, interpretive panels delve into the history, artistry, and the sheer audacity of the project.
After taking in the monument's majesty, the Carvers' Marketplace nearby is a good place to refuel. With a backdrop of the Black Hills and the iconic monument, this eatery offers regional dishes and refreshing beverages.
Just a short drive from the monument is the Mount Rushmore Lincoln Borglum Visitor Center. Here, you can deepen your understanding through exhibits and a short film showcasing the risks, challenges, and innovations of the carving process.
Leaving Mount Rushmore behind, its granite faces etched in memory, the road ahead promises further adventures, each resonating with the rich tapestry of America's past and present as you continue toward the wonders of Yellowstone.
Deadwood, SD
Approximately 870 miles from Chicago.
As you venture deeper into South Dakota, the very fabric of the landscape seems to whisper tales of the past. Deadwood stands as a living testament to these tales.
Once a booming hub during the gold rush era, this Wild West town has preserved its legacy, making it an unmissable chapter on your journey to Yellowstone.
The moment you set foot in Deadwood, the cobblestone streets and well-preserved 19th-century buildings transport you back in time. This is the very town where legends like Wild Bill Hickok and Calamity Jane roamed, leaving behind stories of daring, adventure, and intrigue.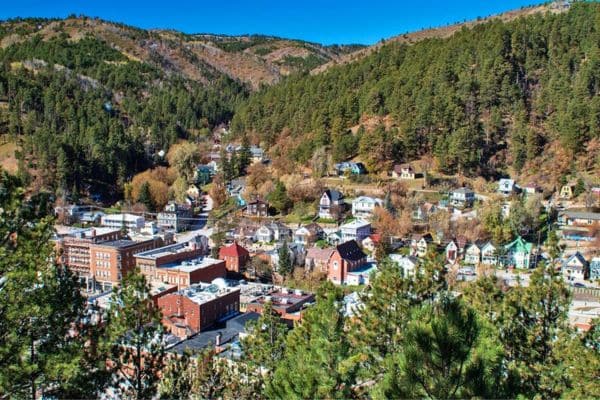 Visiting the Adams Museum gives visitors a deep dive into these tales, offering a blend of artifacts, photographs, and displays that chronicle the town's tumultuous and vibrant history.
The spirit of the Wild West isn't just confined to museums here. The entire town seems to celebrate its heritage. Saloons, once the epicenters of revelry and camaraderie, still dot the streets.
The Saloon No. 10, for instance, isn't just a place to grab a drink. It's where Hickok met his end during a poker game, making it a landmark soaked in history.
For a bite to eat, Deadwood Grille offers a mix of modern culinary delights set against a backdrop of historical ambiance, a blend that characterizes much of Deadwood.
Of course, no visit would be complete without acknowledging the town's gold rush roots. The Broken Boot Gold Mine offers guided tours that delve deep into underground passages, recounting tales of miners who once sought their fortunes in these very caverns.
As Deadwood fades in the distance, its tales of gold rushes, legendary figures, and Wild West adventures add a rich layer to the tapestry of experiences that shape the road to Yellowstone.
Devil's Tower, WY
Approximately 950 miles from Chicago.
Rising abruptly and majestically from the rolling plains of northeastern Wyoming, Devil's Tower stands as a geological wonder and a sacred monument to many Native American tribes.
This massive igneous intrusion, with its distinctive columnar formations, captures the imagination and offers a hint of the rugged beauty the American West is renowned for.
Legend and lore surround this iconic landmark. Many Native American tribes, including the Lakota Sioux, have stories that describe its origin, often weaving tales of giant bears clawing at the rock, leaving behind the tower's unique vertical furrows.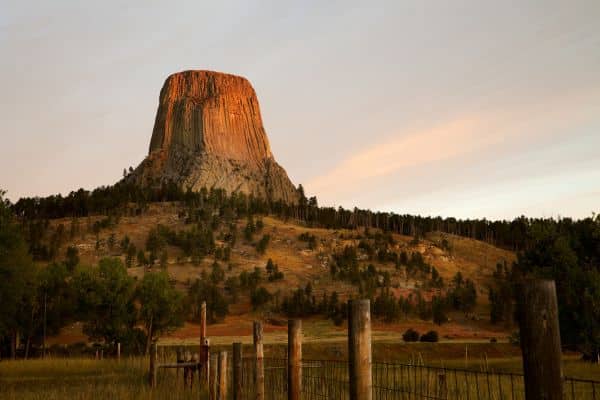 These stories, intertwined with the tower's natural allure, make it a place of both reverence and wonder.
Beyond its spiritual and cultural significance, Devil's Tower is a magnet for outdoor enthusiasts. Climbers from around the world are drawn to its challenges, with its craggy columns providing both thrill and skill tests.
For those preferring to keep their feet on the ground, a network of trails, like the Red Beds Trail, circle the monument, allowing visitors to appreciate its grandeur from various angles.
The town nearby, while small, complements the experience. Eateries like Cowgirl Pizza & Laundromat offer a quirky dining experience, combining good food with the charm that small-town America excels at.
Before departing, a visit to the Devil's Tower Visitor Center can add depth to the experience. Here, exhibits shed light on the tower's geology, history, and the cultural significance it holds for numerous Native American tribes.
As you set course from Devil's Tower, its silhouette on the horizon serves as a stark and beautiful reminder of the vast, diverse, and often awe-inspiring landscapes that define the journey from Chicago to Yellowstone.
Cody, WY
Approximately 1,180 miles from Chicago.
As you approach Yellowstone, the vibrant town of Cody offers a slice of authentic Western experience, serving as a gateway to the park and a cultural hub of Wyoming.
Founded by the legendary showman Buffalo Bill Cody, the town encapsulates the spirit of the American West in its history, attractions, and undeniable charm.
One of Cody's crowning jewels is the Buffalo Bill Center of the West. This sprawling complex of five museums is a treasure trove for history buffs, art lovers, and nature enthusiasts alike.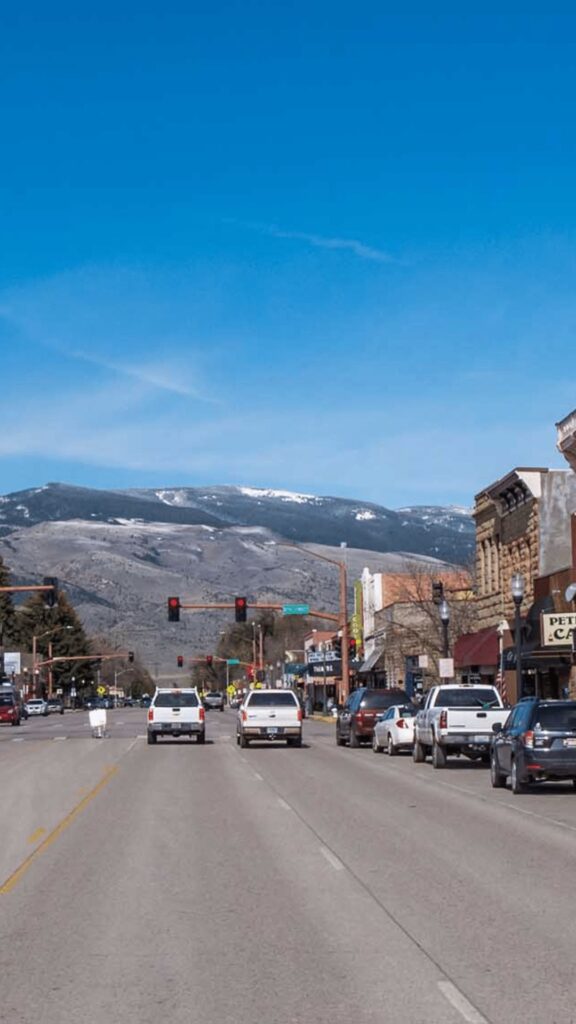 It delves deep into the legacy of Buffalo Bill, the art and artifacts of the American West, and the intricate relationship between people and the land.
The pulse of the Old West is palpable throughout Cody, but nowhere more so than during the Cody Nite Rodeo. Held every evening in the summer, it showcases the skill and daring of cowboys and cowgirls, keeping rodeo traditions alive and vibrant.
When it comes to dining, Cody delivers a delightful mix. The Irma Hotel, built by Buffalo Bill himself, offers a vintage dining experience, complete with an old-fashioned saloon.
On the other hand, establishments like Bubba's Bar-B-Que serve up hearty Western meals that are sure to satisfy after a day of exploration.
Before heading towards Yellowstone, taking a scenic drive down the Buffalo Bill Scenic Byway is a must. This stretch offers a mesmerizing preview of the natural wonders awaiting in the park, from towering mountains to rushing rivers.
Leaving Cody, you carry with you a sense of the Wild West's legacy, a spirit of adventure, and the anticipation of the natural splendors soon to unfold as you edge closer to the wonders of Yellowstone.
Yellowstone National Park: Your Destination!
Spanning three states and covering over two million acres, Yellowstone National Park isn't just America's first national park; it's a monumental ode to the untamed beauty of nature.
A place where geysers erupt with clockwork precision, where waterfalls cascade down rugged terrains, and where the majestic wildlife roams free, Yellowstone is both an adventurer's dream and a serene retreat.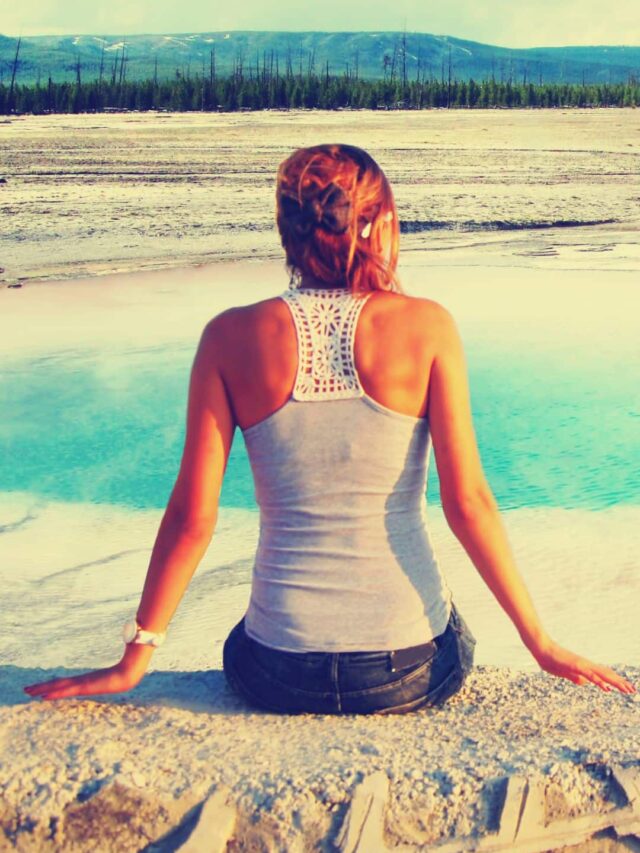 A Geological Wonderland:
At the heart of Yellowstone's allure are its geothermal wonders. The park sits atop a volcanic hotspot, leading to a vibrant tapestry of geysers, hot springs, and fumaroles.
The most iconic of them all, Old Faithful, has been drawing visitors for generations, known for its predictable eruptions that shoot boiling water high into the air.
But there's more to explore, like the vibrant colors of the Grand Prismatic Spring or the boiling mud pots, each narrating the tales of the Earth's fiery belly.
A Realm of Cascading Waters:
The park's water features are as varied as they are stunning. The Grand Canyon of the Yellowstone is a must-visit. This massive geological formation is marked by the roaring Yellowstone River and two breathtaking waterfalls.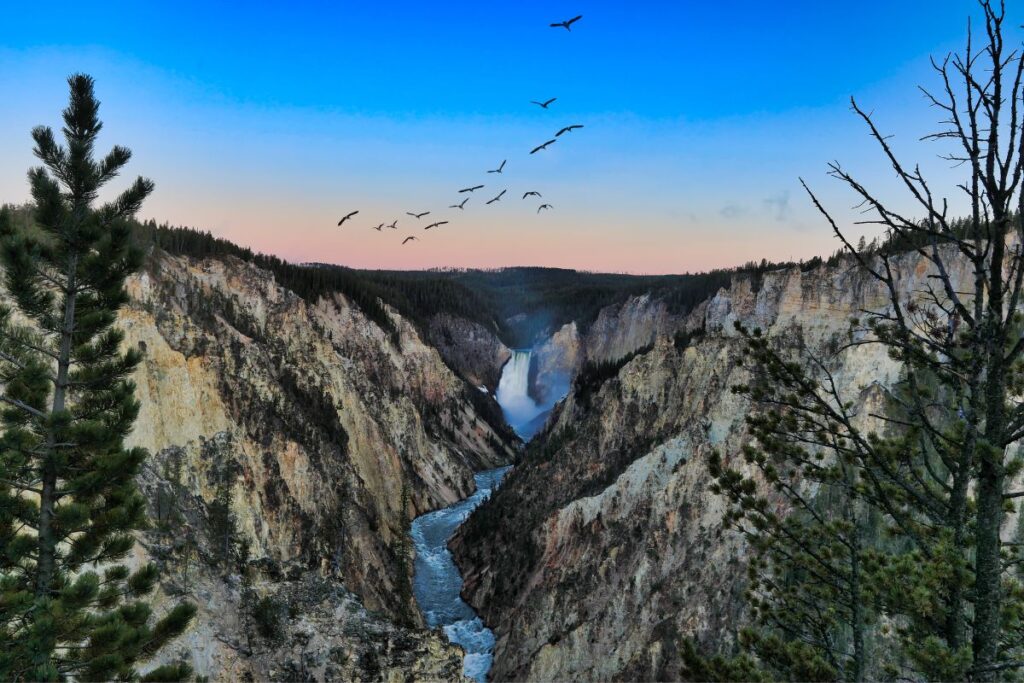 The viewpoint from Artist Point provides a panoramic view of the canyon, making it a favorite spot for both photography and quiet contemplation.
The Call of the Wild:
Yellowstone is a sanctuary for North America's most iconic wildlife. From the herds of bison grazing in the valleys to the stealthy approach of a mountain lion, the park is a haven for animals.
Early mornings and dusks are the best times for wildlife viewing. Places like Lamar Valley and Hayden Valley are often touted as the park's prime wildlife-watching locales, offering opportunities to spot wolves, elk, and even bears.
Endless Trails to Explore:
For the avid hiker, Yellowstone offers a plethora of trails. Whether you're looking for a serene walk amidst wildflower meadows or a challenging trek up mountainous terrain, there's a trail for every adventurer here.
The Mount Washburn trail, for instance, rewards hikers with panoramic views of much of the park. For those seeking a less strenuous journey, the Mystic Falls Trail offers a delightful mix of geothermal features and a stunning waterfall.
Staying Inside the Park:
For those wishing to immerse themselves fully in the Yellowstone experience, the park offers a range of accommodations.
From the historic charm of Old Faithful Inn to the rustic campgrounds scattered across the park, there's a stay to match every traveler's preference.
It's always advisable to book accommodations well in advance, especially during peak seasons, to secure a spot in this slice of wilderness.
A Cultural and Historical Legacy:
Yellowstone's charm isn't just in its natural wonders. The park holds significant cultural importance for many Native American tribes, who have been stewards of this land for countless generations.
A visit to the Yellowstone Gateway Museum in nearby Gardiner provides valuable insights into the park's rich tapestry of history, geology, and its deep ties to indigenous communities.
Visitor Tips:
While Yellowstone promises an untamed experience, it's essential to remember that this is a delicate ecosystem.
Sticking to marked trails, keeping a safe distance from wildlife, and practicing 'Leave No Trace' principles ensures that the park remains pristine for future generations.
Yellowstone National Park, with its vast landscapes, abundant wildlife, and geothermal marvels, is a testament to the wild, untamed beauty of nature.
It's not just a destination; it's an experience, an adventure, and a journey into the heart of the American wilderness.
Whether you're visiting for the first time or returning to rediscover its wonders, Yellowstone promises memories that will last a lifetime.
A Personal 7 Day Road Trip Itinerary from Chicago to Yellowstone National Park
Day 1: Chicago to Badlands National Park
Departure from Chicago: As dawn breaks over the iconic Chicago skyline, the excitement of the road trip ahead sets in. After some last-minute checks and a hearty breakfast, you set off on your journey.
You'll be covering approximately 990 miles on this day, so an early start is crucial.
Traveling through Illinois & Wisconsin: As you navigate through Illinois, the urban landscape gradually gives way to the more pastoral sceneries of Wisconsin.
I-90 W will be your trusty route, offering stretches of scenic beauty characterized by rolling farmlands, quaint towns, and occasional glimpses of the Mississippi River.
Highlight Stops: Two significant stops to break the long drive could be Rockford, IL and La Crosse, WI. In Rockford, a short detour to the serene Anderson Japanese Gardens offers a tranquil respite.
By the time you reach La Crosse, WI, a walk along Riverside Park provides a picturesque view of the Mississippi, making for a great lunch spot.
Entry into South Dakota: As you cross into South Dakota, the landscape starts to shift. Gentle plains slowly morph into more rugged terrains, hinting at the natural spectacle awaiting you.
Arrival at Badlands National Park: By late afternoon or early evening, the dramatic landscapes of Badlands National Park come into view. The park's canyons, spires, and layered rock formations offer a stark contrast to the terrains you've traversed so far.
Camping for the Night: For an immersive experience, consider setting up camp at the Cedar Pass Campground within the park.
This campground not only offers basic amenities but also places you right in the heart of Badlands, allowing for an early start to exploration the next day.
Before turning in, don't miss the opportunity to stargaze; Badlands boasts one of the darkest skies in the country.
Day 2: Badlands National Park to Yellowstone National Park
Morning in Badlands: Wake up to the surreal landscapes of Badlands, painted in hues of gold by the early morning sun.
After a camp breakfast, take a short hike on the Notch Trail or the Window Trail for one last view of the park's dramatic terrain.
Both trails are relatively short, with the Notch Trail being around 1.5 miles round trip and the Window Trail only 0.3 miles, making them perfect for a morning exploration.
Departure to Mount Rushmore: Around mid-morning, start your drive to Mount Rushmore, located approximately 85 miles away. The journey will take you through the scenic Black Hills of South Dakota, adding to the day's visual treat.
Visit to Mount Rushmore: By early afternoon, the iconic faces of Presidents Washington, Jefferson, Roosevelt, and Lincoln etched into the granite cliffs greet you.
Spend a couple of hours here, learning about the significance of the monument, capturing photographs, and perhaps grabbing a bite at the Carvers' Café.
Drive to Yellowstone: Post-lunch, embark on the most extended leg of the day – the journey to Yellowstone National Park.
The drive is approximately 450 miles, taking you through the vast expanses of Wyoming. The route offers a mix of highways and scenic byways, especially as you approach closer to Yellowstone.
Arrival at Yellowstone: As evening nears, the majestic vistas of Yellowstone begin to unfold. Given the extensive area of the park, the first sights you encounter will largely depend on which entrance you choose.
The most direct route would be via the East Entrance, which takes you past Cody, WY – a town steeped in Wild West history.
Camping for the Night: Once inside Yellowstone, consider camping at the Bridge Bay Campground located near Yellowstone Lake.
The campground is well-equipped and serves as an excellent base for your upcoming Yellowstone explorations.
After setting up camp, soak in the wilderness around you, with the promise of in-depth park exploration over the subsequent days.
Day 3: Geysers & Hot Springs in Yellowstone
Morning Exploration: Start your day with the early morning mist rising off Yellowstone's myriad hot springs. There's something particularly mesmerizing about the park's geothermal features bathed in the soft dawn light.
After a quick breakfast at your camp, gear up for a day centered around some of the park's most iconic geothermal wonders.
Old Faithful Encounter: Your first stop is the world-renowned Old Faithful geyser. Named for its consistent eruptions, this geyser has become a symbol of Yellowstone's raw, untamed power. Try to time your visit to witness one of its frequent eruptions, where boiling water and steam are thrust upwards of 100 feet into the air.
The Old Faithful area also boasts of a range of other smaller geysers and hot springs, so take your time to wander and soak in the sights.
Afternoon at Grand Prismatic Spring: Post-lunch, drive to the Midway Geyser Basin, home to the vibrant Grand Prismatic Spring. As the largest hot spring in the U.S., its grandeur is undeniable. But it's the spring's vivid colors – from deep blue centers to fiery orange edges – that truly capture the imagination.
These colors, caused by various species of thermophilic bacteria, shift and shimmer, reflecting the vast Montana sky above. Walking along the boardwalk, you'll get an up-close view, but for a more expansive vista, consider the short hike to the overlook.
Evening Wind Down: After a day filled with nature's spectacles, head to one of the park's eateries. The Old Faithful Snow Lodge Obsidian Dining Room is a great option, offering a mix of local and international dishes.
As the sun sets, casting a golden hue over the park, reflect on the day's adventures and anticipate the explorations that the next day holds.
Day 4: Wildlife of Yellowstone
Morning Relocation: As a new day dawns in Yellowstone, it's time to shift your base for a change in scenery and proximity to the northern attractions of the park.
Pack up early from Bridge Bay Campground and make your way to the Pebble Creek Campground, nestled between the Lamar Valley and the park's Northeast Entrance.
This campground offers a more rugged and intimate experience with the wilder parts of Yellowstone.
Exploration of Hayden Valley: After setting up camp, start your day's adventure with a drive to Hayden Valley. This expansive valley, cradled between Yellowstone Lake and the Washburn Range, is a haven for wildlife enthusiasts.
With binoculars in hand, keep an eye out for herds of bison, elk, and even the occasional grizzly bear. The valley is also dotted with a variety of thermal features, adding to its mystique.
Afternoon in Lamar Valley: Post lunch, head to the famed Lamar Valley. Often dubbed as the "Serengeti of North America," this region of Yellowstone is renowned for its rich wildlife.
Here, you stand a good chance of spotting wolves, especially if you're visiting during the early morning or late evening hours.
The Lamar River courses through this valley, and its banks often play host to prancing pronghorns and wandering herds of bison.
Visit to Mammoth Hot Springs: As the day progresses, make your way to Mammoth Hot Springs. These dynamic springs feature a complex of terraces made of crystallized calcium carbonate.
The terraces are in a constant state of change, shaped both by the flow of water and the heat-loving organisms that thrive here. As you walk along the boardwalks, marvel at the unique formations that resemble cascading waterfalls frozen in time. You will also see elk and bison around the hot springs here!
Evening Retreat: After a day filled with valleys and springs, return to Pebble Creek Campground. Enjoy an evening by the campfire, accompanied by the soothing sounds of the creek and the possibility of stargazing in the clear night sky.
Day 5: Canyons, Kayaks, and Lakeside Serenity in Yellowstone
Morning at the Grand Canyon of Yellowstone: Start your day with a visit to one of the park's most breathtaking sites, the Grand Canyon of Yellowstone.
This deep canyon carved by the Yellowstone River is a vivid tapestry of red, yellow, and pink hues. The two primary waterfalls – the Upper and Lower Yellowstone Falls – add to the canyon's grandeur.
The Brink of the Lower Falls trail is particularly rewarding, bringing you to the top of the most iconic waterfall in the park.
Feel the mist on your face and hear the thunderous roar as the water plunges down into the depths of the canyon.
Afternoon Kayaking: As the day warms up, head to Yellowstone Lake for some water-based adventures. The vast blue expanse of the lake, surrounded by snow-capped peaks, is the perfect setting for kayaking.
Paddle through the serene waters, taking in the picturesque surroundings and keeping an eye out for waterfowl and other lakeside wildlife. If you didn't bring your own kayak, rentals are available at the Bridge Bay Marina.
Evening by Yellowstone Lake: After returning your kayaks, spend the evening exploring the shoreline of Yellowstone Lake. The Lake Yellowstone Hotel and Cabins, with its colonial architecture and panoramic windows, offers a delightful spot to wind down.
Grab a drink, perhaps dine at their restaurant, and watch the sun cast a golden glow over the lake. The gentle lapping of waves on the shore and the silhouettes of distant mountains against the twilight sky provide a tranquil backdrop, allowing for moments of reflection on your Yellowstone journey so far.
Day 6: Yellowstone to Sioux Falls
Departure from Yellowstone: With a heart full of memories from America's first national park, set out early from Yellowstone.
The familiar expansive landscapes and winding roads bid you farewell as you begin your approximately 12-hour drive towards Sioux Falls, covering nearly 650 miles.
Scenic Drive through Wyoming: As you navigate through Wyoming, the raw beauty of the state, characterized by vast plains and distant mountain ranges, serves as your backdrop.
This leg of the journey is perfect for contemplative moments, reflections, and taking in the grandeur of the American West.
Brief Stops in South Dakota: South Dakota welcomes you with its own set of diverse landscapes. Consider stretching your legs at Rapid City or Mitchell for a quick bite or coffee.
Rapid City offers a taste of urban South Dakota, while Mitchell's quirky Corn Palace makes for a fun photo opportunity.
Arrival at Sioux Falls: By evening, the urban lights of Sioux Falls beckon. After the long drive, the city offers a refreshing change of pace.
Overnight at Sioux Falls: Sioux Falls boasts several comfortable and luxurious accommodations. One recommendation would be the Hotel on Phillips. Located in the heart of downtown Sioux Falls, this historic boutique hotel blends old-world charm with modern amenities.
After checking in, consider a leisurely walk around Falls Park to witness the city's namesake waterfalls under the evening lights.
Followed by this, treat yourself to a sumptuous dinner at one of the many local eateries. Parker's Bistro is a local favorite, offering a fusion of classic and contemporary dishes.
Day 7: Sioux Falls to Chicago
Morning in Sioux Falls: Wake up in the heart of South Dakota's most populous city, Sioux Falls. Before embarking on the final leg of your journey, it might be worth taking a morning stroll. The serene Big Sioux River that flows through the city is particularly beautiful during the early hours, with the gentle gush of the waterfalls providing a calm start to the day.
Departure from Sioux Falls: With a quick breakfast, perhaps at Josiah's Coffeehouse & Café which is popular for its hearty American breakfasts, start your journey eastward. The trip from Sioux Falls to Chicago is approximately 570 miles, and with the heartland of America stretching out before you, the drive promises scenic beauty and moments of reflection.
Journey through the Midwest: The road from Sioux Falls to Chicago takes you through the core of the Midwest. As you pass through parts of Minnesota and Wisconsin, embrace the picturesque farmlands, rivers, and quaint towns that define this region.
Stops along the Way: About halfway through the drive, consider making a stop at La Crosse, WI. Nestled along the Mississippi River, it's a great spot for a leisurely lunch and perhaps a quick walk along Riverside Park for panoramic river views.
Chicago's Welcome: As the sun begins to dip, the iconic skyline of Chicago comes into view. The city, with its towering skyscrapers and bustling streets, welcomes you back, offering a stark contrast to the natural wonders you've been immersed in.
Homecoming: Reaching your home in Chicago, there's a mix of the joy of return and the sweet melancholy of an adventure concluded.
Unpack, settle in, and perhaps, as the evening settles, take a moment to reminisce about the landmarks, terrains, and experiences that shaped your road trip from the Windy City to the wild heart of Yellowstone and back.
How many days is enough to see Yellowstone?
Yellowstone National Park, spread over 2.2 million acres, is a vast expanse of wilderness, geothermal wonders, and diverse wildlife. Ideally, a visit of 3 to 4 days allows visitors to explore the major attractions, such as Old Faithful, Grand Prismatic Spring, the Grand Canyon of Yellowstone, and several key wildlife viewing areas.
A 3-day trip can cover the primary geothermal sites and the most accessible wildlife zones.
However, for those keen on delving deeper into the park's less-traveled paths, experiencing a variety of hiking trails, or engaging in activities like fishing and boating, a longer stay of 5 to 7 days would be more fulfilling.
Regardless of the duration, each day in Yellowstone offers a unique experience, and the time spent truly depends on individual interests and the pace of exploration.
Conclusion
As the allure of the open road calls out to many, a journey from Chicago to Yellowstone stands out as one of the most diverse and enriching road trips America offers. From the urban rhythms of Chicago to the untouched wilderness of Yellowstone, this route traverses landscapes that capture the essence of the American spirit.
Along the way, towns steeped in history, valleys echoing with wildlife calls, and geothermal wonders that defy belief all vie for attention.
For anyone seeking to undertake this journey, the promise isn't just in the destination but in the myriad moments that stitch the journey together.
The shared laughter during a campfire night, the awe in front of a gushing geyser, the silent contemplation on a serene lakeside, or the thrill of spotting a wild bison herd – these become the memories that linger long after the trip concludes.
So, as you plan your adventure from Chicago to Yellowstone, let this guide serve as a companion.
But remember, while the guide provides direction, it's your personal detours, spontaneous stops, and immersive experiences that will truly define your journey. Safe travels, and may the road always rise up to meet you.