Embark on an unforgettable Denver to Yellowstone road trip. Discover 12 must-visit stops, planning tips, and a 7-day itinerary for the ultimate adventure.
Starting in the bustling heart of Denver and winding up amidst the sprawling wilderness of Yellowstone? Sounds like a dream, and trust us, it's every bit as exhilarating as it seems. 
As you navigate from the urban sprawl to untamed nature, you're tracing a path that showcases the contrasting beauty of the American landscape.
While Yellowstone, with its geysers and vast landscapes, is undeniably the star of the show, the journey itself is riddled with experiences that are equally unforgettable. 
Imagine breezing through roads framed by towering mountains, stopping by quaint towns with rich histories, and taking unexpected detours that lead to scenic vistas you won't find in any guidebook.
And we're here to ensure you don't miss out on any of it. We've curated a list of the top spots you'll encounter, each adding a unique flavor to your road trip. 
So, pack those bags, prep your playlist, and get ready to embark on an adventure that promises memories at every turn. Drive on!
Planning Your Trip From Denver to Yellowstone National Park
Here are quick answers to questions that arise while planning a road trip from Denver to the stunning Yellowstone National Park:
How do I plan the best route from Denver to Yellowstone?
When mapping your journey from Denver to Yellowstone, consider the sights you wish to experience along the way. The most straightforward route typically takes you through I-25 N, CO-14 W, US-287, and I-80 W. 
However, depending on detours for scenic spots or attractions, your path might vary. 
Before you set out, it's beneficial to list down the main attractions you want to visit and then design your route accordingly. 
Factor in driving hours, rest stops, and overnight stays to optimize your travel experience.
What are the must-have essentials for this road trip?
Packing smart is vital. Ensure you have maps or a GPS device, even if you're using smartphone navigation—remote areas might have limited signal. 
Bring along a first aid kit, extra water and snacks, a spare tire, and necessary tools. Since you'll be transitioning from urban settings to wilderness, pack for a variety of weather conditions. 
Remember camping equipment if you plan to stay outdoors and always have a flashlight, extra chargers, and power banks.
When is the best time to make this journey?
Late spring to early fall is ideal. Between May and September, the roads are clear, and attractions, including Yellowstone, are fully accessible. 
It's worth noting that Yellowstone can be crowded during peak summer months. For fewer crowds and pleasant weather, consider late May to early June or September.
How can I ensure safety during the drive?
Regularly check your vehicle, especially if it's a long drive. Ensure the brakes, lights, and tires are in good condition. Avoid driving at night in unfamiliar terrains. 
While on the road, stay updated on weather forecasts, especially when passing through mountainous regions. 
In wild areas, always follow guidelines concerning wildlife—maintain distance and avoid feeding animals.
Are there any hidden gems on the route?
Absolutely! While the main attractions get most of the limelight, places like the Gateway Natural Area near Fort Collins or the Pilot Butte Wild Horse Scenic Loop in Rock Springs are worth the detour. 
Often, local diners or off-the-beaten-path hikes can offer authentic experiences that aren't crowded with tourists.
What kind of accommodations can I expect along the way?
The stretch from Denver to Yellowstone offers a variety of accommodations. From motels and hotels in larger towns to quaint B&Bs in smaller communities, there's something for every budget. 
If you're into camping, numerous campgrounds and RV parks dot the route. Always book in advance, especially during peak season, to ensure availability.
How can I make the trip more engaging for kids?
Turn the journey into an educational adventure! Incorporate stops at interactive attractions like museums or nature centers. Plan for outdoor activities such as short hikes or picnics. 
Keep a travel journal or a game list that includes spotting specific animals, landmarks, or license plates from different states. 
Audiobooks or travel-related games can also make drive-time fly by for younger passengers.
What wildlife should I be prepared to encounter in Yellowstone, and how do I ensure safety?
Yellowstone is home to a plethora of wildlife including bears (both grizzly and black bears), wolves, elk, bison, and moose. 
Always observe animals from a distance, and never approach or feed them. When hiking, make noise to avoid surprising any animals. 
Carrying bear spray and knowing how to use it is advisable, especially if you're venturing into backcountry areas. Stick to designated trails and be cautious during dawn and dusk when wildlife is most active.
Are there specific regulations or permits required for camping inside Yellowstone?
Yes, camping within Yellowstone requires adherence to park-specific regulations. 
There are developed campgrounds that can be reserved in advance and some operate on a first-come, first-served basis. 
If you're interested in backcountry camping, a permit is required, and you need to check in with a park ranger station. 
Always follow the Leave No Trace principles to protect the park's pristine environment and its inhabitants.
Which geothermal features are a must-visit in Yellowstone, and are there any safety guidelines associated with them?
Yellowstone boasts some of the world's most incredible geothermal wonders. 
Old Faithful geyser is the most iconic, but Grand Prismatic Spring, Mammoth Hot Springs, and the Norris Geyser Basin are equally breathtaking. 
Always stay on designated boardwalks and trails when exploring these areas. The ground near geothermal features can be fragile and extremely hot. 
Avoid touching the water, which can cause severe burns, and ensure children are supervised at all times. 
Remember that wandering off designated paths not only endangers you but also harms the delicate ecosystems of these features.
Our Favorite Route from Denver to Yellowstone
Embarking on the journey from the bustling city of Denver to the natural sanctuary of Yellowstone National Park is an adventure that beautifully juxtaposes urban charm with untouched wilderness.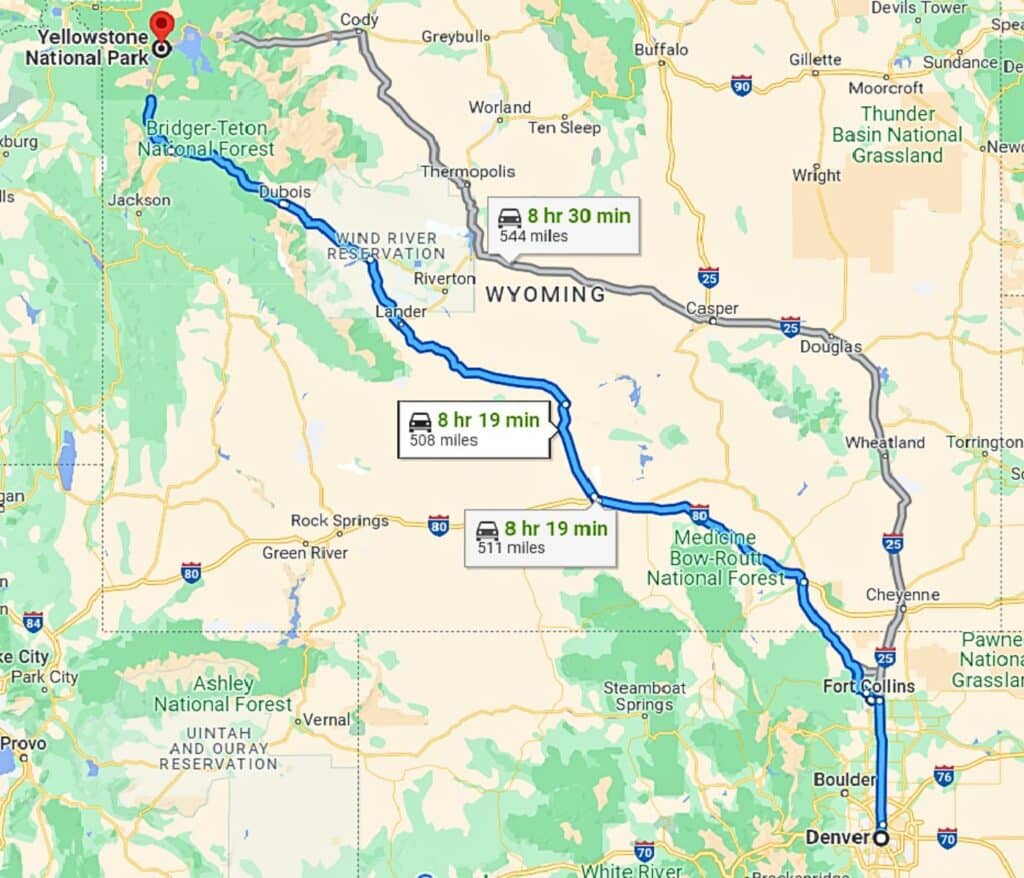 This route, a favorite among road trip enthusiasts, encompasses approximately 510 miles of diverse landscapes, changing topographies,  and provides a unique experience that beckon travelers of all kinds.
Starting in Denver, the capital city of Colorado, one begins the trip amidst urban landscapes and the backdrop of the Rocky Mountains. 
As you navigate your way north, the transition from cityscapes to more pastoral and rugged terrains begins. 
Interstate I-25 N serves as your initial highway, guiding you towards Fort Collins, a vibrant city known for its picturesque old town and thriving craft beer scene.
From Fort Collins, the journey takes you westward through CO-14 W, introducing you to the beginnings of mountainous terrains and the potential for your first few stops. 
As you merge onto US-287, the scenery begins to evolve more rapidly. This highway serves as a conduit to Wyoming, marking a notable shift from Colorado's landscapes.
Entering Wyoming, the vast open spaces and the sight of distant mountain ranges greet you. 
The route weaves through I-80 W and then meanders onto the US-287 N, which is a long stretch that covers a significant portion of Central Wyoming. 
This stretch is punctuated by small towns, each with its unique offerings.
As you approach closer to Yellowstone, you'll transition onto US-191/US-287/US-89 in Teton County. 
This segment of the drive is particularly scenic, with the Grand Tetons looming on the horizon and signaling your proximity to the park.
The entire route from Denver to Yellowstone is a masterclass in diverse American landscapes, providing travelers with a taste of the urban, the pastoral, the mountainous, and the wild. 
12 Stops From Denver to Yellowstone National Park
The journey from Denver to Yellowstone offers more than just a destination; it's a tapestry of experiences waiting to be unraveled. 
Between the urban allure of Denver and the untamed wilderness of Yellowstone, lies a route punctuated with historical landmarks, quaint towns, and nature's spectacles. 
Dive into these 12 curated stops that promise to enrich your road trip, making every mile an adventure in its own right.
Fort Collins, CO
Just a short 65-mile drive north of Denver will bring you to the inviting city of Fort Collins, often hailed as the craft beer capital of Colorado. 
As you roll into town, you're immediately greeted with the aroma of brewing hops, hinting at the renowned craft breweries scattered throughout. 
But there's more to Fort Collins than just its beers. Venture a little deeper and you'll discover its charming Old Town. 
A walk through this historic district is akin to taking a step back in time, with beautifully preserved brick buildings housing an array of boutique shops, cozy cafes, and delightful eateries. 
Street musicians often fill the air with melodies, as locals and tourists alike revel in the artsy, laid-back vibe. 
Whether you're a beer aficionado eager to sample some local brews or someone who appreciates the allure of a well-preserved historical district – Fort Collins seamlessly blends the past with the present, making it a must-visit stop on your journey from Denver to Yellowstone.
Cheyenne, WY
A mere 45 miles north of Fort Collins, Cheyenne welcomes travelers with the spirit of the Wild West. 
As Wyoming's capital, Cheyenne is steeped in rodeo history, which pulses through its streets and is vividly displayed in its local museums and galleries.
If your travels coincide with late July, you're in for an authentic treat. Cheyenne comes alive during its Frontier Days, a tradition that's over a century old.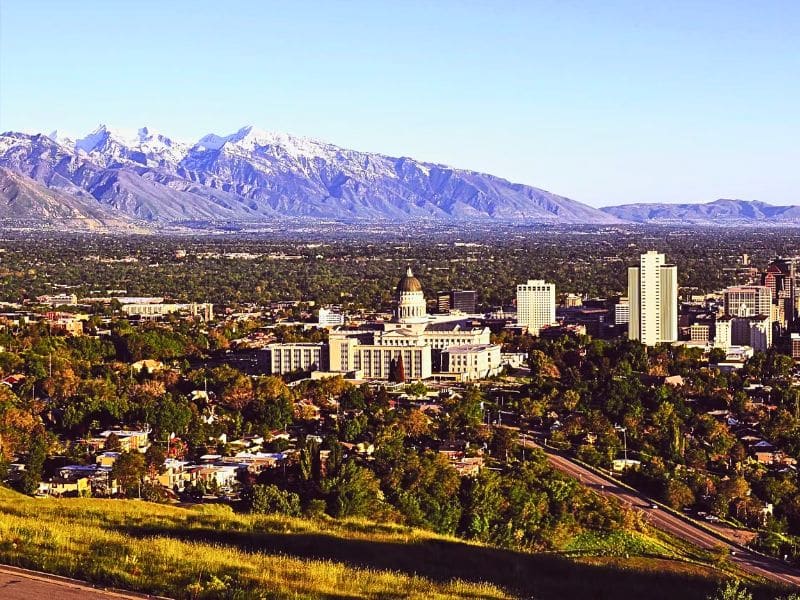 This annual event isn't just a rodeo; it's a celebration of the city's rich heritage. Locals and visitors gather for lively parades featuring vintage wagons and spirited horses. 
Every morning, places like The Plains Hotel host pancake breakfasts, where warm flapjacks drizzled in syrup become the perfect pre-rodeo meal.
For lunch or dinner, swing by the historic Albany Restaurant, where dishes tell stories of Cheyenne's past. 
Whether you're in town for the Frontier Days or just passing through, the combination of rodeo culture, hearty meals, and Western charm make Cheyenne a memorable detour on your way to Yellowstone.
Laramie, WY
Roughly 50 miles from Cheyenne lies Laramie, a mix of Wild West heritage and collegiate verve. The University of Wyoming stands at the heart of the city, lending it an energetic and innovative spirit. 
If you're visiting during an academic year, consider wandering through "Prexy's Pasture," the university's central quad, where students often gather for events or simply to study under the open sky.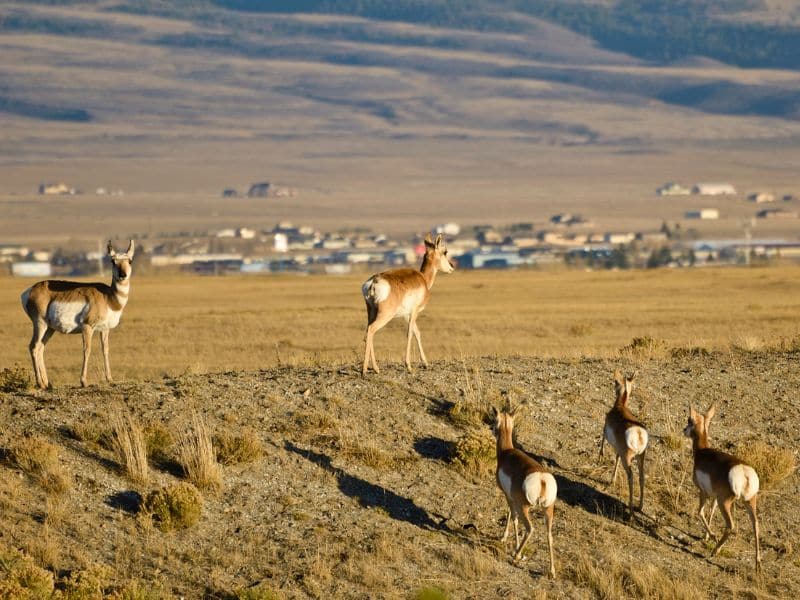 Yet, beyond the bustle of college life, Laramie offers rich historical experiences. A standout is the Wyoming Territorial Prison State Historic Site. Step inside and be transported back to the late 1800s. 
This former prison once housed notorious criminals like Butch Cassidy. Engaging tours share tales of daring escapes and day-to-day life of inmates.
Having worked up an appetite, make your way to Jeffrey's Bistro on 2nd Street. Loved by both locals and visitors, Jeffrey's offers a range of hearty dishes, from flavorful soups to robust sandwiches. As a bonus, they pride themselves on using local ingredients.
In Laramie, the blend of the youthful buzz from its university and the echoes of its rich history create a unique stopover, adding depth and variety to your trip towards Yellowstone.
Medicine Bow National Forest, WY
A mere 45 miles west of Laramie, the expansive Medicine Bow National Forest stretches out, a haven for outdoor enthusiasts. The undulating landscapes, punctuated by dense forests and alpine meadows, beckon hikers and nature lovers alike.
One of the standout features of this region is the Snowy Range Scenic Byway. As you drive along, you're treated to panoramic views of snow-capped peaks, crystal-clear lakes, and sprawling meadows dotted with wildflowers, especially during spring and early summer.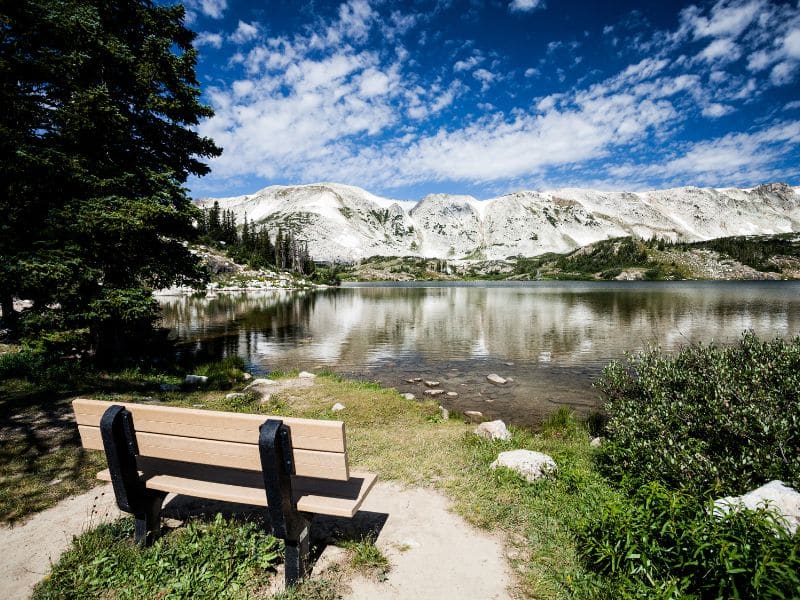 For those eager to stretch their legs, the Lewis Lake Trail offers a relatively easy trek leading to a serene lake setting, while the more challenging Medicine Bow Peak Trail rewards hikers with breathtaking views from the highest summit in southern Wyoming.
Post-hike, if you find yourself with a growling stomach, the nearby town of Centennial offers a respite. The Trading Post Dinner House is a favorite, with its hearty dishes reminiscent of homestyle cooking, the perfect way to recharge after a day of adventure.
Medicine Bow National Forest enriches your journey with its natural beauty, challenging trails, and scenic drives, making it an unmissable stop as you wend your way towards Yellowstone.
Rawlins, WY
Approximately 60  miles from Medicine Bow National Forest, Rawlins emerges as a distinctive blend of Wild West heritage and modern-day charm. 
As you drive through Wyoming's vast open landscapes, this small city becomes a welcome sight, offering both history buffs and casual travelers a slice of the state's past.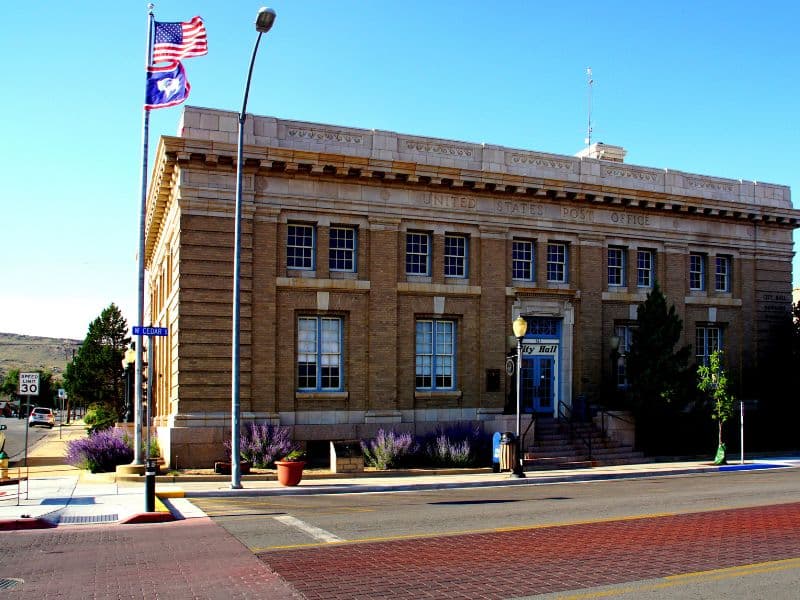 Central to Rawlins' allure is the old Wyoming State Penitentiary. With its imposing stone walls and storied past, it once housed some of the West's most notorious criminals. 
Today, it stands as a fascinating museum, taking visitors on a journey through time, from the prison's harsh early days to its eventual closure. Walking its corridors, you can almost hear the echoes of past inmates, their tales waiting to be uncovered.
Once you've delved into the Penitentiary's tales, the streets of Rawlins beckon with a handful of delightful eateries. 
Buck's Sports Grill is a local favorite, offering a diverse menu in a cozy setting, while the Aspen House Restaurant is known for its sumptuous steaks and regional specialties.
Whether you're on a history quest or merely seeking a restful pit stop, Rawlins presents an engaging blend of culture, cuisine, and curiosity on your journey to Yellowstone.
Independence Rock, WY
Situated about 75 miles from Rawlins, the immense granite formation of Independence Rock rises from Wyoming's landscape like a sentinel of history. 
A pivotal landmark on the legendary Oregon Trail, this impressive rock has witnessed countless pioneers, adventurers, and dreamers pass by its colossal facade.
As you approach Independence Rock, the sheer scale is awe-inspiring. 
Walking around its base provides a palpable sense of history, with numerous inscriptions and names carved into the stone – a testament to the many travelers who sought to immortalize their journey.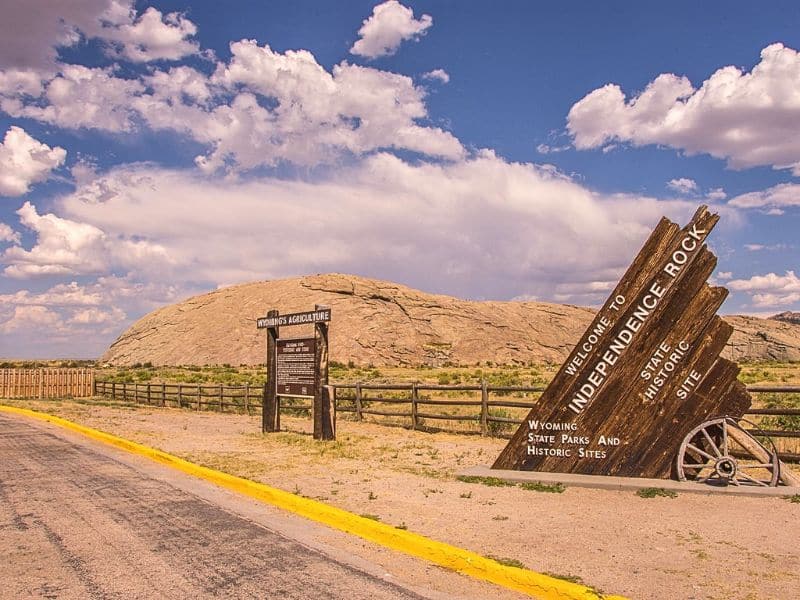 For the adventurous at heart, parts of the rock invite climbing, offering panoramic views of the vast plains and trails that echo tales of yesteryears.
A short distance away, the Independence Rock Visitor Center provides rich insights into the Oregon Trail's history and the significance of the landmark. 
Here, you can glean stories of bravery, dreams, and determination that the pioneers carried in their quest for a better life.
Before continuing your journey, make a pit stop at Alcova Reservoir's Lakeside Lodge, about 20 miles away. It's a great place to relish a hearty meal, with a scenic backdrop to complement your Oregon Trail-inspired day at Independence Rock.
Casper, WY 
Just about 50 miles northeast of Independence Rock lies Casper, a city that beautifully intertwines Wyoming's deep-rooted history with a fresh, modern ambiance. 
Casper's position along the North Platte River made it an essential waypoint for pioneers traveling the Oregon, Mormon, California, and Pony Express trails, endowing the city with a rich historical tapestry.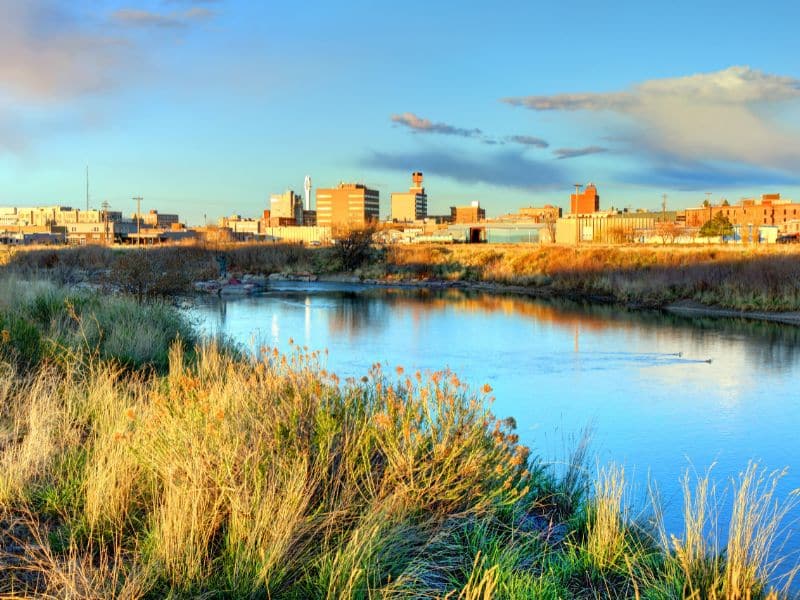 One of the must-visit spots is the National Historic Trails Interpretive Center. Overlooking the city, this center offers interactive exhibits that plunge you back in time, letting you experience the challenges and triumphs of those early pioneers. 
The panoramic views from the center's deck give a sweeping view of the area's trails and the river that guided so many westward.
For a bite to eat, venture to Eggington's, a local favorite that serves hearty breakfasts and brunches. 
Their Wyoming Benedict, with buffalo sausage, is a delightful twist on a classic. If you're in the mood for a more refined setting, try The Branding Iron for dinner, where the steaks are both succulent and locally sourced.
Before moving on, take a stroll along Casper's charming downtown streets, dotted with boutiques, galleries, and coffee shops – a contemporary counterpoint to the history you've just explored.
Shoshoni, WY
A little over 100 miles southwest from the historic streets of Casper, the quaint town of Shoshoni emerges as a beckoning oasis. This modest town, though small in size, plays a grand role as the gateway to the breathtaking Boysen State Park.
At Boysen State Park, the sparkling waters of Boysen Reservoir invite you to indulge in a myriad of activities. 
Whether you're casting a line to catch the day's fresh fish or skimming the water's surface on a kayak, the reservoir guarantees rejuvenation. The park is also a boater's paradise, with several launch ramps and marinas available. 
But if you prefer dry land, the trails weaving around the park provide panoramic views of the Wind River Canyon's rugged cliffs and the vibrant blue waters below.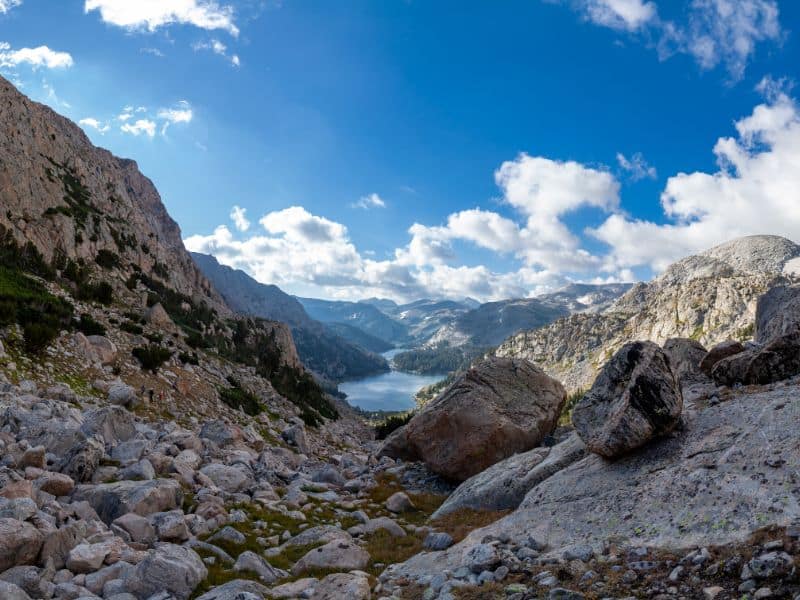 Hungry after a day of adventures? Pop into the Wind River Cafe for a taste of local fare. Their classic American menu, featuring juicy burgers and crispy fries, is sure to satisfy those adventure-induced cravings.
Before you leave Shoshoni, take a moment to simply soak in the scenic majesty surrounding the town. The juxtaposition of arid landscapes with the shimmering waters of Boysen Reservoir is a sight you won't soon forget.
Thermopolis, WY
Just about a 30-mile scenic drive northeast of Shoshoni lies Thermopolis, a hidden gem that boasts rejuvenating experiences and prehistoric wonders.
The heart of this town beats with the warm waters of Hot Springs State Park. The park is famed for housing the world's largest mineral hot spring. 
Bathing in these therapeutic waters is not only a delightful way to relax those road-weary muscles, but it's also an iconic Thermopolis experience. The steamy pools surrounded by the park's natural beauty create an ambiance of sheer tranquility.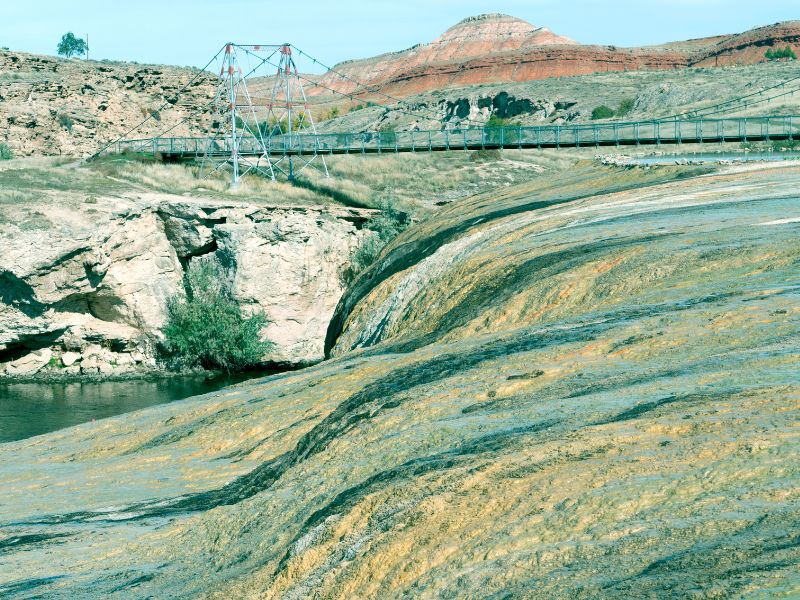 Yet, Thermopolis is not just about relaxation; it's also a journey back in time. The Wyoming Dinosaur Center awaits those curious about the giants that once roamed our planet. With an impressive collection of fossils and interactive exhibits, it's a place where history is tactile and ancient stories come alive.
While in town, consider grabbing a bite at the Black Bear Cafe. Their homestyle dishes provide the perfect fuel, whether you're diving into the world of dinosaurs or planning to spend more time soaking in the springs. 
Thermopolis offers a beautiful blend of nature's spa and prehistoric wonder, making it a can't-miss stop on your route.
Wind River Canyon
Just 20 miles from Thermopolis, the breathtaking Wind River Canyon emerges. As the landscape changes, you'll be treated to the awe-inspiring sight of the Wind River slicing its way through ancient rock formations.
The canyon, carved by the Wind River, offers a tapestry of geologic history. Its walls reveal layers upon layers of sediment, representing various epochs. As you drive alongside the Wind River, you'll find the sheer cliff faces a testament to nature's artistic prowess.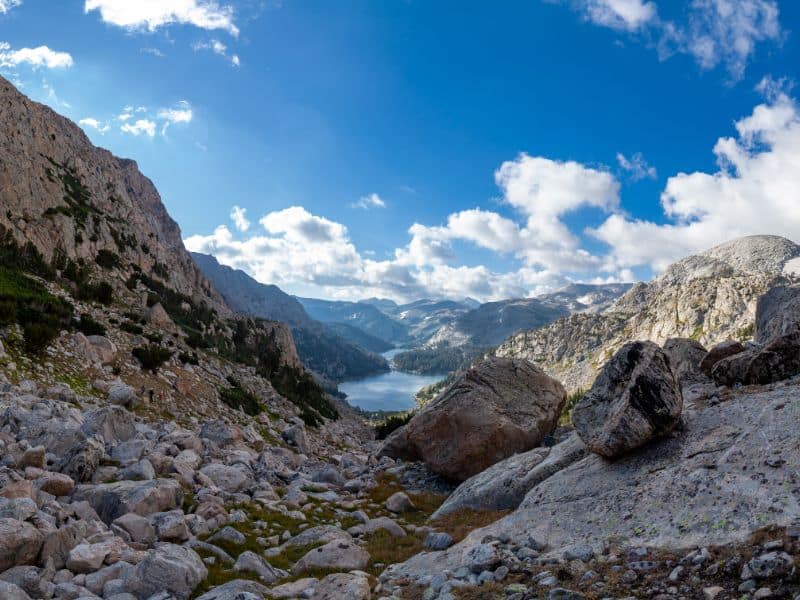 Several pullouts dot the drive, allowing travelers to take in diverse perspectives of the canyon. At each, the Wind River's clear, rushing waters offer a tranquil backdrop. It's a haven for photographers and those keen on soaking up scenic vistas.
One highlight: The Boysen Reservoir, located at the canyon's southern end. Here, the Wind River broadens, and the scene shifts from narrow canyons to expansive waters.
Wind River Canyon is more than just a stretch of road; it's a journey through geologic time, a dance of water and rock that's been ongoing for millennia. For travelers, it's an essential stop, a place to connect with Wyoming's rugged, untamed spirit.
Dubois, WY
A mere 50 miles from the majestic Wind River Canyon, the quaint town of Dubois unfolds, exuding an unmistakable old-world allure. 
As you approach, the rustic charm is evident – wooden boardwalks line the streets, reminiscent of a bygone era, while log buildings add to its authenticity.
Dubois is more than just its vintage appeal. The town is a treasure trove of history, waiting to be explored. A visit to the Dubois Museum offers a deep dive into the area's Native American and Old West heritage.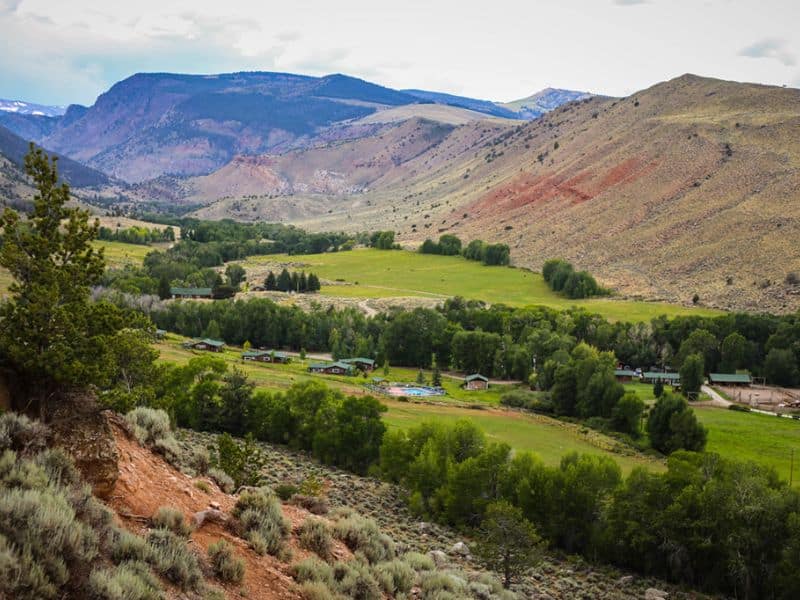 The exhibits, both indoor and outdoor, tell the tales of pioneers, indigenous tribes, and the wildlife that shaped this part of Wyoming.
But Dubois isn't just about its past. The surrounding natural beauty beckons. A stone's throw away, Whiskey Mountain looms large. It plays host to the largest wintering Rocky Mountain Bighorn Sheep herd. 
A trip in the cooler months might just reward you with a sight of these majestic animals grazing against a backdrop of snow-capped peaks.
Dubois is a blend of the past and the present, a perfect pit stop that promises both education and serene beauty.
Yellowstone National Park: The Last Stop on Your Epic Road Trip
After covering approximately 85 miles from the rustic charm of Dubois, you'll reach the grand finale of your journey – Yellowstone National Park. 
Sprawling across a mammoth 2.2 million acres, Yellowstone isn't just a national park; it's a world unto itself.
From Dubois, you'd likely be entering from the South Entrance near Grand Teton National Park. The entrance fee is $35 for private vehicles, which is valid for seven days. 
Consider purchasing the annual park pass if you're planning multiple visits. The town of Jackson is closest to this entrance and offers ample services, lodging, and dining options.
Geothermal Must-Sees: While the Old Faithful geyser is a quintessential stop, ensure you also visit the Midway Geyser Basin, which houses the Grand Prismatic Spring.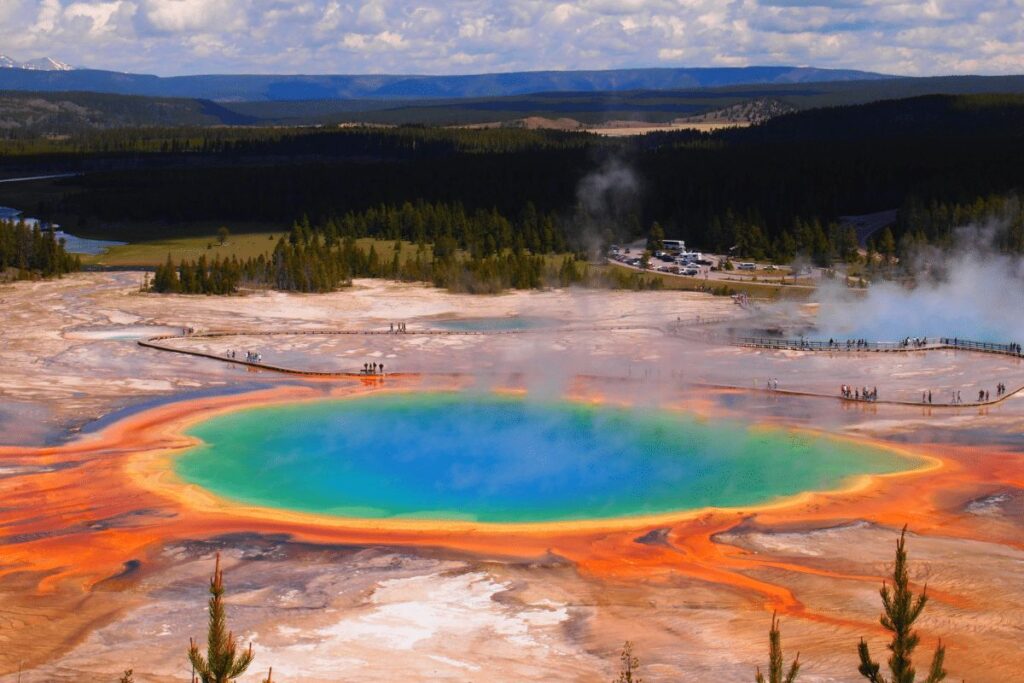 Its vibrant colors and sheer size are breathtaking. The Norris Geyser Basin is another must-visit with its unique geothermal features.
Wildlife Watching: Yellowstone's Lamar Valley is known as America's Serengeti. Best visited at dawn or dusk, it's a hotspot for viewing wolves, bison, and occasionally grizzlies. Always maintain a safe distance.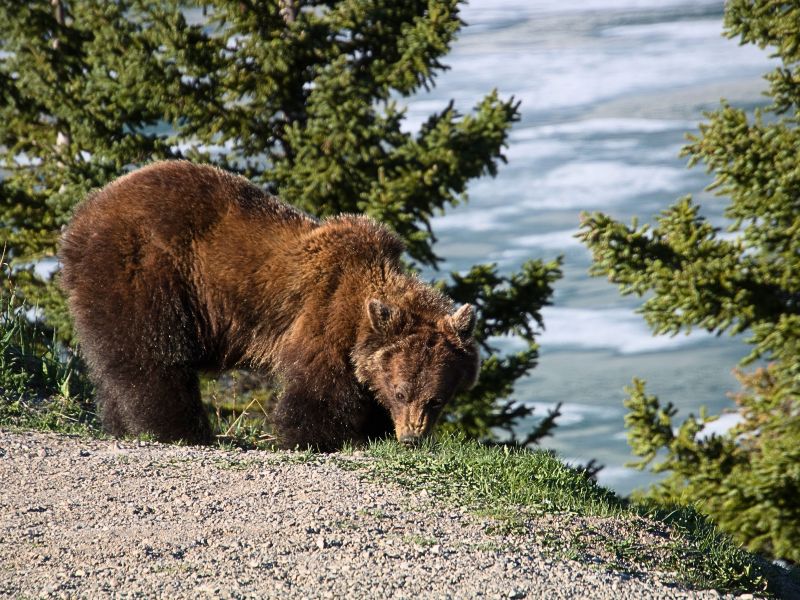 Marvel at the Canyons: The Grand Canyon of the Yellowstone offers dramatic views. Stop at Artist Point to capture the picturesque Lower Yellowstone Falls and the beautiful colors of the canyon walls.
Trail Highlights: There are over a thousand miles of trails in Yellowstone. Close to the South Entrance, the West Thumb Geyser Basin Trail offers a serene walk by the Yellowstone Lake. 
For a more challenging trek, the Mount Washburn Trail offers panoramic views of the park.
Accommodation Inside and Nearby:
Grant Village: About 22 miles from the South Entrance, this is the closest campground with over 400 sites. It offers amenities like shower facilities, a general store, and a restaurant.
Jackson: If you're looking for more upscale accommodations or a quick bite, this town outside the South Entrance has various options from hotels to local eateries.
Nearby Towns for Supplies:
Jackson: Besides being a hub for accommodations, Jackson has grocery stores, gas stations, and medical services.
West Yellowstone: Located at the park's West Entrance, it's a great place for supplies, dining, and even offers a unique Grizzly & Wolf Discovery Center.
Pro Tips:
Visit during the Shoulder Seasons: Late spring and early fall see fewer crowds, making it a serene experience.
Bear Safety: Always carry bear spray when hiking and know how to use it.
Stay on Marked Trails: The park's geothermal areas can be dangerous. Stick to boardwalks and marked paths.
As you venture into Yellowstone, it's not just about checking off the main attractions but truly immersing yourself in its wild beauty. Every corner of the park has a story, waiting to be discovered by curious travelers like you.
7-Day Personal Itinerary from Denver to Yellowstone
Embarking on a 7-day journey from the bustling streets of Denver to the untouched wilderness of Yellowstone? 
This personalized itinerary promises a blend of urban charm, natural splendor, and adventurous trails. 
Crafted for those with an explorer's spirit, this guide ensures each day unveils a new horizon, leading up to the magnificent finale in Yellowstone. 
Dive in and prepare for a week of awe-inspiring experiences that'll etch memories for years to come.
Day 1: Denver to Casper
Kick off your adventure with a hearty breakfast at the Denver Biscuit Company before hitting the road. 
The drive to Casper allows you to witness Colorado's beauty fade into Wyoming's unique landscapes. Upon arrival, Casper unfolds its historical richness; the National Historic 
Trails Interpretive Center is a must-visit. By evening, savor a meal at Eggington's, and let the local flavors envelop you.
Day 2: Casper to Yellowstone
Start the morning in Casper with anticipation for what's to come. The drive to Yellowstone is transformative; the urban fades and the wild takes over. 
Enter Yellowstone through the East Entrance. Your first treat? The captivating sights of the Sulphur Caldron and Mud Volcano. 
As dusk approaches, set up your tent at the Fishing Bridge RV Park, your home beneath the stars for the next few nights.
Day 3: Dive into Yellowstone's Wonders
Rise and shine amidst nature. Your first stop is the Grand Canyon of the Yellowstone. 
Here, embark on the Uncle Tom's Trail, a rigorous 0.7-mile trail with stairways that lead to an unparalleled view of the 308-foot high Lower Falls.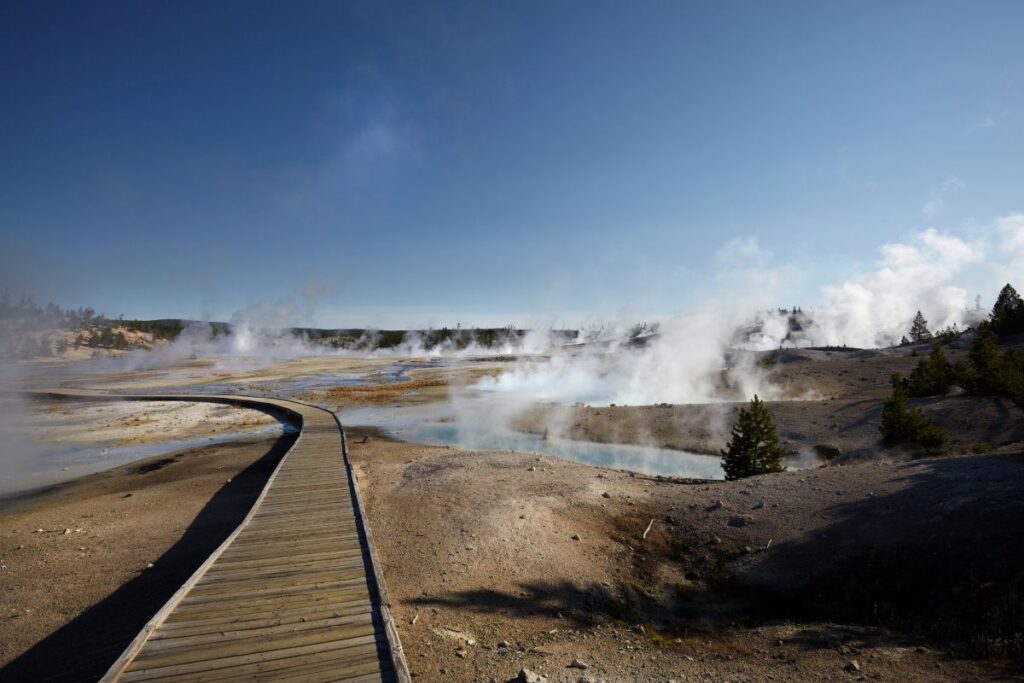 Norris Geyser Basin is next on the list. Covering the 2.25-mile loop of the Porcelain Basin and the 1.75-mile loop of the Back Basin trails, you'll be surrounded by geothermal marvels, including the unpredictable Steamboat Geyser.
After a day full of exploration, relax at Fishing Bridge RV Park. For a delightful dining experience, the Yellowstone Lake Hotel Dining Room, a short 1-mile drive away, awaits with its sumptuous menu.
Day 4: Geysers and Springs Galore
Your first stop is Old Faithful, a 0.8-mile loop. While here, the nearby 1.3-mile Geyser Hill loop trail offers an opportunity to explore more geothermal features in proximity.
Venture to the Midway Geyser Basin. The boardwalk here covers 0.8 miles, taking you past the vibrant Grand Prismatic Spring.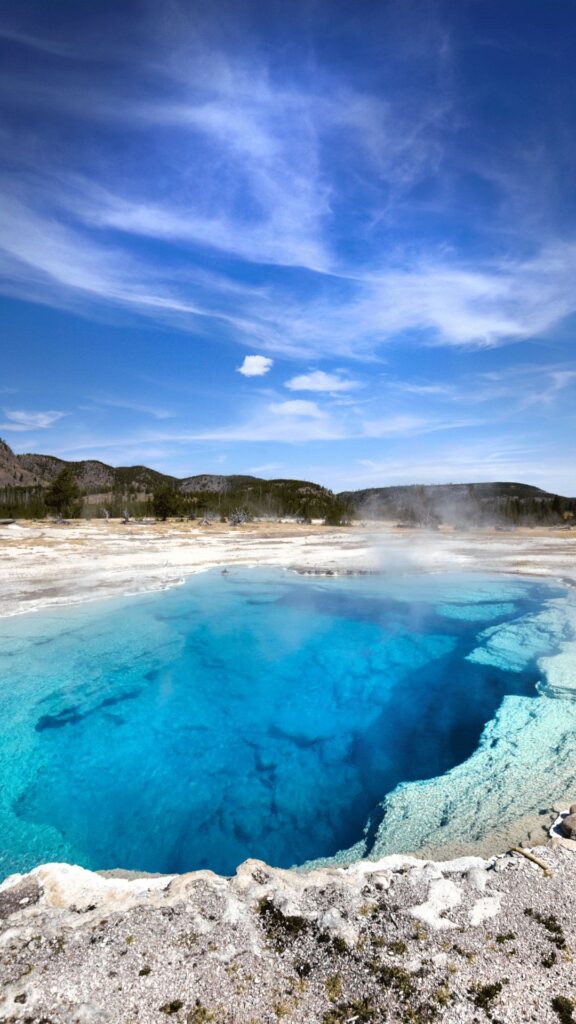 Later, a visit to Biscuit Basin, a concise 0.6-mile loop, introduces you to the mesmerizing Sapphire Pool and other geothermal wonders.
Return to Fishing Bridge. When hunger strikes, the Lake Lodge Cafeteria, approximately 0.5 miles away, serves a heartwarming array of dishes.
Day 5: Wildlife, Serenity, and a Scenic Shift
Begin at the expansive Hayden Valley. Drive through the 7-mile stretch, stopping at viewpoints for potential wildlife sightings.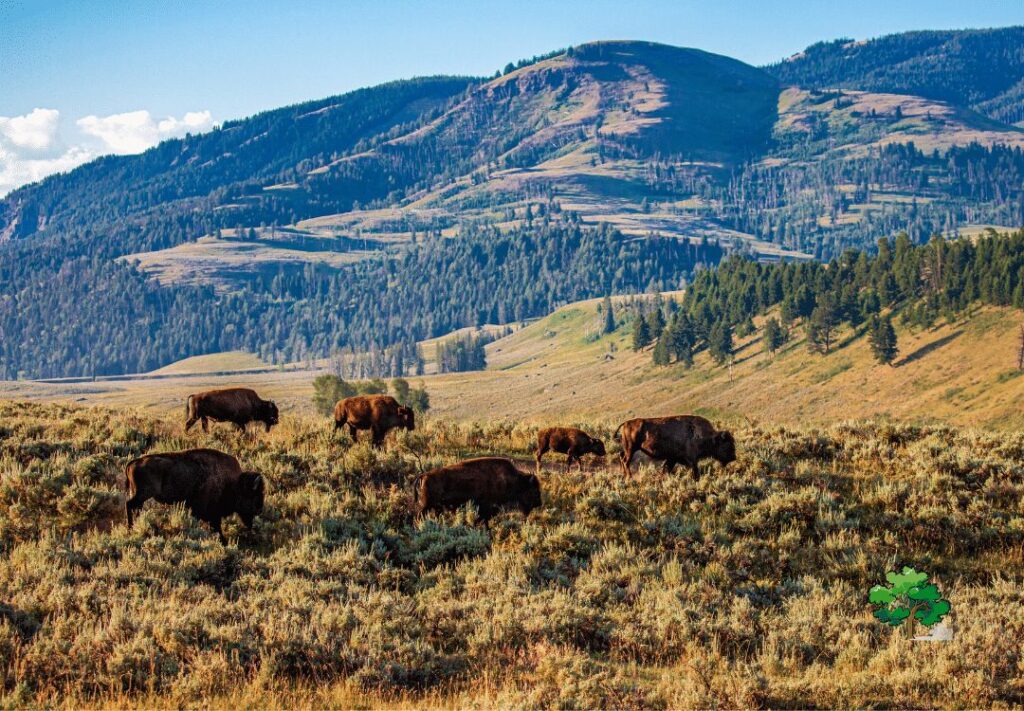 Pack up and transition to Madison Campground, roughly a 38-mile drive. After setting up, the nearby Firehole Canyon Drive is a must, covering a scenic 2-mile one-way route featuring cascades and the inviting Firehole Swimming Area.
As dusk paints the sky, the Riverside Geyser, accessible via a 2.2-mile round trip, offers a serene spot to witness geothermal energy in action as it erupts over the Firehole River.
Day 6: Farewell Yellowstone, Hello Medicine Bow
Bidding Yellowstone adieu is hard, but Medicine Bow National Forest softens the parting. 
As you exit via Yellowstone's South Entrance, prepare for Medicine Bow's rugged charm. 
Spend your afternoon hiking the Lakes Trail, where alpine beauty is at its best. By night, the Sugarloaf Campground offers a different kind of solace.
Day 7: Scenic Drives and Return to Denver
Morning in Medicine Bow is serene. The Snowy Range Scenic Byway is your route – a fitting final act for this journey. 
As Denver's skyline eventually emerges, it's a gentle reminder of where you began. Perhaps end your expedition at The Source in Denver, where tales of the past week can be shared over a hearty meal.
Conclusion
As your tires roll to a stop and your engine goes silent, reflecting on this Denver to Yellowstone journey reveals it's about more than just the destination – it's the story of the journey itself. 
From the vibrant heartbeats of cities to the serene whispers of nature, this route showcases the dynamic tapestry that the American West weaves. 
Every stop, every scenic view, every trail treaded, contributes a chapter to your personal adventure tale. 
So, as you head home with a heart full of memories and a camera full of picturesque moments, know that the landscapes you've traversed and the paths you've charted stand as a testament to the timeless allure of the open road. 
Safe travels, and may the spirit of exploration always guide you!