Discover the stunning Maroon Bells with our ultimate guide, covering trails, camping spots, and wildlife encounters. Dive into activities based on two decades of exploration!
Maroon Bells, two towering 14,000-foot peaks, stand as iconic sentinels in Colorado's rugged landscape. 
Their sheer beauty has captivated countless visitors, but there's so much more than what's captured in photographs.
Here we meticulously chart out the myriad activities waiting for you at Maroon Bells. 
From selecting the right trails to embarking on unforgettable hikes, we've pinpointed the best spots for every adventurer.
Beyond the trails, discover prime camping locales and immerse yourself in the realm of diverse wildlife that calls Maroon Bells home. Your journey of exploration begins here.
Why listen to us? For over two decades, we've traversed these terrains. Through sun, snow, and rain, we've attended ranger-led programs and witnessed the Maroon Bells in every conceivable light. 
We're excited to share our experiences with you. Dive in.
Getting to Know the Maroon Bells
Have you ever wondered what's so enchanting about the Maroon Bells that people from all corners flock to capture their beauty?
It's not just a name; it's an experience.
What are The Maroon Bells?
Not to be mistaken for simple mountain peaks, the Maroon Bells are a pair of awe-inspiring mountains that stand like guardians over the Maroon Creek Valley. Their picturesque appearance, coupled with the shimmering Maroon Lake at their base, creates a landscape that feels plucked straight out of a dream.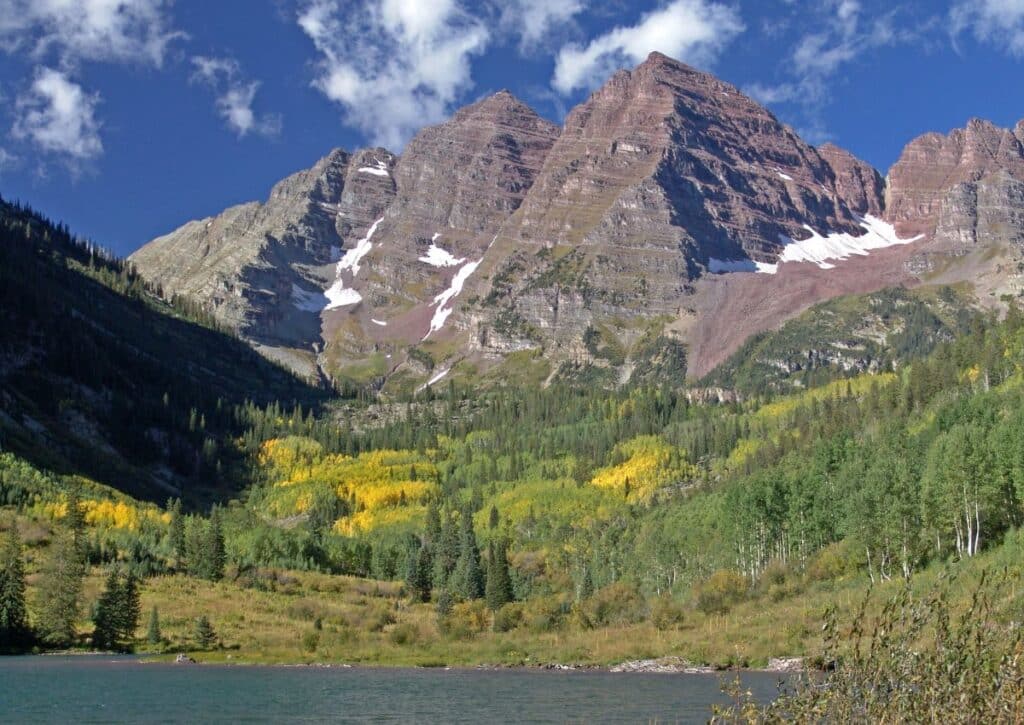 Capturing Colorado's Crown Jewel
Dubbed as the most photographed spot in Colorado, their allure isn't merely about height or location. 
Instead, it's the ethereal crimson hue that the mountains exhibit, especially during dawn and dusk, painting a surreal palette against the Colorado sky. 
Photographers, both amateur and professional, can't resist the temptation to capture this kaleidoscope of colors, making it a beloved subject of countless lenses.
A Testament to Nature's Grandeur
Rising a staggering 14,000 feet above sea level, understanding the grandeur of the Maroon Bells isn't just about numbers. 
To truly grasp their magnificence, imagine standing at their base, craning your neck, and still being unable to see the peaks unless you tilt your head way back. 
Their majestic stature serves as a humbling reminder of nature's unparalleled prowess.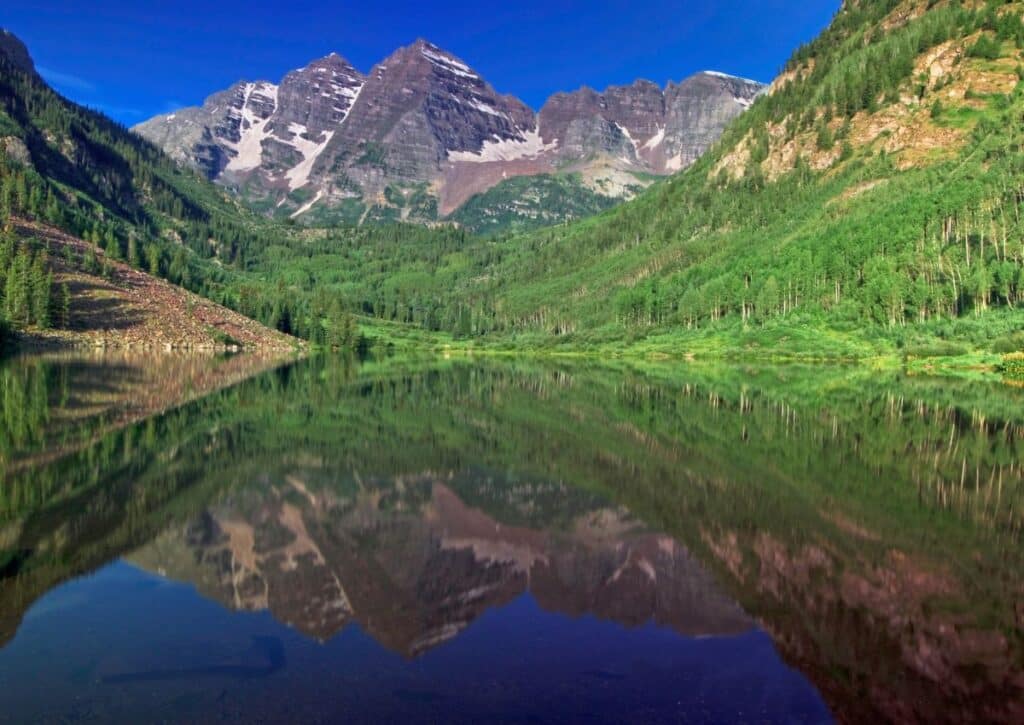 So, the next time you find yourself looking at a picture of the Maroon Bells, know that the photograph captures just a fraction of its true splendor. 
The real magic, as many would vouch, is in being there, feeling the cool breeze, hearing the distant echo of nature, and letting the Maroon Bells speak to your soul.
Essential Tips for Visiting the Maroon Bells
The Maroon Bells, with their towering peaks and pristine surroundings, beckon nature enthusiasts from all over. 
Ensuring a memorable visit, however, requires a blend of planning and spontaneity. Let's delve deep into the essentials.
Best Times to Visit Throughout the Year

The Maroon Bells wear their finest during late August to mid-October.
 Here, the aspen trees cloak the landscape in shimmering gold, providing a mesmerizing backdrop for your adventures. This season, with its mild temperatures, is particularly suited for hiking.
However, for those wishing for a more intimate connection with nature, July to early August serves as a hidden gem. 
With fewer tourists milling around, wildlife encounters increase, presenting the Maroon Bells in a different, equally enchanting light. The verdant trees and echoing bird songs during these months offer a symphony of natural wonders.
Close to Aspen Colorado

These iconic peaks, located a stone's throw (around 12 miles) from Aspen, Colorado, are not just a sight but an emblem of nature's grandeur. The Maroon Bells comprise two formidable peaks, Maroon Peak and North Maroon Peak. 
Two primary trails, The Maroon Creek Trailhead and the Cascade Falls Trailhead, serve as gateways to this wonder, meandering along the scenic Maroon Creek and offering diverse views with every step.
First-Timer Tips for the Maroon Bells
Parking Prowess: One of the challenges faced by visitors, especially during the bustling seasons, is parking. Early birds are often rewarded with the best spots. 
By mid-morning, these are typically occupied. For those preferring convenience, shuttle services are active, especially during the summer months, offering a breezy commute.
Altitude Awareness: The high-altitude beauty of Maroon Bells comes with its own challenges. 
Some visitors might experience symptoms of altitude sickness. 
Drinking ample water, taking it slow, and, if possible, spending a day in Aspen before your hike can help in acclimatizing.
Weather Wisdom: The mountainous climes are fickle. A sunny morning can quickly turn into a cloudy afternoon. Carrying layered clothing and rain gear is not just advice but a necessity here.
Insider's Tips to Truly Experience Maroon Bells
Seek Out Secluded Spots: Wander a bit off the main trails, and you might find hidden nooks perfect for a serene picnic. 
These spots, known mostly to rangers and locals, offer tranquility unparalleled.
Chase the Golden Hours: Dawn and dusk at the Maroon Bells redefine beauty.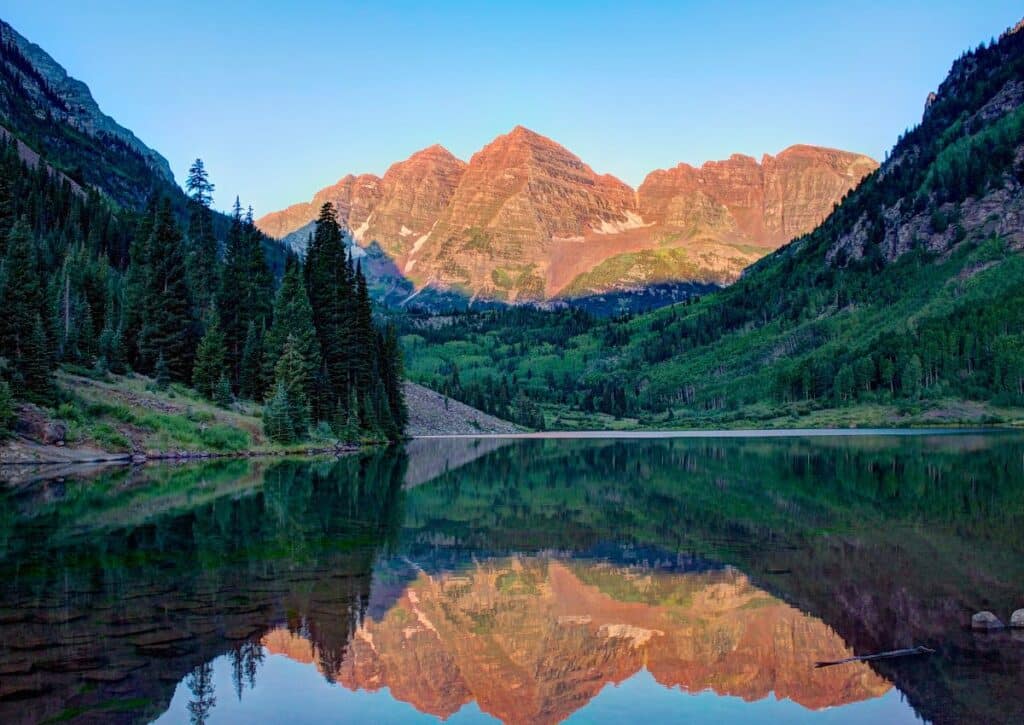 The play of light over the peaks, combined with the serene ambiance, is nothing short of magical. Early risers and sunset lovers, this is your playground.
Overnight Magic: While day visits are popular, spending the night in the vicinity of Maroon Bells offers a unique perspective. 
Whether it's stargazing, night hikes, or simply soaking in the nocturnal sounds, the experience is elevated manifold.
Engage in Local Events: Aspen and surrounding areas occasionally play host to events or organize guided tours. 
These can range from wildlife spotting expeditions to cultural immersions. A quick glance at local event calendars might unlock an unexpected adventure.
Local Lore: Engage with the long-term residents. 
Their tales, insights, and tips often encompass hidden trails, culinary delights, or historical tidbits, turning your trip from memorable to unforgettable.
Wildlife Wonders: With the reduction in foot traffic on certain trails, wildlife often makes a grand appearance. 
Armed with patience, silence, and a pair of binoculars, you might spot marmots, elks, or even the occasional bear from a safe distance.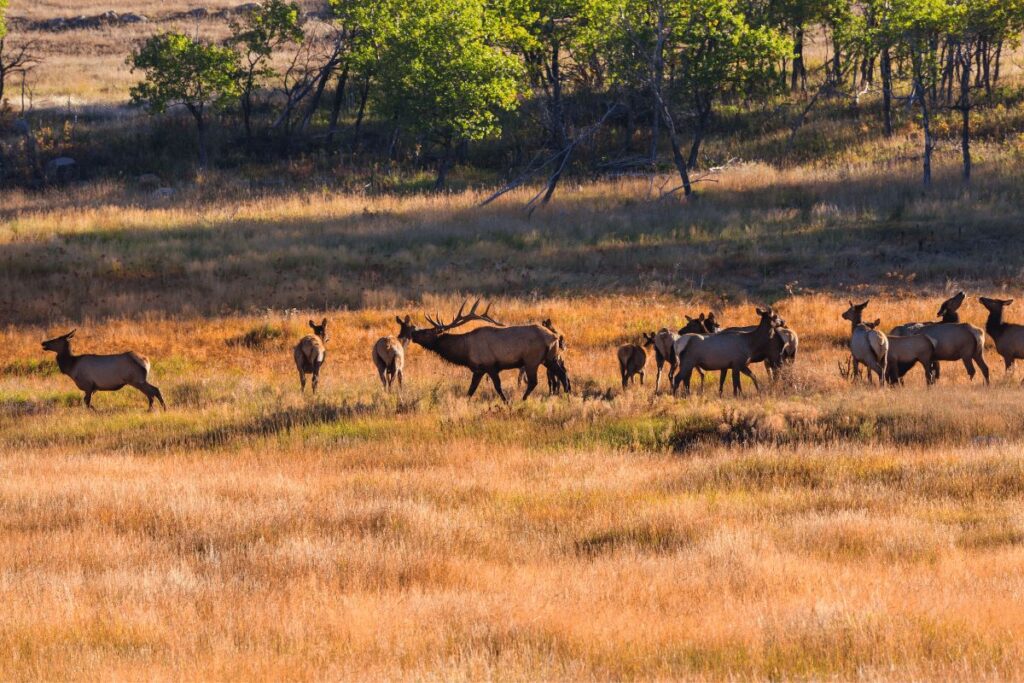 Responsible Exploration: As with all natural wonders, it's our responsibility to ensure minimal impact. 
Carrying reusable water bottles, avoiding littering, and staying on marked trails help preserve the Maroon Bells for generations to come.
Tip – Maroon Bells are not just a tourist spot but a journey, an experience that resonates deeply with the soul. 
With the right approach, every visit, whether the first or the tenth, feels as magical as the very first glimpse of those towering peaks. Immerse, explore, and let nature work its timeless magic.
Getting to the Maroon Bells
The Maroon Bells, set amidst the stunning backdrop of the Elk Mountains, are a sight to behold. Their untouched beauty attracts adventurers and peace-seekers alike. 
Before diving into the array of activities they offer, first things first: how do you get there? Follow along as we guide you through the journey to these iconic peaks.
Comprehensive Driving Directions
The drive to Maroon Bells is both scenic and straightforward, provided you have the right directions at your fingertips.
From Aspen: Start in Aspen, a hub for adventurers and nature lovers alike.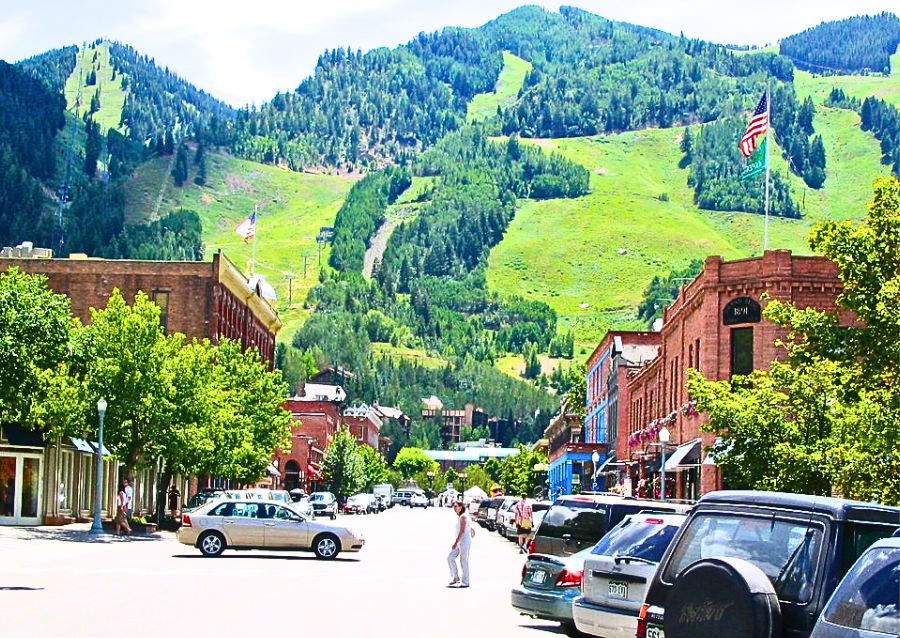 Head west on W Main St toward N 1st St. Following signage for Maroon Bells, you'll soon find yourself on W Hallam St. 
After about a mile, turn left onto Castle Creek Road and then an immediate right onto Maroon Creek Road. 
This road, cocooned by Aspen trees, leads directly to the Maroon Bells. The journey is approximately 12 miles and should take around 25 minutes without stops.
From Denver: If you're coming from Denver, get on I-25 S from Broadway. 
Follow I-70 W and CO-82 E to Maroon Creek Road in Aspen. It's a longer drive, around 4 hours, but the scenic beauty along the way makes it a journey to remember.
Ensure you have a valid recreation pass or pay the required entrance fee when you reach the Maroon Bells Welcome Station.
Seasonal Considerations: Visiting in the Winter vs. Summer

The Maroon Bells, being at such an elevated altitude, witness pronounced seasonal variations. 
Each season, while offering a unique experience, demands distinct considerations.
Summer:
Crowd Factor: Summer, with its warm weather and blooming flora, is peak tourist season. 
It's advisable to start early to avoid the mid-day crowd, especially if tranquility is what you seek.
Road Access: Maroon Creek Road, the direct road to the Bells, is open to private vehicles only from 8 pm to 8 am during the summer months. 
During the day, shuttle services operate from Aspen Highlands, providing a convenient and eco-friendly way to reach the Bells.
Activities: This season is perfect for hiking, camping, and wildlife watching. The thawed trails, humming with life, promise memorable adventures.
Winter:
Snow-Laden Routes: Winter cloaks the Bells in a blanket of pristine white. 
However, Maroon Creek Road is usually closed from mid-November to mid-April due to snow. 
Access during these months is primarily via cross-country skis or snowshoes.
Stark Beauty: While the biting cold might deter some, the tranquil winter wonderland setting, with fewer visitors, offers a unique charm. 
It's an ideal time for photography enthusiasts seeking undisturbed landscapes.
Activities: Winter opens the door for snow sports. From skiing to snowshoeing, the Maroon Bells offer a snowy playground. 
However, it's essential to be well-equipped and informed about the weather conditions.
Our Tip:
Getting to the Maroon Bells, be it in summer's embrace or winter's grasp, is more than just a drive; it's the beginning of an unforgettable experience. 
The road, winding through nature's masterpieces, sets the tone for what lies ahead – a tryst with one of nature's most magnificent spectacles. 
Prepare, drive safely, and let the journey be as memorable as the destination.
WILDLIFE AT THE MAROON BELLS
There are abundant wildlife-viewing opportunities around the Bells, so keep your eyes peeled for mule deer, mountain lions, elk, black bears and other local creatures.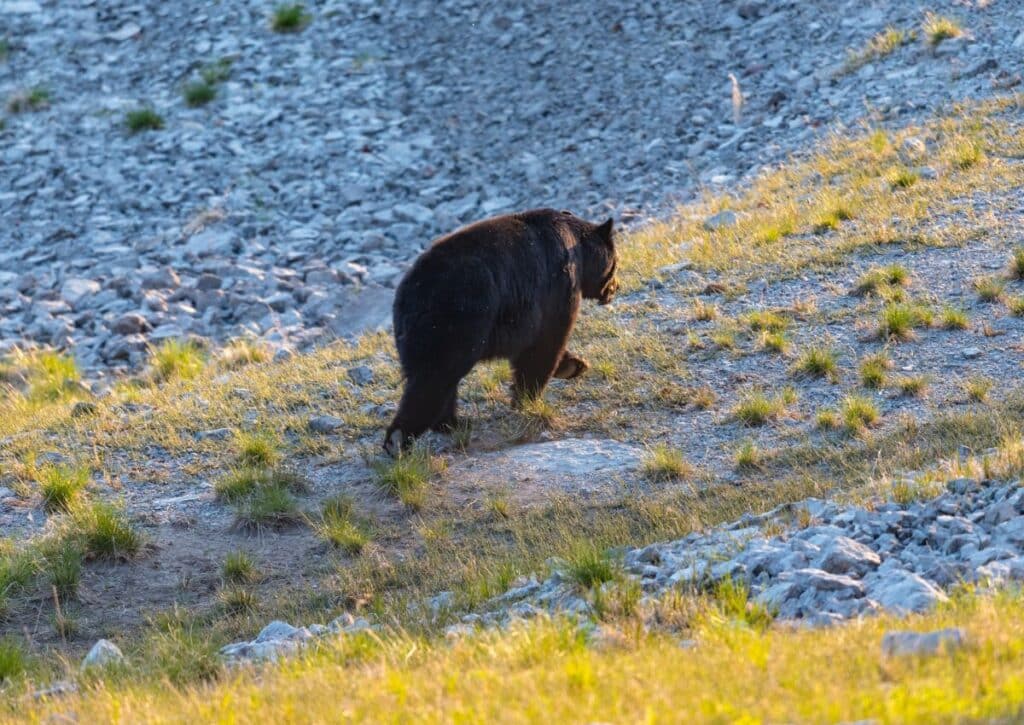 Wildlife-viewing opportunities abound around the Maroon Bells and it's important to be vigilant when you're enjoying them. The area is home to numerous large mammals, including mule deer, mountain lions and elk. Black bears are also a common sight in this area.
If you're lucky enough to spot one of these creatures or any other local animals while hiking or camping, keep your distance and enjoy observing them from afar with respect for their habitat.
If you do encounter a bear: Stay calm! They may appear aggressive but they are usually more interested in escaping than attacking people. If possible, stay where you are until the bear runs away on its own; otherwise when it moves away drop down onto all fours (this shows that you are not a threat). When traveling in bear country make sure that food scents are stored properly so as not to attract bears (do not store food or garbage inside vehicles).
THINGS TO DO AT THE MAROON BELLS
Here are the best things to do in Maroon Bells-Snowmass Wilderness, a stunning wilderness area in Colorado. 
The Maroon Bells-Snowmass Wilderness is a popular area for Colorado visitors, with more than 500,000 people visiting each year. 
While you can't go wrong with any of these amazing activities, I recommend hiking around the Maroon Bells and enjoying the wildflowers.
Trails to Explore in the Maroon Bells
Each trail around the Maroon Bells offers a unique perspective of the majestic peaks and the diverse ecosystems they nurture. 
Before we deep dive into each trail's specifics, it's worth noting that all these trails vary not just in their difficulty, but in the ecosystems they cross, the wildlife you might encounter, and the unique experiences they offer. 
Many have trailheads that provide access to adjacent wilderness areas, and nearby campgrounds make multi-day explorations a delightful possibility.
Maroon Lake Trail
Duration: 1 hour | Difficulty: Easy | Distance: 1 mile round trip | Trailhead: Maroon Lake
Arguably one of the most picturesque trails, the Maroon Lake Trail is perfect for those wanting a gentle introduction to the Maroon Bells. 
The path is mostly flat, weaving around the reflective waters of Maroon Lake.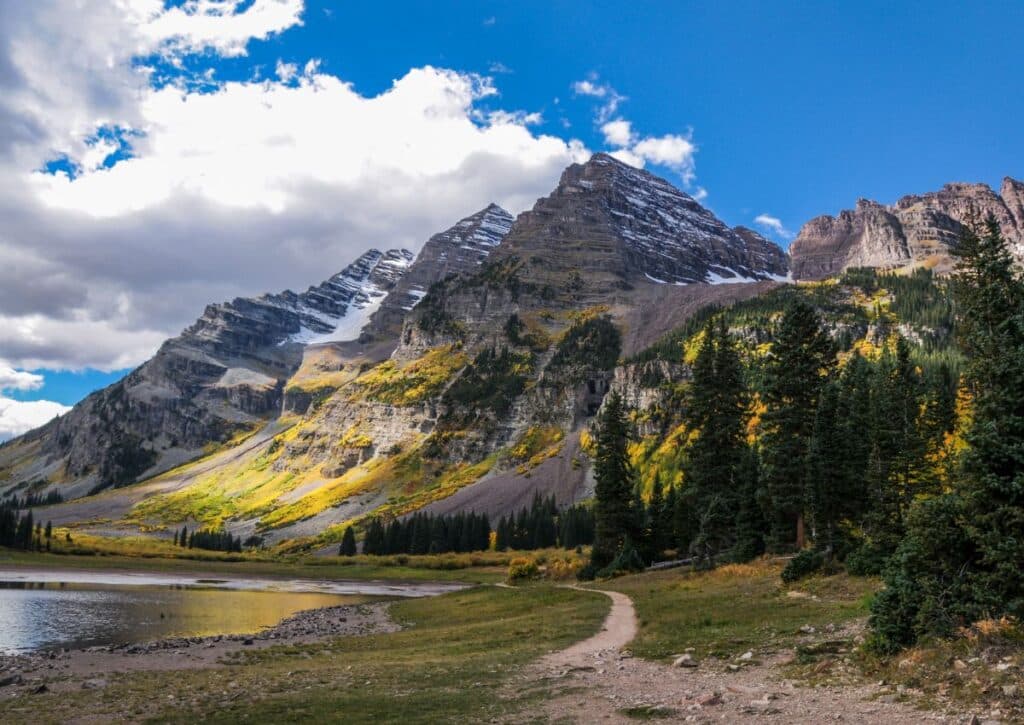 At sunrise and sunset, the lake mirrors the peach-pink hues of the bells, making for a perfect photo opportunity. 
This trail is wheelchair-accessible and is suitable for families with children. Along the way, expect to find placards detailing the flora and fauna of the region.
Nearby, the Silver Bell campground offers a convenient stay, allowing visitors to catch the mesmerizing sunrise over the peaks.
Clohesy Lake Trail
Duration: 5-6 hours | Difficulty: Moderate | Distance: 8 miles round trip | Trailhead: West Maroon Portal
A lesser-known gem, the Clohesy Lake Trail is for those looking to escape the crowds. 
Starting in a dense forest, the trail gradually opens up to alpine meadows before culminating at the serene Clohesy Lake.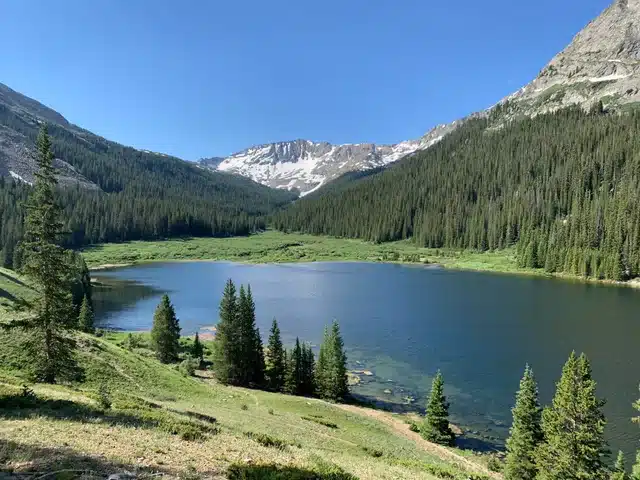 This trail is known for its wildflower blooms during spring and early summer, where fields are painted in purples, yellows, and reds. 
Apart from the alpine meadows and dense forests, this trail is a haven for wildlife enthusiasts. 
From mule deer to black bears and elusive moose, one might spot a variety of fauna. 
The serene Clohesy Lake at the trail's end is a perfect spot for relaxation, and its adjacent wilderness area ensures a raw, untouched experience.
Crater Lake Trail
Duration: 2-3 hours | Difficulty: Moderate | Distance: 3.6 miles round trip | Trailhead: Maroon Snowmass Trailhead
Starting at Maroon Lake, the Crater Lake Trail ventures deeper into the wilderness. As you advance, you'll witness the Maroon Bells magnify in stature. 
The trail culminates at Crater Lake, a pristine body of water that sits directly below the towering peaks. 
This lake, with its crystal-clear waters, often freezes over in the winter, creating a stark yet stunning contrast against the backdrop of the snow-clad Bells.
Descending into the glacial valley, this trail takes you to the foot of the Maroon Bells. 
The shimmering Crater Lake, with the peaks looming large in the backdrop, offers a surreal view. 
The surrounding meadows are frequented by elks, especially during dawn and dusk.
West Maroon Creek Trail
Duration: 6-8 hours | Difficulty: Challenging | Distance: 13 miles one way | Trailhead: Maroon Snowmass Trailhead
A trail for the seasoned hiker, the West Maroon Creek Trail is a point-to-point trail connecting Aspen to Crested Butte. 
The path traverses through varied terrains, from dense aspen groves to high alpine regions. Hikers often choose to camp mid-way, turning the trek into a two-day adventure.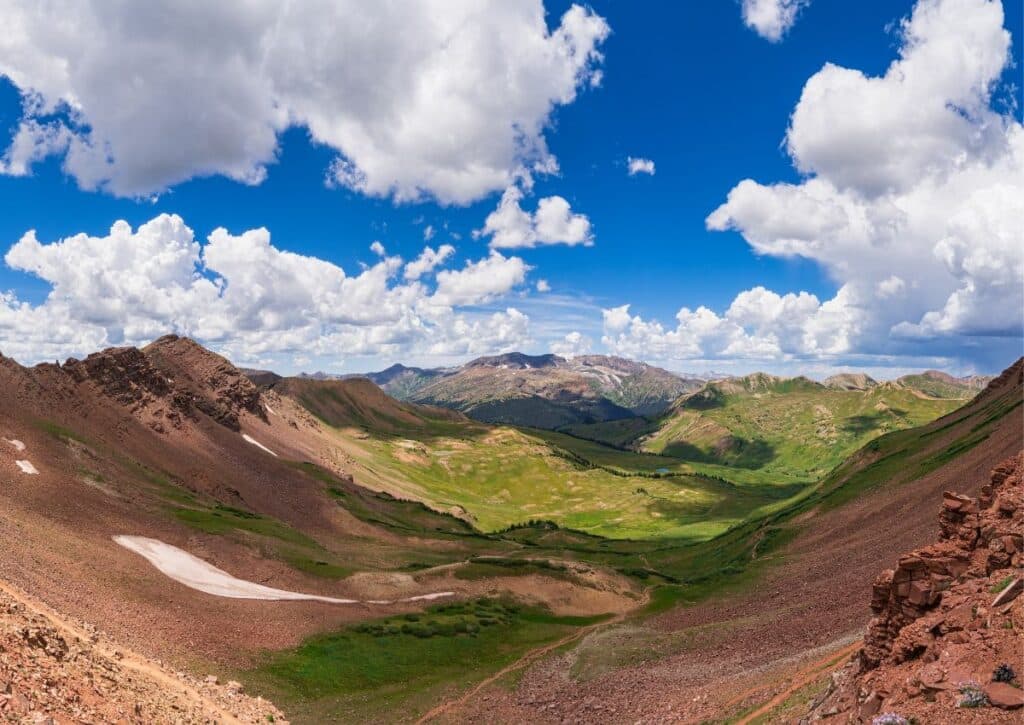 The pass offers unparalleled views of the surrounding peaks and valleys. This trail is particularly popular during the fall when the aspen trees turn a golden hue.
This adventurous trail connects Aspen to Crested Butte, traversing the Maroon-Snowmass Wilderness. 
Here, one might encounter marmots and pikas among the rocks. 
There are several campgrounds along the way, with the Copper Lake Campground being a popular choice for overnight stays.
East Maroon Creek Trail
Duration: 6-7 hours | Difficulty: Moderate | Distance: 15 miles round trip | Trailhead: East Maroon Portal
Running parallel to its western counterpart, the East Maroon Creek Trail is a quieter alternative.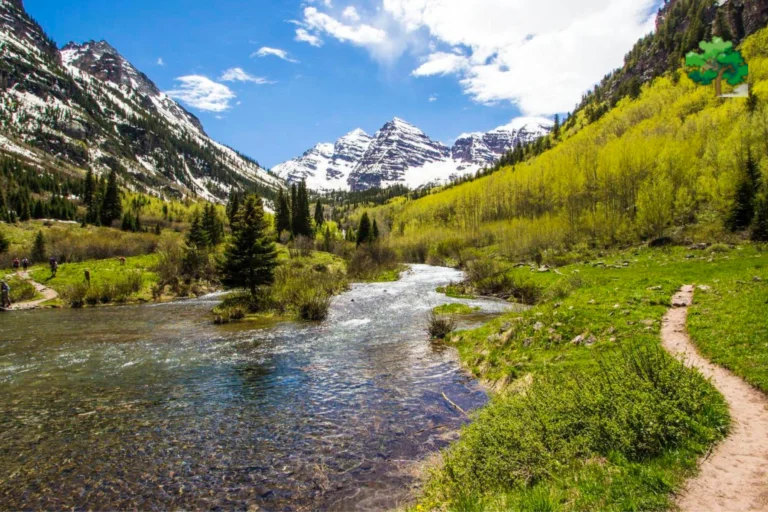 Winding alongside the gushing Maroon Creek for most parts, the trail is a treat for the senses. 
Expect to cross multiple streams, so waterproof boots are recommended. Midway, there's a designated camping spot for those wanting to extend their adventure. 
The trail culminates at Copper Lake, a serene spot perfect for fishing or simply soaking in the views.
The nearby East Maroon Wilderness Portal is a great spot for camping, ensuring you're fully immersed in nature.
Buckskin Pass
Duration: 7-9 hours | Difficulty: Challenging | Distance: 12 miles round trip | Trailhead: Maroon Snowmass Trailhead
A hike that's not for the faint-hearted, Buckskin Pass is a steep climb but rewards with some of the most breathtaking vistas the Maroon Bells have to offer. 
As you ascend, panoramic views of Snowmass Peak, Capitol Peak, and the Maroon Bells themselves unfold. 
At the summit, you're treated to a 360-degree view of the Elk Mountain Range. July is a particularly good time for this hike, as the alpine meadows burst into a riot of wildflower colors.
Leading to one of the highest points in the Maroon Bells region, this trail offers a panoramic view of the surrounding peaks. 
It passes through the Maroon Bells-Snowmass Wilderness, where one might be lucky enough to spot golden eagles soaring above.
Snowshoeing Around the Maroon Bells
The quiet hush of winter envelops the Maroon Bells, transforming its familiar landscape into an ethereal snow-covered paradise. 
For winter sports enthusiasts, particularly snowshoers, the region offers an unmissable experience. 
Commencing your journey from the Maroon Creek Trailhead, which is accessible by car or an efficient shuttle from Aspen Highlands, offers a gateway to a magical winter playground.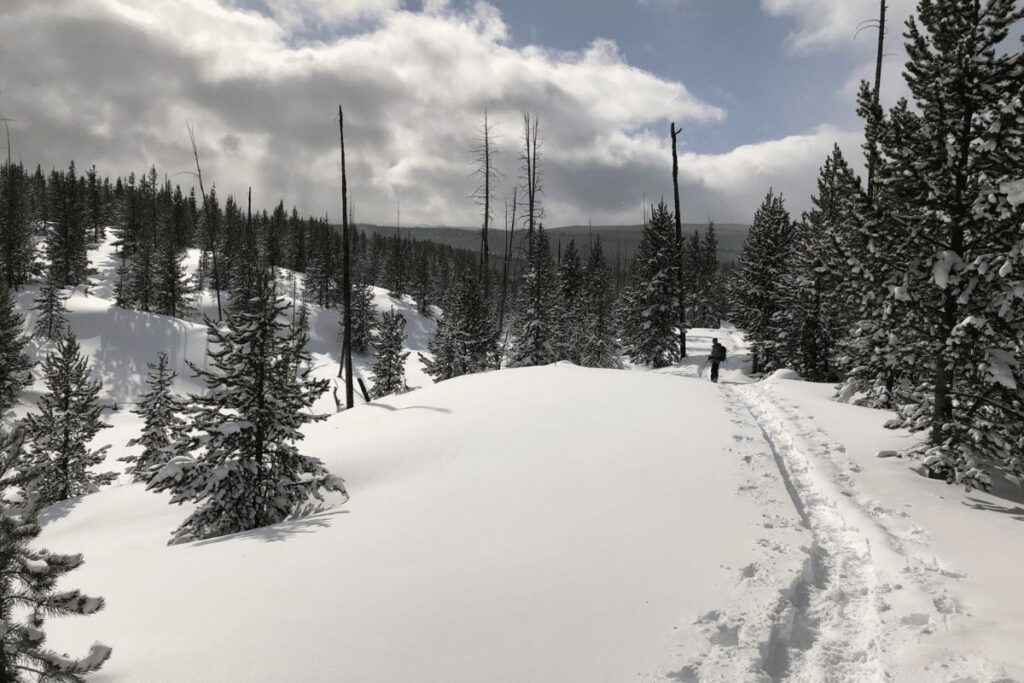 Following the trail leads you to Crater Lake in about two hours. The scenery that unfolds along this journey is breathtaking – a tranquil snowscape interspersed with skeletal trees and punctuated by the majestic peaks of the Maroon Bells. 
However, if you venture south on the east side of Crater Lake, you'll find yourself descending into Fish Creek Basin. 
This route, while beautiful, comes with its risks. Post-storm avalanche conditions are a genuine concern, and safety should always be paramount. 
Should you decide to embark on this trek, communication becomes crucial. Always let someone know of your whereabouts and the estimated time of your return.
Fish Creek Basin itself is an allure. Many choose to extend their stay here, with 2-3 days being the norm. 
The vast open spaces, punctuated by forests and the distant peaks, make for a mesmerizing campsite, especially under a star-studded night sky. 
If you're unfamiliar with the region or wish to explore off the beaten path, consider the services of an experienced guide. 
These professionals, with their extensive training in Wilderness Safety Operations (WSO), offer not only safety but also rich insights into the area's ecology and history.
Scenic Drives Around the Maroon Bells
For those who find pleasure in road trips, the Maroon Bells offers scenic drives that rival its hiking trails. 
The most renowned route begins at the Maroon Creek Road turnoff on Highway 285. This journey culminates in an exhilarating climb, finally revealing the pristine Crater Lake. 
Alternative routes, like the one passing through South Castle Creek Road to Redstone Castle and then on to Elkhead Pass Road, offer an equally enthralling experience. 
The end of the road is just the beginning of your adventure. 
Forest Service roads pave the way for exploration, leading into the heart of the wilderness, each turn revealing a new facet of this multifaceted gem.
Skiing and Snowboarding at Aspen Snowmass
If the Maroon Bells are the crown of Colorado, Aspen Snowmass is its shining jewel. Nestled within the Maroon Bells-Snowmass Wilderness, this ski resort stands tall at 9,450 feet, attracting thousands every winter season. 
Catering to skiers of every skill level, Aspen Snowmass boasts iconic runs like the beginner-friendly Quicksilver and Gold Coast Express, while the Upper Burnt Mountain entices intermediates. 
For the pros, trails like Silver Queen and High Alpine present a challenge, set against some of Colorado's most awe-inspiring views. 
Open from December through April, Aspen Snowmass is more than a resort; it's a winter tradition, drawing not only tourists but also locals escaping the urban bustle of Denver.
Camping and RVs
The Maroon Bells-Snowmass Wilderness, while being a sanctuary for hikers and nature lovers, also beckons campers to its heart. 
Accessible camping zones dot the area, with the Maroon Bells Campground being a significant highlight. 
A clear signpost indicating "Wilderness Camping" marks the beginning of a brief hike, leading to secluded spots nestled amidst evergreens and seasonal wildflowers. 
Though these sites operate on a first-come-first-serve basis, they are spacious enough to accommodate both tents and RVs. 
Facilities include picnic tables and fire pits, making for a comfortable outdoor experience. However, with the privilege of camping comes the responsibility of preserving nature. 
Campfires near structures or water sources are prohibited, urging campers to be well-prepared.
Biking Around the Maroon Bells
If hiking isn't your sole passion, consider biking. A bike ride around the Maroon Bells is not just an exercise; it's an immersive experience. 
The thrill of the wind against your face, coupled with panoramic views of mountains, is unparalleled. 
The diverse flora and fauna, ranging from various bird species to majestic creatures like elks and moose, add to the ride's allure. 
And when the golden rays of dawn or the fiery hues of dusk light up the peaks, it's a sight that words can hardly do justice to.
Backcountry Trips in and Around the Maroon Bells
The true essence of the Maroon Bells-Snowmass Wilderness is best experienced off the beaten track. Backcountry trips, while demanding, offer rewards that regular trails can't. 
The Aspen Ranger District Office facilitates these experiences, providing essential backcountry permits. These permits, crucial for overnight stays within the wilderness, are easily accessible both offline and online. 
Some routes, especially those leading up Mount Maroon and Pyramid Peak, mandate these permits. Adhering to guidelines is crucial – from camping away from water sources to ensuring pets are leashed. 
The wilderness beckons, but it also urges respect and understanding.
CONCLUSION
The Maroon Bells are among the most beautiful and photographer-friendly natural wonders in the U.S. 
These mountains are a must-see for anyone interested in nature tourism, but they're also great for hiking, camping and wildlife viewing. 
The Bells are especially popular during sunrise and sunset, so plan your trip well ahead of time if you want to see them at those times. 
With their soaring peaks, crystal blue lakes and lush green forests, the Bells never fail to impress.
Clearly, the Maroon Bells-Snowmass Wilderness is a place that attracts people from all over the world for its scenic beauty and incredible hiking. As one of Colorado's most visited natural areas, it's no wonder why so many people flock to this area each year. 
Biking, skiing, snowboarding…there really is something for everyone at this location!
Here are some fun things you can do in the Maroon Bells-Snowmass Wilderness:
Hiking, backpacking, and snowshoeing—the Maroon Bells are surrounded by hiking trails that offer views of the peaks and all four seasons of Colorado.
Scenic drives—drive along Highway 82 to see the wildflowers or drive to Aspen to try some world-class restaurants.
Skiing and snowboarding—if you're lucky enough to make it out here during ski season (typically December through April), you'll find downhill skiing at Buttermilk Mountain and cross-country skiing at Hunter Creek Divide. You can also hit some black diamond runs at Snowmass Ski Area for a taste of high speed adrenaline! For those who prefer not to go too fast but still want some exercise, Nordic skiing is also available on the flats near Aspen Trailhead. Or if you'd rather just take it easy with a hot cocoa after your day's activities, consider sledding down one of these slopes instead!
Camping and RVs—there are numerous campgrounds around Aspen including Aspen Highlands Basecamp RV Park which features full hookups as well as showers on site at no extra cost so you don't have worry about lugging around heavy equipment when exploring different parts of this beautiful wilderness area together with family members or friends!