Located just outside of Aspen, Colorado, the Maroon Bells are a sight to behold.
This area is a popular destination for travelers from all over the world, and it's easy to see why. With beautiful views of the jagged bell-shaped peaks and the glistening Maroon Lake below them, this is one of the most picturesque natural wonders in Colorado.
There's more to this iconic location than just seeing these mountains though—there are trails that visitors can explore that lead past these mountains and into some of Colorado's most gorgeous backcountry wilderness.
The best time to visit this area is during sunset or sunrise when you'll be able to catch some stunning colors as they reflect off of these iconic peaks.
Here is an article on things you need to know before you plan on visitng this iconic site in 2022.
Best time in the year
The best time to visit the Maroon Bells is from late August to mid-October. This is when the aspens are at their yellowest, and the weather is still warm enough for hiking.
If you want to see fewer people and more wildlife, visit in July or early August. The trees will be green and vibrant, but there won't be as many other visitors around.
What are The Maroon Bells
The Maroon Bells are a pair of peaks in the Elk Mountains, Maroon Peak and North Maroon Peak, separated by about a third of a mile. They're located about 12 miles southwest of Aspen, Colorado.
There are two main hiking routes to reach these spectacular mountain peaks: The Maroon Creek Trailhead and the Cascade Falls Trailhead. From either trailhead you can hike along the west side or east side of Maroon Creek to reach the saddle between North and South Maroon Peaks (about 2 miles from each trailhead).
A short scramble from this saddle leads hikers up to an intersection with another trail called "The Narrows" where it's possible to continue on toward North Maroon Peak or head back down toward your car at either trailhead if you've already covered enough ground for day hike purposes..
The Bells are among the most-photographed mountains in North America.
Visitors come from all over to see these iconic mountains at sunrise and sunset.
The Maroon Bells are among the most photographed mountains in North America. Visitors come from all over to see these iconic mountains at sunrise and sunset.
The Bells are a popular destination for photographers and hikers, who can access both peaks on a single hike. The park service recommends taking this route (starting at Aspen Highlands) in order to avoid having to cross private property.
Climbers have been known to make their way up nearby Pyramid Peak, which is separated from the Maroon Ridge by only a short distance; however, it requires technical climbing skills that are beyond most people who visit the area.
Camping is allowed only in designated areas within Aspen-Sopris Wilderness near Fourth of July Creek or off Trail Rider Pass Road. There are also several sites available along Independence Pass Road, which runs west from Aspen past Vail Pass before turning north toward Leadville; however these campsites tend not be very heavily used unless there's an event going on nearby like an Ironman triathlon or an outdoor music festival (which happens often).
The Maroon Bells rise 14,000 feet above sea level
The Maroon Bells rise 14,000 feet at their tallest point and are considered especially dangerous to climb because they're composed of fragile sedimentary mudstone, schist and limestone. The area is known as the "deadly bells."
The hike begins at Maroon Lake, which sits at an elevation of about 9,000 feet above sea level and serves as a base camp for climbers. The trails leading to the peaks can be found along this trailhead, including one that leads toward Crater Lake (known as "the hole").
This route takes hikers through some steep terrain before reaching Crater Lake itself; it's recommended only for those who are physically fit and experienced with mountain climbing.
Once you've reached Crater Lake and enjoyed views of Mount Maroon on its other side, head back down into forested areas until you reach trail markers pointing toward Bogart Basin—this is where you'll start your ascent up Mount Ida (12th highest peak in Colorado) and then continue hiking along various paths that lead up toward its twin peaks: Mount Wilson (13th highest) and Mount Columbia (14th).
Getting here
Thousands of people visit the Maroon Bells every year, but there's a limit to how many can access the area without reservations. It's wise to plan your trip well ahead of time to secure your spot at the lake.
The Maroon Bells are located in Aspen, Colorado, which is accessible by car or airplane via Denver International Airport (DIA). From DIA, you can take an hour-long flight into Aspen/Pitkin County Airport (ASE) or drive two hours north on U.S. Highway 285 and then turn east onto Colorado Highway 82 toward Aspen. Once you arrive in town, it's going to take some time for your eyesight to adjust; after all, this is one of nature's finest works!
Stellar Views
You can view the Maroon Bells from your car or venture deeper into the wilderness by hiking more than 30 miles of trails that lead off from Maroon Lake. Expect to be rewarded with sweeping views, alpine lakes and wildflowers galore.
The Maroon Bells are an iconic destination for a variety of different types of photographers. If you are hiking in this area, be sure to bring your camera along so that you can capture some of the breathtaking views. If you're more interested in capturing wildlife images or portraits, this is also a great place to do so because there are plenty of animals who call these mountains home.
The Maroon Bells can be seen from many different viewpoints, including from your car as you drive up Highway 82 toward Aspen or from various viewpoints around Maroon Lake itself.
Both options offer sweeping panoramic views but if you want to get even closer and venture off-trail, there are over 30 miles of trails that lead deeper into the wilderness where wildlife photography opportunities abound!
Wildlife at the Maroon Bells
There are abundant wildlife-viewing opportunities around the Bells, so keep your eyes peeled for mule deer, mountain lions, elk, black bears and other local creatures.
Wildlife-viewing opportunities abound around the Maroon Bells and it's important to be vigilant when you're enjoying them. The area is home to numerous large mammals, including mule deer, mountain lions and elk. Black bears are also a common sight in this area.
If you're lucky enough to spot one of these creatures or any other local animals while hiking or camping, keep your distance and enjoy observing them from afar with respect for their habitat.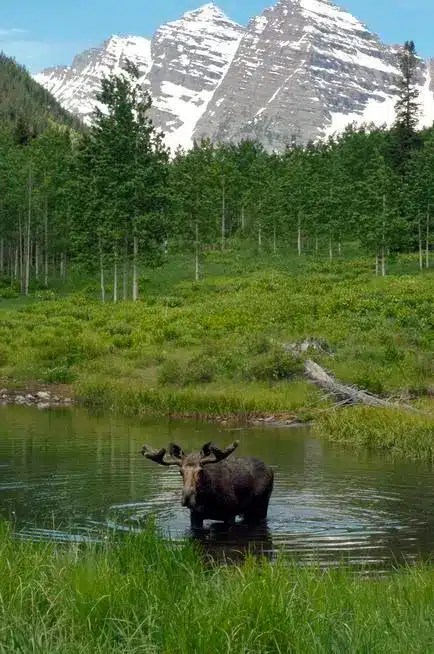 If you do encounter a bear: Stay calm! They may appear aggressive but they are usually more interested in escaping than attacking people. If possible, stay where you are until the bear runs away on its own; otherwise when it moves away drop down onto all fours (this shows that you are not a threat). When traveling in bear country make sure that food scents are stored properly so as not to attract bears (do not store food or garbage inside vehicles).
Things to do at the maroon bells
Here are the best things to do in Maroon Bells-Snowmass Wilderness, a stunning wilderness area in Colorado. The Maroon Bells-Snowmass Wilderness is a popular area for Colorado visitors, with more than 500,000 people visiting each year. While you can't go wrong with any of these amazing activities, I recommend hiking around the Maroon Bells and enjoying the wildflowers.
Hiking Around the Maroon Bells
Maroon Bells is one of the most beautiful places in the world to go for a hike. The blooming wildflowers, the pristine water and the majestic peaks are all quite breathtaking. However, what makes Maroon Bells so special is not just its beauty but also the variety of hikes that one can do. In this article, we will be discussing some of our favorite hikes in Maroon Bells as well as giving you tips on how to make them safer and more enjoyable
Maroon Lake Trail
Maroon Lake Trail is one of the most popular in the park and for good reason: it's beautiful, easy and short—just a mile to Maroon Lake! The trailhead for this hike is located at the end of Maroon Creek Road. This moderate-to-easy trail is only 1 mile long and takes you past Snowmass Lake to its namesake destination. Along the way, you will enjoy amazing views of Mount Sopris, Pyramid Peak and Castle Peak. You'll also pass through aspen groves and cross several creeks before arriving at your final destination: Maroon Lake.
You can even continue from here on out onto an additional 9 miles that take you through more beautiful terrain including meadows; wildflowers; streams; waterfalls (including Bridal Veil Falls); lakes (like Osprey) and even two glaciers if you're feeling adventurous enough!
Clohesy Lake Trail
The Clohesy Lake Trail is a 9.5-mile loop trail that features views of the White River Valley and surrounding mountains, including Mount Maroon (12,367′), Tabeguache Peak (12,088′) and Mount Ouray (13,743′).
The trail can be accessed from either the Alpine Visitor Center or from a parking area at Buckskin Pass on Highway 82 near Buena Vista—both of which are open year round.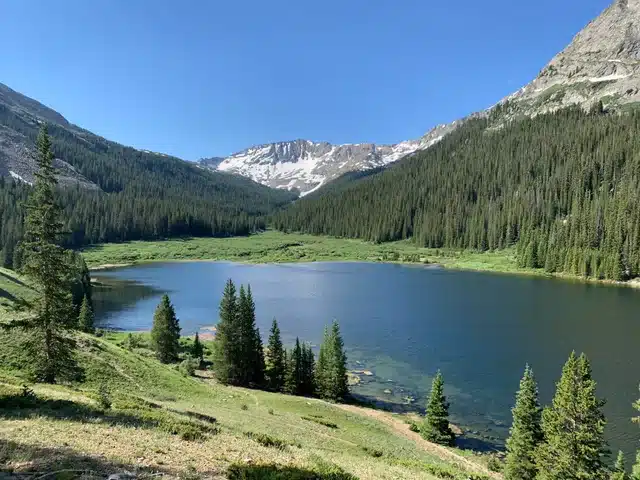 The trail itself ranges in elevation from 8,400 feet to 11,400 feet with steep climbs and descents throughout its length. The upper portion of this hike has an abundance of wildflowers in season; many hikers choose this route for its relatively high elevation where temperatures remain cool even on summer days. It should be noted that due to its remoteness and difficult terrain it may not be suitable for inexperienced hikers or those who have mobility issues such as knee problems or heart trouble; however most people find it well worth their time when they reach the summit!
Crater Lake Trail
One of the most popular trails in the area is Crater Lake Trail, which starts at Maroon Lake Trailhead and winds through pine trees before reaching a saddle between two peaks. The trail then descends into a meadow surrounded by snow-capped peaks and passes another lake on the left before reaching Crater Lake itself.
The roundtrip distance from Maroon Lake Trailhead to the top of Crater Peak is 5.3 miles (8 km) with an elevation gain of about 2,000 feet (600 m), so it's not too strenuous but still provides a good workout for anyone looking for some exercise after hours in front of their computer screen. If you want to make it even more challenging, try doing this loop going clockwise instead of counterclockwise—the views from both sides are stunning!
West Maroon Creek Trail
The West Maroon Creek Trail is a 3.5-mile trail that begins at Maroon Lake and ends at the junction of the Red Pine Trail and West Maroon Creek Trail. The trailhead is located at the end of Bear Lake Road, which starts near Highway 24. The trail is moderate in difficulty with some steep sections and rocky areas, but small children would be able to hike it as well. There are restrooms at both the parking lot and at the lake, although no water should be assumed unless there has been recent precipitation or snowmelt in this area.
There are several options for those looking for a longer hike along this creek including continuing on to Castle Peak or descending down into Bell Canyon after reaching Castle Creek Meadow.
East Maroon Creek Trail
The East Maroon Creek Trail is a 6.4-mile out-and-back trail that leads from the East Maroon Valley area to Maroon Lake. It's considered a difficult hike because of its length, but it can be completed in one day if you're fit enough to tackle it.
The trail starts at 11,180 feet and climbs gradually until you reach Wild Basin Road at 12,000 feet (3 miles in). From there until mile 4 it has several steep sections before reaching treeline at 14,300 feet (mile 5). After this point, the trail flattens out for about half a mile as you make your way toward Maroon Lake; however, there are still some steep sections that require careful attention when hiking through here during wet weather or after heavy snowfall.
After passing by the west shore of Maroon Lake and climbing up another small hillside section near some nice camping spots (use caution when camping here!), keep an eye out for an orange marker pointing left down into what seems like a dead end! You'll see another orange marker on this side pointing right back up – if followed correctly these two markers will lead hikers straight toward where they started their journey again at 11kms mark ahead rather than continuing straight ahead towards Upper Beaver Meadows Trailhead which would take longer than necessary given how early morning starts required getting lost sometimes depending upon conditions encountered along way including darkness setting in very quickly especially during summer months when sun sets early so plan accordingly with appropriate gear such as headlamps etc…
Buckskin Pass
Buckskin Pass is the highest point on the trail and the trailhead for Maroon Bells. It's an impressive sight, with Maroon Lake below and the mountains stretching out before you.
Maroon Bells is a collection of 14,000-foot peaks that can be seen from as far away as Aspen. The hike to Buckskin Pass is 5 miles round trip with an elevation gain of 1,100 feet; take your time and enjoy this beautiful part of Colorado.
Snowshoeing Around the Maroon Bells
There are several ways to get up to the Maroon Bells for snowshoeing. If you have a car, park at the Maroon Creek Trailhead and follow the trail for about two hours until you reach Crater Lake. There is also an option of taking a shuttle from Aspen Highlands. Once you are there, head south on the east side of Crater Lake and descend into Fish Creek Basin. It is important to note that this area is prone to avalanches so it's best not to go during prime avalanche conditions (i.e., after heavy storms). If you do go, be sure to let someone know where you're going and when they can expect your return!
Most people will stay in Fish Creek Basin for 2-3 days before heading back out on their own or with an experienced guide who has been trained in wilderness safety operations (WSO)
Scenic Drives Around the Maroon Bells
The Maroon Bells are a popular destination for hikers and mountain bikers, and they can be accessed via several scenic drives. The most popular is the one that starts at the Maroon Creek Road turnoff on Highway 285 and ends at the top of a steep climb to Crater Lake. There are many other ways to get there, however—one of my favorites is driving up South Castle Creek Road/Castle Creek Road until you reach Redstone Castle, then turning left onto Elkhead Pass Road and following it past Sheep Lake until you reach the end of this road (you'll know when you hit pay dirt). From there, simply follow Forest Service roads into the wilderness until you come across your destination!
Skiing and Snowboarding at Aspen Snowmass
While the Maroon Bells-Snowmass Wilderness is a popular destination for hiking and climbing, it is also home to Aspen Snowmass, one of the best ski resorts in Colorado. Situated at an elevation of 9,450 feet above sea level, the resort has some great runs for beginning and intermediate skiers. These include Quicksilver Express and Gold Coast Express (beginner), as well as Upper Burnt Mountain (intermediate). More advanced skiers can enjoy expert runs like Silver Queen or High Alpine that have some of the best views in all of Colorado!
Aspen Snowmass is open from December through April each year. It's also a favorite among locals who want to get away from Denver during their weekends or even just spend a day skiing at one of the best ski resorts in Colorado!
Camping and RVs
Camping is allowed in the wilderness, but you must camp in designated areas. To get to these campsites, follow the road past Lake Maroon and head toward Maroon Bells Campground until you see a large parking area on your right with a sign that says "Wilderness Camping."
From here, it's about a five-minute hike up the hill to some campsites nestled between large evergreen trees and wildflowers. These sites are available on first-come first-serve basis; there are no reservations for them so make sure you're early! You'll find ample space for tents or RVs as well as picnic tables and fire pits at each site.
It's important to note that building fires is not allowed within 100 feet of any structure or water source—so if your campsite doesn't have a grill or other cooking tools, bring them along!
Biking Around the Maroon Bells
Biking is a great way to see the area, especially if you're short on time and want to get the most out of your trip. You'll be able to experience all the natural wonders of our mountains in one day! Plus, biking is an excellent way to get exercise and keep fit while having fun.
Biking can also be a good opportunity for wildlife viewing. The Maroon Bells are home to many different species of birds, animals and plants that make their homes here year round or migrate through during their annual cycles. If you're lucky enough, you might even spot an elk or moose!
And as far as scenery goes: no words can describe how beautiful it is when sunlight illuminates these peaks at dawn or dusk.
Backcountry Trips in and Around the Maroon Bells
The Maroon Bells-Snowmass Wilderness is a relatively small area, but it offers a lot of opportunities for hiking and climbing. The Aspen Ranger District Office issues backcountry permits for all overnight trips within the Maroon Bells-Snowmass Wilderness, including those that go into the wilderness from either end. Permits are free and can be obtained at the ranger district office or online through recreation.gov.
Permits are also required to use certain routes up Mount Maroon (including Trail #10) and Pyramid Peak (including Trail #12). Backcountry users must camp at least 100 feet away from water sources unless they have an approved water source permit; campfires are prohibited above 10,700 feet in elevation; pets must be restrained on a leash at all times; use of firearms or fireworks is prohibited; motorized vehicles are prohibited (except when traveling with an approved guide); and metal detectors are not allowed in any part of Rocky Mountain National Park
There are many things to do in the Maroon Bells-Snowmass Wilderness.
Here are some fun things you can do in the Maroon Bells-Snowmass Wilderness:
Hiking, backpacking, and snowshoeing—the Maroon Bells are surrounded by hiking trails that offer views of the peaks and all four seasons of Colorado.
Scenic drives—drive along Highway 82 to see the wildflowers or drive to Aspen to try some world-class restaurants.
Skiing and snowboarding—if you're lucky enough to make it out here during ski season (typically December through April), you'll find downhill skiing at Buttermilk Mountain and cross-country skiing at Hunter Creek Divide. You can also hit some black diamond runs at Snowmass Ski Area for a taste of high speed adrenaline! For those who prefer not to go too fast but still want some exercise, Nordic skiing is also available on the flats near Aspen Trailhead. Or if you'd rather just take it easy with a hot cocoa after your day's activities, consider sledding down one of these slopes instead!
Camping and RVs—there are numerous campgrounds around Aspen including Aspen Highlands Basecamp RV Park which features full hookups as well as showers on site at no extra cost so you don't have worry about lugging around heavy equipment when exploring different parts of this beautiful wilderness area together with family members or friends!
Conclusion
The Maroon Bells are among the most beautiful and photographer-friendly natural wonders in the U.S. These mountains are a must-see for anyone interested in nature tourism, but they're also great for hiking, camping and wildlife viewing. The Bells are especially popular during sunrise and sunset, so plan your trip well ahead of time if you want to see them at those times. With their soaring peaks, crystal blue lakes and lush green forests, the Bells never fail to impress.
Clearly, the Maroon Bells-Snowmass Wilderness is a place that attracts people from all over the world for its scenic beauty and incredible hiking. As one of Colorado's most visited natural areas, it's no wonder why so many people flock to this area each year. Biking, skiing, snowboarding…there really is something for everyone at this location!