Explore 9 pet friendly campgrounds in Yosemite National Park. Get safety tips, leash rules, and top trails to enjoy unforgettable moments with your dog!
Ever wondered if your four-legged companion can join you at Yosemite? The answer is a resounding yes! There are several pet-friendly campgrounds in Yosemite National Park, tailor-made for unforgettable adventures.
From mesmerizing trails to nights under the stars, both you and your dog are in for a treat.
This guide doesn't just stop at campgrounds. Dive in for vital safety tips, leash regulations, and heartwarming tales from fellow pet travelers. Prepare for your journey and ensure it becomes a cherished memory!
9 Pet-Friendly Campgrounds in Yosemite National Park
Heading to Yosemite with your four-legged buddy? Great choice! We've listed nine fantastic campgrounds that are not only scenic but also welcoming to pets. Here's where you and your dog can relax and explore together.
Upper Pines Campground
Settled adjacent to the peaceful Merced River in the iconic Yosemite Valley, the Upper Pines Campground serves as an ideal base for those keen to explore the park's renowned attractions.
It's situated at a 4,000 feet elevation and seamlessly connected to all park entrances.
Plus, you're just a short bike or walk away from key trailheads and on the free shuttle route. For groceries, showers and meals, Curry Village and Yosemite Village are nearby.
With its elevated location, this campground offers an escape that's a tad more private than Lower Pines.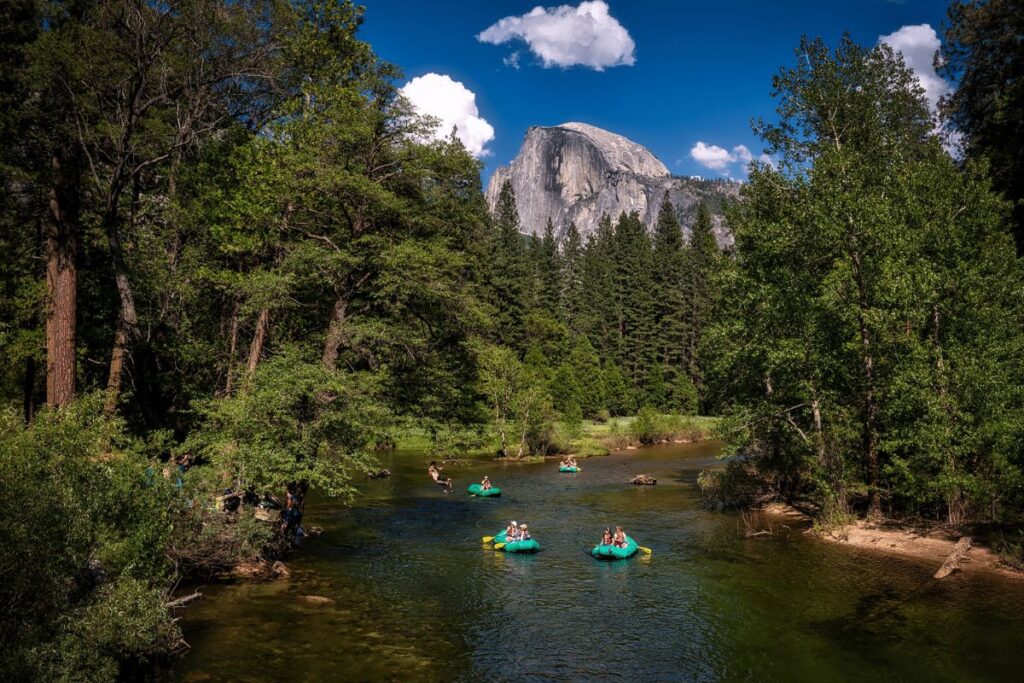 Site Features:
Total Sites: : 235, equipped with fire rings, picnic tables, and food lockers.
Electricity: Most sites come with electrical hookups (110V). A few lack outlets, but don't fret; extension cords can be borrowed from neighboring sites, as power strips typically support one device at a time.
Amenities: Every site offers access to drinking water. Restrooms, featuring hot showers and flush toilets, are available primarily during the summer (May through October).
Convenience: For those prioritizing proximity, sites 1-4 are adjacent to the bathhouse, 5-9 are a short walk to the visitor center, and 10-11 are near the store.
Nightly reservation fee: $36.00
Fire/Stove Policy: Wood fires are allowed throughout the year. However, from May to September in Yosemite Valley, campfires are permitted only between 5 pm and 10 pm. From October through April, campfires can be lit at any time.
Charcoal fires are unrestricted and can be initiated whenever.
Also Read: 10 Best Campsites At The Upper Pines Campground, Yosemite
Pet-Friendly Perks
For dog enthusiasts like us, Upper Pines provides not only a comfortable stay but also pet-friendly trails nearby.
One of the local favorites is the Mirror Lake Trail, a relatively easy hike that offers both you and your furry companion a chance to experience the park's beauty up close.
Upper Pines Campground's proximity to some of the park's pet-friendly areas is a boon for dog owners.
While Yosemite has restrictions on where pets can go, the campground's location allows for easy access to paved roads and paths where leashed pets are allowed.
Moreover, the spacious nature of Upper Pines ensures your dog has plenty of room to roam and relax within your site.
Always remember to check local regulations and leash laws to ensure a safe and enjoyable trip for you and your pet.
Lower Pines Campground
Nestled beside the serene Merced River, Lower Pines offers a breathtaking view of Yosemite Valley's heart, home to some of the park's most iconic wonders.
Situated at a refreshing altitude of 4,000 feet, this campsite is a gateway to various trailheads. Feel like stretching your legs? Grab your pup and hike away! And if you ever need to zip around the park, you're in luck.
The free shuttle bus route passes right through Lower Pines, so you can hop on and explore the best of Yosemite.
After a day full of adventures, you won't need to go far for essentials; Curry Village and Yosemite Village offer food and grocery options, just a stone's throw away.
Site Features:
Total Camping Spots: 73 (9 for RVs and 64 general sites. Don't worry, tents and RVs are both welcome!)
Connectivity: Get some seasonal cell reception (perfect for those who want to disconnect a bit but not go entirely off-grid). Just note that WiFi is a no-go here.
Essentials: Seasonal trash/recycling services, food storage lockers for those delicious camp treats, and a friendly staff available seasonally to help guide your stay.
For the Fun of It: Enjoy an amphitheater, also open seasonally.
Water and More: You'll find seasonal potable water to stay refreshed. And while there aren't electric hookups or a camp store, you'll find everything else you need nearby.
Fire Policy: Love campfires? They're allowed all year! But remember, between May and September, Yosemite Valley restricts campfires to the hours between 5 pm and 10 pm. Any other time of the year, feel free to light up your campfire whenever you please. Also, for the charcoal grill masters, you can grill at any time.
Just a heads up, there are no showers here.
As for the pocket pinch:
Regular Site Reservation: $36.00
Double Site Reservation: $60.00
Pet-Friendly Perks
Lower Pines, with its serene setting along the Merced River, is a haven for those of us who travel with our four-legged companions.
Popular among pet owners is the nearby Yosemite Valley Loop Trail, an ideal stroll allowing both you and your furry friend to soak in the breathtaking surroundings.
The advantage of Lower Pines is its central location, providing swift access to many of Yosemite's dog-friendly paved pathways where your pet can happily trot beside you on a leash.
The expansive layout of Lower Pines ensures ample space for your canine companion to stretch their legs and relax by your side.
Do make it a point to familiarize yourself with the park's pet guidelines and leash regulations to guarantee a delightful and worry-free experience for both you and your beloved pet.
North Pines Campground
Located excatly where the Tenaya Creek meets the Merced River, North Pines Campground offers an unparalleled setting and views in Yosemite.
Some lucky campers even get a riverside view! Whether you're shaded by the mature conifers during the day or gazing up at the stars by night, there's something truly magical about this place.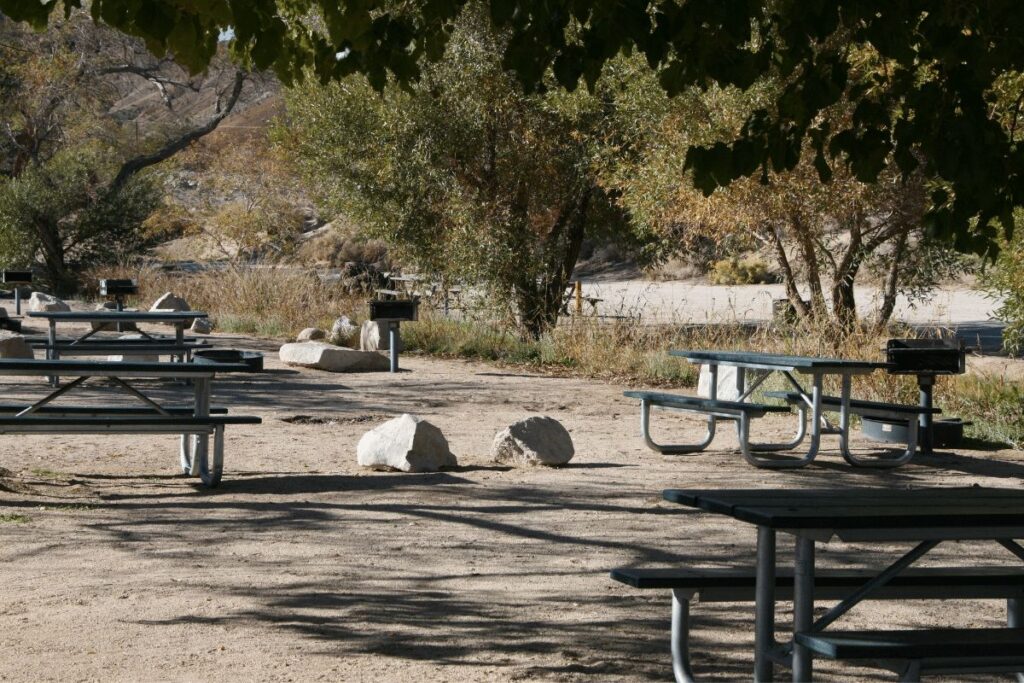 Site Features:
Location: In the Yosemite Valley, a hop and a skip from Curry Village.
Elevation: 4,000 feet. Ideal for those cool evening campfires!
Driving Time: From Stockton, it's about a 3:15-hour drive, and from Fresno, roughly 2:15 hours.
Sites: A total of 81 campsites with 13 tailored for RVs/trailers and 68 versatile spots for RVs, trailers, or tents.
Camp Season: It typically opens from mid-April to mid-October, but always best to check given the whims of weather!
Pets: Absolutely welcome! Just ensure they're on a leash and always attended to.
A Heads Up For Campers: Yosemite is home to many creatures, including bears. So, for everyone's safety, food and scented items need to be stored in the bear-proof lockers at each campsite. Trust us, if you play by the park's rules, you'll be just fine!
Reservations and More:
Peak Season: Reservation is a must, especially during summertime. It's a popular spot!
Booking: You can make your reservations 5+ months in advance. New slots open on the 15th of each month at 7:00 AM Pacific Time.
Stay Limit: A max of 7 nights between May 1 and September 15.
RV/Trailer Size: Up to 40 feet for RVs and 35 feet for trailers.
Wheelchair Friendly Sites: #111, 113, 119, 125, 129 are your go-to spots.
Favorite Sites: By the river, #101-109 and others are often the first to go!
Campground Amenities:
Each campsite comes with a picnic table, a bear-proof food locker, and a fire ring.
Modern restrooms with flush toilets and tap water are available.
Fancy a shower? Head to nearby Curry Village or Housekeeping Camp.
For campers in need of a dump station, there's one available at Upper Pines Campground.
Wawona Campground
Wawona Campground, conveniently situated near the south/Highway 41 entrance to Yosemite, serves as a stellar base for adventure enthusiasts keen on exploring hikes like Chilnualna Falls or witnessing the majestic giants of Mariposa Grove.
This region once held the distinction of being the heart of Yosemite's administration, and you can still spot some of these historic structures today.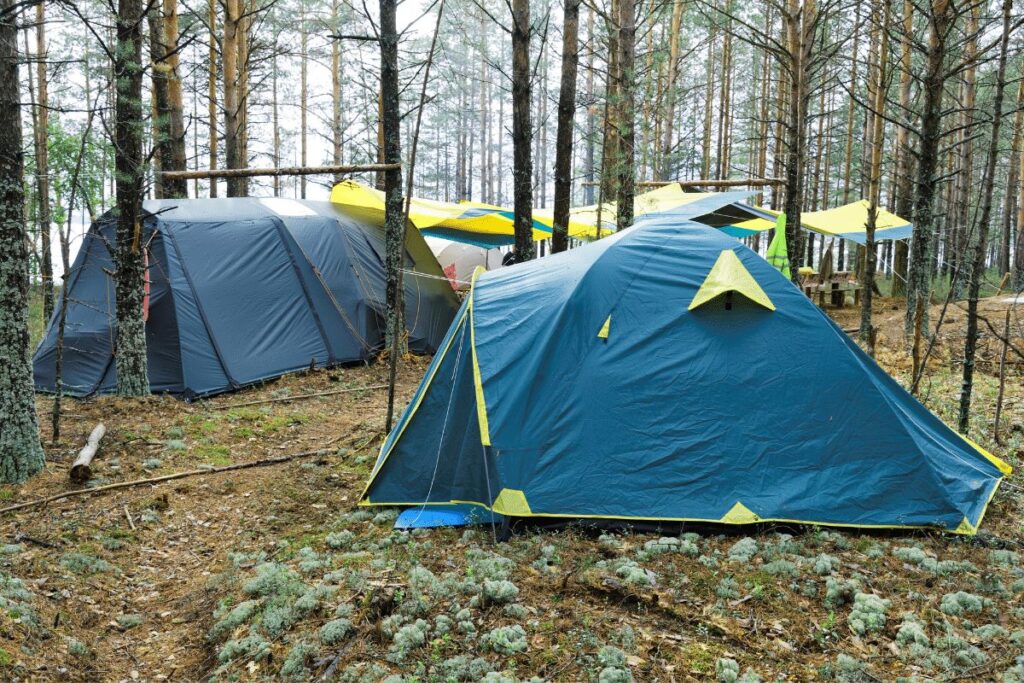 The beauty of Wawona's design lies in its sprawling loops A, B, and C, gracefully hugging the South Fork of the Merced River's banks. This unique setup ensures campers feel at one with nature, offering an atmosphere of serenity absent in the bustling campgrounds of Yosemite Valley. The symphony of scents from Ponderosa pine, incense cedar, and manzanita, especially during the warm days, is nothing short of therapeutic. Though Wawona might seem a tad detached from Yosemite Valley or Glacier Point, a short 45-minute drive bridges the gap.
Site Features:
Reservation Details: Bookings are essential from April through September for all loops. Loop A, however, adopts a first-come, first-served approach from October to March.
Accommodations: No hookups, but RVs up to 35 feet are comfortably housed. A handy dump station is operational during summer months.
Campsite Features: Every site is decked with a picnic table, a fire ring, and a crucial food locker. Accessibility is paramount, with two ADA-friendly sites nestled in Loop C. Regular restrooms and water stations pepper the campground for convenience.
Specialty Sites: The exclusive group site, a haven for up to 30 tent campers, lies close to Loop A. For horse lovers, a designated horse camp awaits, though phone reservations at 877.444.6777 are mandatory.
Operating Seasons: Loop A and its adjoining group site welcome campers all year round. However, Loops B, C, and the dedicated horse sites swing their doors open only from April to September.
Also Read: Yosemite National Park In The Fall: 9 Hikes We Will Be Going On!
Pet-Friendly Perks:
Wawona's sprawling layout by the Merced River provides ample space for pets to wander and soak in nature's beauty.
Close to iconic trails like Chilnualna Falls, it's a great location to enjoy a day out with your furry friend.
Remember to keep them leashed and adhere to park guidelines for an unforgettable experience.
Hodgdon Meadow Campground
Positioned aptly along the Big Oak Flat Road at the Big Oak Flat Entrance, Hodgdon Meadow Campground offers a convenient gateway to Yosemite's western edge.
Elevated at 4,900 feet, this campground is a mere 45-minute drive from the iconic Yosemite Valley. And for those last-minute necessities, there's a gas station and a few convenience items available at Crane Flat.
Nature enthusiasts will appreciate the close proximity to trailheads that lead to the remarkable Merced Grove and Tuolumne Grove of Giant Sequoias.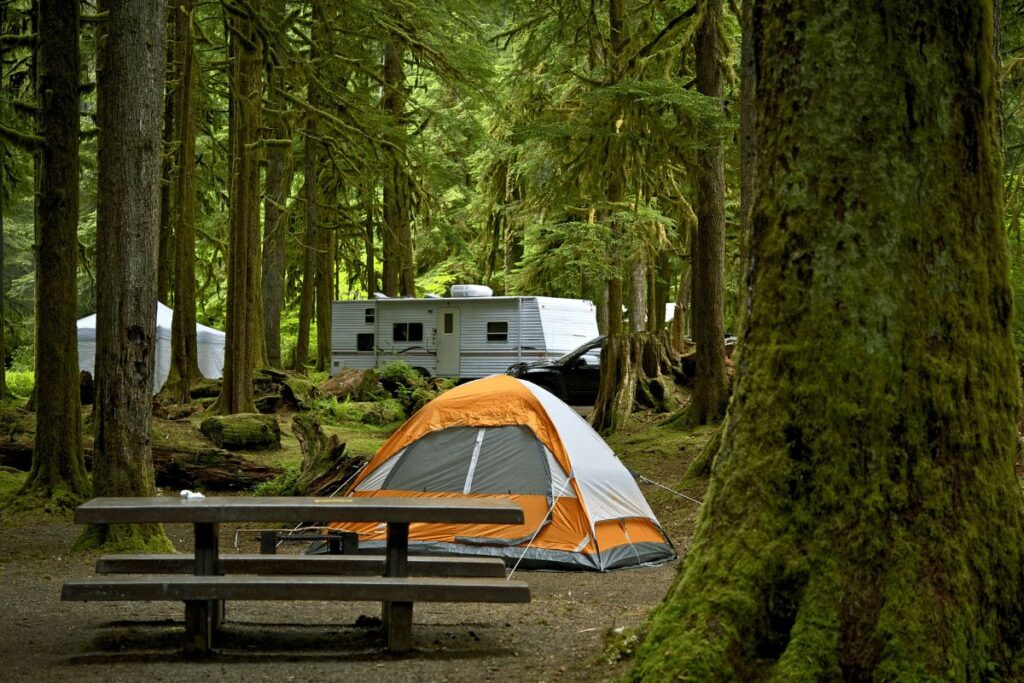 Hodgdon Meadow Campground is located at the end of the Tioga Road, 8 miles east of Crane Flat. The campground provides a number of campsites near beautiful meadows and lakes that are great for hiking and fishing.
Site Features:
Connectivity & Conveniences: Sadly, this rustic charm means no cell reception or internet. However, a steadfast commitment to environmental care ensures year-round trash/recycling collection and food storage lockers. There's no camp store, ice, or firewood for sale, but staff is present seasonally to assist.
Campfire Regulations: Feel the warmth of wood and charcoal fires all year round. However, from May to September, wood fires take a brief evening slot, burning only from 5 pm to 10 pm.
Sanitary Amenities: Campers are provided with flush toilets throughout the year, though you'll need to forgo showers here.
Fees & Reservations:
Reserved Camping (approx. mid-April through mid-October): $36.00.
First-Come, First-Served Camping (approx. mid-October through mid-April): $28.00.
Group Sites (open approx. mid-April through mid-October): $75.00.
Pet-Friendly Perks:
While enjoying the serene surroundings of Hodgdon Meadow, your pet can relish the fresh mountain air and scenic nature trails.
Ensure you have them leashed and familiarize yourself with the campground's rules to guarantee a delightful and safe experience for all.
Crane Flat Campground
Crane Flat Campground shines with its expansive capacity and prime location at the nexus of Big Oak Flat Road and Highway 120/Tioga Pass Road.
It's a stellar launching pad for those wishing to traverse both Yosemite Valley and Tuolumne Meadows – both just a 45-minute drive away.
Adding to its allure, Crane Flat hosts its very own suite of nature trails, with the Clark Range View Trail, Merced Grove Trail, and Tuolumne Grove Trail right at its doorstep.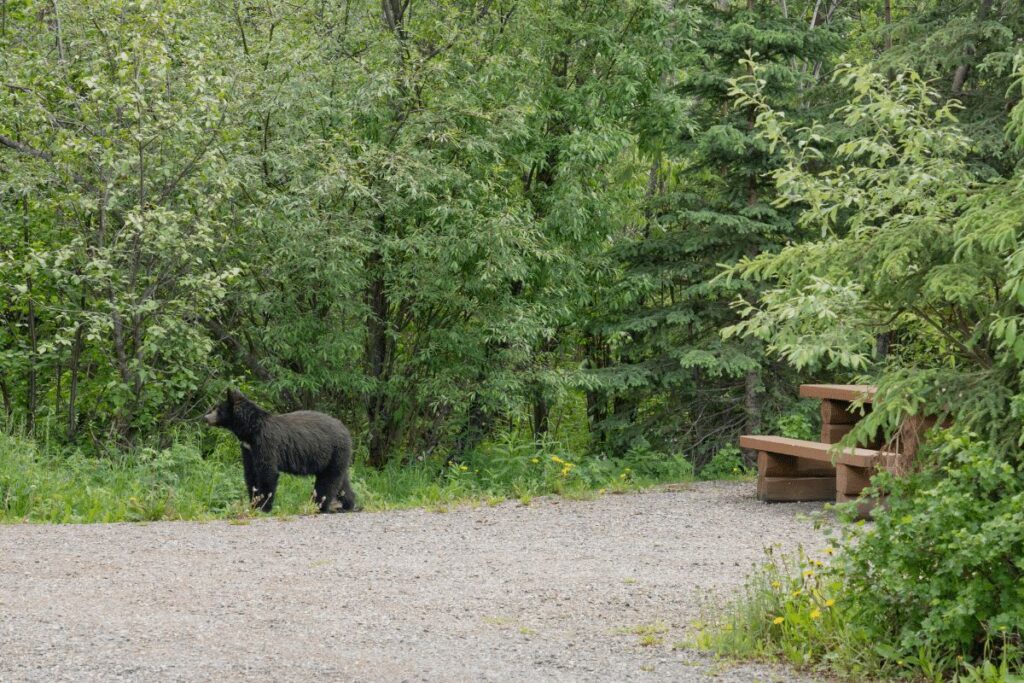 With 166 sites sprawled across five loops, this campground becomes an often available sanctuary when other Yosemite campgrounds reach their limit.
While you'll be nestled under the canopy of red firs, lodgepole pines, and sugar pines, be prepared for close encounters as the spaces sometimes feel densely occupied, especially during peak times.
That said, granite boulders and young trees frequently enhance the privacy between sites.
Site Features:
Camping Facilities: Campsites are tailored to house RVs up to 35 feet. However, it's good to note the absence of hookups and a dump site. For those needing ADA accessibility, spots 423 and 427 cater exclusively to them.
Each site is equipped with a picnic table, fire pit, and conveniently located food storage.
Utilities: Fresh potable water and restrooms are strategically placed across all loops. Plus, you can secure last-minute items or refuel at the Crane Flat market and gas station nearby.
Pet-Friendly: Furry friends are welcome, but remember to keep them leashed at all times.
Booking: Given its popularity, reserving your space at Crane Flat Campground well in advance is wise. Though it might be a tad easier to secure a spot here than at other campgrounds, peak summer weekends can be challenging.
If you're making last-minute plans, the Campground Reservations office at the Big Oak Flat/Highway 120 west entrance could be your savior.
Operating Schedule: Crane Flat is a seasonal beauty, greeting guests approximately from July through mid-October.
Pet Friendly Perks:
Your four-legged companions are not only welcome at Crane Flat but are set to have a gala time too. Just remember to keep them leashed and respect the surroundings.
The vast expanses and nearby nature trails ensure your pet gets its dose of adventure and play, all while staying by your side.
Tamarack Flat Campground (primitive)
Tucked away in the heart of nature, Tamarack Flat Campground is a hidden gem located off Tioga Road, just a little east of Crane Flat. It's about 45 minutes from the vibrant Yosemite Valley.
The campground is set at an impressive elevation of 6,300 feet, and its seclusion offers tranquility amid the towering trees. Positioned near the Tamarack Creek, the murmurs of the water add to its serene appeal.
If you're looking to stay connected with the wild, this more primitive campground is your perfect fit. Just a note of caution: Due to its off-road location, RVs and trailers aren't recommended here.
If you're in search of an authentic camping experience, Tamarack Flat provides just that. Its remoteness means fewer distractions and more immersion in the surroundings. However, if you find yourself in need of fuel, there's a gas station not too far off at Crane Flat.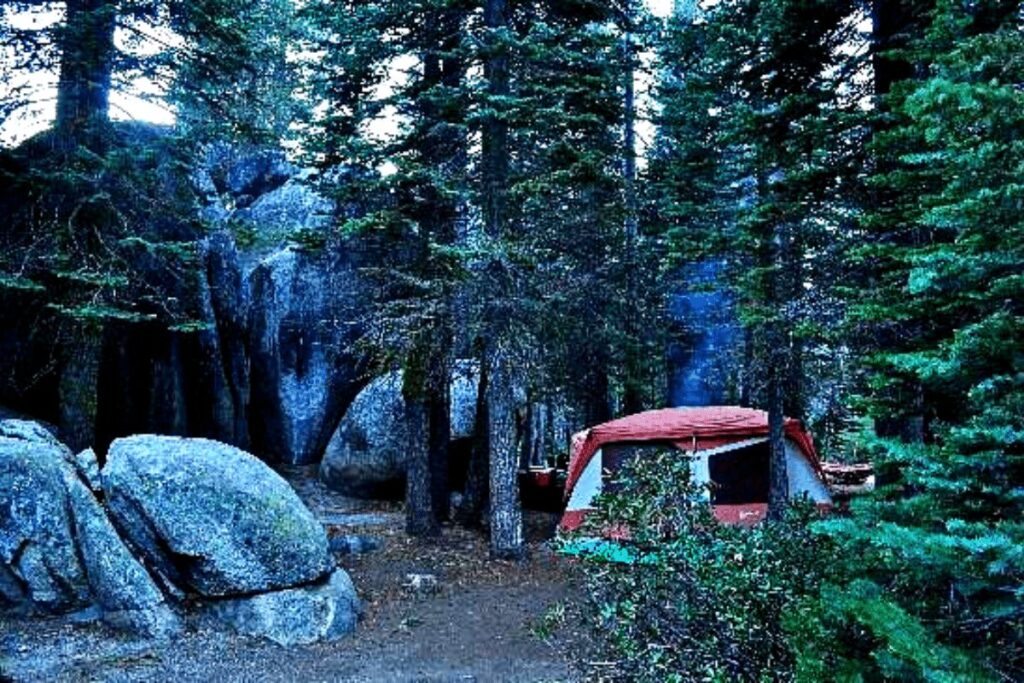 Site Features:
Camping Basics: While Tamarack Flat veers towards the simpler side of camping, it doesn't skimp on essentials. During its operational months, the campground offers seasonal trash/recycling collection and food storage lockers.
Water Source: The bubbling Tamarack Creek nearby is the primary water source. Before consumption, ensure the water is filtered, treated, or boiled for safety.
Fire Policy: Whether it's for warmth, light, or cooking, wood and charcoal fires are permitted during the campground's open months.
Sanitation: While you shouldn't expect modern restrooms, the campground does have seasonal vault toilets for campers. But remember, shower facilities are absent here.
Connectivity & More: If you're looking to digitally detox, you're in luck! Tamarack Flat doesn't offer cell phone reception or internet connectivity. Also, services like camp store, firewood sale, and staff presence aren't available.
Booking: The cost for an unforgettable experience here? A modest fee of $24.00 for all sites.
Pet Friendly Perks:
Venturing into Tamarack Flat with your furry companion? The expansive natural setting is ideal for pets to explore. Just ensure they're under supervision and respect the campground rules to ensure a pleasant stay for everyone.
White Wolf Campground (primitive)
Just off Tioga Road, halfway between the picturesque Tuolumne Meadows and Crane Flat, White Wolf Campground provides a tranquil retreat about an hour from the bustling Yosemite Valley.
Elevated at a staggering 8,000 feet, this campground is artfully set near White Wolf Lodge, hidden in a lush forest. It's a camper's paradise with easy access to Lukens and Harden Lakes trailheads, making it a hotspot for wilderness adventurers.
While White Wolf Lodge might provide minimal services when operational, other amenities and visitor services are sparse, adding to its secluded charm.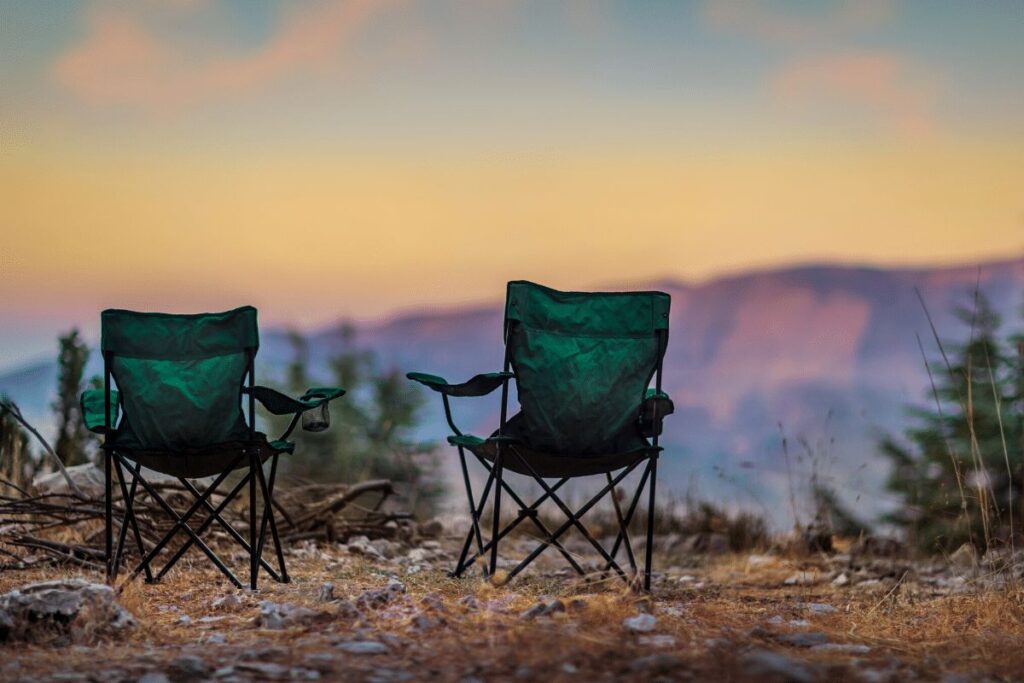 For those seeking both proximity to trekking trails and a serene escape from urban clamor, White Wolf offers the perfect balance. Its strategic location ensures that trekkers and nature lovers have a variety of destinations right at their fingertips.
Site Features:
Essentials for Campers: When it comes to basic necessities, White Wolf ensures seasonal trash/recycling collection and food storage lockers for your convenience.
Water Source: Seasonal potable water is available, ensuring that your hydration needs are well-met.
Fire Policy: Keeping up the camping tradition, wood and charcoal fires are allowed when the campground is open.
Sanitation and More: The campground offers seasonal flush toilets, ensuring your stay is comfortable. However, shower facilities are not available.
Connectivity and Entertainment: A digital detox is guaranteed here with no cell phone reception or internet. However, for some group entertainment, there's a seasonal amphitheater.
Fees & Booking: For a modest fee of $30.00, you get to pitch your tent (or park your RV) amidst nature's grandeur.
Pet-Friendly Perks:
White Wolf Campground's verdant surroundings are perfect for bringing along your furry friends. Just remember to keep them on a leash and follow the campground's pet policies to ensure a pleasant stay for everyone.
Tuolumne Meadows Campground (primitive)
Situated along the scenic Tioga Road, Tuolumne Meadows Campground stands as Yosemite's most expansive camping venue. Elevated at 8,000 feet, it offers seasonal access to a myriad of trails, pristine lakes, and breathtaking vantage points.
Though an hour and a half drive from Yosemite Valley, the proximity of a convenience store, grill, and post office in Tuolumne Meadows makes it a convenient choice for campers.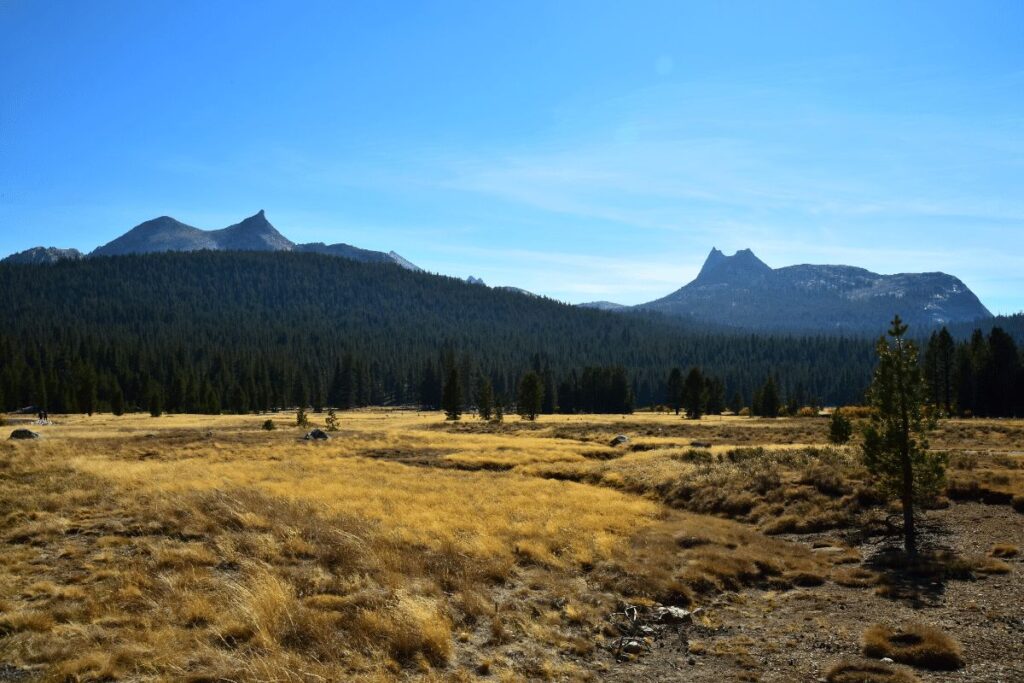 This campground is a first-come, first-served campground and is open from May 1 to October 15. The maximum number of sites in this campground is 50.
This particular campsite is ideal for those who are looking for a more rustic experience. It's located within the High Sierra Camps section of Yosemite National Park, which means that it can be reserved for your stay at an additional cost per night—and you should book as soon as possible because campsites fill up fast!
Site Features:
Cell Phone Reception: Available seasonally
Trash/Recycling Collection: Seasonal
Food Storage Lockers: Available seasonally
Staff On Site: Seasonal presence
Amphitheater: Open seasonally
Dump Station: Seasonal
Potable Water: Available seasonally
Fire/Stove Policy: Both wood and charcoal fires are permitted during open seasons.
Restroom Facilities: Seasonal flush toilets
Showers: None available
Pricing:
Standard Sites (RV or Tent) and Tent Only Sites (non-group): $36.00/night
Group Site: $75.00/night
Stock Site: $50.00/night
Pet-friendly Perks:
At Tuolumne Meadows Campground, pets can relish in serene riverside strolls along the Tuolumne River, bask under the vast open skies during meadow picnics, and embark on specific pet-approved trails.
The captivating natural backdrop makes it perfect for creating lasting memories with your furry friend. Always ensure they are leashed and adhere to campground regulations for a harmonious experience.
Also Read: 8 Reasons To Love Yosemite National Park In 2023 (Things To Do Included)
Preparing Your Dog for Yosemite Adventures
Taking your dog along on a trip to Yosemite can be a memorable experience for both of you, but it's essential to prepare your furry friend for the adventure. Here are some practical tips to help you get your dog ready for a trip to Yosemite:
Acclimating your dog to car rides and longer trips: Begin by taking your dog on short drives to help them adjust to car rides. Gradually increase the duration of these trips, so your dog becomes comfortable with longer journeys. This will minimize anxiety and make the travel experience more enjoyable for both you and your pet.
Ensuring your dog is well-socialized and comfortable around other animals and people: Before heading to Yosemite, make sure your dog is accustomed to being around other people and pets. Visit local parks or attend dog-friendly events to help your dog build positive associations with new environments and potential encounters with other animals.
Packing essentials: Don't forget to pack everything your dog might need, including food, water, a leash, waste bags, and a first aid kit. It's also a good idea to bring along your dog's favorite toys and a comfortable bed or blanket for them to sleep on at the campsite.
Considering your dog's fitness level and physical abilities: Plan activities that are appropriate for your dog's age, size, and fitness level. Keep in mind that some trails and areas in Yosemite may be challenging or off-limits to dogs, so choose activities that will be safe and enjoyable for both of you.
Preparing for potential weather-related challenges: Yosemite's weather can be unpredictable, with temperatures ranging from warm and sunny to cold and rainy. Make sure to pack gear that will help protect your dog from the elements, such as a doggie raincoat, booties for rough terrain, and cooling vests for hot days. Keep an eye on your dog's comfort level and be prepared to adjust your plans if the weather becomes too harsh for your furry companion.
By taking these steps, you'll ensure that your dog is well-prepared for an unforgettable adventure in Yosemite National Park, allowing both of you to enjoy the stunning scenery and make lasting memories together.
Dog Friendly Yosemite – Hiking and Outdoor Activities
Taking your dog to Yosemite National Park is a fantastic opportunity to bond and explore the great outdoors together. In this dog friendly Yosemite section, we'll introduce you to five top hiking trails that are suitable for pets, as well as offer tips on how to keep your dog safe and happy during your adventure.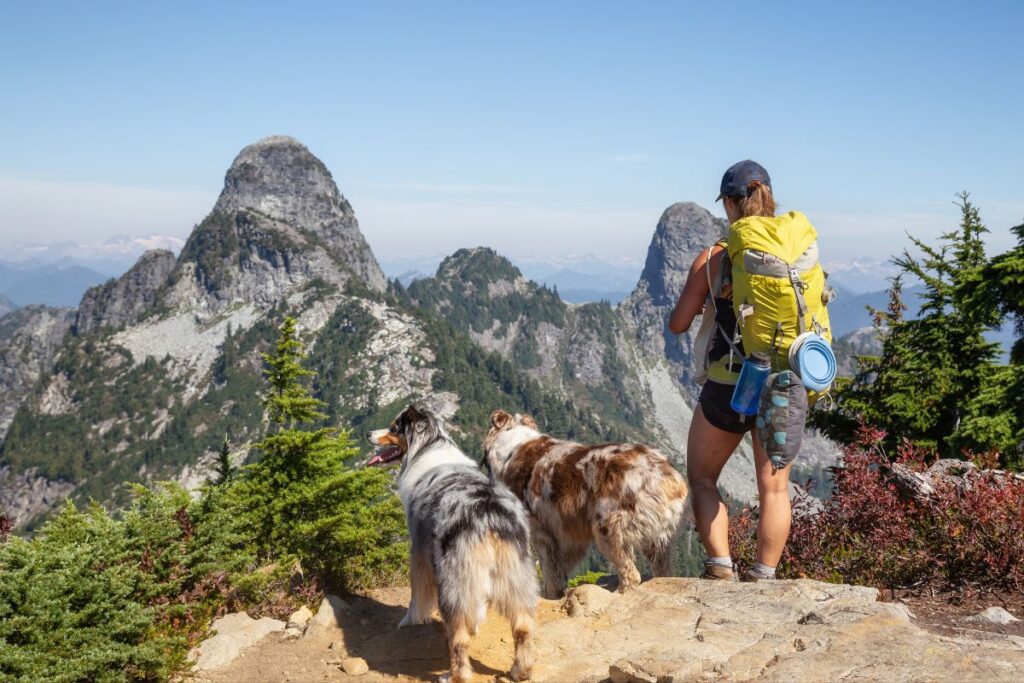 From leisurely walks to more challenging hikes, there's something for every dog and their human companion to enjoy.
Yosemite Valley Loop Trail
This easy, relatively flat trail is perfect for families and their pets looking for a leisurely walk. The 11.5-mile loop offers spectacular views of Yosemite Valley's iconic landmarks, such as El Capitan, Half Dome, and Yosemite Falls. Dogs must be on a leash no longer than 6 feet, and be sure to pack plenty of water and snacks for your furry friend.
Wawona Meadow Loop Trail
Located near the southern entrance of the park, this 3.5-mile loop trail winds around a beautiful meadow surrounded by towering pine trees. This trail is perfect for a leisurely walk with your dog, offering a peaceful and less crowded experience compared to other areas of the park. Remember to keep your dog leashed and be mindful of other visitors.
Lower Mariposa Grove Trail
This 2.2-mile round trip hike is perfect for exploring Yosemite's famous giant sequoias with your dog. The trail is relatively easy, with some inclines and declines, but well worth the effort as you'll be able to witness the grandeur of these ancient trees up close. Dogs are allowed on a leash no longer than 6 feet.
Glacier Point Road
While not a traditional hiking trail, this paved road is closed to vehicles from November to May, allowing pedestrians and leashed pets to explore the area. The road stretches for 16 miles and offers breathtaking views of Half Dome, Vernal Falls, and Nevada Falls. Take breaks along the way and remember to pack water and snacks for your dog.
Carlon Falls Trail
This moderately difficult, 4-mile round trip trail near the park's western entrance offers a scenic hike alongside the South Fork of the Tuolumne River, leading to the beautiful Carlon Falls. Dogs are allowed on this trail but must be kept on a leash no longer than 6 feet. Be prepared for some rocky sections and a few stream crossings.
Before hitting the trails, always check for updated regulations and trail conditions on the Yosemite National Park website. With these dog-friendly trails, you and your furry friend can make the most of your Yosemite adventure together.
Other activities with your furry friend!
Yosemite National Park offers numerous dog-friendly activities and attractions that make it the perfect destination for visitors with pets. Here is a comprehensive list of pet-friendly experiences in the park:
Scenic drives with breathtaking views: One of the best ways to experience the beauty of Yosemite with your dog is by taking a scenic drive. There are numerous routes that offer stunning views of the park, with ample opportunities to stop and take photos. Some popular drives include Tioga Road, Glacier Point Road, and Mariposa Grove Road. Remember to keep your dog safely inside the vehicle at all times and take advantage of designated pullouts for breaks and photo opportunities.
Yosemite Valley Shuttle System: The park's free shuttle system is a convenient way to explore Yosemite Valley without worrying about parking. Dogs are allowed on the shuttle as long as they are leashed and well-behaved. Make sure your dog is comfortable with public transportation before using the shuttle service.
Dog-friendly picnic areas and overlooks: There are several picnic areas and overlooks throughout Yosemite that welcome dogs, providing a great opportunity to relax and take in the stunning vistas. Popular spots include Tunnel View, Glacier Point, and the Valley View Picnic Area. Always remember to keep your dog leashed and clean up after them.
Guided tours and park ranger programs: While not all ranger-led programs are dog-friendly, some, like the Yosemite Valley Stroll and the Glacier Point Geology Walk, do allow leashed dogs. Check with the Yosemite Valley Visitor Center or the Glacier Point Ranger Station for information on specific programs and their pet policies.
Exploring paved paths and bike trails: Dogs are allowed on paved paths and bike trails throughout the park, making these perfect spots for leisurely strolls with your furry friend. Some popular paths include the Lower Yosemite Fall Trail, Cook's Meadow Loop, and the Valley Loop Trail. Keep in mind that dogs must be on a leash no longer than six feet at all times.
Water activities: If your dog loves water, you can take them to the Merced River's dog-friendly swimming areas. Always supervise your dog while swimming and be mindful of other visitors.
Visit the Ansel Adams Gallery: This iconic gallery showcases the works of the famous photographer and is dog-friendly. You and your furry friend can admire the stunning images of Yosemite and the surrounding Sierra Nevada.
Enjoy outdoor dining with your dog: Some restaurants and cafes in Yosemite offer pet-friendly outdoor seating. After a day of exploring, enjoy a meal with your furry companion at one of these establishments.
By incorporating these dog-friendly activities into your Yosemite itinerary, you and your pet can fully enjoy the wonders of this beautiful national park. Just remember to abide by park regulations and always prioritize the safety and comfort of your dog and other visitors.
Things to remember when taking your pet to Yosemite National Park
Yosemite National Park is a great place to bring your pet. Pets are allowed in Yosemite, but there are some restrictions and rules you should know about before heading to the park with your four-legged friend!
Where is your pet allowed, and where not
Pets are allowed in developed areas of the park, such as picnic areas and parking lots, but they are not allowed on trails or in wilderness.
Pets are allowed in developed areas of the park, such as picnic areas and parking lots, but they are not allowed on trails or in wilderness. Pets must be on a leash at all times and owners must pick up after their animals.
Pets must be kept on a leash at all times.
You must keep your dog on a leash at all times. The only exception is if the dog is under voice control and able to respond to its owner when called, or if they are in an off-leash area (there are none in Yosemite).
This law applies to both dogs and cats, but there are several other rules that apply specifically to dogs:
Dogs must be kept on a leash at all times; this includes while you're in your campsite's fenced area.
If your pet is not physically or temperamentally suited for off-leash hiking, make sure you stick close by so it doesn't get lost or hurt itself.
If you don't have any experience with taking care of animals outdoors in wilderness environments before coming here (i.e., you haven't done any camping trips), contact the park authorities before bringing them along so we can make sure they're up for the challenge!
You must pick up after your pet and dispose of waste properly.
Please remember to pick up after your pet. You must dispose of waste properly and not litter in Yosemite National Park. Your dog is an important part of your family, but their waste is not something you want to leave behind for others to clean up.
Here's how you can properly dispose of dog waste:
Take a plastic bag with you when walking your dog in Yosemite National Park.
Place the bag over your hand, pick up any solid or liquid waste from the ground, and place it inside the plastic bag.
Tie off the top securely (but don't seal it shut) and carry it out with you when leaving this area so that animals won't eat it!
You may take your pet with you in your vehicle into the park.
Your pet will need to stay in your vehicle during the entire length of your visit. You cannot leave it unattended, even for a few minutes. Be sure to keep their water bowl filled up and make sure they have something soft for them to lay down on if they get tired from all that hiking!
As far as lodging goes, Yosemite has several places where you can stay with your pets, including campgrounds and cabins. When making reservations at these facilities, please let us know that you'll be bringing a pet so we can make sure there is space ready for them when you arrive.
If you plan to stay overnight in the park, please note that pets are not allowed inside lodging facilities or restaurants.
This is for health and safety reasons. There are kennels outside the park that will board your pet while you explore Yosemite! You can also leave your pet in your car (but please don't leave them unattended). Or, if you have friends or family nearby who don't mind having a furry guest for a few days, ask them if they'd be willing to let your dog stay with them. Many hotels and motels in communities near Yosemite National Park also allow pets, so you may want to consider those options as well.
Kennel facilities are available outside the park.
If you plan to visit Yosemite for a long time, and take advantage of some of the park's overnight accommodations (such as camping), it may be best for your pet to stay at one of the kennels that are available outside the park. This is because dogs are not allowed inside all buildings at Yosemite, including hotels, restaurants and gift shops. However, since these facilities do allow pets (and some even offer canine-specific amenities), leaving your pet with them could be an option for overnight stays.
The kennel is located near the entrance to Yosemite National Park so that guests don't have far to travel if they want their pets back after their trip into the park is over. It is open 24 hours a day and accepts dogs and cats as well as other animals such as rabbits and birds – though there will likely be restrictions on which species can be accommodated depending upon availability at any given time.
Also Read: Road Trip From Los Angeles To Yosemite (Routes, Pitstops, Things To Do)
review the rules for pets
If you're planning on bringing your pet to Yosemite National Park, you should review the park rules before heading out. Pets are allowed only in developed areas of the park and must be on a leash no longer than six feet. Dogs, cats, and other pets must also be vaccinated against rabies. In addition to these requirements for taking pets into Yosemite, there are additional considerations that should be reviewed before you head out with your furry friend:
Make sure your pet is up-to-date on vaccinations
Make sure that your pet is physically fit enough for a long hike
Make sure that your dog isn't aggressive toward other dogs or people
Also Read: Yosemite National Park: 40 Top Guided Tours To Explore This Majestic Park!
The Campground we choose and Why
Among Yosemite National Park's pet-friendly camping options, Upper Pines Campground stands out as an exceptional choice. Here are five reasons why Upper Pines Campground is a unique and perfect place for you and your furry friend:
Prime Location: Nestled in the heart of Yosemite Valley, Upper Pines Campground provides easy access to iconic landmarks such as Half Dome and Yosemite Falls. Its central location allows you and your pet to enjoy the stunning surroundings and immerse yourselves in nature's beauty.
Spacious Campsites: Upper Pines Campground features generously-sized campsites with ample room for you and your pet to relax and play. The comfortable and well-maintained sites make it a pleasant experience for both you and your furry companion.
Pet-Friendly Amenities: The campground is equipped with pet-friendly amenities such as waste disposal stations and designated walking areas, ensuring a convenient and enjoyable stay for pet owners.
Proximity to Pet-Accessible Trails: Although pets are not allowed on most trails in Yosemite, Upper Pines Campground's location offers easy access to pet-friendly paths like the Yosemite Valley Loop Trail and the Wawona Meadow Loop. These trails provide a fantastic opportunity for you and your pet to explore the park together.
Tranquil Atmosphere: Upper Pines Campground boasts a serene and peaceful setting, allowing you and your pet to unwind, rejuvenate, and connect with nature. The campground's calm atmosphere contributes to a stress-free environment, ensuring a relaxing camping experience for both you and your four-legged friend.
Here is the only guide to the upper pines campground you will ever need.
Conclusion
Yosemite National Park offers an array of pet-friendly campsites that cater to you and your furry friend's adventurous spirits. As you explore this breathtaking natural wonder with your loyal companion by your side, you'll create cherished memories and strengthen your bond like never before.
But wait, there's more! There are still countless hidden gems and "paw-portunities" waiting to be discovered throughout the park. Are you curious to uncover them all? The adventure has only just begun – grab your leash, pack your bags, and embark on the ultimate pet-friendly escapade in the majestic wilderness of Yosemite!