Greetings, fellow outdoor enthusiasts and Yosemite aficionados! Are you on the hunt for the crème de la crème of camping spots at the legendary Upper Pines Campground?
Well, look no further, because you've just stumbled upon the definitive guide to the 10 best campsites that will make you feel like you've won the camping jackpot.
Picture this: you're cozied up under a canopy of towering pines, serenaded by the whispers of the wild and the gentle flow of the Merced River. With every breath, you soak in the magic of Yosemite National Park, and you think to yourself, "Yep, this is the life!" But hold your s'mores, my friend! Before you can achieve camping nirvana, you need to know where to pitch that tent, right?
In this article, we'll explore the hidden gems 💎 of Upper Pines Campground, each one with its own unique charm and irresistible allure.
From the most secluded hideaways to the prime real estate with breathtaking views, we've got you covered. So, grab your camping gear, and let's embark on this adventure together!
Now, if you're itching for a sneak peek, our top pick for the best campsite at Upper Pines is Site #30. Why, you ask? Oh, you'll have to read on to uncover its secrets and the other nine fantastic spots that made our list!
So, what are you waiting for? Dive in and discover your next dream camping destination!
Upper Pines Campground Overview
Upper Pines Campground is nestled in the heart of Yosemite National Park, offering visitors a serene and tranquil environment for the ultimate camping experience. With its picturesque views, a variety of recreational activities, and convenient amenities, this campground is an ideal choice for both experienced campers and first-time visitors alike.
Campground Location and Directions
Upper Pines Campground Area Map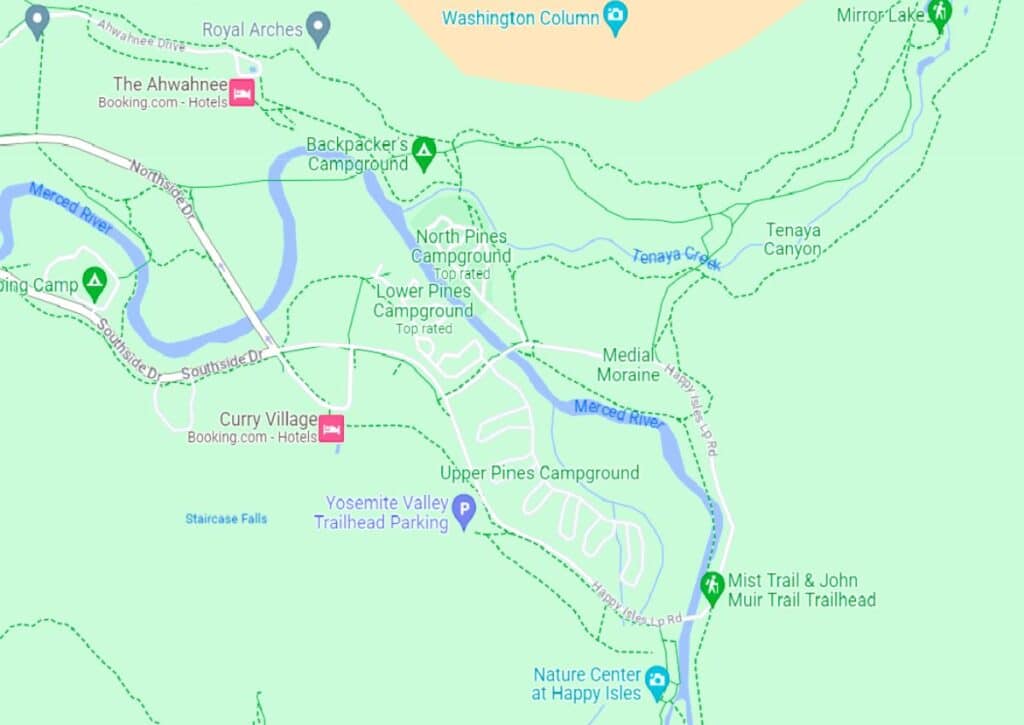 Upper Pines Campground Map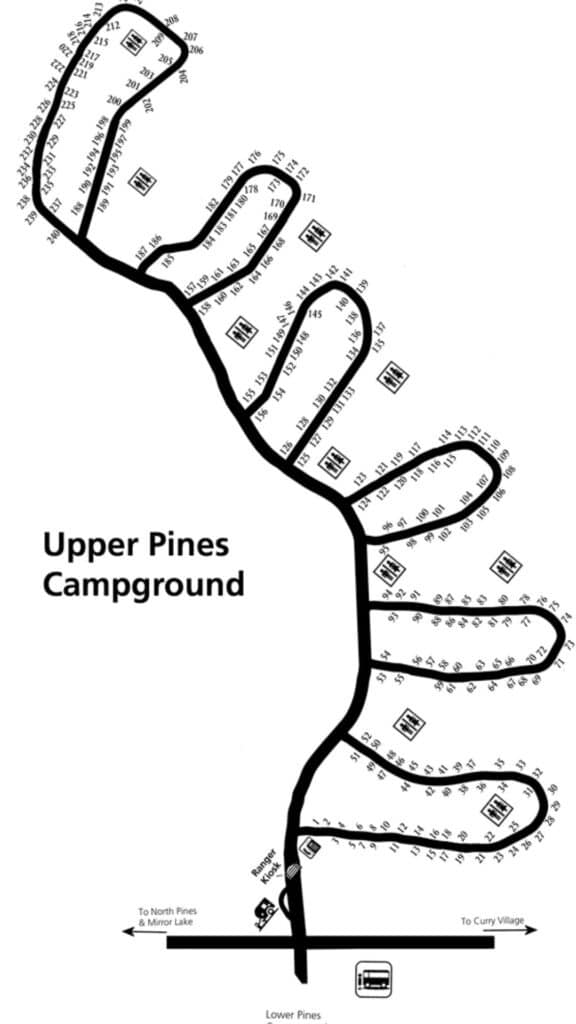 Location
Upper Pines Campground is located in Yosemite Valley, which is the main visitor area within Yosemite National Park. The campground lies at an elevation of 4,000 feet, providing breathtaking views of the surrounding natural beauty.
Directions
To reach the campground, enter Yosemite National Park through any of its entrances and follow the signs to Yosemite Valley. Once in the valley, take the Northside Drive and turn onto the Pines Campgrounds Road. Follow the signs to the Upper Pines Campground.
Campsite Reservations and Fees
Reservations
Upper Pines Campground is a popular destination, so it is highly recommended to reserve your campsite in advance. Reservations can be made up to five months in advance on the 15th of each month at 7:00 AM PT through the National Recreation Reservation Service (NRRS) at Recreation.gov.
Fees
The nightly fee for Upper Pines Campground is $36 per site. There may be additional fees for extra vehicles or other services, so it is advisable to check the Recreation.gov website for the most up-to-date information on pricing.
We have a complete guide on booking your site at the Upper Pines Campground. Do check it out!
Campground Amenities and Facilities
Campsites
Upper Pines Campground offers 238 campsites, which can accommodate tents, RVs, and trailers up to 35 feet in length. Each site is equipped with a picnic table, a fire ring with a grill, and a food storage locker to keep your food safe from wildlife.
Restrooms and Showers
The campground provides restrooms with flushing toilets, and sinks with potable water. However, there are no showers available at Upper Pines Campground. The nearest shower facilities can be found at Curry Village and Housekeeping Camp.
Drinking Water and Trash Disposal
Potable drinking water is available throughout the campground. Trash and recycling receptacles are also provided, making it easy for campers to maintain a clean and eco-friendly environment.
Here is our everything you need to know about facilities an amenities in the Upper Pines Campground and the nearby Curry Village.
Recreational Activities
Hiking and Sightseeing
Upper Pines Campground serves as a perfect base for exploring the numerous hiking trails and iconic sights of Yosemite Valley. Nearby attractions include Half Dome, Yosemite Falls, and Glacier Point.
Biking
The Yosemite Valley offers a network of paved bike paths that are perfect for exploring the area on two wheels. Bike rentals are available at Curry Village.
Rock Climbing
Yosemite Valley is a world-class destination for rock climbing, with routes suitable for beginners and seasoned climbers alike. El Capitan and Half Dome are just two of the many popular climbing spots in the area.
Ranger Programs
Yosemite National Park offers various ranger-led programs, including campfire talks, guided walks, and educational activities for children. Check the Yosemite Valley Visitor Center for the most current schedule and program offerings.
Camping Tips and Regulations
Follow the "Leave No Trace" principles to minimize your impact on the environment.
Observe quiet hours between 10:00 PM and 6:00 AM.
Pets are allowed but must be kept on a leash and attended at all times.
All food, toiletries, and scented items must be stored in the provided food lockers to prevent wildlife encounters.
Campfires are allowed only in designated fire rings and are subject to seasonal restrictions.
By following these guidelines and enjoying the countless recreational opportunities, you are sure to have an unforgettable camping
Campsite #30 – The best campsite in Upper Pines Campground Yosemite
Campsite #30 is a large site located near the entrance of Upper Pines Campground. It is also a short walk from the showers and bathrooms, as well as horse corrals and barns.
You can easily reach this campsite by taking Highway 140 to Yosemite National Park then traveling east on California State Route 120 (El Portal Road). Follow El Portal Road until you reach the park entrance station where you'll pay your fee then continue up into Yosemite Valley along El Capitan Drive until reaching South Entrance Road after approximately 40 minutes at which point you'll see signs pointing toward Upper Pines Campground which will take you another ten minutes before reaching campgrounds like Lower Pines, North Pines, Inyo and Ahwahnee.
Campsite #104 – One of the larger sites in Upper Pines
Campsite #104 is one of the larger campsites in Upper Pines, making it a great choice for groups. This spot has good privacy, with trees and shrubs separating it from its neighbors.
It's also located near a small trail that leads down to the Merced River, making it easy to access the river for fishing or hiking. Campsite #104 offers easy access to both showers and the store, so you'll be able to keep yourself clean and well-stocked on supplies during your trip.
Campsite #20 – A great campsite for up to 5 people
Campsite #20 is one of the best campsites in Upper Pines Campground. It has easy access to all amenities, such as restrooms and showers, and it's also near water spigots. This is a great choice for families with children or pets because it's close to bear boxes and ranger stations (for safety reasons). You'll find a campfire circle nearby, which makes this site even more popular during warm weather months.
Camping here might be the most convenient option if you're looking for some peace and quiet during your stay at Yosemite National Park. There are no campground roads here — instead, each space is tucked away among pine trees so that only those who have chosen this spot will hear anything that goes on there at night. 
There's also an amphitheater near by where ranger programs are often held during summer months; they provide information about wildlife conservation efforts taking place throughout California forests like those found in Yosemite Valley itself!
Campsite #24 – A good selection for families or small groups
Campsite #24 is a good selection for families or small groups. This campsite has three tent pads that are located on the same flat spot, which means you can easily accommodate a smaller group of people without having to split up.
When it comes to campfires and socializing, there is plenty of room for everyone to sit around the fire ring. The site also has a separate cooking area where you can cook your meals (about 20 feet away from the tent sites).
Camping at this campsite is family friendly because it's close to the entrance and has bathrooms available nearby. It's also convenient if you want to use showers after spending time in Yosemite Valley hiking!
And finally, whether you're looking for peace and quiet or fast food fixings from Curry Village Market Express next door, this location offers easy access within walking distance so there won't be any unnecessary trips back and forth across Tioga Road when all you want is some ice cream after dinner!
Campsite #52 – A good campsite for small groups
Campsite #52 is a good campsite for small groups and families. The campground has been known to fill up early in the day, so plan ahead if you want this spot. It's located close to the bathhouse and next to a creek, making it easy for kids to go swimming or fishing during their down time. 
This is also an excellent spot for families with young children who need a place where they can safely explore nature without needing too much adult supervision.
The campsite itself has enough space for up to five people, but there isn't much privacy unless you set up your tent far from other campers' tents (or bring your own shade structures). 
It's not ideal if you're looking for complete solitude at night because of how close together all the sites are placed; however, this also means that everyone will know each other better by morning as well!
Campsite #83 – Good for couples and solo travelers
Located by Camp 4, site 83 is one of the longest campsites in Upper Pines. It's a good option for couples and solo travelers as well as larger groups, families, and small children traveling with dogs to Yosemite.
This site is also ideal for large groups looking to pitch multiple tents on top of each other (we're talking up to 8 people) because it has enough room for everyone to be comfortable without feeling cramped. If you have kids under 18 years old who want their own space or parents who wish to have an area where they can relax alone without being bothered by the kids then this spot is perfect for them!
Campsite #57 – A great spot for large groups or families
Campsite #57 is a great spot for large groups or families. It has the benefit of being one of the few sites that can accommodate a small group, but also offers enough space to feel like you are in nature rather than an urban park.
The campground itself has great views of Half Dome and Glacier Point, it's relatively close to the river, and it's situated in between some trees so there is some privacy from your neighbors.
It's also close enough to bathrooms, showers and water which makes life easier when you're camping with a large group or family!
Campsite #86 – Close to the entrance and a decent size
Campsite #86 is a good choice if you're looking for a campground close to the entrance. It's also a decent size and has fire rings, bear boxes, and picnic tables.
Good for couples: Campsite #86 is large enough that even if you're camping alone or with another person, there will be enough space between your tent and your neighbor's tent that it won't feel crowded.
Good for solo travelers: If you are traveling by yourself but want to meet new people on your trip, Campsite #86 is a good option because there are many other single campers who would make great companions during an evening around the campfire. Plus, some of these singles may have experience in things like hiking or rafting that they could teach you!
Good for groups: You can easily fit several tents into this campsite—it's spacious enough! It'll be easy to socialize with other people here too; just don't forget to bring food so everyone doesn't go hungry at dinner time 😉
Campsite #41 – A smaller site with a bit of seclusion and privacy
Campsite #41 is a smaller site with a bit of seclusion and privacy that's close to the entrance. It's good for couples or small groups, but can also be used as an overflow site if you have a larger group. The views aren't as spectacular as some of the other sites, but they're still nice. This campsite has secluded areas (with plenty of shade) which make it a great choice for families or solo travelers looking for some privacy during their stay at Yosemite National Park.
Campsite #73 – One of the few walk-in campsites in Upper Pines (and a great one at that)
Campsite #73 is ideal for large groups, solo travelers, couples, and small families. It's one of the few walk-in campsites in Upper Pines (and a great one at that). There are two tent pads here—one on each side of you—so there will be plenty of privacy even if you're camping with a group. Located close to the entrance, this site is convenient if you want to get up early or stay late. It also offers good views of Half Dome and Glacier Point around sunrise/sunset times.
Upper Pines Campground is one of the most popular campgrounds in Yosemite National Park, and for good reason! This campground is centrally located within the park, near many of the park's most popular attractions. Plus, Upper Pines offers stunning views of the Sierra Nevada mountains.
If you're planning on camping at Upper Pines, be aware that it is a very popular campground, and reservations are required. Be sure to make your reservation well in advance of your trip!
Regulations & Policies
The National Park Service (NPS) is the federal agency that manages all national parks, including Yosemite National Park. The NPS sets regulations and policies for park visitors to help protect the park's natural resources and promote public safety.
There are a few things you should know before visiting Upper Pines Campground:
– All visitors must pay a daily entrance fee or purchase a Yosemite National Park pass. This pass can be purchased online or at the park entrance station.
– Dogs are not allowed on any trails or in any developed areas of the park, including campgrounds. (Service animals are exceptions.) 
– Fires are only allowed in designated fire pits and camp stoves. wood gathering is not permitted. Firewood can be purchased at the campground store.
– Quiet hours are from 10 pm to 6 am. generators may not be used during quiet hours. – Camping is limited to 14 days per visit and no more than 30 nights per year.
– Generators may not be used in Upper Pines Campground. 
– Smoking is prohibited in all areas of Yosemite National Park.
Fees for Staying at Upper Pines
If you're planning on staying at Upper Pines Campground in Yosemite National Park, be aware that there is a fee for doing so. The fees are $26 per night for a campsite that can accommodate up to six people and $36 per night for a group campsite that can accommodate up to 12 people. There are also additional fees if you're bringing more than one vehicle, and if you're staying longer than 7 days.
The Only Guide You'll Need to Planning a Visit to Yosemite and Upper Pines Campground
Introduction: Every year, thousands of visitors plan their trip to Yosemite National Park, with many of them looking forward to camping at the Upper Pines Campground. To help you make the most of your Yosemite experience, we've compiled an all-encompassing guide to answer your questions about the Upper Pines Campground, as well as essential resources to enhance your trip to Yosemite and the Upper Pines Campground. With this guide, you'll have everything you need for a memorable adventure in one of America's most iconic national parks.
Yosemite National Park boasts over 800 miles of trails, catering to hikers of all skill levels. Our in-depth guide on Yosemite Hikes provides insights into the park's most scenic trails, difficulty levels, and estimated hiking times. For a more focused list of must-try hikes, check out the Trails in Yosemite That Made Us Fall in Love with the Park. With these resources, you'll be well-equipped to plan your perfect Yosemite hiking itinerary.
B. Explore Yosemite's Wildlife
One of the many highlights of visiting Yosemite is the chance to encounter its diverse wildlife. To prepare yourself for these encounters and learn how to respect the park's inhabitants, read about the 16 Animals in Yosemite National Park You Will See While Hiking Here. This comprehensive guide will introduce you to Yosemite's fascinating wildlife and provide essential safety tips.
C. Guided Tours in Yosemite
If you're interested in a more structured experience, consider joining one of the 40 Top Guided Tours to Explore This Majestic Park. These tours cater to various interests, including history, geology, ecology, and photography. A guided tour can offer unique insights and enhance your understanding of Yosemite's natural wonders.
D. Reasons to Love Yosemite National Park
Uncover the 8 Reasons to Love Yosemite National Park in 2023 (Things to Do Included!), which highlights the park's natural beauty, diverse recreational activities, and unique features. This article offers inspiration and ideas for your Yosemite trip, ensuring you make the most of your visit.
E. Pet-Friendly Camping Options
For those traveling with their furry companions, our guide on Pet-Friendly Campsites in Yosemite National Park offers information on campgrounds that welcome pets, along with tips for a successful pet-friendly camping experience. Ensure a pleasant and stress-free trip for both you and your pet by planning ahead and choosing the right campsite.
Things to Do Near Upper Pines
There are tons of things to do near Upper Pines Campground in Yosemite National Park! Here are just a few ideas:
-Hike to Yosemite Falls: This popular hike takes you to the tallest waterfall in North America!We highly recommend the hike to Half dome from the campground for experienced hikers. Here is our complete guide!
-Visit Glacier Point: Glacier Point offers incredible views of Yosemite Valley, Half Dome, and Clouds Rest. It's a great place to take some photos!
-Explore Mariposa Grove: This grove of giant sequoias is one of the most popular attractions in Yosemite National Park. Be sure to see the famous California Tunnel Tree while you're there!
-Take a scenic drive: There are plenty of beautiful drives to take in Yosemite National Park. Some of our favorites include Tioga Road, Glacier Point Road, and Mariposa Grove Road.
Below is a link to curate experiences in the Yosemite National Park! Bookable tours await!
Weather in Yosemite National Park
Yosemite National Park is world-renowned for its dramatic scenery and stunning views. The park spans over 748,000 acres of wilderness and includes many different ecosystems, from the Sierra Nevada Mountains to the Yosemite Valley.
The weather in Yosemite National Park can vary depending on the time of year and elevation. In the summer, the daytime temperatures usually range from 80-95 degrees Fahrenheit, with nighttime temperatures dropping to 50-60 degrees. However, it is not uncommon for temperatures to reach 100 degrees or higher in the lower elevations of the park.
The fall season brings cooler temperatures to Yosemite, with daytime highs in the 60-80 degree range and nighttime lows in the 40-50 degree range. At higher elevations, like Tuolumne Meadows, temperatures can drop below freezing at night.
 Winter is the coldest season in Yosemite National Park, with most of the park receiving several feet of snowfall each year. Daytime highs are typically in the 30-50 degree range but can dip below freezing at night. In areas like Glacier Point and Tuolumne Meadows, wind chill can make it feel even colder.
Spring is a beautiful time to visit Yosemite National Park as all of the snow starts to melt and wildflowers start to bloom. Temperatures are similar to those in fall, with daytime highs in the 60-80 degree range and nighttime lows in the 40-50 degree range.
Why Choose Upper Pines Campground in Yosemite National Park?
Prime Location in Yosemite Valley
Upper Pines Campground holds a coveted position in the heart of Yosemite Valley, surrounded by the park's most iconic landmarks. This location allows campers to fully immerse themselves in the breathtaking scenery, including views of Half Dome, El Capitan, and Yosemite Falls. This central location also provides easy access to numerous trailheads, making it an ideal base for exploring Yosemite's natural wonders.
Proximity to Popular Attractions
When you choose to stay at Upper Pines Campground, you'll be just a stone's throw away from some of Yosemite's most popular attractions. A short walk or drive from the campground will take you to the awe-inspiring Yosemite Falls, the towering granite monolith El Capitan, and the famous Half Dome. Additionally, the picturesque Merced River flows nearby, providing ample opportunities for water-based activities like fishing and swimming.
Excellent Amenities and Services
Upper Pines Campground offers a range of amenities and services to ensure a comfortable and enjoyable stay. Each campsite comes equipped with a picnic table, fire ring, and a food storage locker. Restrooms with flush toilets and drinking water are conveniently located throughout the campground. Additionally, the nearby Curry Village offers a grocery store, showers, laundry facilities, and dining options, making your stay at Upper Pines Campground even more convenient.
Family-Friendly Camping Experience
Upper Pines Campground is designed to accommodate families and groups, offering spacious campsites and various recreational opportunities for all ages. With ranger-led programs, educational talks, and Junior Ranger activities, children will have a chance to learn about the park's flora and fauna while having fun. The campground's family-friendly atmosphere makes it an ideal destination for creating lasting memories with your loved ones.
Is Upper Pines Campground Open?
Upper Pines Campground is generally open year-round, but it's crucial to check the Yosemite National Park website for the latest information on campground status and any possible closures due to weather or other factors. Weather conditions in Yosemite can be unpredictable, so staying informed about potential campground closures is essential.
When Does Upper Pines Campground Become Available for Reservations?
Reservations for Upper Pines Campground can be made up to five months in advance on the 15th of each month. This means that if you want to reserve a campsite for August, you can book it starting on March 15th. Visit Recreation.gov to make your reservations. Booking early ensures you have a spot reserved at this popular campground and avoid disappointment.
Does Upper Pines Campground Get Full in March?
Upper Pines Campground can indeed get full in March, particularly during weekends and holidays. Since the campground operates on a reservation system, it's essential to book your campsite well in advance to secure your spot. Make your reservation through Recreation.gov. Keep in mind that March is a popular time to visit Yosemite due to its relatively mild weather, so competition for campsites can be fierce.
How Fast Does Upper Pines Campground Sell Out?
Upper Pines Campground can sell out quickly, especially during peak seasons, weekends, and holidays. To avoid disappointment, it's best to make your reservation as soon as the booking window opens. Check Recreation.gov for availability and secure your spot. By booking early, you increase your chances of securing a campsite at this sought-after location.
Conclusion
Now you have a clear idea of the best campsites in Upper Pine, Yosemite. We hope that this article has helped you to select the right one for your needs and preferences.
FAQs about the Upper Pines Campground
What is the best site at Upper Pines Campground?
Campsite #30 is renowned as the prime spot in Upper Pines Campground. This spacious site is conveniently positioned near the entrance, a stone's throw from showers and bathrooms. It's also adjacent to horse corrals and barns.
To find this gem, take Highway 140 into Yosemite, then head east on California State Route 120 (El Portal Road). After paying your fee at the park entrance, journey up El Capitan Drive until South Entrance Road appears. 
A mere ten minutes past this point will introduce you to the campground signs, with Campsite #30 awaiting your arrival.
Is upper or lower pines better?
Both Upper and Lower Pines campgrounds offer beautiful views and access to Yosemite's attractions. Upper Pines is larger and might have more availability, while Lower Pines offers closer proximity to the Merced River. Your choice will depend on your priorities, such as campsite availability, proximity to certain landmarks, and preferred amenities.
Does Upper Pines in Yosemite have showers?
No, Upper Pines campground does not have shower facilities. Campers can use the shower facilities at  the near by Curry Village (also known as Half Dome Village) for a fee of $5.
What is the elevation of Upper Pines campground?
Upper Pines campground is situated at an elevation of approximately 4,000 feet (1,219 meters) above sea level.
Is there water at Upper Pines Campground?
Yes, Upper Pines Campground provides potable water for campers. There are several water spigots scattered throughout the campground.
Does Lower Pines campground have showers?
No, Lower Pines does not have its own showers. Like with Upper Pines, campers can utilize the showers at Curry Village for a fee.
What is the best month to visit Yosemite?
The best month to visit Yosemite depends on what you want to experience. May and June offer gushing waterfalls and blooming wildflowers. 
September and October provide fewer crowds and cooler temperatures. However, some areas might be inaccessible in winter months due to snow.
How much does it cost to go to Lower Pines campground?
Prices can vary and are subject to change, but as of my last update, Lower Pines campground had a nightly fee. Last we checked, the Lower Pines Campground had three double campsites (Dbl1, Dbl2, and Dbl 3) accommodating 7 to 12 people each. The cost for these campsites were $36 (per site)
Can you sleep in your car in Yosemite?
Sleeping in your car outside of designated camping areas in Yosemite is not allowed. Campers must sleep in their reserved campsite. There are designated campgrounds where you can legally sleep in your car if you have a reservation.
Why is it so hard to get a reservation?
Yosemite is a highly popular national park, and its campgrounds, including Upper and Lower Pines, are in high demand. The unique beauty and experiences Yosemite offers make reservations competitive, especially during peak seasons.
In May and June, why are so many campsites in North Pines and Lower Pines not available for reservation?
During May and June, parts of North Pines and Lower Pines campgrounds may be susceptible to flooding from snowmelt. To ensure safety, some sites remain closed or become first-come, first-served until conditions stabilize.
We have more than two vehicles arriving at our campsite. Where can we park the additional vehicles?
Each campsite typically has space for two vehicles. Additional vehicles will need to be parked in designated overflow parking areas, subject to availability and possibly additional fees. It's wise to check with the campground ahead of time to make necessary arrangements.
When can I check in? Can I check in after hours? What if I'm late?
Check-in times can vary, but it's typically in the afternoon. If you plan to arrive after the stated check-in time or after the ranger station closes, you should inform the campground in advance. Often, late arrivals will find information posted on a board or at the ranger station about their campsite. Always consult directly with the campground for specific details.