The Half Dome Backpacking Tour is your ticket to Yosemite's finest. From open meadows to the echo of distant waterfalls, every moment is a snapshot of nature at its best.
But the real magic? That climb up Half Dome. It's challenging, but at the top, the views make it all worthwhile. A panorama of Yosemite stretches out, a testament to nature's grandeur.
The journey is as rewarding as the destination. As you wind through Yosemite's trails, there's an ever-present symphony—the rustling leaves, the chirping of birds, and the gentle murmur of streams.
Camping under the stars, the park comes alive in a different way. The vastness of the night sky, sprinkled with stars, serves as a reminder of the wild beauty that surrounds. And the nights by the Merced River? They offer a tranquil counterpoint to the day's exhilarating treks.
And.. the camaraderie. Sharing stories by the campfire, helping fellow trekkers, and those moments of collective awe—these make the Half Dome Backpacking Tour more than just a trek; it's a shared memory you'll cherish forever.
The Half Dome Backpacking Tour Highlights! 
Iconic Landscapes Await Yosemite National Park is a trove of nature's marvels. From the expansive meadows to dense forests, every inch is a testament to the wild's untamed beauty. Here, the air is fresher, the sights unspoiled.
The Mighty Half Dome 
The heart of this tour? The Half Dome ascent. It's more than just a hike. With each step, you'll feel the mountain's age and majesty. The climb is challenging, no doubt. 
Cables are your ally, guiding you up the steep rock face. And when you summit? The reward is unparalleled—a panoramic embrace of Yosemite's grandeur.
Rejuvenation by the Merced 
Hiking is invigorating, but so is rest. The Merced River offers the perfect respite. Its waters, described as "Wild and Scenic", beckon for a refreshing plunge.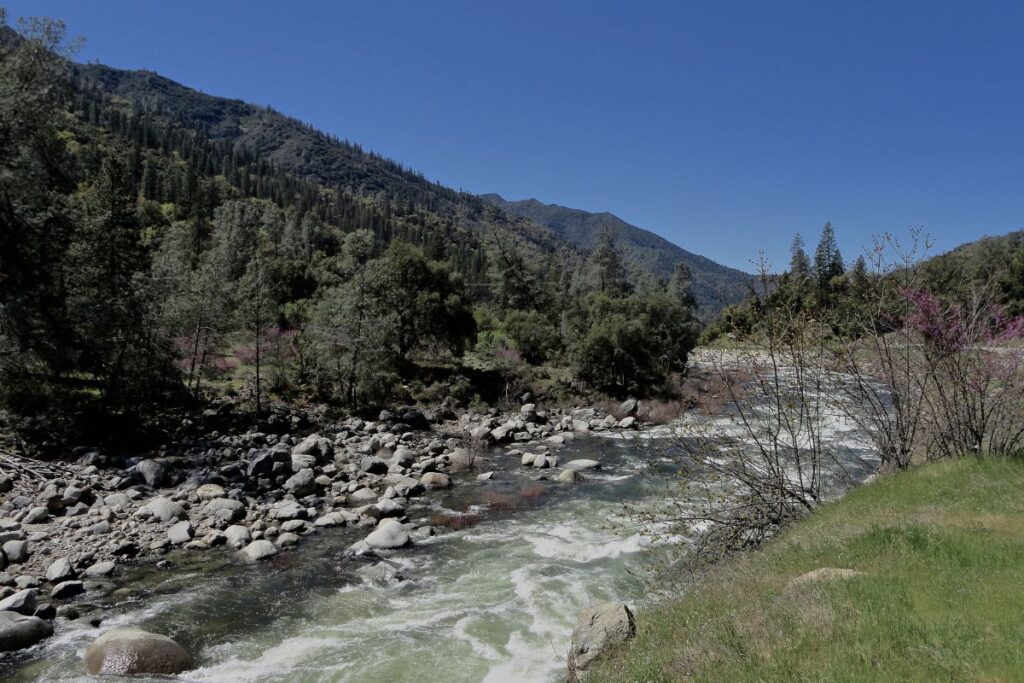 After a day of trekking, there's nothing quite like the river's embrace, washing away the day's fatigue.
Nights Under the Stars 
Camping in Yosemite is an experience in itself. For three nights, the backcountry is home. The Merced's rhythmic flow becomes a lullaby, and the night sky? 
A canopy of twinkling stars. It's nature's luxury suite—open, vast, and mesmerizing.
Dining the Wilderness Way 
Meals in the wild have a charm of their own. Imagine lunch with a view from Half Dome's peak or dinners at secluded campsites. 
Every bite, enhanced by the surroundings, is a culinary delight.
A Journey of Five Days 
In five days, this tour packs what many dream of experiencing in a lifetime. Starting with Yosemite's diverse landscapes, you get a taste of everything. 
From the Nevada Fall's thunderous roar to a peaceful walk along a segment of the famed John Muir Trail, every day is an adventure.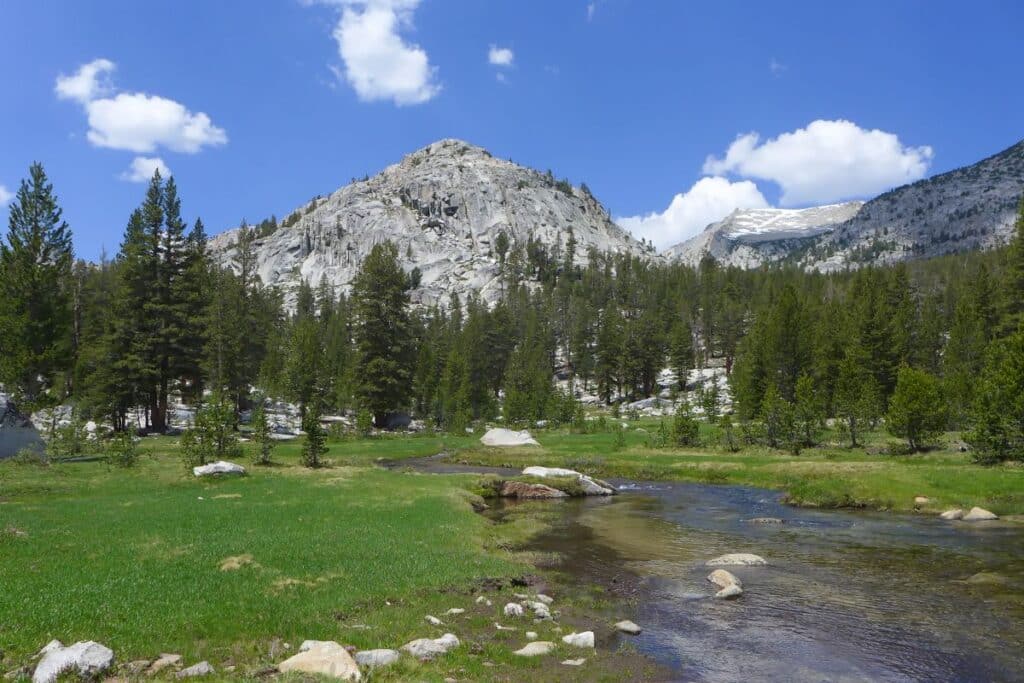 The tour's crescendo? The ascent to Half Dome. Beyond the physical challenge, it's a spiritual experience. The vastness below, with layers of green cliffs, drives home nature's magnificence.
Get ready. This isn't just a backpacking tour; it's a deep dive into Yosemite's heart. Adventure, serenity, and memories await.
5 Day Itinerary of the Half Dome Backpacking Tour
Dive into five days of unmatched exploration in Yosemite's pristine wilderness. 
From tranquil valley floors to the exhilarating climb of the Half Dome, this itinerary is meticulously crafted to offer the best of the park. 
Experience a blend of challenging hikes, serene rest stops, and breathtaking views. 
Here's a glimpse into your daily adventures:
Day 1: Arrive at Curry Village
Upon arrival, you'll make your way to Curry Village. After checking in, explore the valley on Yosemite's bike paths, immersing yourself in nature. 
Tempted by the cliffs? Try a beginner climbing lesson in the village. If you're after a slower pace, join a ranger-led nature walk to discover Yosemite's secrets.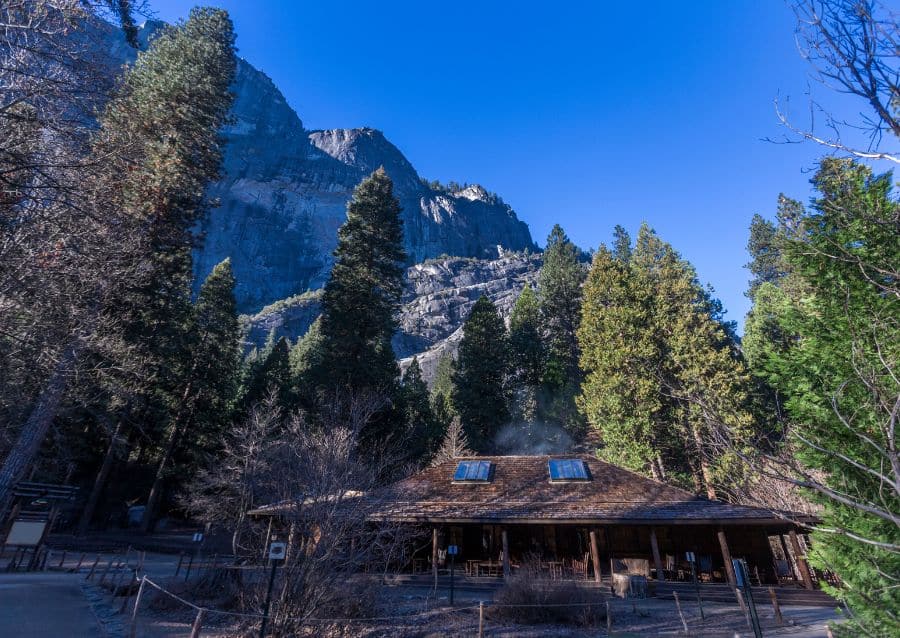 The Ansel Adams Gallery showcases breathtaking images of the park's essence. Browse village stores for unique keepsakes before unwinding at the Village Pool, enjoying views of Glacier Point. 
End your evening with a campfire talk, preluding the adventures to come.
After settling in, a 6 pm rendezvous introduces you to your knowledgeable guide and fellow adventurers. 
As night descends, local restaurants beckon, offering a diverse range of dining experiences. 
The ambiance of Curry Village ensures a restful night, perfectly setting the stage for the days ahead.
Day 2: Embarking on the Yosemite Trail
Dawn in Yosemite heralds a day of discovery. After a hearty breakfast, your rendezvous at the Half Dome Village Mountain Shop becomes the catalyst for the day's adventure. 
Under the guidance of your experienced trailblazer, you'll venture towards your first trailhead, each step immersing you deeper into Yosemite's embrace.
As the sun climbs higher, your path takes you through landscapes painted with nature's finest brushstrokes. 
The whispers of Illilouette Creek guide you, harmonizing with the songs of the local birds. 
Navigating the trail, the majestic silhouette of Mt. Starr King grows gradually, casting its awe-inspiring shadow as a sentinel watching over the valley.
Your day culminates at the camp along the serene banks of Illilouette Creek. Nestled under Mt. Starr King's grandeur, it's the perfect spot to reminisce about the day's journey.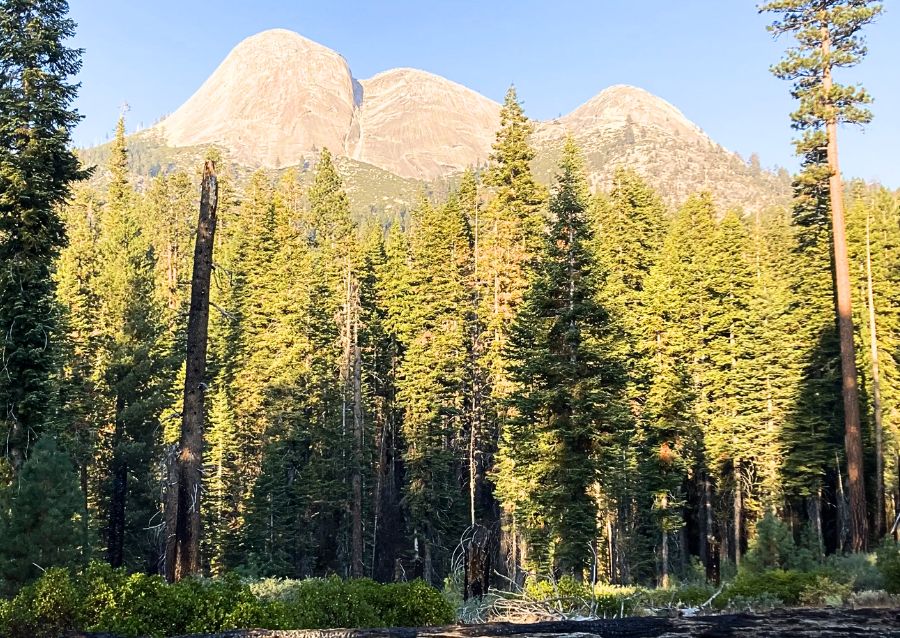 With 4 miles traversed and altitudes both climbed and descended, every meal — breakfast, lunch, and dinner — feels like a reward, echoing the spirit of the wild and setting the tone for the adventures that lie ahead.
Day 3: Journey to the Heart of Little Yosemite Valley
With the dawn of Day 3, a fresh canvas of Yosemite beckons. As you embark on your trek, every twist and turn of the trail presents panoramas that seem to leap out of a postcard.
Nevada Falls, with its roaring waters, greets you like an old friend, a testament to the enduring beauty of this national park.
Your path meanders along, with the shimmering Merced River acting as your guide. Its rhythmic flow is a constant companion, weaving tales of timeless landscapes and echoing nature's grand symphony. 
By midday, sandy beaches by the river's edge offer a tranquil respite, inviting you to kick off your boots and let the cool waters soothe your feet.
But the crown jewel of the day is undeniably the sights from Little Yosemite Valley. 
Vast, open, and draped in nature's finest hues, it's a panorama that commands attention. Here, the spirit of the wild resonates in every rustling leaf and chirping bird.
As night descends, your camp in the heart of Little Yosemite Valley cradles you in its embrace. 
With miles tread and altitudes scaled, the day concludes with shared tales around the campfire, delicious meals, and the anticipation of yet another day in paradise.
Day 4: Conquering the Legendary Half Dome
Day 4 is not just another day; it's the climax of your Yosemite odyssey. 
After a hearty breakfast that fuels your spirit and body, you'll set forth to tackle one of Yosemite's most revered landmarks: the Half Dome.
The initial stretch of your climb evokes a serene intimacy with nature, but as you approach the Dome's base, the real challenge unfolds. 
The iconic cables of Half Dome stand before you, inviting only the most daring to ascend. 
Climbing them is a rite of passage, a mix of nerve and thrill that culminates in a reward like no other.
As you summit, the grandeur of Yosemite high country unveils itself. Vast stretches of green meadows, serpentine rivers carving through valleys, and a horizon that seems to stretch into infinity.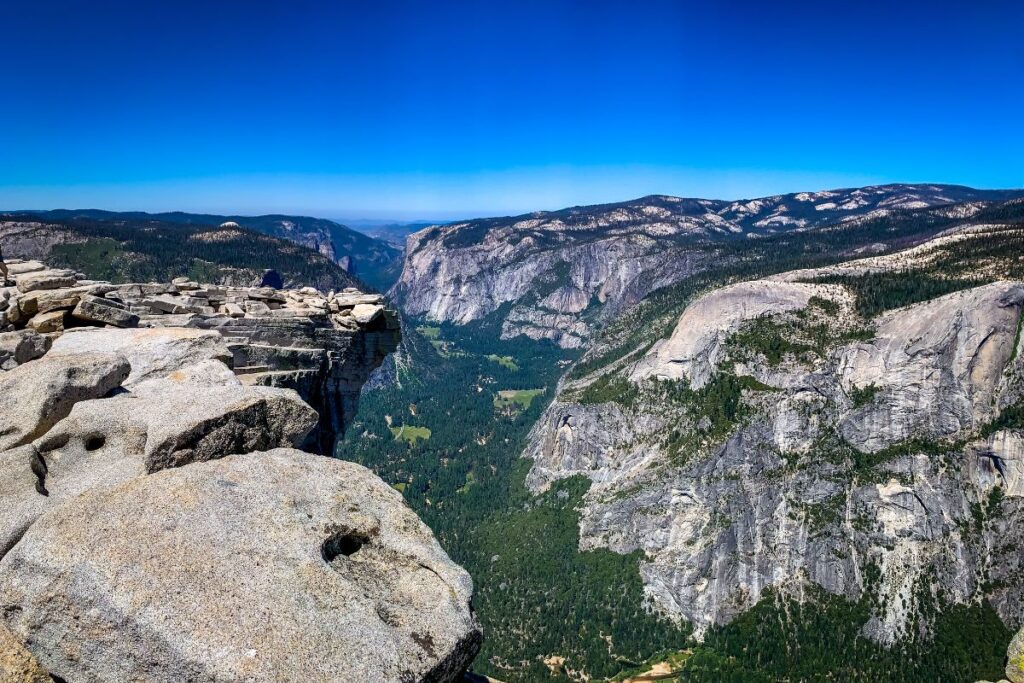 It's a 360-degree panorama that redefines majesty. This breathtaking vista is the perfect backdrop for a well-deserved lunch.
Your descent from the top is a mirror of reflections, moments of awe juxtaposed against your accomplishment. 
And as the familiar grounds of Little Yosemite Valley greet you again, the refreshing embrace of the Merced River is a delightful endnote. 
Dive in, cool off, and let the river's flow whisk away the day's exhaustion, all while basking in the glow of having conquered the legendary Half Dome.
Day 5: Embarking on the Fabled John Muir Trail
The final day beckons with a promise of both reflection and discovery. As dawn breaks and you take the first steps on the famed John Muir Trail, there's an undeniable sense of reverence. 
This trail, named after the legendary naturalist and advocate for the preservation of wilderness, is a tribute to his legacy.
The path weaves along the Merced River's course, its bubbling tune offering rhythm to your strides. Its waters dance with light, offering solace and inviting contemplation. 
As you continue, the sheer power and grandeur of the Nevada and Vernal falls come into view.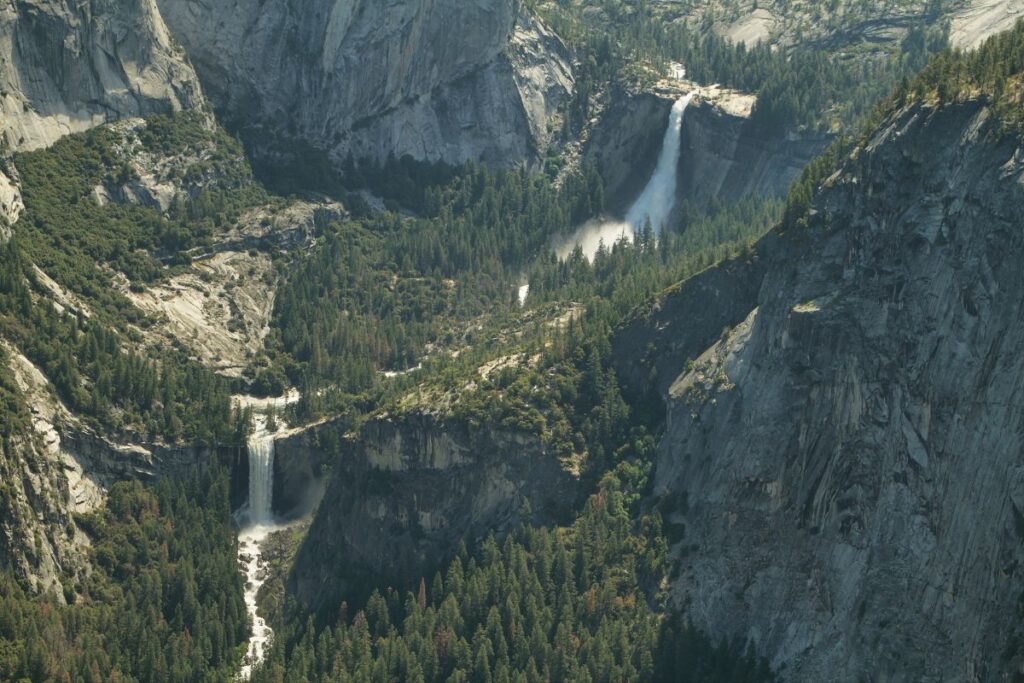 Their cascading waters narrate tales of ancient mountains and time's passage, with every drop resonating with the primal beauty of Yosemite.
By the time afternoon shadows begin their dance, you'll find yourself back in Curry Village. 
Here, the journey may conclude, but the memories etched along the trail's every bend, vista, and crest remain indelible. 
The essence of Yosemite, its grandeur, its wild serenity, and its testament to nature's artistry, now forms a chapter in your own story.
What's Included in Your Adventure
Meals: From sunrise to sunset, you won't go hungry! We provide 4 breakfasts to start your days right, 4 energizing lunches to keep you moving, and 3 hearty dinners to end your evenings. 
Plus, as you trek through Yosemite's captivating landscapes, replenish with our trail snacks.
Accommodations: Rest well after each day's adventure. Your package includes a cozy night at Curry Village and 3 immersive nights in the heart of Yosemite, camping under the vast canopy of stars. Please note, accommodations before and after your tour in Yosemite Valley are on your own.
Transportation during the Tour: Ease into your adventure! On Day 2, a private shuttle awaits to whisk you from Curry Village to the trailhead, ensuring a seamless start to your trek.
Gear and Essentials:
Expert Guidance: Navigate Yosemite with confidence as 10Adventures' knowledgeable guide leads the way.
Personal Gear (available upon request): Lighten your load! 10Adventures offers backpacking essentials from sleeping bags and pads to backpacks and tents. If you're new to the trekking scene, our trekking poles are a game-changer.
Group Gear: 10Adventures' crew ensures you have essentials like stoves, a comprehensive first aid kit, cooking items, water filters, and more.
Morning Boost: Start your mornings with a warm cup of coffee or tea, because every great adventure begins with caffeine!
Not Included: While 10Adventures strive to offer a comprehensive package, some aspects are not covered:
Your journey to and from Yosemite Valley.
Personal attire, including clothing and footwear.
Stay before and after the official tour days in Yosemite Valley.
Personal spending and gratuities (we suggest 10-20% for exceptional service).
Unexpected evacuations.
Travel and adventure insurance. Ensure you're covered!
Take action
10Adventure's Half Dome Backpacking Tour is more than just a trek—it's an immersive experience into Yosemite's breathtaking wilds. From scaling the iconic Half Dome to walking the legendary John Muir Trail, every step reveals nature's masterpieces. 
Coupled with top-tier accommodations and comprehensive provisions, this journey strikes the perfect balance between adventure and comfort. 
Whether you're seeking heart-racing summits or tranquil riverside camps, this tour promises unparalleled vistas and memories to last a lifetime. 
Dive deep into the heart of Yosemite and witness its majestic beauty in a way few ever do. Your adventure of a lifetime awaits!