Discover 7 breathtaking Winter Trails in Yellowstone National Park! Dive into snowshoeing & skiing adventures, safety tips, & wildlife spotting. Ready for a snowy escapade?
Embark on a winter wonderland adventure in Yellowstone National Park, exploring its top-notch snowshoeing and skiing trails!
In this thrilling guide, we unveil seven spectacular trails, each offering a unique journey through snowy forests, stunning mountain landscapes, and serene natural beauty.
From the iconic Tower Falls and the wildlife-rich Lamar Valley, to the enchanting Fairy Falls Ski Trail and the challenging North Rim Ski Trail, we've got your winter escapades covered.
Plus, don't miss the chance to glide along the Old Canyon Bridge Ski Trail, revel in the beauty of the Lone Star Geyser Trail, and unwind on the Spring Creek Trail.
With safety tips, preparation advice, and insider knowledge on wildlife sighting in winter, this article is your ultimate guide to conquering the winter trails of Yellowstone National Park.
Let's hit the trails and make unforgettable memories in this snowy paradise!
Tower Falls
The Tower Fall Ski Trail is a 5.0 mile (8 km) easiest trail that allows skiers to enjoy canyon views of the Yellowstone River and Tower Falls.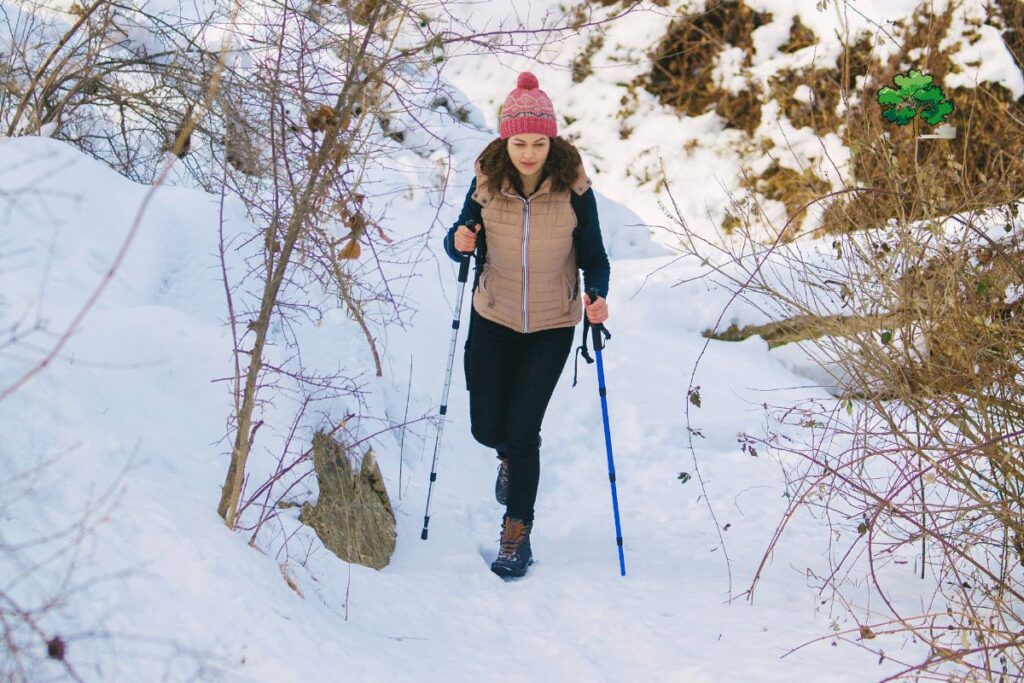 The Ski Trail starts at Tower Junction, which is just a few miles from the Grand Loop Road and winds its way through the rolling hills surrounding Tower Falls. The trail follows the Yellowstone River for much of its length, providing breathtaking views of the canyon below. At certain points along the route, skiers can also see the towering cliffs that makeup Tower Falls.
The trail has a variety of terrain to explore, including gentle meadows and steeper slopes. Along the way, skiers may also encounter various wildlife such as bison, elk, deer, and even bears. At the end of the run, skiers can take in majestic views of Tower Falls before heading back down to their starting point.
Lamar Valley
Lamar Valley is one of the best places in Yellowstone National Park to enjoy winter snowshoeing and skiing. The valley is home to a variety of wildlife, including bison, elk, coyotes, and foxes. The valley also has some of the best views in the park.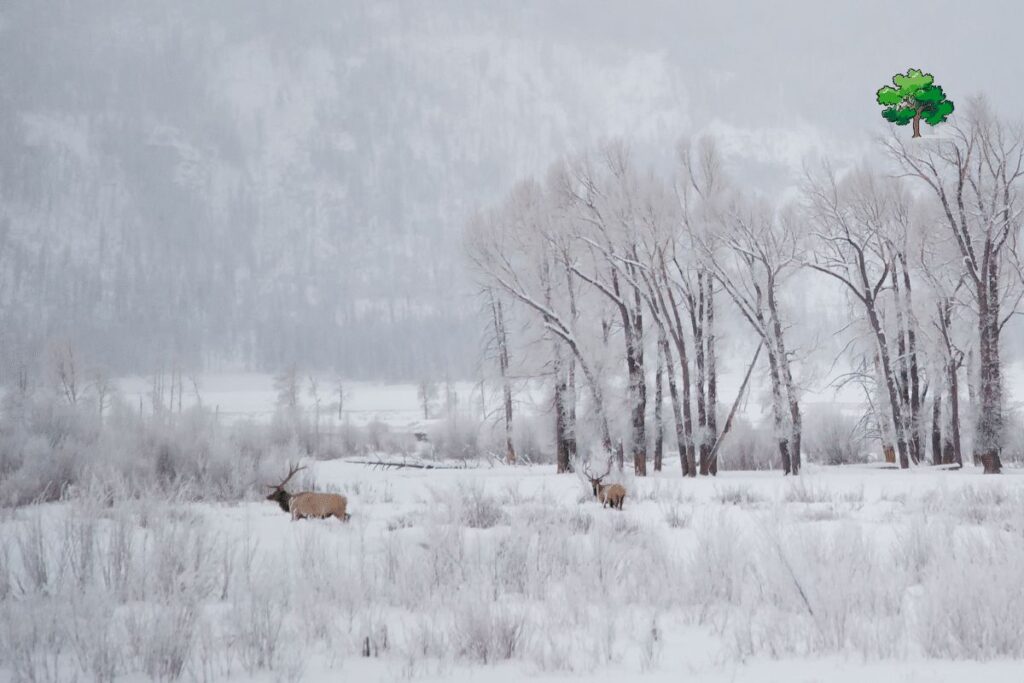 There are a few different trails that you can take when snowshoeing or skiing in Lamar Valley. One of the most popular trails is the Firehole Canyon Trail. This trail takes you through a canyon that is full of geothermal features. You will also get great views of the valley from this trail.
Another popular trail in Lamar Valley is the Bighorn Peak Trail. This trail will take you to the top of a peak that offers stunning views of the surrounding area. This is the trail for you if you are looking for a challenge.
No matter which trail you choose to take, you are sure to have an enjoyable time snowshoeing or skiing in Lamar Valley.
Fairy Falls Ski Trail 
The 10-mile Fairy Falls Ski Trail is skier-tracked and offers icy views of one of Yellowstone's most-liked waterfalls. The skiing can range from easy to more demanding, beginning with a 1.3-mile stretch along Fountain Flats Drive before turning onto the trail.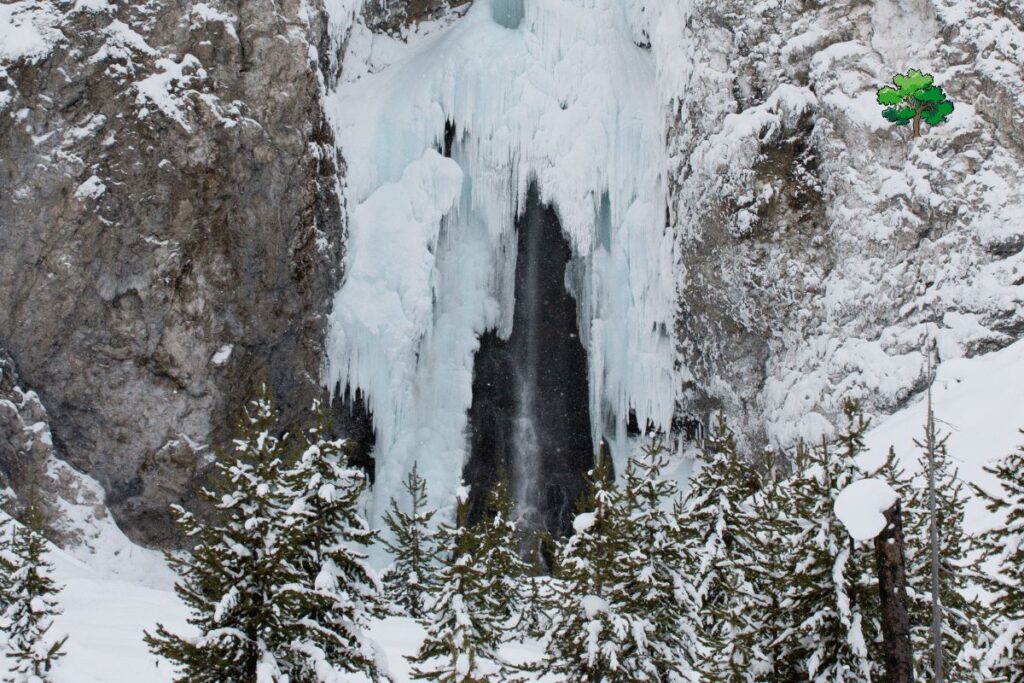 Though the Fairy Falls portion is mostly level, be aware: some hills and curves are headed your way when nearing the falls. Continue on the same route for your return trip – then switch it up by taking either the Powerline Trail or the snow vehicle path to Old Faithful. 
For those looking for something a bit more challenging, make a 0.25-mile turn south along the snow vehicle road until spotting Mallard Creek on your left; take that route and veer right at its first junction for Powerline – a pathway featuring rolling hills. This will lead you along to the Upper Geyser Basin Trail and finally Morning Glory Pool. At times, you may have to remove your skis due to little snow coverage in thermal zones.
This trail is frequented by bison and elk. The federal government requires you to stay at least 100 yards (91 meters) away from bears, wolves, bison, and any other wild animals. In hydrothermal areas, the ground is unstable. Stay on boardwalks and designated ski trails.
North Rim Ski Trail
The North Rim Ski Trail is a 3.0 mile (4.8 km) path, along the Canyon Rim and through a forested area, offering incredible views of the Grand Canyon of Yellowstone. Start your journey at the Canyon Visitor Education Center: follow North Rim Drive east for 1 mile (1.6 km), where you'll turn right down a gentle slope and into the trees. Then ski along the canyon rim for another mile (1.6 km), taking in magnificent panoramas of the canyon below you.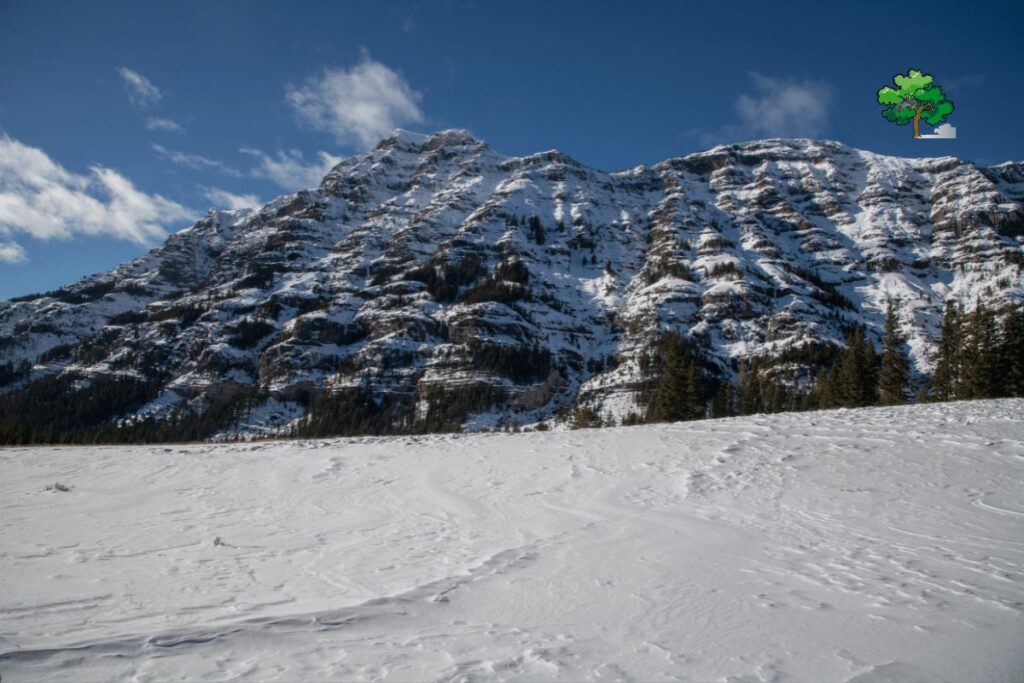 At Grand View Point, cross over to a marked trail leading past lodges and up to the Lodge area. When your trek is complete, retrace your steps back to the Visitor Education Center. Federal regulations require visitors to remain at least 100 yards (91 m) from bears and wolves and 25 yards (23 m) from bison and other wild animals; caution should be taken while skiing this terrain. Additionally, skiers are advised to remove their skis when nearing viewpoints for an even more enjoyable experience. Bison and elk also inhabit this area—keep an eye out! 
The North Rim Ski Trail is a thrilling way to experience the park's majestic beauty. Whether you choose to ski, snowshoe or just take in the scenery, it's an unforgettable experience. Be sure to prepare for your adventure with proper provisions and clothing, and remember that the trail may close due to weather conditions.
Old Canyon Bridge Ski Trail
The Old Canyon Bridge Ski Trail is one of the most popular winter snowshoeing and skiing trails in Yellowstone National Park. Begin at the Chittenden Bridge or near the entrance to the South Rim Drive starting on the Brink of the Upper Falls overlook trail.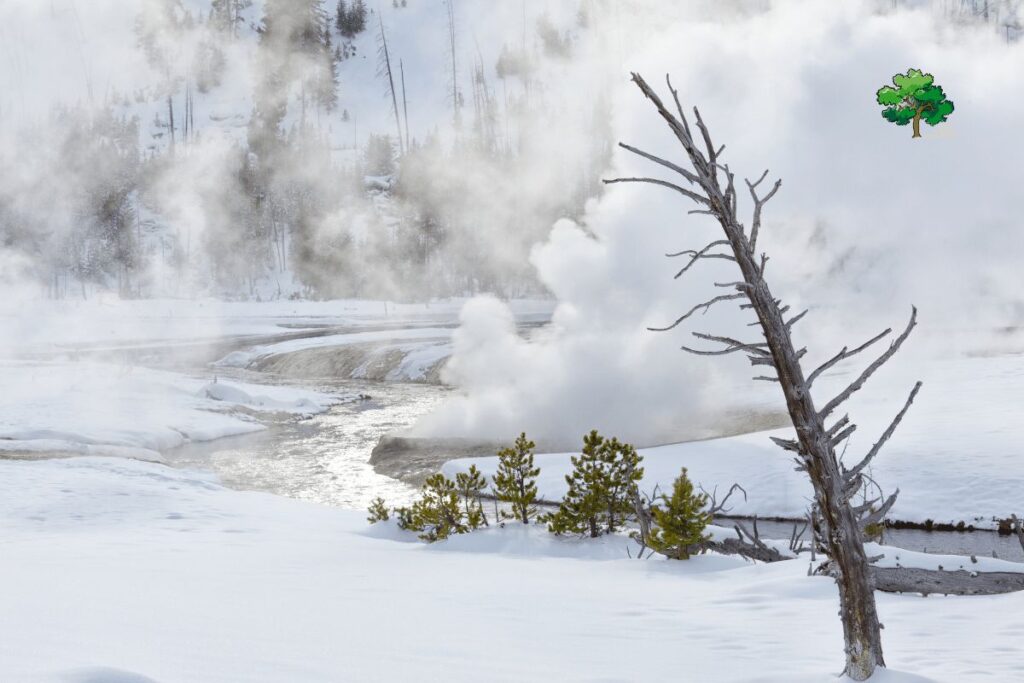 After crossing the bridge, the ski trail continues along the north rim of the canyon for another quarter mile before descending into a forested area. The trail then winds its way through lodgepole pines and Douglas firs for about a mile before reaching its end at a junction with the South Rim Trail. 
The Old Canyon Bridge Ski Trail provides some stunning views of the Grand Canyon of Yellowstone and the surrounding area. It is a great place to observe wildlife, including bighorn sheep, elk, and moose. The trail also offers skiers and snowshoers the opportunity to explore the remote beauty of this part of Yellowstone National Park.
LONE STAR GEYSER TRAIL 
This trail is a great option for those looking for a longer, more challenging snowshoe or ski trail. The trailhead is located near the West Entrance of the park. From there, it winds its way through forests and meadows before reaching the geyser basin. The trail then loops around Lone Star Geyser before returning to the trailhead.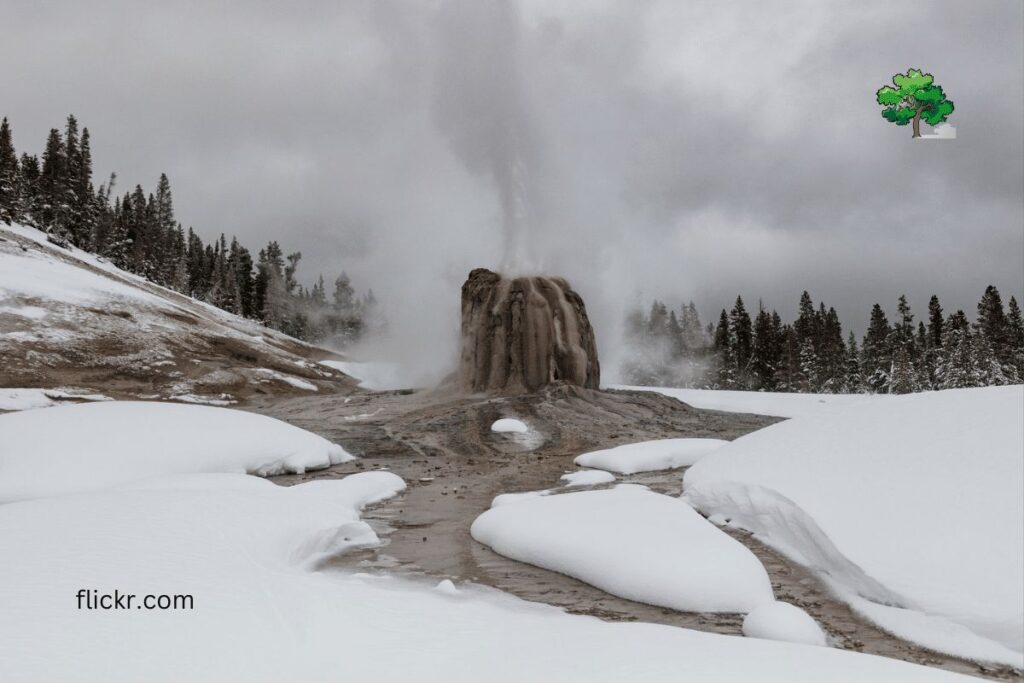 The Lone Star Geyser Trail covers a round trip of 6.8 miles (10.9 km) from the snow vehicle road above Kepler Cascades to the geyser and is machine-groomed for part of the journey, or you can take an 8.5 mile (13.7 km) round trip through Old Faithful Snow Lodge. 
The route is relatively flat, apart from 240 feet of elevation gain/loss between 7360′ and 7600′. Lone Star Geyser erupts approximately every 3 hours with activities lasting around 20 minutes, thus providing a spectacular experience. 
On your return journey, you can opt for either the easiest route back to the lodge or challenge yourself further with trail options such as Kepler Cascades and Howard Eaton Trail.
SPRING CREEK TRAIL
Starting off at the Divide Trailhead, the Spring Creek Trail is 8.3 miles in length, distinguished as the most difficult and ski-tracked. It begins with a short climb before turning right downhill at the junction for a narrow, heavily forested descent requiring excellent speed control and turning skills.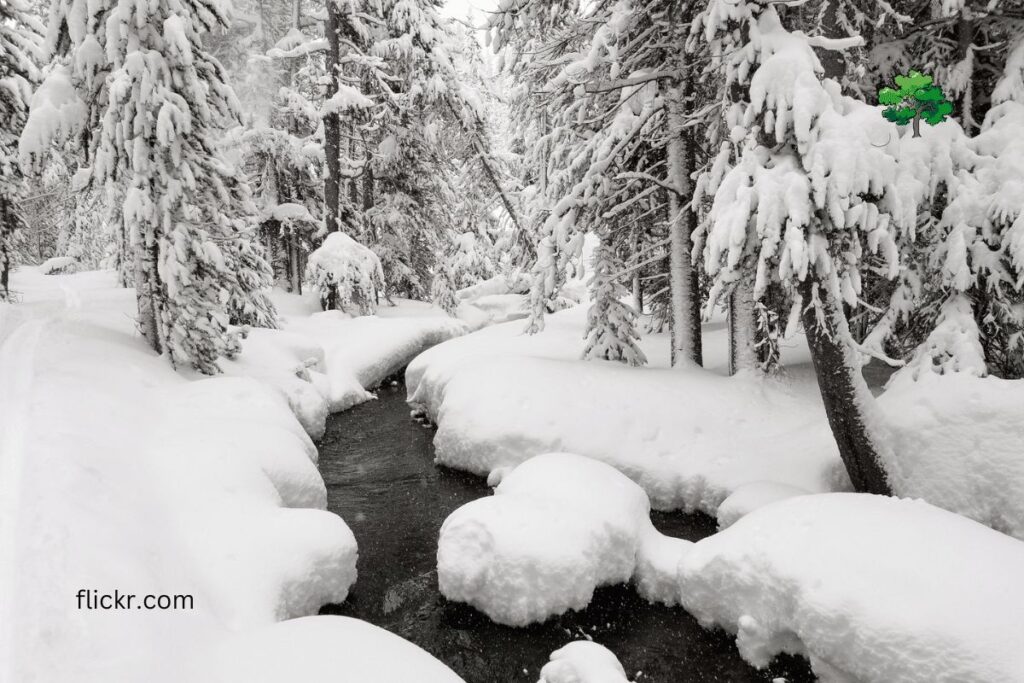 Over 6.6 miles of rolling hills, level terrain, forests, canyons, and various bridges over Spring Creek (via Kepler Trail), skiers must be extra vigilant to sidestep up or down steep hills without removing skis. The route ends at Lone Star Geyser where one may turn right to return to Old Faithful or left to reach the geyser's namesake trail.
Tips For Safety on the Trails
When adventuring in the backcountry during winter, always be prepared for changing conditions. Here are a few tips to help you stay safe on the trails:
1. Check the weather forecast before heading out and be aware of any changes that may occur while you're on the trail.
2. Dress in layers so you can adjust to varying temperatures. Wear waterproof and windproof outerwear to protect against the elements.
3. Bring plenty of food and water, as well as a first-aid kit and other essential supplies.
4. Be sure to let someone know where you're going and when you expect to return.
5. Stick to well-marked trails and be cautious when crossing streams or other bodies of water.
6. Be aware of avalanche danger in mountainous areas and take necessary precautions.
How to Prepare
Incredible winter snowshoeing and skiing trails can be found all throughout Yellowstone National Park. With so many options available, it can be tough to know where to start. That's why we've put together this handy guide on how to prepare for a winter adventure in Yellowstone.
First things first: you'll need to make sure you have the proper gear. For snowshoeing, you'll need snowshoes and poles; for skiing, you'll need skis, boots, and poles. It's also important to dress in layers that can be easily removed as you heat up throughout the day. And don't forget the sunscreen! Even though it's cold out, the sun can still damage your skin.
Once you have your gear and clothing sorted out, it's time to start planning your route. Yellowstone is a huge park with endless possibilities, so take some time to research different trails before deciding. Once you have a few ideas in mind, map out your route and make sure to leave plenty of time for rest stops and contingencies. Remember safety first!
Finally, it's always a good idea to let someone know where you're going before heading out into the backcountry. That way, they'll know where to start looking for you if anything happens.
With the right gear, a well-planned route, and a little bit of preparation, winter adventures in Yellowstone can be an unforgettable experience. So get out there and enjoy the snow!
Easily sight wildlife in Winter
Yellowstone is one of the best places in the world to see wildlife in winter. The snow and cold weather drive many animals down from higher elevations, making them easier to spot. Even better, Yellowstone's extensive network of trails makes it easy to get up close to the action. Here are some of the best places to go snowshoeing and skiing to see wildlife in Yellowstone National Park.
Lamar Valley is one of the best places in Yellowstone to see wildlife. Bison, elk, deer, and pronghorn can all be spotted here, often right next to the road. The valley is also home to wolves and coyotes, which can sometimes be seen hunting their prey. For a real treat, keep an eye out for bighorn sheep, which sometimes descend from the cliffs to feed on the grasses in Lamar Valley.
The Firehole River is a great area for wildlife viewing. The riverbanks are usually full of ducks and geese, while otters can often be seen playing in the water. Trout and other fish species inhabit the deeper sections of the river, so keep an eye out for them too.
Finally, Hayden Valley is one of Yellowstone's most stunning landscapes. Bison, elk, and pronghorn are all common sights here. Keep your eyes peeled for bears too – they often come down from the hills in search of food during the winter months.
Conclusion
Yellowstone National Park is an incredible winter wonderland with plenty of options for skiing and snowshoeing. Whether you want to take a leisurely stroll or challenge yourself on the more advanced trails, Yellowstone has it all.
For those looking for some of the best snowshoeing and skiing trails in Yellowstone, we hope this article has given you some ideas. Now that you know where to find them, all that's left is to put on your gear and get out there! Happy exploring!