Escape the summer heat with these 5 hill station road trip ideas from Bangalore. Your perfect getaway awaits!
The scorching summer has made itself known. Most stay home, running the air conditioner – stepping out only when absolutely essential, while others, like us, are drawn to the prospect of a cold night in the mountains huddled around a bonfire striking a conversation with great company.
Bangalore is ideally located within striking distance of some scenic and exciting hill stations that make for kick ass road trips. So, gather your flock, or plan an escape with your love, these 5 beckon a loaded tank of gas.
While planning a road trip we always consider distance from Bangalore, best route, activities to keep us interested and options to stay. This blog will try to cover these questions.   
BANGALORE TO BR HILLS DISTANCE 170 KM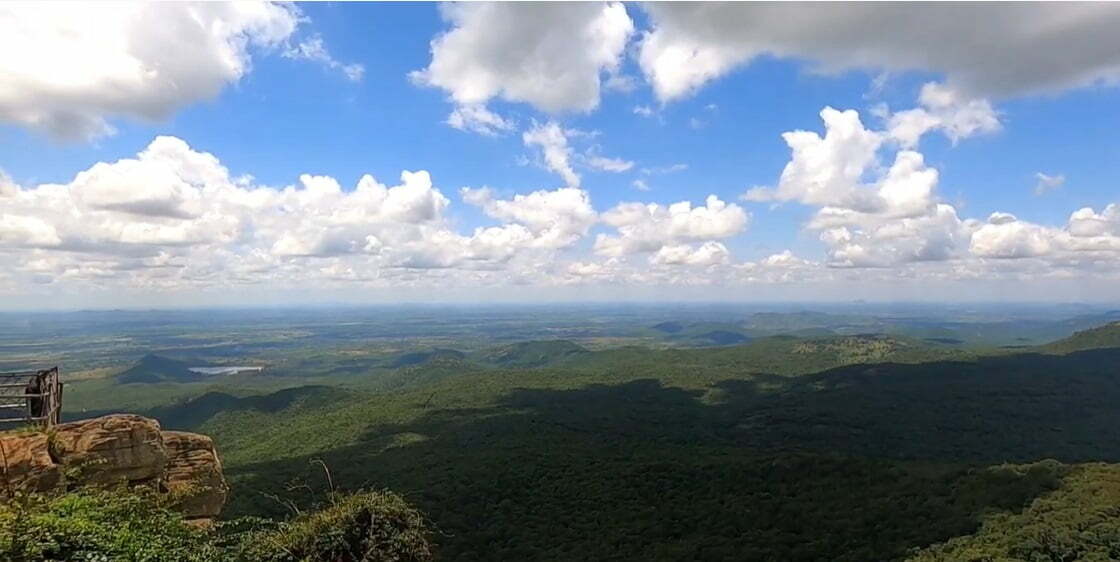 The closest, least commercialized, and wildest on this list is BR Hills. In the middle of the Biligiri Ranganatha Swamy Temple (BRT) Wildlife Sanctuary, the forest takes its name from the ancient Ranganatha Swamy Temple that sits at the edge of a precipice and has an extent of 539.52 sq km. Close encounters with elephants, leopards and bears are common here. The birdlife is spectacular too. It gets cold here in winters and is ideal for a weekend getaway from Bangalore.
Reasons to go: Nature at its best. Bonfire is most stay options. Jungle safari. Beautiful drive. The scenic Biligiri Ranganatha Temple.
Places to stay: Jungle lodges and resorts, gorukana eco wellness retreat, numerous budget homestays.
Activity not to miss: Drive between Br Hills and K Gudi camp at 6 am or 5 pm. Natural honey from the tribal shops.
How to reach BR Hills: Drive on the Mysuru road till Maddur. Cut left towards Malavalli on State Highway 33 till Malavalli. Get on to National Highway 948 till you reach Yellandur passing Kollegal. From Yellandur turn left onto State Highway 57 which takes you straight to BR Hills.
BANGALORE TO YELAGIRI DISTANCE 160 KM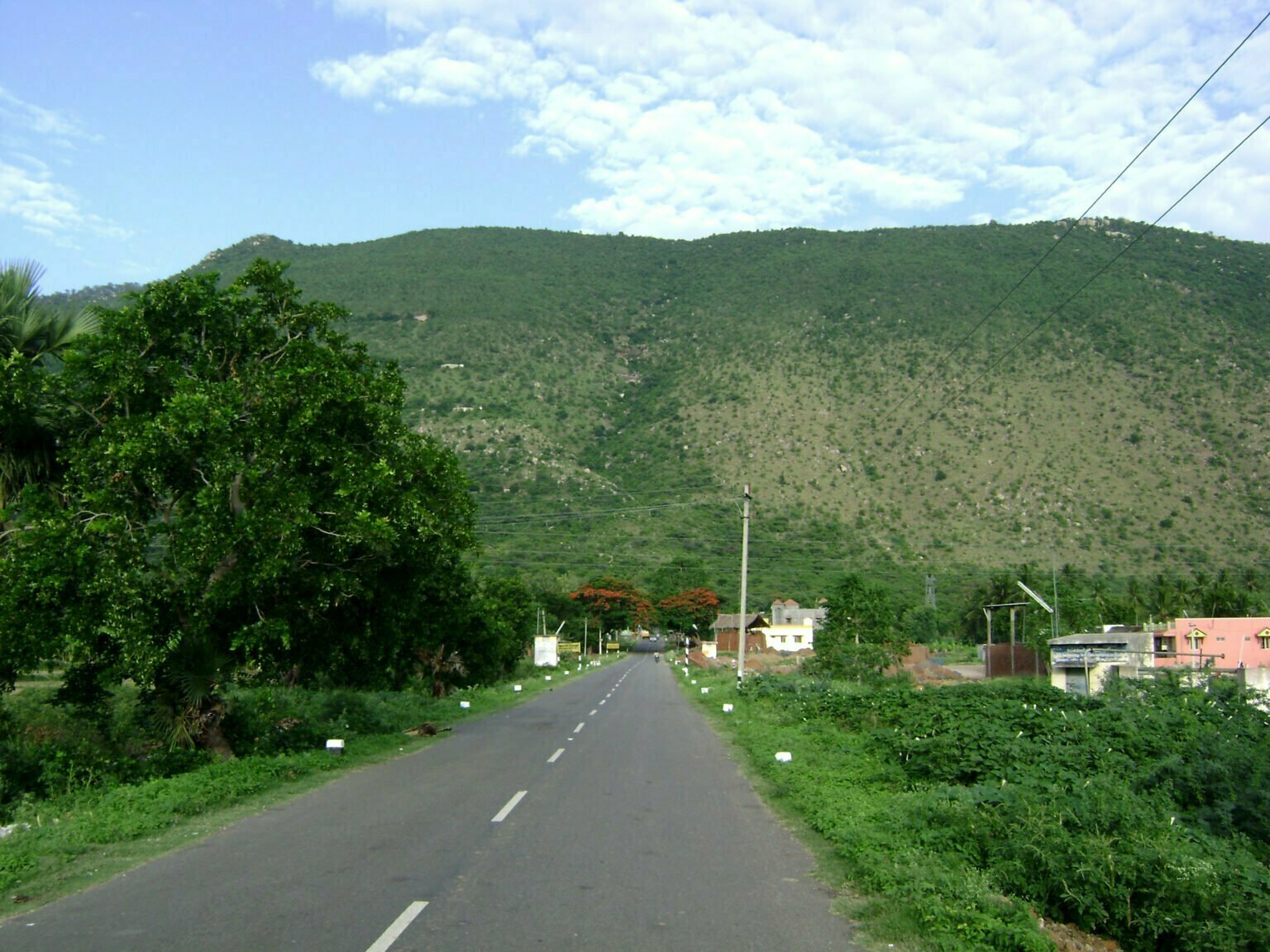 A beautiful mountain drive through winding roads ending in a quaint mountaintop settlement around a beautiful lake is what sets up Yelagiri. A weekend getaway from Bangalore and Chennai, Yelagiri is full of small hotels which offer great hospitality, bonfires and lip smacking local food. Situated in Tamil Nadu, this place is a popular tourist spot for adventure activities like hiking, trekking, paragliding, and mountain climbing. The Tamil Nadu Government has recently set up the Yelagiri adventure camp to promote these activities. The honey available here is said to be the purest you can get.
Reasons to go: Punganoor Lake Park, Nature Park, Jalagamparai Waterfalls, Telescope Observatory, Jalagandeeswarar Temple, Swamimalai Hills, Velavan Temple, Government Herbal Farm, Yelagiri Adventure Camp and other amazing places. BIRYANI!
Places to Stay: Sterling resorts for facilities, Rhythms Lake view for the view, staff and food.
Activity not to miss: Walk around nature park and find Al Barkhath Biryani Centre. A stand along cart under a tree with a few chairs that serves the best biryani you probably ever had!
How to reach Yelagiri: Pass the elevated flyover towards Hosur on NH 44 till you cross the toll before Krishnagiri. Stay to the left cross the first flyover, then turn left onto NH 48 from Krishnagiri to Chennai. Turn onto the Tirupattur road at Natrampalli and reach Jolarpettai. Crss the Railway bridge and turn left onto NH 179A. Stay course till you find a big board indicating the right turn towards Yelagiri. Don't miss hotel Balaji which is ideal for a tea and bajji break.
BANGALORE TO YERCAUD DISTANCE 220 KM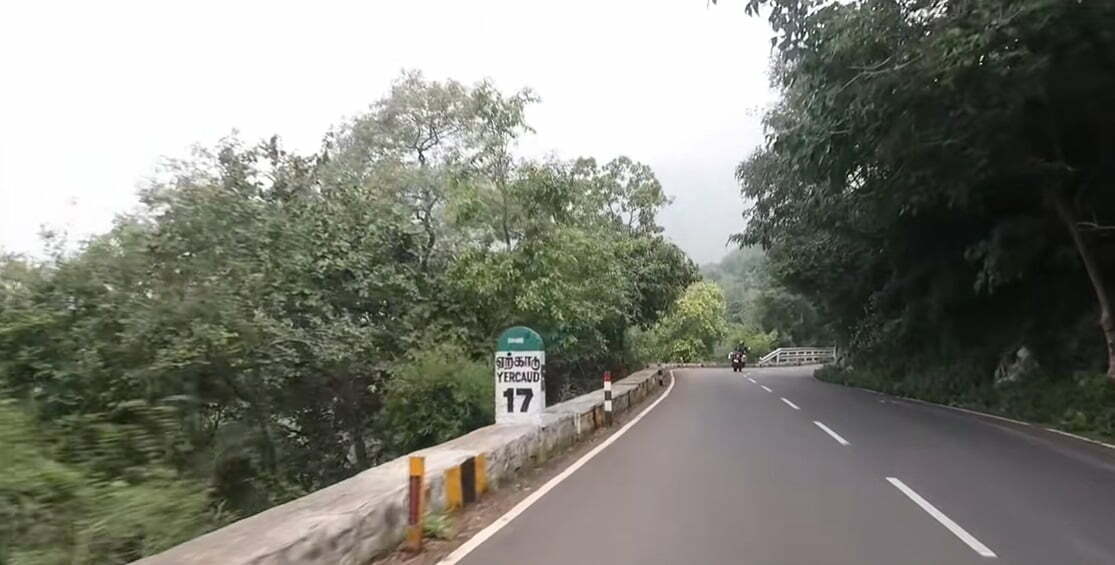 A forest (Kadu) surrounding a big lake (Yeri) at the end of a 20 hair pin bend ascent from Salem in Tamil Nadu is perched the hill station of Yercaud. The drive takes you through smooth roads till Salem and then through orchards, wilderness areas and coffee plantations till you reach your destination. Popular but less crowded, the locals here are very warm and friendly.
Reasons to go: Paddle boating on the lake, vistas at Lady's Seat, cooling off under Kiliyur Falls and exploring Bear's Cave are touristy things to do here. Keep a camera handy, the local wildlife shows up often giving you many chances to click away.
Places to stay: The brook, Great trails Yercaud, Hotel Shevroys are all great options.
Activity not to miss: For a sunrise you will never forget, try camping at the Heavens Ledge campsite. Away from the touristy town, this campsite is a vantage point to observe the planes a good 5000 ft below a coffee sipping you.
How to reach Yercaud: Catch the NH 44 cruise past Hosur, Krishnagiri, Dharmapuri and reach Salem from where sign boards guide you to the beautiful hills.
BANGALORE TO HORSLEY HILLS DISTANCE 150 KM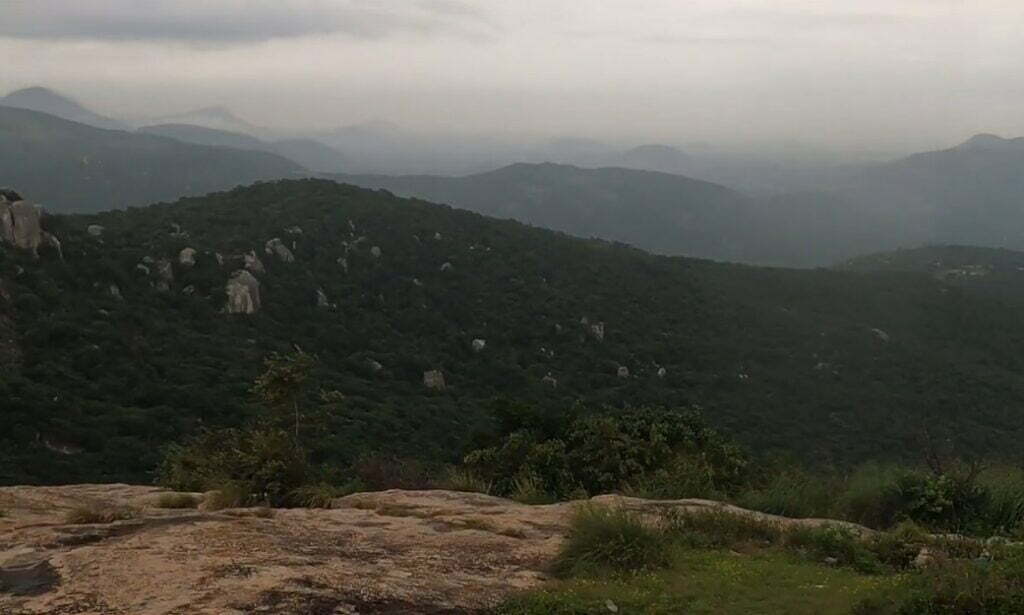 Named after the erstwhile British collector of the area, Horsley Hills provides respite from the parched dry surroundings below the scenic climb to this small settlement. A few shops, a nature park, a few viewpoints, a mini zoo, and an interesting zorbing option make up the entire place. Great weather, good food and good views make this an ideal weekend getaway from Bangalore.
Reasons to go: Peace and quiet with just enough activity options to keep your weekend busy. Also, the AP tourism restaurant and bar have nice options.
Activity not to miss: One of the few zorbing possibilities
Places to Stay: The AP tourism option is the best, so is the governor's bungalow.
How to reach Horsley Hills: Get on to NH 75 from KR Puram and drive past Hoskote till you reach Chikkanahalli Gate where you cut left towards H Cross. Follow State Highway 82 till you reach Thadigol Cross where you turn left onto SH 99 that leads into Andhra Pradesh at B KothaKota from where you turn right and immediate left onto SH 411 until you reach Kotavooru where you find a graceful arched road to the right that leads uphill to Horsley Hills.
BANGALORE TO SAKLESHPUR DISTANCE 220 KM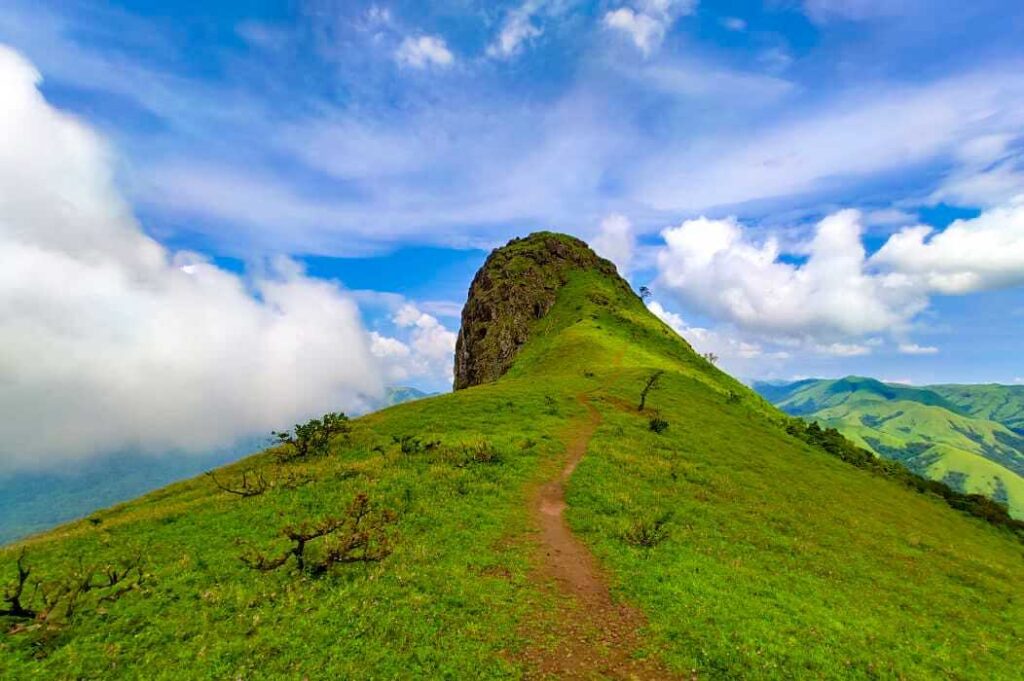 Coffee estates, shola grasslands, perennial waterfalls and breathtaking views define Saklesphur the best. This is truly the best weekend getaway from Bangalore away from the all the madness. 2 things you will remember this place for is the local Malnad cuisine and the unlimited trekking and hiking trails that offer majestic vistas of the western ghats along with the thrill of spotting abundant wildlife.
Reasons to go: Best for experiencing winters chill in a relaxing nature setting, hiking, Manjarabad fort, Murkannu Gudda and Hadlu waterfalls, Bisle Wildlife Sanctury.
Activity not to miss: Ettina Bhuja (Byrapura). A hike of a lifetime.
Places to Stay: Tusk and Dawn for location and comfort, numerous homestays that take you up close and personal with the destination.
How to reach Sakleshpur: Exit the city from Yeshwanthpur and drive on NH 48 till you find a board saying Mangalore left near Nelamangala. Take the Mangalore road called NH  75 passing the towns of Kunigal, Channarayapatna and Hassan. You will reach Saklehpur very easily as it sits on this highway. Stop either at the main market or at Anemahal Junction as these are the 2 places from where your resort route will start depending on where you are staying.
IN CONCLUSION
Bangalore is surrounded by these and other hill stations like Coorg, Chikmagalur, Agumbe, Ooty etc. Bangaloreans have great options to go on a weekend road trip getaway to scenic locales this summer. 
Warm clothing, a camera and a reliable car is all you need to escape to one of these natural vistas.