Explore romantic resorts in Goa on a budget! Discover 5 top-rated options for a love-filled getaway by the Arabian Sea.
Goa is everything an ideal vacation should offer. It offers beautiful white sand beaches, the best parties, verdant greenery, and an impressive thing to do list.
Goa is also a perfect place to escape with your partner to enjoy love filled togetherness for a few days. In Goa, spend your money doing stuff rather than spending all your money for a private pool villa, which frankly other destinations offer better options.
Goa offers cozy, romantic stays – ideally located facing the Arabian Sea and close to all the fun things to do together. Here are 5 options – all rated more than 4/5 on TripAdvisor and linked to reviews. 
ANTARES BEACH RESORT, VAGATOR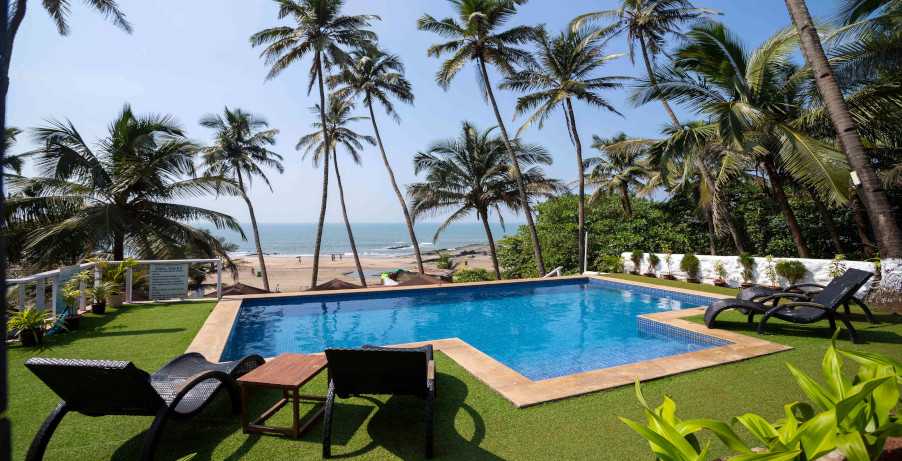 With Ozran beach at its doorstep, this resort has an aim of creating a little Australia in this ocean front paradise. You find it's effects in the food and architecture of the place. The property has 14 luxury Cottages that's boasts of privacy and stunning ocean views from where you two can make your way down to the Beach Club where guests can relax or play on the beautiful beaches of Vagator. This is also the perfect vantage point for a beautiful sunset.
Location: Small Vagator Beach, North Goa
What's special: Masterchef Sarah Todd designed one of kind menu. One of the most spectacular sunsets.
Tariff: Price per night starts at INR 5000
TripAdvisor Rating: 4/5; Check out reviews here
LITTLE INDIA BEACH COTTAGES, CALANGUTE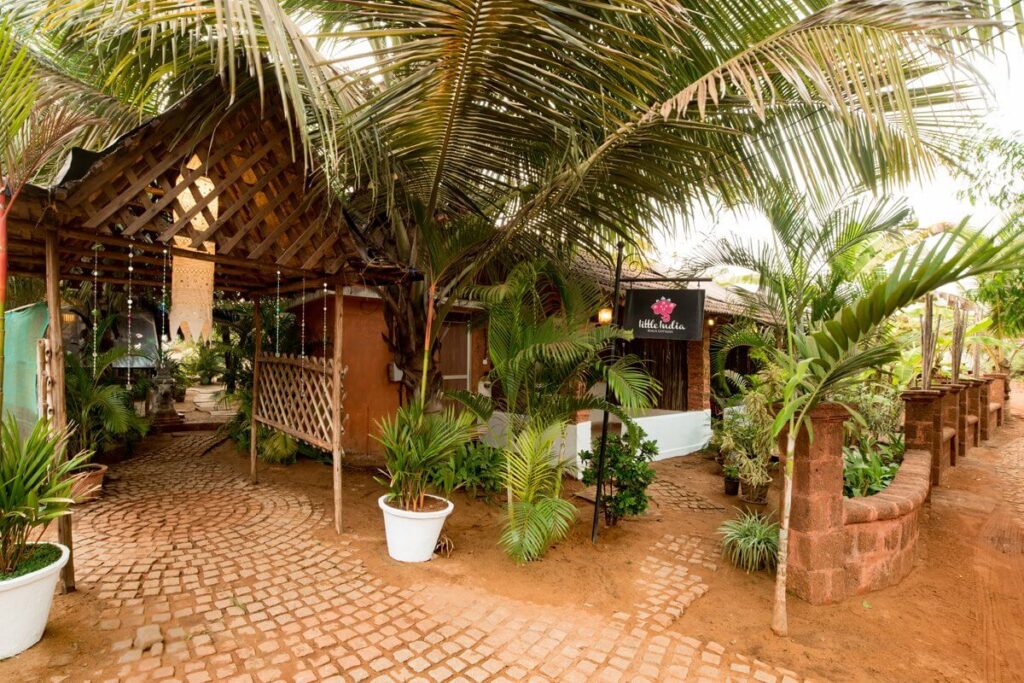 Hidden away in the by lanes of Calangute and claiming for itself a tiny piece of the beach connecting Calangute and Baga is this super private, simple yet delightful little place.  No tv and no kids play area, so total peace and quality time. The staff here are well trained and offer nice service and great hospitality. The landscaping is with a sand dune themed garden with plants and sculptures all over the place. Little India has 6 wooden cottages and 6 standard rooms, along a private path that leads to beach and within walking distance of boutiques, restaurants and the happening Baga area. This resort has to be on the list of Goa Honeymoon hotels for those looking for something off beat, not too expensive and serene.
Location: Calangute, North Goa
Booking tip: Take the Ocean View Cottage – beautifully designed room and bathroom that will leave your significant other truly impressed.
What's special: Cozy rooms and within striking distance of happening places, giving a truly romantic time to you and your beloved.
Tariff: Price per night starts at INR 4500 including breakfast at the Bongo Shack.  
TripAdvisor Rating: 4.5/5; Check out reviews here
THE BAGA BEACH RESORT, BAGA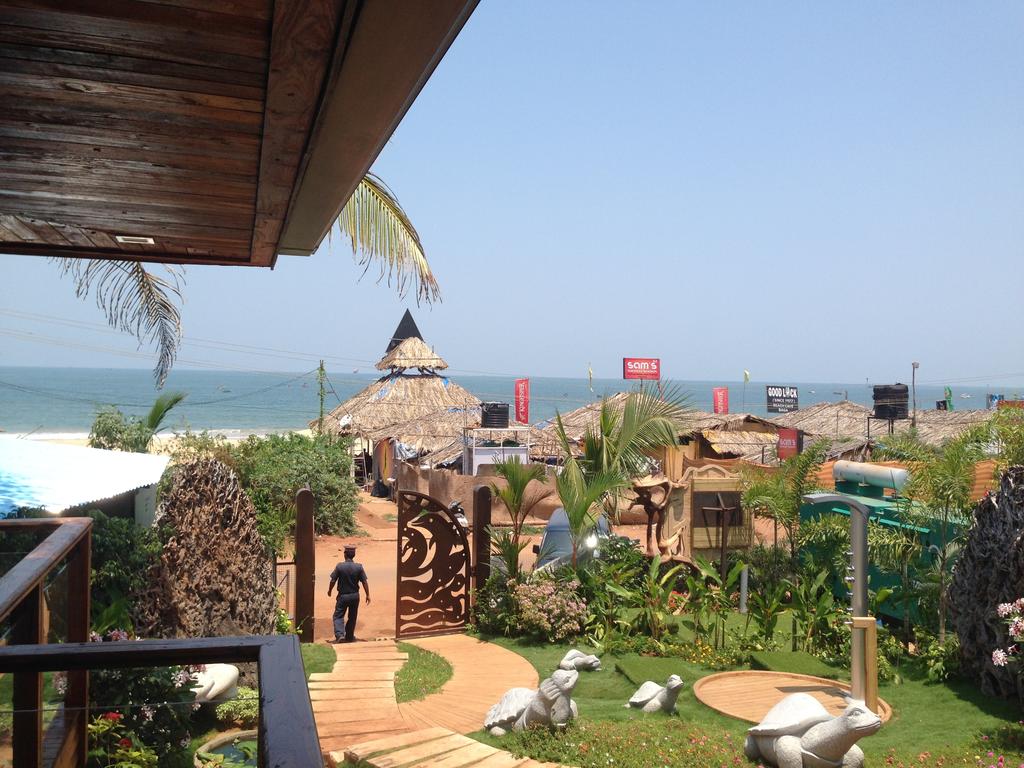 Bang on the beach, this resort has well designed villa type rooms which offer full privacy, comfortably equipped and conveniently serviced for all needs. In the mood for dance night? Tito's lane, with amazing clubs and bars, is a stone's throw away so getting ready and heading out is very easy. In the odd for a quiet beach night at a great shack? Get on the beach turn left and walk a few minutes to find a selection of shacks with tables and chairs set right at the water's edge, dishing gout lovely local delicacies.
Location: Calangute, North Goa
Booking tip: Take the Ocean View Premium + – sea breeze on your face every morning guaranteed. Very few rooms in goa take you this close to the ocean.
What's special: Romantic stay with everything Goa within 2 minutes of where you are.  
Tariff: Price per night starts at INR 8500 including breakfast.  
Tripadvisor Rating: 4/5; Check out reviews here
KENILWORTH BEACH RESORT, UTORDA, SOUTH GOA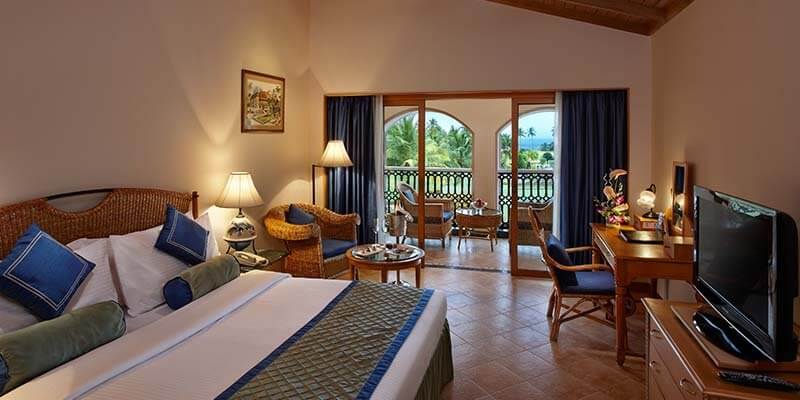 Huge lawns leading to the ocean where, at the right time of the year, nature treats you to bioluminescence in the sea, this is how we remember Kenilworth. Hospitality at its finest, you will suerly leave with an experience you both won't forget. Kenilworth is set on a stretch of beach which is very less crowded, yet you are within reach of restaurants within a 10 min bike ride which the security will help you with.  
Location: Utorda, South Goa
Booking tip: Take the Sea View suite, with vie
ws of the pool, lawns and sea from a private balcony part of huge room.
What's special:  Romantic dinner by the beach on the hotel lawns – A tent on the hotel lawns by the beach with a personal butler and a 4-course meal. Comes at a price, but that's what romantic getaways are for 🙂  Also, the swimming pool has a couples bar which would make for a lovely evening.
Tariff: Price per night starts at INR 18500 including breakfast.  
TripAdvisor Rating: 4.5/5; Check out reviews here
OZRAN HEIGHTS, OZRAN, NORTH GOA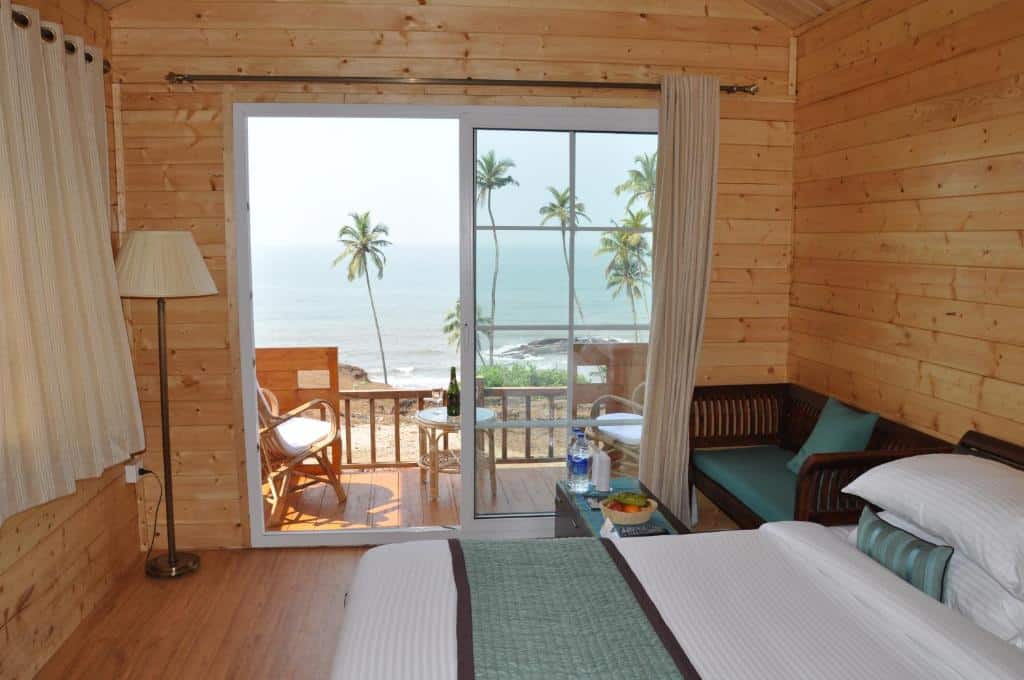 The Ozran beach is perched on the cliff which is part of the hill atop of which sits the famous Chapora fort. Log cabins in front of which are uninterrupted views of the Arabain sea are cosy romantic getaways which are private and boast of the most amazing views. Walking distance are nice eateries and bars which are tucked away around the cliff that decends onto Ozran beach.
Location: Ozran North Goa
Booking tip: Book the premier sea view cottage.  
What's special:  Sunsets with an uninterrupted view of the ocean. The balcony is perfectly suited for a romantic dinner.
Tariff: Price per night starts at INR 8000 including breakfast.  
Tripadvisor Rating: 4.5/5; Check out reviews here
IN CONCLUSION
A romantic trip to Goa should be a mix of activities, the sea, beaches, great Goan food all garnished with time well spent between two people in love. Setting aside the expensive options with plunge pools and buggies, this list adds more value and present an enriching time to spend together.