Discover the magic of Kabini! Explore 7 thrilling experiences to answer the question: Is Kabini worth visiting? Don't miss out!
Kabini is definitely worth a visit. It's an adventure hotspot near Bangalore and Mysore, famous for thrilling jeep and boat safaris, and a paradise for bird watchers and trekkers. The area's diverse wildlife, including rare black leopards and elephants, makes it a unique experience. Ideal for nature enthusiasts looking for an exciting escape.
Kabini, situated at the end of a 240 km drive southwest of Bengaluru, is a magical place. Think of it as connecting wonderland between the Western Ghats to its west and the beginning of the Nilgiri Biosphere to its east. It is a stretch of farmland and dense forest surrounding a man-made dam, made popular by one Colonel John Wakefield, fondly remembered by locals as 'Papa Wakefield', a retired British Soldier who fell in love with the people, forests, and elephants of Kabini and whose dedicated and effective wildlife conservation techniques gives us this world-renowned eco-tourism hotspot, today. 
Kabini is all about elephants, tigers, black leopards, and other flora and fauna. Kabini is also about tribal settlements called 'Haadis', rivers, culture, and history. Stretching into Wayanad of Kerala, the backwaters present unique natural vistas that must be a part of your Kabini Itinerary. Here is a list of 7 things to do in Kabini, that will help you answer – is Kabini worth visiting.
UNDERSTANDING THE TOURIST AREA OF NAGARHOLE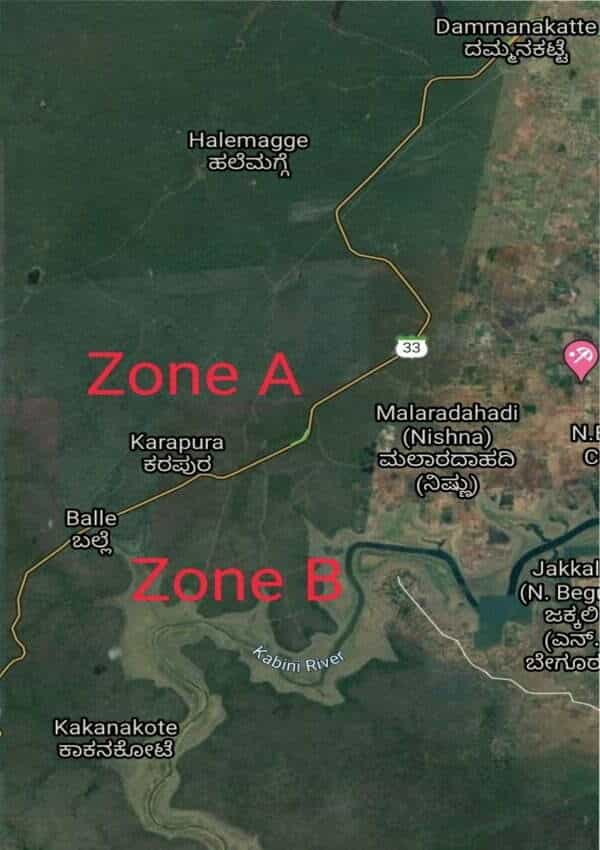 Before you decide to book a safari in Kabini or indeed planning a trip here, let's get a few important details jotted down. The safari area or tourist zone in this area of Nagarhole is divided in 2 zones separated by the state highway going into Kerala.
Kabini backwaters and the lush forests surrounding the backwaters is called Zone B. The best experiences here are in the dry months which offer 3 iconic sightings. Herds of elephants crossing over from the Bandipur Tiger Reserve into Nagarhole. Epic battles of huge tuskers fighting over large herds of elephants made up of females, young calves and a majestic matriarch. Third, my favorite, legendary tiger hunting scenes which eclipse the awe inspiring backdrop of the water and forest. 
The dense jungles on the other side of the state highway, called Zone A. Sightings the black panther, tigers and leopards are most common in this zone. The waterholes in Zone A are always a hub of activity and any regular will tell you that this is the Zone they hope to enter. so if you are wondering is Kabini worth visiting? we need to first need to understand the place. 
1) JEEP SAFARI FROM JUNGLE LODGE'S KABINI RIVER LODGE
Perhaps the best way to explore the jungles of Kabini, this is also the most expensive option. You get into a modified jeep with an experienced driver who knows the forest and its wildlife like the back of his hand.
The best part of this safari is that you leave a wiser person. The driver/guide will happily explain everything about the flora and fauna, animal habits, how to read your environment, and shows you how to interpret the noises and sounds of the forest. You get to see pugmarks of big cats, endangered birds, listen and analyze alarm calls of prey, and even spend an extra minute or two when a sighting excites you.
The jeep takes between 6-9 people in total and your experience is as good as your rapport with the guide. These guys always have interesting stories about the forest and its history, do chat up with them.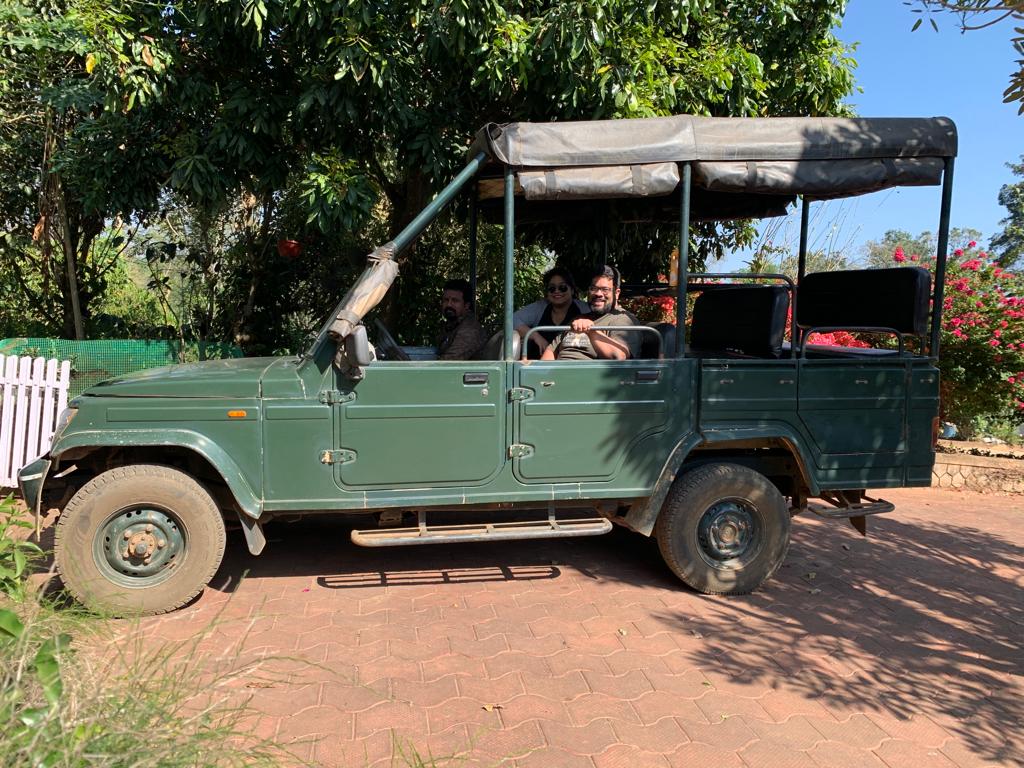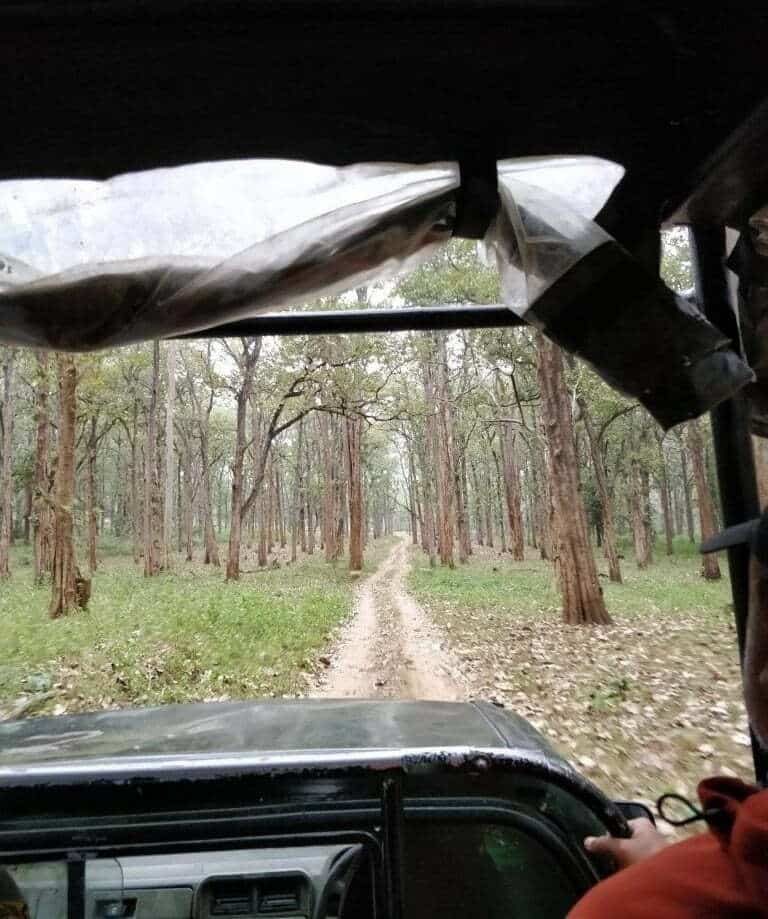 However, this experience comes at a price. Depending on how you book the jeep safari (outlined later) you would pay anything between INR 2200 to 3000 per person. Another caveat with the Kabini Jeep Safari is that the jeeps are randomly assigned to either Zone A or Zone B.  I once had a zero-sighting evening in Zone A, got back to the lodge, and was treated to a narration of a tiger hunt in Zone B, that very safari session. 
How to book? The best way is to ask your resort to book on your behalf with jungle lodges I once walked into Jungle Lodges Kabini River resort and request the Manager, the enthusiastic Mr. Gangaswamy, if he could accommodate 4 of us on the evening safari and he obliged as it was a less busy weekday. So try your luck with that too.
BEWARE: Anyone else claiming to get you onto a jeep safari in Kabini is a scamster. The jeep safaris here are ONLY and ONLY operated by Jungle Lodges.
2) BOOK A CANTER SAFARI FROM ANTHRASANTHE FOREST OFFICE, SEATS 20 PEOPLE
This is the favorite option among people coming from nearby places on a Kabini day trip. A low price tickets gets you a seat on one of 3 vans operated by the Karnataka Forest Department. The canter drives around the same dirt roads inside the Nagarhole Tiger reserve and the sightings are very good.
The van option is perfect if you are ok with large crowds around you. Don't expect to experience the "wild" as you are accompanied by tourists that are here to tick off Kabini rather than wildlife enthusiast that want to read the forest.
So why take this option? Other than being cheap, these vans can Criss Cross into Zone A and B at will. So that means that if there is a once in a lifetime sighting happening on the banks of the Kabini backwaters, your van guide will try his best to get you to it. Another reason is value for money. I have experienced far more big cat sightings in these canter safaris than in the Jeep Safari, which may be unique in my case.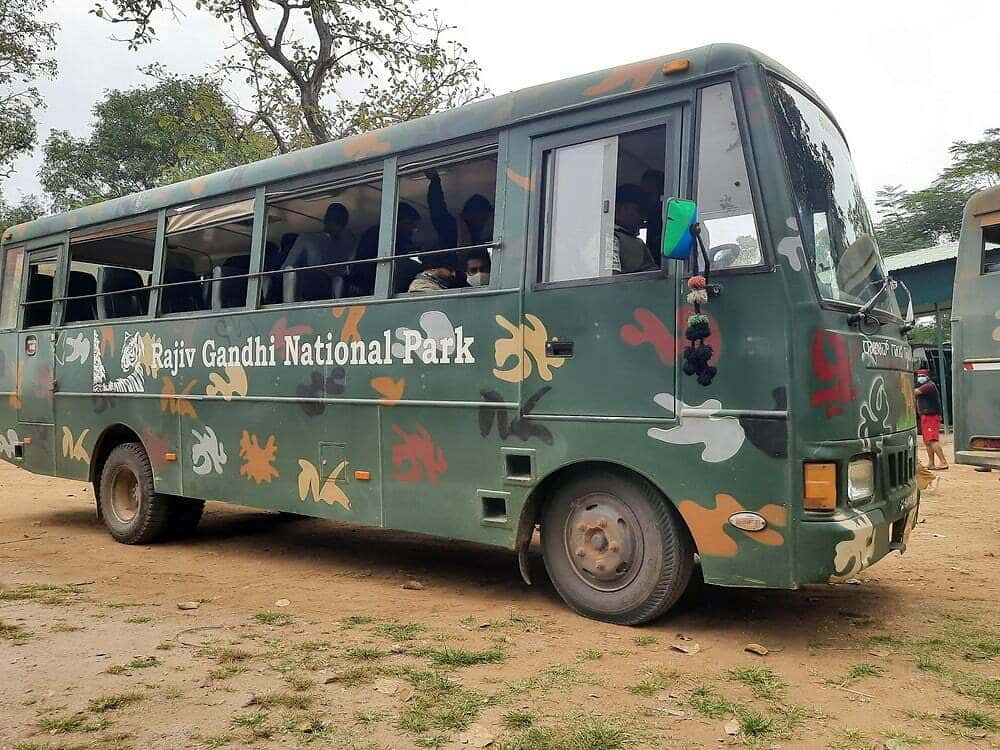 How to book: You can book online by visiting: http://tickets.nagaraholetigerreserve.com/safariDetails/3/Kakanakote%20(Kabini) You will need to create an account and book. Be aware that this site doesn't work at times. The alternate way is to reach the ticket booking counter located here. Be sure to reach the ticket counter half an hour before the safari timing mentioned below.
Dammanakatte Safari office weekday schedule:
Morning Safari: 6 am to 9 am
Evening Safari: 3.30 pm to 6 pm
Pricing: Adults Rs 500 each ticket. Children 5-12 years Rs 250 each ticket. Foreign Nationals 1750 each ticket
Dammanakatte Safari office Saturday Sunday and Government holidays schedule
Morning trip 1: 6 am to 7.30 am
Morning trip 2: 7.30 am to 9 am
Evening trip 1: 3 pm to 4.30 pm
Evening trip 2: 4.30 pm to 6 pm
Pricing: Adults Rs 350 each ticket each trip. Children 5-12 years Rs 175 each ticket each trip. Foreign Nationals 1650 each ticket each trip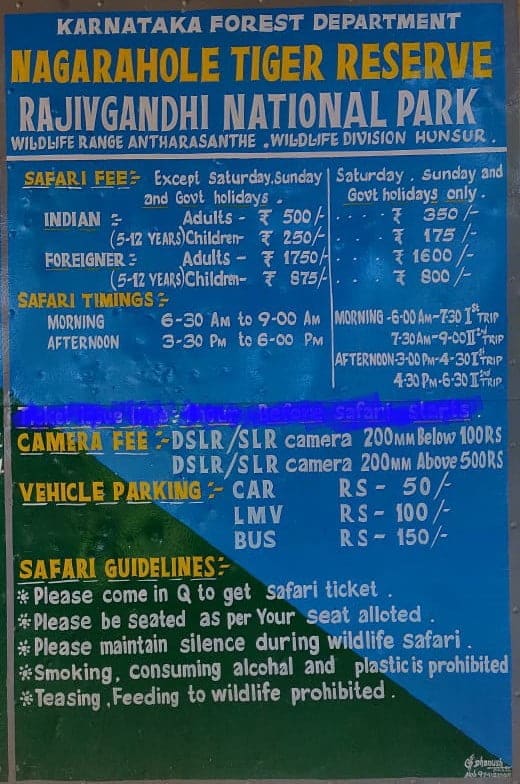 3) BAVALI, CHEKADI BRIDGE, AND THE BALLE ELEPHANT CAMP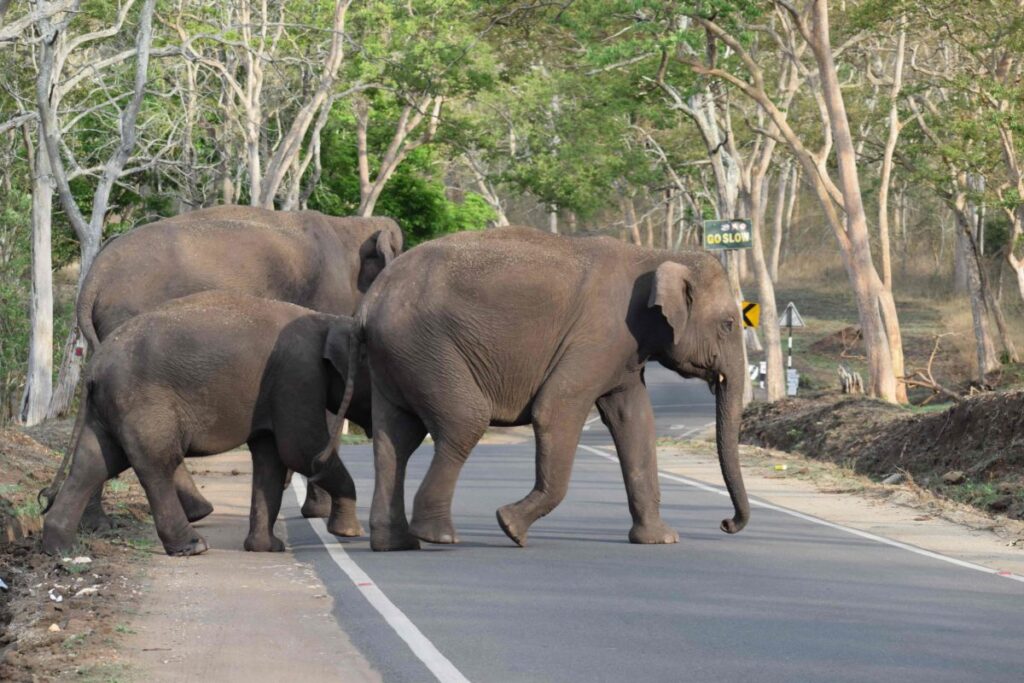 There are various times we have skipped the safari on the day of arrival. Either because we are too tired for a 3 hour bumpy ride, or I have friends with me for whom a safari is less important than just having a good time. Or I might have dragged along people who love nature but not necessarily the safari types. Kabini has many things to other than the safari.
One such activity is a drive through the forest for a simple tea and snack at the border of Karnataka and Kerala at Bavali. This is a border village and the 1 hour drive takes you on the state highway which divides Zone A and B. depending on the time of day you are very likely to sight animals on this drive.
For the more adventurous, Bavali is close to a Sholiga tribal Haadi. I have developed a close friend who takes us to these haadis where we are treated to honey and tapioca which is always divine. These tribals also have a ton of brave stories which remind us of how life really is when man and beast are neighbors.
A short drive from Bavali into Wayanad in Kerala takes you to the only bridge on the Kabini backwaters, the Chekadi Bridge. The walk to this bridge is about 10 minutes through the forest. You are constantly reminded of being in the wilderness by elephant dung on this short route. But getting to the bridge and the view is spectacular. Return before 6pm to the forest gate and renter the forest at Balle Elephant Camp. The elephant camp is on one of the channels of the backwaters and the staff there are friendly enough to chat up about the elephants they manage for various tasks that are performed to maintain the national park.
Note: the forest gate closes after 6pm. So, ensure you get back in time.us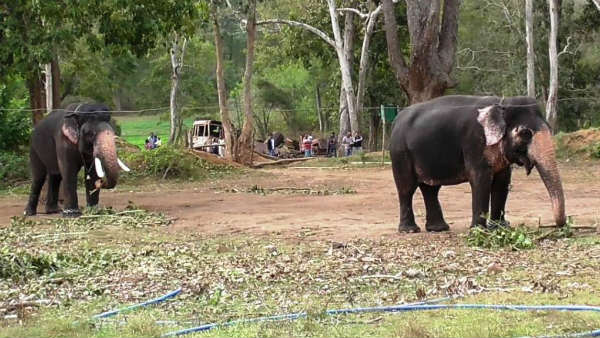 4) KABINI RIVER LODGE BOAT SAFARI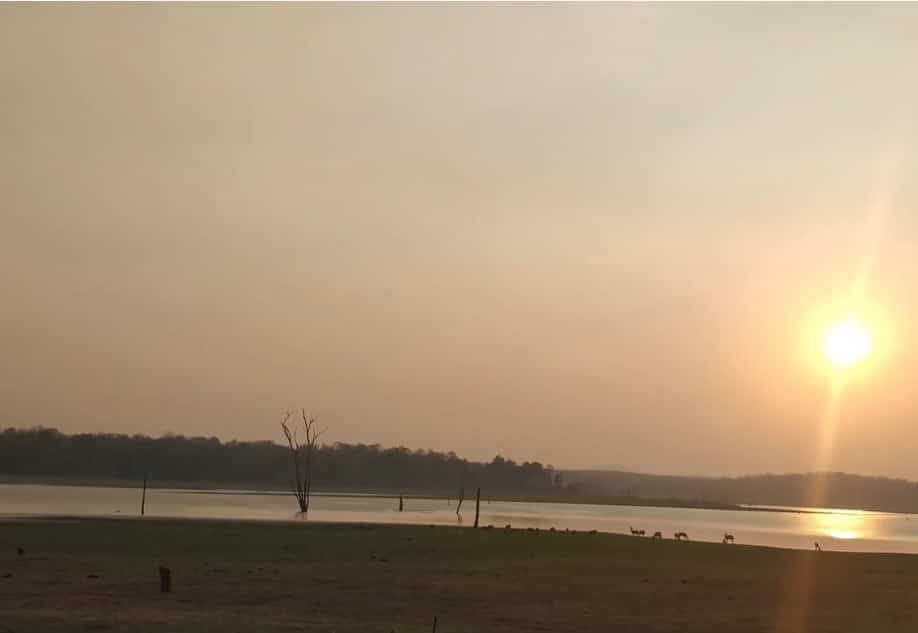 A unique experience in Kabini is the boat safari operated, again, by Jungle lodges. You join 12 other people on a motorboat, which is rather well maintained, and cruise the backwaters till you enter the national park via water. Here the boat slows down and caresses the banks on the lookout for wildlife coming in for a drink. The birdlife you sight on this tour, in my experience, is unparalleled to anything else in the south of India. I once had the luck of sighting a huge crocodile sunbathing on a little island within striking distance of a family of otters cracking open freshwater clams in the shallows.
One common sight is herds of herbivores – Indian gaurs, spotted deer, the odd sambar family, and herds of migrating elephants feeding on the grasslands left by receding backwaters.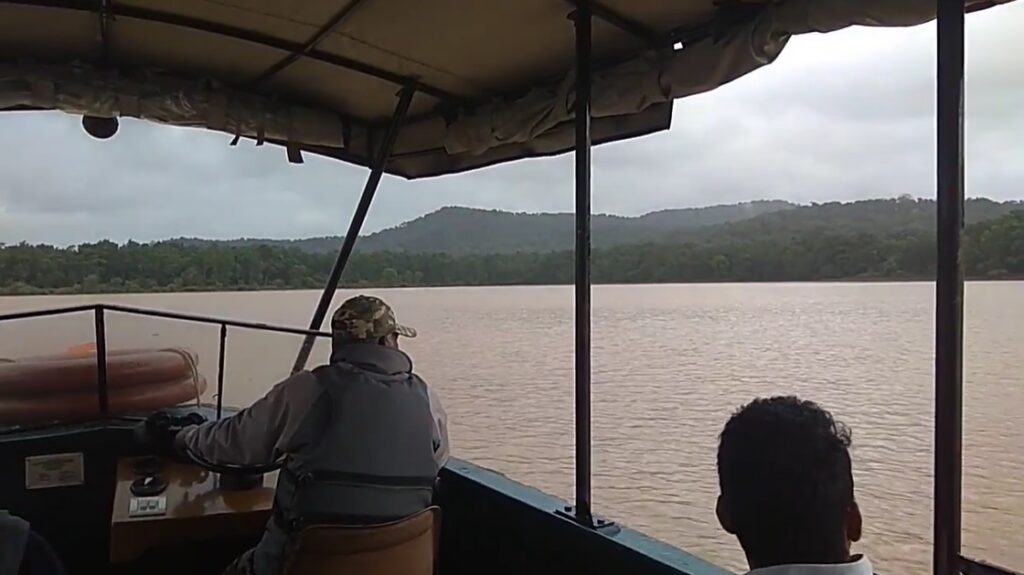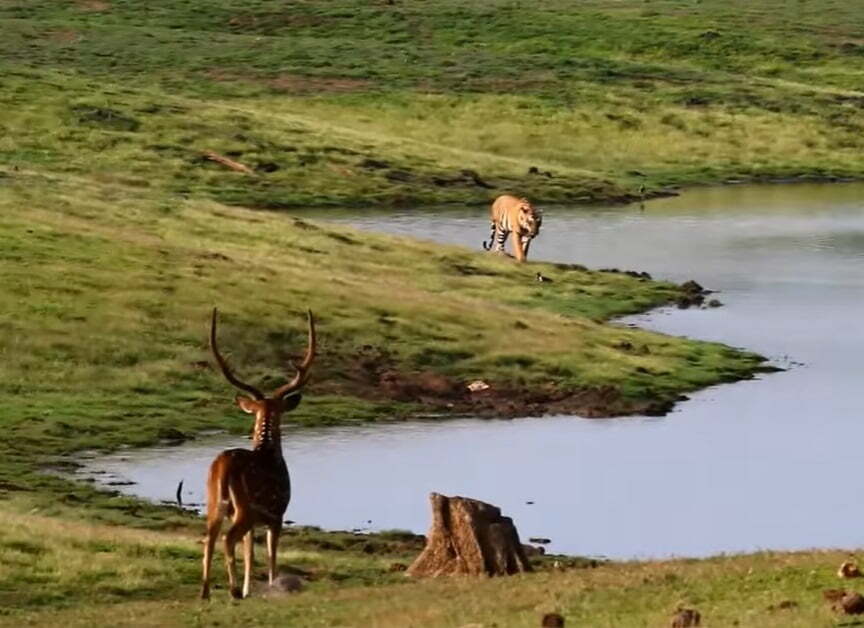 And then the jackpot. If you are lucky, really lucky, you will see a tiger hunt that sends shockwaves of alarm calls through the open airways above the water. Sometimes for kilometers. On a warm summer evening in 2012, I had the fortune of a sighting from the Jeep Safari that made me wish I was on the boat. At around 5 pm, during a rather actionless drive in Zone A, we heard the reliable alarm call of a sambar deer reverberating through the forest coming from the backwaters. We hurried to the backwaters and were treated to a stampede far away in the distance with unmistakable stripes of black and fire in hot pursuit. Just 50 ft away in the water was a boat with gold class tickets to the action happening in front of them while we were left conjuring up imagined scenes of the hunt, we only got a glimpse of.  
Do note though, the boat safari is advisable only when the water recedes during the end of winter and summer months. Nothing much happens here during the monsoon.
Boat Safari in Kabini river is done twice a day- 3.30 PM to 6.15 PM and 6.30 AM to 9.15 AM
Cost: This activity will cost as much as the jeep safari. As your resort to arrange this which is done via jungle lodges and resorts.
Best time: I suggest going on this activity only when the backwaters recede in late winters and summers. Also, the first week on monsoons is a truly social time to go on the boat safari. The rains add a certain magic to a parched landscape.
5) A DAY LONG ROAD TRIP TO REMEMBER KABINI-AGASANAHUNDI-KUTTA-WAYANAD-BAVALI- KABINI
By far my favorite activity when I go to Kabini for 3 or more days. This 150 km drive takes you through 2 states, 2 tiger reserves, multiple cuisines, 3 climatic zones, and unlimited possibilities.
Kabini to Taraka dam
Begin your day by visiting the Taraka Dam around 5 km from the Dammanakatte Forest office. Completely unexplored by tourists, this dam is a hidden gem in the Kabini circuit. Locals sell fish, tea and if you're lucky you might be allowed to the top of the dam from where views of the Nagarhole Tiger reserve on the far side are unbeatable. Elephants, deers, Gaurs and the rare tiger can be seen from this vantage point.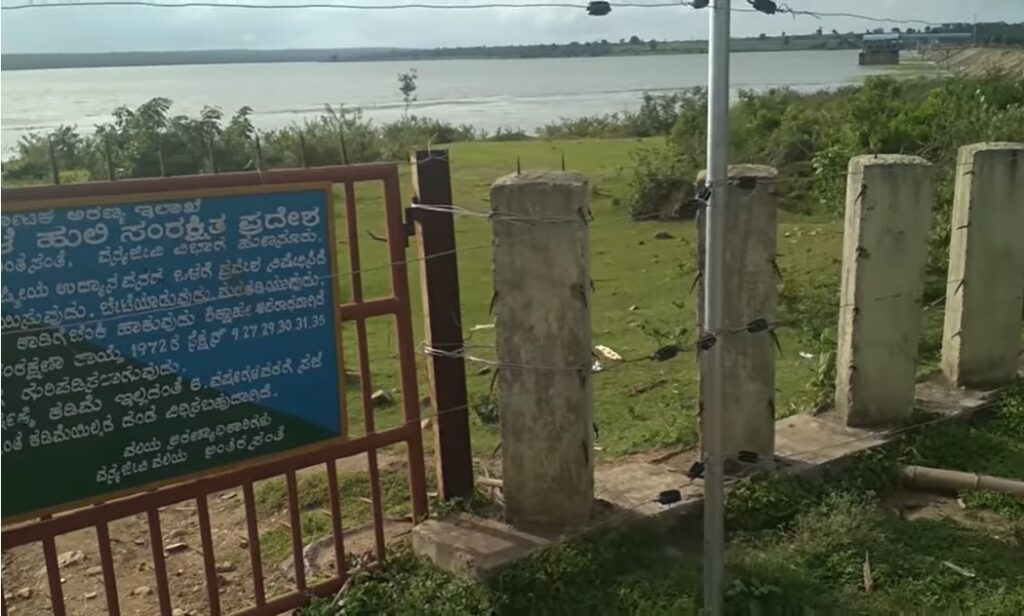 Taraka Dam to Agasanahundi gate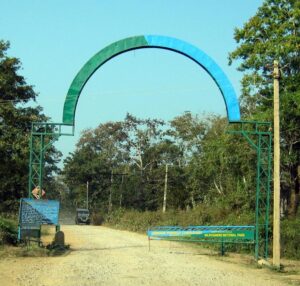 17km from Taraka Dam on SH 33 you reach the least used entry point into the Nagarhole Tiger Reserve at Agasanahundi. The drive is through farms and villages that showcase rural Karnataka in a unique perspective that highway cruisers miss out on. The forest guard here takes basic details and gives you a pass with a time limit to pass through the forest area. Be sure to mention that you plan to exit through Kutta at the Nanchi gate. 
Agasanahundi Gate to Kutta on the Nagarhole Road
This is the best part of the drive. You pass through pristine wilderness and can sight wildlife depending on your luck, speed, and level of staying absolutely silent. 3 out of 10 times I have seen a tiger on this route. Elephants, Gaur, spotted deer, and sambar deers are omnipresent. This 25 km stretch is to be covered slowly and should take an hour. As you exit the Nanchi Gate on the other end of your drive you are greeted by the coffee estates of Coorg. I cannot help but stop for a coffee either at Safari inn or at any small place closer to Kutta which is just about 5km from Nanchi gate.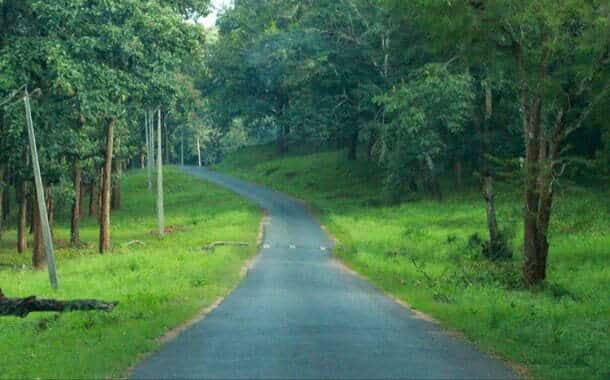 Kutta to Thirunelli Temple
As you enter Kutta just before the bus stand is the sharp left turn towards Wayanad, Kerala. This is also where you find a conveniently placed petrol pump to refuel or check your tyres. Between the petrol pump and the Kerala border, you drive through winding roads crisscrossing coffee estates, forests, and small little hamlets. The border will take you into the densely forested evergreen ecosystem of Tholpetty wildlife sanctuary, Wayanad, Kerala. Drive slow for 2 reasons – fast cars and elephant crossing. You will cross the Tholpetty safari point which is the starting point for the Tholpetty safari, where around 30 jeeps venture in twice a day into a small tourist area of the national park, I have never gone on this. Around 3 km from this point is a road cutting to the right that goes to thirunelli Temple – An ancient temple situated in midst of the wild. Take this right and it's time for a tea and snack at Kuttettan's Unniappam, a tiny shack right on this junction. Everything is hearty and fresh.
This road to Thirunelli is strewed with elephant dung and it's known for elephant, tiger, Dhole, and leopard sightings. So drive slowly and you will be rewarded.
The temple is itself beautiful and you get majestic views of the western ghats here. Do check out Jungle retreat, a warm cozy resort that boasts of wildlife sightings from the verandah of your room! A separate blog on that place will come soon.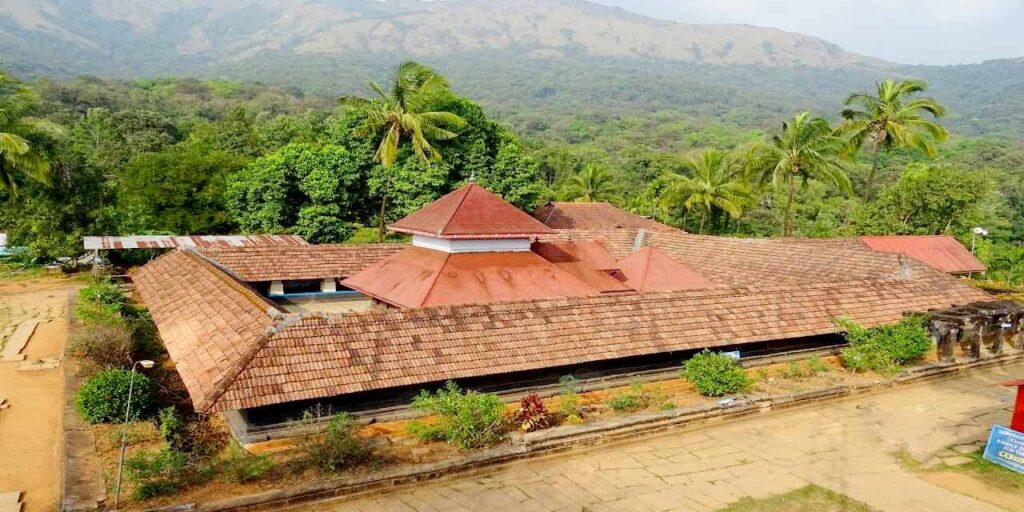 Thirunelli temple to Bavali, Karnataka border
Drive through the Tholpetty national park for 15 km to reach Kattikulam from where you turn right towards Karnataka and Bavali border. You are still well within a tiger reserve and expect wildlife sightings anytime. There is a small restaurant here called Wayanad Kitchen which has always served us hot homely Kerala food do check it out, you won't regret it.
On the way, you could also drive down to Kuruwa Dweep, a 950-acre island on the river Kabini which is declared a protected bird sanctuary. Reach Bavali and delay your entry into the Nagarhole forest as close to 6 pm as you can.
Bavali to Kabini Resort
The thrills of an evening drive through a tiger reserve is how you end the day's road trip. Exit in time and reach your resort. Share your experience over a cozy bonfire.
Sightings are very common at this time, so keep your eyes and ears glued to your surroundings.
This one-day road trip is the best way to see the Kabini Nagarhole ecosystem. And is highly recommended for the nature junkie who wants to do something different.
6) WHERE TO STAY IN KABINI
This is a question that needs a separate blog to answer. But here is a quick overview to help you plan.
If Safari is your main goal, look no further than the Kabini River Lodge. It's expensive, average food, average rooms, but the best guides and safari options.
Medium Luxury – The Serai, The Bison and Red Earth resorts. A luxurious stay, good food, and well-planned activities are assured to you.
Super Luxury – Evolve back set across the backwaters is a high-end uber-luxurious option.
Best of all worlds – Water Woods. My favorite. Well maintained rooms, awesome food, slightly expensive and closets to the Jungle lodges safari point. I love the fact that I can get a personally arranged bonfire by the backwaters every night I am here.
Budget and super practical – Kabini River View Resort. Located very close to the Dammanakatte Forest office from where the canter safari starts this is the place to go while you're doing Kabini on a Budget. Clean rooms, good food, and pleasant staff present you with a nice option.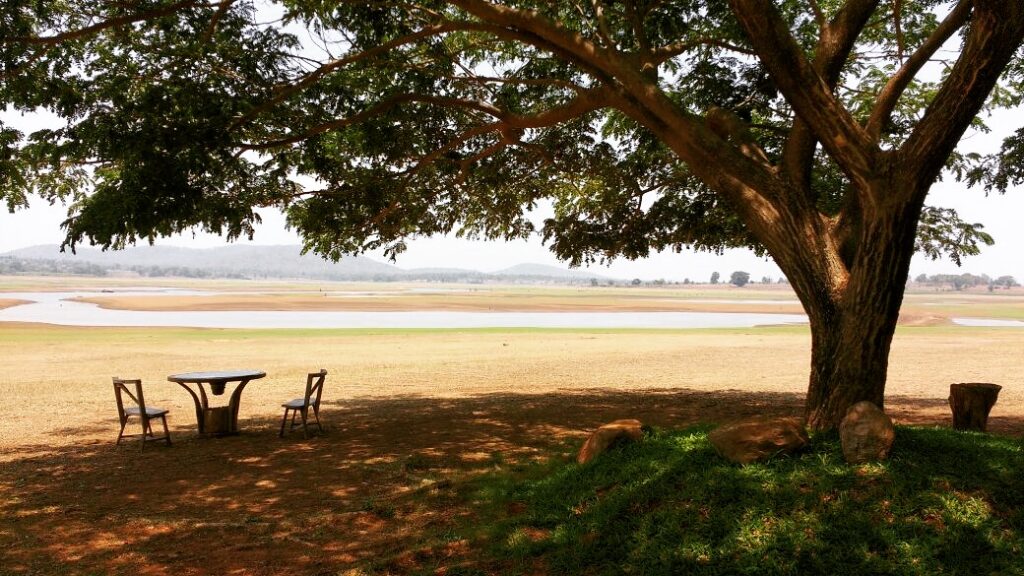 7) IN CONCLUSION – IS KABINI WORTH VISITING AND DOES IT LIVE UP TO ITS HYPE
For a wildlife enthusiast and nature lover, this place is paradise and will be visited multiple times a year. What makes this place attractive is the prospect of doing multiple things other than just a safari. A lot will also depend on where you stay. All in all this destination is a riverside getaway, a wildlife getaway, and can be a base to explore other hidden gems in the area. What can be promised is a different experience every time you go to Kabini. So yes, Kabini is worth visiting with friends, family, as a couple, or even solo.